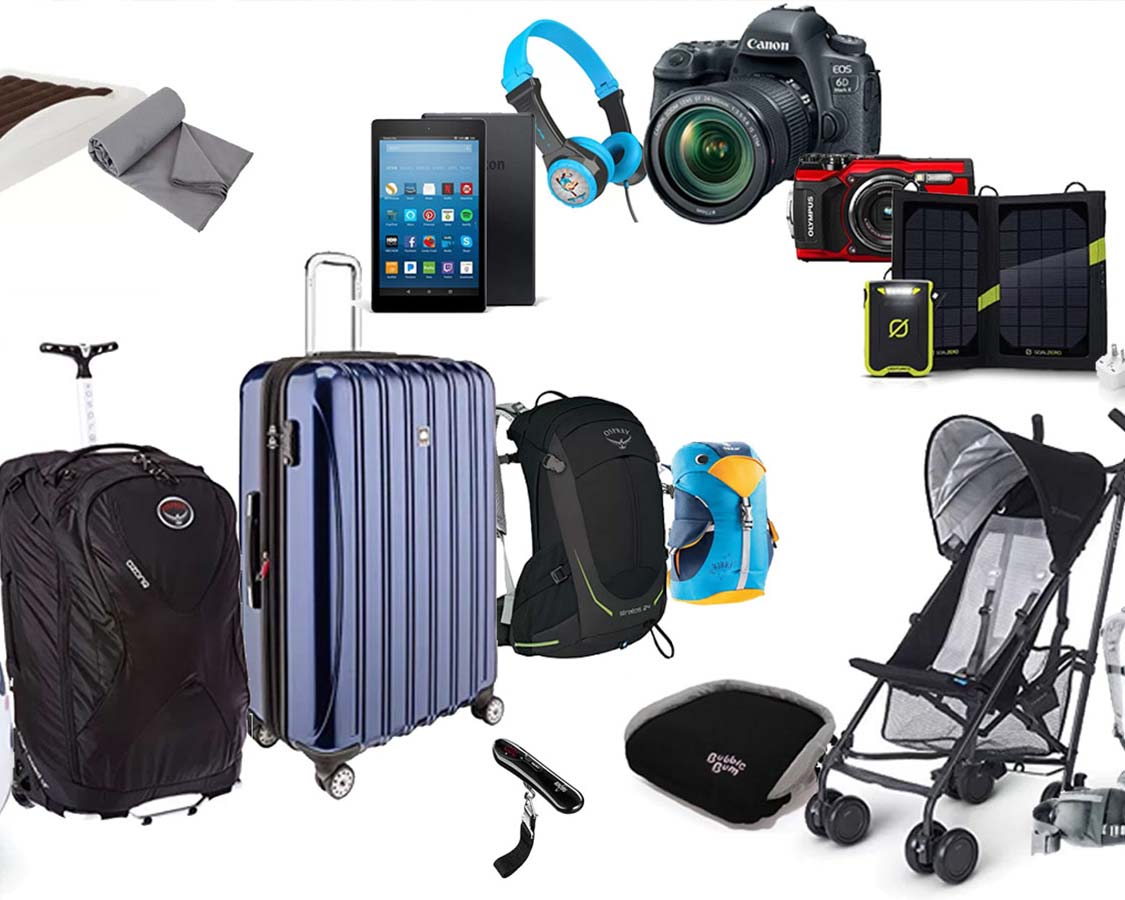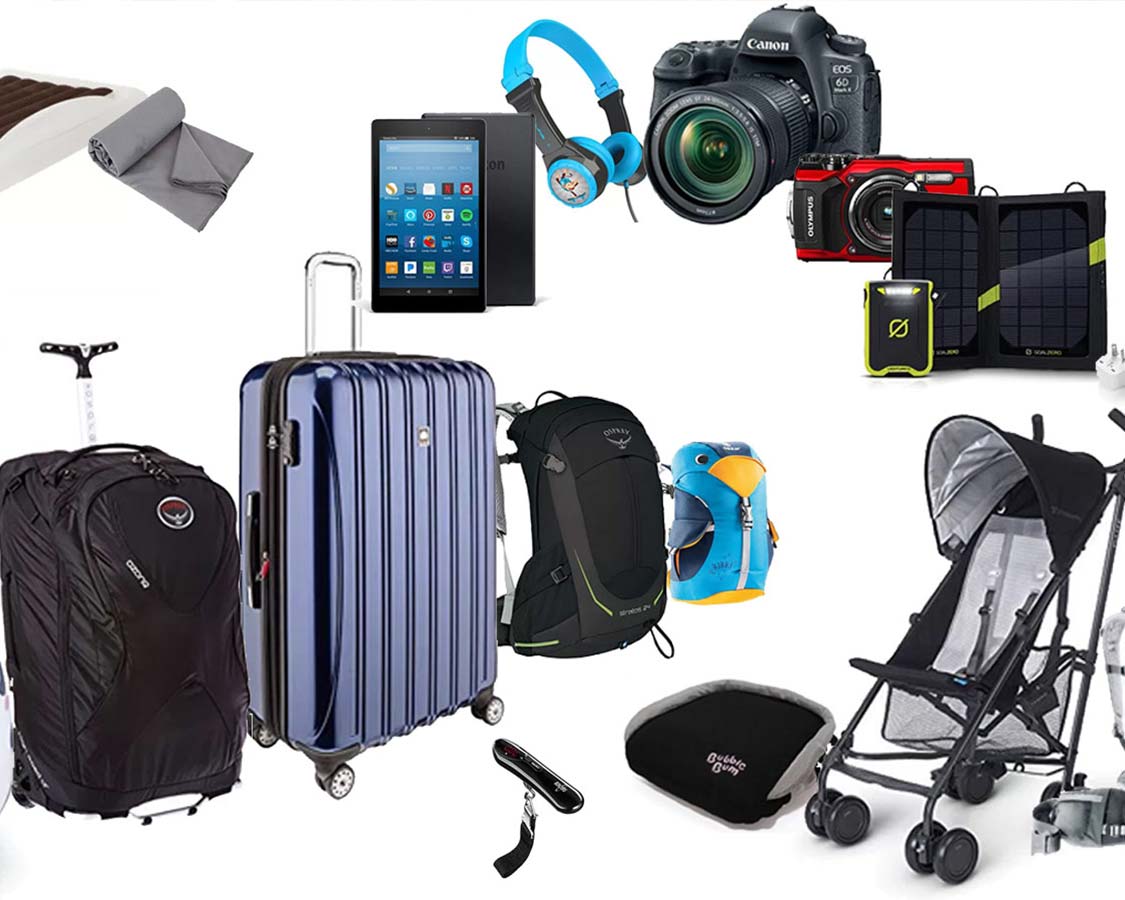 The Best Family Travel Gear for your Next Vacation
This post may contain compensated links. Find more info in our disclaimer.
Planning for family travel can sometimes feel overwhelming. From booking the destinations, planning the trip, booking excursions, planning meals or restaurants, packing and more. We go through these steps many, many times a year as we prepare for our family trips locally and around the world. I've written this post to help take some of the stress out of your planning by helping sort out what the best family travel gear is that you need to take on your next trip. So whether you are looking for gear for yourself, or looking for great gifts for travelers, look no further!
Table of Contents
We aren't into gimmicks and latest trends here at Wandering Wagars. We focus on practicality and what will help give you the best family travel experience. Whether you're traveling near or far these are the items we recommend when taking a family trip.
Packing
Best Travel Luggage for Check-In
The key to picking the best travel luggage for check-in is finding the right combination of practicality, weight, and convenience. A good suitcase for international travel or road trips will help keep your clothes and family travel gear organized while standing up to the bruising that road trips or airport crews will dish out.
Rollers vs. Spinners
Check-in luggage wheels can be divided into two sets of two categories, Rollers (travel luggage with two wheels) and Spinners (travel luggage with 4 wheels). Rollers tend to be lighter and have slightly recessed wheels that make packing the bag into the car more convenient. Spinners have 4 wheels that all move independently so they can spin (hence the name). They are more convenient for moving around, and you don't have to hold the weight of the luggage while you're traipsing through the airport. This convenience comes at the price of size, as the luggage tends to be taller.
Delsey Helium Aero 29″ Expandable Spinner
Victorinox Spectra 2.0 29″ Spinner
Samsonite Aspire Xlite Expandable Spinner 29″ 
Best Travel Luggage for Carry-On
Many frequent travelers choose to travel only with a carry-on luggage. Traveling with only a carry-on removes the sometimes agonizing wait time when you've arrived at a destination, and it simplifies all of your luggage. But for those who travel with children, it can be tough to get all that travel gear into a small package. Nevertheless, a good carry-on is still a perfect place to store your essential travel gear when you are flying. Important items can be kept nearby for when you need them most.
Picking the best carry-on luggage for travel follows most of the same rules as a full-size luggage. We look for durability, ease-of-use, comfort, and weight. Here are some of our favorite carry-on luggage for family travel.
Delsey Helium Aero Expandable Spinner
Travelpro Maxlite 4 21″ Spinner
Best Kids Suitcases
When you're traveling with a toddler or a young child it helps if they can handle some of the luggage duties themselves. It helps teach them responsibility and also takes some of the weight off of the parents. The best children's suitcases are tough, fun, lightweight and easy to manage. A kids luggage set must also be affordable, as these have limited lifespans before a child outgrows them. Here are our favorite suitcases for kids.
Melissa and Doug Trunki
Zinc Flyte Kids Luggage Scooter 18″
Heys Disney Spinners
Packing Cubes
Packing cubes have become an absolute lifesaver for us. Packing cubes allow travelers to keep their belongings organized. This is especially helpful if you are moving from location to location. The best packing cubes are durable and have an excellent zipper system. A good packing cube system comes in a variety of sizes to fit everything from your electronics, to clothes and more. Once you start using a packing system, you'll never go back.
Shacke Pak – 4 Set Packing Cubes
Bagail Travel Luggage Packing Organizers
Luggage Scale
Nothing is worse than getting to the luggage drop off at the airport and finding out that your luggage is overweight. Then you are forced to do the luggage shuffle of shame, moving things back and forth between your luggage and your carry-on. Having a lightweight and accurate luggage scale is essential for frequent travelers, or those who love to shop.
MagicPro Digital Luggage Scale
NONZERS Digital Luggage Scale
Best Adult Backpacks for Travel
A good backpack can make all the difference for travelers who like to venture off-the-beaten-path. The best travel backpacks are durable, lightweight and most importantly, comfortable. While everyone's needs for the best backpack for travel are always highly specific to the person using it, but here are our favorite travel backpacks.
Osprey Porter
Osprey Stratos
Deuter AC Trail 22L
Best Kids Backpacks for Travel
One constant about kids is that they get bigger. Sometimes way faster than we want them to. To keep things easy, we'll lay out our favorite backpack for each age group from toddler to tweens. Like backpacks for adults, the best travel backpacks for kids need to be durable, easy to manage and lightweight. For young kids, fun is a factor, but as they get older, practicality in a travel backpack becomes much more important.
Best Travel Backpack for Toddlers – Deuter Kikki 5L
Best Travel Backpack for Young Children- Deuter Kids 12L
Best Travel Backpack for Pre-Teens and Tweens- Deuter Junior 18L
Getting Around
Best Travel Car Seat
Car seats can be a challenge for many people who travel with kids. Rules and laws for car seats can change from country to country and region to region. And for some parents, it can be a shock to arrive somewhere and learn that car seats for kids just aren't a thing there. In some countries it's easy to rent a car seat locally, however for others, bringing a portable toddler car seat is the best option. The best travel car seats should be lightweight, portable and easy to set up. Here are our favorite travel car seats.
Best Travel Car Seat for Front and Rear Facing – Cosco Scenera NEXT Convertible Car Seat
Best Travel Booster Seat – 
BubbleBum Inflatable Car Booster Seat
Best Travel Stroller
Little legs sometimes need a break, especially if kids still have a nap-time. Finding the best travel stroller can be a challenge. A good stroller for travel needs to be compact, lightweight, durable and easy to use. There are a lot of great umbrella strollers our there, but these are our favorite strollers for travel.
Uppababy G-Lite
Uppababy G-Luxe
GB Pockit Stroller
Best Kid Carrier
We love to get into nature and ruins. And when you travel outside of the city (and sometimes even in it, when visiting cobblestone or dirt road towns), you can quickly hit the limits of what even the best travel strollers can handle. That's why most of our travel includes a kid carrier. The best child carriers keep children up high where they can see the world, but also keep them comfortable and secure for both the person carrying them and the child. Kid carriers should be lightweight, easy to carry, comfortable and offer room to stow your gear, as it also doubles as a backpack. You can read our review of the Best child carriers for travel here.
Best Kid Carrier for Infants – Baby Carrier One Air by Baby Bjorn
Best Child Carrier for Toddlers – Deuter Kid Comfort III
At the Hotel
Best Baby Travel Bed
A great night sleep is crucial to an amazing family travel experience. Having your kids get a good night sleep on the road is even more important. Some locations don't include sleeping options for young children. Whether you are booking an AirBnB or a hotel that has run out of cribs, it's sometimes essential to bring a pack and play or travel bed with you for the little one to sleep in. The best baby travel bed needs to be lightweight and portable, comfortable and easy to set up and transport. Here are our favorite travel beds for kids. You can check out our post on the best ways to find naptime on the road here.
Shrunks Travel Bed
BabyBjörn Travel Crib Light
Best Travel Towels
We always carry our own towels with us when we travel. Whether we plan on hitting the beach, or camping, the pool, or if it's just a hot day. Having a travel towel is crucial for us. And it's amazing how many times that we've arrived places that didn't have towels, or the towels that they do have aren't towels that you want to use. The best travel towel should be lightweight, quick-to-dry, big enough to be useful, but small enough that it doesn't take much room in your bag.
Youphoria 20×40-Inch Towel
Travelon
Anti-Bacterial Travel Towel
Electronics
Bringing electronics for travel is impossible to escape these days. We have chosen to embrace them rather than fight them. We use electronics on the road for learning, reading, entertainment, and information. Our children are learning to use and respect everything from tablets to cameras to GPS units and more.
Headphones
A good set of headphones is so important for family travel. Whether you are watching a movie, listening to music, or audiobooks, a good set of headphones helps to give you your own piece of sanity for a short period of time. Even kids that travel need a break from the noise from time to time. And a set of kids headphones also helps to make sure that their entertainment isn't being heard by everyone else on the plane.
Best Kids Headphones
JLab JBuddies Folding Headphones
Puro Sounds Volume Limited Kids' Bluetooth Headphones
Best Adult Headphones for Travel
I always like to travel with a great set of headphones. It helps drown out the noise on a red-eye flight and gives me a bit of sanctuary when I need a break to collect myself. Plus, I'm a bit of a music nut, so I love to carry my music around with me. A great set of travel headphones need to be compact, lightweight, durable and sound amazing.  Here are my favorite travel headphones.
Jabra Sport Pace Wireless Earbud Headphones
TaoTronics Active Noise-Cancelling Headphones
Bose QuietComfort 35
Best Tablets for Travel
Tablets and smartphones are inescapable these days. They are awesome for travel due to their versatility, portability and the sheer amount of information that they offer at the touch of a finger. But what are the best tablets for travel? These are our favorite tablets.
Apple iPad Air 32 GB
Amazon Fire HD 8
PowerCore
When you travel with electronics, battery life is always a concern. Carrying around a good backup battery system, or PowerCore can take a lot of the stress off. Especially when you are traveling to places with spotty electricity, camping has a lack of outlets, and many more concerns. These are our favorite battery backup systems.
Goal Zero Venture 30 Solar Recharging Kit with Nomad 7 Solar Panel
Anker 20000mAh Portable Charger PowerCore 20100
The Best International Power Adapters
If you travel internationally there is a good chance that you may travel to a country that uses a different electrical system than the one that you're used to. Some countries use different plug systems, while others use a completely different electrical frequency. Trying to use these without a proper international power adaptor could have disastrous consequences for your electronics. Before you travel internationally you should check on the electrical system used by the country you are visiting and compare it against what you currently use.
Voltage Converters vs. Plug Adapters
Because the electrical system varies from country, matching up your current plugs with those of the host country is incredibly important. By knowing the voltage of the host country you can check your power adaptors to see if they fit within the range that the country you are visiting offers. You can usually check this in the fine print written on the side of the power adaptor that you are using. It will generally offer a range (eg. 110-240 hz). If the host country uses a voltage that falls within that range, then you only need a plug adaptor. If your electronics don't list the range or the range doesn't fall within the range of your host country than you will need a voltage converter. A voltage converter adjusts the voltage sent to your electronics to one that is native to what you need. International voltage converters are generally larger and more expensive than International plug adaptors.
The Best Voltage Converters for Travel
BESTEK International Travel Voltage Converter
Key Power 200-Watt Step Down 220V to 110V Voltage Converter & International Travel Adapter
Best International Travel Adapter
JOOMFEEN Worldwide All in One Universal Power Converters
Best Cameras for Travel
Having a good camera is crucial to capture your family travel adventures. But choosing the best camera for travel can be tough. There are point and shoots, DSLRs and Mirrorless. You want a camera that shoots great photos, is easy to use, and of course, up to the wear and tear of family travel.
The Best Point and Shoot Camera for Travel
Point and shoot cameras are go-to for most family travelers. They are usually lightweight, easy to use, and can shoot both photos and video. But there is a huge range of quality and features in point and shoot cameras for travel that many people don't think about. A good point and shoot should be intuitive, have a great autofocus system, and be durable enough that even the kids can use it.
Olympus TG-5 Tough
Canon PowerShot G7 X Mark II
Best DSLR Camera for Travel
Where point and shoot cameras are light, easy to use and nimble, DSLRs are generally bulky, complicated and unwieldy. The multi-lens capabilities and manual shooting options are what drive the value of a good DSLR camera for travel. They allow the photographer to dictate almost completely how a photo turns out, and DSLR cameras usually feature large sensors that capture tremendous amounts of light. This means that the shooter can control their travel photography in order to have long or short shutter speeds and capture more artistic imagery.
Canon 6D MKii
Nikon D750
Best Mirrorless Camera for Travel
If you are used to shooting with interchangeable lenses, but your shoulders are starting to ache from the weight of the DSLR cameras that you are lugging around, then a mirrorless camera for travel may be exactly what you need. mirrorless cameras have an innovative design that allows them to shoot without the space robbing mirrors and therefore save enormous amounts of space and weight. Here are our favorite mirrorless cameras for travel.
Sony Alpha a7
 Panasonic Lumix GH5
So there you have it. Our recommendations for the best family travel gear. Whatever your travel plans, we are confident that these items will help make the trip a little smoother, more comfortable, and maybe a tad more enjoyable. But it's important to remember that it's not the gear that makes the trip. It's the company you keep.
Did we miss anything in our list of the best family travel gear? Is there a product or category that we didn't think to add that you would like to know more about? Send us an email here, or send us a note in the comment section below and we will look into it for you.
Wandering Wagars is a participant in the Amazon Services LLC Associates Program, an affiliate advertising program designed to provide a means for sites to earn advertising fees by advertising and linking to amazon.com, amazon.co.uk, amazon.ca. Amazon and the Amazon logo are trademarks of Amazon.com, Inc. or its affiliates.