The Melissa and Doug Trunki suitcase is a lightweight, carry on luggage for kids. But does the Melissa and Doug ride on suitcase handle real world travel?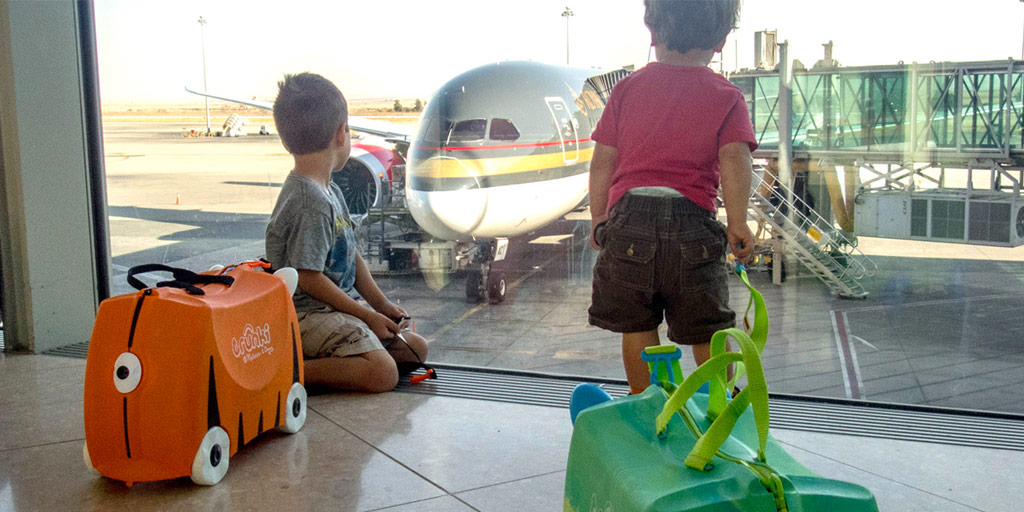 When it comes to traveling with children, finding the best carry on luggage for children can be a real toss up. Often kids, especially young children, have a hard time carrying heavier backpacks. And some carry on luggage for kids is just too big. When we first tried the Melissa and Doug Trunki, suitcase we thought it might be one of the most brilliant innovations in family travel on this side of the airplane.
What is the Melissa and Doug Trunki
Among many seasoned travelers, the Melissa and Doug suitcase is either loved or loathed. The Trunki suitcase is small plastic luggage decorated as an adorable monster or animal. The light, four-wheeled design allows children to zip through the airport while riding it like a horse. This children's luggage is small and light enough that even a two-year-old can comfortably pull it along themselves if they want to be just like Mommy and Daddy.
For traveling parents like myself who often carry a backpack through the airport rather than a rolling suitcase, the long strap of the Melissa and Doug Trunki suitcase allows me to pull tired kids through the airport without much effort. This allows them to kick back, be comfortable, and enjoy all the attention that other travelers will undoubtedly throw at them.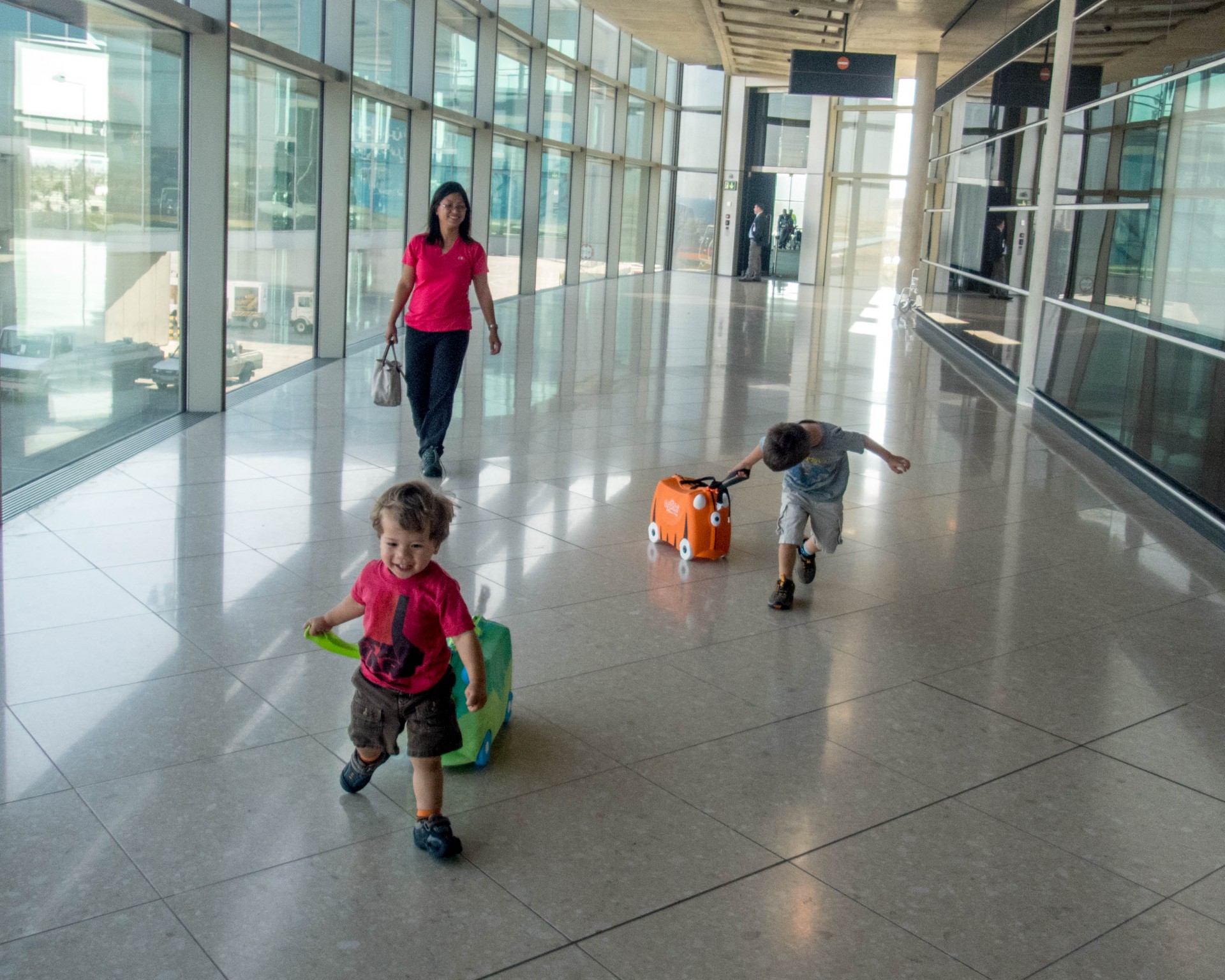 About the Trunki Ride-On Luggage
The Trunki suitcase is sturdy, lightweight and fits well under the carry-on limits for most airplanes. The unique design of this ride on luggage serves as both a children's luggage, a place to sit, and a means of entertainment for you, your children and everyone else in the airport who will smile and laugh as your children wheel around the airport with ease.
The Melissa and Doug Trunki features an adjustable tow strap that can easily be made to fit both children and adults, carry on handles, secure, locking latches, integrated wheels, and stabilizers that help prevent it from toppling over while your child careens through the airport. You can also purchase an optional mesh shoulder bag that secures easily within the Trunki. The Trunki is designed to support up to 75 lbs, and neither of my children had no trouble riding on it between 2-5 years-old have any issues riding or pulling it. After about 5-years-old, the luggage starts becoming a bit small, and may only be useful for small day trips.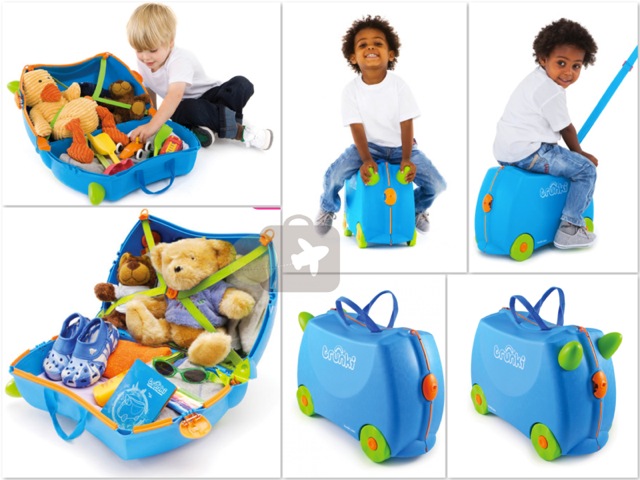 What We Love About the Melissa and Doug Trunki Suitcase
For us, the Melissa and Doug Trunki suitcase was great. We had 3 solid years of using them before the children outgrew them and moved on to larger, more practical children's carry on bags. There are a few things that we really loved about the Melissa and Doug suitcase such as:
Super fun to look at. The fun colors and creative designs of these children's luggage are wonderful.
Well-built. We never had any mechanical trouble or major damage to the Trunki suitcase. And our kids were not gentle with it.
Lots of accessories. You can add more storage space, saddlebags, and matching tote bags to the Trunki. We especially found the tote bag to be a useful tool, and still use it now to carry art supplies and games when we are on the road.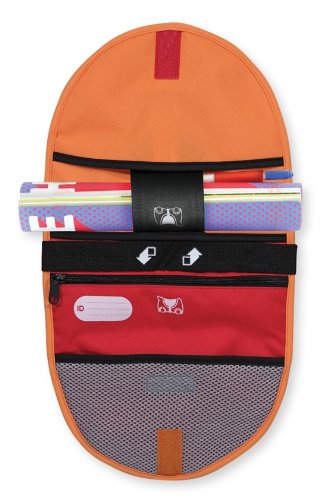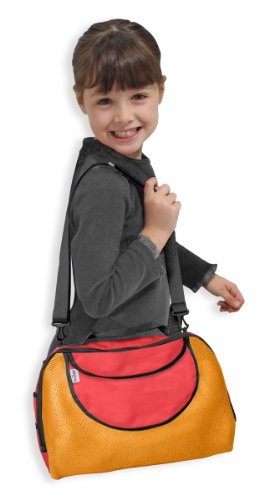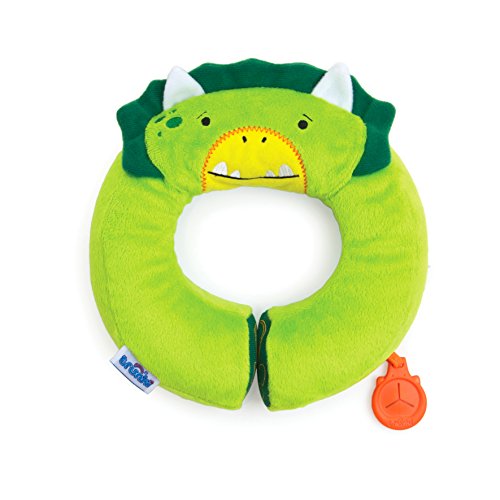 Where We Think The Trunki Luggage Could Improve
Latches can be hard to close. The largest issue that I have found with the Melissa and Doug Trunki luggage are that the latches can be somewhat temperamental to secure on the first unit we bought. We noticed that in the newer model we purchased for D, this issue had been resolved.
They can tip over. I tend to get a little rambunctious when I've playing with my kids. So when I pull them on the Melissa and Doug ride-on suitcase, it's nor rare for the suitcases to tip over. Because of carry on luggage constraints, I'm honestly not sure that this top-heavy design could be fixed.
Alternatives to the Melissa and Doug Kids Ride on Suitcase
The ride on suitcase fad isn't something that will go away. As family travel becomes more and more accessible, parent's are constantly looking for new ways to help ease the stress of travel both for themselves and their traveling children. There are even remote control suitcase now! But there are a few reasonable alternatives to the Melissa and Doug kids ride on suitcase. These are some of the most popular.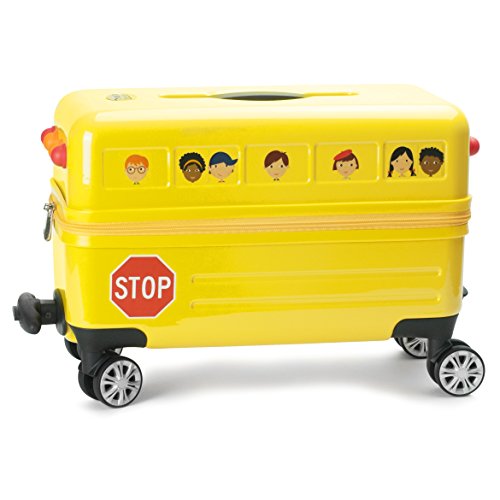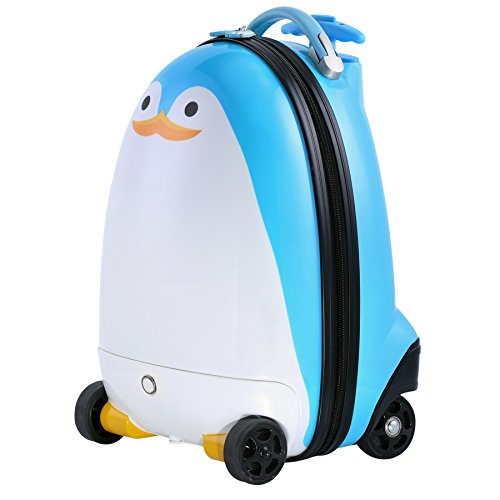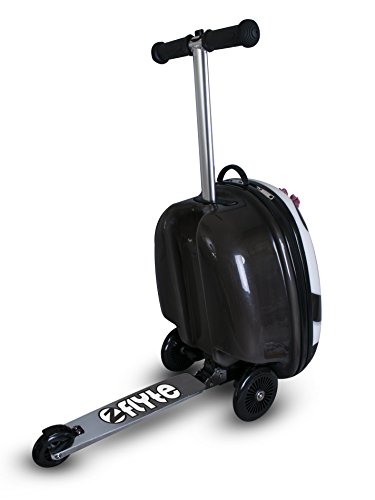 The scooter suitcases are especially popular with children 5 and up. They combine a scooter with a carry on luggage for kids. The unique design means it doesn't take up that much extra space, but it makes getting around the airport part of the fun.
Do We Recommend the Melissa and Doug Trunki Suitcase for Kids?
I mentioned earlier that the Trunki suitcase was either loved or hated by frequent family travelers. Our accompanied us on major trips to Jordan, Colombia, and Bermuda. And for the 2 and a half years that we used them, we were firmly in the loved category. But, I can appreciate why some people might avoid them. They are a bit kitschy, they offer an excuse for kids to be pulled rather than pull their own luggage, and they are only useful for a handful of years before children outgrow them.
But, on the other hand, it's light, it's more affordable than many of the alternatives, and our boys absolutely loved them. They still use them at 4 and 7 for overnight trips, or just to hold their art supplies. So if you are looking for something light and easy to use, than the Melissa and Doug Trunki luggage might be the perfect option for you.
Wandering Wagars is a participant in the Amazon Services LLC Associates Program, an affiliate advertising program designed to provide a means for sites to earn advertising fees by advertising and linking to amazon.com, amazon.co.uk, amazon.ca. Amazon and the Amazon logo are trademarks of Amazon.com, Inc. or its affiliates.