Family Travel To Newfoundland & Labrador Guide
Explore one of the Four Corners of the World with our travel guide to Newfoundland and Labrador with kids.
Step Back In Time With Our Newfoundland and Labrador Guide
Newfoundland's quaint fishing villages belie a dazzling history like no other place on Earth. The colourful towns and stunning scenery of Canada's easternmost province make it a treat for all visitors. But for history buffs, it is something truly magical. Newfoundland is one of the few places in the world where you can walk on the Earth's mantle.
Newfoundland is also famous for it's Viking history. Newfoundland is currently recognized as the original settling point for Nordic explorers who set foot in the America's over 400 years before Christopher Columbus. And there is no better place to experience this than on the Viking Trail. Newfoundland is also home to one of the country's most scenic National Parks, the incredible Gros Morne National Park. And if you visit during the spring and summer, don't miss the unforgettable experience as thousands of massive icebergs make their way along the northern coast of Newfoundland through Iceberg Alley!
Explore Incomparable Newfoundland with Kids
Check out some of our most popular Newfoundland blog posts to whet your appetite for this amazing province.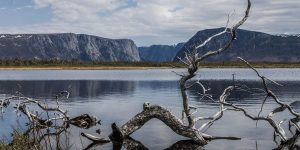 Discover the majesty of this landlocked Newfoundland fjord where 2,000-foot waterfalls tumble down epic cliffs of solid granite.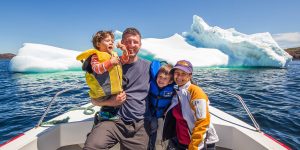 Icebergs and More: Everything You Need To Know About Visiting Twillingate Newfoundland
Every year thousands of icebergs make their way from Greenland and along the coast of Newfoundland. And there is no better place to experience them than Iceberg Alley Newfoundland!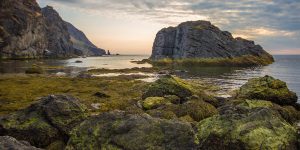 Hiking The Green Gardens Trail In Gros Morne National Park
Everyone makes mistakes. And we did it in spades when we hiked the Green Gardens in Gros Morne National Park! But what an incredible experience we had along the way!

What you need to know about travel in Newfoundland & Labrador
Travel to Newfoundland means adjusting to a slower pace in life. The locals are friendly, relaxed and always open for a chat. If you don't mind slowing down to their pace of life, you're in for a world of amazing stories and incredible experiences. If you can't handle the local pace, you might want to skip the towns and hang on your own.
Our Newfoundland travel guide will help you navigate what you need to know about visiting Newfoundland and Labrador.
Capital

The capital of Newfoundland is St. Johns. This urban center is located on the eastern coast of Newfoundland. St. Johns is a hotbed of art, culture, and food.

Maritime Life

Newfoundland has fishing in its heart. The coast is filled with colorful fishing towns. And visitors to Newfoundland are never far from their famous lobster and seafood chowder meals.

Art and Culture

St. Johns Newfoundland isn't the only art hub of Newfoundland. The northern area of the province is home to Fogo Island. This artist sanctuary houses artists looking for inspiration from the province's breathtaking scenery.

Slow Pace of Life

There is no way of getting around it. Life in Newfoundland travels at a slower pace than the rest of the world. And this speed drops further in the more rural areas. Expect a relaxed pace, and don't be surprised if even food trucks take their sweet time getting you your meals.

Newfoundland with Kids

The slow pace of Newfoundland combined with its relaxed style is a perfect math for family travel. There is endless wilderness to explore, and whether your kids prefer urban or nature, you will find lots to keep them busy.
All the best of Family Travel in Newfoundland & Labrador