St Anthony Newfoundland is a sleepy fishing town on the northern tip of western Newfoundland. But this small town hides a bounty of exciting attractions. And visiting St Anthony during the summer months gives visitors the chance to see one of the world's most spectacular natural attractions.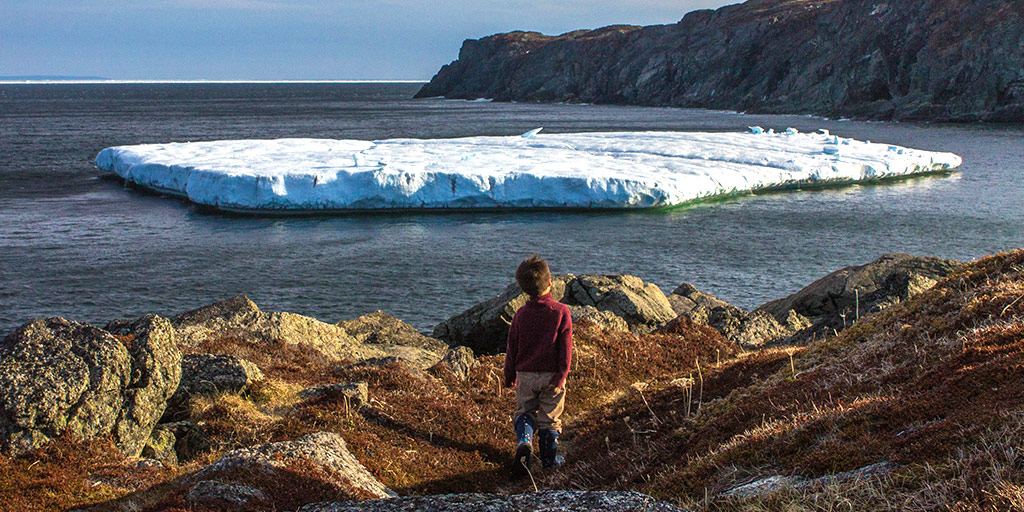 St Anthony Newfoundland is a small fishing town situated in the far north of western Newfoundland. But during the late spring to mid-summer, those in the know flock to this sleepy town to experience one of the most spectacular wonders of nature, the flowing of the Icebergs through Iceberg Alley. But when they arrive, visitors realize that there's a lot more to this town than they expected.
This post may contain compensated links. Find more info in our disclaimer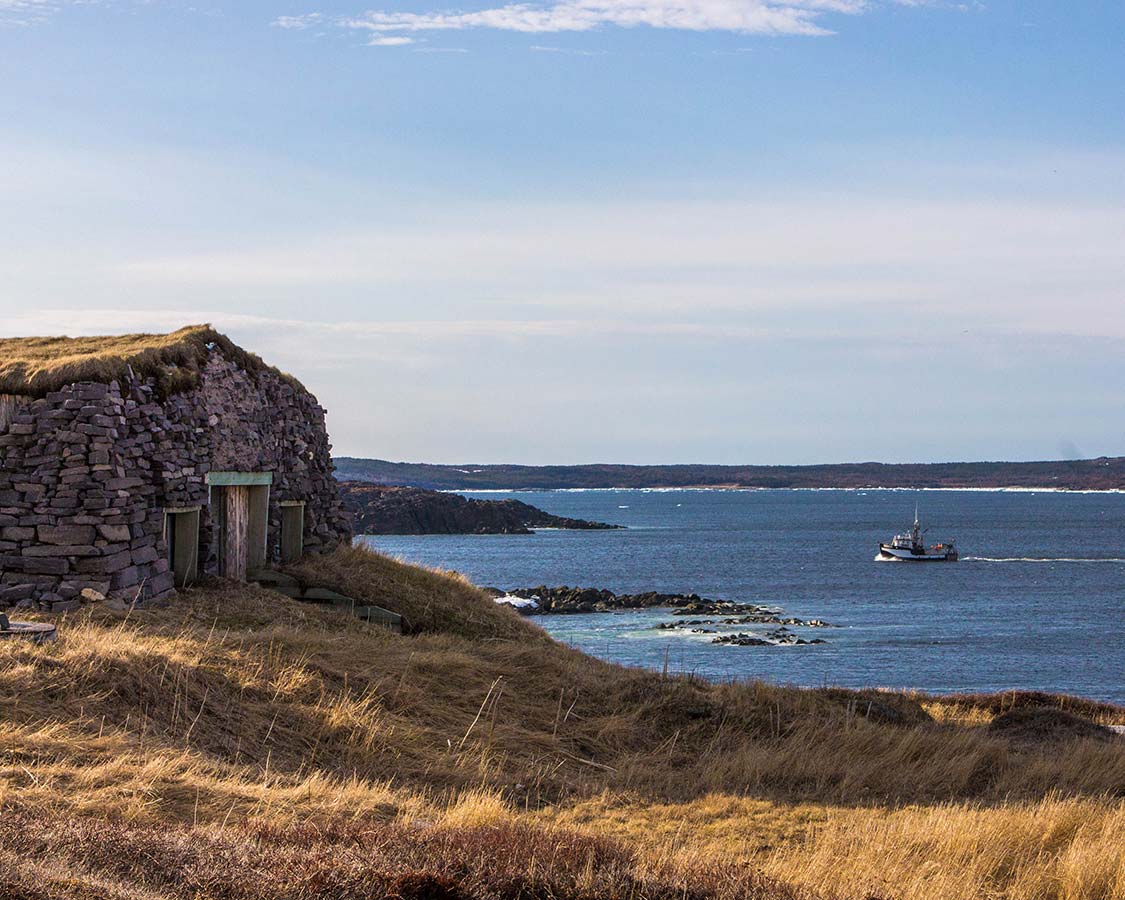 Getting to St Anthony Newfoundland
St Anthony Newfoundland sits near the very tip of western Newfoundland. A visit to this picturesque town is often combined with a drive along the coast Newfoundland Viking Trail. This route takes you through famous historical sites such as Western Brook Pond and Viking settlement site L'Anse aux Meadows. This can be easily done from popular western towns such as Cornerbrook and Rocky Harbour as a day trip.
For those looking to visit St Anthony from towns further East such as St. Johns, the drive is a little longer but no less beautiful. In fact, if you are coming from the capital of Newfoundland, you might also tag on a visit to the popular iceberg town of Twillingate on the way.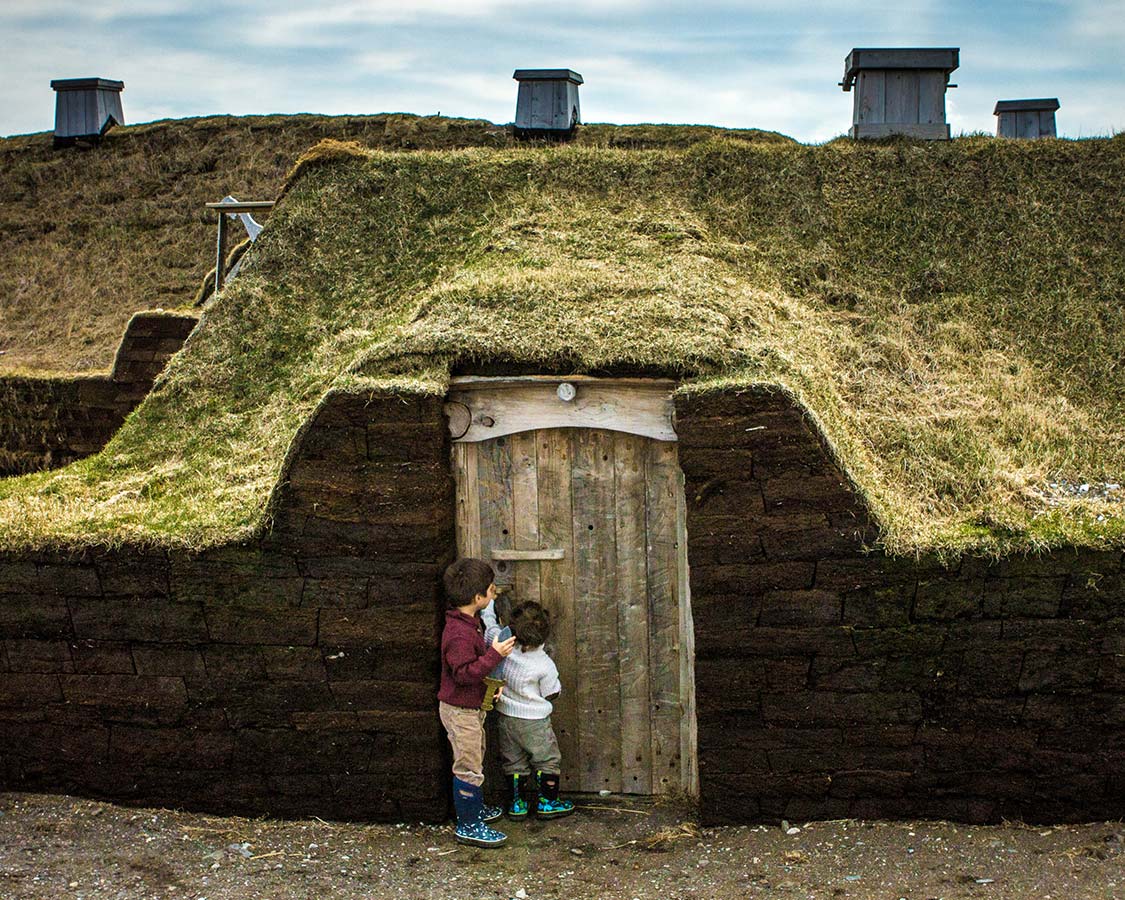 What To Do Near St Anthony Newfoundland
Because of its position on one of Newfoundland's most popular road trip routes, St Anthony is blessed with some spectacular nearby attractions. Whether you are visiting from Gros Morne National Park, or one of the other major cities in Newfoundland, a trip to the tip of Newfoundland is worth your time.
The Newfoundland Iceberg Alley
During late spring to mid-summer (May – July) a spectacular natural event occurs on the shores of Newfoundland and Labrador. Arriving from western Greenland, thousands of icebergs travel at a rate of 7 km/year passing through the Davis Strait and then the Labrador current grabs them and launches them towards Iceberg Alley in Newfoundland and Labrador.
Of the thousands of icebergs that make the journey, only a few hundred or 1-2% will survive the 2-3 year journey to Iceberg Alley. Greenland's glaciers are approximately 10,000 years old making the ice that has arrived on Newfoundland and Labrador's shores some of the purest water available. We set out from Ontario with a mission, and it became pretty clear right away that we would be spotting icebergs in St. Anthony Newfoundland.
Iceberg Alley in Newfoundland and Labrador can be mapped from north to south with the following cities: Cartwright, Battle Harbour, Point Amour, St. Anthony, La Scie, Twillingate, Bonavista, St. John's/Cape Spear and all the way down Bay Bulls/Witless Bay. If you are hoping to see icebergs in St. Anthony, it's good to be aware that earlier on in the iceberg season, it is most common to find icebergs further north in the alley. Tip: Depending on which city in Iceberg Alley you want to base yourself, make sure to check on which airport works best for your itinerary.
A Little Information About Icebergs
Icebergs come in different shapes and sizes, but all of them are incredible in their own way. The shapes have been notoriously cataloged by iceberg hunters and can be broken down into the following categories: tabular, blocky, wedged, dome, pinnacle, and dry dock. A tabular iceberg, like the one we saw in St. Anthony is a flat-topped iceberg with a width that is five times greater than it's height. Amazingly, almost 90% of an iceberg is hidden underwater!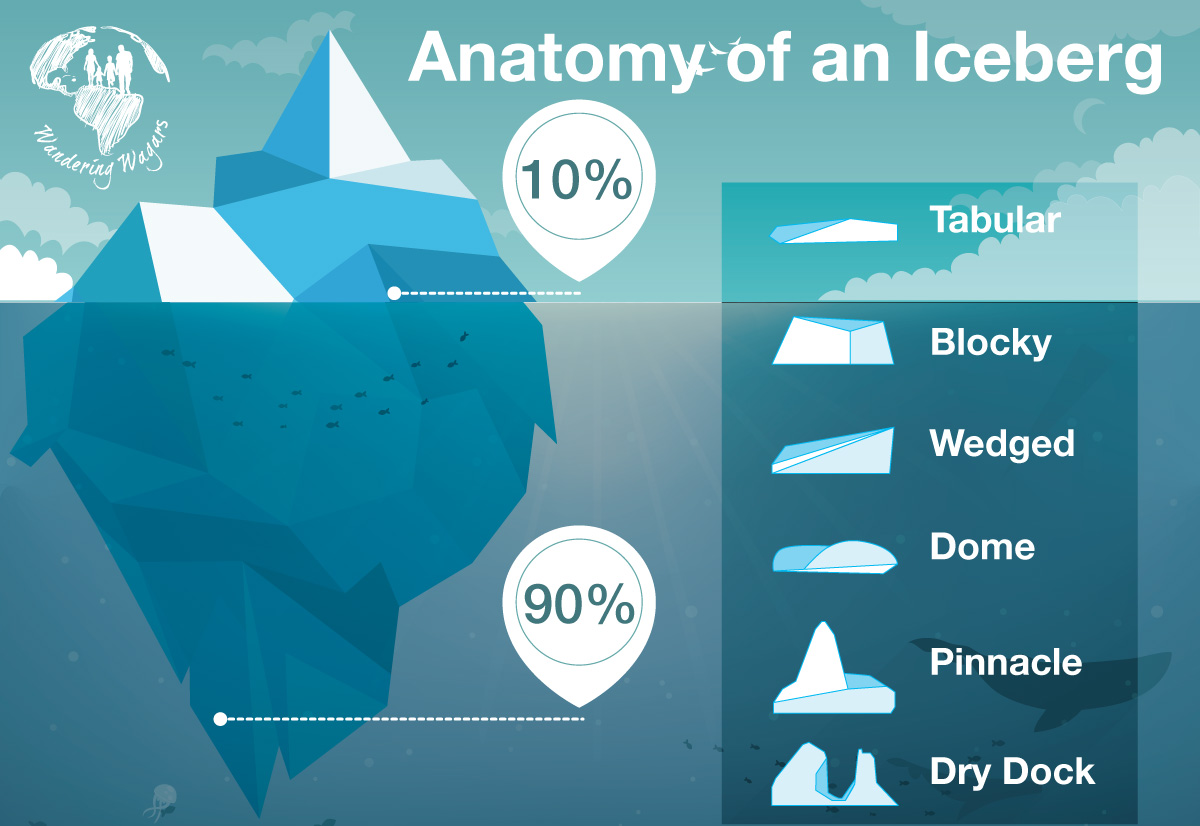 Driving the Viking Trail
Our visit to St Anthony Newfoundland started in the town of Rocky Harbour. We had spent the day before hiking in Gros Morne National Park and were looking forward to a relaxing day of exploring. We drove north on Route 430 along Newfoundlands western coast. This section of the highway is also known as the Viking Trail and it takes you through Gros Morne National Park and up through quaint fishing towns on the coast of western Newfoundland.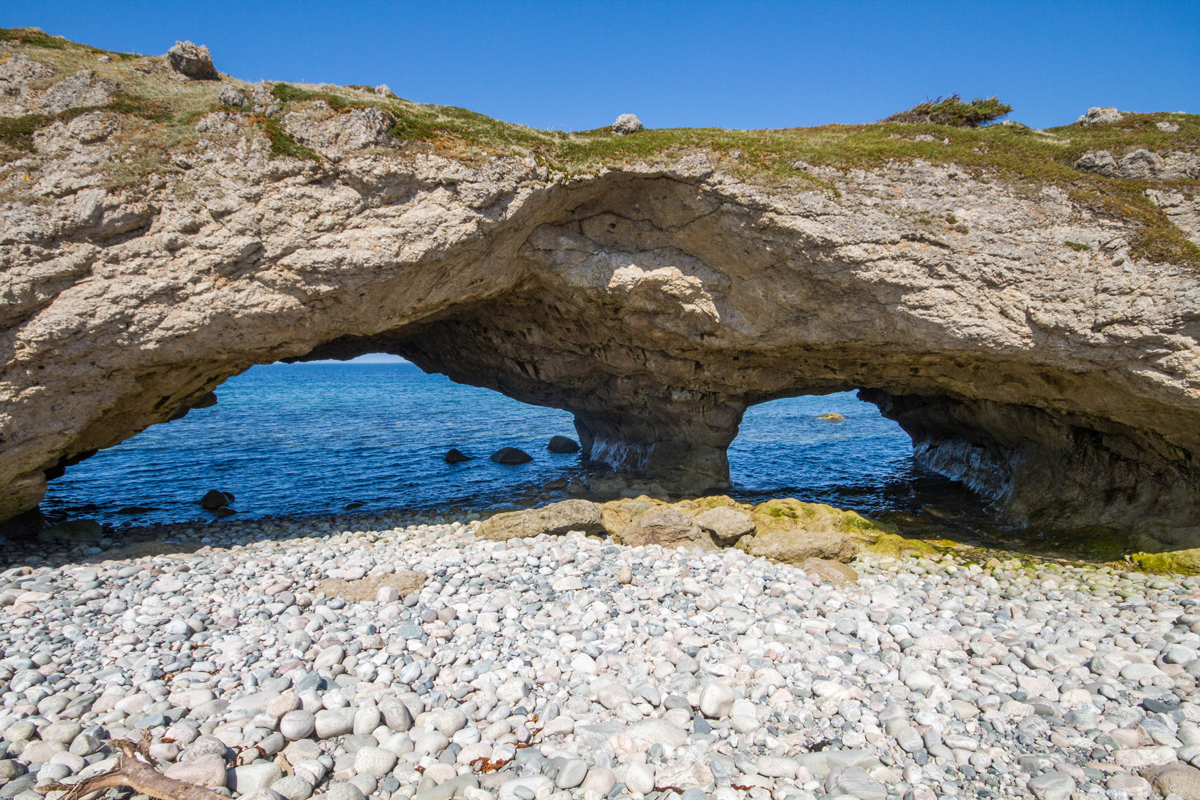 The Viking Trail is a scenic journey of approximately 350 km. We stopped often for photos and to give the children a chance to run around at various spots along the way. The weather was definitely cooperating with the sun shining brightly and blessing us with temperatures in the low 20 degrees Celsius. As we got closer to our destination at the northern tip of Newfoundland, we witnessed amazing views of the coast of Labrador across the Gulf of St. Lawrence.
Along the way to St. Anthony we saw our first iceberg! And to add to the excitement, a humpback whale also decided to join the party! Kevin and I were ecstatic but chose not to stop as the berg was far in the distance near the Labrador coast, and there wasn't really a good spot to park the car on the highway. Both C and D were having a much-needed nap as well, so we opted to trek on to better views rather than risk breaking up a well-deserved rest.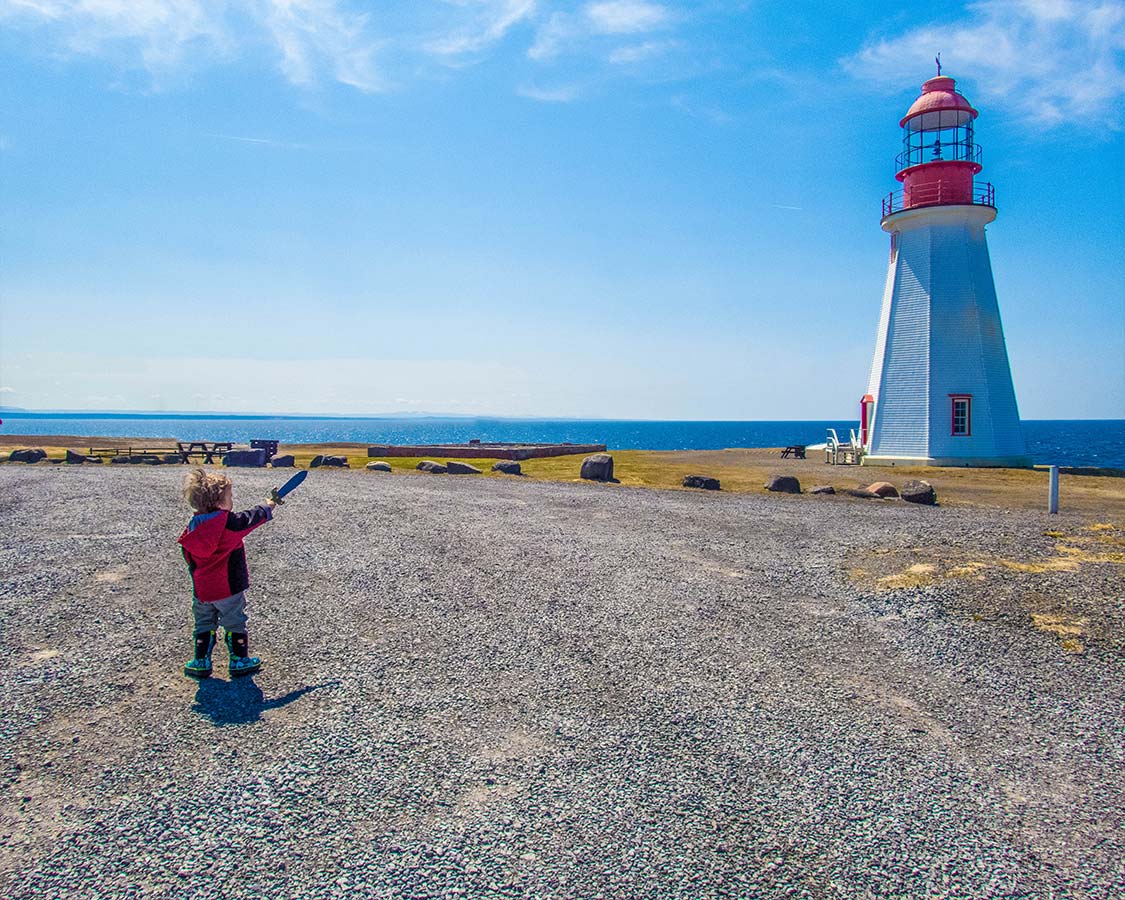 Fox Point Lighthouse (Fishing Point), St. Anthony Newfoundland
Before we knew it, we had reached the northern tip of western Newfoundland and we were gazing in awe at the rugged coastline off of Fishing Point, in the town of St. Anthony. The weather, though still sunny, had cooled down considerably as we drove north and a strong wind was reminding us of Newfoundland's unpredictable weather.
After putting on sweaters, C and D, refreshed from their nap, jumped out of the rental van and almost immediately noticed the lighthouse in the distance. D, who at this point had become absolutely obsessed with Lighthouses (possibly thanks to Paw Patrol), took off running to explore the site.The Fox Point Lighthouse was originally erected in 1906 and at its inception, it consisted only of a lantern that was hoisted up an open frame. The modern structure dates from 2002. As of 2009, three experienced lighthouse keepers have shared the responsibility of keeping the lighthouse operational.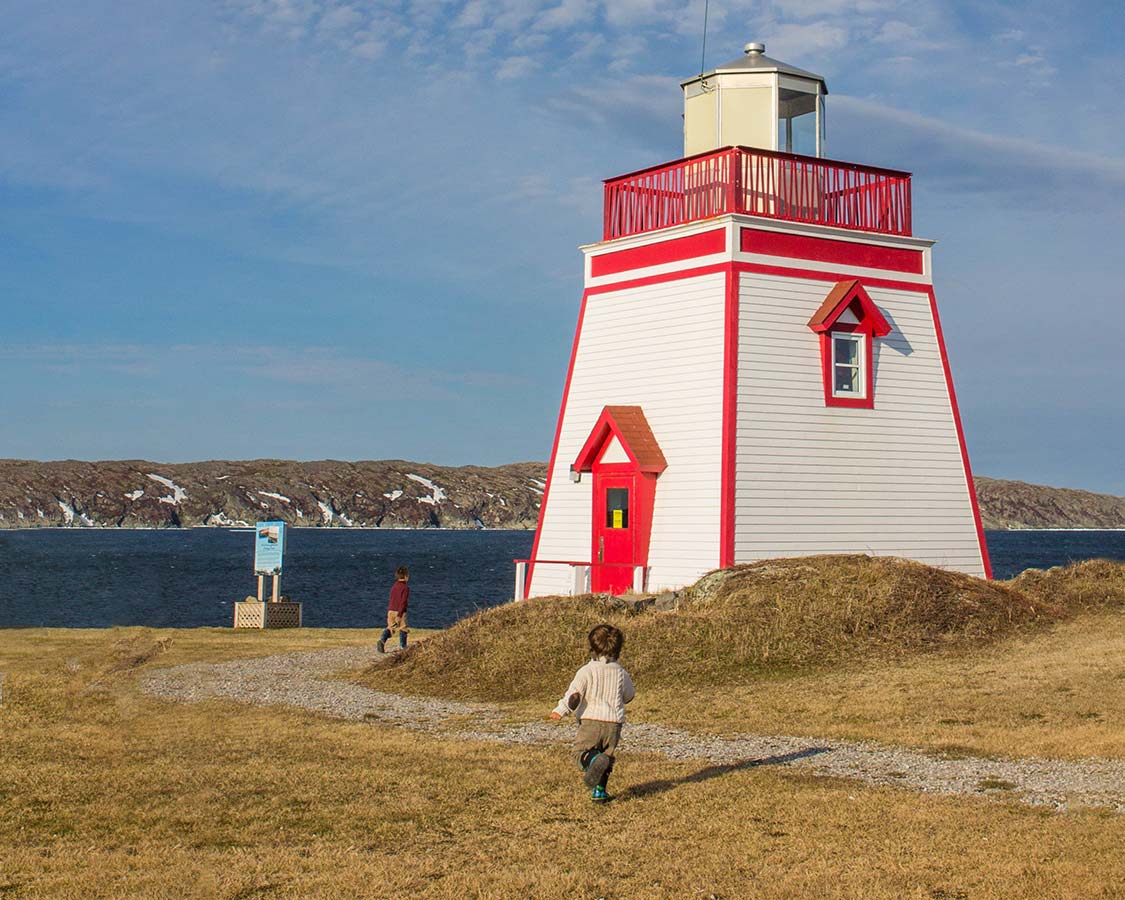 Icebergs in St. Anthony, Newfoundland
The town of St. Anthony Newfoundland is the self-proclaimed iceberg capital of the world. And the town certainly lived up to its name! Easily visible from the Fox Point Lighthouse parking lot in Fishing Point was a large tabular iceberg. Kevin wasted little time in breaking out our drone to capture some stunning views of the berg nestled in St. Anthony Harbour. It's become some of our most popular footage and has been featured by Newfoundland Tourism and Matador Network.
Pro-Tip: The weather in Newfoundland and Labrador is notoriously unpredictable. When packing for late spring, plan on temperatures ranging from 5ºC – 25ºC (41ºF – 77ºF). There is almost always a possibility of snow so make sure to pack accordingly.
Explore the Coastline of St Anthony Newfoundland
From the Fishing Point Lighthouse, there are four trails that you can follow to walk the coast and watch for icebergs in St. Anthony: The Santana Trail, The Cartier's View Trail, The Iceberg Alley Trail, and The Whale Watchers Trail. All offer amazing viewpoints and except for the Santana Trail, all are rated as easy.
Both the Iceberg Alley and the Whale Watchers Trail have boardwalks with the latter being wheelchair accessible. During the iceberg season, it is also possible to see whales and puffins alongside the icebergs off the St. Anthony coastline. We may have only seen icebergs in St. Anthony on our walks along the trails, but we certainly didn't leave disappointed.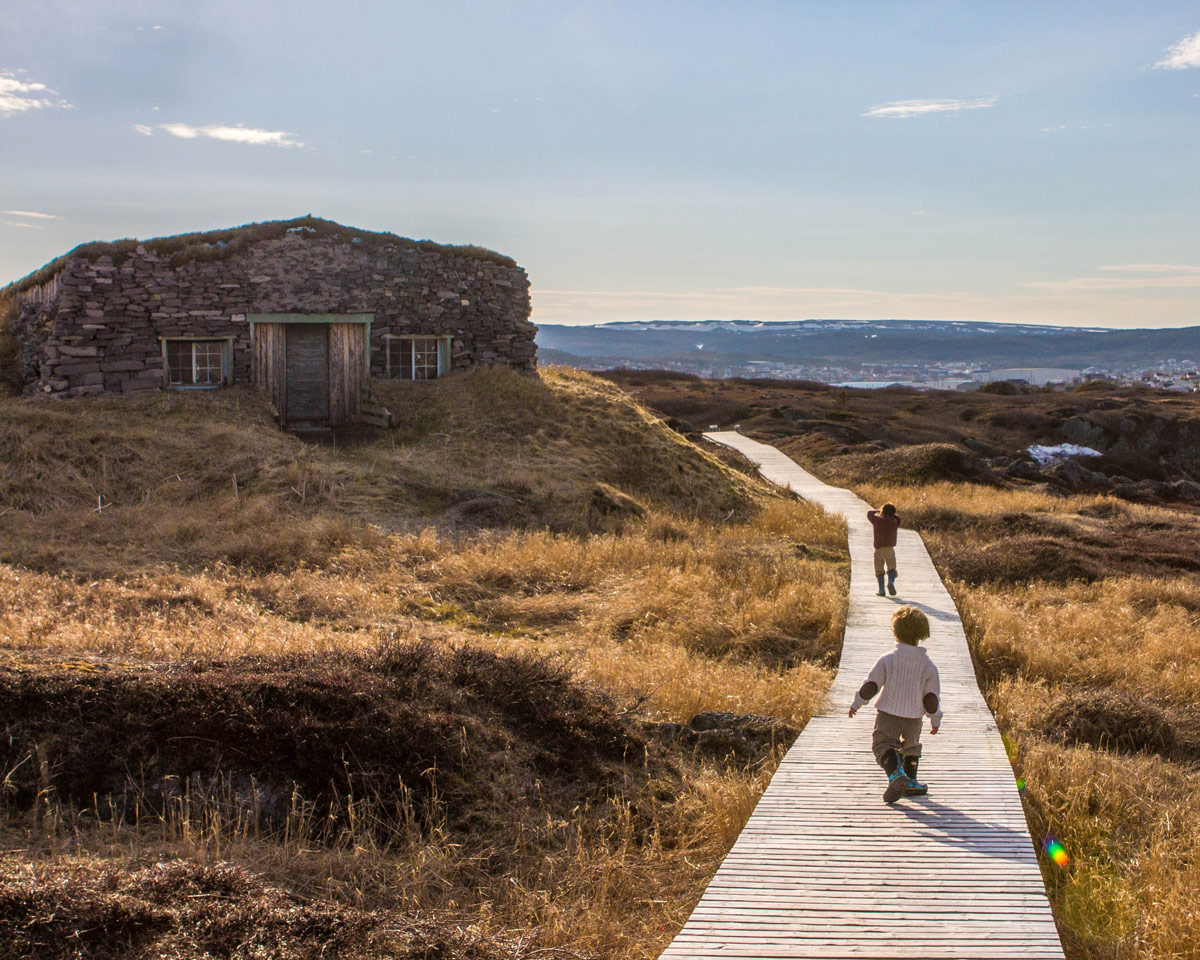 Pro-Tip: Although 2 of the 4 trails have boardwalks, it is still wise to have proper footwear. The boardwalks can be wet and icy depending on the weather.
Eat at the Lightkeeper's Seafood Restaurant
After exploring the area and staring in awe at the sheer size of the icebergs in St. Anthony we settled down for an early dinner at The Lightkeeper's Seafood Restaurant which is located right in Fishing Point. Fishing Point overlooks the harbor, and we were surprised to be approached by a three-legged fox as we were checking out the view. When we asked the staff at the restaurant about the visitor, they let us know that the fox had been snared in a trap years before, and since then had relied on the charity of restaurant patrons for food. The fox is considered tame, but remember that it's still a wild animal, so don't try to approach it.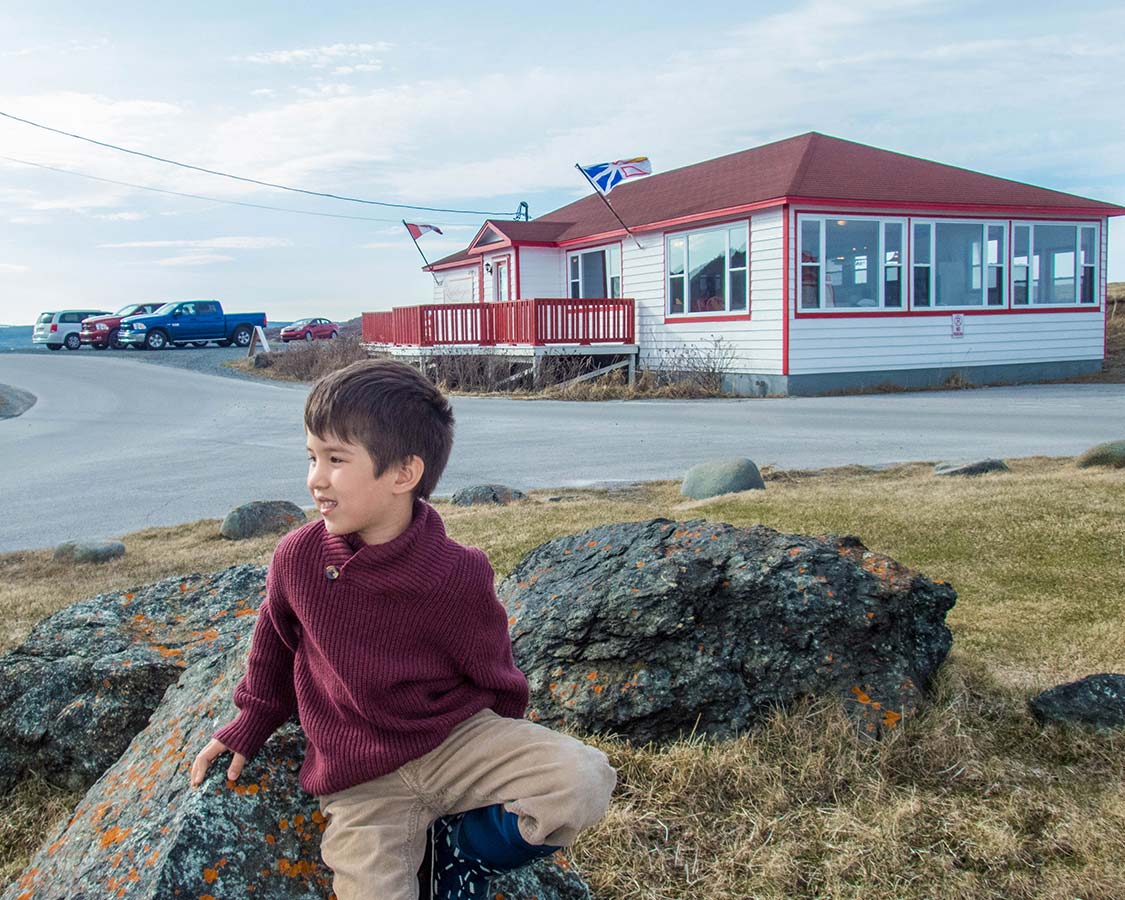 The Lightkeeper's Seafood Restaurant is housed in what was originally one of the lighthouse keepers dwellings. I was the only one that opted for an appetizer and I started with the Lightkeepers Seafood Chowder. It was very tasty and had large chunks of shrimp which we did not find anywhere else in western Newfoundland. For my main, I opted for two appetizer plates.
The battered and fried calamari was good but was made exceptional by the sweet Thai chili/tartar sauce combination dip! I also had the Bacalao cake which is a pan-fried patty of salt cod, potatoes, and onion. I can understand why it is a classic in both Newfoundland and Portugal. Kevin had the Snowcrab platter which is served which your choice of two sides. As for what he thought of it, the empty plate spoke for itself.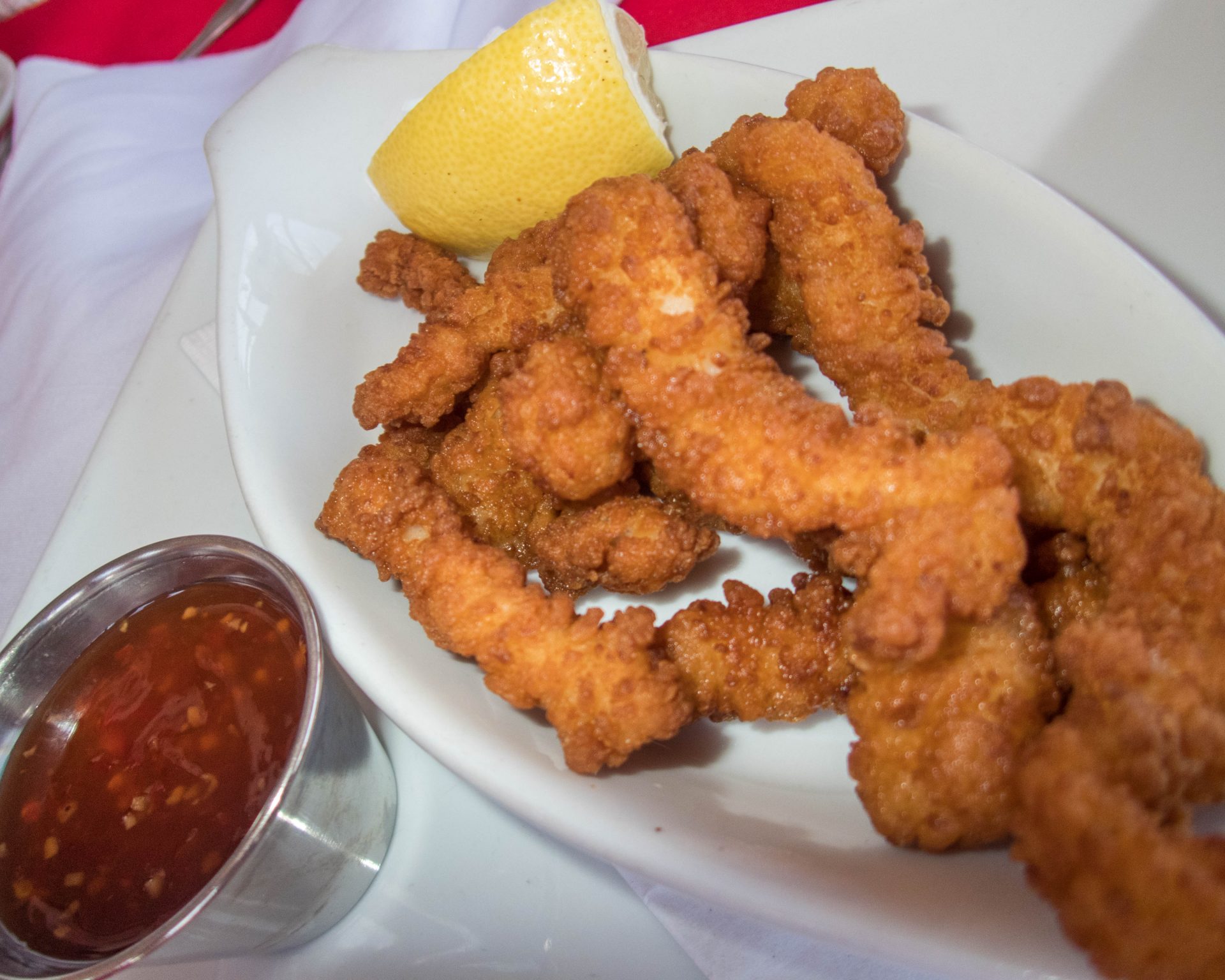 The children opted for good old macaroni and cheese. But their favorite part was dessert. The generous staff at Lightkeeper's Seafood Restaurant allowed them to split one order of sundae which was served in two separate sundae cups and they each got to pick their own flavor. Talk about amazing service! Between the views, the well prepared and tasty dishes, and excellent service we highly recommend this restaurant for families and anybody else that happens to find themselves in St. Anthony.
Where to Stay in St Anthony Newfoundland
Originally, we had planned to stay overnight in St. Anthony at the historic Grenfell Heritage Hotel and Suites You can check out their prices and availability on Booking.com here.
However, we found out that the boat tours for spotting icebergs in St. Anthony had not yet started for the season. After some discussion, we decided that, since icebergs were our main mission here in Newfoundland, we would make the journey to another part of Iceberg Alley, the spectacular town of Twillingate where the boat tours were in full-force for the season.
We made the trip back to Rocky Harbour, the half-way point to Twillingate. We would have loved to spend more time in St. Anthony, as it had even more beautiful areas to explore. But a mission must be accomplished, so we traveled on!
St. Anthony Newfoundland is definitely a place we hope to visit again soon. Part of visiting Newfoundland is getting "Screeched In". This is a way for visitors to become honorary Newfoundlanders. Our friend and fellow travel writer Christopher Rudder at Rudderless Travel shares his experience with the Screech-In here.
Resources for visiting Newfoundland
To help in our planning I joined a very helpful Facebook group called Newfoundland Iceberg Reports and followed their twitter account (@NLIcebergReport). The members are invaluable in providing daily updates on icebergs that can be spotted in various areas of Iceberg Alley. Also, I was religiously checking the iceberg map in the weeks and days leading up to our trip. On this map, you will find the icebergs that have been reported by ambassadors (this is a team of berg-spotters) but also those that have been detected by satellite.
The hard thing about this adventure though was that at any moment, any given iceberg could calve (break apart) and/or roll-over without warning. Although this would have been a fantastic event to witness, it meant that we could not guarantee any one site we picked would have icebergs when we got there.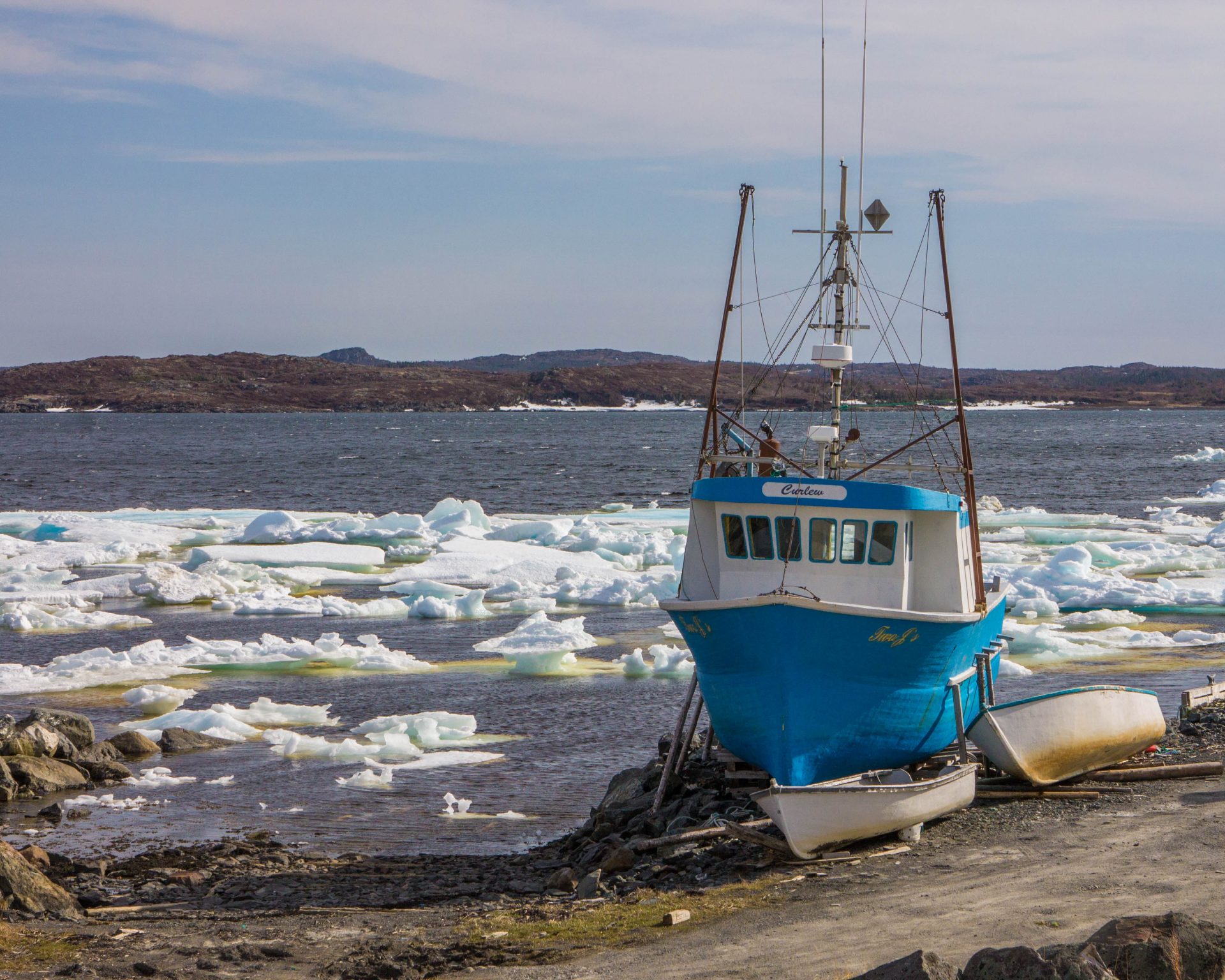 The first three cities mentioned above (Cartwright, Battle Harbour, Point Amour) are all in Labrador, which is on Canada's North-Eastern Mainland, and would have required a ferry ride from our base in on the island of Newfoundland. Since we were only in Newfoundland for a short period of time we opted to try our luck in seeing icebergs in St. Anthony.
We had gotten our first taste of the Newfoundland icebergs up close and we were craving more. The next day, we would be making the drive from Rocky Harbour to Twillingate to join Captain Dave's Boat Tours and get a true, up-close and personal look at some Newfoundland icebergs.
Wandering Wagars is a participant in the Amazon Services LLC Associates Program, an affiliate advertising program designed to provide a means for sites to earn advertising fees by advertising and linking to amazon.com, amazon.co.uk, amazon.ca. Amazon and the Amazon logo are trademarks of Amazon.com, Inc. or its affiliates.
You May Also Like To Read: