Nothing says paradise like a private island surrounded by pristine nature, emerald blue water, and gorgeous beaches. The best Coron resorts are famous for their scenery, but the Sangat Island Dive Resort in the Calamian Islands brings it all to another level. Discover what makes this Palawan eco resort so special.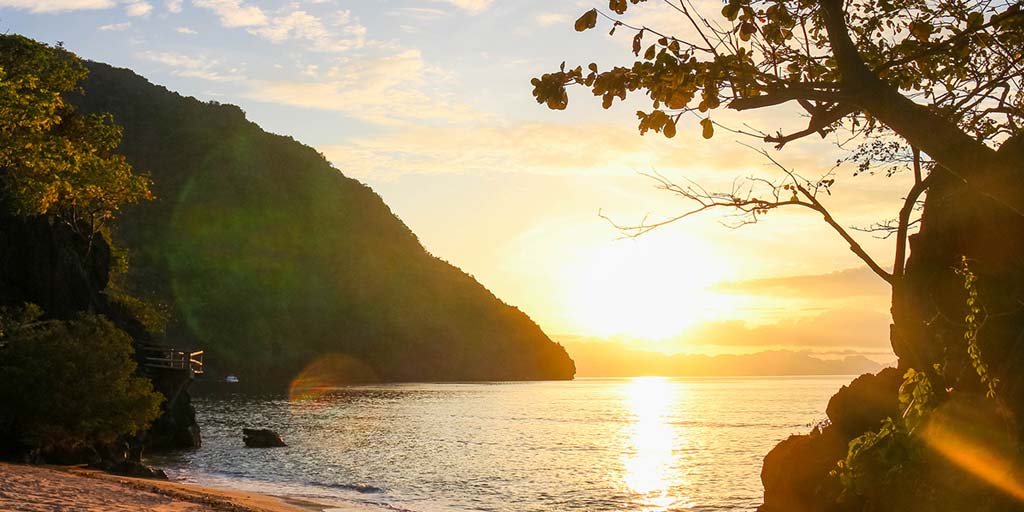 Nothing says paradise like a private island filled with perfect beaches, natural hot springs, gorgeous emerald blue water and towering limestone mountains. Add in nearby access to beautiful spots like the Calamian Island group, including world-famous Coron Island, and you have a recipe for the perfect destination. When were in Puerto Princesa Palawan researching where to stay in Coron, Sangat Island Dive Resort kept coming up as a popular option.
We weren't sure about staying away from the mainland, but after contacting them we decided to give Sangat Island Resort a shot. And for the 8 of us traveling together, we got more than we expected from our Coron Palawan accommodations.
This post may contain compensated links. Find more info in our disclaimer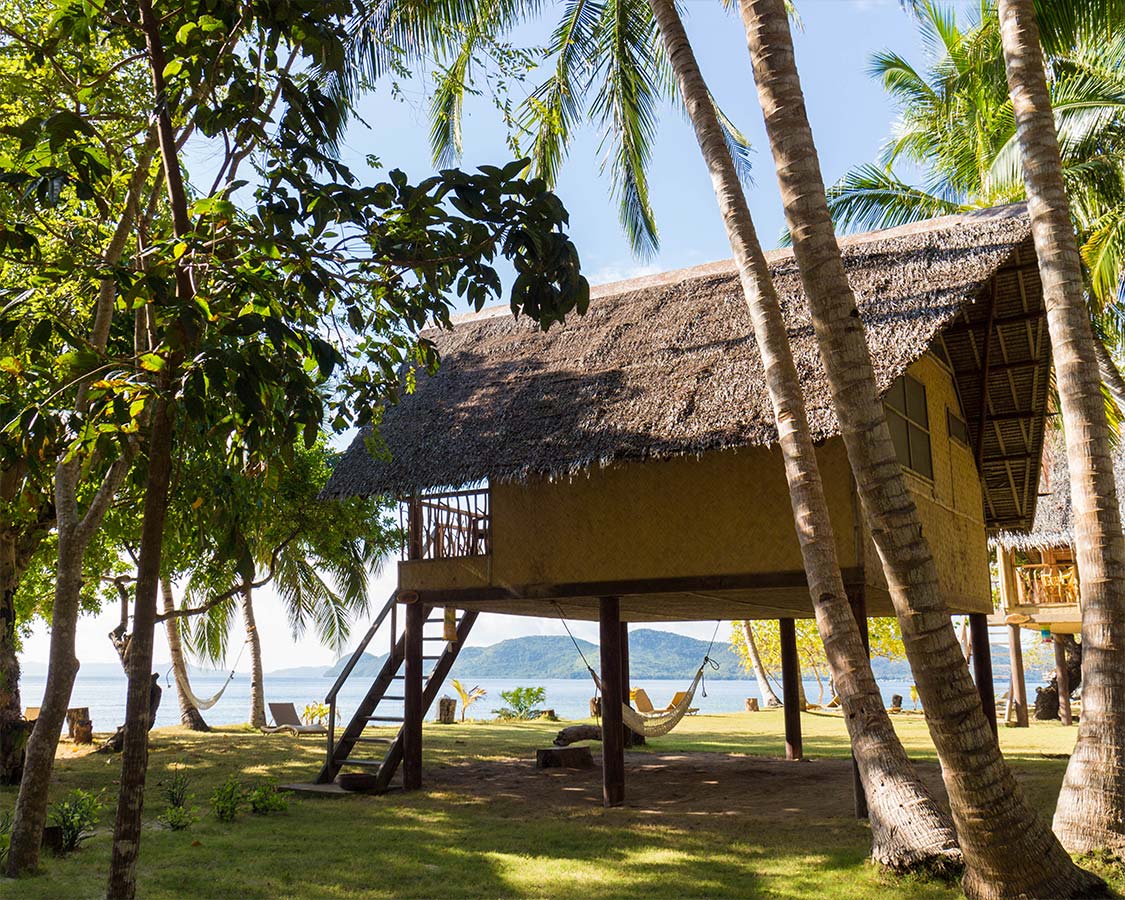 What is the Calamian Island Group Palawan
The Calamian Islands (or Calamianes) is a series of 90 islands and islets in the northern region of Palawan, Philippines. The Coron region of Palawan is not as famous as the islands found in the Bacuit archipelago such as El Nido, however, it is often considered more spectacular by those who visit. The Calamian Islands region is far more off-the-beaten-track and is not yet overflowing with tourists. The region's more remote location means better-preserved coral reefs, making Coron diving some of the best in the country.
Some of the most popular of the Calamian Islands are Coron, Busuanga, Culion, and Sangat. Of all the islands, Sangat Island is the closest proximity to the sunken World War II ships which are very popular Coron diving locations. So, for those looking for a quiet, relaxing island escape with ample flora and fauna and provides easy access to the underwater treasures of the Calamian Islands, Sangat Island Dive Resort on Sangat Island is our choice of the best Coron resorts.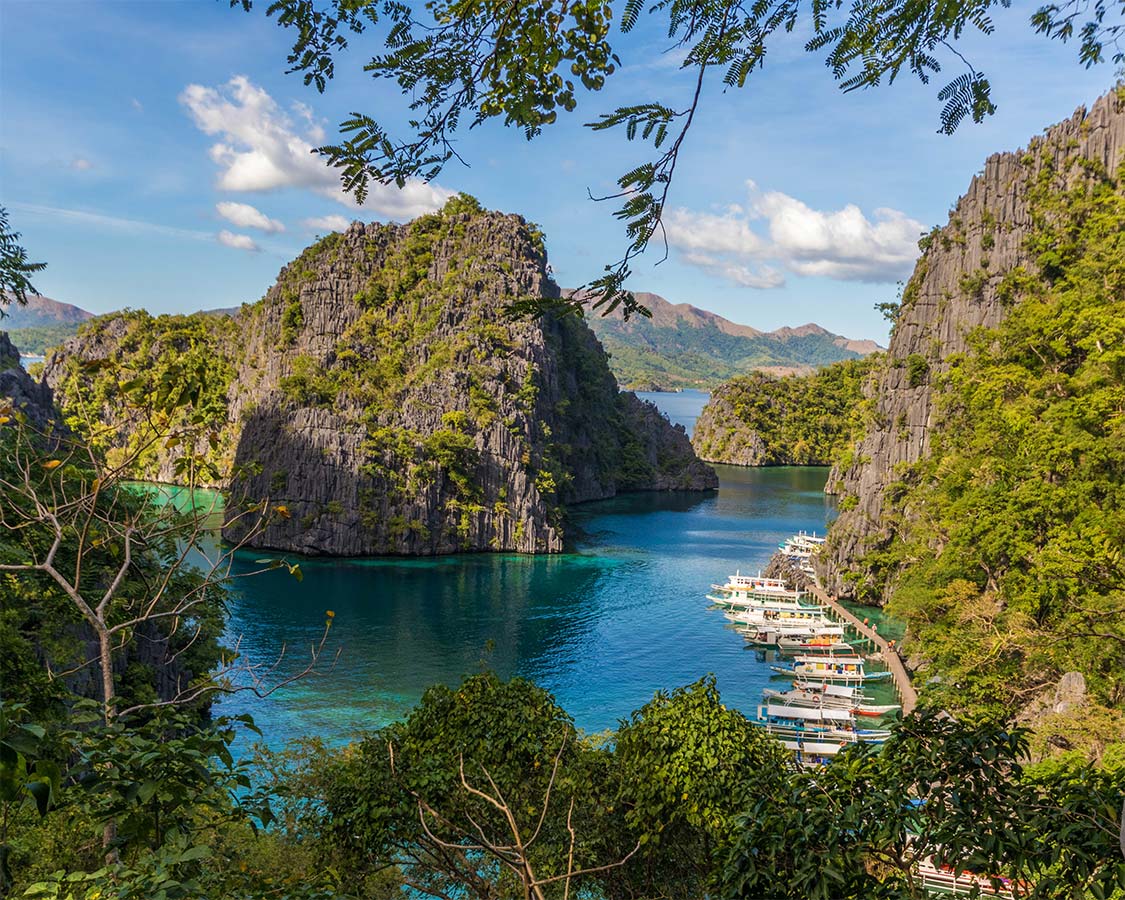 How to Get to Sangat Island Resort
There is only one way to get to Sangat Island and that is by boat. Sangat Island as the name implies is an island. Sangat Island Resort is located 2 km off the coast of Busuanga, Coron. International travelers will have to fly into Manila or Cebu and then catch a domestic flight to Busuanga. At Busuanga airport, we were picked up by representatives from the resort for the 30-minute drive to the small jetty where our boat was waiting. It was thrilling a 40-minute boat ride to the resort.
If you are coming from elsewhere in Palawan by private boat, it is possible to head to Sangat Island directly. Outrigger-style boats can take anywhere from 7-8 hours to get to Sangat Island from El Nido.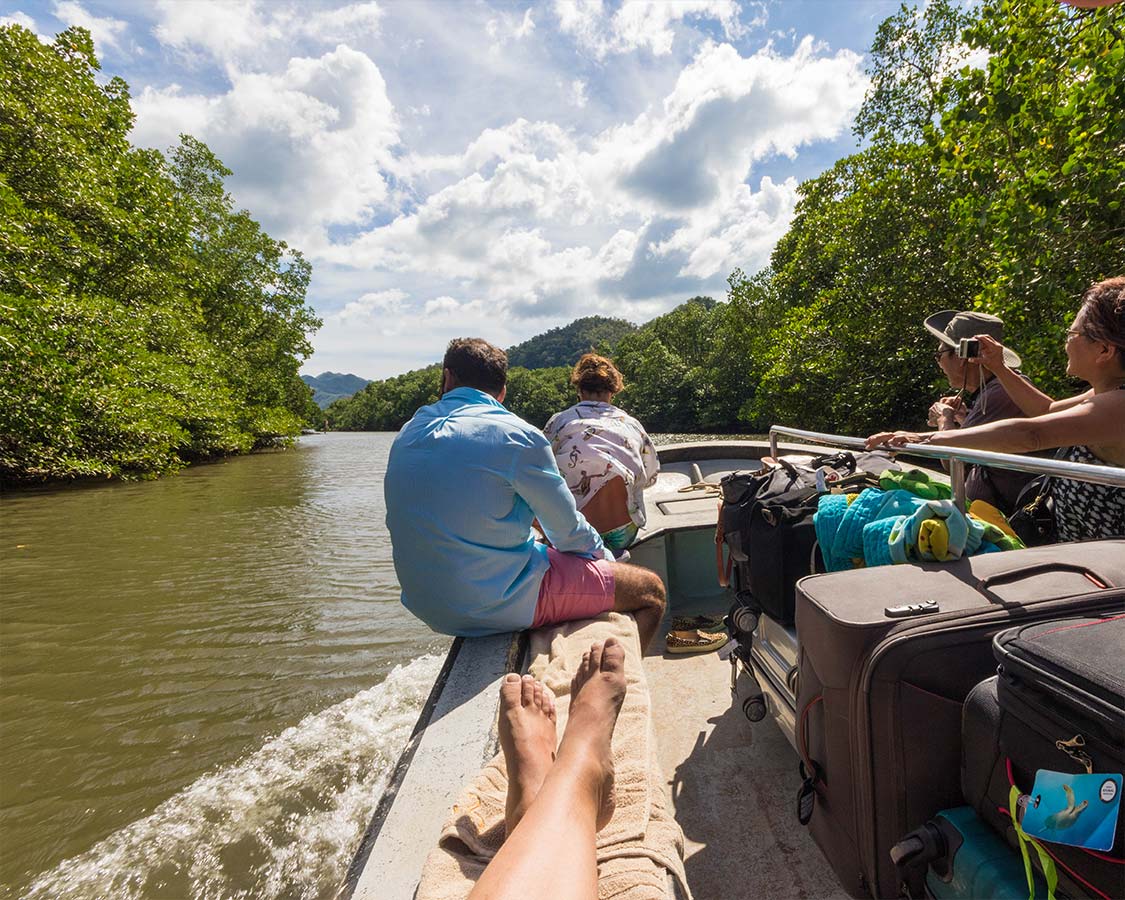 Pro-tip: For those that easily get seasick know that the waters can get choppy. Thus, it is advisable to take some anti-nausea medication or other remedies beforehand.
Sangat Island Dive Resort
Sangat Island Dive Resort is an eco-friendly resort. The Calamian resort island is fully sustained by solar power with supporting diesel generators that are only used during cloudy days. Furthermore, their commitment to eco-tourism is evident in the sustainable materials used to build the chalets. There is also a farm on the island including a tropical fruit and nut plantation that is used in the meals served at the resort.
The Coron resort is fronted by a 300 m stretch of white sand beach. Also, there were many small shells and the boys enjoyed shell collecting as one of the many ways they passed time while we stayed at the resort (don't worry, we left them all at the resort). And being surrounded by the Sangat Island Marine Park and Sanctuary means the house reef and coral garden are thriving.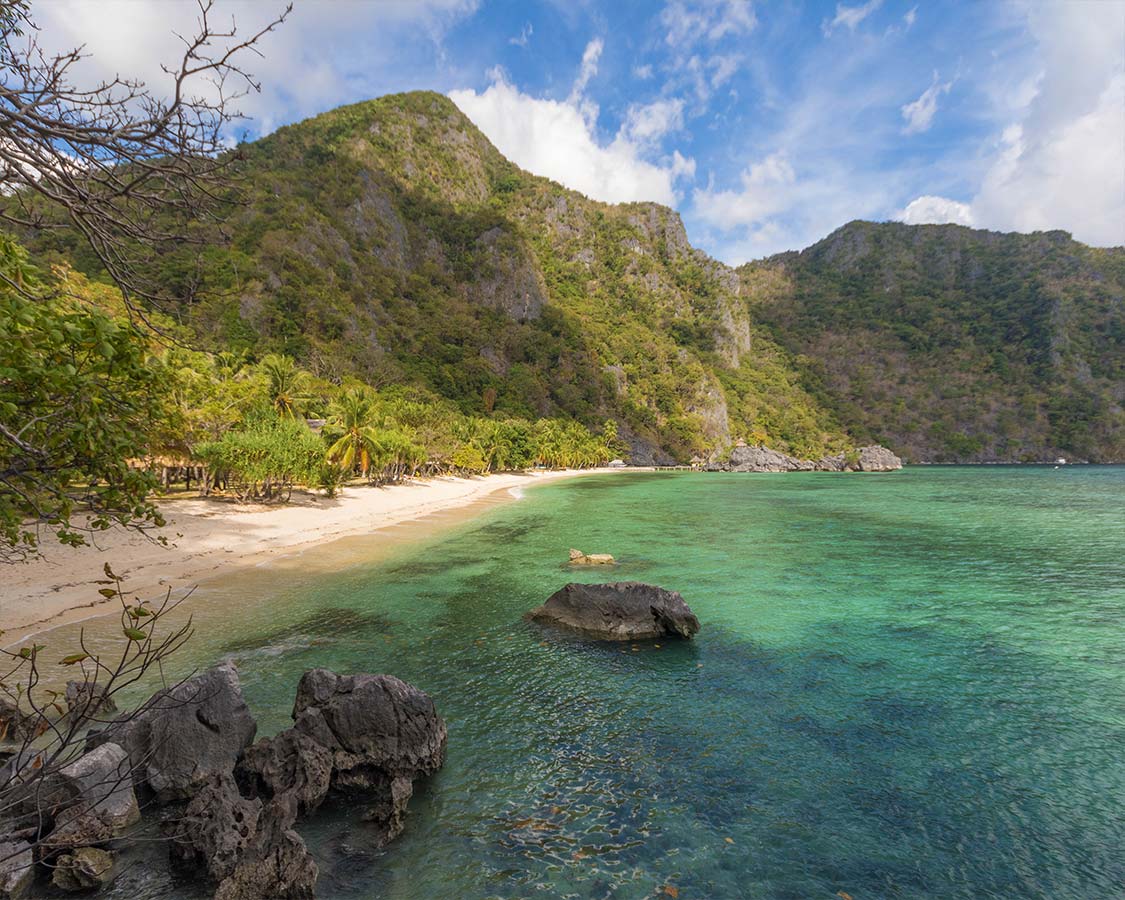 Check-in at the Sangat Resort
Check-in at the Sangat Island Dive Resort has to be one of the most pleasant check-ins of all the check-ins I have ever encountered in all my travels. Upon landing in the resort boat, we were greeted by the on-site manager, Christine. She informed us that we had arrived in time for lunch. Our table was waiting and we could proceed directly to the restaurant. Our luggage would be brought up to our villa. And after lunch, we would have an orientation tour on the way to our room. That was it! No, please show me your passport. No presenting a credit card for incidentals. Just arriving and instant relaxation. How refreshing!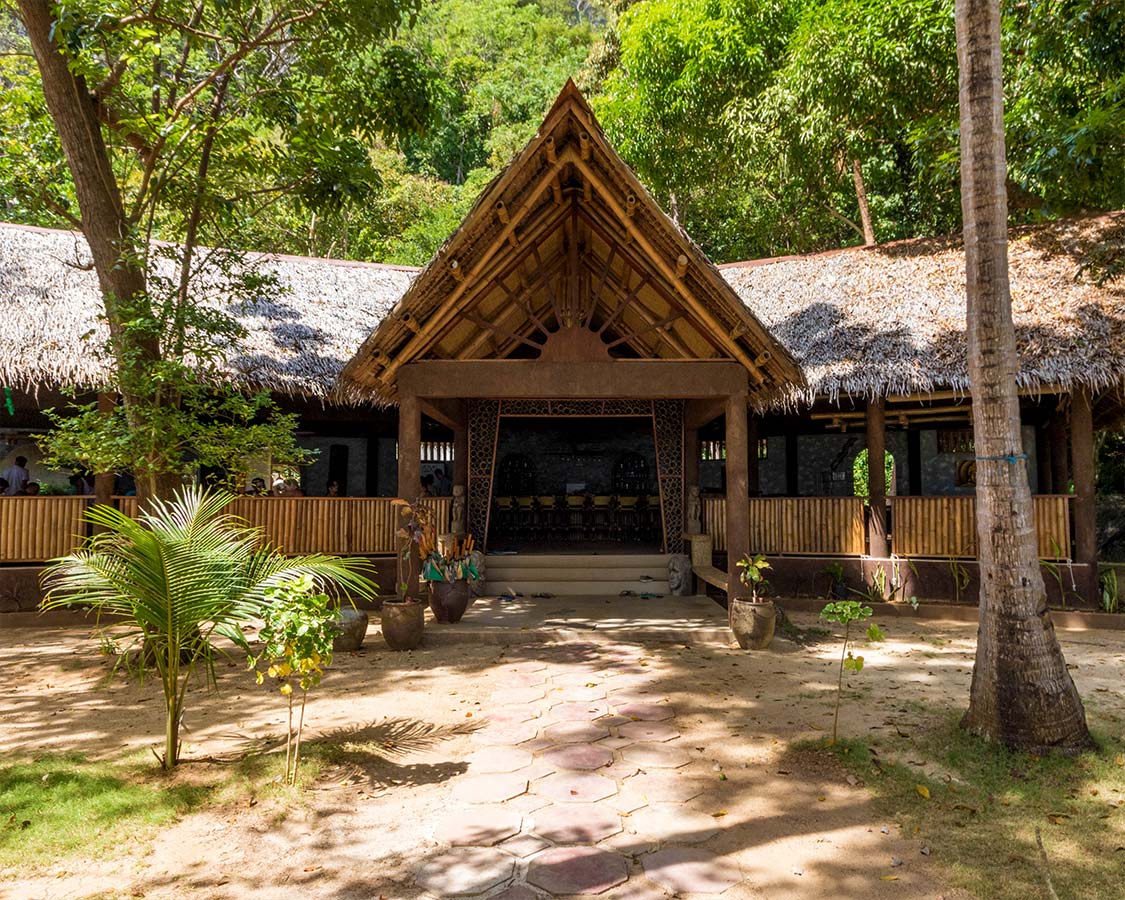 Sangat Island Restaurant and Amenities at the Coron Diving Resort
All accommodations at Sangat Island Dive Resort are on a full board basis. Breakfast, lunch, and dinner are all served buffet-style at the on-site restaurant. The only things that aren't included are alcohol and other drinks outside of those offered at breakfast. For our first meal on the island, the buffet was stocked with meats, cooked vegetables, rice, salad, and various fruits. Also, waiting on our table were freshly picked coconuts complete with bamboo straws.
There are also two bars at the resort. One is in the same building as the restaurant. Which is also adjacent to the games room where you can find board games, books, and a pool table. The other bar is stunningly set on a small rocky island connected by a bridge out in Coron Bay. This bar is just a few steps from the restaurant.
Forget your reef-safe sunscreen? No worries! Sangat Resort has a store on site where you can purchase essentials such as sunscreen and outerwear.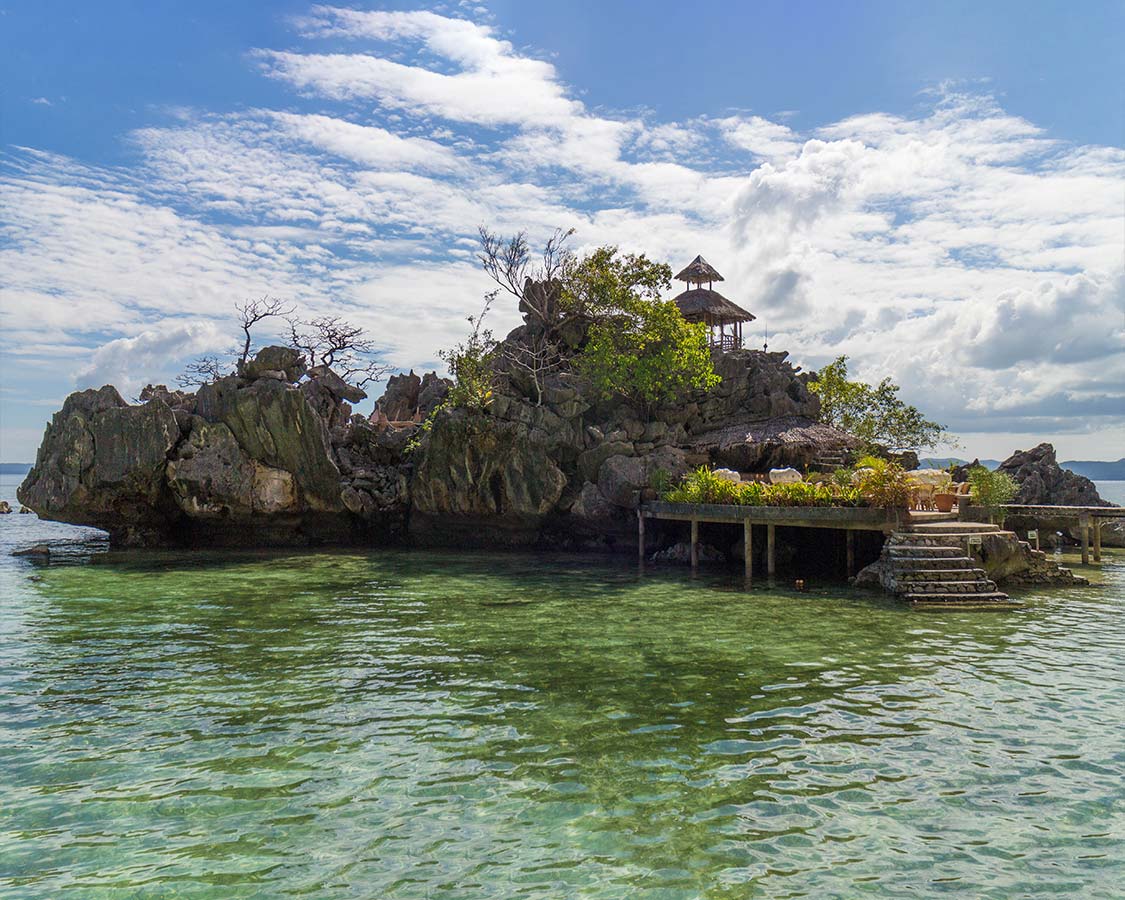 Accommodation Types at Sangat Island
Sangat Island Resort has 20 chalets all fronting the beach with 10 closer to the cliff than the beach itself. All have 2 double beds, modern bathroom facilities, and a terrace affording beautiful views of Coron Bay. There are an additional 2 chalets located on the hilltop. Equipped with a double bed, the private location is perfect for those on a romantic getaway.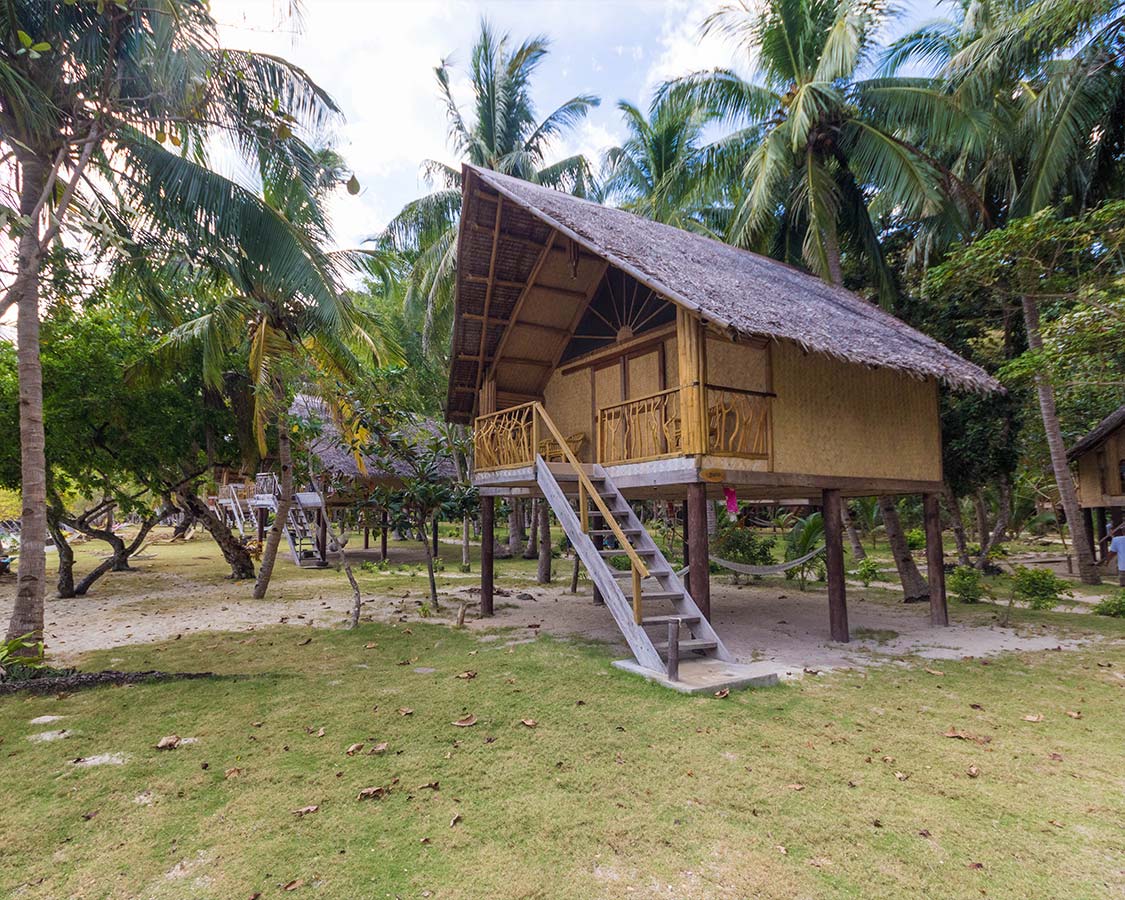 Sangat Island Dive Resort also has one villa. The Lambingan Villa has three levels and is equipped with 2 bathrooms and a super cool outdoor shower. As we were traveling around Palawan with my parents and sister, we chose to stay here so we could all 8 of us be in the same cottage. The villa features a library, hammocks, yoga platform, and private beach. It also sits nestled into the rocks of the Sangat cliffs giving it a very cool ambiance.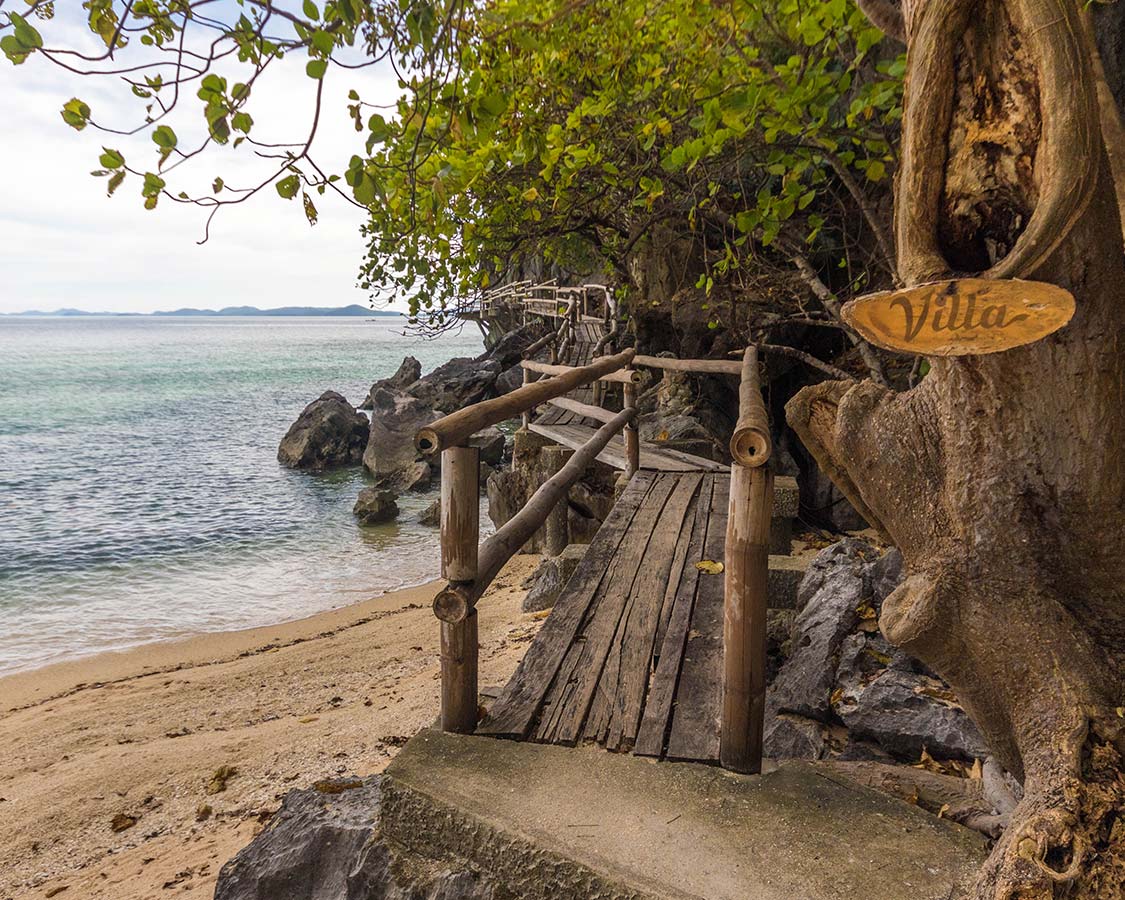 Sangat Island Dive Resort Activities
The Sangat Island Resort isn't just a dive resort by name. They have a permanent crew of on-site dive experts who love to chat about Coron Diving or SCUBA diving in general. In fact, it's not rare to see the dive team at the bar in the evenings chatting about the day's excursions.
Diving
As the name suggests, the main activity at Sangat Island is diving! Its location on the Calaminian Islands Group makes Sangat Island the perfect base for wreck diving. There is an on-site dive shop and it is possible to get your open water dive certification or advanced diver certifications here.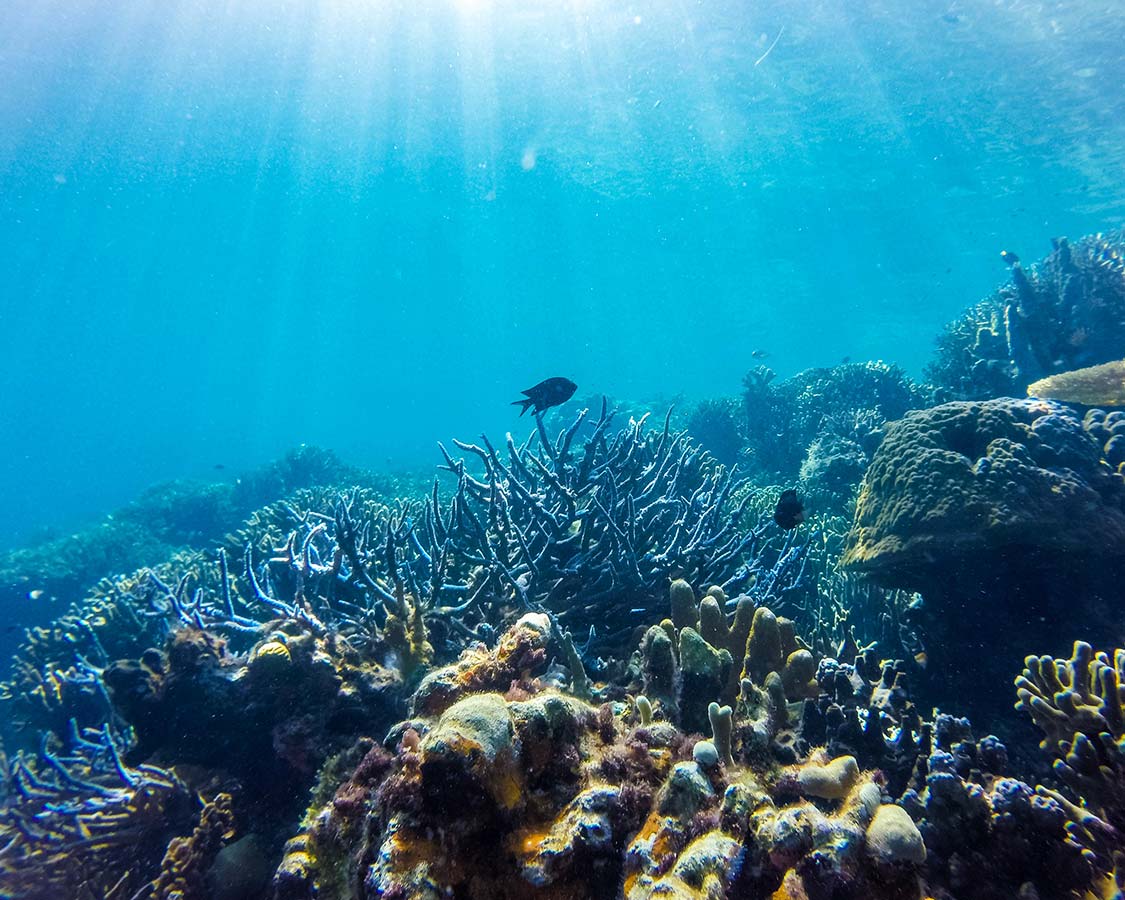 Snorkeling
You don't have to go far from the shores of the resort to enjoy great snorkeling. The waters are also calm enough that C was able to confidently snorkel for long periods of time. If you don't have your own snorkel gear, you can also rent gear from the dive center. C was excited to find 8 "Nemos" just a few feet offshore while he was snorkeling with Kevin.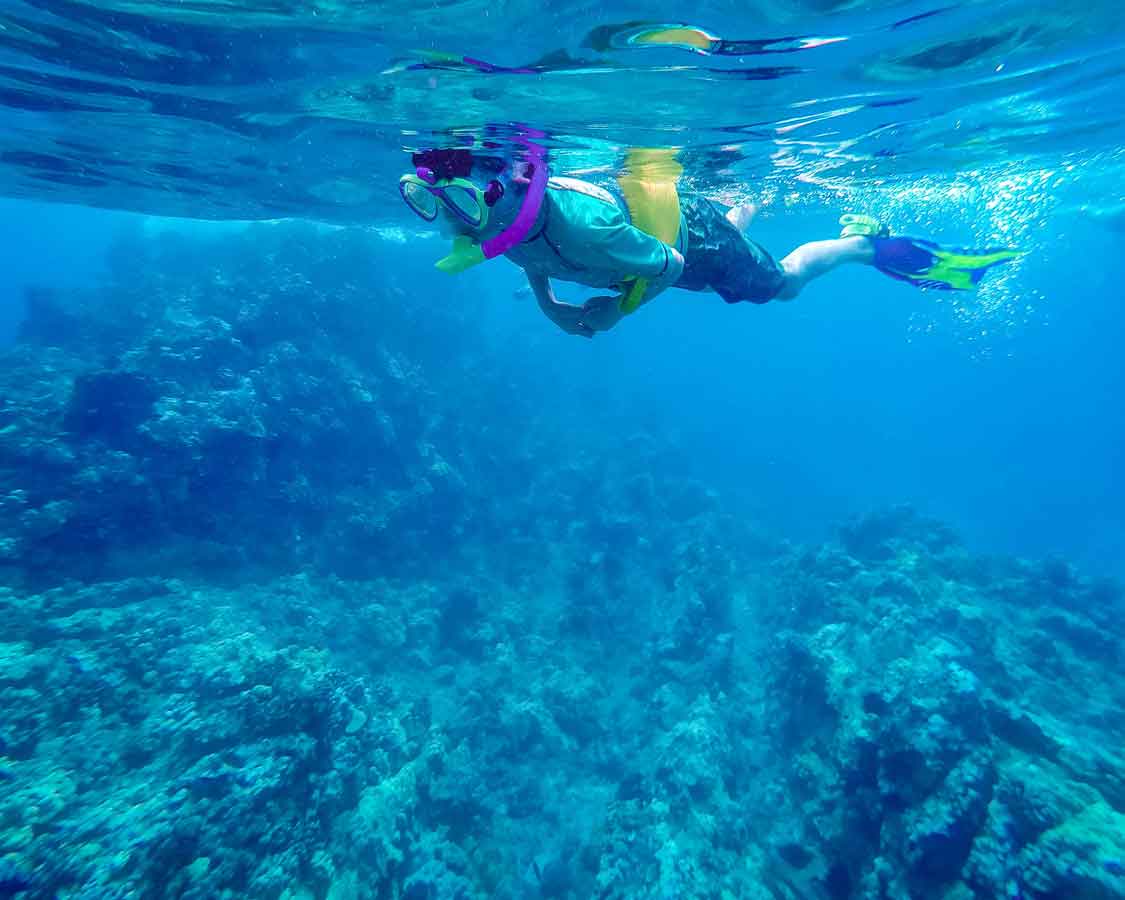 Motorized and Non-Motorized Watersports
Kayaks, paddleboards, Hobie cats, jet skis and more can be rented at Sangat Island Dive Resort. Kevin and I opted to rent one of the Sangat resort double kayaks for a trip to one of the island's mangrove forests and geothermal hot springs.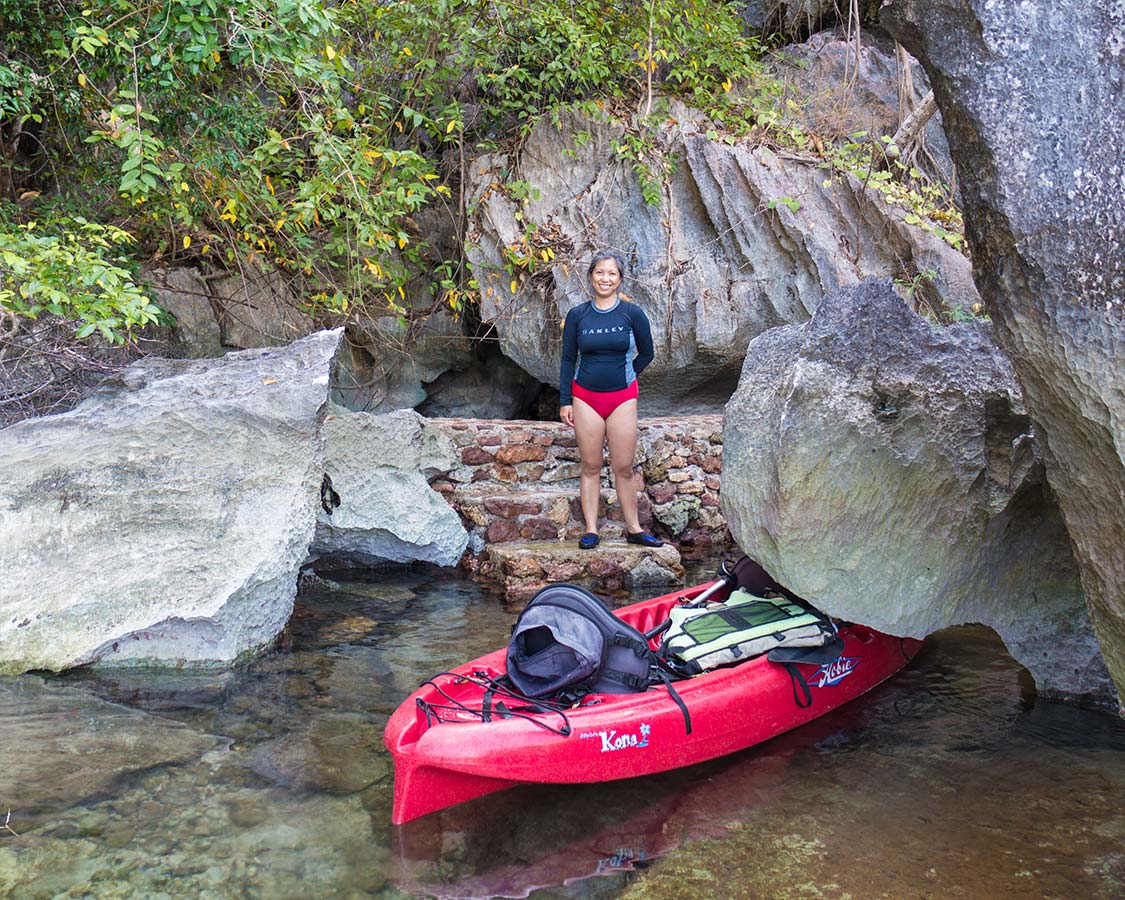 Rock-climbing and Hiking
For those seeking land adventures, rock climbing on the craggy limestone cliffs of Sangat Island Resort is a popular activity. Also, guests can explore the island beyond the beach by following one of the many trails and trek to the island interior. There are many indigenous flora and fauna to be discovered. Originally we were going to join a guided tour of the interior. The main purpose was to try and spot the monkeys and monitor lizards (Like the ones we saw when we were at the Puerto Princesa Underground River) found on the island. But on our first night heading back to the Villa from the restaurant we were greeted by the sight below. No need for a hike after that welcome committee!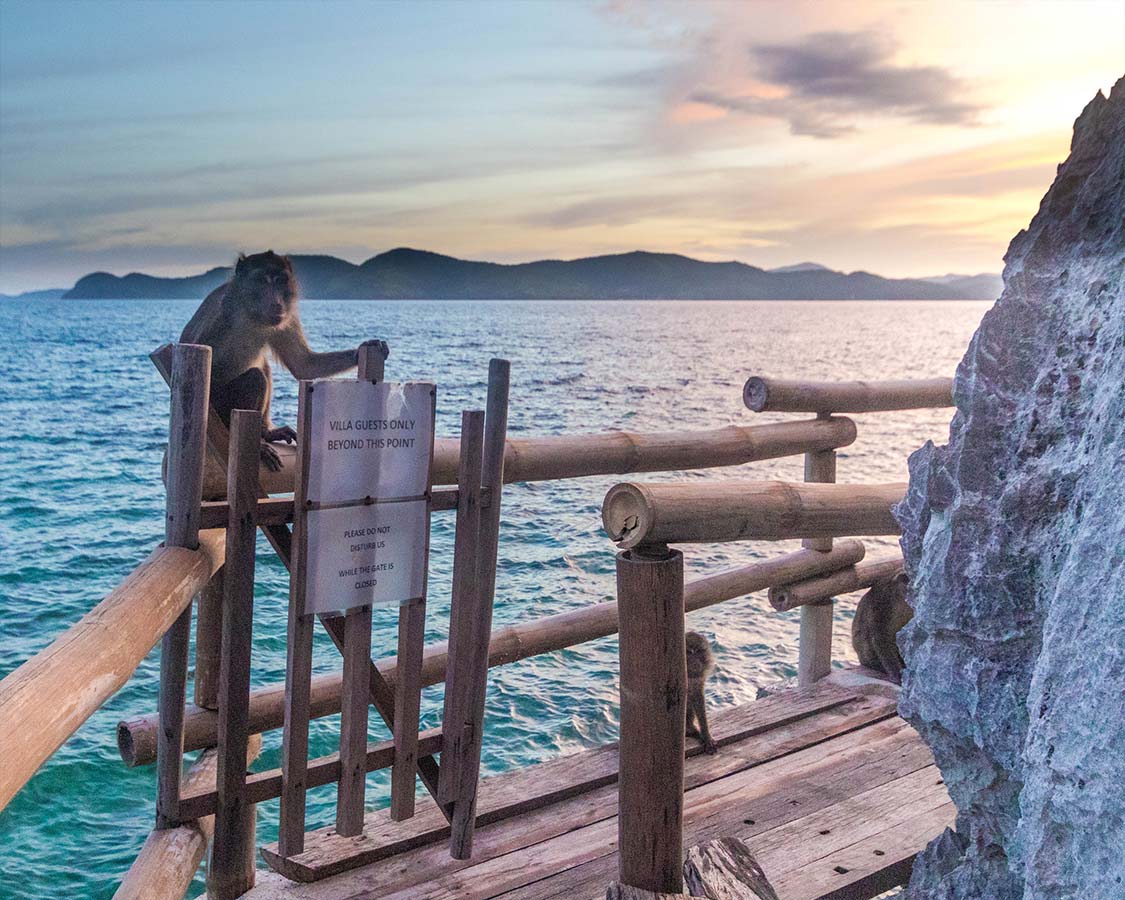 Sangat Island Cave and Viewpoint
One of our favorite family-friendly activities on Sangat Island was exploring the cave and viewpoint. The cave has been equipped with steps, but they are uneven. Small children might need a hand getting up them. If you are going through the cave to experience the island's best sunset view it is advisable to bring a light source such as a headlamp as it can get very dark. Ascending the cave takes just a few minutes. And when you get to the top, you are afforded a wonderfully unobstructed view of Coron Bay. While the cave isn't as extensive as the caves in El Nido, it was still a lot of fun!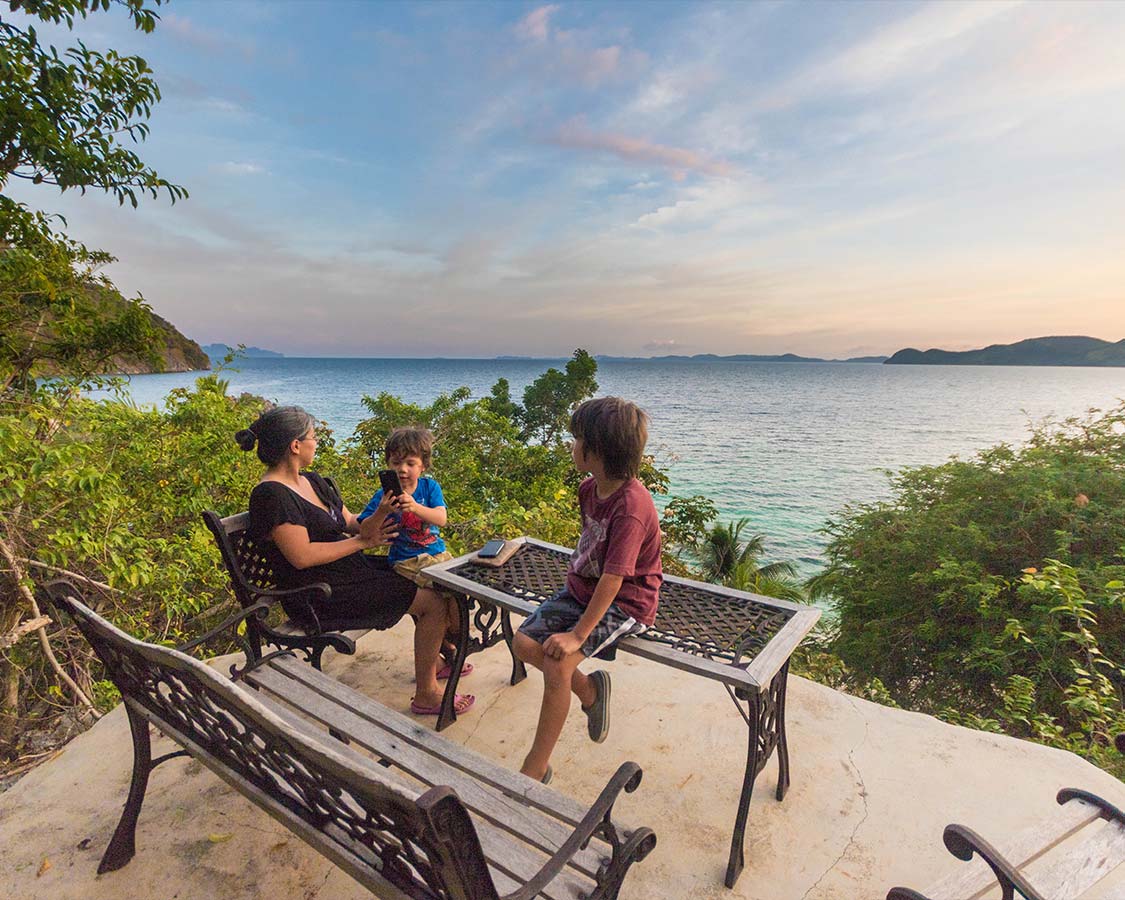 Beach-Bumming
When you get to Sangat Island Resort, you may well decide you don't want to do anything at all. And that's okay. I mean, look at the view from the private beach of our Villa? Coupled with a notoriously poor internet connection, this is the perfect resort to unplug and commune with nature.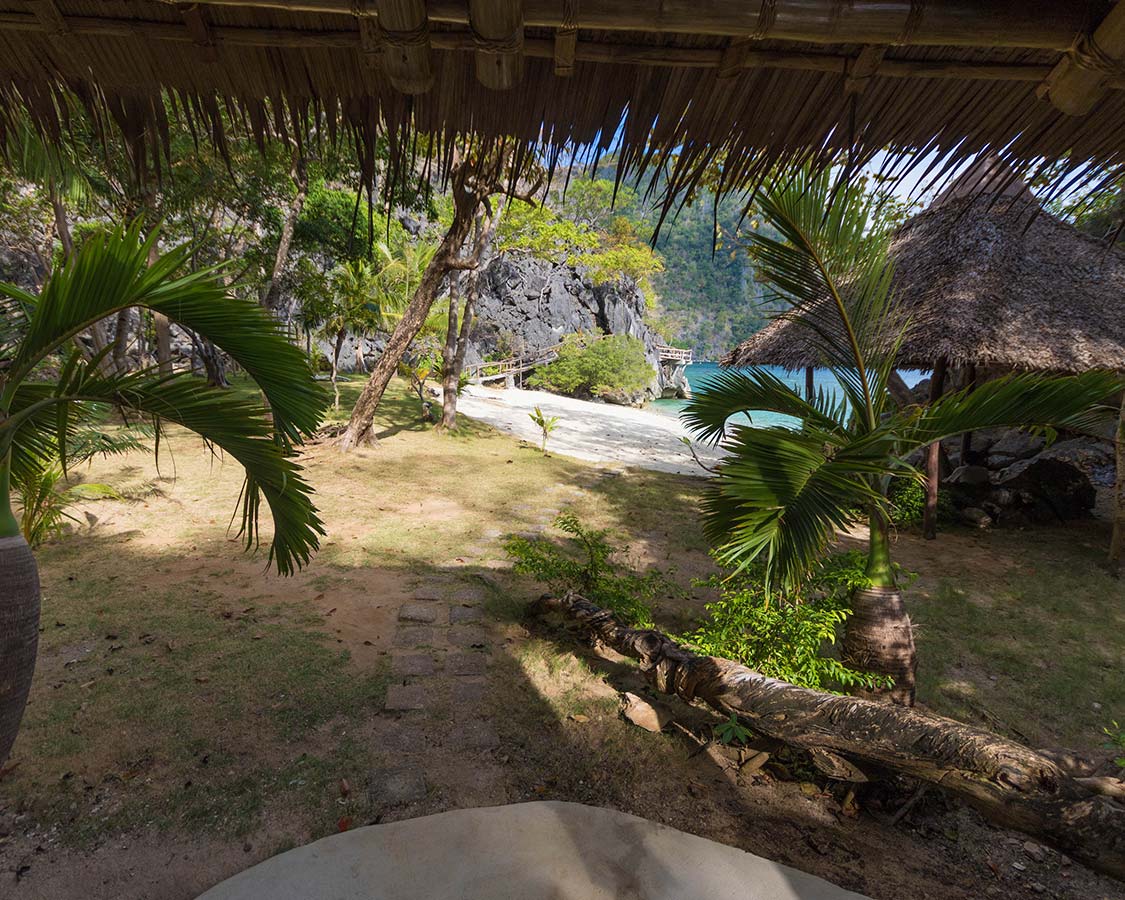 Day Trips from Sangat Island Dive Resort
If you do decide to venture beyond Sangat Island, it is possible to join day trips arranged by the resort. You can choose to join a group Coron tour or have a private tour of Coron. The activities on offer involve visiting the many other islands surrounding Sangat such as Malcapuya, Banana, North and South Cay, and of course Coron, just to name a few. Depending on the number of islands and the vicinity to Sangat, the trip may be half a day or a full day. It might take a little longer to get there than from the Coron beach resorts, but it's worth the journey.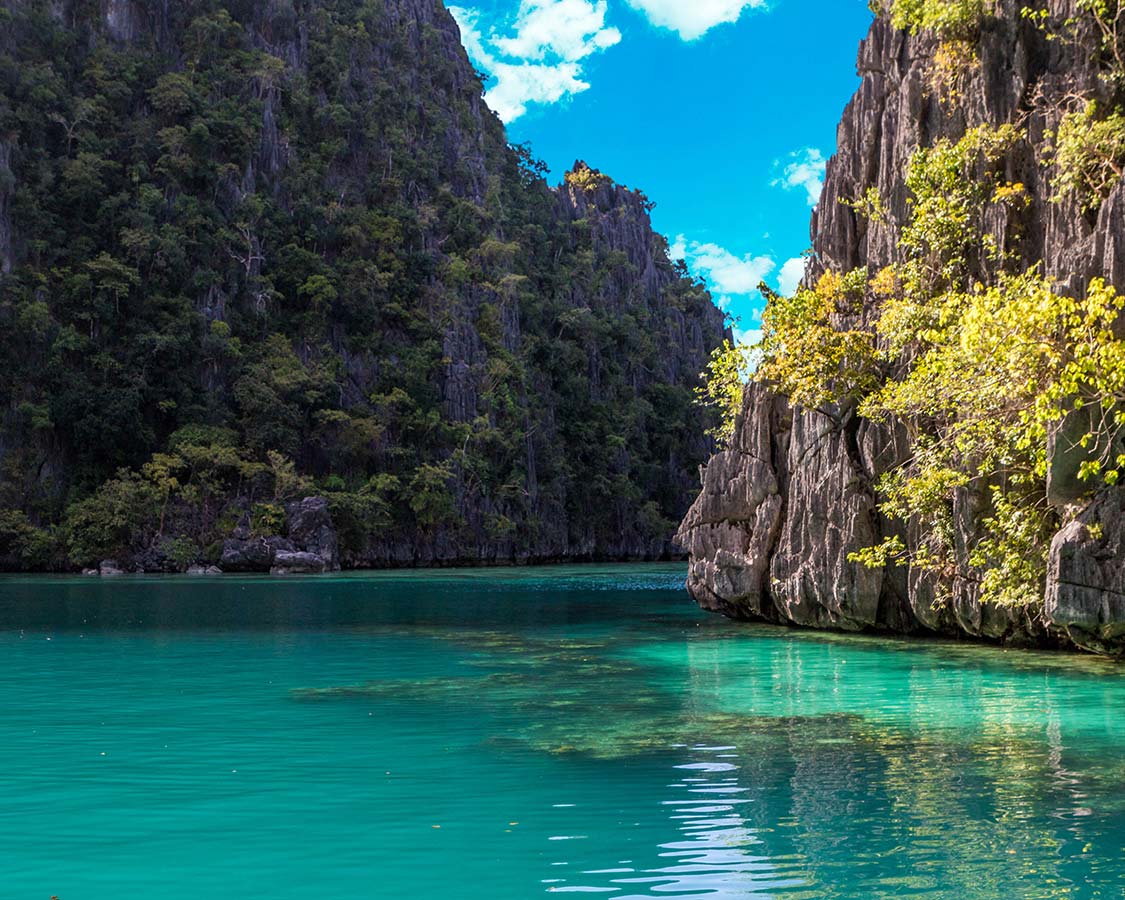 Pro Tip: Coron, like other areas in the Philippines such as Boracay and El Nido do not often have life jackets for small children. We brought our favorite life vests with us and even had other families offer to buy them off of us because they weren't offered on tours or by hotels.
We joined the full day tour around Coron Island and had a blast. Just be aware that snorkel gear is not provided so if you don't have one, you will need to rent one from the dive shop if you want to snorkel on the trip. We will be writing up our adventures around Coron Island with kids soon.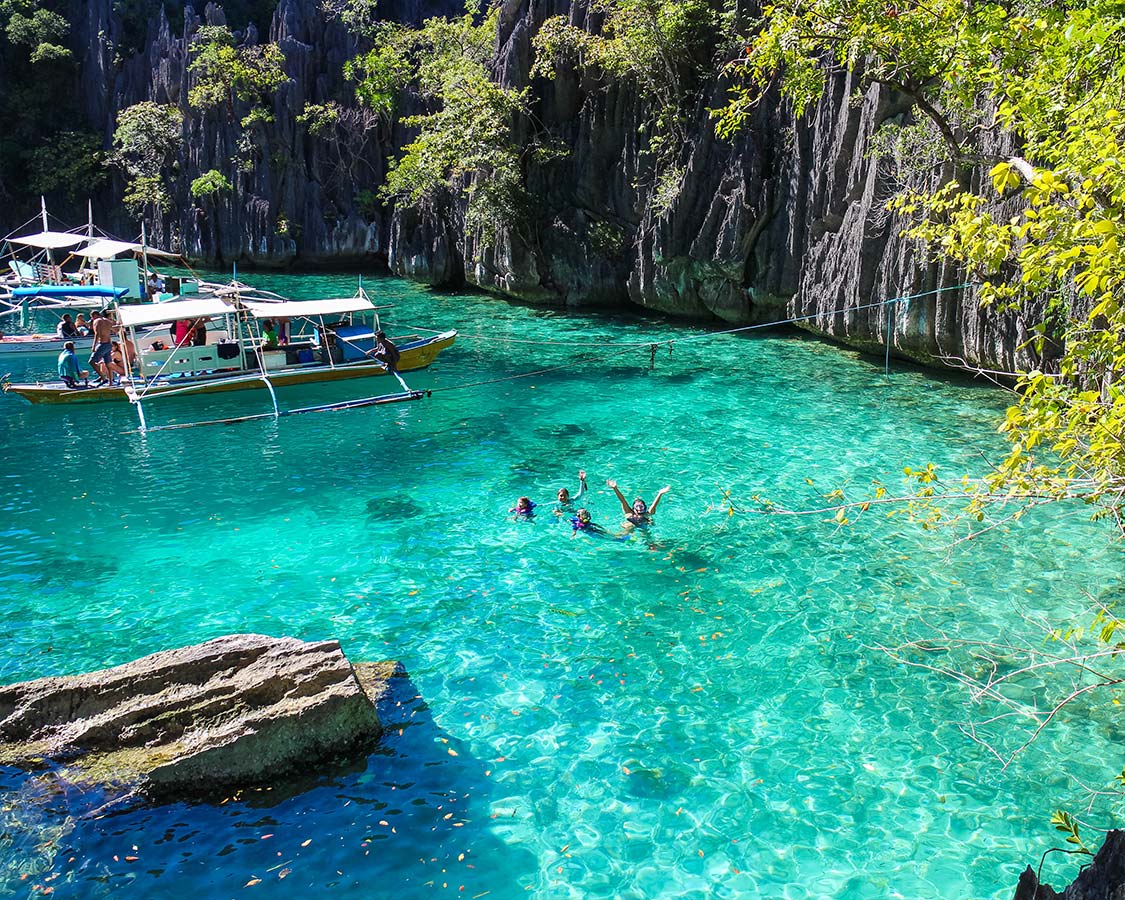 Do We Recommend Sangat Island Dive Resort for Families?
Sangat Island Dive Resort is not the typical resort for families traveling with children. There are no amenities that specifically cater to children. There are no kid's clubs, no children's menu, and no targeted activities for children. If these items are critical to you, then Sangat Island Dive Resort is not the resort for your family. To be honest, none of these mattered to us. With a great beach, incredible nature, and loads of natural beauty, fun was all around us. It's truly a step away from the more common Coron island hotels.
Sangat resort is no stranger to families though. In fact, during our visit, there were two other families staying at the resort, both with children younger than ours. Because of this, Sangat does have high chairs and boosters. They cater to requests for warm water to warm up breast milk and they also offer pay for use babysitting service. In fact, many of the staff live on-site during the high season, and some of them have children of their own on-site. It's not rare to have young kids racing around and saying hi to everyone. In our opinion, it's the best resort in Coron for families.
Wandering Wagars is a participant in the Amazon Services LLC Associates Program, an affiliate advertising program designed to provide a means for sites to earn advertising fees by advertising and linking to amazon.com, amazon.co.uk, amazon.ca. Amazon and the Amazon logo are trademarks of Amazon.com, Inc. or its affiliates.
You May Also Like To Read: