Visiting the Philippines with kids offers up a world of adventure that's hard to beat. Filipinos are all about family, and there are few places in the world where travelling with kids offers as welcoming an experience.
---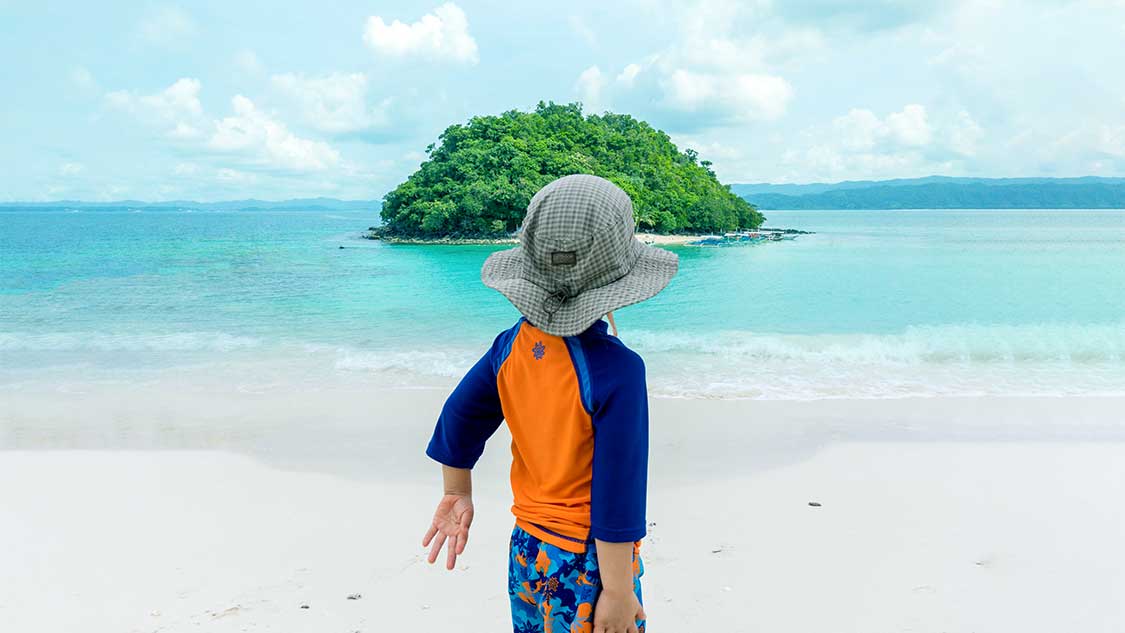 Family travel in the Philippines has been one of my family's absolute favorite experiences. We LOVE the Philippines!
After all, my wife Christina was born and raised in Manila, coming to Canada at 11 with her family. And she never had an opportunity to go back until we visited the Philippines with kids.
So, when Christina was invited to her cousin Jed's wedding in Manila, we packed up and headed out the door. And what came of our first family trip to the Philippines led to a love affair that keeps on delivering.
Why Do We Love The Philippines So Much?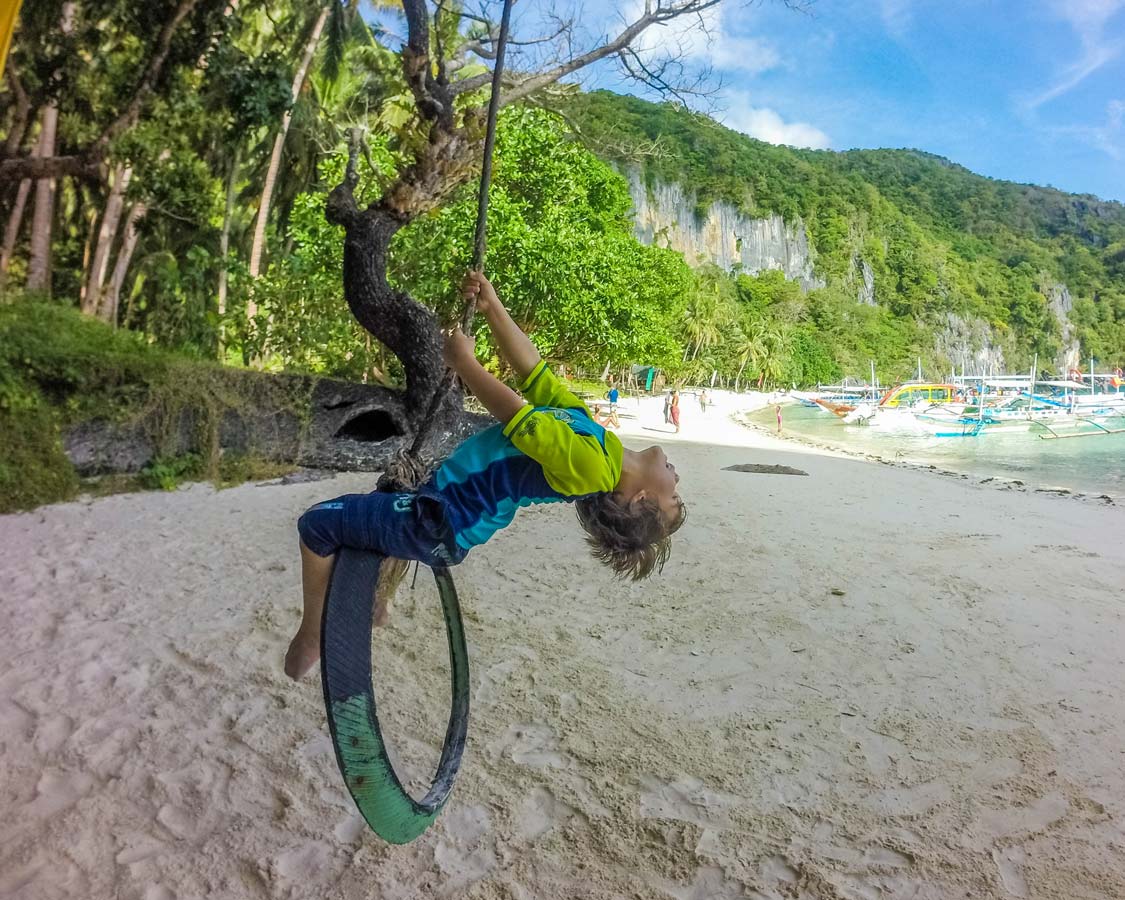 I'll admit, we might be a little biased in saying that Canada and the Philippines are two of our favorite places to travel with kids. After all, that's where Christina and I were born.
But, when it comes to visiting the Philippines with kids, there's a lot to love.
The Philippines is very inexpensive to travel through. Considering the country is a chain of thousands of islands, that's surprising.
Food, accommodations, and experiences offer modern comfort at a fraction of the cost of many other island experiences around the world.
Family travel in the Philippines is very safe. In fact, there are few places that I've visited where children are adored more than they are in the Pinoy nation.
Family is the culture in the Philippines. And if you travel in the Philippines with children, you will be treated to hospitality, kindness, and support like nowhere else.
The main languages in the Philippines are Tagalog and English. Most businesses can accommodate English-speaking visitors with ease. And if you run into a language barrier, unless you're in a very remote region, you can likely find someone who speaks it.
The food. Oh. My. God. The food in the Philippines is unbelievable. Even on day trips to explore islands in El Nido or Coron, you'll be treated to food that will put your packed lunch to shame.
And the food in the Philippines is served at a very affordable price in most places. Even in larger cities such as Puerto Princessa, it's easy to dine like royalty on a budget.
But, my favorite thing about travel to the Philippines with kids is the adventure.
Because the country is made up of thousands of islands, each island offers its own unique experience. The cultures vary. The languages change. And the food takes on unique flavors.
Adventurous activities never seem too far away, no matter where you are in the country. A short walk from any town leads you to pristine beaches, unexplored caves, lush green rice fields, or thick jungle.
No matter what your travel taste, the Philippines offers something for everyone. And our Philippines travel blog will help guide you there.
Our Family Travel in the Philippines Travel Guides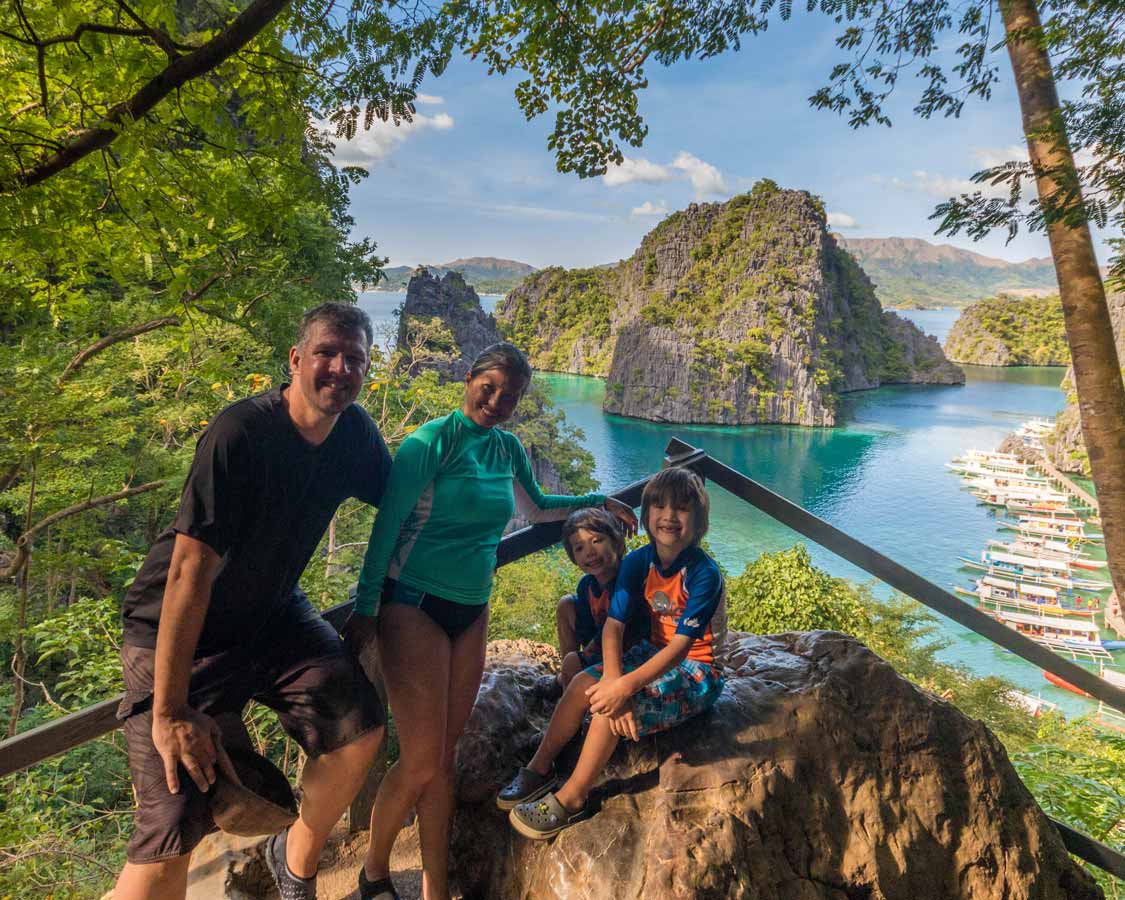 Visiting the Philippines with kids definitely takes some pre-planning. Because most of the islands are cut off from road travel, domestic flights and ferries tend to be how most people get from place to place.
These guides can give you an idea of what some of the most popular places to visit in the Philippines are so you know where you want to travel to.
Boracay
The island of Boracay is often placed as one of the most beautiful beach locations in the world. It is a popular place not just for visitors, but for vacationing locals as well.
In 2019, the island went through a massive infrastructure shuffle in which the entire island was shut down to tourism for the better part of a year. But it came out the other side with a far better system in place to handle the huge influx of tourists.
El Nido
The small town of El Nido is among the most popular places to visit in the Philippines. Located on the northern tip of the Palawan, this city boasts some of the most spectacular karst mountains, lagoons, and caves experiences in the Philippines.
You'll find amazing tours, mouthwatering street food, and family-friendly accommodations in El Nido to fit every budget.
Coron
Coron is a small set of islands in the Palawan region located just off the northern tip between Mindoro and Palawan. It's popular for its gorgeous lagoons, magnificent SCUBA diving, and accessible but off-the-beaten-path feel.
Coron offers similar experiences to El Nido but is far less busy. It's also the location of some of the most beautiful mountain views in the entire country.
Puerto Princesa
Home to one of the 7 Natural Wonders of the World, the Puerto Princesa Subterranean River, Puerto Princesa is a very cool place to explore with kids.
The town is located in Central Palawan. The well-worn karst mountains are rife with gorgeous caves and rock formations.
The region around Puerto Princesa City is full of farms, beaches, and even a super fun family amusement park.
San Vicente
Honestly, if I moved to the Philippines, I'd likely end up in San Vicente. Picture the gorgeous beaches of Borocay sprinkled with tiny, quiet islands but without the crowds.
San Vicente is often explained as "Boracay before the tourists came." And it's an accurate statement.
Getting Around In The Philippines With Kids
Getting around the Philippines as a family requires some logistics. You can find just about every form of transportation. And if you're planning on exploring more than one island, you'll probably have to juggle between a few.
Throughout the country, you'll find everything from tuk-tuks to ferries to busses, planes, taxis, and of course, the famous Filipino Jeepneys.
Philippines by Plane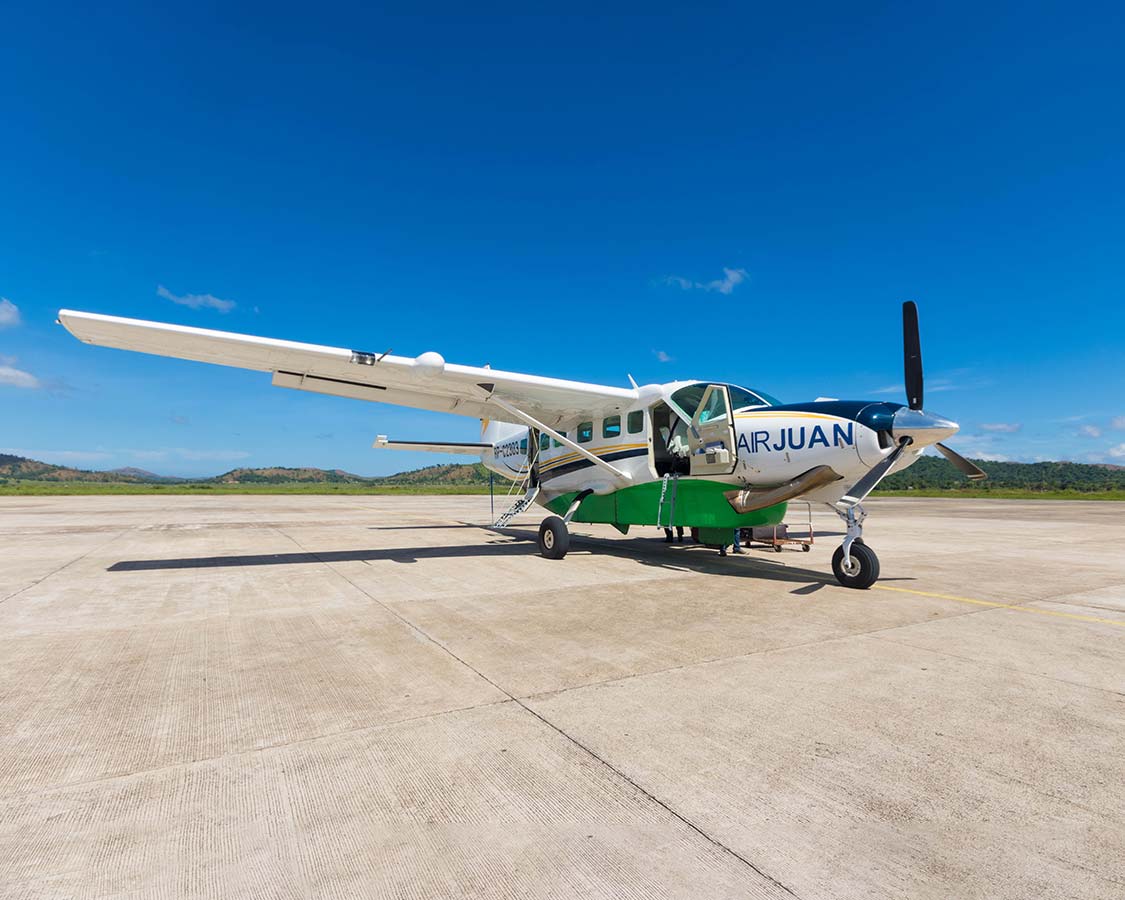 Getting around the Philippines by plane is one of the easiest and fastest ways to explore the country.
There are loads of tiny airports sprinkled throughout the country, and most major towns have an airfield close by. You can also find many budget-friendly domestic flights in the Philippines that offer very affordable seats.
However, flying around the Philippines often means a lot of backtracking. Most flights fly out of the major airports. So, if you're skipping around from town to town, it may involve many indirect flights through Manila or Cebu.
Some of the most common Filipino airlines you'll see include:
Air Asia
SEAair (A division of Tiger Airways)
CEBgo
Air Juan
Most of the airfields in the Philippines have a departure tax that needs to be paid directly at the airport. These apply to both international AND domestic flights.
The rates are typically low (between 200-500 pesos per person). But many of them need to be paid in cash, so be prepared.
The Philippines by Boat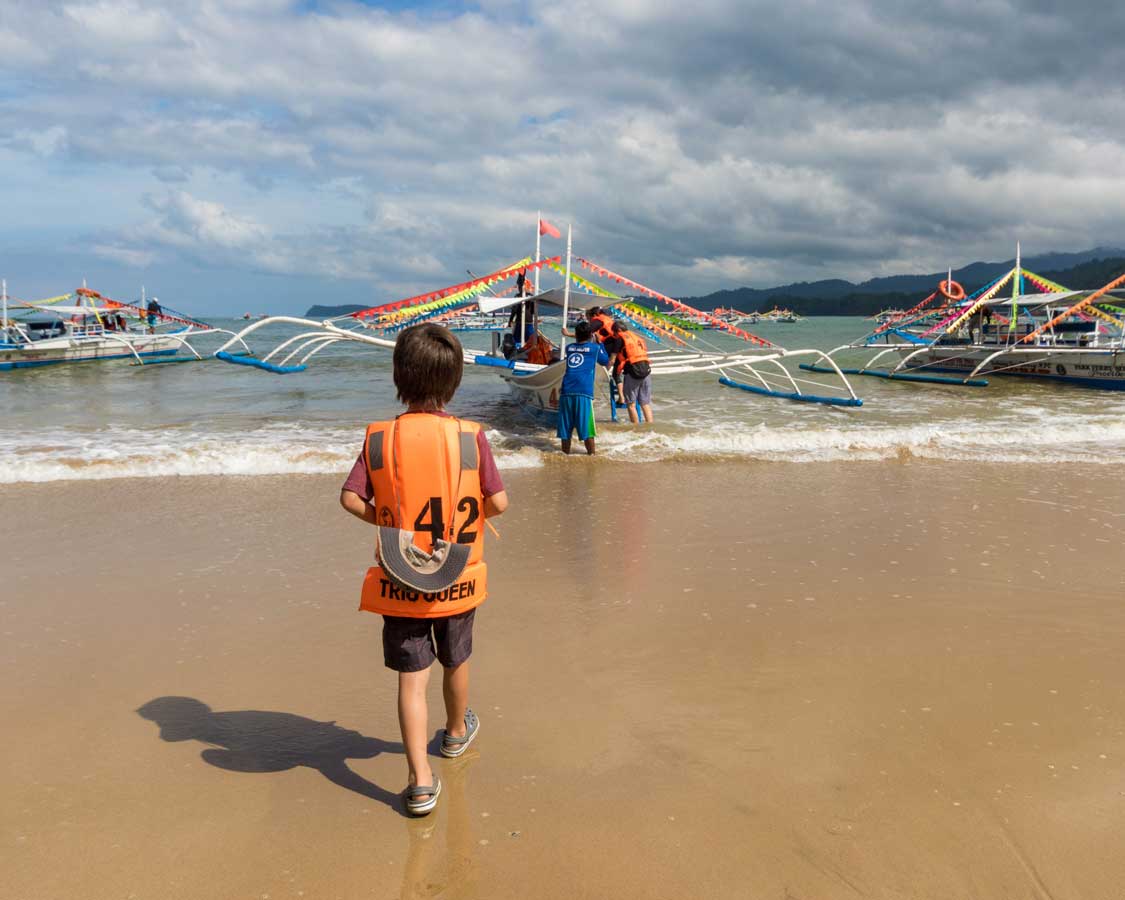 With thousands of islands making up the country, the chances are that if you're visiting the Philippines, you'll end up on a boat at some point.
Visitors to places such as Boracay require boat transport to access the main islands as there are no airfields or roads that connect them.
Most boat terminals are busy places. You'll usually find porters who are there to help with bags (for a tip). It's worth it as loading and unloading your luggage, especially on wavy days, is a pain.
Philippines by Bus or Van
No matter where you visit in the Philippines, you're probably going to end up in a bus or van at some point. These are the most common ways to get between cities in the Philippines.
Private van charters tend to be much faster, and you can dictate places you want to stop along the way. For example, we used a private charter when going between Puerto Princesa and Sabang to visit the Puerto Princesa Underground River. This gave us the chance to stop and explore places such as Elephant Rock along the way.
Group charters offer speed without flexibility. And busses tend to offer the most economical route, but they tend to take the longest. No matter which route you take, we found that busses and vans were very comfortable and well-maintained. Some busses even include WiFi!
Jeepneys and Tuk Tuks in the Philippines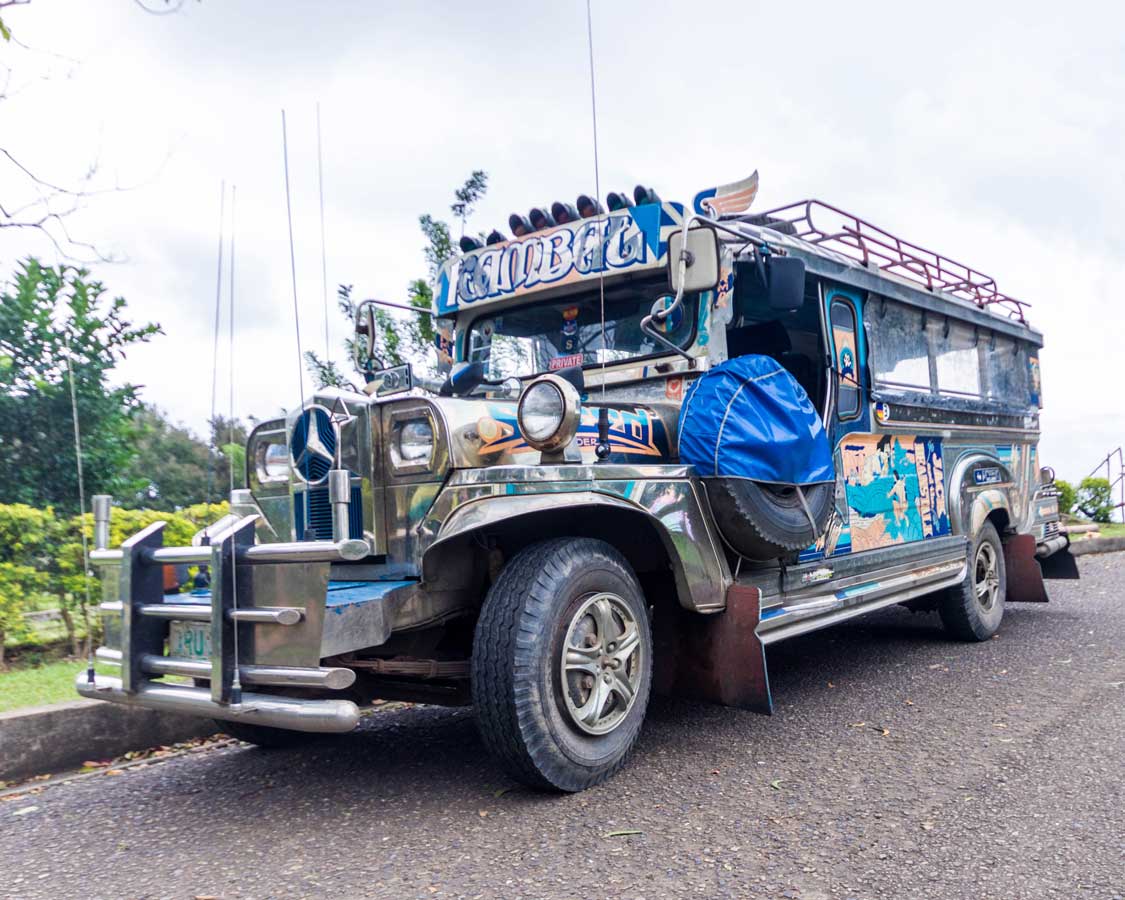 If you're planning on local exploration in any of the towns, a tuk-tuk is often the best way to go. Tuk-tuks can be found throughout Southeast Asia. And many parents feel highly insecure putting their kids in one.
That being said, these motorcycle-powered cabs are one of the easiest ways to get around the often congested streets. They are small and nimble enough to dart through traffic and around potholes and puddles. They are also wildly fun to be on.
But make sure to negotiate your price before you get in. Otherwise, you might get taken for a ride.
Jeepneys are the colorful, loud, and ridiculous busses often sighted in large cities such as Manila, Cebu, and Puerto Princesa. Locals often use them as a local bus system.
However, the older ones have a bad reputation for being loud, polluting, and in poor repair. The Philippine government continues to crack down on their safety records, and many new ones are being built with electric motors.
Take a Jeepney at least once on your visit to the Philippines with kids. If nothing else, you'll want the photo.
Tips For Family Travel To The Philippines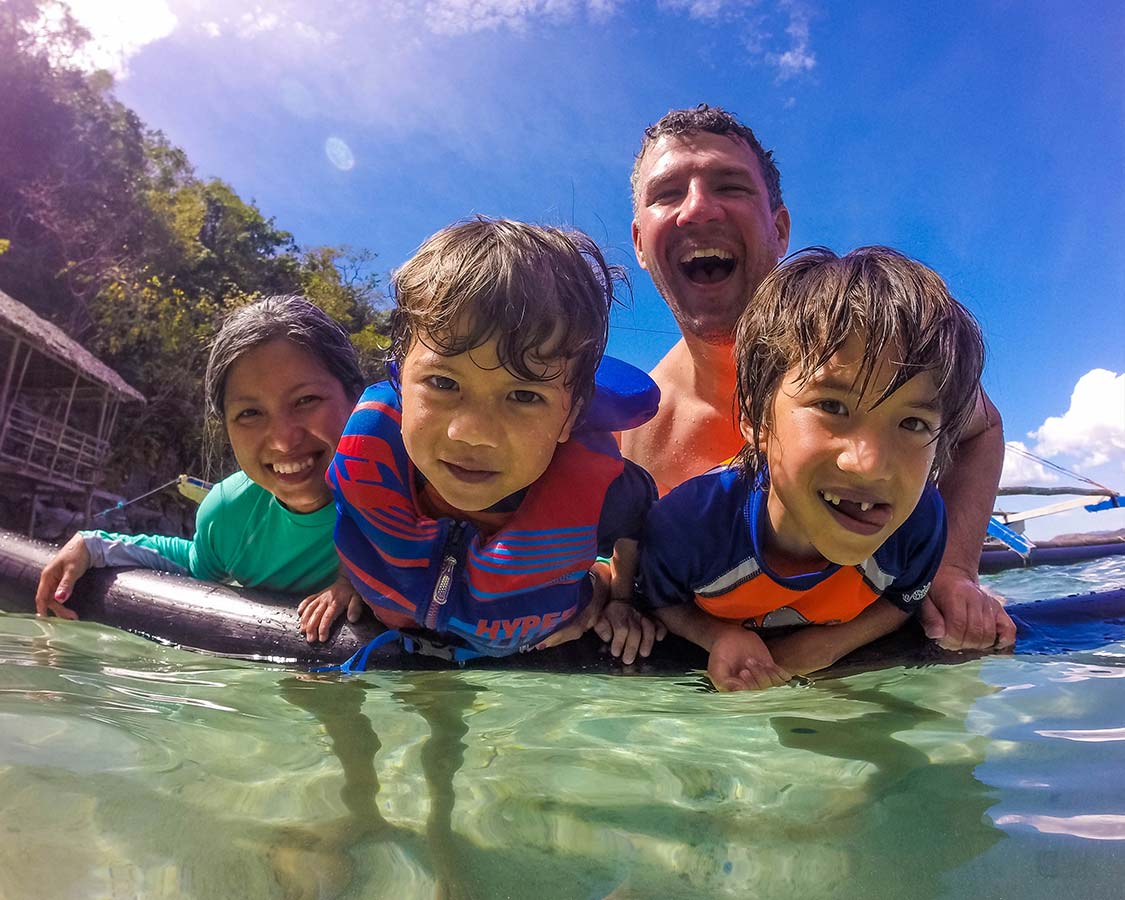 As we mentioned earlier, the Philippines is one of the most amazing destinations for family travel. It's quite safe, and the locals are among the most caring.
That being said, it always helps to be prepared for what you're getting yourself into when visiting a new country, especially when you're traveling with children.
Food In The Philippines
Food is a massive part of the Filipino culture. It seems that every gathering is focused around the dining table. And guests are often welcomed with an offering of a freshly cooked dish as quickly as a "Kamusta ka?".
Filipino food is heavy on meat, soups, and seafood. If you're curious to try some before you go, I've shared some of my favorite easy Filipino recipes here.
The food here isn't the healthiest. Dishes tend to be heavy on salt and sauces. But they are delicious. Also, fruits are plentiful. And most towns have stores where you can stock up on snacks for the road.
Baby Supplies in The Philippines
Stores, markets, and malls are plentiful in the Philippines. Therefore, it's usually quite easy to find diapers, formula, and popular baby foods, especially in larger cities.
If you're traveling in the smaller towns, it may be best to stock up before you head out to be safe.
Tours And Experiences In The Philippines
The tourism industry in the Philippines is incredibly organized. There are few places where this is on display better than in El Nido. All the tour setups are the same.
Visitors get to choose packages of select tours that are usually divided into half-day and full-day tours. This keeps each of the individual experiences from getting overly crowded with a rush of tourists arriving at the same time.
Tours and attractions are very child-friendly. Even wild ones like our Ugong Rock adventure found the staff working hard to ensure that the experience, which 4-year-olds didn't normally visit, was safe for little D.
He ended up being the youngest person to careen down the mammoth Ugong Rock zipline.
Child Tolerance and Breastfeeding In The Philippines
Filipinos tend to be incredibly tolerant of children and child care. Even offering support when parents seem to be struggling. Touching is commonplace. Although, it was less invasive than in some other oriental countries I have visited.
Breastfeeding is something that can be openly done in the Philippines without restriction. It's common for locals. So, mothers will not stand out when doing so. Many malls and businesses have designated spots for breastfeeding.
The one exception is in the deep south of Palawan, where there is a large Muslim majority. In this region, approach breastfeeding more conservatively.
Healthcare In The Philippines
The healthcare system in the Philippines is quite good. Although, the more remote you travel in the Philippines with children, the tougher it is to access more specific medical needs.
Outside of major cities such as Manila, Puerto Princesa, or Cebu, it's best to bring any items you may need. Even sunscreen may be difficult to find in small towns such as Sabang. We always carry our own reef-safe sunscreens whenever we travel for this reason.
Check with a travel doctor before you go to ensure that you are up to date on any necessary vaccines. You'll also want to have access to electrolytes and anti-diuretics in case of tummy emergencies.
Now You're Ready For Family Travel To The Philippines!
As I mentioned earlier, I absolutely adore the Philippines. It's a country that we will be revisiting. Not just to visit family but to explore even more of the incredible things to do in the Philippines with kids.
If you're new to family travel, head over to our tips for international family travel post or our family travel gear guide to ensure that you have everything you need to explore the Philippines comfortably.
Outside of the major cities, it's not a very stroll-safe country. I recommend bringing a kid carrier rather than a travel stroller. That will make your experience much easier.
Feel free to drop any questions, or comments below. I always answer them.
If you're passionate about family travel, head on over to our Family Travel Support Group on Facebook. It's a fantastic community of parents who love travel. We share experiences, knowledge, and the lessons learned along the way. You can also sign up for our newsletter to keep in the loop about new family travel adventures.
Wandering Wagars is a participant in the Amazon Services LLC Associates Program, an affiliate advertising program designed to provide a means for sites to earn advertising fees by advertising and linking to amazon.com, amazon.co.uk, amazon.ca. Amazon and the Amazon logo are trademarks of Amazon.com, Inc., or its affiliates.
You May Also Like To Read:
Pin This Post For Later