Discover all the incredible things to do in San Vicente Palawan Philippines for the whole family and find out if we recommend it over Boracay!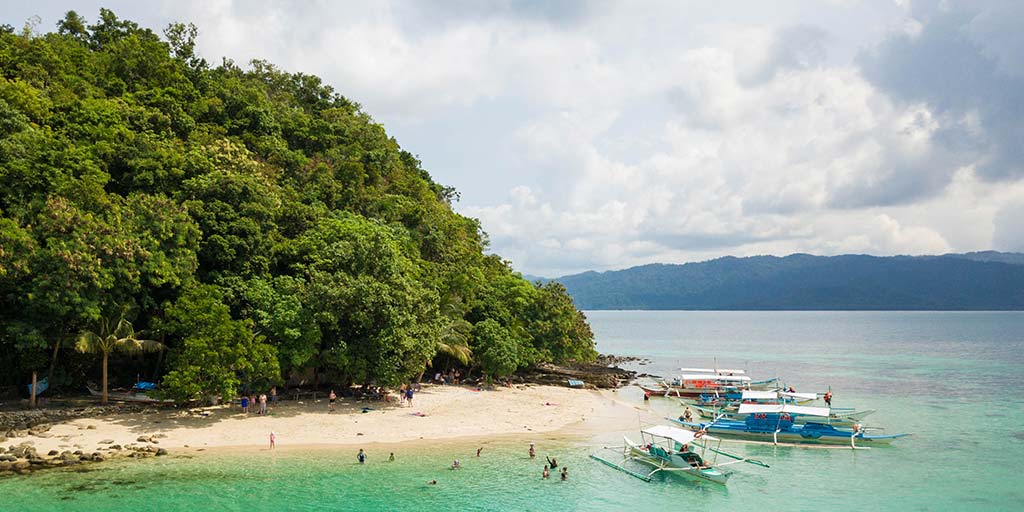 The Philippines is exploding with popular destinations. But this beautiful island country still has a few secrets up its sleeve. One of our favorite Philippine beach destinations is the lesser known town of San Vicente Palawan. Where Puerto Princesa attractions like the Underground River and the Marine Park around El Nido are booming with tourists, San Vicente is more humble and relaxed. Yet San Vicente remains just as beautiful as the more famous destinations in Palawan. And for those looking to do more than just sit on a beach, there are just as many things to do in San Vicente Palawan as there are in Boracay.
San Vicente features miles of unspoiled beaches, idyllic islands, and rich marine life. And unlike the raw mountains and caves of El Nido, San Vicente has the relaxed vibe that Boracay boasted before it became one of the most popular places in the world.
This post may contain compensated links. For more information please read our disclaimer.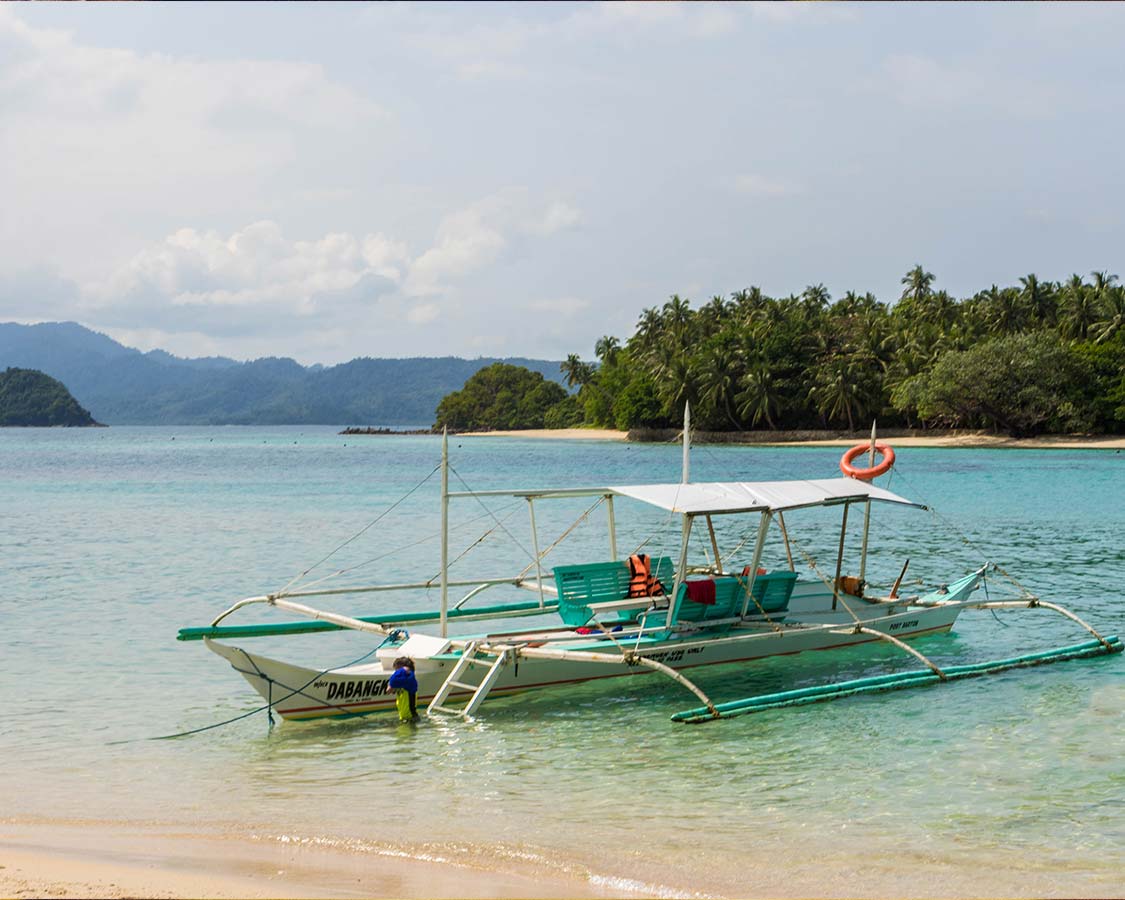 Where is San Vicente Palawan?
San Vicente Palawan is situated in the northern part of Palawan, about halfway between El Nido and Puerto Princesa. It takes about 2.5 hours to go from Puerto Princesa to San Vincente and about 3.5 hours to go from El Nido to San Vicente by van. There are also boats that travel between Puerto Princesa City and Port Barton in San Vicente. These boats take about 4 hours between stops.
If you are arriving from outside of Palawan, you can also fly into the newly built San Vicente Airport. At the end of our travel to San Vicente, we flew out from the San Vicente airport to start our Coron adventures. Because the airport was so new, we were literally the only people in the entire airport. The boys had an absolute riot running around the empty terminal and playing tag with Lolo (grandpa) and Lola (grandma)!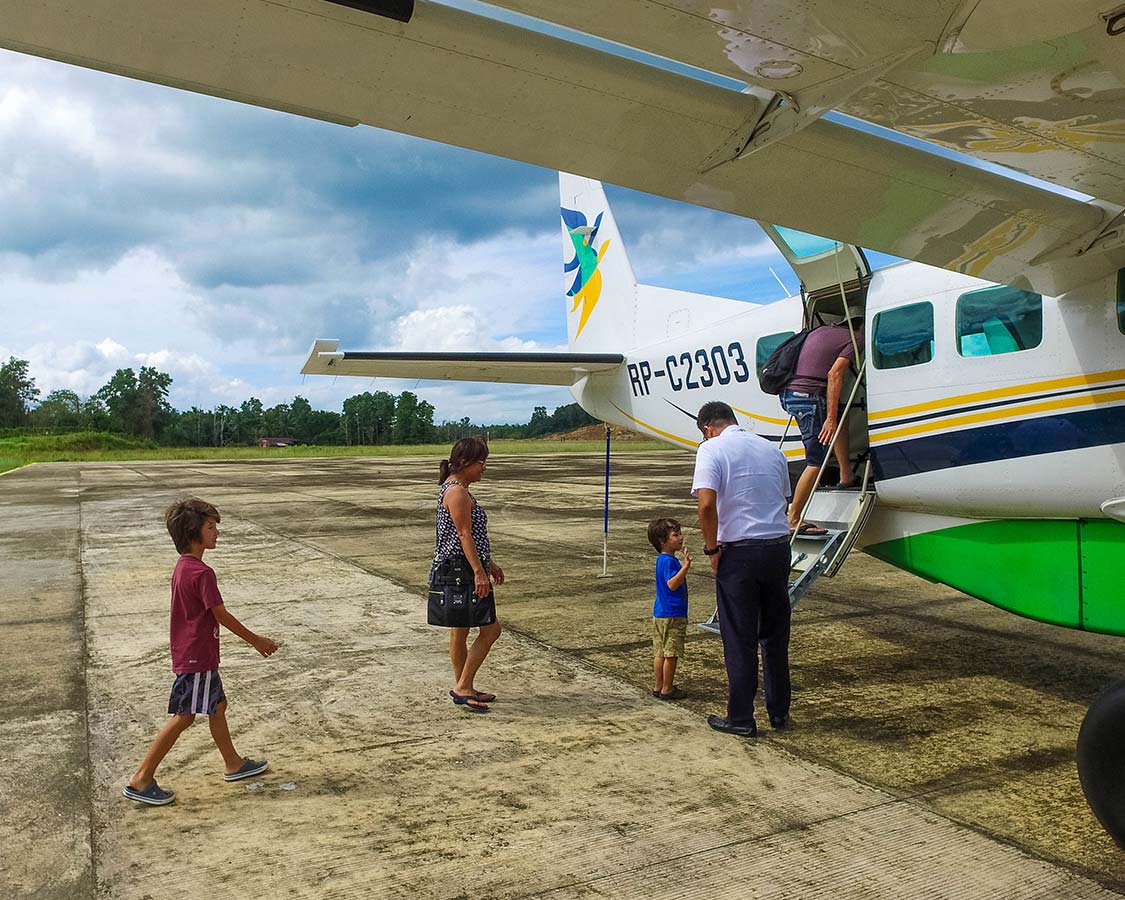 Is San Vicente the next Boracay?
With miles of unbroken beaches, including Long Beach, the longest beach in the Philippines, tourism in San Vicente Palawan is starting to gain traction. The islands of San Vicente are beautiful and incredibly accessible. San Vicente is filled with gorgeous waterfalls and beautiful towns. But what makes San Vicente such a paradise is the lack of crowds. There is an honest, unspoiled atmosphere in San Vicente that places like Boracay have lost with the influx of crowds.
Those looking for an even more remote experience head to the suburb of Port Barton, San Vicente. This out-of-the-way town may not have the Philippines' longest beach, but it is just as beautiful. And it's far enough away from the main town that visitors won't have any airports or busy marinas to deal with. But it's only about a 45-minute trip by boat and tuk-tuk to the San Vicente airport, so getting there isn't difficult.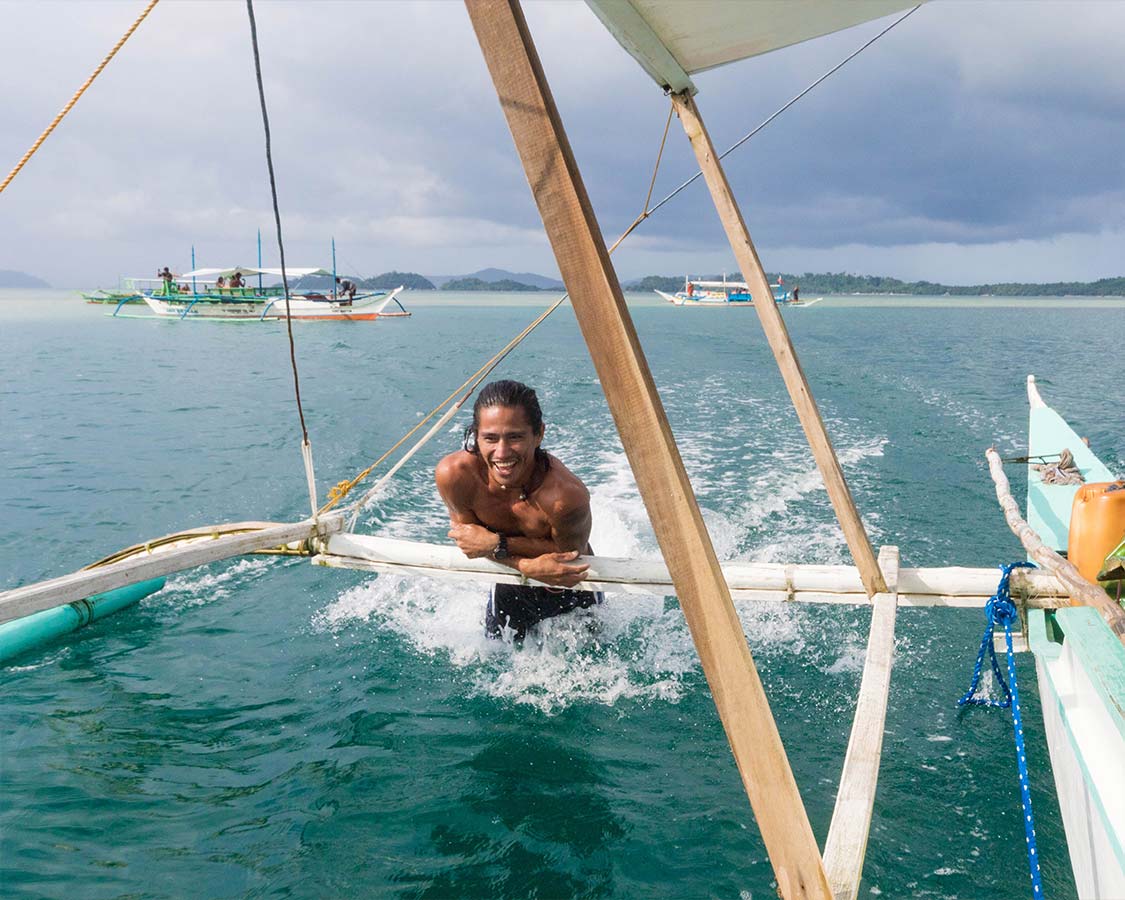 Top Things To Do in San Vicente Palawan
There are so many amazing things to do in San Vincente Palawan that it's hard to keep track. And while we only had a short time to spend in this paradise, we could have easily spent a week in San Vicente Philippines.
Island Hopping
When we were looking for things to do in Boracay, our island hopping adventure was scuttled due to an incoming typhoon. So, we were very excited about island hopping in San Vicente. The islands here are smaller, quieter, and often staffed with just a single caretaker who is in charge of maintaining their selected island. Life on these islands can be lonely, so the caretakers often swim between islands to visit.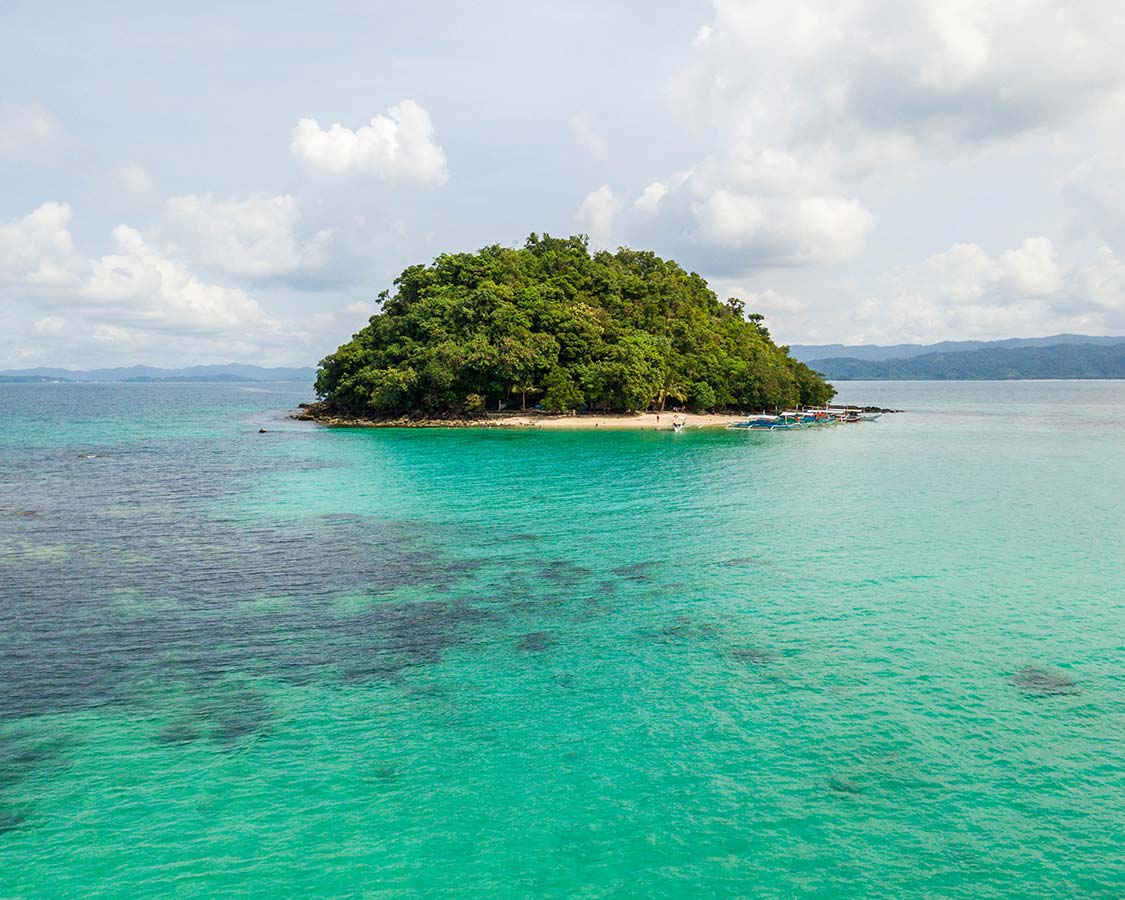 Pro-Tip: Like most places in the Philippines, tour operators usually don't have life jackets for children. We recommend taking your own children's life jackets if you are visiting the Philippines.
The main chain of islands in San Vicente lie about halfway between Port Barton and San Vicente, so they are easy to get to. Because San Vicente hasn't reached the popularity of Boracay yet, strolling down the beach to find someone to take you out to the islands is easy. There are no crowds of paraw drivers calling out to you every 10 feet.
Swim With Sea Turtles near Turtle Island (Inaladelan, formerly German Island)
There is a healthy sea turtle population in San Vicente Philippines. And there is no better place to go swimming with these peaceful giants than near Inaladelan, or as the local guides call it, Turtle Island. The name used to be German Island. The mornings here are often the best time to swim with turtles in San Vicente. By the afternoon, many of the turtles have spread out and are less concentrated.
Turtle Island in San Vicente has been protected by the Philippine government since 1996. Because of this, there is a limit to the number of snorkelers and divers that are allowed here at any one time. But if you are able to make it here before the crowds, you can see both endangered Hawksbill turtles and Green Turtles.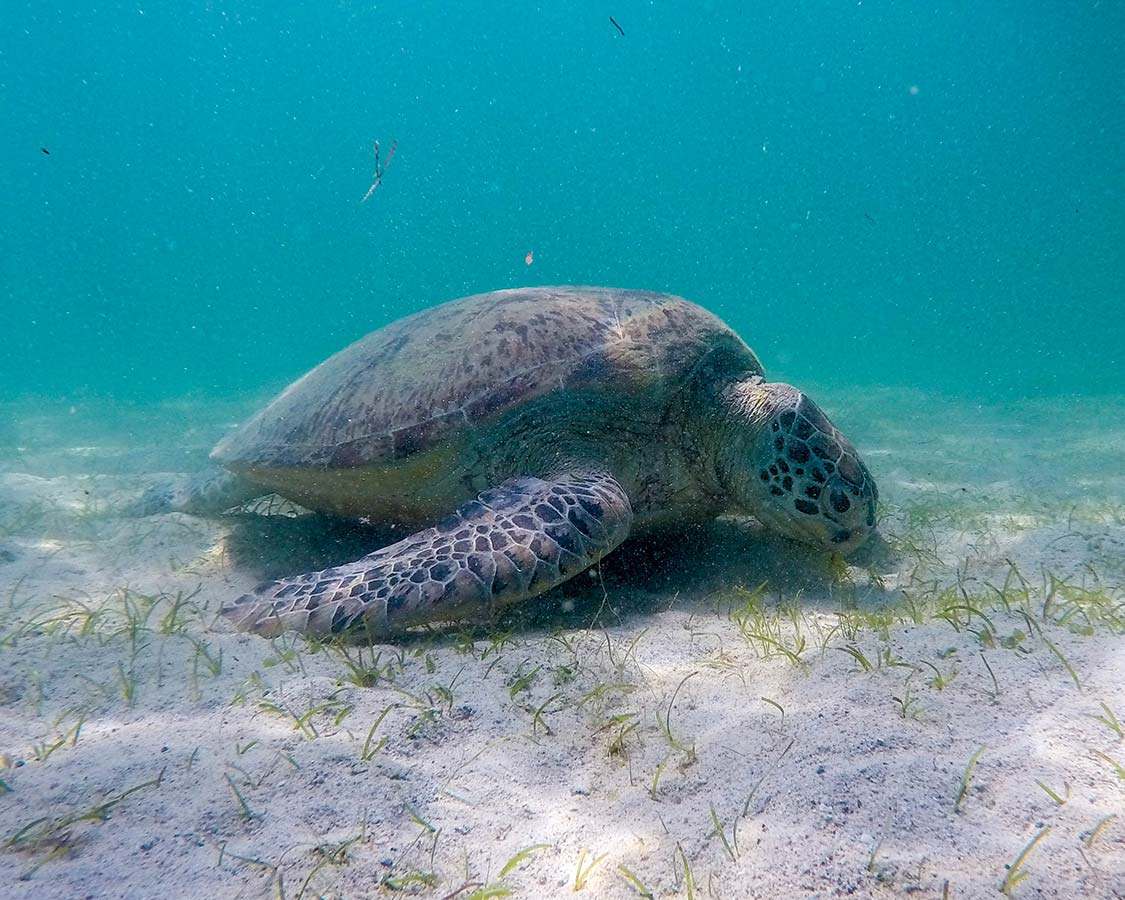 Pro-Tip: When you are swimming with sea turtles, don't touch them. Give them space and make sure they are around for future generations.
Try the Delicious Local Food
One of our favorite parts of our adventure in the Philippines was the food. Now with Christina being born in the Philippines, I know full well that food is the heart of the country's culture, so this comes as no surprise. But the seafood platters that were on display here were some of the best food in the Philippines.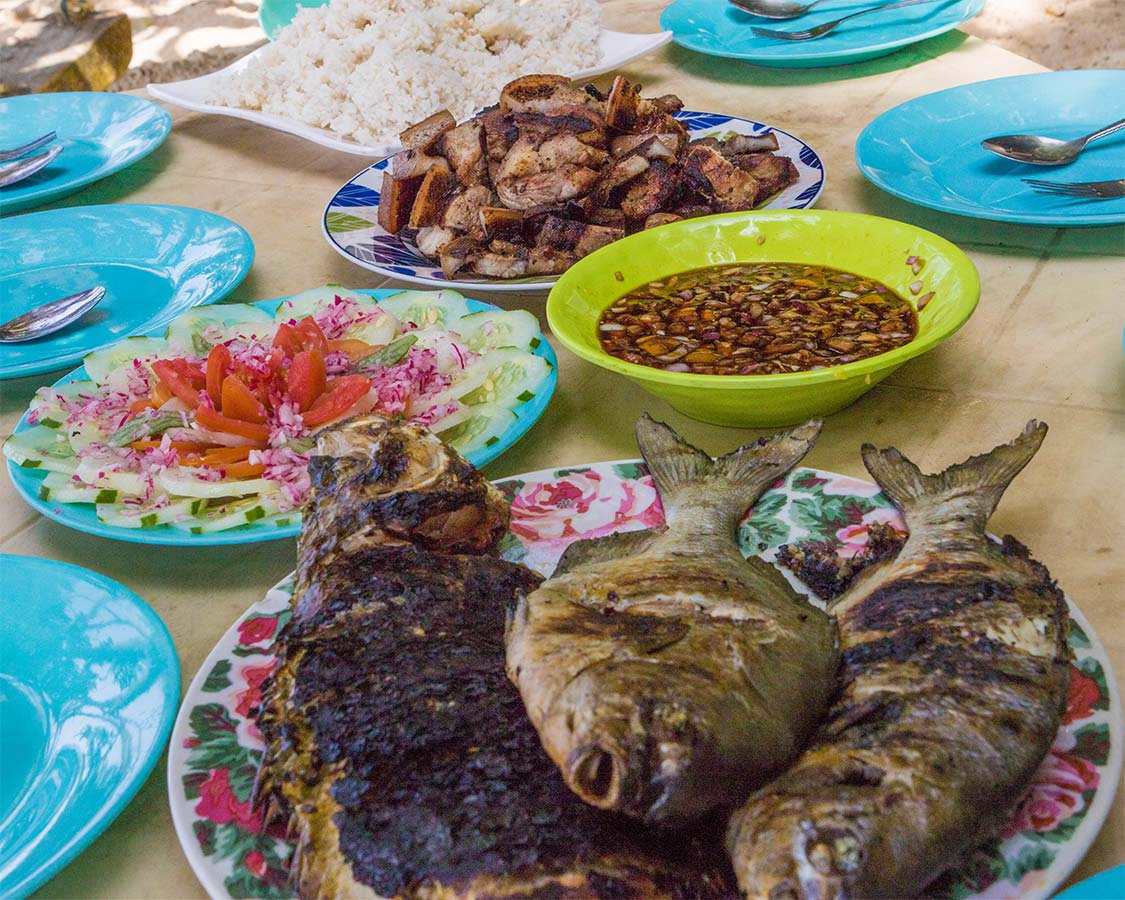 Palawan is also known for some of the more unique dishes in the Philippines such as Tamilok, also known as shipworms. These are a type of mollusk that is retrieved from mangrove roots and is often eaten as a delicacy. Once you get over the "interesting" appearance, you'll either like it for the smoky flavor or hate it for the slimy texture. But there's only one way to know which one it will be! If you are looking for unique things to do in San Vicente Palawan, tasting Tamilok is a great place to start!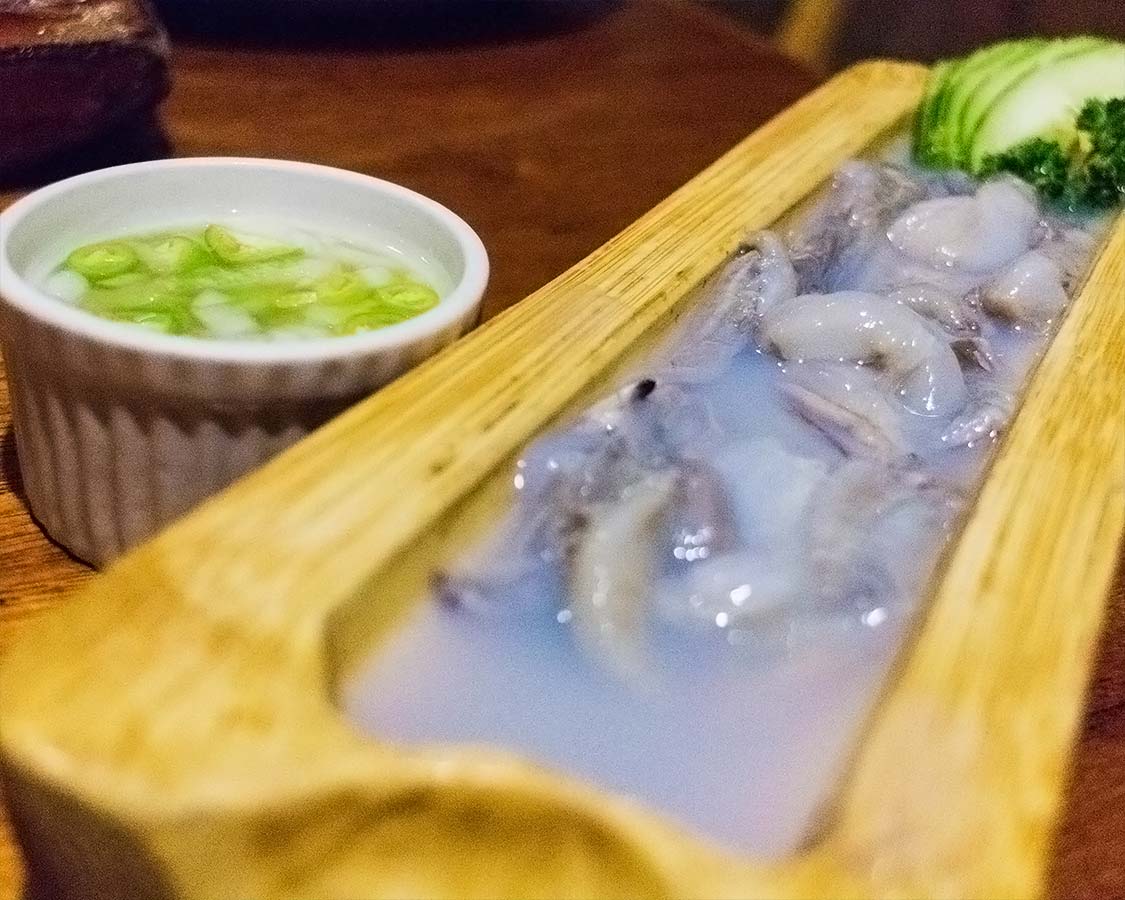 Go Hunting For Sea Shells
Hunting for seashells has been one of our kids' favorite past times whenever we are enjoying a beach vacation. But San Vicente took their seashell hunting to the next level. The region is known for its high-quality pearls, and with giant clams like these around, it's no surprise why!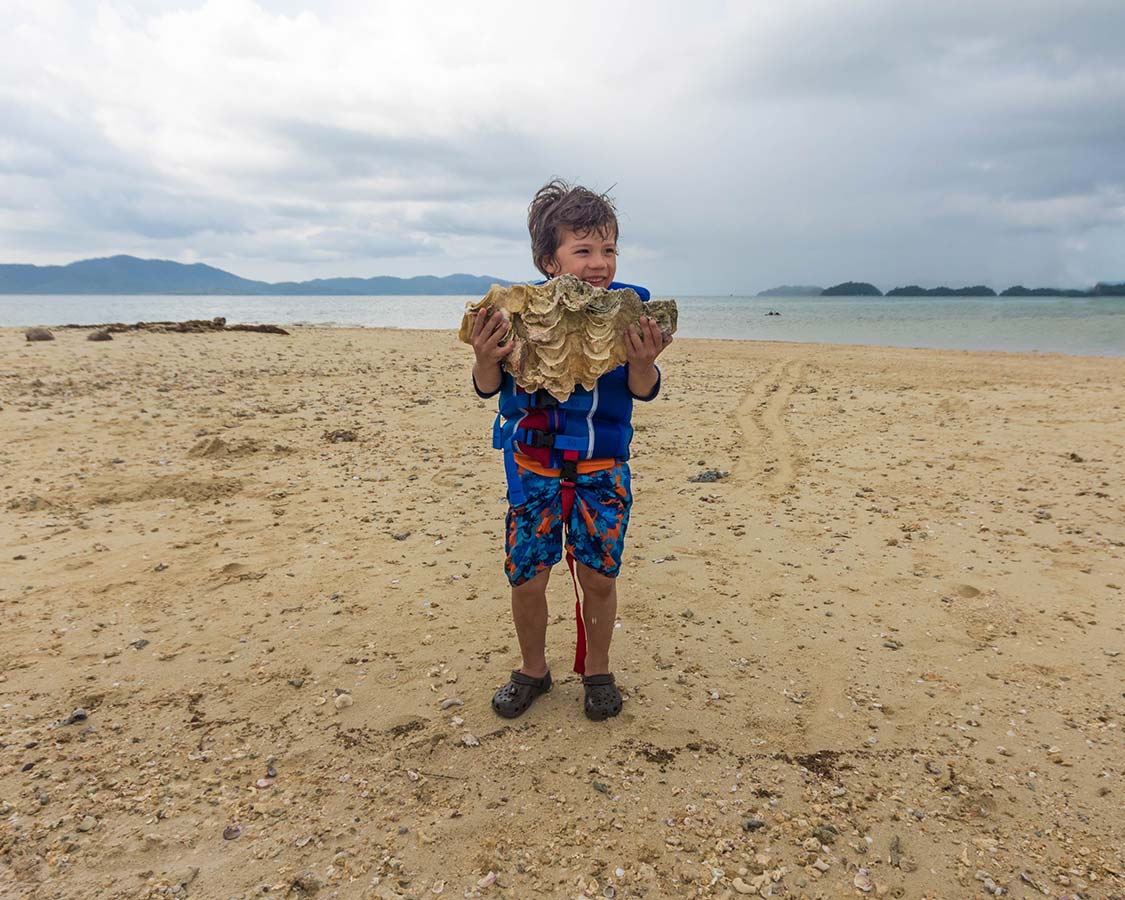 Snorkel or SCUBA Dive Manta-Ray Reef or Twin Reef
Manta Ray Reef is near Port Barton near Capsalay Island. It is the largest coral reef in San Vicente. We had enjoyed our time diving with Manta Rays on the Big Island of Hawaii so we opted not to take in the reef on this visit, but it's on our list for when we go back. We opted to snorkel the very colorful Twin Reef and it was a perfect place for us. Shallow, clear waters, very little current and lots of marine life. This was our boys' favorite place to snorkel in the Philippines.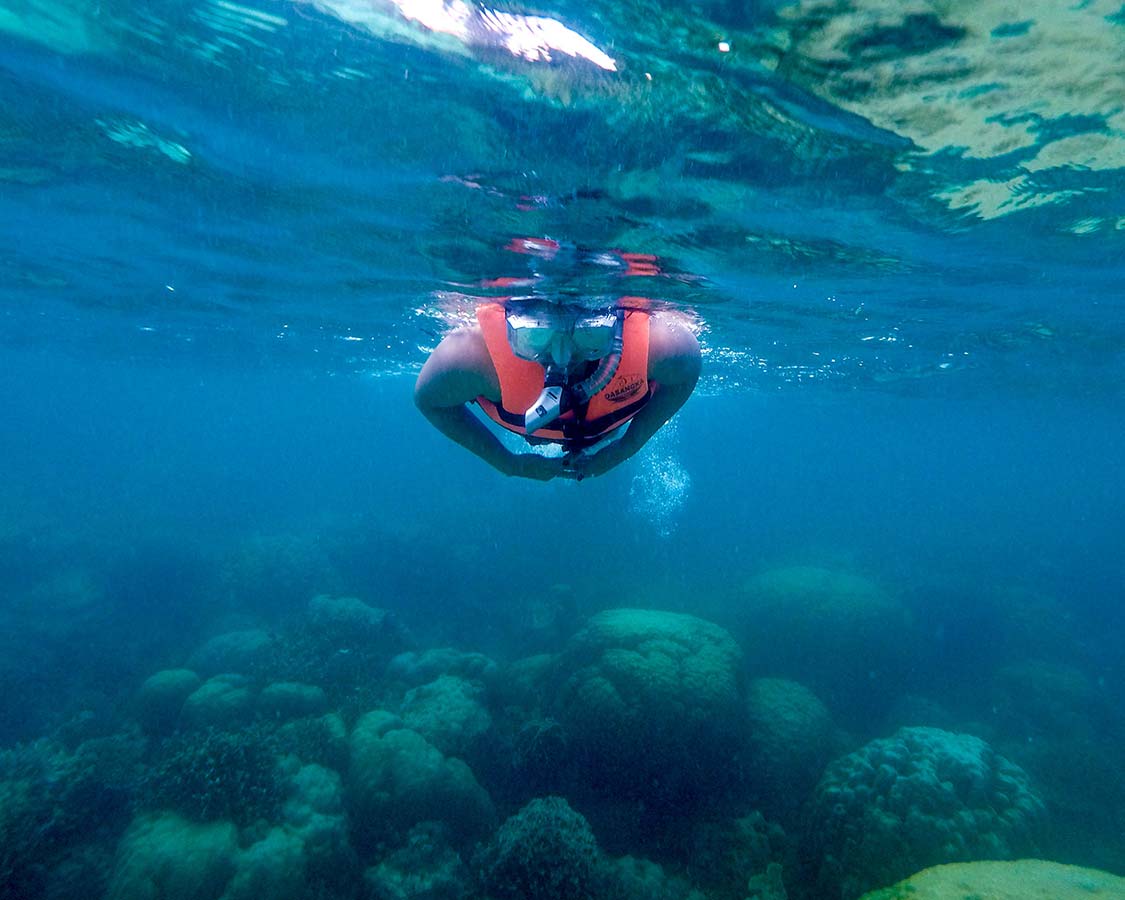 Search for Star Fish on Sand Beach
Sand Beach in San Vicente is one of the most unique islands in the region. Due to the flow of currents, sand is piled up in the middle of the ocean. This island fluctuates slightly in size and location, but it's always there.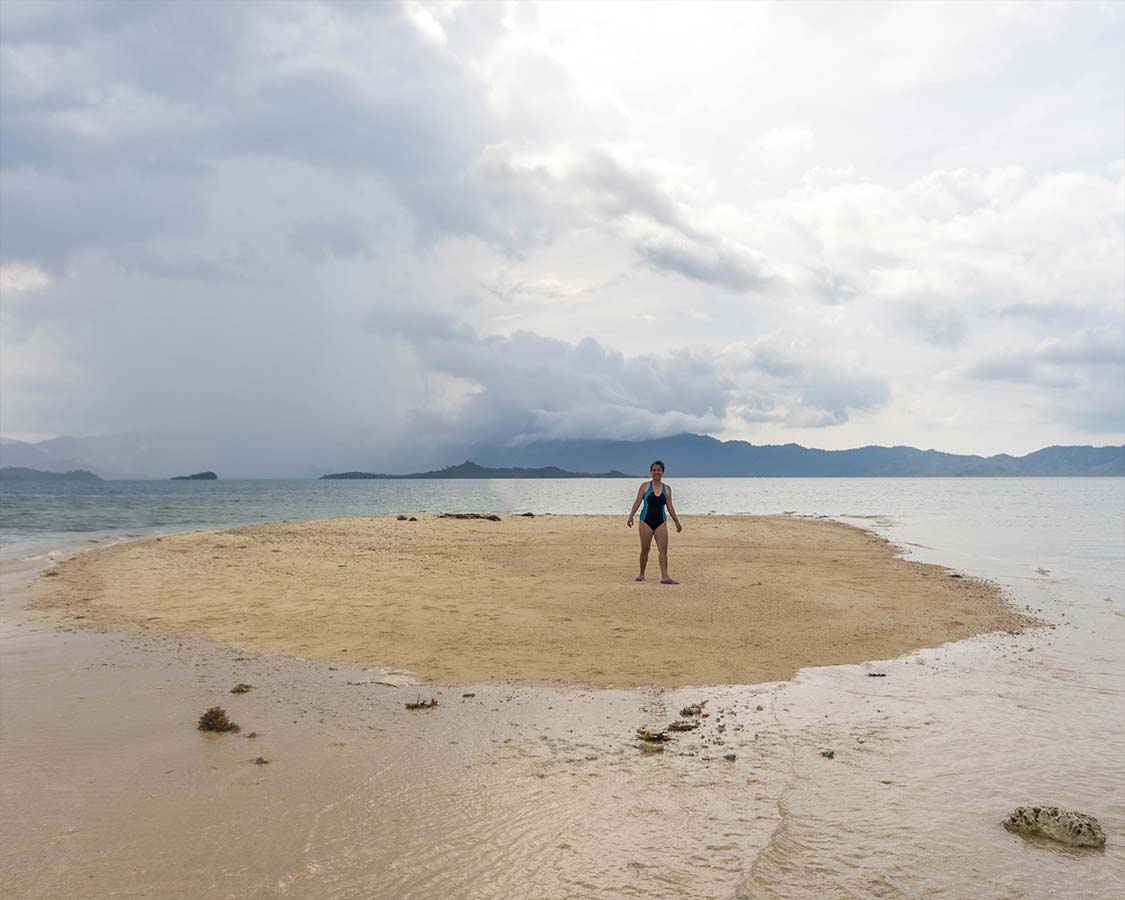 Sand Island was one of our favorite spots to see starfish in San Vicente. These Rhino starfish were huge, C almost didn't believe they were real at first!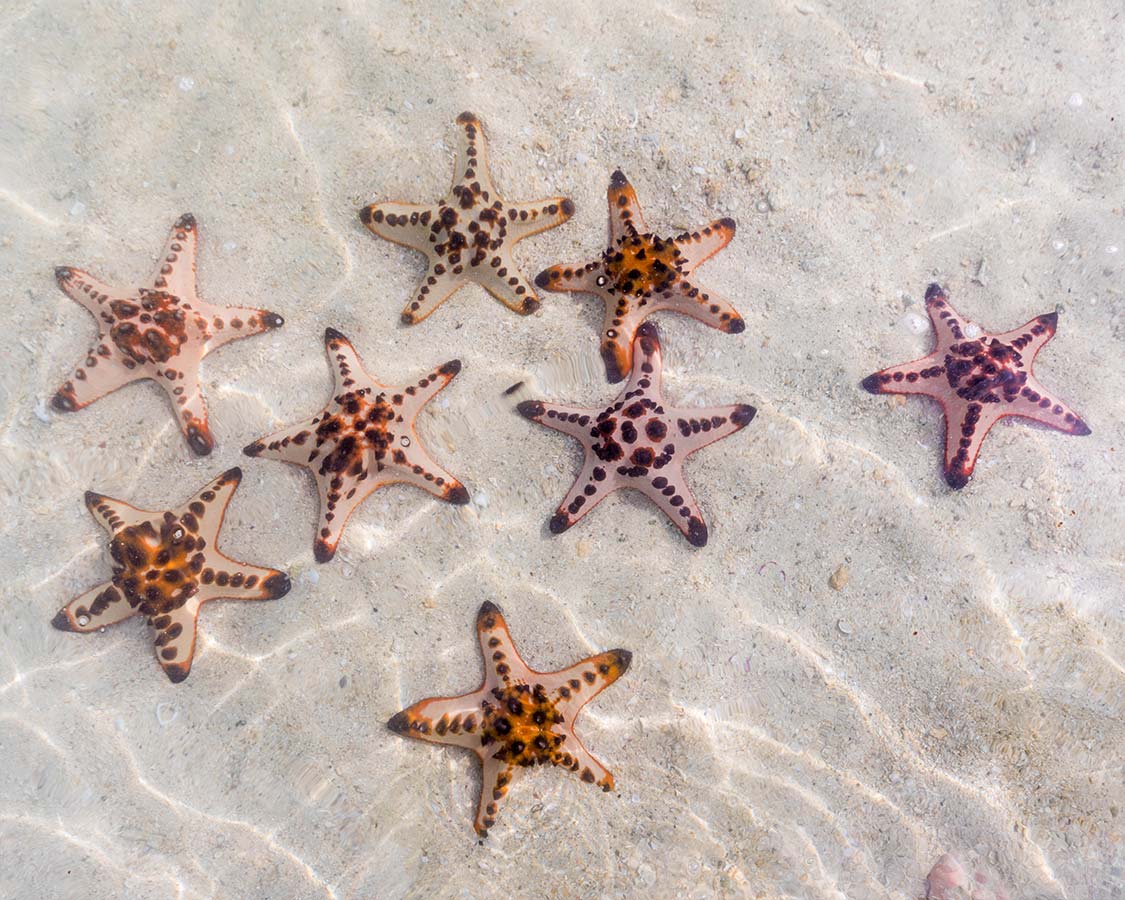 Relax On The Beach
San Vicente is filled with magnificent beaches. Not only does it have Long Beach, but all the islands and the rest of the mainland are lined with white and golden sand beaches. These are perfect for relaxing in the hot tropical sun.
Where to Stay in San Vicente Palawan
In order to explore all the great things to do in San Vicente Palawan, you need to have a great place to stay. While there are some great cottages and small resorts in San Vicente, we opted for one of our favorite hotels during our trip. We stayed at Ausan Beachfront cottages.
The cottages are painted in colorful scenery that the whole family loved. And the food at Ausan Beach front cottages was excellent. We stayed at some incredible places in the Palawan, but for pure joy, this San Vicente resort stood out. You can check the prices and availability of Ausun Beachfront cottages on Booking.com here or Agoda here.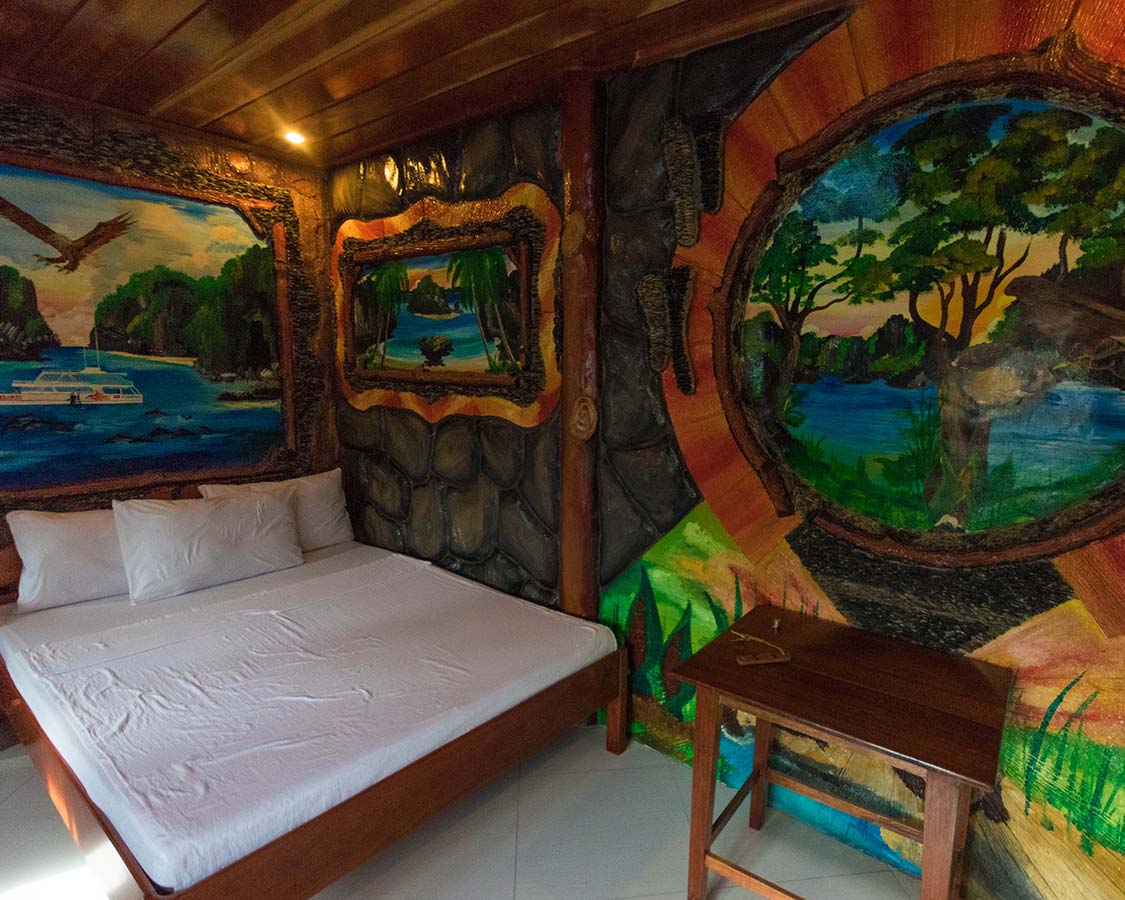 Tips for Visiting San Vicente With Kids
Visiting San Vicente with Kids is wonderful. It lacks the touristy madness of El Nido and Boracay, yet maintains the beauty and activities. San Vicente was one of our boys' favorite destinations in Palawan. They found the people incredible, and the clear, calm water was perfect for them to practice their snorkeling. Boracay was amazing and fun, especially because we had so much family with us, but if we had a choice to pick a family vacation in the Philippines, we would choose San Vicente over Boracay in a heartbeat.
Wandering Wagars is a participant in the Amazon Services LLC Associates Program, an affiliate advertising program designed to provide a means for sites to earn advertising fees by advertising and linking to amazon.com, amazon.co.uk, amazon.ca. Amazon and the Amazon logo are trademarks of Amazon.com, Inc. or its affiliates.
You May Also Like To Read: