Georgian Bay Islands National Park is often touted as one of the most beautiful places in Ontario. Beausoleil Island camping in Georgian Bay Islands National Park is the perfect place to experience it.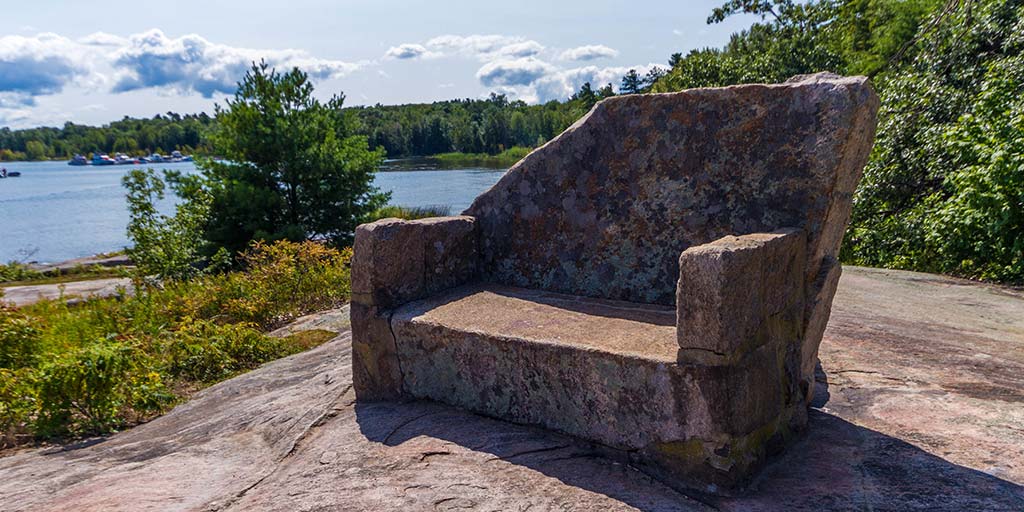 One of the greatest things about living where we do is having access to so many amazing Ontario national parks. And just recently we decided to hit a few of the Ontario parks that we hadn't yet visited on an epic road trip through Lake Superior PP, Pukaskwa, NP, and Bruce Peninsula NP. First on our itinerary was a stop for some Beausoleil Island camping in Georgian Bay Islands National Park.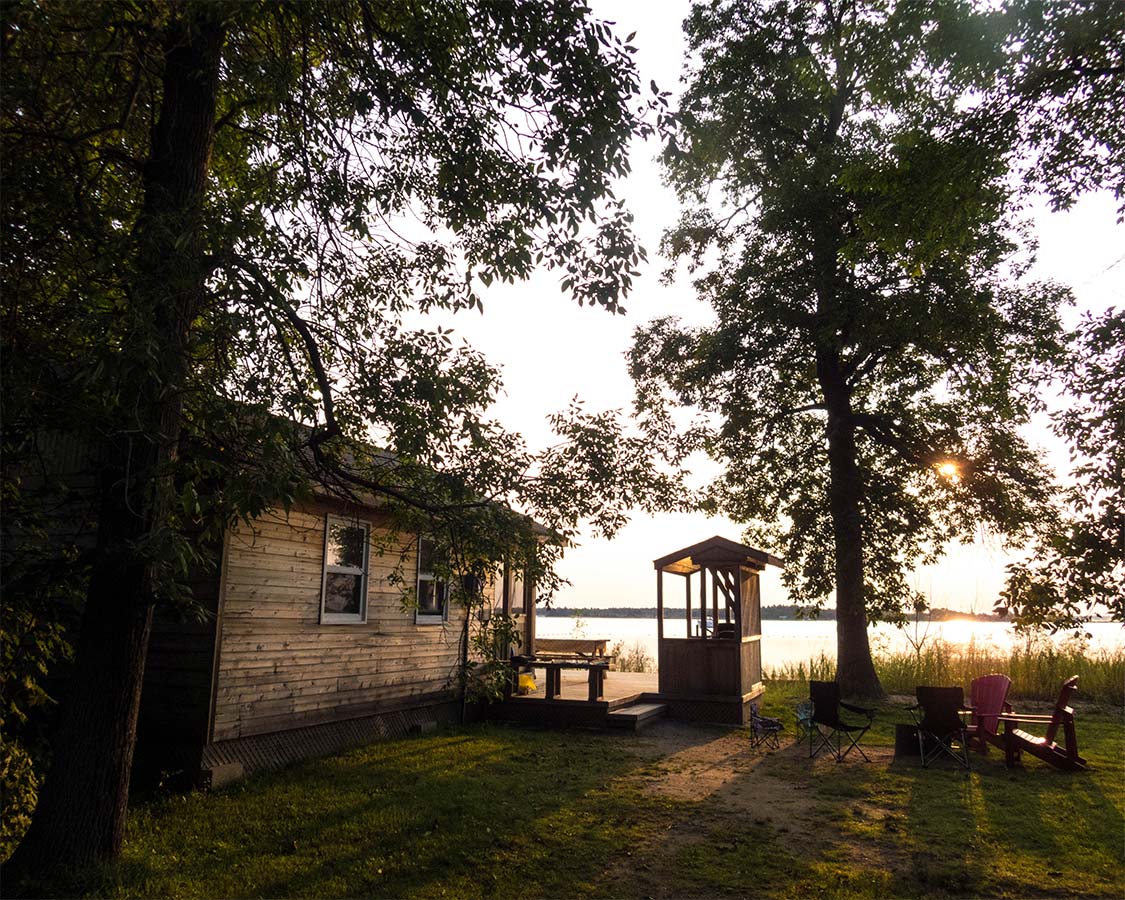 About Georgian Bay Islands National Park
Georgian Bay Islands National Park is a stunning collection of 63 islands on the south-eastern corner or Georgian Bay in Ontario. The islands are popular due to the windswept white pines, raw rock faces, and the wide water expanses of Georgian Bay.
Georgian Bay Islands NP might be one of the smallest National Parks in Canada, but its stunning landscapes and unique history make it a destination that visitors return to year after year.
Similar to nearby Killarney National Park, the region is famous in part due to the brush strokes of Canada's Group of Seven. The Group of Seven drew their inspiration from some of Canada's most spectacular landscapes to help carve out this young country's national identity.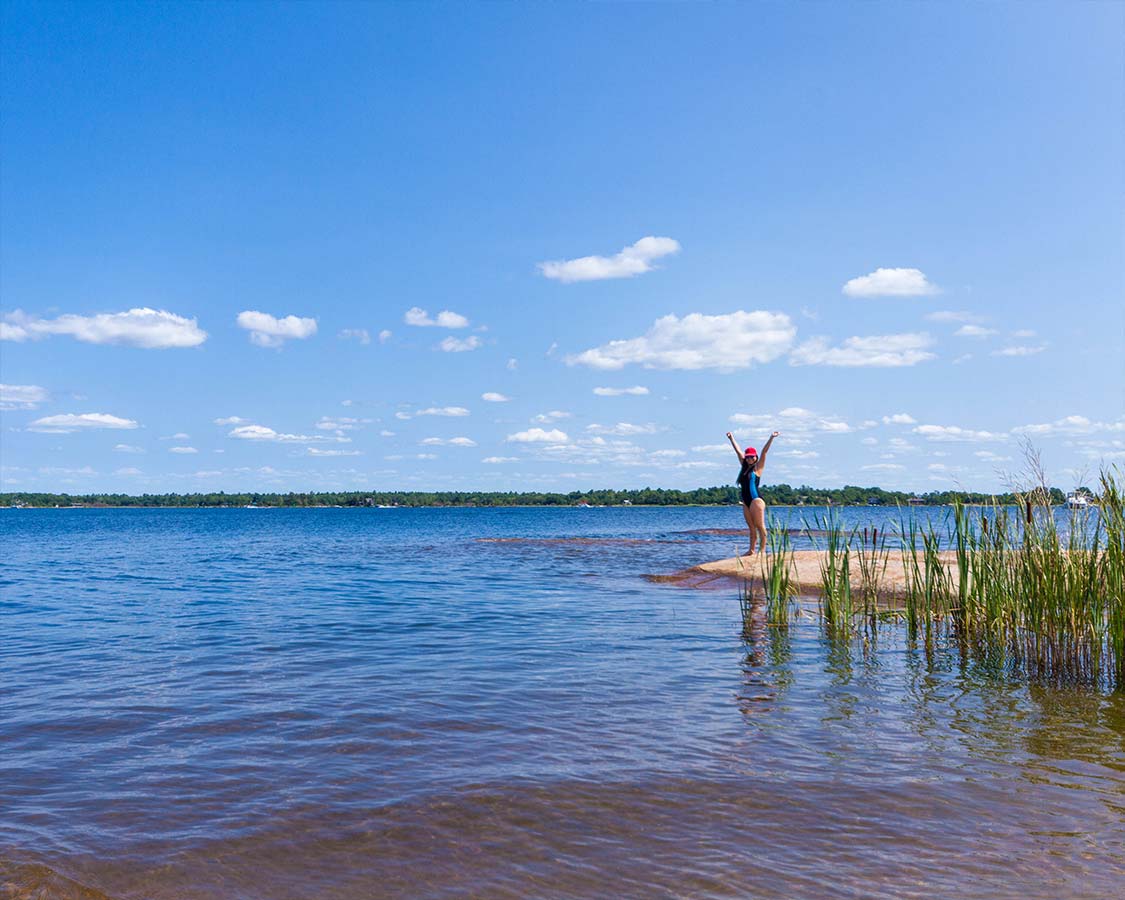 Where Is Georgian Bay Islands National Park?
Georgian Bay Islands campgrounds are located on the eastern shores of Georgian Bay. The Parks Canada treasure is most easily accessed via the town of Honey Harbour, which is about 2-hours north of Toronto and approximately 1-hour west of the Muskoka town of Gravenhurst.
Getting to the Georgian Bay Islands National Park border is relatively easy, but, as the name suggests, it is made up of islands. Because of this, visiting Beausoleil Island and the Georgian Bay camping site requires access to a boat.
Honey Harbour has a small grocery store and restaurant across the road from the Parks Canada Marina. There are also several other shopping spots along the shores of Georgian Bay. The prices are reasonable and it's a good spot to stock up on worms for fishing and any last minute camping supplies you may have forgotten.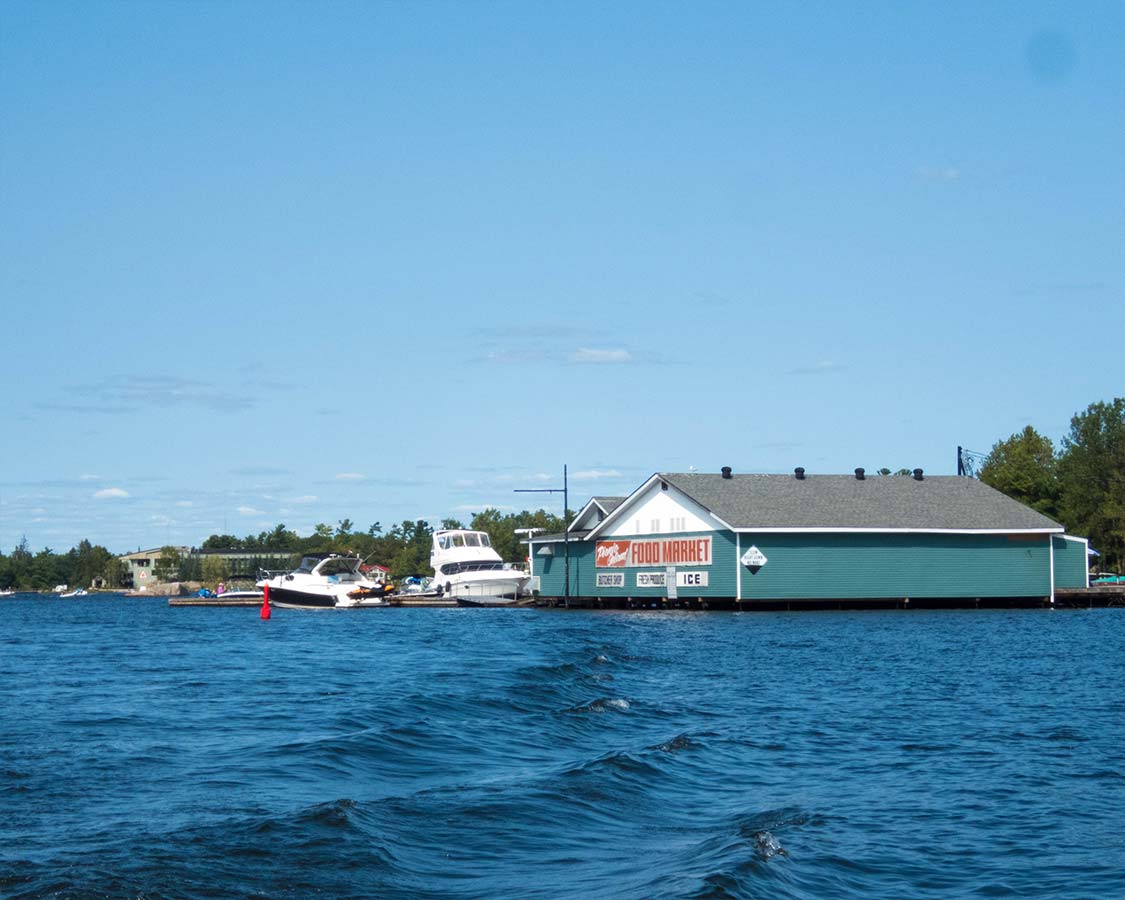 How to get to Georgian Bay Islands National Park
There are 63 windswept islands that make up Georgian Bay Islands National Park. All of these islands are accessible by private boat. But the largest and most popular of the Georgian Bay Islands, Beausoleil Island, is also accessible via a Parks Canada ferry called the Daytripper and a private Georgian Bay Islands water taxi called the Honey Harbour Water Taxi.
Georgian Bay Islands Daytripper Ferry
The Daytripper ferry is the best way to get to the Georgian Bay Islands if you don't have access to a private boat. Rides on the Daytripper ferry take about 15 minutes. Camping supplies and luggage are usually shipped separately in a small barge-like boat. Visitors get to enjoy a more comfortable ride in one of the small motorboats that Parks Canada charters for the ferry. The type of boat varies depending on the service operators working that day. You can book the Daytripper online here.
Booking the Daytripper ferry to Georgian Bay Islands National Park includes parking and a return trip to Beausoleil Island.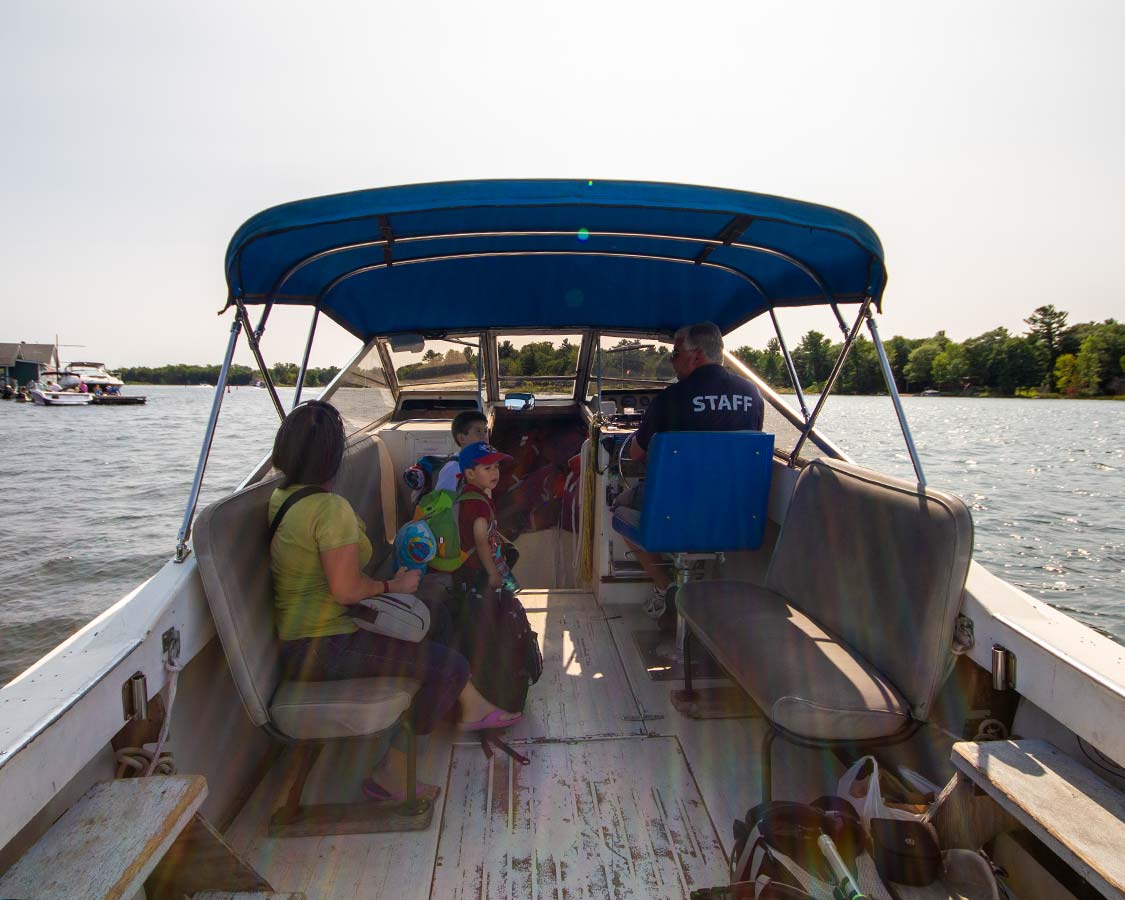 Honey Harbour Water Taxi and Beausoleil Island Water Taxi
The Honey Harbour Georgian Bay Island water taxi is a privately run people-ferry that can get visitors access to various areas within Georgian Bay. Not only do they run a ferry to Beausoleil Island, but also to any of the other islands or cottages in the region. They offer parking on-site, although this is at an additional cost. You can contact the Honey Harbour water taxi here.
What To Do in Georgian Bay Islands National Park
Georgian Bay Islands National Park is one of the best national parks in Canada for a family camping holiday. Its location makes it a great weekend getaway near Toronto. And the park's low-key vibe makes it as relaxing as it is beautiful. While all the Georgian Bay Islands are accessible via boat, and some have camping, only Beausoleil Island and Bone Island offer easy access to amenities.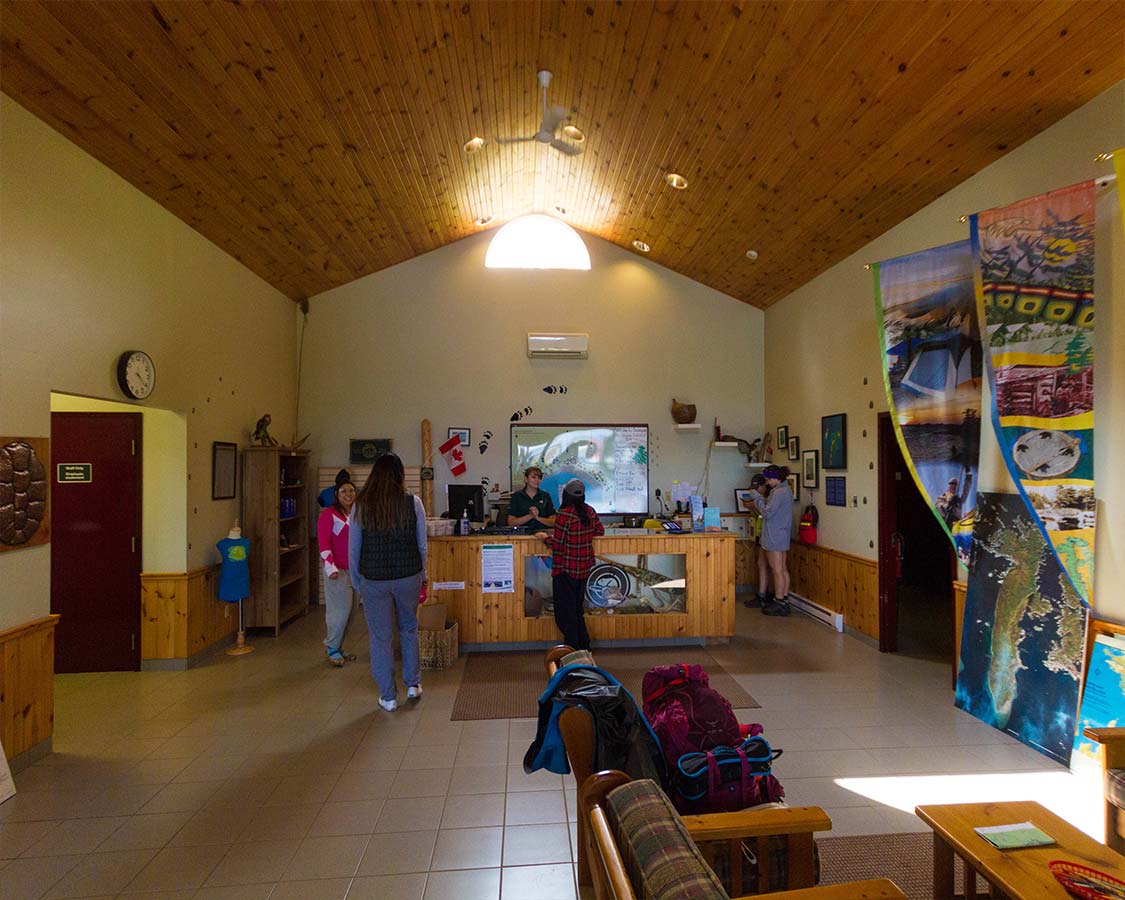 Biking and Hiking Beausoleil Island
The mature forests and rugged trails of Beausoleil Island make for a perfect place for a family camping experience. While hiking Beausoleil Island with kids we were able to complete most of the trails on foot easily. C especially loved the views of Georgian Bay on the Rockview trail. There are 12 trails to hike on Beausoleil Island. The southern side trails are popular for their sunset views.
The Heritage Loop, meanwhile, takes you through some of the island's early history. On this short trail between the Rockview and the Georgian Trail, we passed by a cemetery with plaques explaining the early history and struggles of the island residents.
For those looking to cover a bit more ground, the Huron, Christian, and Georgian trails are open to cyclists. The Georgian Trail can be a bit more difficult due to the rugged terrain. Bicycles can be rented from the island visitor center near the marina.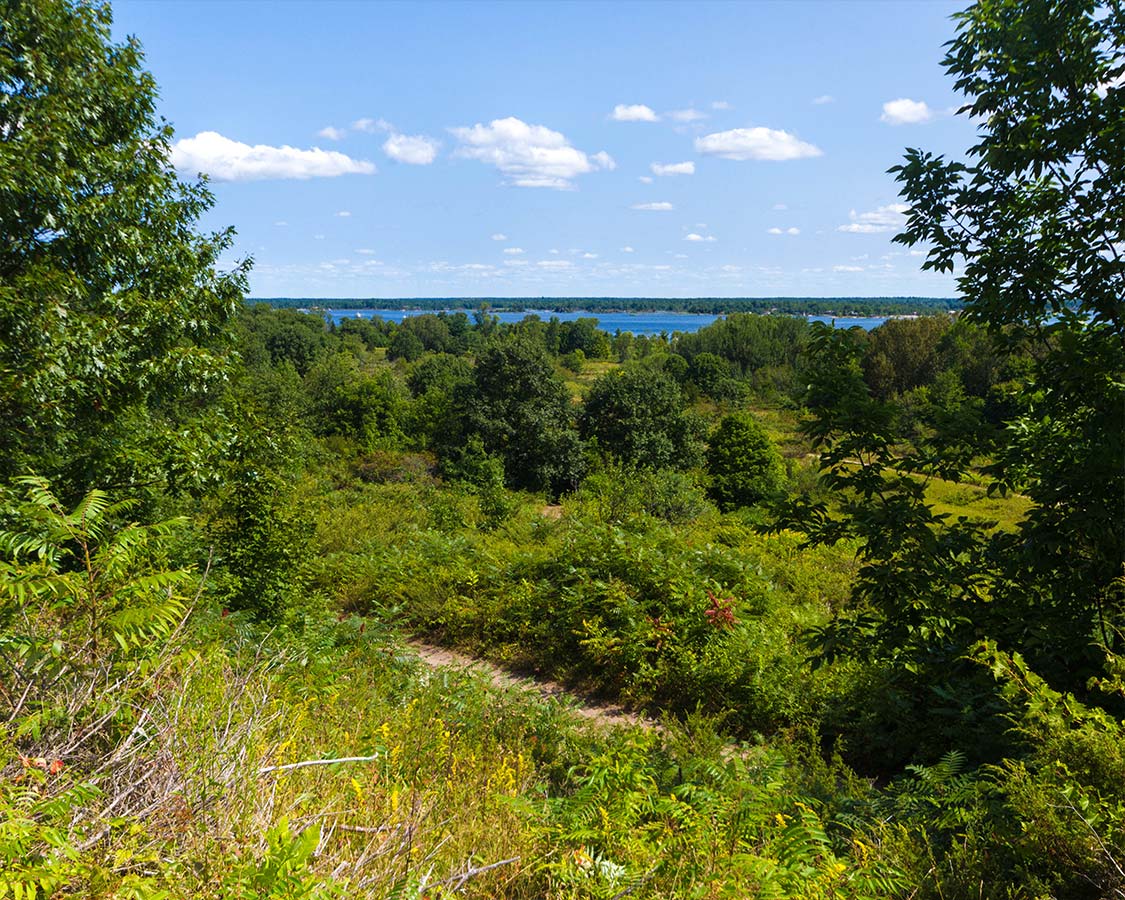 Boating and Georgian Bay Island Hopping
If you are lucky enough to have your own boat, it's an easy cruise to explore the other islands of Georgian Bay National Park. While you won't make it quite as far as Fathom Five National Park, you can still take in some of the smaller and quieter islands of the area. Bone Island offers a visitor center, washrooms, and some services. However, none of the other islands have any amenities. Make sure you take what you need to get around.
You can also rent canoes and kayaks at the Beausoleil Island Visitor Centre. Kayaks are a great way to explore the nearby islands. Canoes are a wonderful way to get around the nearby shores of Beausoleil, but on windy days, the waves can kick up and make the trip a bit more difficult.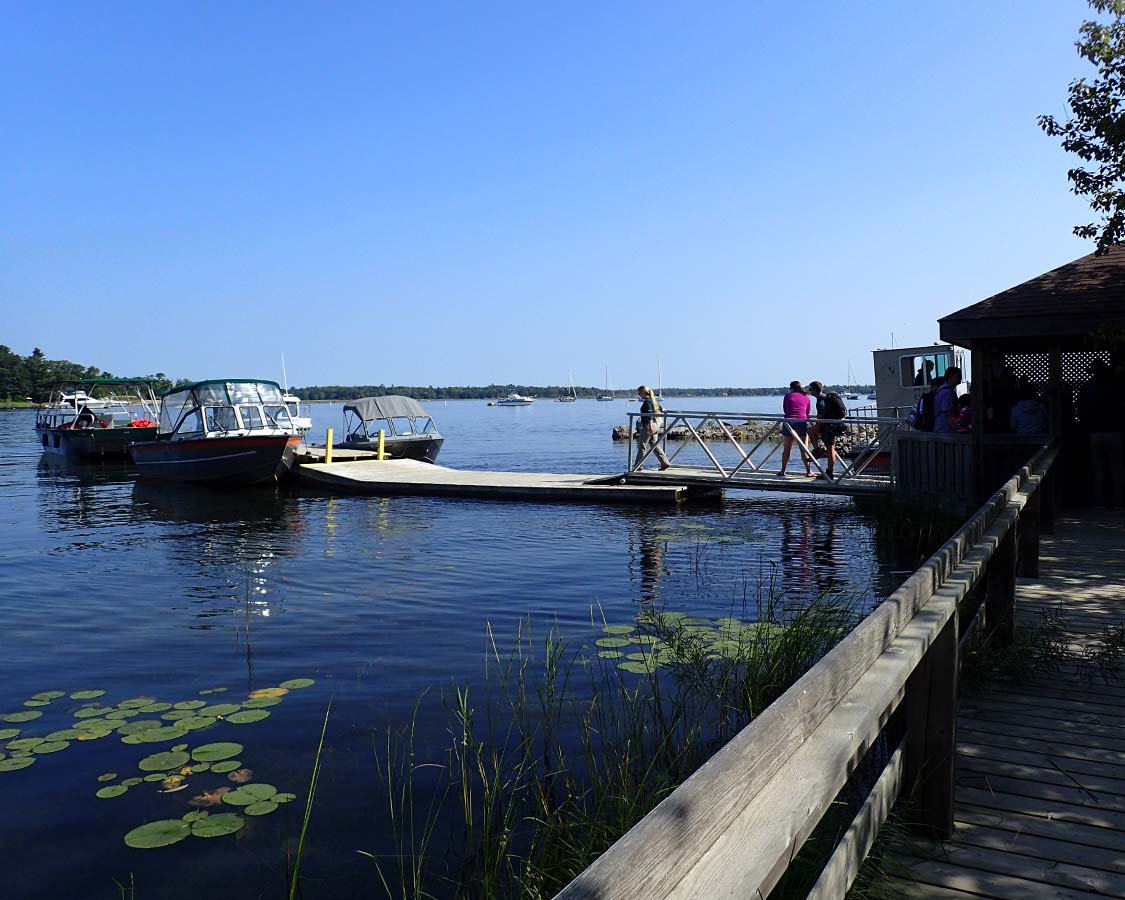 Swimming and Lounging
Although there isn't much sand on Beausoleil Island or the Georgian Bay Islands in general, there are plenty of areas to swim. One of our favorite places to swim on Beausoleil Island is Thumb Point. Just north of the visitor center, Thumb point features the giant rock chair that has become the definitive trademark of the Georgian Bay Park.
Cedar Point is also a popular swimming spot. There is a sandy beach here, however, it is close to the marina and sees much more traffic than Thumb Point.
The sloping and bare rock faces of the Georgian Bay coastline make it perfect for sunbathing. We also spent time chasing frogs, snakes, and fish. Additionally, we loved hopping between the little islets and calling them our own for a while.
Fishing
There are so many great fishing spots on Beausoleil Island that it's almost ridiculous. C LOVES fishing. He is at one of his happiest moments casting out his line and waiting to see what bites. One of the best spots for fishing on Beausoleil Island is the old marina at the base of the Heritage Trail. The concrete platform juts lightly out into the bay giving a great spot for fish to seek some shelter.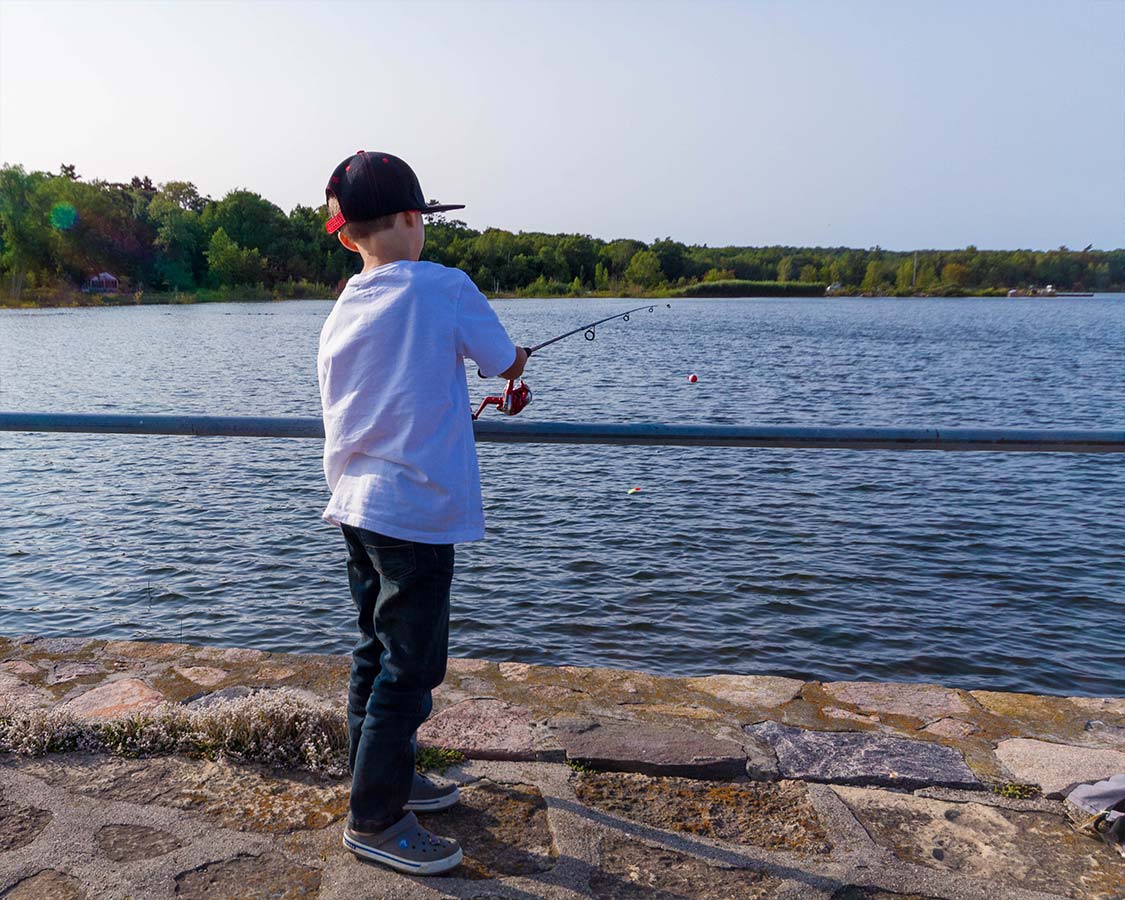 Stargazing
Because of Beausoleil Islands' remote location, it's a great destination for those looking to do some stargazing. If you want even better views of the stars, head over to one of the park's smaller islands where you will have even less light pollution and fewer people around to disturb the serenity. We had some plans later in the week to do some stargazing on Manitoulin Island, so we opted for an early bedtime instead.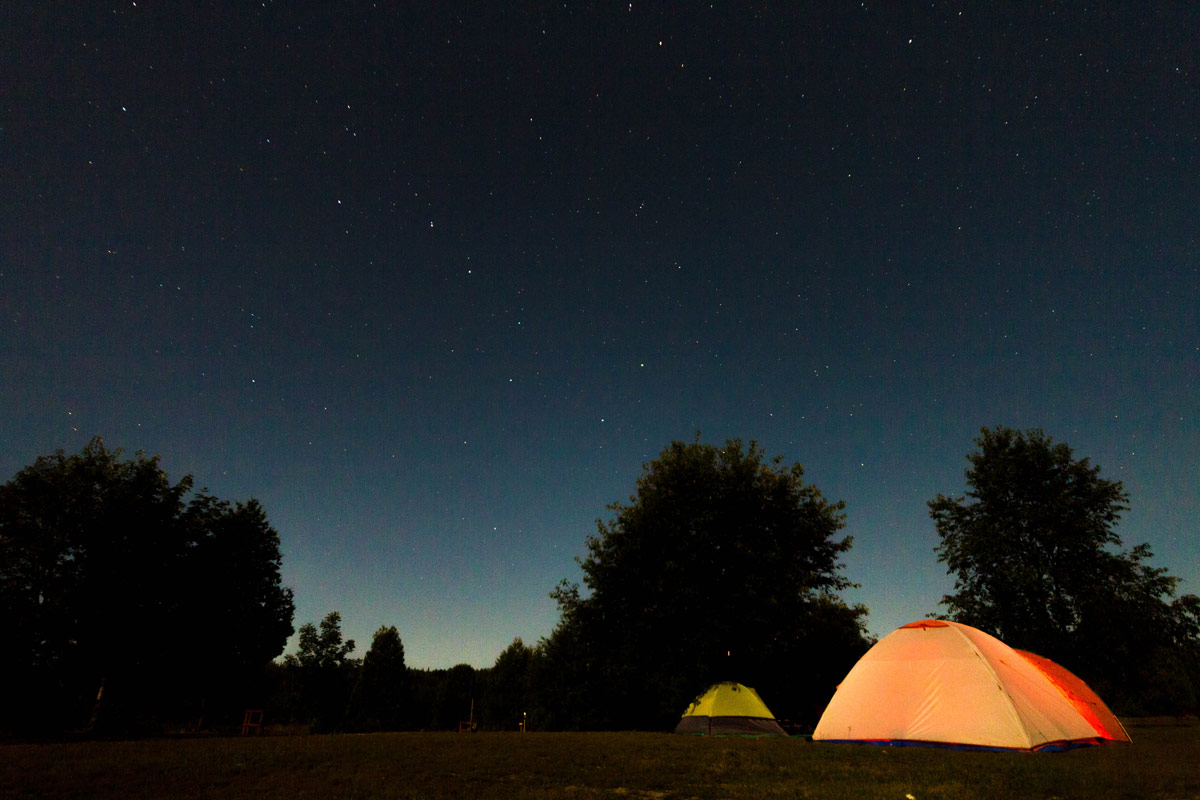 Glamping and Camping at Georgian Bay Campgrounds
I highly recommend that visitors spend at least a few days, if not a week, camping on Beausoleil Island. Beausoleil Island is the only island in Georgian Bay Islands National Park with camping spots. And there is a great variety of options to choose from.
Cabins on Beausoleil Island
Beausoleil Island has two areas where cabin camping is offered, Cedar Springs and Christian Beach. Visitors are responsible for their own linens, food, and toiletries. There is no cooking allowed within the cabins, however, outdoor cooking areas are provided.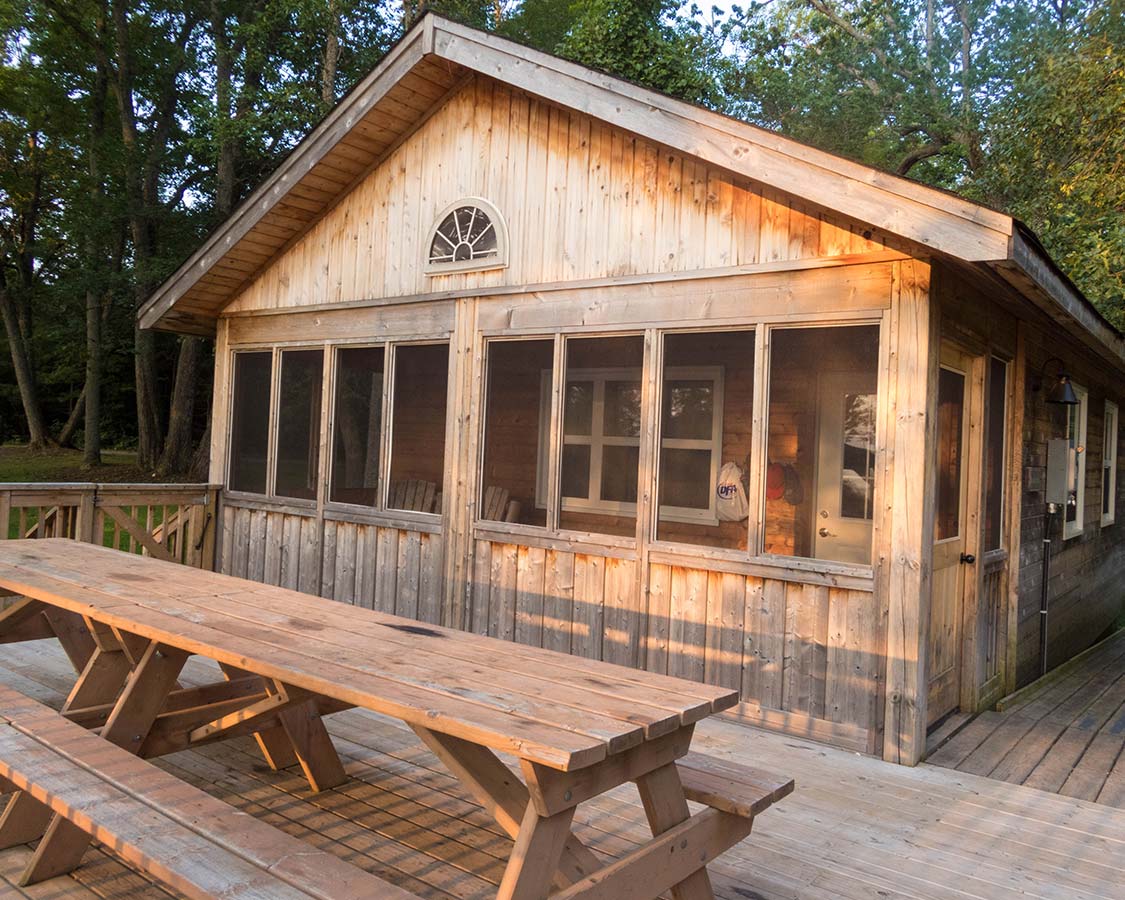 Cedar Springs Rustic Cabins
With this being our first stop on our epic Ontario road trip, we opted for the most luxurious option for Georgian Bay Islands National Park glamping. The so-called Cedar Springs Rustic Cabins are not really rustic at all. These wooden cabins feature a huge deck, screened-in sunroom, living area, and two rooms. One room has a double bed, while the other features a double/single bunk bed.
The Cedar Springs cabins also have an outdoor bbq and dining area. Inside the cabin, there is a sink and dishwashing area. The living area has a bookshelf, sofa, and chairs. Outside there is a fire pit available. For children, there is a sandy playground with tire swings, climbers, and other fun activities.
Christian Beach Rustic Cabins
Those looking for a more rustic and out of the way experience might like the Christian Beach Rustic Cabins. These cabins are located about 1.8 km (just over 1 mile) from the marina. The rustic cabins have a single queen-sized bed, a living area with chairs, and an outdoor bbq and dining area. The cabins also feature a shared fire pit and a cooking shelter.
Christian beach cabins have limited solar power and no running water. However, a limited supply of firewood is provided.
Parks Canada oTENTik
oTENTiks are an accommodation type unique to Parks Canada parks. We had the pleasure of staying in one during our visit to Thousand Islands National Park recently and it was thoroughly enjoyable. oTENTiks are more rustic than the cabins.
They have cooking areas, raised bed platforms, and outdoor dining areas. The oTENTik sites have 3 queen-sized beds and one double bed. The Georgian Bay Islands' OTENTiks are located just north of the main Beausoleil Island marina.
Although we had an amazing experience in an oTENTik during a visit to Thousand Islands National Park the previous summer we opted for the cabins this time.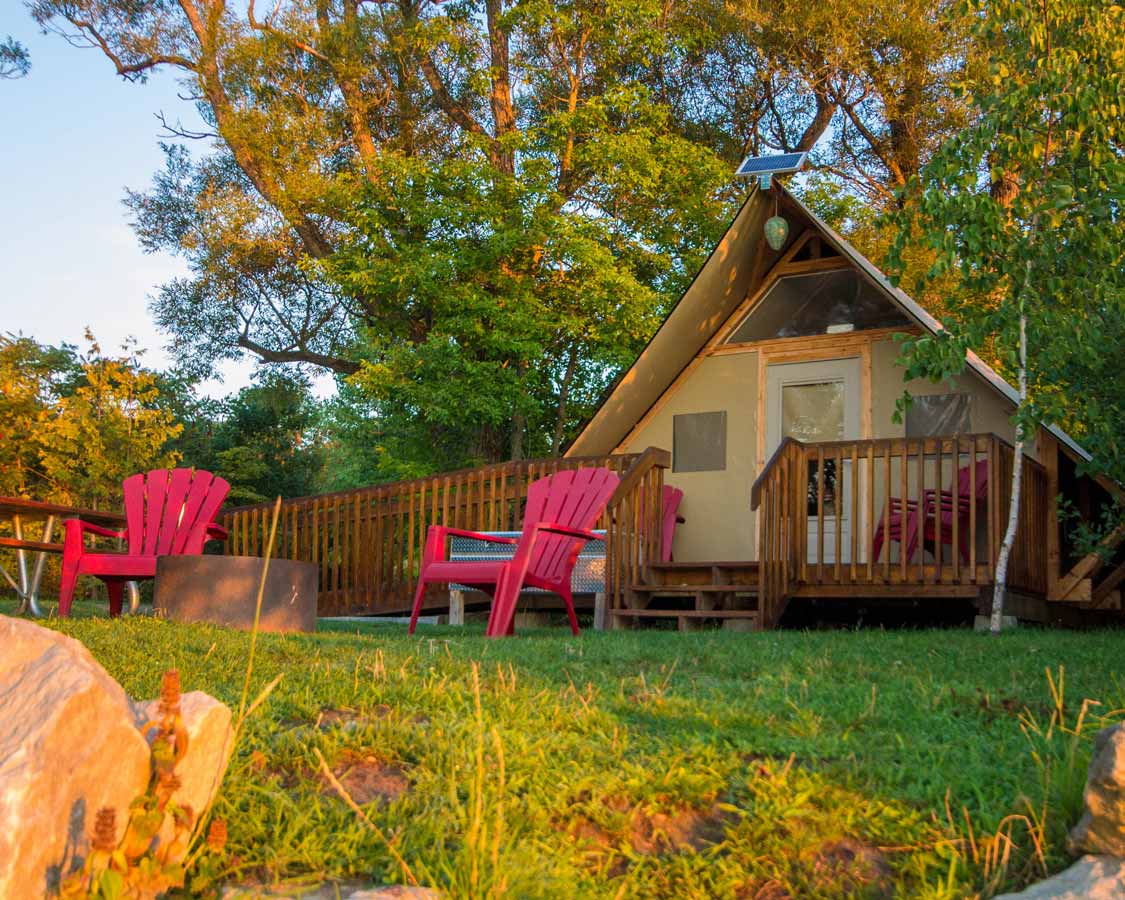 Georgian Bay Islands National Park Camping
Camping on Georgian Bay Islands National Park is just as fun if you don't have a cabin or an oTENTik. There are 45 front country sites available in the Cedar Springs campground. Most of the Beausoleil Island camping sites are large and flat, and none are too far from the water. The sites are serviced and are close to potable water, flush toilets, and shower facilities.
For those who don't have their own tent, this Ontario national park has a small selection of permanent seasonal tents available. These canvas tents are on raised platforms and have a cooking and fire pit and a picnic table.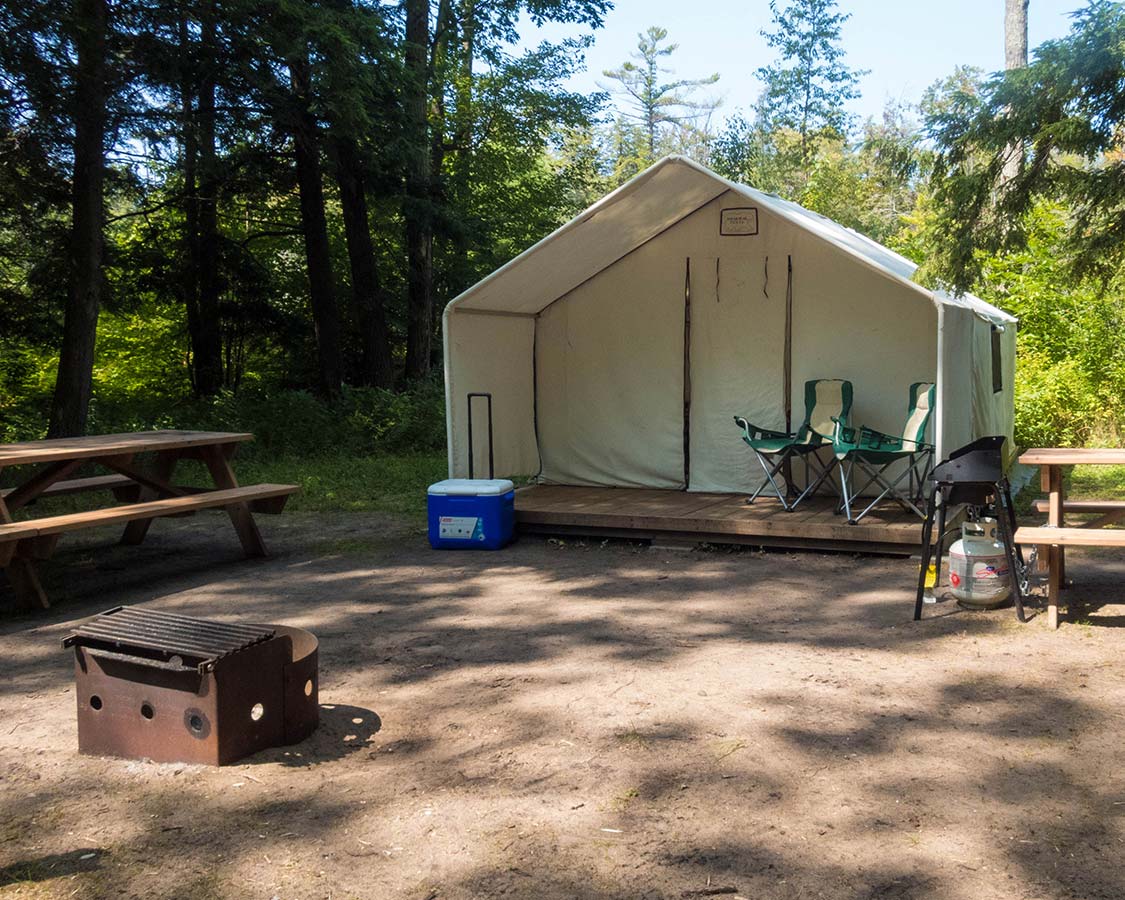 Primitive Camping
There are 8 so-called Primitive Camping campgrounds located on Beausoleil Island as well. These sites are further from the corp or activity and are not serviced. Each campground has between 4 and 13 campsites. Each Beausoleil Island primitive camping site has either flat ground or a tent platform, a picnic table and a fire pit. These campgrounds are only accessible via water. The washroom facilities are pit toilets or outhouses. There is no running water at the primitive camping sites.
Best Time To Visit Georgian Bay Islands National Park
During the hot Ontario summers, the Georgian Bay Islands are busy with summer cottagers, boaters, and travelers. While this is the most popular time to visit Georgian Bay National Park, it may not be the most optimal for those looking for a relaxing getaway. By late August the waters have calmed down and the peak season is drawing to a close. By September, campsites are more easily booked as well. Those looking to visit during the spring might find that many small towns and cottage stores in the area are still closed for business. But if you're prepared, you can have a campground nearly to yourself.
For those looking to visit Georgian Bay Islands National Park in winter, you must find your own way to the islands. This is usually best accomplished by snowshoe, ski, or snowmobile. Services are closed throughout the park during this time. Note that only Cedar Springs and Chimney Bay campgrounds are available during the winter.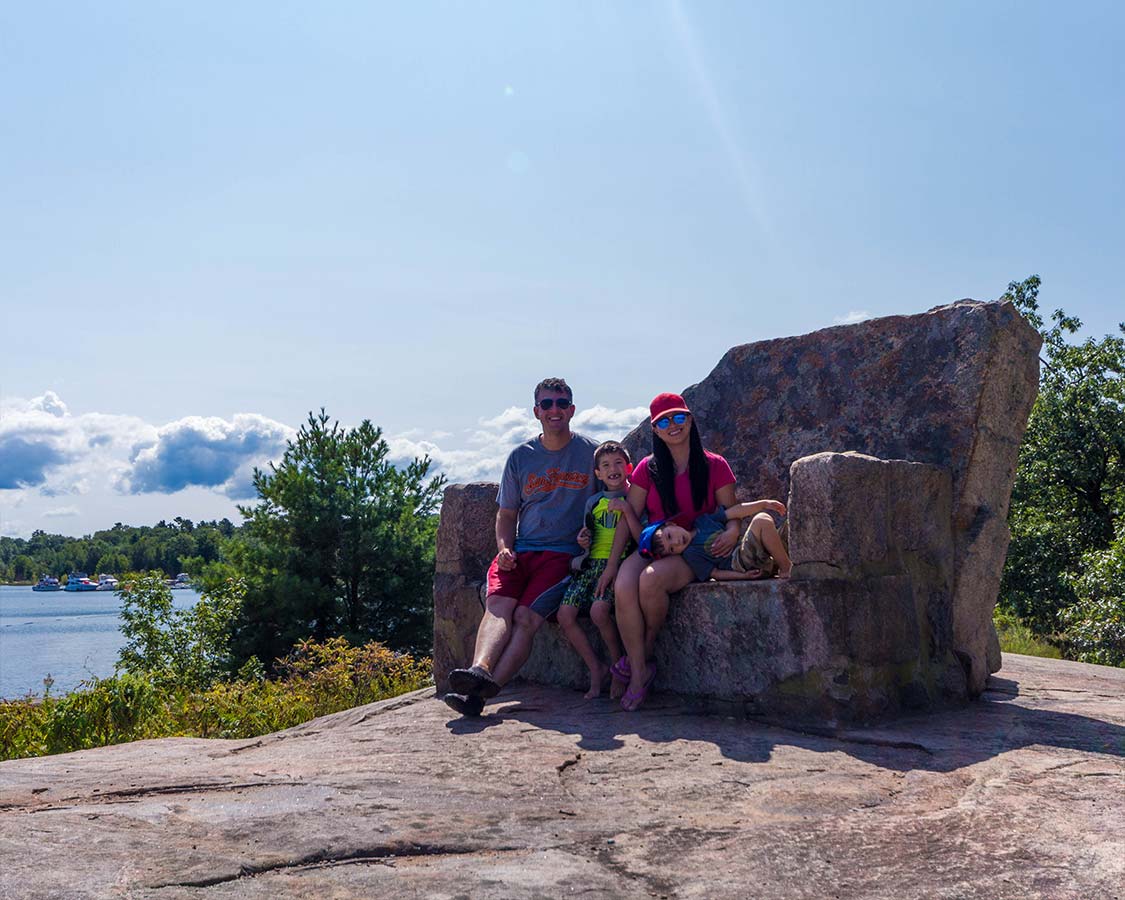 How Long Should You Spend at the Georgian Bay Campgrounds?
While it's possible to have a day trip to Beausoleil Island and Georgian Bay Islands National Park, we recommend spending at least a weekend exploring Beausoleil Island. A week would be ideal for those looking to paddle through the park's many islands and explore the surrounding area. Once you get there, you won't want to leave!
What To Pack for a Georgian Bay Islands Camping Trip
Because the Georgian Bay Islands is a cross between front and backcountry camping, it helps to pack light for camping in Georgian Bay Islands. Those taking the Daytripper are offered a wagon to help haul their gear to their camping site (these are not available for the primitive camping sites). Below are a few things you want to make sure you pack for Ontario camping in the summer.
Tent: Remember that tents sizes are for the number of bodies a tent can fit. Not the number of bodies that a tent can fit comfortably. If You are a family of four, consider a 6 person tent like this one.
Sleeping bags: Pick something comfortable and light like this one for summer camping, or a cooler rated one for spring and autumn camping.
Bug spray (something with DEET, especially during the early and late season to keep black flies and mosquitoes at bay)
Cooking supplies (camping pots, plates, cutlery). I use a set like this one and it's lasted me over 15 years so far.
Food
Water bottles: Personally I prefer using filtered water bottles. They can be refilled anywhere and ensure clean water is always at hand. You can check out my list of the 5 best filtered water bottles here.
Water (We recommend bringing a large, refillable water container)
Matches and fire starters
Swimsuits and towels
Fishing poles and bait
Hiking shoes
Sandals
Camping stove and propane (even if you are planning on cooking on the fire pit it's important to remember that there are sometimes fire bans)
Wandering Wagars is a participant in the Amazon Services LLC Associates Program, an affiliate advertising program designed to provide a means for sites to earn advertising fees by advertising and linking to amazon.com, amazon.co.uk, amazon.ca. Amazon and the Amazon logo are trademarks of Amazon.com, Inc. or its affiliates.
You May Also Like To Read: