Camping with kids is a time-honored family tradition. Our guide to camping with kids will help you prepare for your first family camping adventure. From how to book, what to eat, and what to pack.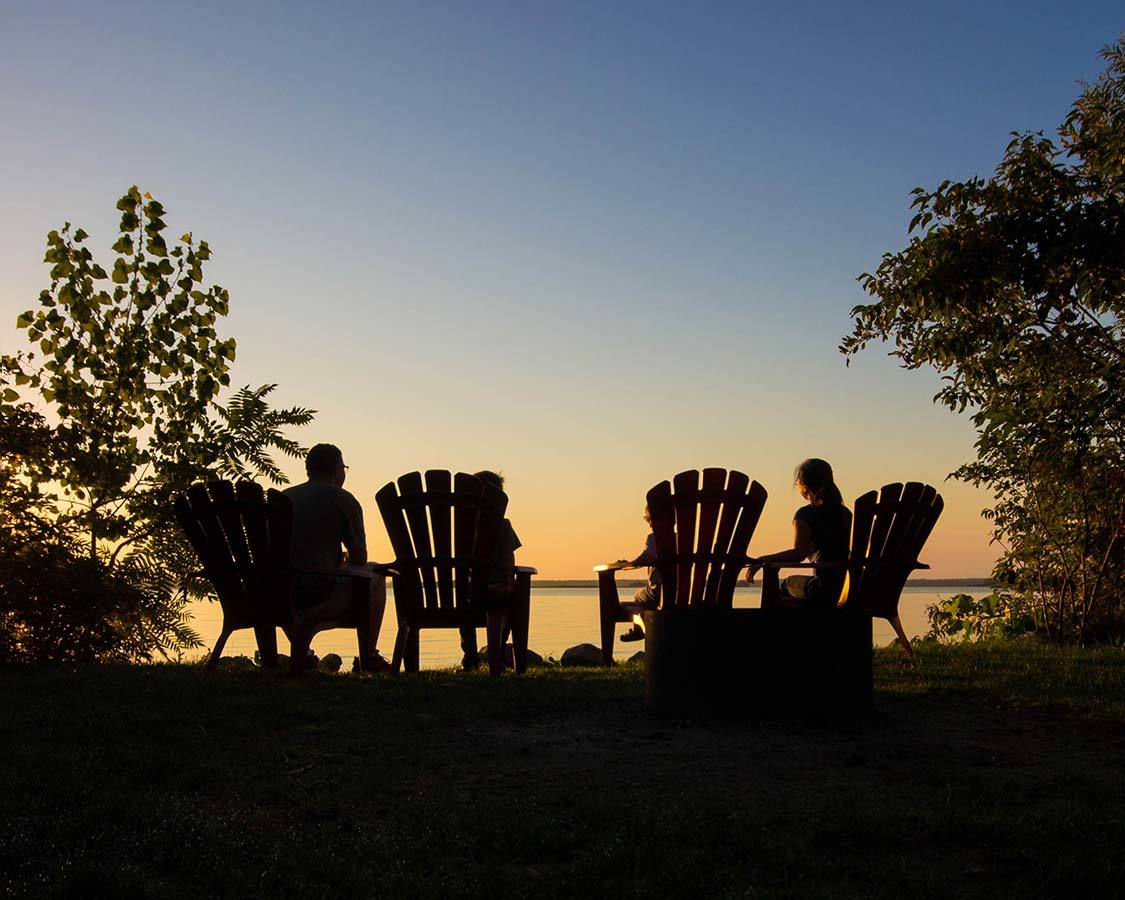 Camping is a time-honored tradition that many families use to create those lasting memories that we cherish. When you're camping with kids you're creating experiences that they will share with their kids on and on down the line.
But family camping as an adult is an entirely different ballgame than camping as a child. It's in our adulthood that we realize just how much went into planning those "effortless" family camping experiences.
The anxiety induced by the thought of camping with kids is enough to bring some parents to their knees.
I've been on that end as a parent wondering how to camp with kids for the first time. I know the questions.
What if the kids can't sleep while camping?
What if we encounter a wild animal while camping?
What if they hate the camping food?
What if they get so bored that they drive you completely insane?
I'm here to help you plan so that your adventure goes as smoothly as possible. But I promise, there will be surprises and learning opportunities. There always are.
And it's those experiences that make for those stories that get told again and again, to be shared at weddings, parties, and family gatherings.
And in the end, I hope that this guide to camping with kids will help you build those lasting memories that will make family camping something that you enjoy year after year.
If you're looking to take your family camping experiences to the next level, you can also check out my guide on how to hike with kids. There I explain further how you can help your kids develop a love for the outdoors and include safe, family-friendly hikes in your next adventure.
Why Trust My Tips For Family Camping?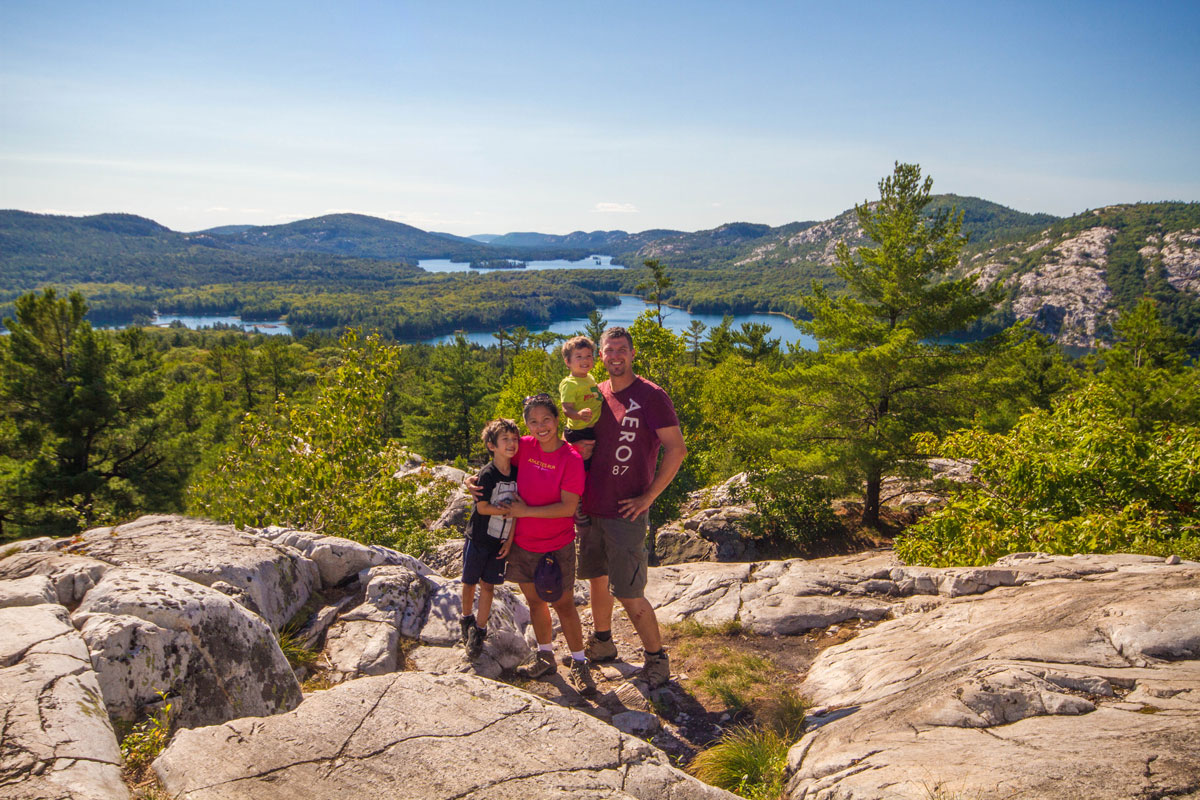 I have been camping throughout my whole life. I have memories from childhood of hiking, snowshoeing and camping throughout Canada with my family. They were experiences that I have always cherished.
When I became a parent, it wasn't long before I had my children out with me in the woods.
Over the past 10-years, I've experienced every type of camping adventure with my kids. From remote backcountry exploring to overland journeys, to glamping in remote, foreign deserts. You name it, I've probably done it. I've even taken my kids winter camping in northern Ontario.
So, to help other families prepare for the time-honored tradition of family camping, I've put together this guide to camping with children. From how to choose a tent to how to pick a campground, even up to what to pack for camping with kids, I've got you covered.
Tips For Camping With Kids
How To Pick A Campground and Campsite
Before you go camping with kids, you'll want to choose your campground and your campsite.
When you're camping with kids, especially if you're new to the experience, there are a few things you're going to want to consider.
As you gain experience, these choices are going to expand dramatically. But at first, it's best to keep things simple.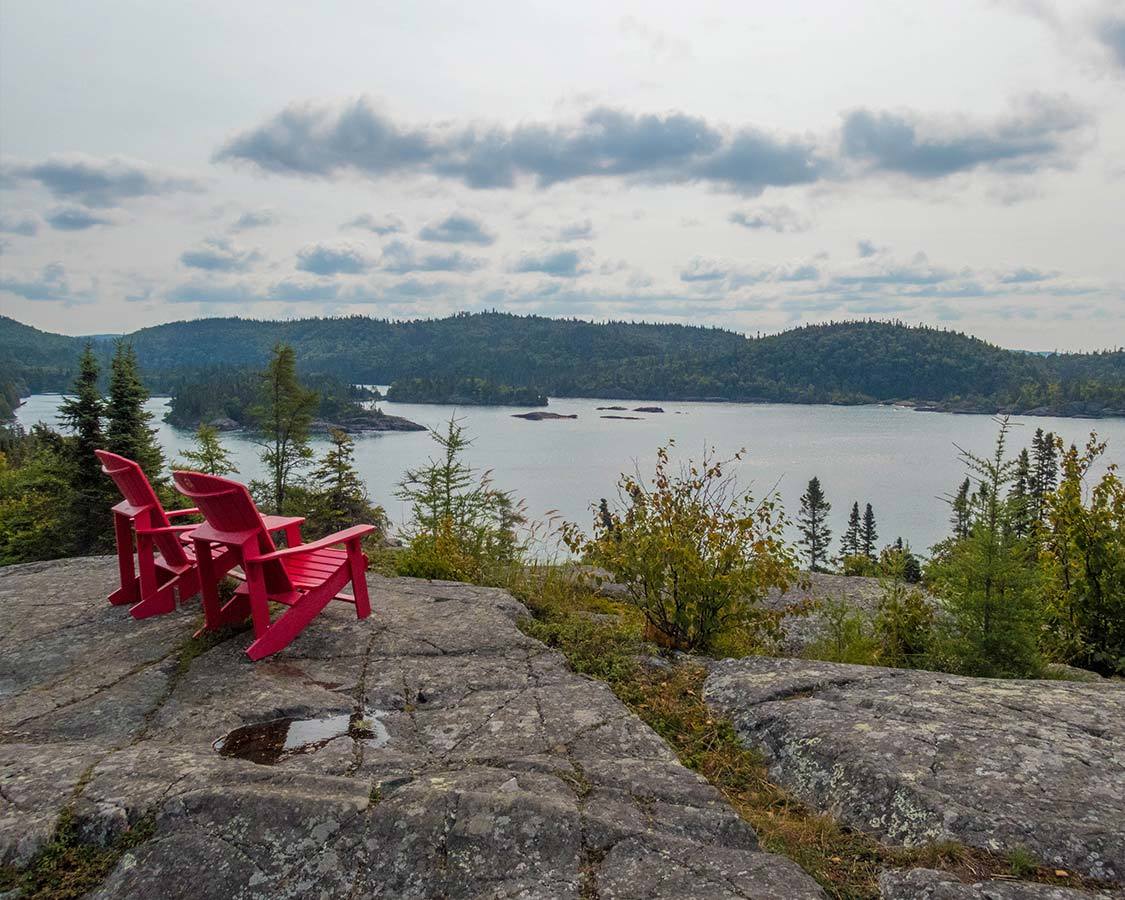 Choosing A Family-Friendly Campground
Your family camping campground is the first thing to consider when camping with kids. The campground houses the campsites. And there are a few different kinds of options to choose from:
Private campgrounds tend to offer a number of amenities including electricity, play areas, on-site stores and restaurants, organized game nights, and sometimes even pools. They tend to offer the most relaxed atmosphere, although things like privacy and ruggedness are usually sacrificed.
State, National, and Provincial Campgrounds are usually government-run parks. They tend to offer more privacy and a more rugged, outdoor environment. You usually have the option between serviced (electrical) and non-serviced (non-electrical) campsites. Government campsites tend to be a little cheaper but offer fewer amenities. But they often include access to water, hikes, and beautiful environments.
When choosing a campground, it helps to know what type of comfort levels you're expecting. Here are a few questions to ask yourself:
How far is the campground from home?
Can you make it in time to set up camp before dark?
Are the sites private or does the campground have a social-focus
Is there a beach or water? Does it have lifeguards?
Are there hiking gear, canoe or kayak rentals, or bike trails available?
Is there a playground?
Is there a store on-site where you can purchase things such as firewood, camping supplies, or food in case you forget something?
Are their bathrooms and showers available? Are the bathrooms flush or porta-potties?
Does the campground have a curfew? This is important for sleeping unless you want to deal with all-night party crowds.
Are there electrical hookups and access to fresh water for cooking and refilling water bottles?
Choosing a Campsite
Once you've chosen your campground, it's time to pick your campsite. This is where you'll be sleeping during your stay. Choosing your campsite is like picking your home, so you'll want to be as choosy as you can be to make sure you're family camping experience is as fun as possible.
Is the campsite near the bathroom? Late night walks to the toilet are a thing, so being close, but not so close that you have to hear everyone else is ideal.
Will you be near the water or have direct access to the water? This can be a benefit or a concern depending on your children and how safe and comfortable they are around water.
How large is the site? This is especially important if you're camping as a group with friends or family.
How private are the campsites? You'll want to know if you'll be waking up to your neighbor cooking his breakfast.
Getting A Good Night's Sleep While Family Camping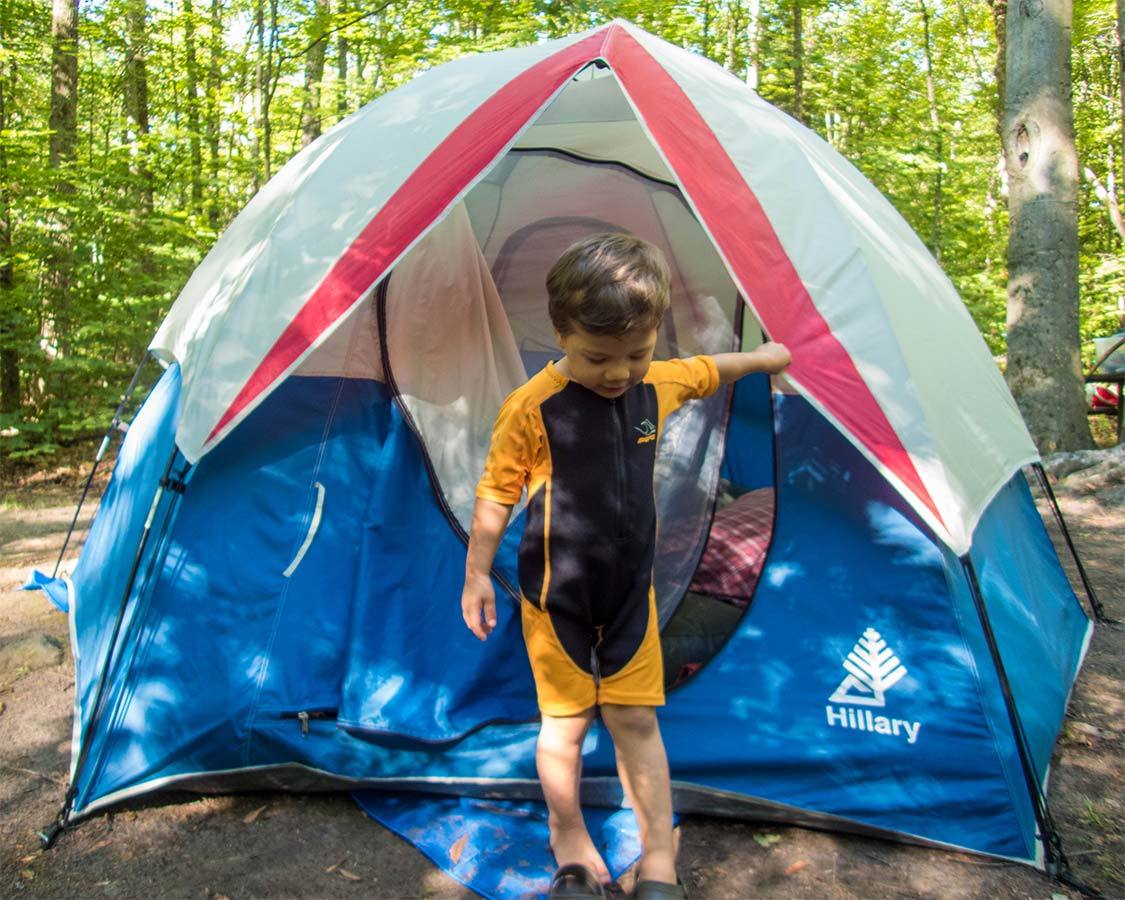 Without a doubt, the biggest family camping question that I get from adults in my Family Travel Support Group on Facebook is "how do I get my kids to sleep while camping"
There are a lot of sleeping concerns that come up for camping with kids.
What if the kids get cold?
What if they can't fall asleep?
What if they are afraid of animals?
What if they wake up at 5 o'clock in the morning and want to start playing?
Honestly, there are a million possible scenarios that run through the minds of parents when they're planning a family camping trip.
But for every problem, there is a solution. And, as I said earlier, things won't be perfect. But that is what makes it an adventure. Read on for some of my family camping sleeping tips.
Choose a sleeping bag that fits the temperatures that you'll be sleeping in. Most sleeping bags have a temperature rating. You won't want a sleeping bag rated to below freezing while camping in the middle of summer. You'll be too hot.
Choose a sleeping bag that fits the body type. Children are smaller and tend to get lost in adult-sized sleeping bags. Consider one that is more suited to their height. They'll be more comfortable.
Camping is tiring. Between the fresh air and running around, most kids (and adults) are wiped out by the end of the day. Getting to sleep is rarely the issue.
Be flexible. Camping is a time to relax the rules around bedtime. Let your kids stay up a little later to enjoy those late-night campfires. It feels like a treat for them, and you'll have less stress when it comes to bedtime.
Choose a tent that is the appropriate size. Remember. Tents are rated to the number of bodies that fit inside. This doesn't account for any breathing room. If there are four of you, consider a 6-person tent so that you're not all on top of each other. Make sure to account for things like sleeping pads, mattresses, or a portable crib.
How To Cook And Eat Your Food While Camping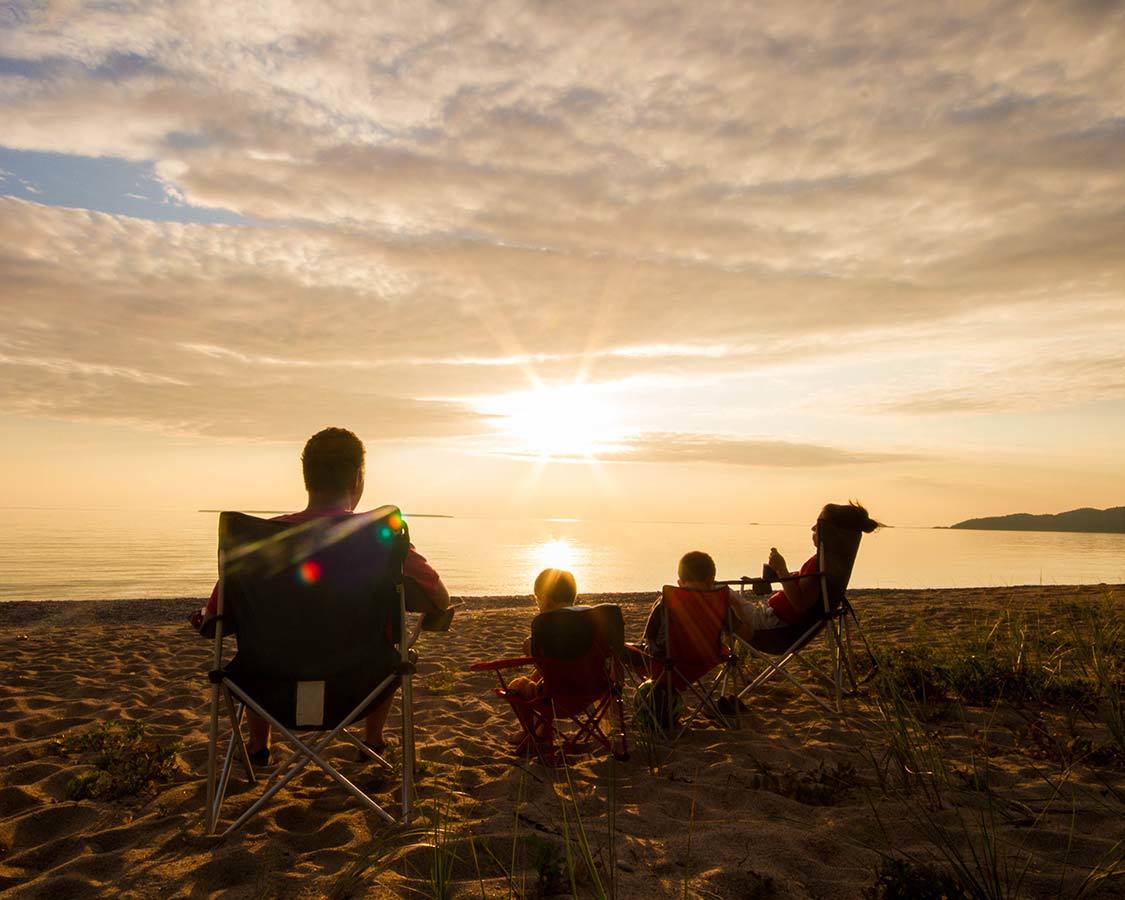 Food is one of the best parts of camping with kids. Honestly, when you're outdoors everything just seems to taste better.
Camping meals are often simple and back-to-basics. And some of my favorite camping meals are the easiest ones to create. You can also create meals in advance so that all you're doing at the campsite is simply heating up your already prepared meals.
Here are a few camping classics:
Hot dog on a stick cooked over an open campfire.
Pizza pockets prepared at home and heated over the fire (pizza sauce, meat, cheese, and veggies wrapped in a flatbread and folded over. Cover with aluminum foil for cooking).
Your favorite stew stored in a re-useable silicone bag and reheated over a camp stove.
Fresh vegetables stored in a Tupperware container and wrapped with a damp cloth to keep them from going dry.
Classic peanut butter and jam sandwiches, Nutella and banana sandwiches, or cold cut sandwiches.
Snacks, snacks, and more snacks. When camping, kids are always hungry. Pack healthy, high-energy snacks such as granola bars, dried fruit, trail mix (smarties, peanuts, raisins), and fresh fruit.
What To Pack When Camping With Kids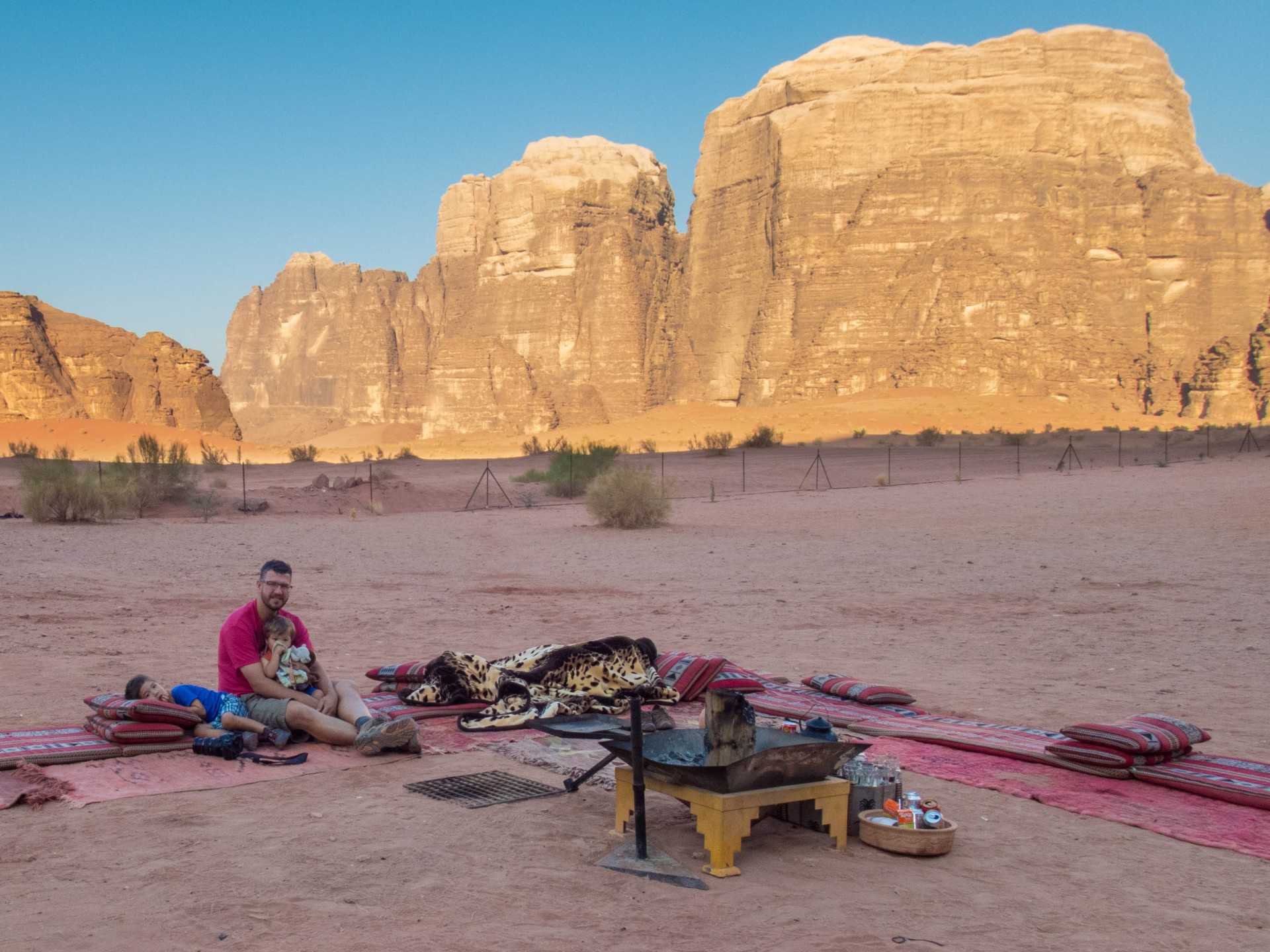 So if you're looking for a family camping packing list, you've come to the right spot. Here is a list of all the things you'll need when camping with children.
Shelter
Tent – Choose something that will comfortably fit your family. For a family of four, I like this one.
Groundsheet or tarp – This can go under your tent in the event of rain to help keep your tent from getting wet and muddy.
Stakes and guidelines – These are for keeping your tent firmly on the ground when it's windy. Most tents come with them already.
Tent repair kit – These are good for quick emergencies if you get a rip in your tent.
Hammer or mallet – For placing stakes in hard ground
Cooking
Camp stove – A small camping stove is good for cooking if you're not comfortable cooking over the campfire or if there is a fire ban around your campground.
Fuel – Usually small propane canisters that connect to a camp stove.
Cookware – I like to use a small, lightweight nesting cook set. But any cookware will do.
Cooking utensils – Spatula, spoon, large for, and a flipper of some sort.
Dishes – Something metallic or plastic is ideal so that they don't break.
Cutlery – Spoons, forks, and knives.
Aluminum foil – Good to have for cooking and reheating.
Roasting sticks – For hot dogs and marshmallows.
Paper towels
Scrub pad or sponge
Collapsible bucket for dishes
Biodegradable dish soap
Garbage bag
Food
Cooler
Water holder
Bedding
Sleeping Bags
Blankets – In case it gets cold
Pillows
Sleeping pads or air mats – This help make sleeping on the ground a bit more comfortable.
Clothing
Sleepwear
Play clothes
Rain gear – rain jacket, rain pants
Swimsuits
Gloves
Hat
Wool socks
Hiking shoes
Running shoes
Rain boots
Hygiene
Biodegradable soap
Toothbrush
Toothpaste
Toilet Paper
Hand towel
Bath/Beach towel
Hand sanitizer
Portable toddler potty for potty training
Fun Stuff
Kid carrier for hikes with toddlers
Playpen and mat
Toys, games, and cards
Diapers and wipes
Bikes
Other Items for Family Camping
Flashlights or Headlamps
Camping lantern
Extra batteries
Camera
Firestarter or matches
Compass/GPS
Maps
First Aid Kit
Camping chairs
Clothesline/Clothespins
Bug repellant
Multitool
Hiking poles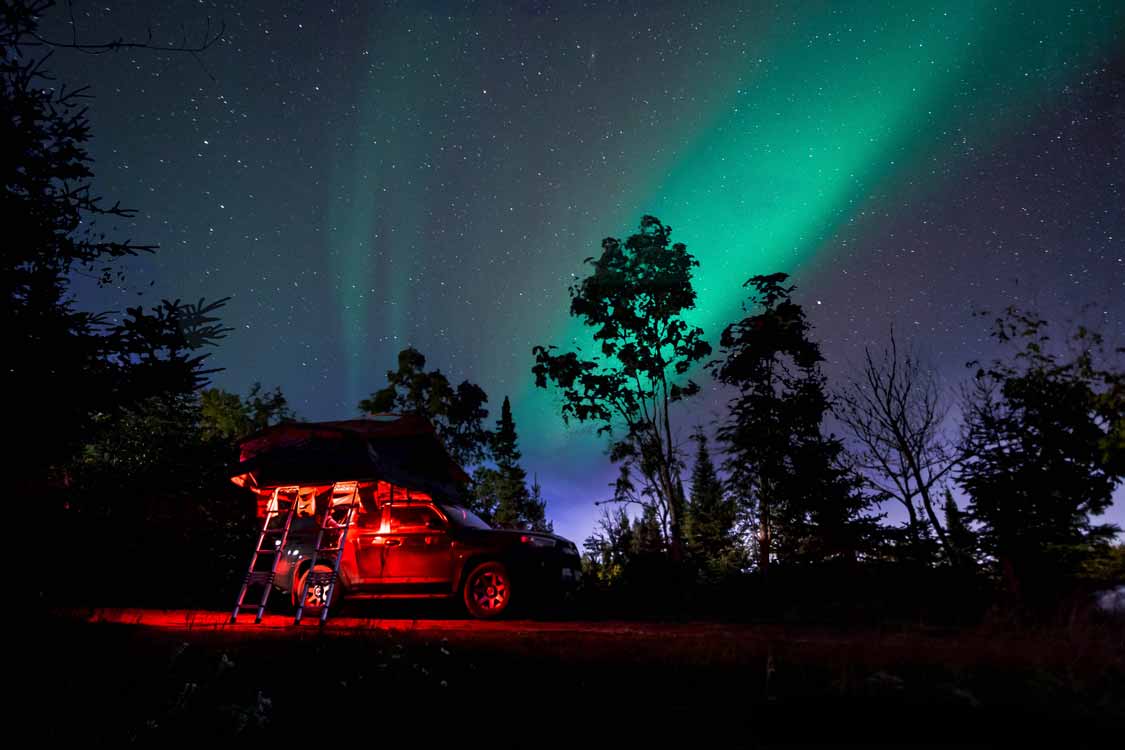 Family Camping Packing Strategy
One camping trick I've found that's very useful is reverse pack everything. Pack your car opposite to the order that you'll need access to your camp gear.
I put the play stuff in first followed by clothes, then food and cooking gear followed by tent supplies. That way when I get to the campsite with the kids, I can get the camp set up quickly without having to dig through the whole trunk.
This family camping tip is especially important during bad weather. If it's raining, you'll want to get that camp set up as quickly as possible.
Expect to get dirty when you're camping. Children love to run and play, and the outdoors is the perfect place for it. Make sure you pack enough underwear and socks for your whole stay.
If your campground has laundry facilities, you may be able to get by with less as long as you don't mind spending some time at the camp laundromat.
Setting Up Camp For Families
Once you arrive at your camping site it's time to get set up.
I like to get the tent set up first. It tends to offer the biggest challenge, and it gets more difficult as the sun goes down.
Choose a tent location that is free from rocks and roots.
Choose a site that is as flat as possible and far enough away from the campfire that the tent won't be damaged by stray sparks.
Once your family tent is set up, I like to get the cooking area organized. Your camp kitchen may vary if you'll be cooking over the fire or with a camping stove.
Although it's important to make sure that any of your hot cooking gear doesn't touch the wood of the table for the risk of burning it.
Keep your dishes clean using a small amount of dish soap and water. I always bring a collapsible bucket with me to help with dishes at sites that don't have a dishwashing area.
Camping With Kids Is Never What You Expect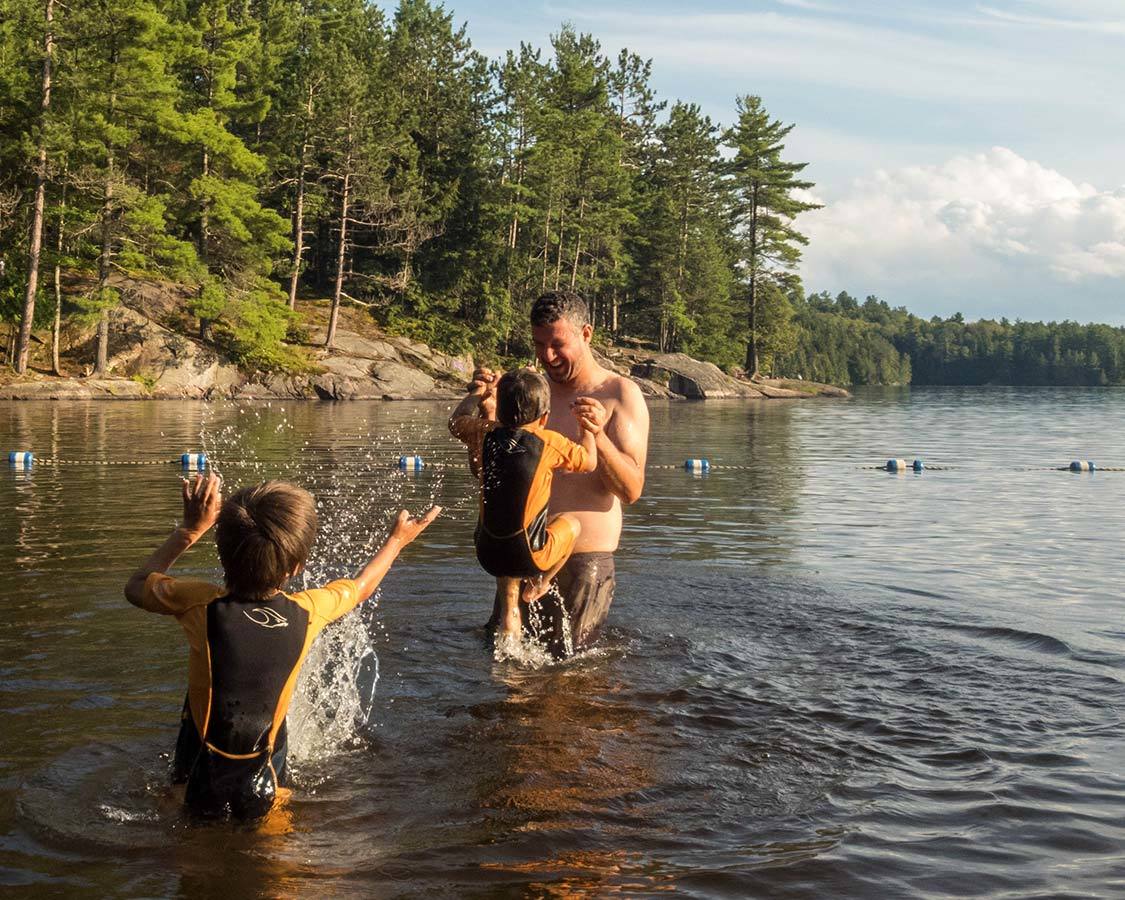 It's funny looking back, especially since our first camping trip was actually accidental. We got stranded when our car broke down on a Toronto to Quebec City drive up to the Gaspe Peninsula.
Luckily we had packed camping gear in case of emergencies.
Christina was 8 months pregnant and C had just turned two. We ended up having three nights camping with a toddler while we were waiting for a new transmission to arrive at the repair shop in the middle of nowhere. But that was all it took for us to get hooked.
Since that fateful day, we have embarked on some epic family camping adventures, including several multi-week road trips through Ontario where we've camped in all of Ontario's five National parks.
We've experienced canoeing adventures through remote islands, hiking journeys along coastal trails and, last year, invested in a rooftop tent for Overlanding journeys through the Americas.
Enjoy Your Time Camping With Kids!
You've prepared, packed, and arrived. Now it is time to relax and enjoy camping with kids.
Take in the fresh air, the beautiful scenery, and the smell of the fresh campfire wafting through the trees. It's time for the kids to play, hike, and explore within the world's greatest classroom.
Spend your time exploring with them and taking in the magic of the outside. Because it's not just camping for kids. It's camping for the whole family.
Have you ever gone camping with kids? Tell us about your favorite destinations and activities in the comments below. Or, you can swing by Family Travel Support Group on Facebook and share a photo of your adventure. We'd love to share in your experiences.
Wandering Wagars is a participant in the Amazon Services LLC Associates Program, an affiliate advertising program designed to provide a means for sites to earn advertising fees by advertising and linking to amazon.com, amazon.co.uk, amazon.ca. Amazon and the Amazon logo are trademarks of Amazon.com, Inc. or its affiliates.
You May Also Like To Read: