Choosing the best hiking daypacks in 2023 means weighing options such as weight, capacity, comfort, and more. Our guide to the best daypacks for hiking will help make your decision easier.
---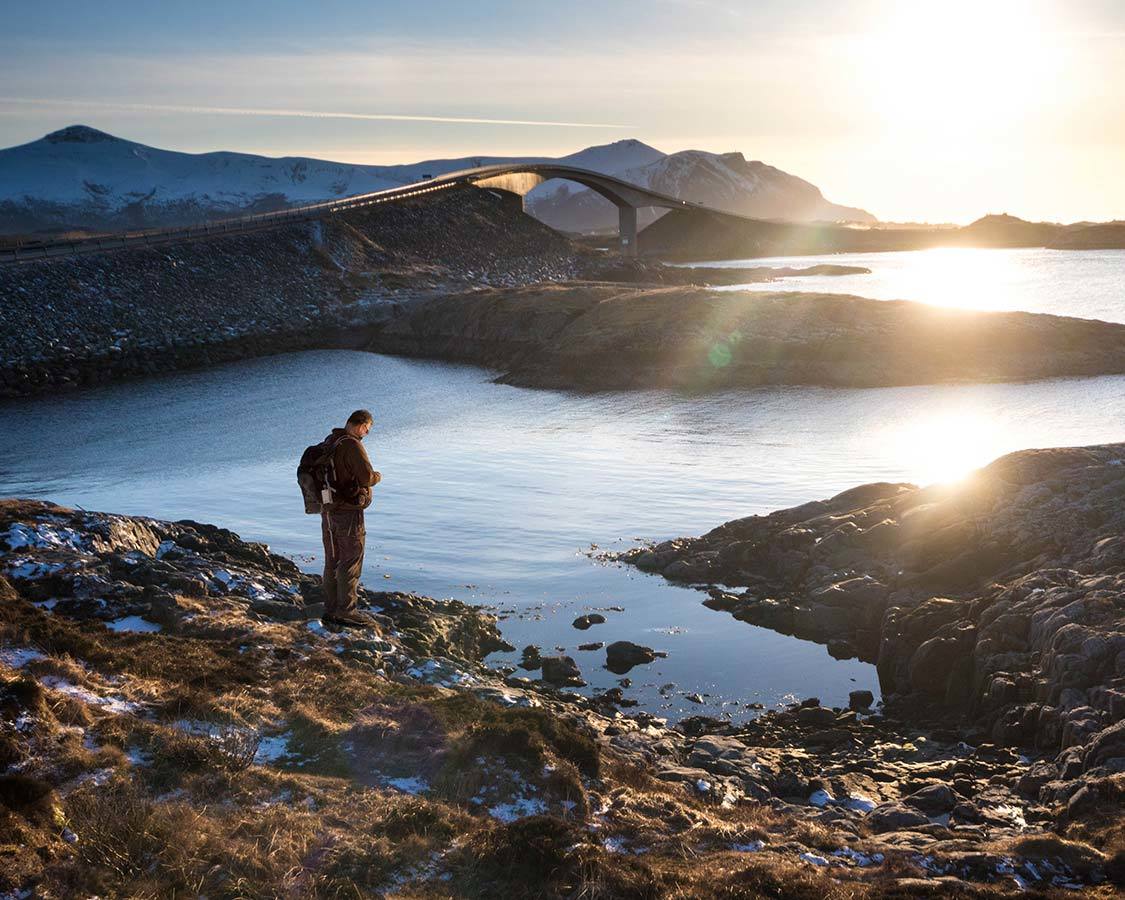 There are few pieces of gear that are more important to outdoor lovers than hiking daypacks. Whether you are hiking, biking, or skiing, the best hiking daypack will stay with you wherever you go.
Gear reviews are something that I love to do. I'm obsessed with keeping up-to-date with tips and tricks for helping families and outdoor lovers spend more time in nature. To help with that, I've covered everything from winter hiking tips to shopping for the best men's hiking boots. Heck, I've even used my 25+ countries and countless miles of family travel experience to develop guides for how to hike with kids.
Why are Hiking Daypacks Important?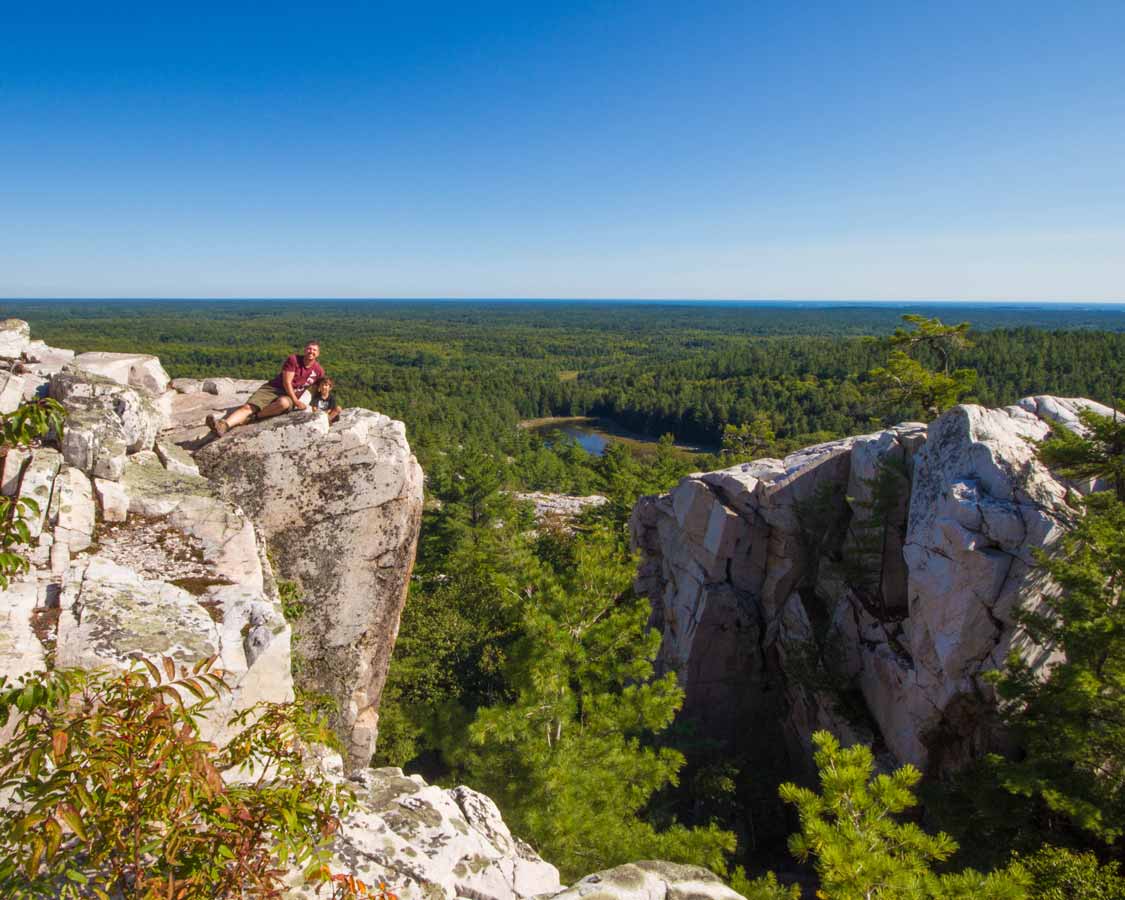 Daypacks are used for hauling food, water, gear, first-aid kits, and so much more. And picking up the best daypack for hiking means putting a whole list of factors into play. They are, quite literally, your go-to for pretty much any tools, food, or accessories you might possibly need while out on the hiking trails.
Most outdoor lovers are looking for something comfortable enough that they can wear all day, yet something durable enough that it won't wear and tear with a lot of use.
And, of course, there's the price factor.
Daypack prices can vary widely depending on brand, features, material, and accessories. And while some people can get by with a cheap daypack for carrying light gear on short trips, those who are looking for daypacks for hiking, biking, and hauling expensive gear on big trips might be looking for something a little more high-end.
Jump To Our Quick Daypack Recommendations
Check out this quick list of our favorites if you're in a hurry, or continue scrolling to see our full list with in-depth reviews.
Best Overall Men's Daypack
Best Overall Women's Daypack
Best Ultralight Daypack
Best Packable Daypack
Osprey Talon
Osprey Tempest
Deuter Speedlite
Sea To Summit Ultra Sil
Weight: 1.14 lbs
Weight: 2.24 lbs
Weight: 1.13 lbs
Weight: 0.15 lbs
Comfort: 5/5
Comfort: 5/5
Comfort: 4/5
Comfort: 3/5
Capacity: 11, 22, 26, 33, 36, 44L
Capacity: 18, 20L
Capacity: 13, 17, 21, 23, 25, 28, 30L
Capacity: 20L
Durability: 5/5
Durability: 5/5
Durability: 4/5
Durability: 3/5
Features:
Cushioned hip belt
Dual-zipper panel
Easy gear storage
Features:
Hydration reservoir
Dual-zipper panel
Easy gear storage
Features:
Detachable waist belt
Stretch compartment
Adjustable sternum straps
Features:
Reinforced Stitching
Fits In Your Pocket
Water-Resistant
Why Should You Trust My Opinion On Hiking Daypacks?
Through 43 countries and countless miles of hiking, I've tested out hiking daypacks of countless makes and models. I've used them for everything from 30-day treks through the Northern Ontario wilderness to short day hikes with my family.
I've hiked through Iceland, Canada, the Atlas Mountains in Morocco, and the Petra Mountains in Jordan. I've even used hiking daypacks on animal safaris through Patagonia.
I've brought that knowledge together to pick through some of the top hiking backpack brands on the market in order to help make it easy to choose your perfect fit and style.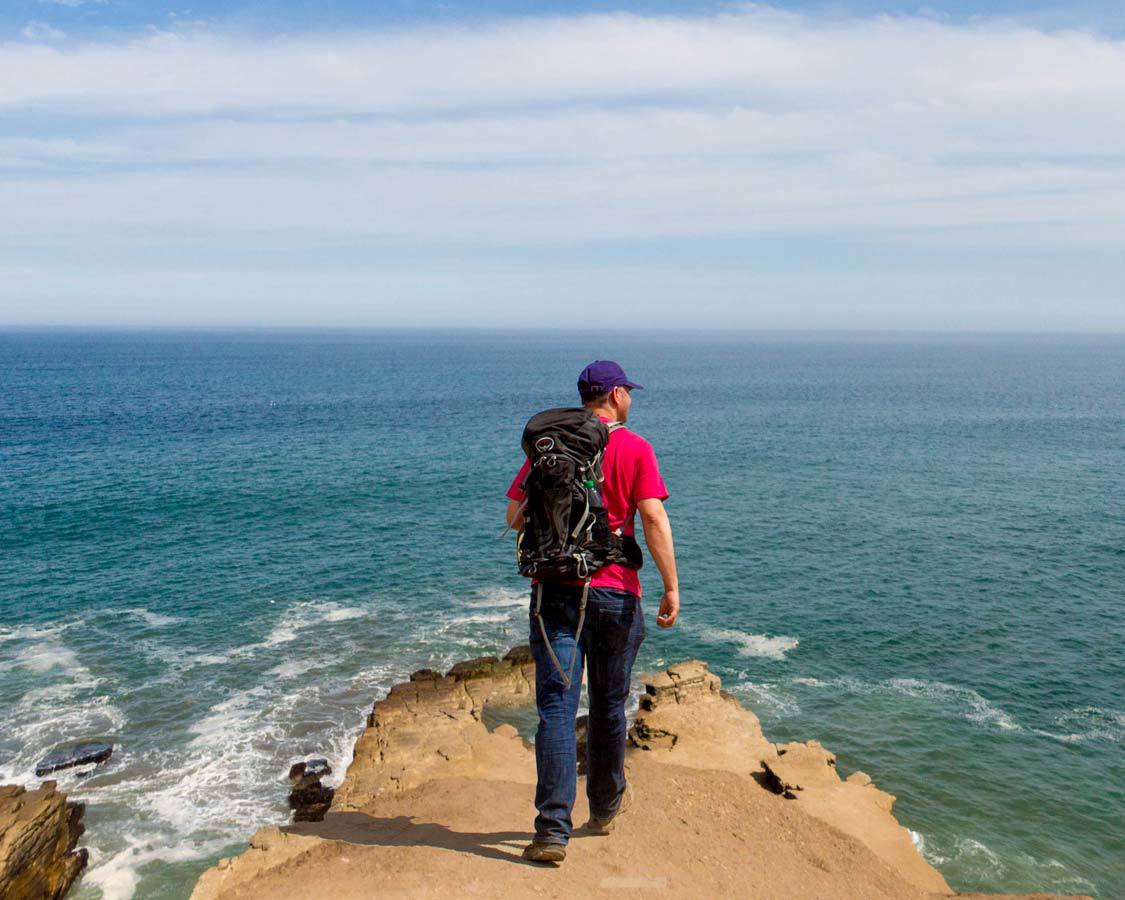 What Factors Should You Consider When Shopping For A Hiking Daypack?
Picking the best hiker's daypack isn't too difficult if you know the features which you are looking for.
If you want to jump straight to our pick of the best daypack for hiking in 2022, you can hop right on over to that one here.
To help you buy the best daypack for hiking, here are the top hiking daypack features to consider:
Price – A great daypack needs to be unaffordable. It's easy to splurge on high-end brands without knowing what makes them so expensive. We'll talk about the price and whether it's worth it.
Durability – A great hiking daypack can be worn for years. So spending a little extra money on a daypack that best fits your long-term needs can be an investment.
Activities – Know what your main activities will be before buying a hiking daypack. If you're focusing on day trips, a lightweight pack may be all that you need. But, if you love going on technical trails, climbing, or long days on the trail, you might need a hiking daypack that has more features or packing capability.
Weight – Weight is one of the biggest factors when choosing a hiking daypack. However, often even a lightweight daypack can easily be dwarfed by the gear you put inside it. Weight is important, especially for technical hikers. However, it shouldn't overshadow comfort and functionality.
Comfort – The most comfortable daypacks have great airflow and ventilation on your back, high-quality shoulder and waist support, and a structure that allows for proper weight distribution, even when fully loaded.
Capacity – Backpack capacity is measured by the number of liquid liters that will fit within. Most hiking daypacks' capacity ranges between 10-35 liters.
Features – Choosing the best hiking daypacks isn't all about capacity and comfort. The pack needs to have the organization and features that you need to spend a day on the trails comfortably. Daypack features such as hip belts, sternum straps, and hydration compartments can mean all the difference when you are hiking.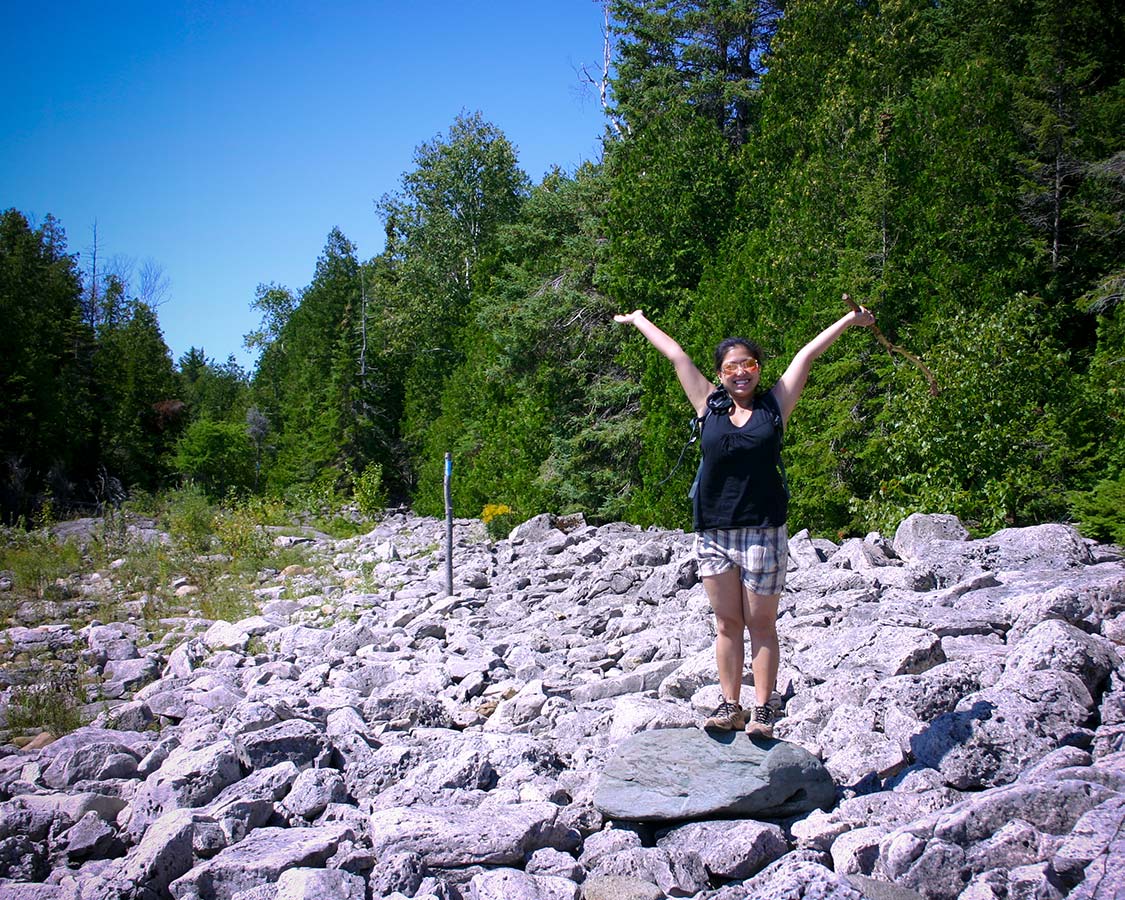 The Best Hiking Daypacks For 2022
Whether you are out on a short hike or a long day on the trails we've got you covered. From budget packs to high-end daypacks, these are our favorite daypacks for hikers.
We'll be going through
Best All-Around Hiking Daypack For Men – Osprey Talon 22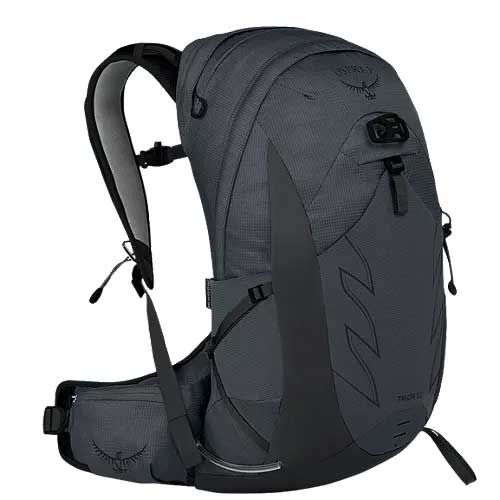 Weight: 1.14 lbs (22l) | Capacity: 11, 22, 26, 33, 36, 44L
When it comes to the best hiking daypacks, the Talon 22 by Osprey is our winner for the top model. With sizes ranging between 22 liters to 44 liters for those who need more capacity The Osprey Talon hits an ideal balance of comfort and function. Notably, the Talon has a cushioned hip belt which is more comfortable than the simple webbing you get with more streamlined packs, along with a thoughtfully designed mesh back panel.
The Osprey Talon backpack has an intelligently designed organization, a flexible design, and plenty of attachment points for items such as for trekking poles, helmets, and lights. This lightweight daypack has a well-ventilated padded foam back with an extremely comfortable hip and shoulder straps.
Osprey daypacks are highly trusted for their excellent build quality and strong warranty coverage. The Osprey Talon has a good amount of room for light trails. The storage compartment is conveniently arranged for easy access.
Click below to find the current price.
Best All-Around Hiking Daypack For Women – Osprey Tempest 2o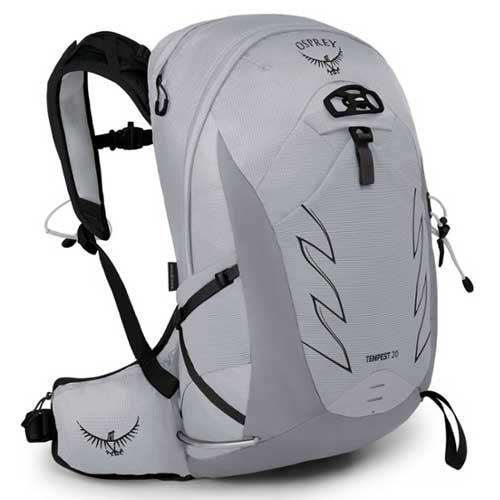 Weight: 2.24 lbs | Capacity: 20L |
The Osprey Tempest 20 is very similar to the Talon 22 mentioned above, but its shape and contours have been designed to better accommodate women's body types and weight distribution. The Tempest is slightly smaller, with both an 18-liter and a 20-liter capacity, but it still has an excellent combination of comfort, convenience, and functionality.
This lightweight design of this women's hiking daypack features a well-ventilated padded foam back with a comfortable hip and shoulder straps.
Osprey daypacks are highly trusted for their excellent build quality and strong warranty coverage. The Osprey Talon has a good amount of room for light trails. The storage compartment is conveniently arranged for easy access.
Click below to find the current price.
Best Ultralight Daypack For Hiking – Deuter Speelite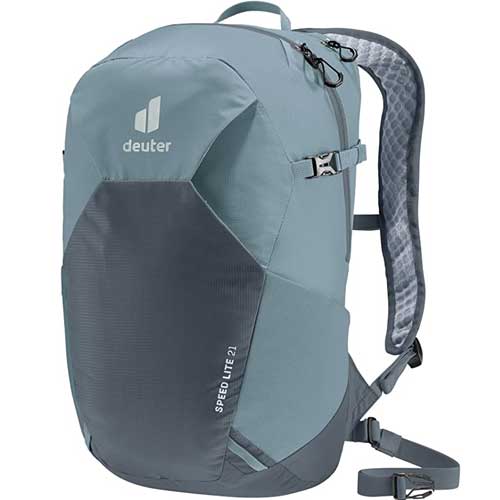 Weight: 1.25 lbs | Capacity: 25L
This year the Deuter Speedlite series has replaced the discontinued Six Moons Design Daybreaker as our best ultralight hiking daypack.
My kids have been using the smaller-sized Deuter Speedlite as a kid's hiking backpack for a few years and we have been incredibly impressed by the lightweight simplicity and straightforward function of this versatile backpack for hiking.
The Deuter Speedlite is the lightest of all of the daypacks for hiking that we reviewed. With a range of carrying capacity from 13-30 liters, the Speedlite model is a great option for most body types and hiking focus.
I've always had great respect for Deuter backpacks, especially their Kid-Comfort child backpack carriers and their kid's backpacks, the Speedlite has been among the most consistent models in the ultralight field.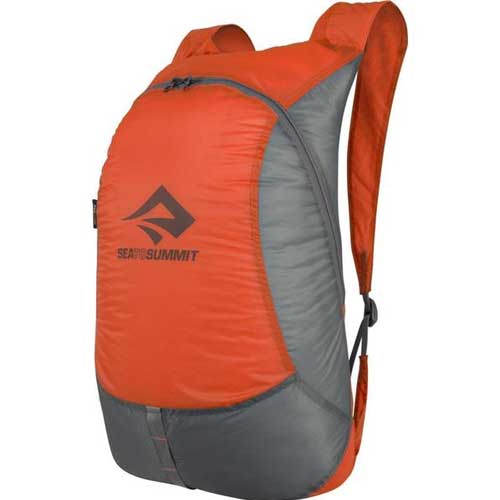 Weight: 0.15 lbs | Capacity: 20L
Weighing a diminutive .15 lbs, the Sea to Summit Ultra Sil is hands down the lightest hiking daypack on our list. Sometimes it helps to have a packable backpack.
While a collapsible hiking backpack isn't going to be as tough or comfortable as a purpose-built one, the Sea to Summit Ultra Sil still does an excellent job on all accounts.
The entire backpack can be collapsed so small that it can fit in a standard pocket. This means that you can have a backpack with you at any time that you need.
The unit doesn't come with padded shoulder straps or a waist belt. But, it'll do the job in a pinch.
You can check out the current price below.
Tip For Choosing The Best Daypack for Hikers
Ultimately, the main factor to consider when choosing the best hiking daypack is your personal taste. Everybody is different, and every hiker has a unique style.
It doesn't hurt to try a few out before settling on the perfect one for you. But, all of these daypacks are tested and true. And I'd be more than happy to hit the trails with any of them.
Have you found a hikers daypack that works really well for you? Make sure you share it in the comments. You can also visit us on Twitter and share your thoughts on the best daypacks there.
This post may contain compensated links. Find more info in our disclaimer. Wandering Wagars is a participant in the Amazon Services LLC Associates Program, an affiliate advertising program designed to provide a means for sites to earn advertising fees by advertising and linking to amazon.com, amazon.co.uk, amazon.ca. Amazon and the Amazon logo are trademarks of Amazon.com, Inc. or its affiliates.
You May Also Like To Read: