Choosing the best potty for travel in 2022 is can help make your travel life so much easier. From toddler potties to foldable potty seats, this guide lays out everything you need to know before they go.
---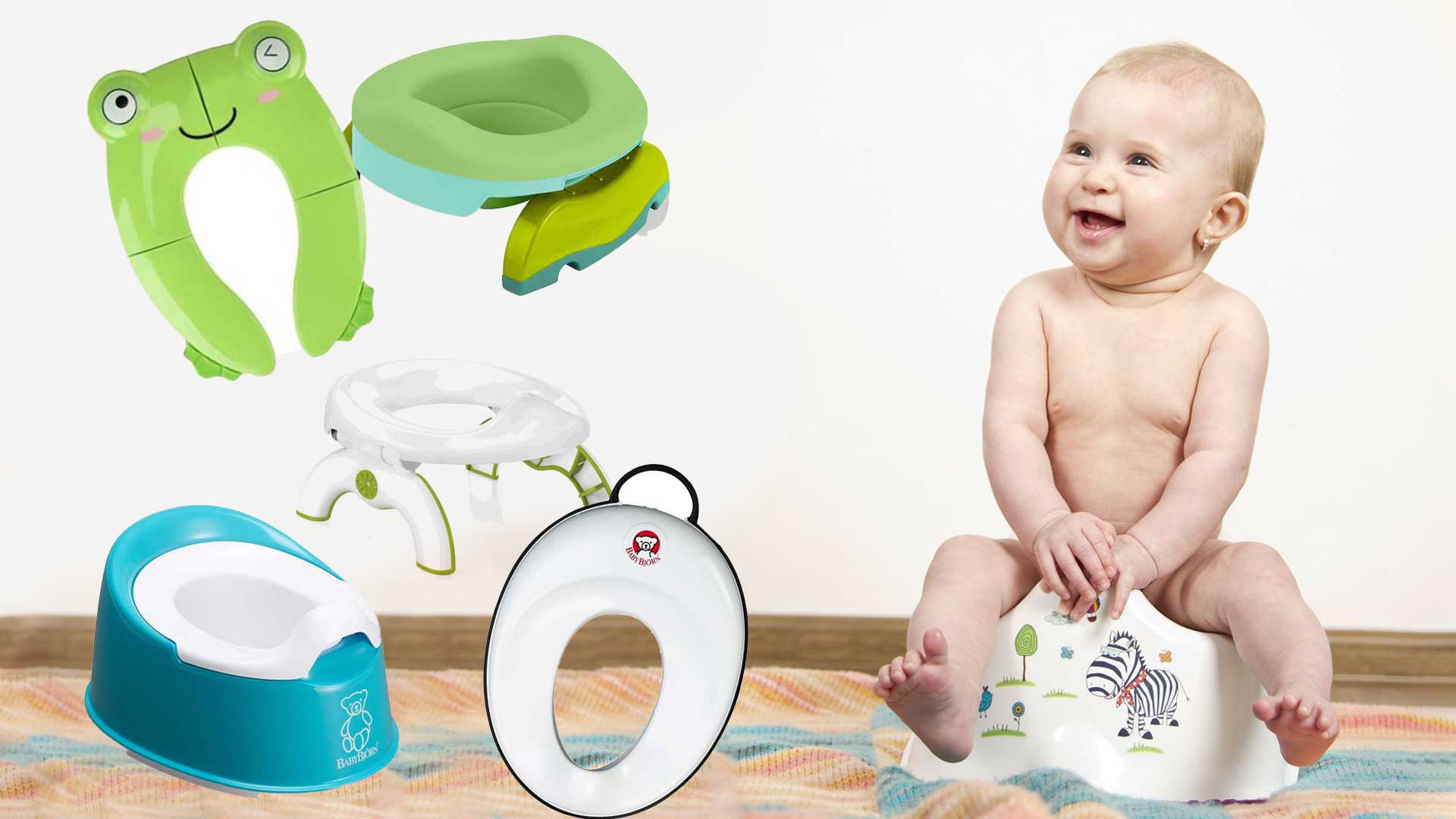 It happens. As someone who has traveled to over 45 countries, 21 of them with young children, we've encountered more than our fair share of bathroom emergencies. Whether we're hiking and camping or traveling internationally, having a travel potty on-hand is something that would have saved us stress in many situations. But finding the best potty for travel can be complicated. There are many different travel styles and a lot of variables to consider when picking the perfect one for your family,
Travel potties for toddlers who are potty training can make your life easier. And they have the potential to save your child from potentially embarrassing incidents where a change of clothes might not be readily at hand.
I wish this was a topic that was addressed regularly in the travel sector. But it seems that many people are still uncomfortable talking about bathroom issues on the road. Delhi Belly has happened to me. And my kids have had their own dramatic experiences while potty training on the road.
So let's hop aboard the potty train and dig into our list of the best travel potty for toddlers.
How To Choose a Potty For Travel
There are two main factors that go into the best potty seat for traveling. These features are found among most of the kids' travel toilets on this list. Travel potty chairs are stand-alone toddler toilets that kids can use for potty training. While travel potty seats are units that are used in combination with existing toilets in order to make a toilet safer and more comfortable to use.
If you're going to be traveling on long road trips or to travel destinations where you won't have easy access to restrooms, a potty chair is likely your best choice. These can be used solo and sit low to the ground so kids can have control of their own bodies while going to the bathroom.
If you're visiting theme parks, resorts, or homestays, or doing urban travel where access to washrooms is plentiful, a potty seat for toddlers may be all that you need. They tend to be much smaller, lighter, and more portable. Although, if you find yourself far from existing washrooms, a potty seat won't be able to be used independently.
The Best Travel Potty For Toddlers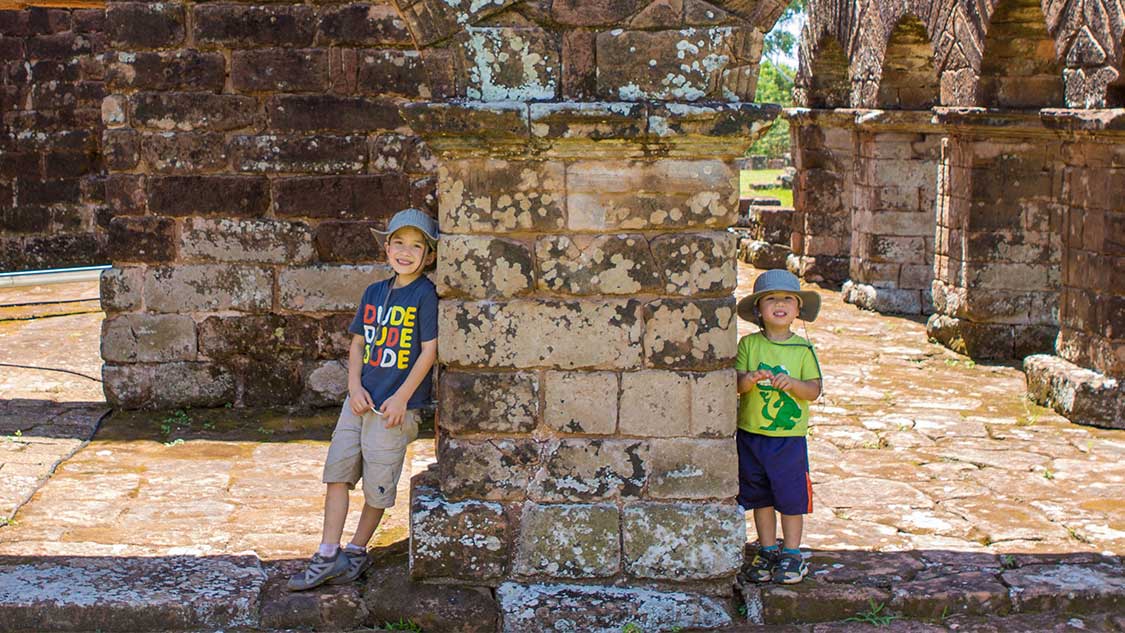 There are a lot of different potties for travel on the market. The need is out there. And whether you're looking for potties for camping, potties for road trips, or the best toddler potties for travel, we've got you covered.
If you're short on time and want to get straight to our list of the best potties for travel, check out my chart below for our top potty picks for each category.
But, if you're looking for a little more selection and some greater detail on how to pick the best travel potties, or what makes one potty better for camping vs road trips, you can find out all of the details down below.
XO Tot 2-in-1 GO Potty
Kalencome Potette Plus
Baby Bjorn Smart Potty
Maliton Portable Potty Seat
Weight: 1.5 lbs
Weight: 1 lb
Weight: 1.1 lbs
Weight: .65 lbs
Collapsible: Yes
Collapsible: Yes
Collapsible: No
Collapsible: Yes
Reservoir: No
Reservoir: Yes
Reservoir: Yes
Reservoir: No
Disposable Bags: Yes
Disposable Bags: Yes
Disposable Bags: Yes
Disposable Bags: No
Ease of Use: 5/5
Ease of Use: 4/5
Ease of Use: 5/5
Ease of Use: 5/5
Features:
Push-button legs
Fits standard bags
Lightweight and compact
Features:
Built-in reservoir
Soft, comfortable seat
Can be used as a travel potty seat
Features:
Large reservoir
Not collapsible
Easy-to-use and clean
Features:
Compact and Foldable
Doesn't Hold Odor
Fun, Colorful Style
Buy Now
Buy Now
Buy Now
Buy Now
The Best Toddler Potty Chairs For Travel
Travel potties for toddlers are can be invaluable when you are potty training your child as you travel. Decisions such as portability, comfort, and choosing something fun and inviting can be a key part of the decision when choosing the best travel potty for kids.
When our children were toilet training, we were traveling almost constantly. From the age of one through three our kids were exploring Petra Jordan, visiting South America's largest colony of penguins, and even running a dog sled team in Canada's Northwest Territories.
Picking the best potty for travel can be a fun, family decision. Many are available in a range of hues and patterns. Even if you pick the product, you can involve your toddler in the decision-making process so they will feel like the potty seat is truly their throne.
The portability of a potty seat is of utmost importance when it comes to on-the-go use. Many modern potty seats fold up for compact storage and simple transport. Let's explore some of our favorite travel potty seats.
OXO Tot 2-in-1 Go Potty for Travel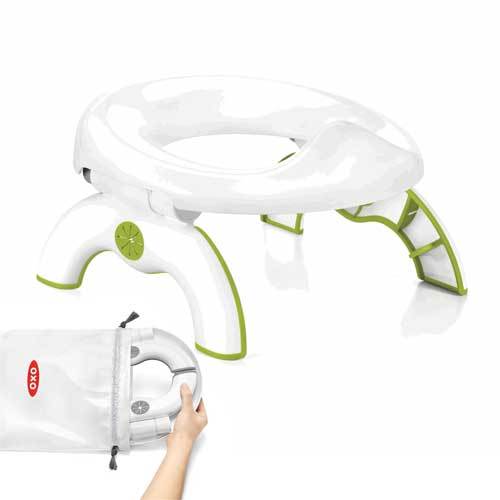 The compact, collapsible design of the Oxo Tot 2-in-1 Go Potty for Travel makes it my pick for the best potty for travel for toddlers and potty training. The diminutive size and comfy seat mean that the unit can fit into a backpack or carry-on luggage very easily.
The OXO comes with disposable plastic liners, so waste management on the go is a breeze. It acts as an easy-to-use emergency toilet for children. And its sturdy design means that it can double as a travel toilet for adults as well.
The Oxo Potty for Travel works by pressing two small buttons on either side to unfold the collapsible legs. Installing the waste bag involves pushing the bag into the grippy rubber holders on the top of the travel potty. The child's weight acts as secondary support to secure the bag.
The disposable bags that work with the Oxo travel toilet have a small absorbent pad inside to help soak up wet waste. This makes it easier to carry it to the nearest bin for disposal.
The unit doesn't come with many bags, so if I recommend purchasing a pack of refills when you buy the unit. As an added bonus, you can fit standard grocery bags to the Oxo potty. Just make sure that they don't have holes in them.
You can find out the current price by clicking below.
Kalencom Potette Plus 2-in-1 Travel Potty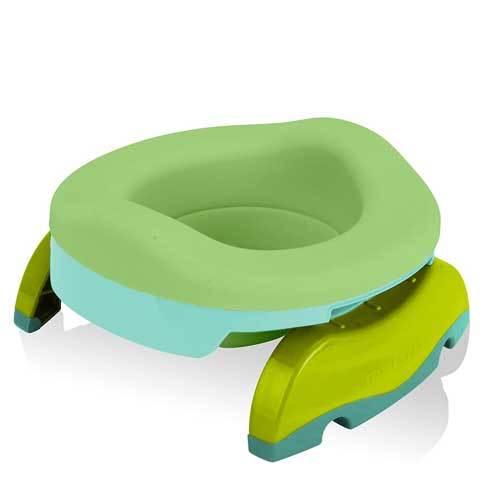 The Kalencomme Potette Plus 2-in-1 Travel Potty isn't quite as compact as the Oxo, which is why it didn't make our number one spot on the best travel potty for toddlers. But, it is a fun, colorful unit that includes a non-slip grip and a nice ergonomic design that kids love.
The Potette Plus potty can handle a weight of up to 50 lbs (23 kg) so it can grow with your child. And, it can be used as a stand alone training potty or mounted on a toilet ring. And for those with boys, it also has a built-in pee guard to avoid those messes.
Similar to the OXO, it comes with three disposable odor-absorbent liners that can hold up to 5 oz (147 ml) of moisture. The unit can be paired with standard grocery bags, although I found the mounting to be not quite as easy or secure as the OXO.
You can find out the current price by clicking below.
BabyBjorn Smart Potty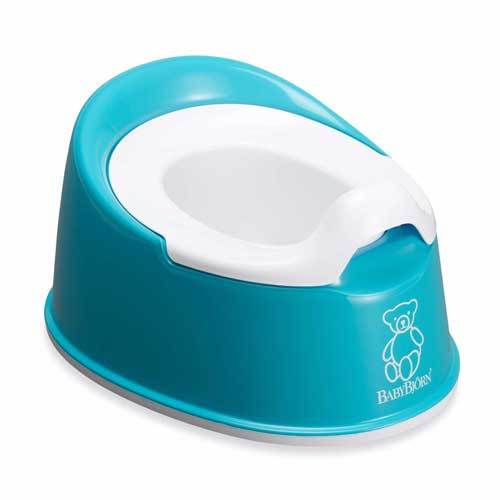 Not all travel requires a super-compact solution. The Baby Bjorn Smart Potty is an excellent potty for travel where space and weight aren't a major issue. For things like family camping trips or road trips where you aren't worried about stowage room.
The low-back version of BabyBjorn's classic toddler potty takes up less room than the standard version, but still offers all of the comfort and safety. It's made entirely of molded plastic so there is no worry about folding legs. And the rubber grips on the bottom ensures that there's no slippage.
The Baby Bjorn can be used with disposable bags, or, for those worried about waste, it can be used directly and washed easily.
You can find out the current price by clicking below.
Best Traveling Potty Seat
Unlike travel potty chairs, travel potty seats tend to be far more compact. They are designed to be fit onto existing toilets to make trips to public restrooms safer and more comfortable.
There are several types of travel potty seats including ones that have handles, some that are disposable, and some that fold for maximum portability.
While potty chairs are excellent for those times when you're away from existing washrooms, toddler potty seats require the use of existing toilets.
Gimars Folding Portable Potty Training Seat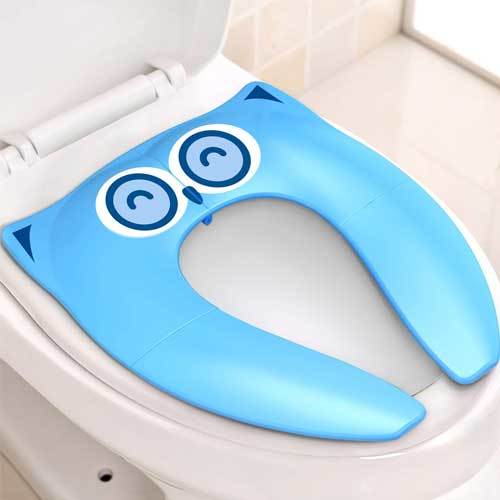 With a design that can slip easily into a small, waterproof zipper bag, the Gimars Folding Portable Potty Training Seat is an excellent choice for urban travel families. The fun, friendly design helps kids want to sit on this travel potty seat.
The design is slim and portable so you can easily slip it inconspicuously into a purse or in the travel compartment of a travel stroller. The unit is also equipped with non-slip grips and two flip-down clips that will secure the potty seat safely to the toilet.
The Gimars travel potty seat can support children up to 60 lbs (27 kg). And it's available in fun, bright colors including pink, yellow, or blue.
You can find out the current price by clicking below.
Maliton Portable Potty Seat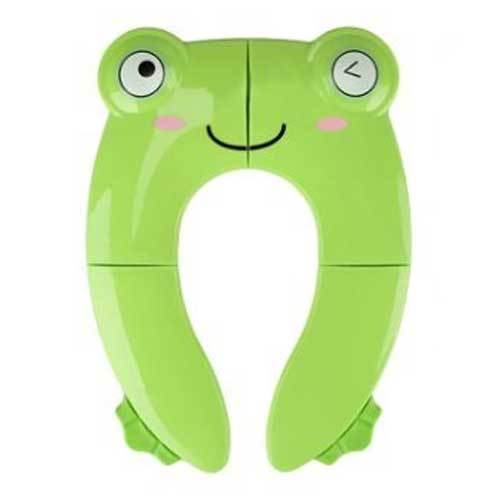 This adorable toddler Maliton portable travel potty seat is built from non-toxic polyproylene. It has a super convenient foldable design that packs down to tiny dimensions. And although it's foldable, there's no reisk of pinching.
The fun, frog design can be easily cleaned and doesn't hold odors. And the four silicone pads offer excellent grip. There are also two anti-slip locks so you can rest assured that your child won't slip while being accompanied to the toilet. This potty seat is designed for use for kids between the ages of 1 and 6.
You can find out the current price by clicking below.
BabyBjorn Toilet Trainer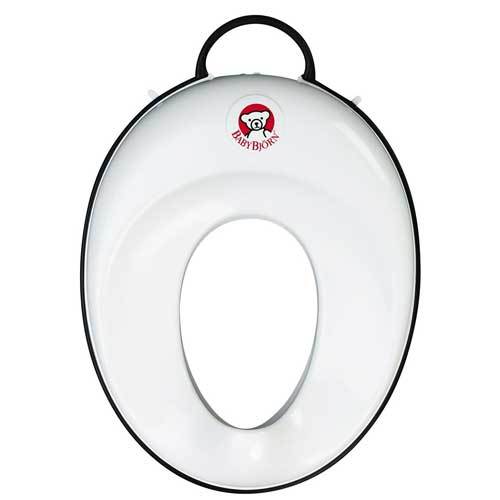 Baby Bjorn is the maker of one of my favorite kid carriers, and their range of baby products extends to our favorite toddler travel potty seat. They make one of the most iconic stand-alone potty chairs which we used for potty training at home. That unit isn't small enough to be practical for travel due to its size, but the BabyBjorn Toilet Trainer is excellent.
This toddler baby seat is simple and stylish and is loved by both kids and adults alike. And the dial-in rubber grip makes it very easy to secure to existing toilet seats. The ergonomic, molded seat holds kids securely with rises at the back for comfort and security.
One disadvantage of the Baby Bjorn Toilet Trainer vs other models is that the unit isn't foldable. Therefore it takes up more room in your bag or in your strollers stowage compartment than other units. But, it is probably the most comfortable potty seat of the list.
You can find out the current price by clicking below.
What to Consider When Buying a Travel Potty
Travel toilets can be a lifesaver (and a clothes saver). But picking the right one means weighing a few different factors.
Before you choose the perfect model, think about when you're going to be making bathroom stops while traveling. Will you be traveling primarily by car, walking, or public transportation?
If you are mostly doing road trips you'll have a little more flexibility in terms of size and portability. However, if you're doing human-powered travel where you're walking with a stroller, determining factors such as weight and size become much more important.
For airplane travel and travel where you're on the move quite a bit, have something small and foldable that can fit easily into a bag or under your stroller.
And if you're camping or traveling to places where you won't have access to existing washrooms, you'll want a stand-alone potty for travel. Travel potty seats simply won't work on their own.
Lastly, consider your child's preferences. Making them a part of the decision-making process can be important. Most toddler potties fit quite comfortably, but style is something that helps kids connect to a product. And this is something they could be using several times a day for as long as you're on the road.
Enjoy These Toddler Potties For Travel!
Whether you're traveling locally or internationally, these travel potties will help make your potty training a lot easier. If you're passionate about family travel, head over to our Family Travel Facebook Community and share your tips. We would love to hear about your favorite experiences.
You May Also Like To Read:
Pin This Post For Later: