Punta Tombo, Argentina is home to the Magellanic Penguin Rookery where visitors can stroll among the largest penguin colony outside of Antarctica.
---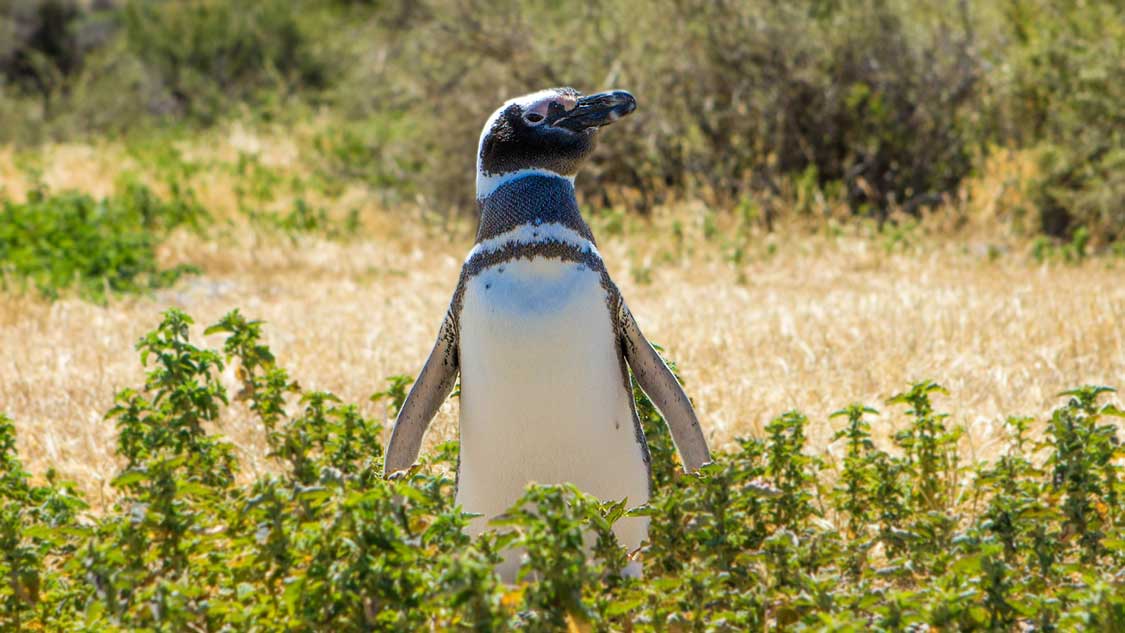 Each year, the rocky shores of Punta Tombo, Argentina in the wilds of Patagonia welcome a magnificent site. More than a million Magellanic penguins waddle up from the Atlantic Ocean to build their nests and welcome their new penguin chicks.
The National Reserve of Punta Tombo is the largest penguin colony outside of Antarctica. And if you love penguins as we do, this is one of the best places to see penguins in the wild. In fact, there are so many penguins in Punta Tombo that you'll find yourself strolling along with them on boardwalks or watching from wooden bridges as these elegant creatures waddle their way down what my family dubbed "the penguin superhighway".
Our visit to Punta Tombo was a part of our search for the best family-friendly wildlife experiences around the world. Each year our children pick an animal that they want to experience in the wild and we find a way to make that happen. This year it was penguins, which our oldest son is absolutely fanatical about. While we knew that a family trip to Antarctica wasn't in our budget, a trip to see the Punta Tombo penguins was far more economical.
So if you're interested in experiencing this wildlife spectacle for yourself, this guide to visiting the Punta Tombo penguin rookery will give you everything you need to know.
Where Is Punta Tombo Located?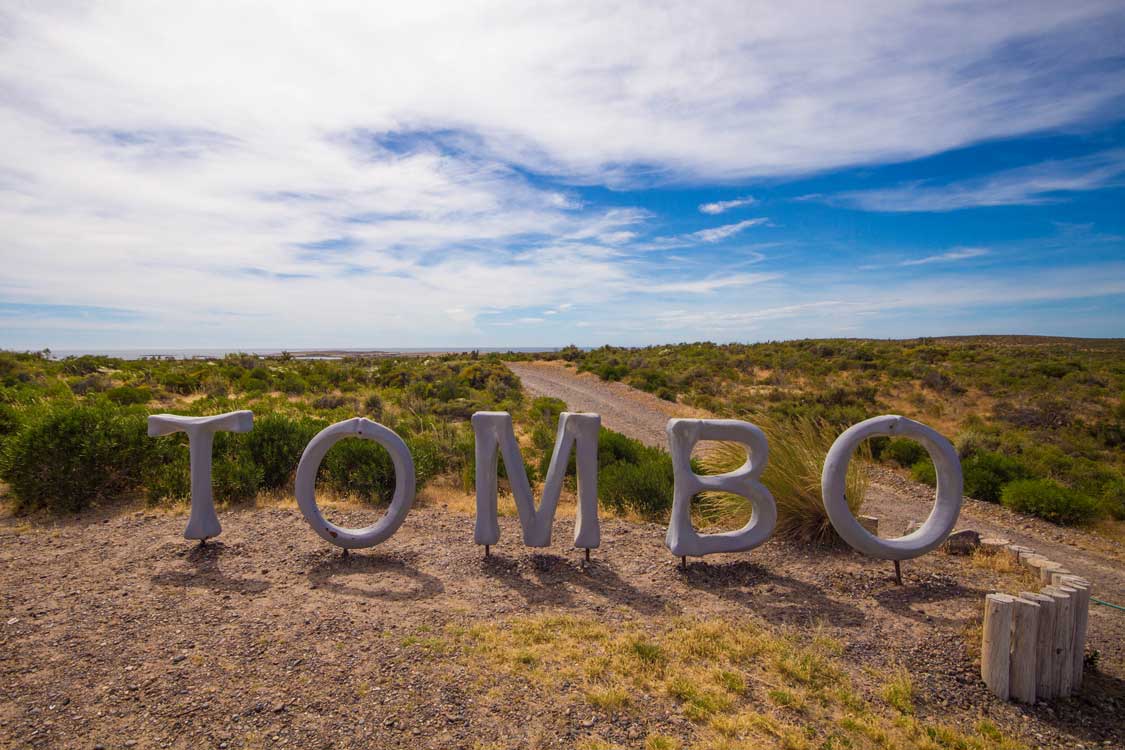 During our Argentinean Patagonia adventures, we based ourselves in the city of Puerto Madryn which is 112 miles (180 km), or a little over 3 hours south of Punta Tombo. For a closer stay, the town of Trelew is just 63 miles (110 km) away and is connected by a relatively well-maintained gravel road.
Travel agencies in both Trelew and Puerto Madryn offer day-long tours to Punta Tombo. Some tours run later in the day, but the boardwalks are at their busiest during that time. To beat the crowds, try to book a tour that will get you there first thing in the morning.
It's also possible to rent a car in Trelew or Puerto Madryn and do a self-drive Punta Tombo tour. Although be warned that some of the gravel roads are quite soft and it's not rare to see window damage from the gravel. If you choose this route,
I highly recommend that you get insurance. You'll travel via RP-1 and continue south to Camarones to take a more scenic route through Cabo Raso. There is parking at the Punta Tombo visitor center known as Punta Tombo Wildlife Interpretation Centre. And you can board a shuttle down to the penguin rookery from there.
Whether you take the direct road to Punta Tombo or the scenic route through Cabo Raso, you'll be sure to enjoy the sites. Along the drive, we saw an assortment of Patagonian wildlife including rhea, hares, hawks, and vicunas.
Exploring The Punta Tombo Penguin Rookery
If you visit Argentinean Patagonia, spending a day at the Punta Tombo National Penguin Reserve is a must. Yes, you can see penguins sprinkled in other coastal areas of southern Argentina. But the sheer number of birds here dwarfs anything you might find along the Peninsula Valdez or elsewhere.
Punta Tombo Wildlife Interpretation Centre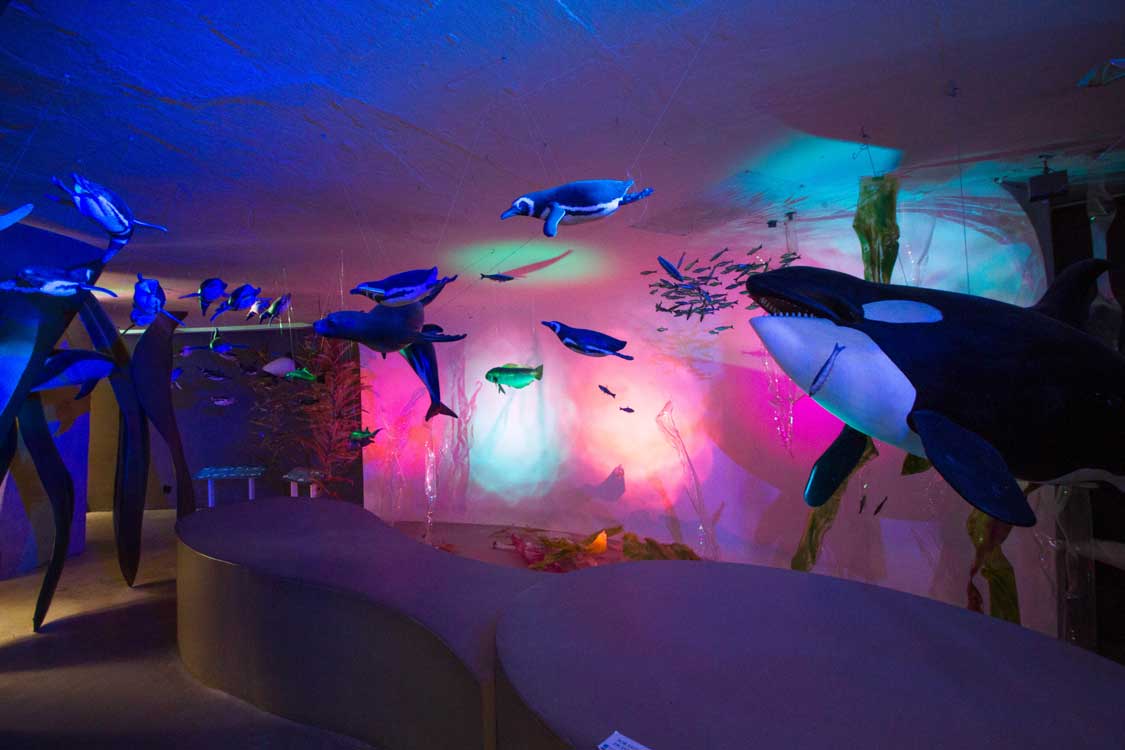 We pulled into Punta Tombo at the Interpretation Center (Centro de Interpretación) after the long drive from Puerto Madryn. The museum itself is small but packed full of incredible information. As exciting as a visit to the Punta Tombo penguin rookery is, I highly recommend taking 30 minutes to walk through the fabulous displays.
The Punta Tombo Interpretation Center features colorful displays of local ocean and birdlife. They are set up in a way that dazzled the minds of Christina, myself, and our boys.
The museum is small and has an excellent flow that will keep you moving towards the ultimate goal of visiting the penguins in Punta Tombo. You'll pass through the "Territory Room" where there is a model of the wildlife reserve that explains the history of the region.
Passing through to the "Penguin Room" you'll find the most dramatic display in the Punta Tombo museum. The sculpture of gathering penguins is at the center of the room and the surrounding walls explore the life cycle and migratory process of these birds.
The remaining rooms in the Punta Tombo Penguin Interpretation Centre include the "Sea Room", the "Earth Room", and the "Conservation Room".
How Many Penguins Does Punta Tombo Have?
Over 1 Million Penguins!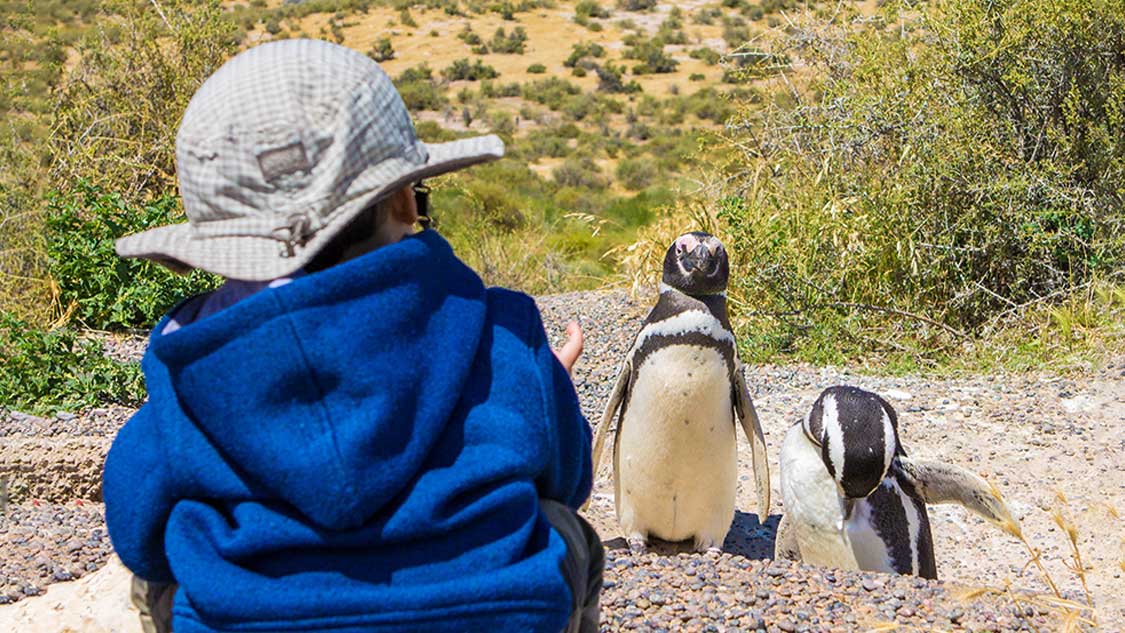 Punta Tombo National Reserve has traditionally been home to more than 500,000 penguin pairs. Between parents and babies, this means that there are typically far more than one million penguins in Punta Tombo during the nesting season.
Over the past 25 seasons, the penguin numbers in Punta Tombo have declined by about 20%. This is believed to be because food off the shores of Patagonia is becoming more scarce. This is believed to be the result of climate change pushing the sardines and anchovies further from shore.
The typical journey to get food for the penguins has nearly doubled from 26 miles (43 km) to nearly 60 miles (90 km), an exhausting journey by any stretch. Especially when you consider that after feeding, they still have to get back.
Penguins are drawn to Punta Tombo thanks to the huge number of sardine and anchovies populations that line the nutrient-rich waters. There are also very few natural predators in this section of the Patagonian coast. Altogether, this makes the National Reserve an ideal place for penguin nesting.
From late-June to late July the penguin males make their way along the coast to reclaim the nest from the previous year. They spend a few months preparing the nest for the female to lay their eggs. The nests are typically dug into the dirt, often in the shade of trees and bushes. Although the younger, less established males are sometimes forced to create their nests in less desirable locations.
From late August to September the females lay their eggs in the well-prepared nests. Over the next few months, the chicks are born and well-fed before they begin their yearly migration along the Atlantic coast to Brazil.
With over a million seasonal penguins, Punta Tombo National Reserve is the only place on the planet, outside of Antarctica, where you can witness penguins in this number. And for those who love penguins, it's a far cheaper place to get to than a cruise to Antarctica.
And a visit to Argentina comes with some other opportunities as well such as exploring Buenos Aires, Iguazu Falls, and much more.
The Penguin Boardwalks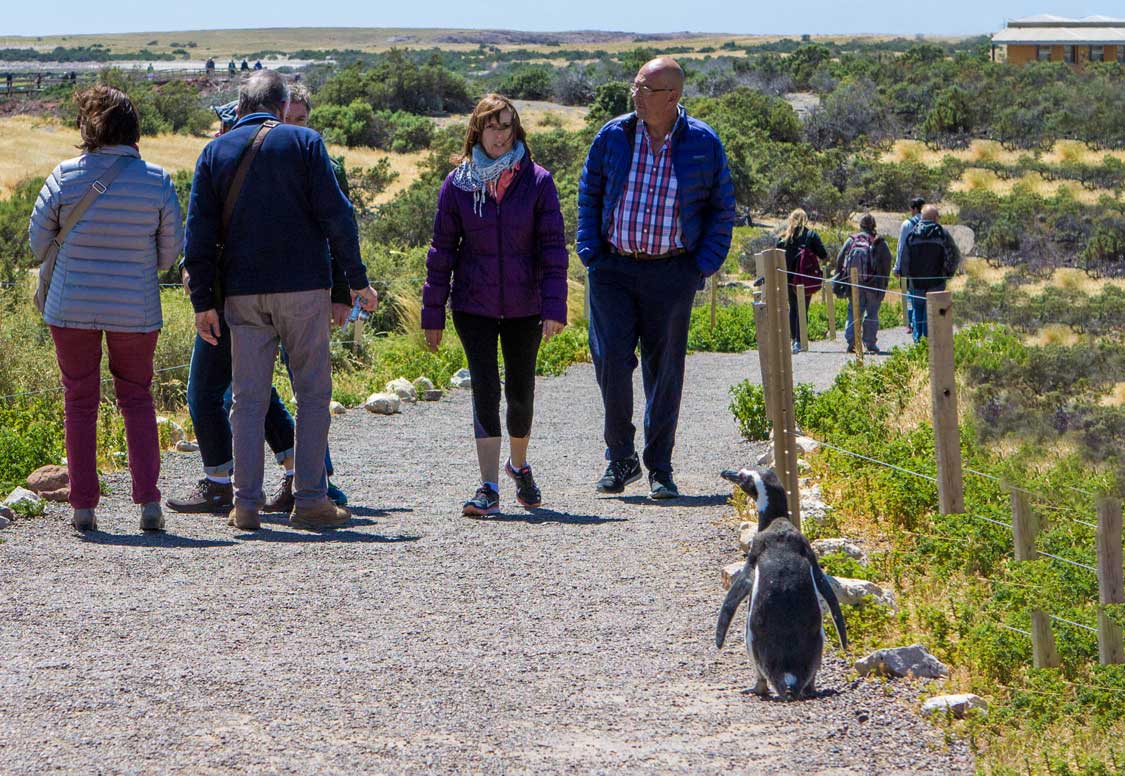 The closer that we got to the rookery in Punta Tombo, the more excited the boys got. As we made the final 5-minute drive from the Interpretation Center to the penguin conservation area, it was all we could do to keep them from running through everyone's legs out the door of the van.
The Punta Tombo National Reserve has a 2 mile (3 km) boardwalk that meanders through some of the most important areas of the park. Along the route there were many penguins strolling along with the crowds, relaxing in their nests along the edges, or calling or gathering in small groups (maybe to talk about the local gossip).
It's not rare to find yourself walking along with penguins on the boardwalk or having them waddle across your path as you explore. Remember though to keep a distance between them and yourself of at least a meter or two for their safety.
Public access to the reserve is limited to the boardwalk and roadways. This is to ensure that the penguin nests and the animals themselves aren't disturbed.
When we visited in August there were already some penguin chicks lying awkwardly in their nests awaiting the next feeding from their parents. As the penguin chicks age, you'll see them molt. This is when their fluffy grey feathers fall to be replaced with that bold black and white tuxedo style that we all know and love.
You'll also pass over some bridges that span some of the busier penguin routes to and from the water. My kids dubbed this the "Penguin Superhighway" as there was always a steady stream of dapper birds moving up and down from the shore.
At the end of the boardwalk is an overlook where you can gaze along the rocky shores and see thousands (sometimes even tens of thousands) of penguins swimming in the waters and wandering up and down the rocky beach. It's a display that will give you a wild glimpse into the social life of penguins in Punta Tombo.
There were arguments, debates, friends having discussions, and a lot of penguins diving and zipping through the Atlantic waves. It's also an amazing spot to witness the wild contrast between penguins on-land clumsiness and their sheer grace when in the water.
The paths throughout the conservation area are well marked and accessible. They're a combination of limestone paths marked by wire edges, wooden boardwalks, and bridges that allow the penguins to pass undisturbed below. Because penguins nest in burrows dug in the ground, it's important to remain on the paths.
Seeing them in person, it's easy to see how easy it would be for the burrows to be destroyed under the weight of a careless explorer. Magellanic penguins retain their mates and their nests for life. They work year after year building the perfect home for their chicks.
Tips For Visiting Punta Tombo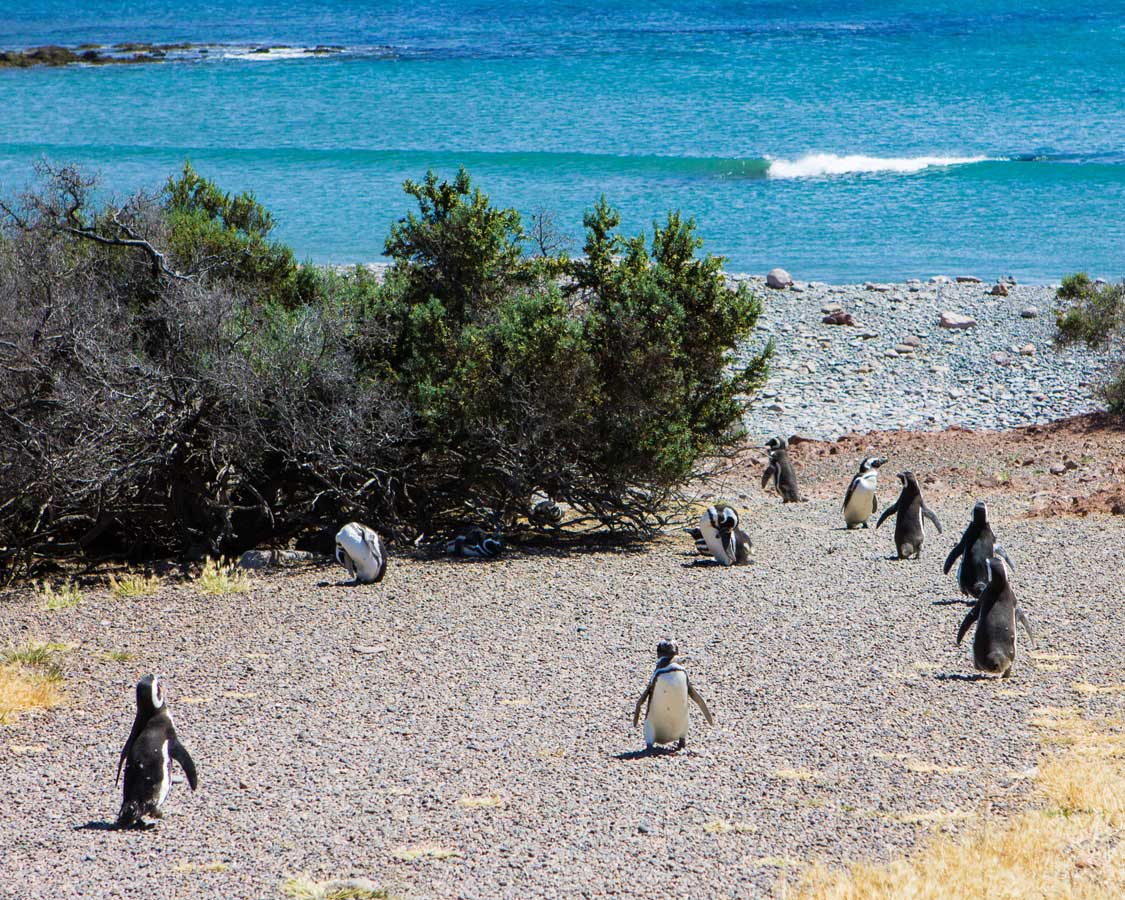 Before you travel to the penguin boardwalks in Punta Tombo you'll need to enter the park via the rangers station and pay the entrance fee. If you are on a tour, this part is likely covered as part of your pre-paid cost. There is a parking lot here and, if you rent a car, you'll need to leave it here.
Just past the ranger station is the Punto Tombo Penguin Interpretation Centre where you'll have access to washrooms, park information, and a gift shop. Everything is very well laid out and professional. However, nearly all of the information is in Spanish, so you might want to consider having a translation app on your phone.
The interpretation center is available to visit while the park is open. If you arrive in the afternoon you might want to do it first, however, if you visit in the morning, I enjoyed getting all that information before visiting the penguins.
What Are The Punta Tombo Open Hours?
The Punta Tombo National Reserve operates from 9 am to 5 pm from April until September.
What Is The Entrance Fee for Punta Tombo National Reserve?
The current entrance fee for foreigners in Punta Tombo is $20 USD.
Other Punta Tombo Tips:
To make sure that your visit to Punta Tombo is safe and special both for yourself and the animals, here are a few important tips for visiting the Punta Tombo National Reserve.
Make sure to wear a wide-brimmed hat or sunscreen. Even when the temperatures are low the sun is strong. And there is little to no shade within the reserve.
Wear good walking shoes with ankle support. The boardwalks are well-maintained, but there are areas where the walking can be rough.
Bring a windbreaker and dress in layers as temperatures, especially in the winter, it can get cold. Dress for the weather.
Punta Tombo Penguin Safety
Because of its location, Punta Tombo National Reserve is one of the most easily accessible penguin colonies in South America. With its immense popularity (over 250,000 visitors per year), there are a few rules in place that visitors must follow.
Do not approach or bother the penguins.
If the penguins walk down the path, give them space.
Don't walk off the provided paths.
Don't put camera lenses near the faces of penguins. Not only does this stress them, but they might also peck and would probably break your lens.
Exploring Punta Tombo with Kids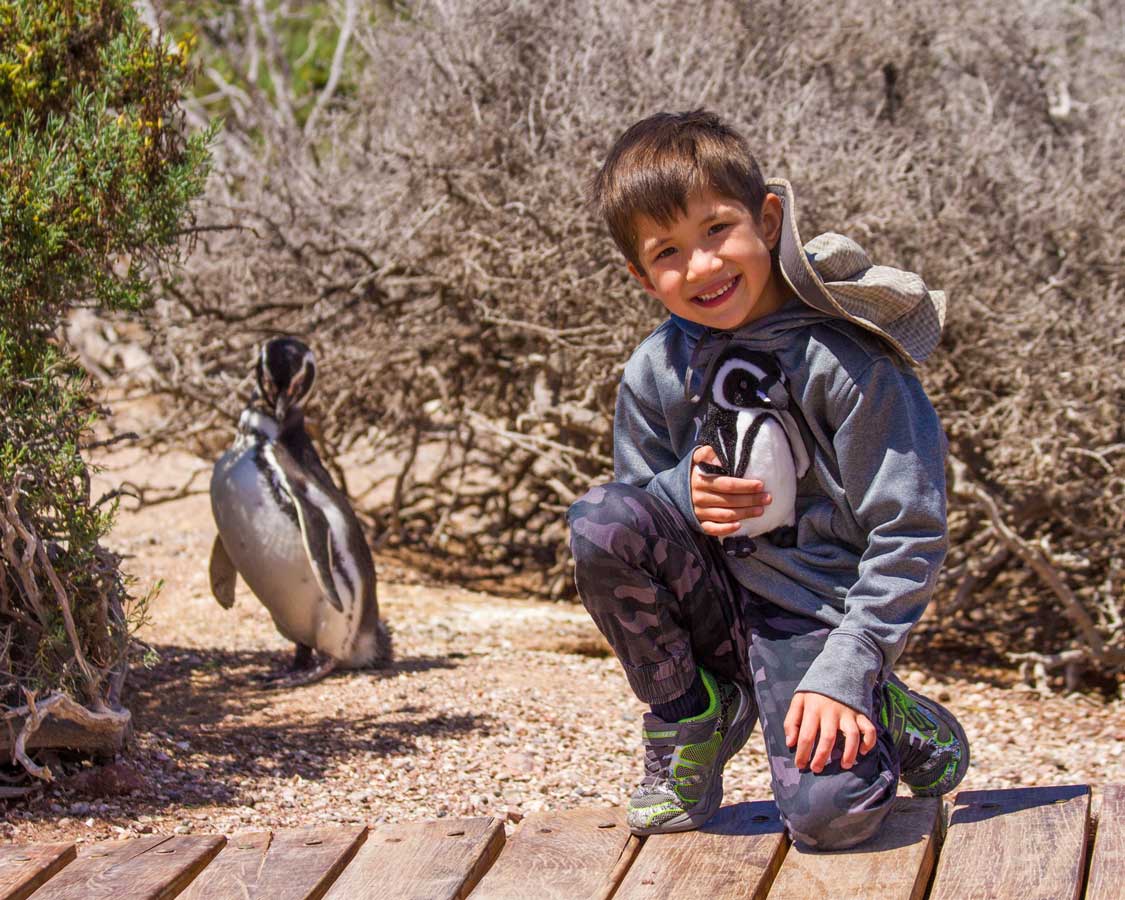 The Punta Tombo penguin sanctuary is one of the best places in the world to see penguins in the wild outside of Antarctica. It's an experience that my children will never forget and it just fuelled an already deep passion for these magical birds.
When visiting Punta Tombo with kids consider a tour that includes a guide. My kids received a wealth of knowledge from the expert Say Heque guide that was part of our tour. In fact, during the tour, they were literally at the guide's heels the entire time just soaking up the details and asking a million questions.
Getting around the penguin rookery in Punta Tombo is a breeze. Visiting the accessible areas of the whole conservation takes about 3 hours. This isn't because it's that long or vast, but because you'll stop every 15 seconds to gaze at yet another goofy penguin doing things that goofy penguins do. And you'll love every second of it.
There are also a few safety thoughts about kids in the Punta Tombo penguin reserve that you should consider.
Don't leave your kids unsupervised. All of those adorable penguins are very tempting. But if kids leave the path to introduce themselves, it could damage the nests.
Explore the Interpretation Center before you go on the boardwalks. Not only did our kids love the museum, but it offers a wealth of information that will help children get even more out of the experience.
Make sure that your kids are dressed for the weather. This goes double for hot and cold days which, if not approached correctly, could make for a miserable day.
Ensure that your children know to listen to and follow the instructions of the rangers and understand why protecting and respecting the local wildlife is important.
Consider giving your kids a small camera like this one. It's tough and can handle bumps and falls. But it also lets your kids capture some of their own unique memories from this amazing experience.
Fun Facts About Magellanic Penguins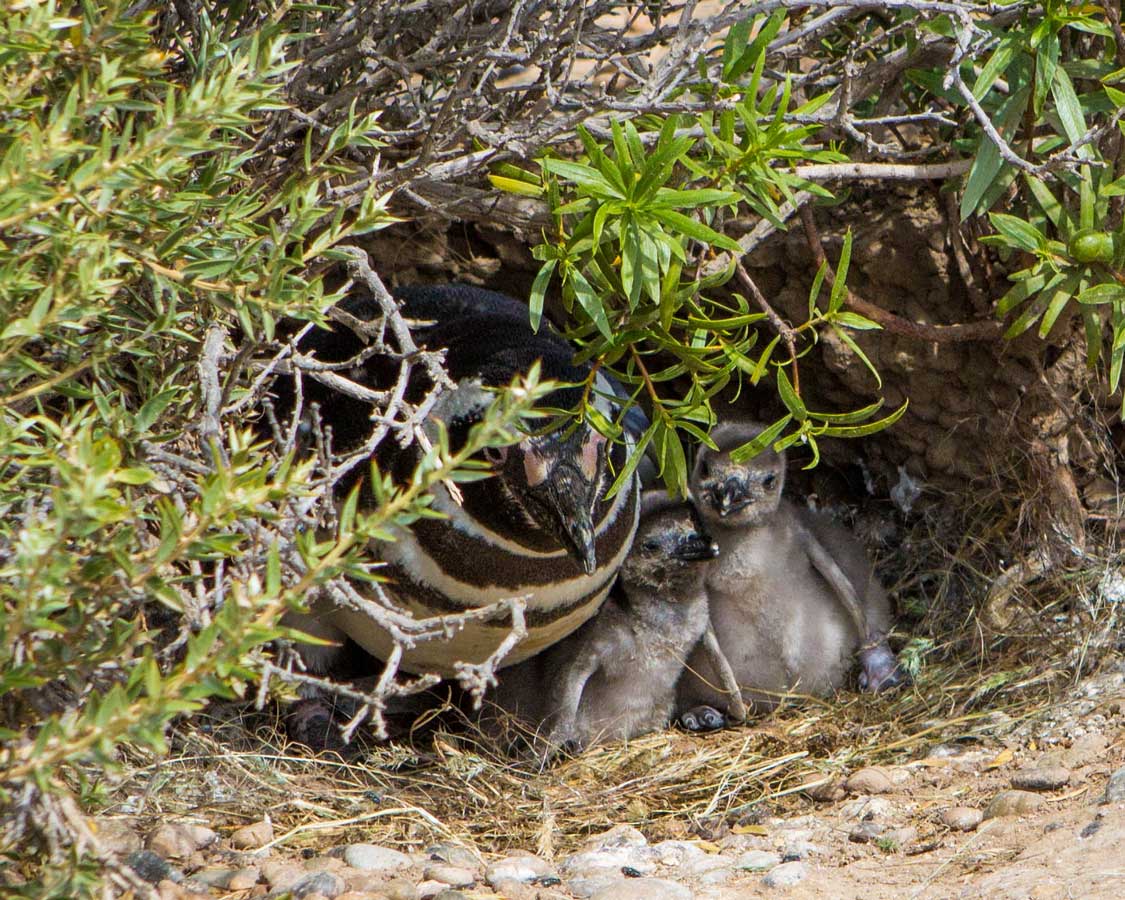 Magellanic Penguins got their name from famed Portuguese explorer Ferdinand Magellan. Magellan first saw these penguins in 1520.
They can grow up to 28 inches in height (71 cm) and reach a weight of 14 lbs (6.5 kg).
These penguins generally eat cuttlefish, squid, and sardines, krill, and other crustaceans.
Magellanic Penguins are considered near-threatened due to habitat loss and climate change.
The main predators of these penguins are leopard seals, sea lions, and killer whales. Penguin eggs and chicks also face threats from seagulls and other ground predators.
Magellanic Penguins mate for life and always return to meet after their solo migration.
Where Else Are There Penguins In Argentina?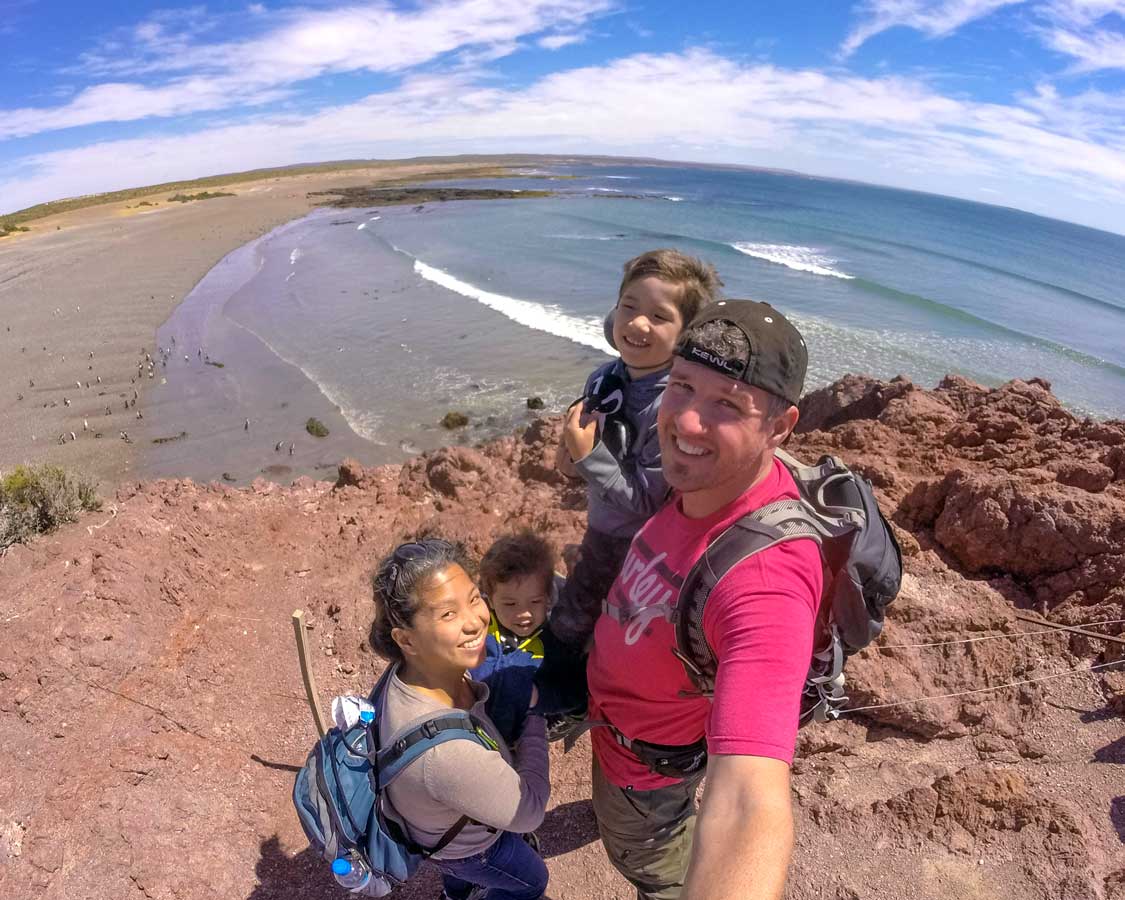 Punta Tombo may be the largest penguin colony in Argentina, but it's not the only place you can see them. If you are looking for where to find penguins in Argentina, here are a few places to check out. Some of them are pretty difficult to get to, but others are easier.
Tierra del Fuego
The only King Penguin colony outside of the Sub-Antarctic Islands is situated in Tierra del Fuego, a region shared by both Argentina and Chile. Getting here requires a plane trip or a two-day ferry journey from Punta Arenas. Visitors will be thrilled by the waddling 3 ft (1 meter) tall penguins.
Martillo Island
This remote island can be reached via a 6-hour journey by car or boat from Ushuaia. The island is very unique in that it is home to colonies of Magellanic and Gentoo penguins. You may also see the occasional King Penguin.
Valdes Peninsula
Along the stunning shores of the Valdes Peninsula you'll find several small colonies of Magellanic penguins during nesting season. The area west of Puerto Pyramides is a particularly popular spot for those who want to explore penguins outside of Punta Tombo.
Have You Ever Visited The Punta Tombo Penguins?
If you're a penguin-lover like us, you will absolutely be in heaven in Punta Tombo. If you've been to the world's largest penguin sanctuary, drop a comment below and tell us about your experience. Or, if you love travel with kids, head over to our Family Travel Facebook Community and share your tips. We would love to hear your ideas.
You May Also Like To Read:
Pin This Post For Later: