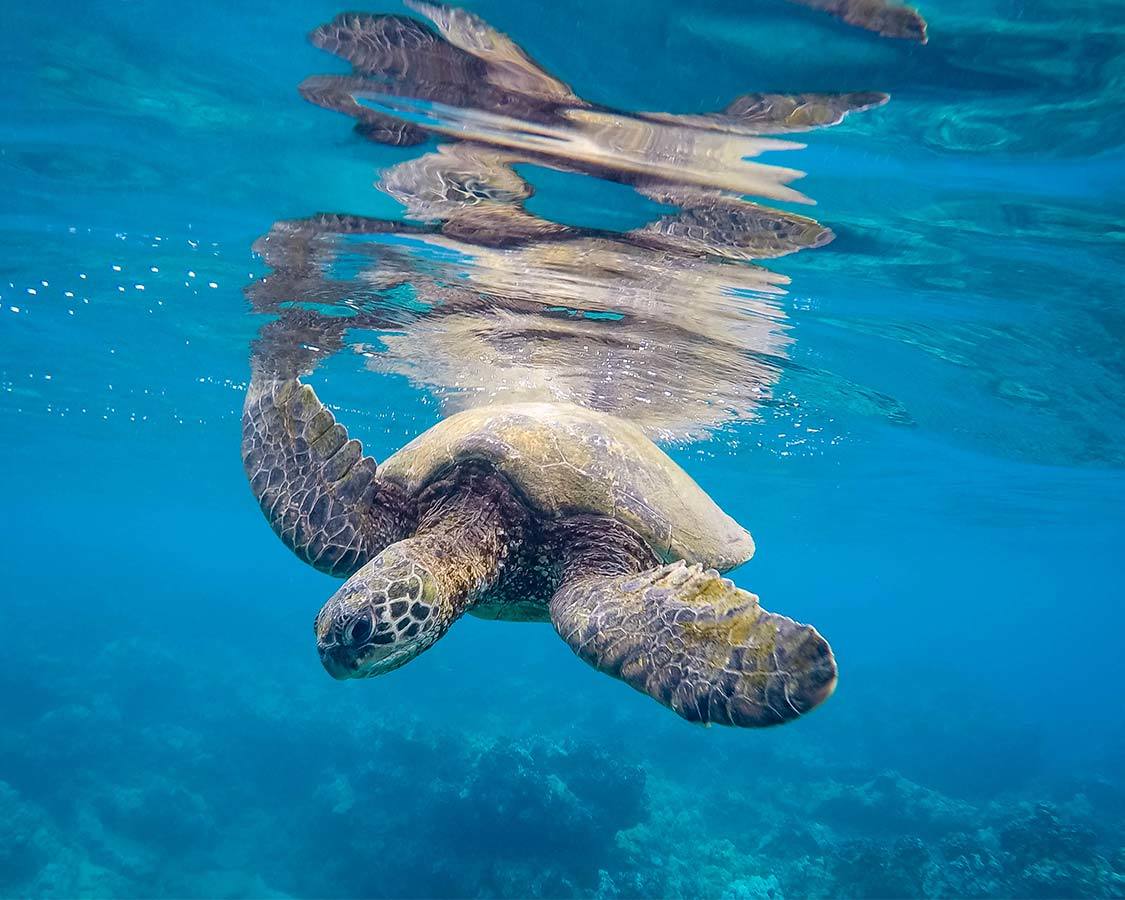 Nothing beats the feeling of slipping into the ocean. Whether you're splashing in the waves or spending a day snorkeling or SCUBA diving. But more and more, tropical destinations are encouraging visitors to use reef-safe sunscreen. Some popular travel destinations, such as Hawaii, have even encouraged the use of reef-safe sunscreen. Some have even got so far as to ban the use of sunscreen that is not considered reef-safe. This is because of the thousands of chemicals from sun protection products that wash from the skin into the oceans of the world.
Coral systems can be found all over the world. The most famous are the Great Barrier Reef system off the coast of Australia, and the Belize Barrier Reef system on the Caribbean side of Central America. Christina and I actually learned to SCUBA dive in Belize and got to see this beauty for ourselves. But coral reef systems actually span a good portion of the globe from newly discovered systems in the North Atlantic to further south off the coast of South America. And whether you're SCUBA diving in the Caribbean or just enjoying a lobster in Nova Scotia, much of your life depends on coral reef health as well.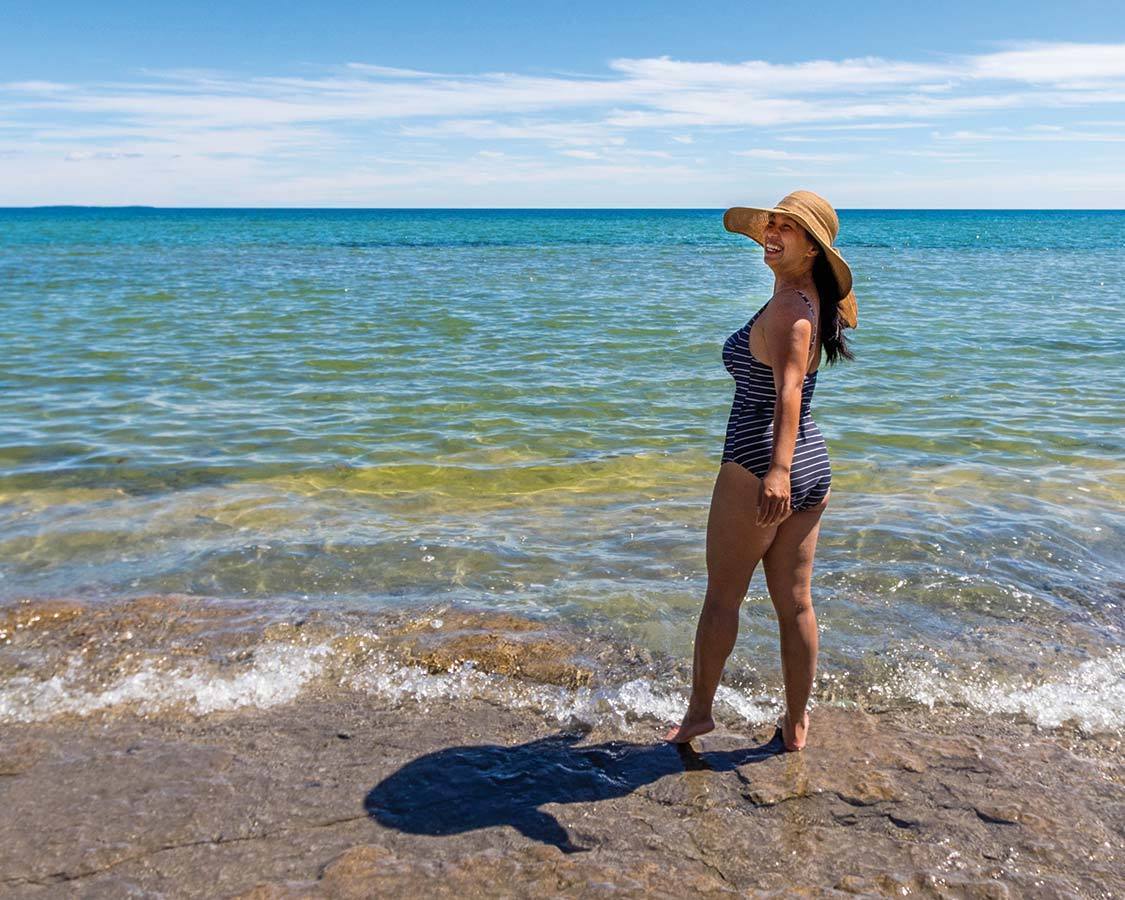 Why Buy Reef-Safe Sunscreen?
Coral reef systems make up the largest living ecosystems in the world. That's right, coral reefs are actually systems of billions of tiny living life forms that work together to create some of the most complex, beautiful, and bountiful living communities. The incredible underwater ecosystems created by coral give a home to the largest variety of marine life in the oceans. And if the coral dies, all of those creatures that use them to live will not be far behind.
Reports from organizations such as the International Coral Reef Initiative have been working hard to bring to light the damage to marine life that results from pollutants such as sunscreen. Some reports estimate that up to 14,000 tons of sunscreen have found their way to coral reefs. And many of the pollutants can cause irreparable harm to these ocean environments.
And while reef-safe sunscreen is a great way to help minimize the damage to coral reef systems, it's important to note that no sunscreen has been proven to be completely safe for ocean life. Whenever possible,[easyazon_link identifier="B0773BZ8FM" locale="US" tag="anderinagars-20″]using a rash guard[/easyazon_link] offers the best alternative for both sun protection and eco-sustainability.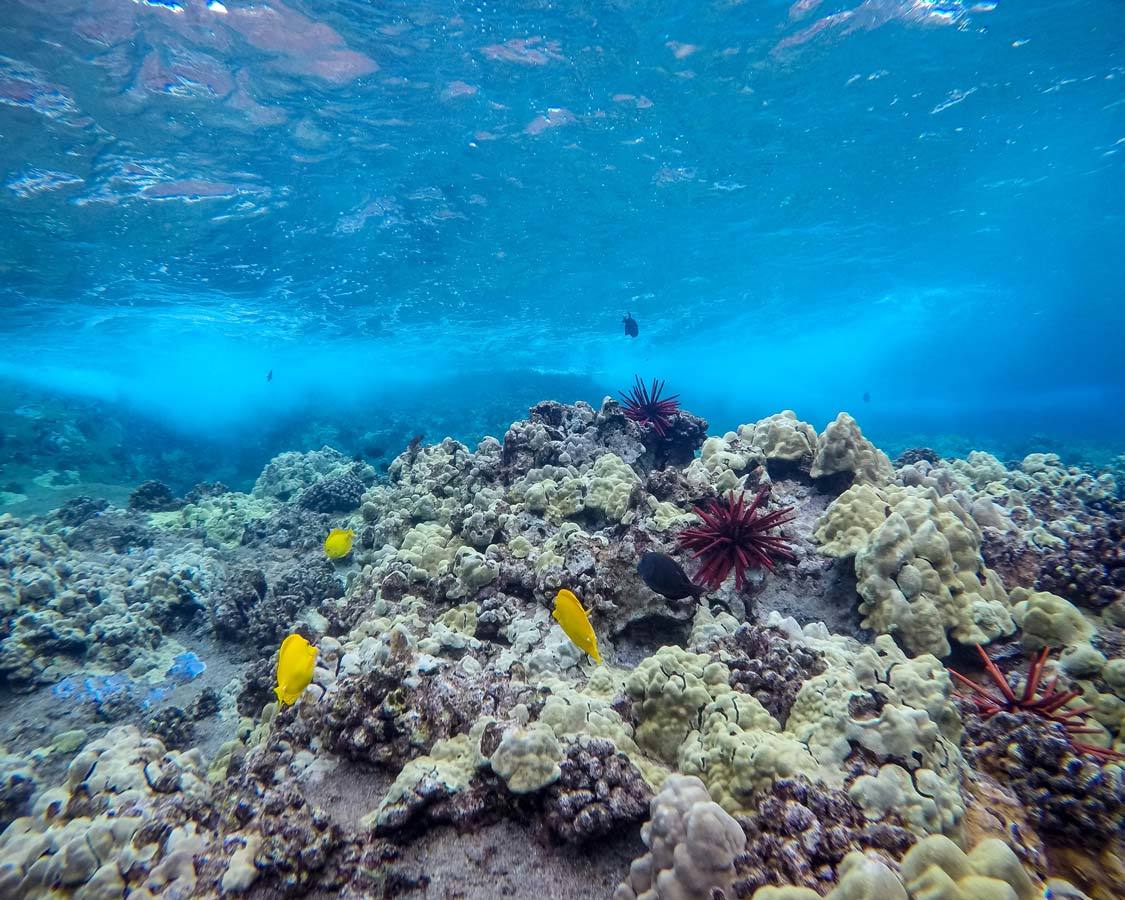 What Chemicals To Avoid For Reef-Safe Sunscreen
This damage is the result of chemicals such as oxybenzone and octinoxate that are found in most brands of sunscreen. These chemicals are used to help absorb harmful ultraviolet rays and keep them from reaching the skin. These chemicals aren't just bad for the ocean either. Some of them can cause cancer and developmental abnormalities in humans. In coral reefs, they can cause deformations and coral bleaching. The full list of chemicals to avoid in reef-safe sunscreen includes:
Oxybenzone can cause deformations and coral bleaching
Octinoxate can cause deformations and coral bleaching
Mineral Oil, also known as petrolatum does not dissolve and can be harmful to marine life and waterfowl.
Titanium dioxide reacts with warm water to become hydrogen peroxide which is toxic to marine life
What Can You Do To Help Stop Coral Reef Damage Due To Non-Reef Safe Sunscreen?
So now that we know that sunscreen brands that are not reef safe can cause terrible damage, we can protect the very places that we have traveled so far to experience. The first step in protecting these amazing destinations is by using a reef-safe sunscreen. These coral safe sunscreens use a natural mineral base rather than chemicals in order to protect your skin from the sun. And here's the good news!
Reef safe sunscreen is often better at protecting your skin from harmful UV rays than the chemical alternatives. And what's better? All those chemicals that leach into the water and kill coral reefs, won't be leaching into your skin and causing damage to you or your children. But, there's a catch. Because "Reef Safe" is not an official term, not all brands labeled as a "reef safe sunscreen" are actually being truthful. It's important to stick to brands that are doing their part and offering mineral-based sunscreens and not chemical.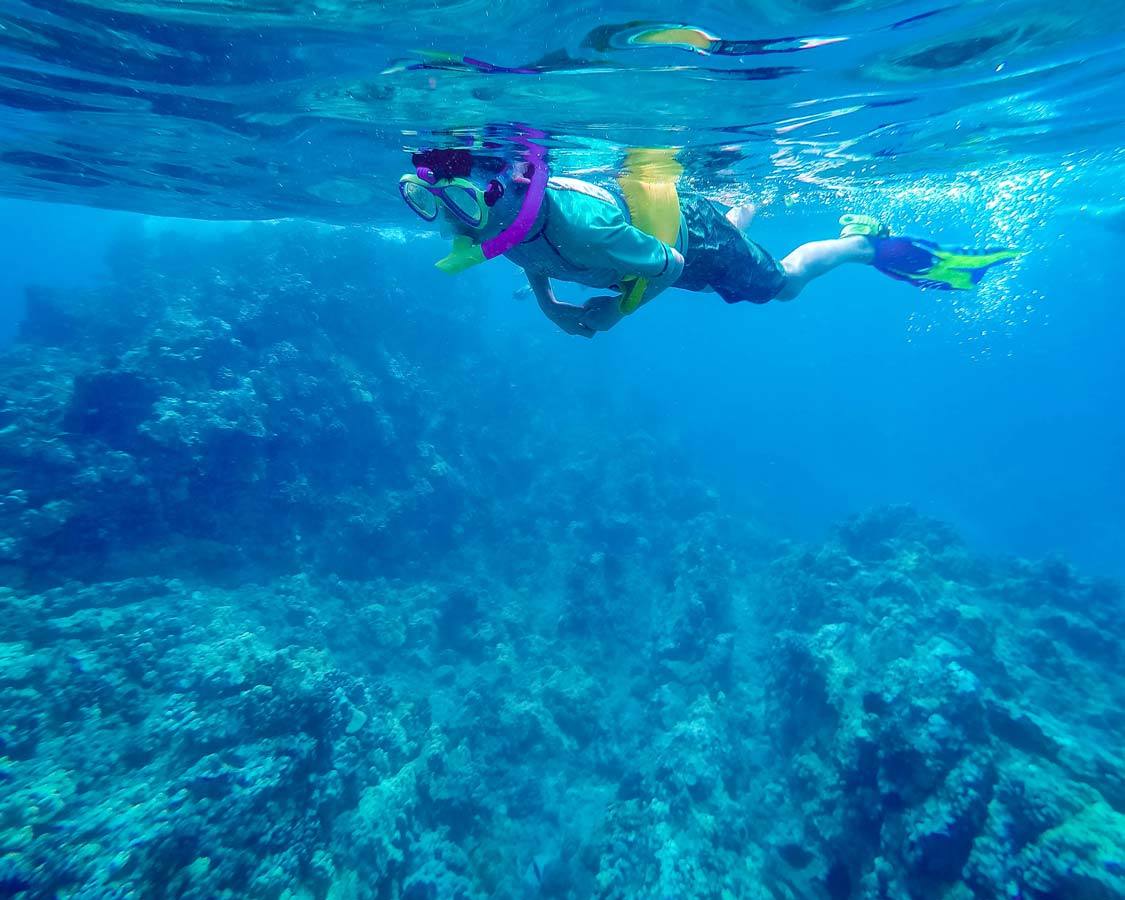 The Best Reef Safe Sunscreen Brands For Your Travels
There are a few great reef-safe sunscreens that truly offer practical, affordable, and quality alternatives to chemical-based sunscreens. You'll notice that we've avoided brands with an aerosol delivery system. This is because aerosols are known for their own pollution issues. This includes damage to human lungs and the ozone layer. For this list, we try to stick to butter and cream-based reef-safe sunscreen brands. And for those with families, I"ve tried to offer options or alternatives for kid-friendly reef-safe sunscreen brands. Here are a few of our favorite products for this year.
1. Kokua Brand Hawaiian Natural Zinc Sunscreen
If you're looking for the best reef-safe sunscreen, a good place to look is with a company where the coral reefs have been hardest hit. Kokua Brand is a Hawaiian-based suncare company that has a vested interested in keeping the Hawaiian coral reefs safe. This premium SPF 50 sunscreen uses a non-nano zinc oxide base. The unique and well crafted tropical sunscreen is water-proof, sweat-resistant, and rubs on clear without a greasy, sticky film.
Kokua Brand Hawaiian natural zinc sunscreen does not contain any oxybenzone or octinoxate as these ingredients are banned in Hawaii. Instead of damaging the skin, this reef-safe sunscreen revitalizes it with 23 antioxidants, spirulina, kukui nut oil, macadamia nut oil, and more.
Kokua brand is safe for all ages, including children. It is a reef-safe, baby-safe sunscreen. It is hypoallergenic and it meets Palau Reef-Safe standards. Palau Reef-Safe standards are the strictest standards in the United States.

2. Thinksport SPF 50 Sunscreen
Popular sunscreen brand Thinksport offers a widely available, affordable reef-safe sunscreen. Their Thinksport SPF 50 sunscreen does not contain any of the chemicals known to cause coral damage. Thinksport reef-safe sunscreen is water-resistant for up to 80-minutes. It goes on smooth and clear with no sticky residue. Thinksport also offers a face sunscreen as well for those using rash guards. Thinksport coral safe sunscreen is widely available, reasonably-priced, and one of the safest sunscreens on the market.
For those with younger children, you may want to consider Thinkbaby SPF 50 sunscreen. This child-friendly, reef-safe sunscreen has been designed with infants and toddlers in mind.
3. Badger Clear Zinc Sport SPF 35 Sunscreen Cream
If you're looking for a great mineral-based sunscreen that won't break the bank, Badger Clear Zinc Sport is a reef-safe sunscreen to consider. Badger uses a clear zinc oxide mineral as the base for their product. All the non-active ingredients are organic and non-GMO. This means that this is a child-friendly reef-safe sunscreen. For younger children, choosing a sunscreen with SPF 50 and above is recommended.
Badger Clear Zinc has an SPF rating of 35 and protects against both UVA and UVB rays. The sunscreen is moisturizing and both protects and nourishes the skin. It also doesn't leave a tacky or oily residue after it has been applied.
4. Miami Gorgeous Natural Sunscreen Stick
One thing that most of the reef-safe sunscreen brands have in common is that almost all are either a cream or a spray. This is great for those who travel with check-in bags. However, if you are traveling carry-on only you'll need something that will pass through security. Cue the Miami Gorgeous Natural Sunscreen Stick. Miami Gorgeous uses non-nano zinc oxide combined with natural ingredients. These include avocado oil, beeswax, and coconut oil. Together they nourish and moisturize while also protecting both your skin and the ocean.
Those traveling with young kids might want to consider their childrens reef-safe sunscreen stick. This coconut oil based coral safe sunscreen is SPF 50 and good for the whole family. It's all-natural and good for your carry on as well.
5. Raw Elements Reef Safe Sunscreen
Raw Elements makes one of the top water-resistant coral-safe sunscreens out there. With an 80-minute life-span, even in the water, Raw Elements is perfect for those who love snorkeling and SCUBA diving. This water-proof formula has a slight odor when you apply, but the smell doesn't last once it is on your skin. And upon application, it's clean, clear, and non-greasy.
The formula is good for both the face and the body, so there is no need to carry separate sunscreen brands around with you. However, if you are looking for a child-friendly reef-safe sunscreen, Raw Elements falls short at SPF 30. I would recommend going back to the Kokua Brand SPF50+ if you are traveling with kids.
Other Ocean-Friendly Products To Consider
Protecting the oceans is not just about choosing the best reef-safe sunscreen. There are many things that people do in their regular lives that contribute to the pollution and contamination of both fresh and ocean water. Some things require a lifestyle change that is bigger than there is room for in this article. But there are a few simple switches that you can make in your life that can make a world of difference to lowering your ecological footprint. Here are a few tips for getting started.
Switch To Reusable Water Bottles
There is no hiding the fact that plastic pollution is everywhere. consider switching from disposable water bottles to reusable water bottles in order to limit plastic waste. Many water bottles like these even match the size and shape of traditional bottles so you know they'll fit anywhere you need them to be. They have an added benefit of being insulated, so you're water will stay cold, or your tea will stay warm. If you worry about water quality, you could always switch to a filtered water bottle. These eliminate nearly all contaminants and leave the water cleaner than even store-bought bottled water. You can check out our complete review of the best filtered water bottles here.
Use Reusable Coffee Cups
Coffee cups are those throw it and forget things that we can use every day (or sometimes more than once a day). Hundreds of millions of people buy coffee every day, and this leads to an obscene amount of garbage polluting the environment and engorging landfills. By making the easy switch to a reusable coffee cup like this one, and you aren't just limiting pollution, but you're making for a better cup of joe too. Reusable coffee cups are super easy to clean and keep your coffee hot for hours. No more lukewarm java on a busy day!
Sustainable Beach Bag
Please don't bring garbage bags and plastic grocery bags to the beach. That ocean wind will blow them away before you have a chance to grab them. Instead, consider bringing a sustainable, reusable, organic beach bag. If it does get forgotten, it doesn't contain material that is harmful to marine life.
Do you use reef-safe sunscreen? Tell us about your favorite brands in the comments. Or head over to our Facebook page and share your experience. We would love to hear your ideas.
You May Also Like To Read: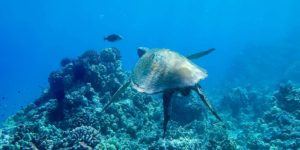 Best Family-Friendly Snorkeling In Maui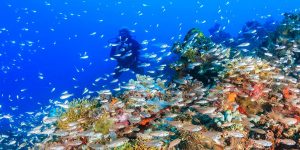 The Best Diving Destinations In The Caribbean For Families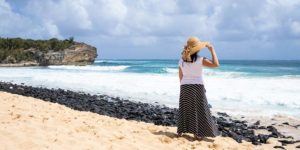 Pin This Post For Later: