Planning your Hawaii vacation shouldn't be hard. Learn what to pack for Hawaii to make your trip fun. Includes a Hawaii packing list.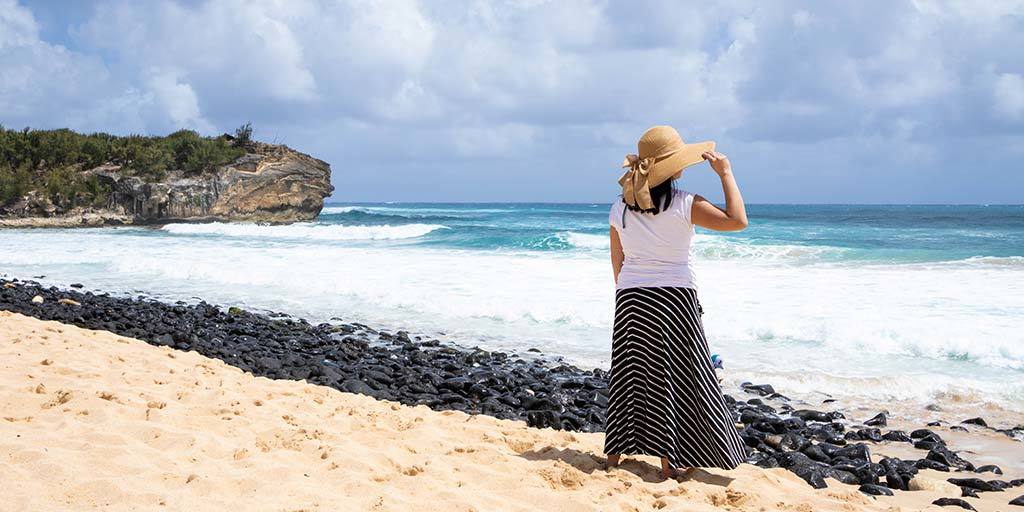 Planning for a Hawaii vacation should be as relaxing as your time on the beach. I've taken multiple trips to Hawaii, so I've put together these tips for what to pack for Hawaii. Whether you're heading there for a romantic couples trip or a Hawaii family vacation, you'll arrive with everything you need for the perfect Hawaii experience. The amazing year-round temperatures mean that if you are visiting Hawaii in November or July, you won't need to change your Hawaii packing list.
The great thing about choosing your packing for Hawaii carryon travel, or you'll be bringing check-in luggage, you won't need to over-do it. Packing for a week in Hawaii, or a month means you can get by with almost the same clothes and gear! So check out our guide on what to pack for Hawaii. Then you can focus on waterfalls, snorkeling, and finding the most delicious shave-ice on the islands. Then you won't have to worry about prepping your Hawaii packing list.
Hawaii Packing List: What To Wear In Hawaii
When I'm choosing what to pack for Hawaii, I always start with the clothes. Choosing the best tops, bottoms, and shoes for your Hawaii vacation will make sure that you are all set in Island-style. Choosing what to pack for Hawaii for me is all about comfort, practicality, and just a bit of flash. For this Hawaii packing list, let's start with bottoms and work our way up.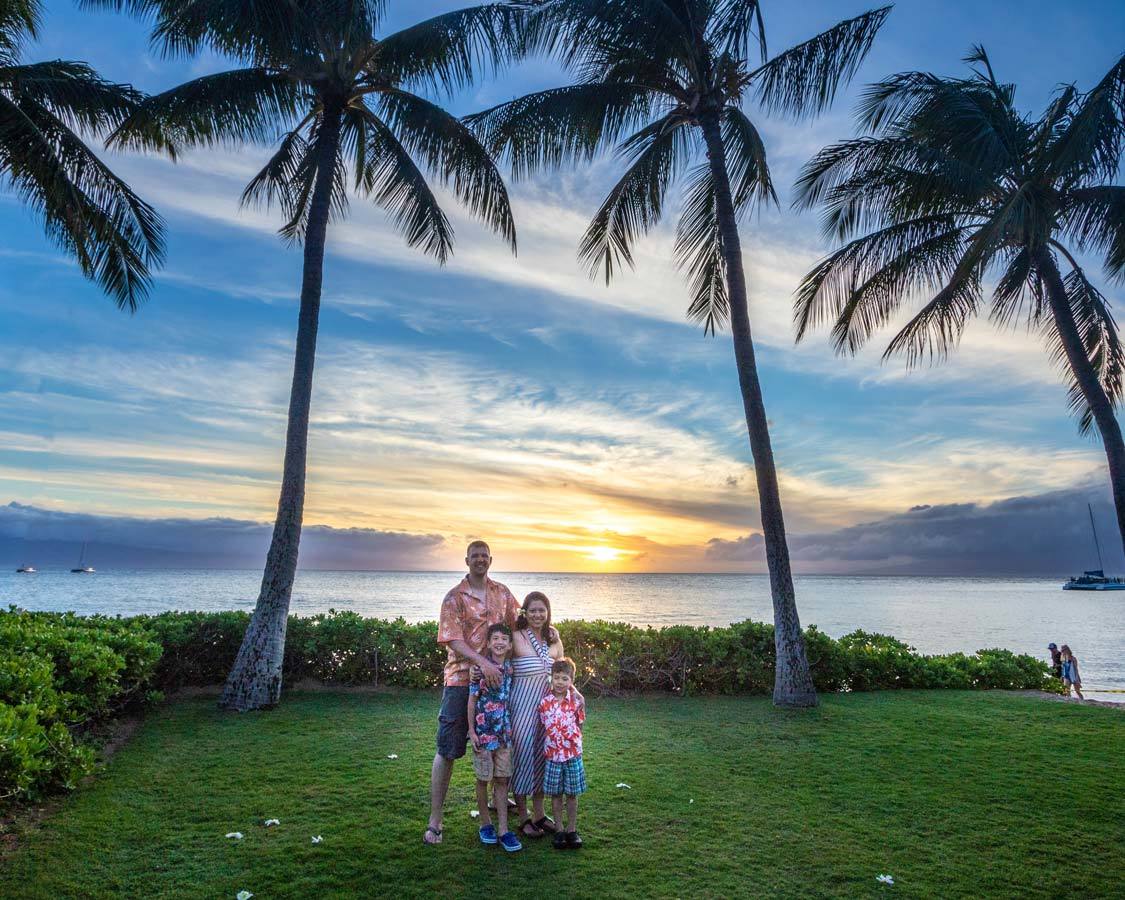 The Best Outfits For Hawaii
You have your trip all planned out. You know your Hawaiian Islands. Quick breakdown: The Big Island (Hawaii), Maui, Lanai, Kauai, Oahu, Molokai, Niihau, and Kahoolawe. Do you remember them all? And now it's time to figure out what to pack for Hawaii. Before you go, know that the weather in Hawaii can get hot and humid. You'll want to stay cool and comfortable, especially in the Hawaiian afternoon. And that's great because all the best outfits for Hawaii are light, airy, and fun to wear. Here's what to pack for a Hawaii vacation.
What To Pack For Hawaii: Skirts
There are few places more perfect for skirt-wearing than Hawaii. The cool ocean breeze and warm island air are a perfect match. Dresses are cool, comfortable, and catch the wind just the right way to make an unforgettable photograph. Skirts are everywhere on the Hawaiian Islands. They are light, easy to pack and look great just about everywhere. I usually pack two-three skirts in my luggage for Hawaii.
I love skirts that have a bit of room in them to catch the breeze. Something flowing with a bit of style. I find that mid-length skirts like this one offer the best combination of sun protection and style. I also LOVE this convertible skirt. It wears really well and is one of the best travel skirts. It's always on my Hawaii packing list. The great thing about skirts for Hawaii is that they will always pair with your flip flops.
Hawaii Packing List: Shorts
Even though I could spend my whole Hawaii vacation in skirts and dresses, I always pack a couple of shorts for the days when I'm out on the hiking trails. When picking the best shorts for Hawaii I choose something lightweight and breathable. Picking a breathable, synthetic fabric will help keep you dry, cool, and comfortable when you're out enjoying the Hawaiian sun. And if you want something to throw on over your bathing suit, you know it will dry quickly.
Shorts like these are cute, comfortable, and perfect for around town or the beach. My packing list for Hawaii usually includes two pairs of shorts.
What To Pack For A Hawaiian Vacation: T-Shirts & Tank Tops
I prefer skirts to dresses because it gives me the chance to change up the look by switching my top. My packing list for Hawaii usually includes about five tops. I use some for hiking and exploring. And others for nights on the town. If I'm out doing the Road to Hana, which involves a lot of hikes and sweaty work, I wear something like these great sweat-wicking shirts. For around town, I'll pick my favorite tops that are cool, comfortable, and stylish.
Hawaiian Packing Guide: Swimwear
It wouldn't be a trip to Hawaii without packing your swimsuit! I'm in the water almost every day when I travel to Hawaii. So swimwear is at the top of my list of what to pack for Hawaii. My Hawaii packing list always includes two swimsuits. That way one can dry while I'm using the other. Swimsuits don't take up much space, so you can always bring a third if you want!
I usually pack one stylish swimsuit for Hawaii and another more active swimsuit. That way I have one for the beach and one for things like kayaking and snorkeling in Hawaii. My "fancy" suit is usually something like this. While my athletic swimsuit tends to be something like this.
My Hawaiian packing list also always includes a rash guard. There are strict rules on which sunscreens are allowed in Hawaii (you can check out our guide to the best reef-safe sunscreen here). A rash guard is the best way to protect your skin and the ocean. Rashguards also keep you comfortable and protect you against accidental brushes against rocks or coral reefs. There are some great women's rash guards like these out there. I usually pack two so one is always dry.
Packing For Hawaii: Beach Bag
Swimwear for Hawaii is great, but if you don't have a great beach bag you'll have issues on the sand. I like to bring a big beach bag that can fit towels, water bottles, snorkel gear, and everything else I may need for some fun in the sun.
Packing List For Hawaii: Pajamas
Nights in Hawaii are usually very comfortable unless you are up in the mountains exploring places like Haleakala Crater or the Mauna Kea Observatories. But slipping into something a little more comfortable at night is good for the soul. I always pack a nightgown or a light pair of pajamas for Hawaiian overnights.
What To Pack For Hawaii: Accessories
You can't pack for Hawaii without accessories! From your head to your toe, planning your Hawaii packing list means thinking about everything. Here are a few other things you'll need to pack for your Hawaii vacation.
Sunglasses
Look cool while protecting your eyes. The Hawaiian sun is blazing. Make sure to pack a pair of sunglasses that offers excellent UV protection. I like to bring a pair with polarized lenses to help reduce the reflection off the water. Plus, they make the Hawaiian colors really pop. For your time on the water, you might want to consider floating sunglasses. Just in case.
Headwear
Hats are super important when traveling to Hawaii. It will help prevent sunburns and keep you cool. Personally, I love my big floppy hats. But I always pack a mesh baseball hat for the hiking trails. I recommend picking hats that fold up easily. Nothing is sadder than a great hat that gets ruined in transit.
Reusable Water Bottle
Always make sure you have a reusable water bottle with you in Hawaii. Don't be part of the problem as plastics make their way into the ocean. If you are worried about water quality (water in Hawaii is usually very clean), consider a filtered water bottle. That way you will have fresh, clean water, even on the hiking trails.
The Best Shoes For Hawaii
Sandals For Hawaii
There is no more important factor in choosing what to pack for Hawaii than shoes. Choosing the best shoes for Hawaii means selecting footwear that's practical, comfortable, and versatile. Shoes take up a lot of room. So you don't want to pack more than you need for the journey to Hawaii. And if your shoes aren't comfortable, they just aren't worth packing. If you explore Hawaii as I do, you'll be on your feet a lot.
You'll need at least two kinds of footwear for Hawaii. Flip flops or sandals are island-casual. You'll see all the locals wearing these around town, on the beach, and out to dinner. They're easy to slip on and off, and most importantly, they let all that Hawaiian beach sand just slide right out. The weather in Hawaii is usually warm and humid. So, "slippahs" as the locals call them, are good for nearly every occasion. Flip flops can come in all different qualities. Make sure you choose one that's comfortable and supportive. Don't cheap out and buy a set that you'll regret.
I find these to be among the most comfortable slippers. They are hardy, supportive, and great for just about every outdoor activity you can think of. They even have a version for kids that will keep them from slipping on those seaside walks. If you're looking for something a little nice for those nights out on the town, these are a great option. They're island casual with a little flare.
Hiking And Running Shoes For Hawaii
If you plan on hiking in Hawaii, whether it's the well-worn trails of Diamondhead on Oahu or the epic trails of Waimea Canyon on Kaua'i, you'll want something more substantial than sandals. Whether it's a muddy hike, a rocky waterfall, or a mountain trail a pair of good hiking shoes for Hawaii will give you the traction you need to get around without slipping and sliding. If you plan on sticking to the popular groomed trails, a good pair of athletic sneakers should do just fine. But if you plan on hiking some of the magnificent remote trails that make Hawaii such a popular destination, I'd consider going for something a little more robust like this. Don't forget to pack wool socks too. They wick away moisture from your feet so that your feet won't stay wet after a visit to the waterfalls.
Other Things To Pack For Hawaii
So you're all dressed from your head to your toe for Hawaii. But there are a few things to pack for Hawaii left before you hop on the plane. These extras will make sure your trip to Hawaii is absolutely unforgettable.
Camera
You want to capture all of those Hawaii memories. Your Hawaii packing list must include a camera. Unless you're a pro, I recommend something light, versatile and tough. This great travel camera is waterproof, drop-resistant, and takes fantastic photos both above and below the waves. Don't forget to pack a memory card as well
Bug Repellent
Yes, there are mosquitoes in Hawaii. You won't usually find them near the coast. But if you head inland on the road to Hana in Maui or the Kauai tubing adventure, you'll definitely find them. I recommend something with deet to help keep them at bay.
Packing Cubes
Packing cubes are one of those things I had no idea I needed until I started using them. If you haven't used them yet, give them a shot and see why they've changed the way so many travelers pack. These are one of my favorite packing cube brands.
Compact headphones
Whether it's on the plane or on the beach, it's good to have access to some music. Make sure to pack a pair of compact earbud-style earphones. They're lightweight, pack to almost nothing, and help you have that much needed alone time.
SPF Lip Balm
Even if you pack reef-safe sunscreen, you still need to protect your lips. Pack some SPF lip balm to keep your kisser from getting burnt.
Daypack
If you plan on hitting the beautiful Hawaiian hiking trails, you'll want to bring a daypack with you. I find a daypack is great even when I'm exploring the towns. I can have all my travel gear easily accessible wherever I am. You can check out our guide to the best daypacks here.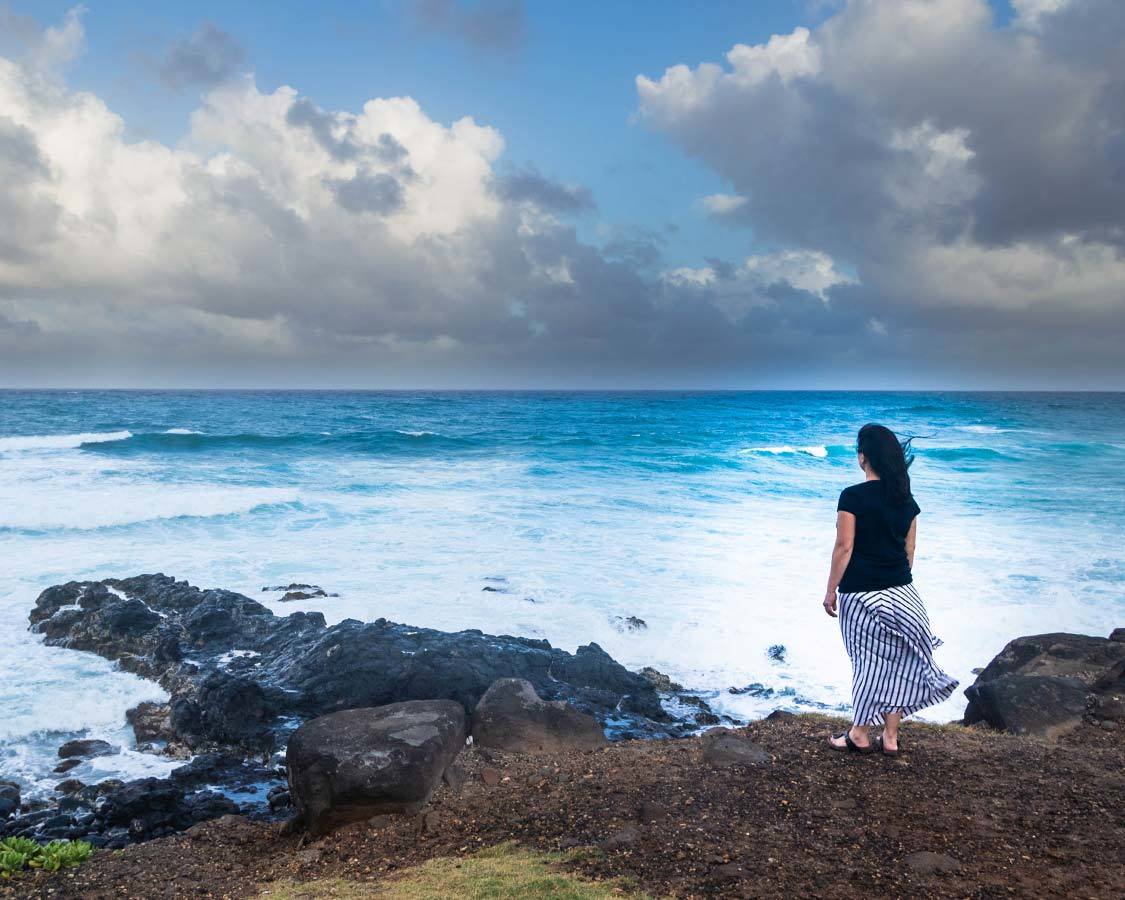 It's Time To Pack For Hawaii
So you've got your travel list. You know what to pack for Hawaii. You know how many of each item to pack. Now it's time to head to the islands and make some memories! Have we missed anything on our Hawaii packing list? Tell us your thoughts in the comments below. And after your trip tag our Instagram account with your travel photos. We would love to share in your travels.
Wandering Wagars is a participant in the Amazon Services LLC Associates Program, an affiliate advertising program designed to provide a means for sites to earn advertising fees by advertising and linking to amazon.com, amazon.co.uk, amazon.ca. Amazon and the Amazon logo are trademarks of Amazon.com, Inc., or its affiliates.
You May Also Like To Read:
Pin This For Later: