Looking to experience a Kauai tubing adventure? We took on the challenge and have everything you need to know before you Kauai mountain tubing experience.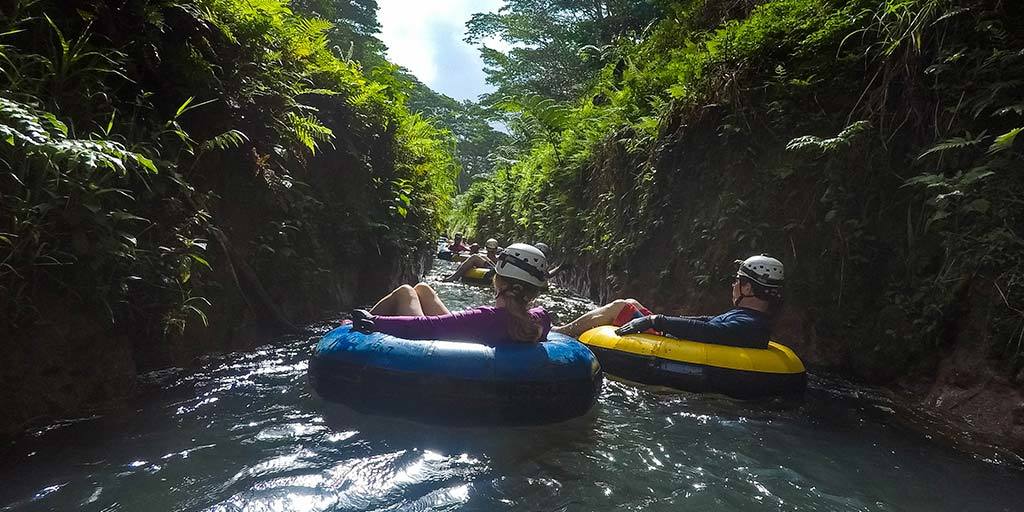 Mountain tubing was one of the highlights of our Kauai family vacation. And it wasn't just because it was a relaxing day on the water. Our Kauai tubing experience was educational, fun, and not at all what we had expected. When we signed up for our Kauai Backcountry Adventure experience, we knew that we would be riding tubes through an old Hawaiian plantation. We knew there would be tunnels. But we weren't prepared for how much more was on offer during our unforgettable Kauai mountain tubing adventure.
When we were first introduced to the idea of mountain tubing in Kauai, it seemed like the perfect fit for our lifestyle of family adventure travel. We are always looking for a new kind of adventurous activity. Gliding through old irrigation canals in a Hawaiian sugar plantation sounded magical. Christina and I have already tried one of the big three underground tubing experiences during our trip to Belize. Our Kauai tubing experience would mark our second.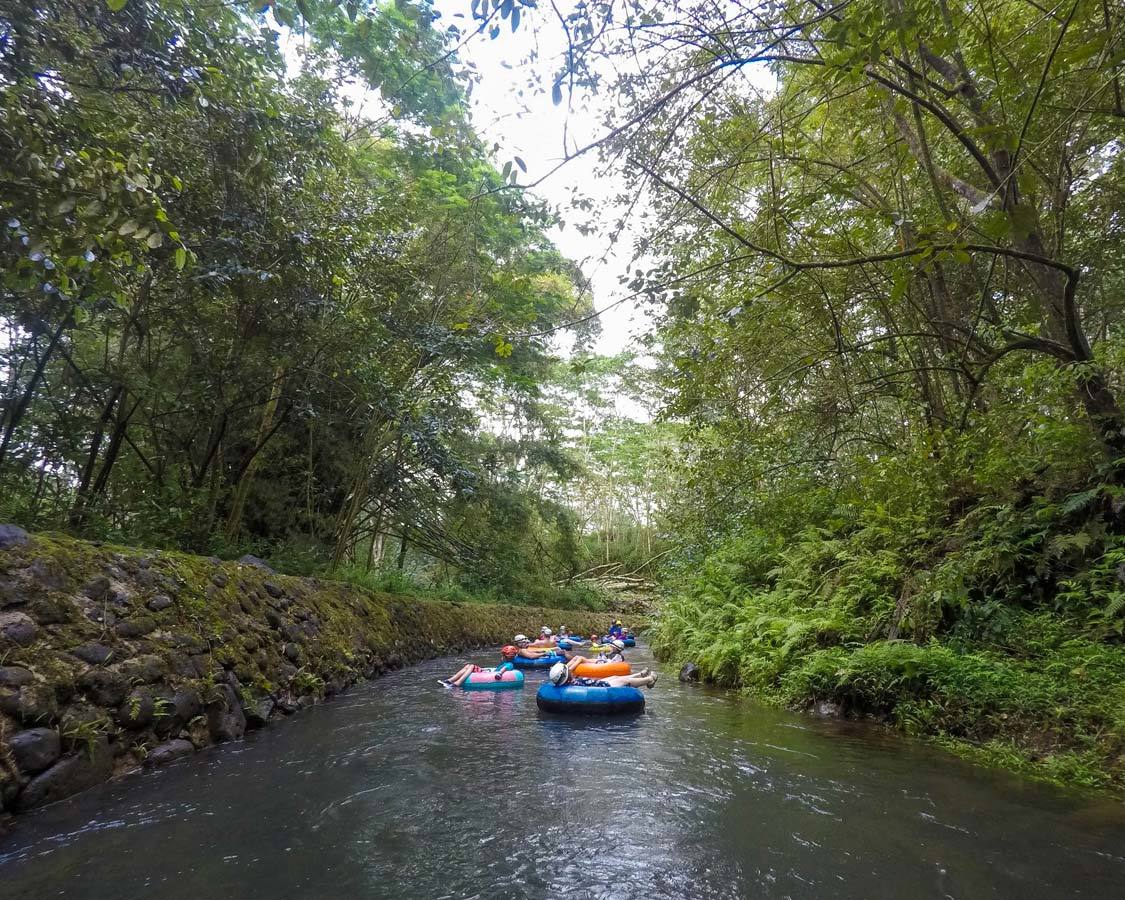 What Do You Need To Know Before Your Kauai Tubing Adventure Begins?
Our family trip to Kauai was just getting started when we were rolled into the Kauai Backcountry Adventures office on the outskirts of Lihue. There are Kauai mountain tubing tours held throughout the day. These usually start at 8:00 AM, 9:00 AM, 10:00 AM, 12:00 Noon, 1:00 PM, and 2:00 PM. The water on the mountain can be quite chilly. Unless you are comfortable with the cold water or have brought a wetsuit, I recommend considering the later times when the air is warmer.
Registering For your Kauai Backcountry Tubing Adventure
The Kauai Backcountry office is spacious. The upper level is set up for filling out waivers and picking up your safety gear. Gloves and helmets are provided. But you need to bring your own swimsuit and waterproof shoes. If you don't have waterproof shoes of your own, I recommend these ones for kids and these ones for adults.
After we registered we headed down the waiting area. To kill time till our truck left, our boys played the cornhole games with the other kids on the tour. Christina and I spent our time chasing them down to slather them with sunscreen. Bringing sunscreen or long-sleeved shirts along is recommended. Much of the Kauai tubing adventure is under the sun. Please make sure to use a reef-safe sunscreen as much of this water ends up mixing with the ocean reefs off of the coast. Many sunscreen brands include chemicals that have adverse effects on the health of coral reef systems. You can also check out our complete guide on what to pack for Hawaii here.
You may want to bring your own waterproof GoPro or Olympus Tough camera in order to take some fun photos along the way. Also, make sure to pack a towel and bug spray. The experience is deep in the Kauai interior and there are mosquitos. Kauai Backcountry does take a few photos along the way.
These are available for purchase for $40 back at the Kauai Backcountry office. It's a great deal as it includes individual photos of each member of your group, a group shot, and other scenic shots of the Kauai tubing tour that you won't have the opportunity to get yourself since your bum is stuck in a tube. It was great to get photos of the members of our family since the flow of the water often made staying together challenging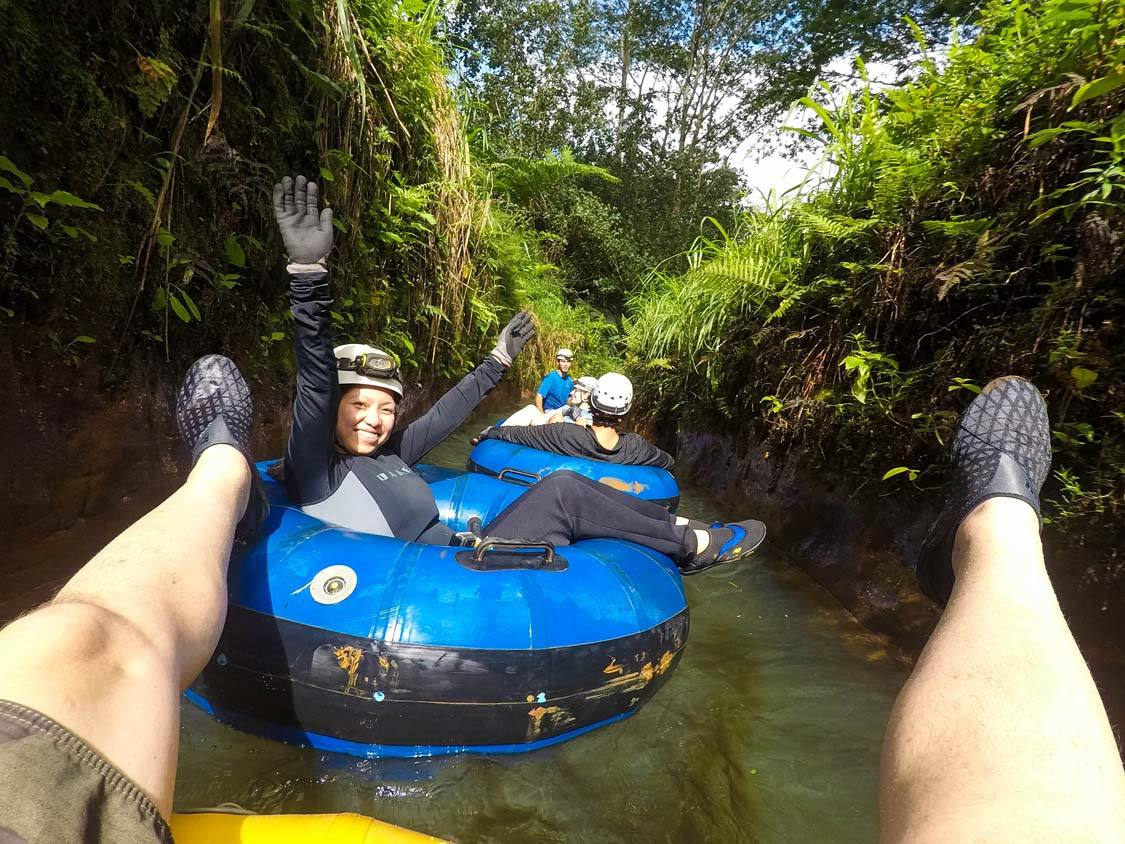 What Is It Like Mountain Tubing In Kauai?
From the Kauai Backcountry Adventures office in Lihue, we boarded an open-air truck. Once our entire tour group was on board, we began a short drive down the Kuhio Highway. Then we turned off and entered through a gate. This is where we learned that the property that we would be on was actually owned by America Online (AOL) founder Steve Case. The mountain tubing takes place on an old sugar cane plantation on his 18,000-acre estate.
The ride up to the Kauai tubing tour is truly magnificent. The ride to the tubing experience offers a view of a side of Kauai that is often hidden from view. We drove deep through farm fields, stopping often to wait for the cows to clear the roadway. But we eventually arrived at one of the greatest viewpoints on the island. We even passed shooting locations for some super famous movies like the epic Apocolypse Now napalm opening. We also saw the place where the opening sequence to the hilarious Tropic Thunder.
Waialeale Crater Overlook
The Waialeale Crater is a breathtaking overlook about 3/4 of the way to the Kauai tubing experience. We stopped for about 10 minutes here. Just long enough to snap some photos and learn about this important Hawaiian mountain. Mount Waialeale is a 5,148 ft (1,569 m) mountain in the center of Kauai. The summit of Mount Waialeale is considered one of the rainiest locations on the planet. It sees an average rainfall of more than 373 inches (9,500 mm) every year.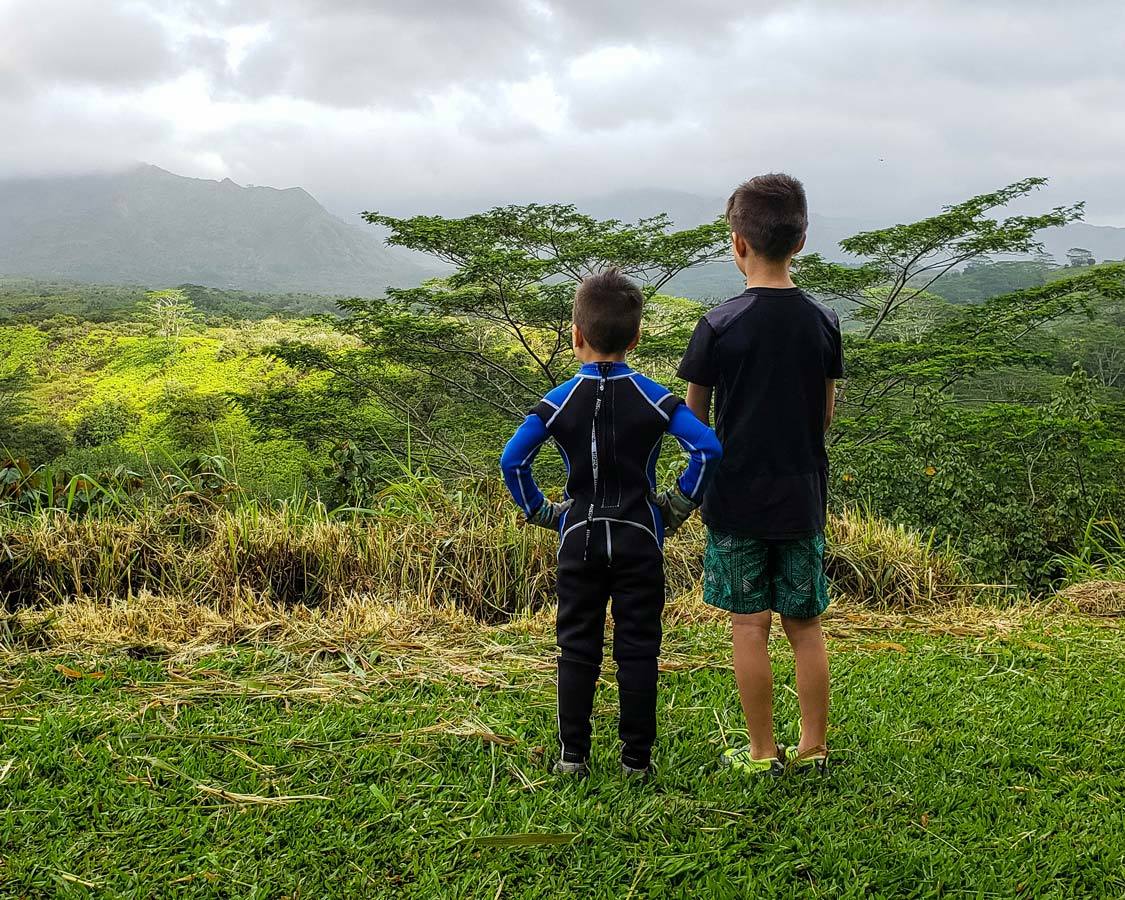 Kauai Mountain Tubing
We piled back in the truck and made our way to the launch point for our mountain tubing in Kauai experience. When we deboarded we were able to leave any gear that we didn't want to get wet in bins that would be brought to us at the finishing point. The guides gave a brief safety presentation. This explained some of the dangers along the way. These included a lot of spinning, bumping into each other, and the risk of bumping our heads in the tunnels.
Getting Wet
From there we went to the area where the stream that runs through the plantation sectioned off into the irrigation canals that once supplied the sugar cane farm with water. Our boys, C and D, hopped into their tubes first and Christina and I followed. D, our 5-year-old got swept up to the front of the pack and it took me half the tour to finally catch back up with him. Not that he complained, he spent his time making friends with every single tuber along the way.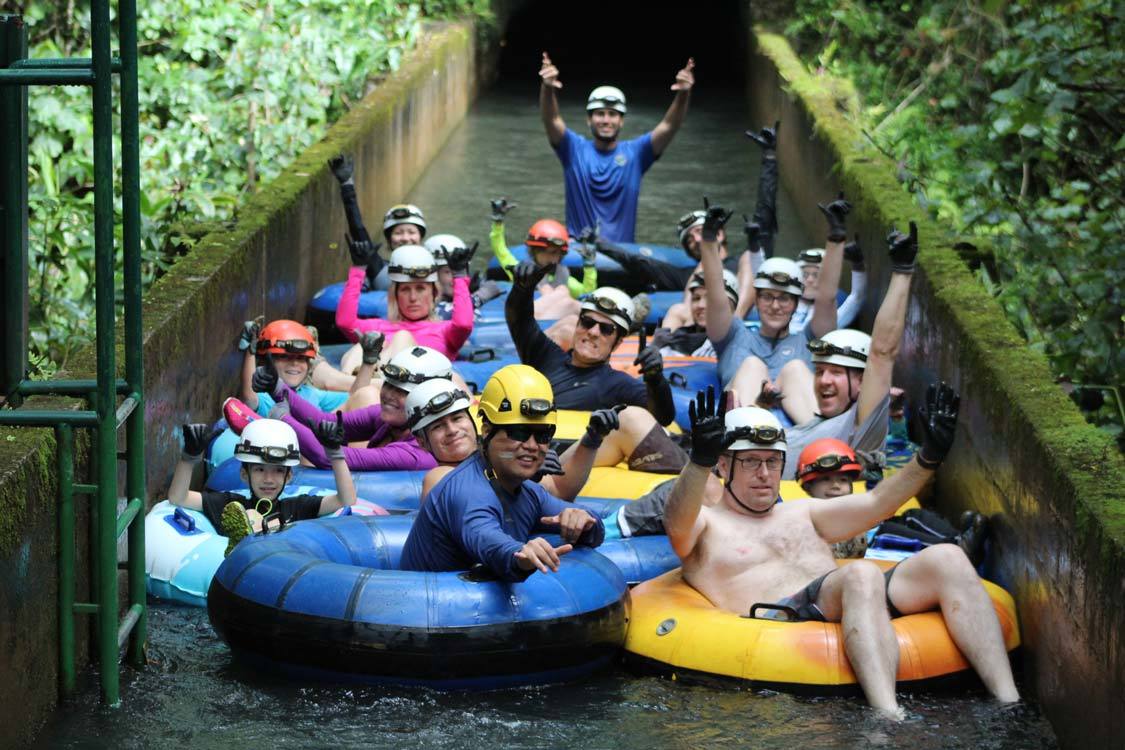 The mountain tubing Kauai experience started out calm. The landscape surrounding us was beautiful. It ranged from fields to forests, to towering lush green walls. And of course, there were the tunnels. There are three hand-dug tunnels along the Kauai tubing route. One of the tunnels clocks in at just over a mile in length.
The experience was a complete blast. Everyone was having fun, enjoying the warm sunshine contrasting with the chilly waters. D, who was wearing a wetsuit was super comfortable. C opted not to wear his wetsuit and was pretty chilly. If you get cold easily, it may be worth considering bringing one with you. There are wetsuits for rent at the Kauai backcountry adventure office.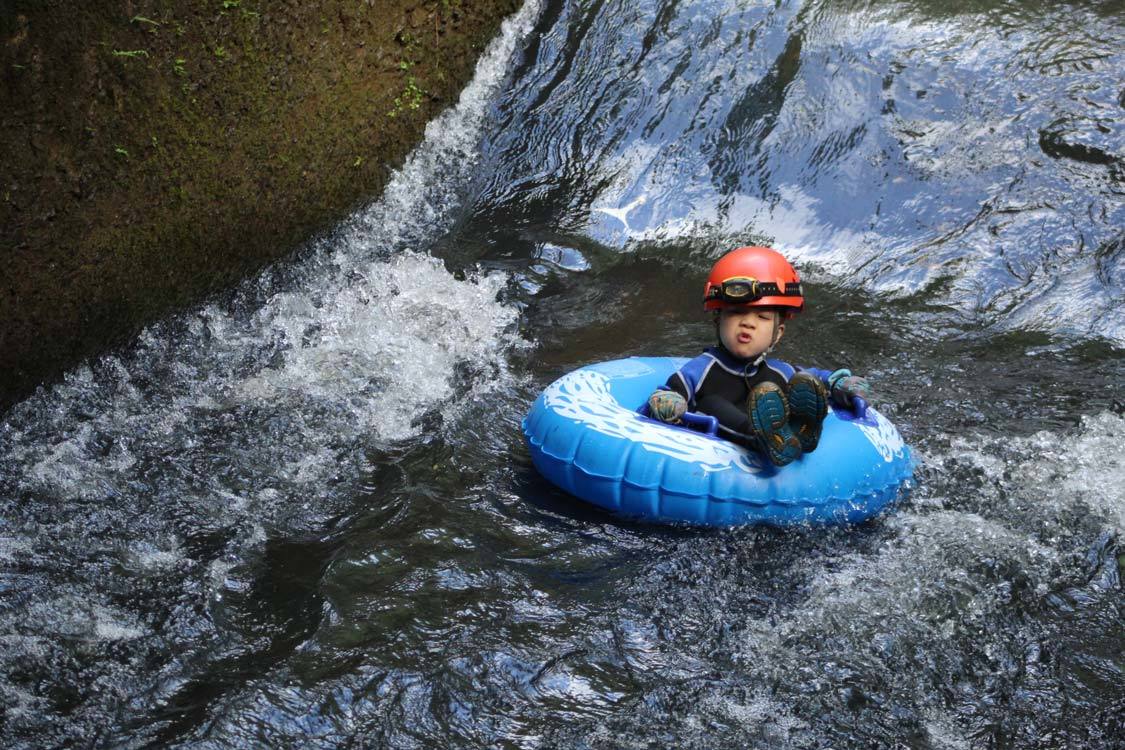 I will say that there is A LOT of spinning involved. If you are prone to motion sickness, you may want to consider taking a dose of Dramamine or Gravol before you go. The tubes bump against each other along the narrow route. You'll also be bouncing off of the walls along the way, especially in the tunnels. Each bounce seemed to send me in a new direction.
The time in the water takes about an hour. This includes a stop in the longest of the tunnels. Here we learned about the incredible amount of work that went into carving these irrigation canals. At the end of the route, there's a short time to warm up and dry off.
We loaded back up into the truck and headed further into the property for lunch at a picturesque spot. We were greeted by a slow-moving stream with small waterfalls cascading into it. It was the perfect spot for a swim. The cool, refreshing water cut out the afternoon heat nicely and helped work up our appetite for the delicious sandwich bar that was provided.
There are bathroom facilities at the lunch location. There are no bathrooms available during the Kauai tubing experience, so they were a very welcome site. We relaxed here for about 45 minutes before it was time to make our way back to the Kauai Backcountry Adventures office in Lihue.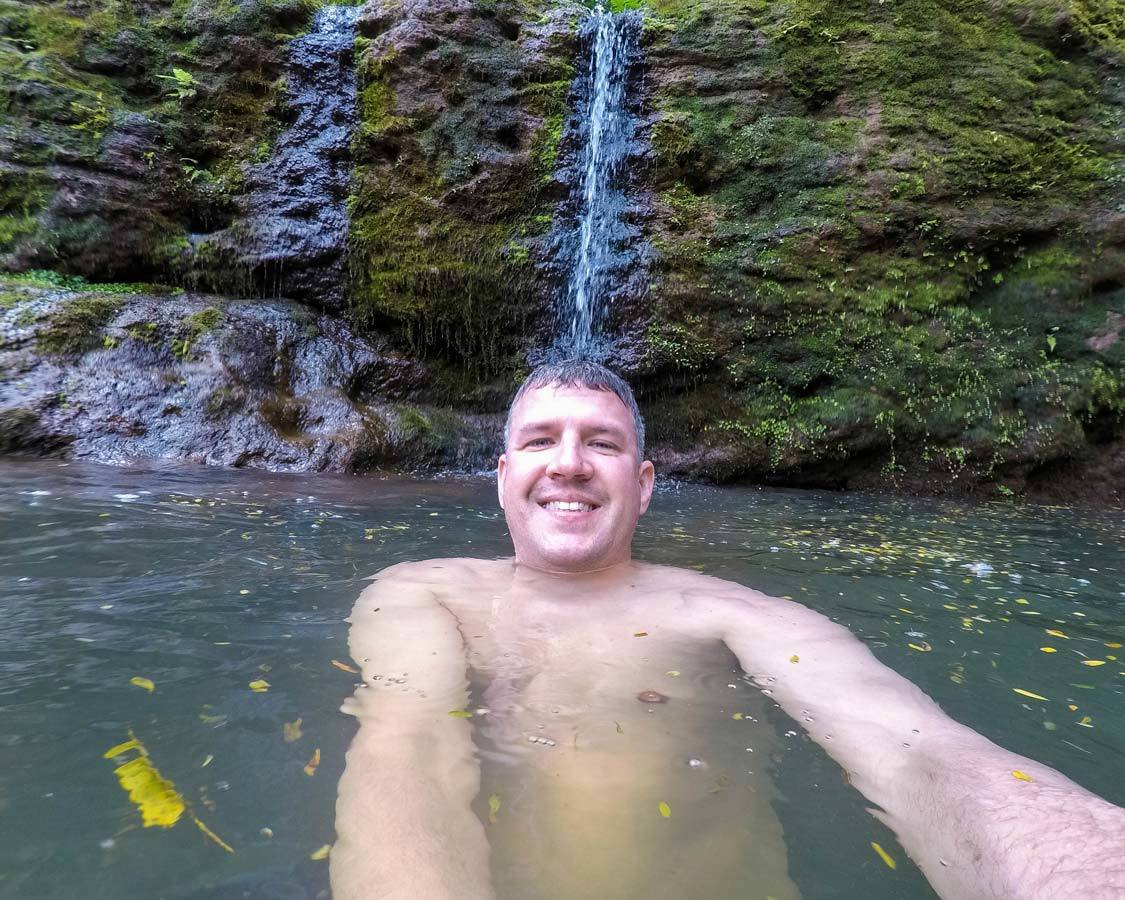 Should You Go Mountain Tubing In Kauai With Kids?
If you're traveling in Kauai with kids, we highly recommend the mountain tubing adventure. It's fun, exciting, safe, and made for one of the highlights of our Kauai family vacation. The tubing experience only takes up a few hours of the day. This means that you can have this great adventure and still have time for plenty of other things to do in Kauai, whether you are looking at heading to the beach, or catching one of the legendary Kauai sunsets.
Kauai mountain tubing is adventurous without being strenuous. None of those on the tour had anything but smiles on their faces at the end. As I mentioned, Christina and I had done a much different cave tubing experience in Belize. Our next one to experience will be the Waitomo cave tubing experience in New Zealand. You can check out that one here.
Our Kauai Tubing Video
If you loved reading about our Kauai tubing adventure and feel inspired to check out more, you can see our Kauai tubing video below. Don't forget to like and subscribe so that we can keep bringing you fun travel stories.
Have you ever done the Kauai mountain tubing experience? Drop a comment to tell us about your experience. Or, swing by our Facebook page and share a photo of your experience. We would love to share in your adventures.
Disclosure: This post was made possible with the support of Kauai Backcountry Adventures. All opinions are our own. Wandering Wagars is a participant in the Amazon Services LLC Associates Program, an affiliate advertising program designed to provide a means for sites to earn advertising fees by advertising and linking to amazon.com, amazon.co.uk, amazon.ca. Amazon and the Amazon logo are trademarks of Amazon.com, Inc. or its affiliates.
You May Also Like To Read:
Pin This For Later: