Exploring Waimea Canyon State Park is a must for any visit to Kauai. Dubbed the Grand Canyon of the Pacific, the Kauai Canyon truly stands up to its name.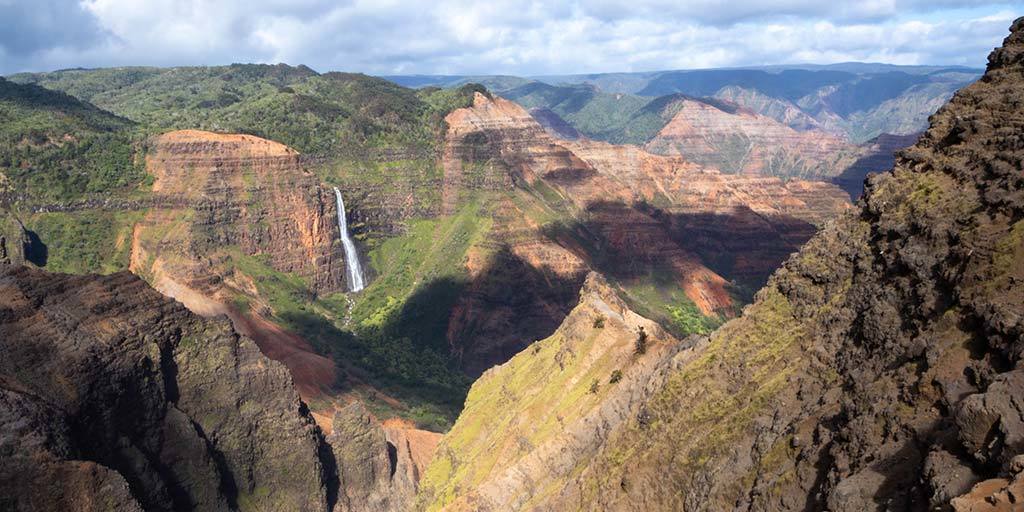 During our family travel adventures, we have come across a number of places that have been dubbed the Grand Canyon of … whatever. Until we came across the Kauai Grand Canyon or the Grand Canyon of the Pacific, few of them have held a candle to that title.
Waimea Canyon State Park is a dramatic scar 10 miles long, one mile deep, and 3,500 ft deep in western Kauai. Along the Waimea Canyon drive are epic views that will take the breath of even the most seasoned traveler.
At 23 miles (37 km) this Kauai road trip is not even close in length to the famous Hana Highway on Maui. But view for view, the Waimea Canyon drive stacks up against it's younger brother very well. Even exploring Waimea Canyon with kids is a treat.
The ample places to stop and explore, and the beautiful views, all combined with legendary Hawaii weather, make this one of the best Kauai day trips. And it's not just the canyon views either. Waimea Canyon had surprises in store for us along the way that we were totally not expecting.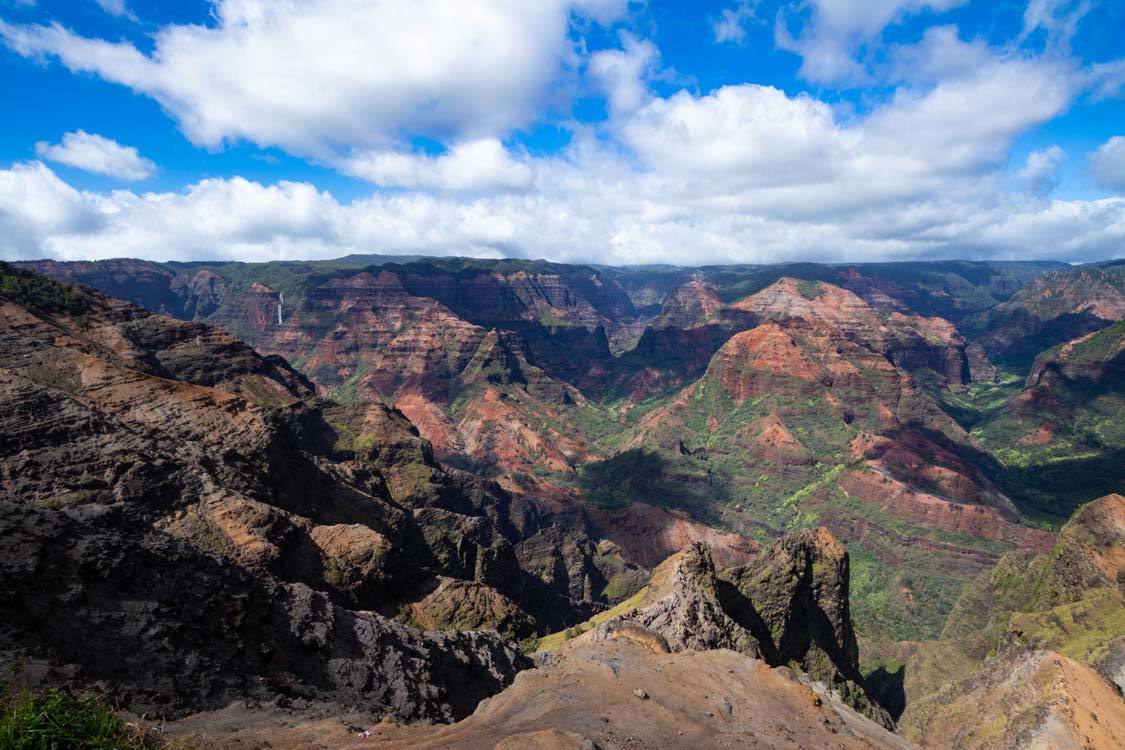 What is Waimea Canyon State Park?
Waimea Canyon has been carved over millions of years by the river and floods pouring down from the summit of Mount Waialeale, and it is considered one of the wettest places on earth. At the center of the Kauai canyon is the Waimea River.
Waimea stands for "red waters." It's not hard to understand how it got its name once you see the amber tones of the surrounding canyon walls. And it's these views that make it one the best things to do in Kauai.
In Waimea Canyon State Park, you can experience much of the variety of landscapes, flora, and fauna that Kauai has to offer. There are many native birds that call this Kauai canyon home. You might even catch a glimpse of the Nene goose, the state bird of Hawaii.
We saw these elusive birds at the bottom of HWY 552 on our way out of the park. The Waimea Canyon drive takes visitors along HWY 550 through Waimea Canyon State Park and up to Kokee State Park, culminating in epic views of the Na Pali coast from the Puu O Kila lookout.
Tips For Your Waimea Canyon Drive
Get an early start. It's easy for time to pass quickly with all of the beautiful views.
If you are short on time, head straight to Kalalua viewpoint and make your way down from there.
There is no entrance fee to Waimea Canyon State Park. The park is open year-round.
There are no gas stations along the Waimea Canyon drive. Make sure you fill up in Waimea town before you head out.
There are two driving routes into Waimea Canyon. Hwy 550 enters from Waimea town, and HWY 552 enters from Kekahu. I recommend taking one route in and a different route out.
There are restrooms available at the Waimea Canyon Lookout and the Pu'u O Kila.
Certain Waimea Canyon hikes require permits. Check with the ranger station for maps and permits.
If the Kalalau viewpoint is cloudy when you arrive, just wait. The clouds pass quickly here, and you won't want to miss the view.
If you hear what sounds like babies crying from within the Kauai grand canyon, don't fret. That is the sound of the wild goats that live in the canyon.
Make sure you're prepared for the weather with the right clothes. Things can get windy or rainy, especially up near the Na Pali coast. Prepare for your trip with our Hawaii packing list.
Consider staying west of the Na Pali Coast if you want to get a full-day of hiking and exploring Waimea State Park. You can find our full list of the best places to stay on Kauai here.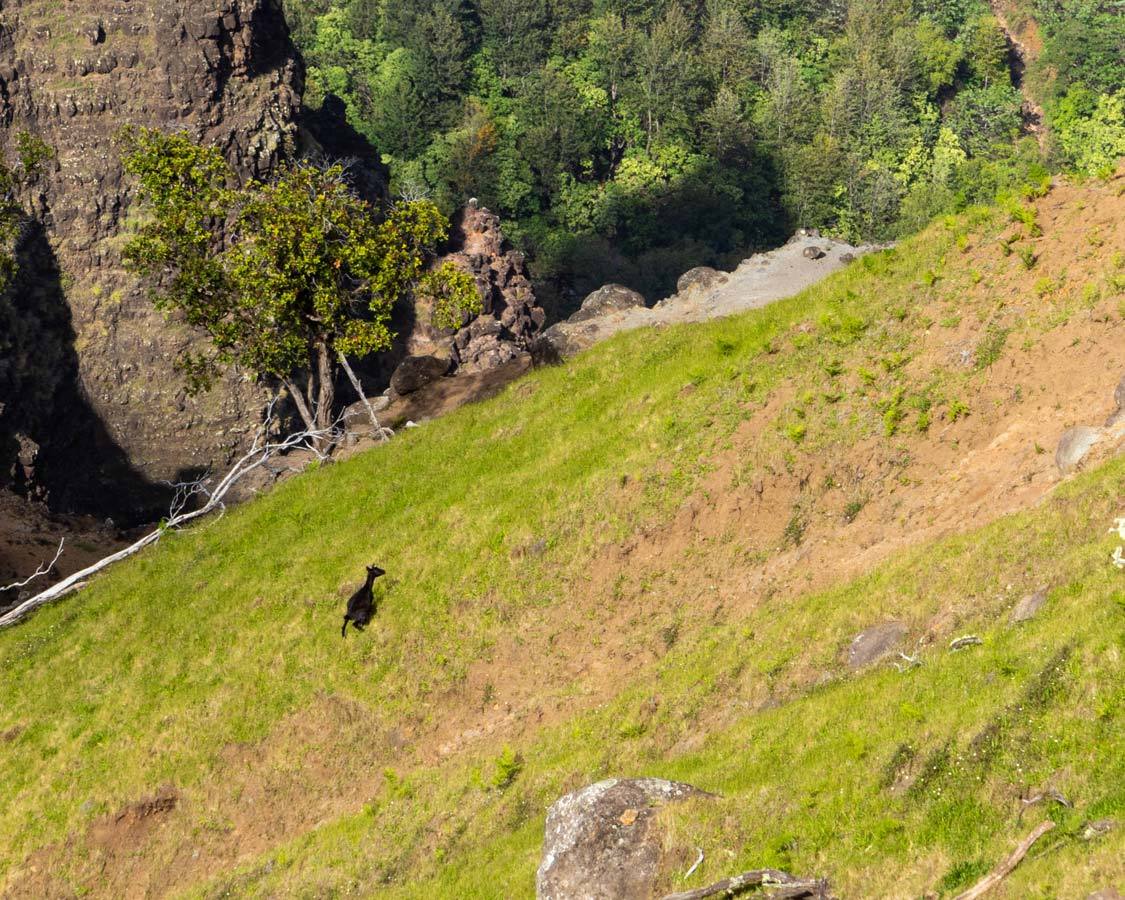 Our Video Of Waimea Canyon and the Na Pali Coast
Keep reading for all of our best tips for the Waimea Canyon Drive. But to really appreciate just how gorgeous Waimea Canyon and the Na Pali Coast are, check out our video on YouTube.
Please help support our channel by liking the video and subscribing for more great family travel videos.
The Best Stops For A Waimea Canyon Drive
Driving through Waimea Canyon State Park is beautiful. It is very easy to get carried away and stop at every turn and pull off along the Kauai canyon drive. Unfortunately, unless you have a day or two to experience the best stops in Waimea Canyon, you'll need to skip a few, even if it hurts a little inside. So to help you out, here is my list of must-see stops on a Waimea Canyon drive.
You should set aside at least 5-7 hours for your Waimea Canyon drive. If you plan on hiking Waimea Canyon, you'll need much more than that.
Red Dirt Waterfall – Mile Marker 4.5
There is no shortage of waterfalls in Kauai. But few of the Kauai waterfalls stand out quite as much as the red dirt waterfall along HWY 55o in Waimea Canyon State Park. The burnt amber color of the surrounding landscape is a stunning contrast to the rainbow of colors through much of the canyon. While the red dirt waterfall isn't big, what it lacks in size, it makes up for in character.
The Kauai canyon red dirt waterfall is located on the left side of the road. There is a small parking area on the right side. To access it, you'll need to hop a small roadside barrier. The red dirt waterfall in Waimea Canyon is a wonderful place to step out and stretch your legs. You can hike along the narrow stream that feeds the falls.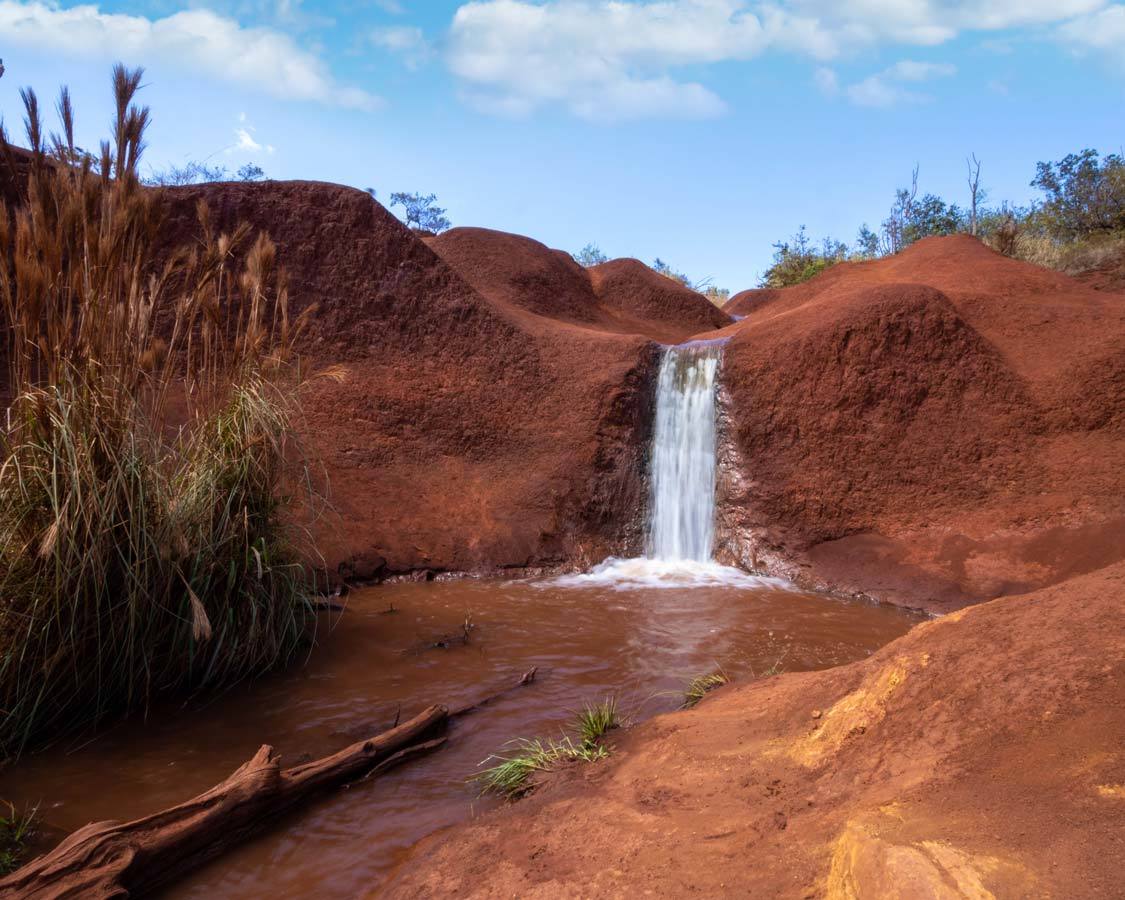 Waimea Canyon Lookout – Mile Marker 10
The official Waimea Canyon lookout is at the mouth of the Waimea Canyon hiking trail. This well- placed Waimea Canyon overlook gives one of the best angles to take in the expanse of the canyon. There is a large parking area and restrooms available. You can often purchase fresh or dried fruit from a stand here as well.
Because of the amenities and access to Waimea Canyon hikes, the Puu Hinahina lookout can get busy. It was definitely the busiest of the lookouts when we arrived. However, it has a large two-level viewing platform to make up for that. The top platform is wheelchair accessible as well.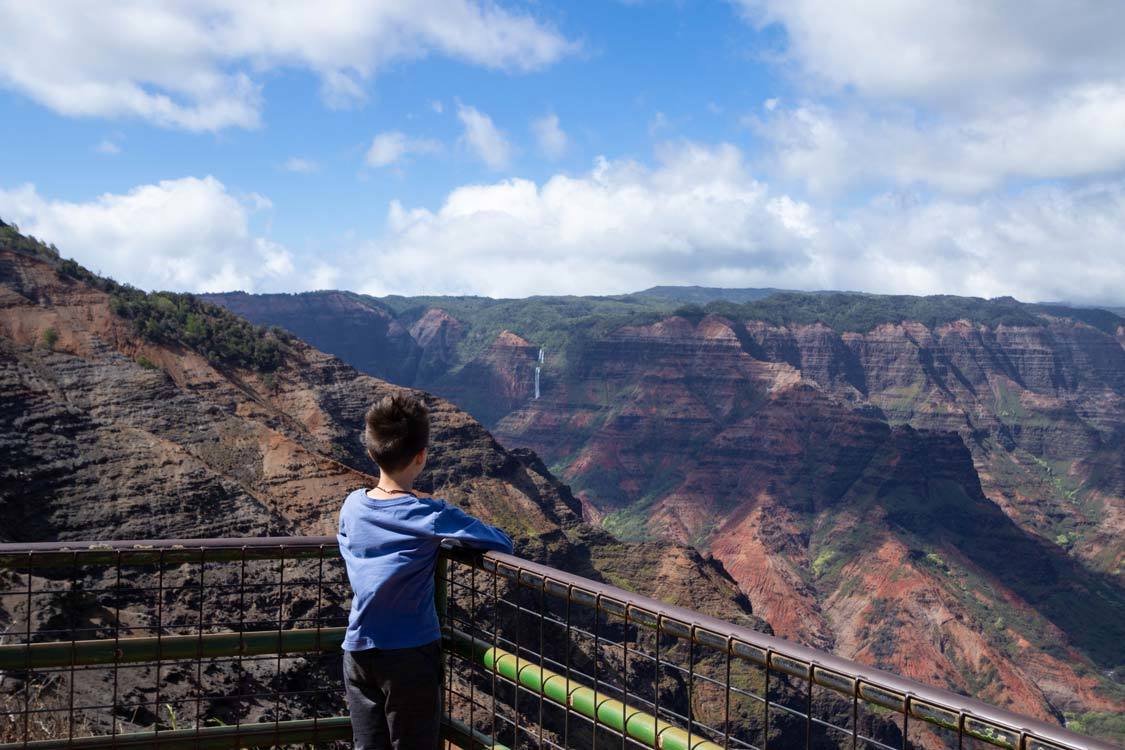 Puu Ka Pele Lookout – Mile Marker 13
The Puu Ka Pele lookout is often overlooked by those heading to nearby Puu Hinahina lookout. However, this small viewpoint at mile marker 13 offers the closest view of the dramatic Waipo'o Falls. If you are looking for a great photo of the falls, this is probably the place to get it. Watch your step, though. There are no barriers, and the drop is quite steep.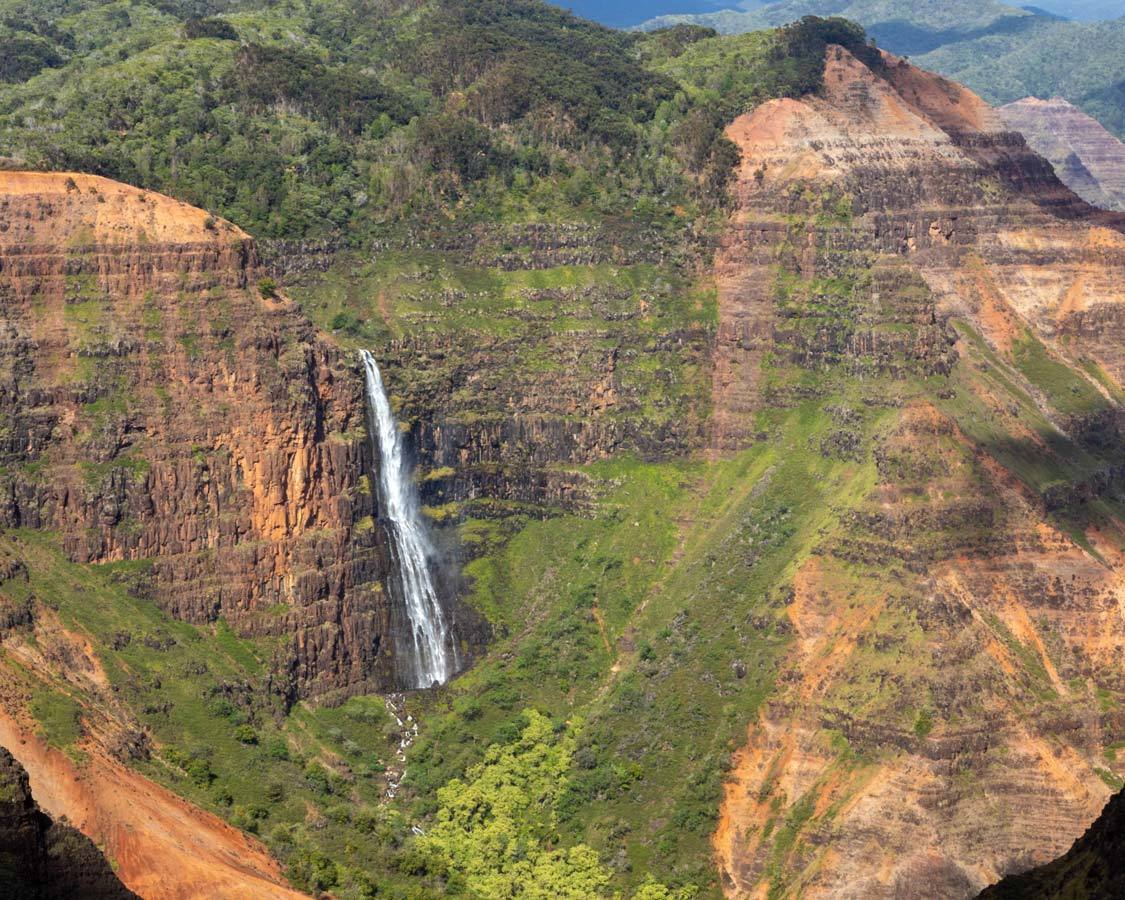 Puu Hinahina Lookout – Mile Marker 13.5
Although the Puu Hinahina lookout is just a short distance from the Puu Ka Pele lookout, it offers a far different view of Waimea Canyon. Here there is a bend in the canyon that offers a very cool look at the shape of the valley below. There is a small platform from which you can see straight out to the Pacific Ocean. In fact, on a clear day, you might even be able to see the forbidden island of Niihau.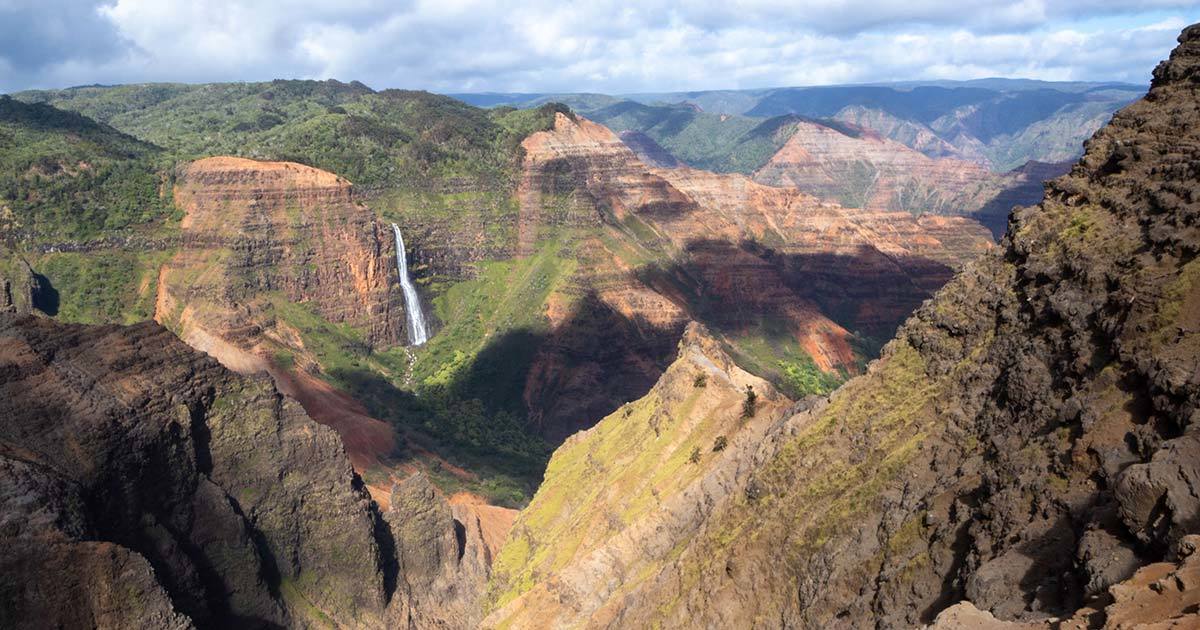 Puu O Kila Lookout Over Kalalau Valley – Off Mile Marker 23
The long Waimea Canyon drive culminates in one of the best viewpoints in Kauai. Puu O Kila lookout sits at mile marker 23, and if you get there when clouds don't cover it, you'll be treated to something spectacular. Even our boys had to stop and catch their breath as they watched the clouds snake over the mountain top.
If you look closely, you'll see towering waterfalls cascading down the side of Waialeale. The Alakai swamp (which is the highest swamp in the world) coats everything in a thick sea of rich green. The clouds above cast dark shadows that cause the valley below to appear to change shape nearly constantly.
The Puu O Kila lookout also has the Pihea trail that offers a beautiful ridge hike with incredible views. On this hike, you'll really get an appreciation of the shape of the valley.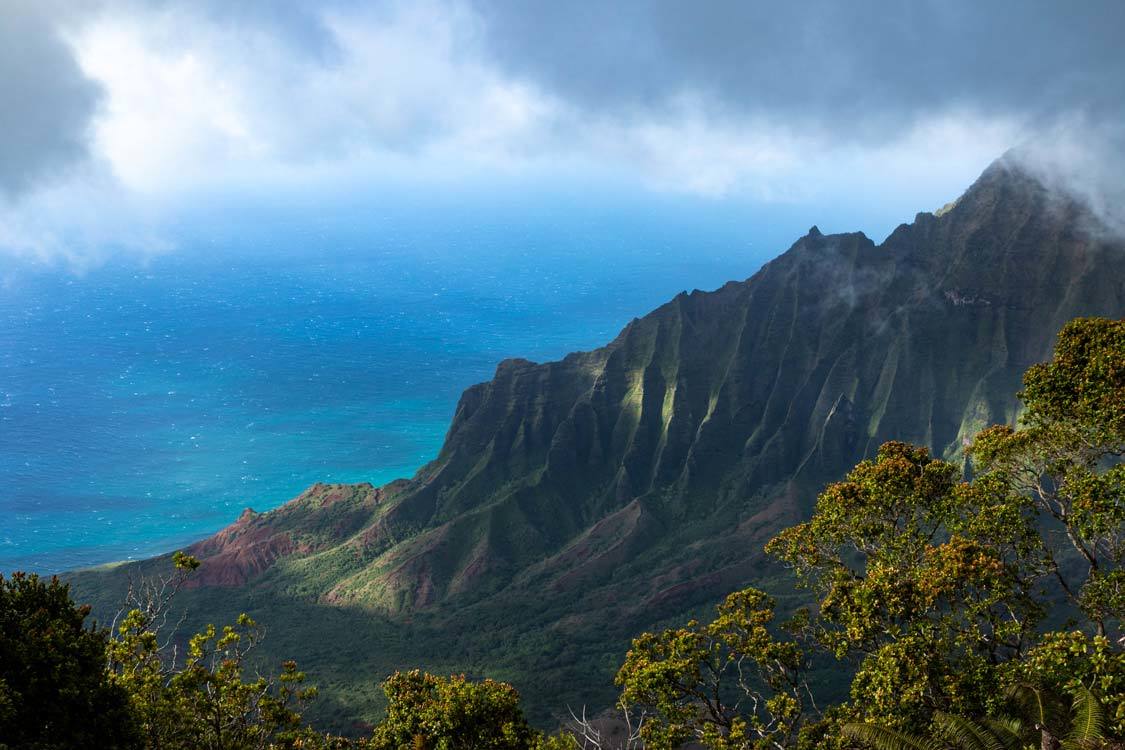 Waimea Canyon Hiking
We were staying about an hour from Waimea canyon in the town of Kapa'a in eastern Kauai. If you plan on doing a lot of hiking in Waimea Canyon, you may want to consider staying a little closer in the town of Waimea, Hanapepe, or Kekeha.
This will allow you to maximize your time on the Waimea Canyon trails and save a LOT of driving back and forth. You can pick up a map of the Kauai canyon hikes at the Ranger's Station for a donation. This is a good idea as some of the trails may not be clearly marked.
Dressing for Waimea Canyon Hikes
If your plan is to hike the Kauai canyon, make sure you dress appropriately. You have the potential to see a lot of different weather here, and it's best to be prepared. Hikes along the canyon can be windy. Although these storms are usually brief, you may also come under heavy rain.
I recommend you bring a water-resistant windbreaker to help you stay comfortable. Temperatures normally stay pretty warm, so you don't need anything heavy.
You'll also want good-quality hiking boots. Things can get rough and muddy on any Waimea Canyon hike. And there are many steep drops offs, so having a good grip on your shoe is highly recommended. You'll also want pants that can withstand a stain. With the beautiful red coloring that makes Waimea Canyon State Park stand out comes a lot of clothing stains.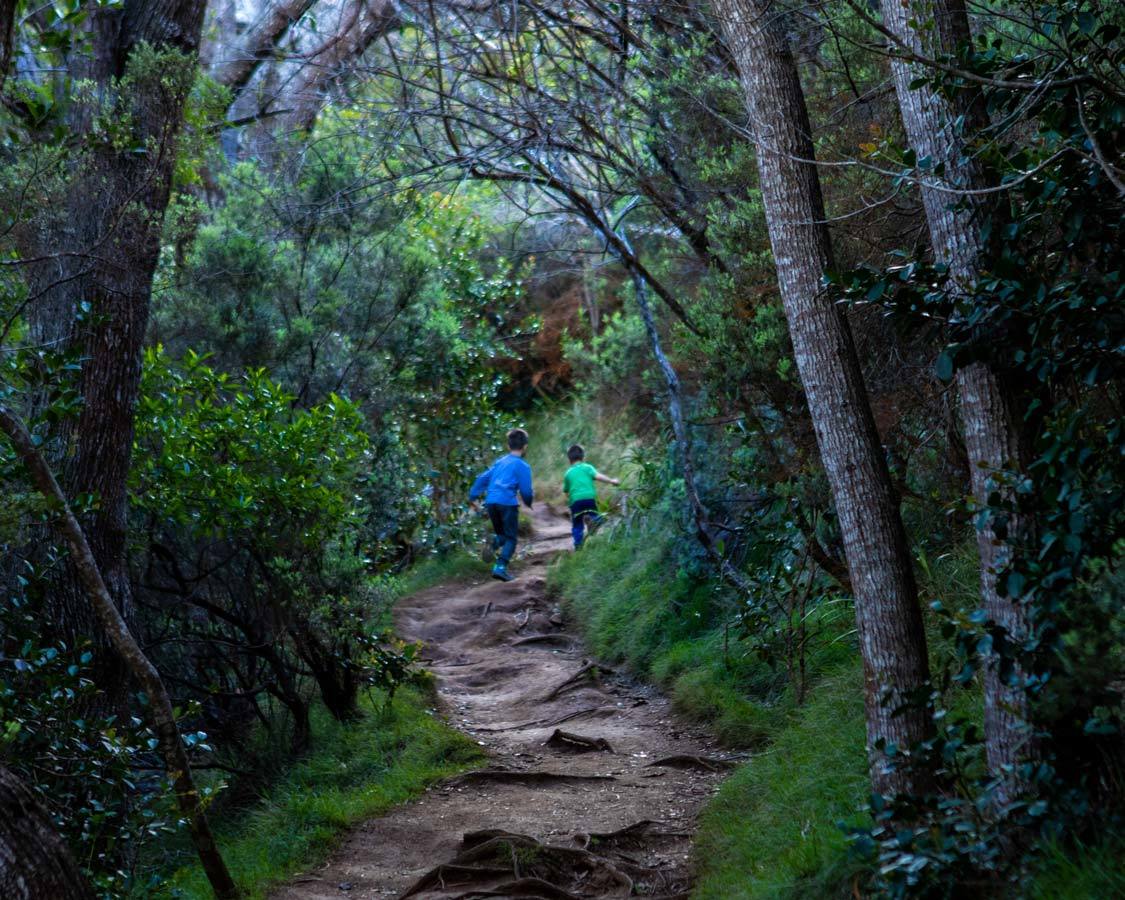 Hiking in Waimea Canyon
There are a number of amazing Waimea Canyon hikes, including Kalau Valley, Lower Waipo'o Falls, and the Canyon Trail. Many of the trails are very natural and see only a handful of visitors each day.
Most people who visit Waimea Canyon State Park tend to stay on the road and upper trails. Some of the hikes can have very steep drop-offs. Others can involve clamoring over large boulders along the way.
For families, the Cliff Trail is an easy Waimea hiking trail. There is parking available near the trailhead, and the views along the way are spectacular.
The Canyon Trail and the Black Pipe Trail are worth the visit for something a little more ambitious. The Canyon Trail is a 3.4-mile roundtrip that takes your right to Waipo'o Falls. The Black Pipe Trail feeds the Canyon Trail. at .8 miles, it's not long. However, it takes you through a Koa forest for a very different view of life in Waimea Canyon.
If you're really looking for a challenge, you may want to try the Kukui Trail. This 5-mile trail takes you from the top of the cliffs down to the canyon floor. But make sure you save your energy. The real workout is on the 2-mile trek back to the top.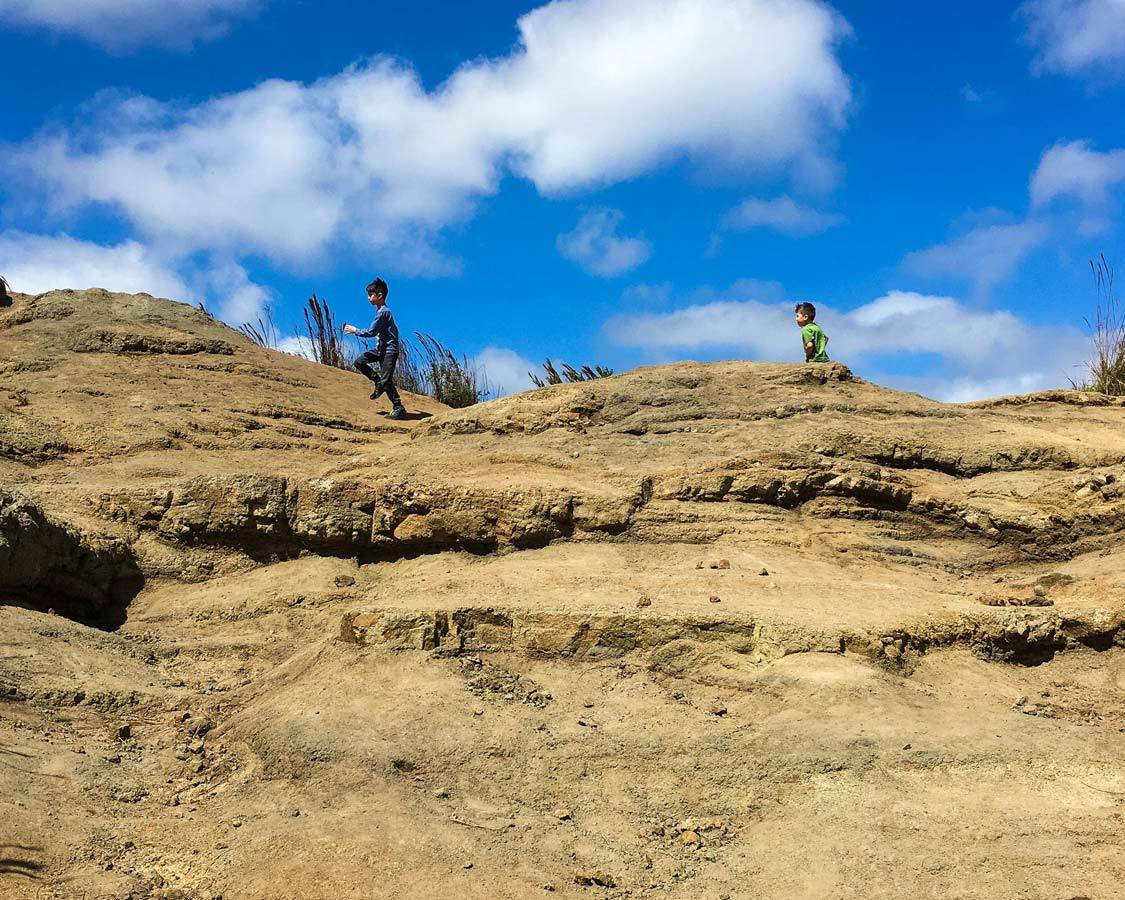 The Grand Canyon Of The Pacific – Busting A Popular Myth
Contrary to popular belief, the name the "Grand Canyon of the Pacific" wasn't bestowed by the famed American writer Mark Twain. To Twain's credit, he's a far too creative wordsmith to give it such an overused name. In fact, even the Grand Canyon didn't receive its official name until 1908, two years before Twain died.
Furthermore, Mark Twain never visited the island of Kauai. He did travel to Hawaii in 1866, the year before the actual Grand Canyon received its moniker by explorer John Wesley Powell, but he visited Maui, Oahu, and the Big Island. You can read more about that story here.
Have you ever explored Waimea Canyon with kids? Drop a comment to tell us about your experience. Or head over to our Facebook page and share a photo of your experience. We would love to hear about it!
Wandering Wagars is a participant in the Amazon Services LLC Associates Program, an affiliate advertising program designed to provide a means for sites to earn advertising fees by advertising and linking to amazon.com, amazon.co.uk, amazon.ca. Amazon and the Amazon logo are trademarks of Amazon.com, Inc. or its affiliates.
You May Also Like To Read:
Pin This Post For Later: