If you're looking for a unique twist to your Kauai vacation, make sure to check out the Lydgate Kauai Chocolate Tour. Here's everything you need to know.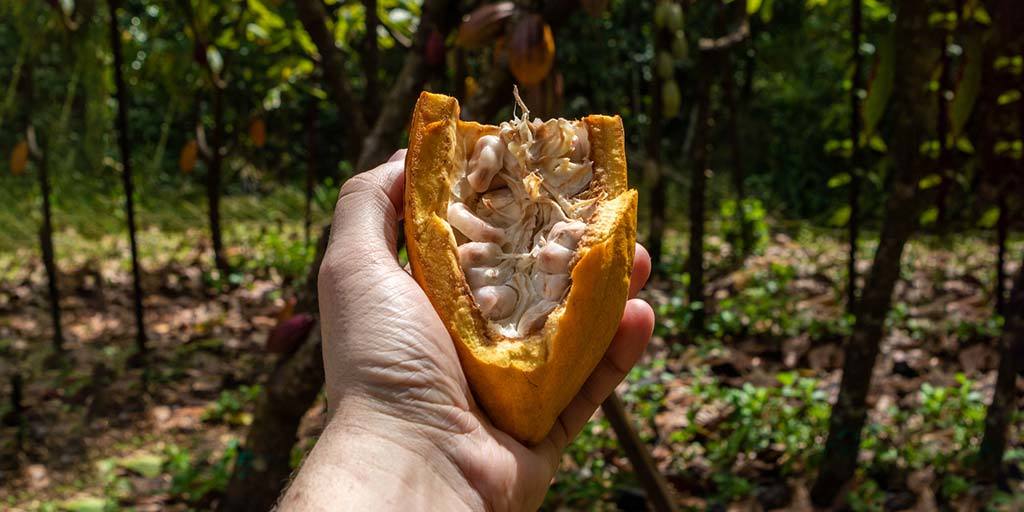 I love chocolate. If there is any way to work this miracle of happiness into my travels, I'll do it. When I was first told about the Kauai chocolate tour, I was shocked. I had no idea that anywhere in the United States could be a destination for chocolate connoisseurs. We had some amazing chocolate experiences in Cusco Peru where cocoa plantations are everywhere.
But it turns out that cocoa plants thrive in the Hawaiian tropics. There is no better place in the USA to get a proper taste of locally grown chocolate. Lydgate Farms in eastern Kauai is one of the only farms in Kauai with a focus on cocoa trees. And Hawaii is the only US state where cocoa trees grow.
The cocoa business in Hawaii is a tough one. So businesses such as Lydgate Farms have turned to agrotourism to bring their farm's full circle as part of the tourism industry. And it has paid off well. Hawaiian agrotourism has become an incredible way for farms to continue to produce the plethora of amazing products that it has become famous for.
Also, agrotourism has allowed historic farms such as Lydgate farms to continue to supply Kauai chocolate as well as a diverse supply of unique fruits to the island and beyond. So, it is not surprising that our Hawaii chocolate tour became one of our favorite things to do in Kauai with kids.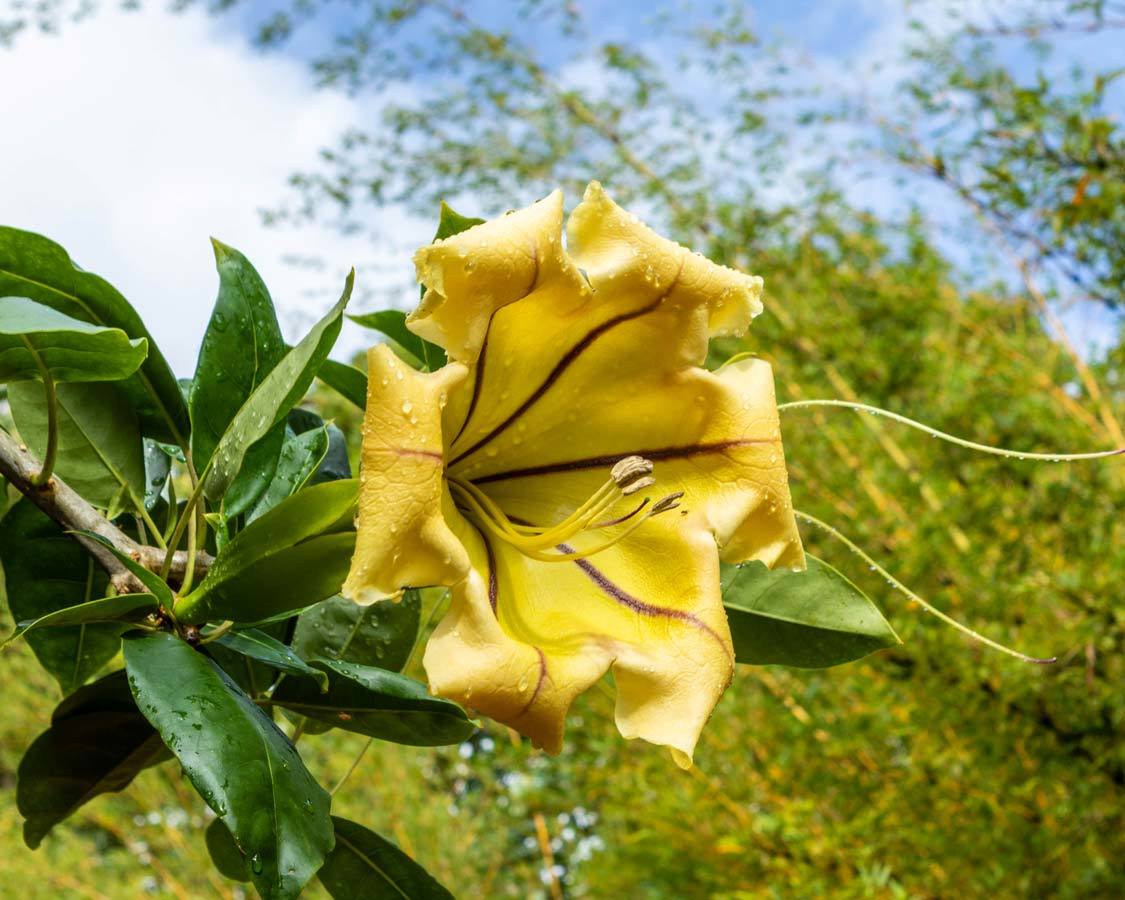 About Lydgate Farms Kauai Chocolate Tour
Lydgate Farms Kauai chocolate tour is hailed as the best chocolate farm tour Kauai has on offer. This beautiful property is run by Will Lydgate, a personable and passionate man with a deep love for the island and the food that it produces. The Lydgate family are a fifth-generation Kaua'i family.
The family farm sits on 46 acres near the town of Kapa'a. And a Kauai chocolate tour here is more than meets the eye. Not only were we treated to an unforgettable selection of local chocolate treats, but we also enjoyed freshly picked local fruits.
Lydgate Farms is located on an unpaved lane just a short drive off of Olohena Rd. There is ample free parking on site. The Lydgate chocolate farm's "branch to bar educational tour" costs $95 for adults. It is free for children under 12. The three-hour tour runs Monday to Friday and starts at 9 am.
Our Hawaiian Chocolate Tour In Kauai
Our Hawaiian chocolate tour began bright and early at 9 am on our second day in Kauai. We had spent the day before on a mountain tubing adventure in central Kauai. And after a day of action, we were excited to loosen our belts and spend a few hours tasting some Hawaiian chocolate and locally grown fruit on our Kauai chocolate tour.
From where we were based in Kapa'a, the Kauai chocolate farm was a quick 15-minute drive. We rolled up to the farm with lots of time to spare. At the entrance, we were guided to a dirt parking lot just past the meeting area. The sun was shining. The weather was beautiful. We just knew it was going to be a great day.
At the meeting point for the Hawaii chocolate tour, we met many of the other participants. It was great to see that there were a few families taking advantage of the great family pricing. There was even one boy celebrating his birthday that day. The famous Kauai chickens were in full force on the farm. A small bowl with freshly picked macadamia nuts was where they were all hanging out. D wasted far too many delicious nuts by cracking the shells and feeding the nuts to the birds.
Our guide, Kate, introduced herself and gave us a breakdown of how the tour would run. We were warned that things might get a little slippery on the rolling hills as we made our way through the farm. But we were told it was worth it. And she was right, we were in for a treat.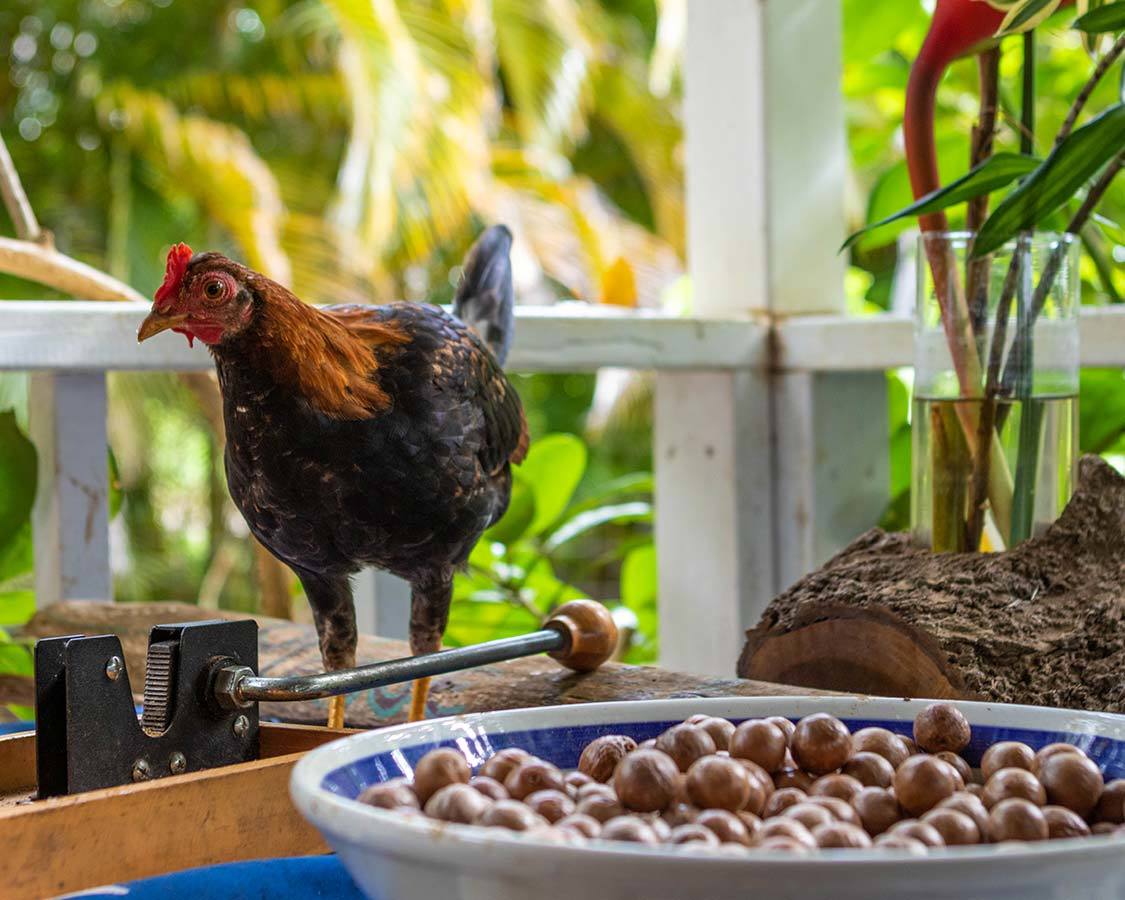 The Flowers Of Hawaii At Lydgate Farms
Our tour began with an exploration of the flora and fauna of the island. We were brought to a small grove of cocoa trees and shown what the ripe fruit looks like. The boys were fascinated to learn that cocoa beans not only grow from the branches but can also grow right out of the trunk of the tree.
As we made our way down a hill, people were slipping and sliding on the wet ground. There is a handrail the right side, however, I found that walking along the grass on the left side of the path made for an easier route. Along the way, we saw impressive black bamboo, gorgeous flowers, and learned about many of the beautiful plants both native and introduced to Hawaii.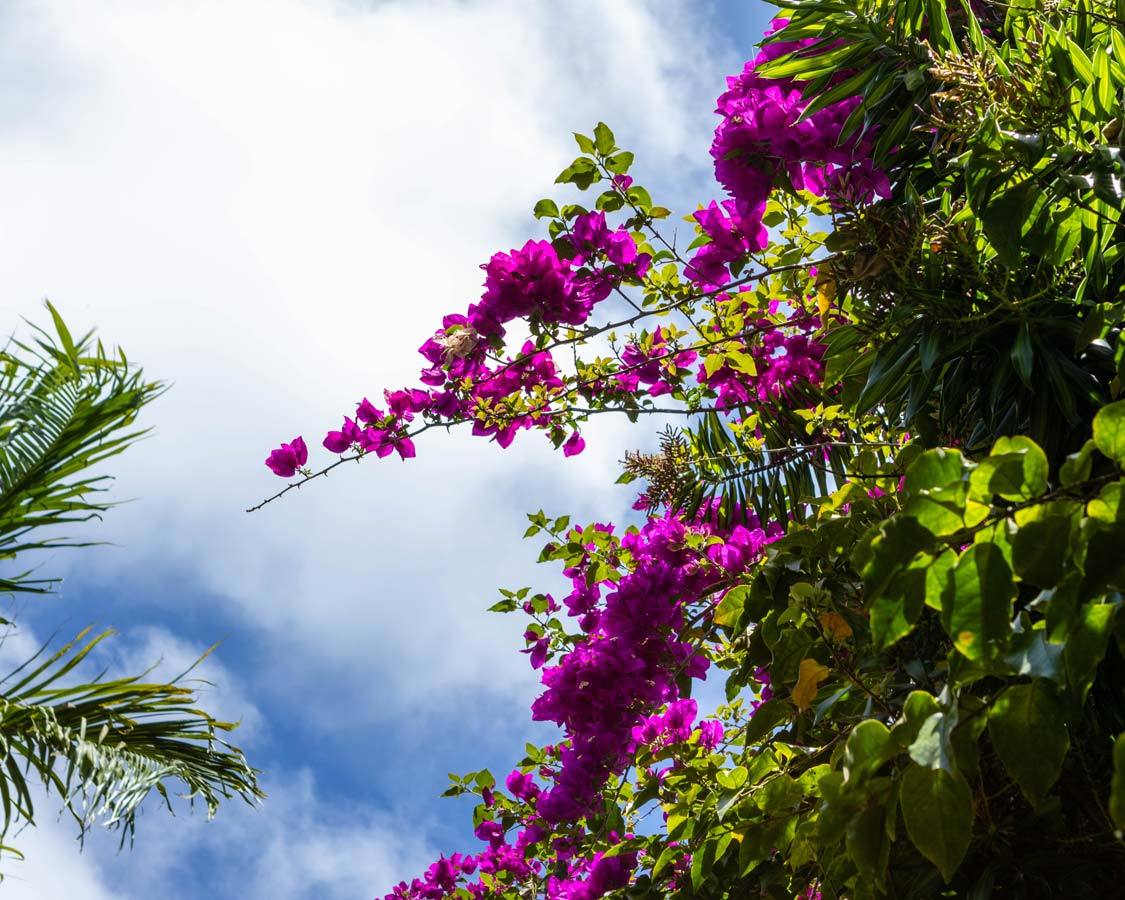 The Fruit Of The Chocolate Tour In Kauai
When we reached the bottom of the hill Kate ushered us into a picture-perfect nook near a babbling creek. Between the cluck of the chickens, the trickle of the stream, and the music of the birds, everyone was at peace. Before Kate was a long table covered in containers of local fruits. We spent the next 45 minutes tasting everything from jackfruit to star apples.
What I loved is that not only were the details of all of these fruits shared. But we were also told which of the Kauai markets had each specific fruit for sale. Importantly, we were also told how much they are normally worth. That is super helpful when navigating markets in a new place. The boys absolutely ate up everything. Even the weird stuff. And if they ever got bored, the kids were able to wander down to the stream to chase frogs and turtles.
There was more than enough fruit for the 20 person group as well. No one went hungry, and the kids often went back for seconds once everyone in the group had their taste. The chickens also hung around waiting for morsels to drop.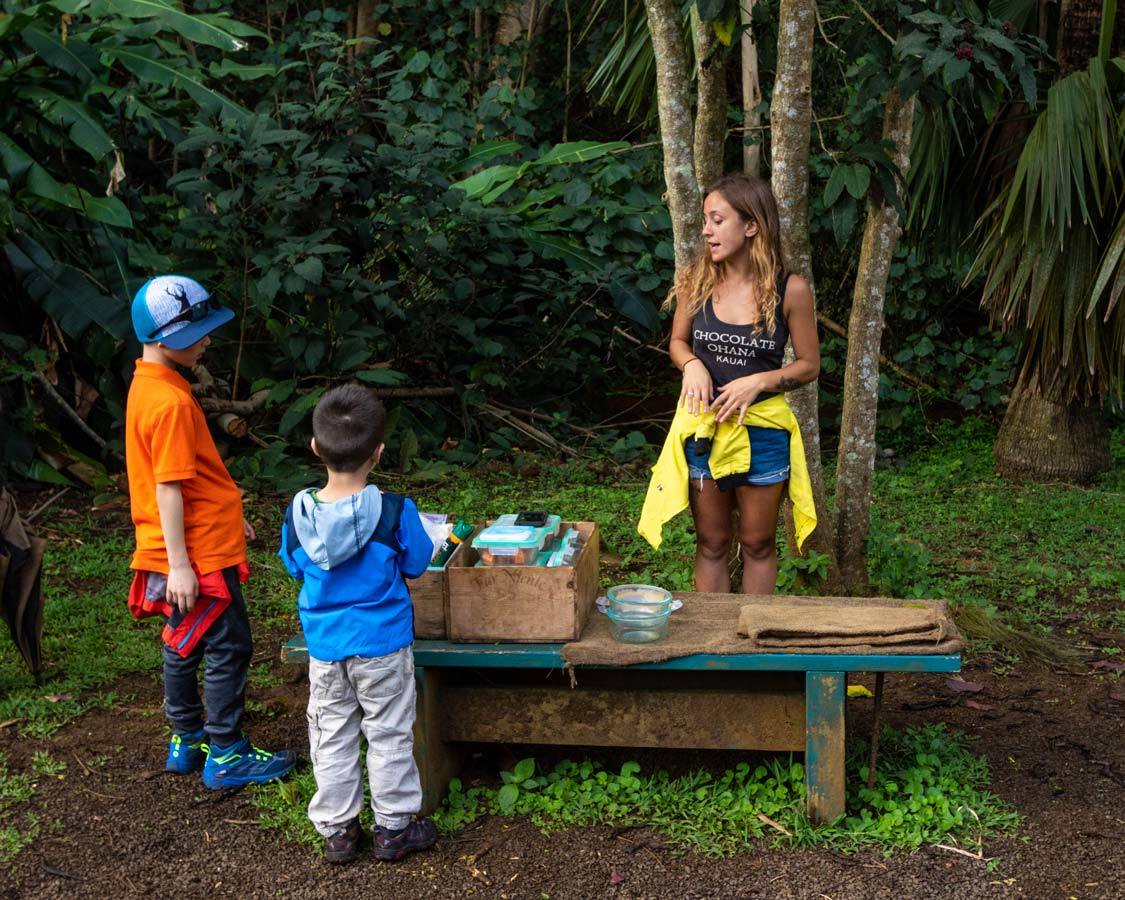 The Kauai Chocolate Tour Experience
Once our belly was full of delicious locally grown Hawaiian fruit we made the short walk to the Kauai cocoa plantation. Before our eyes were rows upon rows of chocolate trees booming with fruits of various ripeness. Kate walked us through some of the history of chocolate, much as we had heard while making chocolate in Cusco Peru. The boys stood with their mouths wide open. "After all this fruit, we MUST be getting to the chocolate!" C shouted.
The guide plucked one of the ripe fruit and cut it wide open revealing the cocoa beans and flesh inside. The fruit was passed around and we each took a bean from the fruit. The flesh was delicious. It was sweet and full. But D's face when he bit into the cocoa bean was priceless. First, he smelled the delicious insides. With the sweet smell, he was expecting all the joy of a milk chocolate bar. But instead, he was tasting the raw bitterness of unsweetened cocoa.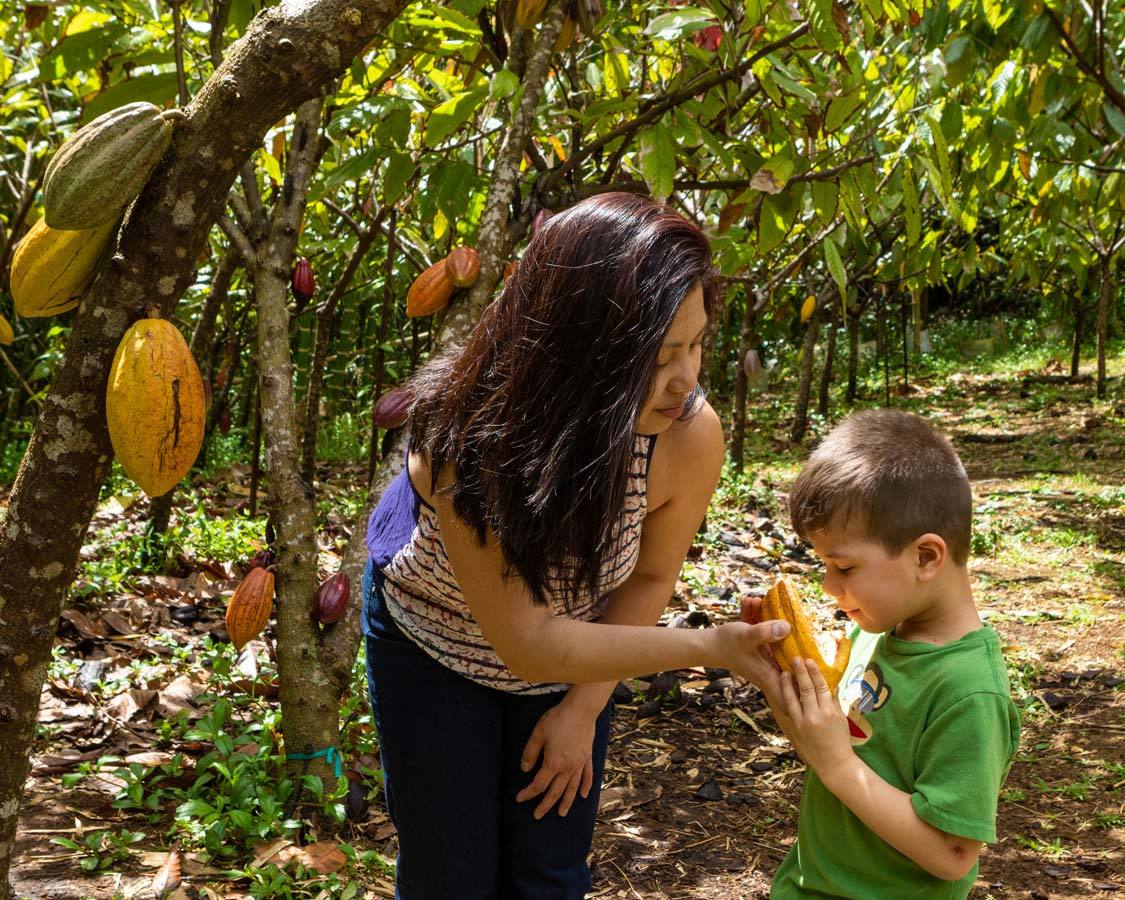 Tasting At The Chocolate Plantation
Once we had been introduced to the cocoa beans, it was time for us to get down to the Kauai chocolate tasting experience. We found seats under an open-air tent. We received pens and paper for our tasting notes, and for the next hour, we tasted various kinds of chocolate from the darkest dark to pure milk chocolate.
Between the tastings, we were told stories of how the chocolates came into being. C was absolutely riveted by all the talk. Part of his interest may be that he positioned himself in the last tasting spot. This brilliant spot allowed him to hang on to any of the untasted morsels and create his own chocolate feast.
D however, had reached the end of his attention span for the tour. This is where you could tell that Lydgate Farms was well-prepared as a family experience in Kauai. Off to the side of the chocolate tasting tent is a kids' tent. Here there are coloring books, lego, and other items to help keep children occupied who may have had enough of the Kauai chocolate tour experience.
It was small considerations like this that make me tout the Lydgate Farms experiences as a must-do for families in Kauai. You get all of the advantages of a top-notch food tour. And it's comfortable and fun for children as well.
Our Kauai Chocolate Farm Video
During our visit to Lydgate Farm I took the time to chat with company head Will Lydgate, a true pioneer in the Hawaiian chocolate scene. You can check out our video on YouTube below. Please take the time to like the video and subscribe to our channel to help support our content.
Tips For Your Chocolate Tour Kauai Experience
Our Chocolate tour in Kauai was educational, fun, and delicious. We walked away with a full belly and an amazing appreciation for the agrotourism boom in Hawaii. If you're thinking of experiencing this chocolate farm experience here are a few things to help you make the most of the experience.
Sunscreen – Don't forget to lather on the sunscreen before your chocolate tour in Kauai. Even though much of the tour is shady, we walked away with the tops of our ears pretty crispy. As with all of Hawaii, only reef-safe sunscreen is available for purchase. You can check out our guide to the top reef-safe sunscreen brands here.
Bug spray – The interior of Kauai can get buggy. Lydgate Farms does have bug spray available for visitors. However, it never hurts to bring your own just in case you get caught up and forget to apply it.
Breakfast – Have a light breakfast before you head on your Kauai chocolate tour. But don't arrive full. If you are planning to enjoy all the Hawaiian fruit, you'll want to have room.
Clothes and Shoes – Make sure you have the right shoes, clothes, and gear for your Kauai chocolate tour. You can check out our top recommendations in our Hawaii packing list here.
Have you ever taken a Hawaiian chocolate tour in Kauai? Tell us about it in the comments. Or swing by our Facebook page and share a photo of your trip. We would love to share in your travels.
Disclosure: This post was made possible with the support of Lydgate Farms. All opinions are our own. Wandering Wagars is a participant in the Amazon Services LLC Associates Program, an affiliate advertising program designed to provide a means for sites to earn advertising fees by advertising and linking to amazon.com, amazon.co.uk, amazon.ca. Amazon and the Amazon logo are trademarks of Amazon.com, Inc. or its affiliates.
You May Also Like To Read:
Pin This Post For Later: