Looking for the best Molokini snorkel tour for families? Check out the incredible Pacific Whale Molokini snorkeling experience for your Maui vacation.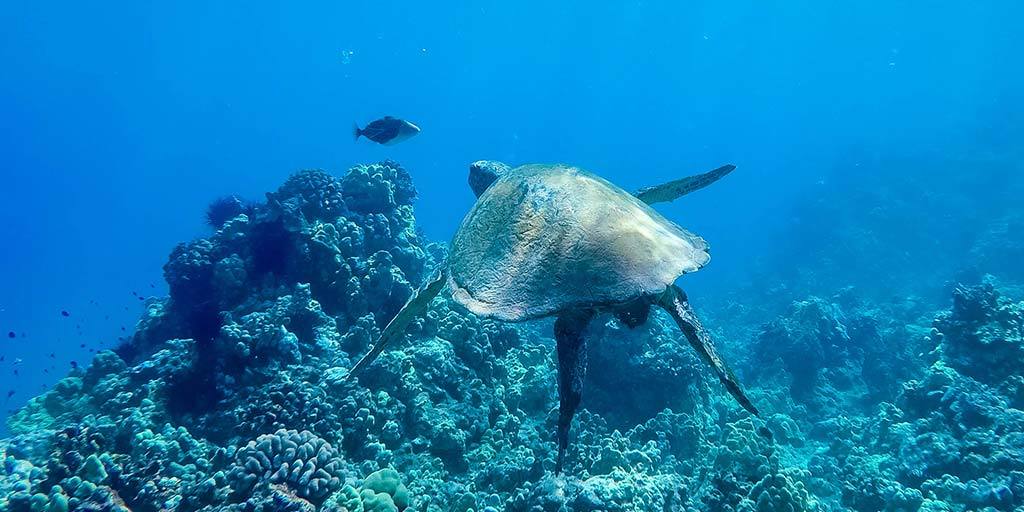 Snorkeling has been an increasing passion of ours since our family travel experiences began. So, when we read that the Molokini snorkeling tour from Maui was one of the best snorkeling experiences in Maui, we were so excited to give the Molokini snorkel tour a go. Even D, our 5-year-old was talking about getting into the water. And after his experiences during our family travels in the Philippines, this was a big step. He had become pretty scared of open water. But he told us that he was going to try it during our Maui Molokini Snorkel trip. And wait till you hear about the first thing he saw.
During our Maui travels, we saw that there are quite a few Molokini snorkel tour companies on offer. Most of them leaving from the Central Maui town of Maalaea on the south side of the island. This is due to the proximity to the Molokini Crater, which sits a little over halfway between the island of Maui and the island of Kaho'olawe. Of all of the tour companies on offer, one stood out as a truly exceptional fit to our travel style.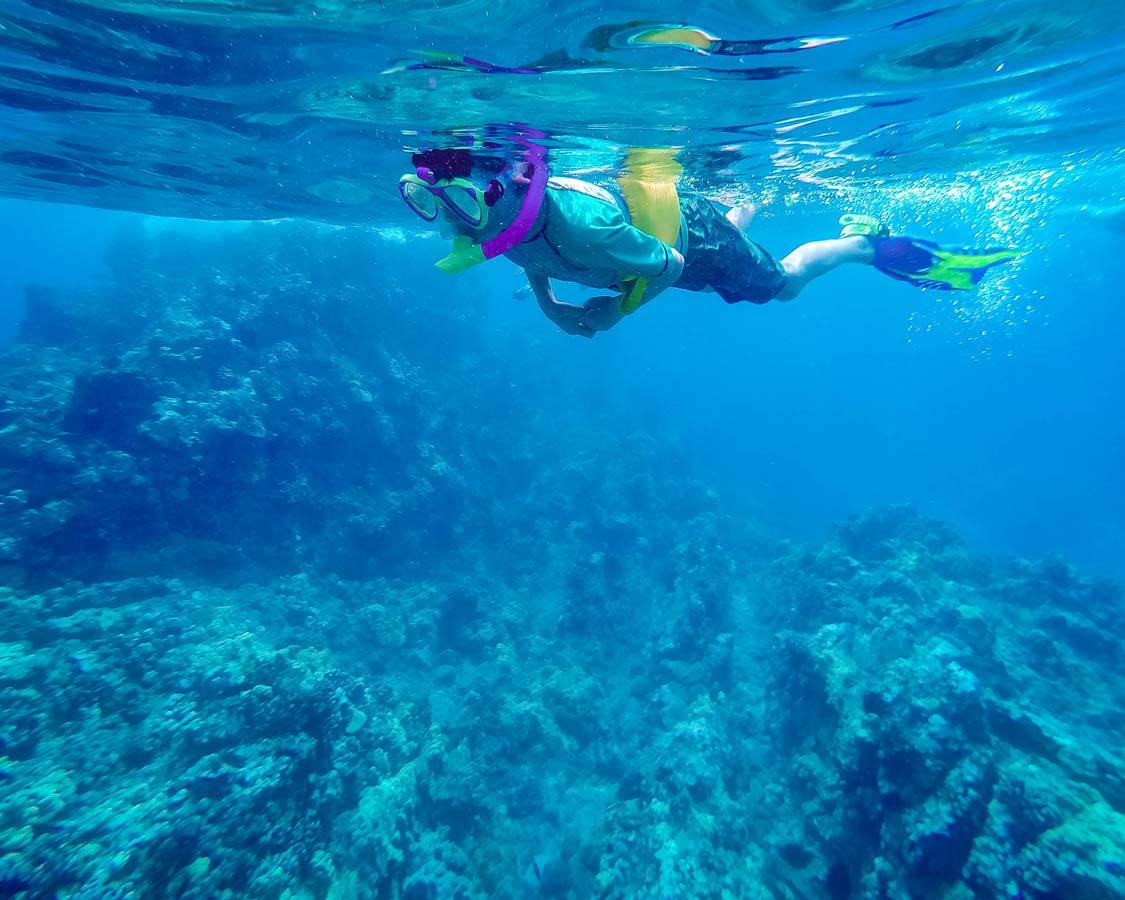 Why We Chose The Pacific Whale Foundation Molokini Snorkel Tour
Most snorkel tours in Maui are run by businesses that are passionate about the environment which makes their businesses possible. When you're dealing with environments as sensitive as coral reefs, this is vitally important. Passion for nature and the respect of marine animals has always been something that we have tried to impart on our children. The Pacific Whale Foundation takes this passion for marine life to a higher level. They are a non-profit organization that was founded back in 1980. Profits from the PacWhale Eco Adventures go towards the advocacy of eco-projects in Hawaii.
The Pacific Whale Foundation tours also focus heavily on education. The Molokini snorkel tour had two separate onboard chats that focused on sharing information with the children about ocean creatures. It was incredible to see their eyes light up as they learned about the marine life that they had just seen beneath the waves.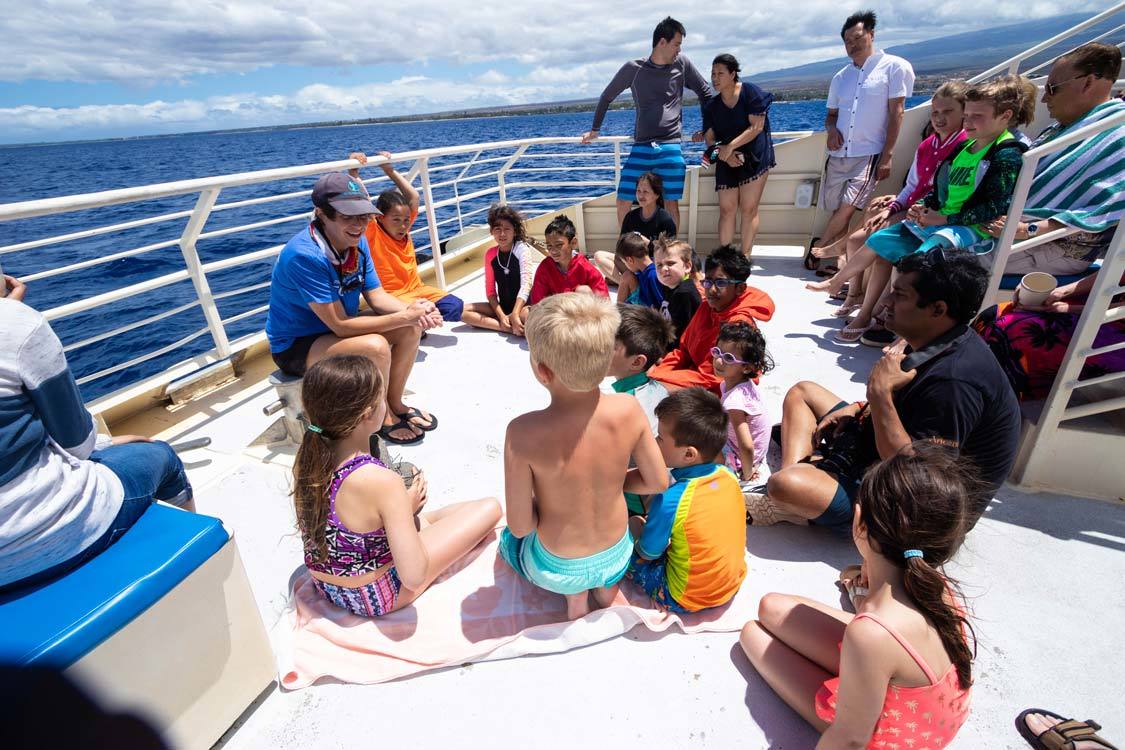 The Molokini Snorkeling Experience
We arrived in Maalaea at 6:15 am for our 7:00 am Molokini snorkeling experience. The Pacific Whale Foundation storefront was brimming with people excited about the upcoming adventure. There were GoPro rentals available at the store for those who didn't bring their own. Outside the building, we sat attentively during a short presentation before making our way towards the harbor to board the Ocean Odyssey.
The Trip Out To The Molokini Crater
The Molokini snorkeling boat had plenty of seating throughout the two levels. The top levels are great for catching the sun. The front of the boat is where the chats take place, and if you don't mind a little breeze, the views are excellent. And for those who want to stay out of the wind, there is seating inside the boat as well.
The banter on the ship was excited. Everyone was enjoying the beautiful sunshine. Children were excitedly trying on the snorkeling gear provided by the Pacific Whale Foundation. For those who feel a little chilly in the water, there are wetsuit tops for rent for $10. Water can suck out the heat from your body pretty quickly. There are a limited number available in smaller sizes, so if you think your kids will want one, I recommend requesting one earlier rather than later.
We were going to snorkel the Molokini Crater at the shoulder season right as winter was turning to summer. The waves were calm as we rode the Ocean Odyssey on our Maui snorkeling adventure. The light mist bouncing up from the ocean was enough to wake us all from the exhaustion of our early morning.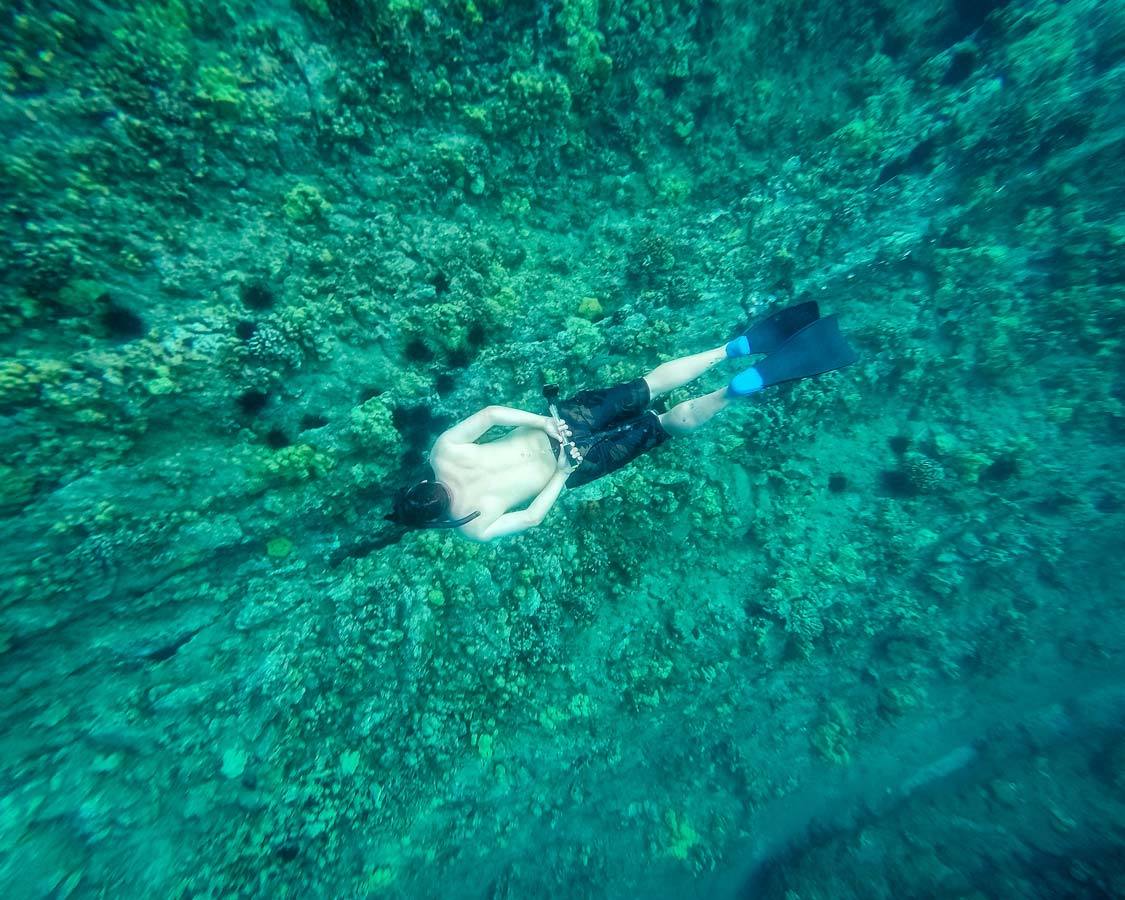 Molokini Snorkel Tour Food
There was plenty of food served throughout our Molokini crater snorkel tour. This was part of the ticket price. Breakfast was served on the way to the Molokini Crater. There were light treats, coffee, and hot chocolate available. For lunch, we had choices of hot dogs, hamburgers, and chicken burgers as well as salad. There was plenty left over for return trips after our first walk through the galley. And that's good because a day snorkeling with kids works up quite an appetite for our family.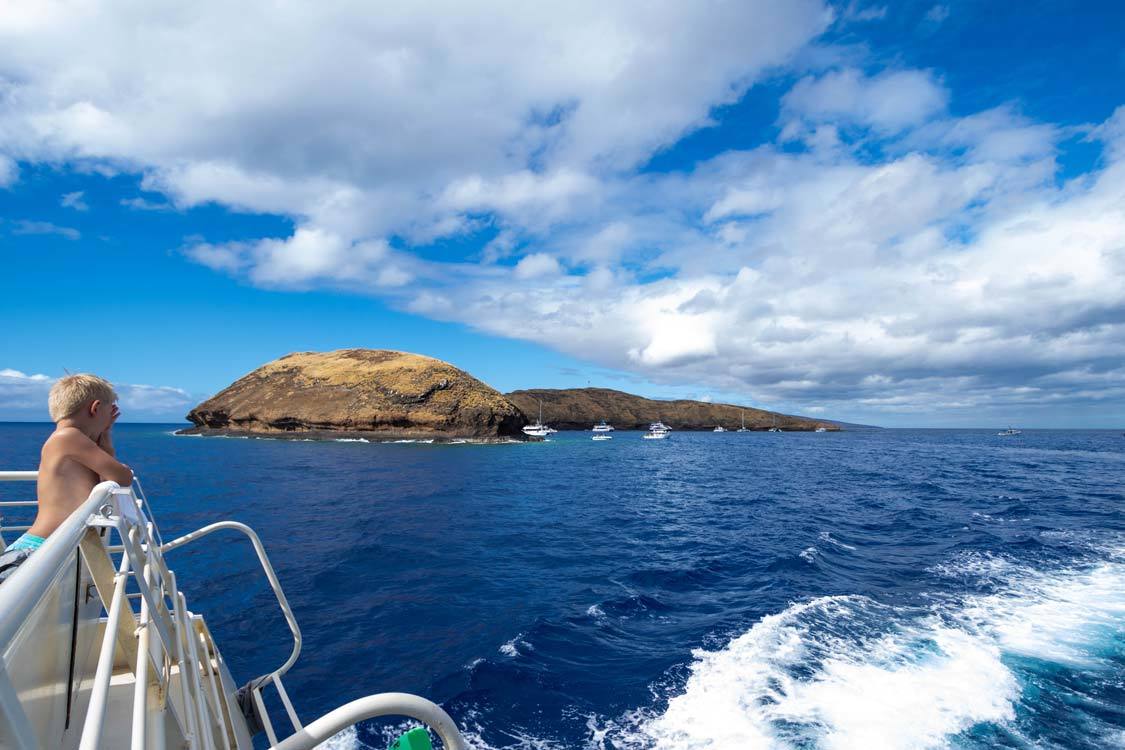 Molokini Snorkeling With Kids
When we arrived at the Molokini Crater snorkel site, it was as beautiful as I had imagined. The waters were crystal clear and we could already see the fish zipping below the waves. The boat crew lowered a metal slide making for a fun way to enter the water. C dove in whole-heartedly after already getting his love for snorkeling while we were in the Philippines. D though was a different story.
He sat attentively while the Pacific Whale Foundation crew gave an introductory chat for those who are new to snorkeling. With a little convincing, he took the slide down into my arms. Then he panicked a little, splashing around with his head above water. I calmed him down, looked into his eyes and said "D, relax. Slow breaths man. If you put your face in the water, just for a second, you'll see a turtle."
Slowly, he lowered his face in the water before raising it again in a hurry. "Dad!" he said. "There's a turtle down there!" And with that, he was off like a shot chasing fish and turtles throughout the reef. The Molokini Crater reef is absolutely full of life. And even with the many Molokini snorkeling tours that arrive here every day, there is still plenty of space for everyone. The curve of the crater rim helps keep much of the wind at bay leading to calm waters, especially during the summer months.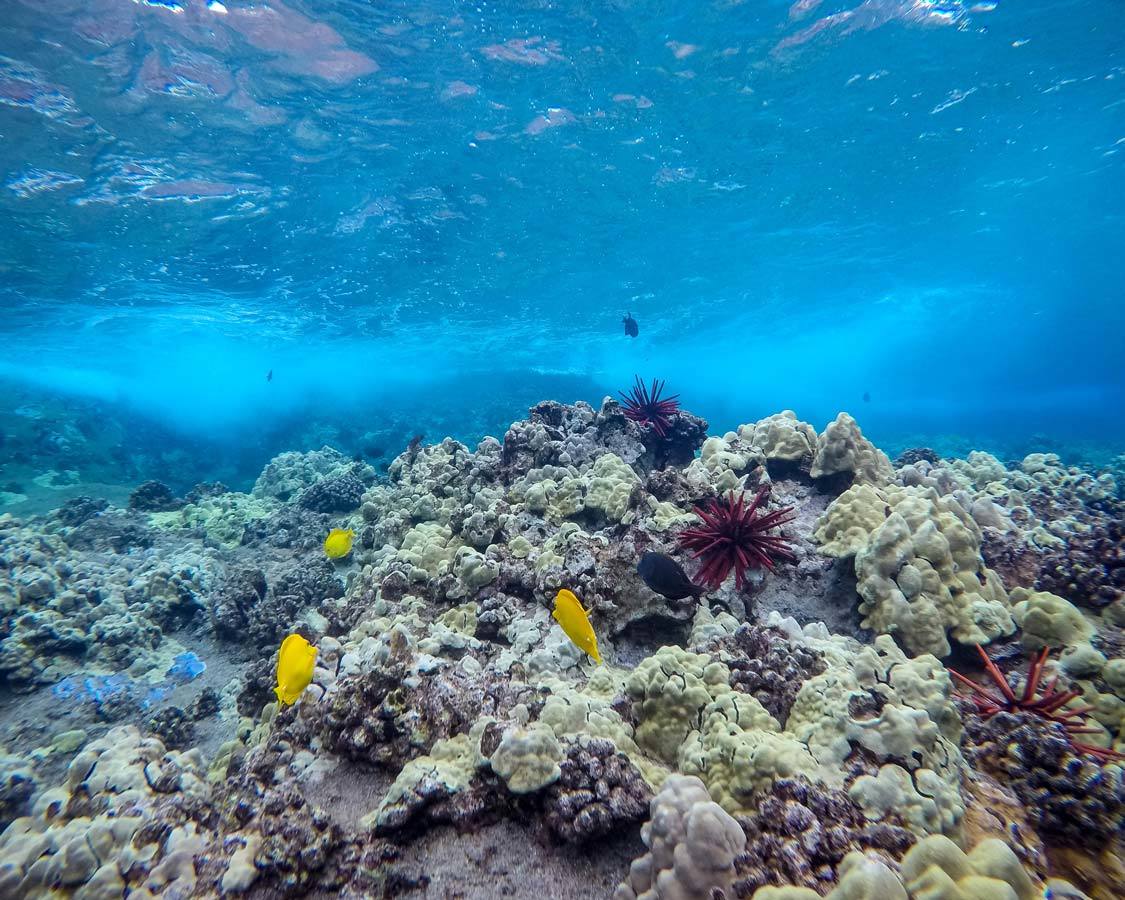 Turtle Town Snorkeling With Pacific Whale Foundation
After saying goodbye to our first snorkel stop, we enjoyed a great lunch on board, and the kids absolutely ate up the presentations by the crew. They talked about the formation of the Molokini crater, the fish we saw, and how they could help in the conservation of this, and other beautiful regions. During this time, the Ocean Odyssey was making its way to the second stop on our Molokini Snorkeling tour, Turtle Town, near the Maui town of Wailea.
Turtle Town, also known as Turtle Arches, is an incredible spot for family snorkeling in Hawaii. The coral arches and lava fingers that reach out from the shore make for an ideal location for green sea turtles. D was now confidently chasing the naturalist guide who was leading a group of family snorkelers among the Turtle Town reef.
Turtle town covers a much smaller area than the Molokini Crater snorkeling area. As an avid snorkeler though, I was able to escape the crowds while Christina and the boys followed excitedly behind the PacWhale naturalist. During our time at Turtle Town, we found 7 turtles, parrotfish, angelfish, and much more.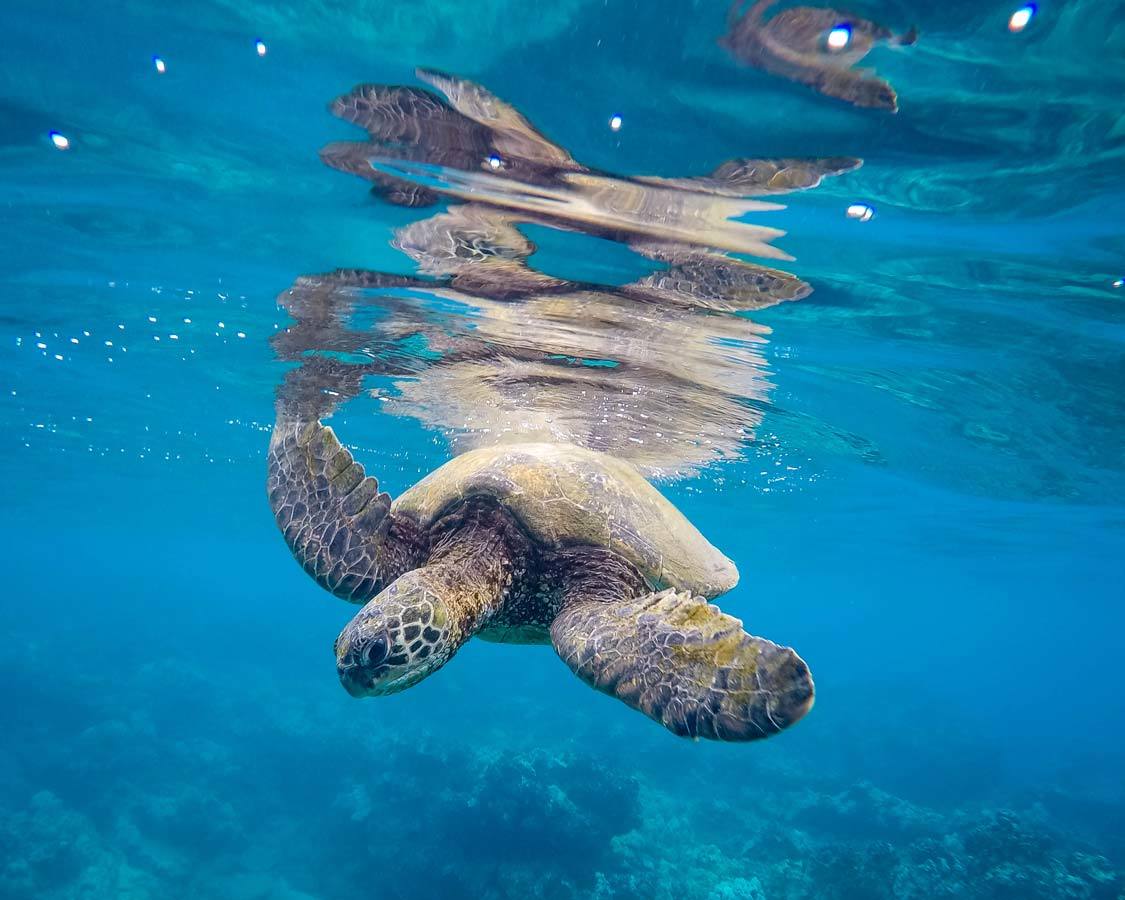 Why Do We Think That The Pacific Whale Foundation Molokini Snorkel Tour Is The Best Maui Snorkeling Tour
Choosing the best snorkeling tour in Maui isn't just about picking a tour that has great food, a personable crew, and visits the most family-friendly snorkeling spots in Maui. The best family tours in Maui need to be about something more. Pacific Whale Foundation not only provides an incredible snorkeling tour in Maui, but it also educates, informs, and creates an opportunity to give back.
Because the foundation is a non-profit, those on this Molokini snorkel tour know that their money is going back to conservation and education initiatives that help keep these reefs and ocean creatures around for future generations. And the knowledge of that is something even more special than the experiences of snorkeling in Maui with kids.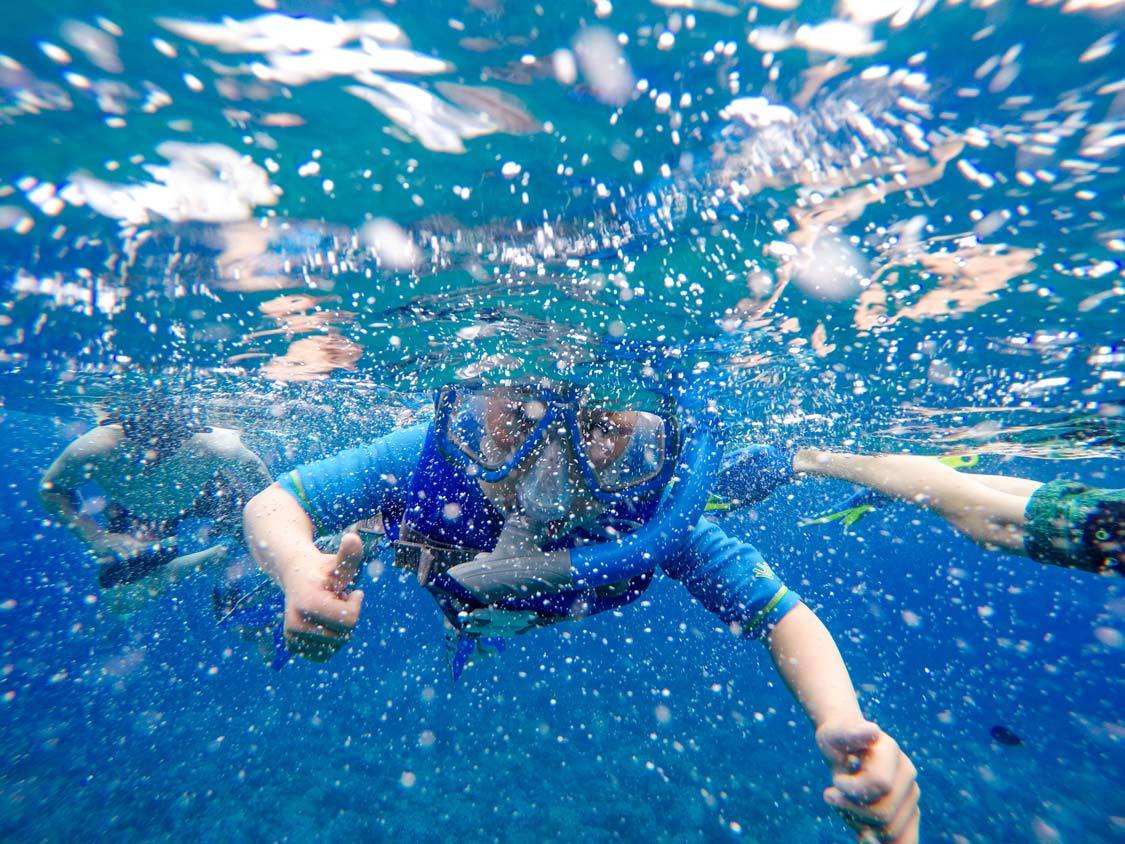 Tips For Snorkeling With Kids
Our Molokini snorkel tour wasn't our kids' first time wearing the snorkel gear. We introduced snorkeling to our children early on. Simple adventures like snorkeling in the bathtub were a great way to get them comfortable with the snorkeling gear. We also purchased our kids their own snorkel gear, like this set here, to ensure that they had equipment that fit comfortably and they were used to. That way the feeling of dipping their face in the water wasn't a foreign one.
Get them excited – Get your children excited before you go. Talk about the fish, the reefs, and the excitement of life under the sea. It's amazing how children can look past their anxiety when they are excited to see something.
Lifejacket – Have kids wear a life vest or floatation device. Even though wetsuits and fins help you keep afloat, a life vest will help keep kids warm and give them the confidence to keep exploring. If you choose to bring your own I recommend this brand.
Respect Nature – Be sure to teach your child to not touch any coral. Life around coral reefs is precious and incredibly sensitive. Touching, stepping on, or even brushing against a coral reef could cause irreparable damage.
It's ok to be scared – Let your kids know that sometimes waves will go over their snorkel. It can be scary when saltwater comes down your breathing tube. But a little patience and practice will help them spit it out and keep exploring.
Wetsuits – Wearing a wetsuit like this one will not only help kids float, but it will keep them warm. Water can suck heat from your body, and my kids are more likely to want to stop because they are cold than because they aren't having fun.
Reef safe sunscreen – You won't find many popular brands of sunscreen for sale in Hawaii. This is because the sale of sunscreen has been limited to brands that are considered reef-safe. Sunscreen brands such as this one don't include chemicals that have been known to be destructive to coral reef systems like those found off the islands of Hawaii. You can check out our guide to the best reef-safe sunscreen brands here.
Have you ever snorkeled with kids or gone on the Molokini Snorkeling tour? Tell us about it in the comments. Or visit our Facebook page and share a photo of your snorkel trip. We would love to share in your travels.
Wandering Wagars is a participant in the Amazon Services LLC Associates Program, an affiliate advertising program designed to provide a means for sites to earn advertising fees by advertising and linking to amazon.com, amazon.co.uk, amazon.ca. Amazon and the Amazon logo are trademarks of Amazon.com, Inc., or its affiliates.
You May Also Like To Read:
Pin This For Later: