Planning a Kauai family vacation? Check out these unmissable things to do in Kauai with kids. From the best beaches to the top Kauai adventures.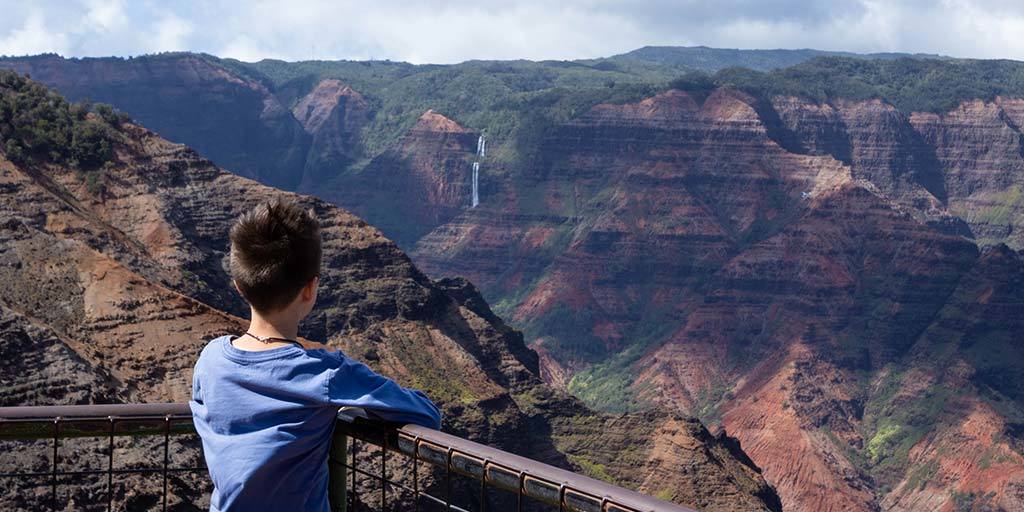 Kauai is always floated as one of the most popular destinations for a family vacation in Hawaii. Kauai is often called the Garden Island. It is lush, beautiful, and less crowded than some of the larger islands such as Maui and Oahu.
If you're planning a family trip to Hawaii, our recent trip to the Islands allowed us to explore some of the best things to do in Kauai with kids. And let me tell you, there are so many great Kauai activities for the whole family. Keiki (the name for children in the Hawaiian language) will beg not to leave this beautiful island after these adventures in Kauai for kids.
Kauai was the start of our recent visit to the Hawaiian Islands. We hadn't visited since our epic tour of the Big Island and O'ahu before our kids were born. This time, we were fresh off of our winter exploration of the Adirondacks and were aching for some of the legendary Hawaiian weather and sunshine. Kauai was our first stop before heading to Maui and Lanai.
We were anxious to take in some of the most amazing Kauai kids activities that we could find. The boys were crazy excited to explore Kauai. And Christina and I were more than ready to shake off the winter cold and feel the warm sand between our toes.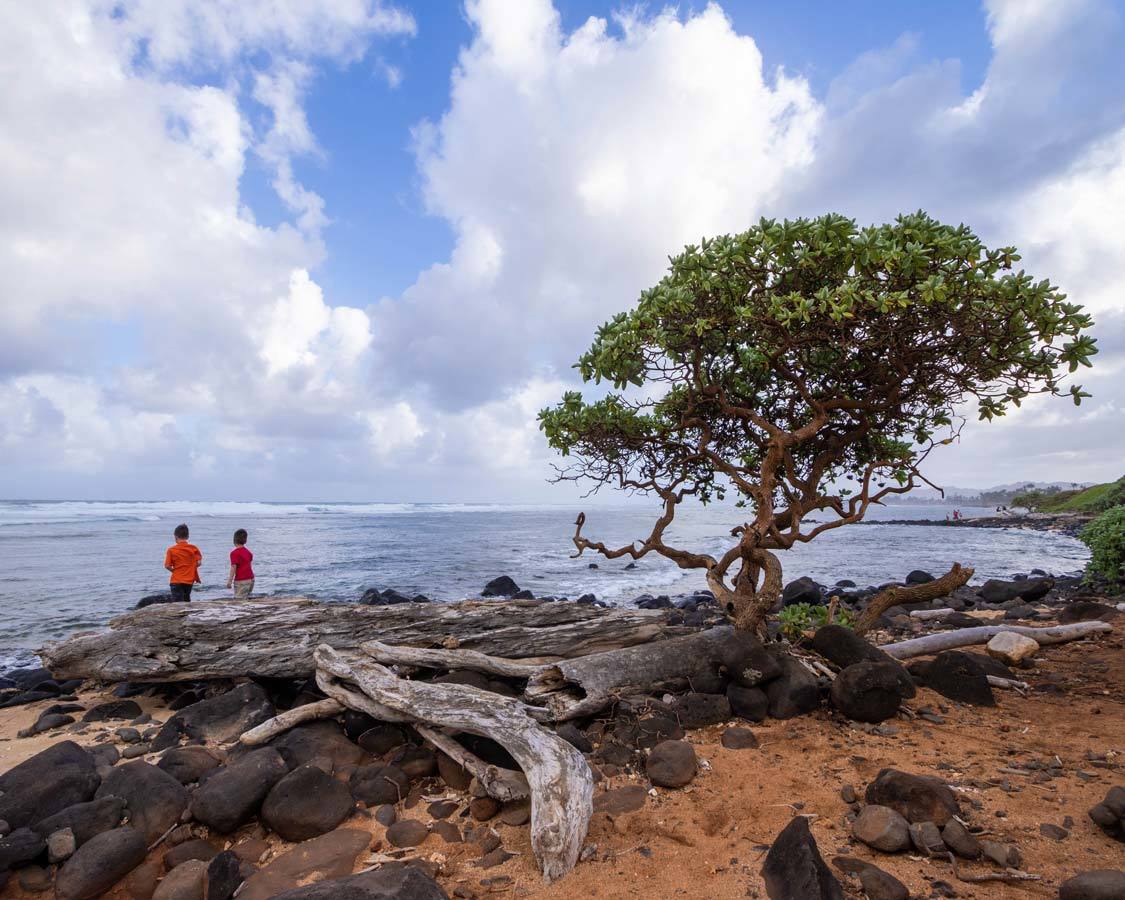 What You Need To Know Before Your Kauai Vacation
Kauai is full of lush landscapes and glorious beaches. And no matter what kind of Kauai adventures you're searching for, you will find something that fills your Kauai to-do list. At over 7 million years old, Kauai is the oldest of the Hawaiian Islands. It's also among the wettest. In fact, parts of the Mt. Waiʻaleʻale on the Na Pali coast sees an average rainfall of 374 in (9,500 mm). But, all this wetness has created the beautiful rainforests and tropical gardens that have seen Kauai be dubbed the Garden Isle.
In fact, it was this rainfall that led to the closure of the Kalalau Trail and much of the northern shore and Na Pali coast trails in 2018. Another fascinating result of the weather in Kauai is the chickens. Yes, chickens. Thanks to hurricanes in 1982 and 1992, many chickens escaped from holding pens. They've since taken over the island. There are now chickens everywhere in Kauai. For kids in Kauai, this is great. Chasing chickens is practically a public sport. And, you will never run out of chicken crossing the road jokes (If those don't work for you, you can check out some of our favorite travel jokes here).
When you arrive in Kauai, you'll likely arrive by plane or cruise ship in the city of Lihue. This city is mostly residential. And if you've ever explored all of the things to do in Oahu, you'll recognize that Hawaiian city style. Most visitors head out to outlying towns with a little more action such as Kapa'a, Po'ipu, and Princeville. Where you stay will often determine your list of things to do in Kauai, but I'll get to those towns later.
Choosing a great home base for your family travels in Kauai is also super important. You can find our complete guide to the best resorts on Kauai here. It makes for a great tool to start your planning.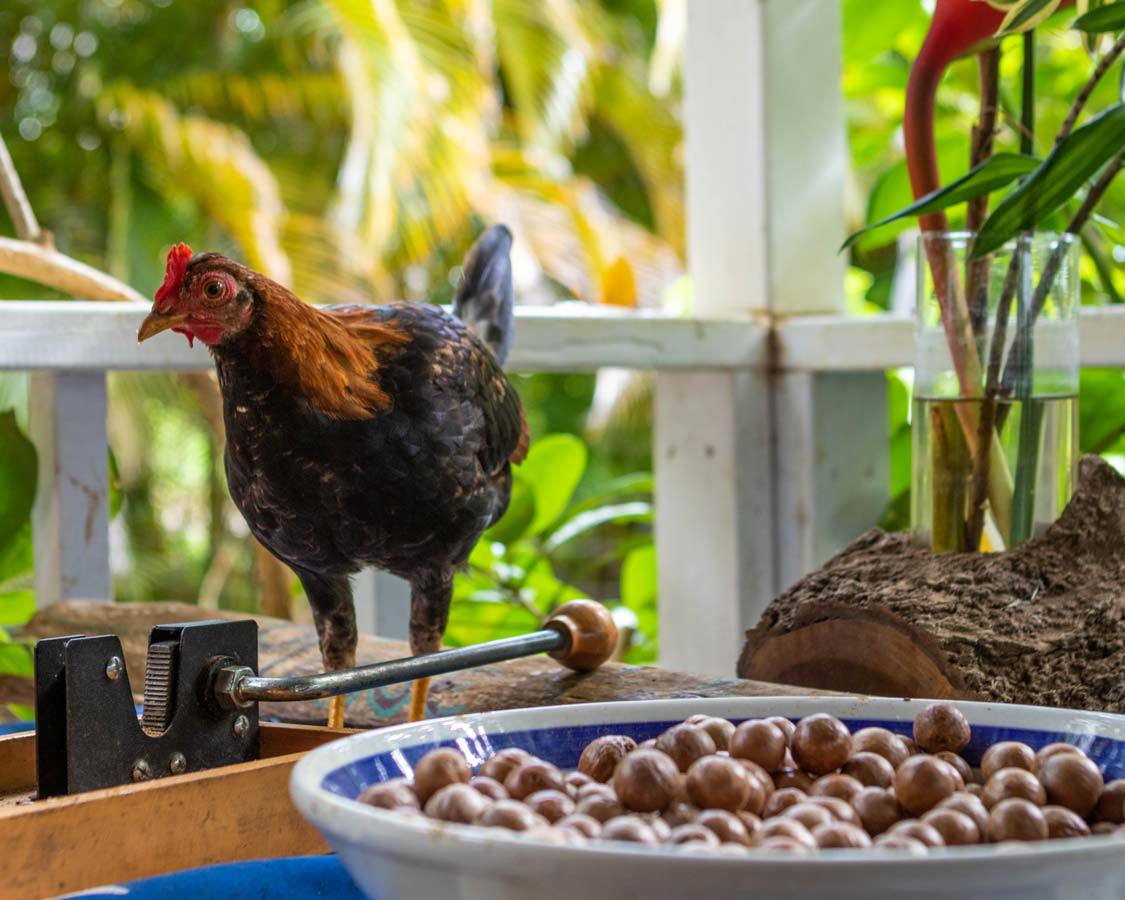 What To Pack For Your Trip To Kauai With Kids
Just like every destination, planning your Kauai packing list will help to make sure that you have everything you need for your family vacation. Kauai has very consistent weather year-round with temperatures ranging from the mid-70s F (23 C) to the high-80s F (31 C). And no matter what Kauai adventures with kids you have planned, here are a few things you should not forget.
Our Favorite Things To Do In Kauai With Kids
If you're planning on experiencing some of the best family adventure experiences in Kauai, you don't have to travel far. The island is small and easy to navigate (although there are a few areas that see some pretty heavy traffic). If you rent a car on the island, it's very easy to explore yourself and take in as many of the best things to do in Kauai with kids on a do-it-yourself tour. These are a few of our favorite Kauai things to do for families.
Lydgate Farms Chocolate And Island Fruit Tour
We were tired and worn out after our long trip from Toronto to Lihue. We hadn't gotten to bed until about 1 AM, and when the alarm rang for our 9 am visit to Lydgate Farms the next morning, hitting (or possibly even violently smashing) the snooze button became a real possibility. I'm really glad that I held back because our chocolate and fruit tour at Lydgate farms became the perfect antidote to our jetlag.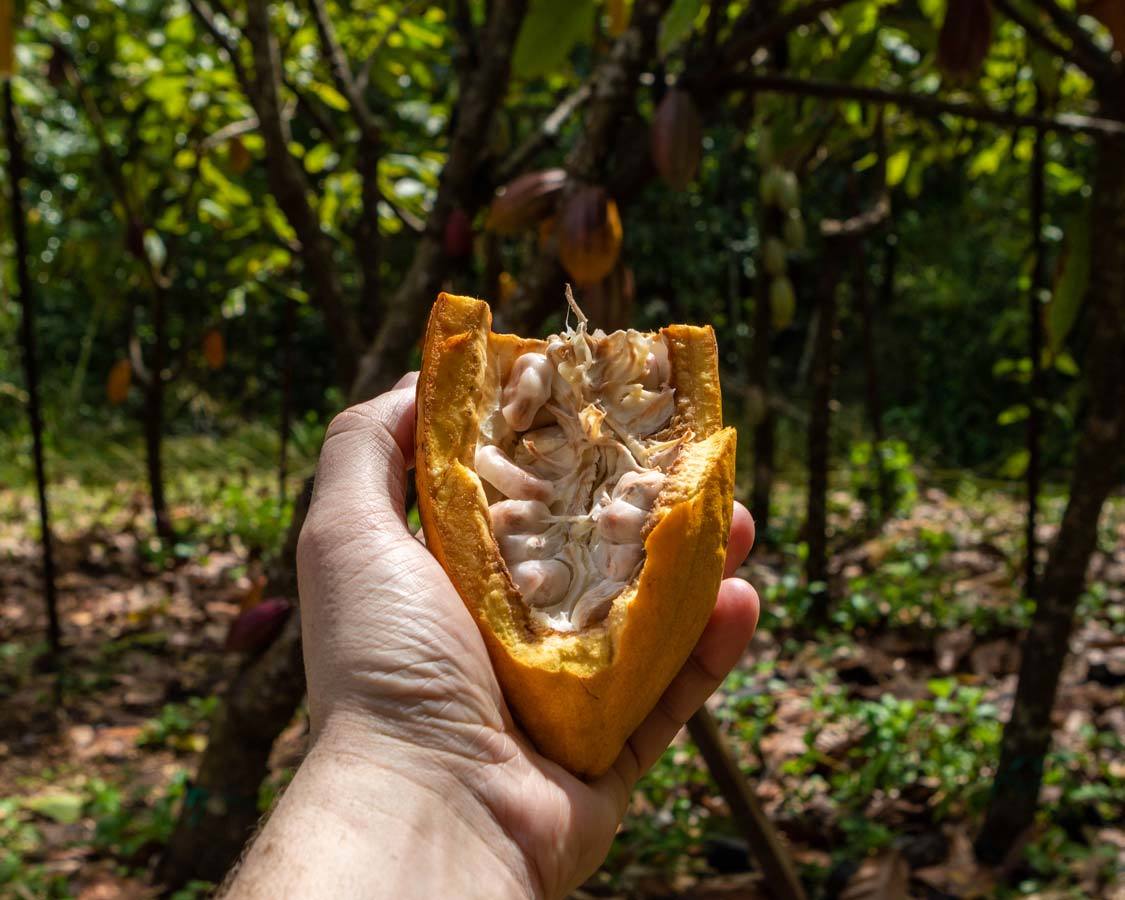 We shoved some leftovers into our face, piled into the car and made the 10-minute drive from our short-term rental in Kapa'a to the Kauai chocolate tour at Lydgate farms. We were greeted with smiling faces and an all-you-can-eat bowl of crack-yourself Macadamia nuts (which I had to keep stopping 5-year-old D from serving to the chickens).
The Lydgate farm tour was amazing. It was run by an energetic, and enthusiastic guide who shared her passion for the agro-tourism industry with us. The kids were kept engaged not only by her personality but also by the hands-on exploration of the amazing fruit and cocoa trees that fill the Lydgate Farms property. There were copious amounts of local Kauai fruit to taste paired with useful information on the best Kauai markets to buy them and how much they should cost.
Our bellies were happy with the amazing selection of local Hawaiian fruit when we reached the cocoa trees and chocolate tent for our Lydgate Farms chocolate tasting. This is where young kids in Kauai may start getting restless, just like D did. C was more than happy to sit through the chocolate tasting and placed himself last in the line of seats so that all the chocolate bowls would end with him. D however, was more than happy to wander off to the nearby kids' tent to spend his time coloring and playing lego. It's pretty awesome that this company had taken the time to think of their little visitors enough to provide this.
A visit to Lydgate Farms is high on our list of Kauai things to do for families. The family is very passionate not only about their product but about the island as well. We left happy, full, and with a much greater appreciation for the flavors of Kauai and the agro-tourism that helps keep it so popular. You can read all about our Kauai chocolate tour here.
Kayak To The Fern Grotto Or Combine It With The Smith's Garden Luau
Kauai is the only Hawaiian Island that has a navigable river. And what a river it is! The Wailua river snakes through the interior of the island and has helped support the indigenous people as well as shape some of the most spectacular landscapes of Kauai. Much of this is now protected by the Wailua State Park.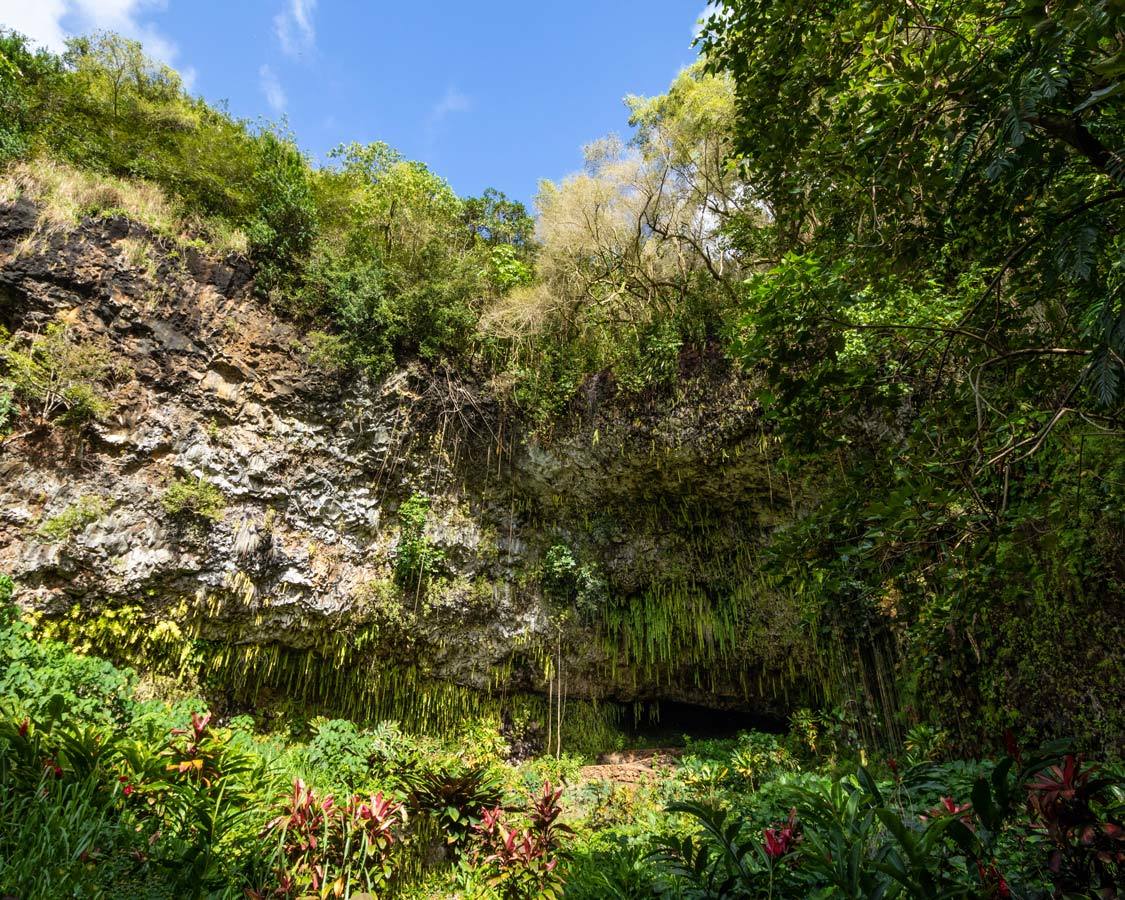 The Fern Grotto is a picture-perfect lava cave decked in ferns and other plant life with a sprinkling waterfall that pours steadily over the entrance from the cliffs above. The Fern Grotto has become a popular place for weddings, engagements, and special occasions due to it's near-perfect tropical paradise vibe. However, be warned.
Many of the photos you see of the Kauai Fern Grotto show people exploring the cave and walking among the ferns. This is no longer possible. Hurricane Iwa and the closing of a nearby sugar plant have caused some deterioration of the attraction and now it can only be viewed from a platform below.
There are two ways to visit the Fern Grotto, the first is to rent kayaks at Kayak Kauai near the mouth of the river and make your way up the river stopping at waterfalls and taking in the stunning scenery along the way. The second is to join Smith's Motorboat Tours or the Smith's Island Luau. We knew that we'd be very tired after our first day in Kauai, so we opted to skip the Luau (we would be experiencing one on Maui) and just do the motorboat tour. In retrospect,
I wish that we had done the kayak journey. The river is calm, and the ability to stop at will and see the sites, as well as enjoy the Fern Grotto without 60 other people jammed onto the small platform would have been worth the extra effort.
One very nice part about the Smith's tour was the onboard entertainment that included dancing and music both at the Fern Grotto and during the return boat tour. As we were on the last boat tour of the day, nearly everyone on board was on their way to the Smith's Garden Luau afterward. In fact, we were the only ones who took the $25 tour just for the Fern Grotto alone.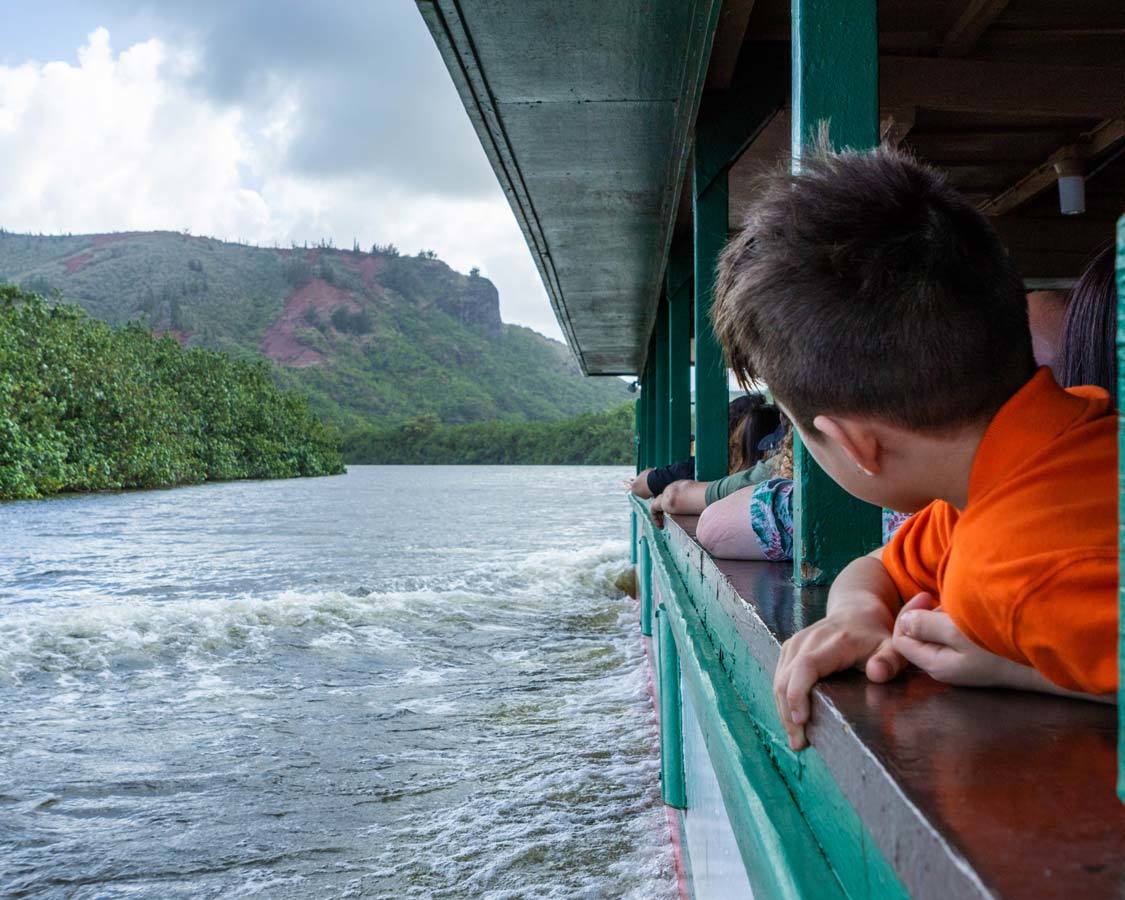 Kilauea Lighthouse And Wildlife Refuge
Kilauea is a former plantation town. It is a really popular destination for sunsets (you can read about that further down) and the famous Kilauea Lighthouse. This gorgeous white Kauai lighthouse is perched at the top of a towering bluff. The Kilauea Lighthouse is the northernmost point of the inhabited Hawaiian Islands. The Lighthouse is shown in the Disney movie Lilo and Stitch, and the sequel, Stitch! The Movie.
You can access the lighthouse through the Kilauea Wildlife Refuge for $10 per person (children 15 and under are free). The park is closed on Sundays and Mondays and after 5:00 PM. However, if you arrive after hours, you can still get a great view of the lighthouse and many of the seabirds from the parking area.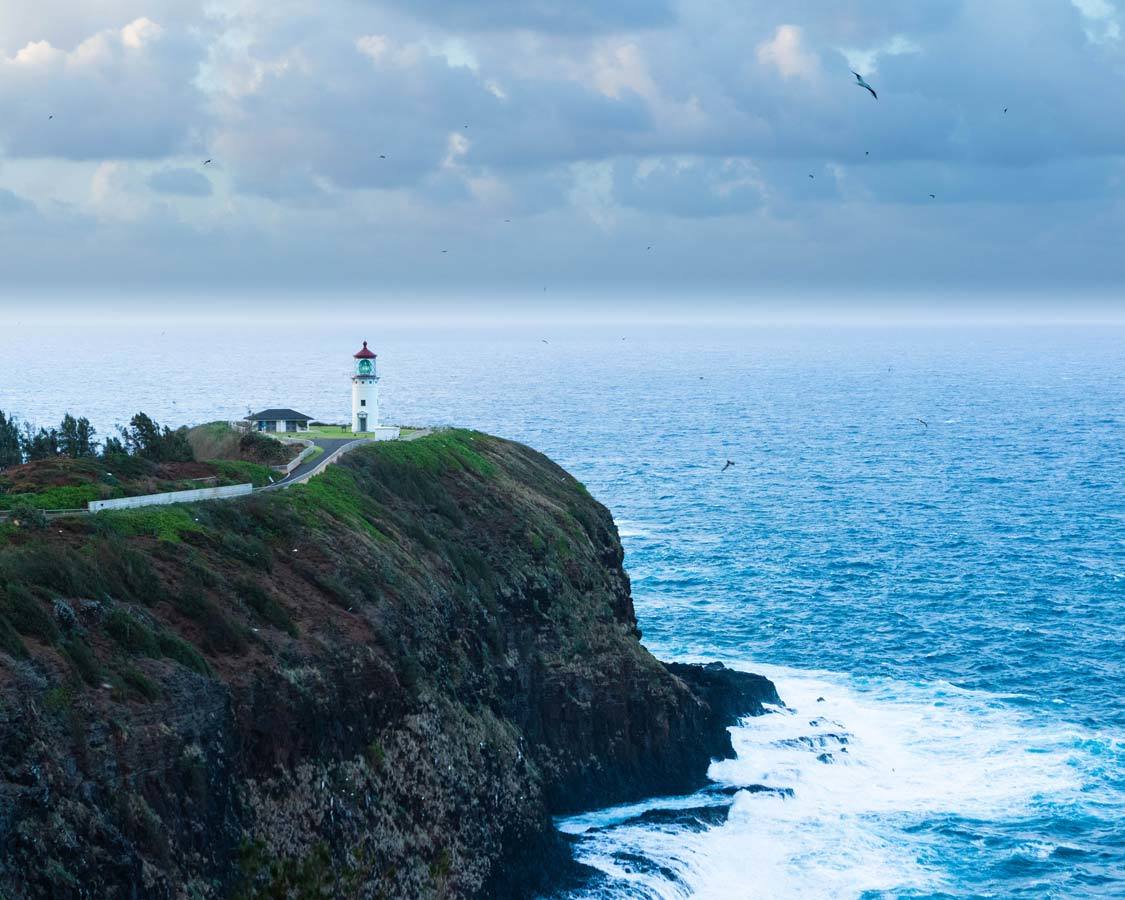 Mountain Tubing With Kauai Backcountry
Our second morning exploring Kauai for kids took us to the mountains. It took us deep into the property of America Online founder (You've Got Mail!), Steve Chase. He purchased a huge swath of the interior of Kauai with the idea of keeping it relatively free from development.
Since then, Kauai Backcountry Adventures has begun offering an incredible mountain tubing adventure that pours through an old sugar cane plantation for several miles. It is definitely one of our top things to do in Kauai with kids. You can read all about our Kauai tubing adventure here.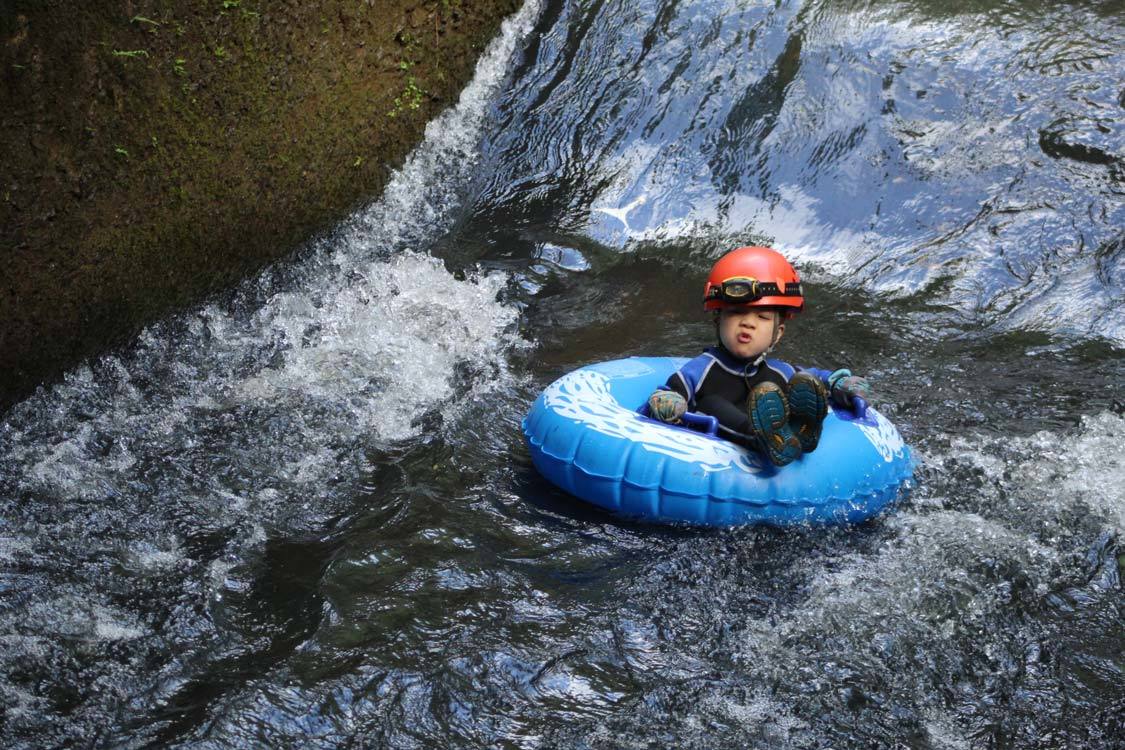 Our day started out with a short drive from Kapa'a to Hanamaulu. Here, we registered with the helpful Kauai Backcountry team before being fitted for gloves and helmets. To help kill the time before we left there were a few games of cornhole setup. This was appreciated since it helped all the different mountain tubing families bond a little before we left for the adventure.
Before long though, we were loaded into an open-air truck for the bumpy drive into the Kauai interior. We rode through farm fields filled with cows, who sometimes blocked the road. Then we arrived at a spectacular overlook of Mount Waialeale Crater, one of the rainiest spots on earth.
After a brief stop, we continued to our starting point on the banks of a small river. We had a short safety briefing and loaded into our tubes and began the tour through the old irrigation ditches that used to provide water to the different areas of the farm. The water is chilly, and we were very glad that we packed a wetsuit for D, who was quite comfortable for the trip. C, who opted not to wear his wetsuit, was shivering a bit by the time we finished. But cool or not, this Kauai adventure was worth it.
We zipped down small waterfalls and through narrow paths through the plantation. There were several tunnels, one of them was a mile long. Hearing about how these tunnels were hand-dug over 10-years was fascinating. There was a lot of spinning, a lot of bumping into one another, and for those who might get motion-sickness, I recommend a dose of Dramamine or Gravol before you go. But the views along the way are spectacular, and the warm Kauai sunshine is a great pairing to the cool waters for this family-friendly Kauai activity.
Shipwreck Beach
Shipwreck Beach in the resort town of Poipu is a popular beach for locals who love surfing and body surfing. It would be a postcard-perfect destination if it wasn't for the sprawling Grand Hyatt Hotel that takes up most of the inland view. The surf of Shipwreck Beach is pretty strong (causing the end of the wooden ship that sank off of its shores), so swimming here is not advised.
But Shipwreck Beach is a great place for exploring, beachcombing, and watching the beautiful Kauai sunsets. But the real draw is as a starting point for the Makawehi Point hiking trail to Maha Ulepu Beach.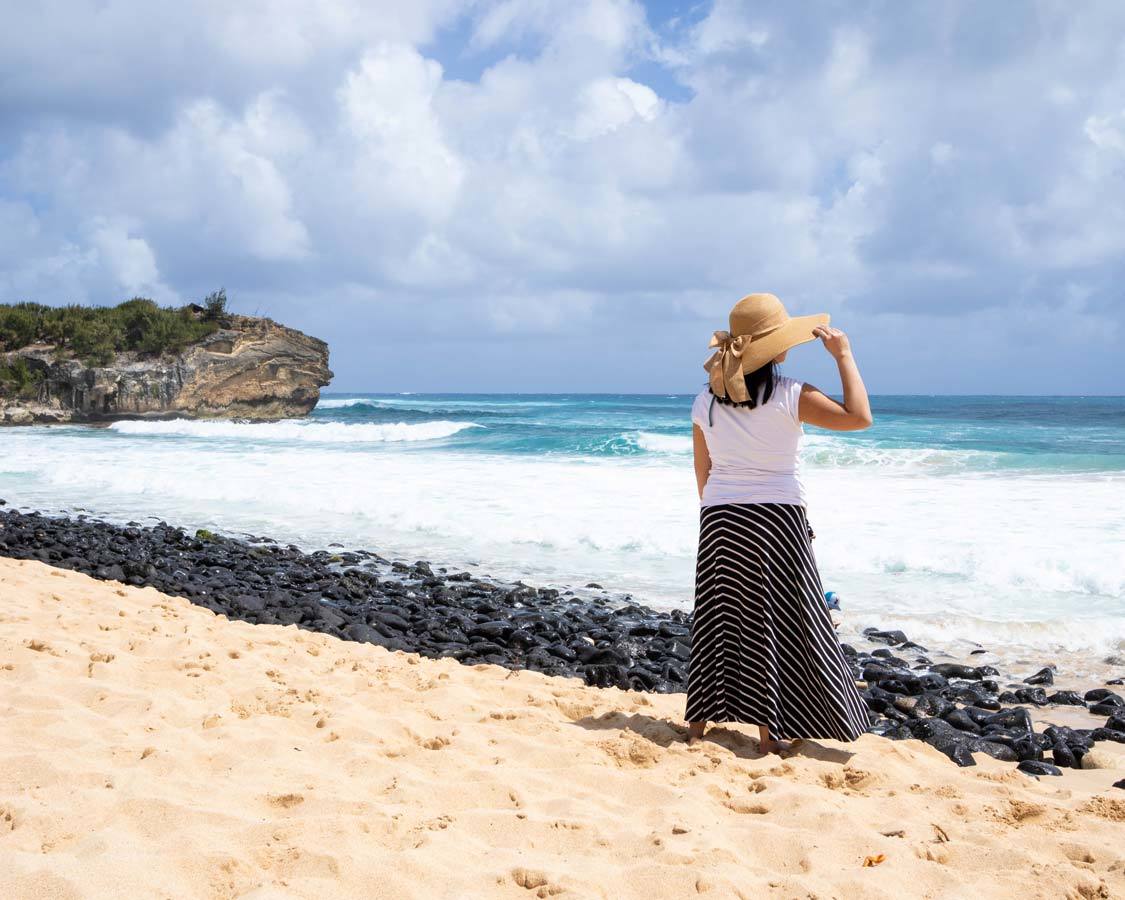 Hanapepe Swing Bridge
The historic town of Hanapepe was an easy stop on our way to exploring some of the best beaches for kids in Kauai. This small town is a "blink and you miss it" destination. But, making the turn off of the Kaumualii Highway is worth the short detour. The town of Hanapepe is dotted with small cafes, art studios, and handmade furniture shops. But the real draw is the historic Hanapepe Swing Bridge that crosses the river to Hanapepe Valley.
The Hanapepe swinging bridge is a popular spot for those in Kauai with kids. It offers a fun combination of adventure and thrills. The bridge bucks and sways along with the movement of those walking across. There isn't much to see once you make your way across the swinging bridge in Hanapepe, but it's about the journey, not the destination!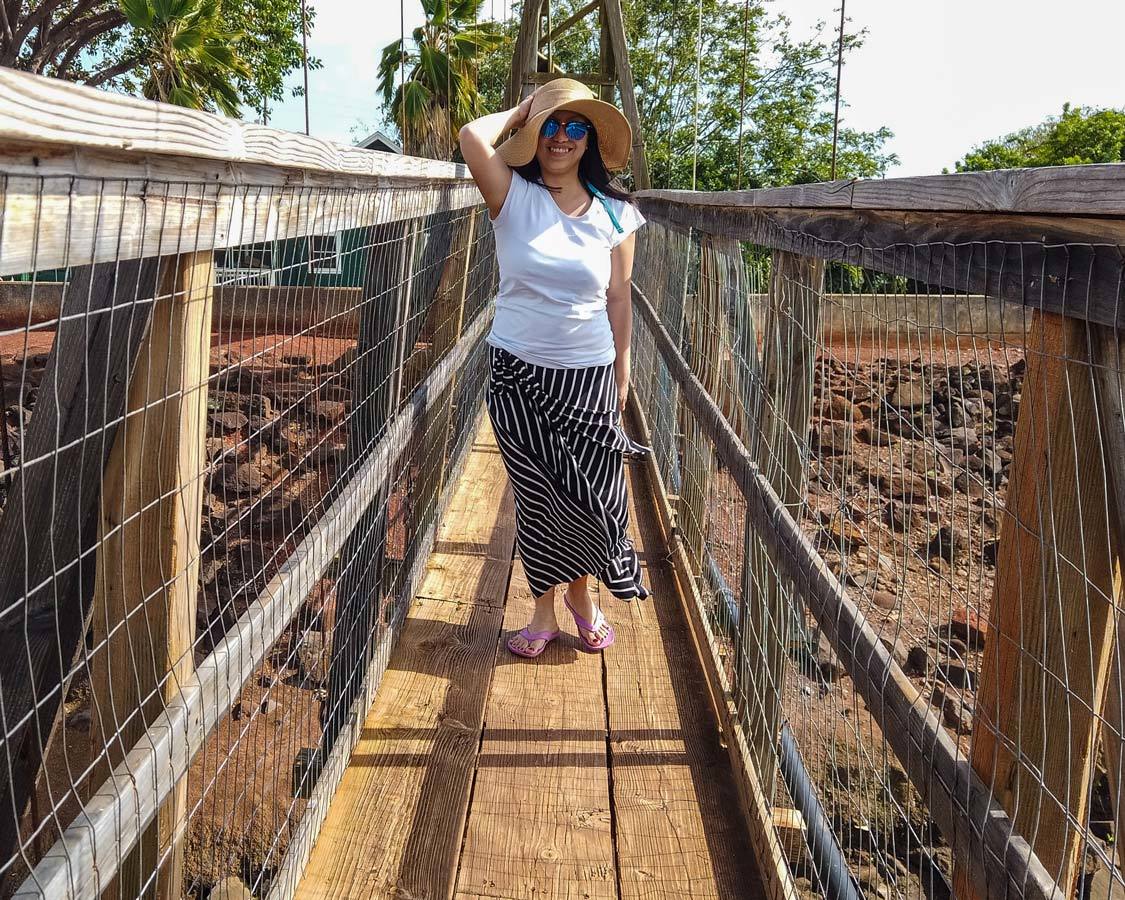 Salt Ponds Beach
Salt Ponds Beach, just past Hanapepe, is considered by locals and visitors to be one of the best beaches in Kauai for Keiki. The calm water and somewhat protected from the surf. The only time swimming isn't safe for families is during periods of high surf. There are washrooms available here, and many locals camp here during weekends and holidays.
What makes Salt Ponds Beach truly unique in Kauai with kids since it has the only natural salt ponds in Hawaii. During the summer, seawater is pumped into containers and allowed to evaporate (similar, but not quite as beautiful a process as we saw in Maras in the Sacred Valley of Peru). This drives much of the sea salt industry in Kauai.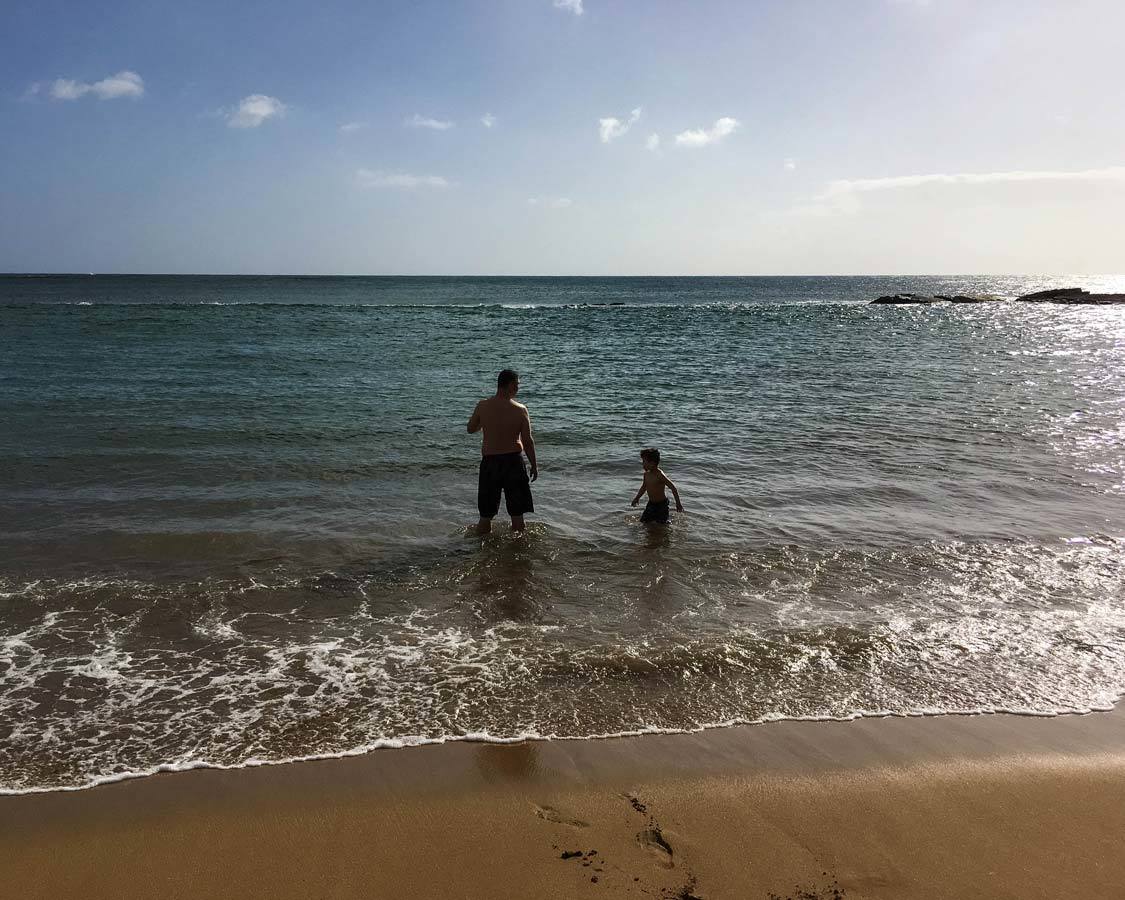 Glass Beach
Glass Beach in Port Allen was our stop after returning from Salt Ponds Beach and Hanapepe. After exploring the sea glass beach in Bermuda, we weren't sure what to expect from here. But, it turned into one of the most fascinating, beautiful, and unique experiences during our search for things to do in Kauai with kids.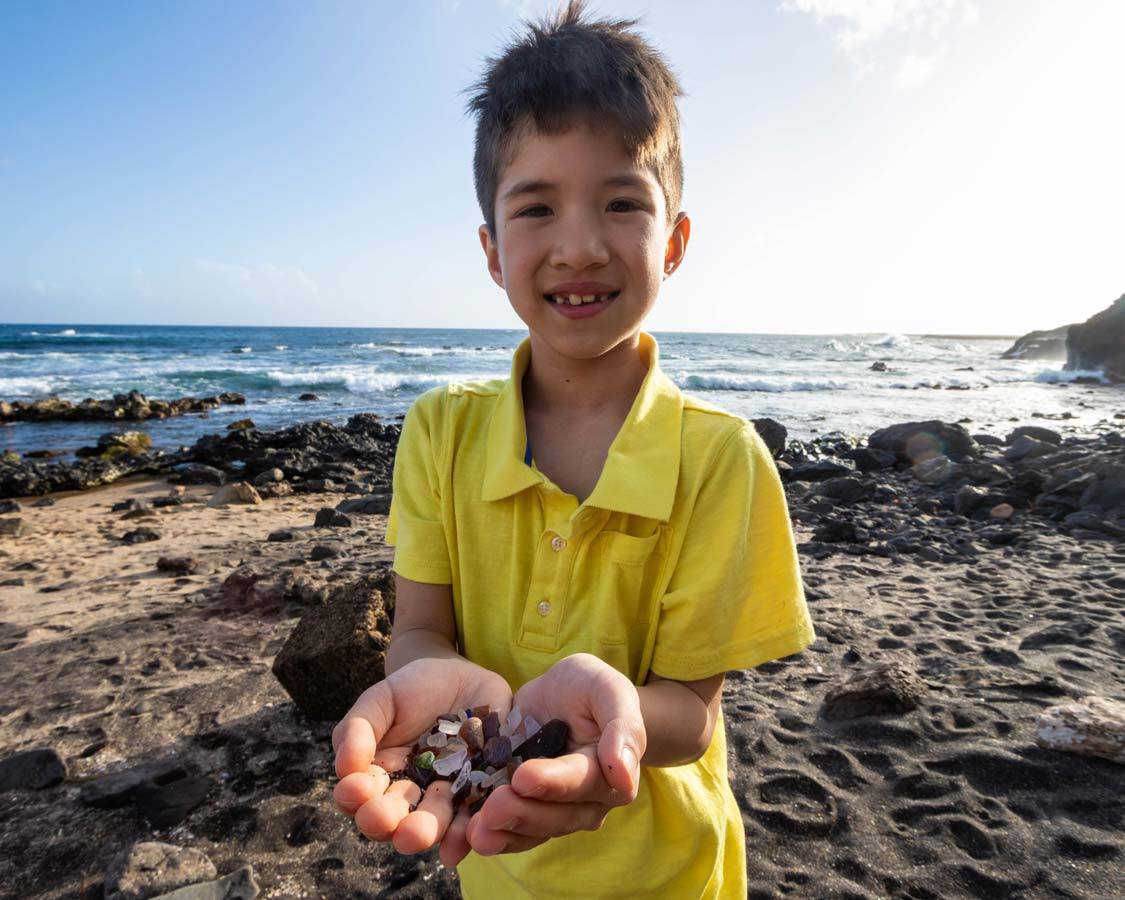 Glass beach itself is not the spectacle that it once was. It was once filled with worn-down sea glass dropped into the ocean by the nearby Port Allen recycling station. Now, it has been picked clean by both locals and tourists alike. There are signs asking visitors to not remove the sea glass from the beach. But from what I saw, it is largely ignored. There was still enough glass to make the visit fun for our kids in Kauai. They spent an hour digging through the sand and around the rocks looking for the perfect pieces. At the end of the day, we found some "secret" places in the sand to bury them so that we could find them on our next visit to Kauai with kids.
But what made Glass Beach Kauai truly unique was the area near the bluffs. At the top of the bluffs is an old Hawaiian cemetery with graves dating back as far as the nineteenth century. It is an eery, yet strangely beautiful place full of graves and crypts, many of them from Hawaiian and Japanese residents. Many of the crypts and tombstones have been worn and broken over the years, yet there is something uniquely fascinating about the location.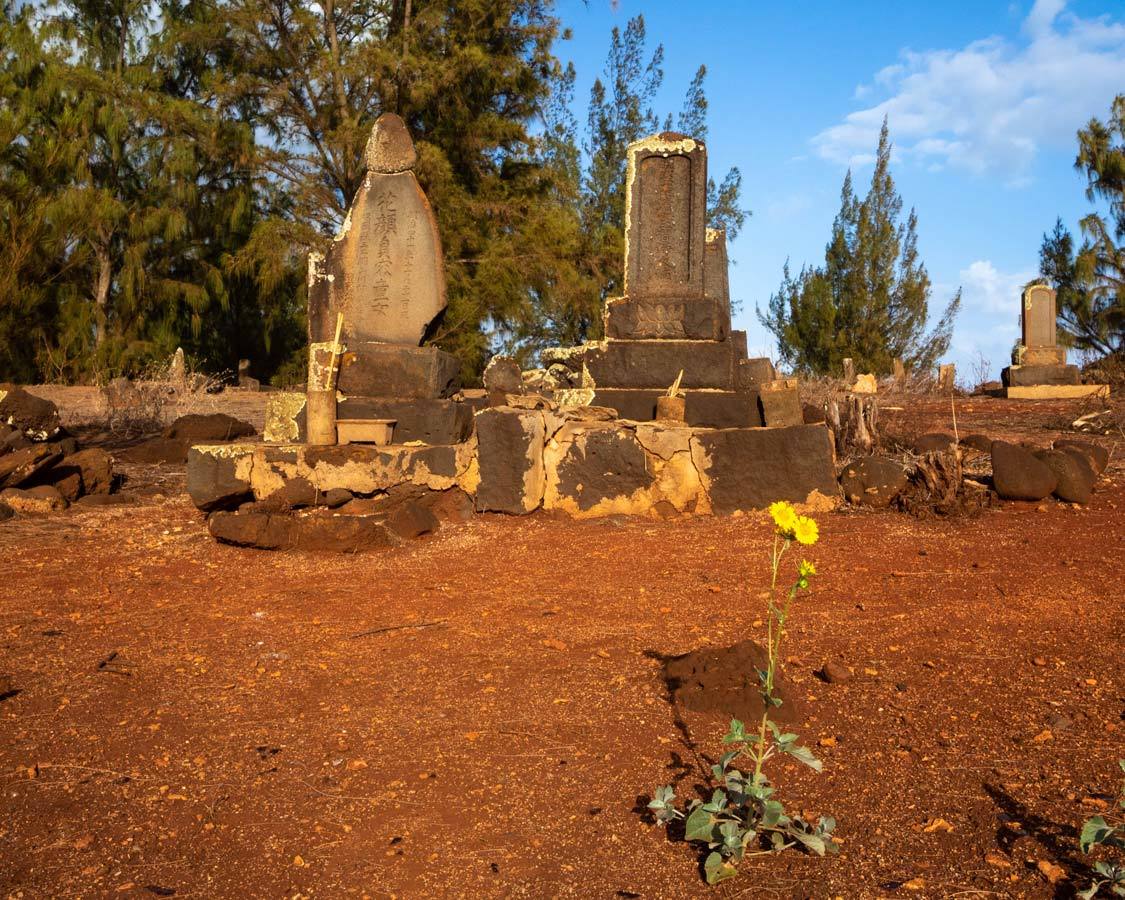 The third unique thing about Glass Beach is the bluffs themselves. By following a small path at the end of the parking area you can reach a worn trail to the bottom of the bluffs. This where you'll see a small beach among the rocks. It's a great place to watch the sunset. Our kids loved exploring the small tide pools that are packed with small fish and crabs.
If you choose to visit here, do be careful and stay back from the ocean side of the rocks. The waves can crash hard and unexpectedly against the rock walls and it would be easy to fall into the water. The best views are from further back on the rocks where things are much safer anyways.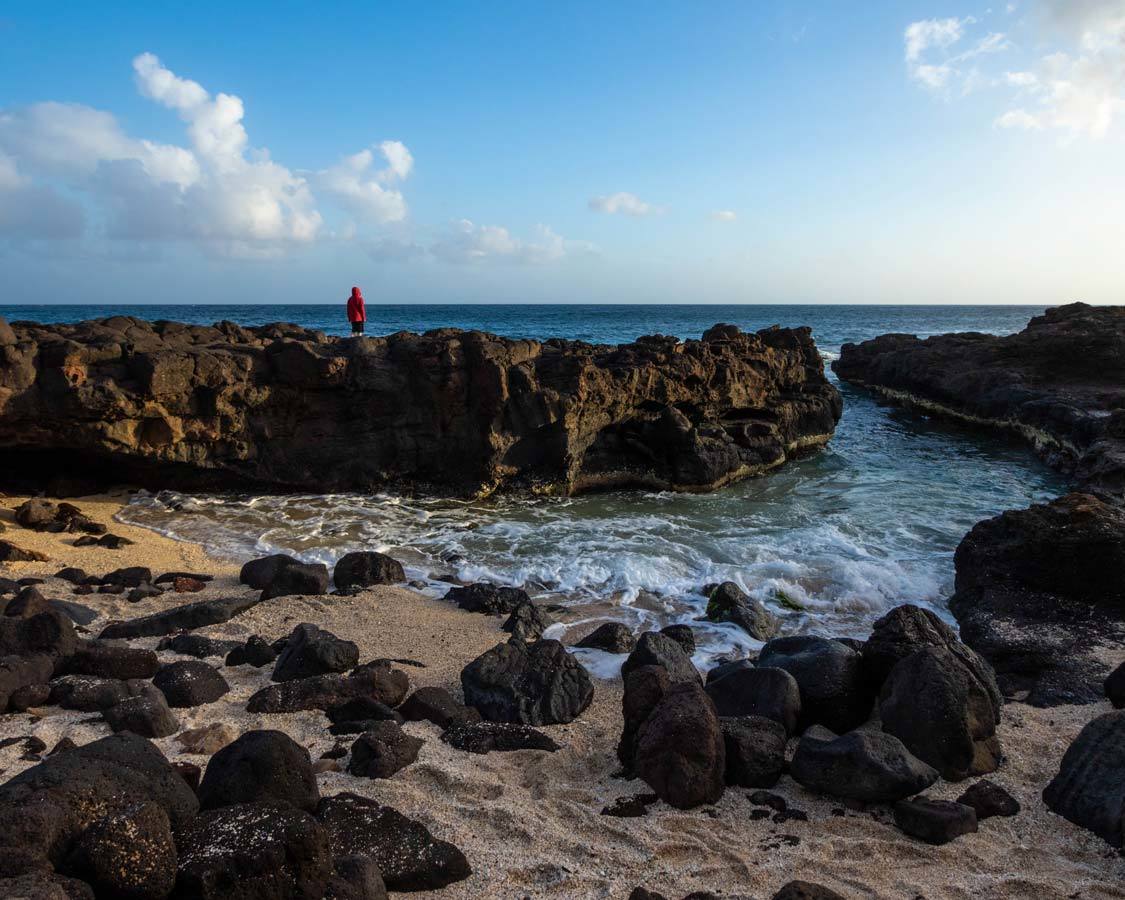 Waimea Canyon Drive To Na Pali
Our Waimea Canyon drive was an epic day that is fully deserving of its own post. And that will be delivered in a few weeks. But this spectacular drive is one of the coolest ways to spend a day in Kauai with kids. Our day started early, Christina's parents had joined us late the night before and would be joining us for the trip. And it's good that they did. Because they kept us from biting off more than we could chew on this classic Kauai adventure.
The road to Na Pali along the Waimea Canyon route starts inside the town of Waimea. From there it winds its way for 36 miles (60 km) and up to an elevation of 4,000 ft. The drive took us through Waimea Canyon State Park, Ku'la Natural Area Reserve, and Koke'e State Park. It culminated at the Pu'u O Kila Lookout over the Na Pali Coast State Wilderness Park.
Along the drive, there are countless places to stop and explore or just enjoy the view. In fact, there are so many places to stop along the Waimea Canyon drive that you will need to skip a lot of them. Otherwise, you will have to make the long drive back in the dark. But the Waimea canyon route will treat you to gorgeous canyon vistas, waterfalls, both epic and quaint, and of course, your first taste of the Na Pali coastline. This coastline may be among the most beautiful in the world.
Waimea Canyon is often referred to as the Grand Canyon of the Pacific. And, unlike many that try to bear that mantel, Waimea comes close to pulling that off. The canyon is truly epic. And the views of the clouds casting shadows over the depths, and the cascading waterfalls pouring into its depths is truly magical. You can read all about the best stops on the road to Hana here.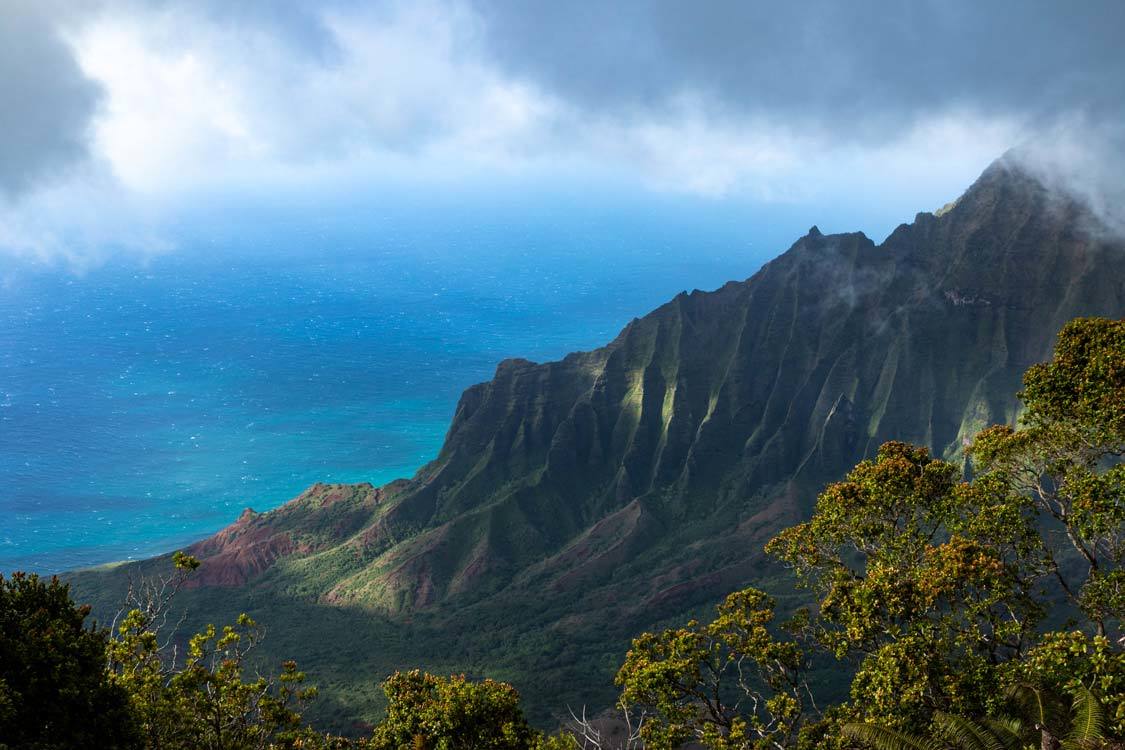 Na Pali Coast Tour
Currently, the Na Pali coast hiking trails are closed. You can still experience this mesmerizing and nearly untouched section of Kauai coastline. The two most popular ways of experiencing the Na Pali coast is on a coastal boat cruise and on a Kauai helicopter tour. The helicopter tours are often combined with a helicopter tour of Waimea Canyon.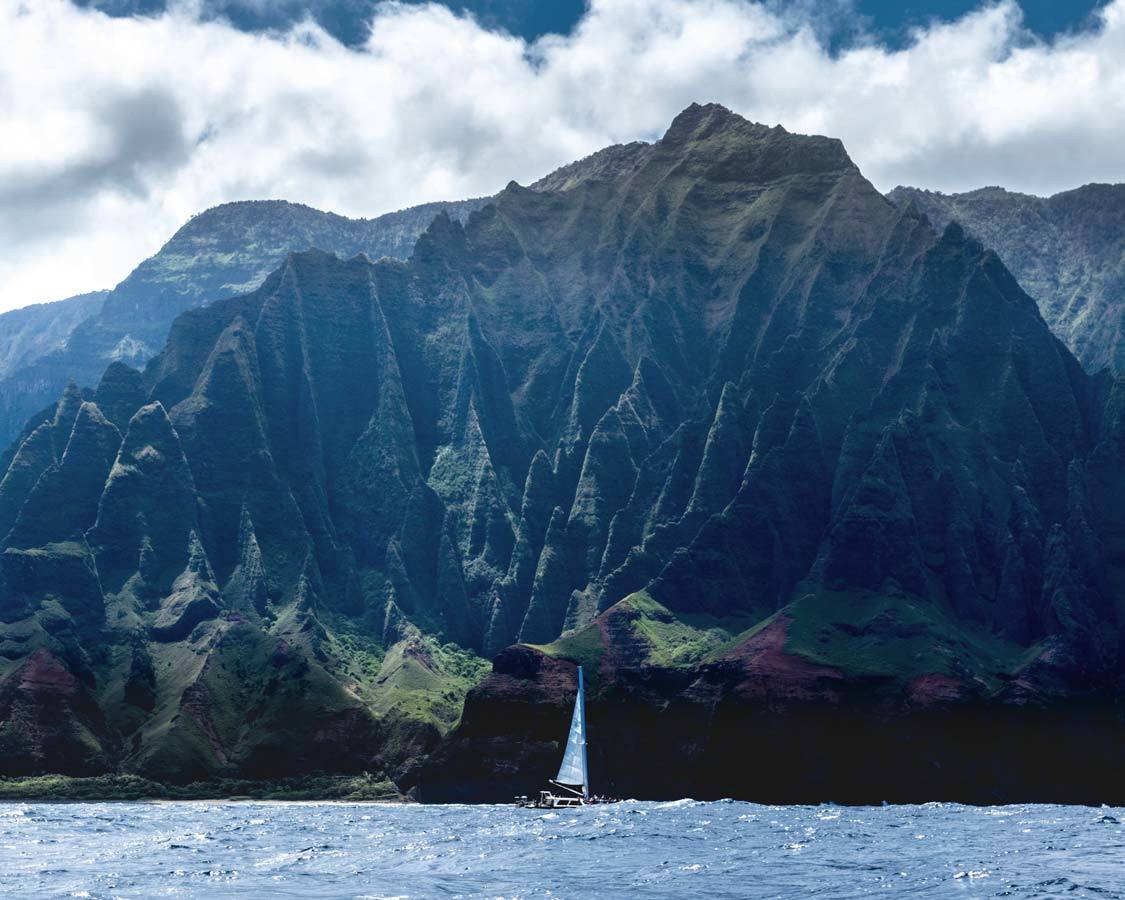 We opted for a private boat tour of the coast. This would allow us to enter some of the amazing sea caves on the Na Pali coast. And while getting those views was truly spectacular, our day went from calm to windy and wavy pretty quickly. In our small boat, we needed to make a retreat from the close-up views. We ended up with something a little further out in order to enjoy the experience a bit more. In retrospect, I think I would have gone with the helicopter experience. There are still some companies that do doors-off tours for better photography.
The Na Pali coastline was a truly special experience. We had the opportunity to see where many of the Hawaiian villages were located prior to contact with outsiders. You can picture the fantastic lifestyles of these villages and the farming and fishing that was done on this breathtaking stretch of waterfront.
Hanalei Beach
After recovering from our Na Pali Kauai adventures, we made the trip around the island to the only area of Kaui we had yet to visit, the famous Kauai North Shore. We made it as far as Hanalei Beach before more road closures forced us to halt our progress. But, Hanalei Beach was a pretty amazing place to stop for a while. We spent some time splashing in the waves and watching another great Kauai sunset.
The Hanalei Beach pier makes for a popular spot for fishing. The tall bluffs surrounding the bay break the waves nicely, making it one of the best spots to bring keiki swimming. The long, gentle waves also make Hanalei Beach a popular spot for beginner surfers.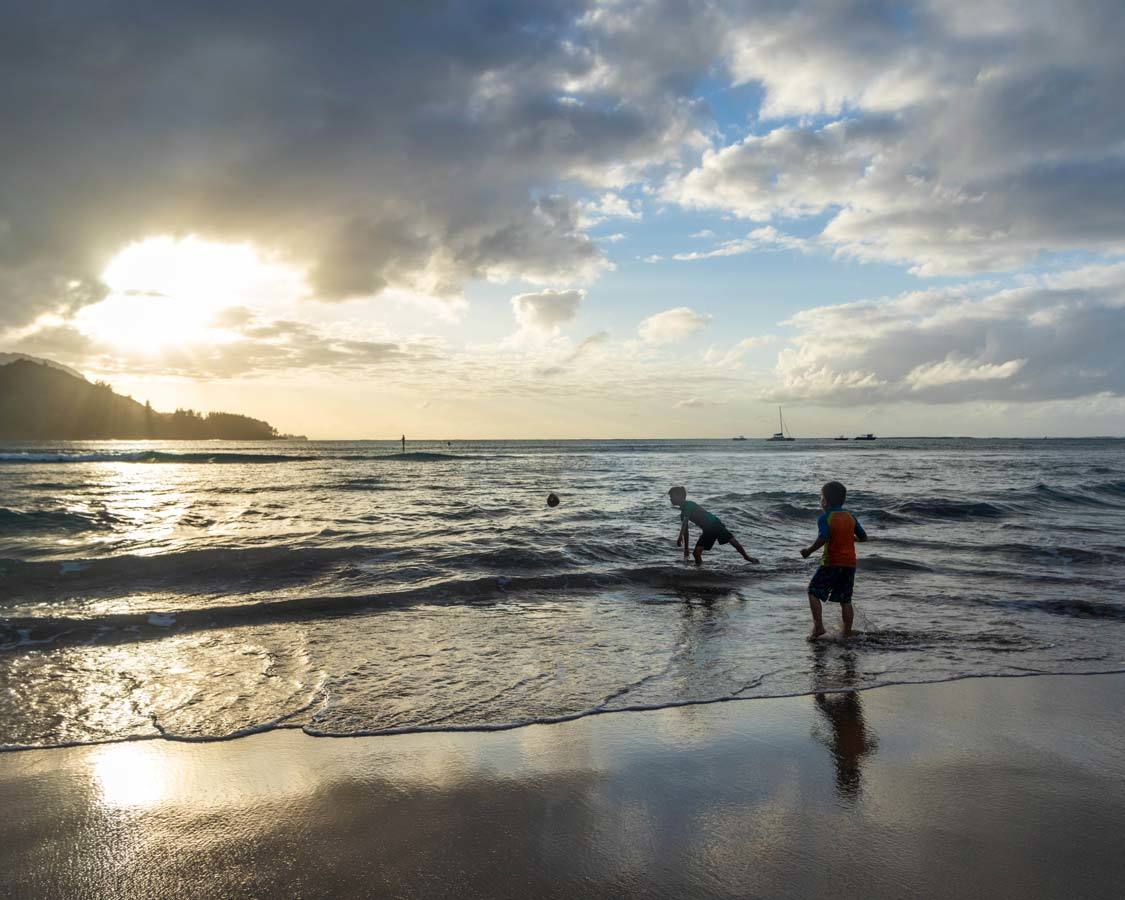 Picnic And Play At Lydgate Park
Lydgate Park is a very popular place for local and visiting families in Kauai. There are large fields for flying kites or playing frisbee. But what makes it one of the best things to do in Kauai with kids is the 16,000 ft Kalamani Playground. Families could easily spend an entire day at Lydgate Beach Park. Activities such as playing, swimming in the man-made pools, and taking cat naps under the towering palm trees are wonderful.
Spend A Day Snorkeling The Coral Reefs
Kauai is a perfect spot for young snorkelers. We did most of our snorkeling in Maui later on in our Hawaii family vacation. But in Kauai, there were loads of places where we could have easily explored the waters. Some of the best spots for gentle snorkeling in Kauai are
Lydgate Beach Park has calm waters in man-made rock, enclosed pools.
Poipu Beach Park has a peaceful and shallow lagoon with many species of fish.
Salt Pond Beach is very popular with locals. It has many species of fish and some great rock formations.
Anini Beach has the longest reef in the Hawaiian Islands. During the summer, the waters here are some of the calmest on the island. And it's one of the best places to see sea turtles.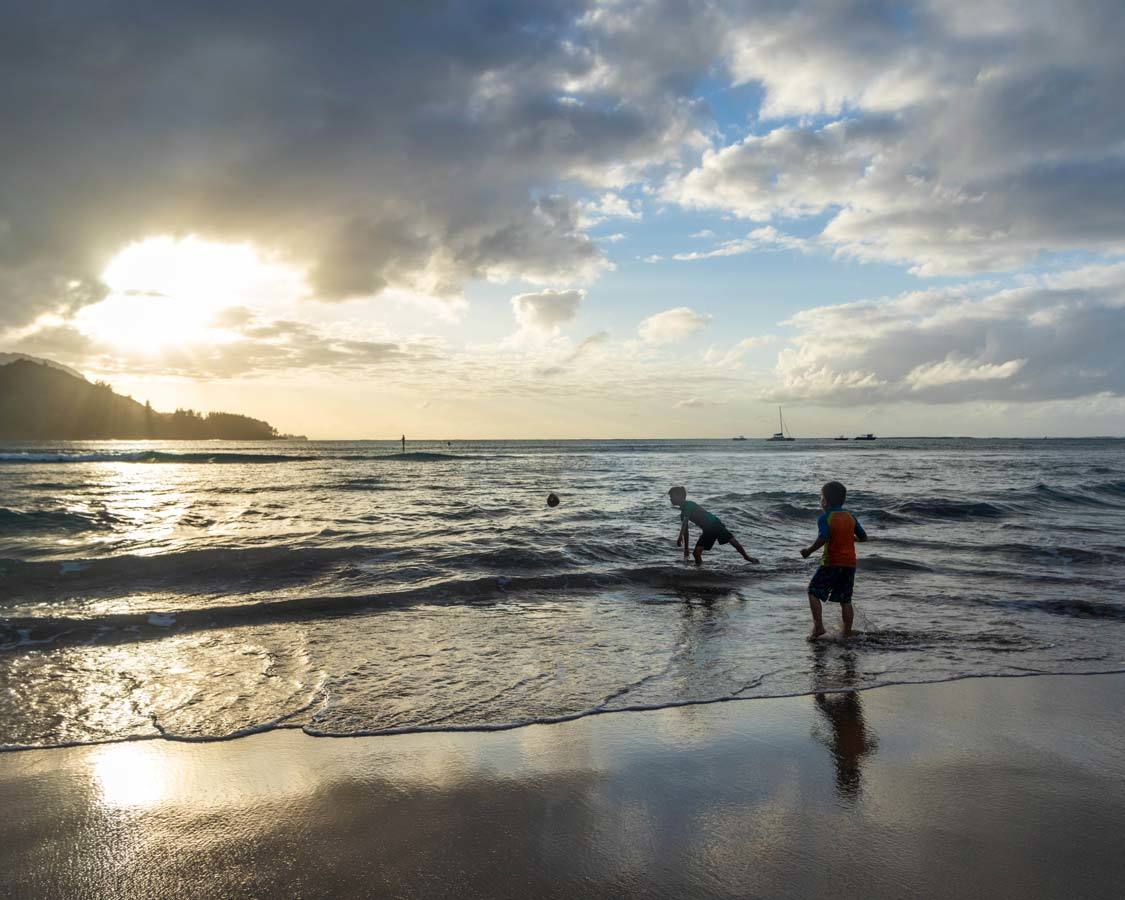 Eat At All The Food Trucks
There's no getting around this. Food trucks are by far the best way to eat in Hawaii. And Kauai is one of the best places for amazing food trucks. Whether you are after a coffee, shaved ice, shrimp, Mexican, Filipino, or Hawaiian food, you are almost guaranteed to find countless options during your search for food in Kauai for kids. Stop at them all if you can. But, if you can't, some of the most popular places for food trucks in Kauai are:
Kapa'a has some great options, and even hosts a food truck night on Fridays. Make sure to check out La Taco Feliz downtown and 3 Girls Local Grill for some Hawaiian/Filipino fusion.
Lawai has some great options in a small business park outside of town. Here you'll find The Fresh Shave, one of the best-shaved ice trucks on the island.
Koloa not only has one of the coolest historic towns, but it also has some great food trucks. Our favorite place to eat in Koloa however, isn't a food truck, but it's about the size of one. Make sure to grab a Poke Bowl from Koloa Fish Market.
Waimea is home to the original Shrimp Station. Make sure you give the garlic shrimp dish a try. It's a mouthwatering treat.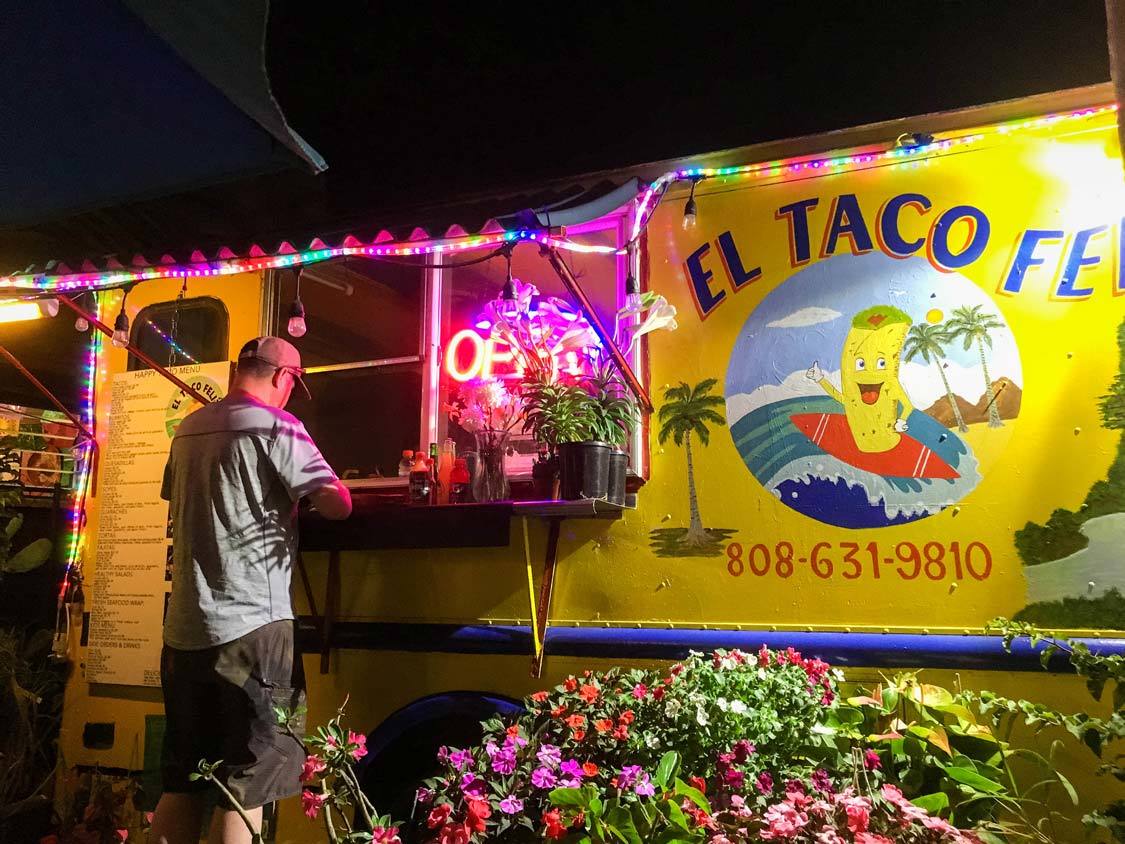 Spend An Evening (or many) Watching The Kauai Sunset
There's a reason that every second item on this list mentions the Kauai sunset. They are amazing. So our final item is our favorite places to catch the sunset in Kauai with kids:
Kilauea has one of the most spectacular sunsets. Our favorite spot is known mostly by the locals. You'll pass it just before you reach the Kilauea Lighthouse. There is a horse-filled farm looking out onto the bluffs. You'll have to work for parking, as many locals arrive early to hang out and often get the prime spots.
Hanalei Beach, specifically near the pier is just gorgeous. Ending your day here offers the perfect combination of a sunset swim for the kids and a magical view for the adults.
Kalalau Lookout at the tip of Waimea Canyon has spectacular views if you get there on a clear day (which can be a challenge). Although it doesn't face the sun, the colorful skies give off an absolutely mesmerizing effect.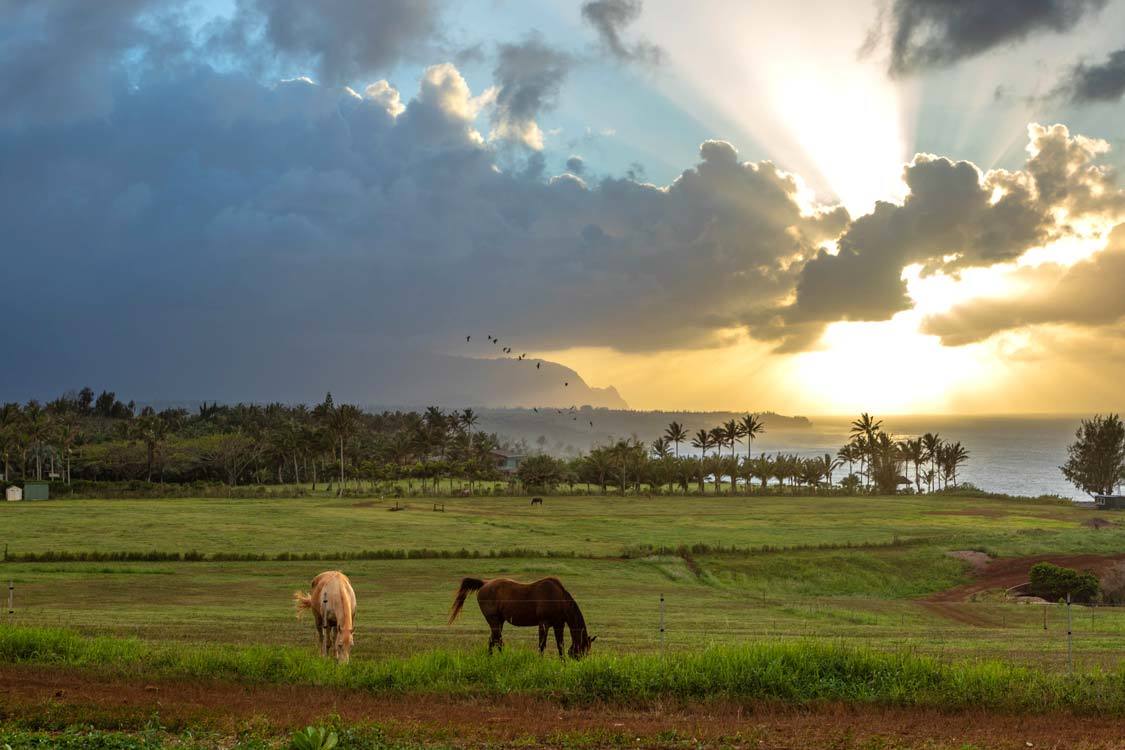 Have you traveled to Kauai with kids? Tell us about your favorite things to do and places to see in the comments section. Or, head over to our Facebook page and share a photo of your trip. We would love to see your Kauai adventures.
Disclosure: This post was made possible with the support of Kauai Backcountry Adventures and Lydgate Farms. Wandering Wagars is a participant in the Amazon Services LLC Associates Program, an affiliate advertising program designed to provide a means for sites to earn advertising fees by advertising and linking to amazon.com, amazon.co.uk, amazon.ca. Amazon and the Amazon logo are trademarks of Amazon.com, Inc. or its affiliates.
You May Also Like To Read:
Pin This For Later: