Those looking for where to stay on Kauai have some incredible options. These Kauai resorts and hotels make for the perfect family vacation on the Garden Island.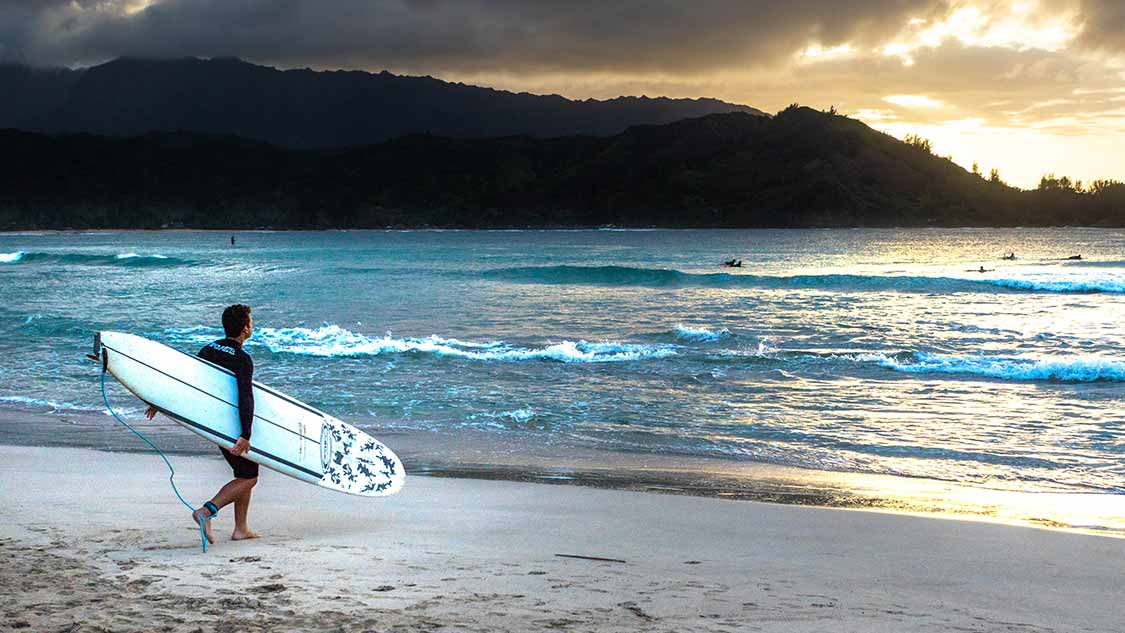 The island of Kauai is one of the most spectacular places to visit in the state of Hawaii. Known as "The Garden Island" Kauai is ripe with stunning scenery, beautiful beaches, and magnificent attractions that make it one of the best destinations in the world for family vacations.
Exploring where to stay in Kauai can be a challenge for family planners. With all of the incredible things to do in Kauai, how do you narrow down the perfect resort or hotel on an island that has so many incredible adventures?
There are a huge variety of family-friendly resorts on Kauai. You'll find options to fit nearly every taste. So, if you're planning a family vacation to Hawaii and want to find the perfect Kauai hotel or resort, read on for our top tips and regions of the island to base yourself.
Whether you're looking to relax on the beach, go tubing through sugar plantations or take a tour of one of America's only chocolate plantations, these Kauai resorts make the perfect home base for family fun.
The Best Kauai Resorts And Hotels For Families
When planning our Kauai vacations, these resorts and hotels always make our list of where to stay on Kauai.
The Grand Hyatt Kauai Resort & Spa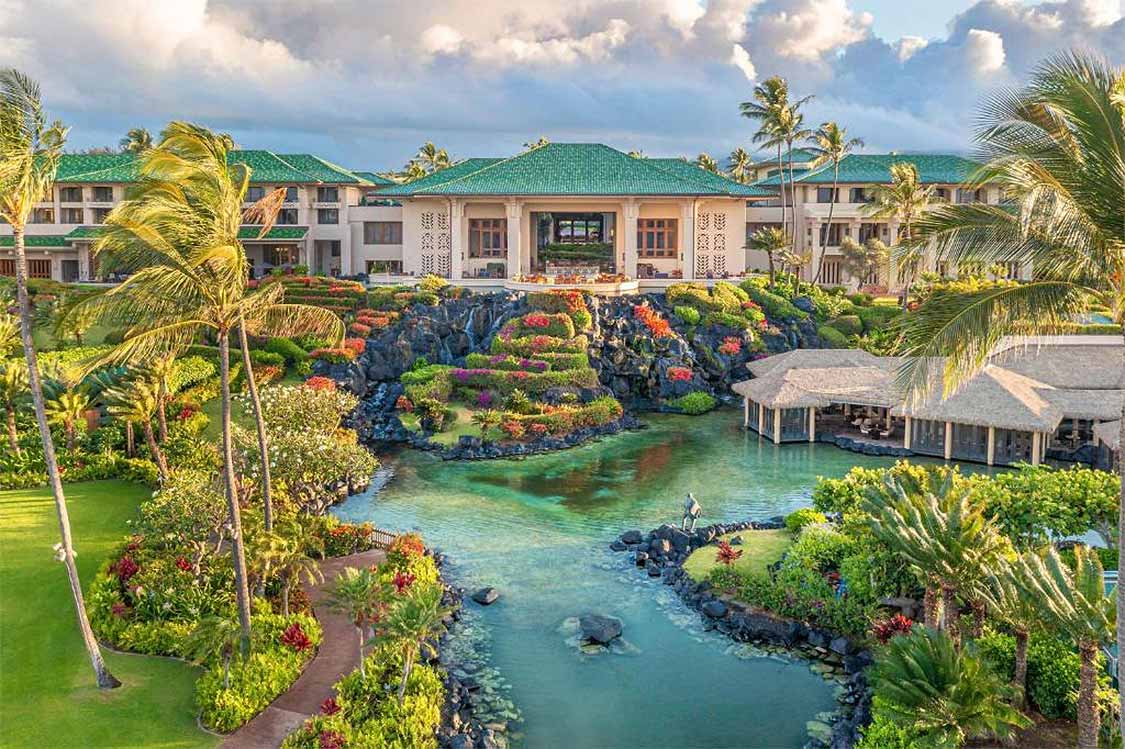 When it comes to visiting Kauai with kids, The Grand Hyatt Kauai Resort and Spa always stands out among the top choices.
Located in Koloa on the south side of Kauai near Shipwreck Beach, this family-friendly Kauai resort boasts eleven on-site restaurants, loads of water features including a water park, and one of the best pools on the island.
Whether you're interested in Kayaking among sea turtles, golfing at the Robert Trent Jones Jr.-designed Poipu Bay Golf Course, shopping for locally crafted art focused on the rich Hawaiian culture, or enjoying hula, ukelele, or lei-making classes, this Kauai resort has it all. The Grand Hyatt Kauai Resort & Spa even has a Kids Club for when the adults need a little time alone.
Without a doubt, this is one of the top, kid-friendly resorts in Kauai. You can find their latest prices and availability here.
Royal Sonesta Kauai Resort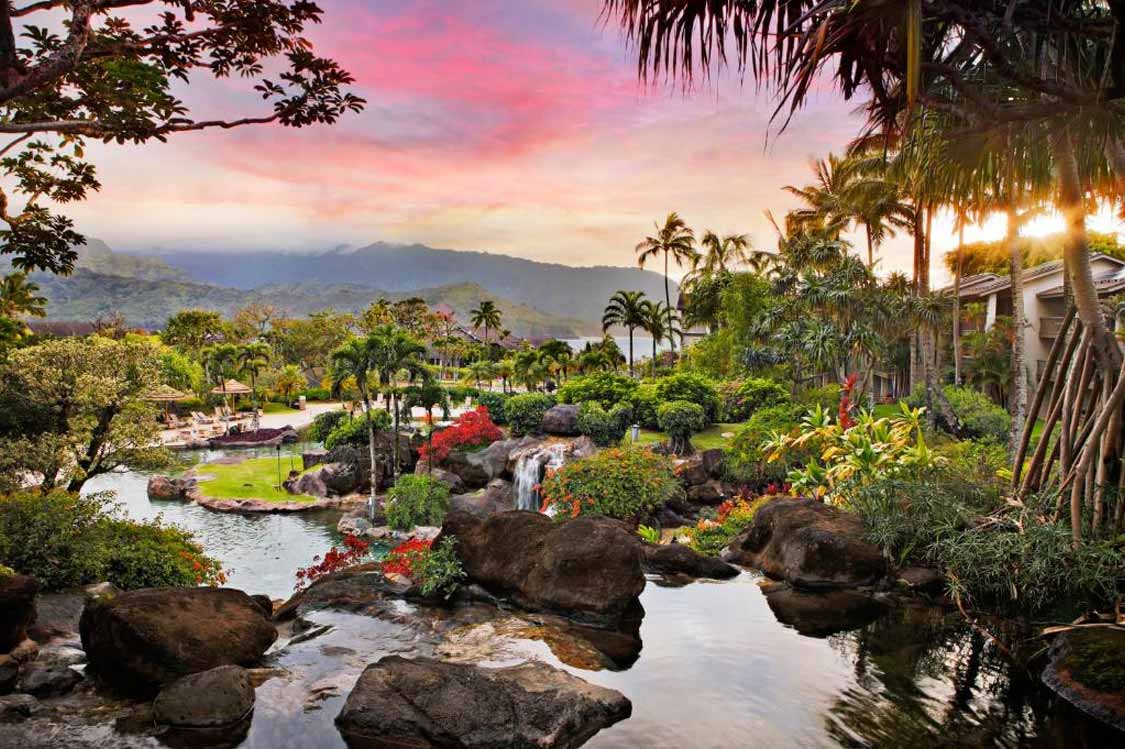 Royal Sonesta Kauai Resort is on the grounds of what was once the Kauai Marriott Resort. It stood out for years as one of the best resorts on the island, and under new ownership, this Kauai resort has continued to thrive.
This Kauai resort is located on the southeast corner of the island near the Lihue airport. It features the largest open-air pool in Hawaii. If you prefer the crystal waters of the Pacific Ocean, you can relax on the sand at Kalapaki Beach. This protected beach offers excellent swimming and is a great spot to learn how to surf.
The resort features a kids club for children under 12-years-old. It features arts, crafts, puzzles, and fun experiences to keep them busy if the adults need a little time alone.
Throughout the resort and beautiful grounds, you'll also find an 18-hole golf course, six tennis courses, five restaurants, and a full-service spa and salon.
You can find the complete list of availability and prices here.
Marriott's Kauai Lagoons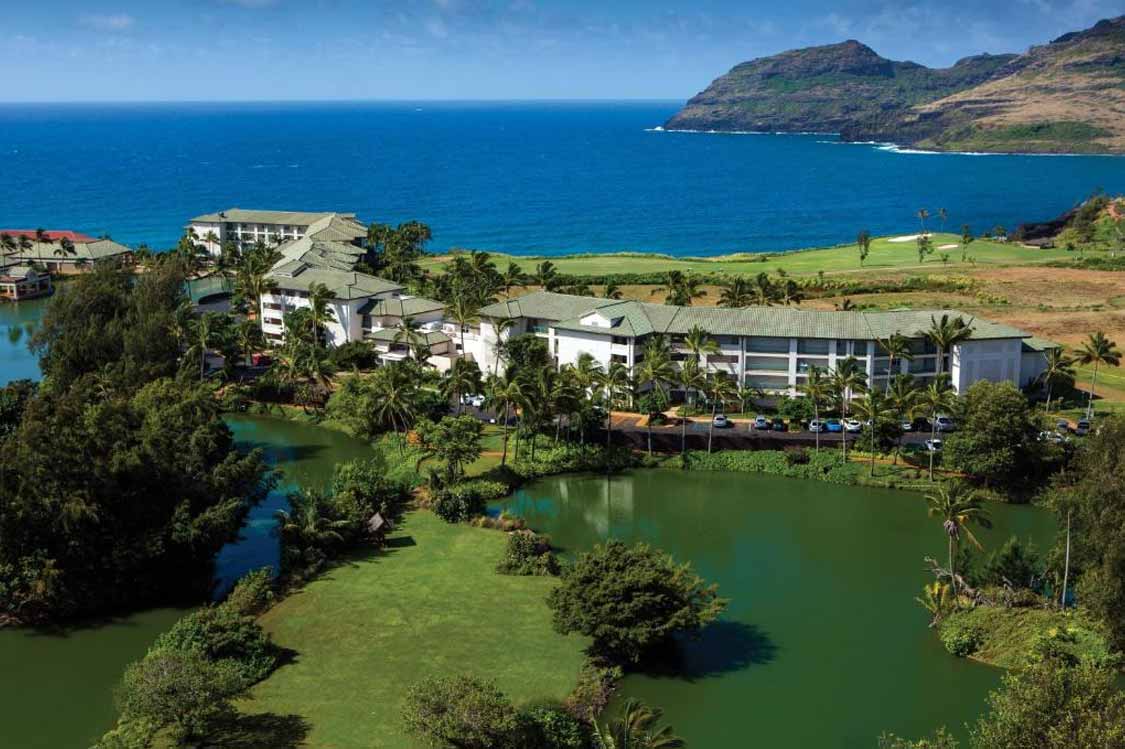 Located right next to Royal Sonesta Kauai Resort, and just 2.2 miles from the Lihue airport, Marriott's Kauai Lagoons is one of the best resorts in Kauai for families.
The resort features large villas that range from two to three-bedroom units. Your family will have plenty of room to relax. And each villa is kitted out with a full kitchen so you can prepare some incredible meals with fresh local ingredients. The villas are each replete with two bathrooms as well.
This resort has tennis and volleyball courts, whirlpool, and picnic facilities complete with grills. There's also loads fo great options for fishing, restaurants, and local tours.
This resort is also only 20 minutes away from both Opaekaa Falls and the Wailua River State Park. Opaekaa Falls is a 151-foot-tall waterfall and one of the most accessible waterfalls in Hawaii. "Opaekaa" translates to "rolling shrimp," which were once thriving in the stream.
The Wailua River State Park features riverboat cruises to Fern Grotto, which is a cave covered in ferns inside a tropical garden. Visiting both the waterfall and the park will have you set for a day of awe-inspiring sights, if not for a whole week!
Kiahuna Plantation Resort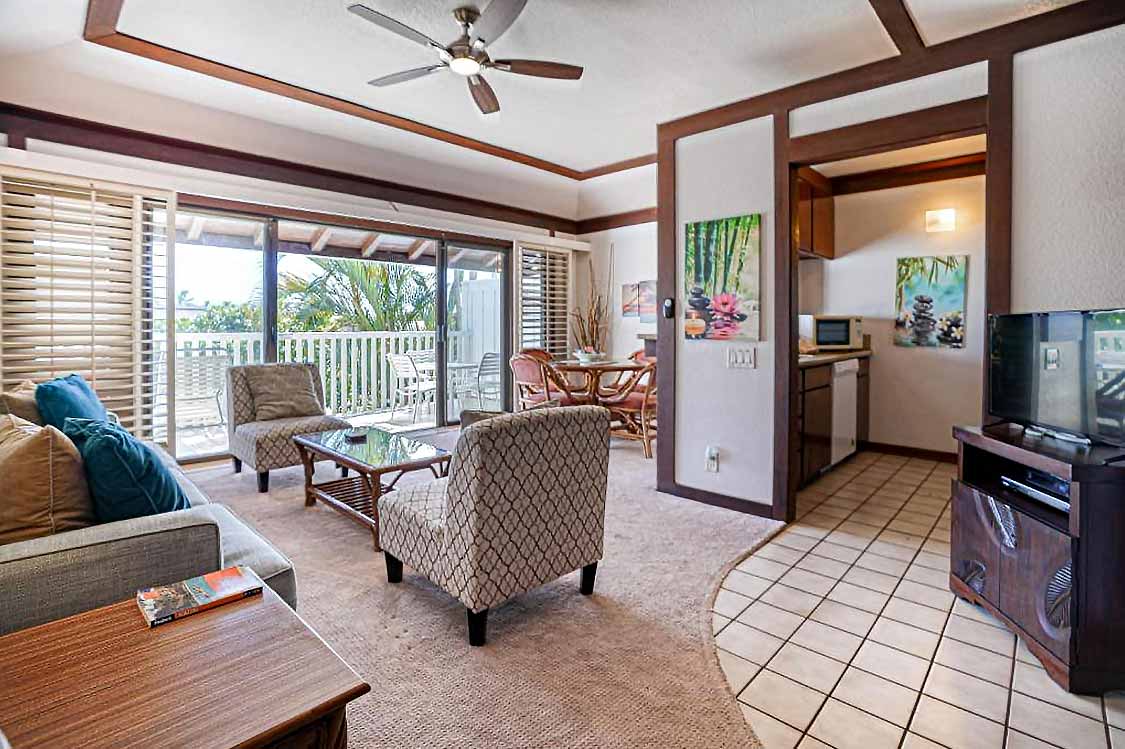 For a relaxing Kauai family vacation, the Kiahuna Plantation Resort located in south Kauai near Poipu Beach should be on your list of where to stay in Kauai, Hawaii.
This family-friendly resort features large rooms that will comfortably fit the entire family. You'll also find pools, waterslides, and a multitude of restaurants with a wonderful variety of Hawaiian and International cuisine for the whole family.
For even more family adventures, Poipu Beach is one of the best places for kids to learn to surf in Hawaii. There are professional surfing teachers on-site to help you learn.
Children at the resort are also provided with a special activity package that includes a set of binoculars to enjoy sightseeing on the resort and around the island. It's the perfect tool for enjoying the views at Waimea Canyon State Park.
You can find their current availability and prices right here.
Hanalei Bay Resort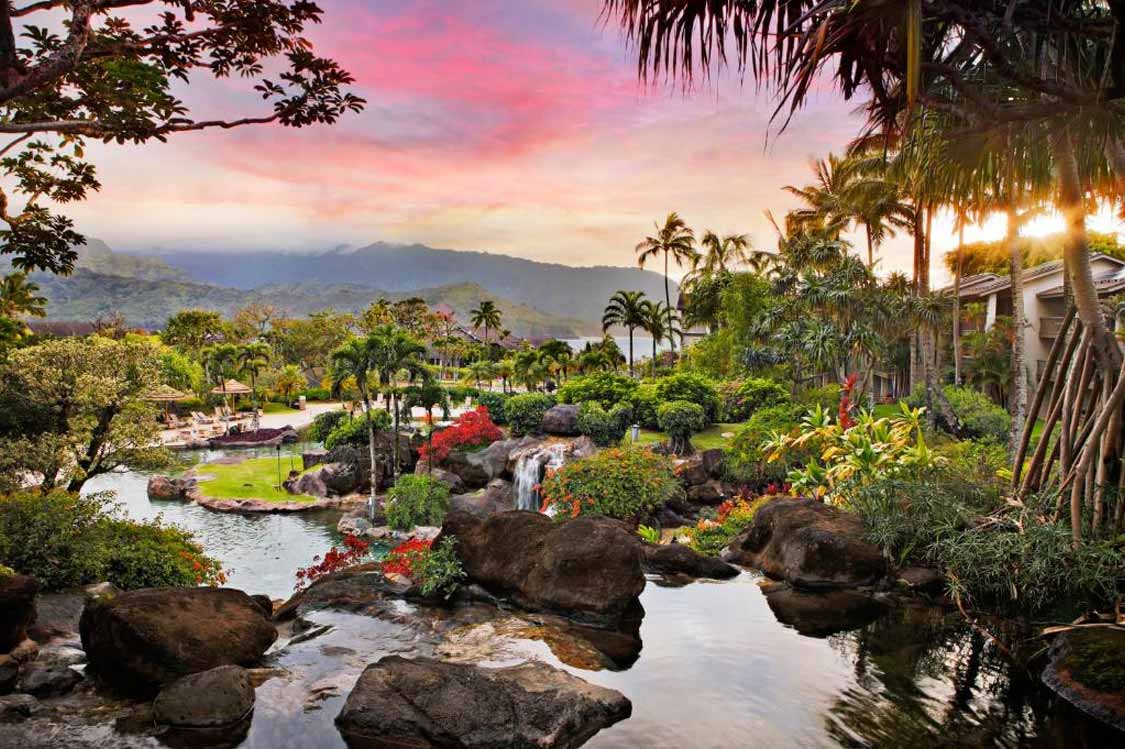 One of the best Kauai resorts in north Hawaii is Hanalei Bay Resort. This resort, located on picturesque Hanalei Bay offers magnificent views of the bay along with family-friendly adventures including horseback riding, kayaking, golfing, hiking, surfing, and other great things to do.
This resort isn't far from the top side of the Na Pali Coast as well as Kilauea Lighthouse and Kilauea National Wildlife Center. It features some of the best sunsets in Kauai, epic mountain views, and garden access from the one-three bedroom family-friendly villas.
You'll also have easy access to the town of Kilauea for dining, shopping, and much more. You can find their current prices and availability here.
Waipouli Beach Resort & Spa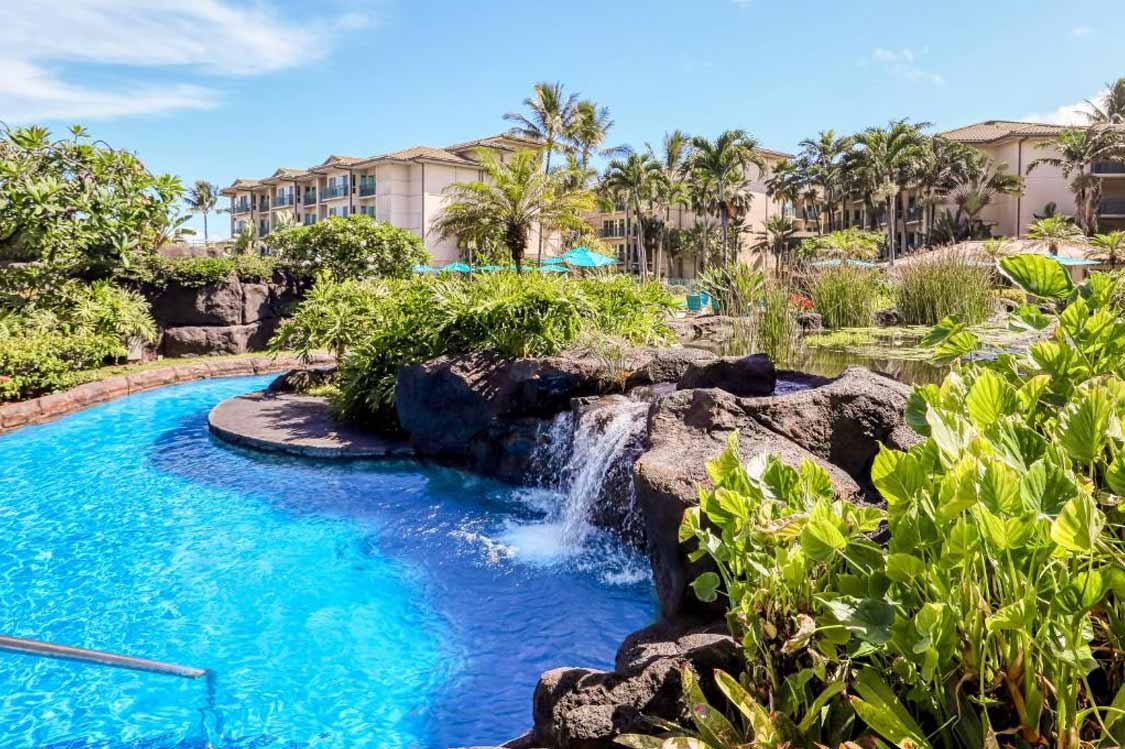 Another great resort in Kauai for those who love to live independently is Waipouli Beach Resort and Spa. This quiet resort makes for a relaxing Hawaii vacation destination.
The rooms at the resort are fully equipped with a kitchenette that includes an oven, microwave, small fridge, and complimentary WiFi.
The on-site pool is fabulous and you'll have easy access to a plethora of nearby restaurants and shopping experiences in nearby Wailua or Kapa'a. There are also some great options for child care in the area including private nannies and resort-sanctioned child care.
Adults will also love the on-site spa where you can enjoy relaxing massages, pedicures, and facial treatments.
You can find the latest prices and availability right here.
Sheraton Kauai Resort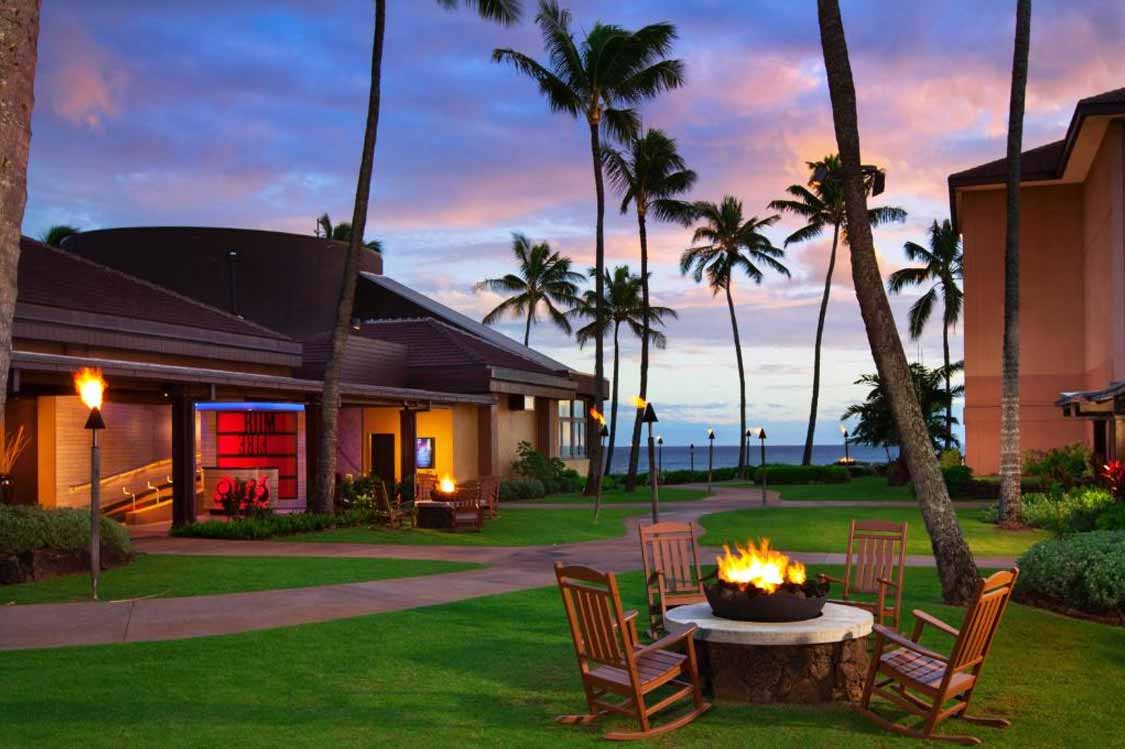 Located in Poipu just at the end of Poipu Beach is the picturesque Sheraton Kauai Resort. This popular spot offers some of the most scenic views in all of Hawaii. But that's not all that makes this one of the best places to stay in Kauai.
This beautiful resort has loads of options for entertaining the family. You'll find activities including storytelling and dancing. You can even learn to SCUBA dive and snorkel with on-site lessons that are hosted each day. If you've read our piece about Molokini snorkeling in Maui, you'll know how incredible snorkeling in Hawaii really is.
There are even surfing lessons right at the resort. You'll also have easy access to some great resorts in Poipu and along the waterfront to enjoy those epic views.
You can find their latest pricing and availability here.
Westin Princeville Ocean Resort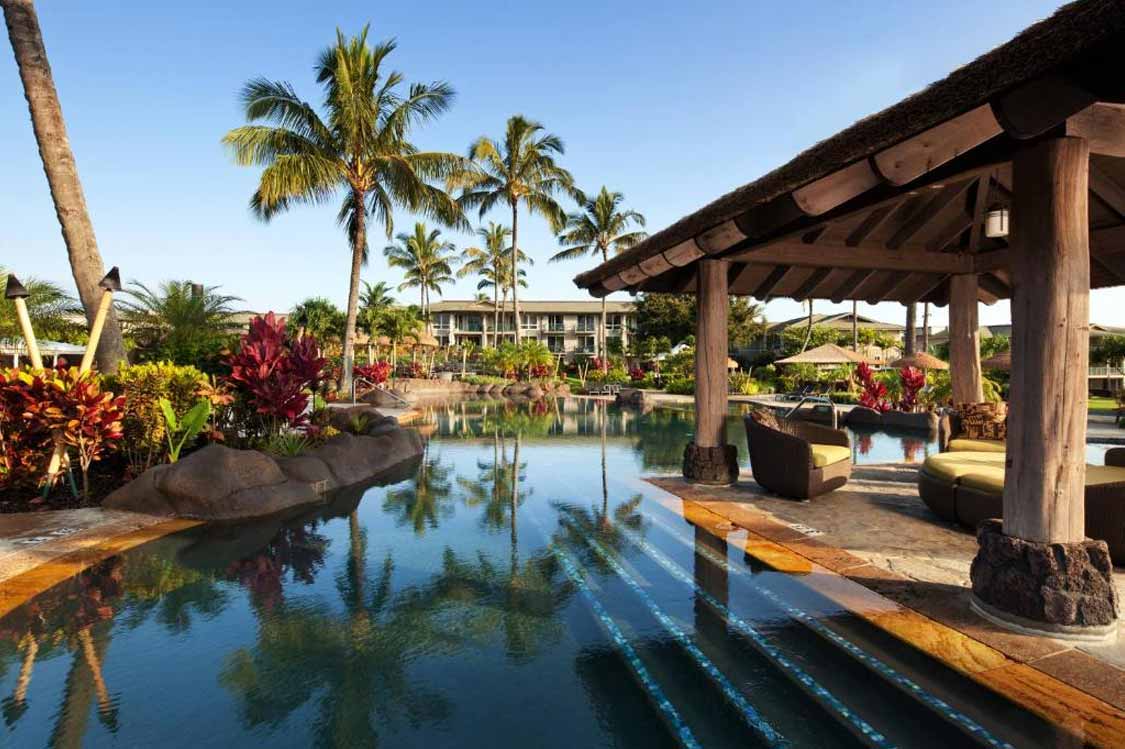 The Westin Princeville Ocean Resort is located right at the tip of Wyllie's Beach, which is one of the nicest beaches on Kauai.
This family-friendly Kauai resort overlooks one of the calmest stretches of the oceanfront and offers easy access for those looking for some fun in the sun. You'll also find a fabulous on-site spa with all sorts of customizable treatments and a popular golf course for those looking to hit the links.
This villa resort is fantastic for families. You'll find spacious multi-bedroom units with full kitchens. There are wonderful views on all sides as well with the mountains in the back and the ocean at your doorstep.
You can find the latest prices and availability here.
Whalers Cove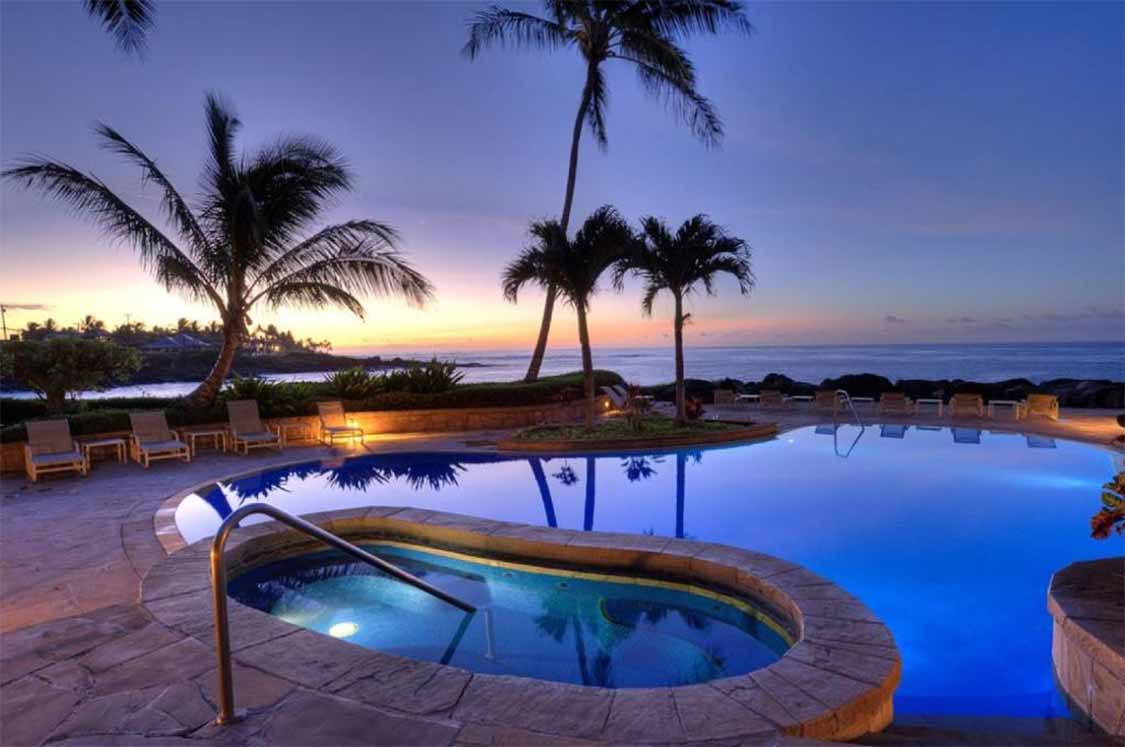 Another popular Poipu Beach-area Kauai resort (can you tell that we love that part of Kauai?) that's fantastic for families is Whalers Cove. This popular home-style resort gives you all the luxury amenities paired with accommodations that will make you feel right at home on the island.
The large rooms and villas have loads of room for the whole family and you'll have easy access to all of the amenities in Poipu such as restaurants, shopping, and beachfront. You'll also be just a short walk from nearby Baby Beach.
You can also take advantage of the on-site bike rentals as well as on-site restaurants that are sure to satisfy even the pickiest eater.
You can find their prices and availability here.
Koloa Landing Resort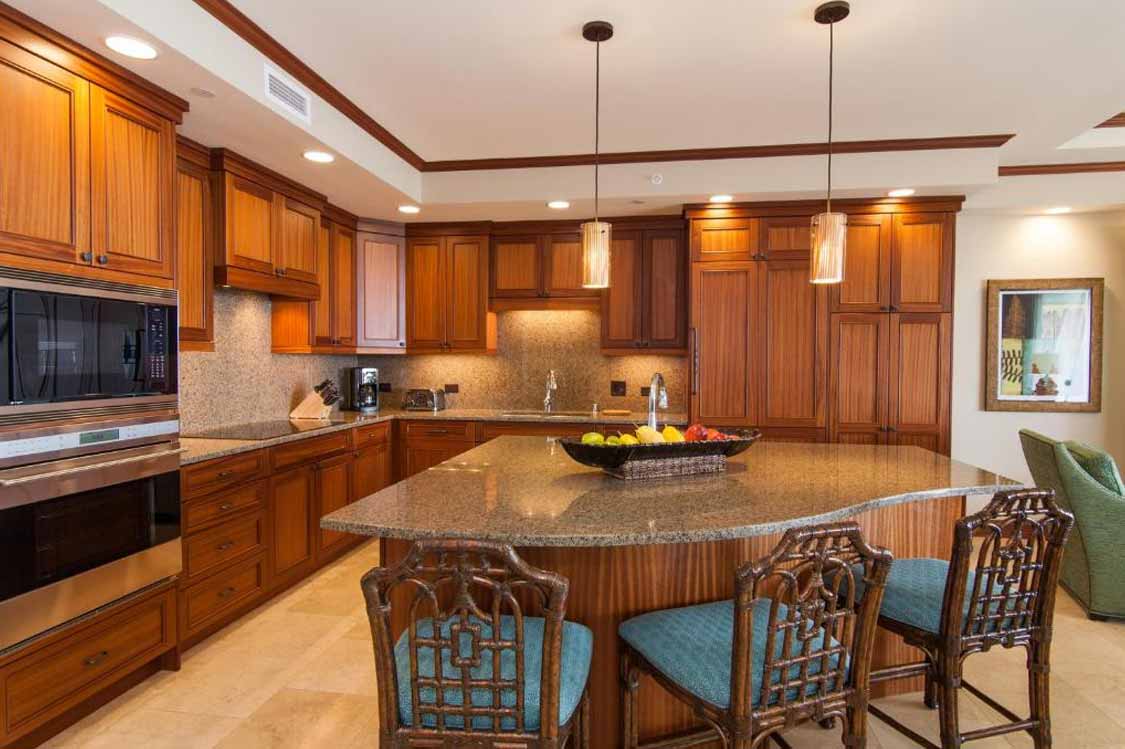 Our last fabulous spot for those looking for where to stay on Kauai is, surprise, surprise! Another Poipu Beach-Area resort. Koloa Landing Resort is located on the south shores of Kauai between Baby Beach and Kiahuna Beach.
This resort has all of the amenities that families in Kauai could ask for. You'll find cozy beds, full kitchens, and spacious rooms that will comfortably fit the whole family.
You'll find loads of on-site activities here including golf courses, soccer fields, and a massive pool that will give everyone plenty of space to splash around. The pool has a little gem of its own in the form of a large waterfall that cascades down several levels.
You can find their latest pricing and availability here.
Tips For Choosing Where To Stay On Kauai
When you choose where to stay in Kauai, it's good to know what kind of experience you are looking for. The island of Kauai is divided into five main regions. The main regions of Kauai are Lihue, the East Side (Coconut Coast), the North Shore, the South Shore and the West Side
Scattered throughout the regions of Kauai are the incredible towns and villages that make this island such an incredible destination. However, certain areas such as the Na Pali Cpast are very mountainous and difficult to access. You won't find many places to stay in Kauai within the interior either as much of this area is rough terrain and difficult to build on.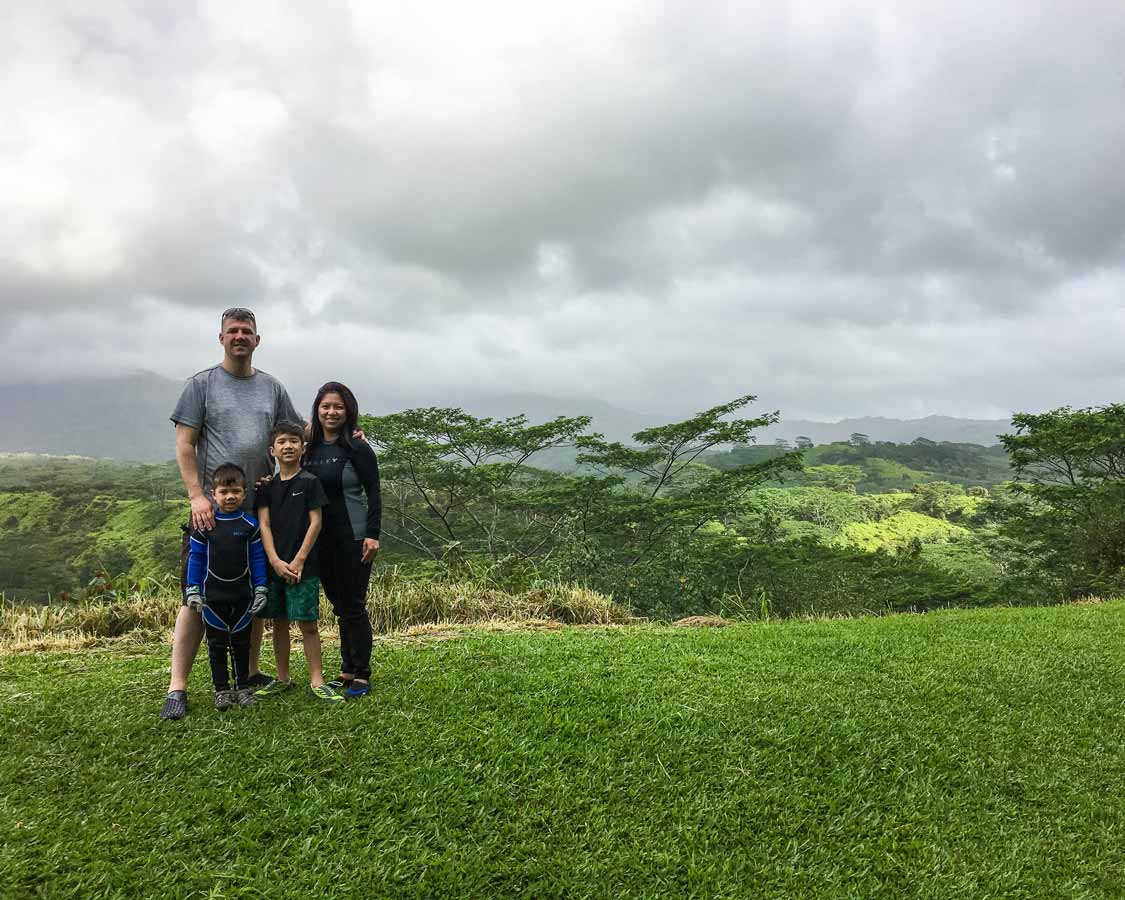 Kauai Accommodation Terminology
When planning your stay in Kauai, location is everything. So many of the prime properties are located either beachfront or oceanfront. And knowing the difference can make a big difference in your experience.
Beachfront accommodations are generally the most expensive and the most sought after. They offer quick access to the beach. Oceanfront tends to be less expensive than beachfront rooms.
Keep in mind that many Kauai vacation rentals have beautiful gardens. Going for the garden view rooms might not always be sacrificing your dream. Make sure to consider your accommodation costs versus your vacation expectations.
These are the key terms when looking for hotels on Kauai so that when you book your stay, you won't find yourself surprised.
Beachfront
Beachfront accommodations on Kauai are located right on the beach. This means that you'll usually have nothing but sand between you and the water.
Oceanfront
Oceanfront Kauai accommodations face the ocean, and there are usually no properties between it and the water. However, these properties are not necessarily located on the beach. Instead, they could be on a cliff or rocky ground.
Ocean View
These Kauai places to stay offer a view of the ocean. However, this doesn't mean they are oceanfront. There could be other buildings or streets between the property and the water.
Partial Ocean View
Partial ocean view accommodations on Kauai offer a glimpse of the ocean. Unfortunately, sometimes this means that you might have to stretch your neck around a corner to get a partial glimpse.
Mountain View
These Kauai accommodations offer a view of the mountains and volcanoes within the island. However, they may only offer partial views.
Garden View, Pool View, Golf View, etc.
These are the rooms that offer interior views of the property rather than of the ocean or mountains. As a result, they tend to be the most budget-friendly accommodations on the island.
Which Of These Places To Stay On Kauai Are Perfect For You?
Kauai offers some of the most incredible views on the Hawaiian Islands. So there's no surprise why it's one of the most popular destinations for family travel. So if you're looking for where to stay on Kauai, I hope this has helped you out.
And feel free to drop any questions or comments below. I always answer them.
If you're passionate about family travel, head on over to our Family Travel Support Group on Facebook. It's a fantastic community of parents who love travel. We share experiences, knowledge, and the lessons learned along the way. You can also sign up for our newsletter to keep in the loop about new family travel adventures.
Wandering Wagars is a participant in the Amazon Services LLC Associates Program, an affiliate advertising program designed to provide a means for sites to earn advertising fees by advertising and linking to amazon.com, amazon.co.uk, amazon.ca. Amazon and the Amazon logo are trademarks of Amazon.com, Inc., or its affiliates.
You May Also Like To Read