The best hotels in Rovaniemi, Finland, give you access to all the family fun in the city. Check out our favorite Rovaniemi hotels for your Lapland adventures.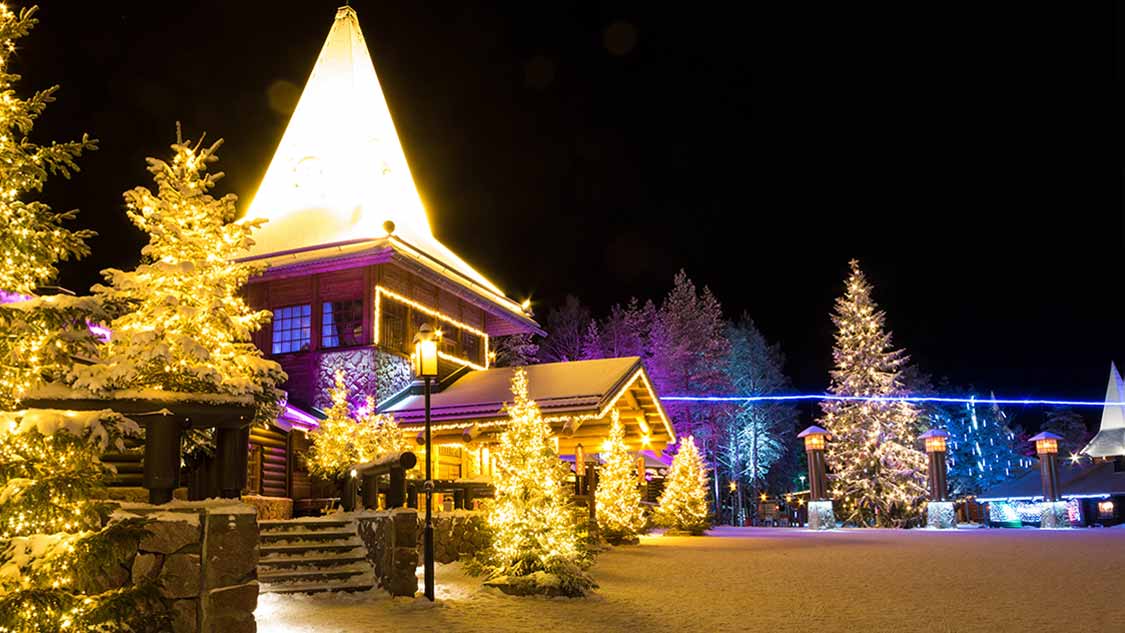 Few cities fit as much adventure into one place as the city of Rovaniemi, Finland. Rovaniemi packs family fun into four seasons. However, there is no denying that this Lapland Christmas paradise is a little extra special during the winter. So choosing an incredible family-friendly hotel in Rovaniemi can be a big part of making sure that the magic of your vacation doesn't end when it's time to call it a night.
Nestled on the edge of the Arctic Circle, Rovaniemi is the center of action for popular attractions in Lapland, such as Santa Park and Santa Claus Village. There are so many things to do in Rovaniemi that my family barely had time to sleep during our last visit.
While we recommend exploring all of Lapland, from Inari down, Rovaniemi, without a doubt, draws the vast majority of all visitors to Finland's northern reaches. Luckily, this city is built for families. And visitors will have lots of options for a great Rovaniemi hotel. So, to help you choose where to stay in the city, we've laid out some of the top hotels and rentals in and around town.
You'll find loads of options here, from quaint and comfortable to luxurious and breathtaking. Whether you're looking for a Rovaniemi resort, a glass dome to watch the northern lights, or a quiet cabin complete with Christmas decorations, we've laid out a great list because the perfect Rovaniemi accommodation can put a cap on a legendary winter vacation.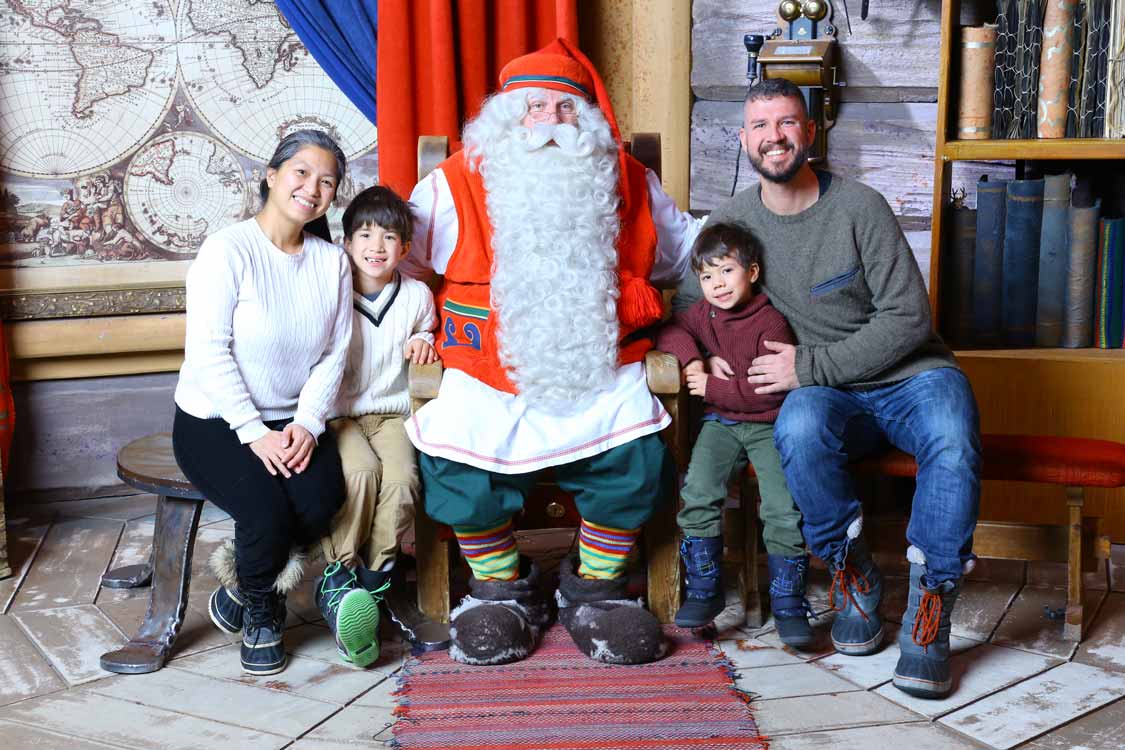 10 Excellent Hotels In Rovaniemi, Finland
These Rovaniemi hotels have made our list of excellent, hip, and fun places to stay in the capital of family fun in Lapland. We've chosen family-friendly hotels that are close to the action and offer everything you need to make the most out of your visit to this incredible city.
Santa Claus Holiday Village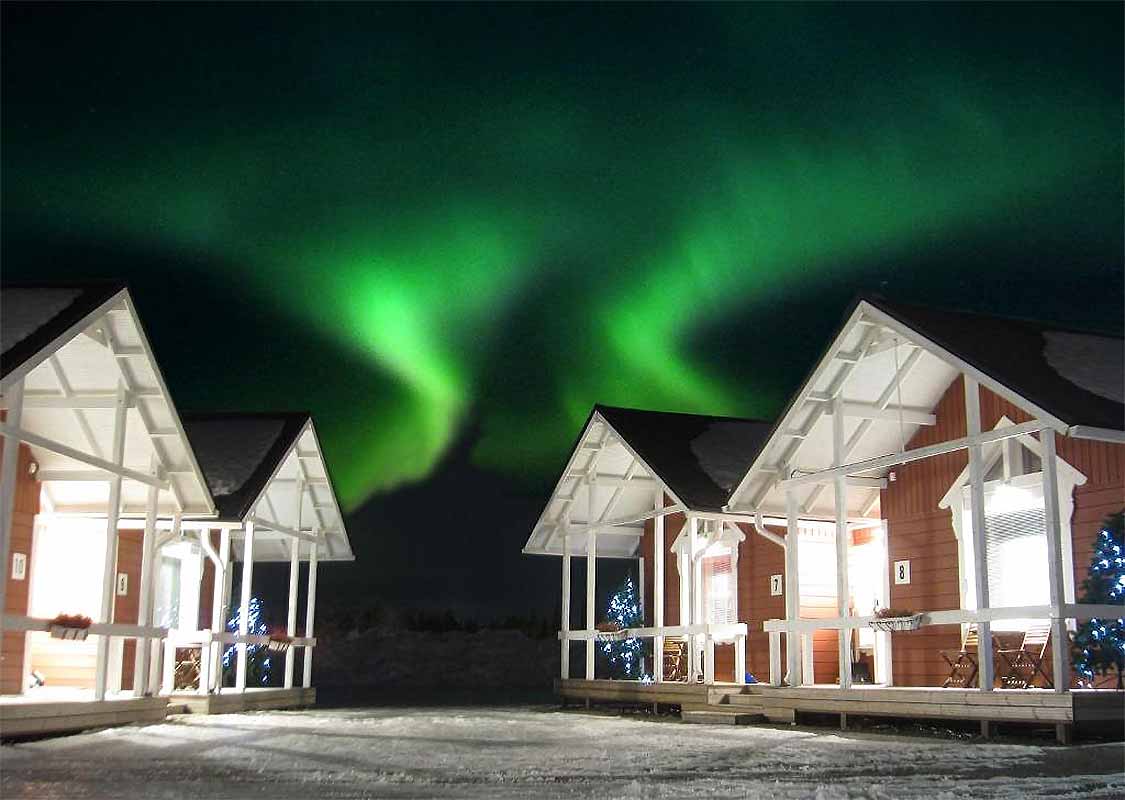 When it comes to hotels and cabins in Rovaniemi, Finland, few are as celebrated as Santa Claus Holiday Village, located in Santa Claus Village just north of the city. This popular Rovaniemi resort offers private cabins and free transport from the Rovaniemi airport.
The quaint and quiet heated cabins include private saunas, a kitchenette, and a terrace. Each one also has a private bathroom and TVs. You can even arrange to have "Santa" drop off some gifts overnight.
The cabins are wonderfully decorated and perfect for that Christmas-themed getaway. And you'll have easy access to the Santa Claus Village experiences; These include reindeer rides, visits with Santa Claus, snowmobile, boat, and bike rentals, and wonderful Lappish and international cuisine found throughout the village.
You can find their current prices and availability here.
Arctic Treehouse Hotel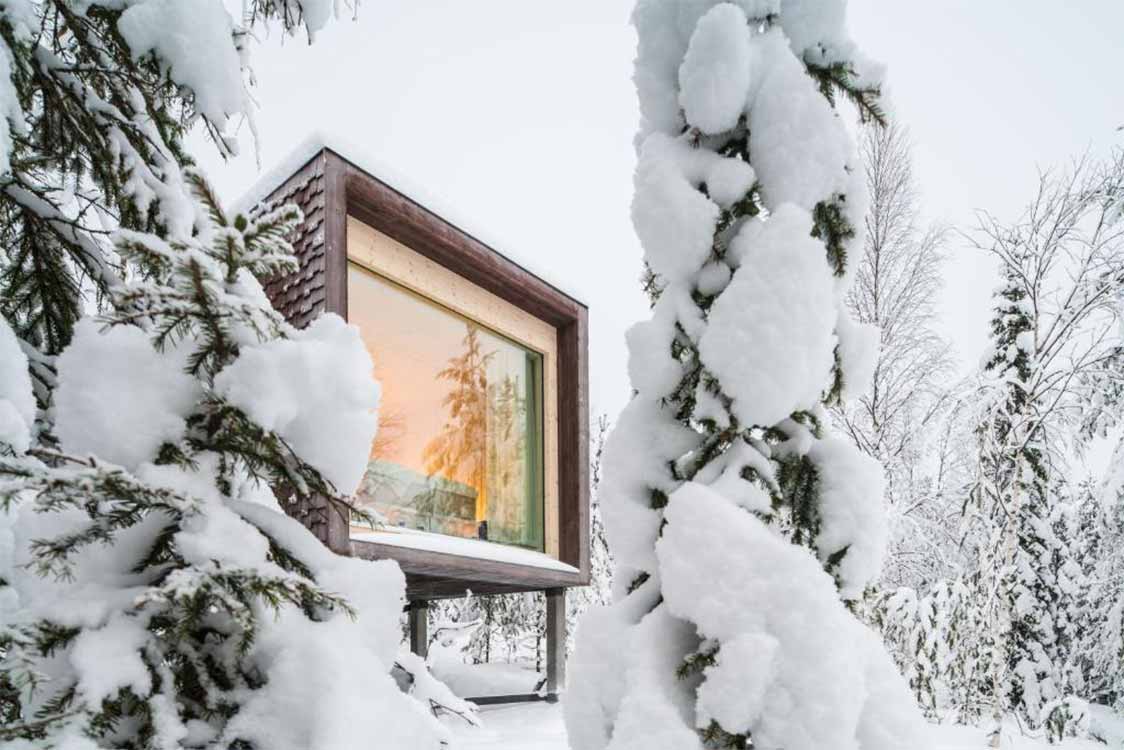 Situated on the ground of Santa Park just beside Santa Claus Village are the charming and beautiful cabins of the Arctic Treehouse Hotel. These raised Nordic-style rooms include private parking, free WiFi, private bathrooms, flat-screen TVs, and access to an on-site Finnish sauna.
Guests at Arctic Treehouse Hotel can take advantage of the Lappish cuisine at the on-site restaurant and take advantage of activities including reindeer safaris, Santa Claus visits, skiing, cycling, and hiking.
You can find the current prices and availability here.
Original Sokos Hotel Vaakuna Rovaniemi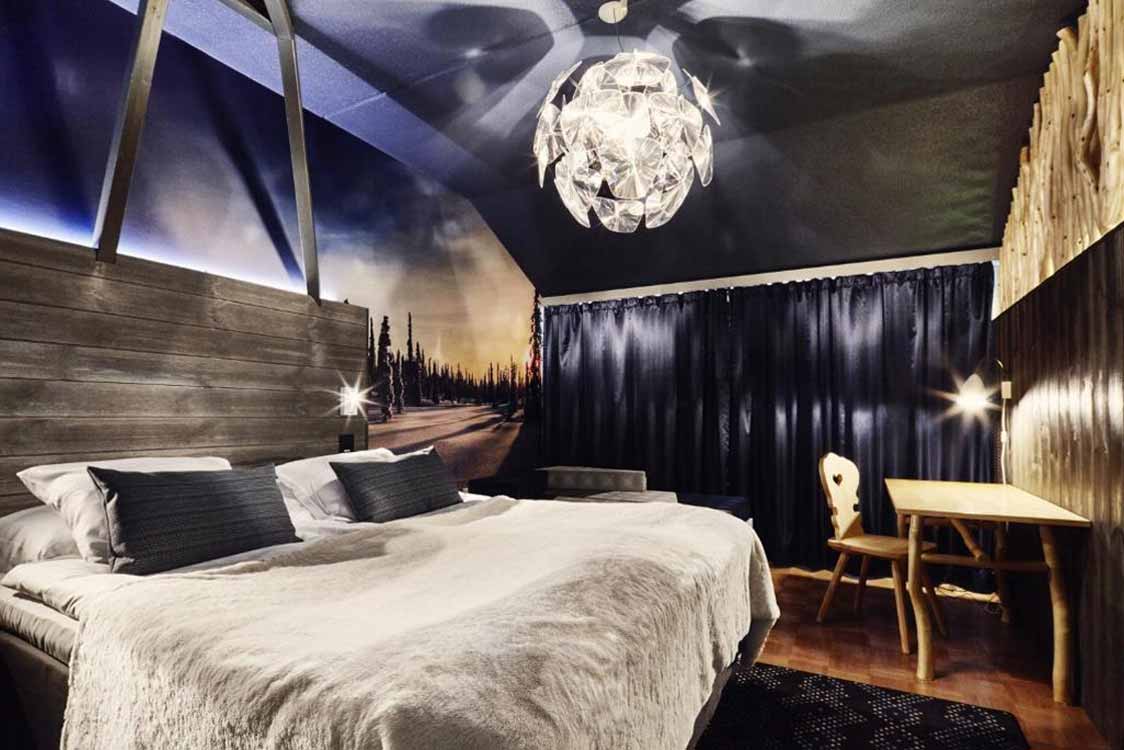 Situated in the heart of Rovaniemi, the Original Sokos Hotel offers easy access to all of central Rovaniemi's top attractions. It also boasts two on-site restaurants serving up French and Tex-Mex cuisine and features an on-site Finnish sauna. All of this is wrapped up with cozy rooms decked with incredibly comfortable beds.
This hotel is just 150-meters from the Kemijoki River and the stunning Jatkankynttila Bridge. It's designed in classic Nordic themes and is only a 10-minute drive from Santa Claus Village.
You can find their current prices and availability here.
Arctic City Hotel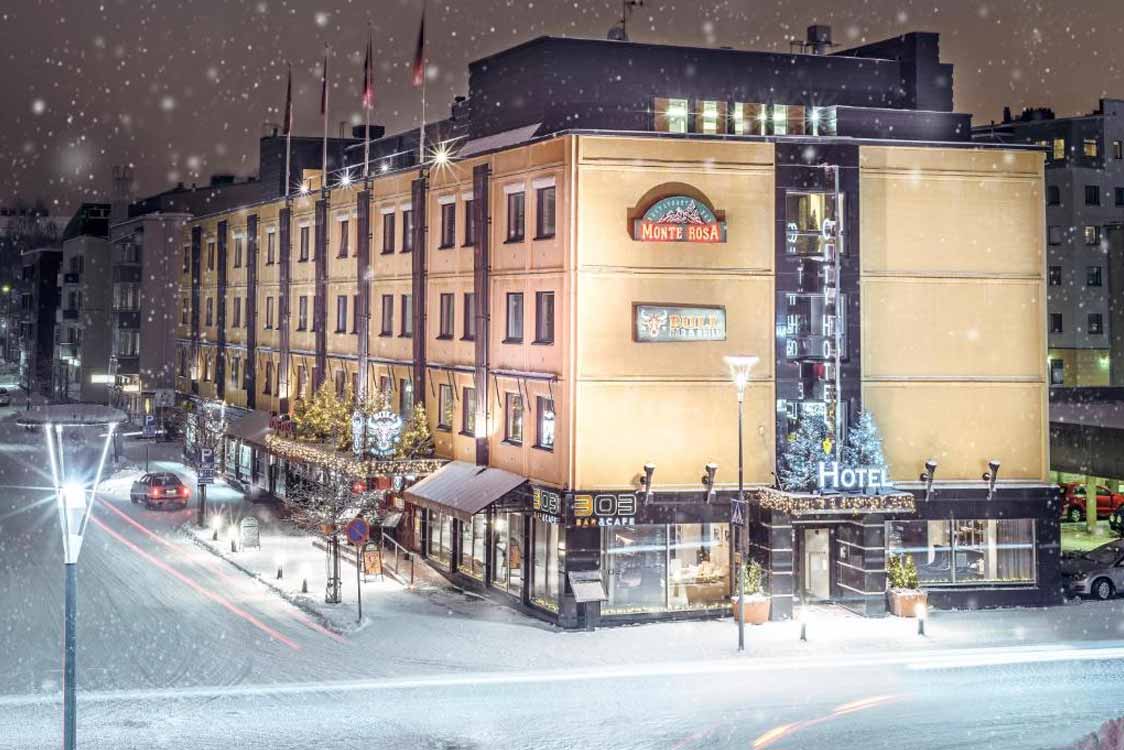 Arctic City Hotel is one of the most popular hotels in Rovaniemi, Finland. This centrally-located Rovaniemi hotel offers free parking, two on-site saunas, and comfortable, Nordic-themed rooms with flat-screen TVs and free WiFi.
The Arctic City Hotel restaurant serves excellent international and Lappish dishes. There's also a buffet breakfast included for all guests each day. In addition, the famous Arktikum Museum and Science Centre is just a 7-minute drive away.
You can find the best prices and availability here.
Scandic Rovaniemi City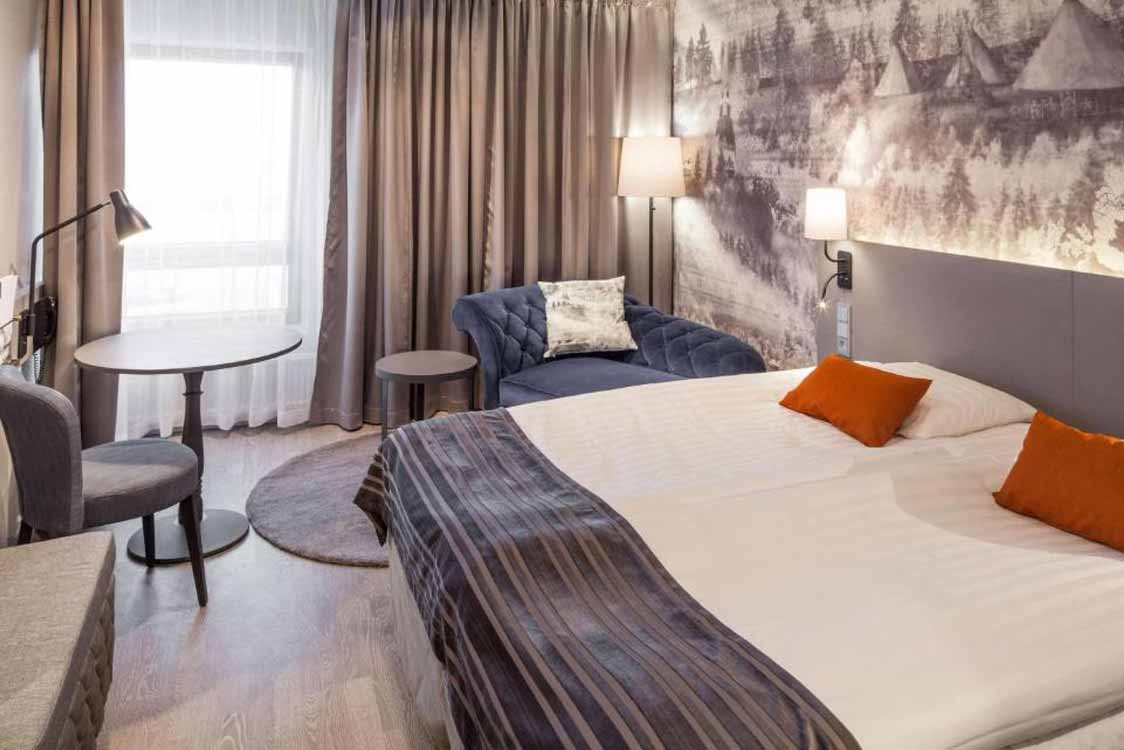 Another centrally-located Rovaniemi hotel is the Scandic Rovaniemi City. We've had great luck with Scandic hotels in destinations such as Oslo, Norway, and Reykjavik, Iceland. The Scandic Rovaniemi offers the same excellent service, comfortable beds, and delicious breakfast.
What makes this one of the best hotels in Rovaniemi is two-fold. First, it's just a two-minute drive from the Rovaniemi Train Station that brings visitors up from Finland's capital of Helsinki. And second, you can borrow bicycles and Nordic walking sticks at no cost from reception.
You can find the latest prices and availability here.
Santa's Igloos Arctic Circle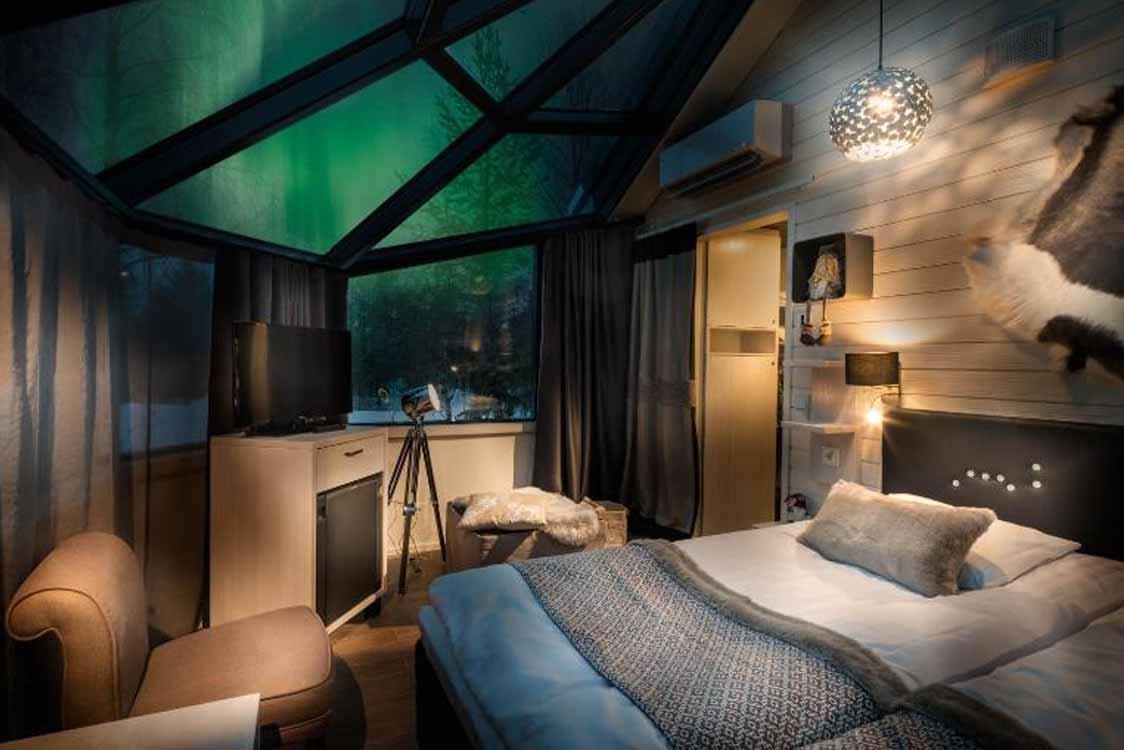 This Luxury hotel in Rovaniemi offers a romantic atmosphere that makes it a popular destination for couples and honeymooners. Still, it's also an excellent hotel for families in Rovaniemi. The raised-roof igloos located just north of the Arctic Circle offer one of the most spectacular spots to witness the Northern Lights in Finland during the winter months.
The exceptional Rovaniemi igloo cabins feature private bathrooms with rain showers. Guests will also be pampered with sleeping masks, bathrobes, and slippers. You'll even have access to in-room tablets where you can receive notifications when the Northern Lights make their appearance. Remember to take advantage of the nearby hiking and cycling adventures.
You can find their prices and availability here.
Lapland Hotels Sky Ounasvaara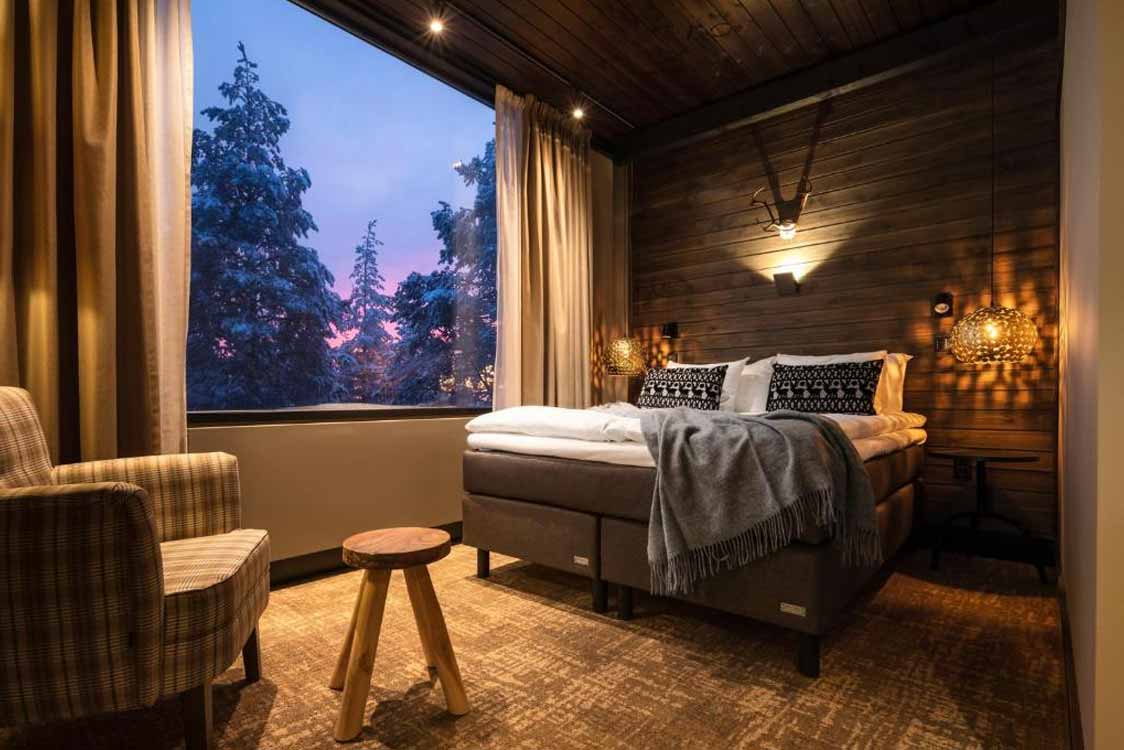 Ounasvaara is one of the most scenic and natural areas within Rovaniemi, Finland. And Lapland Hotels Sky Ounasvaara is located right next to the Ounasvaara Winter Sports Centre. Here you'll find skiing, hiking, cycling, and all sorts of incredible outdoor adventures for the whole family. The rooms feature floor-to-ceiling windows with panoramic views of the pristine natural surroundings.
This stunning Rovaniemi hotel has a restaurant and roof terrace offering views overlooking the city. Each room has large TVs, coffee and tea, and a private bathroom. Most rooms even include a private sauna.
Restaurant Sky Ounasvaara is a Nordic White Guide award-winning restaurant featuring a la carte Lappish cuisine and international delicacies that everyone will enjoy.
You can find the latest prices and availability here.
Glass Resort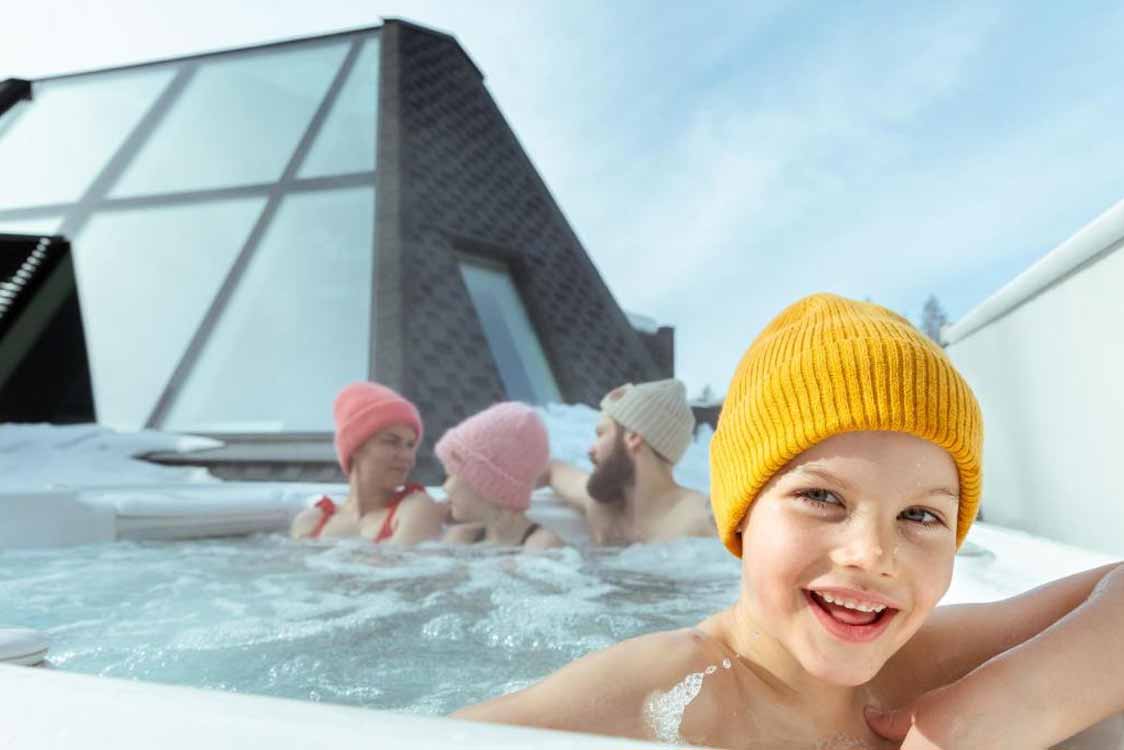 The hip atmosphere and incredible views make the Glass Resort a popular hotel for couples in Rovaniemi. Still, the floor-to-ceiling windows offer a magnificent chance to see the Northern Lights make it a popular hotel for families as well.
Each room features a Finnish sauna and a private outdoor hot tub. And you're just a short drive away from Santa Claus' post office. You'll also have access to a kitchenette, tea and coffee facilities, and an on-site restaurant.
You can find the latest prices and availability here.
Lapland Hotels Ounasvaara Chalets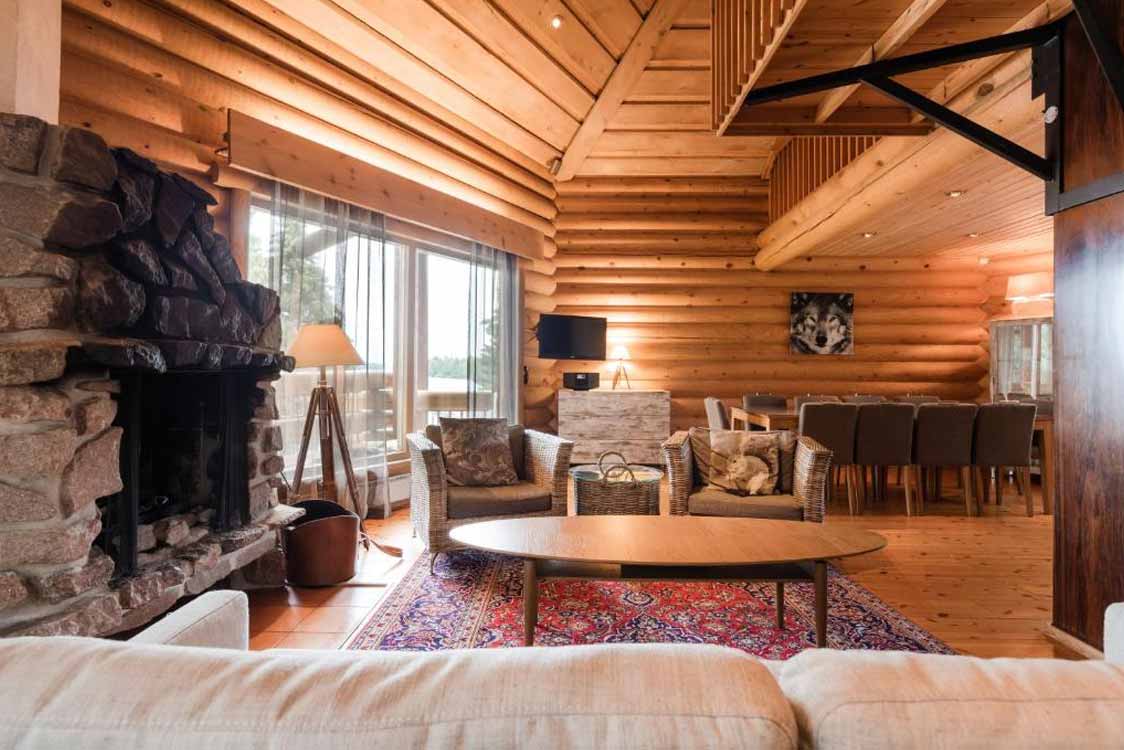 One of the most memorable experiences during our time in Rovaniemi was our last night. After spending a week exploring the best Christmas destinations in Lapland, Finland, we made our way back to the northern capital to spend our last night in a Rovaniemi cabin rental.
Lapland Hotel Ounasvaara Chalets are situated near the Kemijoki river and the Ounasvaara Ski Centre. They offer free WiFi, private parking, and apartments and chalets with private saunas and full kitchens. And all of this is just five minutes from downtown Rovaniemi.
Guests have access to Restaurant Rantasauna, which serves up grilled delicacies with stunning lakeside views. The location even has a traditional wood-fired Finnish sauna.
You can find the latest prices and availability here.
Nova Skyland Hotel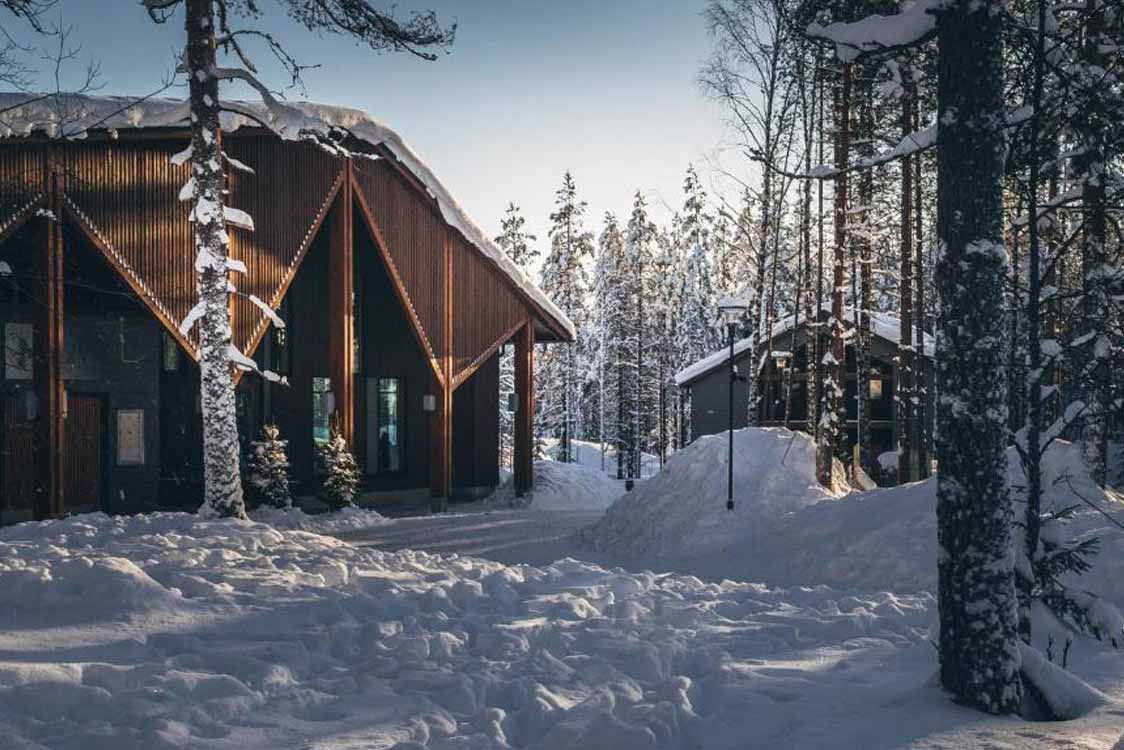 Another Rovaniemi hotel situated in Santa Claus Village is the famous Nova Skyland Hotel. This hotel features free WiFi, flat-screen TVs, and an on-site Sauna. The rooms also feature large windows, perfect for catching the Aurora Borealis when they make their appearance. Additionally, guests are treated to bathrobes and slippers, and there are tea and coffee facilities.
Along with the incredible list of Santa Claus Village amenities, staff can also help arrange tours, including Northern Lights safaris, husky treks, and reindeer farm tours. You'll also have easy access to the Rovaniemi airport, which is just three kilometers away.
You can find their current prices and availability here.
Tips For Visiting Rovaniemi, Finland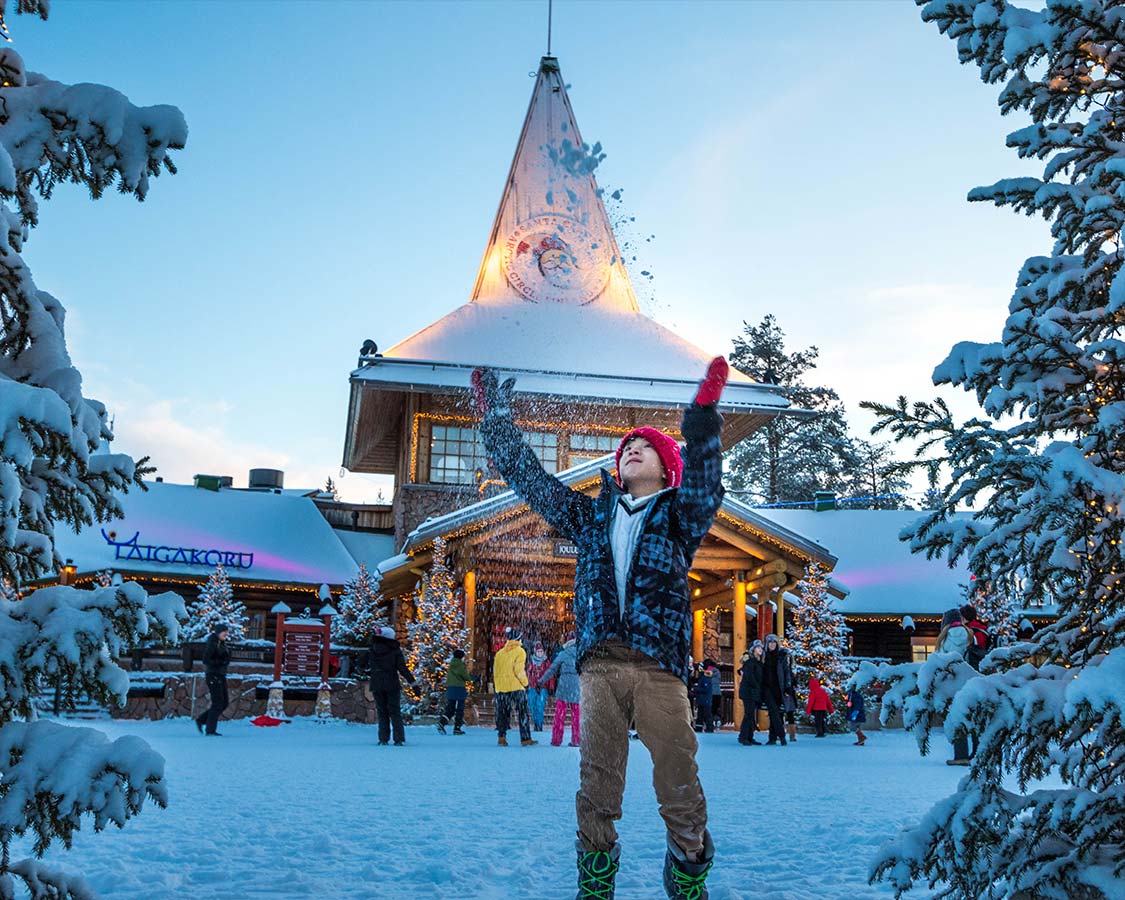 Like any popular tourist destination, visiting Rovaniemi is best enjoyed with a little bit of planning (but not so much that you can't plan it yourself).
Dress in Layers – No matter what time of year you visit, the weather in Rovaniemi can be unpredictable. During the summer, the temperatures can reach the mid-20s, during the winter temperatures can drop to frigid with wild shifts in wind and snow.
Explore the City – Rovaniemi is tremendously walkable and is an absolute pleasure to explore. Make sure to get out and experience the restaurants, shops, and the riverfront.
Be Prepared For Sunshine, or a Lack Thereof – Rovaniemi is a sub-arctic city. As such, the summers can mean nearly 24-hours of sunshine and during the winters the sun might only come up for a couple of hours. This is why many hotels in Rovaniemi come decked out with blackout curtains to keep the midnight sun at bay.
Now It's Time For You To Enjoy These Rovaniemi Hotels for Yourself
If you're looking for a destination purposely built for families, it's hard to find a better place in the world than Rovaniemi. The Nordic styles, friendly atmosphere, and tremendous access to nature make it a wonderful place to be.
If you've already traveled to Rovaniemi, drop a comment below and tell us about your experience. Or, if you love to travel with kids, head over to our Family Travel Facebook Community and share your tips. We love to hear your ideas.
Wandering Wagars is a participant in the Amazon Services LLC Associates Program, an affiliate advertising program designed to provide a means for sites to earn advertising fees by advertising and linking to amazon.com, amazon.co.uk, amazon.ca. Amazon and the Amazon logo are trademarks of Amazon.com, Inc., or its affiliates.
You May Also Like To Read: