Top things to do in Rovaniemi Finland like Santa Claus Village, Ice Karting, and Reindeer sleigh rides will make a trip to Rovaniemi Lapland unforgettable.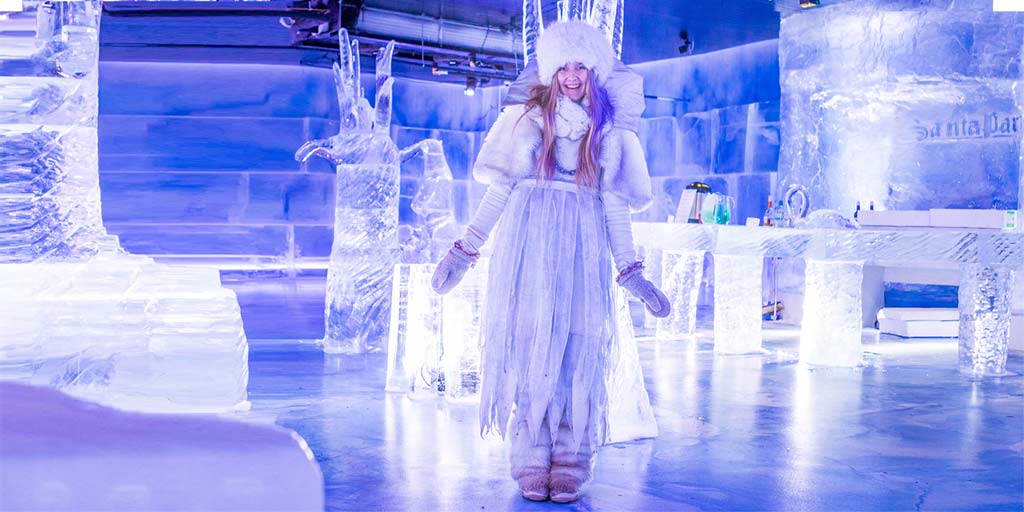 Rovaniemi Finland has become the center for winter fun in Finnish Lapland. And while Lapland has many incredible destinations for holiday travel in Finland, Rovaniemi is the destination that most families explore when in Lapland in Winter. But there is so much more to Rovaniemi in winter than simply the Lapland Christmas activities. So when we traveled here with our family, we wanted to explore all of the best things to do in Rovaniemi Finland in winter.
Winter in Rovaniemi Finland is amazing. The city is lit up all winter in festive celebrations. And with so many incredible things to do near Rovaniemi, it's easy to spend a week-long family holiday in Rovaniemi and still not exhaust all of the incredible activities. People flock to Rovaniemi Finland for the Northern Lights and the Christmas Village, but it was shocking just how many amazing Rovaniemi things to do that we experienced outside of these.
How Do You Get To Rovaniemi Finland?
Rovaniemi is in southern Lapland, a region that crosses much of northern Europe. The city of Rovaniemi is the largest city in Finnish Lapland. It lies just 7 km (4 miles) south of the Arctic Circle (the region that experiences at least one full day in winter where the sun doesn't rise, and one full day in summer that experiences the midnight sun).
Getting to Rovaniemi Finland By Air
Getting to Rovaniemi Finland in winter usually requires a bit of flying. While often, flights from within Europe can fly directly to the Rovaniemi airport, those flying from outside Continental Europe will need to transfer in Helsinki before making the trip north to Rovaniemi Finland. The busiest season for travel to Rovaniemi is over the holidays. Crowds are especially busy during Christmas in Lapland. But, if you are willing to travel outside the peak weeks during the Christmas holidays, you can often score great deals on winter travel to Rovaniemi.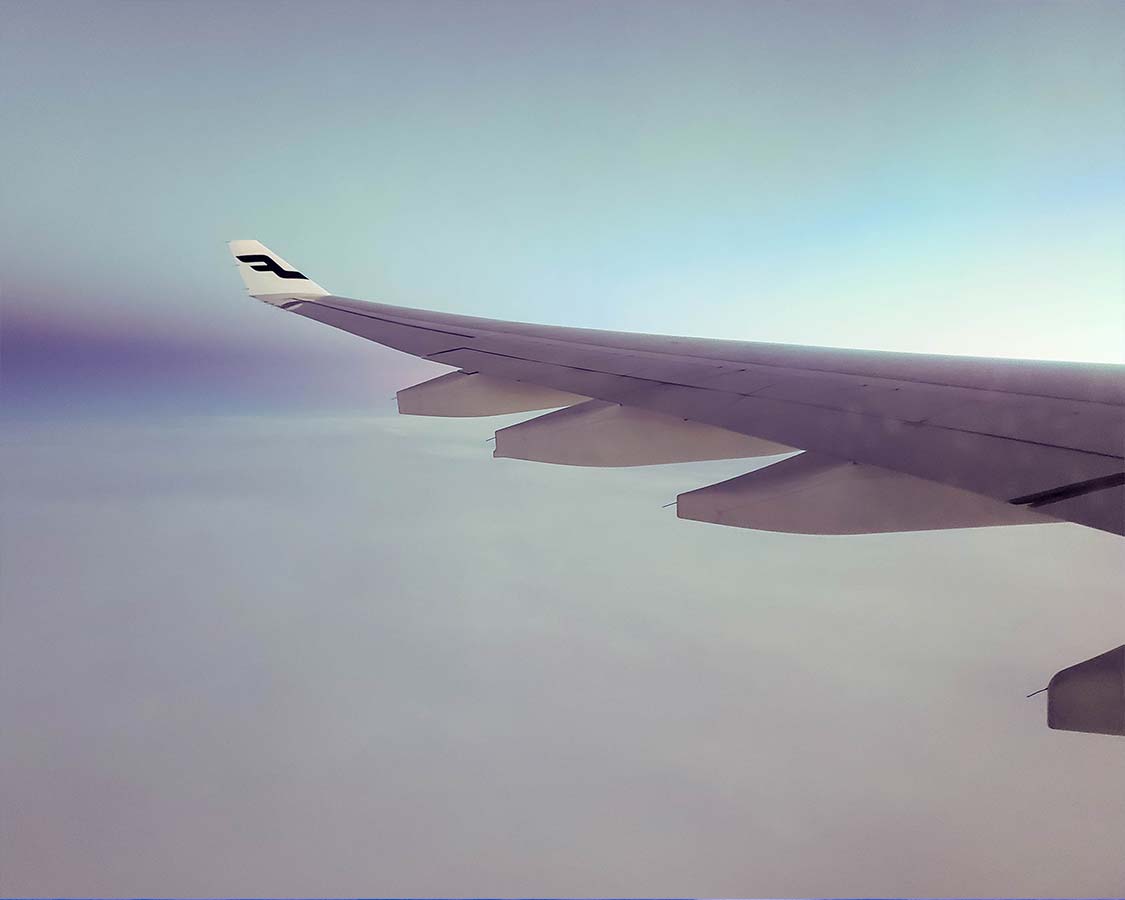 Getting To Rovaniemi Finland By Train
While flying to Rovaniemi will get you there in a little over an hour, the train from the Central Train Station in Helsinki to Rovaniemi will get you there in comfort and style. There are sleeper cabins available with private bathrooms. This mode of transport may be the most welcome for those traveling from destinations like Australia and the Americas since they offer some comfort and a place to sleep after a long journey. Plus, you have the added bonus of saving on one night of accommodations.
The train journey from Helsinki to Rovaniemi lasts about 12-hours. If you are booking a sleeper compartment, that reservation must be made in advance on the VR website. For our tour of Rovaniemi, we rented a car with Hertz Rovaniemi. But the Rovaniemi transit system is excellent, so getting around Rovaniemi is quite easy.
Cultural Things To Do In Rovaniemi Finland In Winter
Rovaniemi excursions come in as many shapes and sizes as the people who visit this northern European city. Whether you are looking for quiet Rovaniemi Christmas attractions, adventure and thrill rides, Rovaniemi museums, or an opportunity to explore the scenic natural beauty of Lapland, you'll find all the best things to do in Rovaniemi in winter here.
Arktikum Museum
The Arktikum Science Museum in Rovaniemi Finland is one of the most beautifully designed museums in Europe. Arktikum has become one of the top indoor attractions in Rovaniemi due to its stunning 172 meter (565 foot) glass-topped corridor reaching across HWY 79 towards the bend where the Kemijoki River meets the Ounasjoki River. It's impossible to miss Arktikum if you are driving into Rovaniemi from locations north of Rovaniemi such as Santa Village or the town of Saariselka. It reaches out towards the river like a fiery arrow under the dark skies. Inside the Arktikum is a series of exhibits illustrating the science of climate, history, and nature in Finland.
Arktikum features engaging displays that run from the early days of Sami culture through to modern climate discoveries. The museum gives examples of how the local wildlife have come to adapt to the dramatic climate of Finland's northernmost region. The Arktikum museum can be combined with the Pilke Museum and Korundi House under the Rovaniemi culture pass to save money.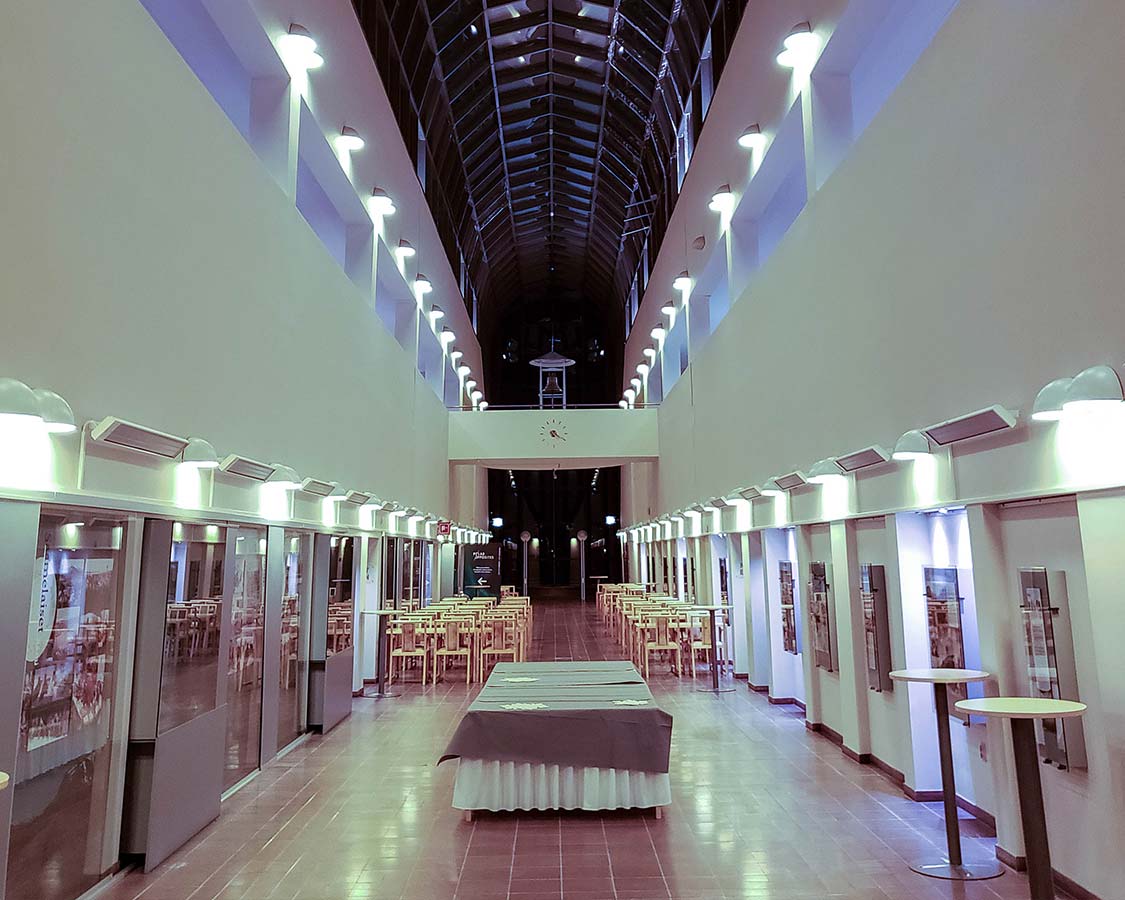 Pilke Museum
The Pilke Museum is the provincial museum of Lapland. The museum is a tribute to the industries that support life up in the northern reaches of Finland. Featured are displays on forestry, paper, hunting, ecology, and more. While this might seem dry, the Pilke Museum is actually a fantastic destination for family travel in Rovaniemi. All of the displays of this museum are highly engaging, and great fun for the whole family, especially kids in Rovaniemi.
Kids will love the massive lumber tractors that are free to explore. Everything from hunting to the eco-balancing exhibits is interactive. Heck, they had a toilet paper industry exhibit that I couldn't drag 5-year-old D away from! And for parents, I discovered something magical. At the top of the wide stairs, around a corner is a tiny little circular room with nothing but a large pillow and dim lights. Perfect for a nap while the kids spend hours playing among all of the Pilke exhibits.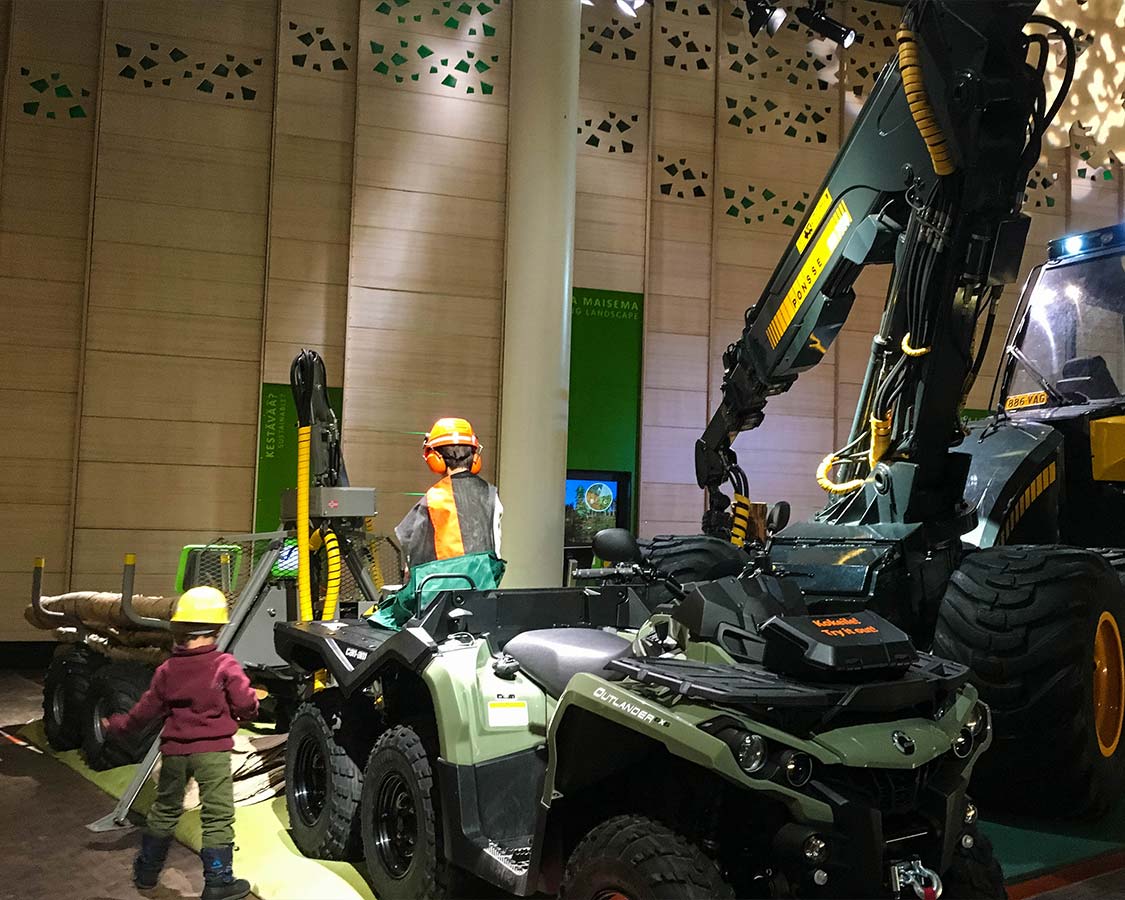 Lappish Craft Workshop With Ari and Irene Kangasniemi At Hornwork Studio
Ari and Irene Kangasniemi run one of the premier art studios in Lapland. Hornwork studio has a focus on Lappish artistic handicrafts. They take their inspiration and material from the local wildlife and nature with much of their artwork featuring reindeer antlers. Not only do they create incredible Lappish creations such as knives, drums, spoons, bowls, and jewelry, but many of their pieces are on display throughout Finland. We had the pleasure of seeing Irene and Ari's work at locations from downtown Rovaniemi to the Sami Parliament in the town of Inari.
But a hands-on Lappish experience with Ari and Irene isn't just about creating fun and beautiful artwork. The real treat is getting to spend time with this quirky, unique and outright loveable couple at their home art studio just outside of Rovaniemi. Both Irene and Ari, as well as their niece Anne Marie were an absolute pleasure. Their patience, creativity, and stories of local traditions and their history had our children and us completely riveted. I highly recommend spending some time at Hornwork to meet and learn from this amazing family. And pick up some of their gorgeous artwork while you are there.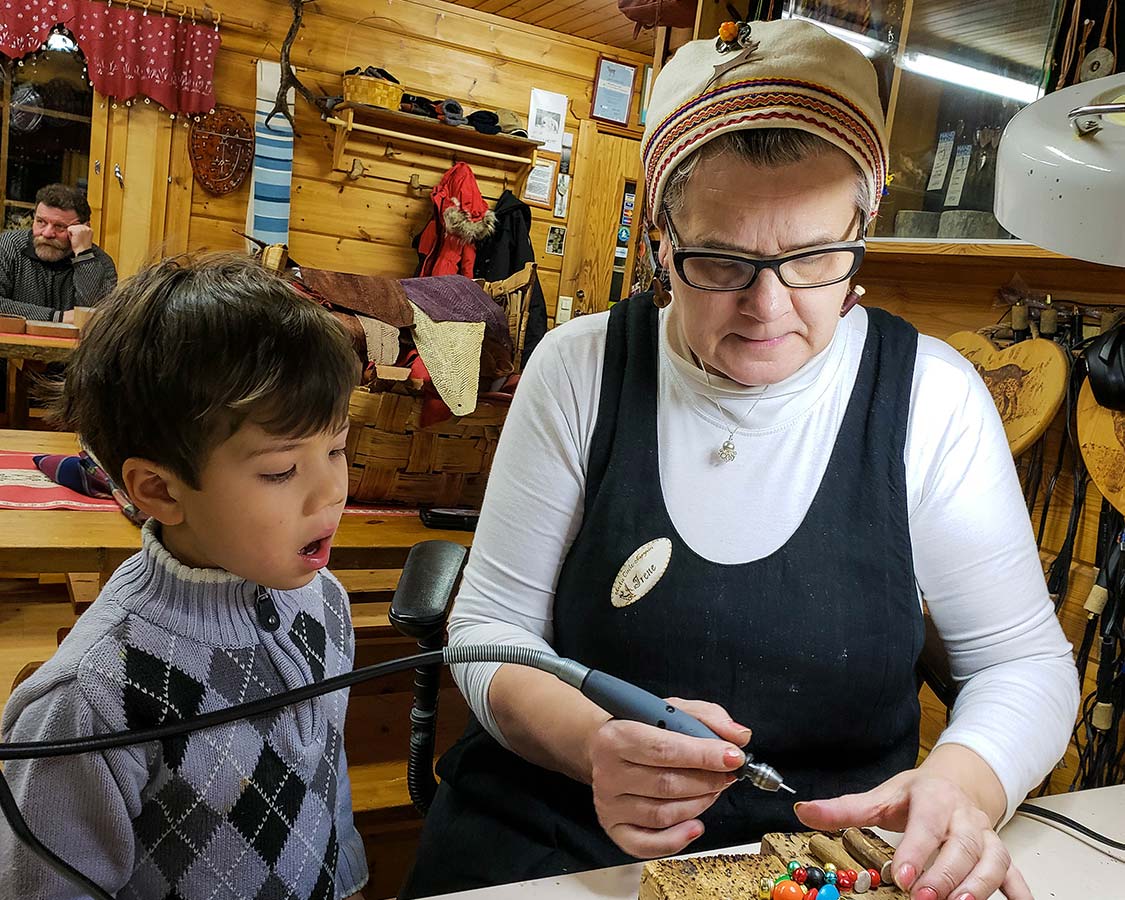 Christmas Themed Things To Do In Rovaniemi In Winter
Experience A Lapland Christmas Village At Santa Claus Village (Joulupukin Pajakyla)
Many of those looking for things to do in Rovaniemi Finland in winter flock to the Arctic Circle 7 km (4 miles) north of Rovaniemi. This is where the popular Rovaniemi Christmas attraction, Santa Claus Village is located. There is no entrance fee to the Rovaniemi Santa Village. However, this Lapland Christmas village is set up as less of a theme park and more as an outdoor mall that includes family-friendly attractions. Santa Claus Village is just north of Rovaniemi along HWY 4. In Santa Claus Village you'll find Santa Claus' Main Post Office, where children (and adults as well) can write letters to family and friends back home and have it stamped with the "official" Santa Claus Main Post Office postmark.
Some of the Lapland Christmas attractions in Santa Claus Village include reindeer sleigh rides, children's snowmobiling (ages 4 and up), as well as northern lights flights, Aurora hunting tours, and snowmobiling safaris. The village itself is beautiful. Everything inside is decorated with tasteful Christmas decorations. And those decorations are done extremely well. Nothing is overbearing or gaudy, and when I returned after midnight to try and capture the Aurora with this scenic foreground (no luck on the Aurora, unfortunately) I was impressed to see that all of the lights were still shining in classic Christmas style.
The main attraction at Santa Claus Village is, of course, meeting the Jolly Old Elf himself. And I must say, This Santa Claus experience was like none other. Santa truly connected with each of our, normally rather disbelieving, children. Even Christina and I were caught up in the moment as Santa asked us direct questions about us that made us feel like he truly was watching. While Santa Claus Village as a whole is more of a sales park than a theme park, the Santa Claus experience is a MUST for families in Rovaniemi.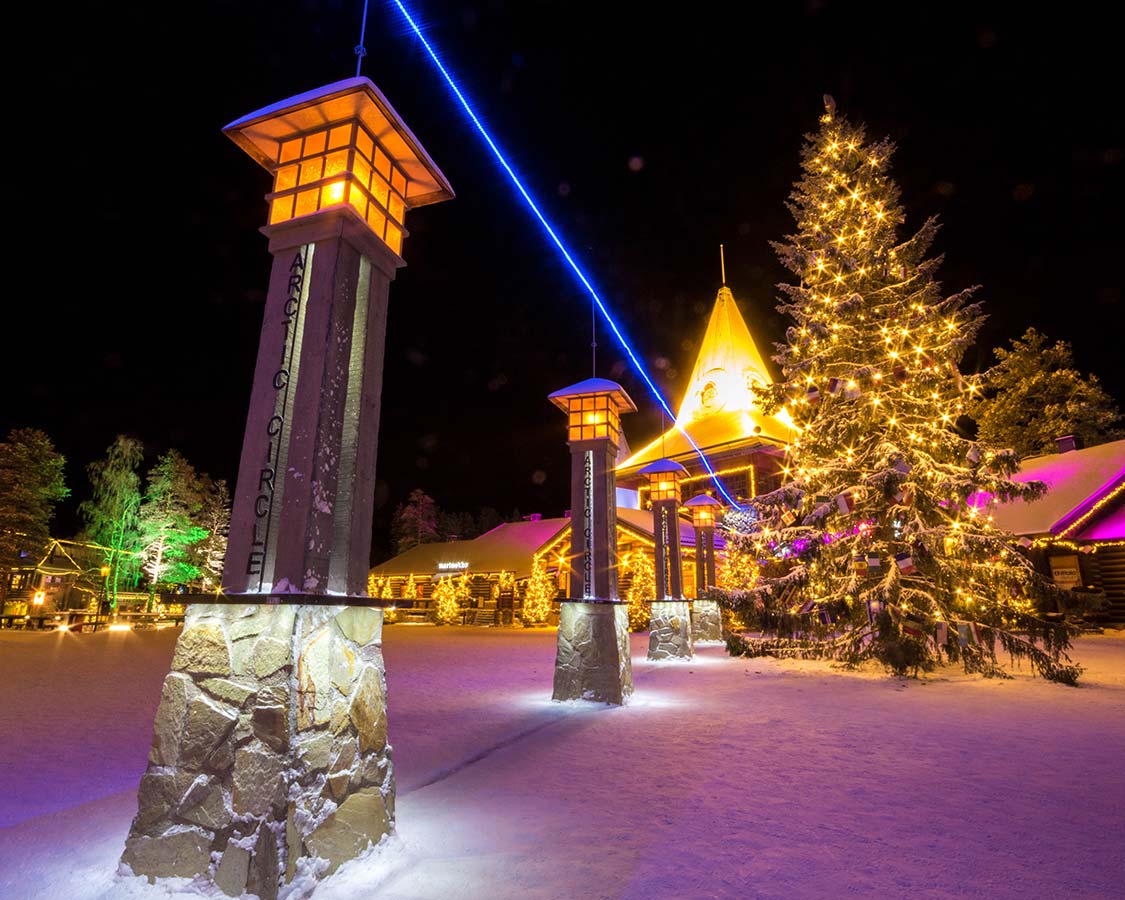 SantaPark
Where Santa Claus Village is a shopping mall wrapped up in a theme park package, Santa Park in Rovaniemi is a proper North Pole experience. From the moment we arrived at SantaPark, each experience was more magical than the next. Santa Park became one of our favorite indoor things to do in Rovaniemi Finland.
SantaPark is located very close to Santa Claus Village on HWY 4. This Rovaniemi Christmas village is located in a cavern underground bunker. It has been designed to be the underground Lapland workshop for Santa's elves. The elves at SantaPark are fantastic. Each character takes their role seriously in order to not break character. That way the throngs of children who visit SantaPark in Rovaniemi each day retain the magic. In fact, we even ran into one of the SantaPark elves the next day at Santa Claus Village, and even off-duty, he instantly entered into character when he saw the kids, never breaking that magic for a second.
There are many hands-on crafts within SantaPark. It was hard to drag our kids away from these arts and crafts in order to experience the rest of SantaPark. When we finally did we discovered the fun and engaging Elf School where visitors learn about the 99-years of schooling it takes to become one of Santa's Elves. Visitors also get a diploma and a SantaPark Santa hat after completing the experience.
One of our boys' favorite experiences was the Ice Kingdom where they talked with the dancing Ice Princess and we took some photos among the beautifully lit ice sculptures within. The cold air was refreshing after they had spent nearly an hour running through the Angry Birds Activity Center, a playland and slide structure near the restaurant and stage.
There are regular shows within SantaPark and they are worth sticking around for. The show that we saw featured a contortionist and acrobat. The show had children and adults alike mesmerized is a beautiful, classy, yet fun and engaging performance. After each performance, the characters from the show engage with the audience and patiently pose for photos and high fives with children and families.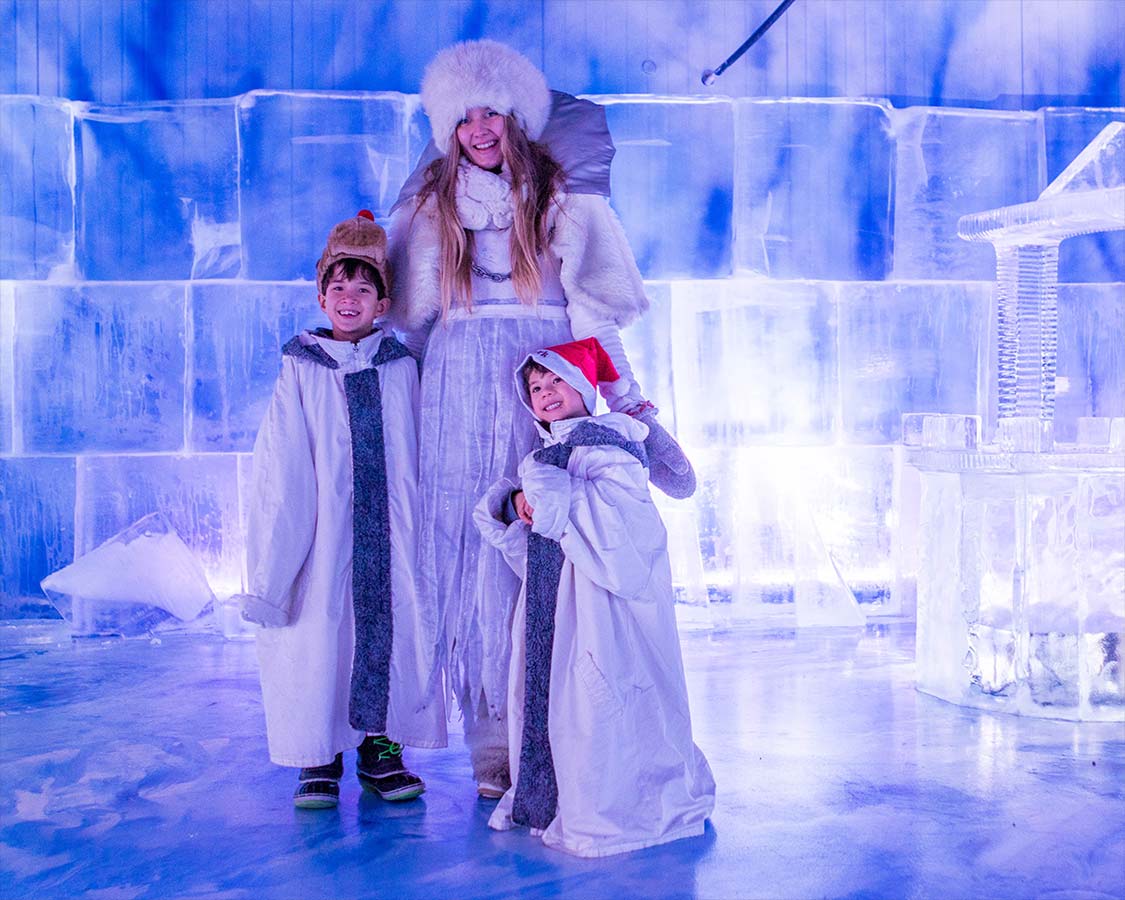 Fun Outdoor Things To Do During Winter In Rovaniemi
Ounasvaara Park
If your list of things to do in Rovaniemi in winter includes skiing, then you are in luck! Ounasvaara Park might be small, even by the standards of ski hills in Lapland, but it still packs seven runs, four ski-lifts. And there is over 100 km of cross-country ski trails. Ounasvaara park is a wonderful spot for an afternoon of skiing in Rovaniemi.
This Rovaniemi ski park is generally open between late November and late April. For those looking to learn to ski in Rovaniemi, Ounasvaara has great beginner ski lessons. And for those who aren't ready to try snowboarding or skiing, you can experience the hills on their toboggan runs. And like many of the things to do in Rovaniemi Finland, Ounasvaara Park is very family-friendly. Those visiting Rovaniemi with young kids can visit Rendi's Snow World in Ounasvaara Park for the snow carousel, rope pulls, and much more.
Ranua Wildlife Park
The Ranua Wildlife Park is an attraction in Ranua, about an hour north of Rovaniemi. The Ranua Wildlife Park features animals found among or near the Arctic Circle. And since it can be difficult finding these animals when you're visiting Rovaniemi in winter, one way to experience them is at Ranua Park.
There are 50 plus species of Arctic or near-Arctic animals that are housed at Ranua Wildlife Park. The animals originate from Canada, China, and throughout Northern Europe. The feature attraction at Ranua is Polar Bears. But, some of the coolest animals on display in the Ranua Zoo are the many species of owls and hawks. The highlight of the Ranua Zoo is the polar bear facility. However, after seeing polar bears in the wild in Churchill, Manitoba, and seeing incredible polar bear enclosures in Winnipeg, Canada, and Saguenay-Lac-Saint-Jean, Quebec, the polar bear enclosure at Ranua Zoo looked kind of depressing.
For those with a car, the Ranua Zoo can be easily visited via a 1-hour drive from Rovaniemi to Ranua. However, arranging a tour via local companies such as Christmas House Safaris is a way to avoid the often unpredictable weather that can occur in Lapland in winter. Our drive out to the Ranua zoo was uneventful during the dim daylight of December. However, our trip home was dark with air filled with blowing snow and near-whiteout conditions.
Ranua Wildlife Park has several attractions beyond the zoo as well. For those with a sweet tooth, you can find an excellent Chocolate outlet where you can purchase inexpensive Finnish treats. There is also a wine store that sells wine exclusively brewed with regional berries, including a coveted Cloudberry wine. If you are looking for food at Ranua Wildlife Park there are two restaurants within the Ranua Zoo, the White Swan Cafe that is styled as a coffee shop but also offers a light buffet during certain hours of the day. You can also find the Wild Arctic Restaurant which has a buffet meal featuring items such as chicken wings, mixed rice, mashed potatoes, salad and more for €14.50.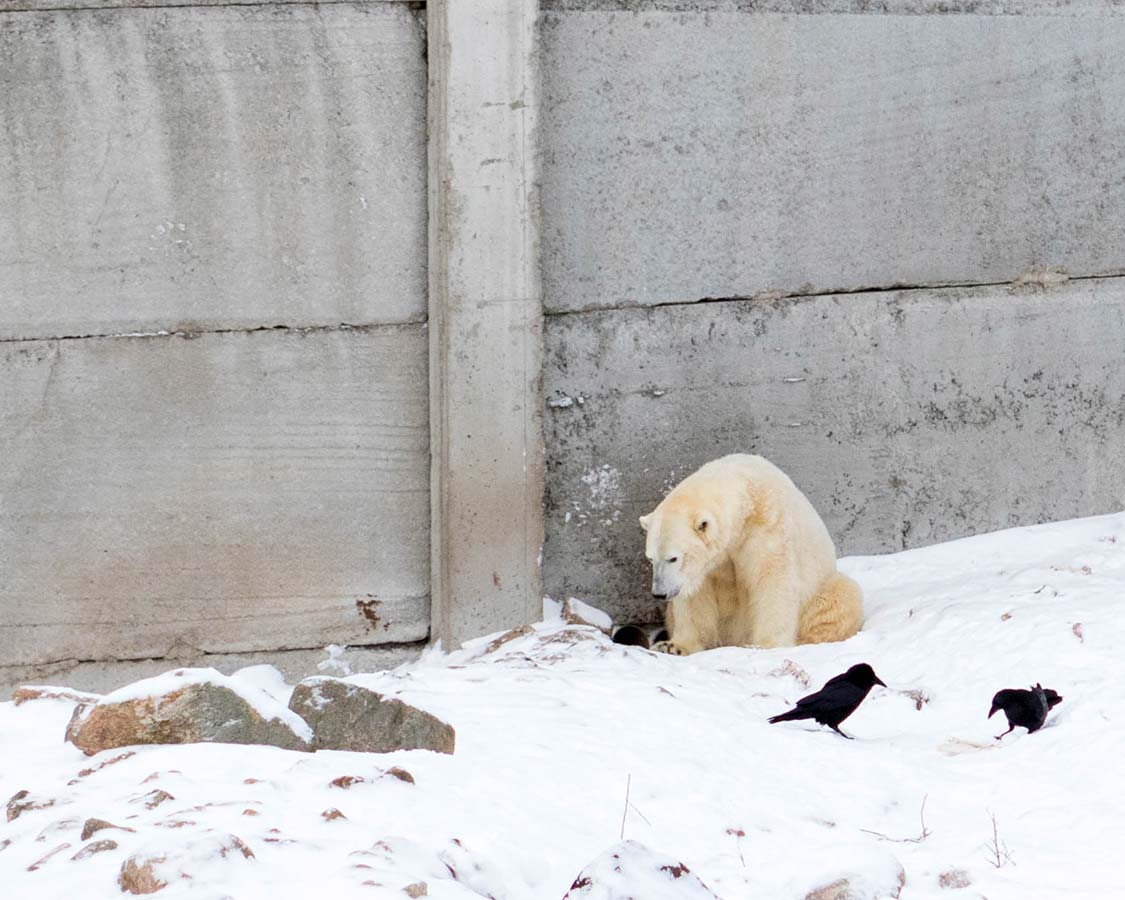 Northern Lights Safaris
Witnessing the magical Northern Lights is on nearly everyone's dream of Rovaniemi things to do. The long nights and dark skies make this area at the Arctic Circle among the top places experience the Northern Lights. However, if you plan on viewing the Northern Lights in Rovaniemi, please remember that there are never any guarantees.
The best months for seeing the Northern Lights in Lapland are actually October, November, March, and April. Winter in Rovaniemi is often cloudy. While the KP index (the measure of solar activity that causes the Aurora to appear) may be high, if there are clouds, you might not see them at all. We have been blessed with seeing the Northern Lights on our Hurtigruten coastal cruise in Norway and during our travels through Yellowknife, Northwest Territories in Canada so, although we only got to see them one night while further north in Inari, it was enough for us.
Many companies offer Northern Lights tours in Rovaniemi. Northern Lights tours in Rovaniemi often involve sitting in a van where the driver is connected to spotters in various areas around Rovaniemi. When a location gives the go-ahead for the Aurora, the van whisks you away to enjoy the show. The best part about this setup is that it maximizes your chances of seeing the lights.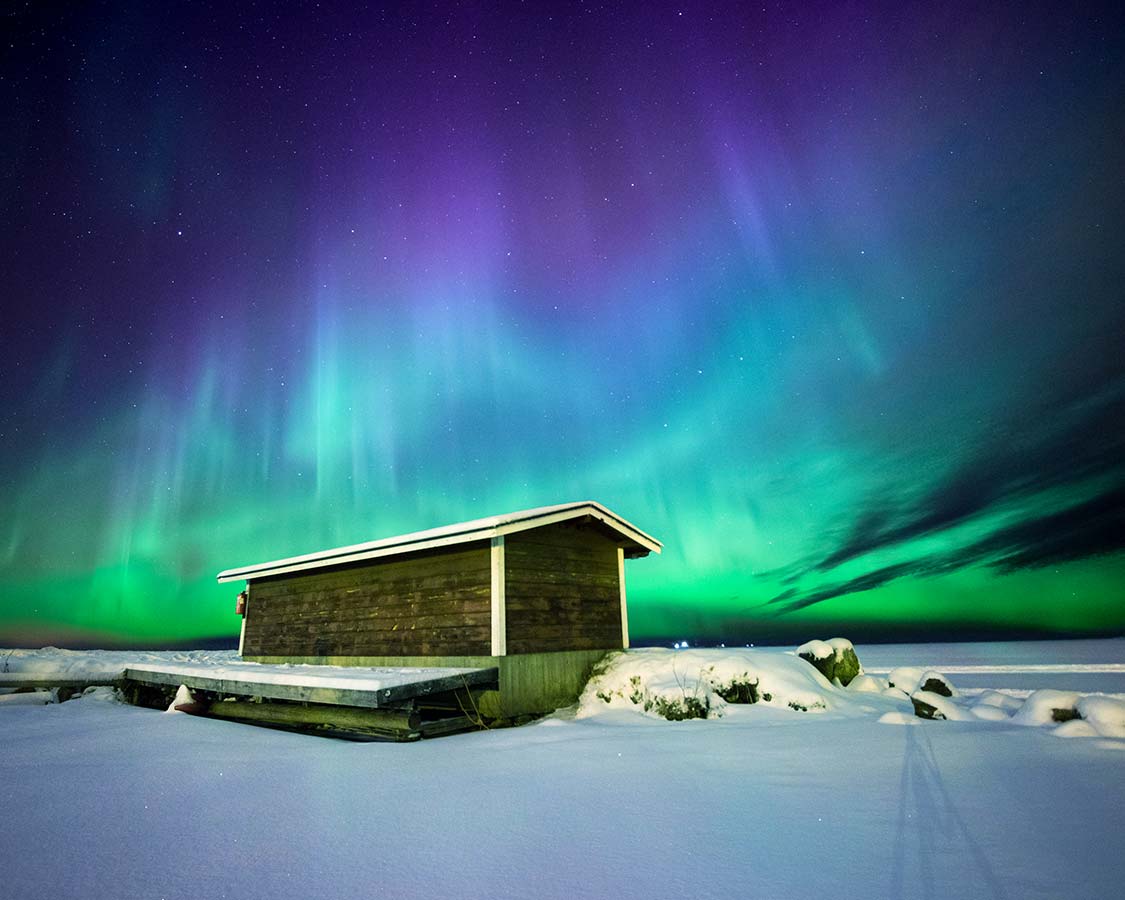 Ice Karting
Ice karting in Rovaniemi is a blast. This fun winter activity in Rovaniemi is exactly what it sounds like. Go-Karting on a track that is covered in ice. This means lots of slipping, sliding, and drifting. And this equals a ton of fun! Access Lapland is the company that offers the Ice Karting in Rovaniemi experience. The day starts up by getting suited up in winter gear at their office in downtown Rovaniemi. This is followed by a van ride out to their ice karting track. Once geared up with helmets, it's time to ride on the slip and slidey racetrack.
Most Ice Karting with Access Lapland experiences includes two races with a break in the middle for some hot chocolate or berry juice. The experience is open to those 10-years of age and up and has a minimum height requirement of 140 cm.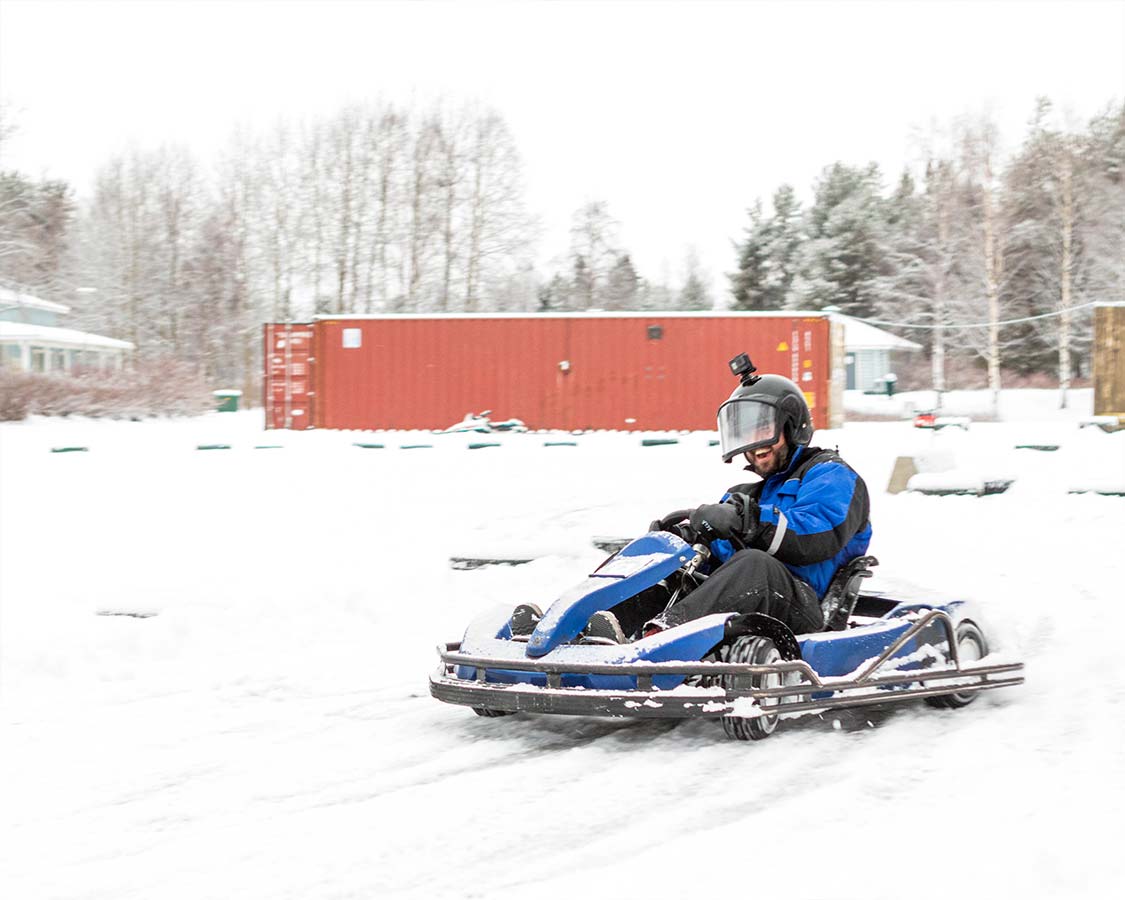 Snowmobiling
Snowmobiling in Rovaniemi is another one of those can't miss activities for those who love the outdoors. And there are snowmobiling activities in Rovaniemi for nearly all ages. At Santa Claus Village there are track rides for children as young as 4-years old (our 5-year old, D did his snowmobiling experience there and loved it). Access Lapland has a children's snowmobiling experience as well. Our 7-year-old did his youth snowmobile with Access Lapland. The Access Lapland experience is a little longer and faster than the one at Santa Claus Village.
For teenagers and adults, there are wilderness snowmobile rides that hit the trails through the Lapland forest. These rides tend to be much more involved than the children's snowmobile rides and often include stops for lunch and hot drinks. We stuck to the children's trails on this route since Christina and I had gotten our snowmobile fix while traveling in Iceland.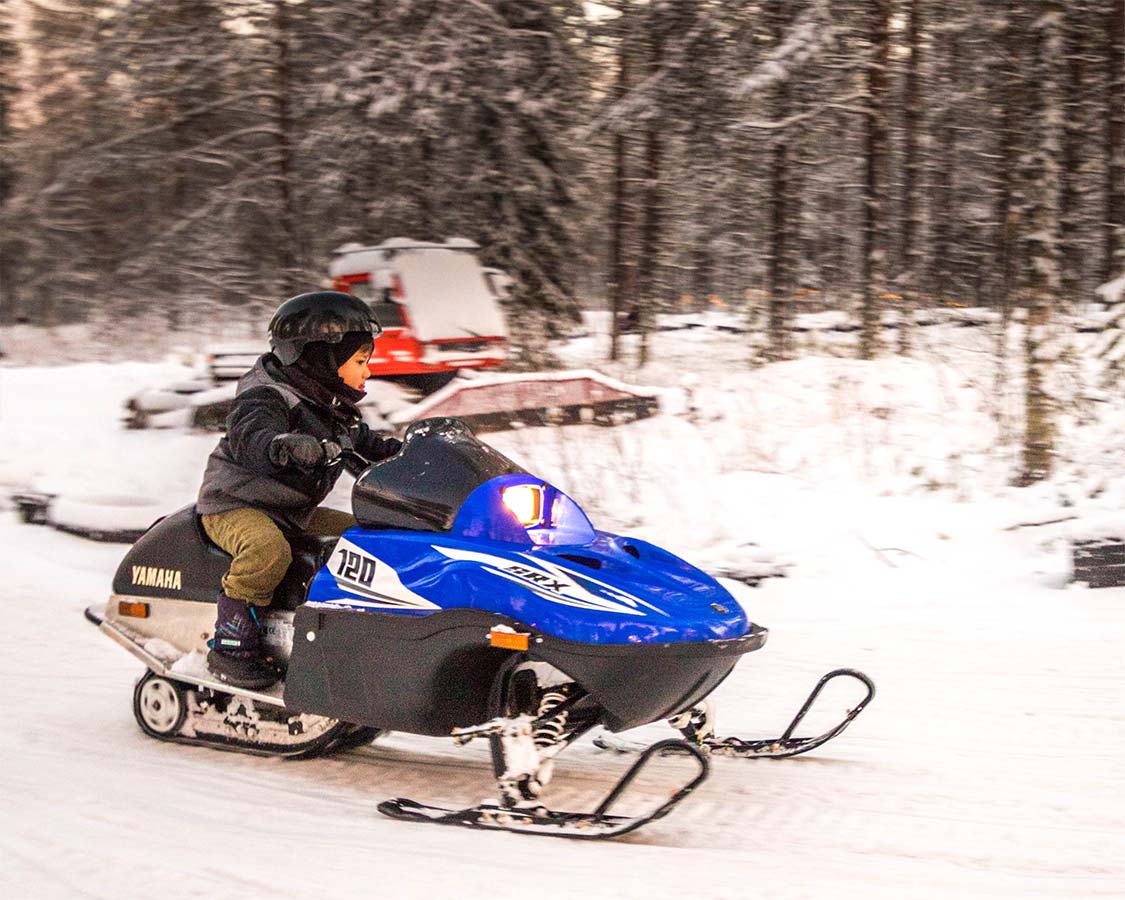 Reindeer Sleigh Rides
Reindeer sleigh rides are one of the most popular things to do in Rovaniemi Finland in winter. There is something magical about gliding silently through the Lappish forests while being pulled by one of Santa's magical beasts of burden. All while laying comfortably in a sleigh filled with cozy reindeer fur.
Reindeer sleigh rides are available from almost every tour company in Rovaniemi. You can also sign up for family-friendly reindeer rides at Santa Claus Village. The rides at Santa Claus Village follow a circular route and are more of a novelty than an experience. If you truly want to get the most of your reindeer sleigh ride in Rovaniemi, look for a tour company that will take you out into some of the beautiful wilderness that surrounds Rovaniemi Finland.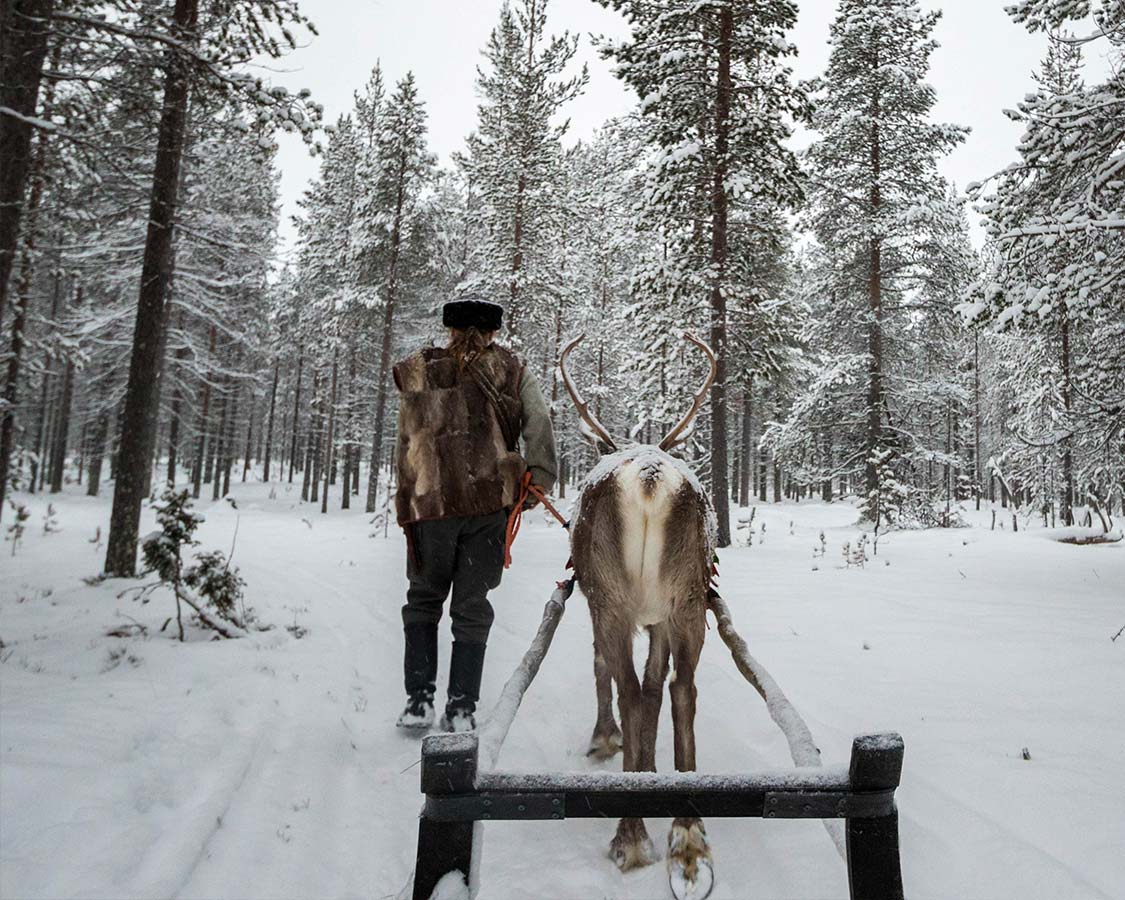 Ice Swimming And Finnish Saunas
Saunas are a staple of life in Finland. There are nearly as many saunas in Finland as there are households. Most hotels in Rovaniemi offer saunas for their guests. And if you are staying at a cabin or stand-alone accommodation in Rovaniemi, it's likely that there will be a sauna on-site. But there is another tradition in Rovaniemi that takes the Finnish sauna experience to an entirely different level. Many Fins enjoy combining the contrasting temperatures of a Finnish sauna combined with a dip in the ice-cold rivers of Lapland.
While there are a few experiences that offer visitors the Sauna and Ice Swimming experience in Rovaniemi for a steep cost, a little-known (to outsiders) option is located just next to the famous Jatkankynttila Bridge bridge in Rovaniemi. Located next to a small restaurant just off of HWY 78 is a small cabin. On Wednesdays, a Finnish sauna and public winter swimming is on from 5:30-6:30 pm. A short walk from the sauna is a small dock with a pump that runs to keep the ice from freezing.
With some help from local travel expert Mia Niemela from the Touchse, I was able to find this cool spot and jump in the frigid Arctic waters. Unfortunately, the day that I did my crazy ice swimming in Rovaniemi, the local sauna wasn't functioning. But I had a chance to do it again with a proper Finnish smoke-sauna up in Inari a few days later. And that time I was joined by Christina and 7-year old C! I guess I'm not the only crazy one in the family. The price for the sauna is €5 while the ice swimming alone is €3.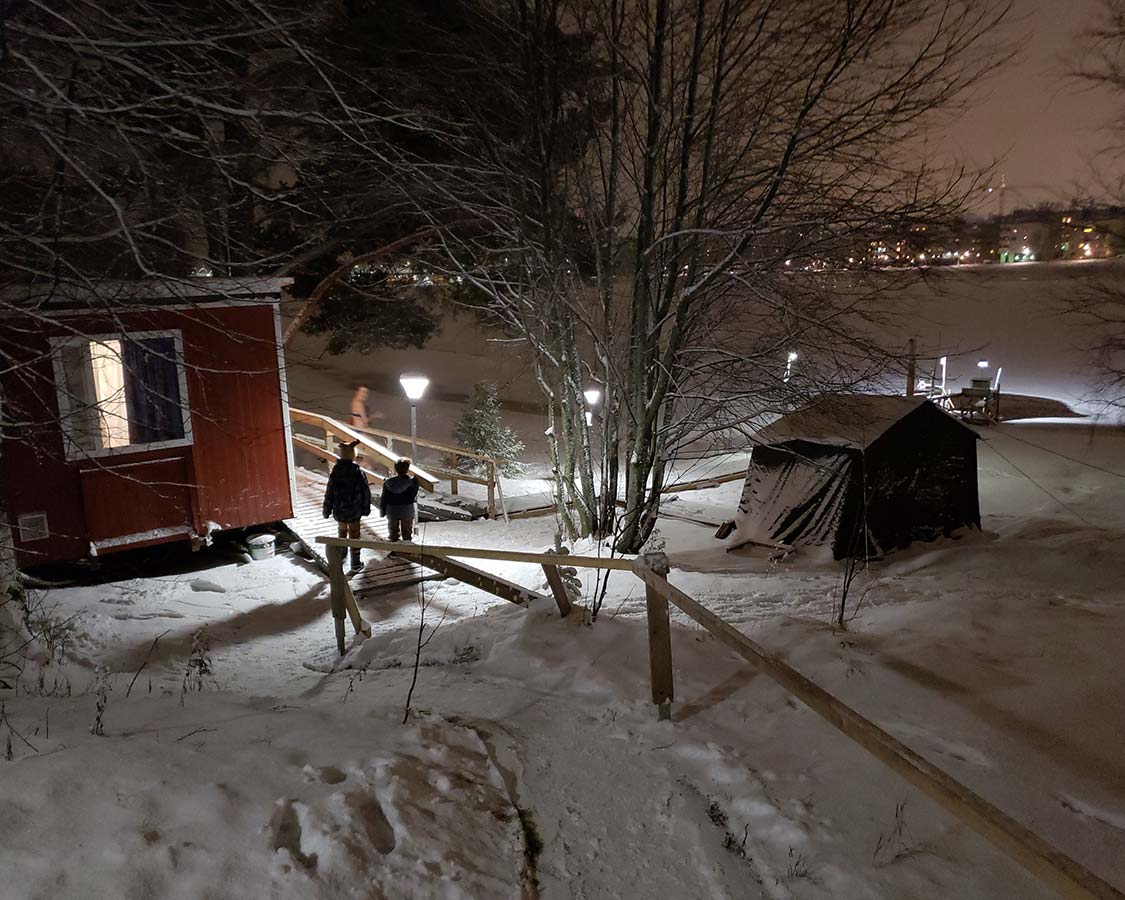 Dog-Sledding
Can you even have a northern experience without dog-sledding? Well, we tried. We had experienced dog-sledding in Yellowknife and Mont Tremblant in Canada, so we passed on this popular Rovaniemi attraction. But if you are looking for an exciting day out with some of the most adorable working dogs out there, dog sledding in Rovaniemi is a very popular activity.
Husky sleigh rides in Rovaniemi can range from a short 15-minute excursion to epic 3-hour or longer safari. Long husky rides travel into the lush Rovaniemi forests. Many of the Rovaniemi dog sledding activities allow you to captain your own team of husky dogs. That way you can lead them through the magical snow-covered forests surrounding Rovaniemi Finland. And from our past experiences, I can say that these experiences are the perfect combination of relaxation, excitement, and fun.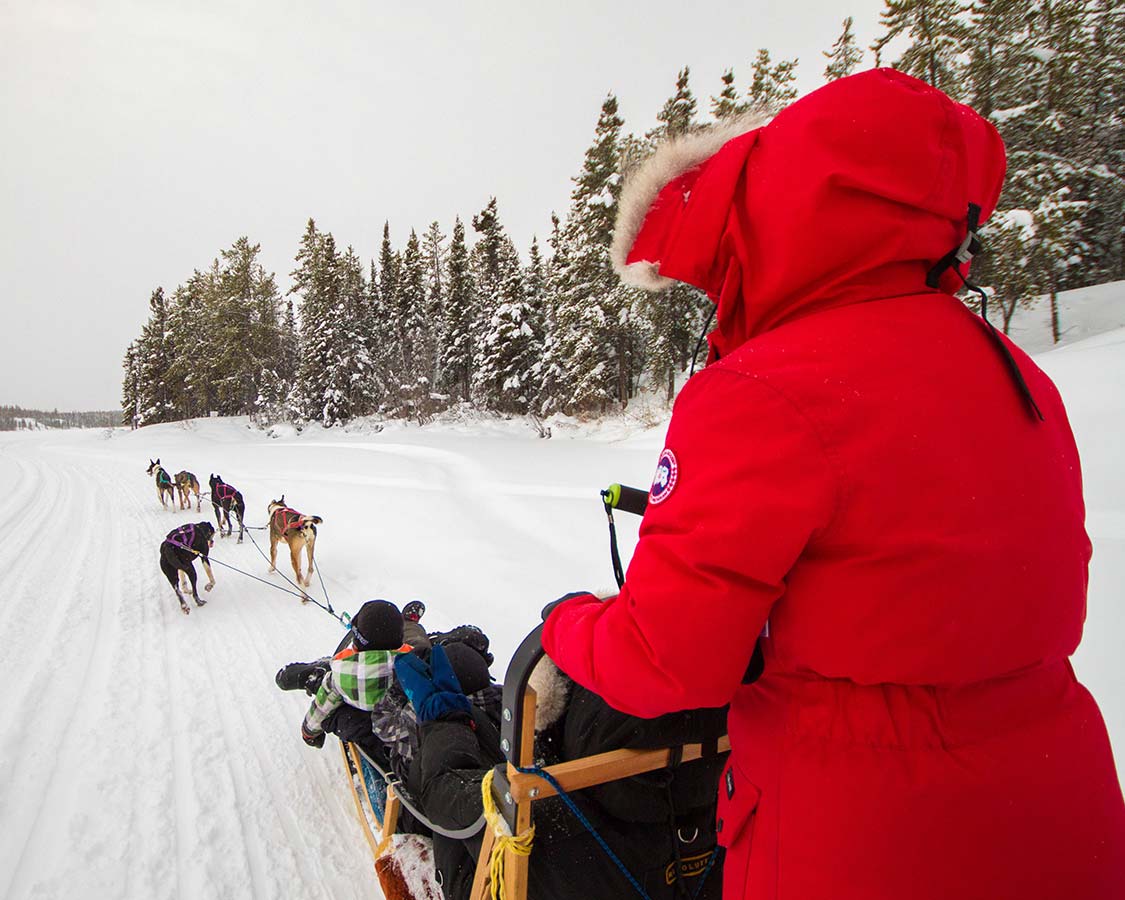 Arctic Circle Hiking In Napapiiri
We love hiking in the north, so Arctic Circle hiking in Rovaniemi was near the top of our list of things to do. Hiking in Rovaniemi is a popular activity year-round. But the peaceful winter setting of the Arctic forests gives Rovaniemi Arctic circle hiking a magic touch. The hiking trails in areas such as Napapiiri are far less crowded than during the summer, but still very well-maintained. In fact, Finnish culture gives hiking and nature experiences so much value that many Arctic circle hiking locations have lean-tos and/or shelters provided.
These rest spots allow you to camp and build fires with the provided wood, lighters, paper, and fire-pits. It would be incredible if all countries made their nature experiences as accessible as Finland does. Walking among the snow-covered trees of Napapiiri in Rovaniemi was wonderful. We were blessed with excellent weather, but we were dressed for the winter weather in the North nonetheless.
Arctic Ice Floating In Rovaniemi
Jumping into the Arctic rivers of Rovaniemi in your bathing suit might not sound like your cup of tea. But, an evening of floating in the ice-cold waters just may. Because with Rovaniemi ice floating experiences, you are cozy warm in a dry-suit. C and I took on this ice floating experience in Rovaniemi with Safartica on our last night and had a complete blast. Our guide, Rebecca was a treat. Once she had found a suit small enough for C, we joined the 6 other brave souls in the lake waters. We then jumped in the lake and floated under the Arctic sky for nearly an hour.
Many visitors choose to float peacefully under the stars (or, if they are really lucky, the northern lights). But, ice floating with a 7-year old ended up being a giant game of splashing each other and seeing who could push each other off of the floating ice blocks. And whether you are looking for a peaceful night out or a raucous wild time, a night of ice floating in Rovaniemi is sure to be unforgettable.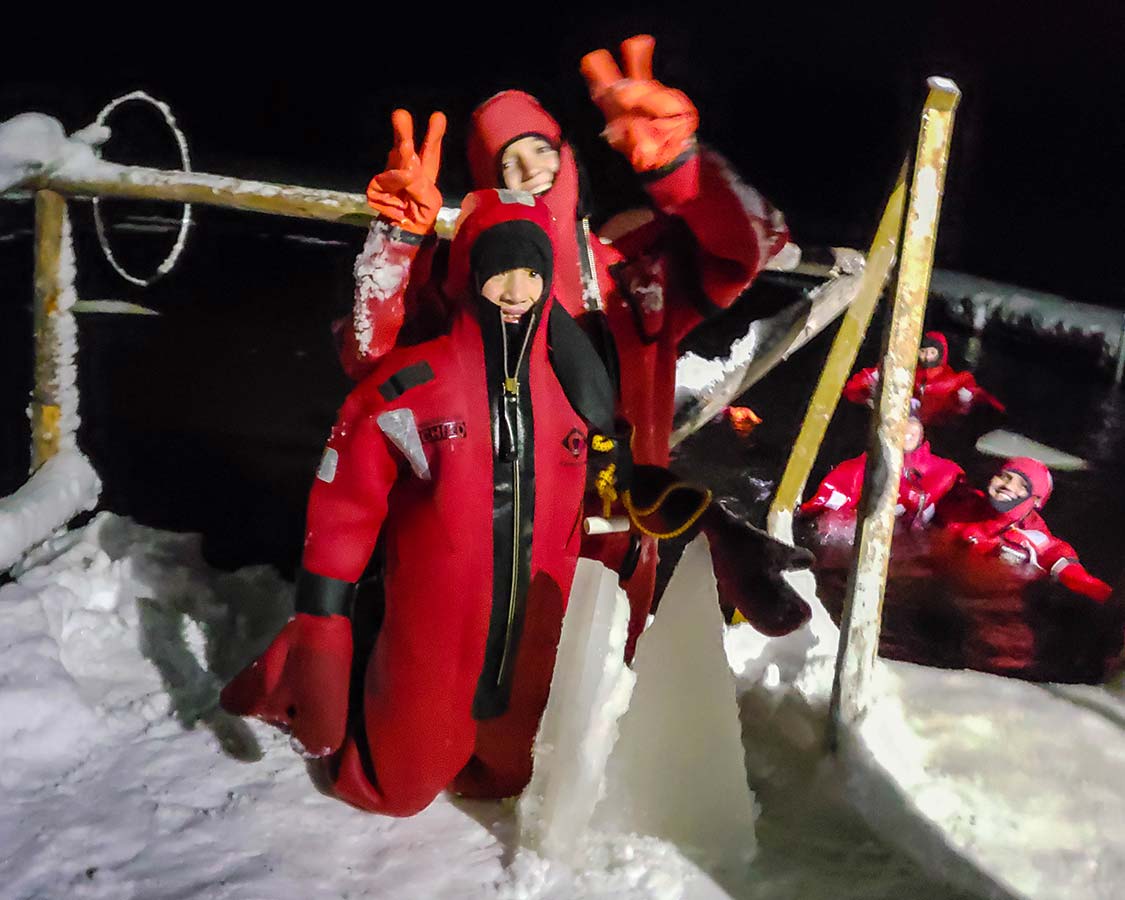 Where To Stay In Rovaniemi Finland For Families?
Although Rovaniemi is the largest city in Finnish Lapland, it is by no means a big city. This means that there aren't really any bad areas for those looking for hotels in Rovaniemi. Everything is fairly easy to get to.
If you have a car, getting around and outside the city is a breeze. If you are relying on public transportation in Rovaniemi, you're in luck as well. There are many buses in Rovaniemi that target the key local attractions.
But there are a few hotels and accommodations in Rovaniemi that stand out above the rest. Here are some of our favorite places to stay in Rovaniemi Finland. You can also check out our complete guide to the best family hotels in Rovaniemi here.
Ounasvaaran Lakituvat Chalets By Safartica
Ounasvaaran Lakituvat Chalets is managed by the local Rovaniemi tour company Safartica. The cabins are beautiful, cozy, warm, and classy. Also, the cabins are semi-detached, but you would barely even know that. Each cabin has 6 single beds, couches, fireplaces, a kitchen, and two bathrooms (one, of course, had a sauna). The Safartica cabins have all the comfort that you could ask for in a northern destination. Ours even included a Christmas tree and some ornaments for us to decorate.
You can find the prices and availability of the Ounasvaaren Lakituvat chalets on booking.com here.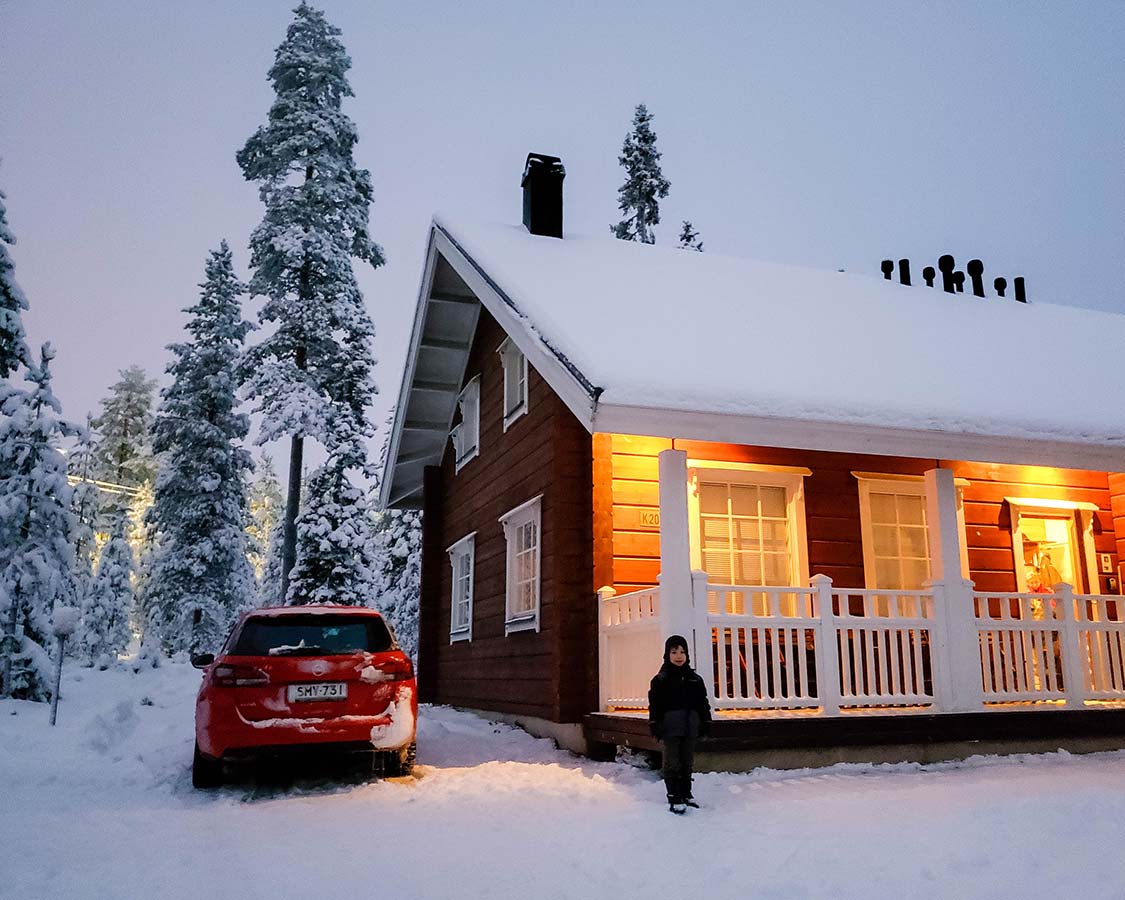 Santa Claus Holiday Village
The iconic Lapland Santa Claus Holiday Village is one of the most popular hotels in Rovaniemi for families looking to maximize their Christmas experience in Finland. Santa Claus Holiday Village is located right inside Santa Claus Village just north of Rovaniemi. The accommodations include quaint private cabins that make for a wonderfully intimate family winter experience in Rovaniemi. The accommodations include breakfast, sauna, kitchenettes and some of the best sunset views in Rovaniemi.
You can find the prices and availability of Santa Claus Holiday Village on booking.com here.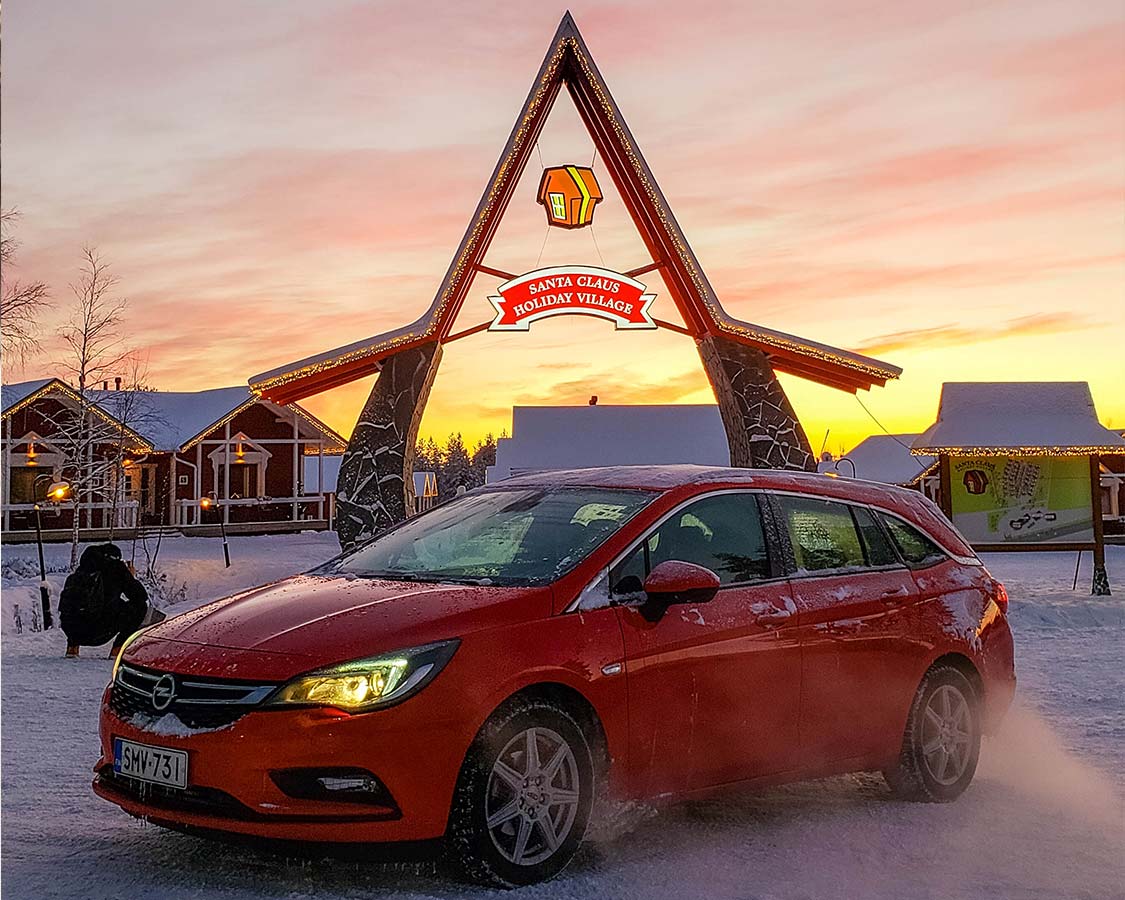 Where Are The Best Places To Eat In Rovaniemi Finland?
There are quite a few excellent restaurants in Rovaniemi that are worth visiting. And while you can get just about any type of food here (Asian food in Rovaniemi is especially popular), I'll focus on Lappish cuisine for those looking for the best taste of true Finnish food.
Restaurant Nili
Restaurant Nili was recommended to us by our Safartica guide Rebecca during our Ice Floating experience. The menu at Restaurant Nili is filled with authentic Finnish food such as reindeer steak and locally caught fish. Restaurant Nili is Lappish and Finnish Cuisine at its best. The prices aren't cheap, but they aren't overly expensive either. It's definitely worth considering eating here at least one night in Rovaniemi.
Cafe 21
Cafe 21 is one of the most popular restaurants in Rovaniemi. Their minimalist design with concrete walls dotted with reindeer pelts give the cafe a warm, yet modern feel. Dig into the popular tapas menu or, as our kids are opt-to-do, dive headfirst into their waffles.
Our Things To Do In Rovaniemi Video
Interested in getting a deeper look at the things to do in Rovaniemi Finland with kids? Check out our YouTube video:
Visiting Rovaniemi With Kids
As you can see, there are loads of things to do in Rovaniemi, and not all of them involve Santa Claus! Rovaniemi Finland should be on your radar for your next family adventure travel. We had a fantastic time during our Rovaniemi travel experience and definitely recommend traveling to Rovaniemi with kids. Have you ever taken part in the things to do in Rovaniemi? Tell us about it in the comments or drop by our Facebook page and share a photo with us. We would love to share in your journey.
Disclosure: This post was made possible by the support of Visit Rovaniemi. Our views remain our own. Wandering Wagars is a participant in the Amazon Services LLC Associates Program, an affiliate advertising program designed to provide a means for sites to earn advertising fees by advertising and linking to amazon.com, amazon.co.uk, amazon.ca. Amazon and the Amazon logo are trademarks of Amazon.com, Inc. or its affiliates.
You May Also Like To Read:
Pin This Post For Later: