Looking for the best things to do in Yellowknife Northwest Territories? From where to eat to the best attractions in Yellowknife, we have it all for you.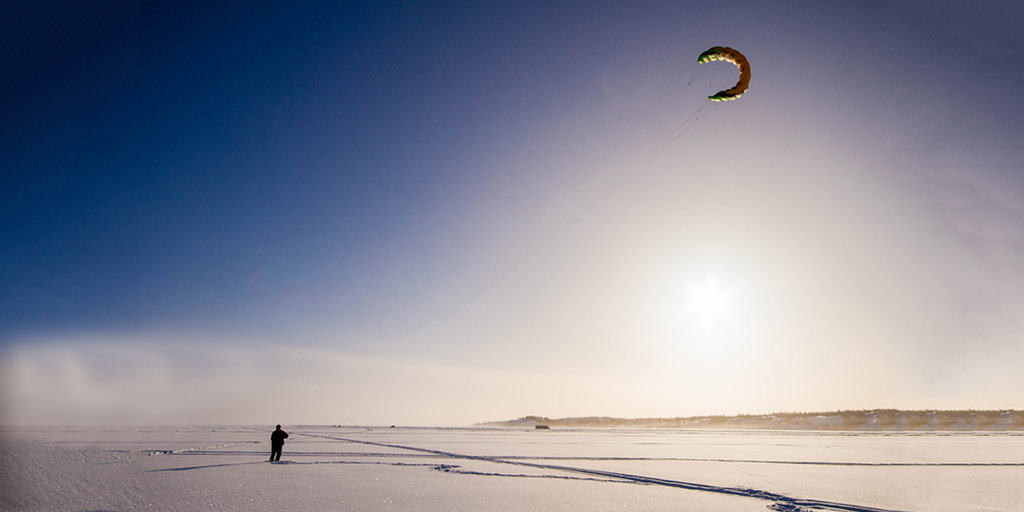 The Northwest Territories in Canada are famous for diamonds, the gold rush and for being very, very, cold. But, Yellowknife is also famous for its food, outdoor celebrations, and of course, being one of the best places in the world to see the Northern Lights! We bundled up our family and flew north from Ontario in an effort to find all the best things to do in Yellowknife in winter. What made this trip even better is that, like our adventure in Newfoundland, Kevin's Mom joined us for our travel to Yellowknife. This made for a cool multi-generational travel experience.
As we were preparing for our trip, though, it became clear that there are many more things to do in Yellowknife than just viewing the Aurora Borealis. We soon found out that it is a perfect winter getaway for couples, families, and solo travelers. In fact, after traveling to Yellowknife with kids, we were blown away by how many amazing winter attractions there were in Yellowknife.
This post may contain compensated links. For more information please read our disclaimer.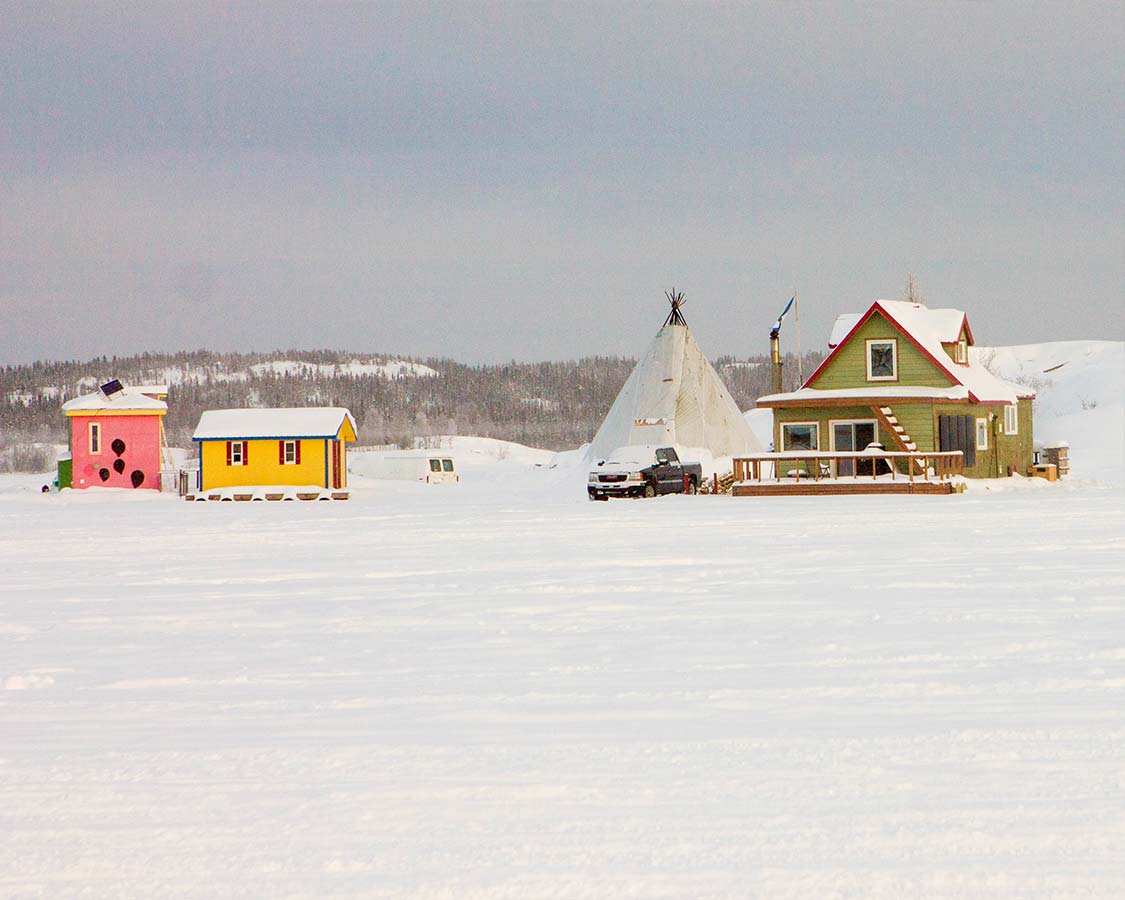 What Do You Need To Know Before Visiting Yellowknife in Winter
Yellowknife is deep in Canada's North and very remote. But, it is also a booming town. The Yellowknife population is just under 20,000 people, and that number doesn't include all the temporary or seasonal workers or tourists. Yellowknife Northwest Territories is a major hub for mining industries. But it does makeup over one-third of the entire population of the Northwest Territories.
And on a flight to the capital of the Northwest Territories, you have as much chance of sitting next to a group of tourists from China as you do a businessperson in a power suit or a mechanic cradling his toolbox. Yellowknife has a vibrant art and food scene as well as a huge wilderness tourism industry.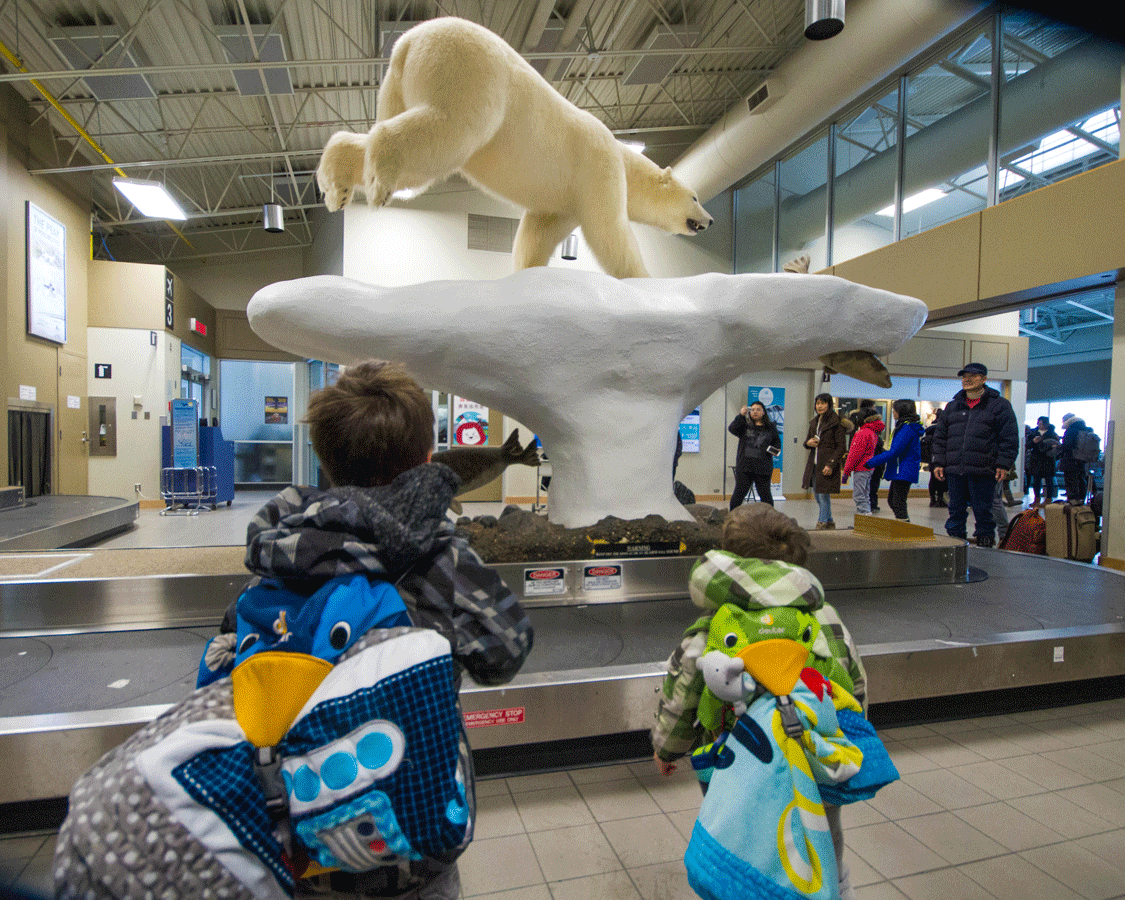 What To Wear In Yellowknife for Winter Activities
Yellowknife Canada can be very cold. Temperatures in Yellowknife during the winter can often drop down below -40°C (-40°F). And it can also be windy. Because many of the best things to do in Yellowknife are outdoors it's important to dress properly. This goes double if you are traveling with children in Yellowknife. Extra clothes can always be removed if you get warm. But you can't put on something you don't have if you're cold.
Dressing for winter in Yellowknife isn't too complicated. It just takes an extra couple of steps. And when you're done, you can enjoy all the things to do in Yellowknife comfortably! If you plan on bringing your own gear, you see our Yellowknife Winter Gear Guide below. There are also places in Yellowknife that rent winter gear in Yellowknife if you don't want to haul everything on the plane.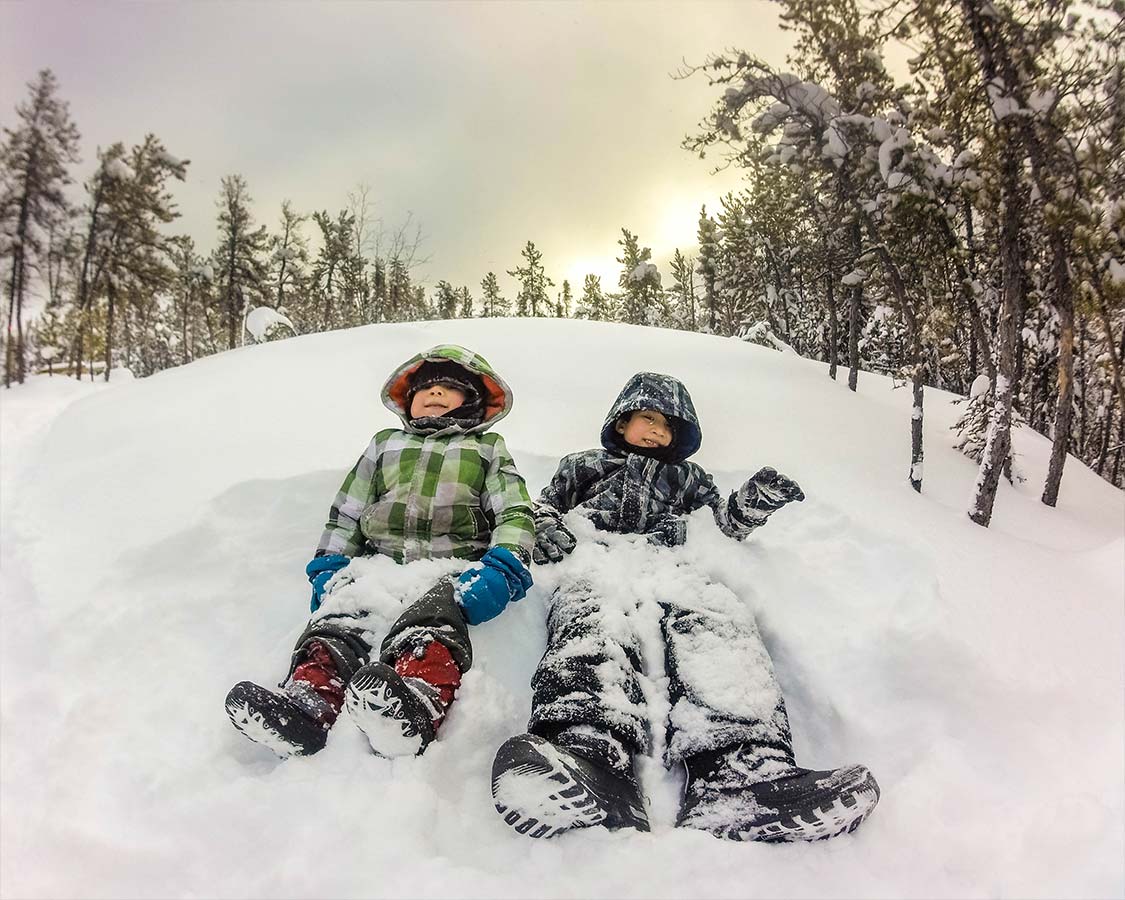 Base Thermal Layer – Start with a good base layer of thermal synthetics or wood. An example can be found here.
Wool Socks – A pair of warm, wool socks will keep your feet warm, dry, and comfortable. We love Wigwam socks for being really warm yet not bulky.
Regular Clothes (Pants, shirt, sweater) – Wear these over your base layer wear your normal pants, shirts, and sweaters. Avoid cotton though. Cotton fabrics absorb water (both melted snow and sweat) rather than letting it escape to the outside.
Snow pants – A pair of snow pants will help keep you insulated from the cold as well as protect you from getting wet. We love North Face Freedom pants. They are warm, durable, and well-priced.
Mid-length parka – A parka is a warm winter jacket that will keep you sheltered from the elements. You'll want something rated to at least -40°. Although they are super popular, you don't need a high-end brand like Canada Goose. Lower-priced jackets like this parka jacket are also a great option.
Winter boots – A good pair of winter boots are crucial to life in the north. The rubber soles will help you keep your grip in slippery conditions, and the warm, waterproof materials will keep your toes from falling off (literally). I really like this brand of boots for quality and price.
Winter Accessories (Toque, gloves, scarf) – Once your main winter gear is ready it's time for the essentials of winter travel. A good wool blend toque will keep your head warm. Gloves with texting pads will let you use your phone without your fingers freezing. But if it gets too cold, you'll want mittens. Otherwise, having your fingers separated means less warmth.
If you plan on renting winter clothing in Yellowknife, it's best to call ahead if you plan on taking advantage of this. They can sell out during popular times.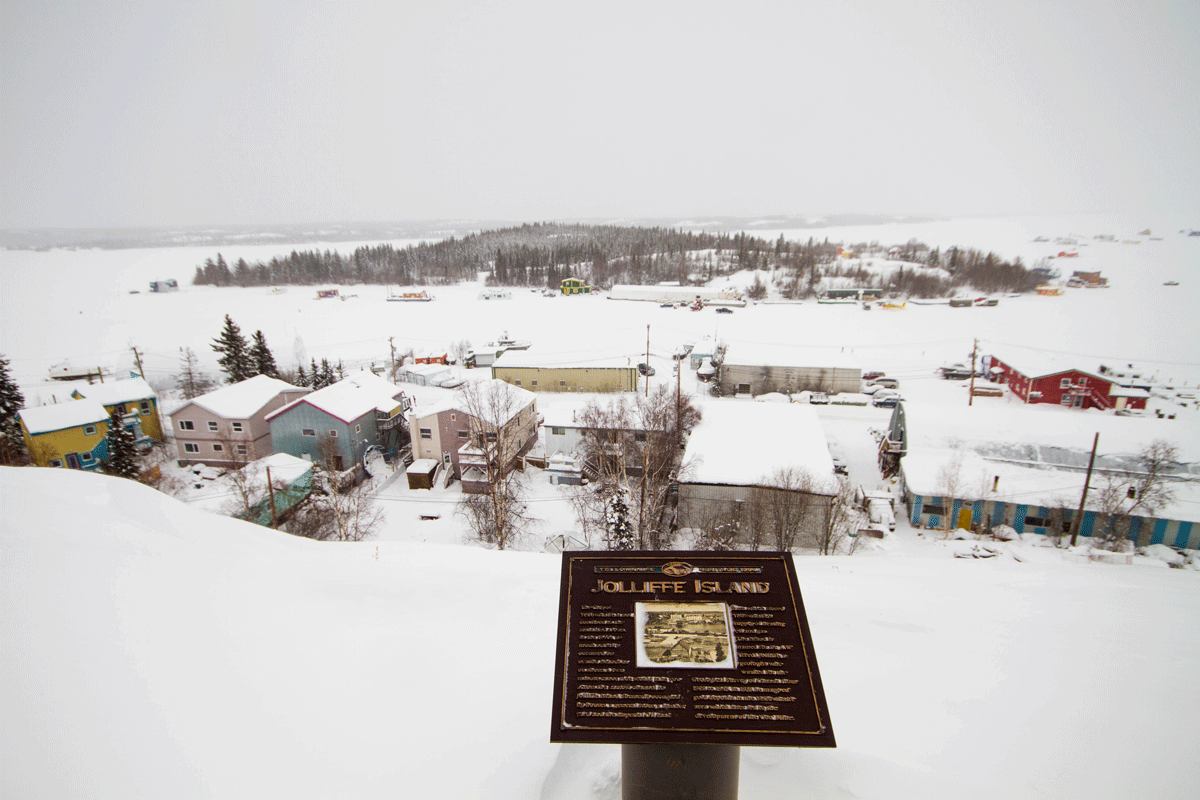 Our Favorite Things To Do in Yellowknife Northwest Territories
1. Take A Yellowknife Northern Lights Tour
Yellowknife is perfectly situated underneath the auroral oval (the area with the most Northern Lights activity). This position makes the Yellowknife a perfect destination for viewing the Northern Lights in Canada. Because it's position in the oval, there is a 90% chance of seeing the Yellowknife Aurora if you visit the city for at least 3-days! Those are pretty great odds!
We had quite a bit of clouds during our family travel to Yellowknife, but we did get a small break in the clouds that allowed us to capture the lights briefly. We also did a Northern Lights Cruise in Norway that allowed gave us an incredible opportunity to see the Northern Lights.
There are several outfitters in that provide Yellowknife Aurora tours. Although it is possible to spot the Aurora in Yellowknife city, the view is much better from outside the city where light pollution will not interfere.
You can also do what we did, which is to rent a car in Yellowknife and head out for a DIY Northern Lights Tour. In fact, the Northern lights in Yellowknife are so popular that they have a website set up for tracking the Yellowknife aurora forecast. You can check that out here.
There are also a number of Aurora lodges set up outside of the city. These Aurora hotels are organized specifically for treating yourself some of the best northern lights viewing that the world has to offer.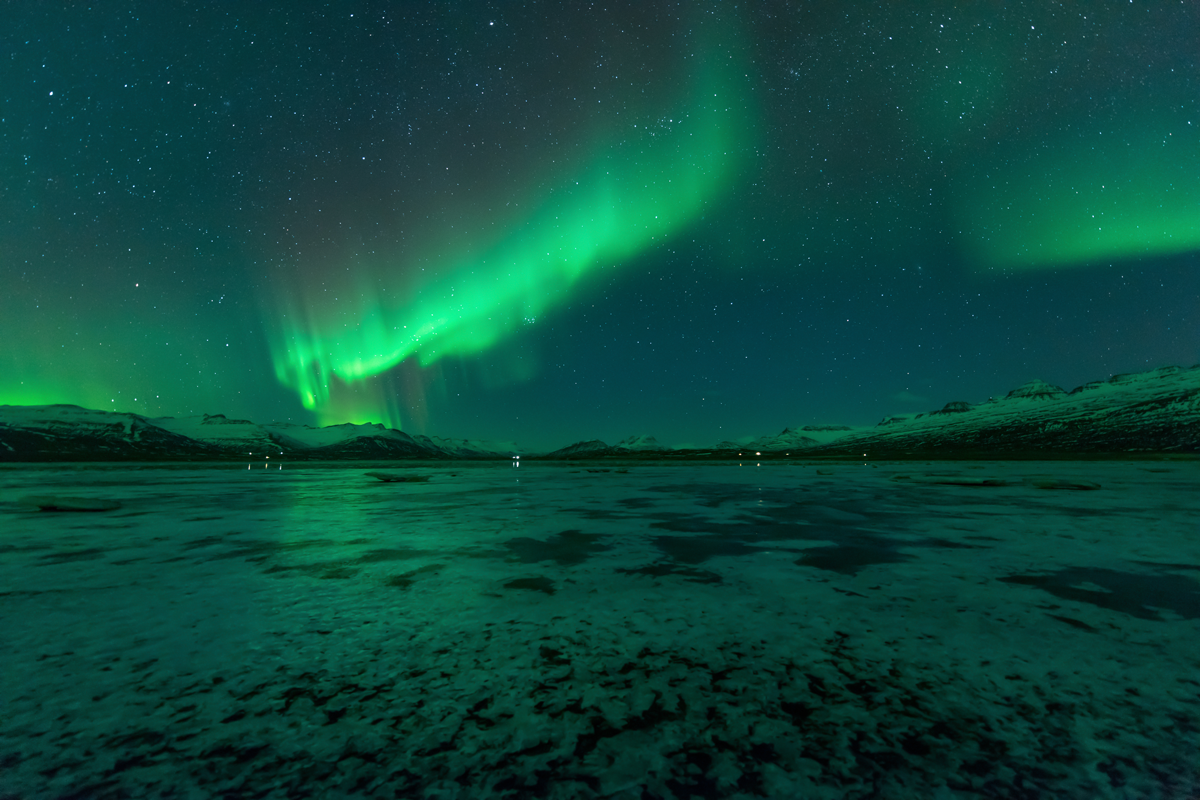 2. Drive The Dettah Ice Road
During winter, the temperature in Yellowknife dips into the negative double-digits. The average January temperature in Yellowknife is -26ºC (-15ºF). When there is a strong wind, however, it can feel much colder. This cold weather guarantees that the rivers and lakes in Yellowknife freeze over.
If the cold weather persists, the ice becomes sufficiently thick that even the huge 18-wheelers that truck materials to the remote mines can drive on it! In fact, the Ice roads in Northwest Territories are crucial to the operation of many of these remote regions. Yellowknife became famous for its ice roads with the popularity of television shows such as Ice Road Truckers.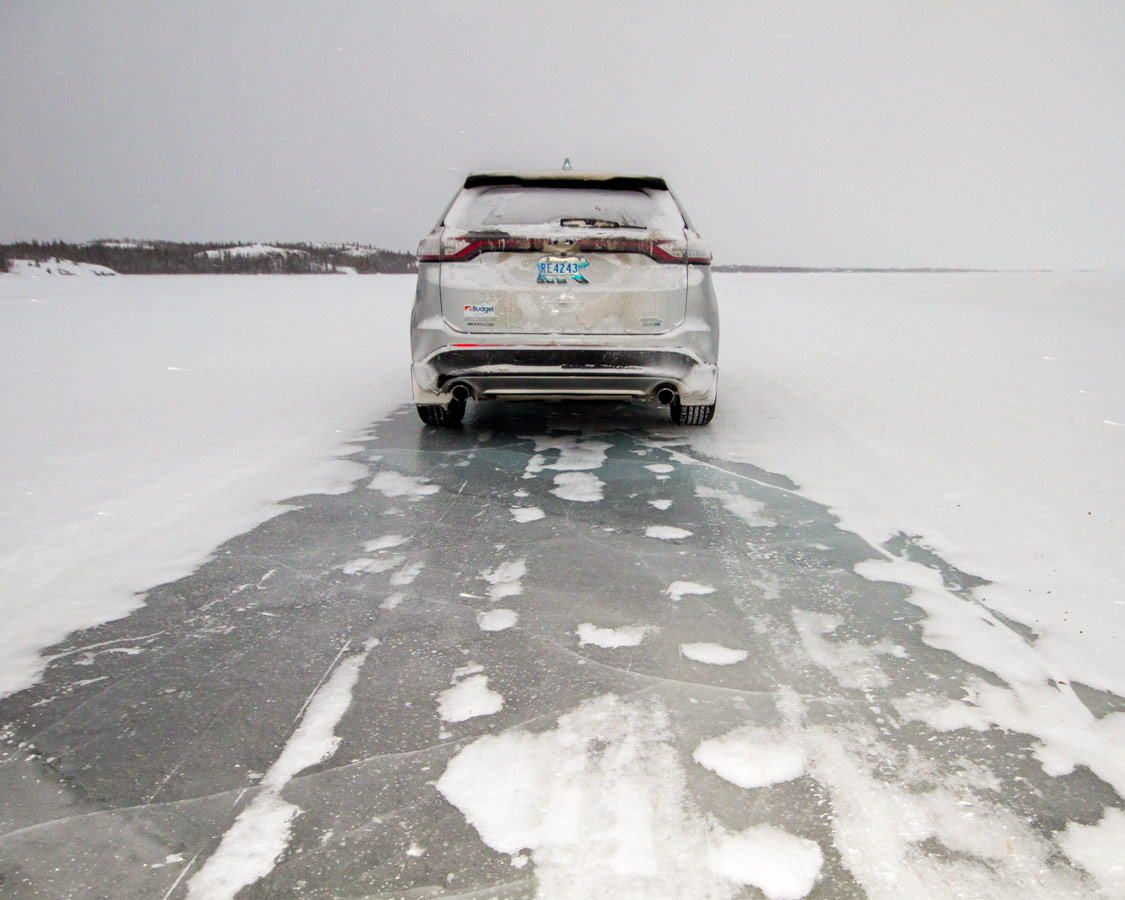 Driving on the Yellowknife ice roads has become a fun part of many Yellowknife tours. In fact, we loved it so much that we added it to our list of our favorite Canadian road trips.
The Yellowknife ice roads allow for easy access to remote destinations. During warmer months, many of these would only accessible by plane or via a much longer drive around the lakes. The northern ice roads also cut travel time shorter in between communities such as the nearby. In fact, Indigenous communities like Dettah that would normally take over an hour to reach by land.
The ice roads make for some of the best road trips in Canada. You can read about more incredible Canadian road trips here.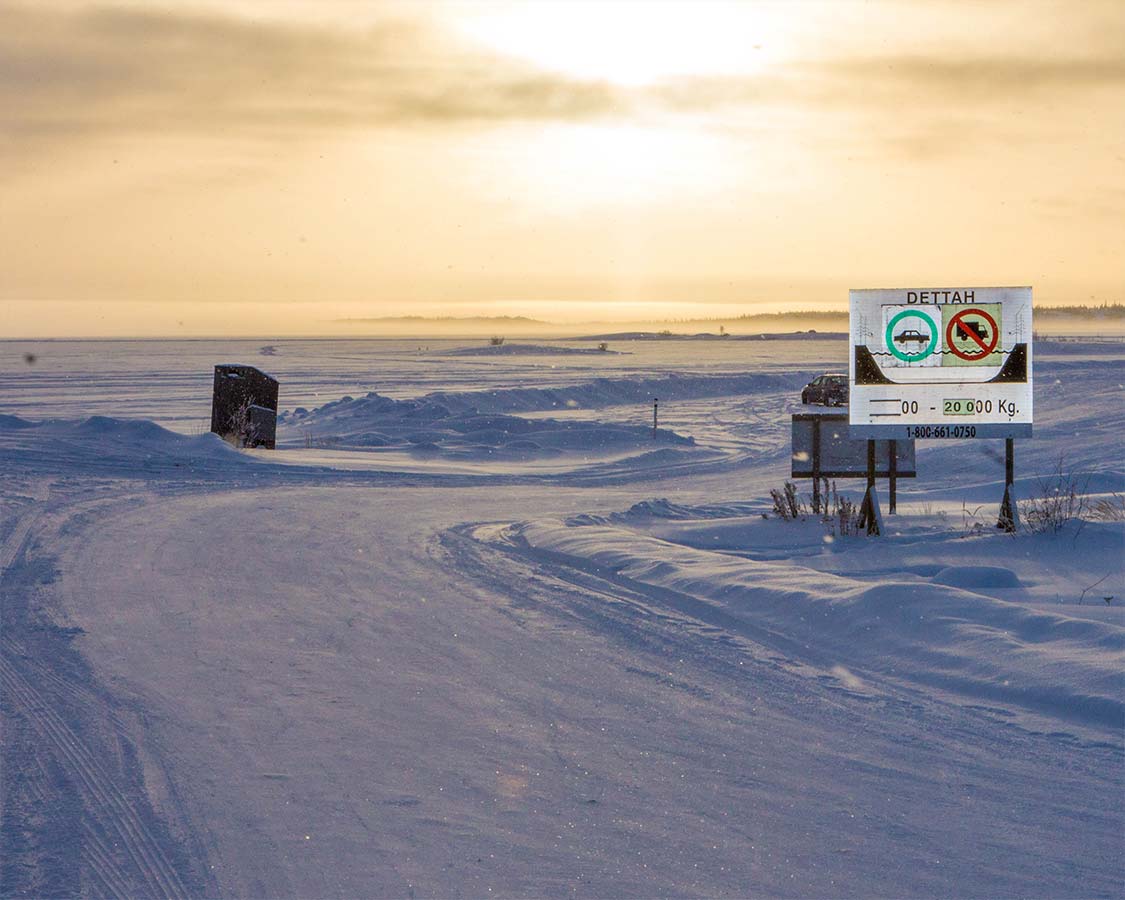 3. Explore Yellowknife Old Town
Yellowknife Old Town is on a rocky point of land beautifully located on Yellowknife's Great Slave Lake waterfront. Old Town Yellowknife holds some of it's coolest pioneer history as well as some of Yellowknife's best restaurants and art shops.
Yellowknife Bush Pilots Monument
To get a 360º view of Yellowknife and the surrounding area we headed up to the Bush Pilot Monument. From the monument, we had a limitless view of the city and the surrounding area. The Bush Pilot monument offers views of the various buildings of historical significance such as log cabins that were from the days of the gold rush in Yellowknife.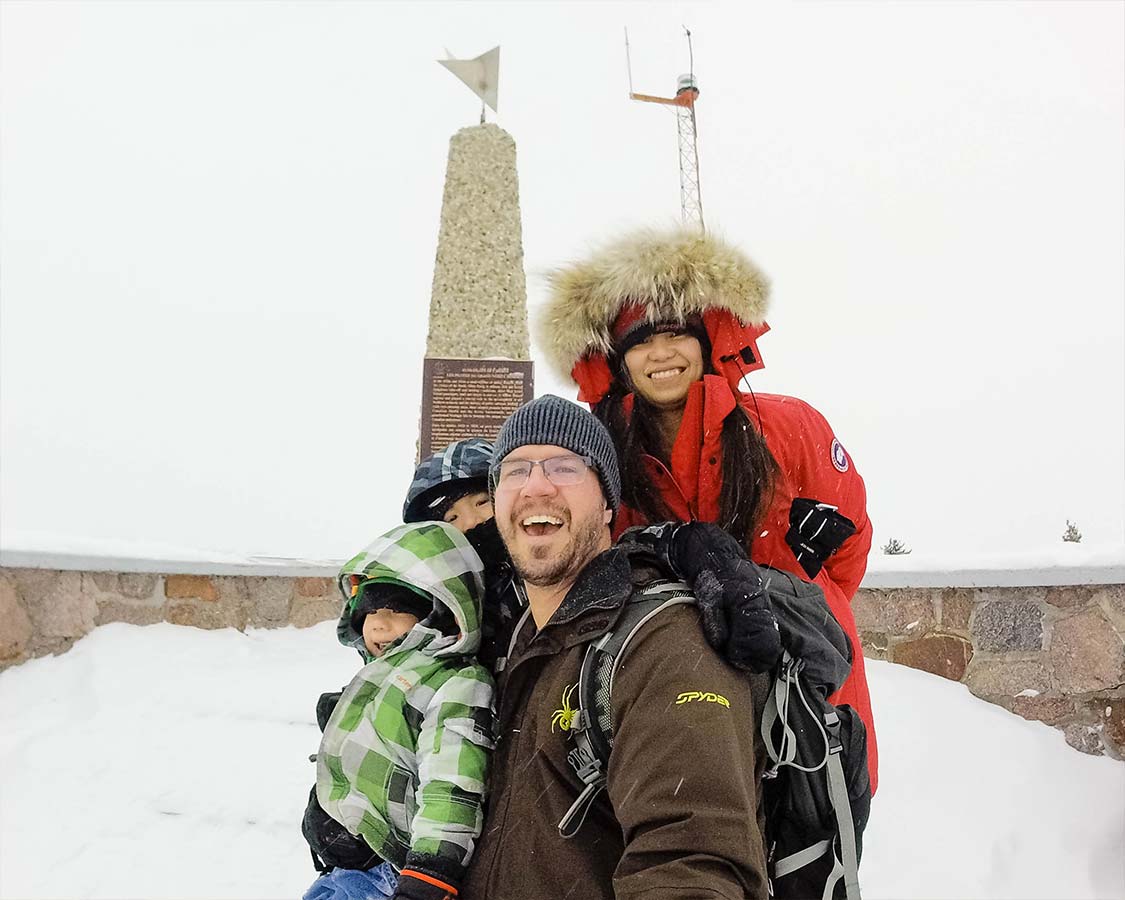 Other Things To Do In Yellowknife Old Town
Old Town Yellowknife is the part of the city where a majority of art galleries such as the Frozen Rock Studio, Down to Earth Gallery, and Gallery of the Midnight Sun are located. But a visit here isn't complete without stopping at one of our favorite restaurants in Yellowknife, The Wildcat Cafe. While the Wildcat Cafe might not look like much from the outside, the inside is oozing with history and stories.
Get a reservation beforehand, the lines can be long. While you're at the Wildcat Cafe make sure you pick up a marker and sign your name on the walls. Or better yet, look for our card! We've already gotten calls from people who have found it there!
Old Town also houses some of the best restaurants in Yellowknife such as the Wildcat cafe. As well, Old Town is the home of the popular local brewery, NWT Brewing. With names like Ragged Ass Rd. It's clear that Yellowknife's vibrant history is still on full display here! It's definitely one of the most amazing places in Canada.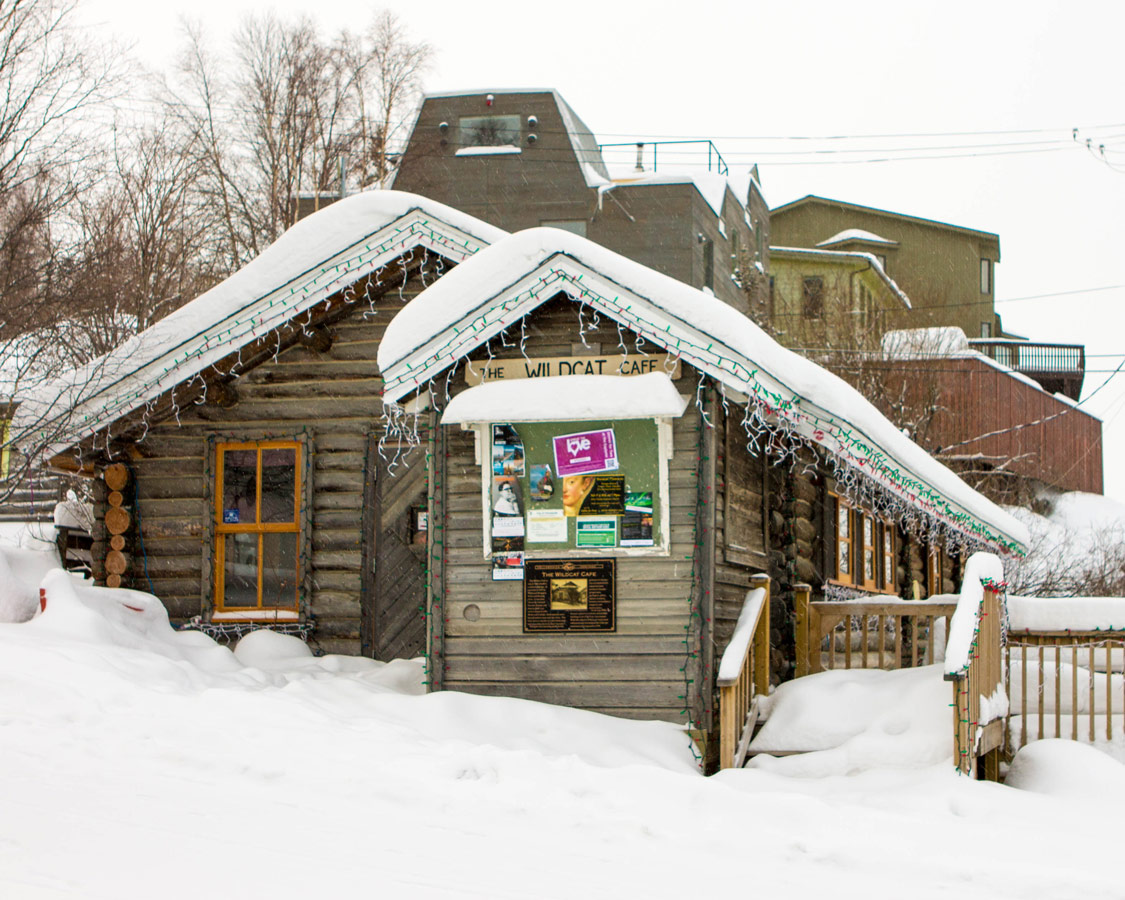 Create Your Own Art At Old Town Glassworks
Old Town in Yellowknife has many galleries that showcase aboriginal art. In fact, one of our favorite things to do in Yellowknife was touring all the art galleries! The boys had a lot of questions about hunting as they saw hides, furs, and carvings made from animal parts. After having taken part in Pow Wows in Ontario, this led to good discussions about cultural tourism and the synergy between the northern cities and indigenous culture in Canada.
Their favorite art shop in Yellowknife though was Old Town Glassworks. This glass gallery is very hands on. Similar to the Corning Museum of Glass in Corning, New York, people are allowed to make their own glass creations.
The boys' favorite part was putting on the sticker designs before having their glasses sandblasted. Getting involved in these amazing activities is a great way to experience Yellowknife with kids. This experience was similar to our pottery making in Peru and was so much fun!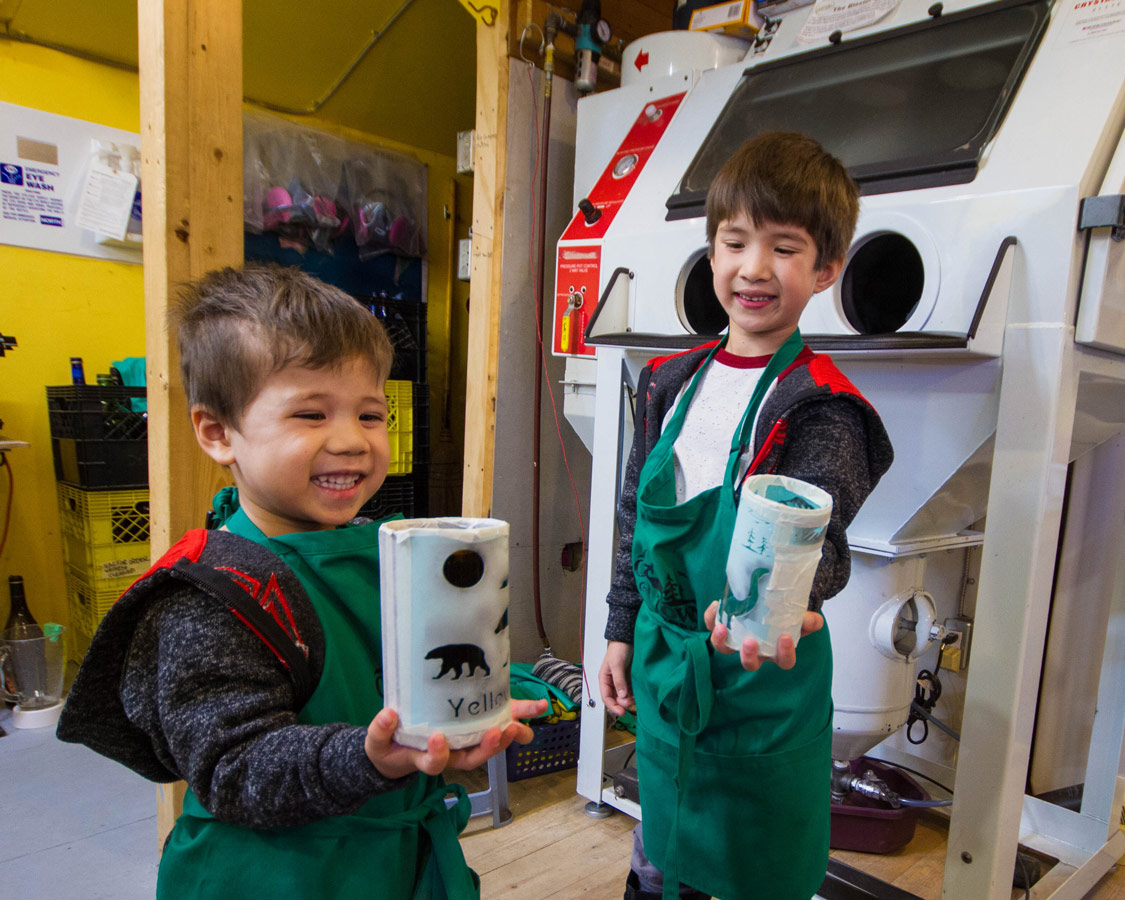 4. Go Dog Sledding In Yellowknife
There's no doubt that we love being outside. And one of the best ways to experience nature in Yellowknife is through a dog sled tour. Dog sledding can be as active as you want it to be. While our boys were happy simply sitting down and enjoying the view, Kevin and I tried our hands at mushing and wrangling the Huskies.
When we looked up what to do in Yellowknife, we found that there were two main dog sledding outfitters. Of the dog sledding outfitters in Yellowknife, we chose to go dog sledding with Beck's Kennels as they had a drive your own dog sled option. It is also possible to join a tour that involves simply sitting down and enjoying the view.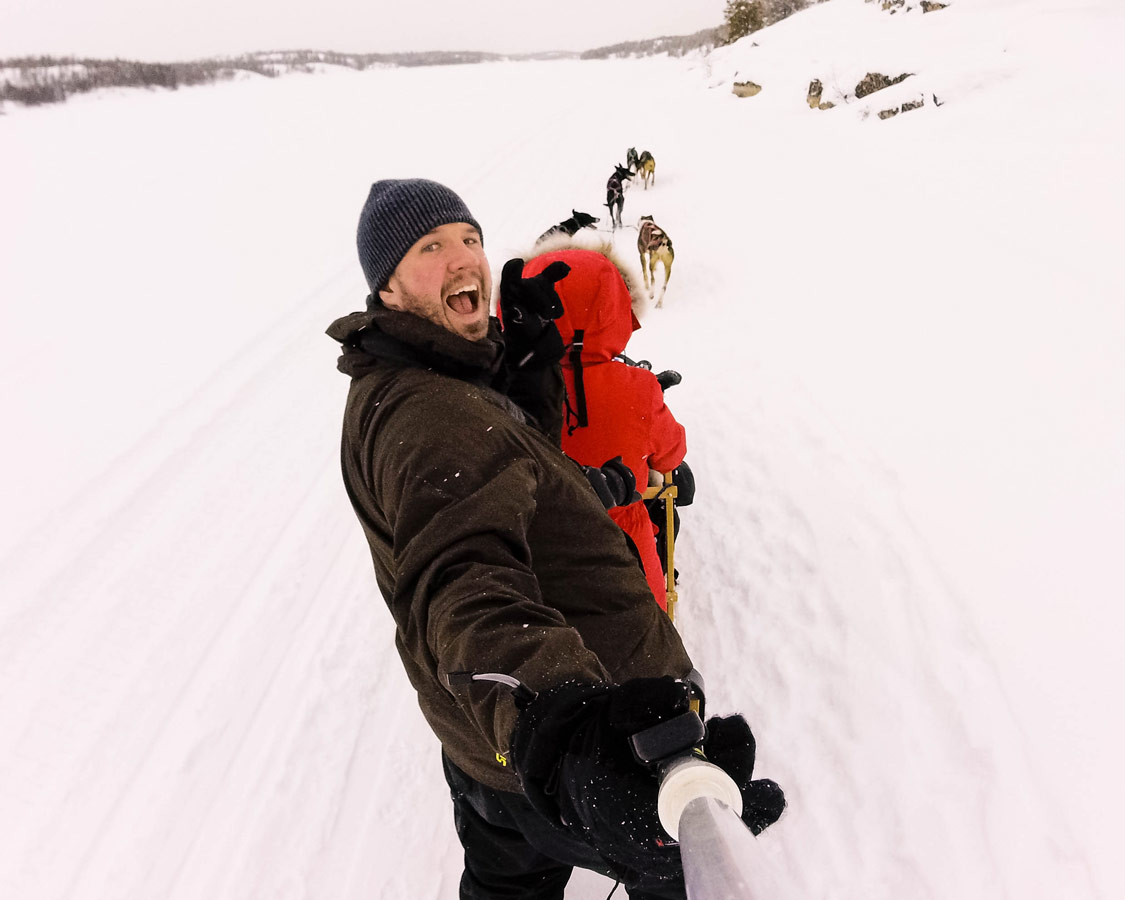 Once the dogs were ready, we were led out of the kennels by one of the dog handlers on a snowmobile. Once we were out on frozen Karn Lake though, the dogs didn't need any directions. They went full speed ahead and we were able to enjoy the ride. The views on the ride are stunning. Everywhere we looked there were silent lakeshores, frozen over and covered in snow.
The only sounds around us were a dog barking or the boys yelling "mush" in an attempt to encourage the dogs to go faster. We also experienced dog sledding in Mont Tremblant, Quebec and it was just as much fun.
5. Hike The Cameron Falls Trail In the Yellowknife Wilderness
We couldn't go to a new place known for its amazing tundra without going for a hike! This would be our first big winter hike of the year and it was going to be an adventure. Like our time hiking Gros Morne Park in Newfoundland, Kevin's Mom would be reluctantly joining us. While technically not part of Yellowknife, we chose to hike the Cameron Falls Trail in nearby Hidden Lake Territorial Park.
It was an easy drive 47 km east of Yellowknife on the Ingraham Trail to reach the Cameron Falls hiking trail. This wasn't our first hike in the north. Cold weather hiking is nothing new to us, you can check out our favorite family hikes in Iceland here.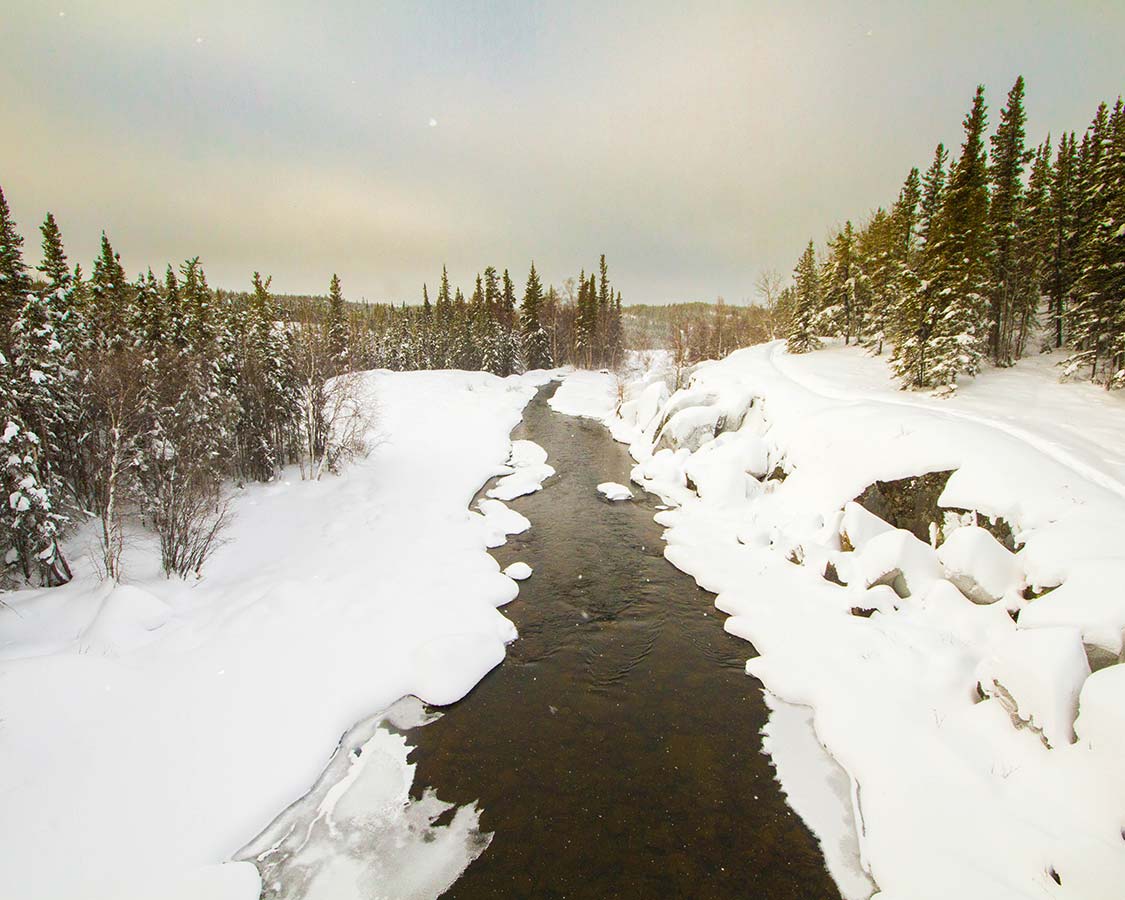 Due to recent heavy snowfall the previous two days, the Cameron Falls trail was harder to navigate than we expected. But the fresh snow definitely added to the fun and made the surroundings look magical. We were happy that our hike ended better than our last time hiking in Gros Morne National Park. If Cameron Falls is too far to drive, you can try the Frame Lake Trail which is on the lakeshore near the Yellowknife Airport.
6. Discover the Best Yellowknife Museums
There are some incredible museums in Yellowknife that are definitely worth your time. This remote community actually offers some of our favorite museum experiences in Canada.
Northern Frontier Visitors Centre And Cultural Centre
For anyone traveling to Yellowknife, one of the first stops when visiting Yellowknife should be the Northern Frontier Visitors Centre. The staff was very helpful in helping plan our visit. The center also has various exhibits about Yellowknife's history, industries, wildlife, and aboriginal culture. The boys particularly enjoyed the small room on the second floor that predominantly housed a wildlife exhibit.
2018 Update: The Northern Frontier Visitors Centre was closed indefinitely in 2017 due to structural issues. We'll update this post should the center be relocated or re-open. In the meantime, the Yellowknife Visitor Centre is being temporarily housed at Yellowknife City Hall.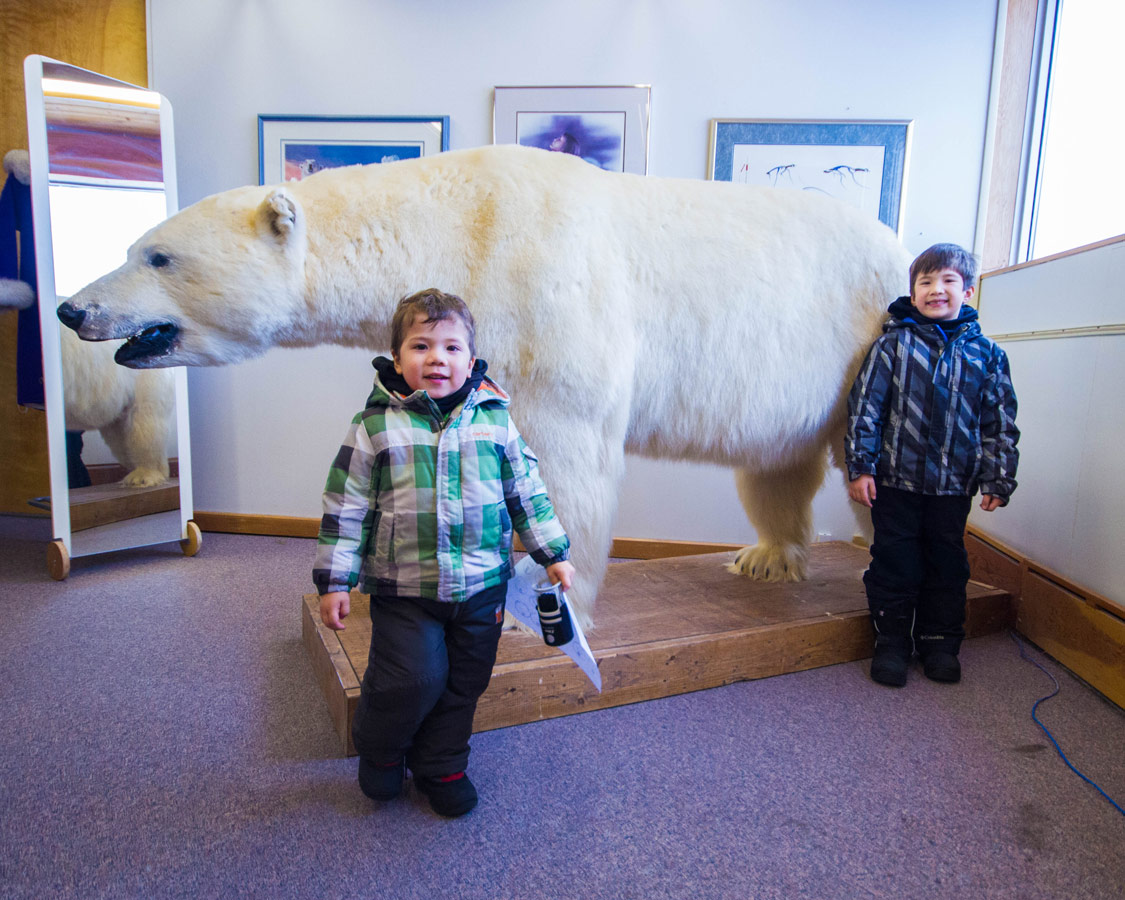 Pro-Tip: The second-floor wildlife exhibit room also has stamps that you can use to stamp your passport!
Prince of Wales Northern Heritage Centre
The best museum in Yellowknife for us was the Prince of Wales Northern Heritage Centre. This museum is the Northwest Territories governments official museum and archives. The Prince Of Wales Northern Heritage Centre houses great exhibits about aboriginal culture, Yellowknife's history and wildlife of the north.
The Pince of Wales Museum in Yellowknife is extremely family-friendly with many hands-on opportunities for all ages. But the boys' favorite part was the children's interactive zone on the first floor. Oh, did we mention, The Prince of Wales Northern Heritage Centre has free entrance!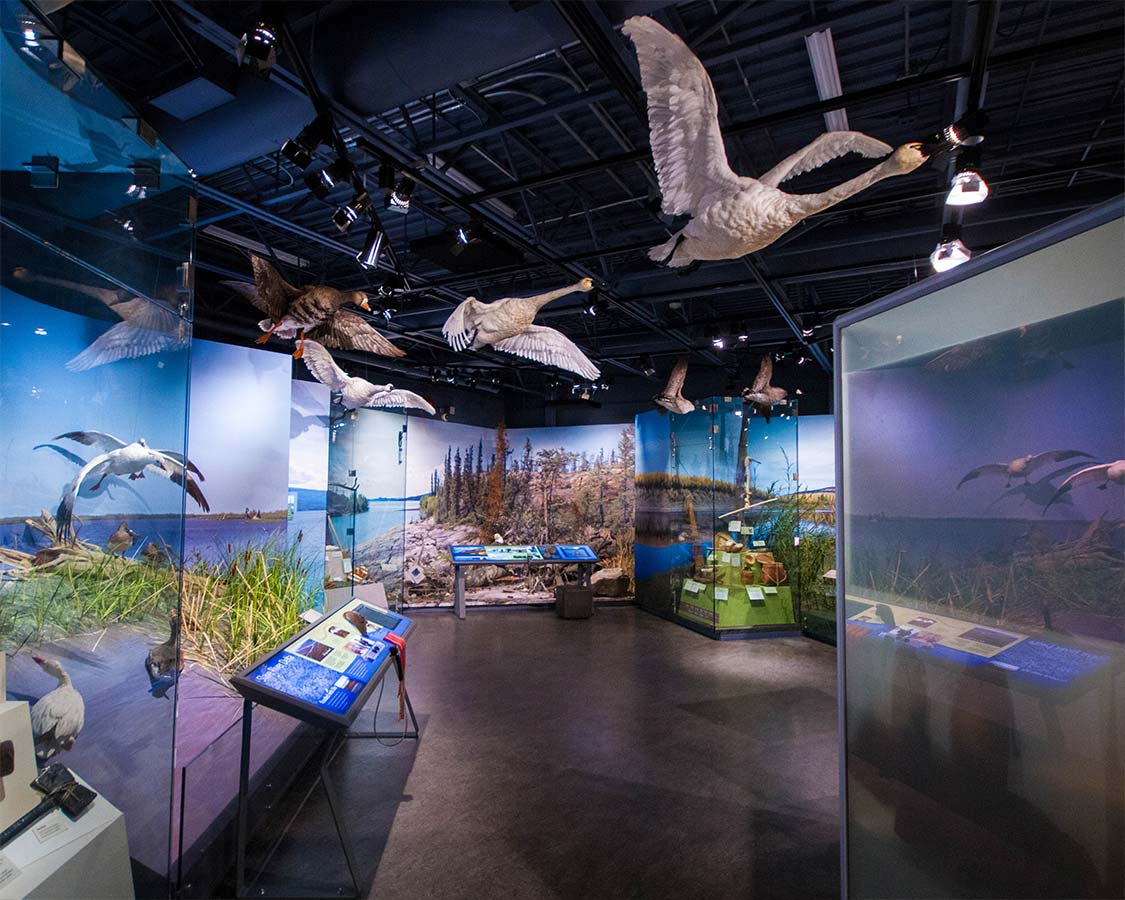 Pro-Tip: The Prince of Wales Northern Heritage Museum Cafe has fantastic food. If you have a chance, definitely grab some lunch there. But make sure to come early or make reservations. The place fills up fast.
7. Explore the Indigenous Communities Near Yellowknife
Previously we had visited the aboriginal communities on Manitoulin Island, Ontario, to learn more about indigenous culture in Canada. We also got to partake in many experiences, such as the boys making their own drum as part of the Great Spirit Circle Trail Experience.
And with nearly 24% of the population belonging to either First Nations, Metis, or Inuit populations, Yellowknife is a hotbed of Indigenous tourism. The indigenous communities in Yellowknife also provide amazing experiences for people to learn more about the culture and history of Canada's far north. We were able to explore the nearby town of Dettah after driving on the ice-road. Within Yellowknife, itself is the aboriginal town of D'Nilo. D'Nilo is located is on the edge of Yellowknife just past Old Town.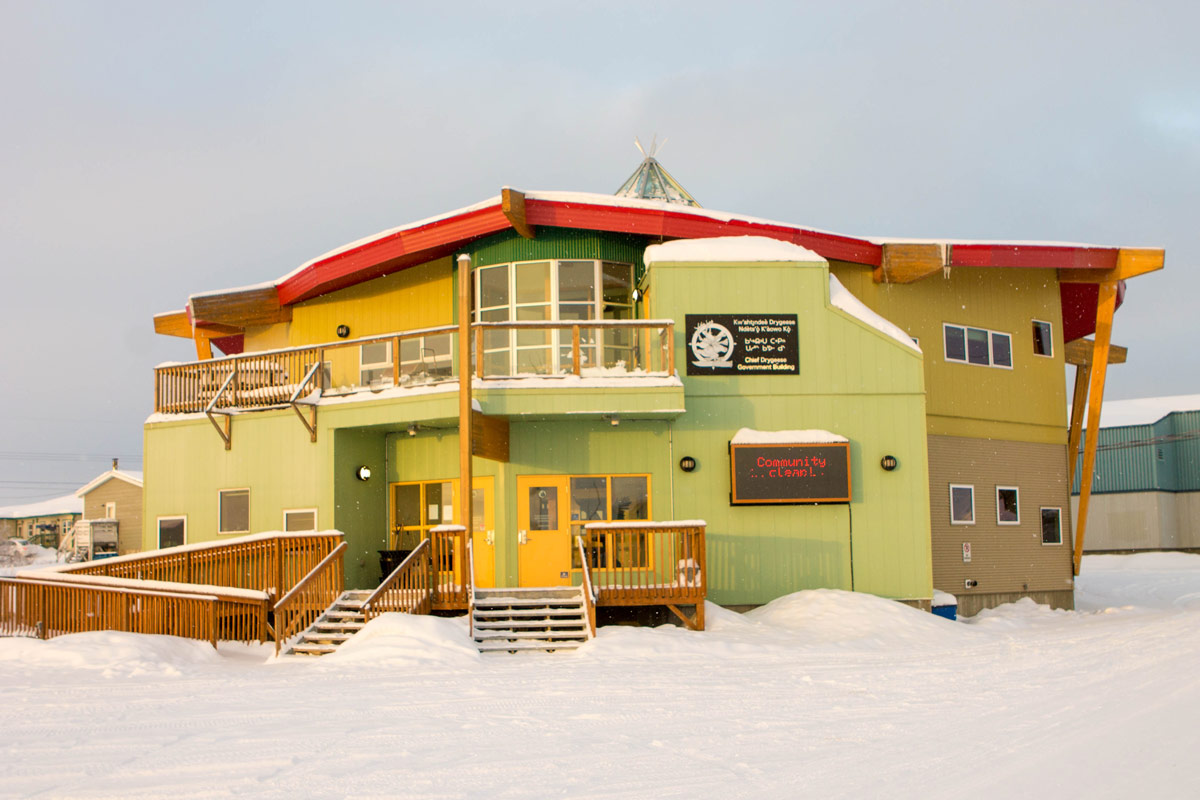 8. Experience the Yellowknife Ice Castle and SnowKing Winter Festival
There are many winter festivals held throughout the year in Yellowknife. One of the biggest festivals in Yellowknife is the Snowking Festival. The Snow King Festival has been held annually in March for over two decades. This festival features fun activities focused on the shores of Great Slave Lake. One of the best features is the incredible Yellowknife Ice Castle that makes an appearance each year.
The Snowking festival ice castle is filled with slides and amazing carvings. If you can time your visit for early march when the festival is on, you won't regret it. The Yellowknife festival has many local musical acts, artwork, and competitions. And the celebration is obvious throughout the whole city.
The Yellowknife winter festival and snow castle are in Yellowknife Bay, Great Slave Lake, Yellowknife. It can be reached by driving on the ice road. Although not as large as the Winterlude festival in Ottawa and Gatineau, the Snow King Festival is a MUST for anyone looking for things to do in Yellowknife in March.
9. Kite Flying on Great Slave Lake
C, our 5-year-old had previously tried kite flying at a festival when we were in Bermuda. He had so much fun that, when we saw kite flying in Yellowknife was available, he insisted that we sign up! Yellowknife kite flying on Great Slave Lake is run by local operator Greg Robertson through his company Bluefish Services. Greg is a bit of a local celebrity and received the Canadian Tourism Lifetime Achievement Award.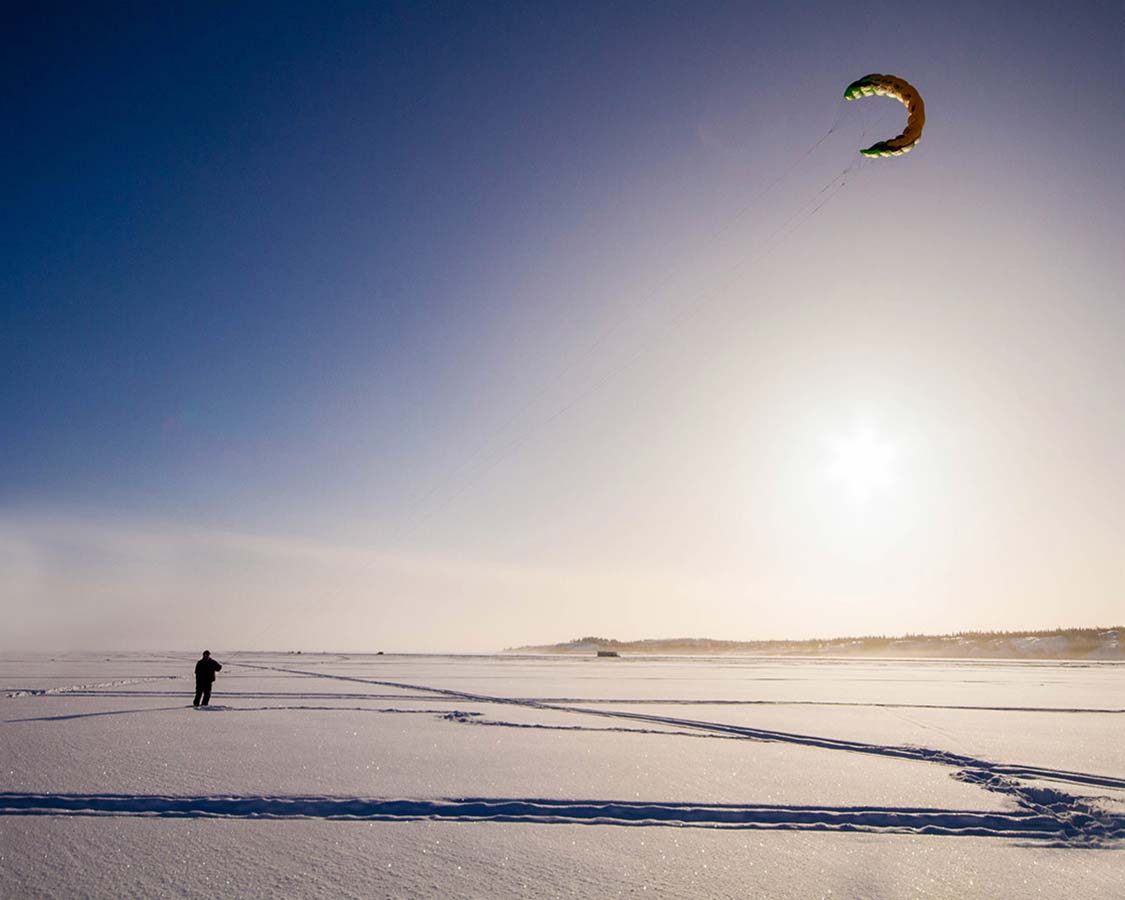 This was a far different experience than our time at the Bermuda kite festival, but no less special. Although Greg made it looks easy, Kevin learned that flying a kite on Great Slave Lake was a lot harder than it looked. Especially since we were experiencing a particularly beautiful day with very little wind.
But riding out on Great Slave Lake in Greg's unique snowmobile-bus hybrid was a blast. And spending the day out in the northern sunshine was the perfect way to spend a family weekend in Yellowknife.
10. Tour The Buffalo Airways Ice Pilots Hangar
Ice Road Truckers isn't the only show that centers around Yellowknife. This city is also home to Buffalo Airways the base for the popular television show, Ice Pilots. When we found out that we could tour their hangar and learn all about life as an ice pilot in Yellowknife, we knew we had to do it. This free tour was very informative and the boys learned how water bomber planes work, the struggles of flying in the far north, and what life as a bush pilot looks like.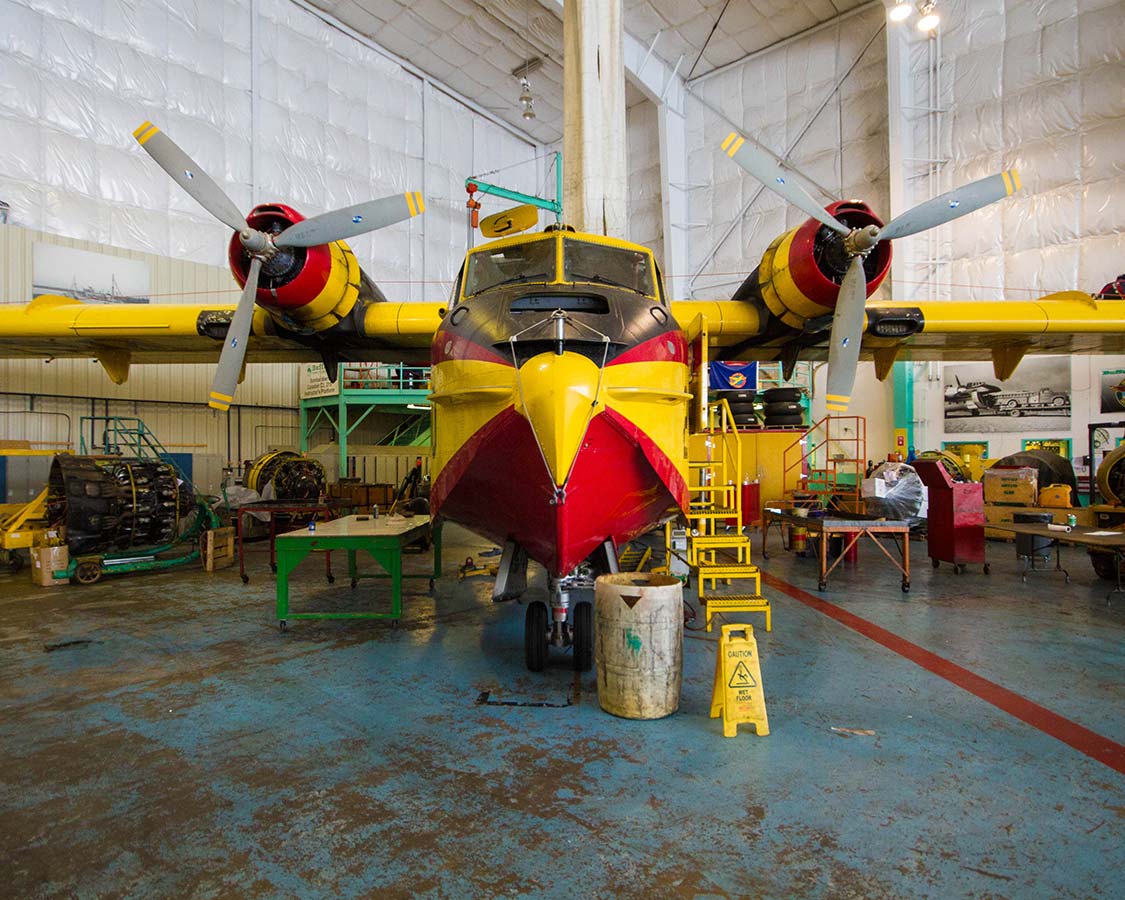 Other Winter Activities in Yellowknife with Kids
The winter activities in Yellowknife for kids that we picked were targeted for family travel with younger children (our sons are 5 and 3 years old). However, we think all the above activities in Yellowknife would be fun for kids of all ages and is also applicable for multi-generational travel.
Snowmobiling In Yellowknife
For those traveling with older kids, it is also possible to go snowmobiling in Yellowknife. This is one activity we were looking forward to as we had gone snowmobiling with C in Iceland. Unfortunately, D was too young to take part. You can read about our snowmobile experience in Iceland here.
Being a winter wonderland, there are many opportunities to go skating, snowshoeing or cross-country skiing in Yellowknife. Snowshoeing and cross-country skiing tours are available and the tour company provides the gear that you need. For those who like to do-it-yourself, it is possible to rent gear in town so there is no need to bring your own.
Skating In Yellowknife
One of the most common places to go skating is just outside the Yellowknife city hall. Here, there is an outdoor skating trail. Also, for those that want to have the most Canadian of things to do in Yellowknife with kids, there is an ice rink so one can combine skating with a game of hockey.
Skiing in Yellowknife
There is a small ski hill on the edge of Yellowknife that locals flock to on the weekends. Unfortunately, we didn't have time to hit the hills. Our kids were just learning to ski and we had recently spent some time on the huge mountains of Kelowna British Columbia.
Make sure to subscribe to our YouTube channel see all our latest videos!
Best Yellowknife Hotels
There are amazing places to stay in and around Yellowknife. From hotels in Yellowknife to the lodges and bed and breakfasts in the surrounding area, there are accommodations in Yellowknife that will fit the needs of all travelers. But hotels in Yellowknife book up fast. You can check out the best prices and availability here.
Super 8 By Wyndham
The Super 8 was our hotel in Yellowknife. It's conveniently located, close to downtown, and includes hot breakfast. It's not classy, but it's affordable, clean, and has friendly staff. You can check out the pricing and availability for the Super 8 in Yellowknife of Booking.com here.
Explorer Hotel
The Explorer Hotel is right in the core of Yellowknife, walking distance to the Northwest Territories Diamond Museum and the Legislative Assembly. The Explorer Hotel includes a Hot breakfast and includes free WiFi. You can check out the pricing and availability of the Explorer Hotel in Yellowknife on Booking.com here.
Best Restaurants In Yellowknife Canada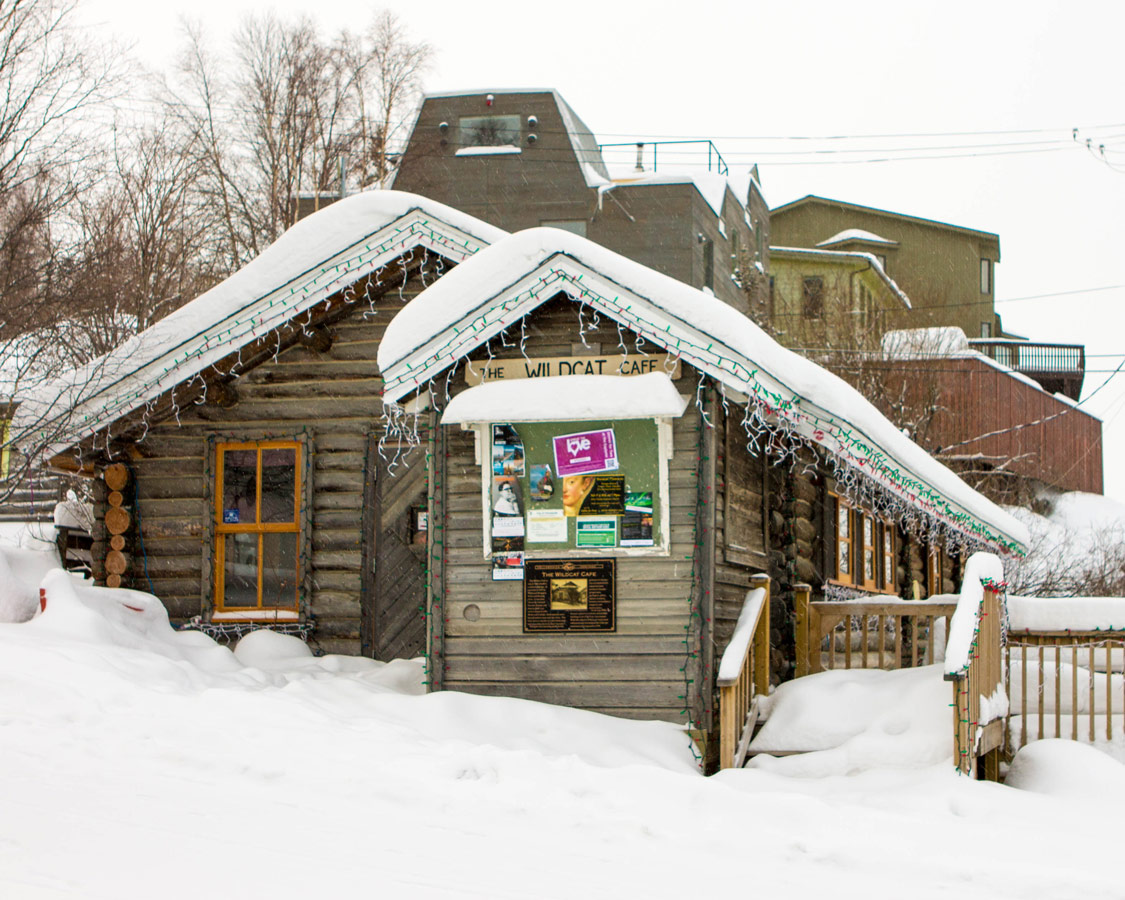 Wildcat Cafe
Wildcat Cafe in Old Town, there are other great Yellowknife restaurants to experience. This city has a shockingly high number of amazing foodie destinations, and there are great breweries popping up as well.
Bullocks Bistro
Bullocks Bistro is a quirky diner with an old-time style. They have great seafood dishes and fantastic stews. It's not cheap, but you'll leave full and happy.
Woodyard Brewhouse & Eatery
For something a little more social, the Woodyard brewhouse and eatery is for you. This cabin-style brewery has great downhome meals like pizza and mac & cheese.
So, what are you waiting for? With so many winter activities in Yellowknife to do with kids (or without), you should definitely visit this northern Canadian gem. If you've been to Yellowknife tell us about your experience in the comments. Or swing by our Facebook Page and post a photo of your trip. We would love for you to share your journey with us.
Wandering Wagars is a participant in the Amazon Services LLC Associates Program, an affiliate advertising program designed to provide a means for sites to earn advertising fees by advertising and linking to amazon.com, amazon.co.uk, amazon.ca. Amazon and the Amazon logo are trademarks of Amazon.com, Inc. or its affiliates.
You May Also Like To Read:
Pin This Post For Later: