There's no better way to experience ceramic painting for kids than with Peru's master artisan, Pablo Seminario at Ceramica Seminario in Urubamba Peru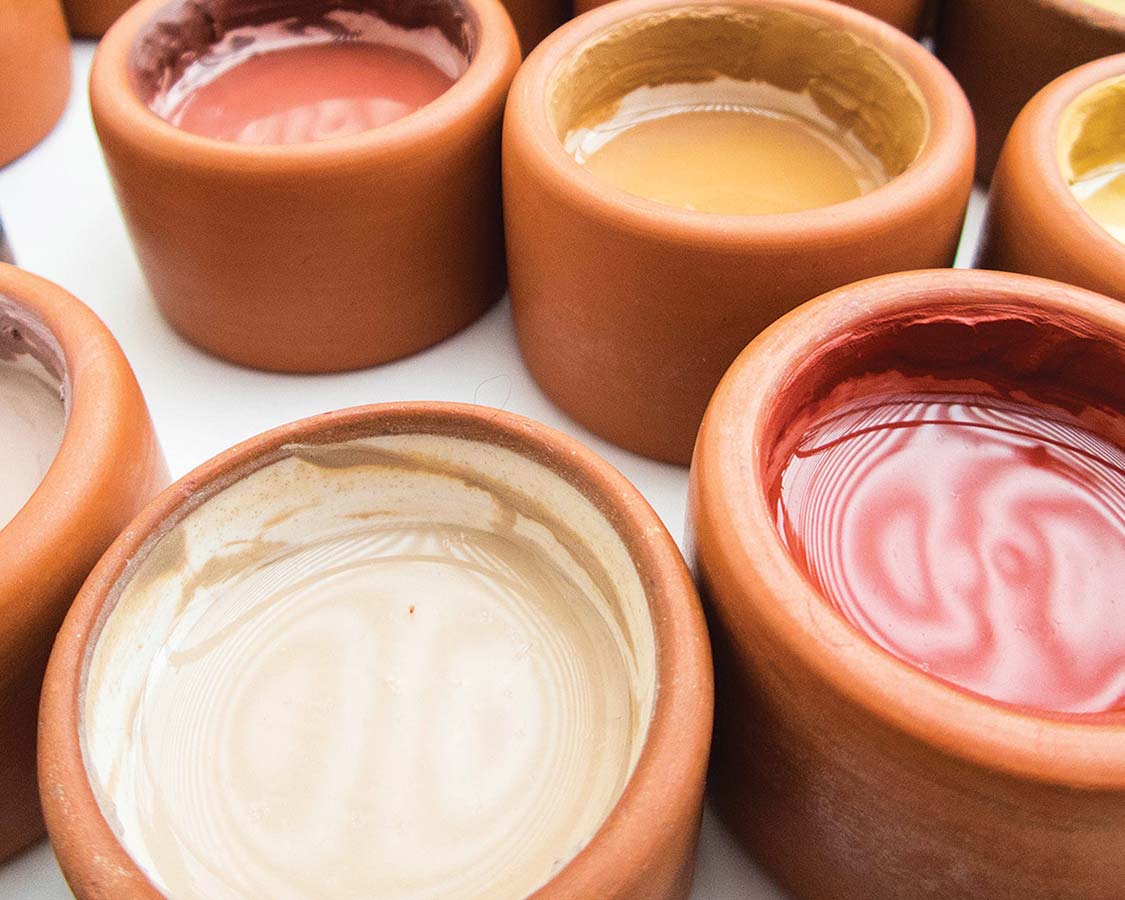 Nestled in the Sacred Valley of the Incas in the town of Urubamba, Peru is a street known for incredible artisans. None of these famous ceramic artists is more renowned than Pablo Seminario. When the team at Kuoda Travel suggested a class for ceramic painting for kids at the home of one of Peru's famous artisans, we were incredibly excited. So after a morning of exploring the markets of Pisaq, we prepared for our Ceramics workshop at Ceramica Seminario in Urubamba, Peru. The boys were over the moon at the idea of pottery for children class. Christina and I, on the other hand, were a bit nervous about how our rambunctious little ones would handle a ceramics class like this. Little did we know that we were in for one of the most memorable experiences of our trip to Peru!
This post may contain compensated links. For more information please read our disclaimer.
You can read our entire two-week Peru itinerary here.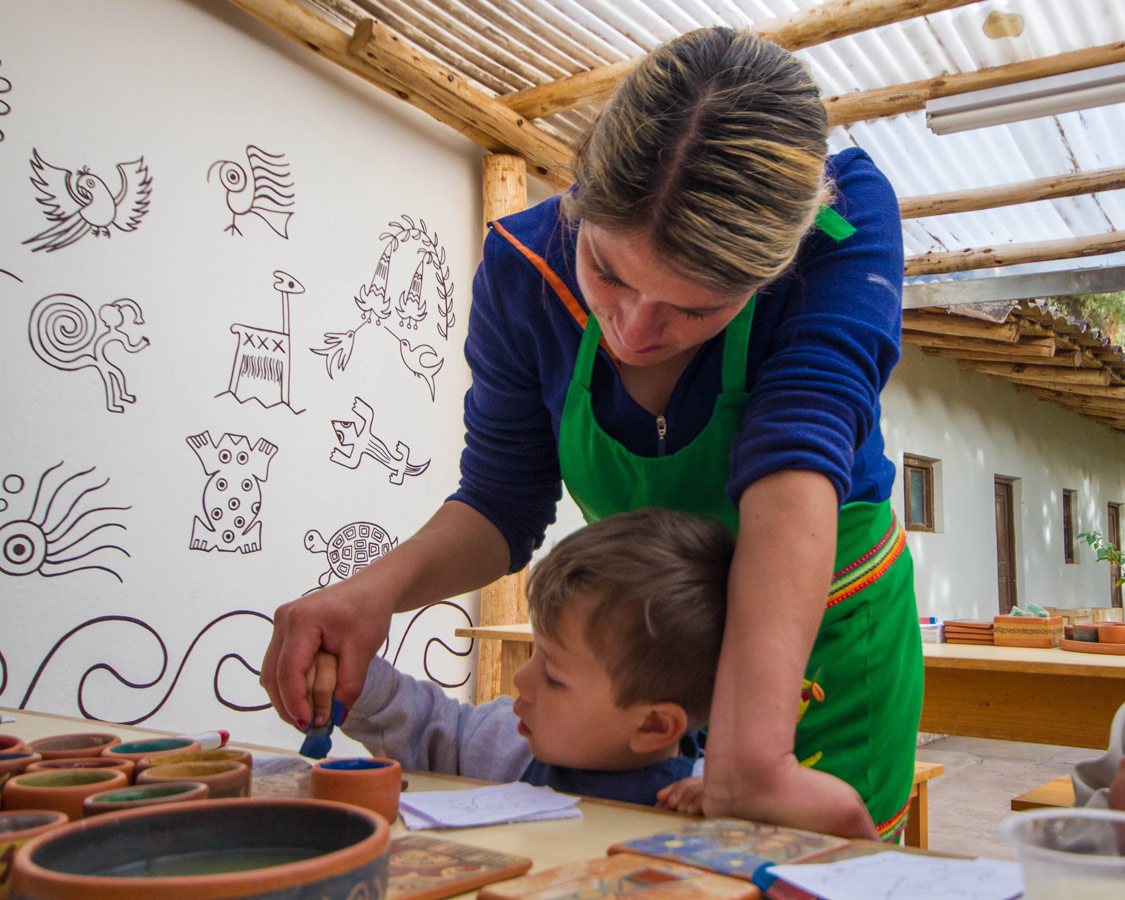 Exploring the area around Pisac Peru
We started our day with a visit to the region near Pisac, Peru. The Pisac Market is one of the top things to see in Peru for those on a day tour to the Sacred Valley. Pisac, Peru is located not far from Urubamba in the Sacred Valley. The artisan market has become a world-famous attraction for those traveling through on Machu Picchu tours.
While the Pisac market still retains its roots as a food and product market for locals, this part of the Pisac market now only runs on Sundays. The remaining weekdays, the market in Pisac caters more towards Machu Picchu tourists and those on a day tour to the Sacred Valley of Peru. But for those who have a chance to visit, there are few better places for shopping in Peru than the Pisac Market.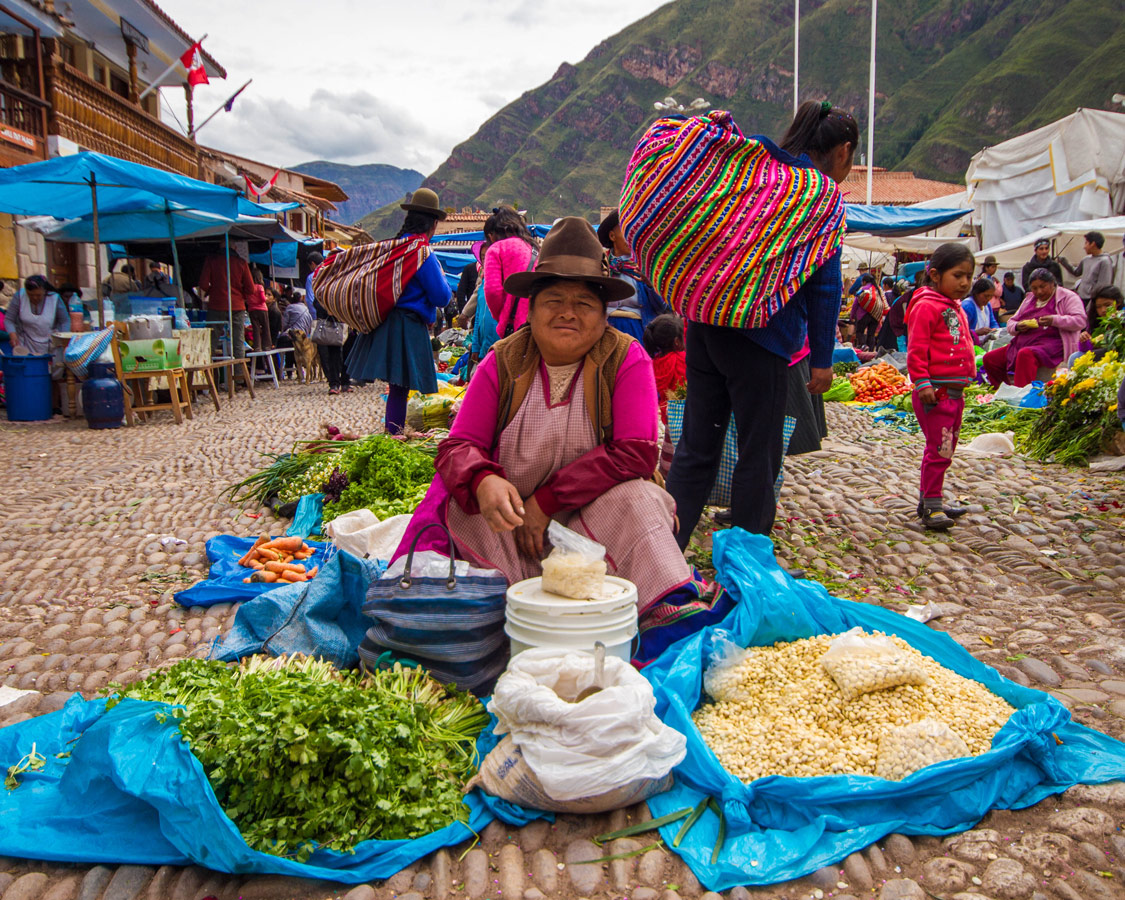 Inca Ruins at the Pisac Archaeological Site
We also made a visit to the Pisaq Archaeological Site. These Inca ruins are one of the key tourist attractions in Peru. The Pisac ruins are located just 33 km from Cusco. This makes it an excellent day trip from Cusco. This ancient Inca city rests prominently on the mountain slopes, sprawling over 4 sq km. Seeing these amazing terraces and neighborhoods that have stood since ancient times was really getting us in the mood for our workshop with Pablo Seminario and painting ceramics for kids.
The cliffs at the rear of the ruins gave a glimpse into the funeral practices of the Inca villagers, while the views from the terraces were enough to take our breath away. For those looking for what to do in Cusco, these Inca ruins make for an excellent day trip in the Sacred Valley. You can read more about what we did in the Sacred Valley here.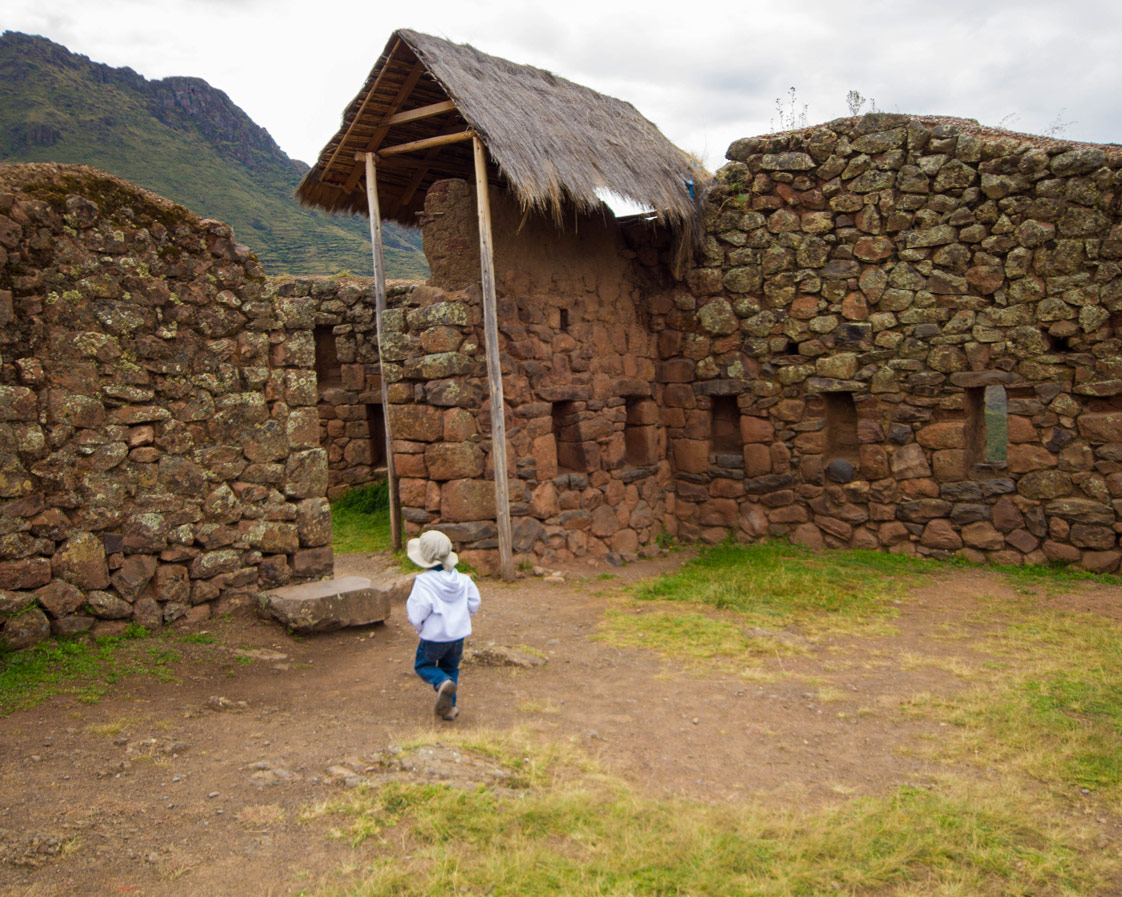 Lunch at Tawa Restaurant
After the Pisac market and the Inca ruins in the Sacred Valley, we were famished. We stopped by Tawa Restaurant in Yukay on our way to Urubamba Peru for our Ceramics workshop with Pablo Seminario. The warm soups and delicious food brought our energy back up. The restaurant has a beautiful yard and garden where the boys had a chance to play and run, and a dessert selection of mousse and creme brulee that had all of us smiling.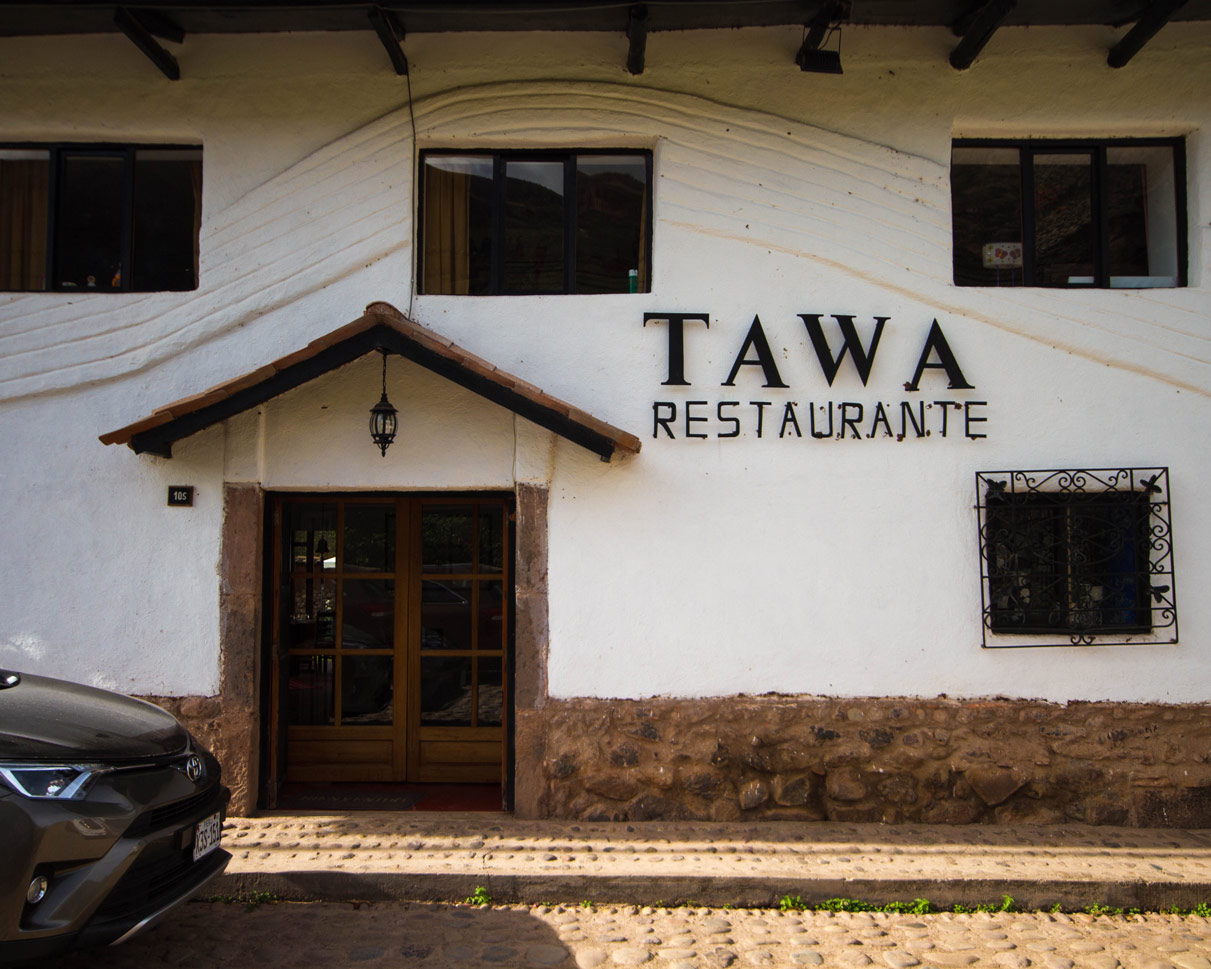 A Tour of Ceramica Seminario in Urubamba, Peru
After lunch, we made the drive to Urubamba, Peru for our ceramic painting with kids workshop at Ceramica Seminario. We were met at the door by Sarah, one of the Ceramica Seminario staff. Sarah ushered into the main garden. The artistic style of the Ceramica Seminario was evident. The entire garden was beautifully decorated. Each section had its own unique flair, all brought together by the three colorful Macaws that began speaking to us as we strolled through the grounds.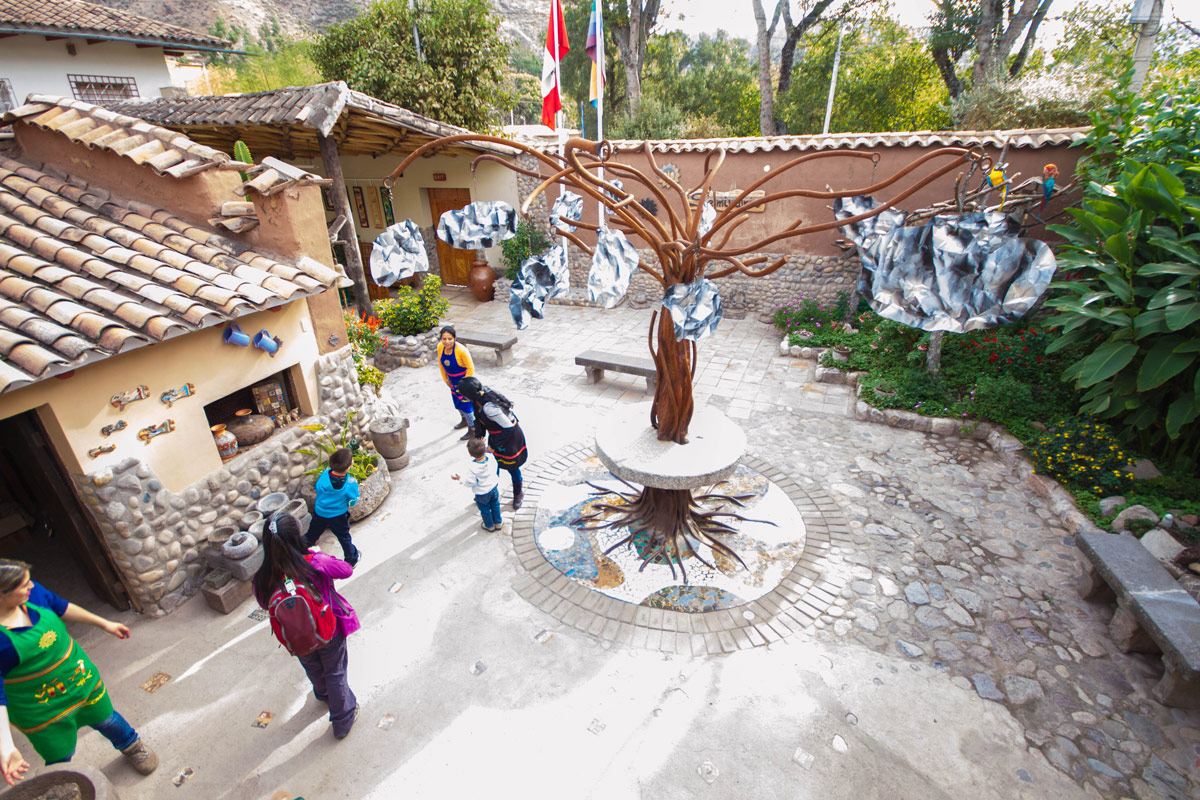 Our visit began with a tour of the grounds where we were shown the ceramic kiln and some of the artisan's work that was drying nearby. It was clear why this was one of the hot Peru attractions. The ceramic pottery was beautiful. The grounds included a small zoo with tortoises and llamas surrounded by lush greenery.
At this point in our tour of Peru we had become used to the number of animals that were housed in private collections. Especially the llamas, which were used for so many functions in the daily life of the local Peruvians. The store and workshop had incredible Peruvian pottery for sale. Much of it by Pablo Seminario, as evidenced by his signature gradient painting style.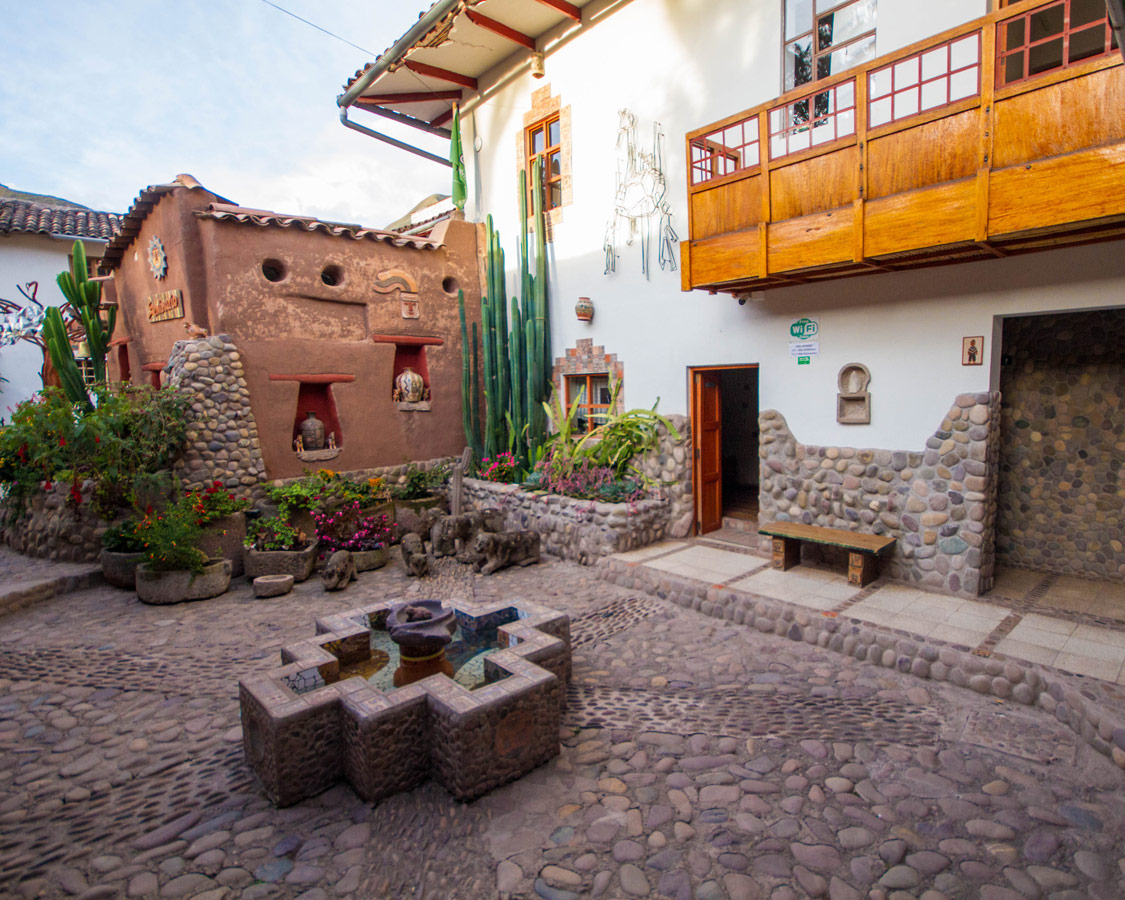 Ceramic Painting for Kids with Pablo Seminario
As we spoke to our guide, she let us know that Ceramica Seminario didn't normally focus on children. We weren't surprised, as their initial trepidation had shown around the boys. Sarah showed us some of the wet clay that was used for the artwork. The boys insisted that this must be the start of the class and instantly began pottery making with these small dabs. The atmosphere instantly brightened as their creative minds got to work.
Within a few moments, they had completed their designs and painted them. This might not have been Pablo Seminario level artwork, but I'm pretty sure they were close! But as we sat down to begin our workshop, it was amazing watching their transformation in progress. We met Juan, a Venezuelan who had lived in 5 different countries. His shy demeanor and a warm smile broke down any further trepidation we had.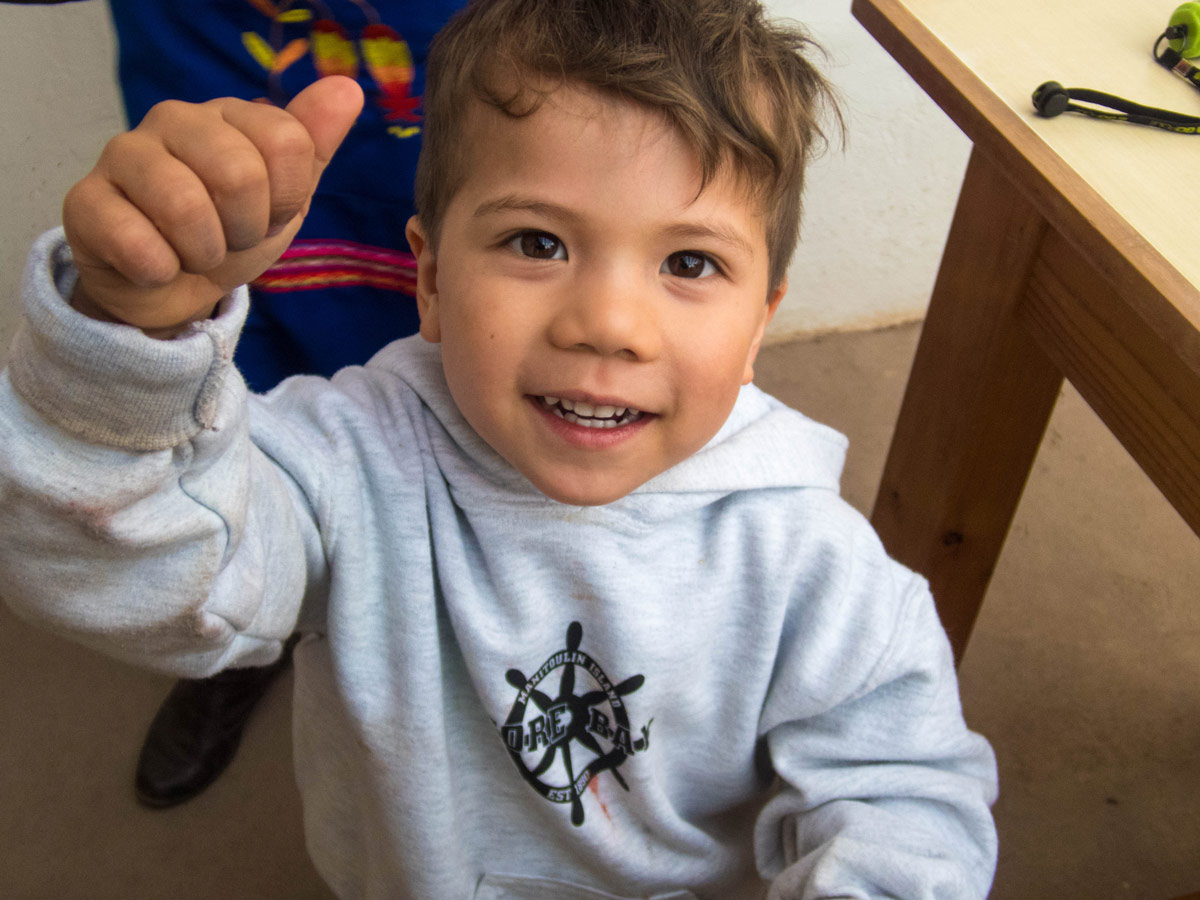 As our ceramic painting for kids workshop progressed, the laughter soon attracted more of the Ceramica Seminario staff. Shortly there was a half dozen staff surrounding us, We began our workshop by drawing our patterns. Followed by tracing them on our ceramic tiles and then etching the designs. C worked diligently on style and accuracy.
He had his paint your own pottery experience locked and focused. D, on the other hand, was all about quantity. He worked on a pre-made design and then jumped from one tile to another seeing how much ceramic artwork he could make! Sarah was more than happy to help. The two had developed an artistic bond that neither wanted to break.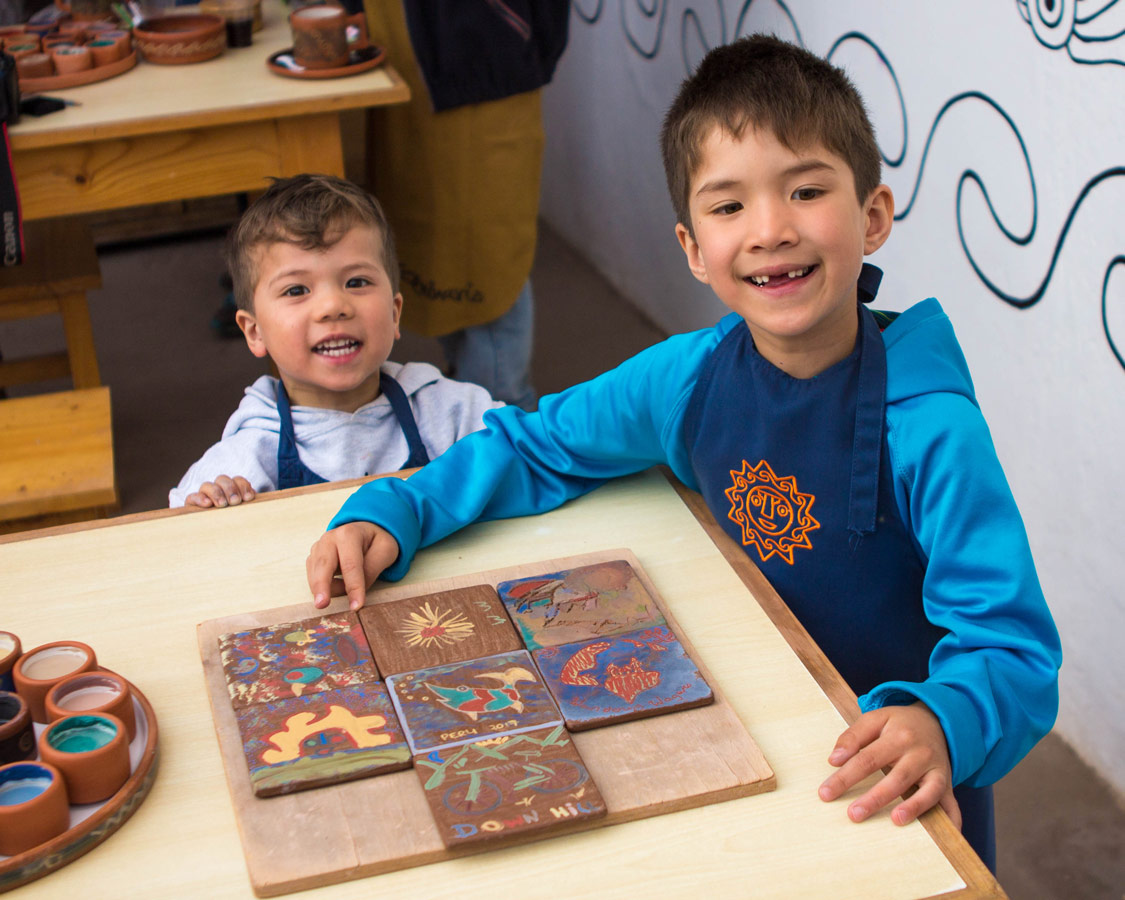 Meeting Pablo Seminario and Marilú Behar of Ceramica Seminario While Painting Ceramics for Kids
As the laughter got louder, we were pretty sure the entire complex was being distracted by the hijinx of our Peruvian pottery class. Shortly Marilú Behar, the wife of Pablo Seminario and one of the principals at Ceramica Seminario, joined our group. She was quickly drawn into the fray of artistic fun and encouraged the boys to try new styles in their pottery painting for kids. Her enthusiasm and love for the art were infectious, and we were all soon having the best time of our Sacred Valley tour.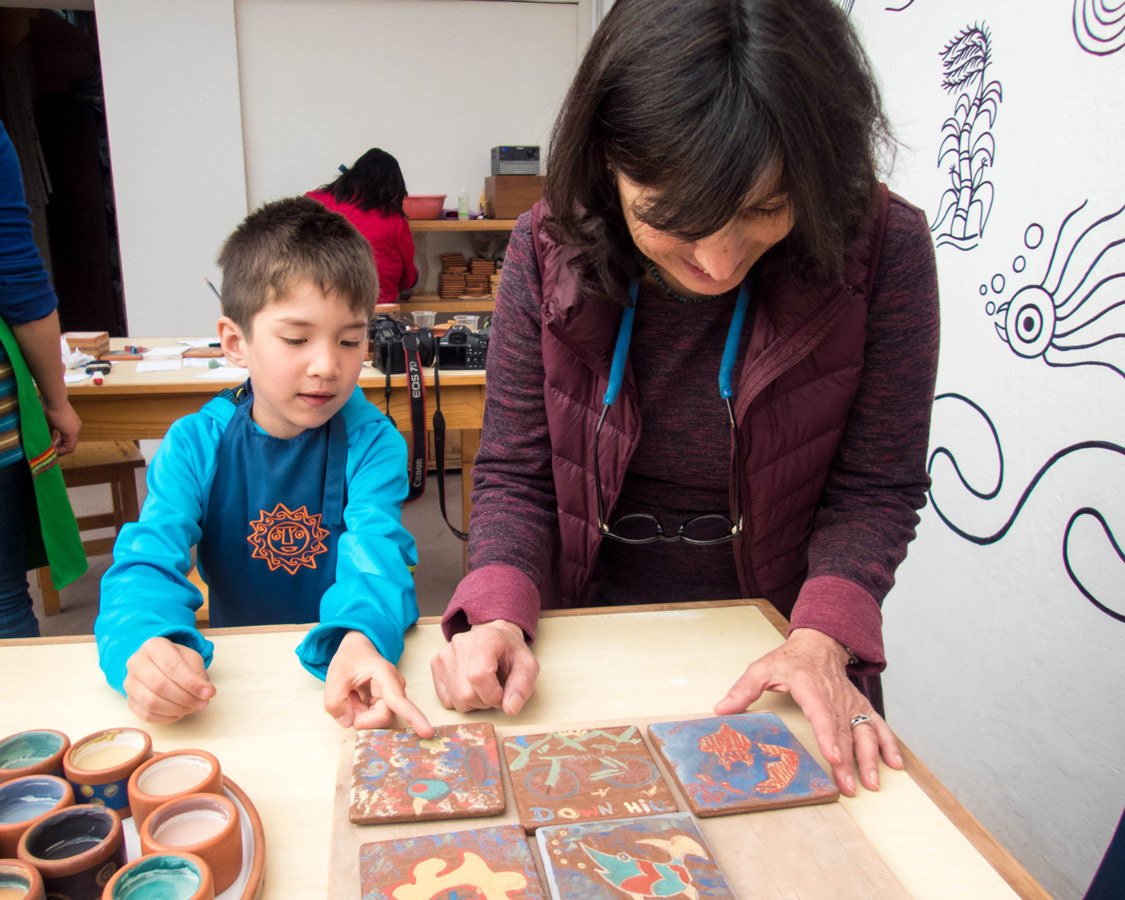 As I focused more deeply on finishing my ceramic artwork, I was distracted by some animated talking behind me. During the chaos, the last of the staff had joined our ceramic party. Christina was having a deep discussion with Pablo Seminario, who had decided that he needed to see what all the excitement was about. Pablo was surprised by the engagement that the children had with the staff.
The excitement, positive atmosphere and passion of this ceramic workshop for kids were wonderful. During a conversation with Marilú and Pablo, they expressed excitement at the prospect of opening up more ceramic painting for kids' workshops at Taller Ceramica. While travel in Peru with kids isn't the largest yet, it's clear by the number of families we saw that family travel to Peru is becoming a bigger industry. In fact, some hotels such as nearby Casa Andina and Inkaterra Machu Picchu Pueblo Hotel, do a great job of making a family-friendly environment already.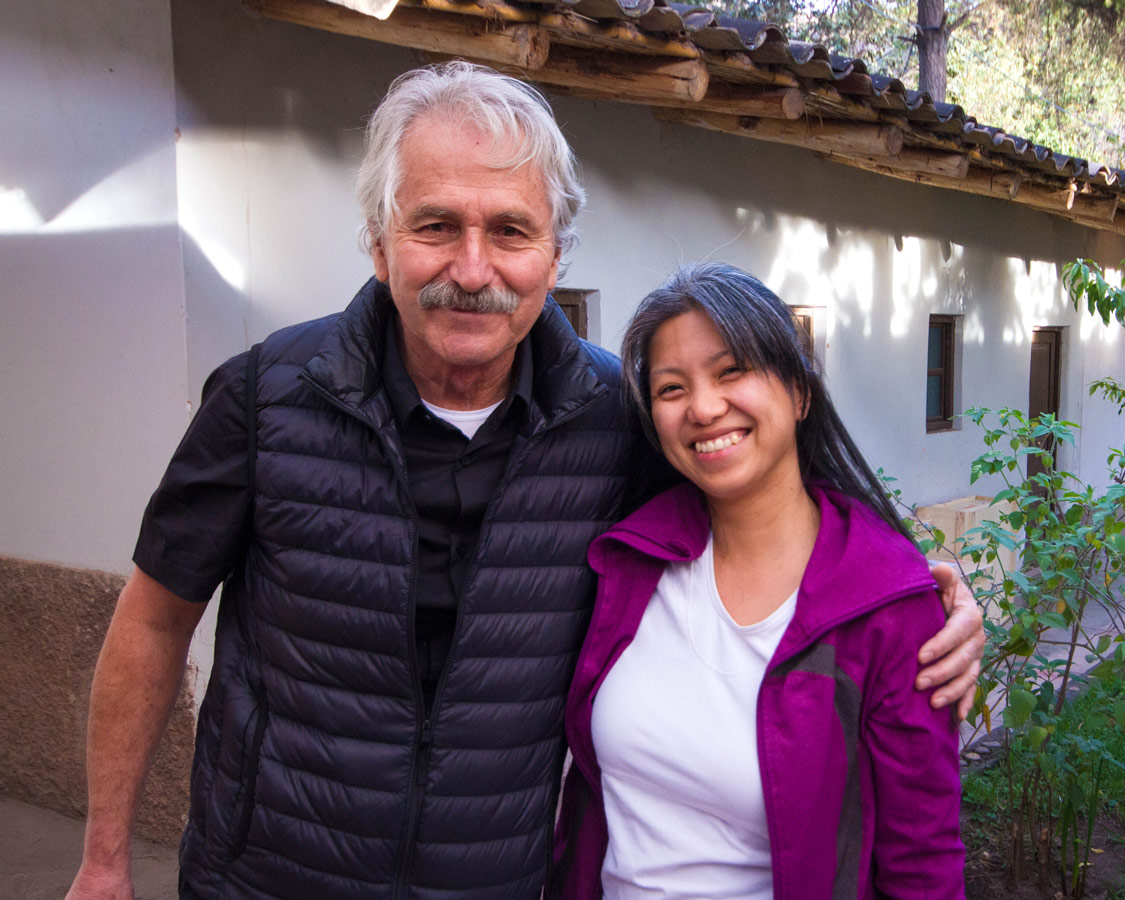 Experience the warmth of Peruvian Art Culture in Urubamba, Peru
Peru was filled with countless family travel adventures. From our experience riding sandboards and dune buggies in Huacachina, Peru to our Chocolate making experience in Cusco, and meeting the rescued spectacled bears at Inkaterra Machu Picchu Pueblo Hotel. All of our adventures in Peru with kids were amazing and unforgettable.
But I don't think any were more filled with laughs and giggles than our ceramics painting with kids experience at Ceramica Seminario in Urubamba, Peru. The boys didn't want to leave, and D insisted that he snap his own photos of everyone at Ceramica Seminario so he could remember them forever.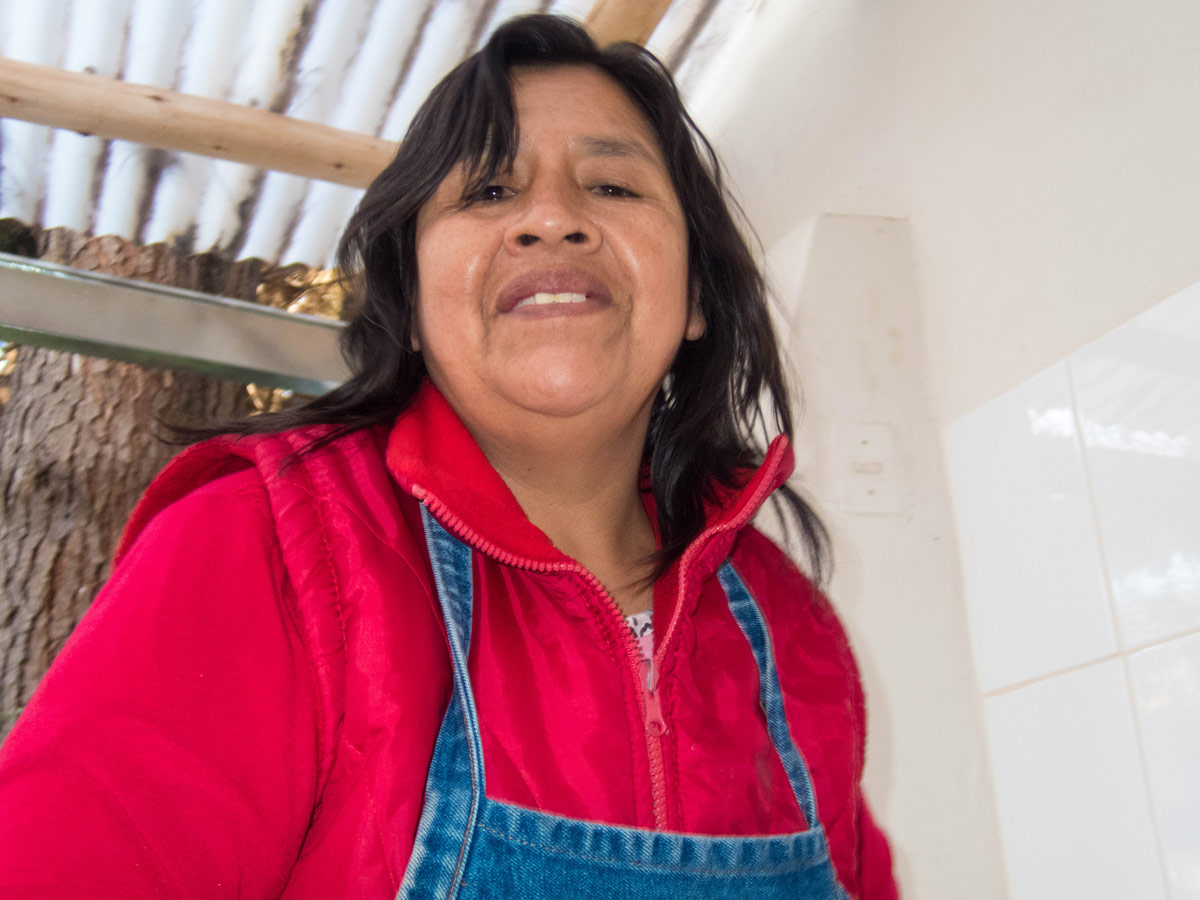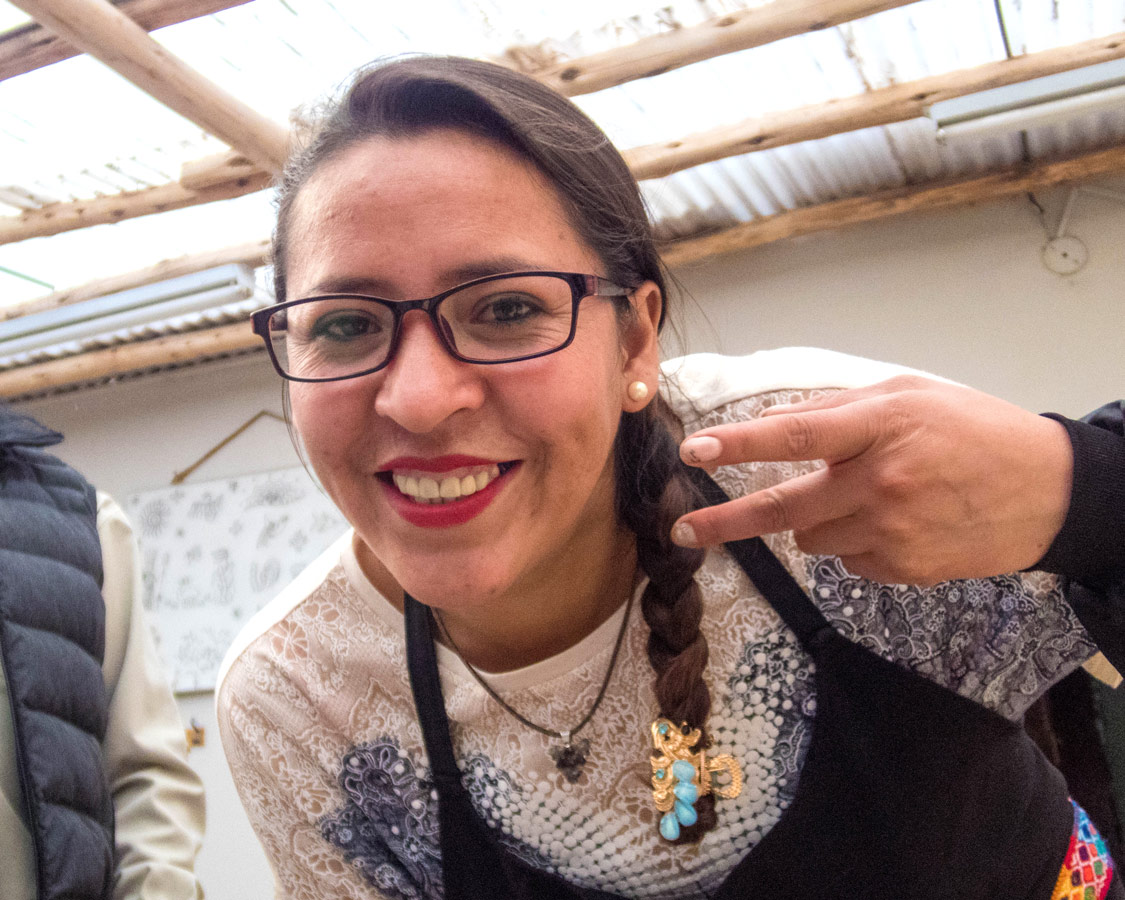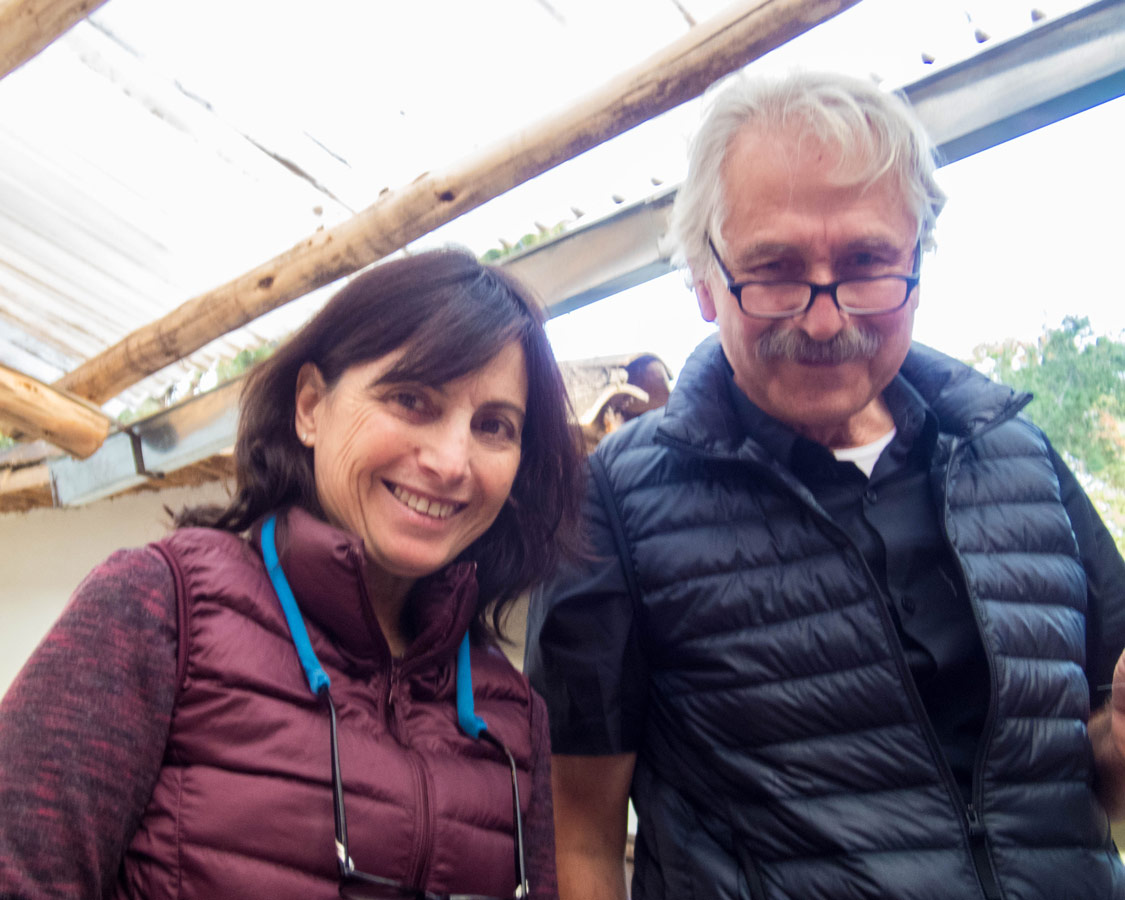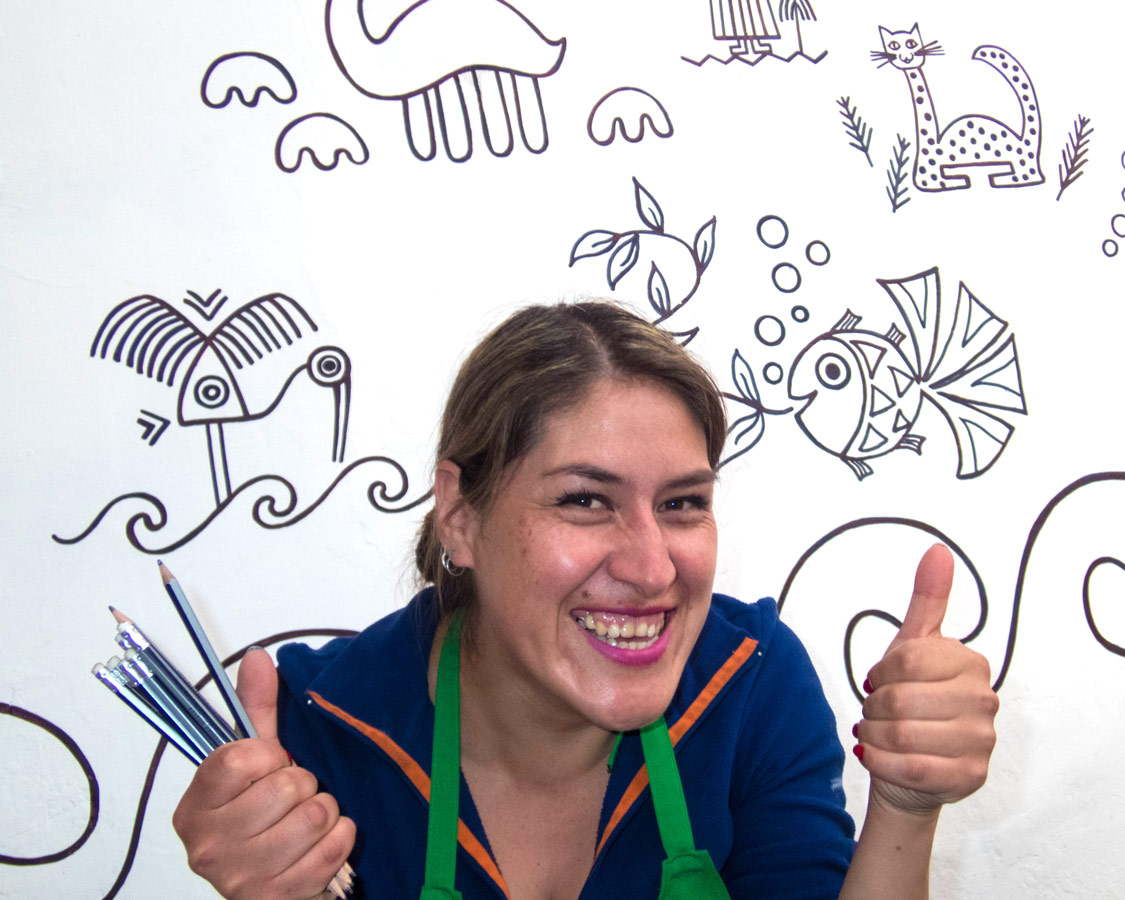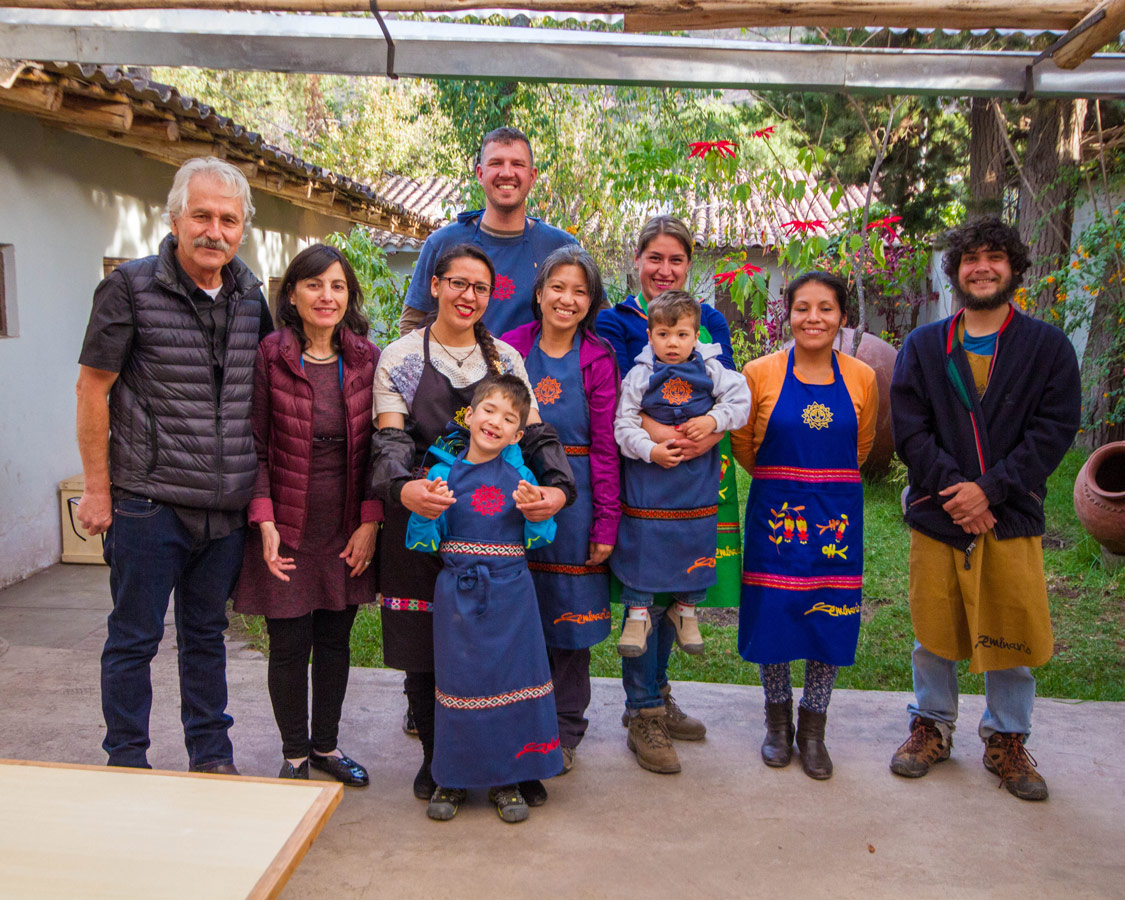 For those looking for things to do in the Sacred Valley, or just looking for pottery for children or even a Peruvian pottery making experience of your own. The staff at Ceramica Seminario are amazing. Our experience with Pablo Seminario, Marilú Behar and the staff of Ceramica Seminario was fun, engaging and inspirational. It was one of our favorite Peru attractions and an experience that will stand out for a long time to come.
Wandering Wagars is a participant in the Amazon Services LLC Associates Program, an affiliate advertising program designed to provide a means for sites to earn advertising fees by advertising and linking to amazon.com, amazon.co.uk, amazon.ca. Amazon and the Amazon logo are trademarks of Amazon.com, Inc. or its affiliates.
You May Also Like To Read: