Our guide gives you everything you need to know about visiting Machu Picchu with kids. Experience family travel to one of the seven new wonders of the modern world.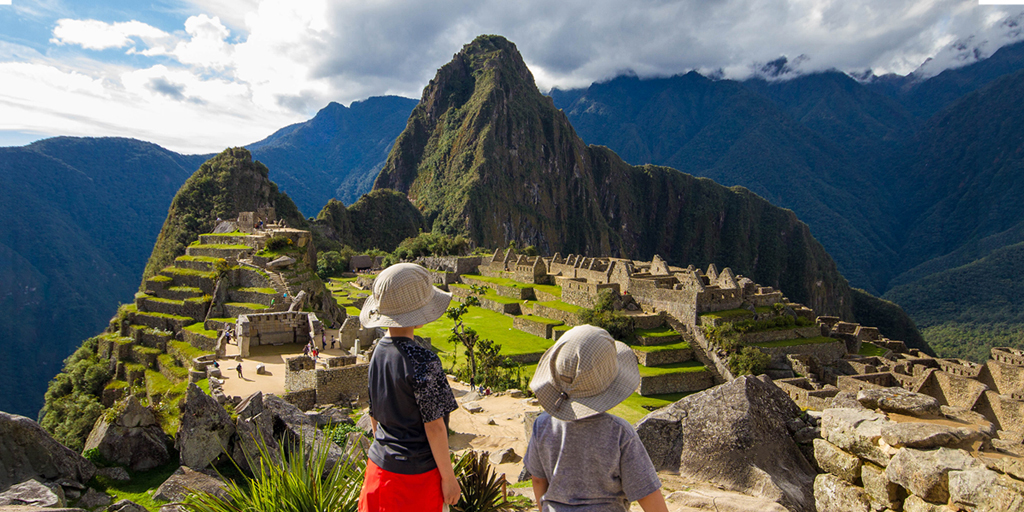 Visiting Machu Picchu with Kids is often looked at as impractical for many parents. Machu Picchu is one of those destinations that parents decide to "hold-over" until the children are older. But, believe it or not, visiting Machu Picchu with kids is not as hard as it's often portrayed.
During our two-week tour of Peru, our visit to Machu Picchu with children turned out to be one of the most incredible travel experiences of our lives. And after over 45 countries, 25 of those with children, that's saying a lot!
So if you're looking for tips on how to visit Machu Picchu, Peru, we have you covered!
What is Machu Picchu?
Machu Picchu is an Incan citadel in the Andes mountains northwest of Cusco, Peru. It was brought to worldwide fame by Hiram Bingham in 1911, who believed it to be the Lost City of the Incas upon setting eyes upon it. It has over 150 structures divided into farming areas, residences, royal sites, and sacred zones.
The Sanctuary was declared a UNESCO world heritage site in 1993. In 2007 it was voted 1 of the 7 new wonders of the world. We couldn't wait for our next family adventure: a family trip to Machu Picchu with kids.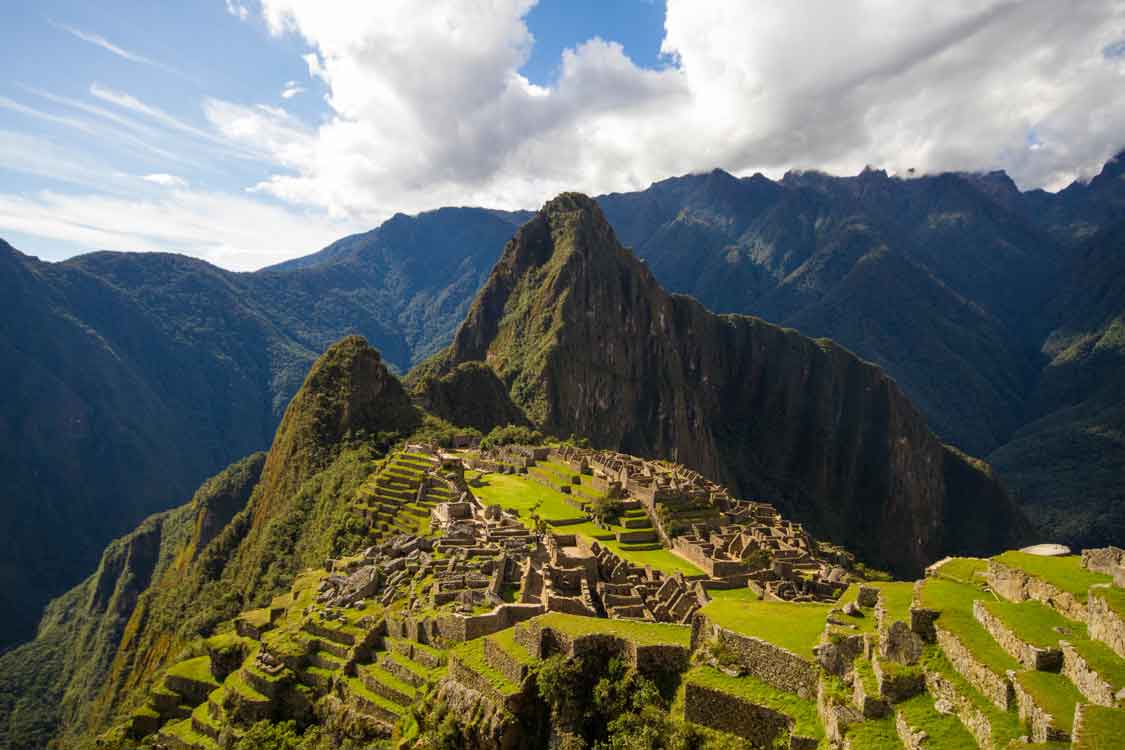 Why Did We Choose To Visit Machu Picchu With Kids?
My wife and I have had "hiking the 2-day Inca Trail" on our bucket list for a long time. But as we started a family, our dream trip of family travel to Peru kept getting pushed back for the usual parental reasons. "Are there things to do in Machu Picchu for kids?" and "Is it safe to travel to Machu Picchu with kids?" were questions in the forefront of our mind. And as time passed, our travel priorities changed. New travel opportunities and deals arose.
But, that year, our fantasy became a reality when we saw flight tickets to Peru on sale. We love hiking with kids. So it's no wonder then that the first question we received when we told family and friends about our plans to go to Machu Picchu with kids was whether we would be taking the boys on the 4-day Inca Trail? Or were we looking at the other ways to get to Machu Picchu with kids?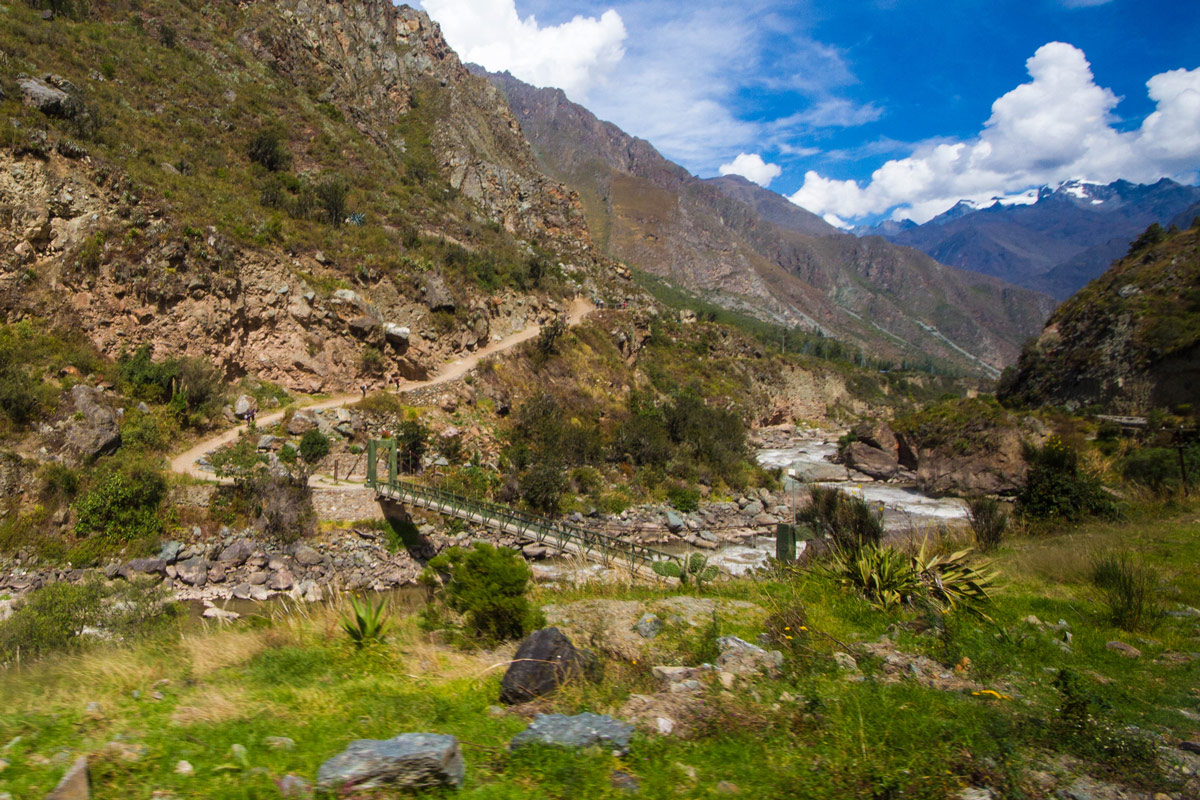 Picking the Best Machu Picchu Tours for Families
As we did our Peru travel research, we were surprised that there were actually many ways to get to Machu Picchu. And because of new rules in place by the Peruvian Government, it is now mandatory for visitors to Machu Picchu to have guided tours.
In fact, Machu Picchu tours are also now lumped into time slots. If you miss your timed entrance, you may be denied entry and be forced to buy new Machu Picchu tickets. You can read about the new rules for 2019 here.
Because of the new rules for visiting Machu Picchu, picking a great guide is important. Group tours are available for those on a budget, or you can pick a private tour. Often, when traveling with children, we've found that private tours end up being the most economical option.
This option becomes even better value the larger your family is. But opting for a private guide is also a way to ensure that you can visit Machu Picchu with kids at your own pace rather than have someone else set it for you.
After much research and soul searching, we decided that attempting the Inca jungle trek would be too challenging for the boys. Also, the time commitment would limit our ability to see the other amazing parts of Peru. In fact, D, at 3-years-old would probably need to be carried for much of the way.
An important part of instilling a love for travel in kids is to make all our travel an enjoyable experience, and the long hard hike spread over multiple days might hinder their love of the outdoors. So, to make our family trip to Machu Picchu a pleasure for all of us, we opted to go to Machu Picchu via the Vistadome train known for its panoramic views.
Traveling To Machu Picchu with Kids – Understanding Altitude Sickness in Peru
The first part of any Machu Picchu family adventure travel is acclimatizing to the high altitudes in the Peruvian Andes. The thought of traveling to Machu Picchu only to succumb to altitude sickness can be enough to frighten many parents off from visiting Machu Picchu with kids.
But, if done right, the altitude sickness in children does not need to impede your experience in Machu Picchu with kids.
How To Deal With Altitude Sickness In Machu Picchu For Children
Altitude sickness can start at heights above 2438 m. Machu Picchu itself is not quite that high. Machu Picchu sits at just 2430 m. By comparison, the region's capital of Cusco is at an altitude of 3399 m. Most visitors to Machu Picchu need to pass through Cusco on the way to Machu Picchu.
We didn't want to take any chances, especially as young children may not have been able to convey any of their altitude sickness symptoms fully. To add to this, Kevin and the boys were recovering from a stomach illness that they caught in Lima, so they weren't at full strength.
Remedies for Altitude Sickness
Should you feel the effects of Altitude Sickness in the higher areas, the best remedy is lots of water and rest. There are only two ways to overcome altitude sickness. The first is for your body to adjust to the altitude, which takes some time. The second is to descend to a lower elevation and then slowly increase your elevation as your body adjusts.
There are also medications available such as Diamox that is used to help treat and prevent altitude sickness. Diamox has not been proven effective for children under 12-years of age, though, so always speak with your doctor before medicating.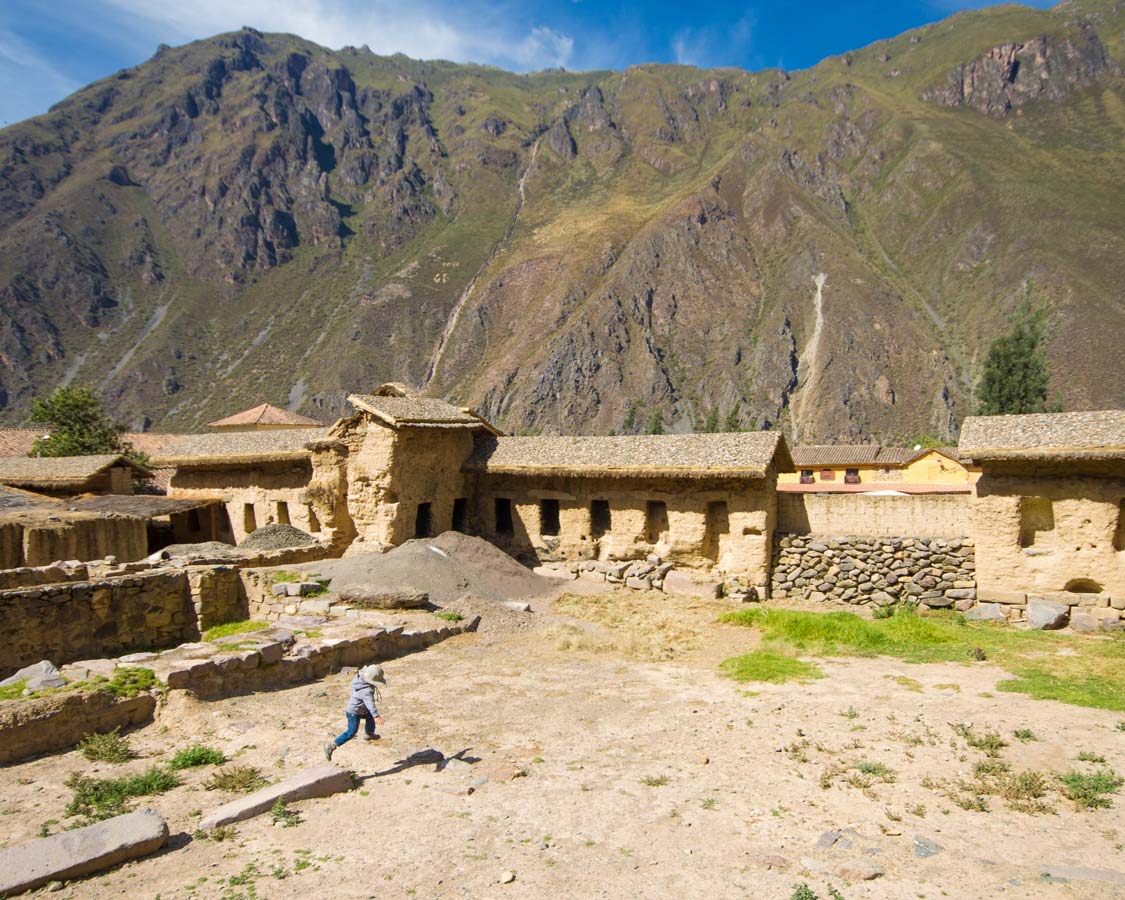 Acclimatizing To High Altitudes Is Not Just For Kids
As soon as our plane from Lima landed in Cusco, we took the quick drive down to the Sacred Valley, which sits at about 2900 m. This lower altitude meant that we would have a better chance of acclimatizing more quickly than if we had stayed at the higher heights of Cusco immediately.
Day trips in the Sacred Valley with Kids
We spent a couple of days in the Valley exploring the Incan cities of Ollantaytambo and Pisac. Even at this altitude, the effects of altitude could be felt. What would normally be effortless jaunts had us huffing and puffing. But slowly, our bodies got used to the thinner air of the high Andes. In fact, by the end of our first day in the Sacred Valley, we were back in top form.
We took the time that we were acclimatizing for Machu Picchu in the Sacred Valley to visit the stunning Incan sites of Maras and Moray. These parts had Kevin really puffing as he hauled the boys around on shoulder rides as they each had to make bathroom stops individually.
The bathrooms, of course, were ALWAYS located at the top of the site, while the boys would realize the emergency at the bottom!
The kids' favorite activity in the Sacred Valley was the art workshop in Urubamba at Pablo Seminario's art studio. We spent a few hours making and painting clay pottery with one of Peru's most esteemed artists.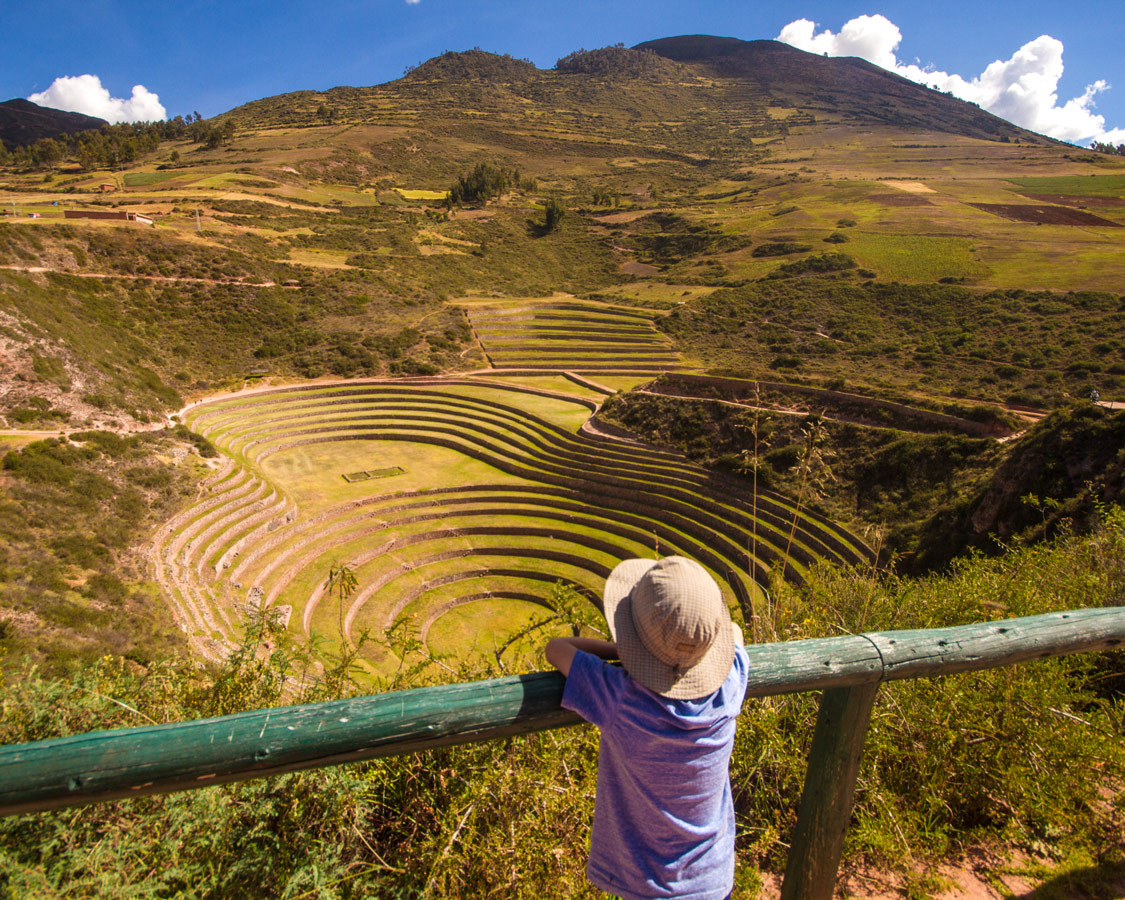 How To Get To Machu Picchu For Families
Once your bodies have gotten used to the altitude of the Andes, you're ready to start your journey to Machu Picchu with children! If you aren't planning on tackling the 4-day Inca trail, your best bet is by rail, either with Peru Rail or the Vistadome train.
Taking The Vistadome Train To Machu Picchu With Kids
We could have easily spent more time in the Sacred Valley. But we were just too excited to take the kids up to Machu Picchu. We spent our last morning at the tip of the Sacred Valley in Ollantaytambo.
Here, we picked up our Machu Picchu train tickets and the Vistadome train from Ollantaytambo to Aguas Calientes. Aguas Calientes, also known as Machu Picchu Pueblo is the last town before Machu Picchu.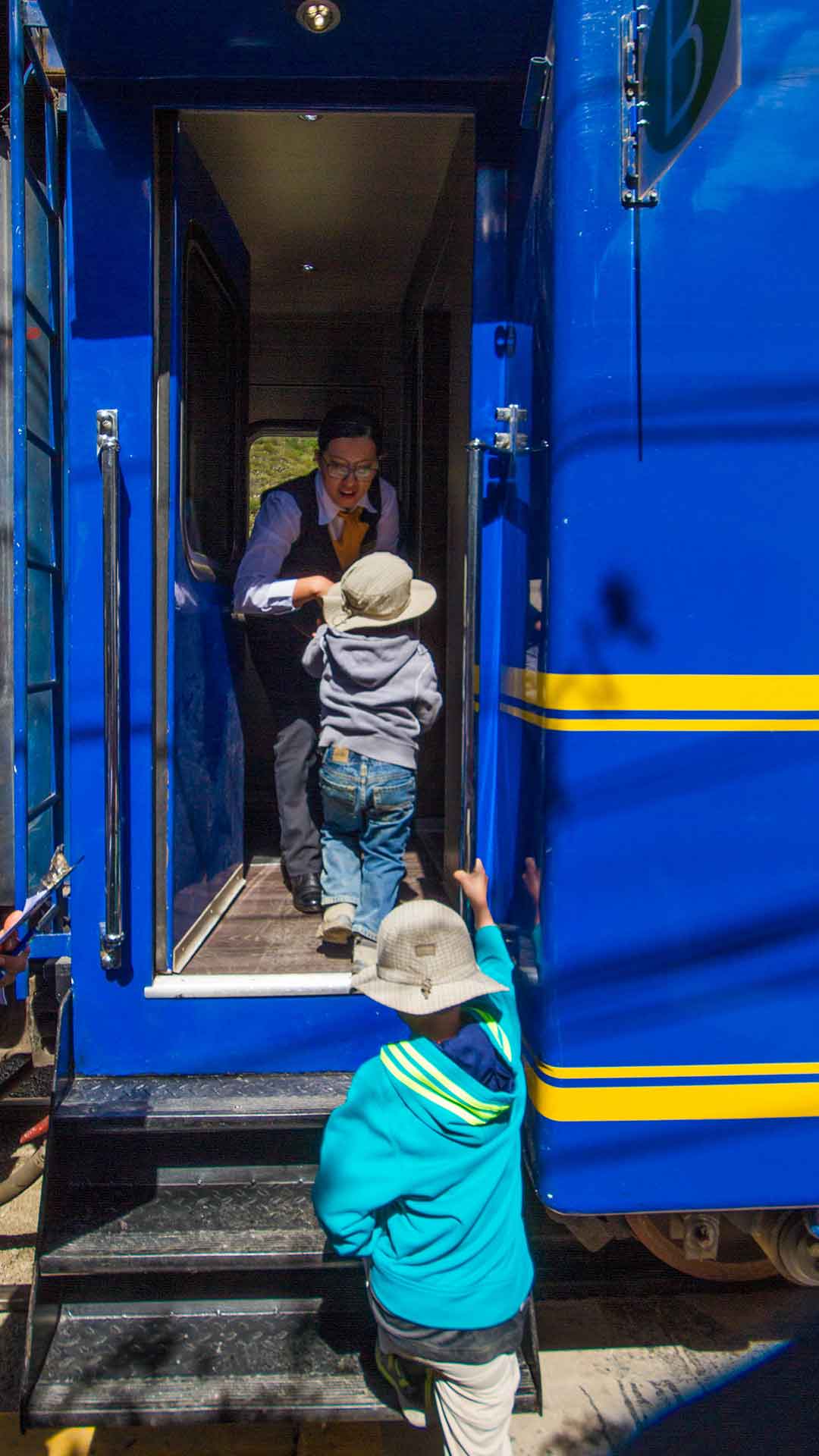 Where is the Best Place to Sit to Have the Best Views on the Vistadome Train?
We had seats on the right side of the train (opposite side from the river). But our guide, Edward, had a seat on the left side. He kindly offered his seat to Kevin, who immediately accepted. The left side is considered to have a more desirable view.
This would be the boys' first scenic railway journey. And they were in awe at the large windows of the Vistadome train! After lots of oohing and ahhing and a quick snack of sandwiches and chocolate cake, we made it to the station and were ready for our family Machu Picchu tour.
Can You Eat on the Vistadome Train to Machu Picchu?
Due to the timing of our train ride, we opted for Vistadome train tickets that included sandwiches, drinks, and a dessert. While we always carry snacks around with us when we travel, the site of the delicious cakes had the boys smiling from ear to ear. Even when they had to eat their way through a mushroom-filled sandwich, it was worth it. In fact, we credit that sandwich for helping the boys realize just how delicious mushrooms are!
How to Pick Train Times for Travel to Machu Picchu
Kuoda Travel organized our family trip to Machu Picchu, and they took care of all the arrangements for us. Much to my surprise, the tour organizers at Kuoda suggested that we take the late morning train to Machu Picchu. This meant that we would be visiting Machu Picchu around lunchtime.
I had always envisioned my first view of Machu Picchu to be watching the sunrise from the top of the mountains. Kevin and I weighed the pros and cons and decided that at the boys' age, this might prove too difficult this time and decided to heed their advice.
To be sure to arrive on time for your timed entry, you can check departure and arrival times on the Peru Rail website here.
Traveling to Machu Picchu via the bus from Aguas Calientes
After getting off at Machu Picchu station, we made our way through the town of Aguas Calientes to purchase tickets for the bus trip up to Machu Picchu. As it was the middle of the day, there was no lineup. We had to present our passports at the ticket booth to purchase the bus tickets.
With our tickets in hand, we crossed the street and waited for the next bus (which arrived after only a couple of minutes).
The 20-minute bus ride offered great views of the town and mountains as we went winding up the tight switchbacks through the mountain. But even though we knew what waited for us at the end of the bus ride, it still felt that Machu Picchu was a world away from us.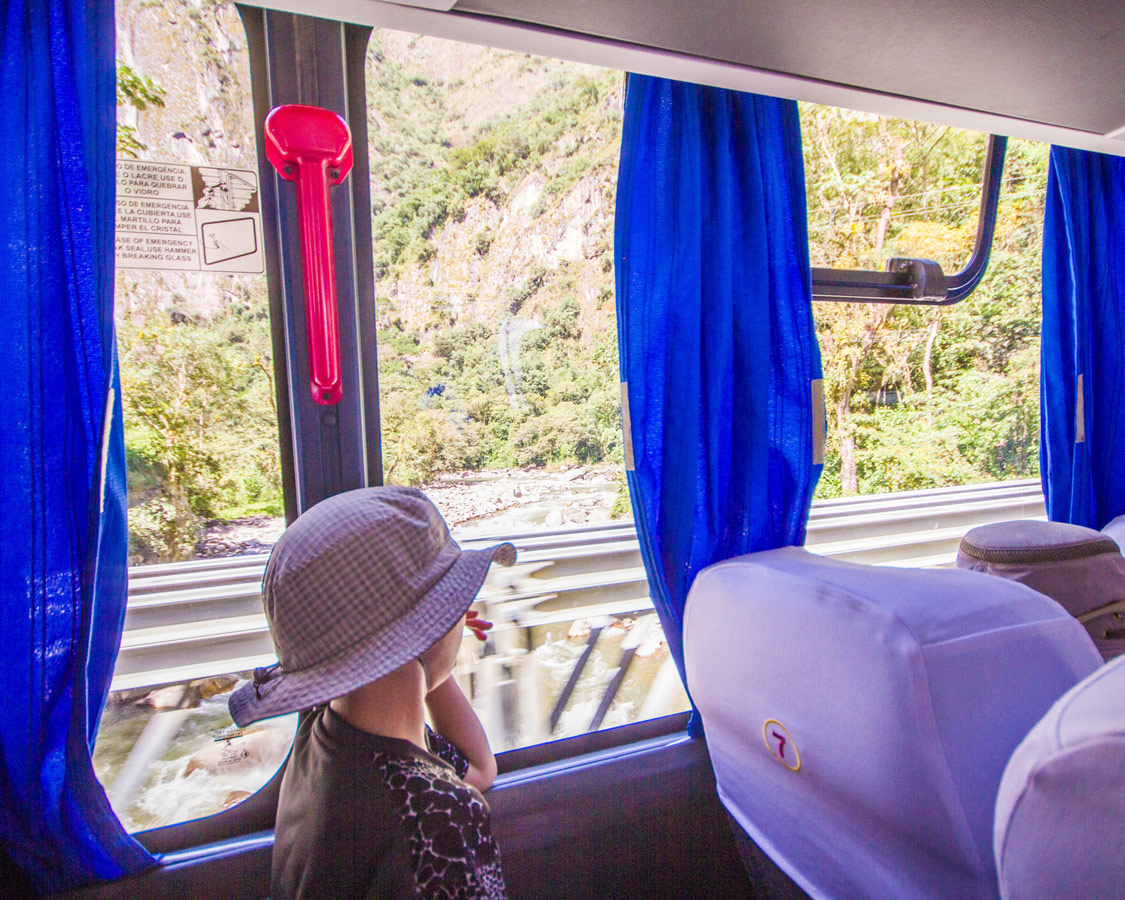 Lunch at Belmond Sanctuary Lodge
Before heading into Machu Picchu Sanctuary, we had one last stop. We opted to fuel up at the Belmond Sanctuary Lodge as it was lunchtime. It is the only food option once you have gone up the mountain.
We opted not to eat in Aguas Calientes town as I wanted to be as close as possible to the Machu Picchu sanctuary after we ate, so all we would have to do was leave the restaurant and basically walk to the entrance. Belmond Sanctuary Lodge also serves lunch buffet-style, so we knew there would not be any wait time to receive our food.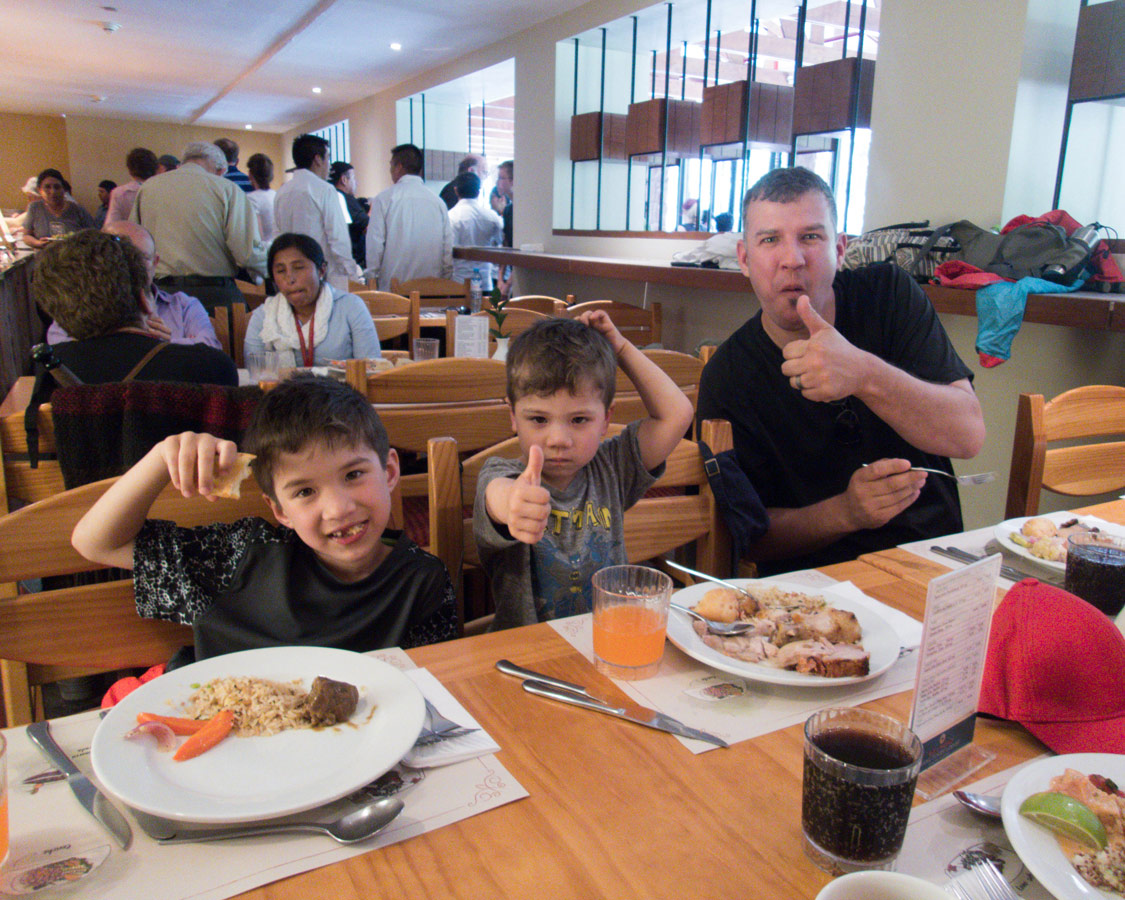 Pro-Tip: The Tinukey Buffet Restaurant can get busy! Expect a line-up when you get there. However, things usually move pretty quickly as most people are anxious to get to Machu Picchu.
We were glad we decided to eat at the Tinkuy Buffet Restaurant at the Belmond Sanctuary Lodge. The buffet ensured that the boys would not have an issue picking something to eat, especially when it came to dessert! More importantly, the food quality was great. With our stomachs full, we headed to the entrance.
What Are The Things To Do In Machu Picchu For Kids?
At the entry point to Machu Picchu, we had to show our tickets before we were allowed into the sanctuary. Once they were presented and accepted, we walked excitedly on the paved pathway towards the climb to the ruins.
We were constantly on the lookout for things to do in Machu Picchu, so anytime we saw something for kids, we made sure to stop and check it out.
We stopped briefly at a set of plaques near the entrance, where Edward told us the story of how Hiram Bingham re-discovered the Machu Picchu Sanctuary.
Bingham was guided up the mountain by the 10-year-old son of a local farmer. This story had our boys absolutely stunned. They loved the idea that children held the secret to Machu Picchu before outsiders discovered it. Edward was full of Machu Picchu facts for kids that he would throw out randomly to keep the boys' interest piqued.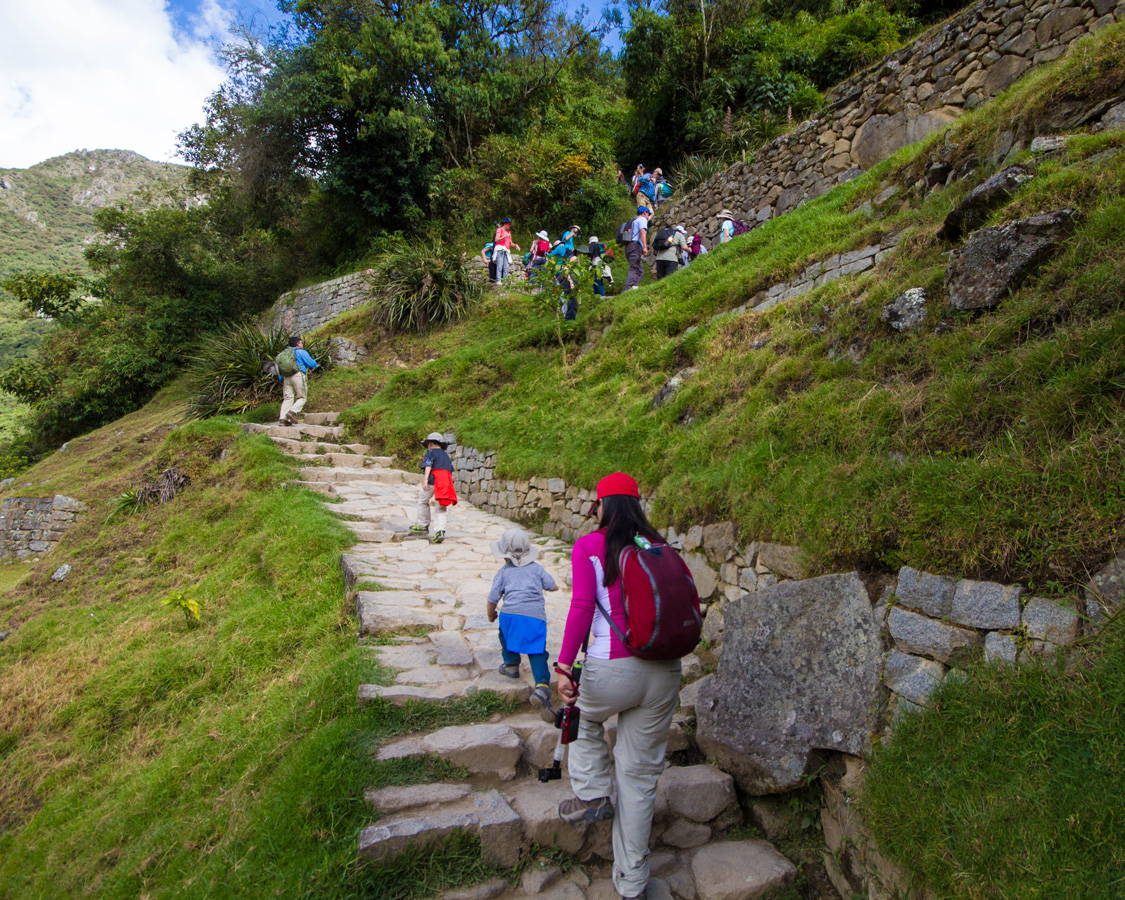 Pro-Tip: Right after the entrance, there is a bank of lockers where people can store any extra items they do not want to carry around.
The Climb Up to Machu Picchu Ruins
At the end of the path, we began our climb up to the upper part of the Machu Picchu ruins. The climb isn't an easy one. Many people were stopping to catch their breath along the way. C was able to climb the route without issue. Kevin carried D most of the way, mostly because his little legs weren't moving as fast as Kevin's excitement to bring the kids to Machu Picchu.
After climbing through the Machu Picchu cloud forest for about 20 minutes, our efforts were finally rewarded. We had our first glimpse of the Machu Picchu Sanctuary. Seeing the llamas tending to the grass, I could just imagine how Hiram Bingham must have felt when he first laid eyes on the site, and he saw the local families farming there.
The first view of Machu Picchu is like entering a postcard. But this postcard can be seen, smelled, and touched. When combined with the crisp mountain air, it was pure magic.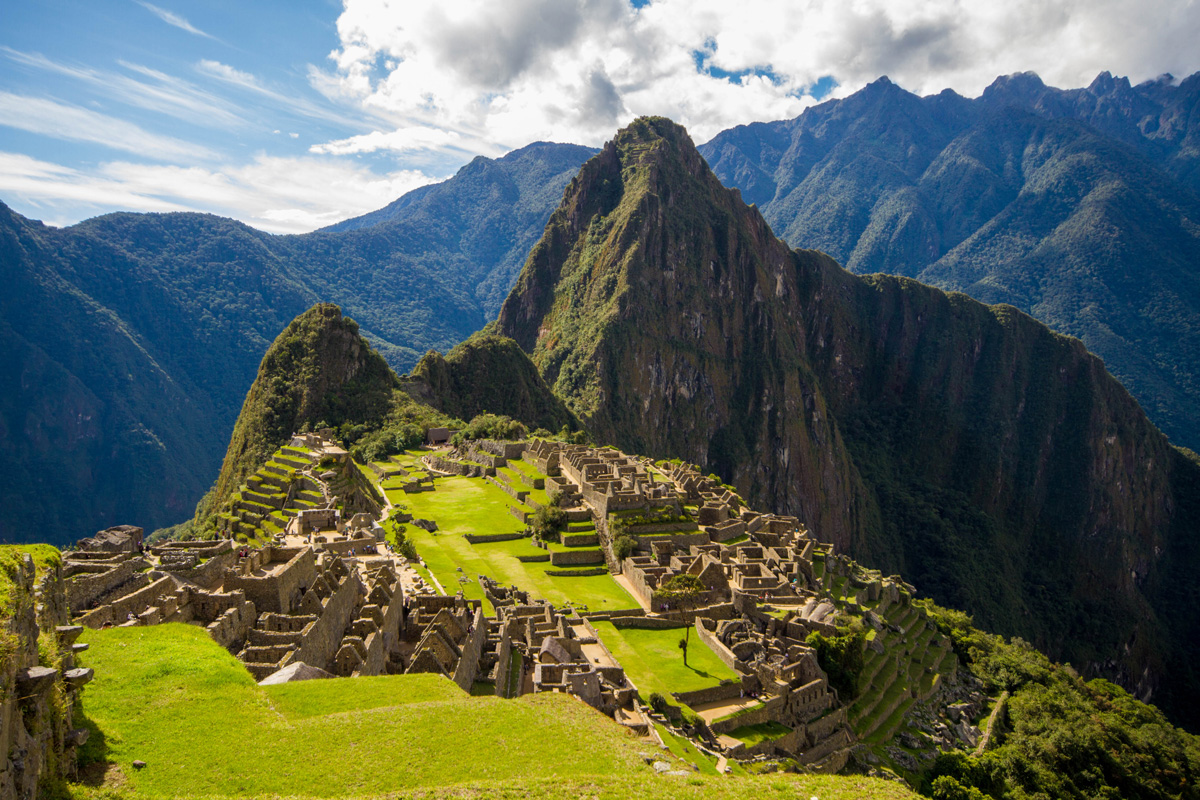 Pro-Tip: You can tour Machu Picchu by starting at the bottom or the top. The top initially allows for the most spectacular views and then climbing down through the ruins. The top starts within the city and then ends at the most scenic overlooks.
Agricultural Sector of Machu Picchu Sanctuary
Edward explained to us how the Machu Picchu ruins are divided into agricultural and urban sectors. His voice drifted in and out of my consciousness. I couldn't help but be mesmerized by this wonder of the world.
After taking hundreds of pictures, we proceeded to explore the Agricultural section with a stop at the Guardian's house. It is one of the few structures in Machu Picchu with a reconstructed roof. It also only had three walls (also known as a wayrana). We learned how it is thought to have had an astronomical function.
Urban Sector of Machu Picchu Sanctuary
After taking in the scenic views of Machu Picchu from the guardhouse, we slowly began making our way down the steep staircase toward the city itself. The children needed a bit of help with the tall, uneven stairs. While the photos make everything sound incredibly steep, the edges are fairly layered, so while it's good to keep children in Machu Picchu close by, very few of the areas are actually as dangerous as they appear in photos.
Before I knew it, we had reached the official end of the Inca Trail. We were standing at the famous Sun Gate to Machu Picchu. The boys had to be called back so we could take the obligatory family picture at the entrance of the Urban Sector. They just couldn't wait to explore the playground in front of them.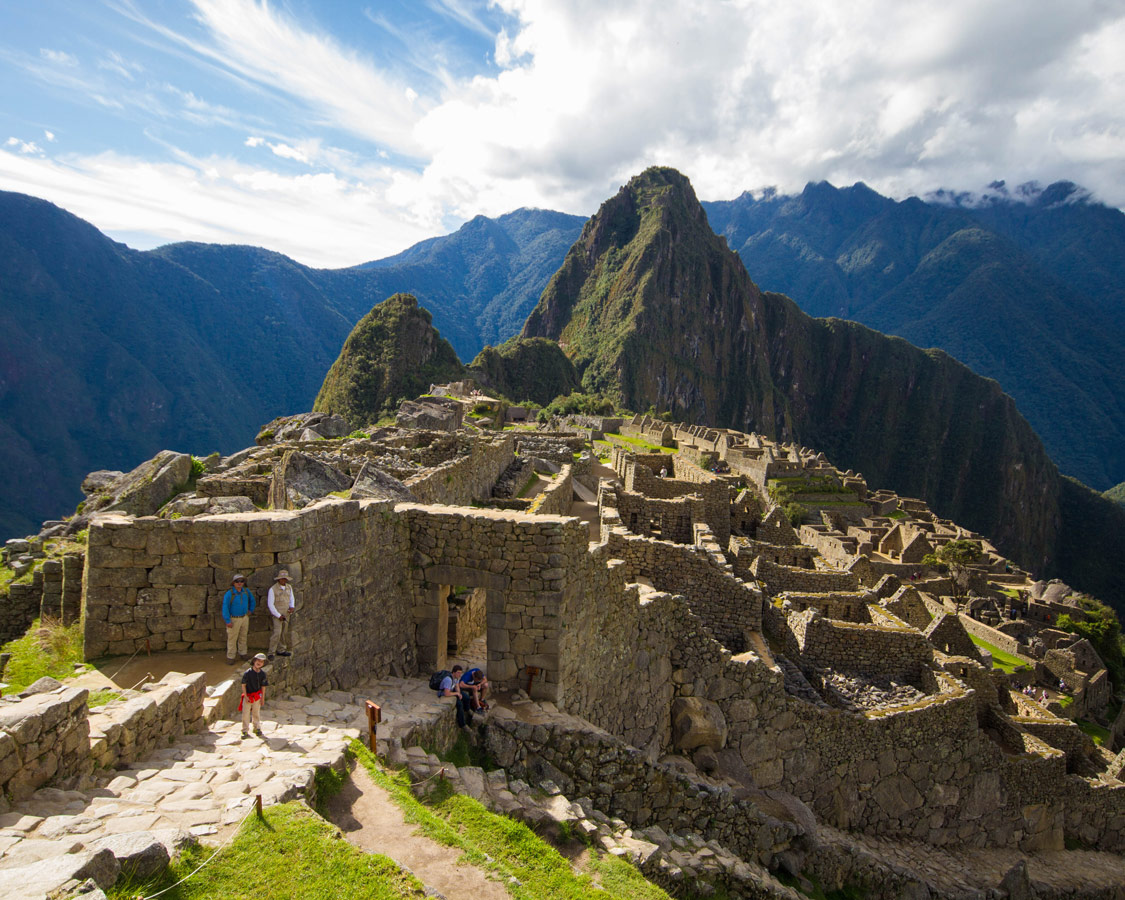 It was fascinating learning about the features of the Temple of the Sun, discussing the Royal Tomb and exploring around Inka's house. C also couldn't get enough of The Temple of the Condor.
The marriage between natural bedrock and Inca stonework here and at other Inca sites are just spectacular. It seemed that every angle of Machu Picchu was more thrilling than the next. And of course, with all of the corridors, passageways, and rocks to climb, the kids were in heaven!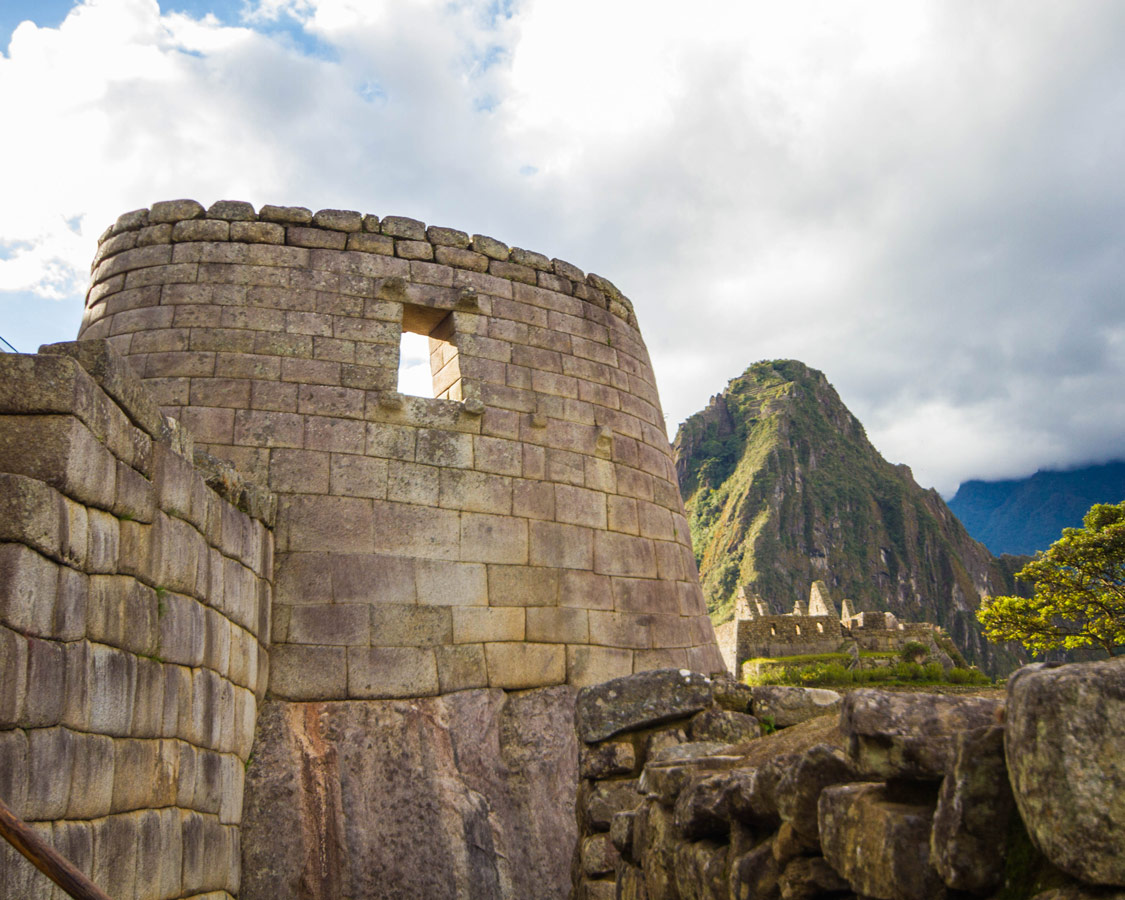 Spotting Wildlife at Machu Picchu
Also, the boys particularly enjoyed hiking around Machu Picchu and playing spot the wildlife. The resident llamas of Machu Picchu were everywhere. We also saw many birds and playful viscachas.
In fact, the viscachas (they look like a cross between a rabbit and a hamster) were always hiding among the rock walls. It was a game for the boys to see where we would find them. Chasing llamas is one of our boys' favorite things to do in Machu Picchu.
Beware though! The llamas OWN Machu Picchu. And if you get in their way, they'll knock you right over. Check out our video at the bottom of the page to see what happens when you get in their way.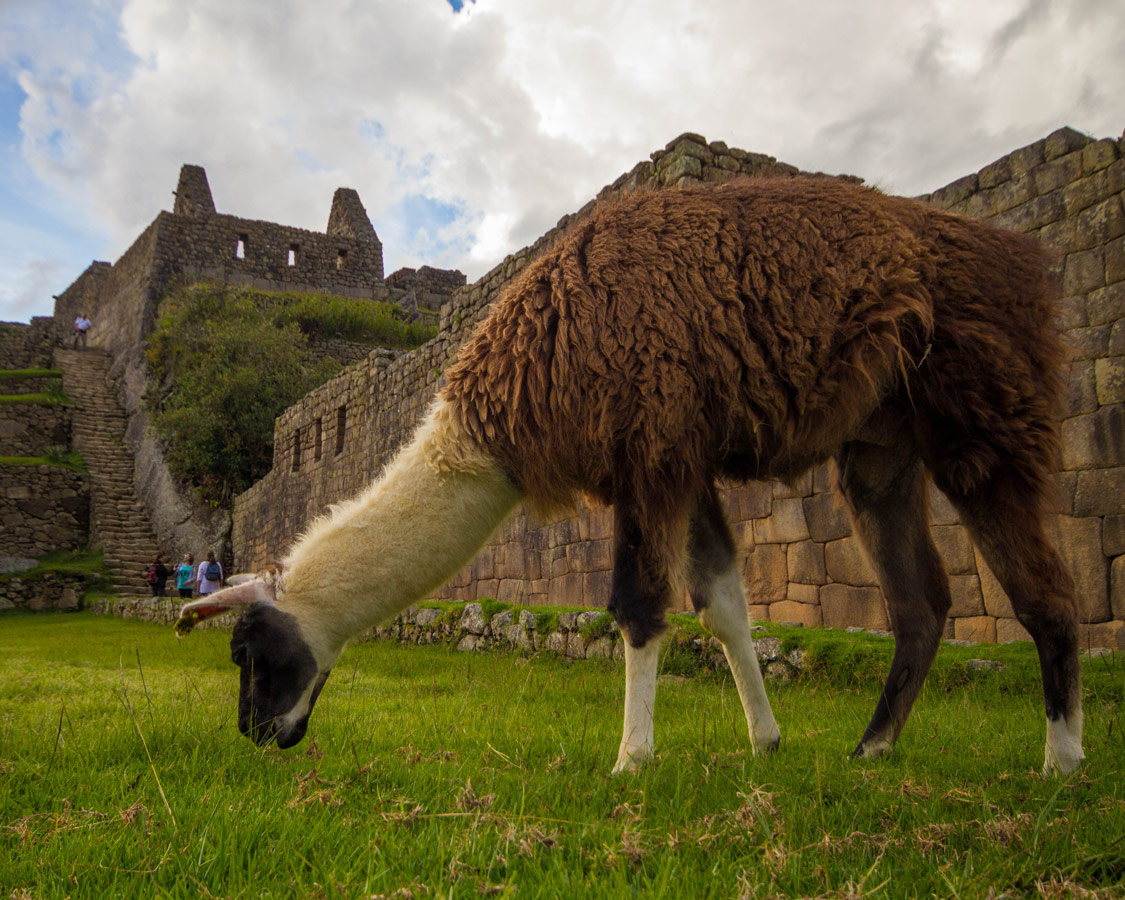 A Hidden Natural Playground in Machu Picchu
However, the boys' favorite spot was the Quarry of Machu Picchu. They excitedly climbed the stones and pretended to build their own extension to the Inca city. Who would have thought that visiting Machu Picchu with kids would involve so much rock climbing!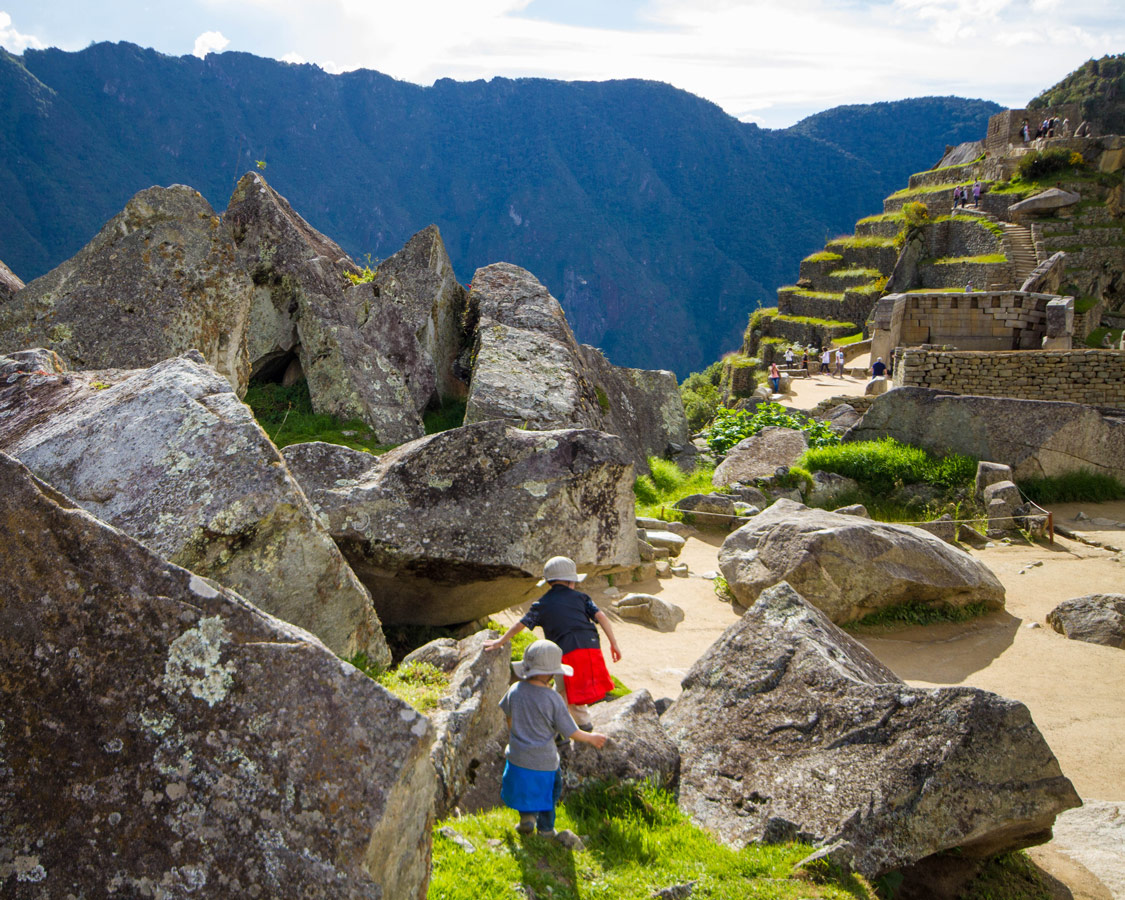 Should You Bring Kids to Machu Picchu?
Normally when we pick a destination, we have the kids in mind first and foremost. However, for Peru, we were a little bit selfish. We decided to travel to Peru with kids because Kevin and I really wanted to see Machu Picchu before tighter regulations started coming into effect in 2017 and 2018.
At the time of our visit, we could spend the whole day at Machu Pichhu. This is no longer the case with the new rules. We knew visiting Machu Picchu with kids could get difficult. And at some parts of the Machu Picchu tour, Kevin had to carry D on his shoulders since the stairs and rocks were often large and uneven.
But we don't regret it at all. In fact, Machu Picchu stands as one of the most incredible places that we have visited with our children. Where else can you learn about Inca history, aqueducts, 21 ways of cutting stone bricks, astronomy, and earthquakes, all in one place?
The things they learned that day and saw firsthand most people will only ever read about in textbooks. And they LOVED it! The boys were fascinated by every corner of Machu Picchu. The stories, history, and landscapes are as magical as you can imagine. And you should definitely visit Machu Picchu with kids!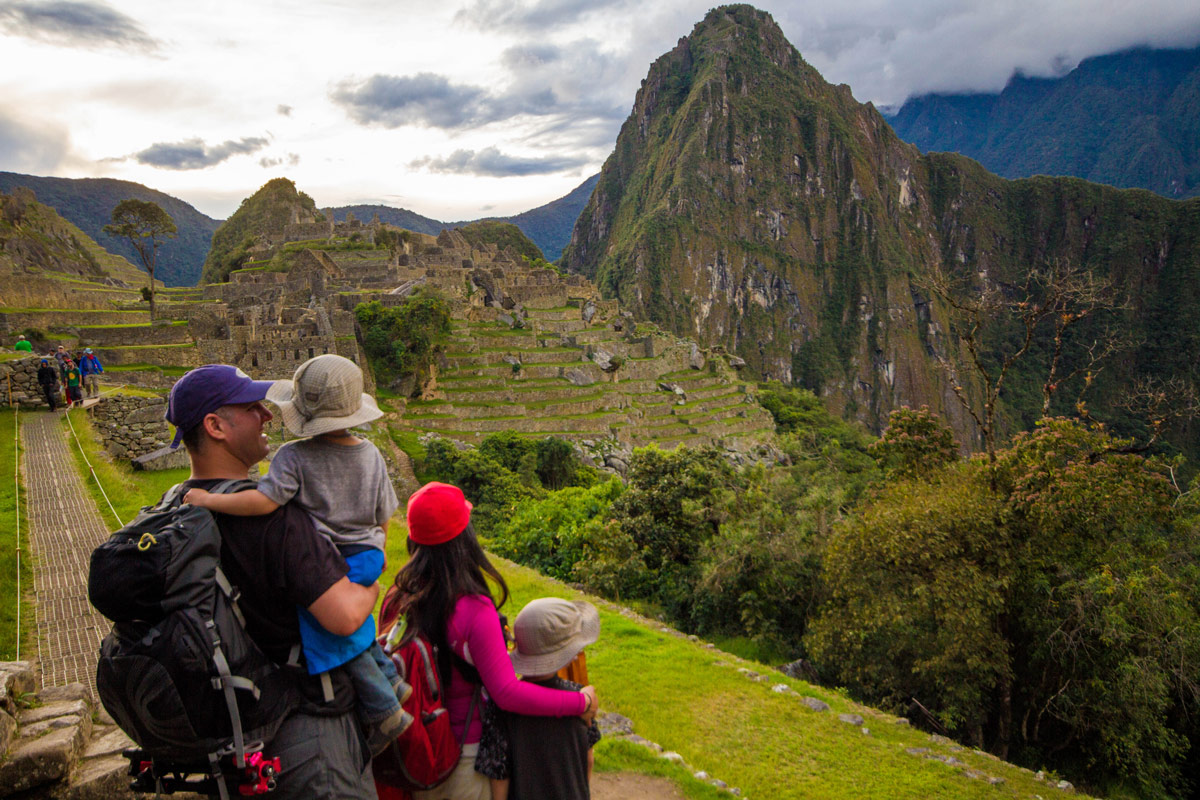 When is the Best Time to Visit Machu Picchu, Peru?
Weather in the Andes Mountains can be unpredictable. And during the rainy season, Machu Picchu can be inaccessible due to mud, landslides, and other weather-related incidents. Machu Picchu experiences the largest rainfall in February. The Peruvian government uses this time to perform maintenance on the Inca trail and the roads to the ruins. So hiking to Machu Picchu during February is not an option.
The best time to visit Machu Picchu is usually between the months of April to October. This is when the Andes mountains experience the clearest skies and the most comfortable weather. Things tend to be dry enough that the land is easy to navigate, and you'll likely get the best views of the mountains and the city from the Machu Picchu lookouts.
Where To Stay In Machu Picchu Hotel For Families
Many visitors to Machu Picchu want to stay as close to Machu Picchu as possible, so they opt for the Belmond Sanctuary Lodge. The Belmond Sanctuary Lodge is highly rated and an excellent Machu Picchu hotel. However, our top pick for families in Machu Picchu is the Inkaterra Machu Picchu Pueblo.
The Inkaterra Machu Picchu Pueblo is an experience all to its own. It includes a spectacled bear sanctuary, incredible eco-focused activities for kids, and is located close to the train station and Aguas Calientes. This means that you can get to the ruins in 20 minutes yet still be close enough to explore Machu Picchu Pueblo.
You can read our full review of Inkaterra Machu Picchu Pueblo here. We spent a whole day exploring all that Inkaterra Machu Picchu had to offer before making our way back to Cusco to explore the birthplace of the Inka.
Tips For Planning A Trip To Machu Picchu With Kids
Don't let planning a trip to Machu Picchu, Peru, intimidate you. Peru is a very family-friendly destination. And visiting Machu Picchu with kids is a treat! Just keep these things in mind before you go.
My first, and crucial tip is to ensure that you have proper footwear. The rocks, stairs, and grass can be slippery, especially after recent rainfall. You'll want hiking shoes that have excellent grip.
Most visitors to Machu Picchu arrive in Cusco. To avoid altitude sickness, leave town immediately and head to the lower elevations of the Sacred Valley.
There are two rail options to Machu Picchu. Peru Rail and Inca Rail. If you are traveling with a baby (0 – 2 yrs of age), they are free, but a passport may be required as proof-of-age.
Enjoy the view from Ollantaytambo to Aguas Calientes. The scenery is beautiful. The left side offers riverside views, while the right side has mountain views.
Ensure you purchase Machu Picchu tickets in advance. A guide is required for all those who enter Machu Picchu. There are almost always tour guides at the entrance to the ruins.
The bus to Machu Picchu from Aguas Calientes leaves approximately every 15 minutes, and the ride takes about 20 minutes.
If you are just touring the city and the overlooks, 3 hours is a good amount of time to explore Machu Picchu with kids. The ruins close promptly at 5 PM.
The only toilets at Machu Picchu are at the main gate entrance. Make sure to do a potty stop before you enter the ruins.
Bring plenty of water. The air is cool, so it's easy to forget to drink while you are there.
If you are interested in climbing Huayna Picchu for the epic Machu Picchu overlooks, there is an extra fee when booking your ticket. This climb is considered advanced and is not recommended for children under 12-years of age.
Check out our video for all the action. Make sure you subscribe as well so you can hear about all our latest content!
Latest 2021 Rules For Visiting Machu Picchu, Peru
Due to the fragile landscape and the sensitivity of the Machu Picchu Ruins, combined with its immense popularity, Peru has begun implementing strict rules for visiting Machu Picchu Peru. These Machu Picchu regulations are in place to protect both the important ruins and the visitors who travel to Machu Picchu each year.
As of January 2019, Machu Picchu rules include the following details:
Visitors must choose a specific hour for entry. These Machu Picchu entry times can be between 6 am and 2 pm.
Visitors may stay inside the Machu Picchu ruins for a maximum of 4-hours. The Machu Picchu ruins close at 5:30 pm so those with a 2 pm ticket will only have 3.5 hours to explore.
Only 600 tickets will be released for each hourly entry to Machu Picchu. This means there will be a maximum of 2400 visitors within Machu Picchu at any given time.
Ticket entry is valid for one hour. If you have a 9 am ticket, you must enter ruins by 10 am, or your ticket is forfeit.
Did we help you with your Machu Picchu travel decisions? Drop us a comment below to let us know what you think! And if you travel to Machu Picchu with kids make sure you share a photo on our Facebook page so we can share in your journey as well! You can find our web story for this article here.
Wandering Wagars is a participant in the Amazon Services LLC Associates Program, an affiliate advertising program designed to provide a means for sites to earn advertising fees by advertising and linking to amazon.com, amazon.co.uk, amazon.ca. Amazon and the Amazon logo are trademarks of Amazon.com, Inc. or its affiliates.
You May Also Like To Read:
Pin This Post For Later: