The Great Spirit Circle Trail of Manitoulin island offers the best of Canada. Adventure, natural beauty, and deep, rich culture.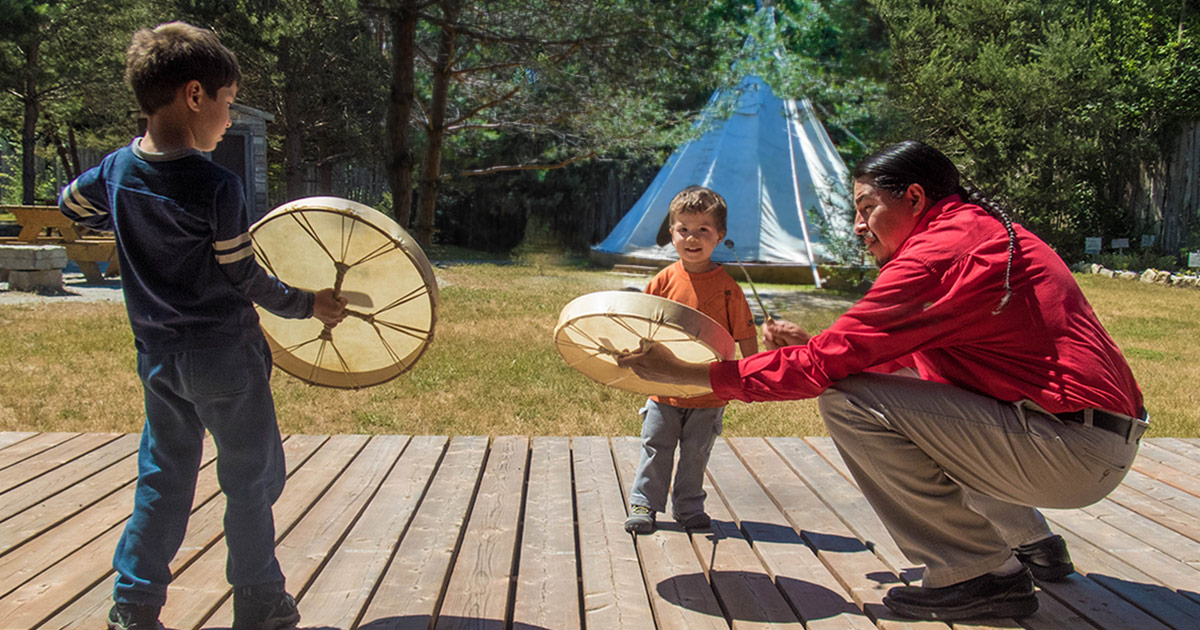 The Great Spirit Circle Trail of Manitoulin Island had been on our radar ever since Kevin and I first visited the island on a whim while on a weekend getaway trip to Tobermory. Manitoulin Island is the world's largest freshwater island and has over a hundred inland lakes.
Located in Northeastern Ontario, Canada, Manitoulin Island is home to several First Nation communities. The Great Spirit Circle Trail offers nature and cultural based authentic Aboriginal experiences. It sounded like the perfect way for our whole family to learn more about Ontario's aboriginal cultures.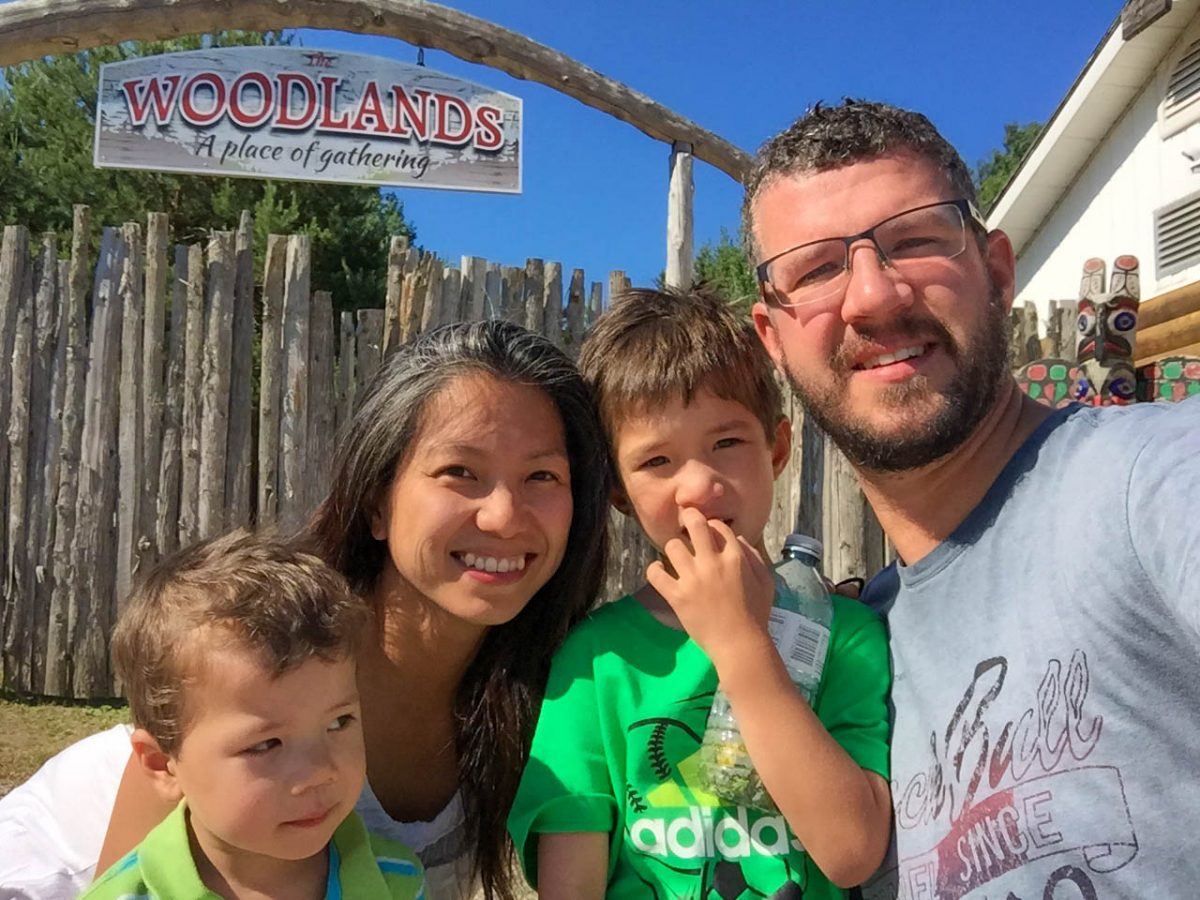 Pro-Tip: There are two ways to reach Manitoulin Island from mainland Ontario. The first is via the MS Chi-Cheemaun ferry (Ojibwe for "Big Canoe"). The ferry makes daily trips from Tobermory to South Baymouth from May to October. Ferry tickets for vehicles regularly sell out. So, be sure to book your spot as soon as you have your dates picked. The second route, which is open all year round, is via Highway 6 which leads to a swing bring connecting the island to the mainland.
Glamping on Manitoulin Island
Accommodation choices for a visit to Manitoulin Island are plentiful. There are bed and breakfasts, motels, inns, and hotels. The island also has several Manitoulin Island campgrounds where you can pitch a tent or park an RV. It is even possible to stay in a teepee within one of the communities! So, can you guess which one we chose? The teepee of course!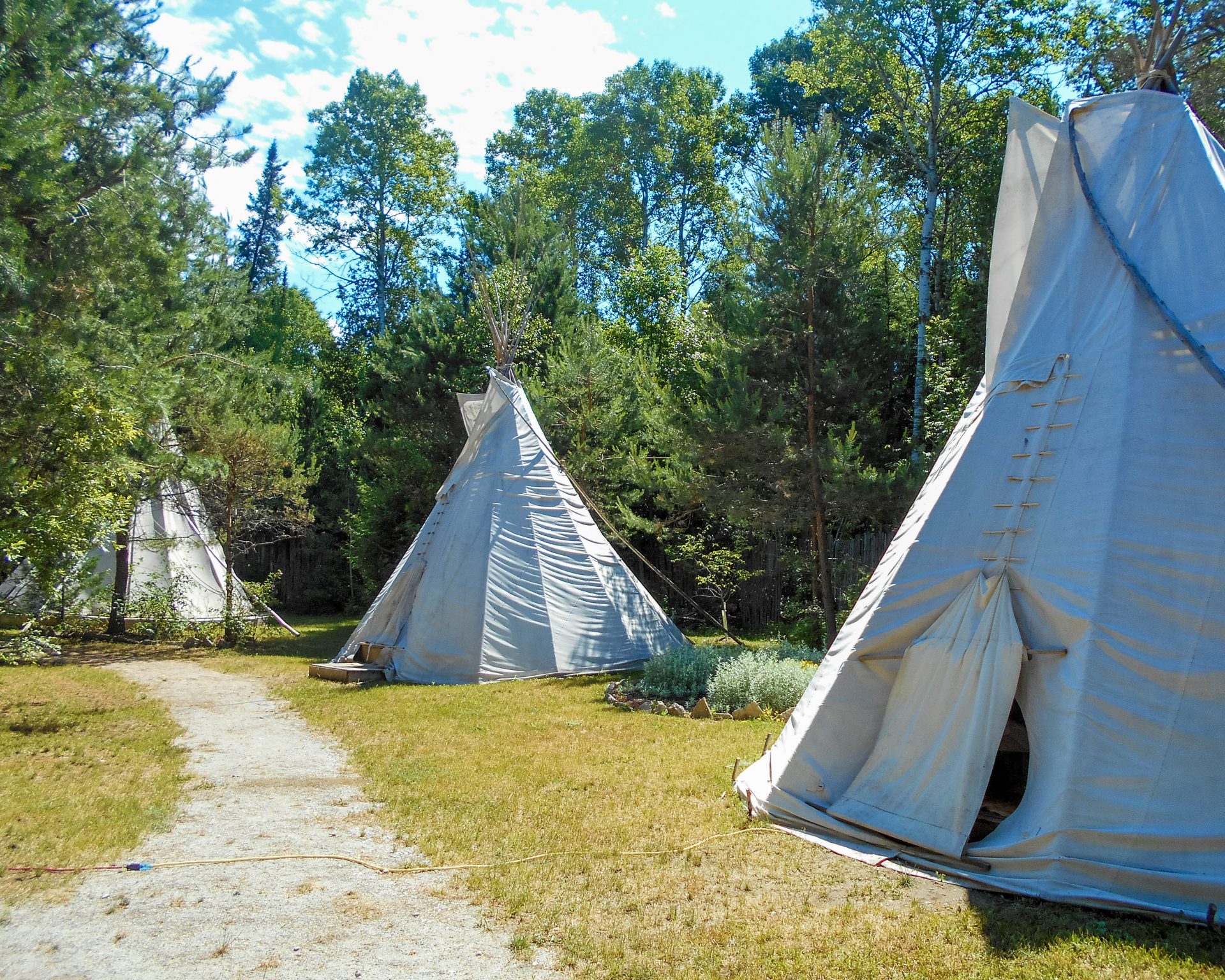 When we arrived at the Great Spirit Circle Trail glamping ground, the children excitedly looked around at our weekend accommodation. The teepee campsite is in M'Cheeging (pronounced "Chee-gin") First Nation on Manitoulin Island. Specifically, it is on the property of the Great Spirit Circle Trail office. The site is 30 km from Little Current, Ontario. Or, if you are coming from the mainland via ferry like we were, it is an easy 40 km drive from the South Baymouth Ferry Terminal.
At the site, we met our Great Spirit Circle Trail contact, the lovely Joanna Panamick. On arrival, she ensured all her records were accurate and that all the paperwork for our Great Spirit Circle Trail Experiences (the day tours) was finalized. Then, we proceeded to have a tour of the campsite.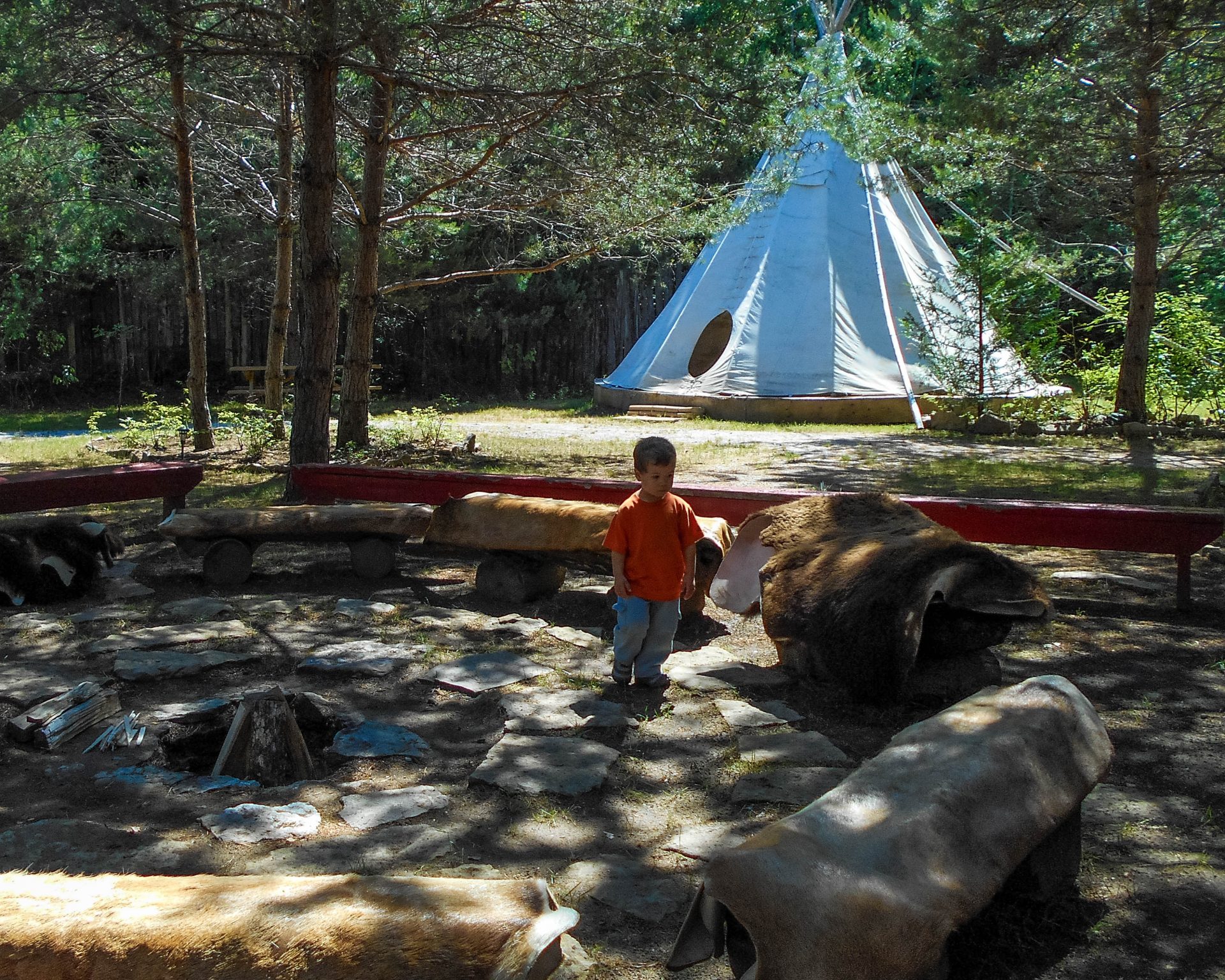 Campsite Tour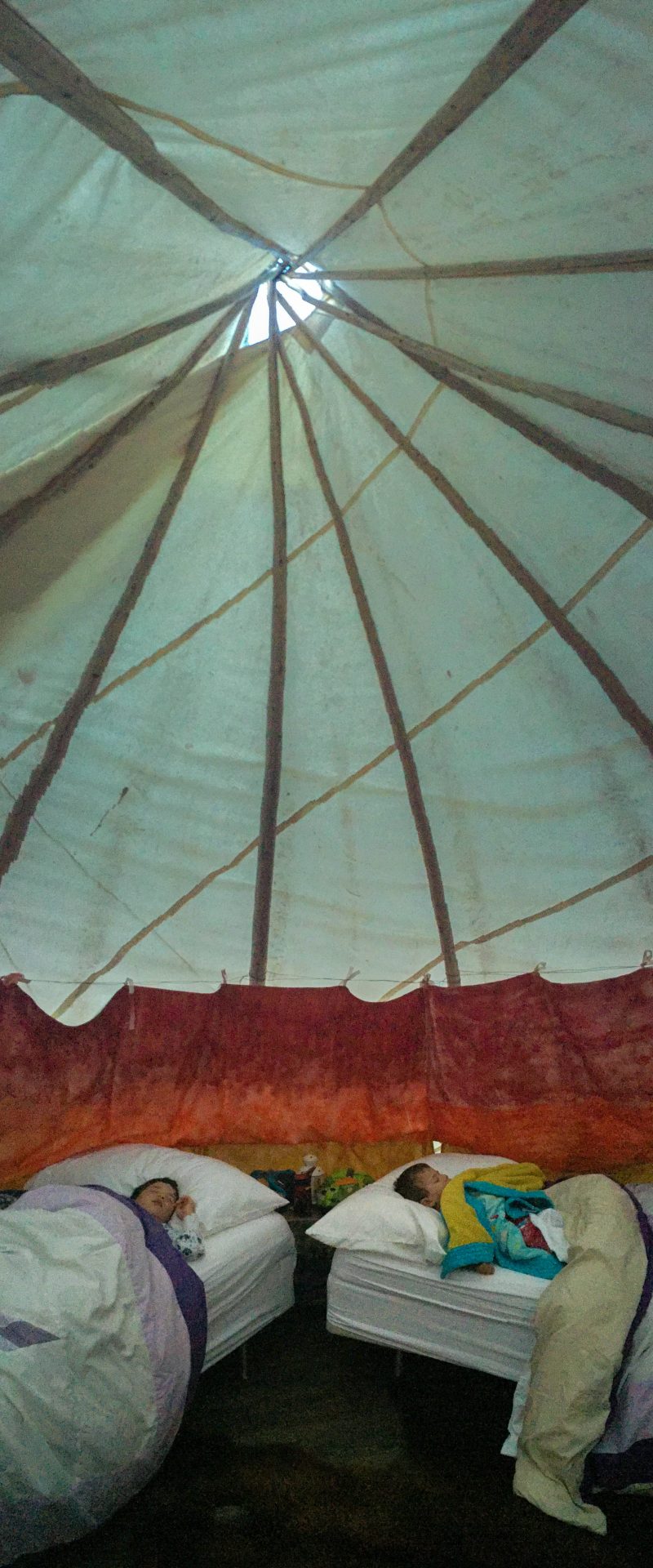 The Great Spirit Circle campsite has 4 teepees. All have access to power so we didn't have any issues charging our devices. Up to four single beds can be accommodated in one teepee. Our configuration consisted of two single beds being joined together and the kids each had their own beds. There was also a basket in the teepee which had candles, bug spray, and a flashlight. A deer skin rug was laid out at the entrance and a much softer buffalo skin rug was in the middle of the room. There were two side tables that had candle burning lanterns.
It was early in the season during our stay and we were the only guests! C and D had the run of the place. The Great Spirit Circle office closes down at night, so one of the staff of members, Miishiin (Michael), stayed overnight as well in case we needed any assistance.
At the campground, there was also a large washroom with a separate shower (that has hot water). We also had access to a refrigerator for perishables. In the middle of the site is a firepit with benches. Wood is available for guests who want to avail of the campfire. Dotting the campsite are several gardens.
We listened, intrigued to learn about the medicinal properties of the many plants. Joanna patiently answered all the questions the children had. The glamping accommodations were not as glamorous as we previously had in Wadi Rum, Jordan. However, the beds were incredibly comfortable and the unique experience exceeded our expectations.
Pro-Tip: Poison Ivy is abundant on Manitoulin island. This plant secretes oils that can cause bad rashes, so be aware of your surroundings and don't leave the trails or main campground areas.
The Great Circle Trail Experiences
There were two main reasons for bringing our children to Manitoulin Island. The first was so that they could experience the raw beauty of this incredible island. The second, and equally important, was to be able to expose them to some of the First Nation cultures of Canada. The Great Spirit Circle is owned and run by local aboriginals and offers a glimpse into their culture with every excursion. It was this experience that inspired us to take our epic Quebec indigenous experiences road trip in 2019.
Voice of the Drum: Make and Take Experience
Our first experience started the late morning. The Voice of the Drum Mak-and-Take Experience began with a lesson on the importance of the plants and traditional medicine in Ojibwe culture. Our guide for this experience, the fantastic Craig Fox, walked us through the smudging ceremony, a ceremonial prayer involving spreading the smoke from burning cedar over your body as a way to purify yourself and get rid of negative energy.
At this point, I quickly realized that this was not just a simple arts and crafts activity. Craig demonstrated how a long strand of deer hide was used to thread a circular hide onto a wooden frame. For the next hour, Craig talked about the importance of drums in First Nations culture while he worked with Kevin and C to intricately secure the hide to the drum base. It was a fascinating glimpse into Canada's indigenous heritage, and a good primer before our trip to 12 Things To Do in Yellowknife, Northwest Territories During Winter Yellowknife Northwest Territories.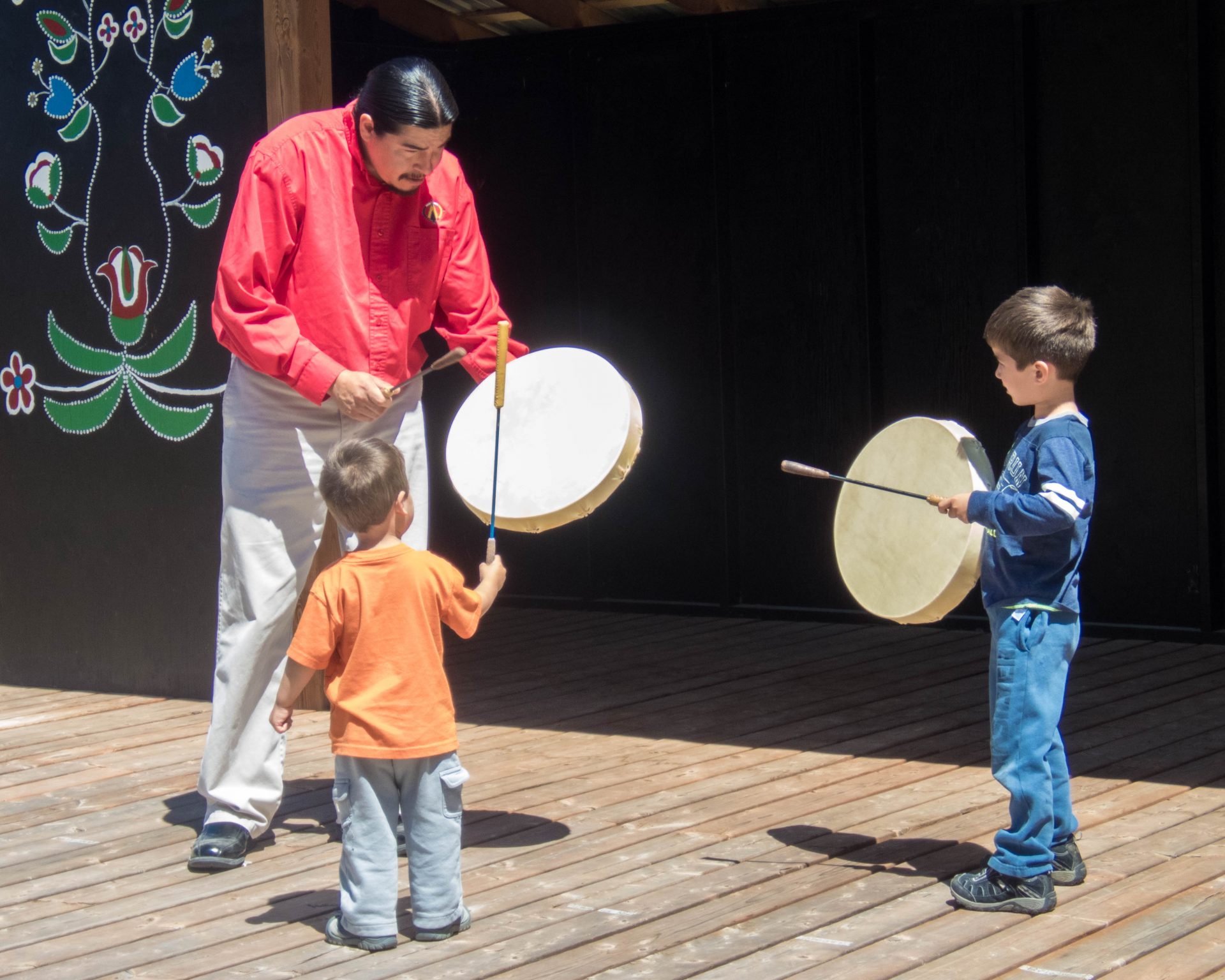 Pro-Tip: Certain parts of the Great Circle Experience, such as the smudging ceremony, are not open for photographs as they are considered sacred. Your guide will let you know when it is not appropriate to take photos.
With the drum complete, C was sad to learn that he couldn't use his drum right away as it needed to dry for a few days. His mood was lifted as soon as he found out he could use one of the drums owned by the Great Spirit Circle Trail.
In preparation, Craig talked to us about the importance of the drum in his culture. He narrated the story of how a young girl had a vision where elders instructed her to give the drum to the male leaders of two warring tribes. The encounter ended the feud and brought peace. C listened intently to the story. The amazing experience was capped off when C and D got to drum on the stage located at the camp site with Craig!
Mother Earth Hiking Trail Experience: The Cup and Saucer Trail
Our next Great Spirit CircleTrail Experience started later in the afternoon. We hiked the Cup and Saucer trail which is one of the most popular hiking trails in Ontario. We had the pleasure of having Craig again as our guide. Before beginning our hike, Craig provided us with some crushed tobacco leaves which we scattered on a tree of our choosing near the entrance of the trail. He told us this was our way of letting Mother Nature know that we would be entering the trail with good hearts and to help keep us safe on our journey.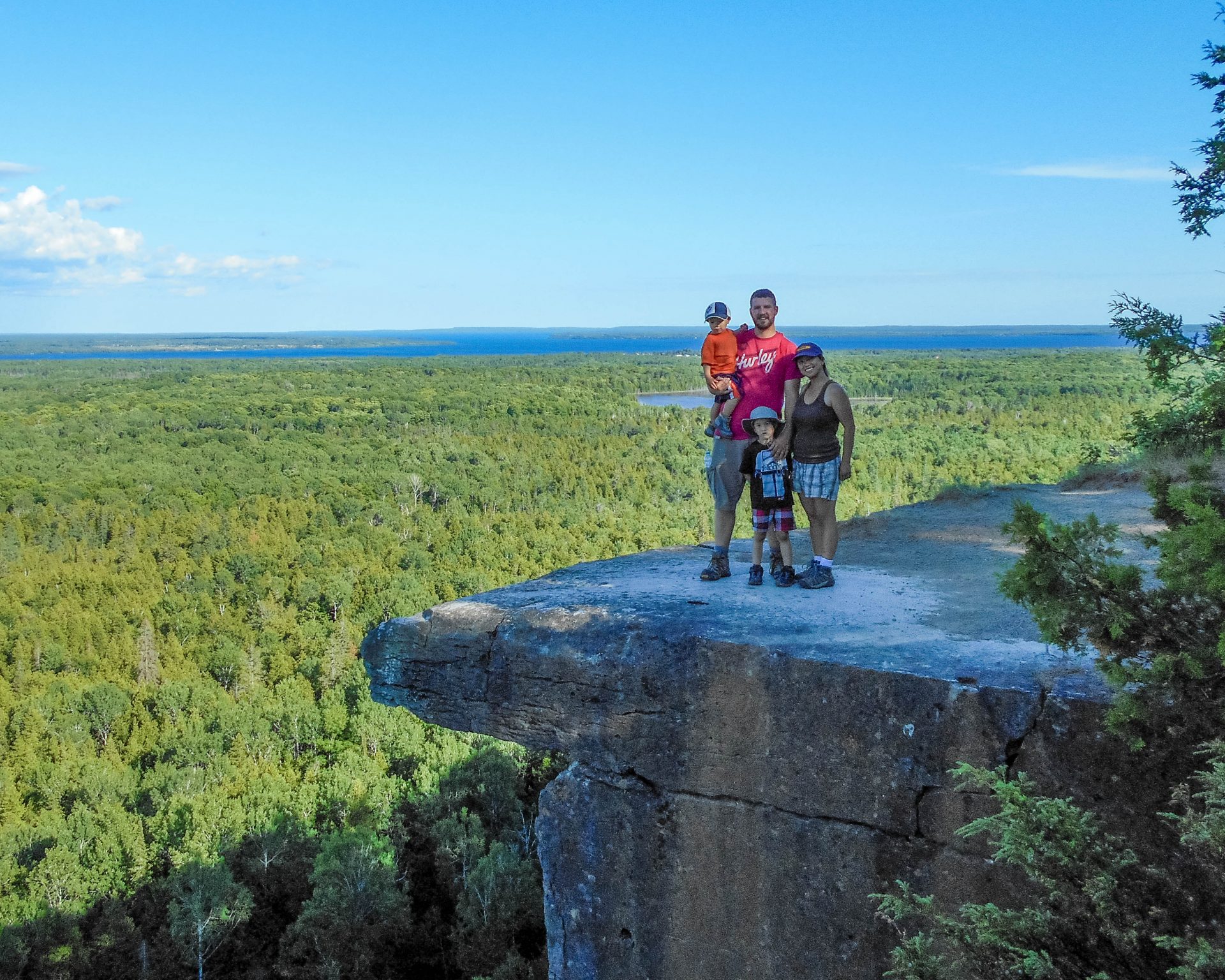 Pro-Tip: The Cup and Saucer Trail involves some steep climbs over large rocks. Make sure you have good footwear. Small children may need to be carried or lifted over some sections. The cliffs at the top are also sheer drops of hundreds of feet. Make sure you keep a close eye on little ones and ensure they stay well back from the edges.
There are 14 km of trails on the Cup and Saucer hike of which 2 km is part of the adventure trail. Craig led us on a family-friendly version of the hike which bypassed part of the main trail and the adventure trail. The views from the lookouts were absolutely breathtaking. We wish we could have stayed longer but we needed to get back into town to eat some dinner before our last adventure for the day.
We've returned to Manitoulin Island several times since our Great Spirit Circle Trail experience and each time we've hiked this incredible route. You can check out our complete guide to hiking the Cup and Saucer trail here.
Sunset Canoe Heritage Tour Experience
For this Great Spirit Circle Trail Experience, we met our new guide, Falcon Migwans, back at the campsite. Falcon would lead us to the shores of Lake Manitou where our canoe was already waiting for us. Although Kevin and I had canoed together numerous times previously this would be our first time canoeing with both C and D with us. The boys were definitely troopers! Both even "helped" and D only lost his paddle once. We periodically took breaks so Falcon could tell us about the area and share stories about local legends. Watching the sunset behind the mountains from Lake Manitou was a memorable ending to our day.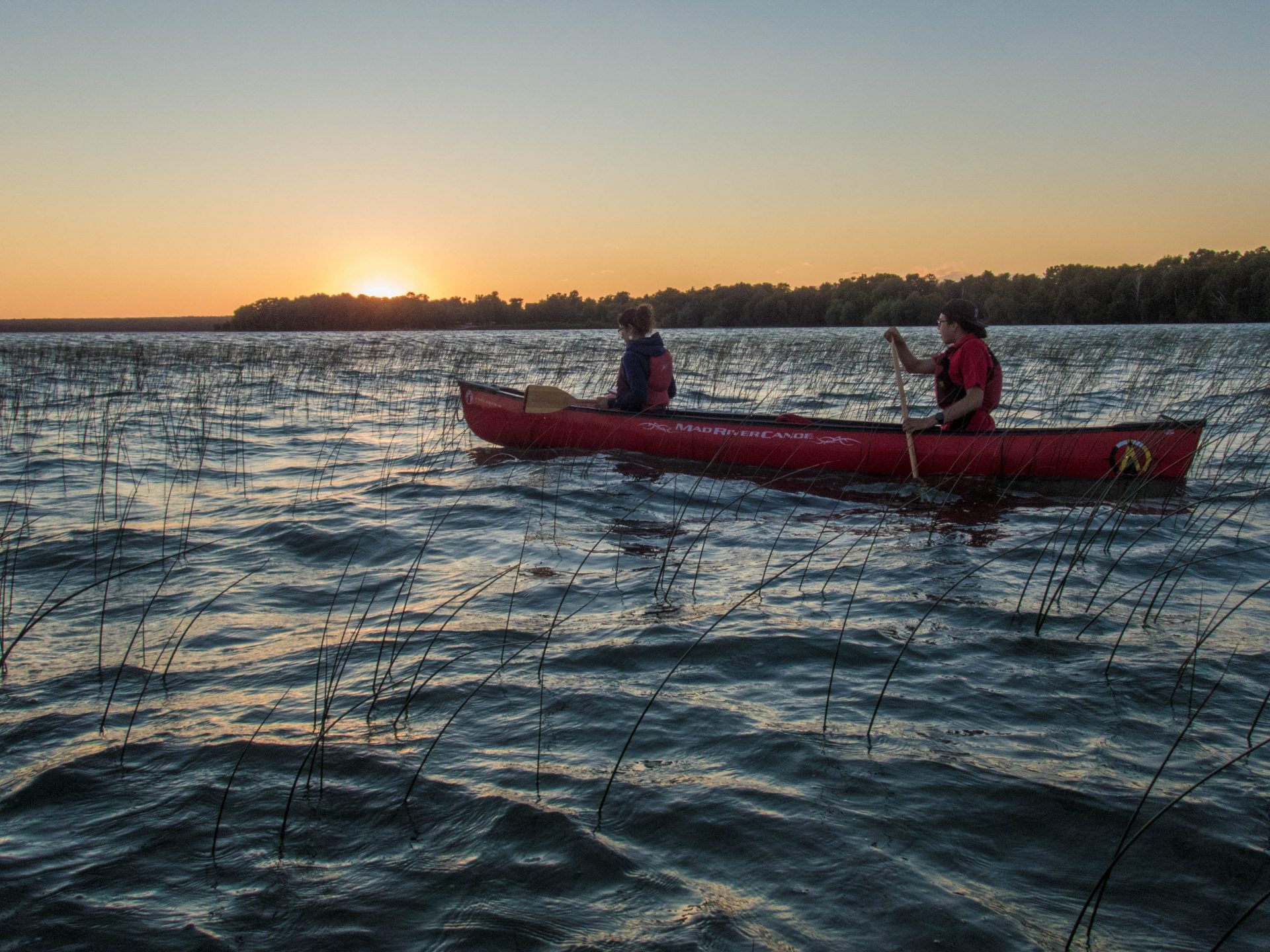 Pro-Tip: Try not to schedule too many activities in one day. Originally, we had planned to do the Heritage Canoe Tour the day before. However, due to the weather, it was postponed to the next day.
The Great Spirit Circle Trail of Manitoulin Island
Our adventure-packed day was our ideal way of exploring Manitoulin Island. However, we were also glad to have learned more about the First Nations people of Canada. Little did we know that the best was yet to come. Our guide, Craig Fox, invited us to attend the Shenguindah First Nation Traditional Pow Wow (A Pow Wow is a social gathering where various First Nations communities get together for visiting, singing and dancing). It was amazing to watch and we can't wait to share that experience with you.
We believe in traveling with our children to learn more about a country and its people. The Great Circle Trail allowed us to learn a lot and we did this without even having to step on a plane.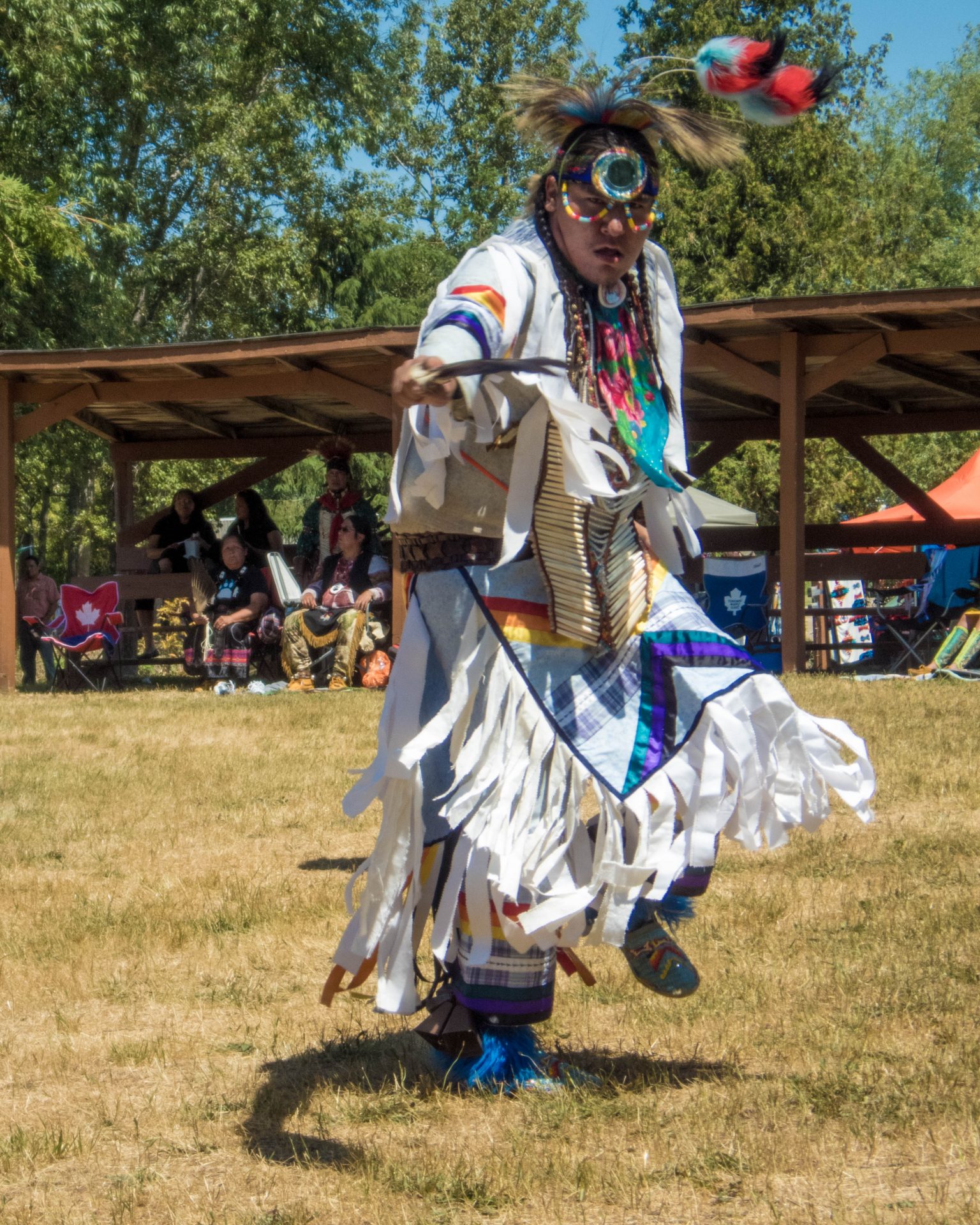 Interested in Seeing More Manitoulin?
If you're interested in checking out more things to do on Manitoulin Island, check out our video on YouTube. Don't forget to like and subscribe for more.
If you're interested in more Indigenous content, you can read about our Indigenous road trip through Ontario here.
This post may contain compensated links. For more information please read our disclaimer. Wandering Wagars is a participant in the Amazon Services LLC Associates Program, an affiliate advertising program designed to provide a means for sites to earn advertising fees by advertising and linking to amazon.com, amazon.co.uk, amazon.ca. Amazon and the Amazon logo are trademarks of Amazon.com, Inc. or its affiliates.
You May Also Like To Read: