From a visit to a longhouse to pow wow dancing, check out how to plan an Indigenous road trip in Ontario to experience culture and art.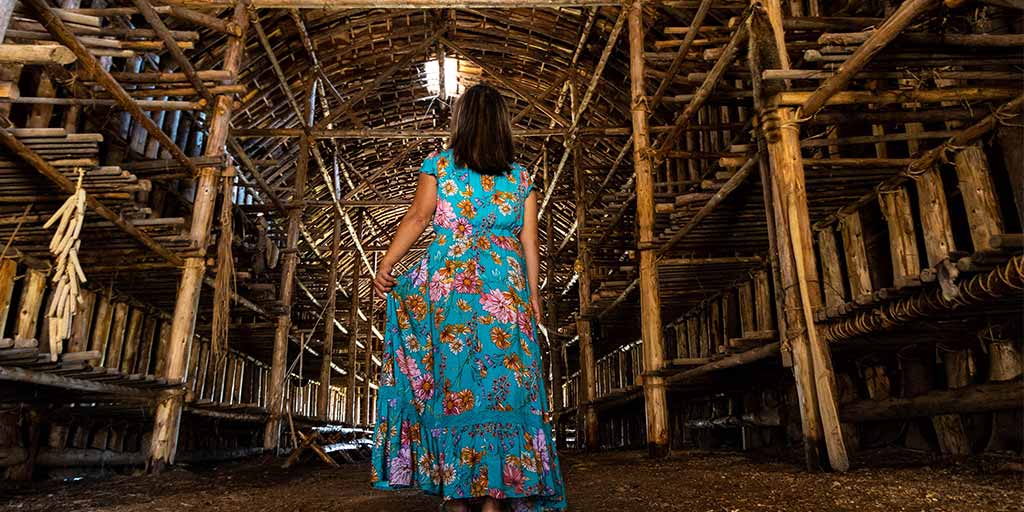 We have long had a passion for Indigenous cultures throughout the world. No matter what country we visit on our travels, we make it a point to experience Aboriginal cultures and tourism experiences.
While in Argentina, we spent time with remote Guarani tribes. In Finland, we worked on traditional Sami crafts, in Peru I was king for the day on one of the floating Uros Islands.
At home, we are still learning just how far back Indigenous history in the America's goes. It seems that every year the arrival of the First People is pushed back another 1-2,000 years. At the last check, I think the first traces of civilization date back at least 35,000 years.
Many of these ancient cultures are still alive and thriving right here in Ontario. We've explored some of the experiences on Manitoulin Island in the past. But this summer, we opted for a road trip of Indigenous experiences in Ontario.
Our #EscapeFromHome Indigenous Road Trip Through Ontario
Between Toronto and Ottawa were six incredible First Nations and Indigenous-led experiences that were as varied and wonderful as First Nations members who ran them. These are the fantastic stops on our Indigenous road trip through Ontario.
Day 1: 1,000 Years Of History in Six Nations, Ontario
I am a sucker for history. But rarely have I been fortunate to explore, first hand, one of the communities in Ontario so vibrant with history as the community of the Six Nations of the Grand River. Six Nations is the largest First Nations community in Canada. The community is home to nearly 30,000 members representing all six Iroquois Nations, the Mohawk, Cayuga, Onondaga, Oneida, Seneca, and Tuscarora.
I had driven past Six Nations several times to visit friends in nearby Brantford, but I had never taken the time to explore this vibrant community. Boy, was I missing out! There was absolutely no better place to start our Indigenous road trip through Ontario than Six Nations, and here's why.
The Mohawk Chapel
Our first stop on our tour of Six Nations was at the last remaining building of the original community, at Her Majesty's Royal Chapel of the Mohawks in Brantford. This 235-year-old Protestant chapel is a standing tribute to the rich history of the Six Nations community. The 8-intricately designed stained glass windows within the chapel show the story of the community dating back to time immemorial.
It all begins with the Peacemaker, whose name is not told, during a time when the Six Nations were in a terrible war. When the Peacemaker arrived is unknown. Some say it was a thousand years ago, while others say it was even longer. But this Huron man arrived on the western shore of Lake Ontario with a message of peace. The warring Nations came together and buried their instruments of war beneath a White Spruce tree.
When the English arrived, they referred to the community as "The Five Nations." The nations were then joined by the Tuscarora in the 1700s to become The Six Nations. The French named the group of Nations, the "Iroquois Confederacy." But internally, the Six Nations refer to themselves as the "Haudenosaunee," meaning "The People of the Longhouse."
The workmanship of the chapel is beautiful. At the front of the church are three large plaques in the phonetic languages of some of the Nations. And at the rear of the church is a magnificent coat of arms intricately carved from a single block of wood. It's easy to miss if you're exploring the Mohawks' chapel, but it's one of the most important pieces inside.
The stained glass stories explore some of the communities' victories and struggles, from the missions of Joseph Brant to the multi-faceted stories of the community's residential schools. It's truly a rich reflection of how the Six Nations community has continued to grow and flourish through changing times.
Visits to the Mohawk Chapel are currently by appointment only. If you would like to check out this wonder of Ontario for yourself, you can connect with them here.
Visiting A 17th Century Longhouse
The Six Nations community is referred to by locals as "the Haudenosaunee," or "The People of the Longhouse." So we couldn't make a visit without taking in the OSTTC Longhouse. Ogwehoweh Skills and Trades Training Centre or OSTTC is a local organization designed to raise the awareness of the community's rich heritage through cultural and ecotourism developments.
The massive OSTTC property is centered by a large greenhouse where native Carolinian plants are grown and cultivated. Local plants are for sale for natural gardens or eco-projects. We had to buy one of the local wild strawberry plants when the boys tasted just how incredibly sweet the tiny berries were.
Off in the corner of the property is the brand new cultural feature of the OSTTC, the Longhouse Ganǫsa'ǫ: weh, or "The Real House." This full-sized replica of a 17th-century Longhouse is impressive to behold. After we visited the Longhouse in Wendake, Quebec, the previous summer, I was happy to learn that something similar was close to our own home near Toronto.
Our boys immediately raced through the building, gazing in awe at the towering ceiling and peppering our guide, Colt, with questions of how was it built? Where did the families sleep? Who kept the fires going? And far more questions than I can count.
The visit to the longhouse was incredibly educational. The day was searingly hot, and the cool breeze wafting through the wide-open space made this traditional building a welcome place to be.
The Longhouse Ganǫsa'ǫ: weh tour walked us through how the structure was built, how families traditionally lived, and the lifestyle of the Iroquois people during the 17th century. The boys were full of questions on the different tools and crafts that were on display.
Our guides, Colt and Courtney also took us on a tour of the property. We were shown the Carolinian gardens that were being planted to encourage local wildlife and insects to find their homes within the property.
To book your tour of the Longhouse Ganǫsa'ǫ: weh in Six Nations, you can check out their website here.
The Poetic History Of Chiefswood Park
Six Nations is the home of some of the most notable people in the history of Canada these include distance runner Tom Longboat, actor Jay Silverheels, and many more. To learn more about some of the modern history of Six Nations, we stopped at Chiefswood Park National Historic Site. Chiefswood Park is home to the childhood house of legendary poetess E. Pauline Johnson. This incredible woman, who was mixed Mohawk and British, lived an extraordinary life that saw her become one of the most influential writers and historical figures in Canada.
The Life of Pauline Johnson is as fascinating as her work. And a walk through her childhood home was an excellent introduction to this creative powerhouse. Her mother was a proud woman who bucked tradition by marrying a Mohawk man, George, who became the Chief of the Mohawk Territory. The couple raised their children to be fiercely proud of their Mohawk heritage.
As Pauline Johnson began her poetry career at the age of 10, the pride in her heritage followed her. Eventually, she went on to become one of the most celebrated writers in all of 19th-century Canada. Her work often included readings where she would begin dressed in conservative British-style before finishing in her traditional Mohawk regalia.
While the home of Pauline Johnson may be the most celebrated section of Chiefswood Park, it's far from all that is on offer for visitors. We absolutely loved wandering through the natural gardens filled with buzzing bees floating happily among towering wildflowers.
Chiefswood Park is also gorgeously situated on the banks of the Grand River. The park offers canoe and kayak rentals for those that want to paddle the wide expanses of the mocha-colored waters that helped to shape so much of the history of Six Nations.
Those who can't get enough of the natural beauty of Chiefswood Park, they've recently opened some of the most beautiful glamping cabins in Ontario. The cabins look like tiny adorable ski chalets from the outside. But to say that my family was shocked when we entered would be an understatement. The two floors, connected by a towering ladder stair, have everything that a family of up to eight people would need for a weekend or a week-long visit to Six Nations. Chiefswood Park pulled out all of the stops to make these cabins both beautiful and functional. Dibs on the top floor!
Interested in visiting the home of E. Pauline Johnson or staying in one of Chiefswood Park's gorgeous cabins? You can connect with them here.
Day 2: Stand-Up Paddleboarding In Toronto with Oceah Oceah
Nothing beats a day on the water. So we all put our heads together and decided that our tour of Ontario Indigenous experiences had started right in the core of Toronto with stand-up paddleboard outfitter Oceah Oceah.
Although SUP is traditionally a Hawaiian sport, when local First Nations sisters Jenifer and Sharon Rudski were introduced to it back in 2009, it became a passion. They combined their passion for SUP and Yoga and now offer introductory SUP courses, Yoga SUP classes, and gorgeous SUP tours to GTA destinations such as Cathedral Bluffs, the Toronto Islands, and the Humber River. In the years that followed, the business grew and Jenifer and Sharon were joined by their other two sisters making this a true, family business.
All of the Oceah Oceah instructors are Paddle Canada Certified SUP instructors. The paddle yoga classes are taught by Yoga Alliance Certified teachers.
We met Jenifer at Budapest Beach, where Oceah Oceah is run from a small white school bus decorated with colorful paintings and a tiki-style umbrella. The boys were immediately captured by the infectious passion and enthusiasm that these sisters have for SUP and the open water.
After a quick introduction to our boards, we made our way out to the waters of Sunnyside Beach for the shoreline paddle to the Humber River. Although Oceah Oceah offers a wide variety of amazing SUP experiences in Toronto, including paddles out to Toronto Island, SUP Yoga classes, and even sunset socials, the Humber River paddle holds a special place in the heart of the company founders.
It can be said that the Humber River is the reason Toronto exists. This waterway was a vital trade route for Indigenous people before the arrival of European settlers. It was first used by the Wyandot People, followed by the Iroquois before finally being settled by the Mississaugas. When the area that is now Toronto was Fort Rouillé back in the early 1700s, the river was a key portion of the "Toronto Carrying-Place Trail," which ran from Lake Ontario up the Humber River to Lake Simcoe.
As we paddled towards the ultra-modern Humber River Bridge, it was hard to imagine the sprawling nature that once surrounded Lake Ontario and the Humber River. The region, now surrounded by towering condos and the roaring Gardiner Expressway, seems as far from natural beauty as is possible.
Jenifer could see the surprise in my eyes. The mouth of the Humber is a beautiful place to paddle in Toronto, but it's far from the peaceful surroundings of other Ontario lakes and rivers that I've been fortunate enough to paddle in. She looked at me and called across the water, "Just wait till we pass the bridges."
Sure enough, as we passed under the Humber, things changed dramatically. The roar of the highway became louder. The steel and concrete jungle crept in, offset only by the colorful graffiti covering the pillars holding up the Gardiner.
The echoes of our voices as we called to each other across the roar of truck tires on metal grates bounced back at us, adding to the noise.
And when we came out from beneath the opposite side of the highway, all the noise stopped.
In front of us was a sea of reeds, water, and trees. Within moments of crossing out from this series of bridges, it was as if we had entered any one of the gorgeous river systems in Northern Ontario.
We were surrounded by the city, but there was nothing but wilderness on three sides of us. Great Blue Herons perched in the shallows. Hawks swooped down to catch fish from the clear waters, and turtles basked in the sunshine on fallen logs and rocks. It was hard to believe that we were still in Toronto's downtown core.
Jenifer paddled up beside me and whispered to me across the sound of the rustling reeds, "this is why this is one of my favorite places to paddle."
In this oasis of calm within the din of the city, I understood what drew so many early people to what is now the Toronto region. A paddle up the Humber River is like stepping into another world. Jenifer told me the story struggles of a team of young First Nations sisters of modest beginnings starting up a successful business in Toronto. It was something that they succeeded in through passion, perseverance, and determination. I couldn't help but see the connection to the stamina and grit that it took to trade along this historic route. The People who paddled this route, centuries before me, paved the way for the birth of one of the world's greatest cities.
Are you interested in one of the stand-up paddleboard experiences on offer from Oceah Oceah? You can check out their website here.
Day 4: Artwork, Dancing And Canoe Rides In Ottawa
There are so many incredible destinations that could be included in an Indigenous road trip through Ontario. Manitoulin Island, Thunder Bay, and Sault Ste. Marie are just a few of the places in Ontario where First Nations culture stands rich and proud. With only three days to fill with Ontario Indigenous Experiences, we wanted to see firsthand how Canada's capital shared the stories of those who had called the country home long before my ancestors ever arrived.
Seeing Ottawa's Monuments Through A New Lens With Indigenous Walks
We met Indigenous Walks founder Jaime Morse at the Monument of Human Rights on Elgin St. I was prepared for a long wander through the city where a textbook-educated guide droned on about the history of the blah monument and the story of it's blah blah blah.
I was so wrong.
Jaime's tour, which focused on Indigenous representation among the monuments in our Nation's capital, impacted us profoundly. When it was finished, my family immediately launched into an in-depth discussion about all that we had learned. We chatted about how the tour changed our perspective on art, especially on how the hidden politics of monuments can shape a country's view of their history.
Now, you might think, how much can a six and nine-year-old gain from topics as deep as the positioning of the Monument to Aboriginal Warriors directly across from a theatre named for the man who signed off on Canada's horrible residential school system?
Well, it turns out that it's far more than I gave them credit for.
The boys had just read the story of Tom Longboat, the famed Onondaga Six Nations distance runner. They learned of his accomplishments and his struggles escaping the residential school that he was forced into. And they had questions. Some of them were deeper, and far more meaningful than ones that I could have come up with myself.
When we walked past the Canadian Sports Hall of Fame and learned that there wasn't a single Indigenous Person represented in the museum, those questions came flooding out. "Not even Tom Longboat?" "But he was a Canadian hero wasn't he?" "Your people were here first, why don't you get to decide who is celebrated?"
Jaime's expertise was mind-blowing. Her ability to reach deep into the artwork to identify and decipher their hidden meaning and metaphors was staggering. But even more impressive is her ability to take that knowledge and translate it into a language that even a six-year-old can understand and draw value from.
Indigenous Walks in Ottawa are now among our must-do experiences in Ottawa. We learned so much in a short time, and Jaime is an absolute treat to spend time with.
In fact, the following day, when we wandered through the Abadakone Indigenous art exhibit at the National Gallery of Canada in Ottawa, we were lucky to find Jaime working there. She graciously toured us through the exhibits and helped us see the shows in an entirely new light.
You can connect with Indigenous Walks for your own walking tour of the art and monuments around Ottawa, you can connect with them here.
Voyageur Canoe Rides And Pow Wow Dancing With Indigenous Experiences
We wandered down to the Ottawa locks and took the water taxi across the Ottawa River to the shores of Gatineau, Quebec, and the Canadian Museum of History. It was here where we would enjoy our final experience on our Ontario Indigenous road trip. The Canadian Signature Experience Indigenous Experiences.
Indigenous Experiences was started back in 2002 to offer authentic programs that reflect and respect the many Indigenous cultures and communities located across Canada. The staff at Indigenous Experiences represent the diverse Nations that make up the many Aboriginal cultures living in Canada.
Indigenous Experiences activities include craftworks, bannock making, drum workshops, and more. But the absolute highlight of Ottawa's Indigenous Experiences collection is the traditional dancing and Aboriginal Voyageur canoe ride.
For the Aboriginal Voyageur Canoe, we were met at the dock by a traditional Upper Canada Voyageur. These epic adventurers would shuttle furs and goods between Ottawa and Montreal along treacherous canoe routes. The voyageurs relied on the expertise from First Nations people to navigate and survive the long and arduous journeys between the two cities.
The stories of voyageur life were thrilling. And as we piled into the massive Montreal canoe, it was easy to imagine this job's appeal for young men in Upper Canada. We learned that those brave enough to take on this job were paid the equivalent of a surgeon's salary. With our earlier experience city rafting on the Ottawa River with kids we all asked where we could sign up!
The views of the parliament buildings from the water were phenomenal. Although these canoes weigh in the neighborhood of 500 lbs (227 kg) or more, we skimmed across the water like we were floating on air. Of course, we weren't laden down with hundreds of pounds of gear and fur, which might have skewed our judgment just a bit.
The icing on our Indigenous road trip through Ontario was the traditional dancing segment of Indigenous Experiences. We had recently enjoyed a First Nations pow wow in Wendake Quebec and fell in love with the regalia, music, and performances. We were given a tour of traditional crafts and buildings, including wigwams and a longhouse, before entering a pagoda for a welcome song and traditional dances.
Even though Indigenous Experiences is operating with a limited selection of programs, they are looking to open up even more activities soon. The Voyageur canoe ride is one of the attractions that you might want to call ahead to ensure that it's on offer when you visit.
Even with COVID safety measures in place, the joy and excitement of watching First Nations dancers in full regalia were absolutely wonderful. I truly appreciated the descriptions of the dances that helped share the meanings and movements. And the stories behind how First Nations cultures were able to keep their traditions alive during times of oppression was genuinely remarkable and empowering. As we see a surge of Indigenous tourism experiences across Ontario and Canada, these stories showcase how amazing Indigenous tourism experiences in Canada genuinely are and why everyone should take time to experience them.
If you're interested in taking part in the Indigenous Experiences yourself, you can check out their offerings here.
Our Indigenous Road Trip Video
Inspired to plan an Indigenous road trip through Ontario for yourself? You can get more inspiration from our Indigenous road trip YouTube video. Don't forget to like and subscribe if you want to see more fun and inspiring family travel content.
Plan Your Own Indigenous Roadtrip In Ontario
Over the past decade, Indigenous tourism operations in Ontario have been popping up steadily. While the six experiences from our Indigenous road trip through Ontario highlight some must-do attractions, there are many more Indigenous experiences in Ontario to explore.
To help you plan your own Indigenous road trip in Ontario, here are a few experiences you may want to check out.
Manitoulin Island
Manitoulin Island is home to six Anishinaabe First Nations communities. This beautiful island is a truly special place. Check out the World's largest pow wow drum, peace pipe, and dreamcatcher in Sheshegwaning or spend the night at the Manitoulin Hotel and Conference Centre in Little Current. And don't forget to make a visit to the Ojibwe Cultural Foundation in M'Chigeeng.
Point Grondine Park
Point Grondine Park is a new park system located right beside the picturesque Killarney Provincial Park. This park is entirely Indigenous-run and features epic hiking trails and canoe routes. Point Grondine Park is undergoing some massive renovations that will soon see glamping and guided experiences on offer.
Thunder Bay
Fort Williams Historical Site near Thunder Bay is one of the largest Indigenous-run historical parks in Canada. It explores the history of the Northwest Company and the growth of the Canadian Fur Trade.
Pow Wows
Pow wows are a massive part of First Nations culture in Canada. If you've never been to a pow-wow before, they are among the most fun, welcoming, and immersive First Nations celebrations you can imagine. Communities across Ontario host pow-wows every year. You can learn more about attending pow wows in Ontario here.
Have you ever experienced an Indigenous road trip in Ontario? Drop a comment below to tell us about your experience. Or tag our Instagram account in your photos. We would love to share in your travel
Disclosure: We partnered with Destination Indigenous to showcase these Indigenous attractions in Ontario. As always, our opinions remain our own. Wandering Wagars is a participant in the Amazon Services LLC Associates Program, an affiliate advertising program designed to provide a means for sites to earn advertising fees by advertising and linking to amazon.com, amazon.co.uk, amazon.ca. Amazon and the Amazon logo are trademarks of Amazon.com, Inc. or its affiliates.
You May Also Like To Read:
Pin This For Later: