These amazing things to do in Thunder Bay will let you experience a new side of Northern Ontario. These Thunder Bay attractions are a blast!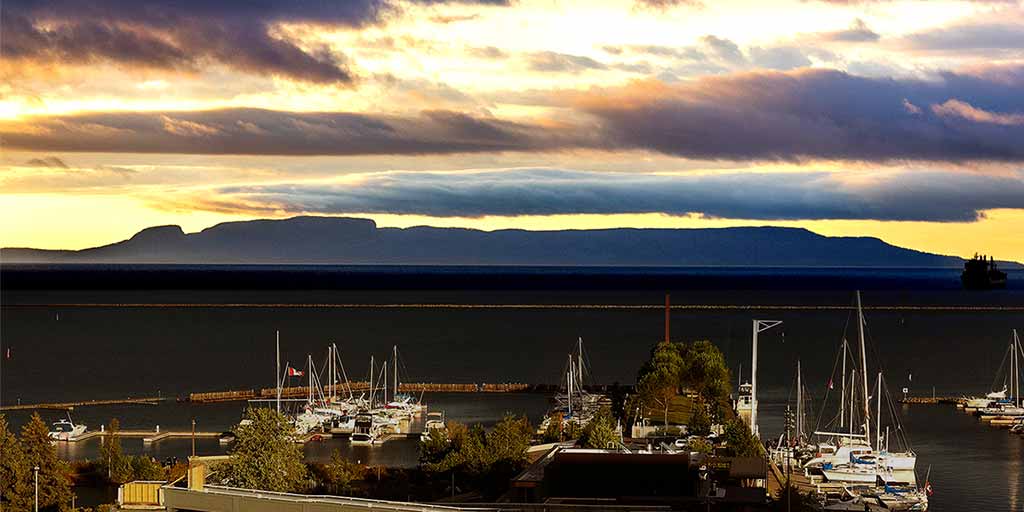 The city of Thunder Bay, Ontario is often looked at as the far north of Ontario. Separated by the province's most populous cities by some of the world's largest lakes, getting to Thunder Bay from areas such as Toronto and Ottawa is an undertaking, to say the least. This area of the province has, hands-down, some of the most beautiful landscape in Ontario, and even holds its own among the most awe-inspiring places in Canada. And there are so many amazing things to do in Thunder Bay, that making the journey is becoming increasingly popular for families from Ontario, Quebec, and Manitoba.
But getting to Thunder Bay might not be as challenging as many people think. These days, smaller airlines such as Porter offer service to Thunder Bay that has transformed the city into a destination suitable for day trips or long-weekend getaways from many major cities in central Canada.
And while the breathtaking road trip to Thunder Bay is something that must be experienced to be appreciated, just being in Thunder Bay and drinking in the views of Lake Superior and the mammoth Sleeping Giant make a trip to Thunder Bay a worthy getaway. Once you're there, the amazing activities, beautiful nature, mouthwatering food, and unique history will make it hard not to fall in love with Ontario's jewel of the north.
Travel in Thunder Bay is open for business, even during these difficult times. Sure, some attractions might be closed or modified to keep everyone safe. But these amazing experiences and more are waiting for you right now.
Tip: If you're doing a road trip to Thunder Bay, you can check out our Sault Ste Marie to Thunder Bay driving guide here.
The Best Things To Do In Thunder Bay, Ontario
Thunder Bay is the largest city in Northern Ontario. This city is ripe with industrial history from mining to farming. Thunder Bay has a history of hard-living and a raw, frontier-like attitude. But the city is aging like a fine wine. And with an influx of fine-dining, novel attractions, and a waterfront that can compete with most cities in the province, Thunder Bay is welcoming visitors at a higher pace than ever before.
So, whether you're doing the Lake Superior circle tour up from Pukaskwa National Park, or exploring Thunder Bay over a few days, we're here to help you plan your northern Ontario travels. Here are my favorite things to do in Thunder Bay, Ontario.
Ride The Wind On A Lake Superior Sailing Adventure
It's hard not to be tempted by the brilliant blue gleam of Lake Superior. This lake is massive. The largest freshwater lake by surface area in the world. In fact, Lake Superior is SO big that it contains as much water as all the other Great Lakes combined, PLUS three additional Lake Eries. So it's easy to understand why boating is such a popular pastime in Thunder Bay.
One of the best ways to introduce yourself to Thunder Bay is by experiencing it from the water. And the best way to do that is with a sailing adventure with Sail Superior. This local company has a collection of boats for everything from short trips to multi-day sailing excursions. You can even get dropped off at Sleeping Giant to do the Top of the Giant hike and be picked up for a sunset tour back to the marina. Your Thunder Bay sailing experience captained by one of their experienced crew or charter a boat for your own Lake Superior sailing experience.
We enjoyed the beautiful scenery of the Sleeping Giant and the Welcome Island Lighthouse on our harbor tour. The wind was really moving, so our Thunder Bay harbor sail had us hitting near-record speeds on our sailboat. The ride was thrilling and gorgeous, and the captain, an experienced racer, kept us safe and informed on the entire journey. If you're looking for what to do in Thunder Bay, definitely consider a sailing trip on Lake Superior with Sail Superior. You can check out their tours here.
Wander The Thunder Bay Waterfront and Marina
The Thunder Bay waterfront is the social hub of Thunder Bay. Dotted with cafes, restaurants, and hotels, the marina and waterfront offer the best views in the city. As we wandered the flower-lined paths, the popularity of this beautiful park was apparent. Wedding photographers snapped photos of new couples, children played on the refinished antique canons, and families strolled across the cobblestone bridge.
If you're looking for things to do in Thunder Bay on a bright and sunny day, this is one place that should be near the top of your list. Our kids especially loved the Tai Chi garden and watching all of the boats coming in and out of the marina. And there was also a beautiful moongate that brought back great memories of our time in Bermuda.
Due to some ongoing construction, the waterfront requires a bit of navigation to access, but there are trails near the McDonalds and along the train track. There is a pedestrian footbridge that is under repair, and that should greatly improve access when it's finished.
Explore History At The Thunder Bay Museum
Thunder Bay has some amazing history. From the wild prohibition stories that come from the Prince Arthur Hotel to the unbelievable shipwrecks and wild industrial ingenuity of the city's early years. Luckily the Thunder Bay Museum is on hand to showcase the fascinating stories behind the growth of the city.
Visitors of all ages will love this small and accessible museum. The exhibits showcase the important accomplishments of locals and the stories behind them. And, of course, there is Albert the Albertasaurus waiting for a visit on the second floor. Definitely make time for this great attraction. It was one of our favorite places to visit in Thunder Bay. You can check out the current hours of the Thunder Bay Museum here.
Have A Waterfall Picnic At Cascades Conservation Area
From Pigeon River to Aguasabon, there is no lack of incredible waterfalls near Thunder Bay. But an often-overlooked waterfall destination is right on the edge of the city itself. Cascades Conservation Area is a beautiful spot to experience the magnificent stone of the Canadian Shield while climbing alongside a series of small waterfalls.
Cascades Provincial Park is just a short drive from the waterfront. And the easy hiking trails make it a popular outdoor getaway for both locals and visitors alike. Do make sure to bring good running shoes with rubber tread. The rocks, especially those along the waterfalls themselves, can be slippery.
Learn The Fur Trade At Fort William Historic Park
We were fresh off of our Indigenous road trip through Ontario when we visited Thunder Bay, so we wanted to make sure to take in some of the rich Indigenous heritage that this area boasts. One of the best places to learn about First Nations in Ontario is at the Fort William Historic Site, which tells the story, from a European perspective, of the growth and struggles of the Northwest Trading Company and its partners during the fur trade that helped to shape what would become Canada.
Here you can wander through the recreation of a Northwest Trading company fur trade post. If you've been intrigued by our visit to Lower Fort Garry in Manitoba or Upper Canada Village near the Thousand Islands, you'll love Fort William. It really focuses on the important role that First Nations people played in the fur trade, which is a narrative that is often missed in 'living history' experiences.
From learning the difference between a teepee and a wigwam while learning from locals dressed in period costume. Explore the trading post, the First Nations village, and even the local farm. But make sure to save time for the fun and informative displays at the visitor center. You can check out the hours and availability of Fort William Historical Park here.
Pay Tribute To Canadian Legend Terry Fox
Terry Fox is a man who the world, as a whole, owes a giant debt to. Stricken with cancer as a teenager that required the amputation of one of his legs, Fox set out on a cross-Canada run to raise funds for cancer research and awareness. This brave man ran a marathon a day from St. John's Newfoundland until he was forced to stop just outside of Thunder Bay. It was here that he learned that the disease had reached his lungs and returned home to British Columbia to live out his final days.
In the 30 years since his death, children across the country have raised funds and participated in the Terry Fox Run at their schools. This ongoing event has become one of the largest fundraising events for cancer research in the world. The monument to Terry Fox is just off of HWY 17 in Shuniah. It offers sweeping views of Lake Superior.
Take In The Views From The Tallest Point In Ontario
Mount McKay in the First Nations community of Fort William boasts the highest point in all of Ontario. This massive sill is part of the Nor'Wester Mountains. A visit to Mount McKay should be on everyone's list of places to visit in Thunder Bay. The incredible views of Sleeping Giant alone make it worth the small entrance fee.
The entrance fee for Mount McKay gives you access to the pow wow grounds and the Thunder Bay lookout about three-quarters of the way up the mountain. If you'd like to continue up to the Mount McKay summit, there are hiking trails that take you along the cliffs to the very top.
Experience Some of The Mouthwatering Flavors Of Thunder Bay
One of the best things to do in any city is to experience local delicacies. Thunder Bay is surrounded by dairy farms, so it's no surprise that this northern city offers some of the freshest and most delicious dairy products in the province. Here are a few of my favorite stops in the icty.
Thunder Oak Cheese Farm
Boasting deep Dutch heritage, this local cheese farm is the first farm in Ontario to produce gouda cheese. Run by the Schep Family, their new showroom has a revolving door of visitors looking to stock up on the delicious, creamy, gouda that has made Thunder Oak so famous. You can check out their hours here.
Chocolate Cow
This small, local confectioner serves up hand-crafted chocolate treats that are guaranteed to put a smile on your face. Currently, the Chocolate Cow showroom is closed, but you can pick up their products at Thunder Oak Cheese Farm.
Slate River Dairy
For what has been touted as the best chocolate milk in Ontario, you should make a visit to Slate River Dairy on Hwy 608. You can't get milk any fresher than straight from the dairy. And it's a glass of the fresh stuff is a perfect combination for your gouda cheese and chocolate.
What To Do Near Thunder Bay
The fun doesn't stop at the borders of the Thunder Bay. There are plenty of things to do near Thunder Bay that are worth extending your visit for. From the Sleeping Giant to one of Canada's greatest heroes, here are some of the best things to do near Thunder Bay, Ontario.
Hike and Camp At Sleeping Giant Provincial Park
We have experienced over 40 provincial parks and every national park in Ontario. And Sleeping Giant stands out from all of the others. From the surreal landscapes to mind-blowing history, Sleeping Giant offers a new adventure around every corner. Whether you want to take in the epic views of the legendary Top of the Giant hike or just camp under the stars and enjoy some of the lighter hikes such as the Sea Lion or Jones Creek, Sleeping Giant truly has something for everyone.
Sleeping Giant Provincial Park is about one hour from downtown TBay. And it's honestly a must-visit for those searching for things to do in Thunder Bay.
Drink In The View Of Kakabaka Falls Provincial Park
Kakabaka Falls truly stands out as one of the most magnificent waterfalls in Ontario. At 40 meters (131 ft), Kakabaka is the second-highest waterfall in Ontario with year-round access. The waterfall also sits on a historic voyageur access route. There are hiking trails that allow you to walk in the footsteps of these legendary tradespeople. Camping is available at Kakabaka Falls from June to October. And the park is open for day-use year-round.
Fly Down The Loch Lomond Ski Hill
Thunder Bay is a year-round destination. And for those visiting Thunder Bay in winter, a day out at Loch Lomond Ski Area is worth your time. This is one of the northernmost ski hills in Ontario. There are three ski-lifts and a great selection of hills from beginner to black diamond. You can check out the hours of Loch Lomond Ski Area here.
Dig For Gems At An Amethyst Mine
The area around Thunder Bay is famous for its incredible geological history. A result of much of the tectonic and volcanic activity has been the emergence of fabulous veins of amethyst east of the city. There are a number of great amethyst mines to explore including Diamond Willow and Purple Haze. But, if you want to learn a little more about amethyst and the history of the gems in Thunder Bay, check out Amethyst Mine Panorama.
This spot is great for kids and has an excellent yard for digging for your own gems. It offered a wonderful flashback to our time in San Ignacio, Argentina when we had fun exploring a very different amethyst mine. Amethyst Mine Panorama is about an hour from downtown Thunder Bay. You can check out their website here.
Hike To Dorion Tower and the Pinnacles
When I first saw photos of Dorion Tower near Thunder Bay, it blew my mind. How could this crazy black pinnacle jutting up over the forest floor even exist! So when we visited Thunder Bay, we made sure to make the hike out to the Pinnacles to check it out for ourselves. The hike, which is located near a cell station not far from Eagle Canyon, is a bit of a challenge to get to. I definitely recommend using a high-clearance vehicle if you plan to visit.
The hike, which takes about 20 minutes, brings you to a cliff overlooking a magnificent valley. It's on-par with many of the great viewpoints in Thunder Bay and worth the visit for that alone. If you'd like to get to the base of Dorion tower, you'll need to follow an additional trail down to the bottom of the cliff which takes about another 20 minutes. It's a challenging climb, so be prepared.
Bounce Along Canada's Longest Suspension Bridge at Eagle Canyon Adventures
Eagle Canyon, which is about an hour east of Thunder Bay, is home to two suspension bridges that criss-cross the canyon. Visitors can take in the views of the canyon and enjoy the pretty hiking trails both above and below the canyon rim. For those with mobility issues, there are shuttles that run to various areas of the park.
Eagle Canyon is privately-owned and there is a $20 entrance fee for adults and $10 for children. You can check out their hours here.
Gaze Over The Immense Ouimet Canyon
If you're looking for mind-blowing canyon views but don't mind skipping the suspension bridge, a visit to nearby Ouimet Canyon Provincial Park is definitely worth the visit. There are accessible trails that lead down towards the Ouimet Canyon rim. And once you arrive you'll be greeted with outstanding views of Ouimet Canyon and beyond.
The canyon is a unique geological area as well. The bottom often holds ice and snow until mid-summer, and because of this, many of the plants that grow at the base are similar to those in the sub-Arctic tundra near Churchill Manitoba.
Visiting Thunder Bay With Kids
Thunder Bay is an amazing destination to visit with kids. There are countless opportunities to get out and explore nature and some of Ontario's most fabulous scenery. Even in the city itself, Thunder Bay has some great attractions for kids. The waterfront is spectacular, and many kids will be right at home checking out the incredible free skate/BMX park that is booming with activity until the sun sets.
When we visited Thunder Bay with kids, we took part in everything that you see above. All of these amazing things to do in Thunder Bay are kid-appropriate. And our boys had an absolute blast in the city. The food, especially was fantastic, so I'll get to that next.
Where To Eat In Thunder Bay
Thunder Bay has become quite a foodie destination. Many locals are traveling outside of the city to train with world-renowned chefs before returning to their hometowns with expertise and experience. And although one of the city's most popular, Hoito, was forced to close due to COVID-19, there are still loads of great places to eat in Thunder Bay.
There are even a few Thunder Bay specialties that must be tried by anyone visiting Thunder Bay for the first time.
Wrap Your Mouth Around A Persian
I have no idea how these tasty pastries got their name, but Persians are something of a phenomenon around Thunder Bay. A Persian is somewhere between a cinnamon bun and a donut. They have the pastry of an unseasoned cinnamon bun, but are topped with a light berry frosting. And they are absolutely delicious. This tasty treat was a creation of the Persian Man bakery, but can now be found at a few places around the city.
Enjoy Some Finnish Pancakes
Finnish immigrants were a huge part of the growth of Thunder Bay. When the town was first being established, locals didn't understand the nuances of logging in this northern environment. Much land was set aside for Finnish loggers to move in and lend their expertise to the region. This resulted in a microcosm of Finnish culture within the city. In fact, Thunder Bay has the largest concentration of Finnish people outside of Finland.
After our visit to Finland the year before, we had to take the time to enjoy some of the Finnish pancakes that have become a staple within Thunder Bay. Hoito, the original restaurant favored by critics was closed due to the pandemic, but there are several restaurants including Station Two and Kangas Sauna where you can indulge in these delicious flapjacks.
Hit Some Locally-Sourced Delicacy
Even the best restaurants in Thunder Bay serve food fit for active people. Caribou, one of Thunder Bay's best restaurants features locally-sourced, seasonal menus. You'll find tasty dishes such as cedar plank salmon, blue ahi tuna, and Angus beef alongside local favorites such as Finnish pancakes and pizza.
Other Great Thunder Bay Restaurants
You won't have to travel far to get great food in Thunder Bay. For breakfast, check out Rooster's Bistro for one of their famous salmon eggs benny. Red Lion Bistro serves up slow-cooked bbq fare. For a real treat share one of their meat-heavy sharing platters with one (or more) of your friends. If you're enjoying the waterfront, don't miss the delicious Bight restaurant. Their homemade ketchup alone is worth the visit.
If you have a sweet tooth, don't miss out on some of the best gelatos in Ontario at Prime. The unique handmade gelato is served up in a selection of delicious flavours. Don't let the line dissuade you. It's worth it.
Our What To Do In Thunder Bay Video
Wondering if these photos just show Thunder Bay in the best light? I assure you that Thunder Bay and the area surrounding it is even more beautiful in person. Check out our Thunder Bay video to see even more amazing things to do in Thunder Bay, Ontario.
Best Hotels In Thunder Bay
If you're looking for great places to stay in Thunder Bay, you won't be disappointed. Whether you're looking for luxury, accessibility, or great views, you'll find loads of Thunder Bay hotels that fit the bill. Here are a few of my top picks.
Prince Arthur Waterfront Hotel
The Prince Arthur Hotel stands out as a bit of a Thunder Bay legend. This waterfront hotel has a monumental history that includes being won in a poker game, being where the famous Canadian Remembrance Day poppy was brought to life, having a sneaky underground tunnel to deliver alcohol to the United States during prohibition, and being the accommodation of choice for the Royal Family during their visits to the city.
The Prince Arthur has big, beautiful, comfy rooms, and a fantastic staff who will gladly walk you through some of the, often unbelievable, stories of the hotel's history. You can check out their pricing and availability here.
The Courthouse Hotel
Another great heritage building in Thunder Bay is the city's original courthouse. This historic building has been transformed into a hotel that has all the glory, and far more comfort than the original. The Courthouse Hotel is centrally located near downtown and Lakehead University. You can even upgrade to a jacuzzi suite if you're looking for a little more luxury. You can check out their pricing and availability here.
Delta Hotel By Marriott
It doesn't get any closer to the Thunder Bay waterfront than the Delta Hotel by Marriott. With an on-site restaurant, free WiFi, and amazing views of the Giant, the Delta Hotel has one of the best locations in all of Thunder Bay. You can check out their pricing and availability here.
Have you ever visited Thunder Bay, Ontario? Drop a comment below to tell us about your favorite things to do. Or tag our Instagram account in your photos. We would love to share in your travels.
Disclosure: We partnered with Visit Thunder Bay to showcase these Indigenous attractions in Ontario. As always, our opinions remain our own. Wandering Wagars is a participant in the Amazon Services LLC Associates Program, an affiliate advertising program designed to provide a means for sites to earn advertising fees by advertising and linking to amazon.com, amazon.co.uk, amazon.ca. Amazon and the Amazon logo are trademarks of Amazon.com, Inc. or its affiliates.
You May Also Like To Read:
Pin This For Later: