Sleeping Giant Provincial Park near Thunder Bay, Ontario, is blessed with a magical story and some of the best views in Ontario.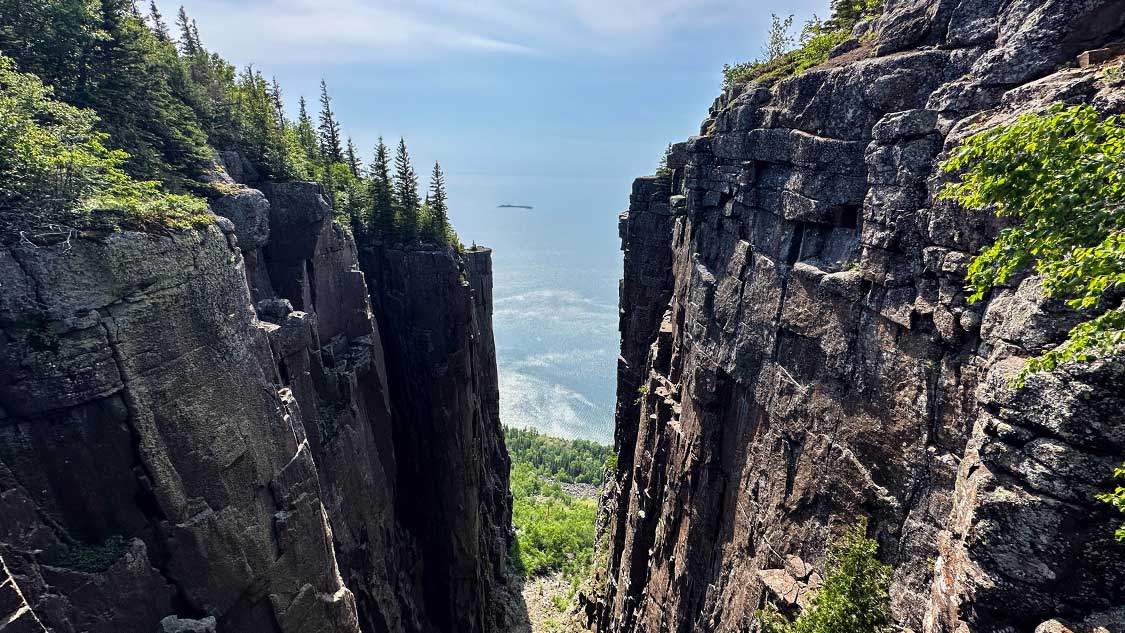 Situated on a jaw-dropping peninsula jutting out into the clear blue waters of Lake Superior sits one of Ontario's most epic provincial parks.
Towering 300 meters (1,000 feet) above one of the world's largest lakes, Sleeping Giant, Thunder Bay offers an imposing presence. The sheer stone cliffs that make up "the giant," as locals often refer to it, are home to the tallest vertical drop in Ontario and some of the province's most unforgettable scenery.
Beyond its spectacular scenery, Sleeping Giant Provincial Park also hides a vast array of incredible history, hikes, waterfalls, and excellent camping.
This Sleeping Giant Provincial Park guide will help you get to know this northern Ontario gem. I'll show you all of the best things to do in Thunder Bay's Sleeping Giant, where to find the best hikes, and how to plan your visit so that you don't miss anything.
If you're visiting the park as a side trip from the city, you can find our complete guide to visiting Thunder Bay here. It includes an amazing list of attractions near the park that add to the experience.
The Legend of Sleeping Giant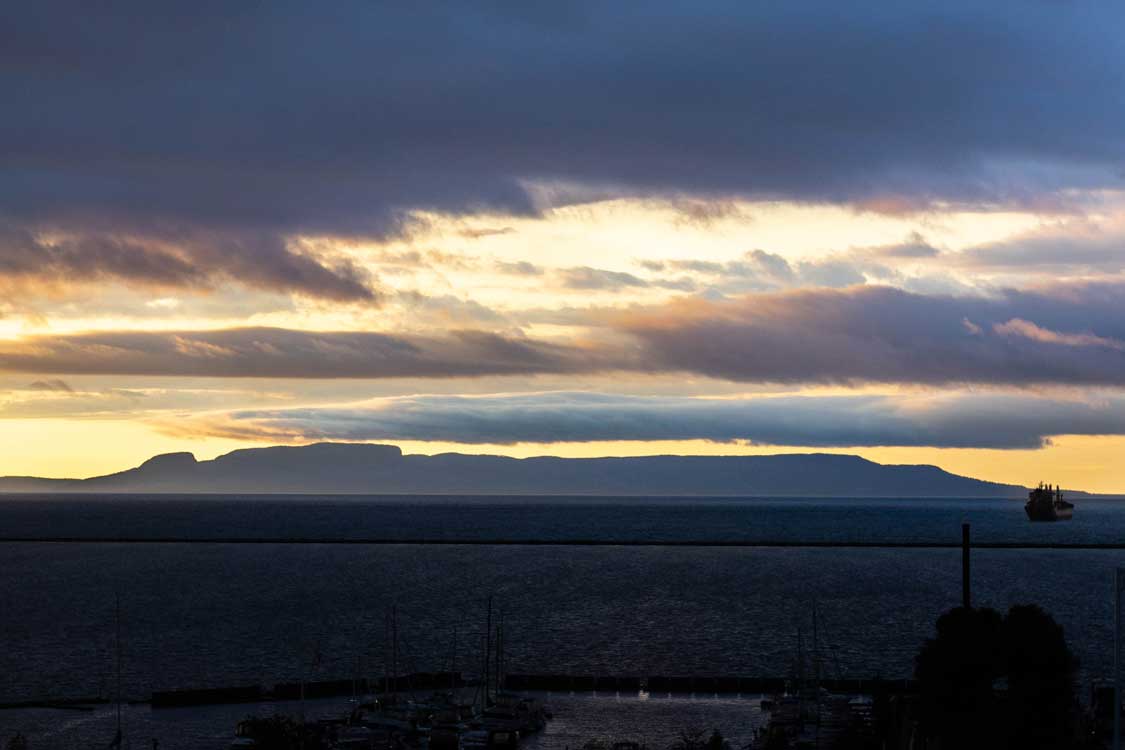 To understand Sleeping Giant Provincial Park, it's important to understand the story behind the distinctive rock formation that led to its name.
If you're gazing out at the park from across the waters of Lake Superior from Thunder Bay, it's impossible not to see the similarities. The towering cliffs of this park have the unmistakable appearance of a giant lying at rest.
The tale comes from an Ojibway legend. It tells the tale of Nanabosho, a benevolent God who loved the Ojibwa nations of the Great Lakes region. While he often played tricks on the local people, he would protect them in times of need.
One of those times was when Europeans first arrived on the north shores of Lake Superior. They began setting up a trading post at Fort William and plundering the environment for resources. They brought disease, alcohol, and capitalism to the region.
To help the Ojibway, Nanabosho offered the Indigenous peoples a gift. Silver. He told the Ojibway that the white man must never know of this gift, or Nanabosho would be turned to stone.
The Ojibway people began to mine the silver found on Silver Islet, near what is now Sleeping Giant Provincial Park. They produced finely crafted items that surpassed all of the other Algonquin communities in the area and became the envy of the Sioux nation.
The Sioux attacked the Ojibway people, but the locals refused to give up the secret of Nanabosho. The Sioux would not give up, and sent a spy into the Ojibway camp, who discovered the secret and stole a piece of silver before he left.
On return to camp, the spy stopped at the Fort William trading post. With nothing to use for currency, he traded the piece of silver he had stolen. The Europeans plied the spy with alcohol until he gave up the secrets of the silver mine.
Nanabosho recognized the threat to his beloved people and crafted a massive storm on Lake Superior. Water filled the boats of the Europeans making their way to Silver Islet, and to protect the land and his people, Nanabosho laid down with his arms across his chest and turned to stone, protecting the gift to his people.
Where Is Sleeping Giant Provincial Park?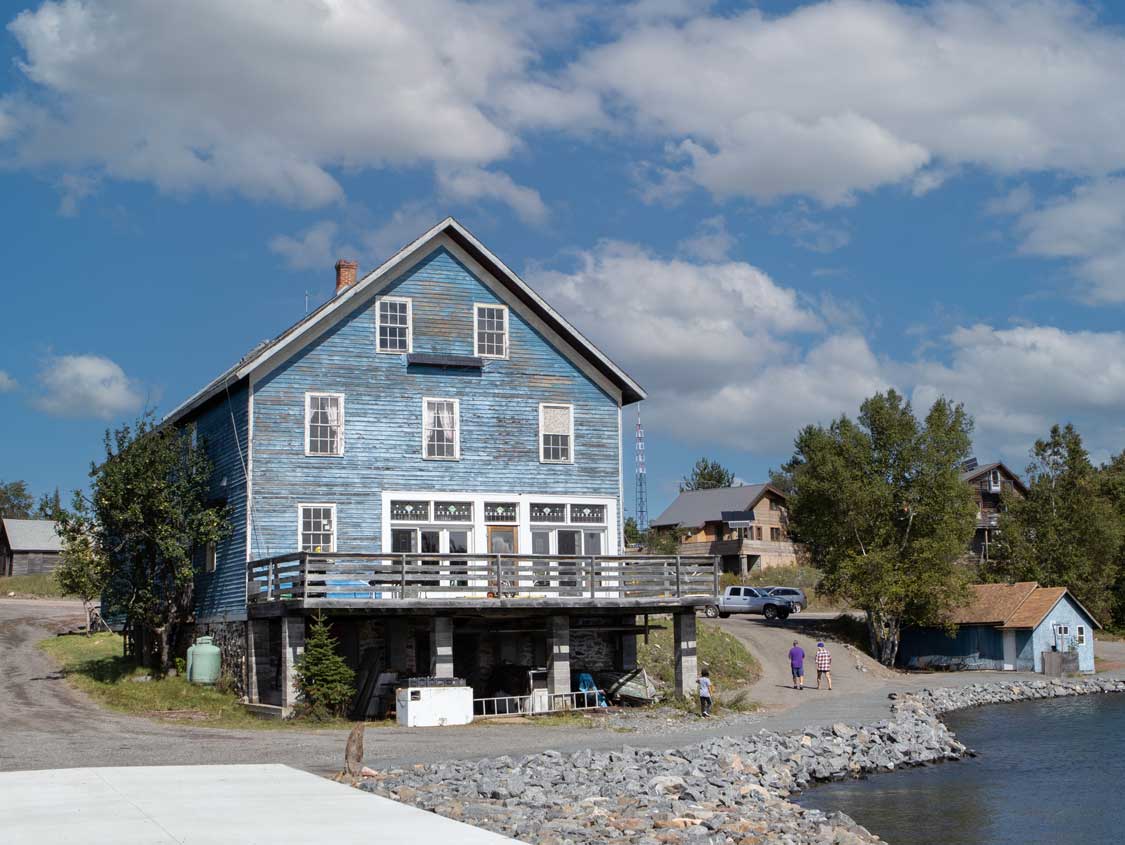 Sleeping Giant Provincial Park is located on the north shore of Lake Superior, about an hour east of the city of Thunder Bay. The park juts out on the Sibley Peninsula, which extends south from the Trans-Canada Highway.
To reach the park, head south from the Trans-Canada Highway (the same route you'd take between Thunder Bay and Sault Ste Marie) and head down HWY 587. You'll pass Pass Lake and the small community of the same name.
You'll actually be in Sleeping Giant for quite a while before reaching the park's visitor center, which is located at Marie Louise Campground, the only front-country camping spot in the park.
Tips For Visiting and Camping at Sleeping Giant Provincial Park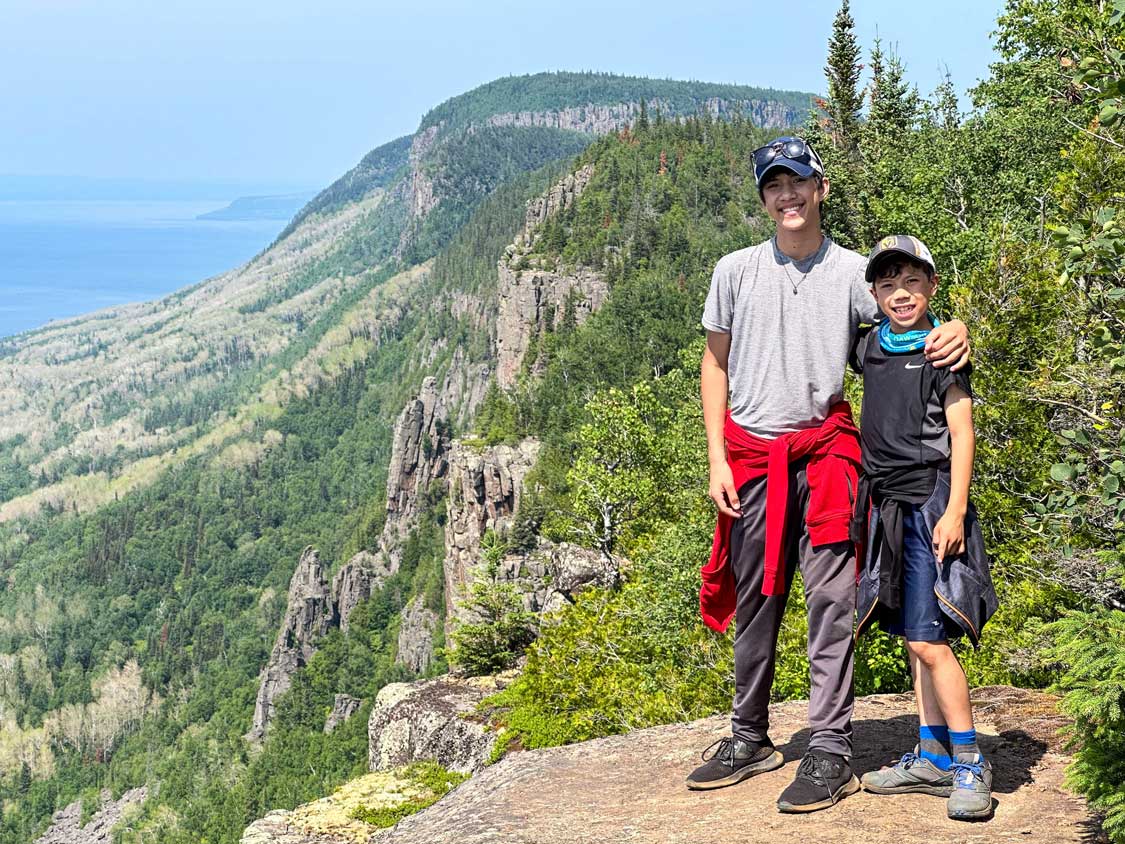 When it comes to breathtaking scenery, Sleeping Giant sits among the top provincial parks in Ontario. In fact, I would say that only Killarney Provincial Park and Lake Superior Provincial Park can compete with Sleeping Giant when it comes to natural beauty.
The park's most famous feature sits at the end of the Top of the Giant Hike, which climbs Nanabosho's chest and looks out over Lake Superior through a 1,000-foot gorge. While many adventurers arrive at the park with the sole purpose of hiking to the Top of the Giant, this park is massive and worth spending a few days exploring.
There's only one campground in Sleeping Giant, so if you're looking at camping in the park, I recommend booking well in advance. It's a popular park, and unlike nearby parks such as Neys Provincial Park and Rainbow Falls, it's unlikely that you'll get a campsite if you wait too long.
The park is also unique in that it has a community that lives just outside of the park's boundaries near the end of the peninsula. The town of Silver Islet was established to support the silver mine that once thrived on the nearby island. Now there are a handful of postcard-perfect cottages and a general store that makes for a wonderful place to visit.
It's always helpful to have a little information you can rely on before heading to Sleeping Giant Thunder Bay. So before we get to the Sleeping Giant Provincial Park Guide, here are a few tips and tricks to help you plan your visit. Before you head out, check out our tips for Ontario Parks camping so that these parks are here to enjoy for generations to come.
Book early – Campsites at Sleeping Giant Provincial Park can sell out, especially on weekends and holidays. You can beat the crowd by booking up to 5-months ahead on the Ontario Provincial Park online booking system. You can access that here.
If you can't get a campsite at Sleeping Giant your next best option is the Whispering Hills campground in Kakabeka Falls Provincial Park which is about an hour and a half west. Alternatively, you may be able to find accommodation in the city of Thunder Bay. You can find some options here.
Book Late – Many Ontario campsites book up early. But many also have last-minute cancellations. If you don't mind last-minute planning, keep checking the Ontario Parks site to see if there are any late openings. Sometimes this is the best way to get a prime site.
Plan for the weather – Watch the weather forecasts before your Sleeping Giant PP camping adventure. And always prepare for the worst. You never know what could happen without warning. Pack camping tarps like this for covering your gear; make sure you use mosquito repellent and sunscreen for all that time on the trails.
Don't move firewood – Those used to camping in central and southern Ontario may not love Ontario Parks wood, but as you move further north, the quality greatly improves. Moving firewood from one destination to another can cause devastation. We saw this first hand in MacGregor Point Provincial Park, where huge swaths of the forest had been cut down due to the Emerald Ash Borer beetle invasion.
Sleeping Giant Provincial Park Camping
Sleeping Giant is an absolutely wonderful place to camp. The park has 200 front-country campsites located in the Marie Louise Lake Campground and 27 backcountry campsites separated into seven distinct zones.
Marie Louise Campground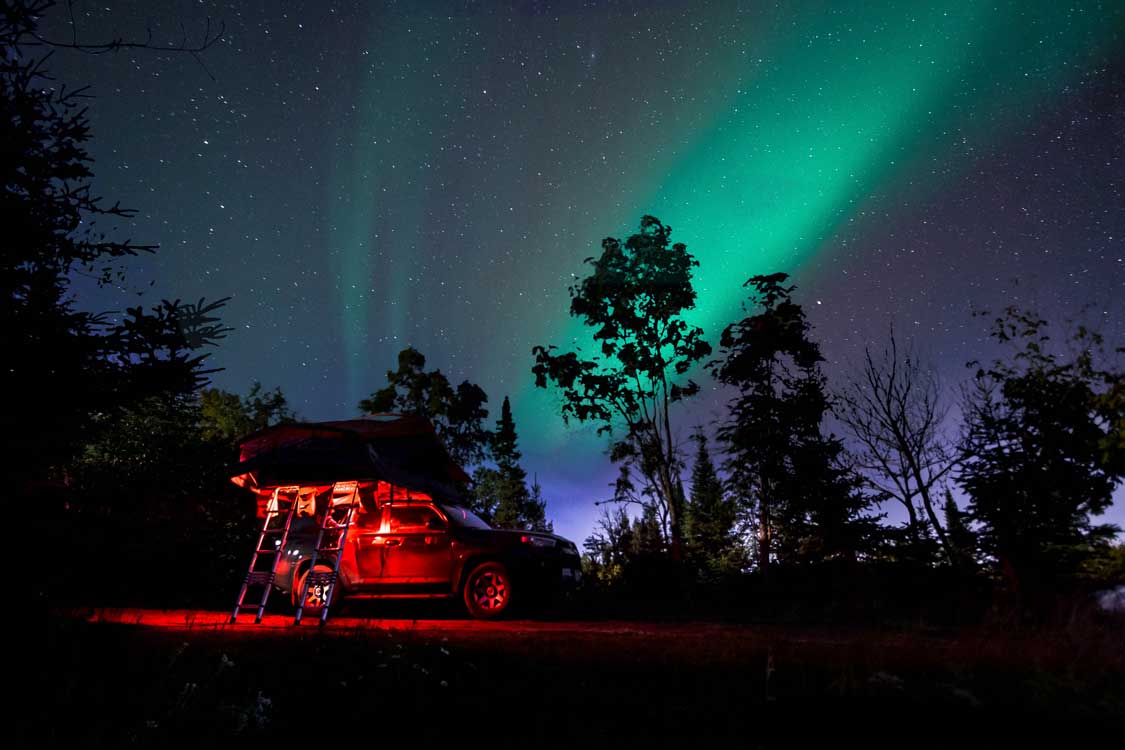 The Marie Louise Lake Campground is the primary place for camping at Thunder Bay's Sleeping Giant park. The campground has 200 campsites, nearly half of which have electrical service.
All of the Sleeping Giant front-country camping sites feature fire pits and picnic tables, and they are all within walking distance of water taps and vault toilets. Some sites are best suited for tents, as they sit at the top of small embankments that may be difficult to reach with a trailer or small RV. Others are very suitable for RVs or large recreational vehicles. These included electrical hookups.
Ten sites on the Marie Louise campground's west shore offer front-country convenience with back-country solitude. These campsites can be driven to, but don't include electricity. But many have excellent waterfront access.
Two group campsites are available at Sleeping Giant. The Small Group Site can accommodate up to 25 people, and the Large Group Site can accommodate up to 50 people.
There are also five Deluxe Cabins at Sleeping Giant Provincial Park. These comfy cabins feature a stove/oven, accessible washrooms, beds, and a refrigerator. The cabins sleep up to six peoe in three rooms. It includes two double beds and one bunk bed. But you'll need to bring your own bedding. Most cabins have a two-night minimum and a three-night minimum on long weekends.
The comfort stations, which include flush toilets and shower facilities, are located near sites #76 and #5E.
Backcountry Camping at Sleeping Giant Provincial Park
Sleeping Giant Provincial Park has 27 backcountry campsites that are separated into seven unique zones. These include Tee Harbour, which has ten campsites, Lehtinen's Bay, which has three campsites, and Sawyer Bay, which also has three campsites.
Backcountry campsites at Sleeping Giant include metal firepits, Thunderboxes (unenclosed outdoor non-flush vault toilets), and access to a shared bear-proof food locker.
The Talus Lake zone, which has three campsites, the Nanabosho zone, which has four campsites, the Twinpine Lake zone, which has four campsites, and the Finlay Bay zone, which has one campsite, all have basic stone-ring fire pits. They also do not have access to toilets or bear-proof food lockers.
Backcountry camping permits are tied to a specific zone rather than a specific campsite. Availability is on a first-come, first-serve basis or can be done up to two-weeks in advance on the park's website.
Sleeping Giant Provincial Park Map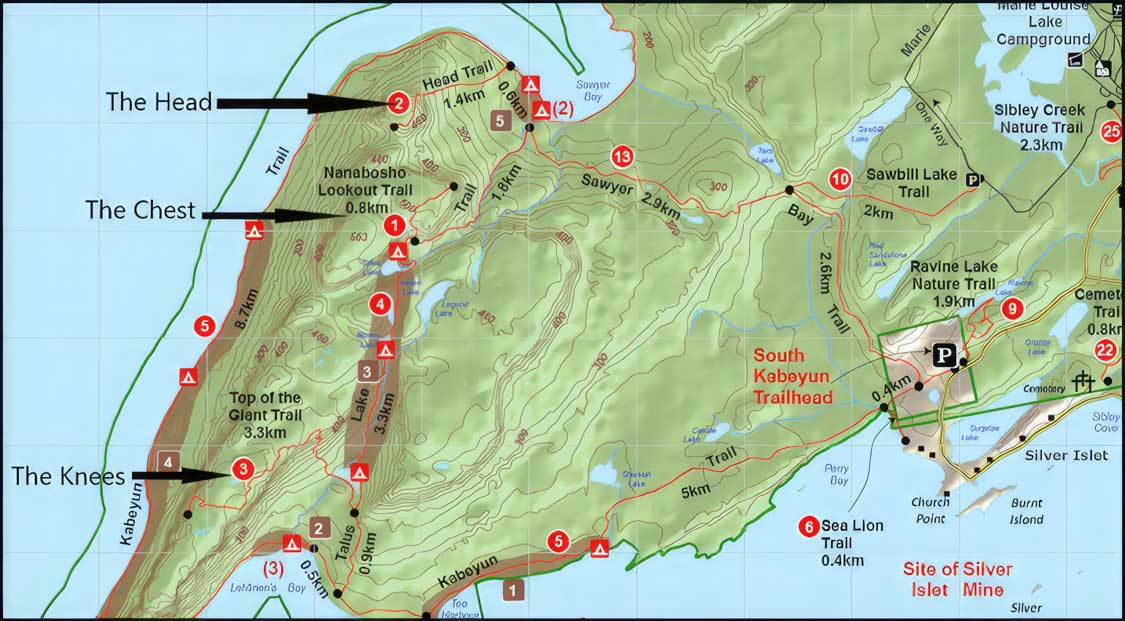 Things to do at Sleeping Giant Provincial Park
Sleeping Giant Provincial Park covers a huge area. If you want to explore all of the amazing things to do in the park, you will need at least a few days. And if you're hoping to tackle the challenging but rewarding Top of the Giant hike, I'd recommend tacking on an extra day just for that.
Whether you're interested in casual exploring or extreme adventure, Sleeping Giant Thunder Bay has you covered. Here are some of the top things to do in the park.
Hiking Sleeping Giant
Hiking at Sleeping Giant runs the gamut of casual to intense. This park has everything you could ask for in a hiking destination. I'll warn you, though, if you're thinking of hiking in June, especially after it rains, bring all the bug gear you can carry. My family did this once, and the mosquitos almost carried us away.
There are more than 100 Km of hiking trails at Sleeping Giant. That's more hikes than I can list in one article, so I'll list my favorite hikes in the park here to get you started. While there are many easy hikes at Sleeping Giant, there are also some very challenging ones. Make sure to have the right footwear before you go.
Top of the Giant
21.8 Km Out and Back – Difficult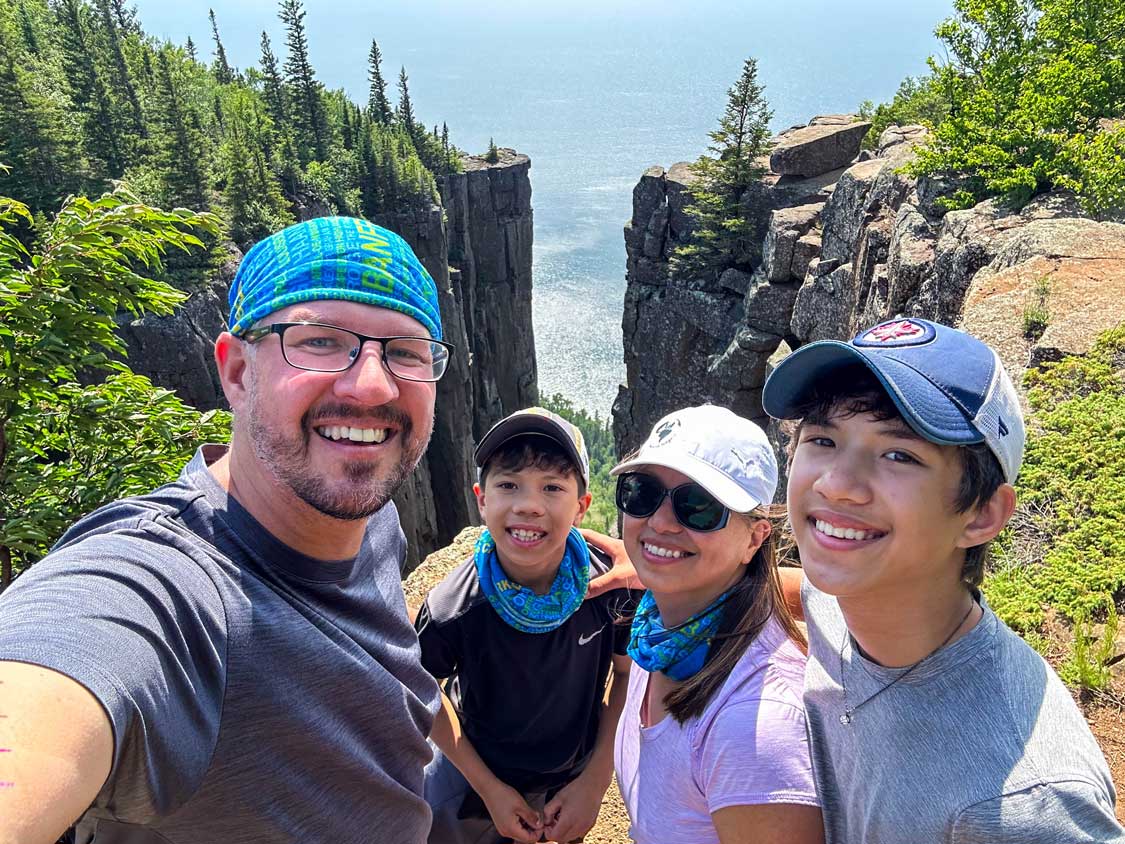 The Top of the Giant hiking trail is what draws many hikers to Sleeping Giant Provincial Park. In fact, my family was scuttled on our first attempt due to a sprained ankle, so we returned just to do it.
This epic 21.8 km route takes off from the South Kabeyun Trailhead. It leads you to what is, in my opinion, the best lookout in Ontario. The first 5 km of the hike is an easy route that many people actually choose to cycle. This is followed by a 3 km stretch, quickly gaining 1,000 feet of elevation. This is followed by another 2 km of easy trekking across the Top of the Giant.
Many visitors make it to the Top of the Giant and then turn around after getting to the first few viewpoints. But if you keep going to the end, you'll reach The Gorge Lookout. This is where you'll find a massive V-shaped gorge cut from the mountain that falls nearly 1,000 feet straight down.
This hike typically takes between 6-8 hours to complete. Add extra time for enjoying the view at the top.
Joe Creek Trail
2 Km Out and Back – Easy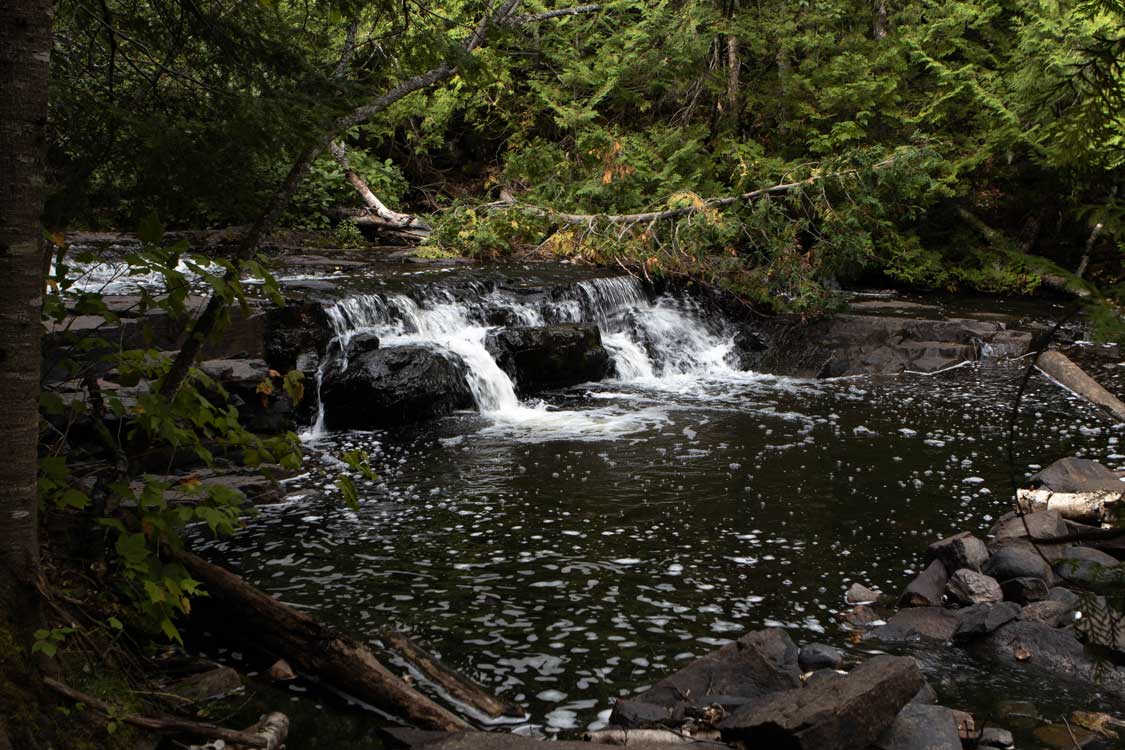 After Christina sprained her ankle in Silver Islet, we had to call off our big hikes and focus on smaller, more manageable ones. One of our favorites was the Joe Creek Trail.
This is one of the easiest hikes in Sleeping Giant Provincial Park. It's located near the the north end of the park and is best done right as you enter the park or just before you leave. The hike follows a winding trail through the forest to Joe Creek, where you'll find some absolutely fantastic picnic spots (assuming that you don't mind the bugs).
This is also a fantastic trail for those visiting Sleeping Giant with young children. Kids can splash in the myriad of small waterfalls and enjoy a picnic on the side of the stream. Just make sure to pack and use bug spray, especially early in the summer.
Sea Lion Trail
2.4 Km Out and Back – Easy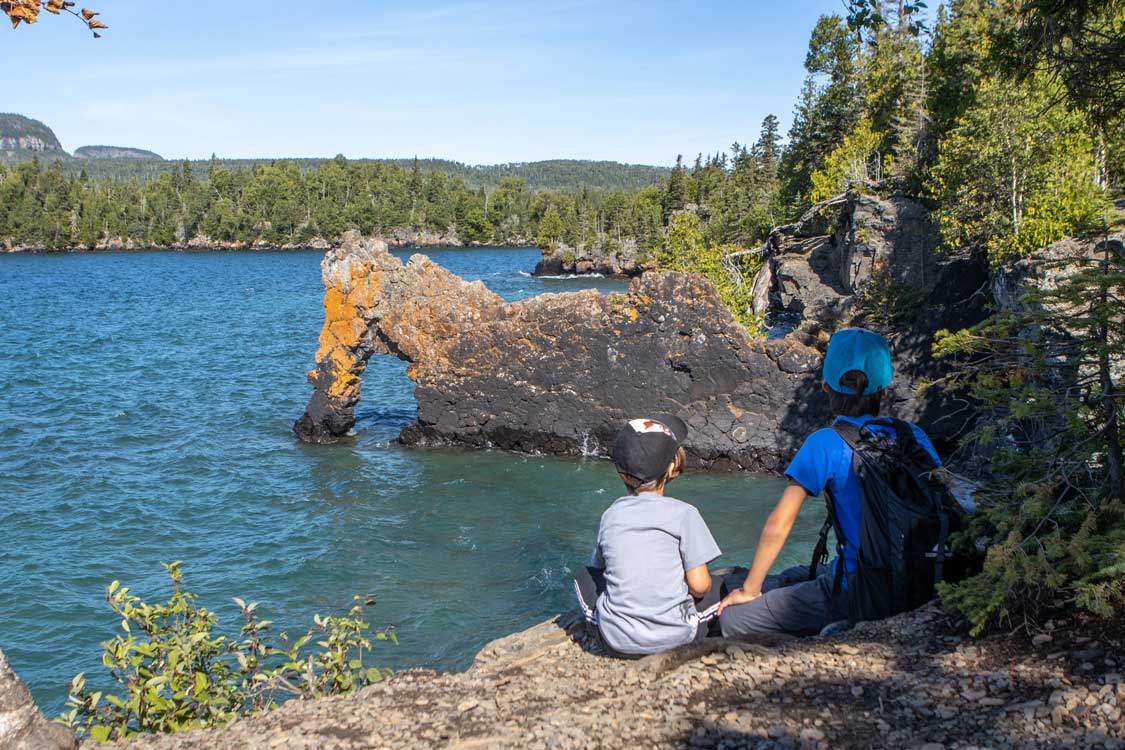 The Sea Lion Trail may be the most popular hike in Sleeping Giant Provincial Park. Like the Top of the Giant Trail, this hike starts from the South Kabeyun Trailhead, but the Sea Lion trail reaches its nexus after just 1.2 Km.
Here you'll see a trail sign marking the Sea Lion, and there is a short climb to a viewpoint overlooking Lake Superior and the most photographed rock arch in the park. The signs explain how this unique rock formation resembles a sea lion. You may need a LOT of imagination in order to picture it yourself. My kids said it looked like a horse drinking.
The first portion of this route can also be done by bicycle as the trail is wide and flat.
Thunder Bay Lookout and Bogs Trail
.7 Km Loop – Easy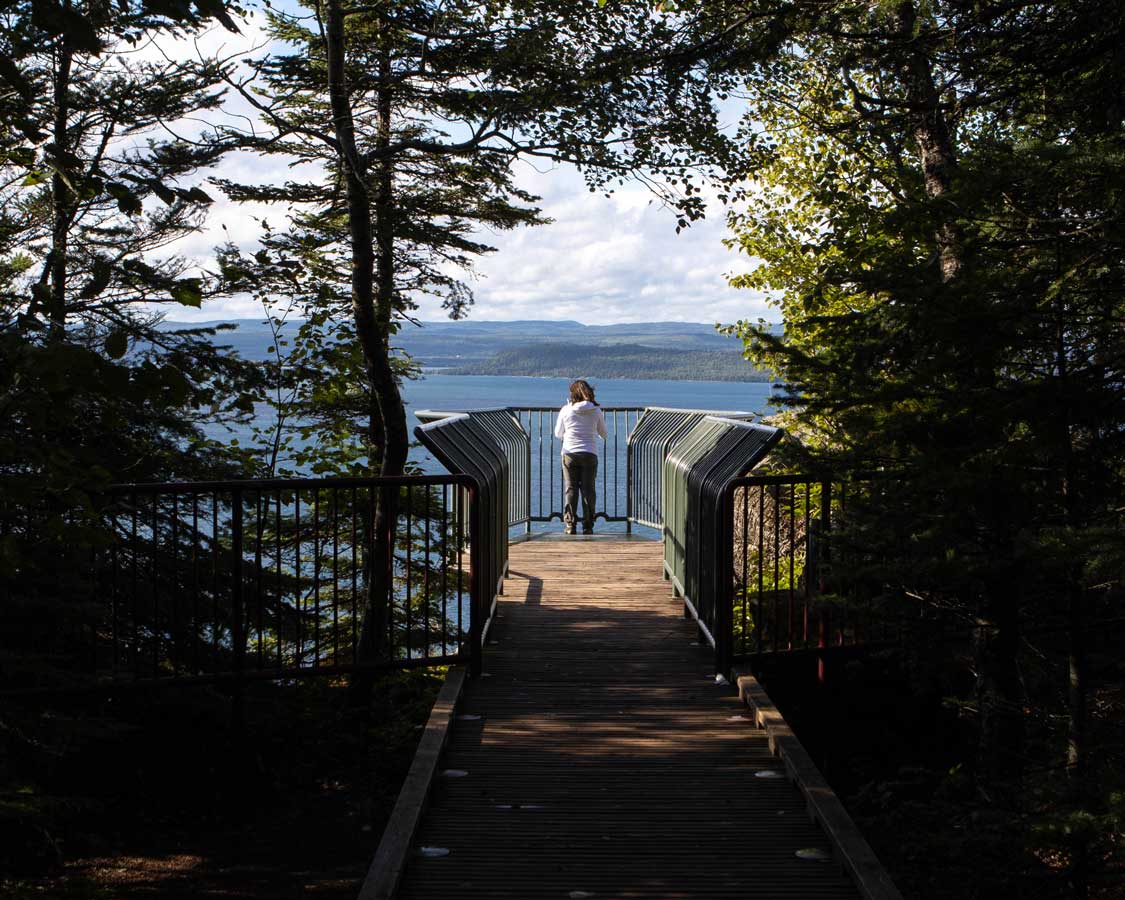 This might be one of the shortest hikes in Sleeping Giant PP, but it offers one of the best viewpoints that don't require a full day of hiking.
This .7 km loop sits near the Thunder Bay Lookout drive. For most people, it's their first stop in the park. The drive up might be a little thrilling for some. It involves a steep climb into a rough, pot-hole-filled parking lot where you'll be driving over cleared rocks (2WD vehicles should have no issue, but if your vehicle is low-clearance, it may have some trouble).
Follow the scenic bog around the loop, watching for birdlife and beavers, and end with the majestic viewpoint overlooking Lake Superior with the city of Thunder Bay in the distance.
Other great Sleeping Giant Hikes include:
Nanabosho Lookout Trail from South Kabeyun Trailhead – 17 Km – Difficult
Head Trail from South Kaebeyun Trailhead – 16.2 Km – Difficult
Pass Lake Overlook Trail – 1 Km round-trip – Moderate
Ravine Lake Nature Trail – 1.9 Km – Moderate
Cemetery Trail – 1.6 Km – Easy
Biking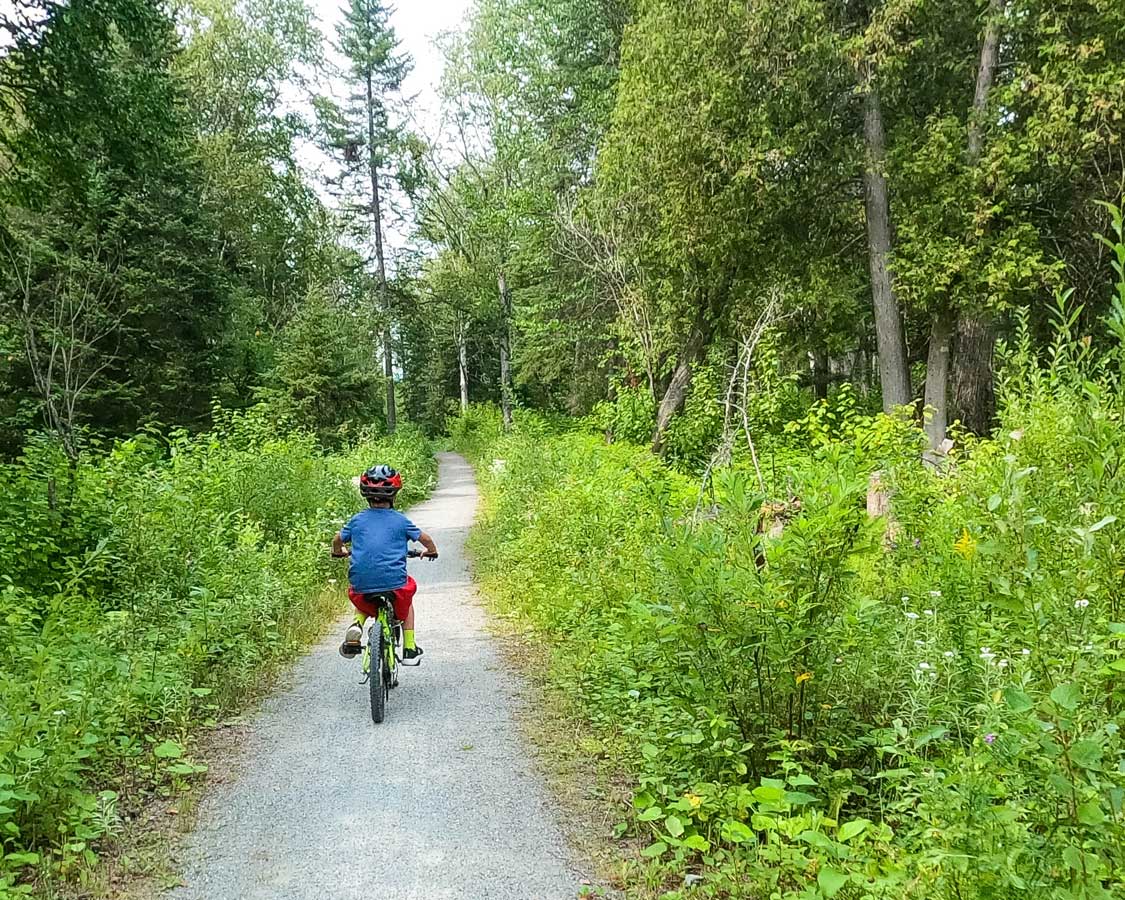 With miles of flat landscape and rolling hills, Sleeping Giant is a paradise for cyclists. Road and gravel cyclists love to cruise the long, winding routes from the Trans-Canada Highway to the tip of the park in Silver Islet, while gravel, mountain, and fat biking enthusiasts revel at hitting the trails that lead to some of the park's most scenic viewpoints.
Many visitors will reduce the time it takes to do the Top of the Giant by renting a bike and cycling the first and last 5 Km of the South Kabeyun Trail. This can cut up to two hours from the total length of the hike.
Other great cycling trails in Sleeping Giant include:
Sawyer Bay Trail – Cycling this route can cut a large chunk from the Chest of the Giant and Head of the Giant hikes. The final part of the trail near Sawyer Bay is rough, so ride carefully.
Sawbill Lake Trail – This trail links the Sawyer Bay Trail from Marie Louise Lake Campground. Cycling this route allows you to ride into the backcountry while avoiding the busy road.
Burma Trail – This trail is especially popular among fat bikers in the winter months. During the summer, the trail can often be wet and muddy.
Pickerel Lake Trail – With a mix of grass and compacted soil during the summer and nicely compacted snow in the winter, the Pickeral Lake trail is a popular year-round route.
Birding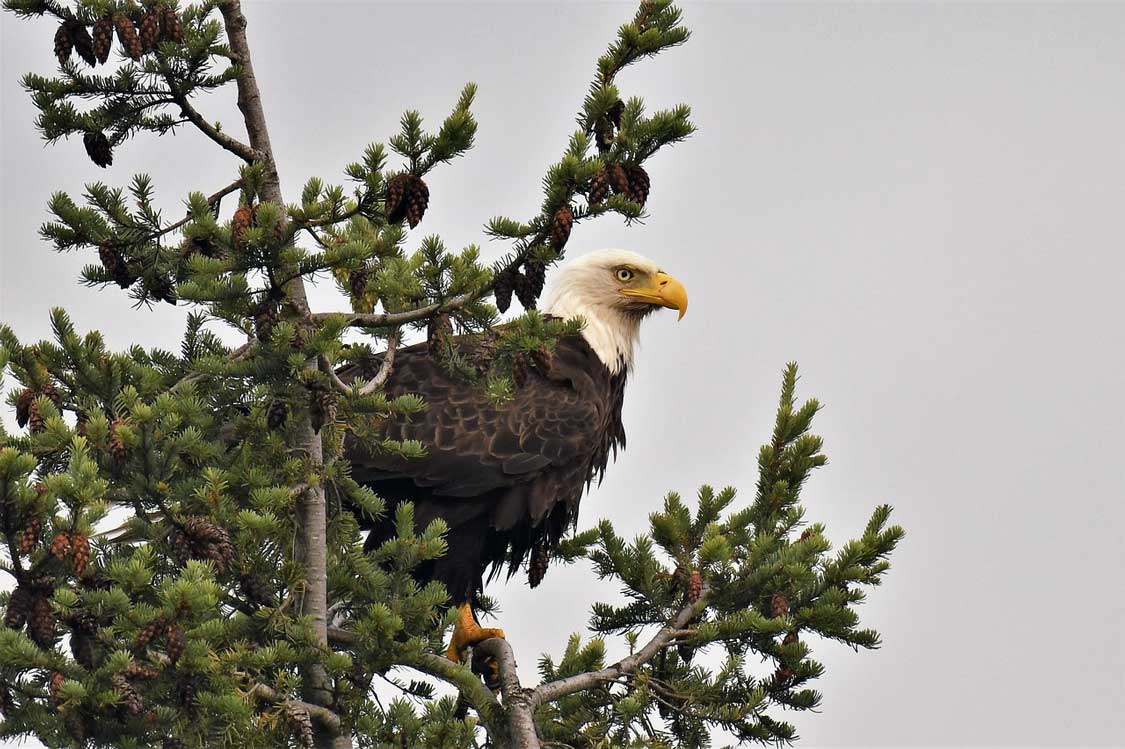 Thunder Bay draws birding enthusiasts throughout the year, but the spring and fall migrations are especially popular in Sleeping Giant Provincial Park. The long peninsula makes an inviting rest stop for birds migrating north to Hudson Bay and on to places like Churchill, Manitoba.
The Thunder Cape Bird Observatory is one of the most popular spots for birding in the park. This monitoring station sits at the furthest point of the Sibley Peninsula. There are nets set up to capture birds for banding.
The observatory is open to visitors from late April to June and August through October. Hike or bike along the South Kabeyun Trail to get here. The 13 Km round trip journey is worth it.
Among the bird species you can see in the park are the red-eyed vireo, Nashville warbler, winter wren, American redstart, bald eagles, Canada warbler, and the American white pelican.
Silver Islet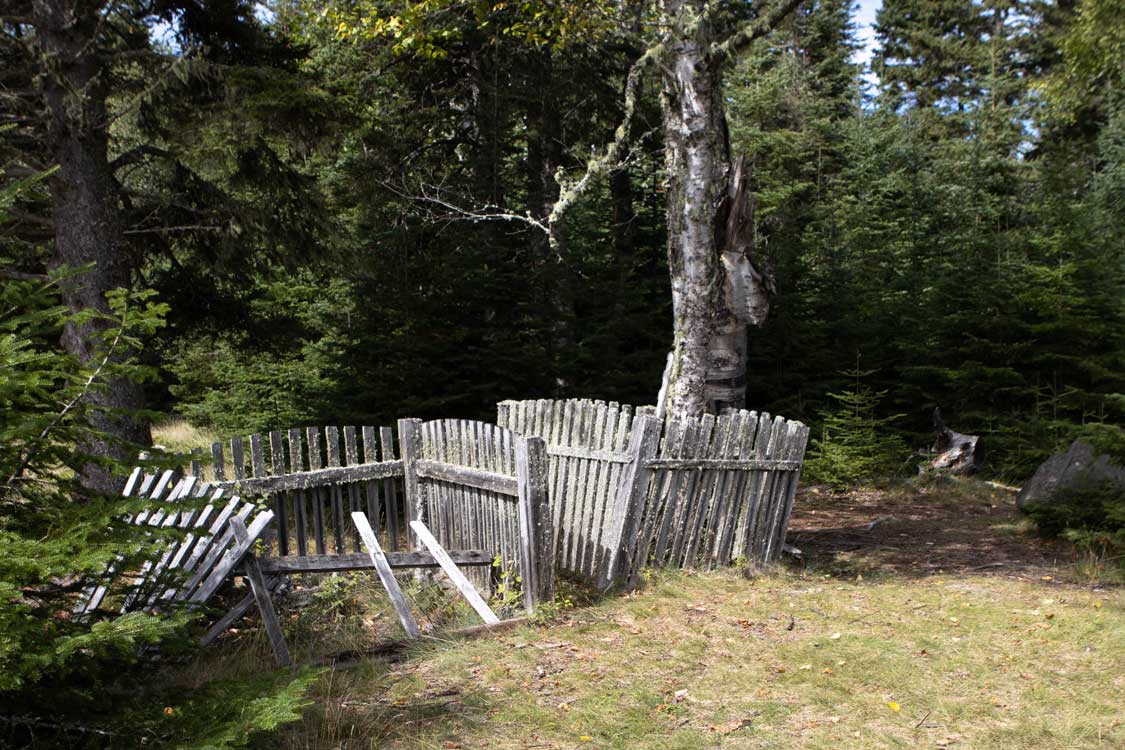 Situated at the furthest point of the main road in Sleeping Giant Provincial Park lies the historic mining town of Silver Islet. During the 1800s, this historic town was home to the world's largest and most valuable silver mine.
The precarious nature of the mine eventually meant that it succumbed to flooding in 1884. Then, the mine began to transition from a mining town to a tourism hub. Now the town is a peaceful cottage community where the few available rentals act as a popular home base for those exploring the park.
In the woods surrounding the community are hiking trails where visitors can still see remnants of the original community, including old buildings, cemeteries, and fences.
One of the coolest things to do in Silver Islet is to book a Lake Superior tour that brings you above the abandoned mineshafts of the Silver Islet mine.
While you're in town, don't miss the Silver Islet General Store. This building was under renovation on my visit in 2020 but was completed in 2021 with many upgrades. The historic store still serves the community and is a great place to grab a coffee or snack.
Sleeping Giant Provincial Park For Families
Sleeping Giant Provincial Park is a very family-friendly park. Many of the Sleeping Giant hikes are flat and wide. I've visited twice with my kids. Once when they were 7 and 9 and once when they were 9 and 12. Both were fabulous.
On our last visit to Thunder Bay, we all completed the Top of the Giant hike together! If you're new to camping with kids, you can find our complete guide to family camping here.
Our Sleeping Giant Provincial Park Video
Looking to get even more inspiration for Sleeping Giant Provincial Park? Check out our Sleeping Giant video on YouTube. Don't forget to hit those like and subscribe buttons to support our channel.
Explore Thunder Bay
If you'd like to dive deeper into the region around Sleeping Giant Provincial Park, take some time to explore Thunder Bay and other nearby experiences, such as the amethyst mines and conservation areas. You can read more in our guide to Thunder Bay here, or you can check out our YouTube video below.
Have You Been Camping At Sleeping Giant Provincial Park?
Sleeping Giant Provincial Park camping offers something for everyone. Whether you're visiting with kids or enjoying some weekend warrior adventures, I hope these tips for camping at Sleeping Giant Thunder Bay have helped you plan your visit.
Feel free to ask any questions or share any comments below. I always answer them.
If you're passionate about family travel, head over to our Family Travel Support Group on Facebook. It's a fantastic community of parents who love travel. We share experiences, knowledge, and lessons learned along the way. You can also sign up for our newsletter to keep in the loop about new family travel adventures.
Disclosure: My stay at Sleeping Giant was done in partnership with Ontario Parks and Visit Thunder Bay. As always, all opinions remain my own.
Wandering Wagars is a participant in the Amazon Services LLC Associates Program, an affiliate advertising program designed to provide a means for sites to earn advertising fees by advertising and linking to amazon.com, amazon.co.uk, amazon.ca. Amazon and the Amazon logo are trademarks of Amazon.com, Inc., or its affiliates.
You May Also Like To Read: