Cascading waterfalls and casual hiking trails await you on a Rainbow Falls Provincial Park camping adventure. Check out these tips for everything you need to know before camping at Rainbow Falls PP.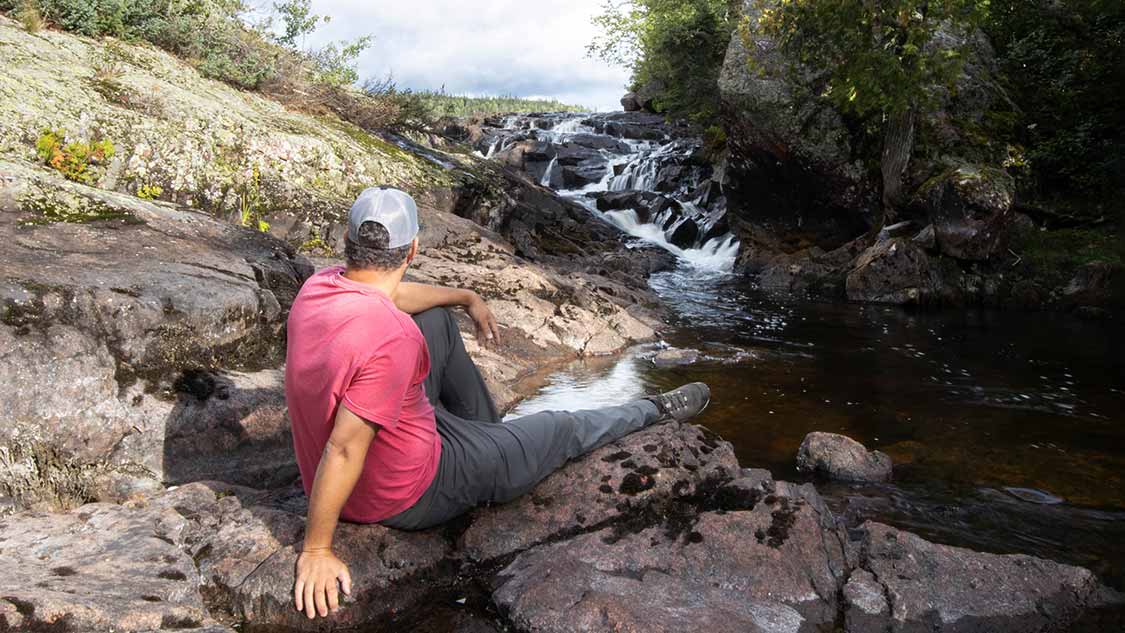 There are some beautiful waterfalls in Northern Ontario. But few are as easily accessible and fun to visit as Rainbow Falls in Rainbow Falls Provincial Park.
For many of those exploring Ontario's north or driving the Lake Superior circuit, Rainbow Falls Provincial Park camping offers visitors "relaxed" adventure on a series of more casual hiking trails than you might find at Neys Provincial Park or Sleeping Giant. And it's a far more manageable size for a weekend visit than the massive Lake Superior Provincial Park to the south.
While this park offers some relaxing trails and beautiful scenery, Rainbow Falls isn't a park to be overlooked by adventure-seekers. Sure, you can make the leisurely boardwalk stroll to the cascading waters of Rainbow Falls, but you can also take on trails that lead to some of the most magical views of Whitesand Lake and Lake Superior.
The park contains a portion of the epic 52 km-long Casque Isles Trail, part of the much-longer Voyageur Trail that winds its way along the Lake Superior waterfront between Terrace Bay and Rossport.
Although Rainbow Falls Provincial Park might not be the most famous of the parks in Northern Ontario, it offers a breadth of experiences for explorers and road-trippers. And camping at Rainbow Falls Provincial Park offers the option for some of the most stunning Lake Superior waterfront views or quiet lake-side camping between its two separated campgrounds.
Like many incredible parks in Ontario's north, the famed Group of Seven artists immortalized Rainbow Falls. One of the interpretive panels at Wardrop Park in nearby Rossport overlooks the site captured in Canada's art renaissance between 1920 and 1933.
Where Is Rainbow Falls Provincial Park Ontario?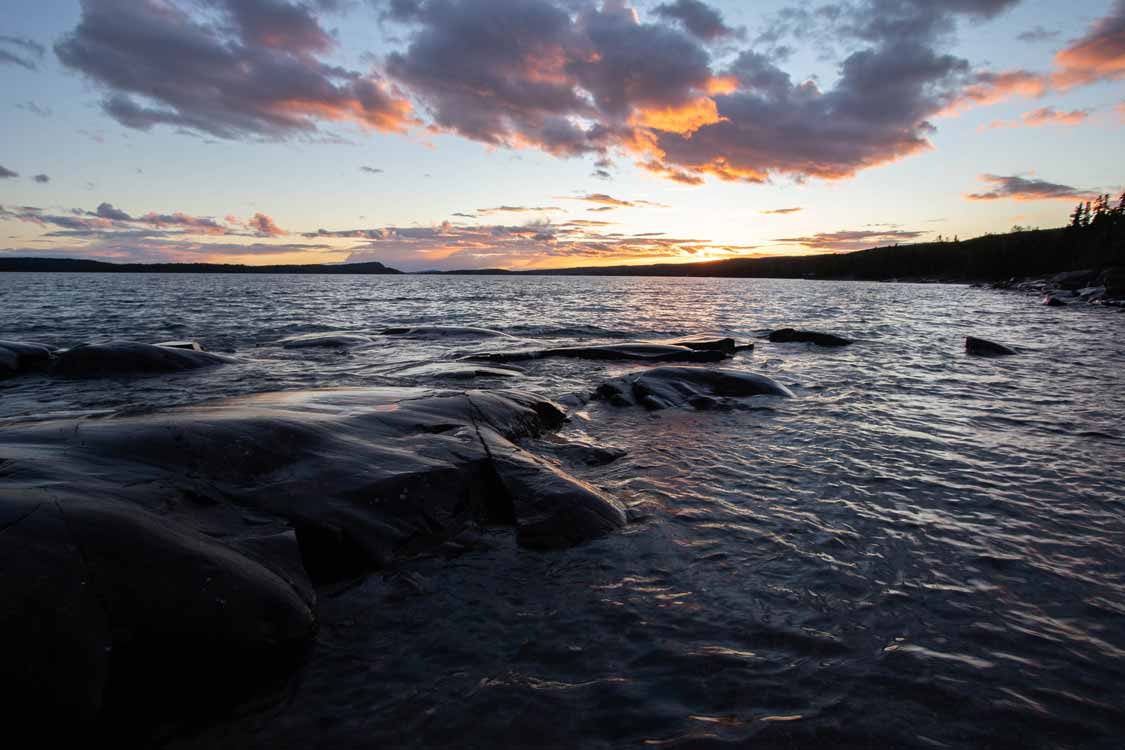 Visiting Rainbow Falls PP involves making that scenic drive along HWY 17 between Schreiber and Rossport. The park borders both the north and south sides of HWY 17, approximately 20-minutes west of Terrace Bay and two hours east of Thunder Bay. The park is one of the many incredible stops on the Sault Ste. Marie to Thunder Bay drive.
Rainbow Falls Whitesand Lake campground is slightly east of the Rossport campground. This section of the park lies on the north side of HWY 17. Rossport campground lies a short distance west along HWY 17 on the south side of the highway bordering Lake Superior.
Tips For Visiting Rainbow Falls Campground
Rainbow Falls Provincial Park camping is incredible. Before 2020, this park often slipped under the radar of many travelers taking on the Lake Superior Circuit. But thanks to the overwhelming demand for the Ontario Parks camping system, many outdoor lovers have visited Rainbow Falls and discovered just how much of a hidden gem this park truly is.
Rainbow Falls doesn't boast the untamed Lake Superior waterfront that many of the parks in Northwestern Ontario do. Its Lake Superior shoreline is limited to its Rossport campground. However, it does feature some beautiful shorelines at Whitesand Lake and the stunning Rainbow Falls waterfall.
But like any outdoor experience, it helps to have a little bit of information that you can rely on before heading out. So before we get to the Rainbow Falls Provincial Park Guide, here are a few tips and tricks to help you plan your visit. Also, before you head out, make sure you check out our tips for Ontario Parks camping so that these parks are here to enjoy for generations to come.
Book early – Campsites and roofed accommodations at Rainbow Falls Provincial Park can book up extremely fast. This hasn't always been the case, but this park is far more popular than it was prior to 2020. It might still be possible to get walk-in sites during the week or in the shoulder season, but it will be booked on summer weekends. You can beat the crowd by booking up to 5-months ahead on the Ontario Provincial Park online booking system. You can access that here.
If you can't get a spot camping at Rainbow Falls, you can check out Neys Provincial Park, which is an hour east. Further west, you won't find any camping until you reach Sleeping Giant Provincial Park, two hours away.
Book late – Many Ontario campsites book up early. But many also have last-minute cancellations. If you don't mind last-minute planning, keep checking the Ontario Parks site to see if there are any late openings. Sometimes this is the best way to get a prime site.
Plan for the weather – Watch the weather forecasts before your Rainbow Falls camping adventure. And always prepare for the worst. You never know what could happen without warning, especially on the unpredictable shores of Lake Supieror. Pack camping tarps like these for covering your gear, make sure you use mosquito repellent and sunscreen for all that time on the beach.
Don't move firewood – This can be hard to swallow since the Ontario Parks aren't known for providing the best firewood. But moving firewood from one destination to another can cause devastation. We saw this first hand in MacGregor Point, where huge swaths of the forest had been to cut down due to the Emerald Ash Borer beetle invasion.
Rainbow Falls Provincial Park Camping: A Guide To The Rainbow Falls Campgrounds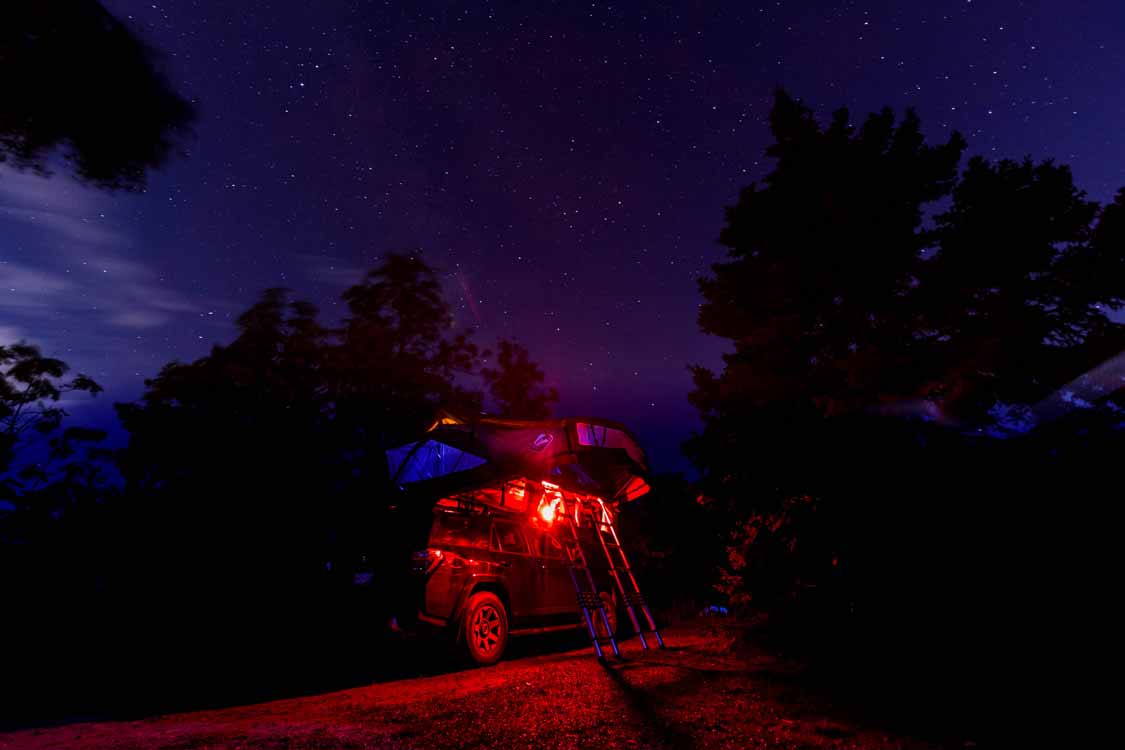 Rainbow Falls Provincial Park camping is lovely. This park is easily accessible and gets consistently good reviews from everyone who I've spoken to who has visited. And after camping at Rainbow Falls ourselves, I understand entirely why. After spending a few days at the Rainbow PP campground, we are excited to visit again.
There are two separate campgrounds at Rainbow Falls Provincial Park. Rossport campground is 5 km west of the main entrance off HWY 17; Whitesand Lake campground is within the main Rainbow Falls park property.
There are 136 Rainbow Falls PP campsites spread across two campgrounds. About one-third of these sites are electrical. The prime spots are along the waterfront in Rossport and the waterfront campsites at Whitesand Lake. Whitesand Lake campground offers the most accessible access to most things to do in Rainbow Falls Provincial Park.
Rossport Campground
The most sought-after campsites in Rainbow Falls Provincial Park tend to be the waterfront sites in the Rossport Campground.
Rossport tends to be favored by RV campers and features 36 campsites, 23 of which have electrical hookups. There is also a well-serviced comfort station located centrally in the campground that is easily accessible from all campsites.
There are 11 direct waterfront campsites in the Rossport campground, three with near-waterfront (a road separation), and 20 on the inside loop. However, none of the sites are particularly far from the water. The sites here are large and open. Most are on a grassy birch grove. The views are spectacular. If privacy is your goal, consider the Whitesand campground.
There is a registration office at Rossport, so you won't need to register at the Whitesand Lake campground before you set up camp.
Whitesand Lake Campground
For those looking for privacy or who like to be close to all things to do in Rainbow Falls Provincial Park, the Whitesand lake campground is where you'll want to base yourself.
Whitesand Lake campground is located on the north side of HWY 17 and features nearly 100 campsites spread across three loops. About half of these sites have electrical service.
A comfort station is at the center of the loops that offer relatively easy access across all campsites at Whitesands Lake. The Maggie and Selim campground loops all electrical campsites. Many of the sites in the Selim loop are pull-through, and most are relatively level.
The Whitesand loop has the most private sites. All are wooded on three sides and offer decent privacy from neighboring campsites. This loop is entirely non-serviced. However, the loop is raised on a hill and offers terrific views of Whitesand lake.
Things To Do At Rainbow Falls Provincial Park
If you're spending a weekend or longer at Rainbow Falls Provincial Park, you'll be able to partake in some great activities. There are several great things to do in Rainbow Falls Provincial Parks that will keep you occupied for short and long visits. So if you're spending a weekend at Rainbow Falls, you'll have plenty of time to pack in some great activities and relax.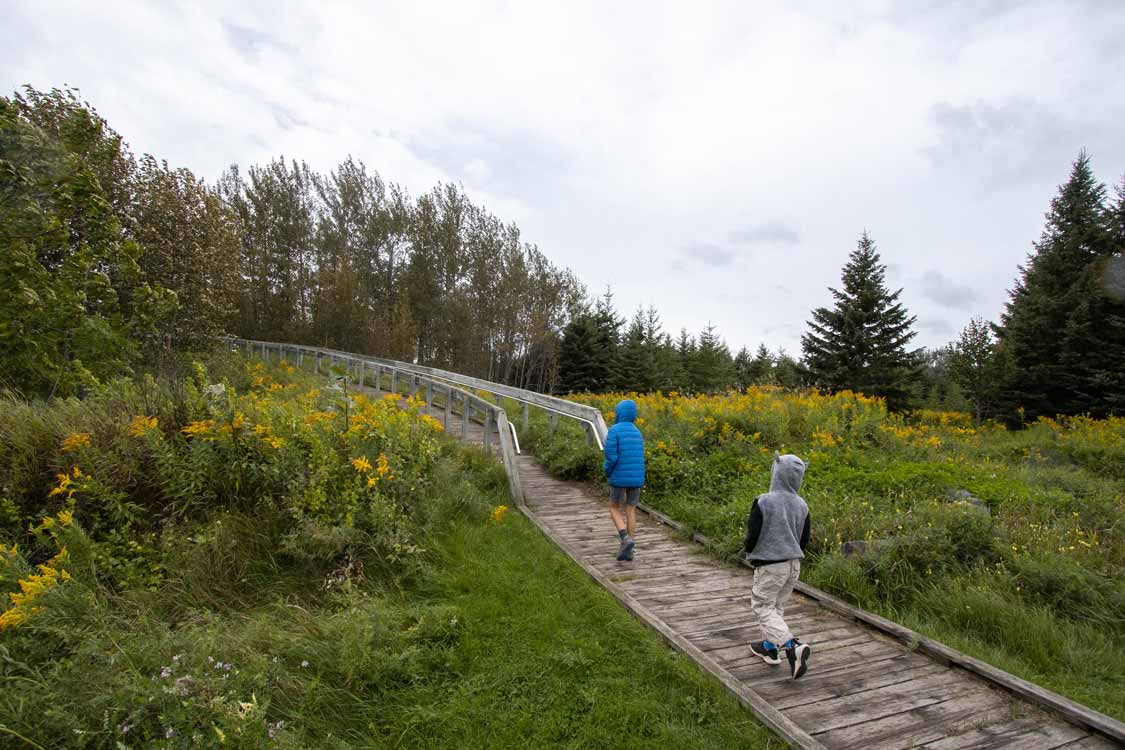 Hiking in Rainbow Falls
Rainbow Falls Provincial Park hiking trails are fantastic. Not only do many of them connect with some of the best Lake Superior hiking routes, but the scenery around the park makes each one a unique and memorable experience.
Rainbow Falls Trail
Rainbow Falls trail is the most popular of all of the hiking trails at Rainbow Falls Provincial Park. This moderately challenging 1.1-kilometer one-way hike (2.2 km return) follows a series of stairs, boardwalks, and platforms along the cascades of the falls to a scenic bridge that spans the waterfalls. The moderate rating on this hike is due to the stairs involved along the trail. However, the platforms are all relatively easy to access for those who don't have difficulty with stairs.
At the bottom, the trail veers away from the river and ascends to a lookout with views of the falls. Hikers can return the way they came or continue along the Schreiber Channel trail, part of the Casque Isle Trail. The route takes about an hour to complete.
Superior Trail
The Superior Hiking trail at Rainbow Falls is a 1.1 km one-way trail that winds along a granite ridge overlooking Lake Superior. This is a fantastic hike if you're looking for incredible landscape photos. However, if you're hiking with young children, be alert as there are steep drop-offs.
The Superior hiking trail is moderately challenging, with certain difficult sections due to rough terrain and scrambling. The route takes an average of about an hour to complete.
Back Forty/Back Forty Lookout Trail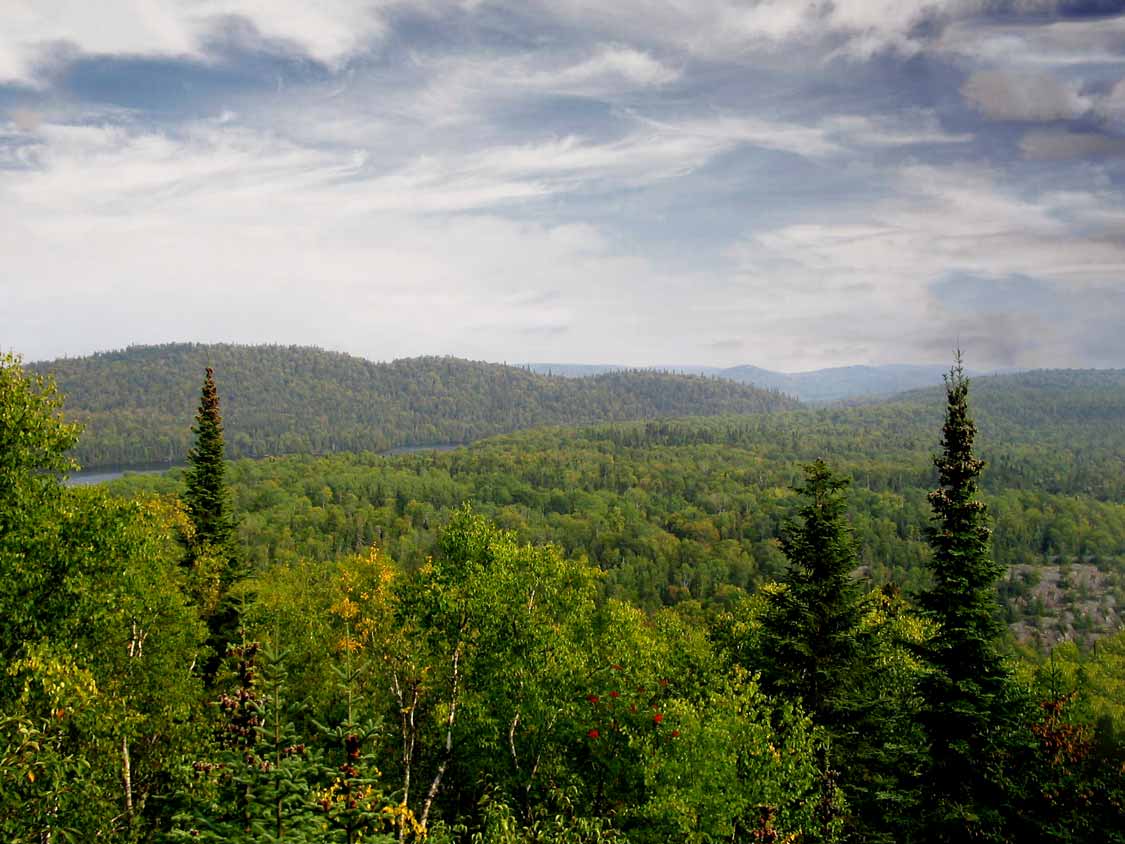 The Back Forty/Back Forty Lookout trail is a 3.5 km one-way hike that climbs steeply through the rocky terrain to a viewpoint overlooking Whitesand Lake and the nearby landscapes. This trail is a relatively challenging hike due to steep sections, and specific parts involve some scrambling.
Much of the hike involves following an old road. While it might not seem challenging at first, it does get more difficult further on. I recommend wearing sturdy hiking shoes with decent ankle support and a good grip. The trail takes about an hour to complete.
Voyager Hiking Trail – Schreiber Channel Segment
For those looking for a challenging hike in Rainbow Falls Provincial Park, the Schreiber Channel segment of the Voyager Hiking Trail is just what the doctor ordered (you not to do!).
This 13-kilometer hike is rated very difficult. It takes about 5-6 hours to complete. However, those who want to truly experience the wilderness and wonders of the north side of Lake Superior won't want to miss it. This segment explores some of the best scenery in the region, including the Twin Harbours Lookout, the Flint Island Lookout, the Winston Point Lookout, and the Selim Lookout.
This hike involves some extremely challenging sections. Please check the weather and let others, such as the Ontario Parks staff, know your intent to hike and your estimated return time.
Boating and Canoeing
Whitesand Lake offers some of the best opportunities to get out on Rainbow Falls Provincial Park water. The temperamental waters of Lake Superior aren't ideal for novices. However, the calm waters of Whitesand Lake have excellent conditions.
The lake is open to recreational boaters, kayakers, stand-up paddleboarders, and canoeists. However, it's recommended to avoid the water above the falls due to the fast current. This area, as well as the swimming area, are separated with buoy lines for safety.
Swimming
The warm waters of Whitesand Lake make for a beautiful alternative to the chilly waves of Lake Superior. This large lake has two sandy beaches with designated swimming areas separated by buoys from the boat traffic.
If you're looking for a chilly adventure, head to the Rossport Campground and enjoy the cobblestone beaches and rocky outcrops that dip into the clear waters.
Rainbow Falls Provincial Park Discovery Program
Those visiting Rainbow Falls Provincial Park with kids might want to take on the Discovery Program. This fun activity combines many of the activities in the park, including guided walks, the Discovery Ranger Pledge, and learning about the equipment and materials used throughout the park. Kids can even collect a Discover Ranger button.
Rainbow Falls Park For Families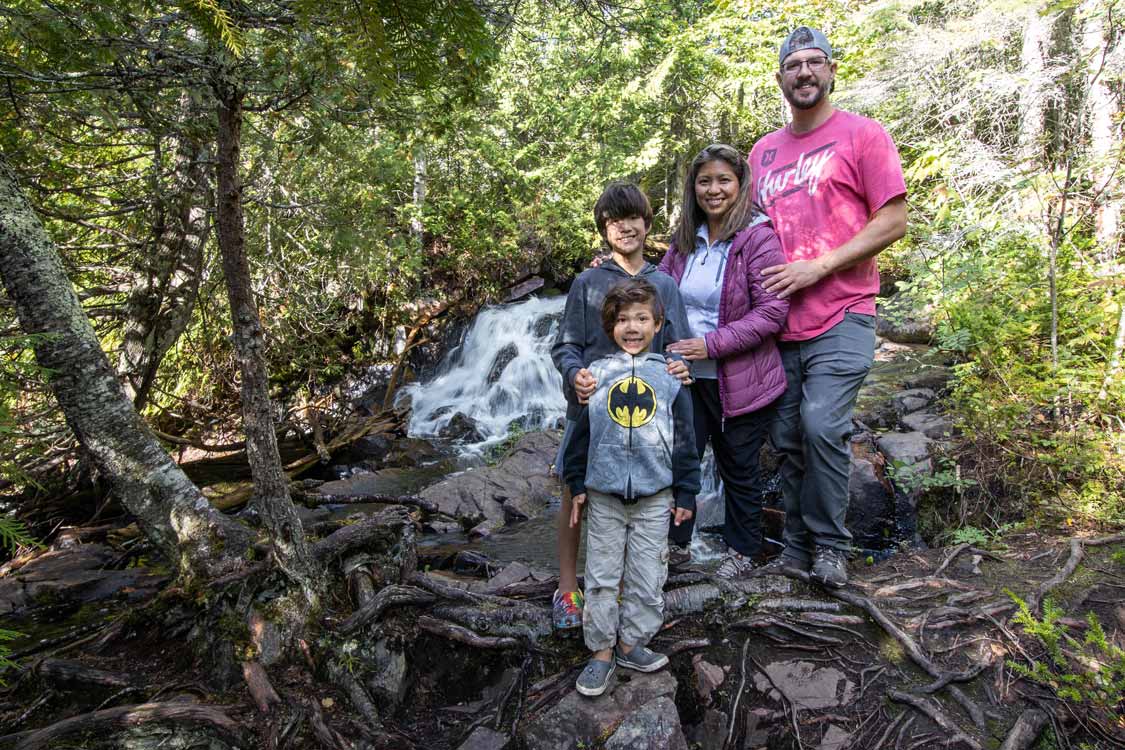 Rainbow Falls is a wonderful campground for families. The beautiful beaches, gorgeous nature, and Lake Superior waterfront are a blast for kids to explore. And, you get all of this without having to book a flight or worry about luggage weight. If you are visiting Rainbow Falls with kids, pack your fishing gear. Fishing is a great way to spend time in the shade during the hot afternoons. In the waters of Little Whitesand Lake, you can find lots of Brook Trout. While in the deep waters of Lake Superior, you can reel in Rainbow Trout, Lake Trout, Whitefish, and Salmon.
Just make sure you pack a waterproof camera. You'll want to capture all of those fantastic Rainbow Falls moments.
Have You Been Camping At Rainbow Falls Provincial Park
Rainbow Falls Provincial Park camping offers something for everyone. So whether you're visiting with kids or enjoying some weekend warrior adventures, I hope that these tips for camping at Rainbow Falls have helped you.
And feel free to drop any questions or comments below. I always answer them.
If you're passionate about family travel, head on over to our Family Travel Support Group on Facebook. It's a fantastic community of parents who love travel. We share experiences, knowledge, and the lessons learned along the way. You can also sign up for our newsletter to keep in the loop about new family travel adventures.
Wandering Wagars is a participant in the Amazon Services LLC Associates Program, an affiliate advertising program designed to provide a means for sites to earn advertising fees by advertising and linking to amazon.com, amazon.co.uk, amazon.ca. Amazon and the Amazon logo are trademarks of Amazon.com, Inc., or its affiliates.
You May Also Like To Read: