Whether you're looking to explore the rocky shores or hike the incredible trails, our guide to Grundy Provincial Park camping has everything you need to know before you go.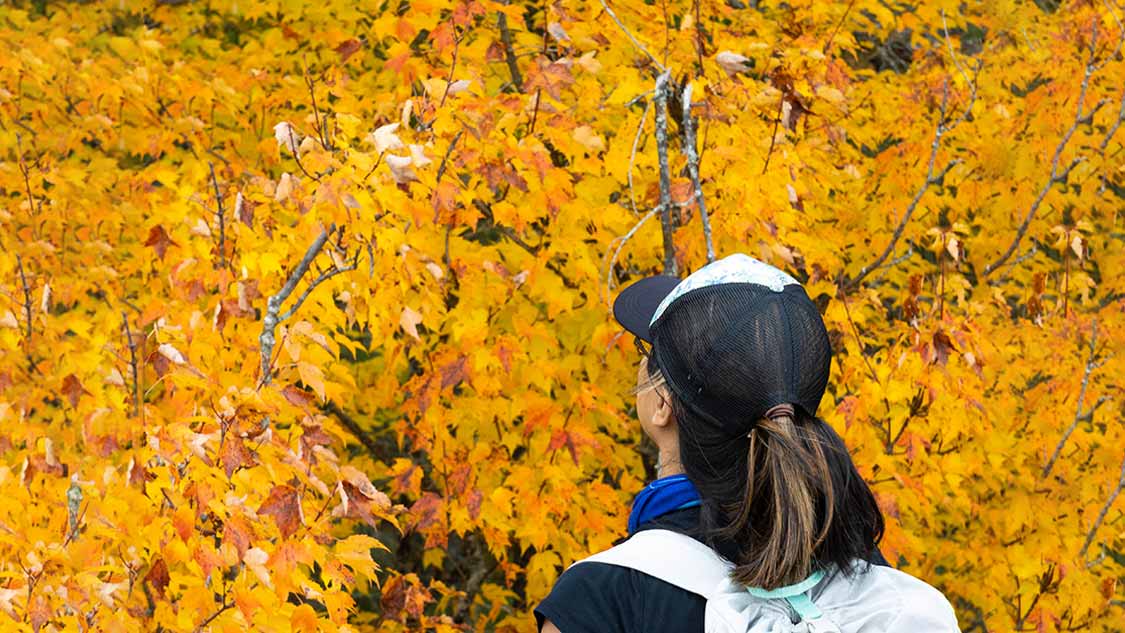 Provincial parks in Ontario's near north offer some of the province's most spectacular and accessible nature experiences. While Algonquin Park gets much of the attention of this spectacular area, parks such as Killbear and Grundy Provincial Park offer some of the best camping, hiking, and nature experiences in the province.
So after enjoying a magnificent northern Ontario road trip, we decided to spend some time camping in Grundy Provincial Park in order to fully appreciate just how much this beautiful place has to offer visitors.
Grundy Provincial Park is often touted as a favorite among campers in Ontario. The accessible size of the park combined with wonderful hikes, scenic paddling, excellent fishing, and warm, clear waters for swimming tick off the boxes of many outdoor lovers.
Grundy Park is also just over three hours north of to Greater Toronto Area, meaning that unlike many northern Ontario parks such as Pukaskwa, Lake Superior PP, and Neys PP, Grundy can be visited as a day-trip or over a short weekend and still be enjoyed fully.
Where Is Grundy Lake Provincial Park Ontario?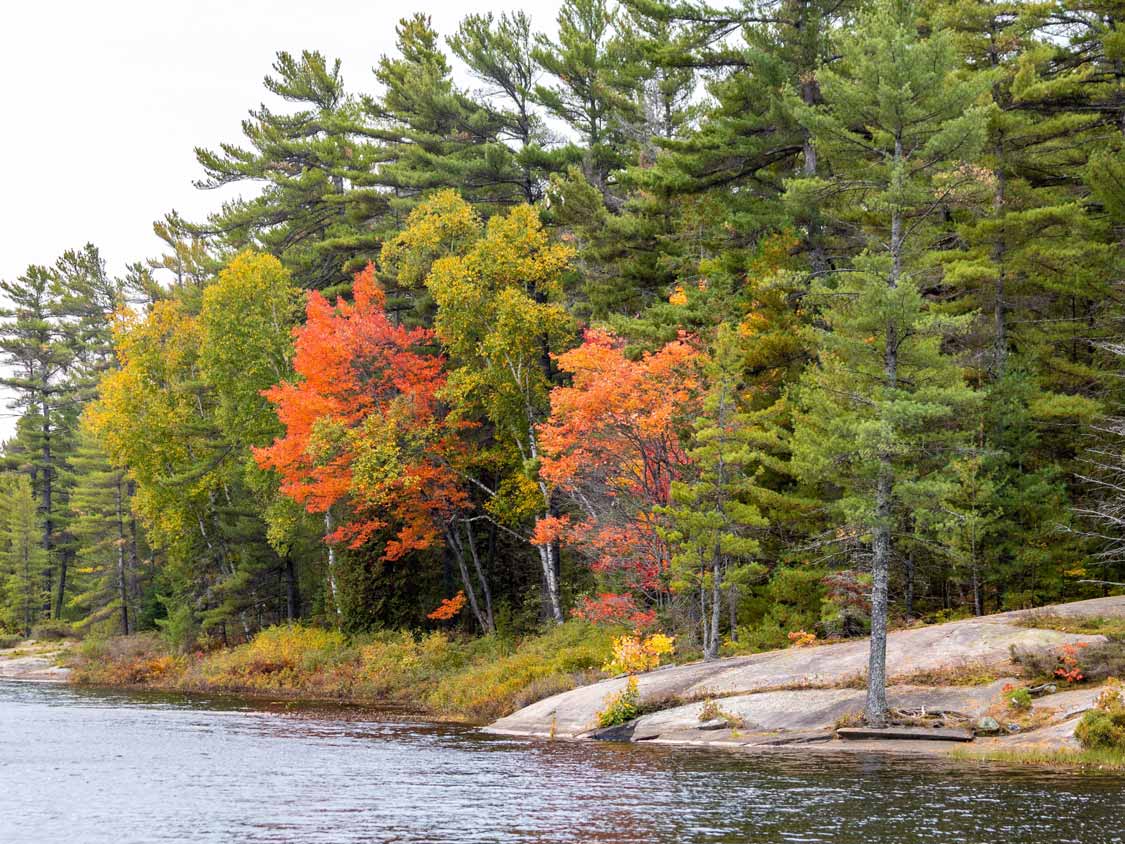 The park is situated just east of Georgian Bay off of HWY 522 just east of HWY 69. It sits about an hour south of Sudbury, Ontario and about an hour north of the city of Parry Sound.
Grundy Lake sits within Ontario's "near north" where quiet lakes and a relaxed rural atmosphere abound. It combines the best attractions of parks further south such as Arrowhead, with the dramatic landscapes of northern Ontario parks such as Rainbow Falls.
With its dramatic mix of nature and scenery, there are loads of things to do in Grundy Lake Provincial Park to fill every camper's wish list.
Tips For Visiting Grundy Lake Campground
Grundy Lake Provincial Park camping is some of the best in Ontario. Prior to 2020, this was a park among the most popular for visitors who were willing to head north of Huntsville. Since then its popularity has exploded. campgrounds at the park book up very fast, especially for weekends and long weekends.
There are good reasons why Grundy Lake has garnered so much attention. Not only is it relatively accessible, at just over three hours from Toronto, it's also stunningly beautiful and offers a tremendous breadth of things to do.
Grundy Lake might not sit on the shores of Georgian Bay, but the small lakes within the park are scenic, warm, and are surrounded by natural beauty. And I dare say, Grundy Lake PP has some of the best sunsets and sunrises in the province.
But like any outdoor experience, it helps to have a little bit of information that you can rely on before you head out. So before we get to the Grundy Lake Provincial Park Guide, here are a few tips and tricks to help you plan your visit. Before you head out, make sure you check out our tips for Ontario Parks camping so that these parks are here to enjoy for generations to come.
Book early – Campsites and roofed accommodations at Grundy Lake Provincial Park can book up extremely fast. You can beat the crowd by booking up to 5-months ahead on the Ontario Provincial Park online booking system. You can access that here.
If you can't get a spot camping at Grundy Lake your next best options are Killbear Provincial Park, which sits one-hour south and Killarney Provincial Park, which is about an hour northeast. Alternatively you can may be able to find accomodations in the nearby towns of Parry Sound or French River.
Book Late – Many Ontario campsites book up early. But many also have last-minute cancellations. If you don't mind last-minute planning, keep checking the Ontario Parks site to see if there are any late openings. Sometimes this is the best way to get a prime site.
Plan for the weather – Watch the weather forecasts before your Grundy Lake camping adventure. And always prepare for the worst. You never know what could happen without warning. Pack camping tarps like these for covering your gear, make sure you use mosquito repellent, and, of course, sunscreen for all that time on the beach.
Don't move firewood – This can be a hard one to swallow since the Ontario Parks aren't known for providing the best firewood. But moving firewood from one destination to another can cause devastation. We saw this first hand in MacGregor Point where huge swaths of the forest had been to cut down due to the Emerald Ash Borer beetle invasion.
Grundy Lake Provincial Park Camping: A Guide To The Grundy Lake Campgrounds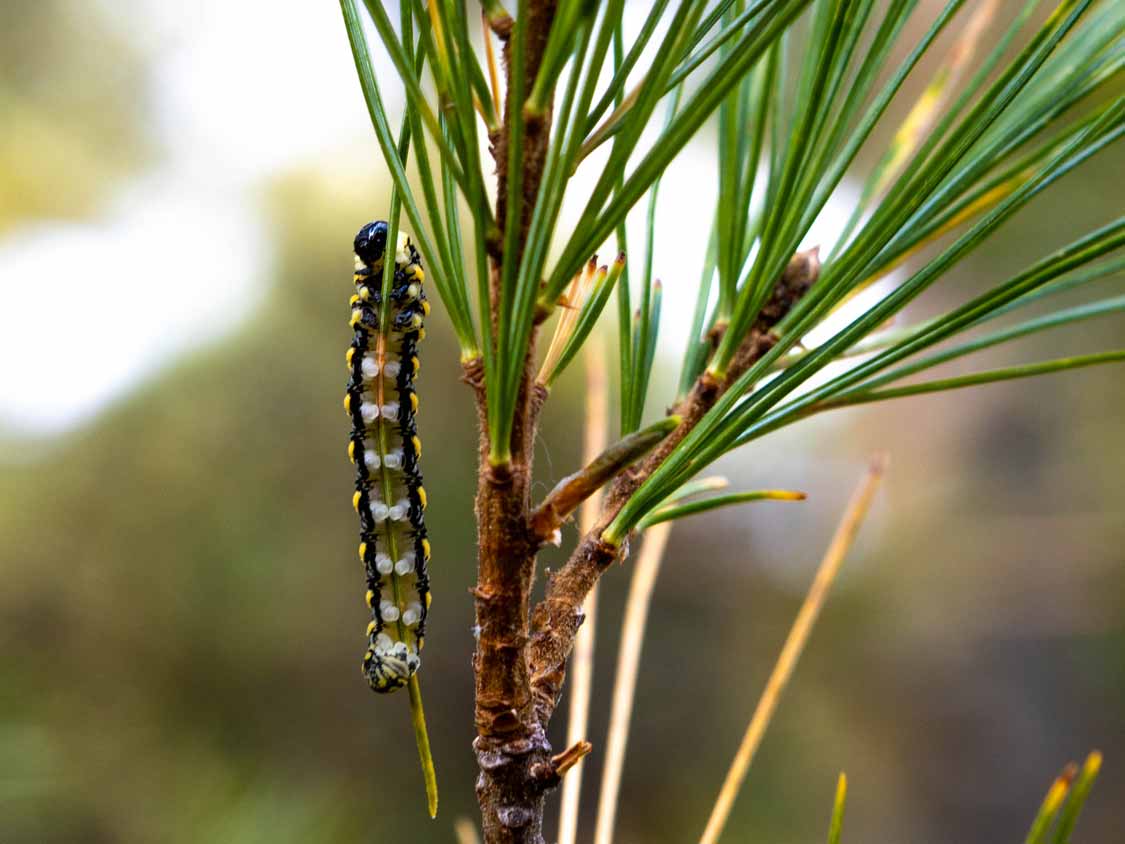 Grundy Lake Provincial Park camping is great. Everyone who I've spoken to who've visited has expressed their passion. And after camping at Grundy Lake ourselves, I completely understand why. After spending a few days at the Grundy Lake PP campground, we were smitten.
There are a whopping 475 campsites spread across nine campgrounds in Grundy Lake. Add on the wide array of backcountry sites, and you'll find plenty of options for Grundy Lake Provincial Park camping. About 216 of these sites are electrical, and there is one campground specifically laid out for RV and trailer campers.
The park boasts 4 separate levels of sites that include the standard "electrical" and "non-serviced sites", along with prime waterfront locations dubbed "premium electrical" and "premium regular" campsites. Only 17 of these premium locations are electrical. The rest are all non-serviced campsites.
Poplar Campground
Poplar is the largest campground in Grundy Lake Provincial Park. Boasting 69 campsites of which 42 are electrical and 14 are premium regular located near the shores of Gurd Lake. Poplar is a pet-friendly campground. Most sites can accommodate RVs and trailers over 32 ft.
Within the Poplar campground, you'll find a comfort station complete with laundry, showers, and flush toilets. There is also a wonderful beach that has a beach volleyball court.
Trailer Campground
The aptly named "Trailer Campground" at Grundy Lake is a seasonal campground on the edge of Gurd Lake right next to the large Poplar campground. The campground, as the name suggests, is specifically set up for RVs and camping trailers up to 32 ft in length. Each of the 37 sites within the Trailer Campground includes electricity. There are 9 premium electrical sites here with campgrounds adjacent to the beach and Gurd Lake.
Throughout the campground, you'll find vault toilets, horseshoe pits, a small beach, as well as a comfort station with flush toilets and showers. Generators are permitted so long as you follow the park's rules surrounding excessive noise.
Red Maple Campground
Red Maple campground sits on Grundy Lake. This campground is entirely non-serviced and boasts 45 sites, 9 of which are lakeside premium regular campsites. The site is listed as "radio-free", which means that campers must limit the noise from activities such as radios, televisions, or equipment. This is designed to offer a rustic environment for campers who enjoy peace and quiet. Red Maple is also the only "pet-free" campgrounds in Grundy, so you'll need to leave the pooch or Whiskers the cat at home.
Each site includes a picnic table and a fire ring. While some of the campsites can support trailers up to and over 32 ft in length, Red Maple is traditionally a small camper or tent camping campground. There are plenty of taps as well as vault toilets within the campground, however, you won't find a comfort station, laundry, or showers.
Hemlock Campground
The southernmost campground on Gurd Lake is the Hemlock campground. Boasting 59 sites, 31 of which are electrical including 1 premium electrical waterfront site. There are also nine premium regular sites within Hemlock. This campground is also a "radio-free" campground, so noise must be kept to a minimum in order to avoid disturbing other campers. Of the premium regular campsites, sites 415 and 417 do not have direct access to the water.
Most of the sites are very level and well-groomed, easily accommodating trailers up to 32 ft. There is also a comfort station with a laundry room and showers. The campground also has a beach that slopes into Grundy Lake.
White Pine Campground
White Pine campground sits near the southern tip of Grundy Lake near Main Beach. This pet-friendly campground is mostly non-serviced sites that include nine premium regular sites near the waterfront. There are also 16 electrical sites near the back of the campground that include two barrier-free electrical closer to Main Beach and the Grundy waterfront.
The campground is well-situated and offers relatively level sites that can accommodate trailers and RVS over 32 ft in length. There is also a comfort station with a laundry room and shower.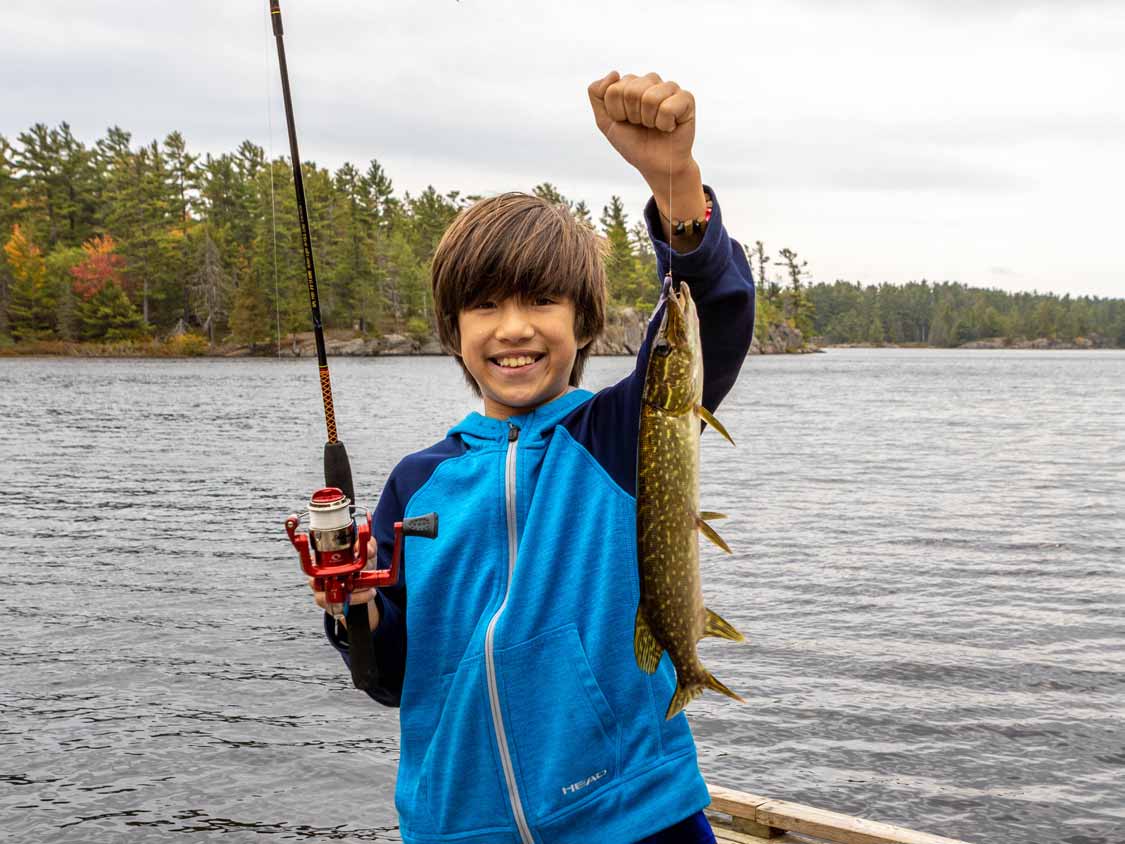 White Spruce Campground
With 32 campsites, all of which are non-serviced, White Spruce is the smallest of all of the Grundy Lake Provincial Park camping areas. The campground boasts 3 premium regular sites that sit on the scenic Gut Lake. This is one of the quietest campsites in the park, but it also has excellent access to most of the park's amenities.
White Birch Campground
Sitting on the west shores of Grundy Lake, White Birch campground offers 58 campsites. Of these sites, 28 are electrical (including 7 premium electrical waterfront sites), and 2 premium regular waterfront campsites. White Birch is among the most popular campgrounds at Grundy Lake Provincial Park and is one of the quickest to book up.
White Birch features plenty of water taps and a large comfort station that includes laundry and showers. Those on the south end of the campground will have easy access to Main Beach and those on the northern end can access another small beach very easily.
Jack Pine Campground
Offering easy access to both the Swan Lake hiking trail and Grundy Lake, Jack Pine is one of the top spots for camping in Grundy Lake Provincial Park. This seasonal campground has a good mix of electrical and non-electrical sites. There are 55 sites in total with 35 electrical and six premium regular sites.
Jack Pine has a comfort station with laundry and showers. You'll also find lots of water stations, vault toilets, a canoe launch, excellent fishing, and a small beach.
Balsam Campground
Considered one of the "hidden gems" of Grundy Lake Provincial Park, the Balsam campground features 46 non-serviced campsites that include 5 premium regular campsites that border Clear Lake. Balsam sits far back from many of the Grundy Lake campgrounds and tends to be quiet and quite private.
This campground typically caters to tents and small campers up to 25 ft in length. There are plenty of water stations, vault toilets, a canoe launch, and one of the best beaches in Grundy Lake Provincial Park.
Our Grundy Lake Provincial Park Video
Grundy Lake is absolutely beautiful. It has some of the best hiking and camping in Ontario's near north. To help you get a better taste of just why this is one of our favorite provincial parks in Ontario, we put together this video on our YouTube channel. If you like it, we'd love for you to like and subscribe to our channel to help support us.
Things to do in Grundy Lake Provincial Park
Grundy is a big park and there are lots of things to do once you get there. I've visited several with my family and we are still exploring new areas each time that go. Whether you're spending the weekend at Grundy Lake or camping for a whole week, you won't run out of attractions while you're there.
Hiking at Grundy Lake Park
Hiking the trails is one of the top things to do at Grundy Lake Provincial Park. With gorgeous landscape, serene forests, and ample waterfront trails, there are some absolutely wonderful hikes at Grundy. Here's a breakdown of the most popular trails so you know what you're getting yourself into.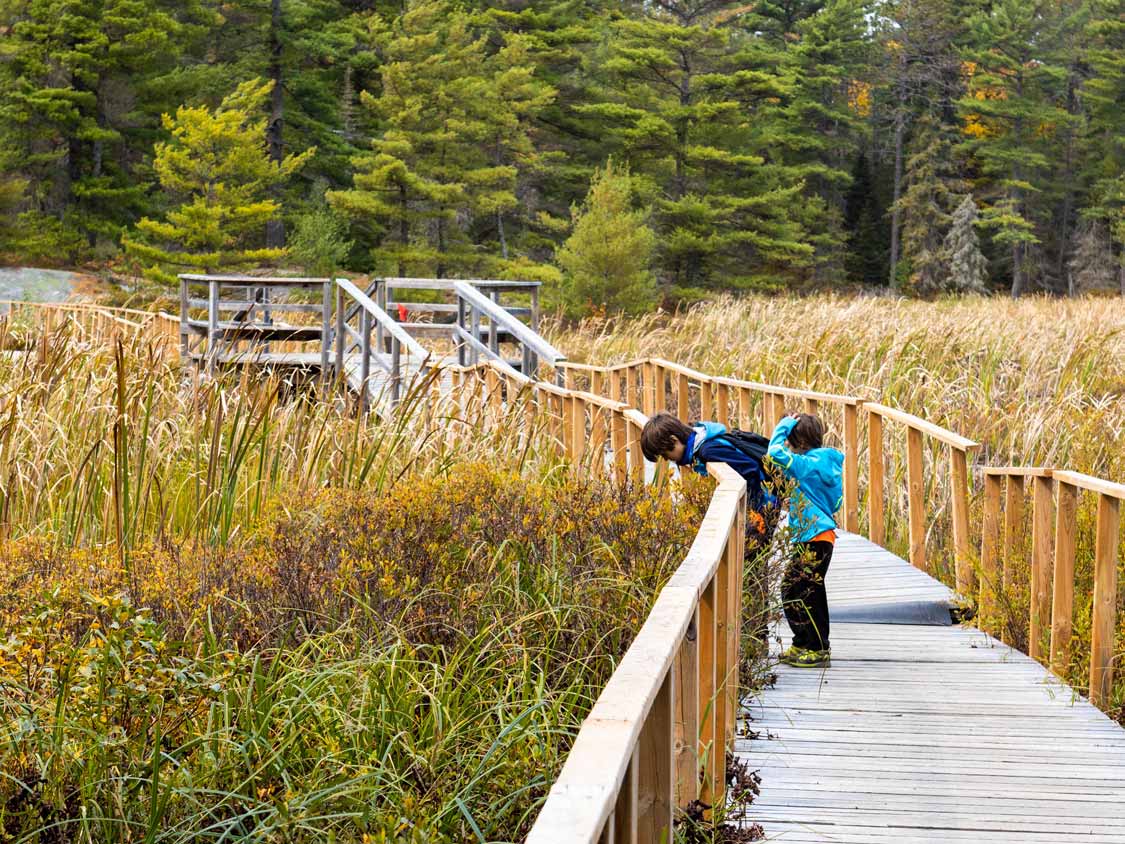 Swan Lake Trail
The Swan Lake hiking trail is a 1.5 km loop that takes you around Swan Lake. This special nature reserve within the park is especially beautiful and is one of my favorite hikes in the park. The trail is moderately difficult and includes some rough terrain as well steep slopes in some areas. Although some of the trail also have boardwalk and well-groomed terrain.
While this hike might not be very long, it passes through a wide variety of different ecosystems including wetlands, forests, Precambrian Shield, and more. You might even come across beaver, deer, and Great Blue Heron along the way. Expect the Swan Lake Trail to take about one hour to complete.
Gut Lake Trail
The Gut Lake Trail is the most popular of all of the hiking trails in Grundy Lake Provincial Park. This 2.5 km trail explores the rugged landscapes of the Precambrian Shield upon which most of the park is situated. Along the way, you'll pass by lakes, streams, and wetlands.
The Gut Lake Trail is incredibly scenic. While it takes an average of about an hour and a half to complete for most people, I often take much longer when I'm taking photos.
Beaver Dams Trail
The 3.6 km Beaver Dams loop is, in my opinion, one of the most underrated hikes in Grundy Lake. This trail passes through eerie landscapes that include swamps and wetlands where the remains of skeletal trees poke out from the waters. There is also a Great Blue Heron rookery, where, if you visit in season you can find the clumped branches sitting on top of the remains of the trees.
You'll hike over a dense beaver dam that has helped to shore up Gut Lake from what was once a stream. Just past the dam is one of the best photo stops in the park. Along the hike, you may encounter moose, deer, grouse, and even foxes.
Pakeshkag Lake Trail
For those looking to spend a day out on the trails, the Pakeshkag Lake Trail might be for you. This trail is relatively easy and follows some groomed and waterfront paths on a 5.2 km one-way (10.4 km total) journey. Expect a leisurely stroll where you'll pass Beaver Lake as well as some of the backcountry sites on both Beaver Lake and Pakeshkag Lake.
The Pakeshkag Lake trail takes about two hours to complete a leg or a four-hour round trip. Although I usually take a picnic lunch and enjoy a lakeside meal that makes the trip a little longer.
Canoeing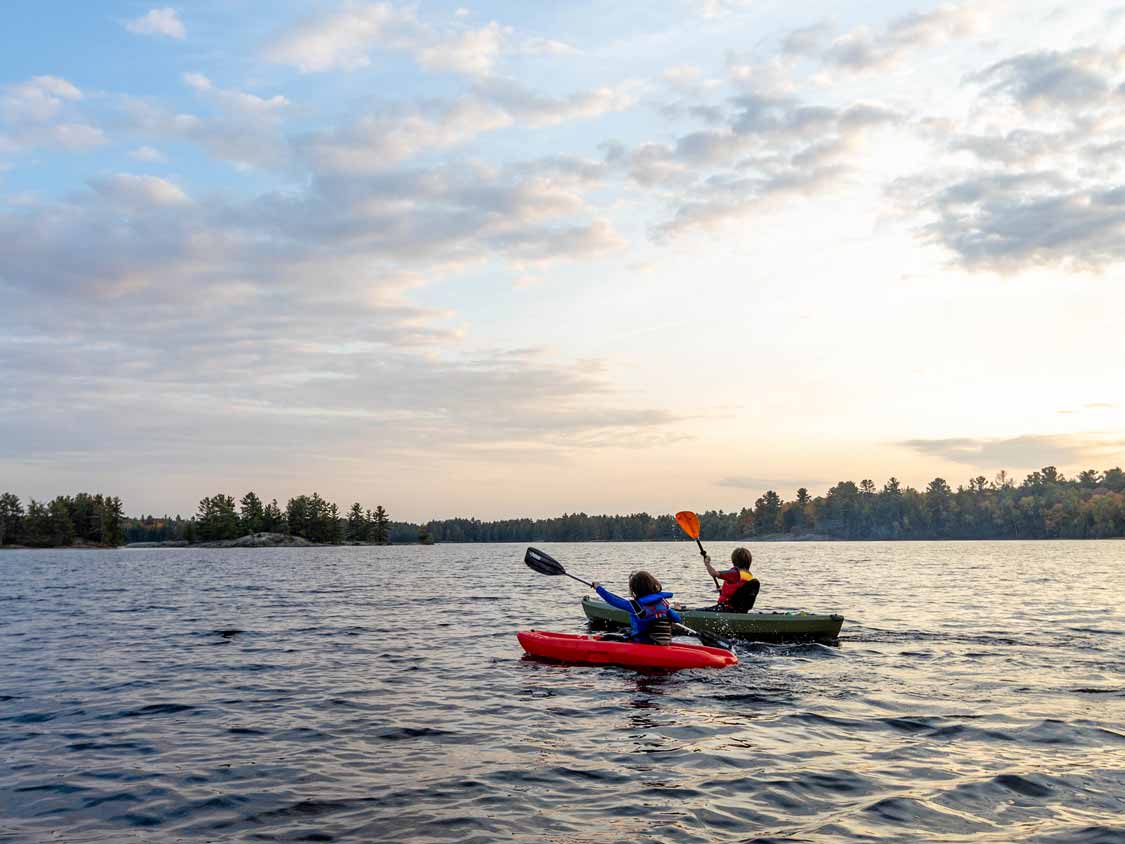 Grundy is a paradise for paddlers. There are countless inland lakes for those who love to explore deep into the wilderness and for those who like to stay close to the action, Clear Lake, Gut Lake, and Grundy Lake offer scenic environments and sheltered water.
The 10 backcountry camping sites at Grundy Lake PP are all accessible via the water. So if you want to take your Grundy Lake canoe adventure even further, you can spend your time camping out in the wilderness away from the crowds. You can find out more about that program here.
Fishing
Fishing at Grundy Lake Provincial Park is one of the most popular things to do there. C caught his first Northern Pike at the park. You'll also find bass, panfish, walleye, and crappie in most of the lakes throughout the park.
Grundy also runs a very popular "Learn to Fish" program. This hands-on event teaches kids and adults the in's and out's of fishing. You'll learn how to tie knots, cast, handle your fish, and much more from the expert hands of Ontario Parks staff. You can find out more about that program here.
Grundy Lake Provincial Park Discovery Program
Those visiting Grundy Lake Provincial Park with kids might want to take on the Discovery Program. This fun activity combines many activities in the park including guided walks and nature programs along with a scavenger hunt that invites children to look deeper into the wilderness that surrounds them.
You can register for the Discovery Program at Grundy Lake by chatting with one of the Ontario Parks staff or by visiting the Grundy Lake Provincial Park Visitors Centre.
Swimming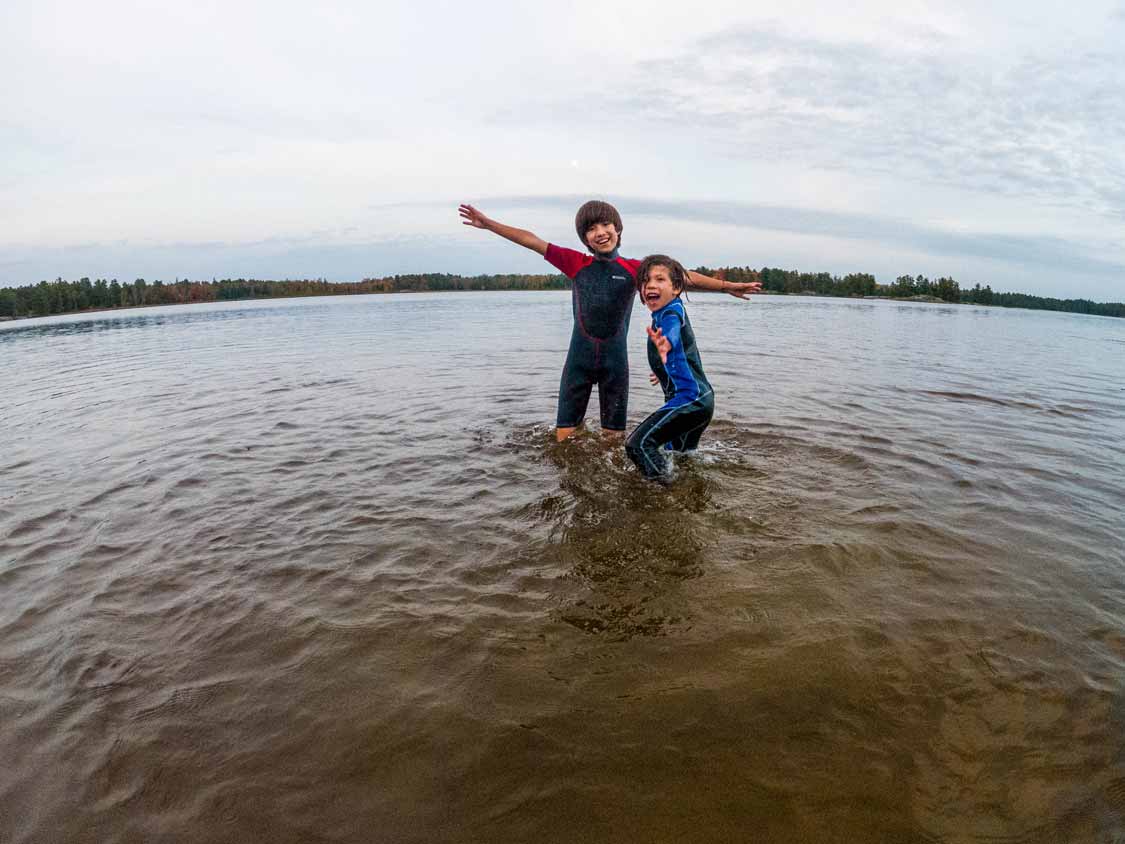 I absolutely love swimming at Grundy Provincial park. The water is shallow and warm through much of the summer and there are six natural sand beaches spread throughout Clear Lake, Grundy Lake, and Gut Lake for visitors to enjoy.
Main Beach, which is located at the base of Grundy Lake is the largest of all of the beaches at Grundy Lake park. This beach, as well as most other beaches in the park, has a gradual drop-off, making it a popular place for families. None of the Grundy Lake beaches have lifeguards, so please enjoy the beaches responsibly.
Rock Jumping
If you're looking for a little more of a thrill than just swimming at Grundy Lake, head over to Gut Lake for some cliff jumping! The jumping rocks at Grundy Lake Provincial Park are situated between sites 22 and 24 in the White Spruce campground.
These small cliffs have ledges to fit every comfort level. You'll find low ledges for those just testing their mettle and higher jumps up to 15 ft. for those looking for an adrenaline rush.
If you're not confident in your swimming you can wear a life jacket (our kids have been wearing these ones and love them). At the bottom there are are ropes to help you climb out of the water.
Make A Side Trip To Recollet Falls in French River Provincial Park
Just a few short kilometers up HWY 69 from Grundy Lake Provincial Park is the historic and scenic French River Provincial Park. While much of this park is accessible from the water, you can still visit the French River Visitors Centre and do the 1.5 km hike to the beautiful Recollet Falls. I also recommend making the short walk behind the visitors center to the famous suspension bridge that takes in one of the best views of the river and towering cliffs.
Grundy Lake Provincial Park For Families
It almost seems like Grundy Lake Provincial Park was designed for families. The beautiful beaches, gorgeous nature trails, and plethora of waterside campsites are a blast for kids to explore. And, you get all of this without having to book a flight or worry about luggage weight.
Just make sure you pack a wateroproof camera. You'll want to capture all of those amazing Grundy Lake moments.
Have You Been Camping At Grundy Lake Provincial Park?
Grundy Lake Provincial Park camping offers something for everyone. Whether you're visiting with kids or enjoying some weekend warrior adventures, I hope that these tips for camping at Grundy Lake have helped you.
And feel free to drop any questions or comments below. I always answer them.
If you're passionate about family travel, head on over to our Family Travel Support Group on Facebook. It's a fantastic community of parents who love travel. We share experiences, knowledge, and the lessons learned along the way. You can also sign up for our newsletter to keep in the loop about new family travel adventures.
Wandering Wagars is a participant in the Amazon Services LLC Associates Program, an affiliate advertising program designed to provide a means for sites to earn advertising fees by advertising and linking to amazon.com, amazon.co.uk, amazon.ca. Amazon and the Amazon logo are trademarks of Amazon.com, Inc., or its affiliates.