Killbear Provincial Park is home to Canada's most "photographed" tree. Aside from the iconic white pine, these are the things to do in Killbear this year.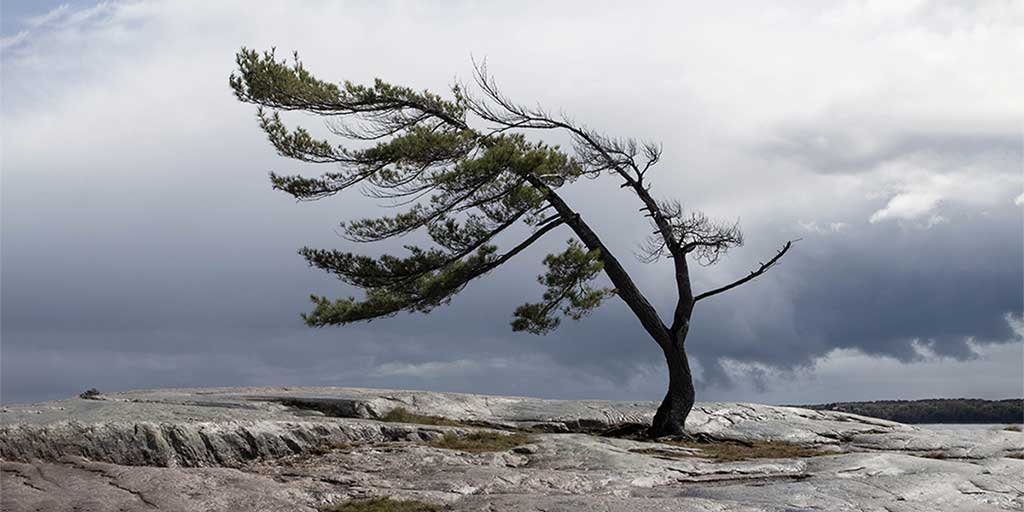 Killbear Provincial Park is one of Ontario's most famous locations. In fact, the fame of Killbear park extends across Canada and even throughout the world. And while there are a lot of things that make this park a popular outdoor destination in Ontario. The hiking trails, the beautiful lakes, and the gorgeous scenery are just a few. But Killbear Provincial Park's claim to fame comes down to one lonely tree standing twisted by the wind and holding on to the bare rock against the weathering winds of Georgian Bay.
The Killbear Tree
The lonely, windswept white pine that has been dubbed "The Killbear Tree" sits on a granite outcrop called "Sunset Rock" on the eastern edge of the Beaver Dams campground. The tree, which has become an icon of Canadian perseverance, is considered "Canada's most photographed tree."
The Killbear Tree has been a focal point of Killbear Provincial Park for generations. The tree is believed to be well over 100-years old and stands like a Group of Seven painting against the bold blue colours of the sky and the red granite of the Canadian Shield. This picture-perfect location has been the backdrop of family photos for generations.
Unfortunately, the Killbear Tree is on its last legs, or roots I guess would be a better term. Arborists have noticed the trunk is beginning to hollow out and a large branch fell in 2019. So if you've always wanted to see the Killbear Tree for yourself, time is running out.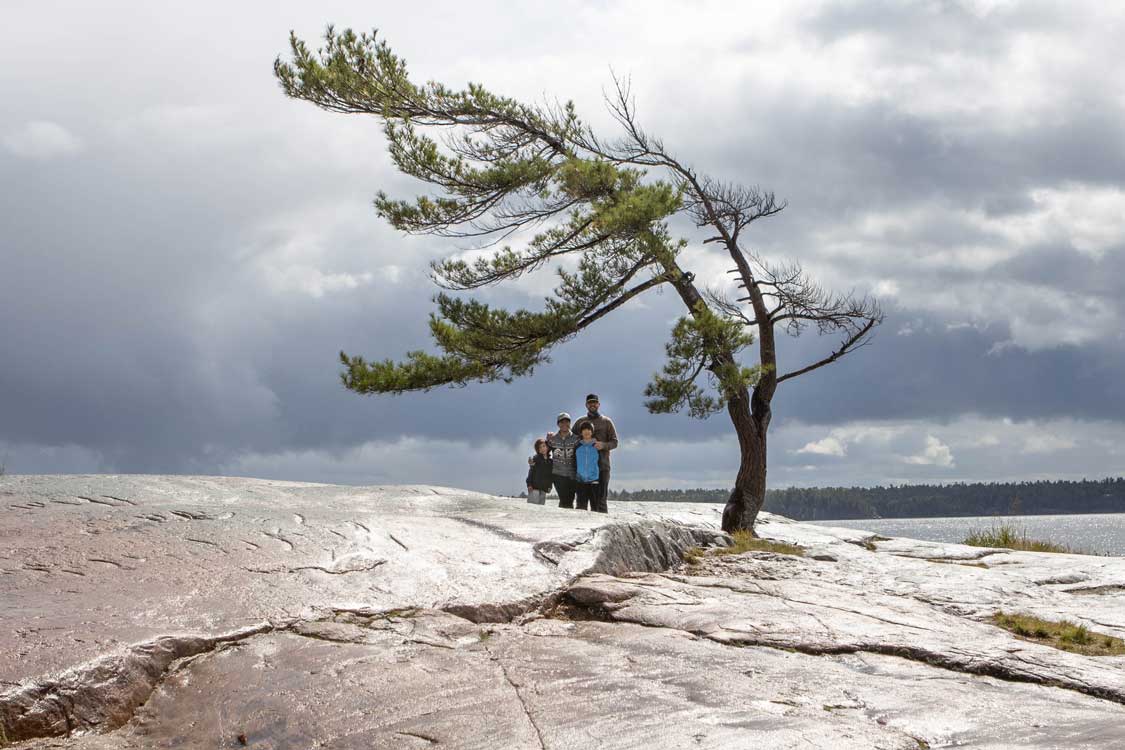 Where Is Killbear Provincial Park?
Killbear Provincial Park is located at the end of HWY 559 about 10-minutes west of HWY 400 and about 30 minutes north of Parry Sound. Killbear sits on the gorgeous granite shores of Georgian Bay south of popular spots such as Killarney and Sudbury, and Manitoulin Island. The closest town is Nobel, which is about 10-minutes away. Although there are a number of outfitters along HWY 559 to get supplies, wood, camping gear, and of course, ice cream.
The park is about an hour south of Georgian Bay Islands National Park but offers a very similar landscape but without the need for a boat to access it.
What To Do In Killbear Provincial Park
A visit to the Killbear Tree is a must. But there are plenty of things to do in Killbear Provincial Park once you've paid homage to the park's iconic white pine. Killbear is packed with incredible experiences that will make you want to book your next stay before you've even packed up for home.
And while you could have the time of your life just camping at Killbear Provincial Park and chilling out in a hammock between towering pine trees, if you're anything like us, you'll want to explore a little more. So, if you're looking for what to do in Killbear Provincial Park, here are my tips for you.
Killbear Provincial Park Camping
If you're planning on doing anything more than a day trip, you'll want to experience camping in Killbear Provincial Park. There are very few places to stay near Killbear, so camping is by far the most convenient option.
As far as the Ontario Provincial Park system goes, Killbear camping is fantastic. For the most part, the sites are large, private, clean, and offer convenient access to comfort stations, water taps, and the network of hiking trails and beaches in Killbear.
As far as Killbear campsites go, there are plenty to choose from. The park has seven distinct campgrounds and 880 campsites in total. The most sought after, or "best" Killbear campsites, according to most visitors are those on the Beaver Dams campground close to both the water and Sunset Rock where the Killbear Tree is located.
If you're looking for areas near the Killbear beaches, Beaver Dams has several options, including serviced (electric) sites near the beach. Killcoursie Bay campground and the western end of Harold Point campground also have great access to beaches and are near the main section for road access and activities.
Georgian campground has an area very close to sunset rock. However, the sites themselves, while not far, are not directly on the water. The Blind Bay campground offers the most privacy, but also doesn't have any direct access to the waterfront.
However, both the Granite Saddle campground and the Lighthouse Point campground have a few campsites with access to the water. Granite Saddle definitely offers the most privacy, while Lighthouse Point is among the more crowded campgrounds in Killbear.
If you're new to camping, you can check out everything you need to know about camping with kids here.
What are the Best Campsites at Killbear Provincial Park?
There are plenty of opinions on what the best campsites in Killbear Provincial Park are. Personally, I LOVE the sites near the Killbear Tree in Beaver Dams. They offer easy access to the beach and water, there are serviced sites for those who need it, and are large and private.
However, many Killbear campers are fans of the Kilcoursie Bay Campground. I can totally see why. The beach here is far more extensive, and the sunset views near the water can only be topped by Sunset Rock or the Twin Points trail.
Before you head out, make sure you check out our tips for Ontario Parks camping so that these parks are here to enjoy for generations to come.
Is It Hard To Reserve A Campsite At Killbear?
Killbear Provincial Park is big, but it's also very popular. Although there are nearly 900 campsites in Killbear, they fill up exceptionally quickly. There are many visitors who will spend their entire summers at the park, often camped in the same prime campsites.
If you want to secure the best campsites in Killbear Provincial Park, book as early as possible. the Ontario Parks reservation system accepts reservations up to 5 months in advance. And waiting till 4 months might be too long.
However, if you missed the boat, don't be upset. Many campers cancel at the last minute, so keep checking for those last-minute Killbear openings. Alternatively, consider camping during the shoulder season. Fall is much less busy. And like fall camping in Algonquin, you have a much better chance of getting a prime campsite.
Boating and Paddling in Killbear Park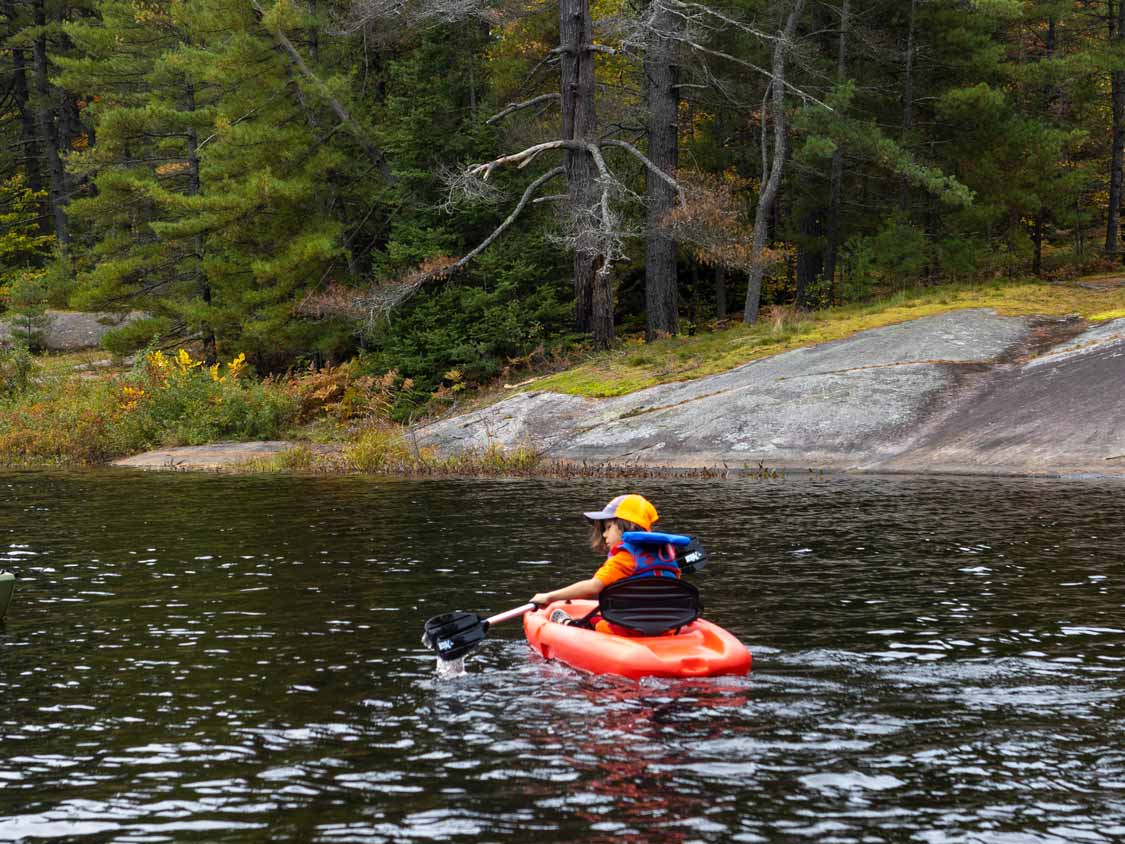 Killbear Provincial Park is literally surrounded by water. three of the four sides of the park border the blue waters of Georgian Bay. However, unlike many provincial parks in Ontario, there are no lakes or rivers within Killbear Provincial Park itself. In fact, the main body of water at the park is Georgian Bay, which surrounds the landscape of the park.
That means that if you're looking to do some paddling, you'll need to be comfortable with big water. Georgian Bay, while gorgeous, is also tempestuous. Weather on the water can go from calm to windy very quickly, and waves can pick up with little notice.
That being said, if you are comfortable paddling in the Georgian Bay waters, there is simply no better way to get a glimpse of the gorgeous rocky shoreline.
If you're looking to rent canoes or kayaks at Killbear Provincial Park, you'll need to exit the park and visit one of the nearby outfitters. There are several on the short drive from HWY 400 to the Killbear entrance that offers boat rentals, lifejackets, paddles, and other gear.
Killbear Provincial Park Hiking Trails
The rolling landscape of Killbear Provincial Park makes for some stunning hiking trails. Although the park is relatively small, there are three excellent hiking trails in Killbear Park. If you're new to family hiking, you can check out my tips for hiking with kids here.
Lighthouse Point Hike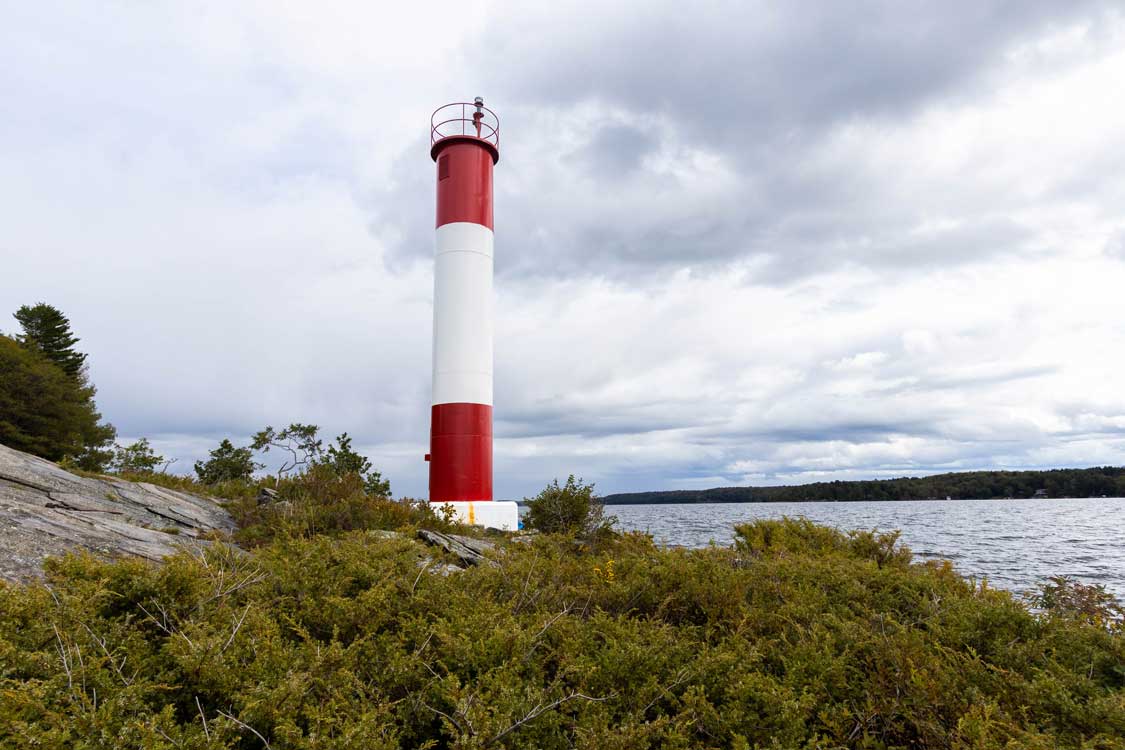 Among the most popular hikes in Killbear Provincial Park is the short but sweet Lighthouse Point Trail at the far tip of the peninsula that makes up Killbear Provincial Park. Although the Lighthouse Point trail is a relatively minuscule 800 metres (874 yards), there is a lot of beauty packed into a short walk.
The Lighthouse Point trail can almost be looked at as two hikes in one. As you're leaving the parking lot, the trail on the right will take you along the rugged Georgian Bay shoreline. You'll pass through quiet forest walks where you're sandwiched between granite rock faces and the Georgian Bay waters before making a climb over some rocks towards the magnificent rocks near the Killbear Lighthouse.
If you take the path to the left, you'll make the much more relaxing stroll through the forest and past the quiet but beautiful Lighthouse Point Beach. From here, you'll angle towards the tip and ultimately, the Killbear lighthouse.
Both routes are fantastic. One is relaxing, the other one more adventurous. You can do the entire loop and experience both, or choose the route that caters towards your comfort level. But either way, take some time to explore the incredible tectonic landscape near the lighthouse. There are few places to better see how the shifting of the plates led to some of the dramatic Georgian Bay landscape than right here.
Twin Points Trail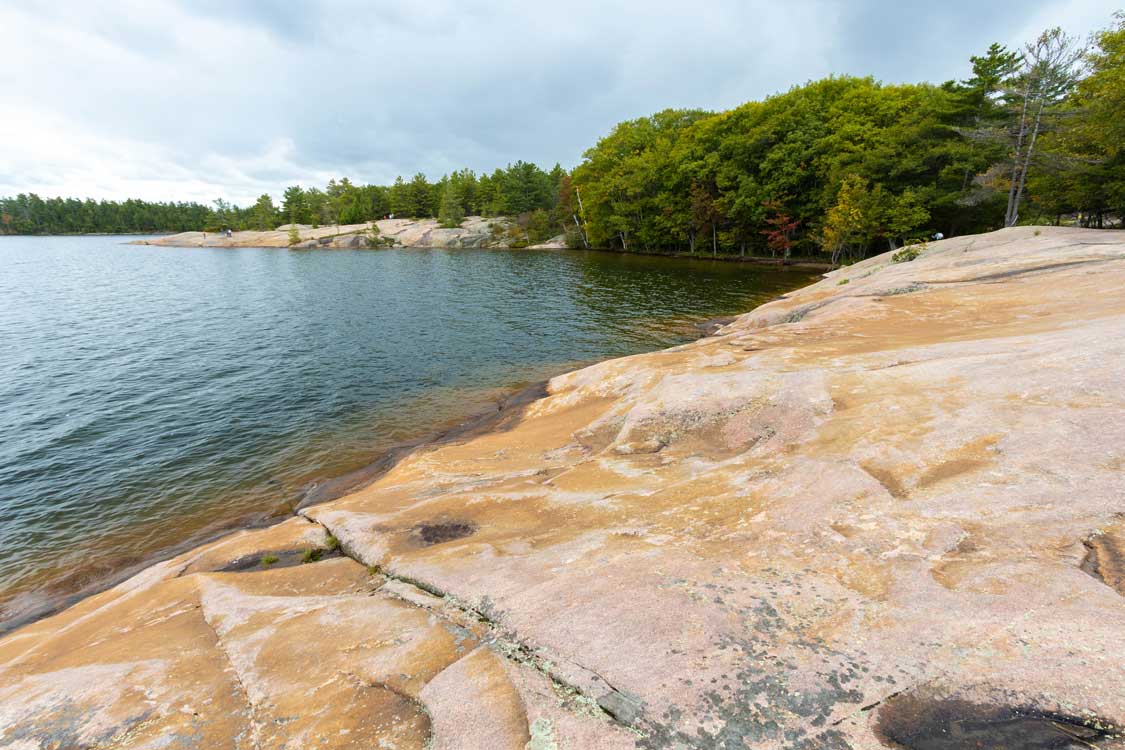 If you're not going out on the water, but want to get the best view of the epic Georgian Bay landscape, the Twin Points Trail is for you. The trail is named because of it's literally two rocky points connected by some lush forest. The complete trail is a 1.6 km (1 mile) loop. But this is a fantastic Killbear hike to take your time and bring a picnic. Once you arrive at the smooth barren red rock of the Twin Points you're going to want to stay awhile.
After you leave the second point the Twin Points hike loops through the lichen-floored forests in a truly breathtaking fashion. You'll encounter groves of thick trees followed by barren rock mixed with low-lying blueberry bushes.
Lookout Point Trail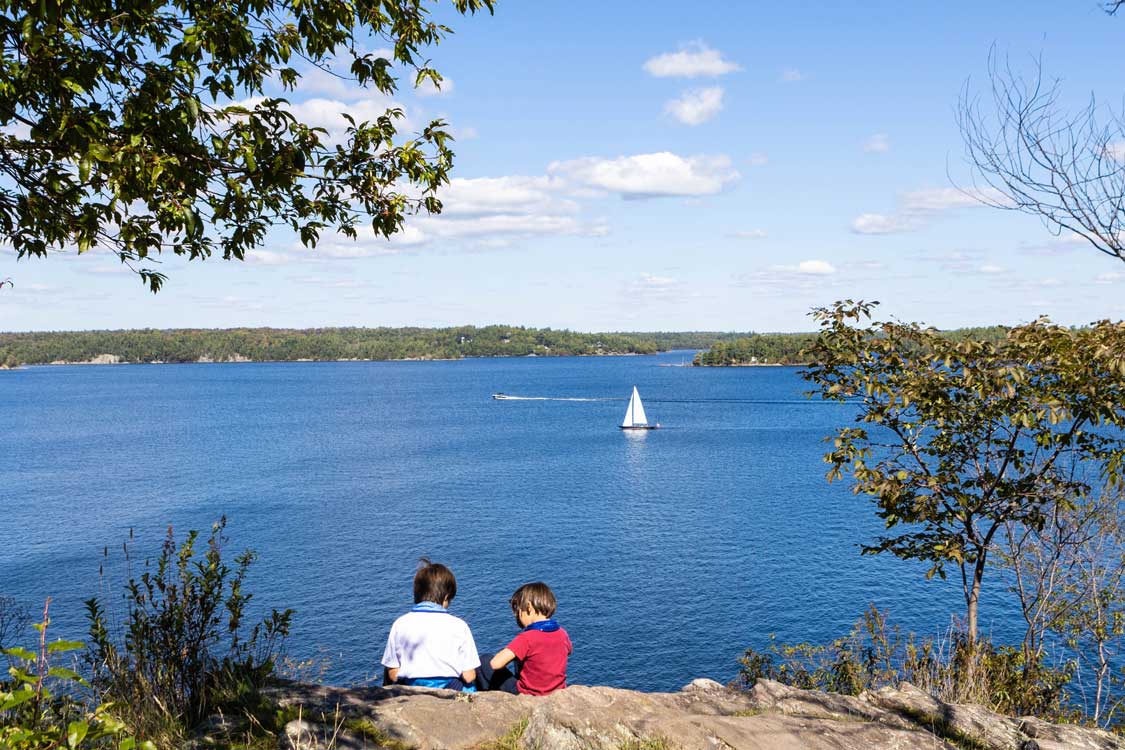 At 3.6 km (2.4 miles), the Lookout Point trail is the longest of the hiking trails in Killbear Provincial Park. This was my favourite of all the Killbear hikes. The walk begins along a boardwalk in some marshland which was lit up with colour as we were visiting Killbear in the fall. But soon we were climbing through spacious pine forests before making our way out onto the shrubbery-dotted bedrock of Lookout Point.
The views from the Lookout Point hike make this well worth the effort. From far above the Georgian Bay waters you'll see sailboats flitting amount the islands, gorgeous cottages dotting the edge of the water, and Georgian Bay cruises moving back and forth between the landscape, it's this point that truly offers the most rousing views of Georgian Bay.
The point makes for a wonderful place to break, have a picnic and enjoy the views. In fact, many Killbear hikers will come out to Lookout Point and spend the day hanging out on the rocks before heading back to their Killbear campsites in the late afternoon.
Swimming and Beaches at Killbear Provincial Park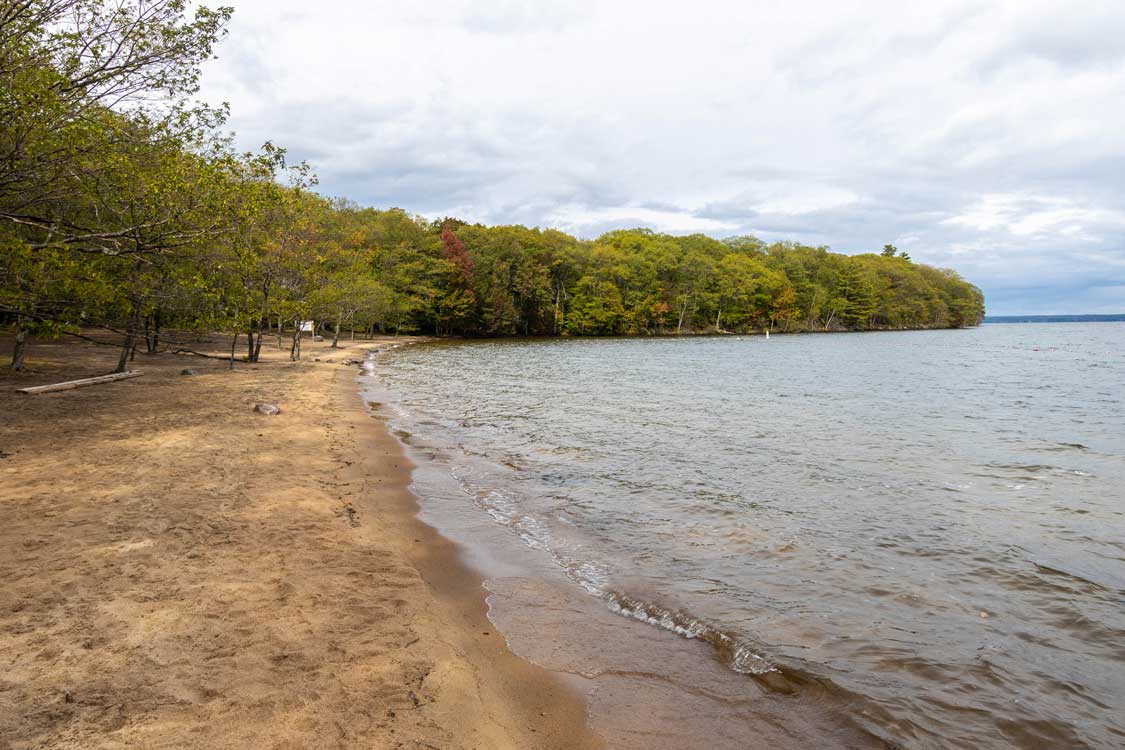 There is some fantastic swimming at Killbear Provincial Park. Although the cool waters of Georgian Bay might shock you a bit as you jump in, braving the rocky floors of the water is a tradition for many visitors to the park. There are several beaches at Killbear. The main beaches near Beaver Dams and Kilcoursie Bay campgrounds are definitely the most popular. But the quiet waters of the Lighthouse Point beach is my personal favorite.
If the sandy beaches of Killbear don't offer enough thrill for you, the rocks at Harold Point are a popular spot for rock jumping. While rock jumping at Killbear Provincial Park isn't encouraged by Ontario Parks staff, many thrill-seekers still take the 30-ft plunge from the highest point. Be warned that there is a ledge at the bottom that you will need to clear. If you decide to go rock jumping at Killbear Provincial Park (or anywhere for that matter), always scout out the location before you jump to make sure that the landscape hasn't changed from what you expected.
Things To Do Near Killbear Provincial Park
The fun doesn't stop at the park borders. If you're staying for an extended visit and are looking for great things to do near Killbear Provincial Park, I have you covered for that as well.
Snug Harbour Lighthouse
Just a 13-minute drive from the entrance to Killbear Park is the pretty Snug Harbour lighthouse. To get there just head up HWY 559 towards HWY 400 and hang a left on Snug Harbour Rd. Hang another left on West Wind Trail, and at the end of the road, you'll have views of the lighthouse over the water.
Norse Brewery
Just 30 minutes from the park (head to HWY400 and go north about 10 minutes) is Norse Brewery. Here you can stock up on some fantastic Viking-inspired brews. The beer at Norse Brewery definitely took Christina and I back to our travels through Iceland and Norway.
Our Killbear Provincial Park Video
Our YouTube channel gives us the chance to share a different side of our family travel adventures. To see more amazing views of Killbear Provincial Park, check out our video below. Please help support our channel by subscribing and liking our video.
Tips For Visiting Killbear Provincial Park
If you're planning on camping in Killbear Provincial Park, here's everything you need to know before you go.
Is There Food Available At Killbear Provincial Park?
There is no park store at Killbear Provincial Park. Any food, ice, or beverages must be brought in from outside the park. There are two excellent outfitters just outside of Killbear Provincial Park where you can source most major items. For anything specialized, you'll need to make the trek to Parry Sound which is about a 30-minute drive south.
Is There WiFi at Killbear Provincial Park?
There is WiFi available at the Killbear Provincial Park Visitors Centre.
Are There Toilets and Showers at Killbear Provincial Park?
There are 8 Comfort Stations that include flush toilets, running water, laundromats, and showers within Killbear Provincial Park. Please note that not all services may be available when you arrive. If there are specific services you require, call ahead to ensure they are accessible.
Wildlife At Killbear Provincial Park
There are many types of wildlife at Killbear Provincial Park including fox, birds, moose, deer, and black bears. Given the name of the park, it should be no surprise that black bears frequent the park. Please remember to keep all food out of reach in bear-proof bins or hanging out of reach. You can be fined by park staff if you leave food out at your campsite.
If you're planning a visit to Killbear Provincial Park, I hope this guide helps you along the way. But if you've made the trip already, tell us about your experience and let us know if we missed anything. Or, tag our Instagram account with your photos. We would love to share in your travels.
Wandering Wagars is a participant in the Amazon Services LLC Associates Program, an affiliate advertising program designed to provide a means for sites to earn advertising fees by advertising and linking to amazon.com, amazon.co.uk, amazon.ca. Amazon and the Amazon logo are trademarks of Amazon.com, Inc. or its affiliates.
You May Also Like To Read:
Pin This For Later: