Cold weather doesn't mean that you can't get outside and have some fun! Discover winter Yurt camping at MacGregor Point Provincial Park in Ontario.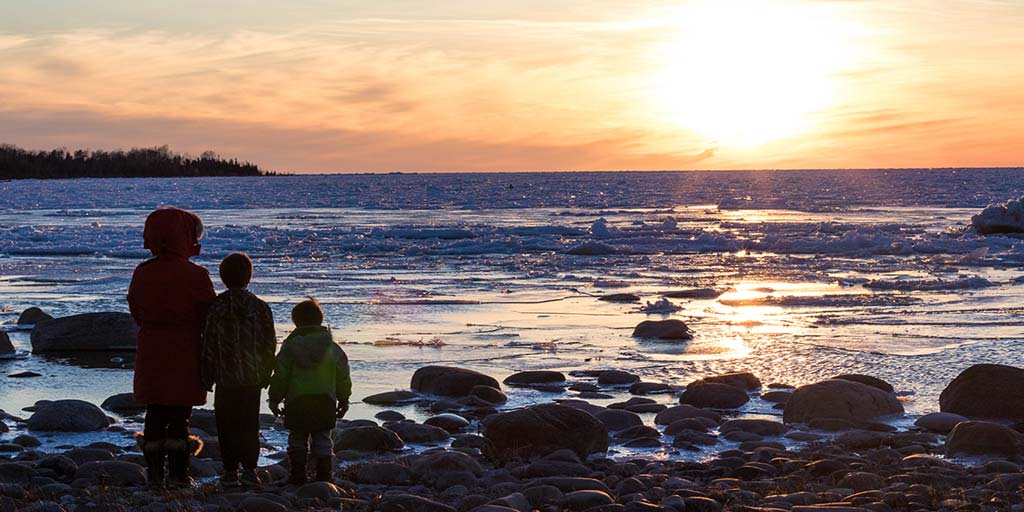 Camping has become a bit of a passion for our little family. We've been bouncing all through Ontario experiencing parks from Pukaskwa National Park to Point Pelee during the last few years. But this year we tried something new, we wanted to experience winter camping at MacGregor Point Provincial Park in Ontario. Our friends at Ontario Parks had been raving about all of the incredible things to do at MacGregor Point, so it was time to experience it for ourselves.
Now, tent camping is awesome. But, we had just returned from our trip to Norway only 6-days before. So rather than roughing it in the cold, we opted to camp in style in one of the MacGregor Point Yurts. What is a Yurt? Well, I'll get to that a little further down.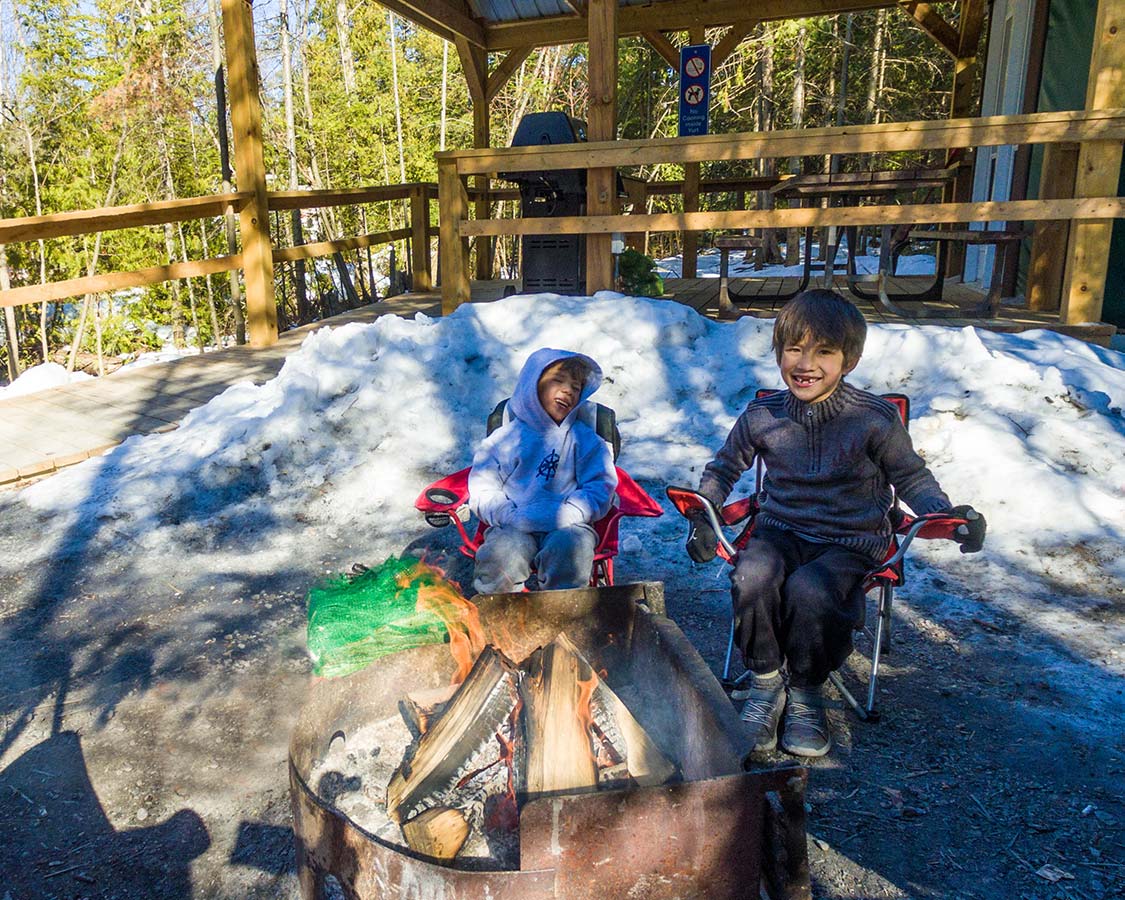 Where Is MacGregor Point Provincial Park
MacGregor Point Provincial Park sits along a 7 km (4 miles) stretch of Lake Huron. It shares the same Saugeen Shores shoreline as Sauble Beach Ontario. MacGregor Point is just south of Port Elgin, Ontario and is about a 230 km drive north from Toronto.
Things to do at MacGregor Point Provincial Park Campground
MacGregor Point, like most of the amazing Ontario Provincial Parks, has a great variety of things to do for families. The MacGregor Point visitor center has excellent family-focused interactive activities. There are great hikes along the marshland trails. And there is, of course, the shoreline trail that is particularly nice at sunset. The winter hiking reminded us of our winter hiking up in Yellowknife, Northwest Territories. MacGregor Point is also home to The Huron Fringe Gift Shop which is full of nature-focused crafts and gifts.
For those visiting in the summer, there is a small beach at MacGregor Point called Campers Beach. This beach has a great playground. The beach itself is fairly small and rocky. But if you are looking for more beach options during your stay there are many options including Inverhuron, Sauble Falls, and Southampton Main Beach.
Before you head out, make sure you check out our tips for Ontario Parks camping so that these parks are here to enjoy for generations to come.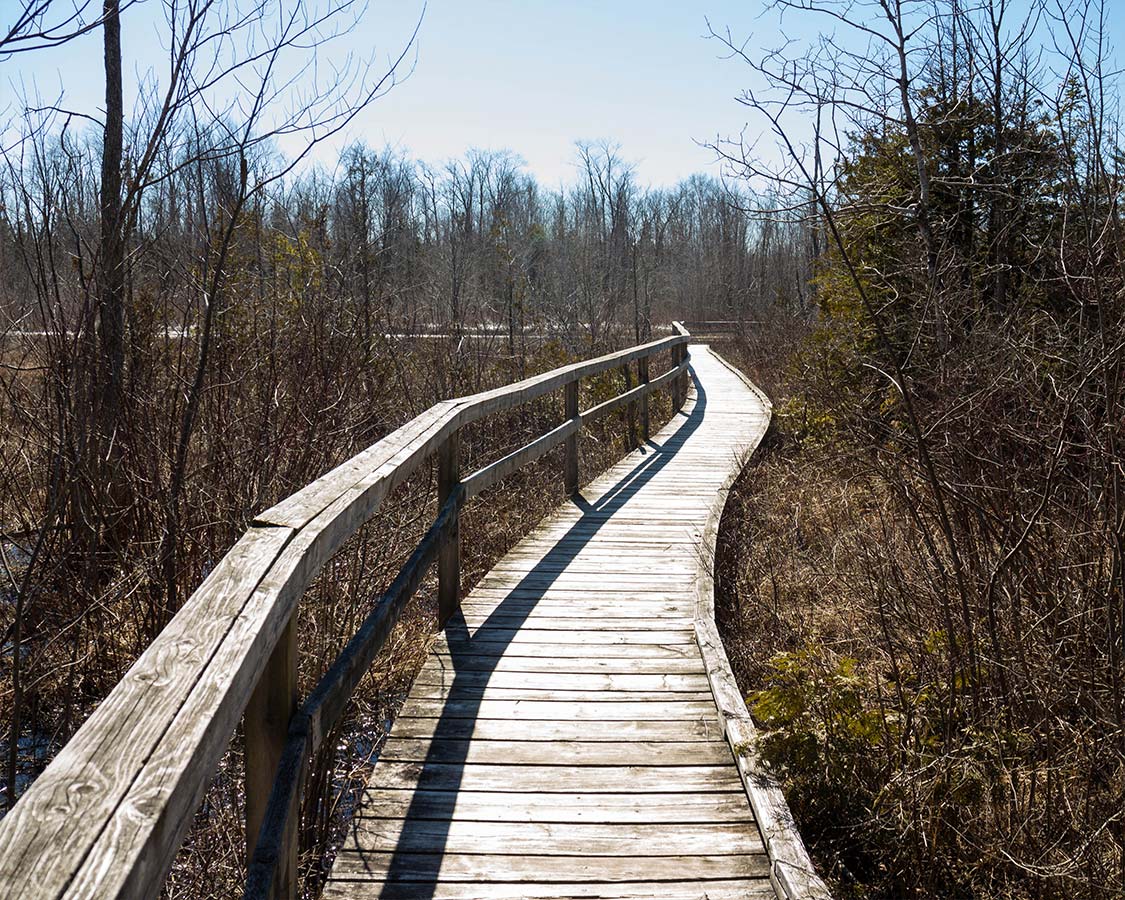 Winter Activities at MacGregor Point
You can't experience MacGregor Point winter camping without having some awesome things to do. And although the MacGregor Point visitor centre is closed during the winter, this small park is packed with great cold-weather activities for the whole family. You can check out our complete list of things to do at MacGregor Provincial Park here.
Here are the 5 best things to do during Winter in MacGregor Point Provincial Park:
Yurt camping with cozy fireplaces: Glamping right in Ontario! Read more below about our Yurt camping experience including tips on how to have a successful winter yurt camping experience.
Hike or Snowshoe through the wilderness: There is over 200 km of unplowed trails so you are assured to have different snowshoe options during your stay at the park. Also, we really loved the winter hiking trails along the frozen marshes. And the walkout to Sunset Point totally lived up to the name.
Cross-country ski along the Lake Huron shores (weather permitting): There are 7 kilometers of track that form of a loop for easy cross-country skiing.
Skate along the 400-meter skating oval (weather permitting): Similar to the outdoor ice trail at Arrowhead Provincial Park, this outdoor ice skating rink is a hit during winter at MacGregor. This is an especially fun activity if you are camping with kids.
Birding: MacGregor Park is a famous summer destination for birders. But those in the know, also visit MacGregor Park in the winter to see birds such as the snowy owl. In fact, MacGregor Provincial Park is part of the Saugeen Shores district for the annual Christmas Bird Count held by the Bird Studies of Canada.
MacGregor Point Provincial Park Winter Camping
Reserving camping, cabins, and yurts in MacGregor Provincial Park usually requires a reservation. You can access the new Ontario Parks reservation system here.
RVing in Winter at MacGregor Point
For those who like to camp in an RV, MacGregor Point is unique among Ontario provincial parks. It offers the opportunity to park an RV or trailer without having to move it during the winter season. To find out move about RVing in MacGregor for the winter, click here.
Yurt Camping in Winter
MacGregor Point Provincial Park has 16 yurts. These are found in the Birch Boulevard section of the Algonquin campground. The MacGregor Point yurts need to be booked using the Ontario parks reservation system. Each yurt at MacGregor Point park includes one parking spot. The yurts can be booked up to five months in advance of your date of accommodation.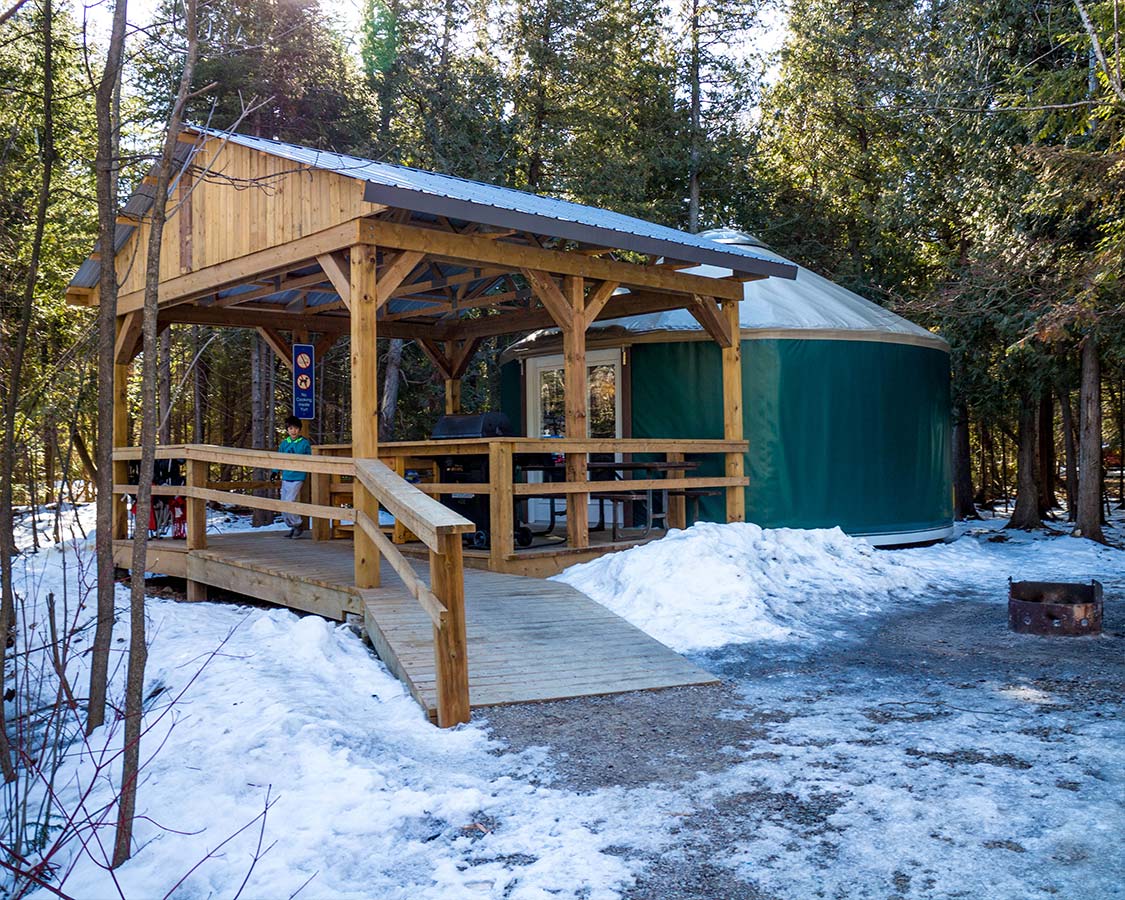 Pro-tip: We strongly suggest you book early as the Yurts are very popular all year round.
This was our first time staying in a yurt. Although, we have stayed in other covered structures at Ontario Parks. At Thousand Islands National Park we stayed in a Parks Canada oTentik. An o-Tentik is a part tent, part cabin structure. Similar to yurts and cabins, oTentiks come furnished with beds! At Beausoleil Island in Georgian Bay Islands National Park, we stayed in a Parks Canada cabin.
What Is a Yurt?
A Yurt is a framed, soft-sided roofed accommodation. This style of accommodation has been a traditional housing of choice for many cultures and has recently become all the rage for outdoor experiences due to its spacious design and simple elegance.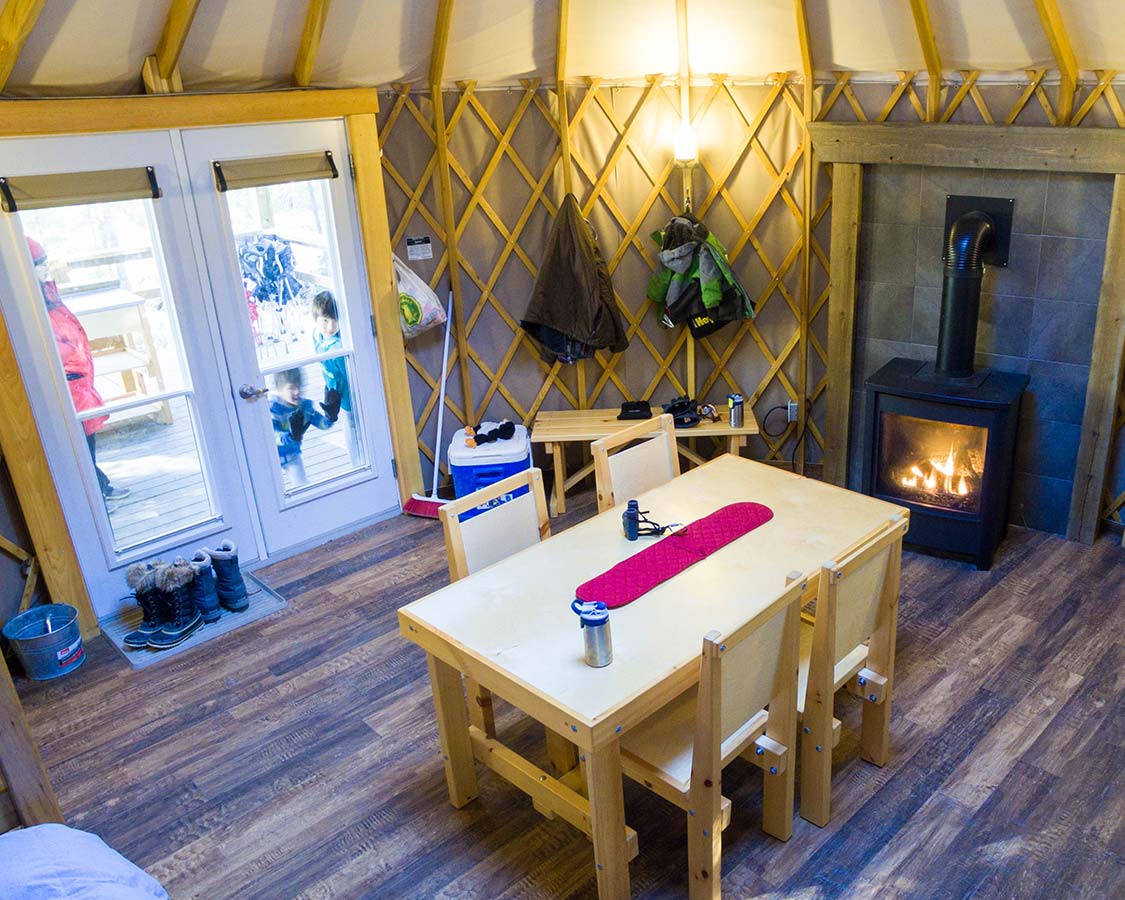 Yurts vs oTentiks vs Cabins
So, how is a yurt different from an oTentik or cabin? For one, it includes a wood or natural gas stove! For winter camping, that's a huge bonus. This, combined with the spacious, comfortable accommodations turned our winter camping weekend to a glamping experience. The fireplace gave us the perfect spot to dry our gloves and keep our hats toasty warm after spending the day outside.
Besides having heat, yurts at MacGregor Point Provincial Park also come equipped with two sets of bunk beds (lower bunks were double-sized and top bunks were single sized), a table with four chairs, and a bookshelf. The yurt has fluorescent lighting and there were also electrical outlets which allowed us to charge our camera gear overnight.
The winter glamping experience continues with the outdoor amenities. The roofed deck comes with a gas barbeque (gas is included so there is no need to bring your own). The bbq comes complete with a side burner. The spacious sites also include a fire pit and a picnic table.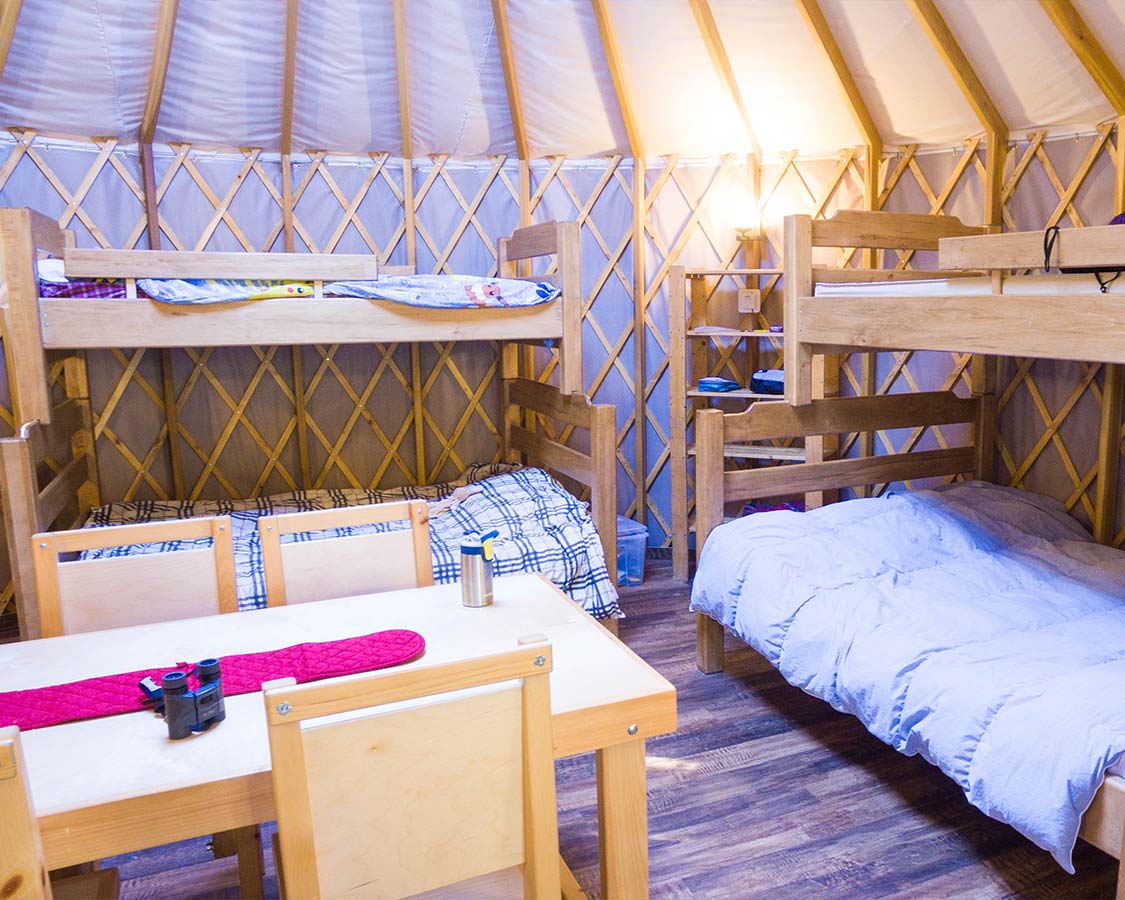 What do I need to bring for yurt camping?
Since the Ontario Provincial Park yurts come furnished, you won't need to bring as many items as might normally need if you were tent camping. But there are a few things that you need to have with you to make the best winter camping experience possible.
First, the mattresses on the bunk beds don't have sheets. So, you will need sheets, blankets, and pillows. Second, if you will be using the side burner on the barbeque, you will need to bring cookware and dishes. Third, the yurt doesn't come with dishes or utensils.
Here is our yurt camping packing list:
Although yurts do not come with their own bathrooms, heated comfort stations are close by. And as a bonus, MacGregor Point Provincial Park showers come with hot water- a necessity for winter camping.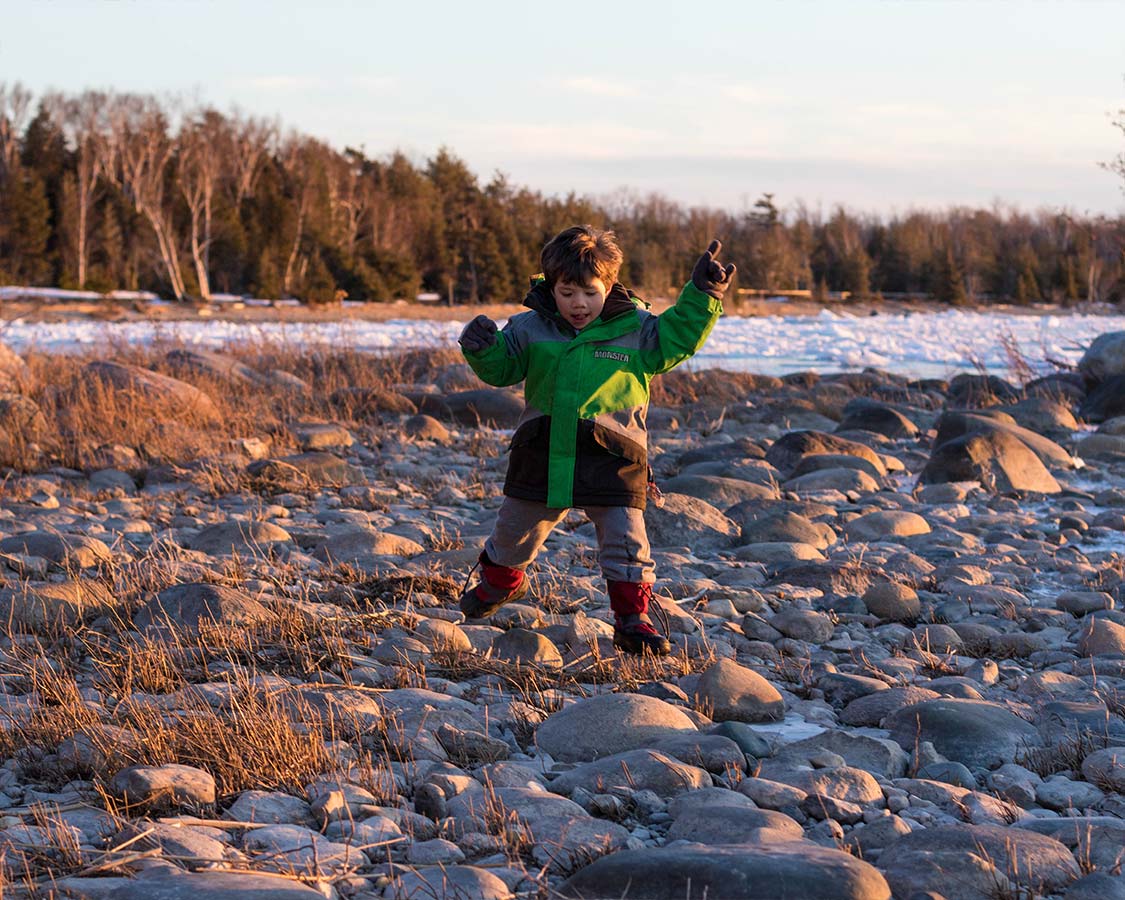 Pro-tip: Potable water is available at the park. So reduce waste with refillable water bottles.
Day Trips from MacGregor Point Campground
Don't worry if you get stuck with some bad weather during your camping trip. There are lots of things to do near MacGregor Point Park.
Southampton
Southhampton is about 20 minutes north of MacGregor Point. One of our favorite destinations in Southampton is the Southhampton Market. It is situated in an old factory building, and it's easy to spend hours here exploring all the handmade furniture, crafts, toys, and trinkets available for sale.
You can also check out the Southampton boardwalk to take in some of the beautiful views of Lake Huron. The route takes you along the waterfront where you can also see the gorgeous Chantry Island Lighthouse.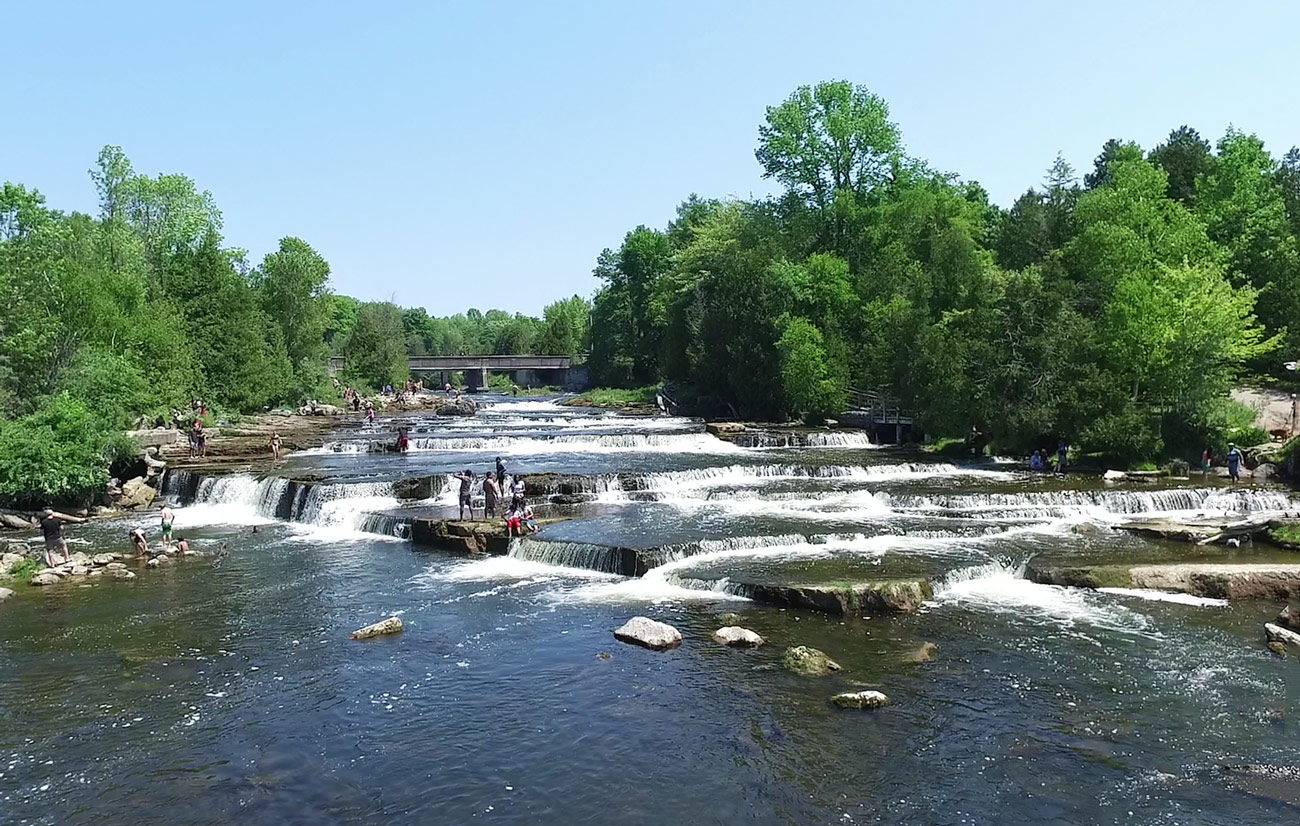 Sauble Beach
Sauble Beach has always been one of our favorite destinations in Ontario. The town is pretty quiet during the winter so you will be able to enjoy stunning sunsets all to yourself. And, if you visit during the summer you can take in the second-longest freshwater beaches in the world.
Nearby is the beautiful Sauble Falls Provincial Park. This park is beautiful year-round and also has great camping during the summer months. It's good to remember that camping in Ontario Provincial Parks includes unlimited access to any other Ontario Provincial Park during your stay.
Disclosure: We were guests of Ontario Provincial Parks during our visit. We were provided with a yurt site and firewood. As always, our opinions remain our own. Wandering Wagars is a participant in the Amazon Services LLC Associates Program, an affiliate advertising program designed to provide a means for sites to earn advertising fees by advertising and linking to amazon.com, amazon.co.uk, amazon.ca. Amazon and the Amazon logo are trademarks of Amazon.com, Inc. or its affiliates.
You May Also Like To Read: