A Norway coastal cruise takes you through some of the most amazing landscapes in the world. Make the most of your Hurtigruten cruise excursions in Norway.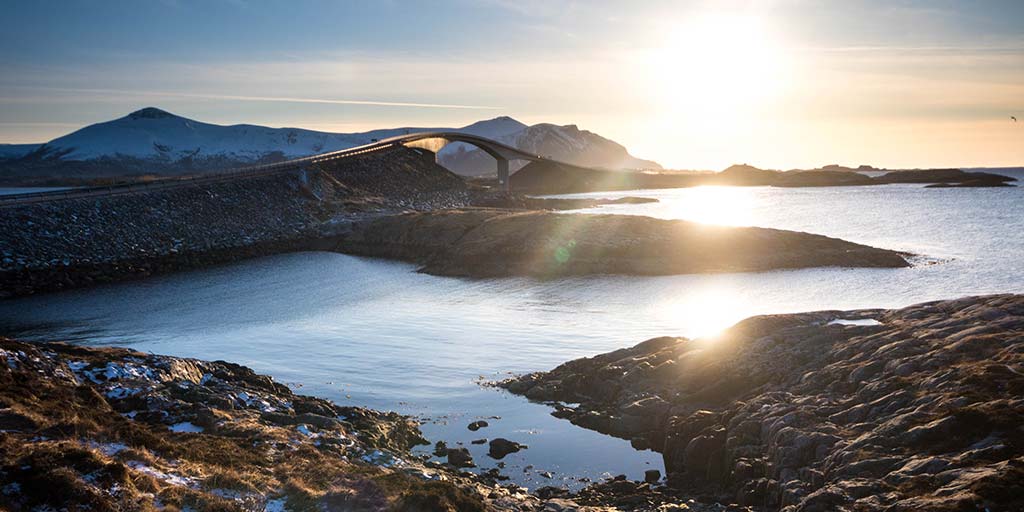 The Hurtigruten coastal cruise is one of the most amazing ways to experience the majestic coast of Norway. But because of the unique nature of the Hurtigruten coastal cruise, it's important to manage your Hurtigruten excursion list ahead of time in order to see the most amazing sites of coastal Norway. Here is our list of what you'll see and how to make the most of your Hurtigruten cruise excursions in Norway.
If you aren't familiar with the Norway Hurtigruten coastal cruise, you should check out our Hurtigruten Northern Lights Cruise post. That article lays out our experiences cruising from Kirkenes to Bergen on the Hurtigruten ferry. We figured it would be better to separate our breakdown of the Hurtigruten excursions in Norway so that it wouldn't be too long.
Hurtigruten Cruise Excursions in Norway and Ports of Call
Because of the Hurtigruten's dual function as a cruise ship and a ferry/shipping boat, there are a huge number of stops on the Norway coastal cruise. In fact, it's not uncommon for the cruise ship to stop several times in a single day. You can check the complete Norwegian Hurtigruten sailing schedule here.
Not all of these stops are created equal, however, so it's key to pay attention to both the length of the stops and the time at which they occur. Guests of Hurtigruten Norway are only permitted to exit the boat if the Hurtigruten ferry docks for longer than 30 minutes unless they are de-boarding at that port.
Check Out Our Hurtigruten Video
Don't have time to read about the entire there and back journey with Hurtigruten? Check out all of the stops that we made on our Southbound Hurtigruten cruise from Kirkenes to Bergen.
Northbound Hurtigruten Excursions Day 1
Bergen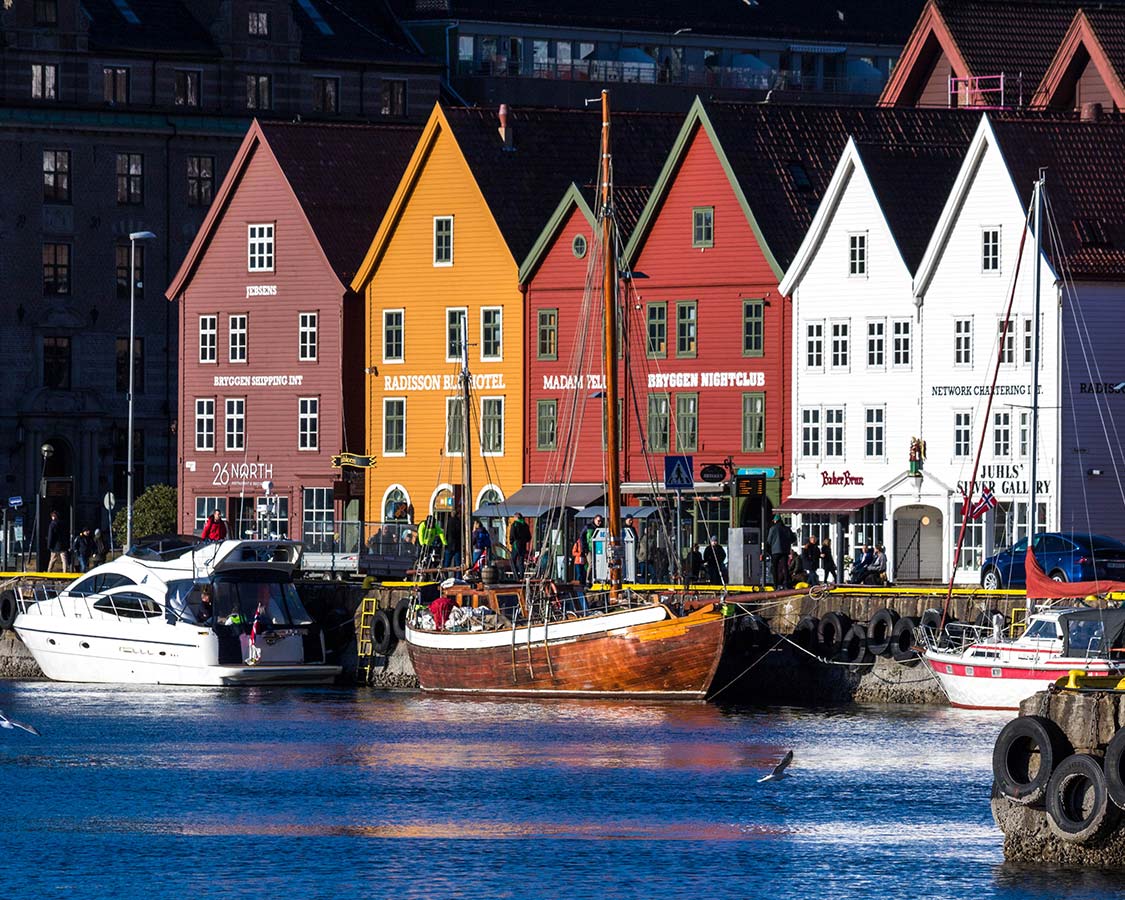 Bergen is either the start or end-point of a Hurtigruten cruise in Norway. Because it is an endpoint, there are no official Hurtigruten excursions in the city. But that doesn't mean that there is nothing to do! I really recommend getting a hotel in Bergen and spending a few days exploring this beautiful city.
Bergen offers a perfect mix of nature, history, and culture all wrapped in a beautiful urban package. Whether you are arriving via Norway in a Nutshell tour or completing your Norway coastal cruise here, these are some can't miss experiences:
Take the funicular to the top of Mount Floyen for epic views of the city.
The Floibanen funicular in Bergen holds up to 80 people and runs from early morning to late at night. At the top, you'll find a beautiful natural setting for hiking, biking, and skiing trails.
Wander the narrow streets of downtown Bergen.
This city is full of great shops located in quaint, colorful buildings. Simply wandering through the town is one of the greatest ways to experience Bergen.
Take the Norway in a Nutshell tour from Bergen to Oslo through the town of Flam.
This iconic Norwegian tour is not really a tour. But, it is a great way to visit some of the most beautiful areas of southern Norway via the combination of rail, bus, and boat.
You can read more about how to make the most of a short time in Bergen here.
Northbound Hurtigruten Excursions Day 2
Urke
Urke is a small town that is a popular spot for Hurtigruten Norway excursions. Many of the excursions here depart Molde and meet back up with the Hurtigruten at a different port later in the day.
Taste of Norway tour between Molde and Floro.
The Taste of Norway offers an easy way to taste the flavors of Norwegian cuisine among some beautiful towns and rural areas.
Fjord views from above with a Mountain Hike in the Hjorundfjord.
This hike, which offers beautiful views of The Hjorundfjord fjord is a great option for those looking for an active way to see the country.
Alesund
Explore the rebuilt city on an Art Nouveau Walk.
Alesund experienced a terrible fire in 1904 but was rebuilt in an art nouveau style. This unique design is a stark departure from Norway's traditional utilitarian design.
Northbound Hurtigruten Excursions Day 3
Trondheim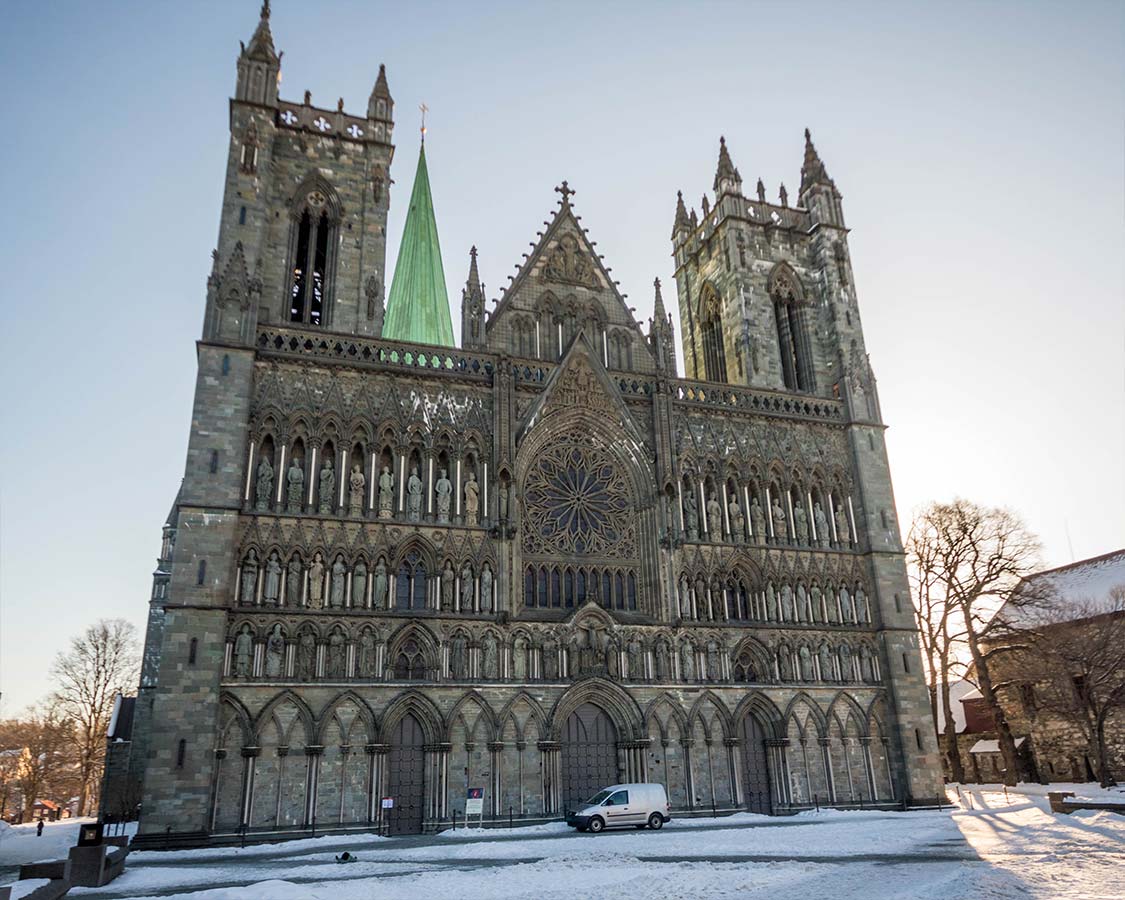 Trondheim was Norway's original capital. The town was established by 997 by the Viking King Olav Tryggvason and was originally named Nidaros. And the Nidaros Cathedral is one of the most popular destinations in the city.
Trondheim is also relatively easy to explore on your own. But if you choose to do so, make sure you are back at the boat with time to spare or you'll need to find your own way to meet the boat in Kristiansund.
Explore one of Trondheim's treasures at the Nidaros Cathedral.
There are two Trondheim tours that include the Nidaros Cathedral. One combines the visit with the Ringve Museum, while the other focuses more on the city of Trondheim as a whole.
Northbound Hurtigruten Excursions Day 4
Bodo
Experience the world's most powerful currents.
Every six hours the tidal currents flow through a 6-kilometer narrow in Bardo creating currents that flow at up to an impressive 22 knots. This tour takes you on a tour of Bardo and lets you view this incredible feature from the shore. In the summer, there are RIB boat tours along these roaring waters.
Stamsund
Meet the Vikings for fun and play.
Between Stamsund and Svolvaer is the most fun and family-friendly Hurtigruten excursion. The Meet The Vikings experience at the Lofotr Viking Museum in Borg, Lofoten. Here there is a Viking village that has been recreated to every last building. We've had a similar tour of Viking history during our Viking Trail tour of Newfoundland, Canada and from visiting the Viking museums in Iceland.
Svolvaer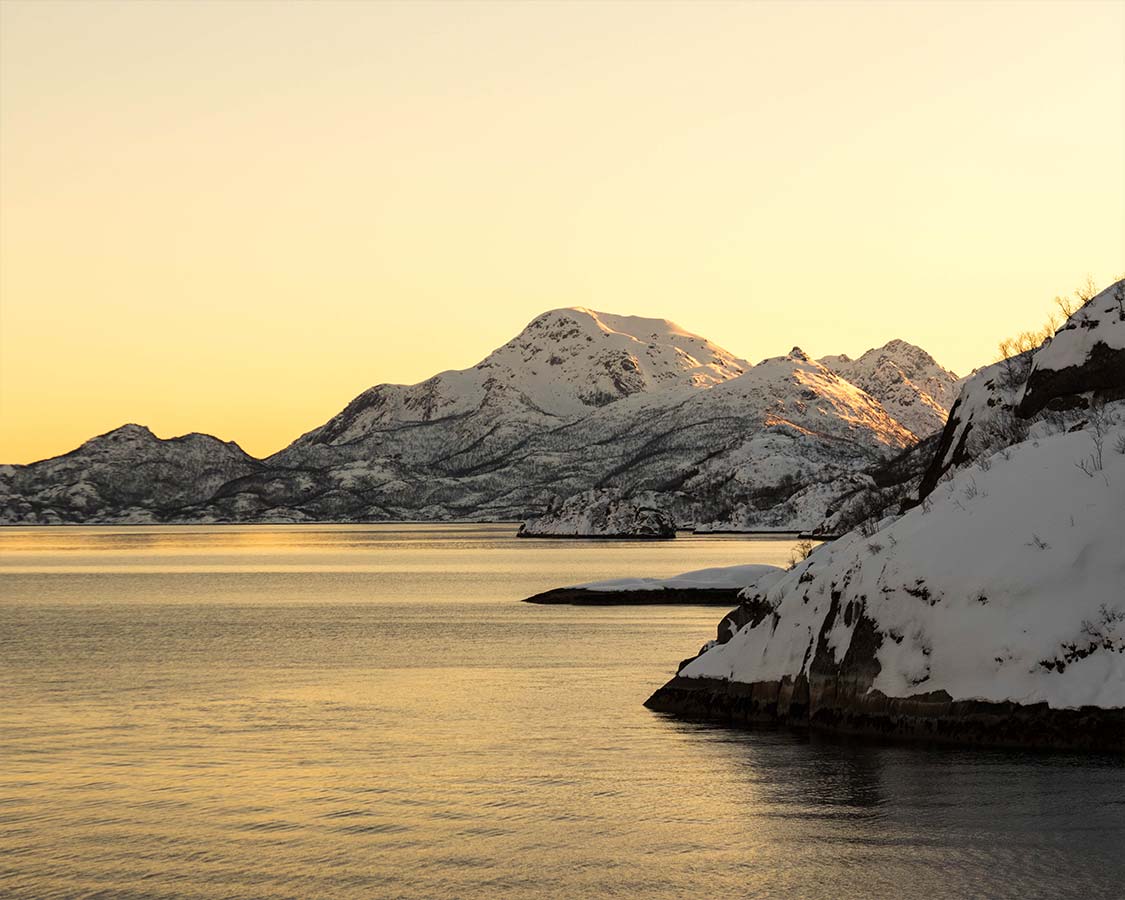 Get a taste for local Norwegian brews.
Located in a former fish factory, the Lofotpils brewery serves up delicious local Norwegian craft beers.
Northbound Hurtigruten Excursions Day 5
Tromso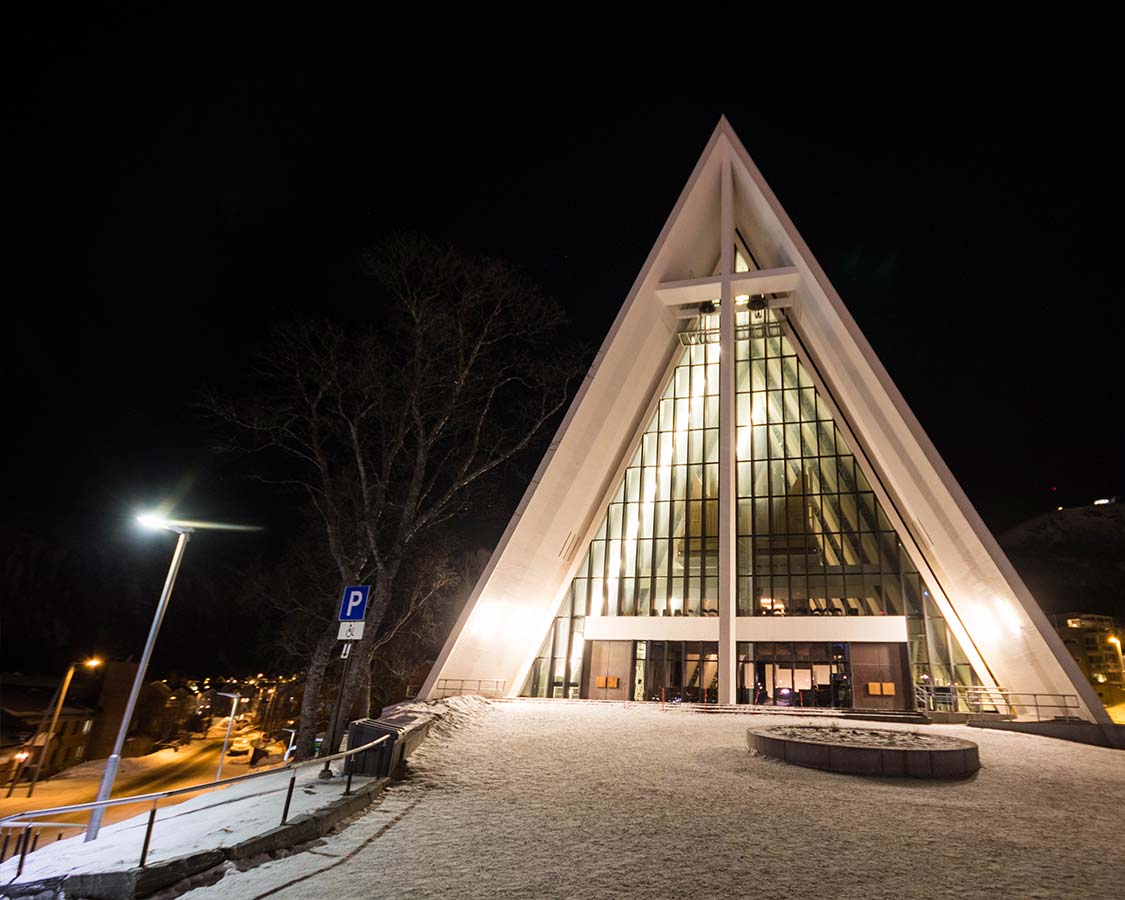 The Arctic capital of Tromso is one of the most popular destinations in Norway for experiencing the famous Northern Lights. Tromso is also a great destination for Norway shore excursions.
And because the Southbound port of call isn't as conducive to exploring, the Northbound experience is the time to do it.
Take a Tour of the Arctic capital.
This tour gives you a pretty complete look at Tromso including the famous Arctic Cathedral. Visitors also get to enjoy a mountain cable car ride to view the city from above.
Go on a dog sledding expedition.
This tour allows you to get a real taste of the Arctic winter while you sled across the tundra pulled by a team of sled dogs. We skipped this experience as we had already experienced dog sledding in Yellowknife and Mont Tremblant in Canada.
Experience a Polar Explorer Walk along the coast.
This tour takes you along the shores of Tromso and includes the polar museum.
Watch majestic whales from the deck of a tall ship.
Tromso also offers the amazing experience of whale watching from the oak decks of a schooner. This is similar to our whale watching experience in Husavik Iceland which was unforgettable.
Meet Europe's only indigenous people, the Sami.
The Sami are the only indigenous culture remaining in Europe. We have always tried to experience indigenous culture whenever we travel. Whether we are experiencing Pow Wows in North America or meeting Guarani tribes in Argentina, we feel it's important for us and our children to learn about the breadth of cultures that make up a region.
Northbound Hurtigruten Excursions Day 6
Honningsvag
Now we are really getting up north! Honningsvag is the gateway to some of the northernmost reaches of Europe.
Visit the North Cape, one of the northernmost points of mainland Europe.
This excursion brings you to some of the most epic landscapes in the world. You'll visit the northernmost point of mainland Norway.
Learn about Nordic fishing culture with a fishing village tour.
Fishing becomes ever more important as you travel further north in Norway. It's at the heart of the culture in much of Finnmarken. This tour brings you through local fishing villages and explains the process and the culture behind this important trade.
Tear through the Arctic landscape on a snowmobile.
Snowmobiling is a classic activity for northern nations. This Hurtigruten excursion takes you through the northern landscapes on a motor sled to experience true Arctic life. We imagine it is similar to our snowmobile excursion in Iceland.
Northbound Hurtigruten Excursions Day 7 – Southbound Hurtigruten Excursions Day 1
Kirkenes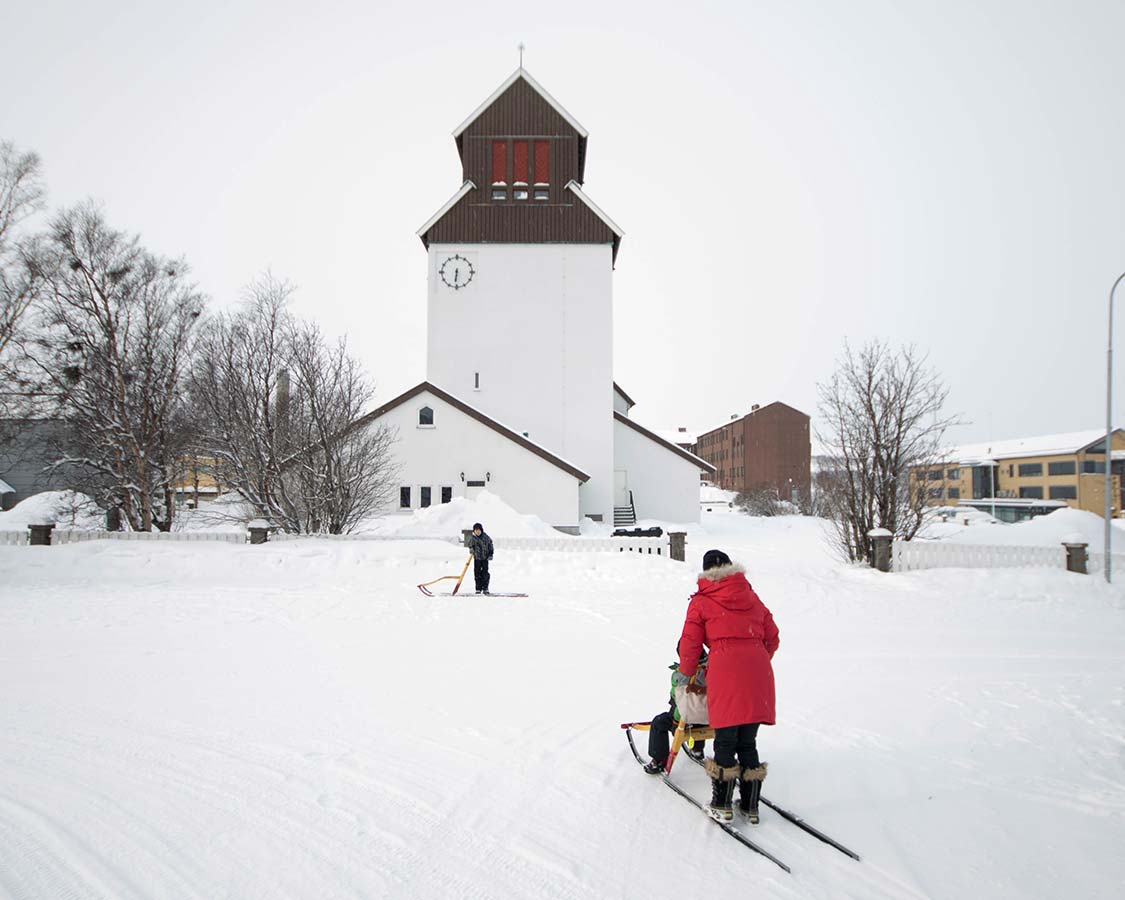 Kirkenes is the turning point for the Hurtigruten coastal tour. This is also where we started our cruise after spending a few days experiencing this northern town with at GoToKirkenes, the rental apartment of our Norwegian friend Roar. However, there are a few options for hotels in Kirkenes, you can check out some of the options here. They can book up fast though. If you have the opportunity to spend a few days in Kirkenes you won't regret it!
Arctic Ice Fishing on a fjord.
Head out by snowmobile through the Arctic landscape. Along the way, you'll experience an original Arctic pioneer house and attempt to catch some fish on a fjord.
Make a quick trip to the Russian border.
The Russian border is a quick 10-minute scenic drive from Kirkenes. This quirky stop is fun for geography lovers or those who just want to get close to a new country.
Tour Kirkenes and learn about it's WWII history.
Kirkenes holds the record as the "most bombed city" during WWII. Take a tour through the monuments and bunkers that survived the war. You can also try kick-sleds through downtown Kirkenes.
Snowmobile through the Arctic wilderness.
This Hurtigruten excursion takes you through the beautiful landscape surrounding Kirkenes. You'll learn about Sami culture and life in rural Arctic Norway.
Visit Norway's Snowhotel.
The Snowhotel in Kirkenes is adorned with gorgeous lighting and cool artwork, and the artwork is all carved from the ice! It's very similar to the Ice castle we visited in Canada's Northwest Territories.
Go Fishing for King Crab.
We really wanted to try this excursion. Unfortunately, our children were too young to take part, so we had to pass. The tour takes you out on a RIB boat where you'll check King Crab traps. From there you'll take your catch to shore and dine on a King Crab feast.
You can read more about our experiences in Kirkenes Norway here.
Vardo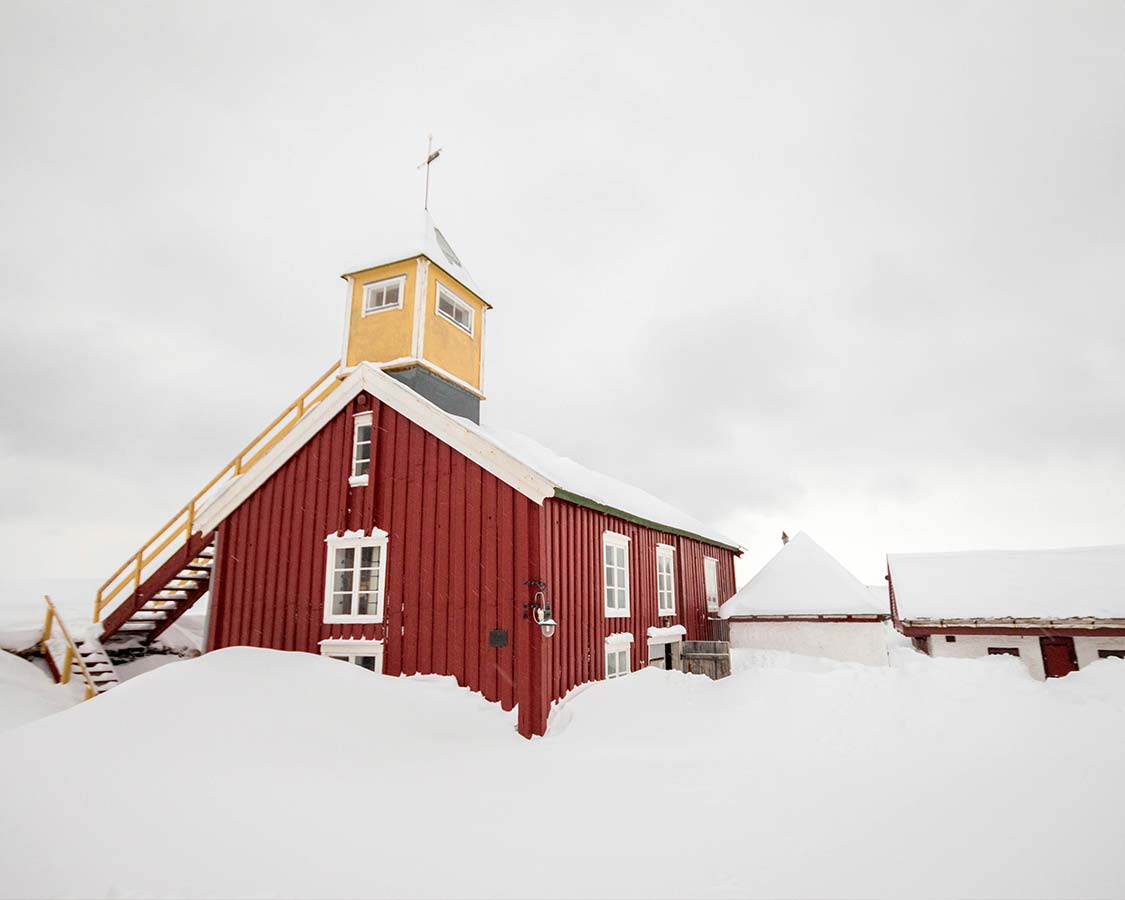 The first Southbound Norway port of call is the town of Vardo. We arrived in the late afternoon with just enough time to take a stroll into town. We took in a small town festival that was underway and explored the Vardohus fortress. This nearly 300-year-old fortress features a small church and memorabilia from Norway's military history.
Southbound Hurtigruten Excursions Day 2
Mehamn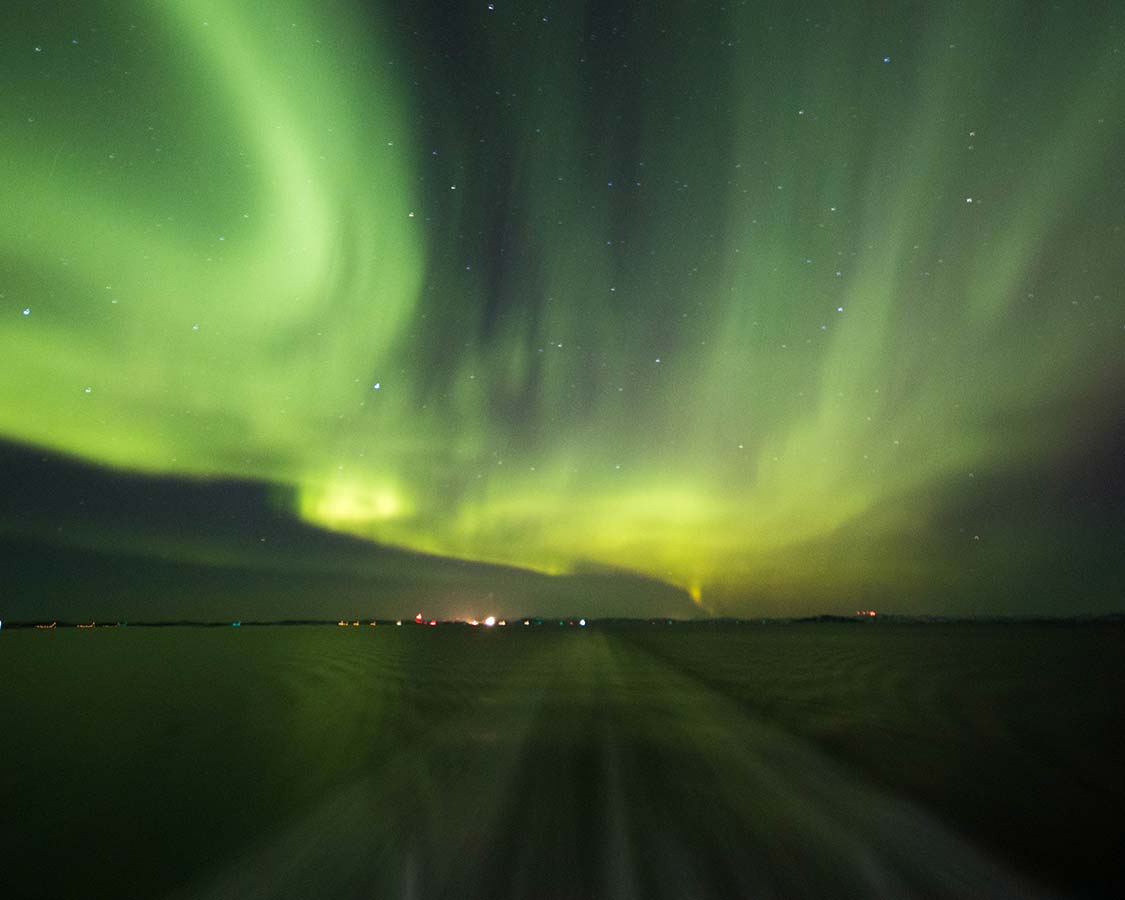 Although the Hurtigruten ferry docks in Mehamn in the middle of the night, that doesn't mean there isn't an opportunity for adventure.
Go on a snowmobiling expedition under the Northern Lights.
Unfortunately, due to traveling on the Hurtigruten with kids, this wasn't an option for us, but if it's anything like when we saw them on our Hurtigruten Northern Lights cruise, it must be amazing.
Hammerfest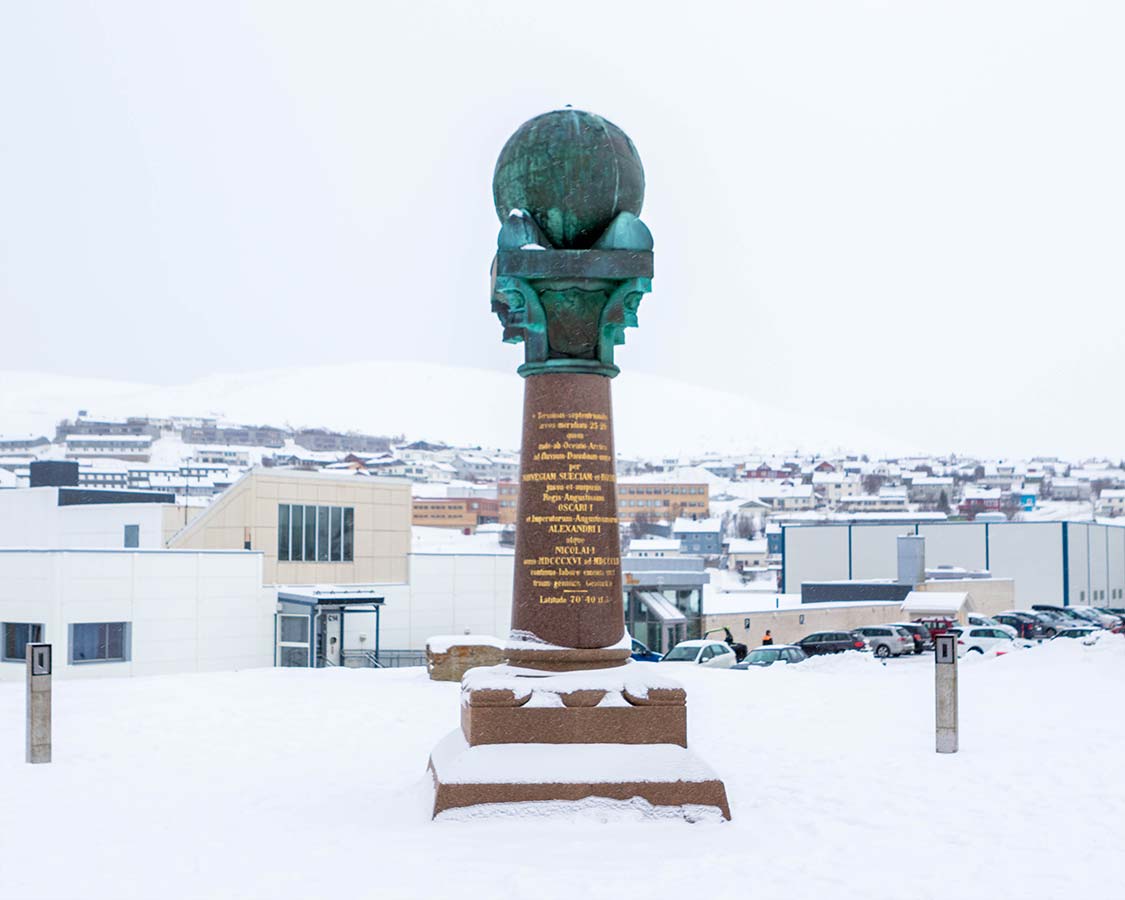 Dubbed "the World's northernmost town," Hammerfest is the northernmost town in the world with more than 5,000 residents. Although there are several towns further north than here that have a smaller population. One of the claims to fame of Hammerfest is that it was the final point of the mapping of the shape of the northern hemisphere. Here it was proven that the earth is tapered at the poles rather than completely spherical. You can find some great things to do in Hammerfest here.
Explore Hammerfest from top to bottom.
This is the Hammerfest tour that we took part in on our Hurtigruten cruise. It took us up to a viewpoint overlooking the city and to the various points of the city that make Hammerfest so spectacular.
Plant your flag on the top of Mount Salen.
This Hurtigruten excursion follows in the footsteps of legendary Norwegian explorer Adolf Henrik Linstrom. You'll climb Mount Salen and plant a flag at the peak like a true Arctic explorer.
Tromso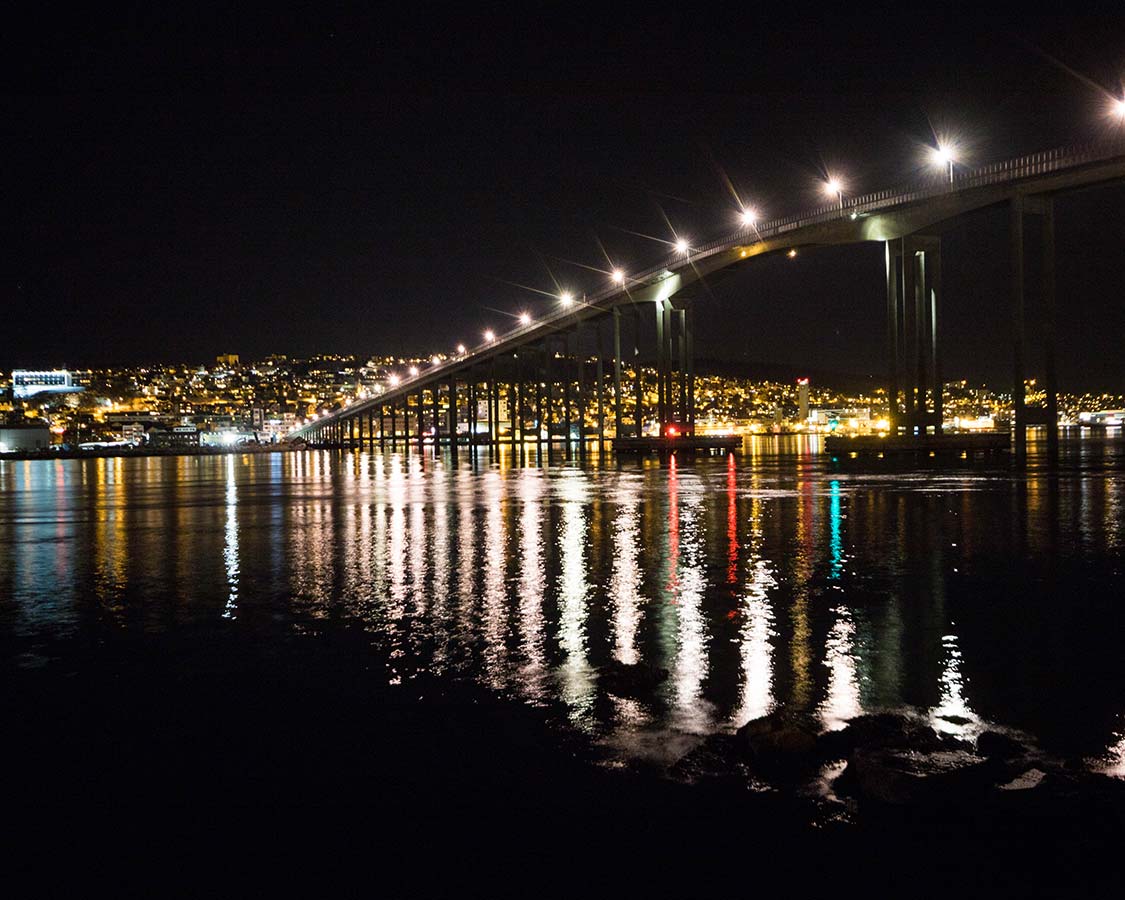 Tromso is the final stop on Day 3 of the Norway cruise. It was approaching 10:00 PM when we arrived and the boys were tucked into bed. I opted to explore the town on foot, however, there is one Hurtigruten excursion at this port.
Enjoy a midnight concert in Tromo's Arctic Cathedral.
This is a midnight concert simply because that is the time you arrive! But the Arctic Cathedral is a beautiful site, especially when lit up at night.
Southbound Hurtigruten Excursions Day 3
Harstad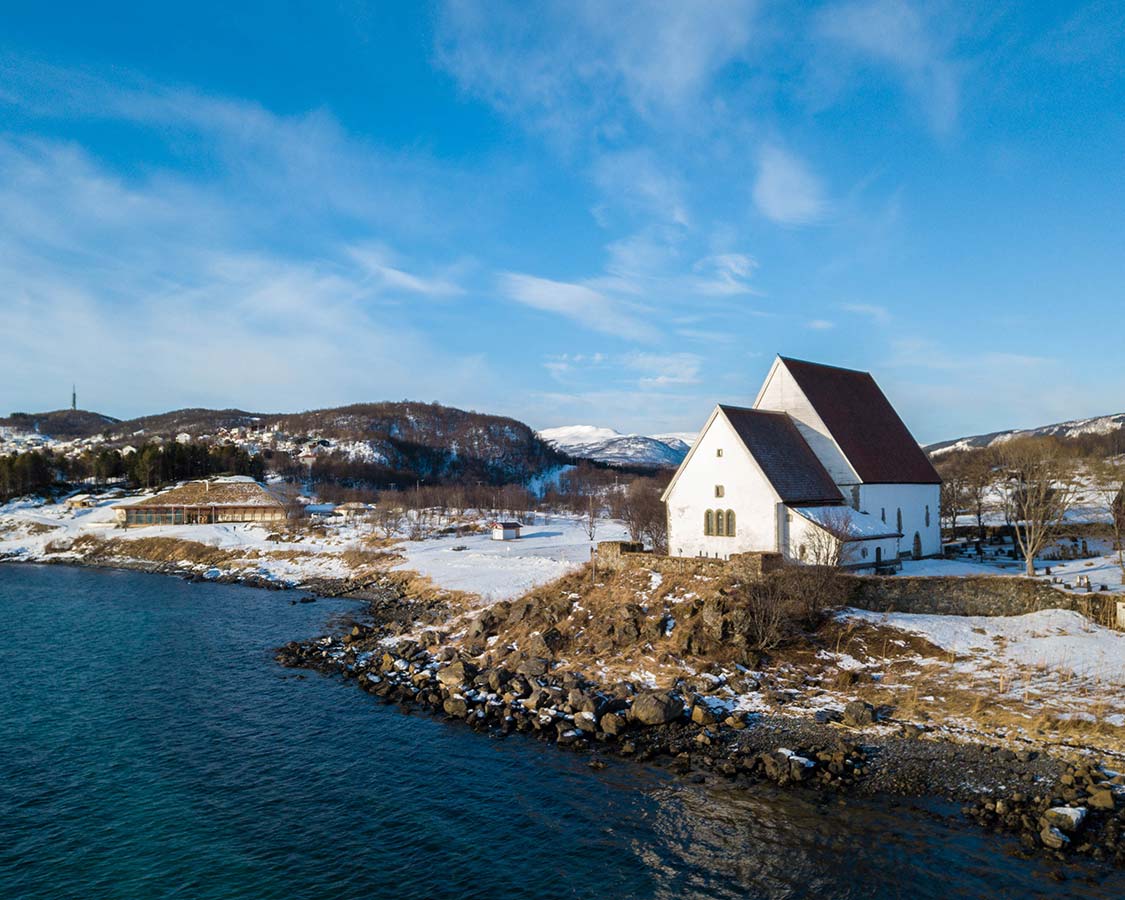 The next morning the boat arrives in the town of Harstad. This marks one of the most popular multi-port Hurtigruten excursions.
Dive into Norwegian food, landscapes, and history with the Taste of Vesteralen tour.
The Taste of Vesteralen excursion begins in Harstad, Norway where we visited the 1,200-year-old Trondenes Church as well as a Viking museum. From there we took to the fjords and mountain ranges that make coastal Norway so spectacular. We then made our way deeper through the fjords and Norwegian mountains before crossing one of the fjords in a ferry.
This gave us a chance to taste some of the famous Norwegian brown cheese paired with some pastry and tea. The boys could not get enough of these Norwegian delicacies and were soon hopping from table to table to see if any of the tour-goers had left any on their trays. We were so inspired that we brought some of our own Norwegian recipes home with us. We finally made our way into Sortland where we had the thrill of seeing our Hurtigruten cruise ship passing underneath us on its way to the Sortland port.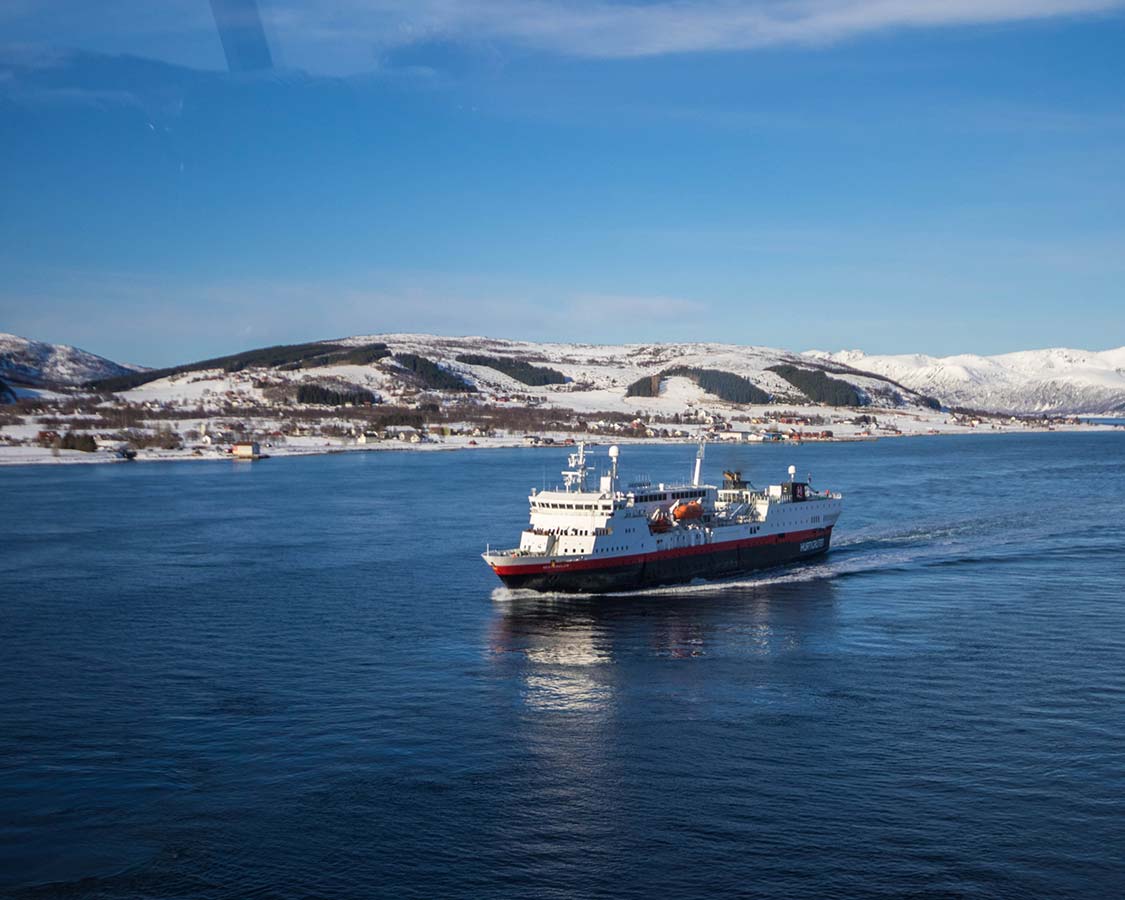 Stokmarknes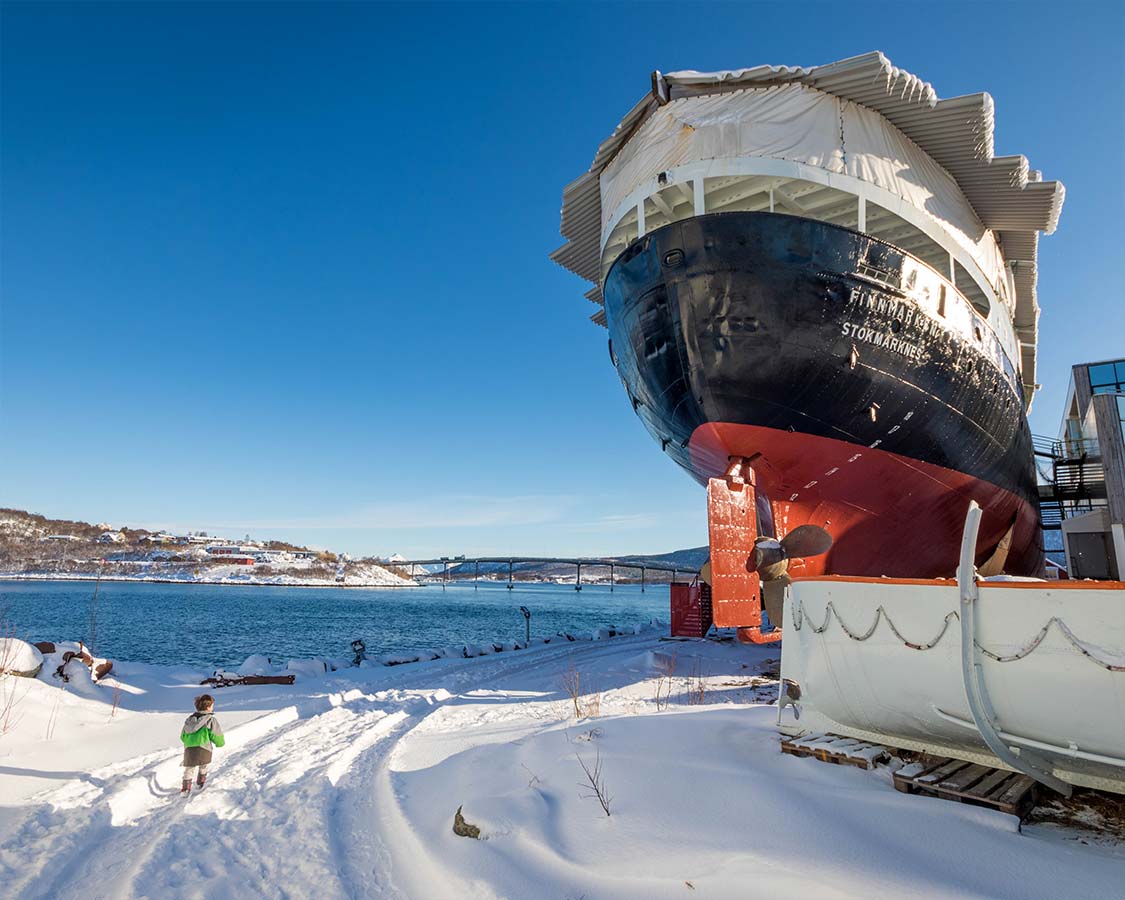 Later in the afternoon, the Hurtigruten stops in the town of Stokmarknes. Stokmarknes is notable as being where the Hurtigruten company came into existence.
Dry docked here is one of the old Finnmarken ships that has been turned into a museum. The colorful row houses of Stokmarknes were also a nice sight to see during the short shore time available here.
Svolvaer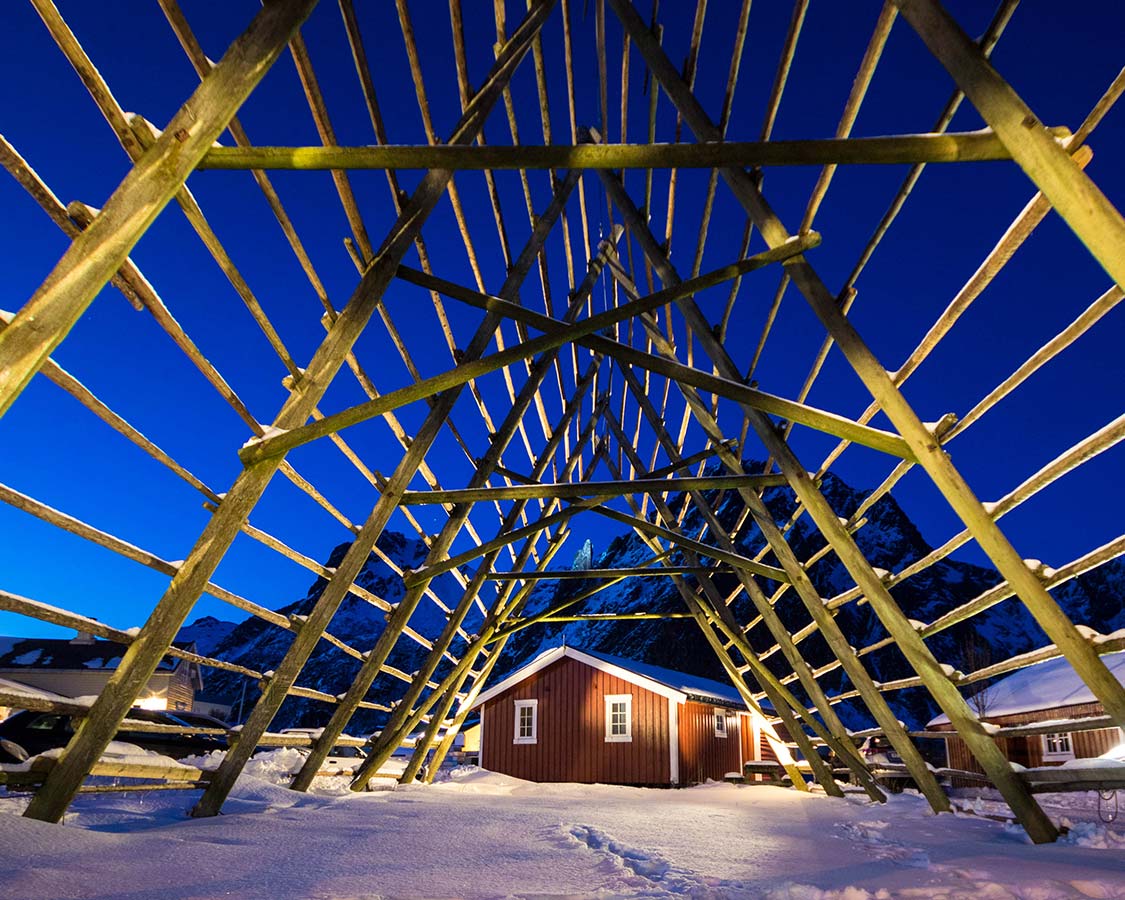 The Hurtigruten ship docks in the beautiful town of Svolvaer for a few hours This opens up a few very interesting excursions. Svolvaer is famous for its deep fishing history. This lifestyle is on full display here with many stockfish drying racks lined up near fishing huts.
In addition to the Meet the Vikings experience listed in the Northbound Hurtigruten itinerary, there are a few other amazing tours to help you explore Svolvaer and the Lofoten Islands.
Go horseback riding under the Northern Lights.
This is one of the excursions we really wanted to do, however, our children were too young to take part. They were a tad disappointed as they had plenty of experience riding horses through Petra, Jordan a few years back.
Experience Life in an Arctic Fishing Village.
This was the tour that we opted for, and we certainly didn't regret it. The tour includes a stop at a recreation of a traditional fishing cabin. It does a great job of displaying the life of the fishermen of long ago. Svolvaer is an incredibly photogenic town, especially as the sun drops and the lights of the town begin to twinkle.
Climb a Mountain and see Lofoten from above.
This was another tour we would have loved to experience, but unfortunately, our children were under the age limit. The tour starts by bus, includes snacks and coffee, and meets back up with the Hurtigruten in Stamsund.
Go Cod Fishing in true Norwegian style.
This short but exciting fishing excursion takes you back out on the water. Cast a line and prepare to bring in some heftily sized fish.
Southbound Hurtigruten Excursions Day 4
Sandnessjoen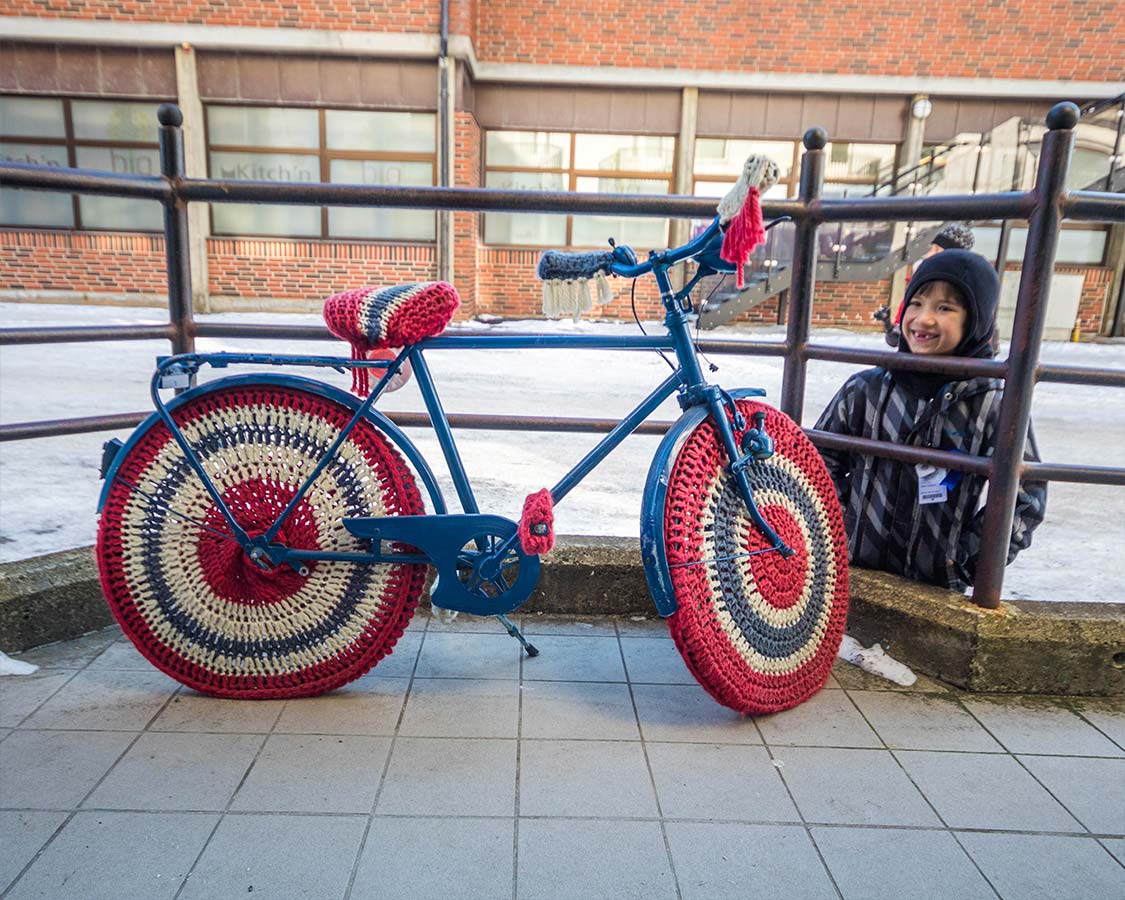 The morning of Day 4 on the Hurtigruten cruise brought us to Nesna for a very brief stop. But our second stop was the town on Sandnessjoen. We were greeted at the Hurtigruten port by some beautiful Norwegian street art. The artistic leanings of this pretty town were on display with fun bicycle displays playing tribute to the chilly winters of coastal Norway.
Cruise through the picturesque Vega Islands.
This Hurtigruten excursion goes between Sandnessjoen and Bronnoysund. The route takes visitors through fishing villages and gorgeous islands.
Bronnoysund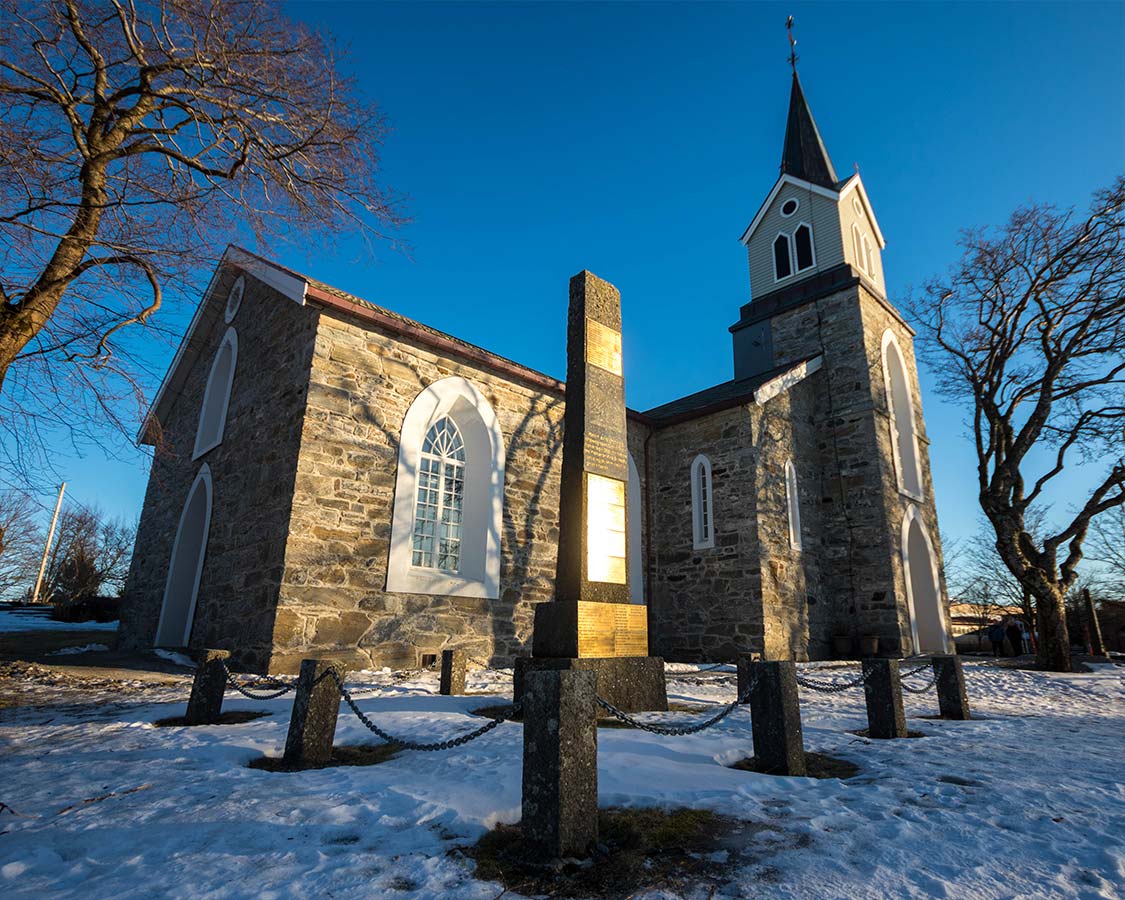 Later in the day we stopped in the town of Bronnoysund and had enough time to do a stroll through the town. Although there are excursions from this port, many visitors take the time to explore by themselves. There is a river just a few blocks from the port that makes for a wonderful walk. You can also stroll along the Bronnoysund pier and visit the quaint Bronnoy Church.
Discover the facts about Norwegian Fish Farming.
This Hurtigruten excursion starts with a bus tour of Bronnoysund. It then heads to an aquaculture facility where visitors learn about modern Norwegian fish farming.
Go on a guided walk of Bronnoysund.
Although Bronnoysund is easy to explore on your own if you would like a guide to point out the details surrounding you, a guided walking tour of Bronnoysund is also offered.
Southbound Hurtigruten Excursions Day 5
Trondheim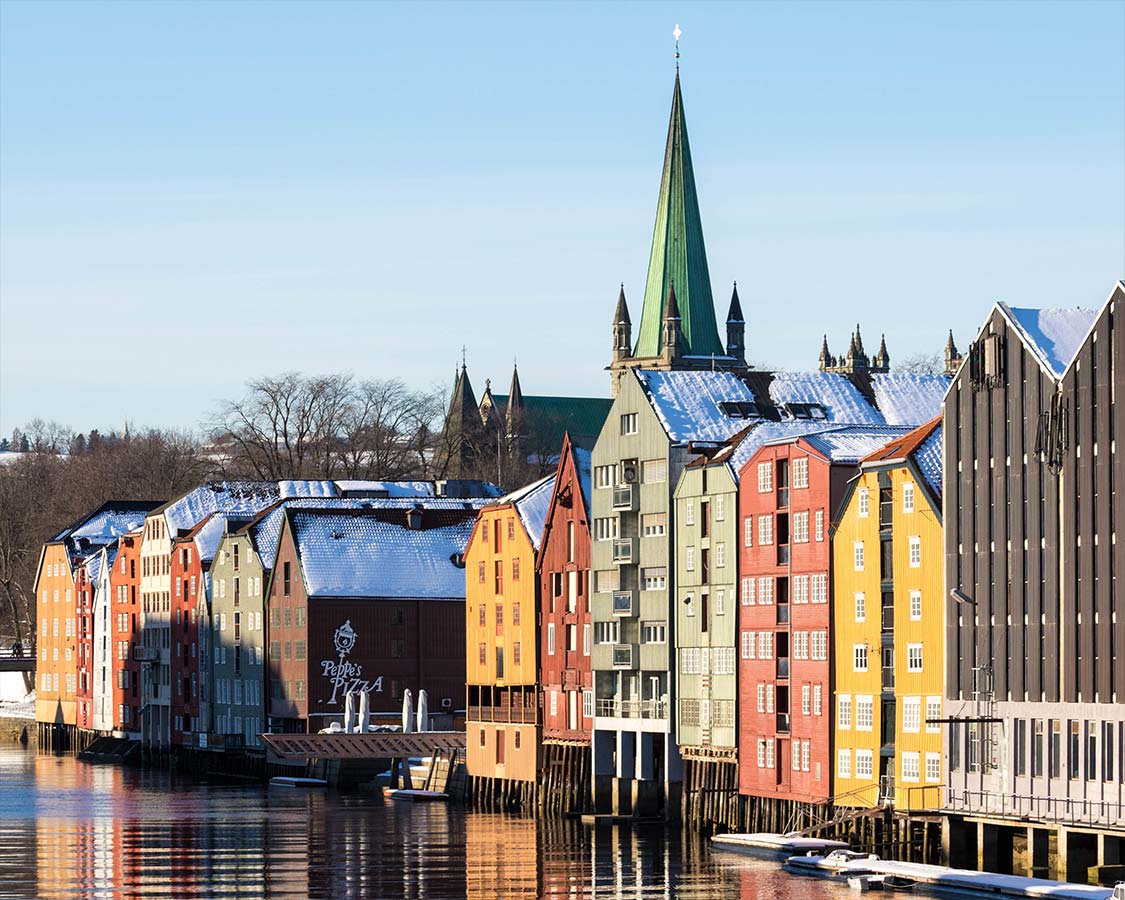 The Trondheim Hurtigruten Port of Call for the Southbound route is identical to the Northbound Hurtigruten excursion offerings. During the summer Hurtigruten excursions include bicycle and kayak tours of Trondheim.
Kristiansund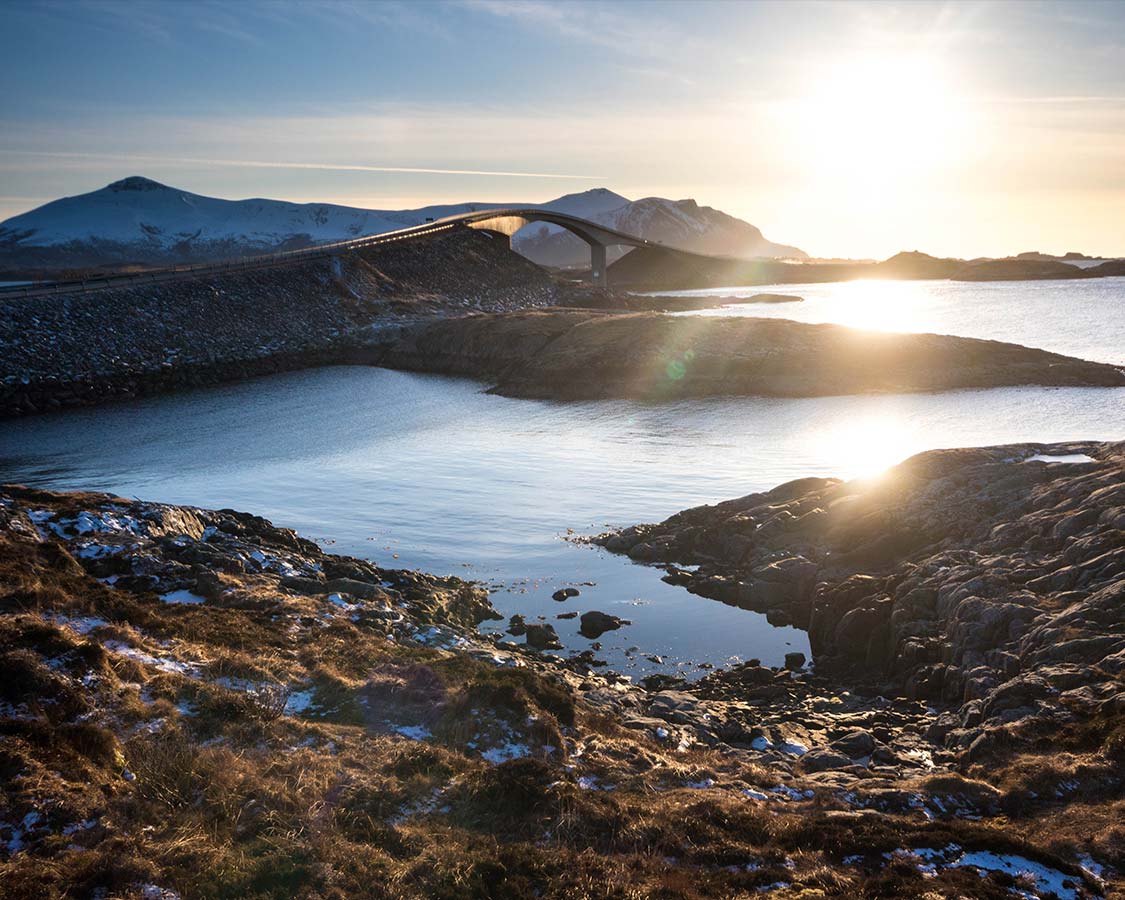 Our stop in Kristiansund gave us our longest Hurtigruten excursion. While it's easy to stay in Kristiansund and explore the pretty town, this stop offers some of the most breathtaking views in Norway. A Hurtigruten excursion here is really worth your time.
Take a ride on the Atlantic Highway.
The Atlantic Highway is a stunning series of bridges that bounce between a series of islands. You've probably seen memes listing it as one of the scariest highways in the world due to the massive waves that can cascade right over the bridge during storms. But on a clear day, these elegant bridges are absolutely beautiful.
Cruise through an underground lake in a marble mountain.
Although not always the case, our route to the Bergtatt Marble Mine also took us over the Atlantic Highway. From there, we continued through where we took a beautiful tour of an illuminated underground lake filled with crystal-clear water. Our experience was topped off with some delicious local chowder serviced in the mines concert hall.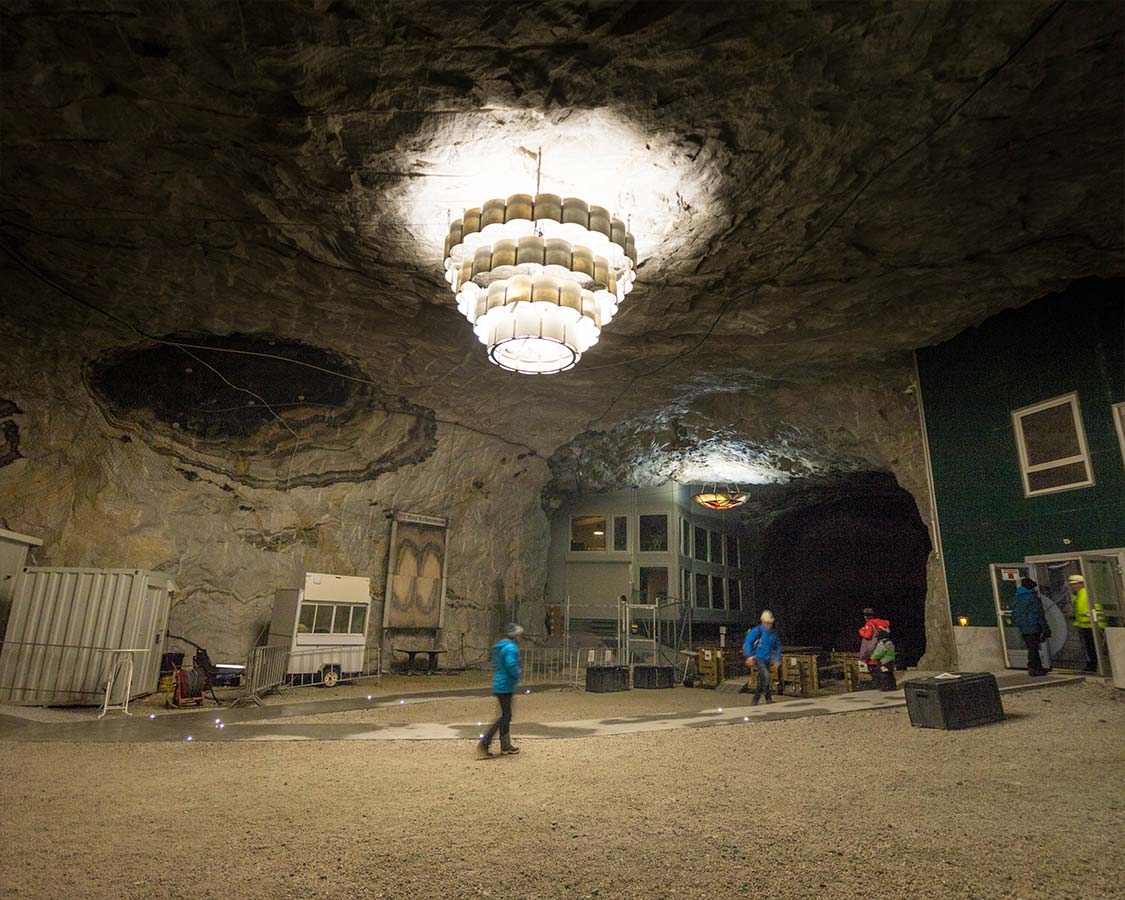 We had a blast on our Hurtigruten coastal cruise of Norway. The landscape is absolutely mesmerizing. But it was just the start of our family travel in Norway.
5 Tips For Successful Hurtigruten Cruise Excursions in Norway
In general, we found that prices for tours were the same price whether booked through Hurtigruten or with another tour company.
A handful of tours were not appropriate for children under 12 years of age. And the same tours don't necessarily run all year round. However, there were always other options for exploring the port or town.
Prices for the cruise excursions go up yearly. So, if possible, pre-pay for all your tours before embarkation. For us, we booked in November and took part in a coastal cruise on March of the following year. The excursions we booked onboard, cost more than what we were originally quoted had we booked the previous year.
If doing a town tour on your own, grab a free town map from the cruise excursion desk and plan out the sites that you want to see.
Dress appropriately. Check the weather forecast before heading out for your cruise excursion. Some excursions spend a lot of time outdoors and the weather during our March coastal cruise varied widely; some days we needed our balaclavas and foot warmers and other days we didn't even need our winter jackets.
You May Also Like To Read: