The best places to visit in Norway in winter may surprise you. From northern Lapland to the southern coastal adventures Norway winter travel is amazing!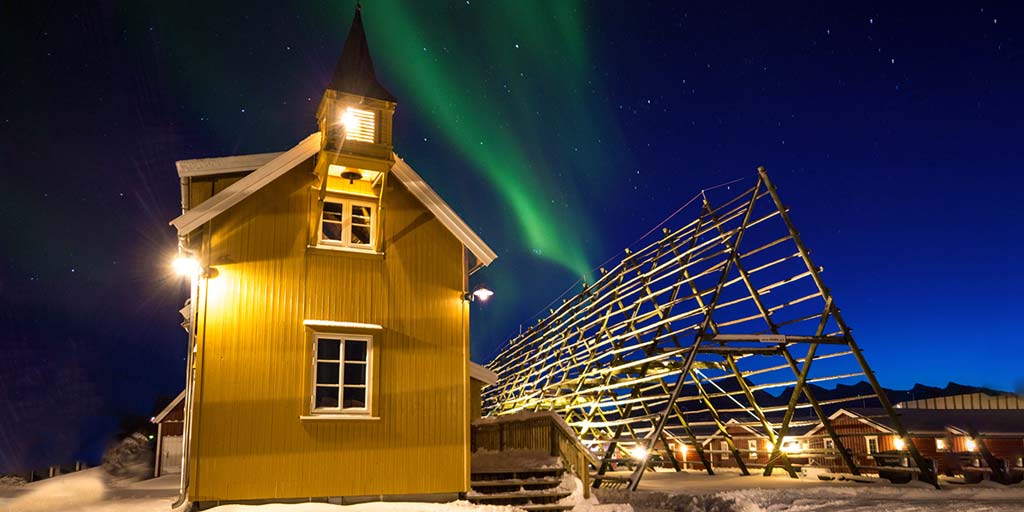 Finding the best places to visit in Norway in winter can be a glorious experience. This Scandinavian country has embraced the winter season with gusto. While traveling to Norway during the summer is by far the more popular choice, those who travel during winter in Norway will experience a completely different side of Norwegian travel. Not only are some of the best places to visit in Norway FAR less crowded, but the experiences themselves can warm you up faster than a cup of hot cocoa. Norway winter travel is full of surprises, and nowhere near as difficult as many travelers fear.
Why Should You Visit Norway In Winter?
There are loads of reasons that many of those who travel to Norway use to avoid visiting Scandinavia in winter. A common misconception is how cold it gets during winter in Norway. When we chased Northern Lights in Yellowknife Canada, we had to be ready for temperatures of – 40C. However, because of the Gulf Stream, average temperatures in Norway (even in the north) rarely drop lower than -10C.
The most popular places in Norway are jam-packed during the summer months. Places such as Flam, Trolltunga, and Bergen are nearly exploding with a combination of local and international tourists exploring this Nordic nation. Because of the popularity of summer travel, it can be difficult to find bookings at many of the best hotels in Norway. This makes travel in this already expensive country, nearly un-affordable for many people.
Norway is also a winter paradise. The mild climate combined with a deep affection for outdoor fun makes for the perfect winter lifestyle. Outdoor sports such as cross-country skiing, snowmobiling, and ice-fishing are very popular. And, of course, there are the extraordinary natural landscapes such as the majestic fjords and dramatic mountains that are made even more beautiful with snow.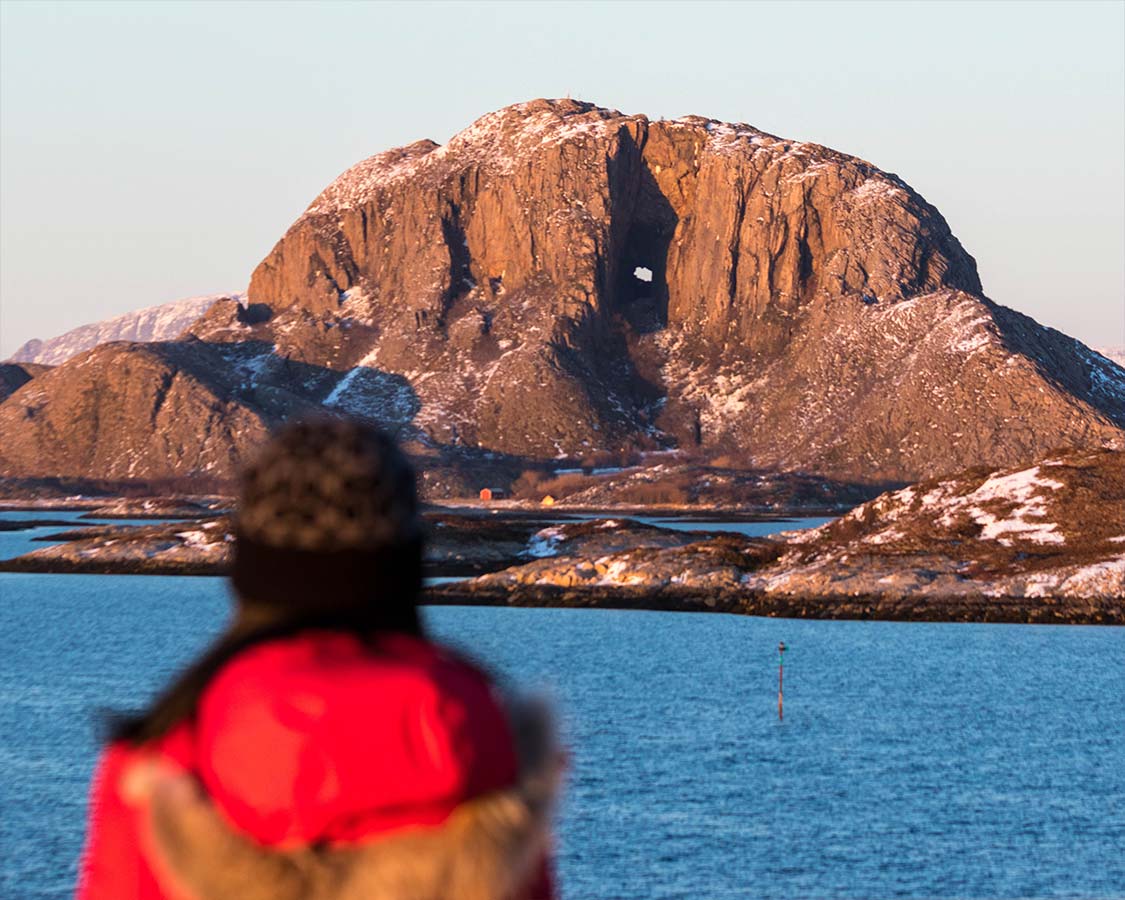 How To Experience Norway Winter Travel
Norway winter travel can be done via most of the same means as during the summer. Norwegian road trips are common year-round. Using the amazing Norwegian public transportation system is another popular way to travel Norway in winter. For those that want something a little less ordinary, it is also possible to enjoy a Norway winter cruise. You can also combine a spectacular Norwegian Fjord cruise with dramatic train routes on the Norway in a Nutshell tour. Whatever route you choose, below are our favorite places to visit in Norway in winter.
If you do decide to drive during winter in Norway, it's a good plan to keep your eye on local road closures. Roads, especially those in the mountains or areas of heavy snow, can often close for the safety of travelers. It's also very important to check if your rental vehicle has winter tires. Up in the Arctic regions, it's even good to consider asking for studded tires. Driving in winter isn't a joke, so if you aren't comfortable doing it, try the other Norwegian transit options.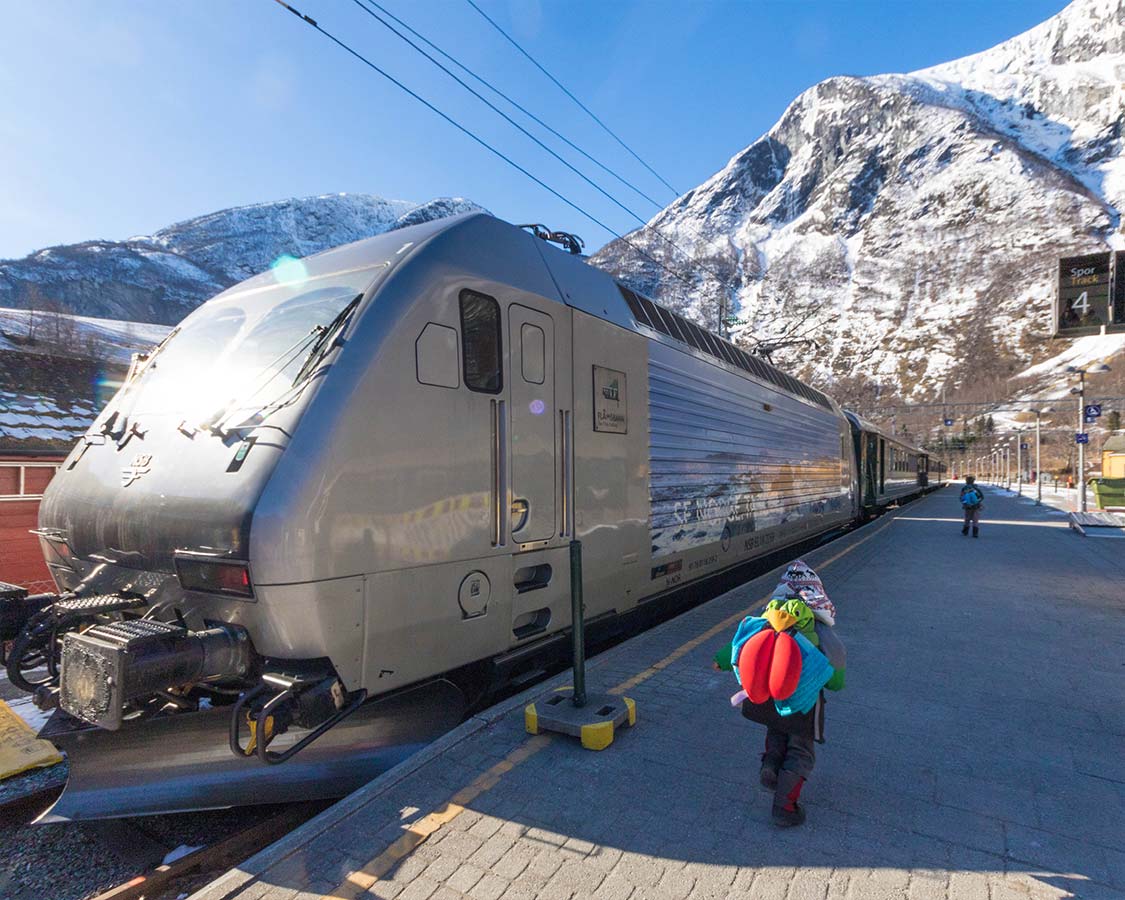 Where To Go When In Norway During the Winter
Oslo
Norway's capital, Oslo, is a great starting point for any Norway winter itinerary. Oslo is home to loads of winter activities. Sure, you can partake in the classic Norwegian activities such as cross-country skiing or ice-skating, but there is so much more. How about watching some ski-jumping on famous Holmenkollen Ski Jump. Or you can let your inner-child out with some sledding. Oslo is also home to a 2 km toboggan run that is sure to get your adrenaline pumping.
If getting active isn't your style, you can always explore the best sites in Oslo with a walking tour through the old-city or some of its new wonders like the spectacular Oslo Opera House. Additionally, there are many amazing family-friendly museums such as the Fram Museum or the fascinating Viking Ship Museum that are sure to inspire your inner explorer.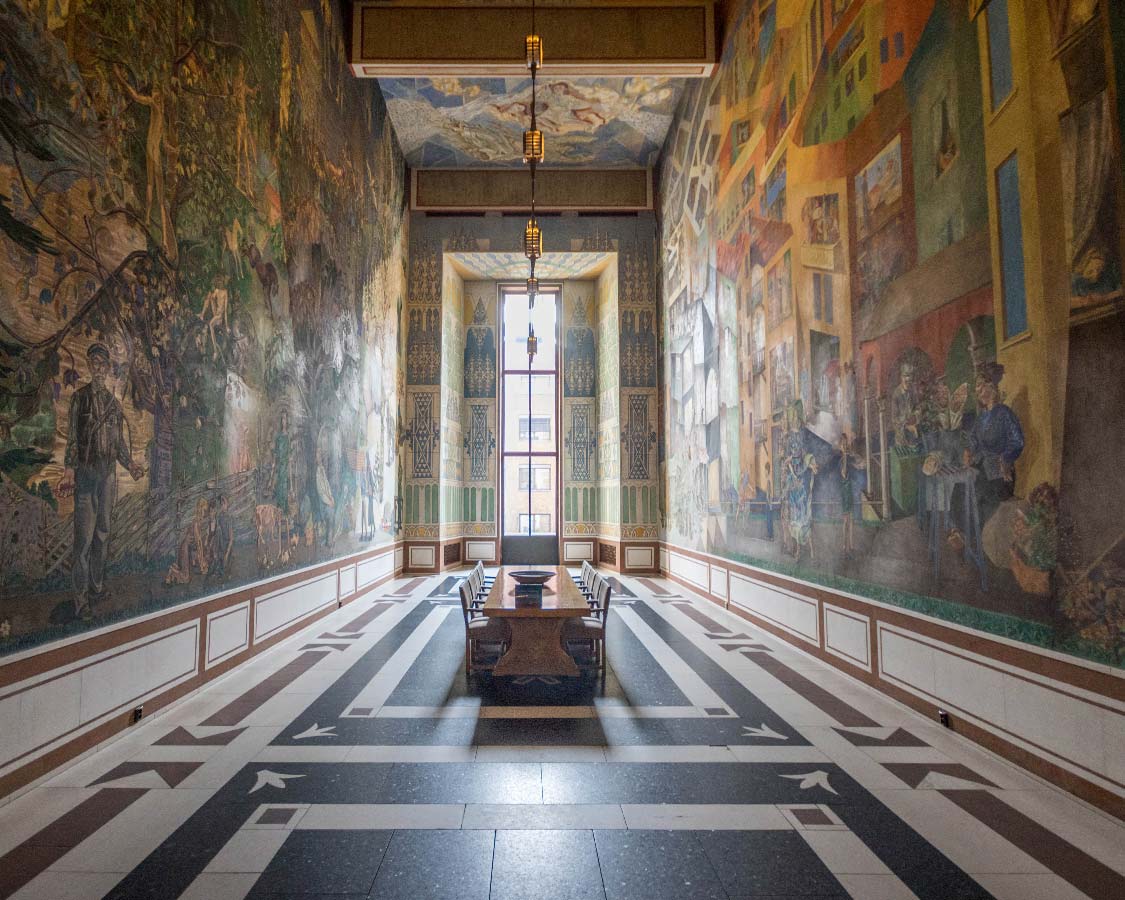 Bergen
The UNESCO World Heritage city of Bergen is full of activities for families visiting Norway in winter. Taking a walk along the UNESCO recognized Bryggen Wharf waterfront is a great way to learn more about this colorful city. Bergen is the gateway for the most famous Norwegian fjord cruises such as the Norway in a Nutshell tour and the Hurtigruten Norwegian Coastal Cruise. The Bergen winter fjord cruise can be done as a roundtrip tour or one-way.
For great views of the city, take a Floibanen Funicular ride to the top of Mount Floyen. There are excellent hiking, snowshoeing and cross-country ski trails. Just watch out for the local trolls!
Bergen is also a perfect place to explore some of Norway's gastronomic treasures. The city has some of Norway's best restaurants. There is no better way to warm up during a cold winter in Norway than in some of Bergen's classic cafes and 5-star dining establishments such as Maaemo that are sure to get your mouth watering.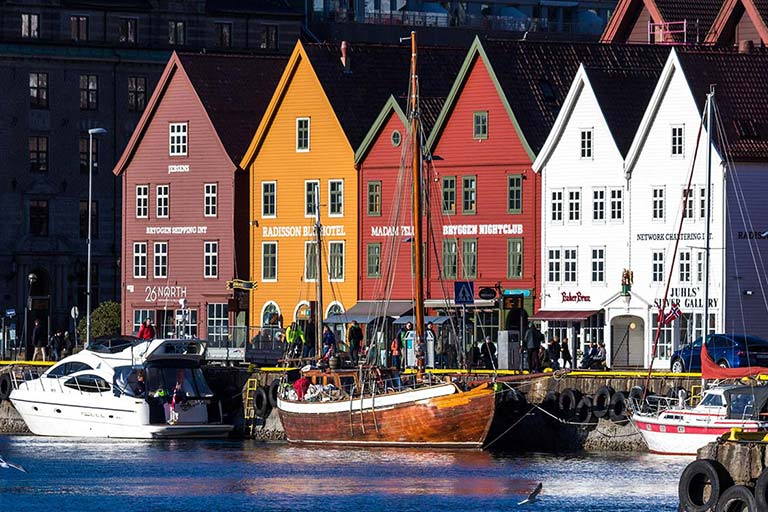 Pro-Tip: The temperature can drop a few degrees as you head to the top of Mount Floyen so keep this in mind when preparing for the trip up.
Kirkenes
The small city of Kirkenes is one of Norway's northernmost cities. While this small Arctic town may seem like a strange destination to travel to during Norway in winter, Kirkenes has a few surprises in store. Most visitors to Norway end up in Kirkenes because it is the final stop in the northbound Hurtigruten Northern Lights Cruise. But, while most people only spend a few hours at Kirkenes while the Hurtigruten is at the port, it's worth spending a couple of days here to explore the majesty of northern Norway in winter.
Besides Northern Light spotting, Kirkenes is also famous for King Crab safaris, ice fishing, and it's epic history as one of the most bombed locations during WWII. Kirkenes is also home to a fantastic museum. And for something completely different, it's only a short drive to the Russian border, a popular tourist stop for those on day tours in Kirkenes.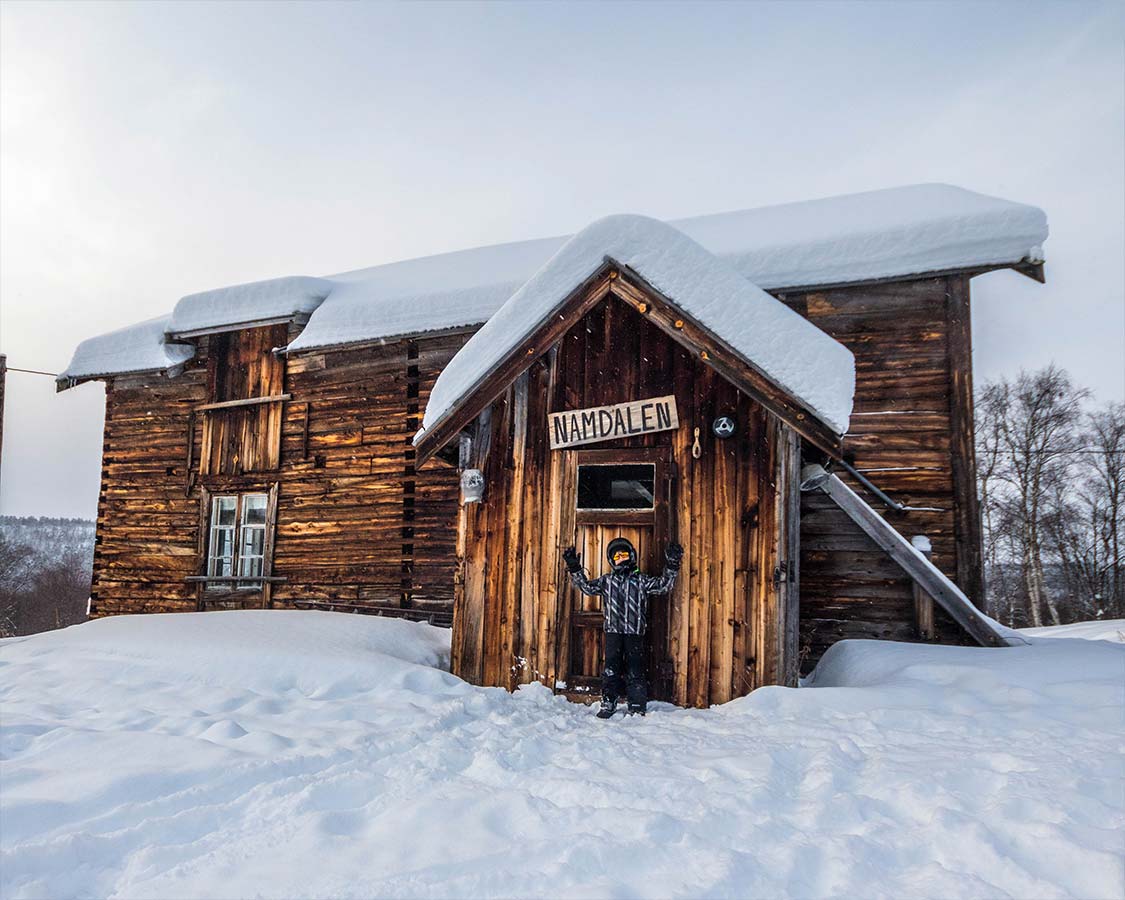 Tromso
Tromso is famous for being one of the best places in the world for Northern Lights spotting. Its location north of the Arctic circle means that there is a high probability of seeing the Northern Lights in Tromso when the conditions are right. And the dramatic landscape of Tromso makes it an ideal destination for serious photographers wanting to get the best Northern Lights shots. For those looking for an unconventional way to spot the northern lights in Norway, there are unforgettable combination dog-sledding and Northern Lights tours in Tromso that offer a unique perspective on the dancing skies.
Tromso is also one of the more easily accessible places to learn about the Sami aboriginal culture of Norway. The Sami are the only remaining indigenous people in Europe. Their reindeer herding culture makes them a perfect fit for the Lapland environment. In winter visitors to Tromso can book a reindeer sleigh ride with a Sami guide.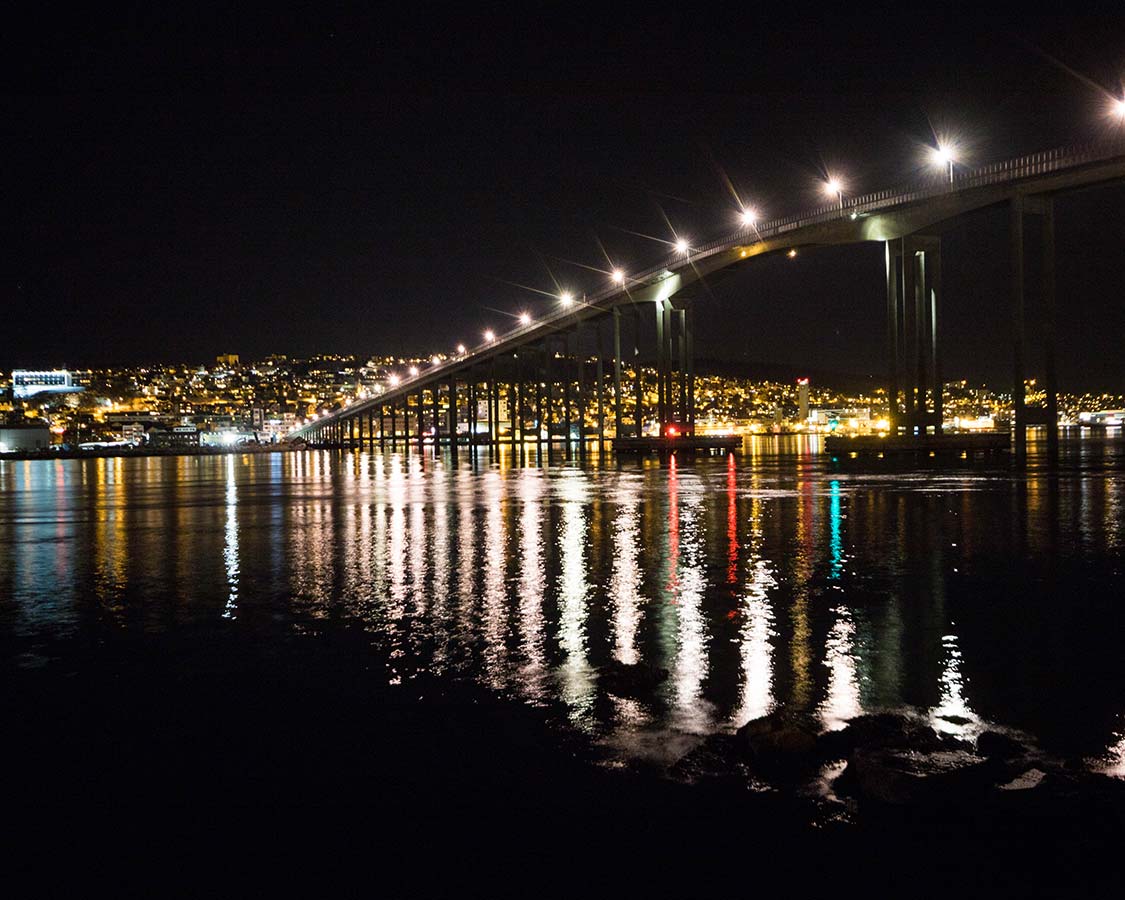 Flam
The city of Flam is located amidst some of the most beautiful mountains and fjords in Norway. Even in winter, taking the scenic Flamsbana railway line provides a breathtaking view of the Norwegian mountains. The Flamsbana train ride can be done one way from Flam to Myrdal or as a round trip experience. The Flamsbana railway also stops at the base of the scenic Kjossen waterfall which, in winter, is completely frozen over making for an impressive scene.
Flam is also an outdoor lovers paradise. There are countless hiking and cross-country skiing trails, and of course, the jaw-droppingly beautiful Naeroyfjord UNESCO World Heritage Site. Like in Bergen, fjord cruises in Flam also run year round. The Flam fjord cruise and Norway in a Nutshell tours both offer breathtaking tours of Naeroyfjord and nearby Aurlandsfjord.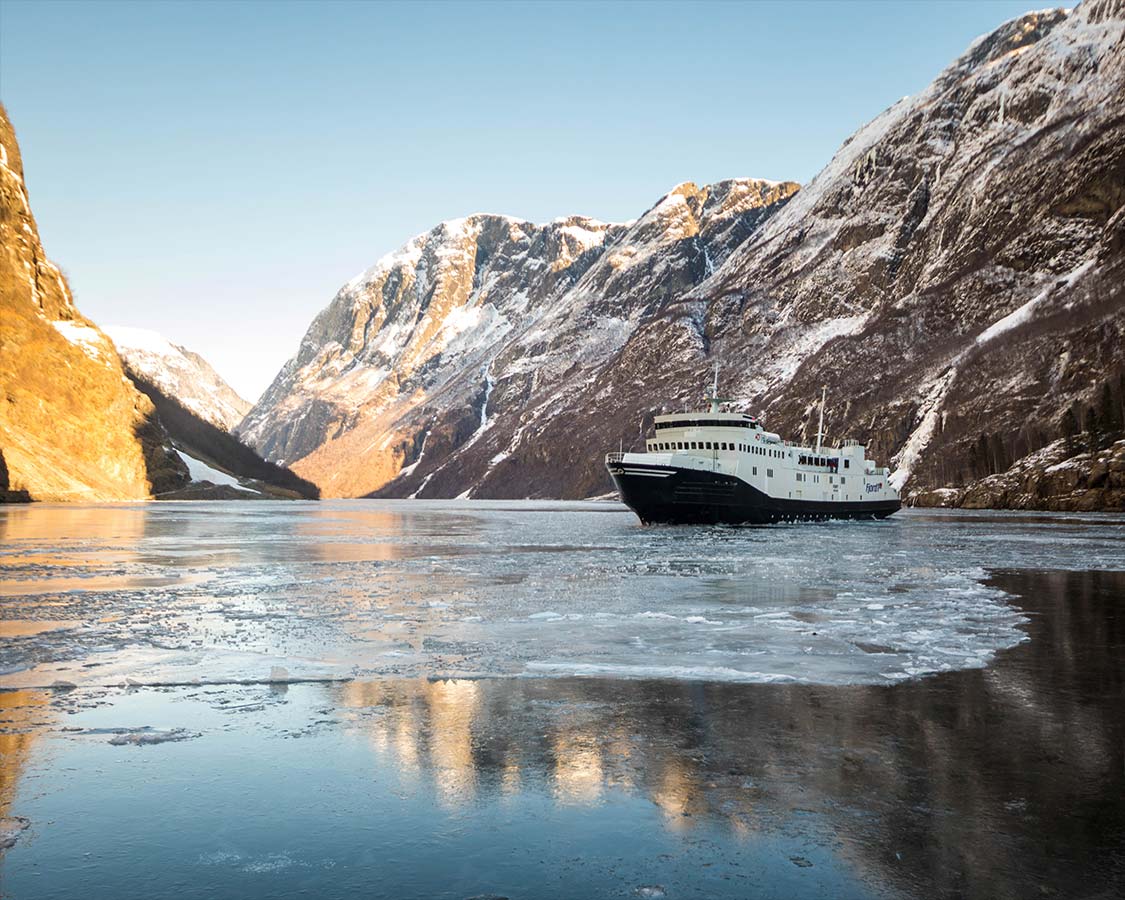 Trondheim
The coastal city of Trondheim, which sits within the beautiful Trondheimfjord, is the third largest city in Norway. Trondheim has an incredible mixture of famous attractions and hidden gems just waiting to be explored. The Nidaros Cathedral is a spectacular piece of architecture. It's worth the 90 NOK to explore the inside rather than just marvel at the intricate exterior. It's no surprise why Trondheim is one of the most popular Hurtigruten shore excursions.
The brightly colored Gamle Bybroa, or Old Town Bridge, is also a popular spot to visit in Trondheim. Even if you're visiting Norway in winter, the views of the wharf from the Old Town Bridge are legendary. And while you're in town head just outside the city center to the picturesque Bymarka for some of the best cross-country skiing and winter hiking in Norway.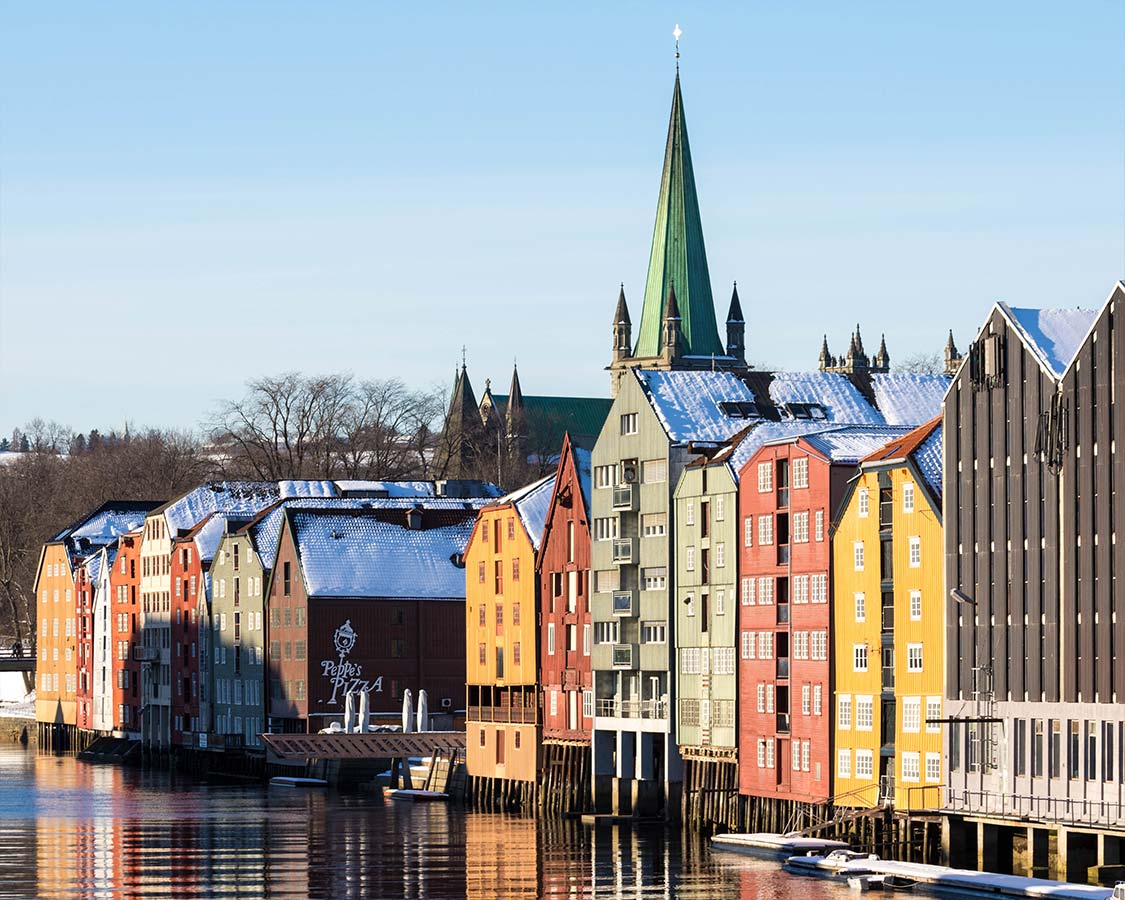 Lofoten Islands
The Lofoten Islands have been hailed as having some of the most beautiful scenery in Norway. Not only are the pretty fishing villages a treat to explore, but the towering mountains surrounding the fjords make for a stunning backdrop. Similar to Tromso, Lofoten Islands are located north of the Arctic Circle making it among the best regions in Norway for viewing the Northern Lights.
In Lofoten, they say "if you don't like the weather, wait ten minutes". So expect the weather to be all over the map. The beauty of Lofoten has recently caused an explosion of tourism. But, if you're visiting Norway during winter, you won't have to worry about that. Except for the crowds on short Hurtigruten shore excursions, tourism to Lofoten in winter hasn't caught on as much. This means that you shouldn't have trouble finding accommodation.
But weather aside, Lofoten is undeniably photogenic. It has the perfect mix of natural beauty, quaint towns, and dramatic skies. You might need to head further north to get the most dramatic Northern Lights in Norway, but you will not find a more beautiful place to photograph them.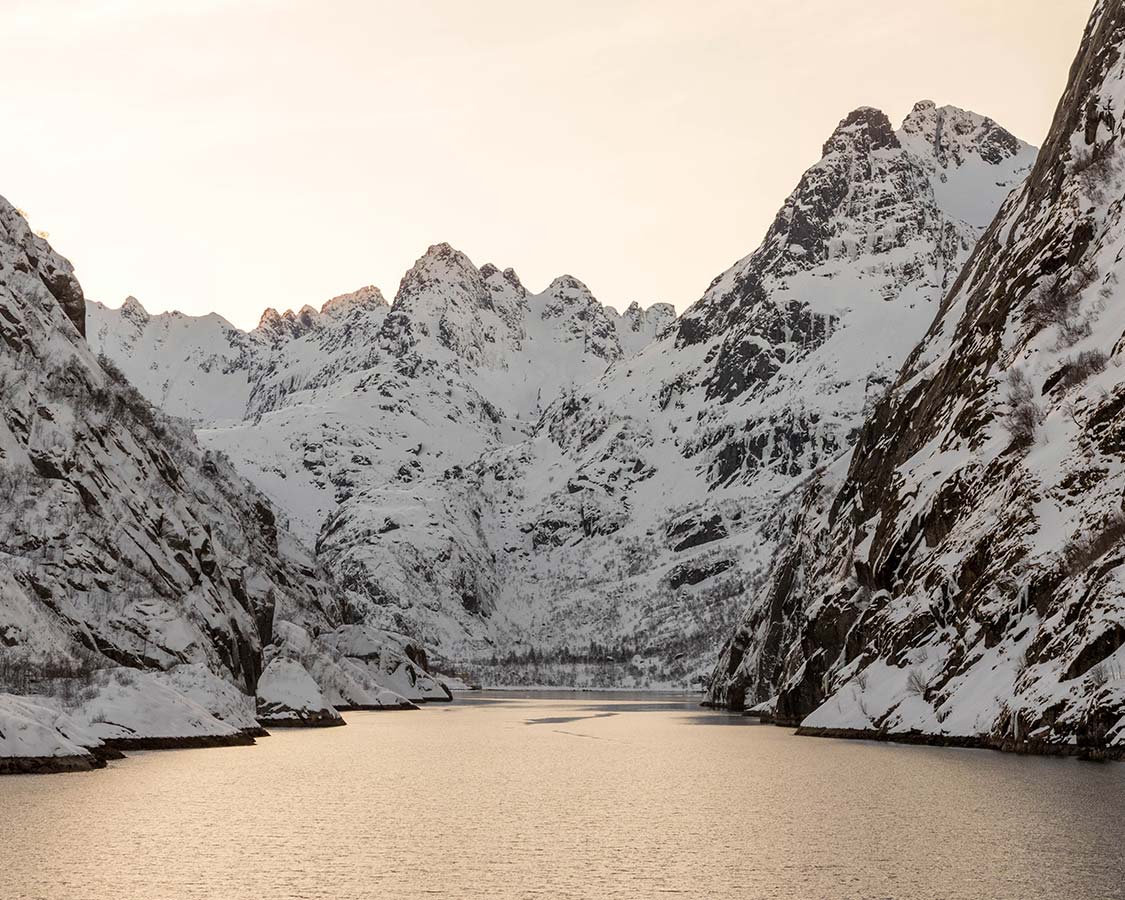 What you Need to Know Before Visiting Norway in Winter
Norway has a strange hook shape. The country is tall and narrow, except at the top where it swings over the top of Sweden and Finland to the Russian border. The part of Norway that extends north of the Arctic Circle experiences polar night for at least a period of time between December to January. This means that at certain times during the Norway winter, the sun does not rise at all above the horizon. But by February, there is easily 8-hours of daylight.
The weather during Norwegian winters can vary dramatically. Packing good clothes for winter travel in Norway in important. We always say that there is no such thing as bad weather, just bad clothing. If you're prepared, you can be comfortable anywhere.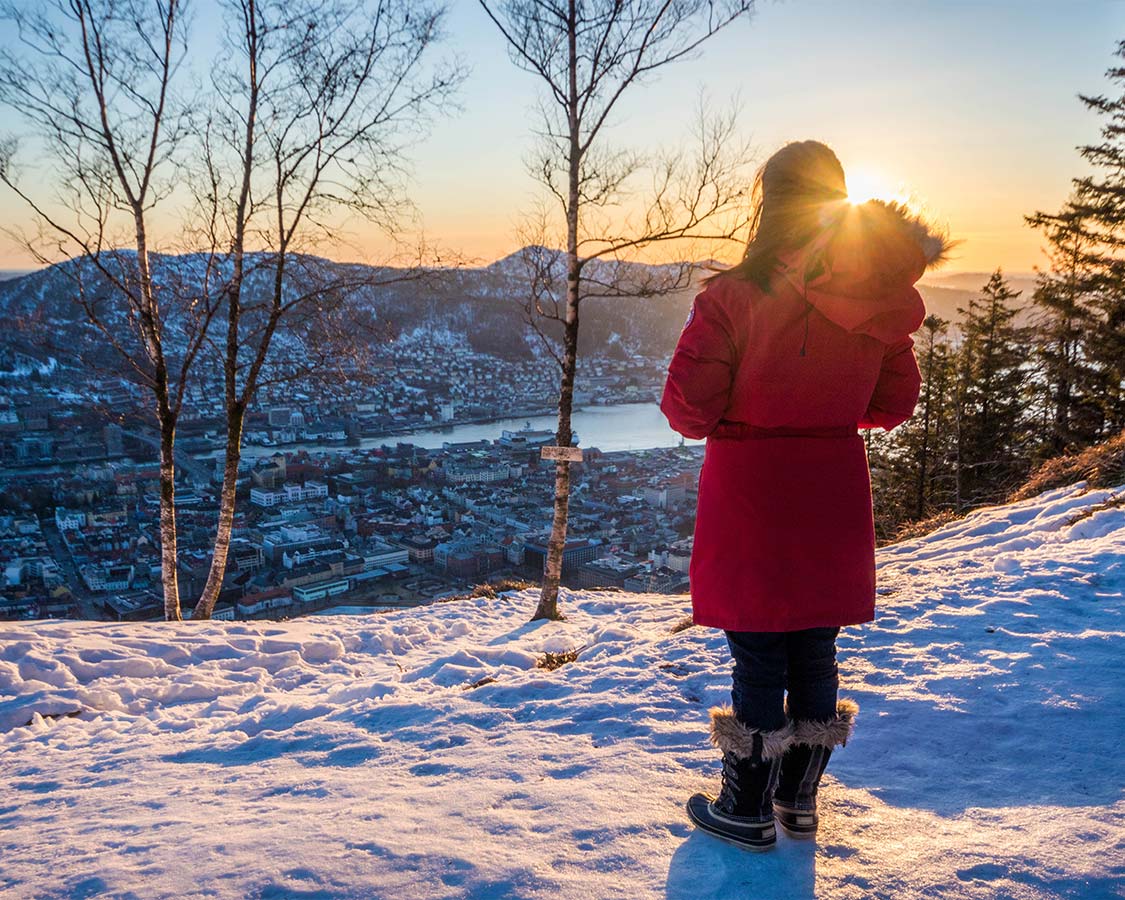 Tips For Having The Best Winter In Norway
There are a few things that are good to know before experiencing winter in Norway. These little things will help you make your Norway travel experience unforgettable.
Outdoor is where it's at. Norwegians love the outdoors. And outdoor activities in Norway are everywhere. Don't be surprised when you see locals hiking, cross-country skiing, sledding, snowshoeing and even biking almost everywhere you travel in Norway. The Norway winter isn't something the locals fear, it's something that they embrace.
Winter in Norway may not be as cold as you had feared. Most of the temperatures in coastal Norway are actually quite mild. The gulf currents keep the temperatures of Norway in winter very comfortable. This can change as you move inland though. Another reason that living by the water can be so great. You can read our complete Norway packing guide here.
It's dark up north. I mean REALLY dark. Like, days to weeks at a time without the sun coming up above the horizon. Does that sound awful? Well, it shouldn't. This lack of sun makes winter in Norway one of the best options for Northern Lights seekers.
Christmas is a big deal here. There are Christmas markets in most of the major cities including Bergen, Trondheim, and Oslo. Many locals decorate their houses early in December, but those warm, festive decorations often stay up through February. But like many Norwegian personalities, the decorations are often on the indoors, and you need to be invited in to experience the warmth inside.
Have you ever traveled to Norway in winter? Tell us about it in the comments below. Or visit our Facebook page and share a photo of your Norwegian travels. We would love to share in your journey.
Wandering Wagars is a participant in the Amazon Services LLC Associates Program, an affiliate advertising program designed to provide a means for sites to earn advertising fees by advertising and linking to amazon.com, amazon.co.uk, amazon.ca. Amazon and the Amazon logo are trademarks of Amazon.com, Inc. or its affiliates.
You May Also Like To Read:
Pin This Post For Later: