What to pack for Norway in winter. For exploring the cities, trails, and fjords we have the ultimate Norway winter packing list for the family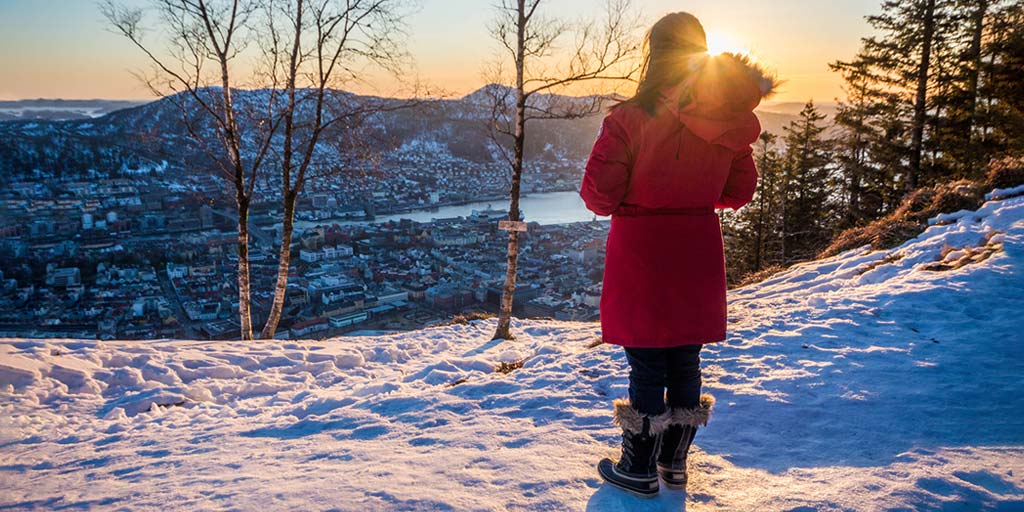 Choosing what to pack for Norway in winter can be tough. That could be why we've had so many requests to put together a Norway winter packing list. The weather in Norway can be all over the map, and whether you're going to be spending your time in cities like Bergen and Oslo, or experiencing the outdoors on activities in Tromso or Kirkenes. Norway is a tall country with the north stretching far into the Arctic Circle. So when you're choosing your winter packing list for Norway it's good to have an idea of where you'll be traveling to.
Our travels in Norway took us from the far north of Norway where we took the Hurtigruten Northern Lights cruise southbound to Bergen before transiting across the country through Flam to Oslo on the Norway in a Nutshell package. So we had to plan our Norway packing with every possible winter weather in mind.
What You Need To Know Before Packing For Norway In Winter
First things first about packing for Norway in winter, pack light. When you're dealing with winter travel, and in our case winter travel in Norway with kids, luggage weight can get out of control! Snow pants, parkas, thermals, hats, and toques can all lead to heavy bags. And heavy bags mean added airline fees, and no one wants that.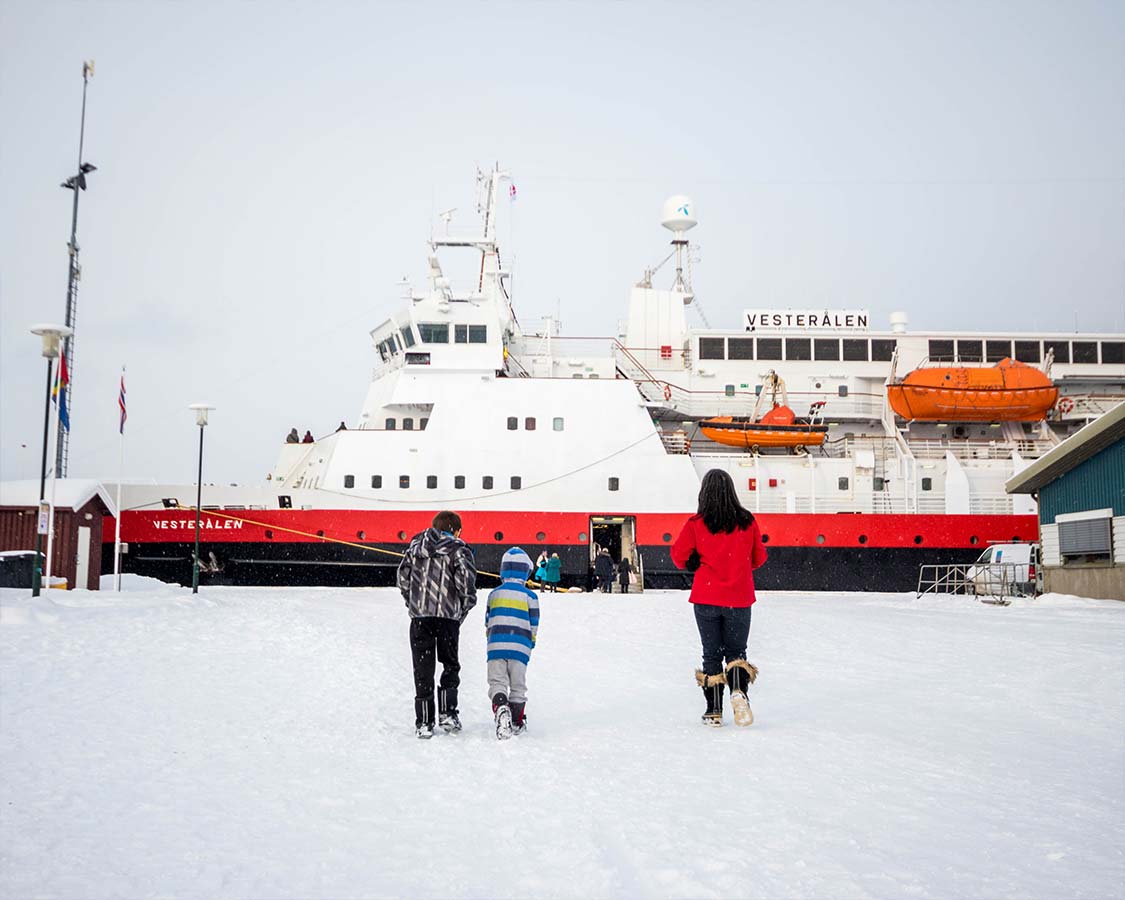 What Is The Weather Like In Norway During Winter?
Believe it or not, temperatures in Norway, even WAY up north, are not as extreme as many might believe. In fact, Arctic cities like Tromso average temperatures around -1°C and -5°C (30-23°F). Those temperatures are very similar to our winter temperatures here in Toronto, Canada. However, just like Toronto, there can be days where those temperatures dip deep down to the negative double-digits. By preparing for the worst weather, you can ensure that no matter what the weather in Norway, you'll be prepared.
How To Dress For Outdoor Activities In Norway
If you plan on spending a lot of time outdoors enjoying the spectacular landscapes and fjords of Norway you'll need to prepare more than if you're just planning on exploring the museums and galleries of Oslo. However, if you're going to be on organized tours in Norway, check with your tour operators. Many Norwegian tour providers supply warm, waterproof, outdoor gear. Sometimes it's an additional cost, and sometimes this winter weather gear is included in the tour. Check with your tour operators beforehand so you know if you can save some money and luggage weight when making a winter trip to Norway.
It's good to remember that prices in Norway can be high, especially compared to North American prices. As best as possible, bring your gear with you and avoid paying the high local prices for things you may have forgotten.
What To Wear In Norway In Winter: Dress In Layers
The key to staying warm in cold climates is dressing in layers. Dressing in layers means starting with a base layer (like thermal underwear) and stacking layers of subsequently heavier clothing on top. The advantage of dressing in layers is that you can easily remove heavy top layers if you get too warm and put them back on if you get too cold. Dressing in layers is important in cold climates like Norway because you don't want to get so hot that you sweat. Sweating means you're wet, and being wet with sweat means that heat will be wicked away from your body and actually make you colder.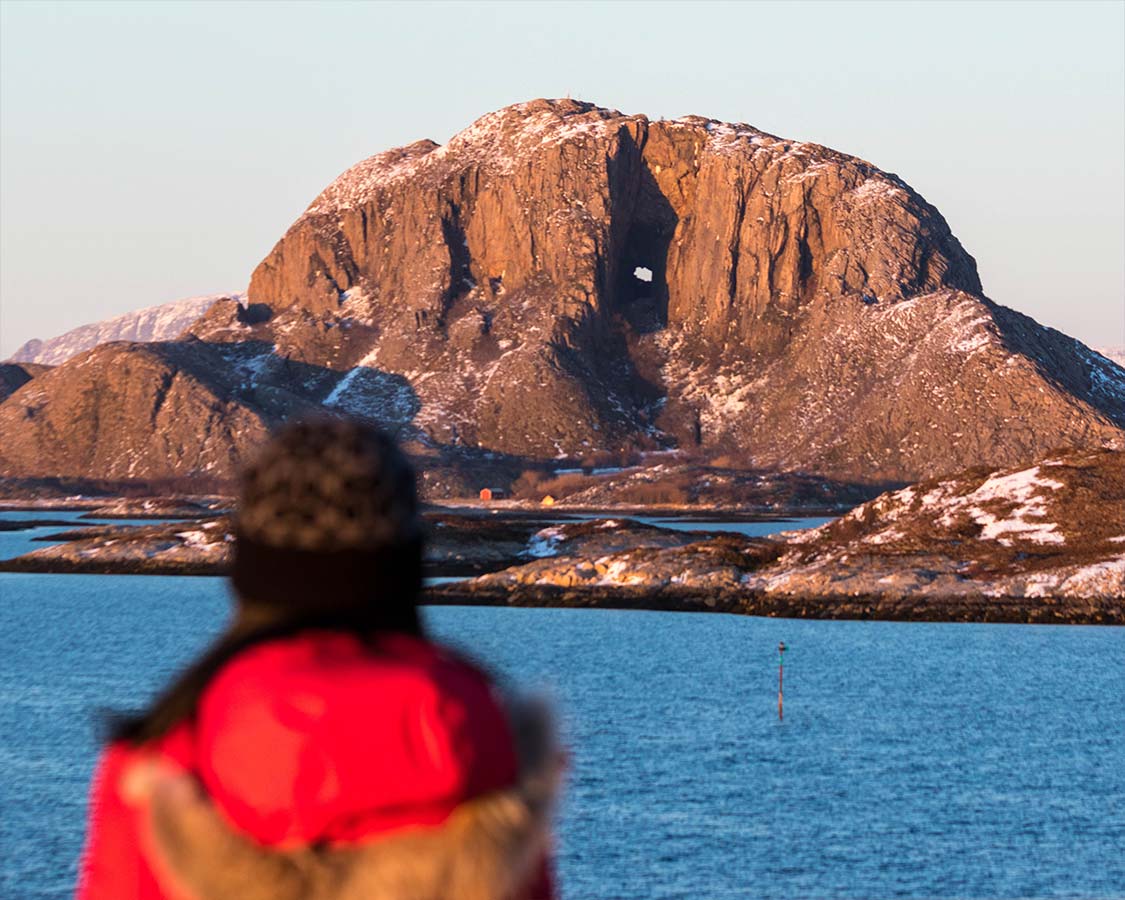 What To Pack For Norway In Winter
Even if you are taking part in winter activities, it's not necessary to buy a whole new wardrobe before you visit Norway. However, there are a few items that are necessary to pack for Norway in winter. This post will cover the essentials of what you need and cover off a few items you might want to pack for winter activities in Norway. To help you plan your packing, I've laid out the layers from bottom to top to help you plan.
Winter Clothing For Winter In Norway
Thermal Underwear Base Layer
Dressing in layers for winter Norway travel starts with a good base layer also known as thermal underwear. Thermal underwear is the most important part of staying warm in cold climates. And a good pair of thermal underwear is an essential part of almost every winter Norway packing list. The best thermal underwear is made of a synthetic wool blend. This type of material helps whisk sweat moisture away from your body without being itchy or uncomfortable. In fact, I love my thermals so much it's often all I wear around the house when its cold.
Even if you are just hopping between different cafes in Bergen, a great base layer will keep you warm. You can go out in cold weather in jeans and a sweater and usually still be pretty comfortable. But if you are planning on heading out into the cold for long periods of time, you'll want to add some more layers.
I usually pack 2-3 sets of thermal underwear (both tops and bottoms) depending on how long I'm traveling in cold climates. This is one of the brands that I have had great experience with. For kids, I love these light thermal Helly Hansen thermals. We've been using them for years in northern climates like Yellowknife Canada and Iceland.
Warm Socks
Once you've donned your base layer, it's time for warm socks. A pair of warm, wool or synthetic mix socks will keep your feet warm, dry, and comfortable. Sometimes, if I head out into the cold for long nights chasing the Northern Lights, I might actually wear two pairs of warm winter socks to help keep my toes insulated. Kevin and I love Wigwam socks for being really warm without being bulky. Finding good, warm winter socks for kids can be challenging. We've had good luck with these ones, and they aren't too pricey.
Pants
Once you have your base layers set up it's easy to dress for success in Norway. You can pretty much wear whatever pants you would like in the city and you'll be warm with a good base layer. For touring around town I'm personally a big fan of the Prana Summit pants. They're cozy and stylish. For a day exploring the outdoors, my Norway packing list includes their water-repellent convertible Halle pants. Wearing waterproof, relaxed-fit pants when you're packing for Norway in winter is important. If you're outdoors for long periods of time, you want to be comfortable and dry. For the kids, I've found Columbia convertible pants to be fantastic year-round options for outdoor activities.
Shirts
As long as you're wearing a good base layer you can get by with most shirts. I usually wear a comfy flannel button up that fits nicely under a sweater when I'm in the city. It's warm, easy to unbutton if I get too toasty, and looks great. When I choose what to pack for Norway activities in winter, I sometimes skip the shirt and go straight for a wool sweater.
Wool Sweater
Besides your base layer, a great wool sweater is one of the most important things to pack for winter in Norway. When it gets warmer you can often leave the jacket behind and wear a comfy warm sweater overtop of your thermal base layer. Plus, great wool sweaters look amazing! Wool, like the synthetics in the base layer, helps keep moisture away from your skin. If you're looking for something more practical for activities like snowmobiling, dog-sledding and more, try this sweater. It looks great and is super durable.
Snow Pants
Snow pants are crucial if you're going to be spending a lot of time outdoors on Norway excursions. A great pair of snow pants will help keep you insulated from the wind and cold as well as protect you from getting wet. We love North Face Freedom pants. They are warm, durable, and well-priced.
Winter Jacket Or Parka
A parka is a warm winter jacket that will keep you sheltered from the elements. You'll want something rated to at least -40°. Although I LOVE mine, and they are super popular (and stylish), you don't need a high-end brand like Canada Goose. Lower-priced jackets like this one are also a great option.
Snow Boots
A good pair of winter boots is crucial to life in the north. Choose a pair of boots with rubber soles that will help you keep your grip in slippery conditions. Warm, waterproof materials will keep your toes from falling off (literally). I really like this brand of boots for quality and price. But if you want to look like a local, wear true Nordic style in a Helly Hansen jacket.
Cold Weather Accessories
Once your main winter gear is ready it's time for the essentials of winter travel. A good wool blend toque will keep your head warm. Gloves with texting pads will let you use your phone without your fingers freezing. But if it gets too cold, you'll want mittens. Otherwise, having your fingers separated means less warmth. Lastly, don't forget a scarf. A good knit scarf can be pulled up over your face when the wind and snow pickup. Plus they look fantastic when walking around the city.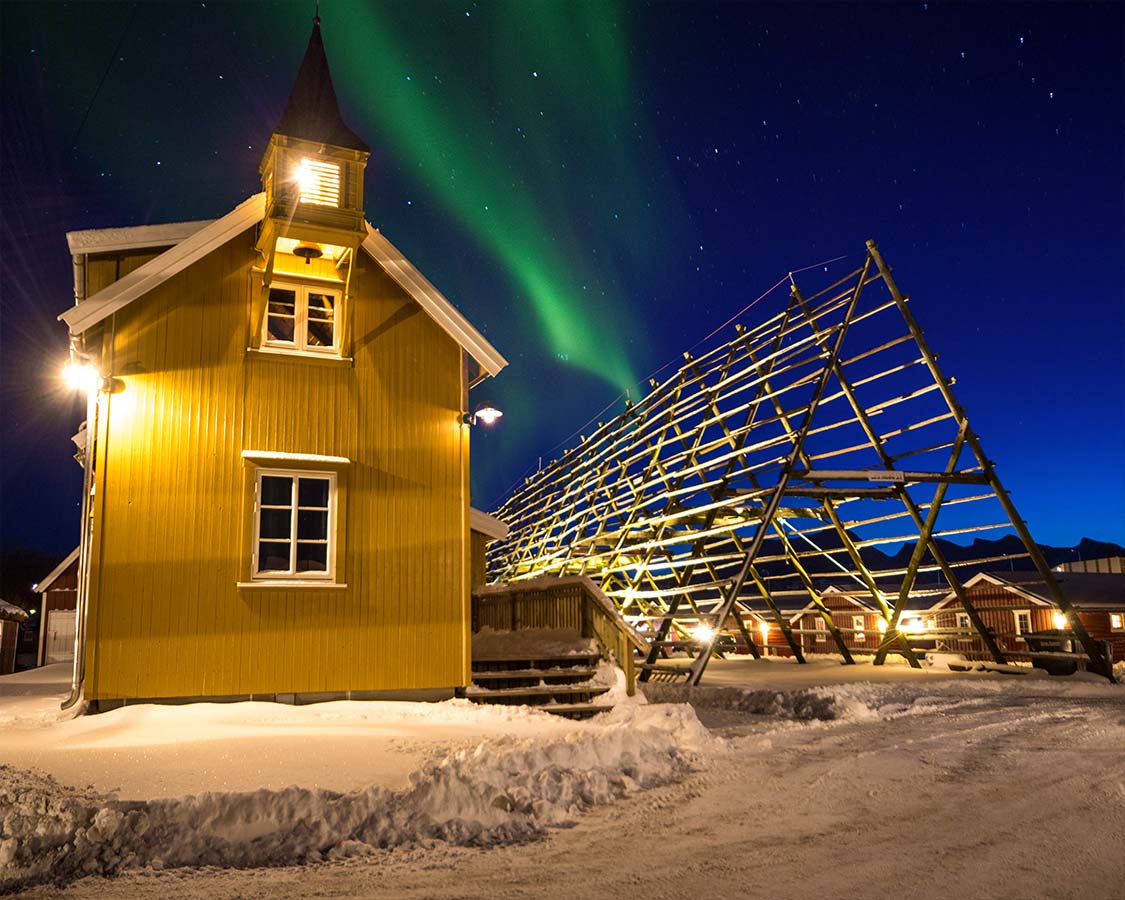 Other Cold Weather Gear To Pack For Norway In Winter
Anti-Slip Traction Gear For Shoes
Things can get slippery in Norway. In northern cities like Tromso and Kirkenes it's very common for people to walk around most days with traction gear or spikes on their winter boots in order to avoid slipping and falling on the icy streets and sidewalks. In fact, it's mandatory in some places for the cars to have spikes on their tires. Anti-slip traction gear for shoes are compact and easy to pack, and they may just save you from a broken wrist.
Hand and Foot Warmers
These came in very handy for us when we were ice fishing in Kirkenes. Hand and foot warmers can be activated with a bit of friction and put off enough heat to keep your fingers and toes warm during long outings outdoors.
Sunglasses
Snow is white. White is bright. This is especially true on sunny days. Make sure you bring a good pair of sunglasses to avoid harming your eyes from the snow-covered Nordic landscape.
Electronics And Travel Gear For Winter In Norway
Electronics
Extra batteries and power bank
When exposed to cold weather, batteries see a dramatic drop in storage capacity. On really cold days I've seen our camera batteries, which will normally last two days of heavy use, completely exhausted after a couple of hours. Make sure you are carrying extra batteries for any of your key electronics like cameras. If you're using a smartphone, I recommend getting a battery case for it that will keep your phone charged on the go.
Something that I always have with me no matter where I travel is a portable power bank. This is a unit that I can plug any of my electronics into (via USB) to charge. It is usually good to recharge my phone or camera battery a couple of times before it needs recharging. I also find portable battery banks great for camping, hiking, or long bus and plane rides where you may not have access to plugs.
No matter how you plan to experience Norway, make sure to stay warm and dry and you'll have an incredible time. And remember the most important part of cold-weather travel. "There's no such thing as bad weather, just bad clothes".
I hope we've helped sort out what to pack in Norway in winter. If this Norway packing list has helped you out, or if we've missed something, leave a comment below. Or if you've been to Norway, swing by our Facebook page and share a photo. We would love to share in your journey.
Wandering Wagars is a participant in the Amazon Services LLC Associates Program, an affiliate advertising program designed to provide a means for sites to earn advertising fees by advertising and linking to amazon.com, amazon.co.uk, amazon.ca. Amazon and the Amazon logo are trademarks of Amazon.com, Inc. or its affiliates.
You May Also Like To Read:
Pin This Post For Later: