Everything you need to know about Christmas In Lapland Finland is right here. The best experiences and the best Santa Claus experiences in Finnish Lapland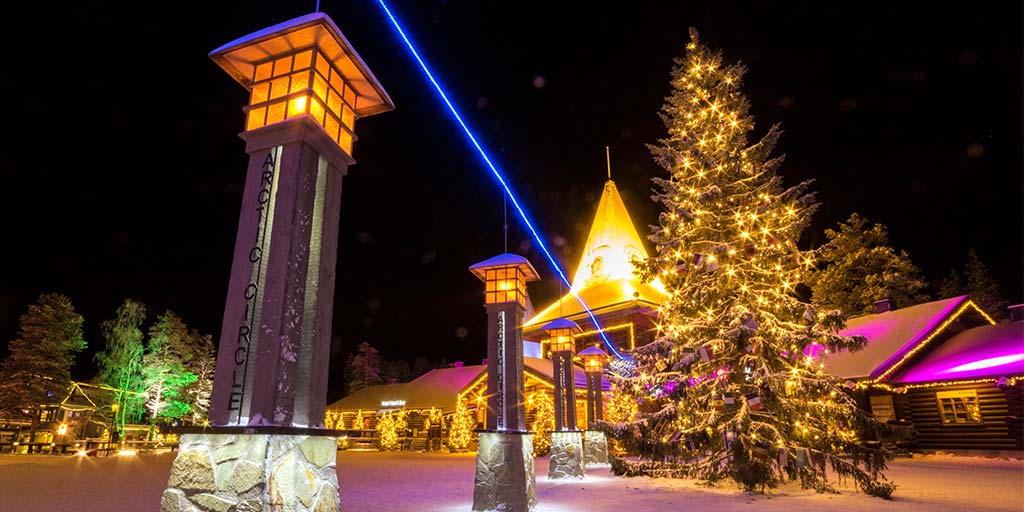 Lapland Finland is quickly becoming one of the hottest holiday destinations in Finland. What was once a snowy, Arctic region known for spectacular summers has recently exploded among Asians, Europeans, and North Americans looking for the perfect place to celebrate Christmas in Finland.
But what is it about Christmas in Lapland, Finland that makes it such a popular destination?
Well, besides being a winter wonderland, Finnish Lapland is known as being the home of the big man himself. That's right. Santa Claus himself has a village just north of the town of Rovaniemi Finland (If the kids aren't reading this, it's safe to say that Santa has Christmas villages spread throughout Finnish Lapland). And Santa's house is open to visitors! So read on and discover why Christmas in Lapland makes for the perfect family vacation.
If you're looking for more adventures in Finland, check out our Finland family travel guide.
Where Is Lapland Finland?
Lapland is a HUGE area that spans across much of northern Europe. The Lapland region crosses Norway, Sweden, Finland, and into Russia. It is the traditional home of the Sami people. The Sami are the only remaining indigenous people in Europe and have historically called Lapland their home.
The town of Inari, in Finnish Lapland, is the home of the Sami Parliament. And the postcard-perfect Lake Inari is one of the earliest locations where southern Europeans began to integrate with this Indigenous Arctic people.
Lapland Finland or Finnish Lapland extends from the northern tip of the Baltic Sea up to the northern border of Norway. The Lapland region stretches right across the country from the borders of Sweden to the borders of Russia. Finnish Lapland is home to about 3.5% of the population of Finland. And much of the region sits above the Arctic Circle (the area that experiences at least one full 24-hours of night in winter and at least one full day of sunlight in summer).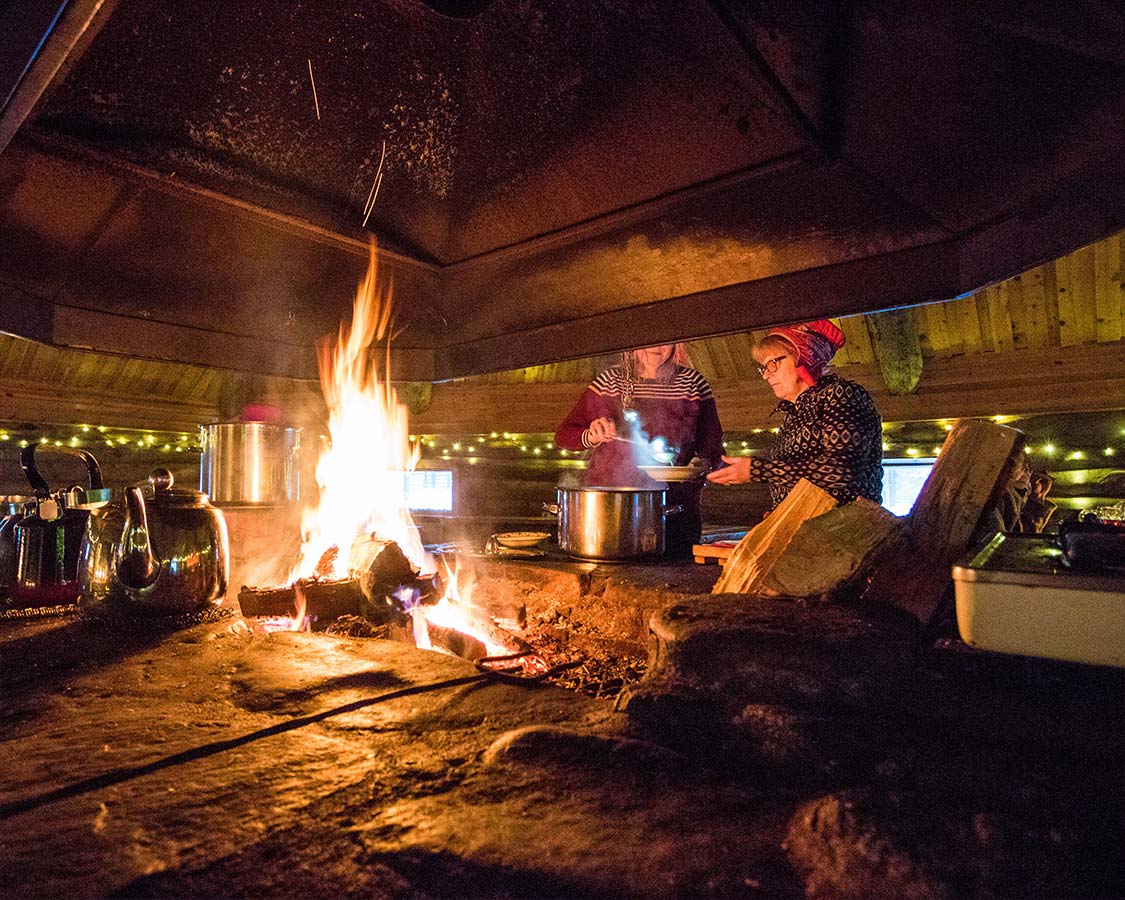 Why Is Christmas In Finnish Lapland So Popular?
Winter in Lapland is dark. Around Christmas time, much of Lapland Finland experiences days, or even weeks without full sunlight. That doesn't mean that it's completely nighttime. Close to the Arctic Circle you'll find that there will be a few hours of dusk/dawn light, although this time gets shorter the further north that you travel.
There is no better way to shake off those winter blues than through the magical power of Christmas. In Lapland, Christmas is big business. In fact, the only place that may surpass Finland for Christmas celebrations in the Philippines, where they begin their holiday celebrations in September and don't take down decorations until early February. But you won't find snow there, so Finland for the win!
In almost every city in Finland from Helsinki to Levi there are Christmas Markets, streets lined with Christmas lights, and celebrations that would make even Christmas in Manhattan take shame. It's no surprise why families have begun flocking here for Christmas celebrations. Many come from areas in the south to experience their first white Christmas, while others simply want to partake in some of the best Christmas markets in the world.
Not only is Lapland home to Father Christmas it is also home to countless reindeer. Reindeer herding in Lapland has been taking place for centuries. It's not uncommon to find herds of these animals wandering the roads and fields. But they aren't wild. All of these animals belong to families of reminder herders in Finnish Lapland.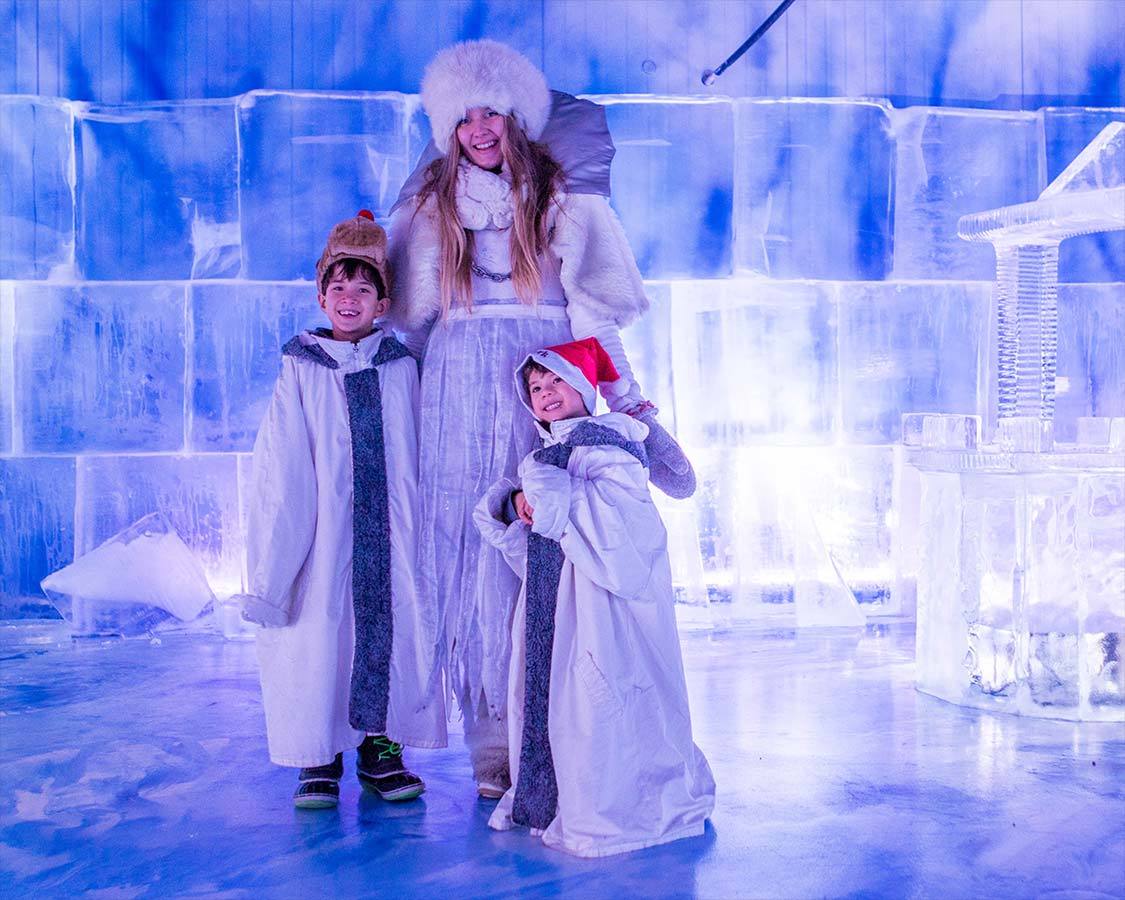 How To Get To Lapland In Finland
If you want to spend Christmas in Lapland, Finland, the first step is getting there. Here are a few tips on how to get to Lapland and how to get around when you get there.
Getting to Lapland By Air
Getting to Finnish Lapland requires a bit of flying. While some flights from within Europe fly directly to the Lapland airports, like Rovaniemi, Kittila, Ivalo, and Kemi, those flying from outside Continental Europe will need to transfer in Helsinki before making the trip north to Lapland in Finland.
The busiest season for travel is over the holidays, with crowds being especially busy during Christmas in Lapland. But, if you are willing to travel outside the peak weeks during the Christmas holidays, you can often score great deals on winter travel to Lapland.
The Lapland area is quite large. Cities such as Inari, Levi, and Saariselka are between 2-5 hours drive north of the main city of Rovaniemi. If you are visiting one location, it's advisable to fly to the nearest airport to your accommodation and get a shuttle or transport to your accommodations.
However, if you plan on visiting multiple areas within Lapland Finland, as we did, you can rent a car and explore via the well-maintained highways. Just be aware that winter weather in Lapland can be unpredictable and storms occasionally cause highway closures.
The Rovaniemi airport specifically is known for setting the Christmas in Lapland spirit right away. You'll find that twinkling lights, and even a snow village right as you land.
Getting To Finnish Lapland By Train
Flights to Lapland Finland will get you there fast (a little over an hour to most destinations in Lapland Finland), the train from the Central Train Station in Helsinki to Rovaniemi will get you there in comfort and style.
There are sleeper cabins available with private bathrooms. This mode of transport may be the most welcome for those traveling from destinations like Australia and the Americas since they offer some comfort and a place to sleep after a long journey. Plus, you have the added bonus of saving on one night of accommodations.
The train journey from Helsinki to Rovaniemi lasts about 12-hours. If you are booking a sleeper compartment, that reservation must be made in advance on the VR website.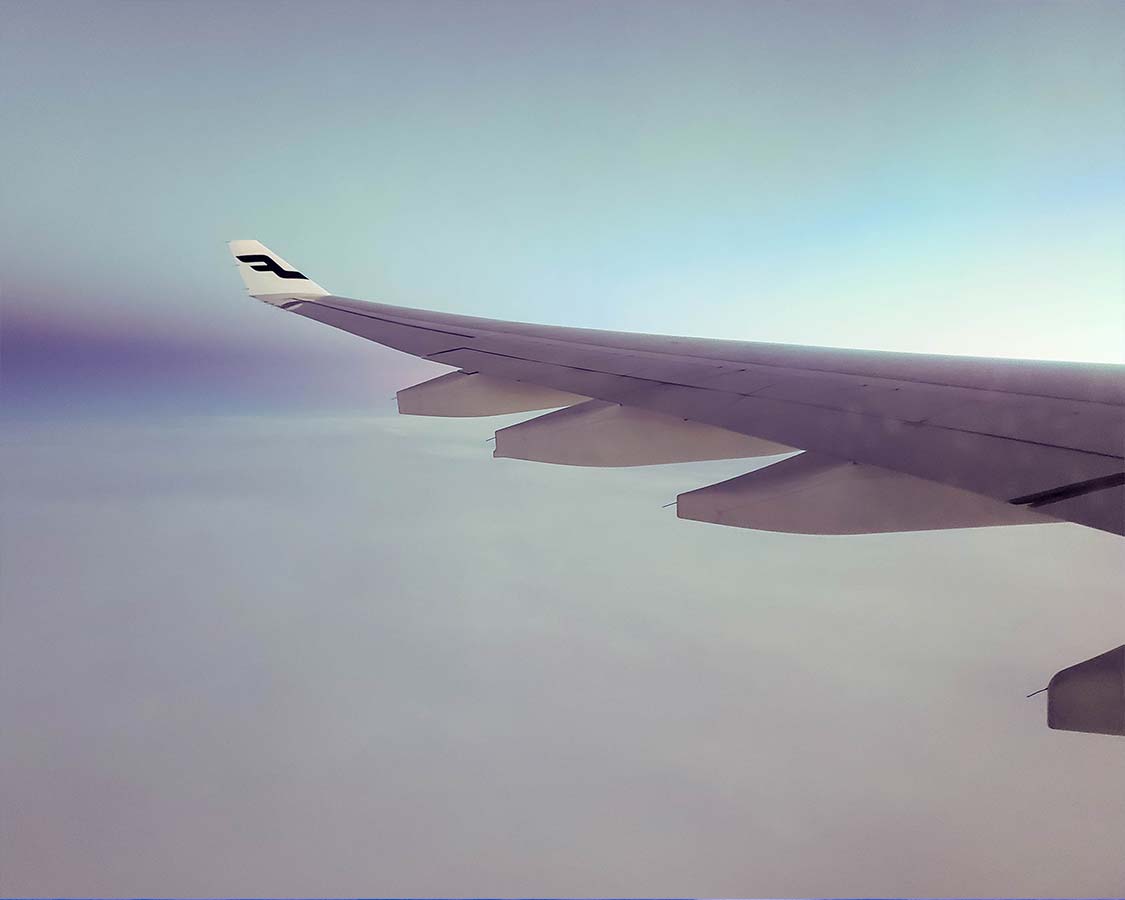 How To Make The Most Of Christmas In Lapland Finland
The first thing is first. It's easy to sign up for a weekend in Rovaniemi. You can even make a day trip to Lapland if you are based in Europe. But the Lappish area of Finland is worth more of your time than that.
Getting to Lapland can be quite expensive. I highly recommend that you make the most out of your trip and visit for at least a week to make the most of your journey. You won't be disappointed and children and parents will get much more out of the visit to Lapland.
If all you want to do is head to Lapland, take a reindeer sleigh ride, and a 5-minute sit down with Saint Nick, you can do that in a day trip to Rovaniemi. But you'll be exhausted, and will have only seen a tiny fraction of what this incredible region has to offer. Instead, get a postcard-perfect cabin rental and experience the polar night the way it deserves. There are so many things to do in Finnish Lapland that you won't get bored. I promise!
Pick Your Finnish Lapland Destination Carefully
There are a lot of amazing regions in Lapland Finland worth exploring. If you have access to a car it's possible to see a few different areas of Lapland in Finland. However, if, like most visitors to Finland, you are relying on tour groups, you'll likely be based in one of the main tourism regions of northern Finland.
Rovaniemi
Rovaniemi is the largest city in Finnish Lapland. It is the Lapland destination that most organized tour groups end up traveling with due to its southern location, excellent amenities, and the huge variety of winter activities. Rovaniemi is stocked with a great selection of AirBnbs, hotels, and apartment-style accommodations to fit every budget and travel style.
We stayed in a few places in Rovaniemi, but our absolute favorite was the winter cabin provided by local tour company Safartica. The semi-detached cabins were picture-perfect and had super cozy interiors where we felt immediately at home. There is also a great selection of restaurants in Rovaniemi providing a great selection of international and local Finnish cuisine. Restaurant Nili in downtown Rovaniemi is particularly popular for its excellent traditional Finnish food.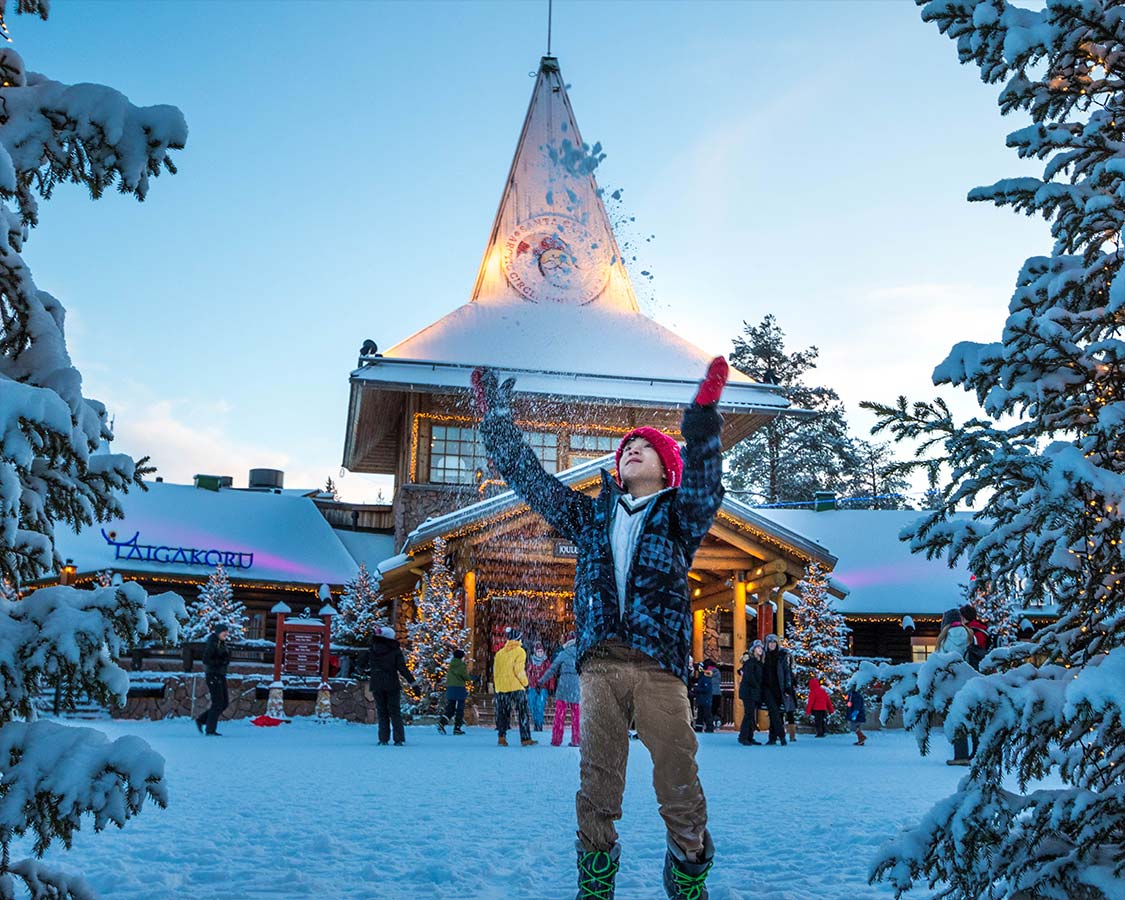 Top Lapland Christmas Attractions In Rovaniemi
There are loads of tour companies in Rovaniemi offering every winter experience under the sun (or, in the case of Arctic winter, the moon). Many of them can be found on the Visit Rovaniemi website. But for Christmas experiences in Rovaniemi Santa Park and the Santa Claus Holiday Village are where the action is.
Santa Park is the underground toy factory where Santa's elves create all of the presents for children around the world. It's a wonderful place for children to explore. It's a fantastic place to get in the spirit of Christmas in Lapland. The elves of Santa Park are always in character and create the perfect atmosphere for any family looking to get into the Christmas Spirit in Finland.
Santa Claus Holiday Village is the location of the popular Santa Claus Main Post Office. Although Santa Claus Village is set up as an outdoor attraction center that is a little overloaded with gift shops, the atmosphere here will undeniably get visitors to Lapland in the Christmas spirit.
This Lapland Santa Village is beautifully decorated. It is full of incredible, easy-to-access Christmas and winter activities that the whole family will enjoy. But the main attraction in Santa Claus Village is getting to meet the Big Guy himself, and the Santa Claus experience in Santa Claus Holiday Village is one of the best out there. It had my, normally skeptical, kids completely speechless.
Levi
While Rovaniemi may be the capital of Christmas in Lapland Finland, Levi is definitely the core for those who love combining outdoor fun with their Christmas activities. Getting to Levi means going even further north of the Arctic Circle to where Christmas in Lapland is dark. But, the sky isn't completely dark here, even when the sun doesn't come up. You can expect a beautiful twilight glow that lights up the sky in a magical way for a couple of hours during the day. The benefit to the lack of sun though is that the Christmas lights, of which there are plenty, get to twinkle all day. This way you never lose that Christmas in Lapland feeling.
Staying in Levi is perfect for those who love skiing. Levi is the premier ski destination in Lapland, and the ski hills in Levi are a flurry of activity. It's also home to the Luvatuumaa ice hotel, which is a magical place for families wanting to live out their dream of experiencing Elsa's ice kingdom from Frozen. And if picturesque snow-covered villages are what you're after, Levi is perfect. The downtown of Levi looks like a gingerbread village where someone went CRAZY with the icing.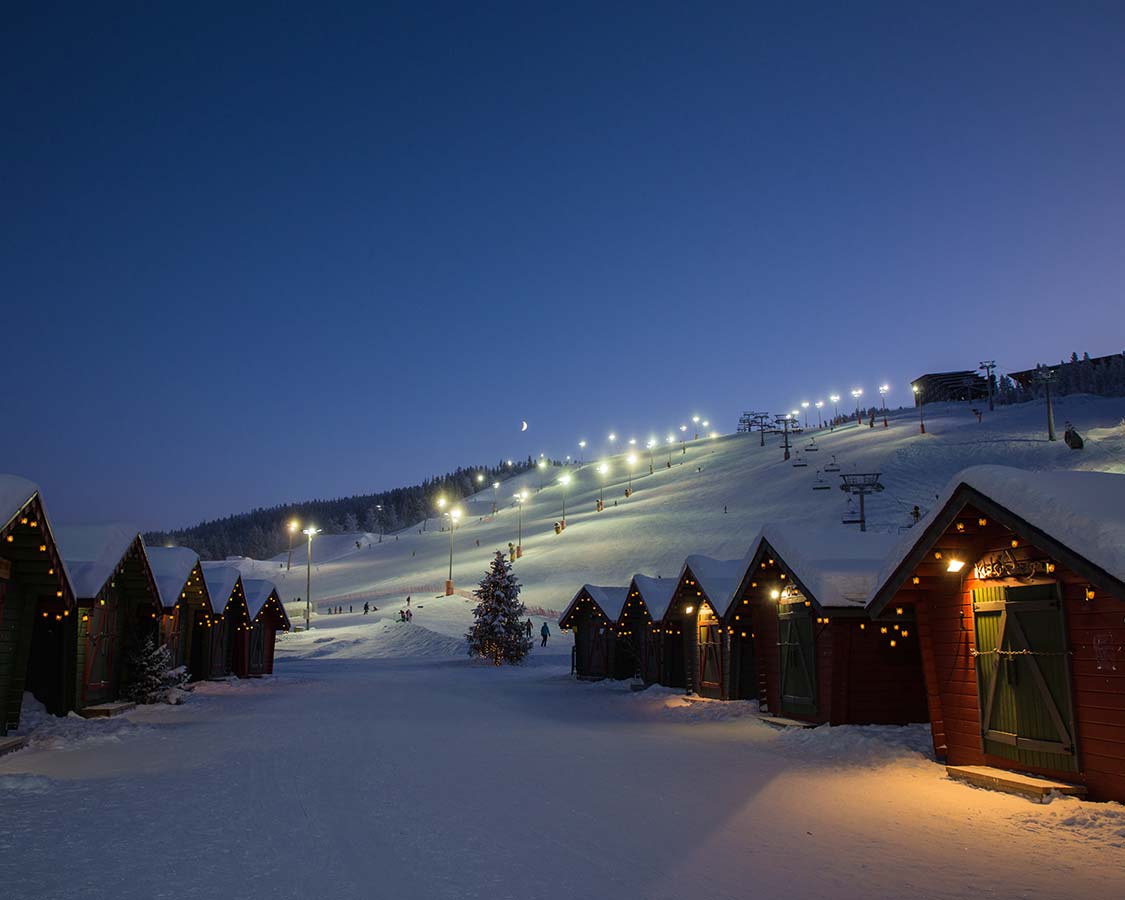 Top Lapland Christmas Attractions In Levi
Although Levi isn't the center of Christmas fun in Lapland Finland, holiday cheer is always within reach. Reindeer Safaris get more incredible the further north you travel in Finnish Lapland. Levi has some of the best reindeer safaris in Lapland. You can also head out on a Santa Claus Safari by snowmobile to Santa's secret cabin in the Lapland wilderness. You get some private one-on-one time with Santa himself as well as the thrill of riding through some of the most beautiful forests in Lapland to get there.
Levi is far enough south that there are day trips offered to SantaPark and Santa Claus Village in Rovaniemi. But, between the ski hills, snowmobile rides, and reindeer safaris, you might find your days filled to exploding by all of the incredible things to do in Levi.
Inari and Saariselka
Saariselka lies within the Sami capital region of Inari about 3-hours north of Rovaniemi. Saariselka sits about 260 km inside the Arctic Circle and is a prime location for skiing in Finnish Lapland. There are wonderful fells nearby that are popular destinations for snowmobilers and outdoor enthusiasts. The polar night is strong in Inari and Saariselka. These small towns are exploding with visitors during the holidays, many of whom travel north for the best opportunity to see the Northern Lights in Finland during December.
Popular hotels and restaurants such as Santa's Hotel Tunturi and Hotel Inari serve up traditional Finnish Christmas feasts. These meals match the beautiful holiday atmosphere that abounds in Lapland Finland. Saariselka is also home to a water park for those days where you just feel like enjoying the water rather than the ski hills.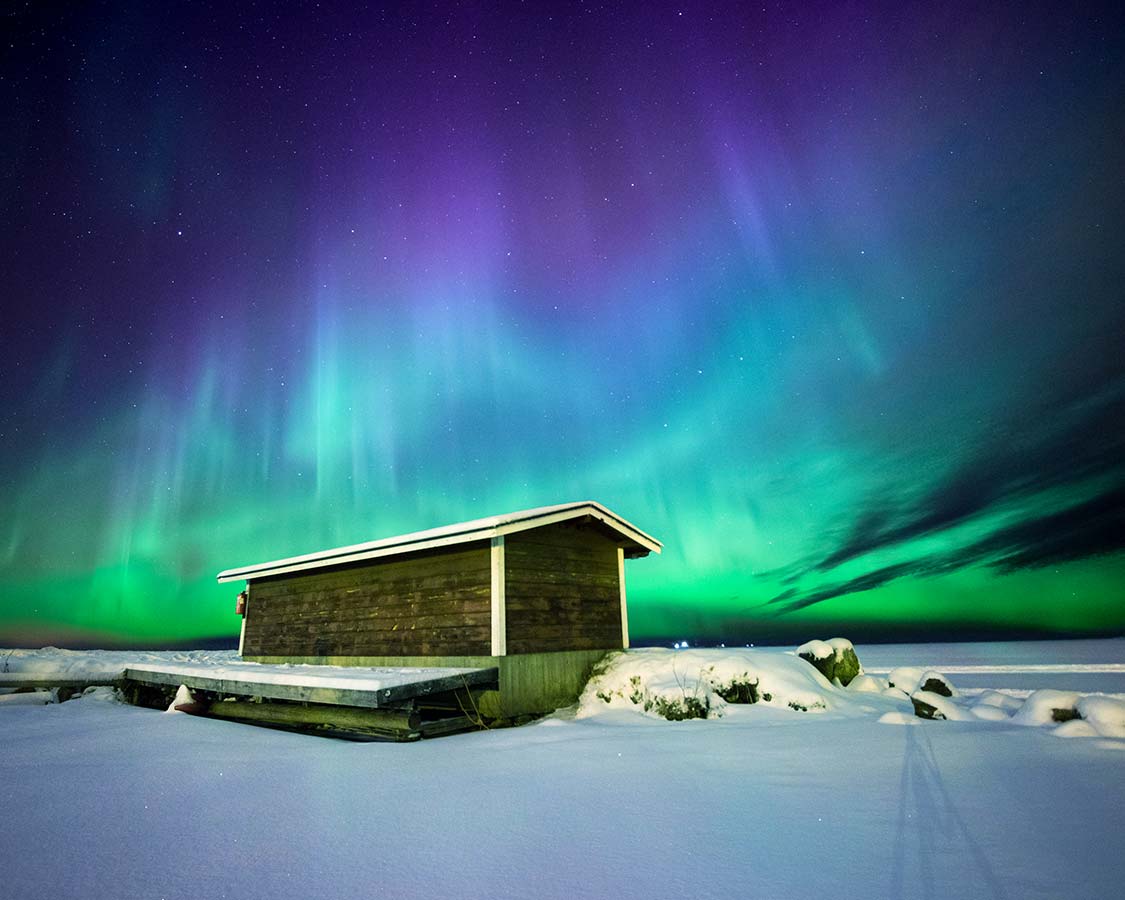 Top Lapland Christmas Attractions In Inari and Saariselka
The Saariselka Ski Resort is boasted as the northernmost ski resort in Europe. It is always decked out in Christmas garb during the holidays in Lapland. For those who aren't avid skiers, they have lots of other winter activities to enjoy like the popular toboggan run, snow tubing, and ice skating rinks. There are few better vistas for viewing the Northern Lights than on the shores of Lake Inari. The wide skies and beautiful scenery are perfect for a night under the lights.
And, although it's not a traditional Christmas celebration, Saariselka offers one of the best places to take in a traditional Finnish smoke sauna, complete with a dip in an icy river. Our whole family (with the exception of 5-year-old D, jumped in the frigid waters and warmed up in the steamy smoke sauna at Kilopaa National Park. It was incredible. You can also join Joiku-Kotsamo safaris for an unforgettable reindeer safari through the Lappish wilderness, complete with a traditional Finnish meal to warm you up afterward.
Tips For Visiting Santa Claus In Lapland
Believe it or not, it's not just the mall that has Santa helpers. There are many different Santa experiences within Finnish Lapland. And while some families thrive on fitting it all in during their travels, it's a good idea to keep the magic alive by choosing one Lapland Santa experience. This way children don't leave Lapland Finland as confused as they do at the local mall. And you don't have to explain why they just saw another Santa at the plaza down the road.
Another tip for visiting Santa in Lapland is to get your children prepared with their list of questions and requests for the big man. Most Lapland Santa experiences only last at most 5-minutes. You'll have a short window to get those magic moments in place. Take your Santa experience and make it a family moment. It's easy to get caught up in chronicling the experience and forget that it's just as important to your kids that you were there for the moment rather than standing behind a camera.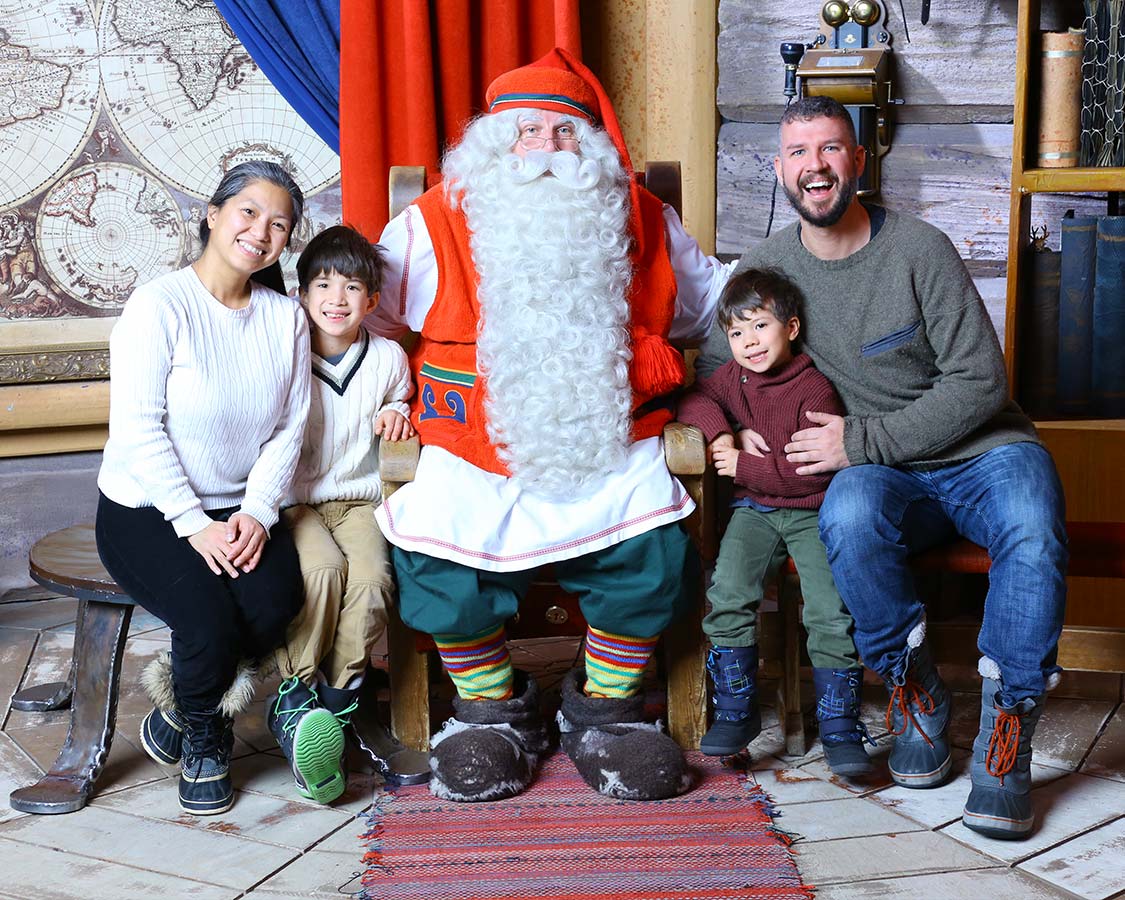 Tips For Experiencing Christmas in Lapland Finland
What Should You Wear For Travel In Lapland?
If it hasn't been made obvious yet, Christmas in Lapland can be snowy, dark, and cold. If you are visiting on a Lapland tour, it's quite common for tour companies to provide or rent winter clothing. However, if you plan on traveling by yourself, or just want to make sure you are prepared for the weather, check out our complete guide on what to pack for winter in Lapland Finland.
Is Christmas A Good Time To See The Northern Lights In Lapland Finland?
If you plan on viewing the Northern Lights, please remember that there are never any guarantees. The best months for seeing the Northern Lights in Lapland are actually October, November, March, and April. Winter in Lapland is often cloudy. While the KP index (the measure of solar activity that causes the Aurora to appear) may be high, if there are clouds, you might not see them at all. We have been blessed with seeing the Northern Lights on our Hurtigruten coastal cruise in Norway and during our travels through Yellowknife, Northwest Territories in Canada so, although we only got to see them one night in Inari, it was enough for us.
Is Lapland Kid-Friendly?
Lapland is very focused on family holidays. Many accommodations take into account family travelers. But note that many tours and activities don't recommend Lapland activities for children under 4. This is usually due to low temperatures and the length of time spent outdoors. On the other hand, some of the more active Lapland Christmas activities are designed for older children. Experiencing the best Christmas in Lapland Finland means knowing your family and choosing the Lapland activities that best fit their personalities and abilities.
It's also worth noting that Lapland is the perfect place to travel before the "magic" of Christmas disappears. For children who still believe in Santa, nothing will make their faces light up more than seeing Saint Nick in his own home.
How Much Time Do You Need For Christmas In Lapland?
While it's possible to experience Lapland over a long weekend, or even a weekend, I highly recommend giving yourself a week for the experience. It's a long way to travel and there are a lot of great activities worth experiencing. As far as northern European destinations go, Finland is on the budget side. But it's by no means cheap. Give yourself the time to enjoy Lapland without the jetlag. This way your Christmas in Lapland will be a special experience.
Other Tips For Visiting Lapland With Kids
Bring extra batteries and power banks. Cold weather zaps the power from batteries faster than Yukon Cornelius cleans his ice pick. Make sure you are prepared with extra batteries for your gear and a portable power bank to recharge phones and tablets.
Write your letter to Santa before you travel to Lapland Finland. Things can get busy while you're there so writing your letter before you travel to Finland will save you the worry of running out of time while you're there.
Remember that being too warm can be as uncomfortable as being too cold. Dress in layers so that you can remove items if you get too hot and put them on if you get too cold. We always follow the motto that there is no such thing as bad weather. Just bad clothing.
Have you ever spent Christmas in Lapland Finland? Tell us about your experience in the comments below. Or swing by our Facebook page and share a photo. We would love to share in your journey.
Disclosure: This post was made possible by the support of Visit Rovaniemi. Our views remain our own. Wandering Wagars is a participant in the Amazon Services LLC Associates Program, an affiliate advertising program designed to provide a means for sites to earn advertising fees by advertising and linking to amazon.com, amazon.co.uk, amazon.ca. Amazon and the Amazon logo are trademarks of Amazon.com, Inc. or its affiliates.
You May Also Like To Read:
Pin This Post For Later: