Explore the best things to do in Helsinki Finland like Suomenlinna fortress, Helsinki Cathedral, Temppeliaukio Rock Church, and more with this Helsinki guide.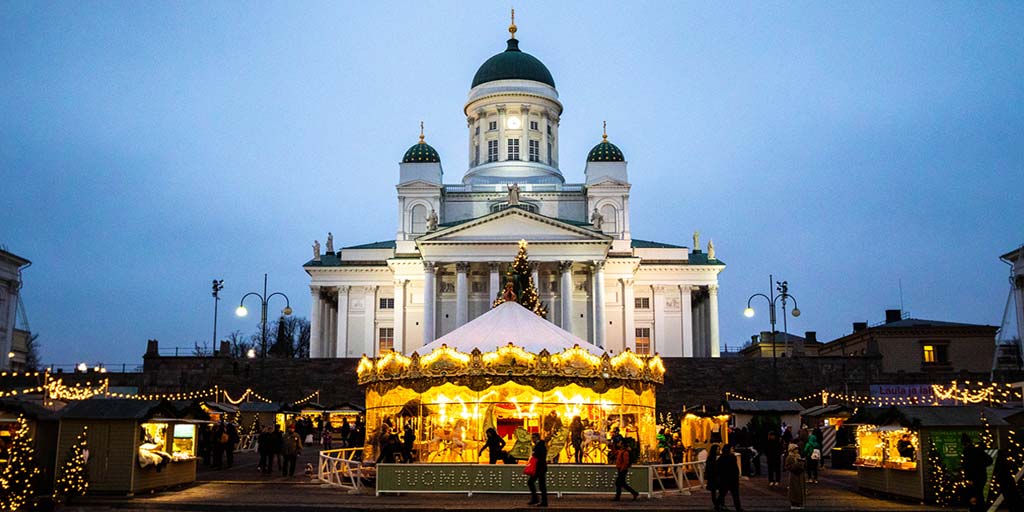 Comparing the best things to do in Helsinki is a lot like comparing hot fudge sundaes. Everything is pretty amazing, it's just a matter of what kind of sprinkles you want on top. But, if you're looking for what to do in Helsinki in a day, things can get even harder to decide. This beautiful northern European city.
Helsinki has seen a rush of influence from Russia and Sweden since its climb to fame in the 16th century. The capital of Finland has wide, winding streets and a solid European feel. Even compared to other northern capitals such as Oslo, Norway, though, Helsinki stands out. With dramatic fortress cities and a gorgeous city-center, finding things to do in Helsinki is as much pleasure as doing them. But one of the best things is that all of these Helsinki things to do are close by. This means that if you want to experience the best of Helsinki in a day, you are in luck!
Our visit here was part of a Helsinki stopover on the way north to the city of Rovaniemi and to explore beautiful Finnish Lapland. But even with a short time in Helsinki, we were able to experience a lot of this beautiful place in a short period. Not only is Helsinki vibrant, artistic, and exciting. But it's also one of the safest cities in Europe. In fact, Helsinki Finland has repeatedly been ranked among the most livable cities in the world. So without further ado, let's check out some of the best Helsinki things to do for your next trip to Finland.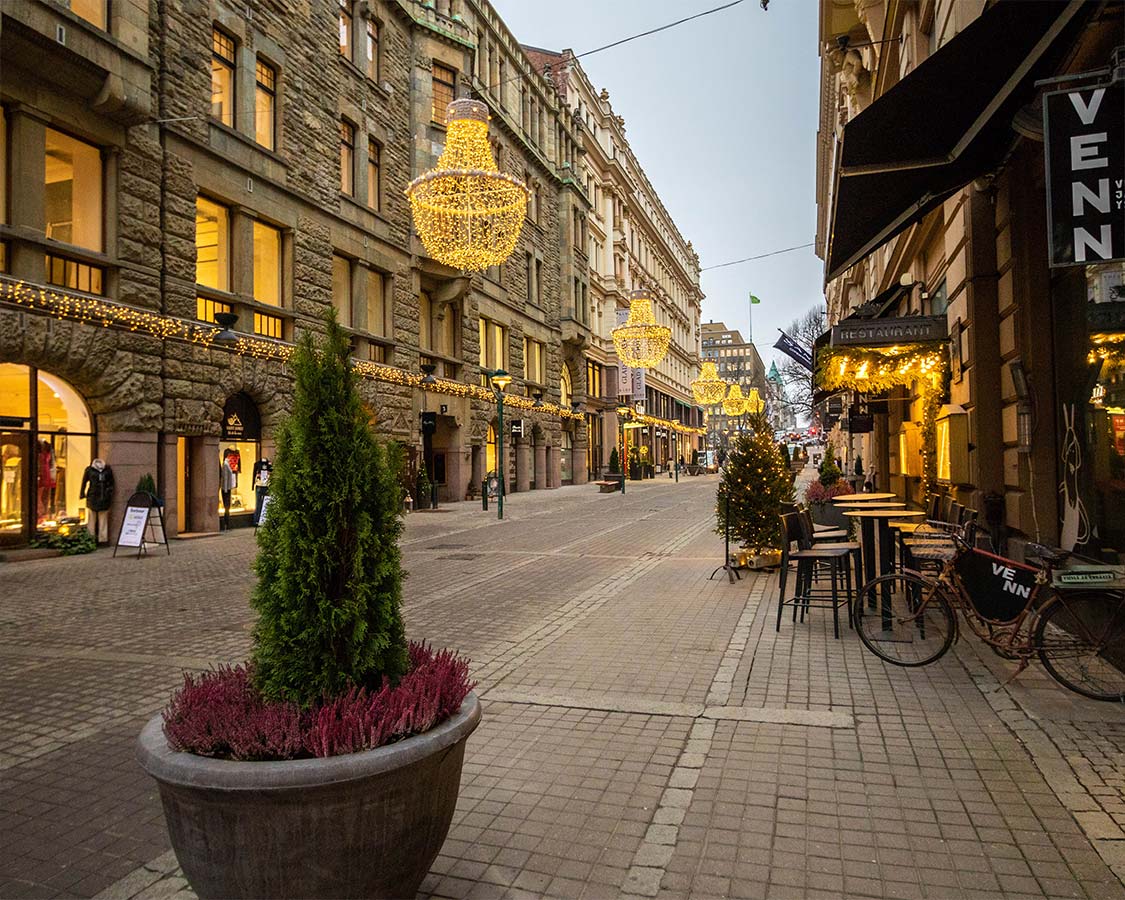 The Best Things to do in Helsinki Finland
1. Take a Ferry to the Fortress of Suomenlinna
When we were discussing the best things to do in Helsinki on a layover before our trip, many people suggested leaving mainland Helsinki immediately and heading straight to the Swedish fortified city of Suomenlinna. We were surprised that people wouldn't suggest all of the incredible Helsinki attractions in the Helsinki city center.
After making our way from the train station to the marina though, we could see the popularity of Suomenlinna by the throngs of visitors and locals lining up for the Suomenlinna ferry to the fortified city. The 20-minute ferry took us on the short route into the Gulf of Finland to Suomenlinna Fortress. Suomenlinna is a historic city and UNESCO World Heritage Site spread over 6-islands.
Suomenlinna wasn't always a part of Helsinki, nor was it always a part of Finland. It was built by the Swedes during the 1700s. Suomenlinna is as much a thriving city as it is a historic fort though. On this chain of islands, scattered among the ruined and restored battlements and buildings are markets, shops, hostels, and even apartments. The entrance to Suomenlinna is free. The ferry is € 5 for adults and €2.5 for children 7 and up. Children under 7 are free.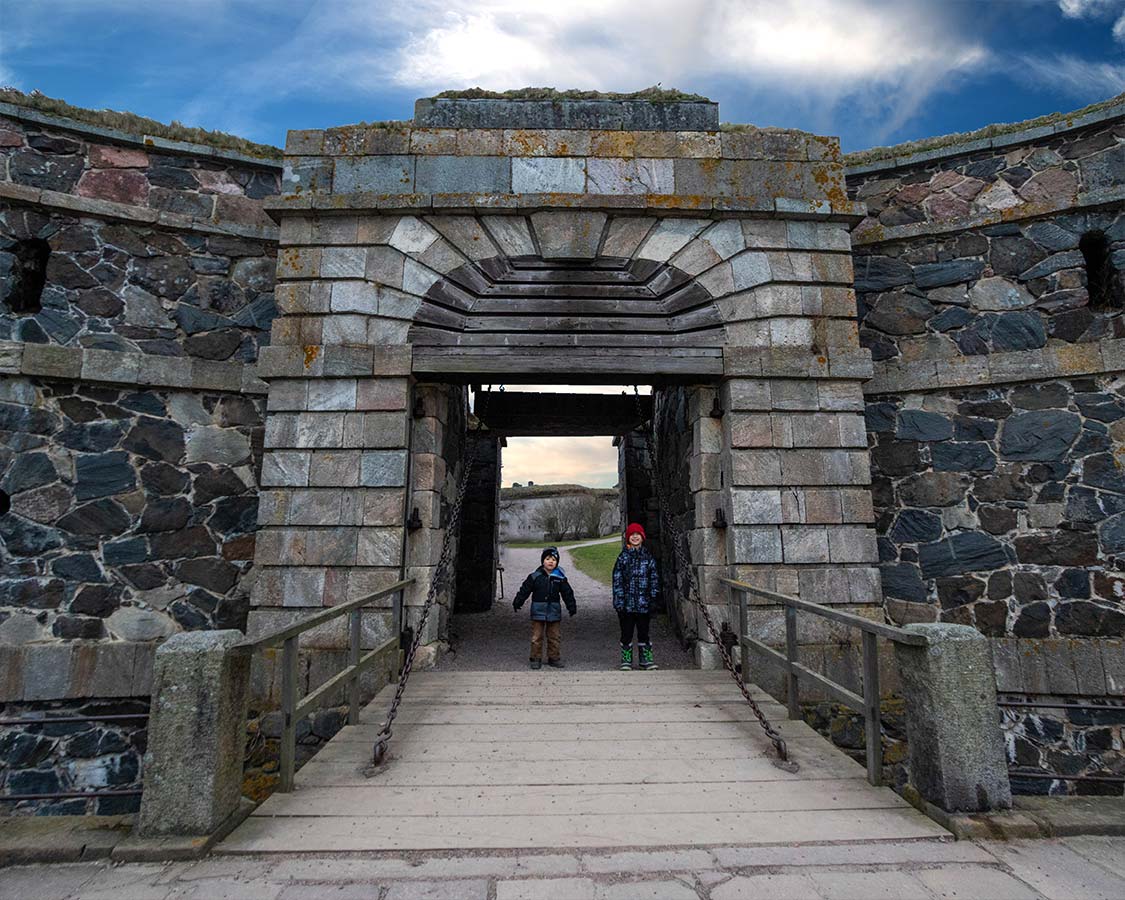 2. Take In The Views From Helsinki Cathedral
The Helsinki Cathedral is one of the focal points of the city. It's impossible to miss this gloriously white building-mounted at the top of an absurdly tall staircase in the Helsinki city center. The green-domed peak stands high above the surrounding cityscape and calls attention at all times of the year. Helsinki Cathedral was built in the mid-19th century, but, like the Suomenlinna, was renamed from St. Nicholas' Cathedral to Helsinki Cathedral in order to promote further national pride within Finland.
If you are looking things to do in Helsinki in winter, then the Helsinki Christmas Market takes place at the base of the stairs that lead to the Helsinki Cathedral. There is a free merry-go-round for visitors (donations are requested, but not needed). The Helsinki Christmas market is full of shops selling local handicrafts and artwork. You can also warm up with hot chocolate, coffee, or the local favorite, glogi, a hot, spiced wine that does a great job of taking the edge off of the winter cold.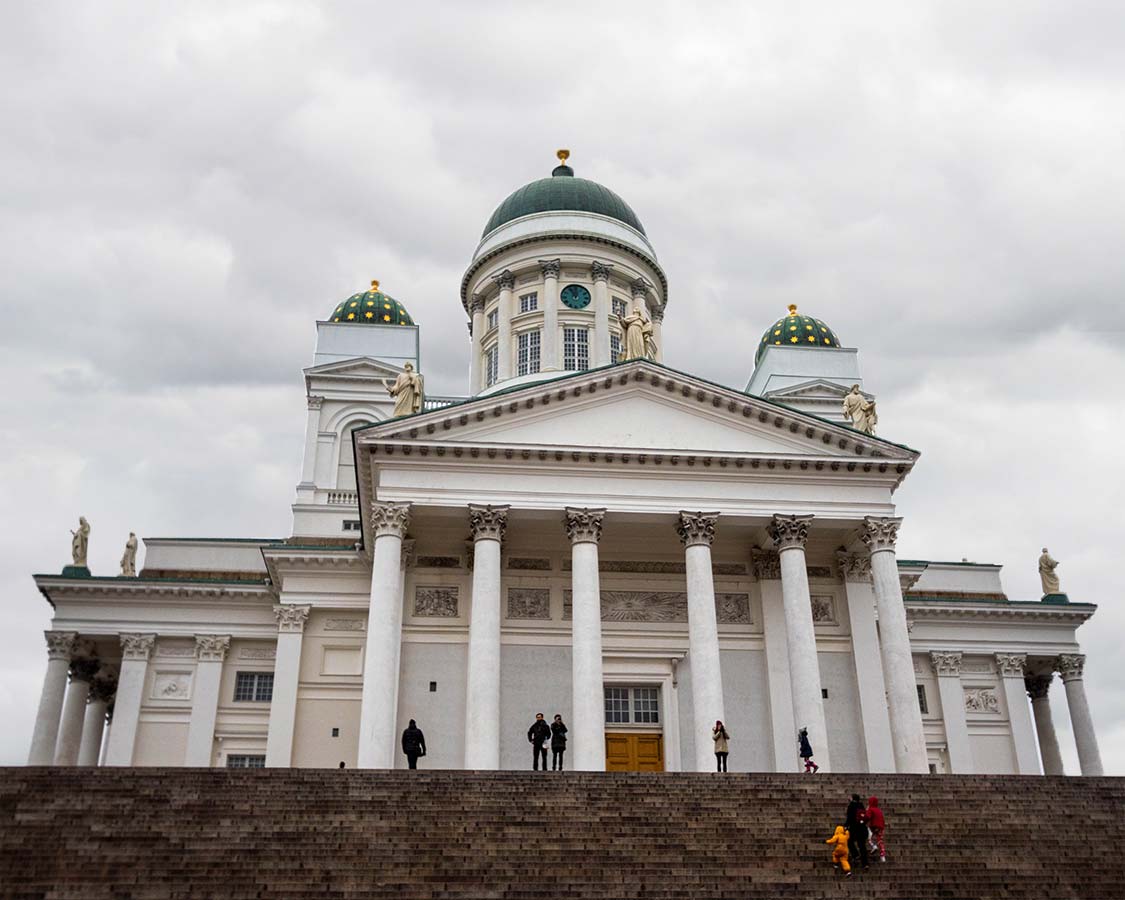 3. Experience Local Flavor At Helsinki Market Square
Helsinki Market Square, or Kauppatori, is a local market near the Helsinki pier. From spring to autumn the Helsinki Market Square is one of the most popular things to do in Helsinki for both locals and visitors alike.
The Helsinki market is bustling with food, craft, and souvenir stands. During the summer Helsinki market square is a popular cafe destination. During the winter the Helsinki market square slows down considerably, but it doesn't stop. The market runs year-round. The Helsinki market square in winter has a few fish shops, some craft and souvenir stalls, and if course, warm glogi for sale.
4. Visit Temppeliaukio Rock Church
There is always something thrilling about spectacular religious buildings. Whether it is the famous spire church in Reykjavik Iceland, or the often flooded St. Marks Basilica in Venice. But the Temppeliaukio rock church in Helsinki is something truly unique. Temppeliaukio has been dug from the Helsinki bedrock and built with a combination of copper, rock, and concrete to create a truly magical destination.
The Helsinki rock church is famous for its incredible natural lighting, and unbelievable acoustics that makes it a popular destination for concerts. It's this combination of engineering and artistry that makes the Temmpeliaukio church one of the most popular attractions in Helsinki.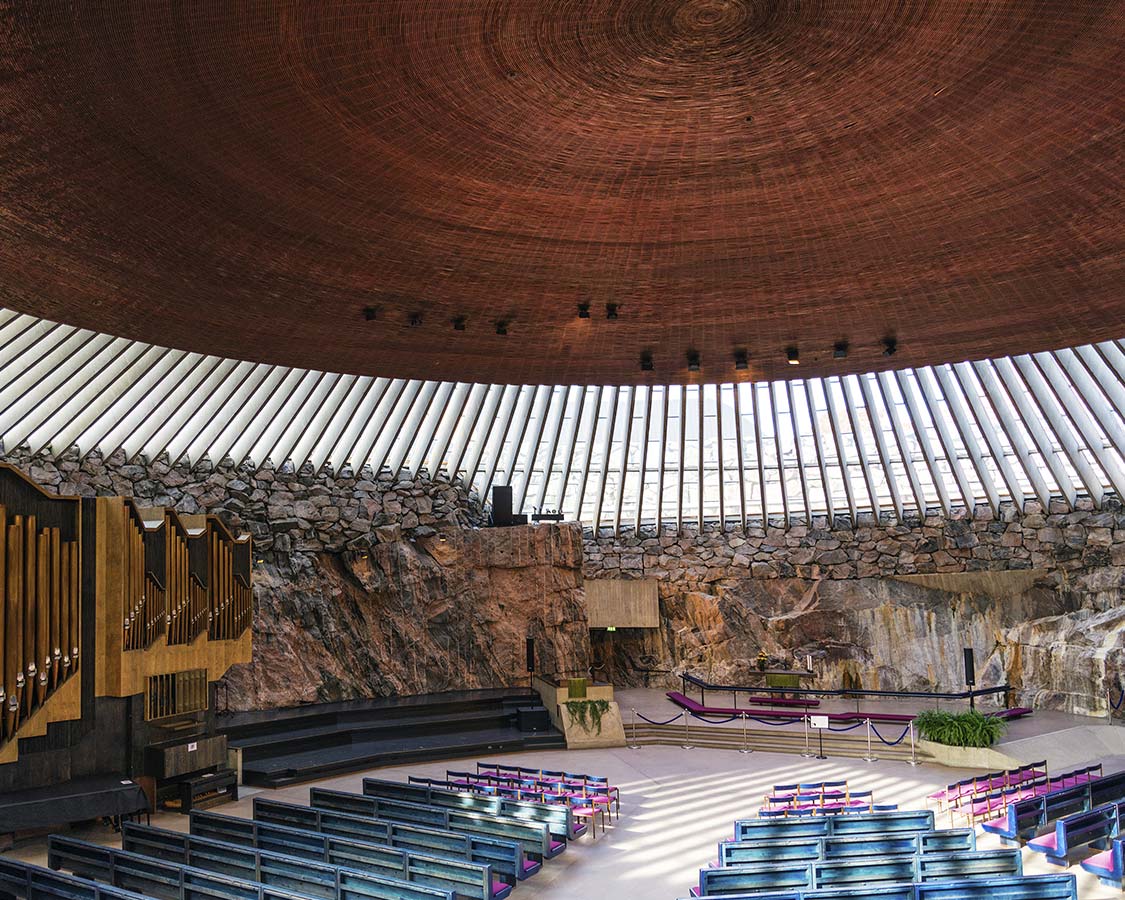 5. Explore Old Market Hall
Located near the Helsinki Pier, the Helsinki indoor market is a popular destination for those looking to find excellent food, produce, and trinkets but also get an escape from the outdoors. The arched front of this historic 1889 building reminded us of waterfront buildings that we saw during our visit to Bergen, Norway. The lush wood interior gave the interior a visual warmth that matched the heated air.
Stalls at the Helsinki indoor market sold goods such as dried berries, meat, coffee, and tea. And there were plenty of food options as well including coffee shops, Vietnamese, and local staples such as fresh fish, vegetables, local meat such as reindeer, and our kids' favorites, delicious pastries.
The Helsinki Old Market Hall has been operating since 1889. And it's a wonderful place to explore and get a taste of the best things to do in Helsinki. The building is a beautiful piece of architecture can't be missed. And if you are waiting for the ferry to Suomenlinna in the winter, it's the perfect place to warm up.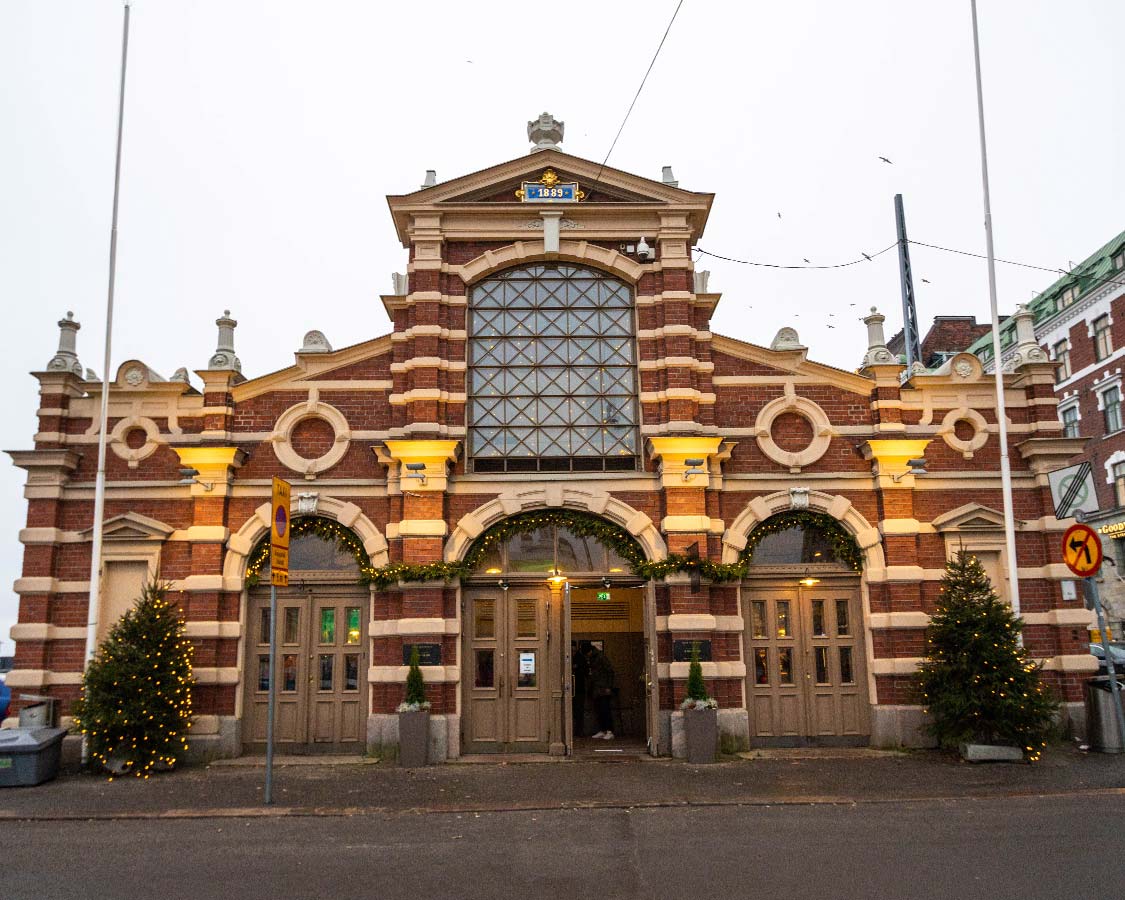 6. Enjoy a Finnish Sauna at Loyly
Sauna culture in Finland is practically a religion. There are three million saunas in Finland. And for a country of just 5 million people, that means nearly every grown adult could be in a different sauna at one time! And with all the variety of Finnish sauna's in Helsinki, you can find one that is just perfect for you. The chances are that your accommodation has one whether it be a hostel, apartment, or hotel.
One of the most popular saunas in Helsinki is Loyly, or Löyly. Loyly sauna is right on the edge of the sea, so you can warm up in the sauna, and cool off in the cold Baltic in traditional Finnish style. And for those looking to make a full day out of their sauna experience, Loyly has one of the top restaurants in Helsinki as well. You can cozy up by the fireplaces while enjoying some of their traditional Finnish fares.
7. Listen To The Sounds Of Sibelius monument
Art is always present when you're looking for what to do in Helsinki. And there are few places that capture Finnish art better than the Sibelius park and monument. Named for renowned Finnish composer Jean Sibelius, the Sibelius monument uses 600 steel pipes to represent the forests of Finland. And as the wind blows through the monument, sounds are made through the holes within the pipes.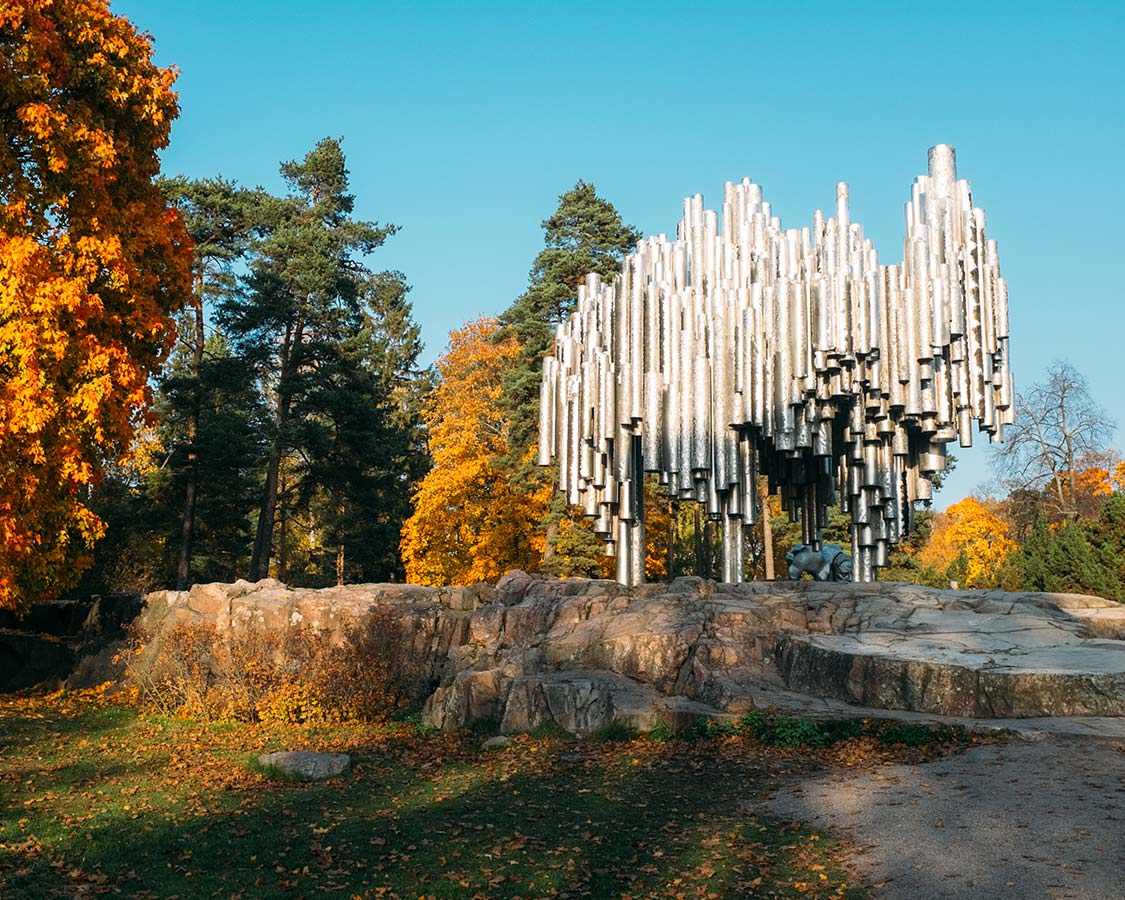 8. Enjoy The Thrills at Linnanmaki Amusement Park
If you are visiting Helsinki with kids or kids-at-heart during the summer, make sure to spend a day at Linnamaki amusement park. Not only has Linnamaki been in business for over 65-years, but they have been donating the profits of their business to local children's charities throughout those years. Linnamaki amusement park has roller coasters, games, arcades and family-friendly shows.
With the Helsinki pass, entrance to Linnamaki is free. This includes access to 9 of the rides. If you would like access to all of the rides, the entrance fee for Linnamaki amusement park is € 38.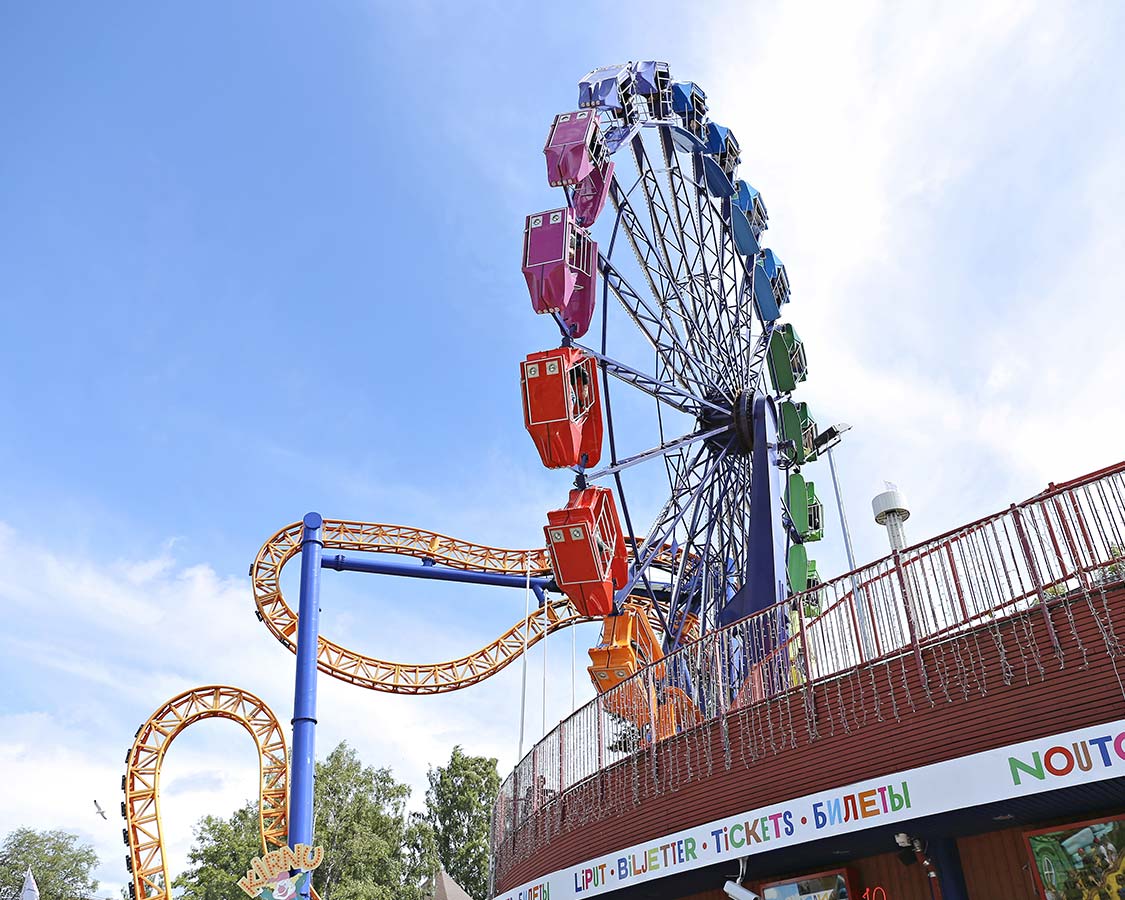 9. Experience Russian Influence At Uspenski Cathedral
It's hard to miss the dramatic architecture of Uspenski Cathedral near the Helsinki pier. What makes Uspenski Cathedral one of the top tourist sites in Helsinki is a throwback to Finland's close ties with nearby Russia. While most of the Helsinki architecture is distinctly European in style, the Uspenski church has a traditional Russian Orthodox style. The cathedral is just a short walk away from the Helsinki Old Market Hall on the top of a large stone embankment.
Crossing the river at the base of the cliff is a steel bridge that has been taken over by love locks. Locals have placed padlocks on the bridge links. Often those padlocks are engraved with the initials of a couple as a testimony to their love.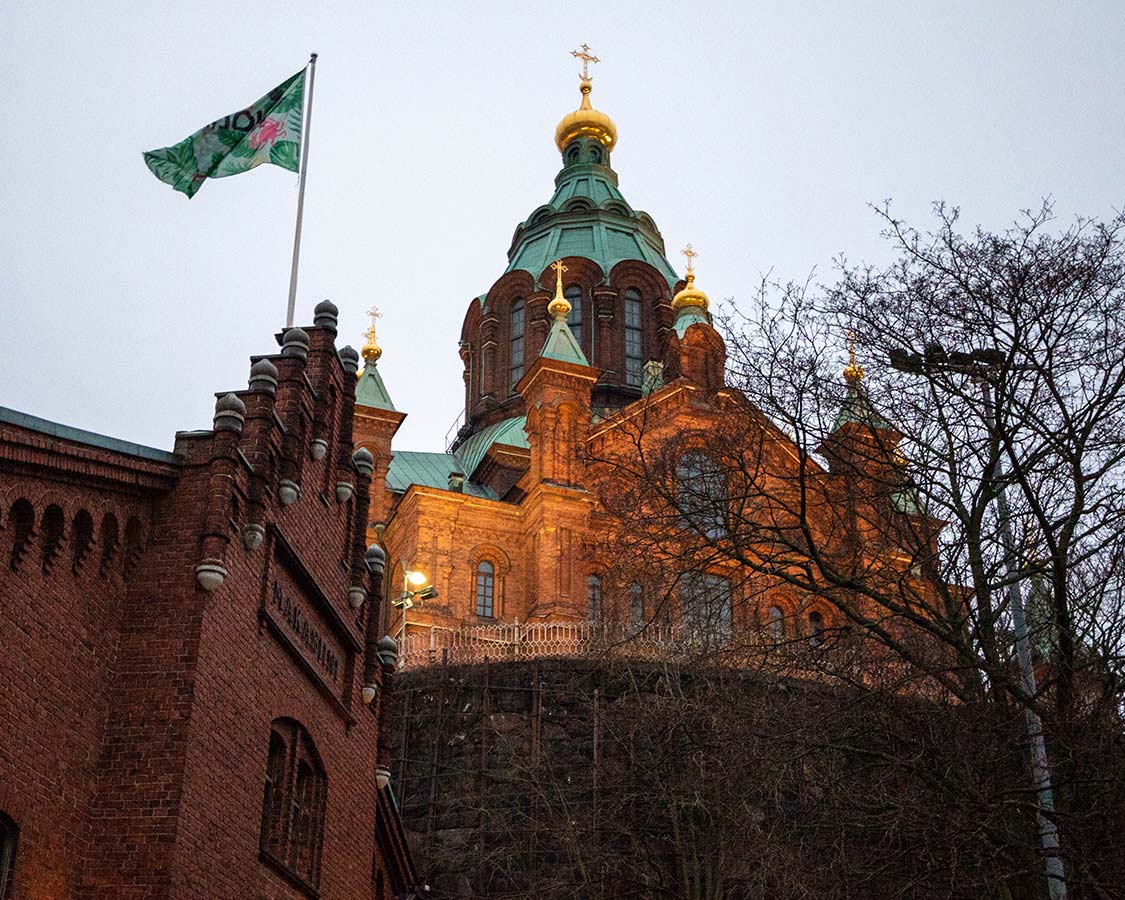 10. Take a Ride On Helsinki's Vintage Tram
When you're looking for the best Helsinki things to do, exploring the city center is a must. Helsinki has a beautiful downtown that is full of great shopping, relaxing cafes, and wide pedestrian walks that make you forget that you're far from home. But one of the best things to do in Helsinki center is taking a ride on one of Helsinki's vintage trams. These 20-minute rides run during the summer every 30 minutes. They transport users from Havis Amanda Fountain in Market Square. There are two separate Helsinki Vintage trams. They both run the same route. One is a 1909 motor car and the other an open summer trailer from 1919.
Are There Even More Helsinki Things To Do?
The best Helsinki attractions don't stop there. Those looking to explore what to do in Helsinki and have a little bit more time can visit some of these great Helsinki
Ateneum Art Museum
Situated near the Helsinki train station is the massive 1887 building that houses much of Finland's most important artwork.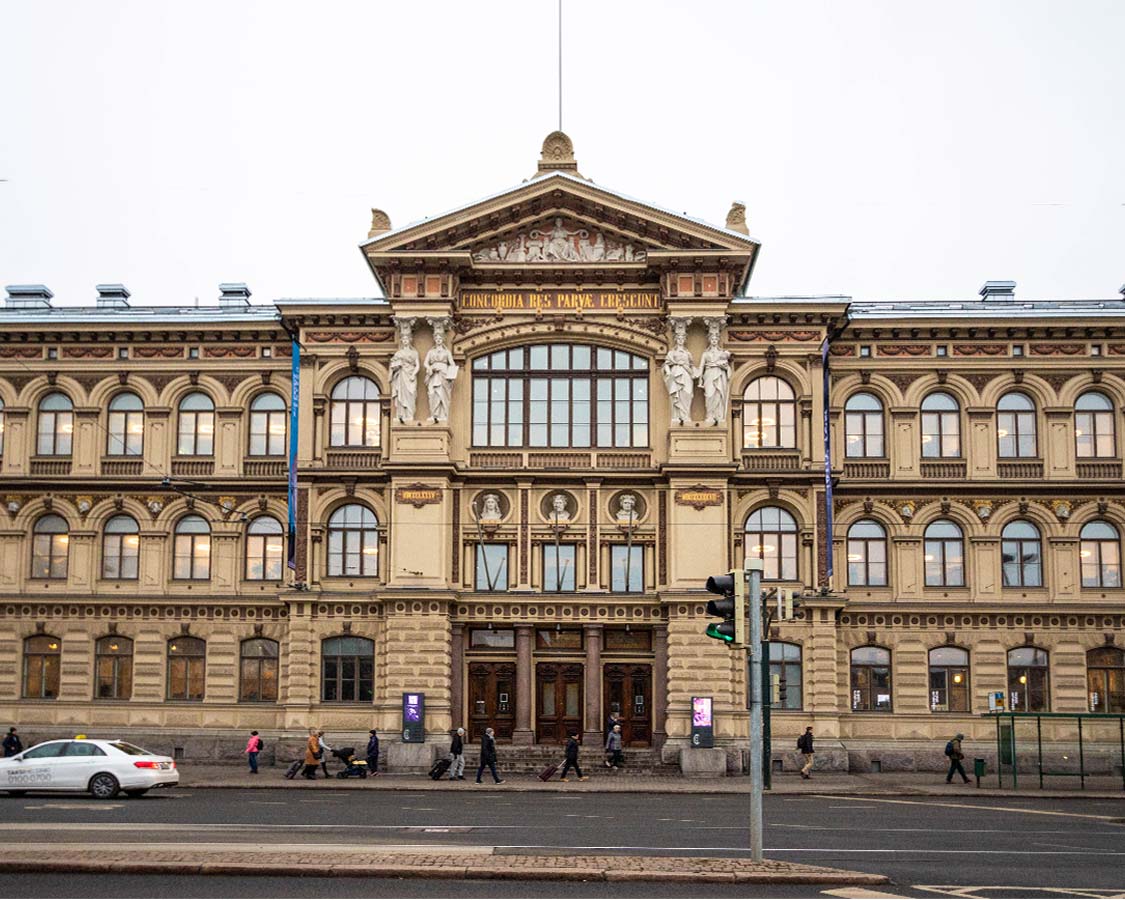 Kansallismuseo Historical Museum
Kansallismuseo is one of Helsinki's most romantic-looking buildings. This Gothic/art-nouveau building holds many historical artifacts from the 13th to the 19th century. It also features some amazing hands-on activities that are perfect for those visiting Helsinki with children.
Kamppi Chapel
Kamppi Chapel is unique among the religious sites in Helsinki. It is open to all faiths. It has been dubbed the "Church of Silence" due to the solemn, peaceful feel of the interior, and it's position as a place of quiet reflection. The design of Kamppi Chapel is stunning, and a great place for silent reflection.
Seurasaaren Ulkomuseo
Situated on an island 5.5 km from the Helsinki city center is a set of 87 wooden structures from throughout Finland. The structures represent the many styles of buildings that can be found throughout Finland. There are often dance and costume performances, crafts, and many other activities taking place on the island. It is also a popular spot for picnics in Helsinki.
Day Trip To Tallinn Estonia
Not all of the great things to do in Helsinki are in Finland! If you take a short boat ride from Helsinki, you can make a day trip to the beautiful city of Tallinn in Estonia. Tallinn combines a medieval-style atmosphere with the amenities of a modern city making it one of the most popular day trips from Helsinki. You can read more about what to do in Tallinn here.
Shopping In The City Center
You can't have a great European capital without some excellent shopping. And shopping in Helsinki is always a treat. The large storefront windows are welcoming. And the interiors are bright and alive. But the best part of shopping in Helsinki city center is just how bright and festive everything is. It's easy to get caught up in the moment.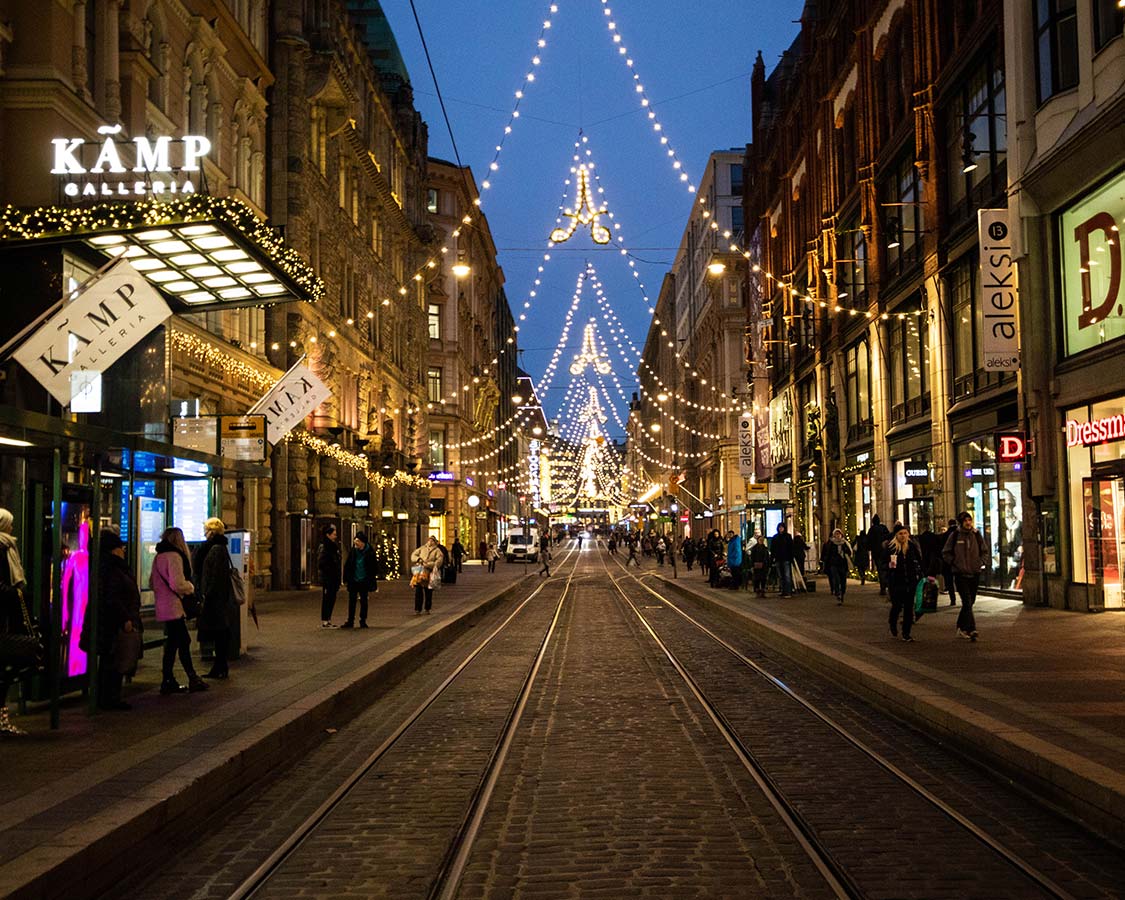 How to Get to Helsinki City Center from Helsinki Vantaa Airport
There is regular train service between the Helsinki airport and Helsinki city center. So, if you are visiting Helsinki on a layover like we were, it's easy to get into town and start exploring. The train to Helsinki city center takes about 30 minutes and takes you right to the center of downtown Helsinki. Helsinki train tickets must be purchased on the train platform, they cannot be purchased on the train. When we were there, there was staff on hand to help people with ticket purchases. You can find the Helsinki train schedule on the HSL website here. There are two trains on the route. The I and P trains. Both trains follow the same loop around the city.
Lockers At the Helsinki Airport
If you are on a Helsinki stopover, you can leave some of your gear in the airport in the secure lockers. The Helsinki airport lockers are located on the bottom floor beneath the food court. They have two locker sizes. The €6 lockers are incredibly spacious. They held three backpacks, a purse, and all the other gear that we didn't want to carry into the city center with us. It's far cheaper than the bag drop we needed to use during our one day in Oslo Norway.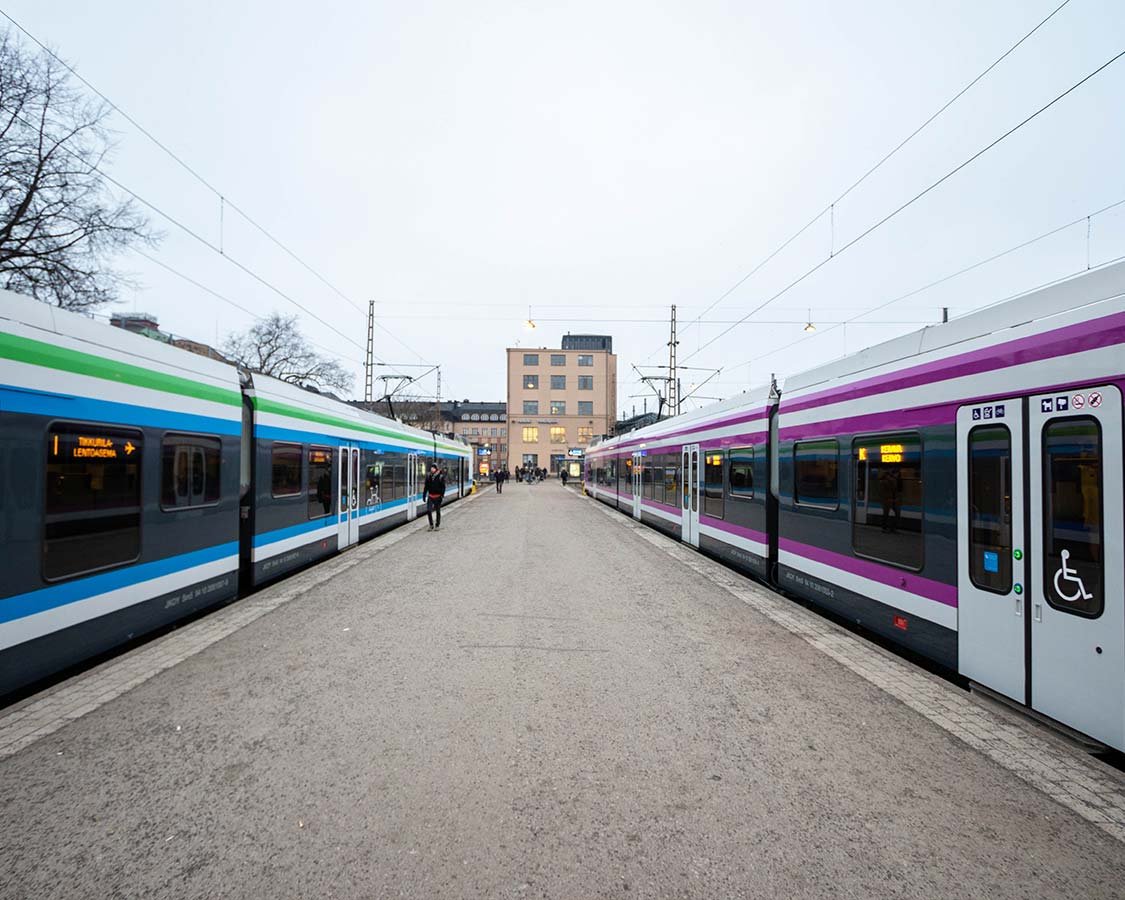 Have you ever spent a day in Helsinki? Tell us about your experience and what Helsinki attractions knocked you off your feet. Drop us a note in the comments section or head over to our Facebook page and share a photo. We would love to share in your travels.
Wandering Wagars is a participant in the Amazon Services LLC Associates Program, an affiliate advertising program designed to provide a means for sites to earn advertising fees by advertising and linking to amazon.com, amazon.co.uk, amazon.ca. Amazon and the Amazon logo are trademarks of Amazon.com, Inc. or its affiliates.
You May Also Like To Read:
Pin This Post For Later: