Planning a visit to Santa Claus Village Finland but don't know where to start? Here's everything you need for visiting this Rovaniemi Christmas Village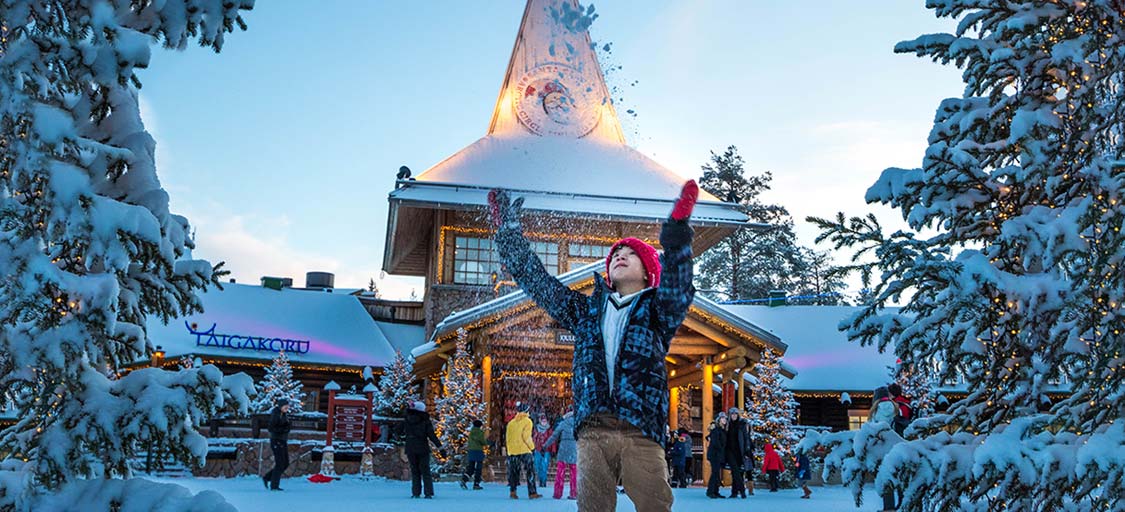 A visit to Santa Claus Village Finland was one of our top holiday goals for experiencing Christmas in Lapland. We made the flight for a family trip to the northern capital of Rovaniemi from Canada in December. Our boys were incredibly excited aboutthe chance to meet the Finnish Santa Claus, Father Christmas. But we couldn't have expected just how special meeting Santa at Santa Claus Village Rovaniemi would be.
Santa Claus Village isn't the only Christmas attraction in Rovaniemi, but it is no doubt the most famous. Not only is it filled with incredible Christmas attractions, but it's also home to the Santa Claus Main Post Office. This is where the mail from around the world sent to Santa Claus is sorted and delivered. On top of that, the sheer variety of attractions, and its convenient location make Santa's Village Rovaniemi a top spot to experience Lapland in a weekend.
When families are looking for the best things to do in Rovaniemi, they will inevitably arrive at Santa Village at some point. Santa Claus Village is not just a Santa Claus experience though. There is far more to this destination than meets the eye. And it may not even be what you expect it to be.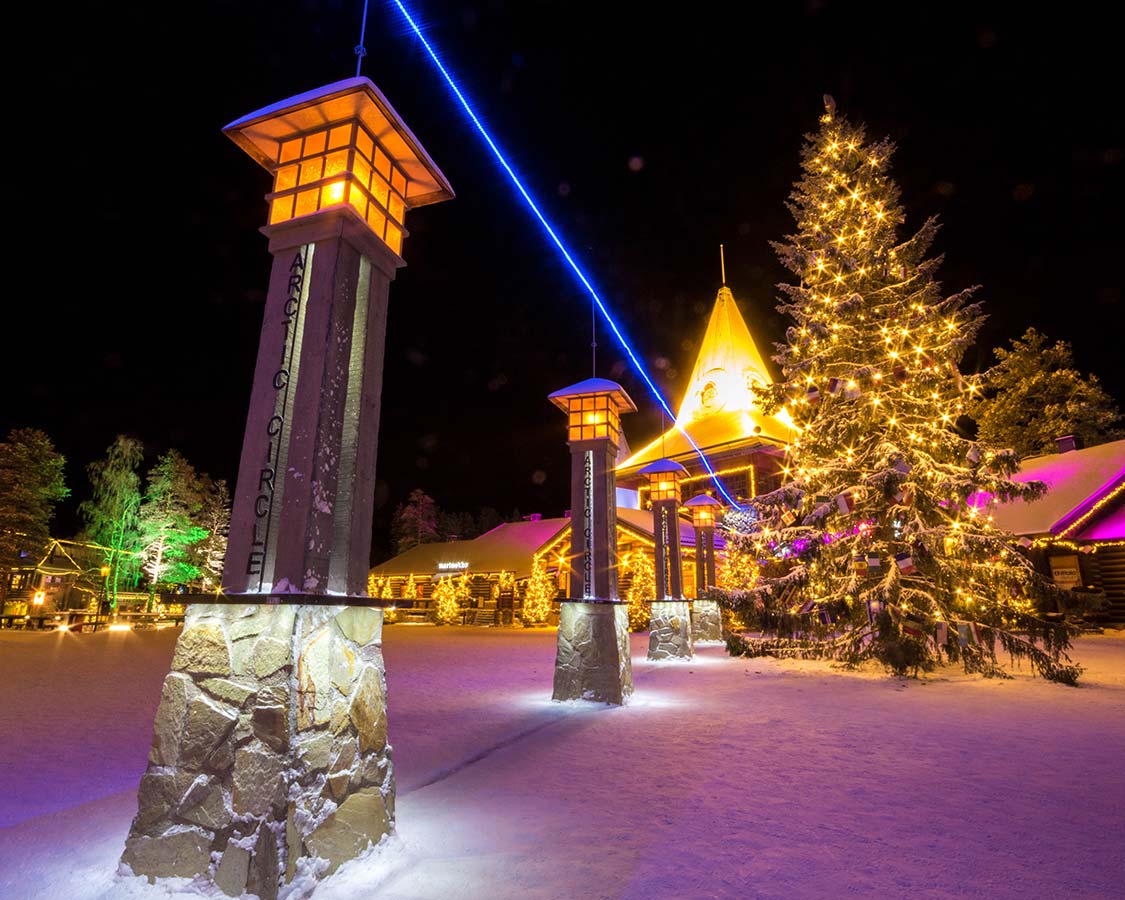 What is Santa Claus Village?
Santa Claus Village is a Christmas village tour park just north of Rovaniemi Finland in Finnish Lapland. The Santa Village itself is a series of privately run stores, attractions, and accommodations set in a Lapland holiday village setting. The village is not a theme park, and there is no admission to enter Santa Claus Village itself. However, the attractions within are privately and independently run.
Within the Lapland Santa Claus Village are many tour operators offering attractions such as snowmobiling, Northern Lights flights or safaris, reindeer sleigh rides, and much more. There are countless shops offering a range of authentic Lappish crafts, Finnish souvenirs, and cheap knock-offs. The Rovaniemi Christmas village is one of the easiest places to get a taste of Finnish Christmas festivities in a fun and beautiful location.
Where is Santa Claus Village?
Santa Claus Village is in Lapland. It sits right on the Arctic Circle line. This is the southernmost latitude (66° 33) that experiences at least one full day of the polar night during the winter and one full day of the midnight sun during the summer. The Santa Village in Rovaniemi is located on HWY E4 about 10 minutes north of the city center. We rented a car with Hertz Rovaniemi, so we were able to drive ourselves.
For those with just a day or weekend in Lapland, Santa Claus Village is conveniently located within a 10-minute drive of the Rovaniemi airport. You can get to Santa Claus Village from Rovaniemi by #8 bus from within the city of Rovaniemi. You can find the bus schedule to Santa Claus Village here. Alternatively, you can catch a ride on Santa's Express which shuttles between the Rovaniemi airport, Arctic Treehouse Hotel, and Santas Igloos Arctic Circle. You find the Santa's Express shuttle schedule here.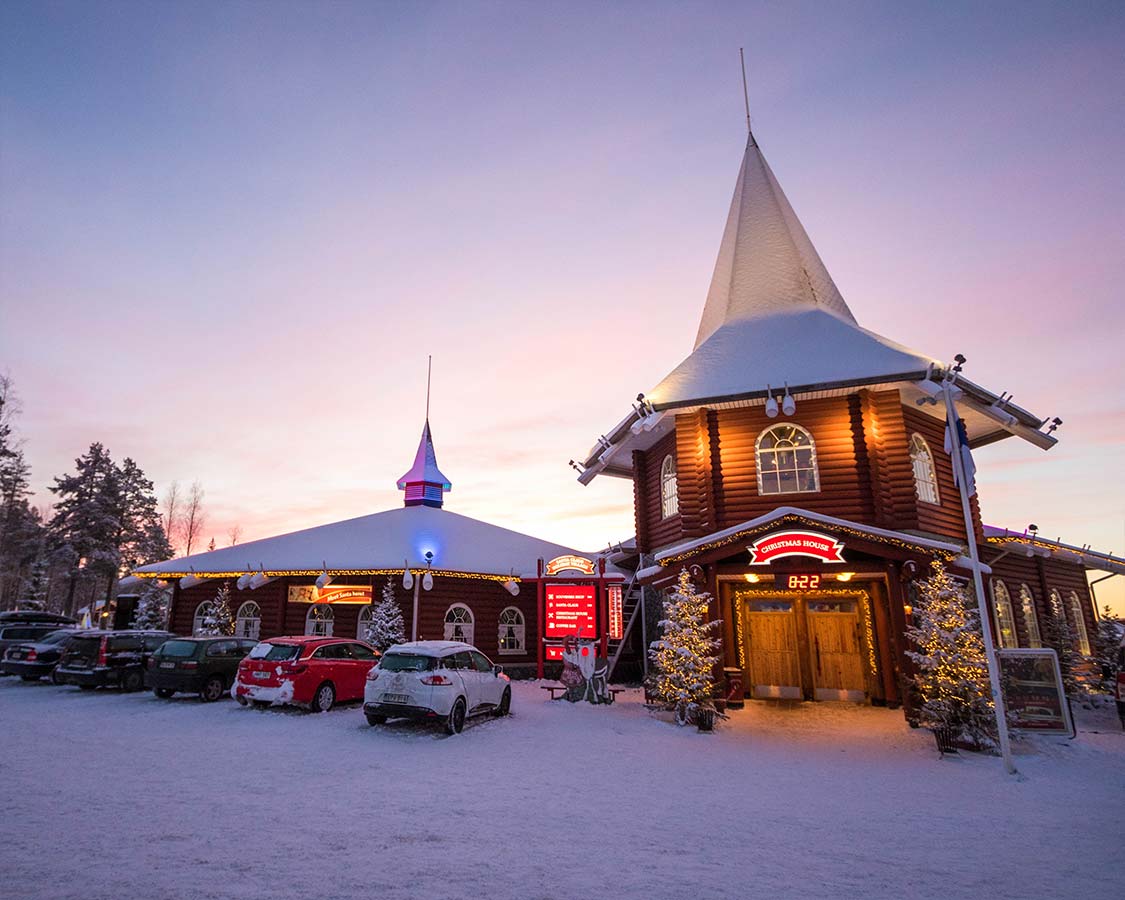 What to See at Santa Claus Village Rovaniemi
Santa Claus Village is easy to get around. But it can be a bit confusing and overwhelming when you first arrive. When you first arrive at the parking lot, you'll be in front of the entrance to the Safari Center and Christmas House. Santa Claus Village Safari Center is the meeting place for most of the Rovaniemi activities that happen off-site of the Santa Claus Village. This is also where registration for Santa Claus Holiday Village, one of the on-site Santa Claus Village accommodations. Christmas House Santa is on the right as you enter, and the villas for Santa Claus Holiday Village is straight ahead. Nearly all the remaining Santa Claus Village attractions are on the left-hand side as you enter the attraction.
Santa Claus Office
Santa Claus Office in the village is considered the official place to meet Santa Claus in Rovaniemi. The Santa Claus Office building is the main building in Santa Claus Village Finland and it's impossible to miss. The tall center tower is brightly lit, and the Arctic Circle line runs right through the middle of it. The building has a gift shop, but a large portion of it is dedicated to the experience of meeting Santa Claus in Rovaniemi.
Meeting Santa Claus At Santa Claus Office
Meeting Santa Claus at the Santa Office Rovaniemi is a treat. The lines are long, but they wind through a magical path through caves and Santa's workshop. Kids will love the little doors and windows along the way. By looking through the keyholes, kids can see Santa's elves working away building toys and crafts for kids around the world. Each group is given about 5-minutes with Santa in a fantastic North Pole office setting that will make a believer out of anyone.
The Santa Claus Office experience is free of charge, however, the fee for photo and video packages start at $39€. Visitors are not allowed to film or photograph the Santa experience themselves.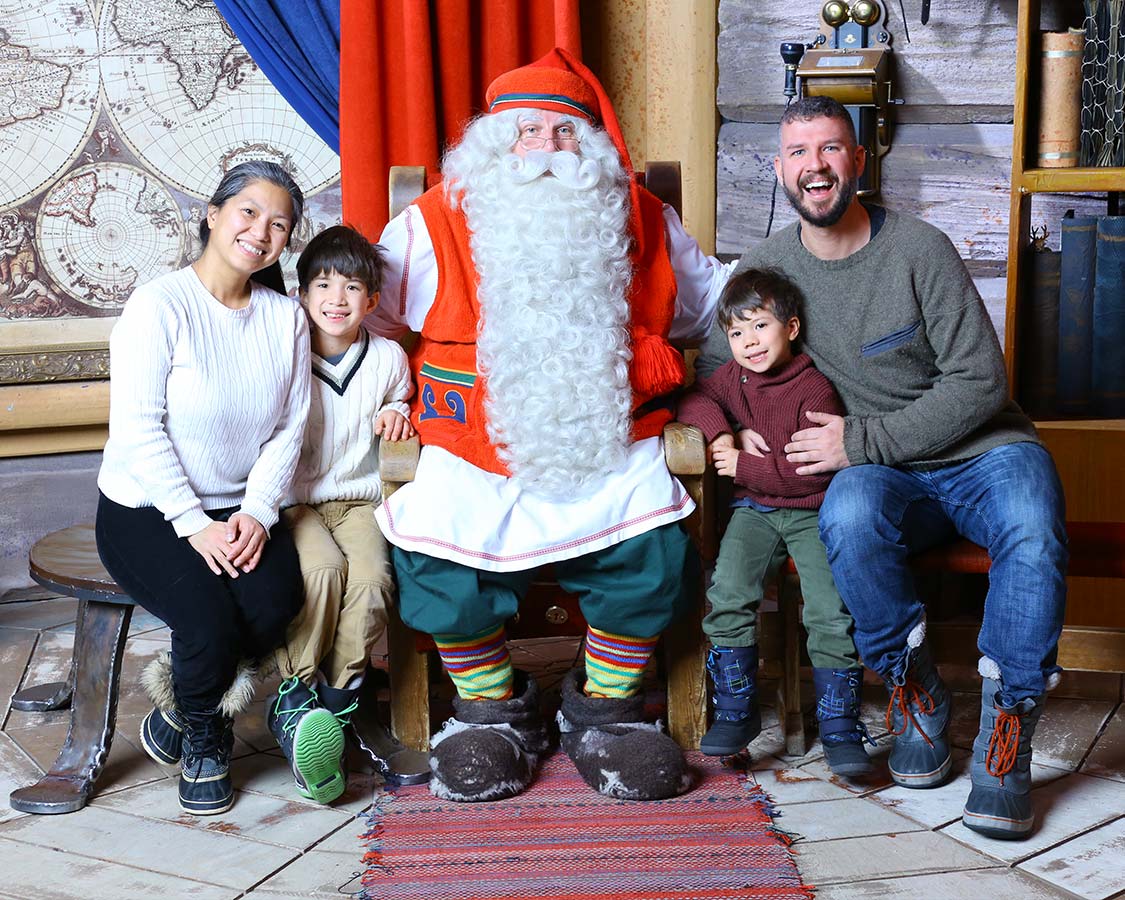 Santa Claus Main Post Office
Santa Claus Main Post Office is the "Official" post office of Santa Claus in Finland. The post office offers a place where visitors can send a letter to family back home or around the world with an official Santa Claus Arctic Circle stamp. Many people come to this fully functional post office with their own letters or postcards pre-written from home and get the official Arctic Circle mark for free. Please note that all mail will need the appropriate postage stamp which can also be purchased at the post office.
If you don't have your own letters though you can purchase a variety of postcards, paper, and envelopes. Prices for postcards start at just 1 €, but you will also need to purchase postage. There is a lot of tables in a pretty setting to sit down and write your own letters to home. Our boys loved having the chance to send mail to their cousins back home to tell them about their experience.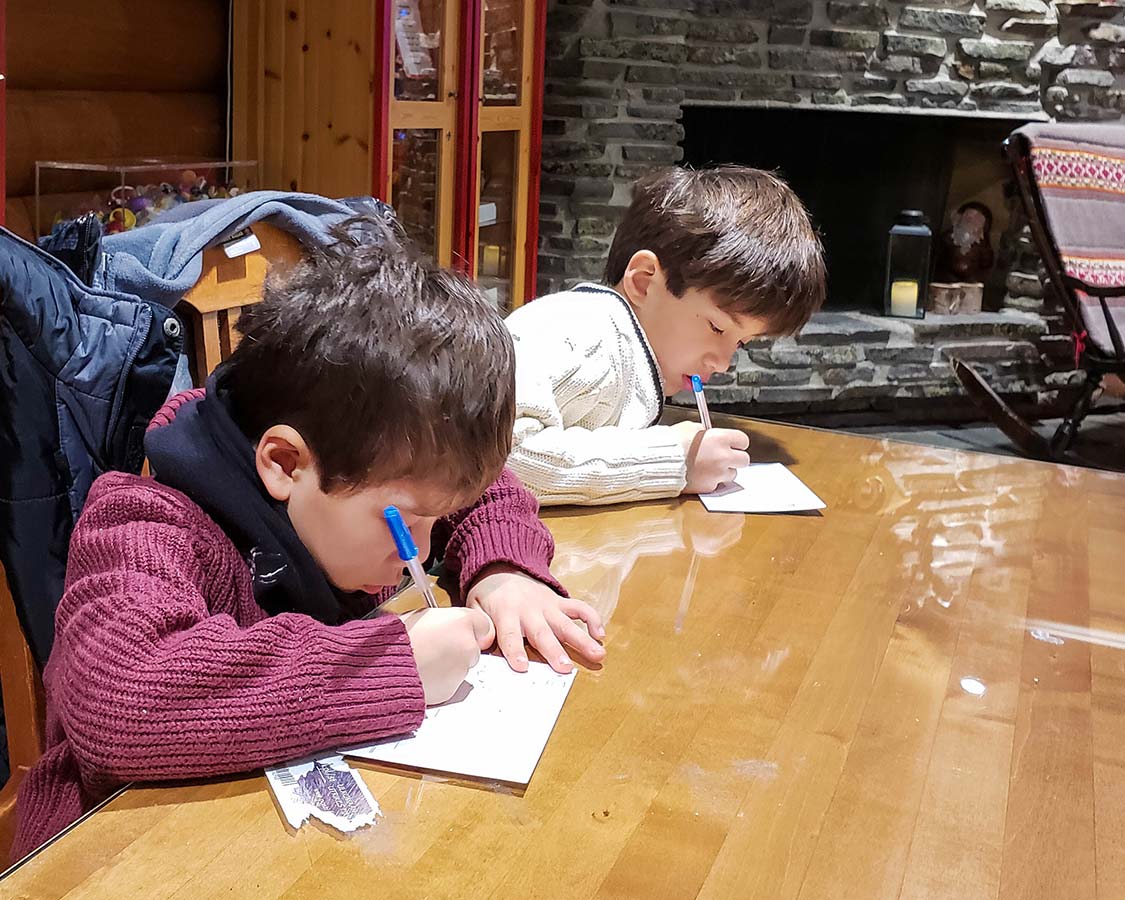 Christmas House Santa
Christmas House Santa is another spot in Santa Claus Village Rovaniemi for visiting Santa. This Rovaniemi Santa experience tends to be for those who don't want to wait in the line for the Santa experience at Santa Claus Office. Christmas House is a large gift shop that also includes some Christmas exhibitions. These exhibitions show visitors about Christmas celebrations around the world.
Meeting Santa At Christmas House Santa
Christmas House Santa is generally considered the "other" Santa experience at Santa Claus Village. The queues here are much shorter than those at Santa Claus Office. While Christmas House Santa doesn't have the full experience that Santa's office does, it has gotten great reviews from those who have visited it.
Similar to Santa Claus Office, there is no fee for visiting Santa Claus. However, if you would like to purchase the photo packages, they start at 30€. You are not allowed to take photos and videos of the experience yourself.
Arctic Circle Husky Park
Going dog-sledding in the Arctic is on many people's bucket lists. Dog sledding is something we love to do. We've done it in Yellowknife, Northwest Territories, and at Mont Tremblant in Quebec. Yes, it smells like dog farts, but it's also a whole bunch of fun. The Arctic Circle Husky park has a stable 100 Siberian Huskies who are jumping at the chance to race around the trail. The Santa Claus Village husky rides run every day of the year. You can book a shorter 500 m and 2 km (1.25 mile) rides with no prior reservation. If you want to book longer rides, it's best to book those rides in advance.
Prices for entrance at the time of our visit: 10 €/adult, 5 €/child (4-12 years), family ticket 20 € (1-2 adults + 1-3 children). This included visiting, photographing, and petting of the Huskies. There are additional costs for the sleigh and carriage rides as well as hiking and snowshoeing with the Huskies. You can see some of their other activities here.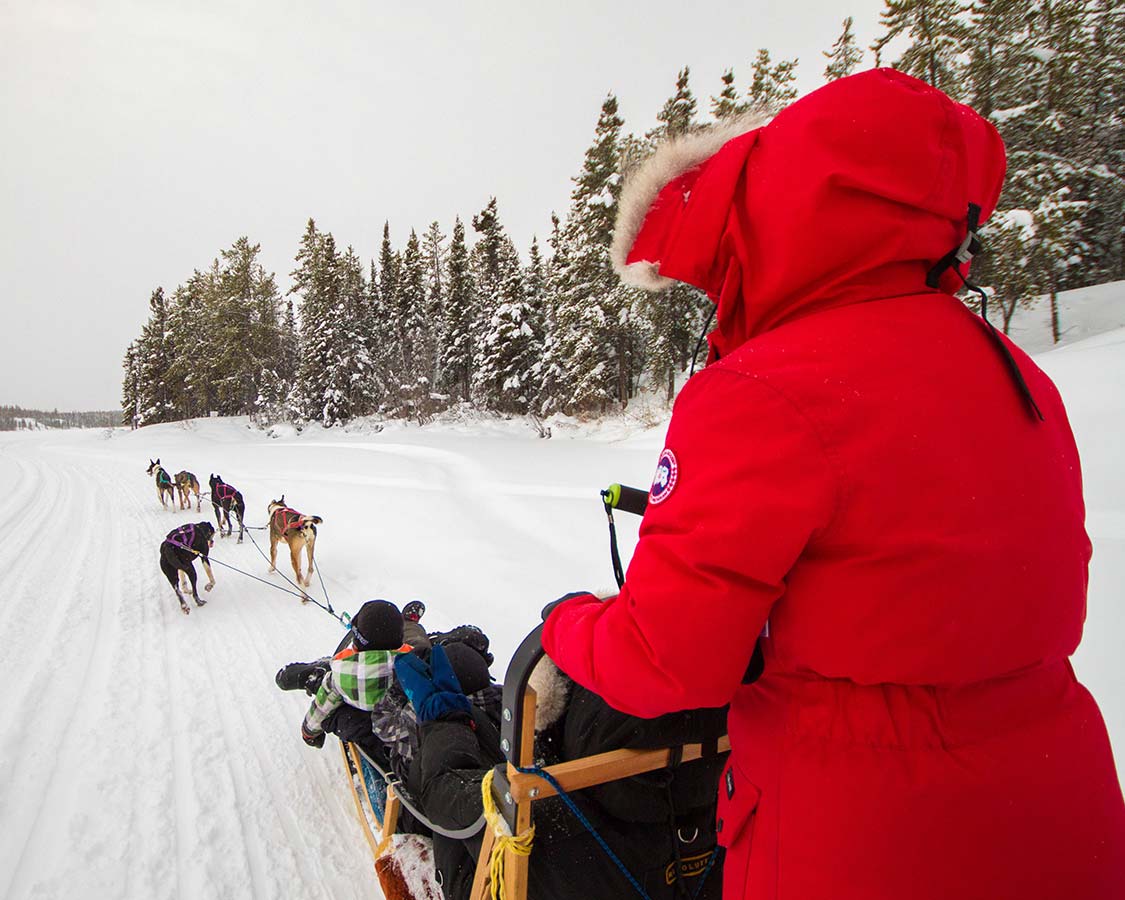 Arctic Circle Snowmobile Park
The Arctic Circle Snowmobile Park is the most popular mini-snowmobile experience and snowmobile safari company at Santa Claus Village. The Santa Claus Village snowmobile park has a mini-snowmobile circuit ride that allows children as young as 4 years old to learn to drive a snowmobile. Our 7-year-old, C, did a more involved experience with Access Lapland while we were looking for things to do in Rovaniemi. But, at 5-years-old, our youngest, D, was too young for that snowmobile experience.
The cost for a 10 minute series of laps around the circuit is 20 €. D was nervous getting on. But, by the time he was finished his first lap, he was trying to coax every ounce of speed out of his snowmobile as possible. Arctic Circle Snowmobile Park also offers longer and more involved Lapland snowmobile experience. These snowmobile adventures range in length from 30-minutes up to full-day programs. You can find their full list of offerings here.
If you have a passion for snowmobiles, you can also check out Santa's House of Snowmobiles. This is the Arctic Circle Snowmobile museum that showcases the history of snowmobiles in Lapland. Santa's House of Snowmobiles is at the far end of the park near the Husky Park. In 2019 there was no entrance fee for the museum.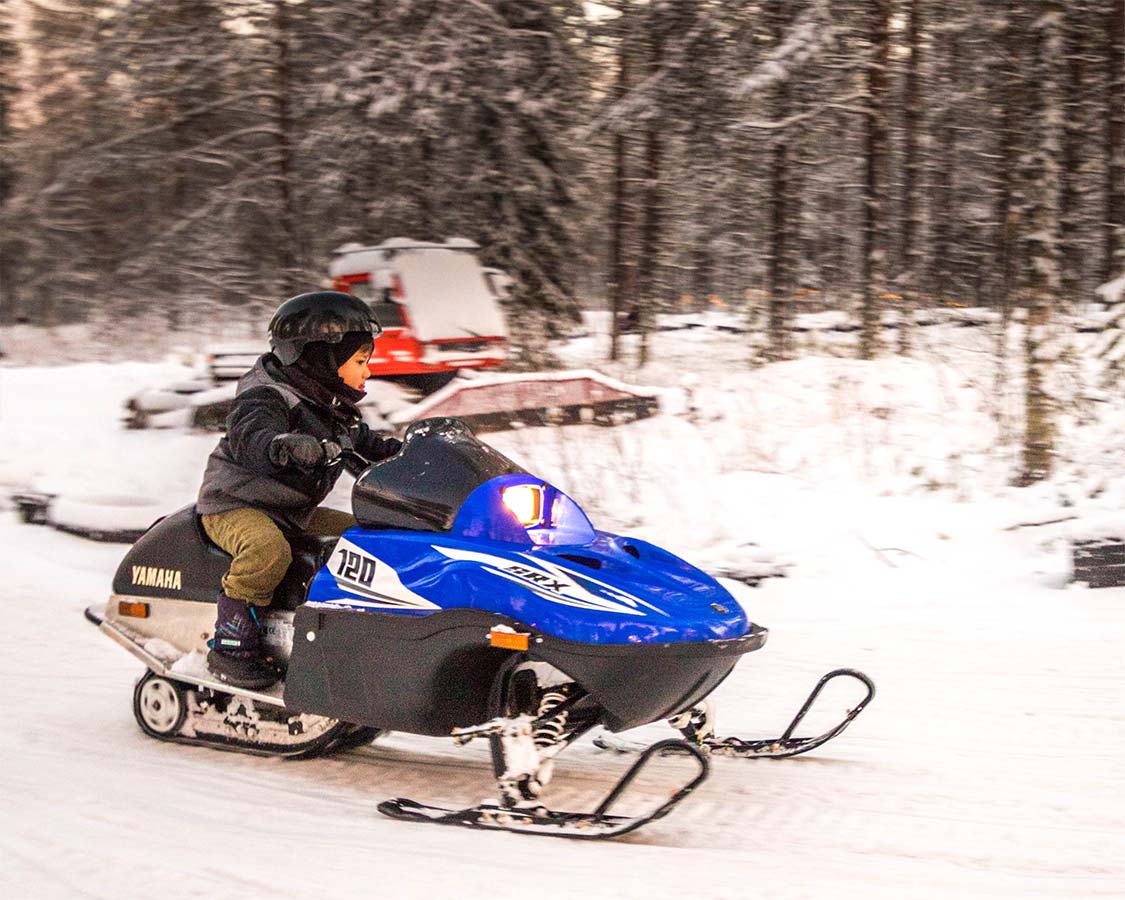 Santa Claus Reindeer Sleigh Rides
If you're looking for animal attractions, Santa Claus Reindeer Sleigh Rides is one of the most popular activities in Santa Claus Village in Rovaniemi. Santa Claus Reindeer offers 400 m and 1 km sleigh rides with Santa's reindeer. The longer 1 km reindeer rides take you on a loop through the snow-covered Lappish forests surrounding Santa's village. The 400 m ride runs on a small track near the edge of the village around some the buildings.
Santa Claus Reindeer offers longer, more in-depth experiences at their other location just south of Rovaniemi. You can see their other tours here. The experiences there are much closer to the Lapland reindeer sleigh rides that we did near the town of Saariselka during our Christmas in Finnish Lapland tour. If there is no snow, the Santa Claus reindeer experience runs on wagons rather than sleighs. However, during the summer months, there are no rides. However, it is still possible to meet the reindeer for a small fee.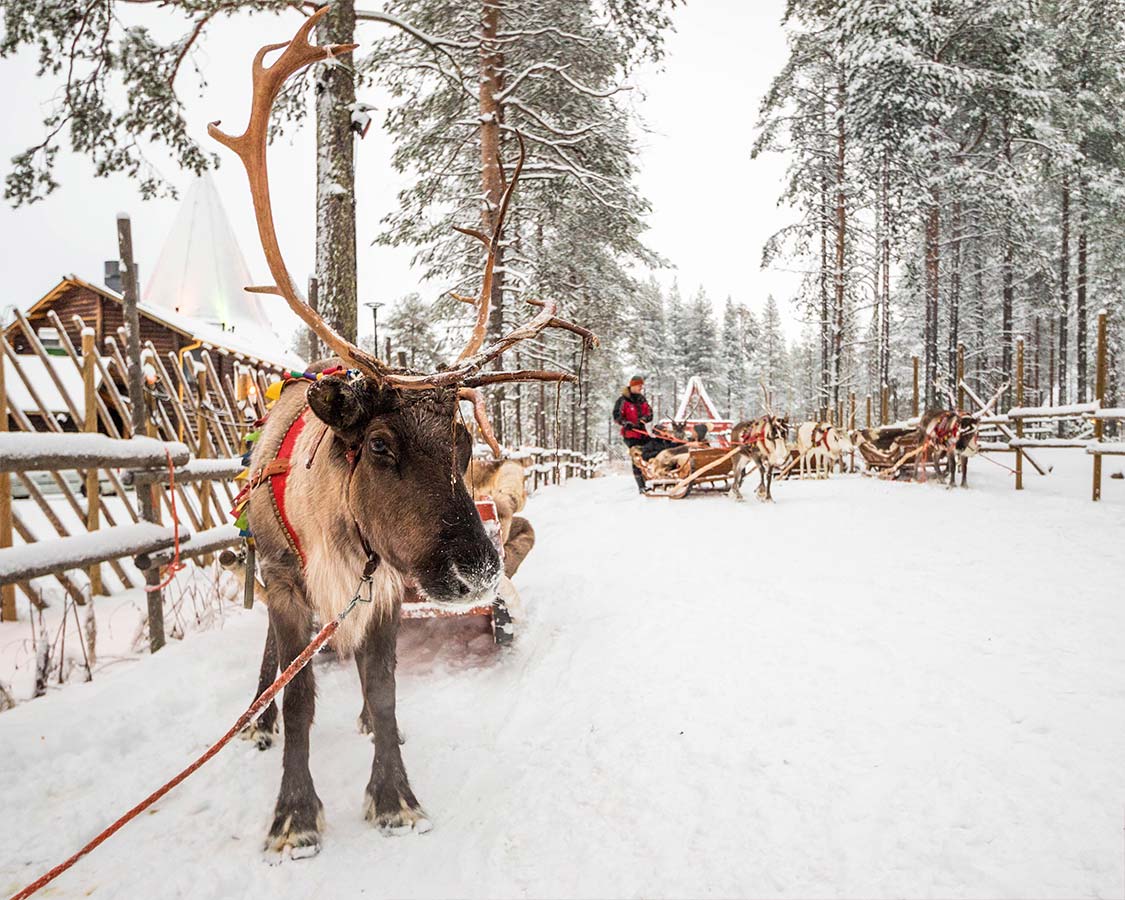 Other Things To Do At Santa Claus Village Finland
The above are the top things to do at Santa Claus Village Finland, but there are more things to check out as well. Here are some other Santa Claus Village things to do that you might want to consider depending on how much time you have in the area.
Santa Claus Village Lapland Shopping
Santa Claus Village Lapland is primarily set up like an outdoor mall. It's a pretty mall, but it's still a mall. Every corner of Santa Claus' village has been converted into a trinket shop, store, or gift shop. While this does take away from the intimacy that many people are hoping for when they visit Santa's village, it also makes for some excellent shopping. There is no better one-stop shop for Lapland souvenirs.
You can find everything from handmade knives, antler crafts, t-shirts, artwork, and much, much more in the shops at Santa Claus Village. But, buyer beware. For every authentic Lappish handicraft for sale here, there are 5 cheap knock-offs. If you are looking for something special, make sure you talk to the shopkeepers.
Snowman World Winter Zone
Snowman World Winter Zone has been dubbed the best playground in Santa Claus Village. This winter wonderland is packed with ice slides, snow tubing, ice skating, and lots of snowmen. The 25€ admission to Snowman World gives you access and equipment for all of the activities. Children under 3 are free of charge. The entrance fee to Snowman World also includes access to the Instagrammable ice bar and ice restaurant that are filled with beautiful ice and snow sculptures. You can see all of their attractions here.
SantaPark
SantaPark is a proper theme park set up as the "official workshop for Santa's Elves". Where Santa Claus Village is a mall, SantaPark is an immersive Christmas-themed experience that shouldn't be missed. We spent more time at Santa Park than we did at Santa Claus' village and had a blast.
From Santa Claus Village it's just a short drive to SantaPark. And there are regular shuttles to SantaPark as well.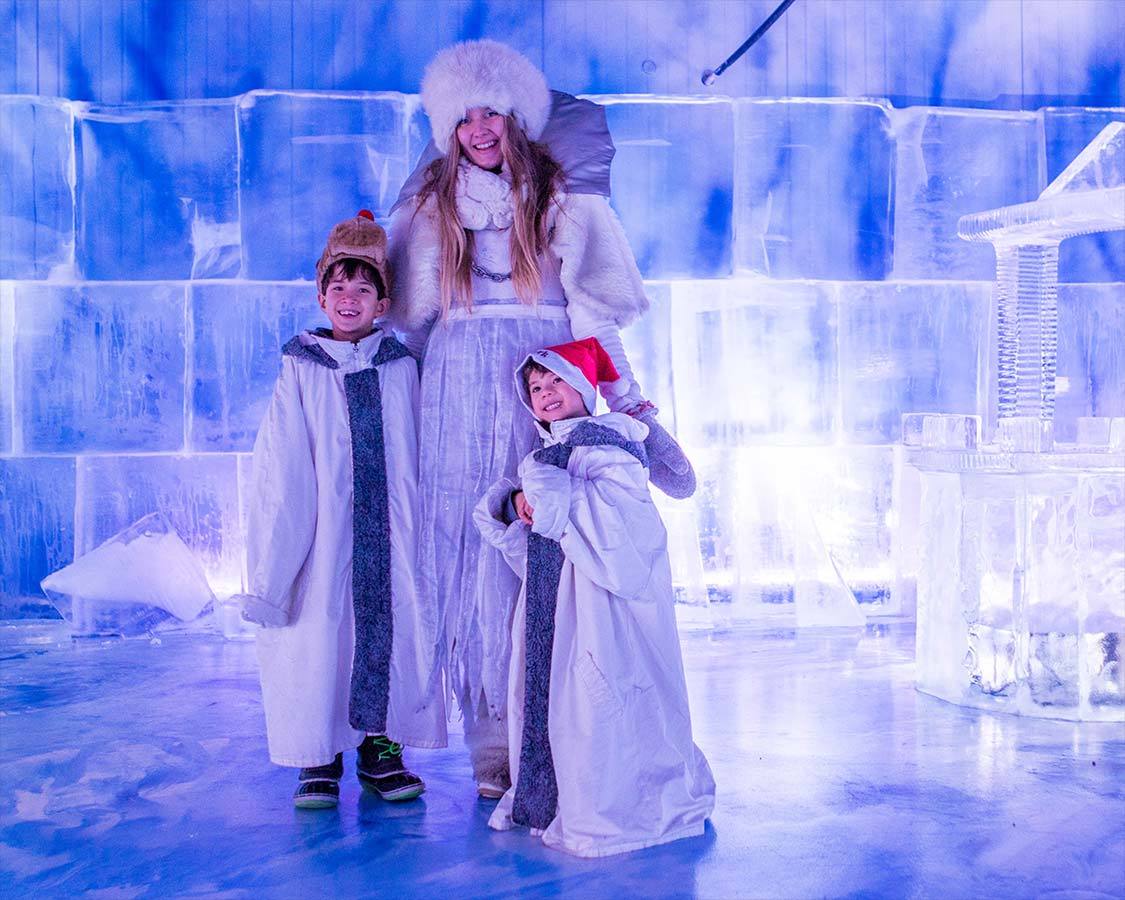 Crossing The Arctic Circle Again And Again And Again
We've crossed the Arctic circle countless times. But there's always something thrilling about crossing this invisible border. Because the Arctic Circle runs right through Santa Claus Office in Santa Claus Village, you can cross as often as you would like. The line is well lit with a series of posts topped by a blue string of lights. But you still couldn't miss it. Just look for all the families photographing themselves jumping or running across it!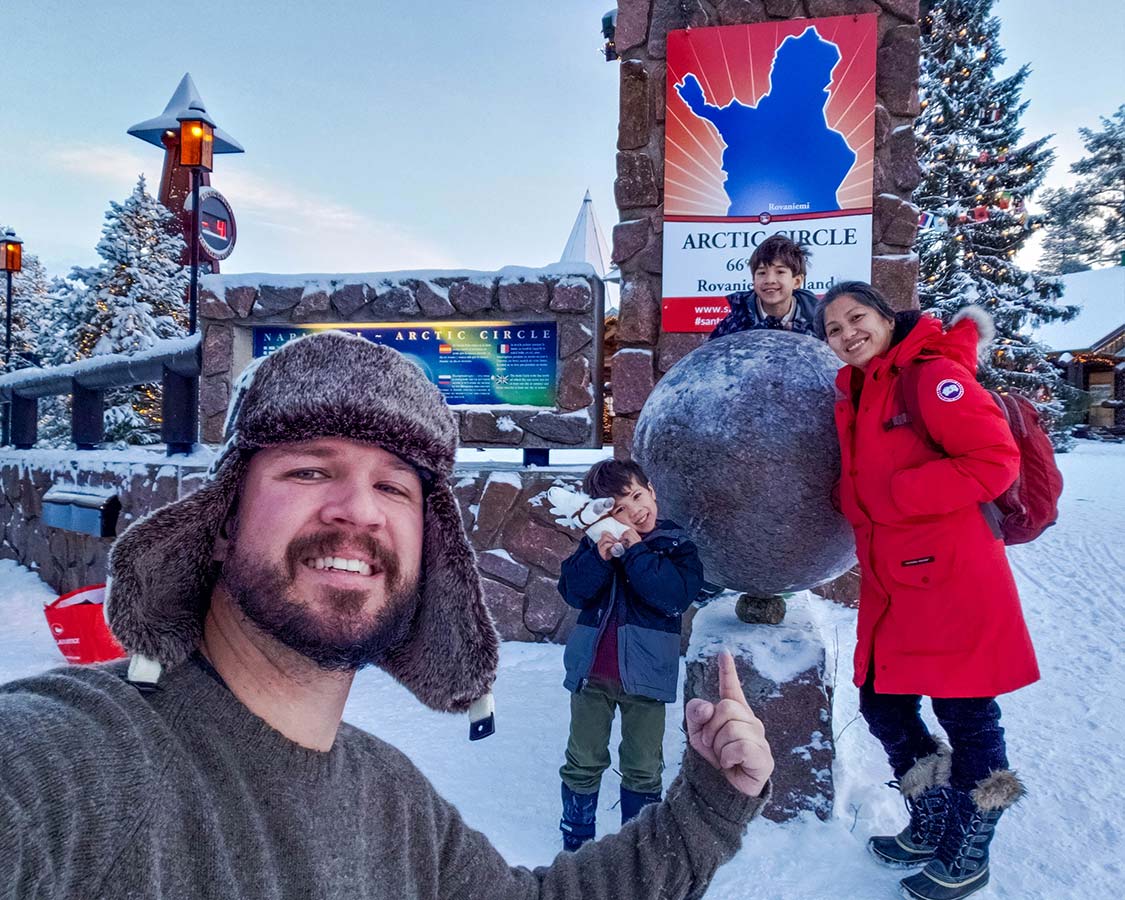 Where To Stay At Santa Claus Village
Because of the Lapland Santa Claus Village's proximity to Rovaniemi, it's very easy to stay in the city and make a day trip out to the park. However, if you want to make the most of your Santa Claus Village experience, there are a few unforgettable places to stay in Santa Claus Village that are worth experiencing. Plus, you'll have the added bonus of being able to explore the village at night when no one is around, but the lights and music are still playing.
You can also check out our full list of the best hotels for families in Rovaniemi here.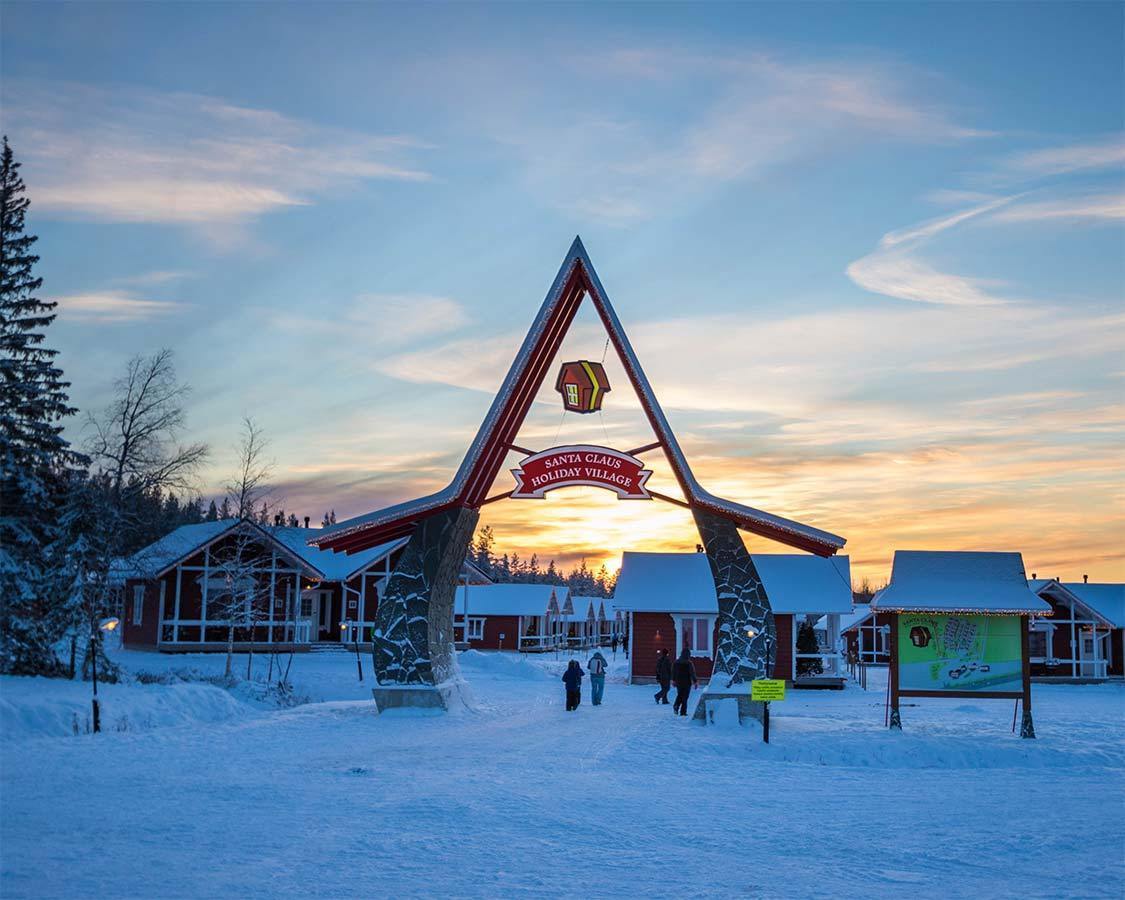 Santa's Igloos Arctic Circle
One of the unique hotels near Santa Claus Village is Santa's Igloos Arctic Circle. These glass-roofed accommodations offer the chance to experience the Northern Lights in Lapland. If you're an insomniac, you can stay here in the summer as well. You can check out the prices and availability of Santa's Igloos Arctic Circle here.
Santa Claus Holiday Village
For those looking for a cozy Arctic experience, Santa Claus Holiday Village is the place for you. Santa Claus Holiday Village offers a selection of cottages and suites that are perfect for couples or families looking for Santa Claus Village accommodations. You can even schedule a visit from Santa to drop gifts off to your cottage. You can check the prices and availability of Santa Claus Holiday Village here.
Snowman World Glass Resort
Snowman World doesn't just offer a great winter park at Santa Village Lapland. They also offer gorgeous luxury Lapland accommodations. Their glass-walled apartments give amazing views of the Arctic skies. You can even chill out in one of their hot tub units to enjoy the Aurora. The superior rooms include a living area, kitchenette, upper loft with glass-ceiling and a private hot tub and sauna. You can check the pricing and availability here.
Where To Eat At Santa Claus Village
There are a lot of great options for food at Santa Claus Village. We had a load of leftovers so opted for a winter picnic lunch. But there is food for nearly every taste. Rakas Restaurant and Bar is a popular spot selling local Scandinavian dishes. You can check out their menu here. If you have a big appetite, you can eat at Nova Skyland's lunch buffet.
For those who opt to visit Snowman World, a pricey, but unforgettable restaurant is the Snowman World ice restaurant. There are few places more beautiful. Otherwise, you can visit the Santa Claus' Salmon Palace in the wooden teepee near the Santa Claus Village parking lot (near the sign with all the city distance markers) to pick up some fire-grilled salmon dishes. They don't offer much variety, but they are experts at what they do make.
When Is The Best Time to Visit Santa's Christmas Village?
Santa Claus' Christmas Village is open year-round. It has the busiest season at the Christmas Holidays. However, Lapland is a beautiful year-round destination, so expect crowds throughout the year. There is no bad time to visit here, although if you have specific expectations, you may want to schedule around those.
For viewing the Northern Lights, the best time to visit is October-November and March-April. The rest of the year is either too bright or generally cloudy. If you want the full-on winter-Christmas experience, head to Santa's Village in December-January when temperatures drop and the snow has had a chance to accumulate. If you aren't a winter person or are coming from a destination that doesn't experience the deep chill of Arctic winter, you may feel more comfortable here during the summertime when temperatures can reach the mid-30s (Celsius) and the sun stays up deep into the night.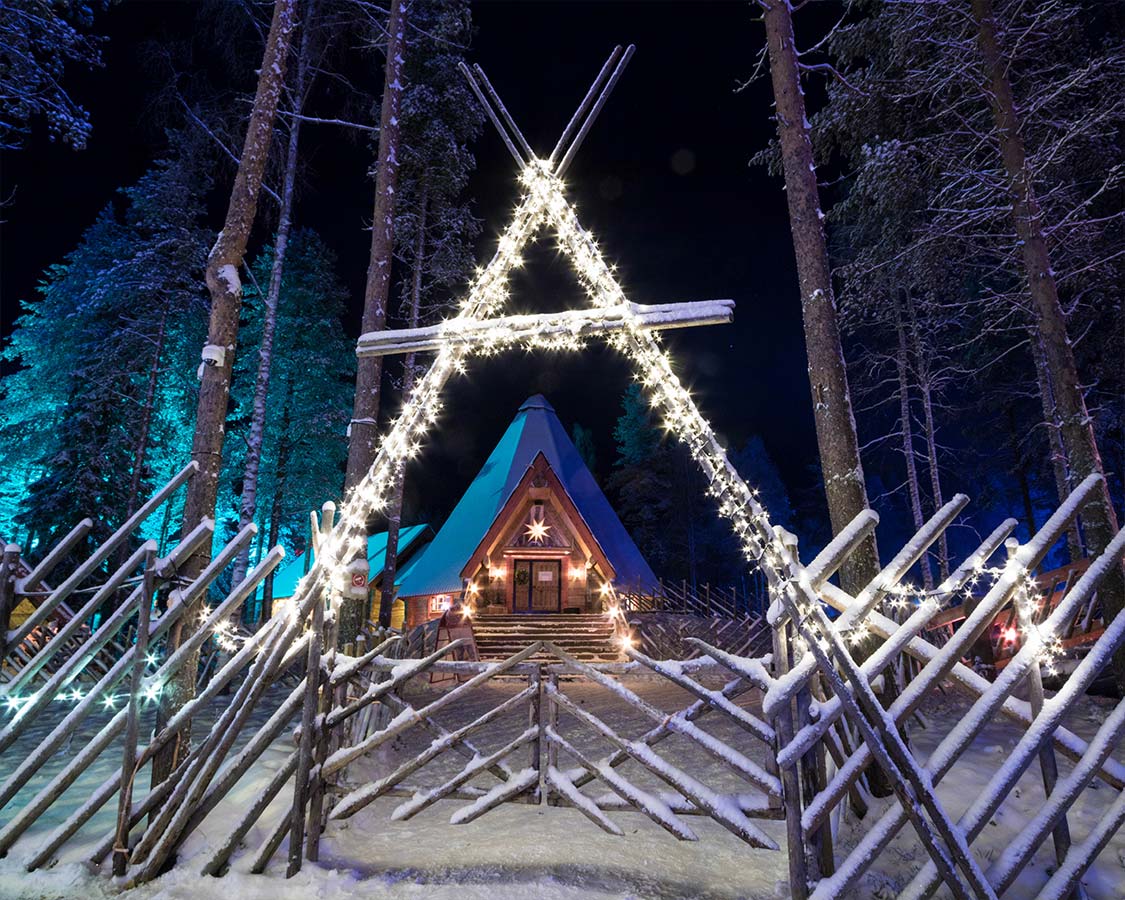 Final Thoughts On The Lapland Christmas Village
Santa Claus Village is a beautiful place. It's set up as a magical village, and on the surface, it pulls that off. The village is spacious, bright, filled with fun sounds and music, and beautifully lit. There are some great attractions here that make it very easy for people to get a good taste for what the amazing Lapland activities and culture are like.
Santa Claus Village doesn't offer the most extensive version of each attraction. But, if you are looking for one place where you can do it all as stress-free as possible, this is the place for you. There is simply no other Christmas village in Lapland where you can do this much this easily.
Have you ever visited Santa Claus Village in Lapland? Tell us about it in the comments or swing by our Facebook Page and share a photo of your trip. We would love to share in your travels!
Disclosure: This post was made possible by the support of Visit Rovaniemi. Our views remain our own. Wandering Wagars is a participant in the Amazon Services LLC Associates Program, an affiliate advertising program designed to provide a means for sites to earn advertising fees by advertising and linking to amazon.com, amazon.co.uk, amazon.ca. Amazon and the Amazon logo are trademarks of Amazon.com, Inc. or its affiliates.
You May Also Like To Read:
Pin This Post For Later: