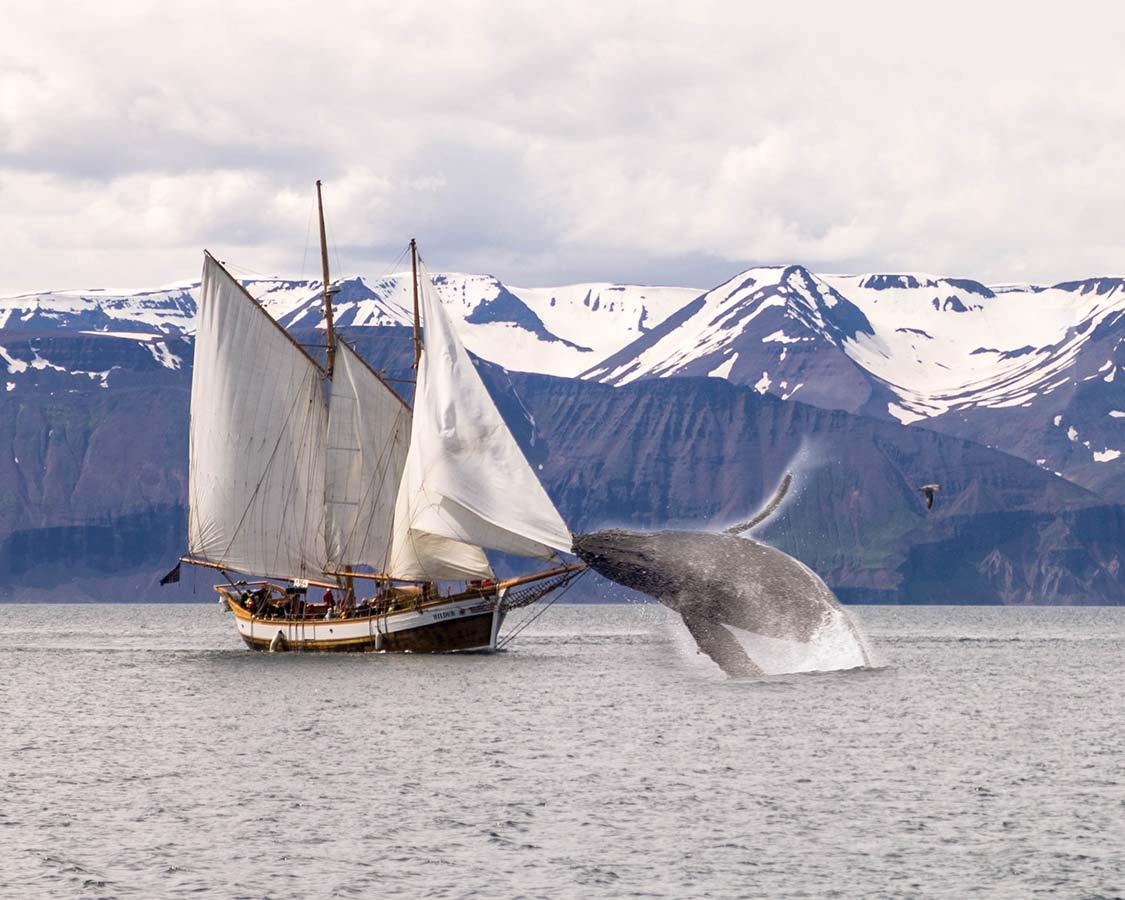 To say that our family doesn't leave much room for downtime on our travels would be a bit of an understatement. Between work, family obligations, and school, we always feel that we need to cram in as much as we can into the few short weeks a year that we have free to go somewhere new. We had a rare opportunity to embark on a 14 Day Iceland Itinerary.
With two full weeks to explore this incredible country, we were determined to see as much of what Iceland had to offer as we could! So hang on tight as we show you some of the coolest things from driving on an Epic 14 Day Iceland Itinerary!
14 Day Iceland Itinerary Day 1: Reykjavik and the Golden Circle
Touring around beautiful Reykjavik is a great way to orient yourself to the people and culture of Iceland. It has incredible restaurants, funky bars, and a quaint downtown and a marina with amazing artwork. It was the amazing food of Reykjavik that inspired me to put together this list of easy Icelandic recipes.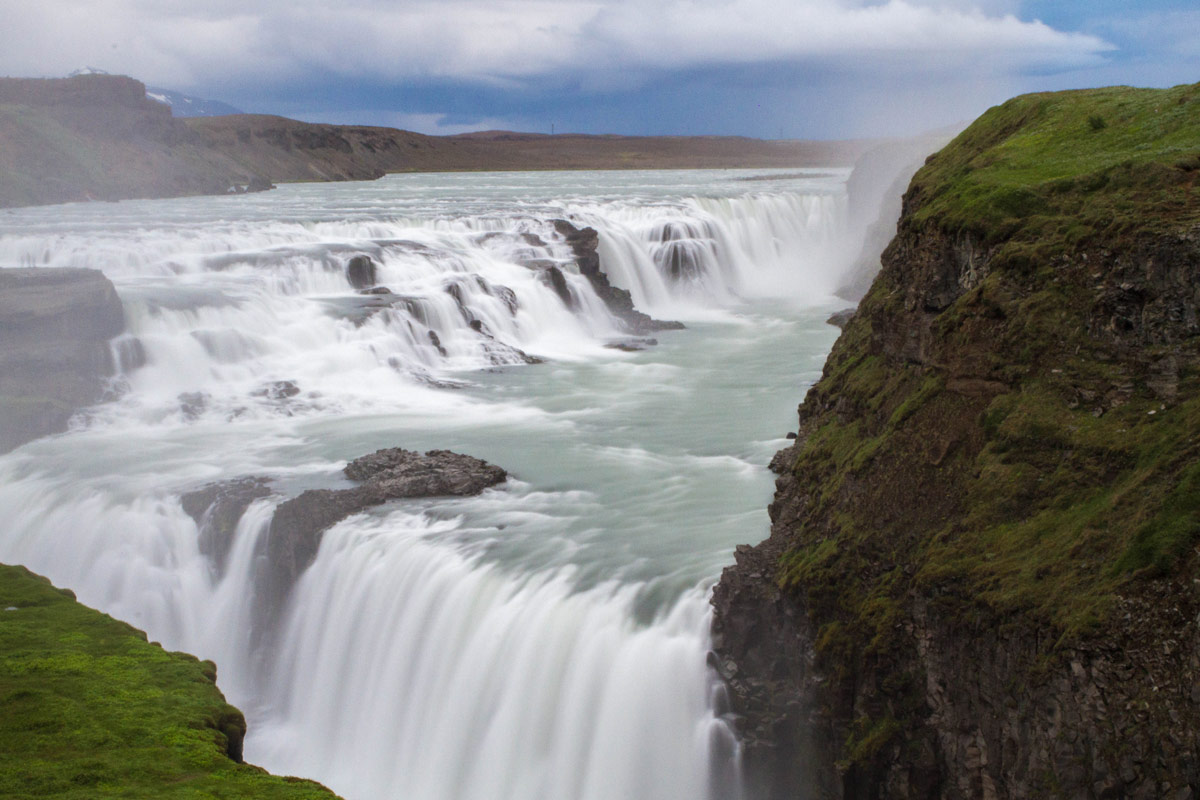 Pro-Tip: Iceland can be pricey. Before you go check out this Iceland budget post by Flight of the Educator to prepare yourself.
14 Day Iceland Itinerary Day 2: Snaefellsness Peninsula
We drove 172 km from Reykjavik to explore the Snaefellsness region (Snæfellsnes). We drove along Hvalfjordur fjord towards Borganes where we visited the Icelandic Settlement Centre.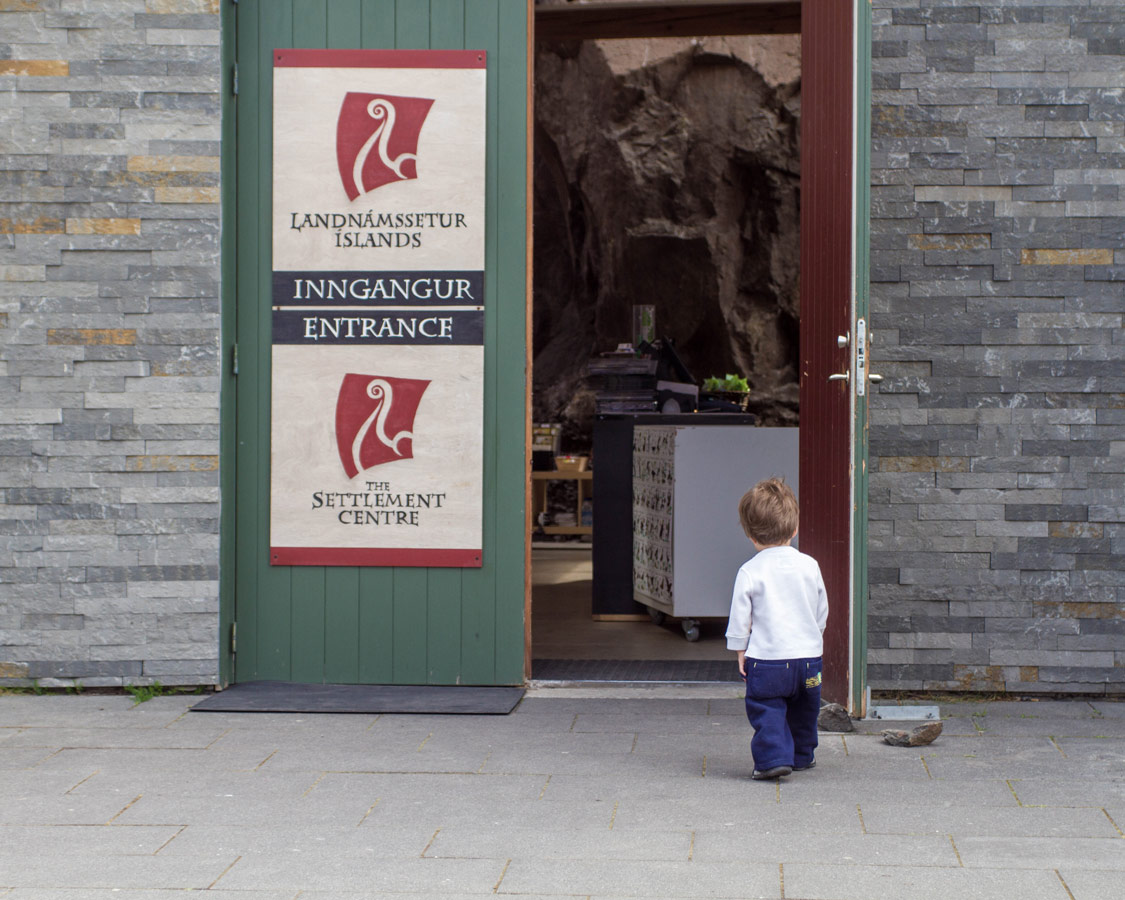 Next, we visited beautiful Arnarpstapi to see the incredible Bardur Snaefellsness sculpture and hike along the bird cliffs towards Hellnar and back.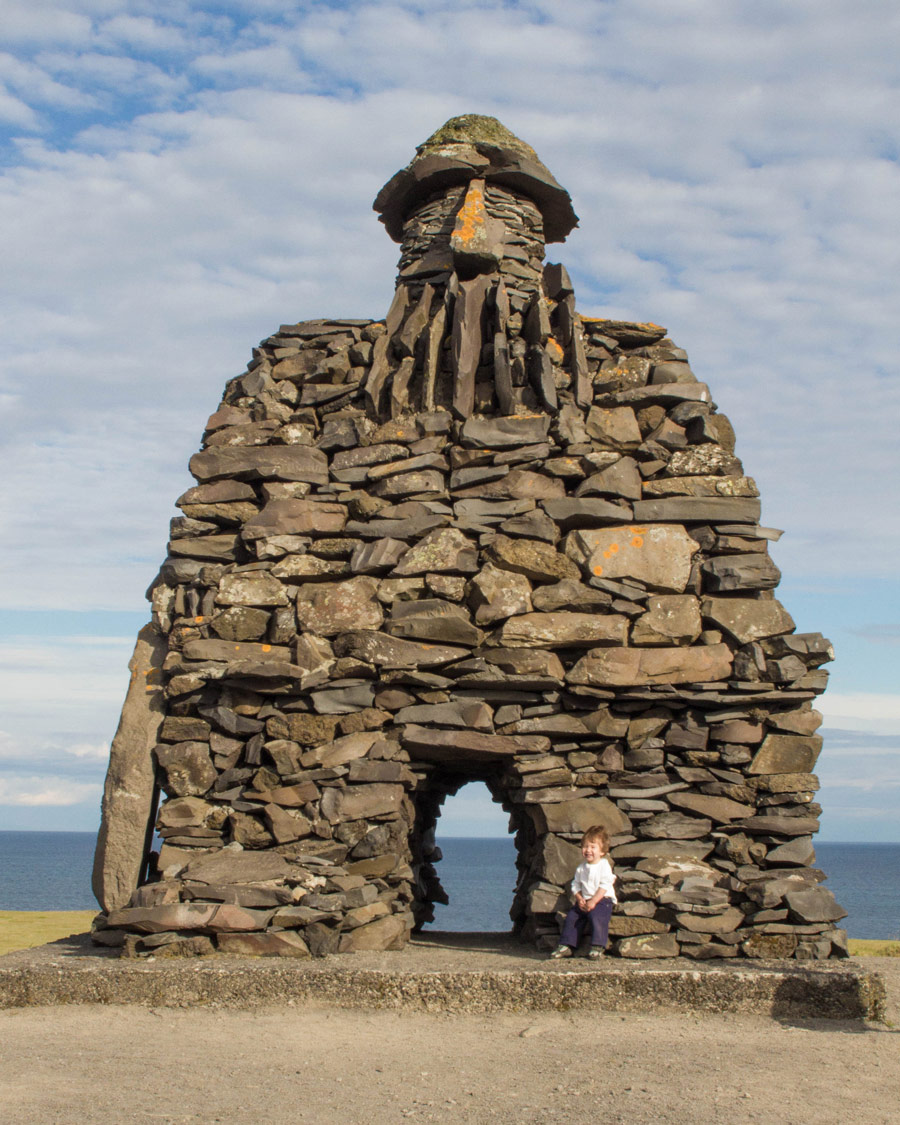 We couldn't visit Iceland without searching for faeries and elves, so we left the Ring road and went onto F570 to Songhellir Cave (Sönghellir), the Singing Cave.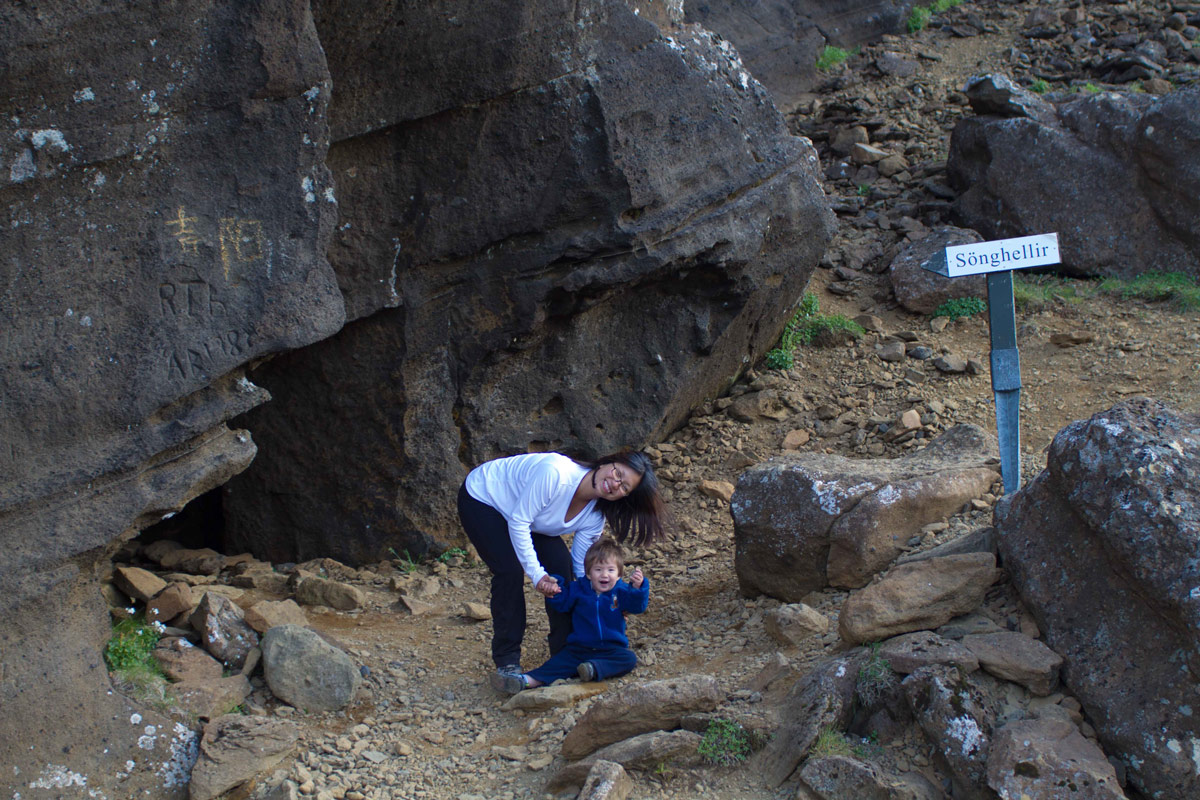 Then, while attempting to take the short route back to Iceland's Ring Road, we found a bit of an obstacle.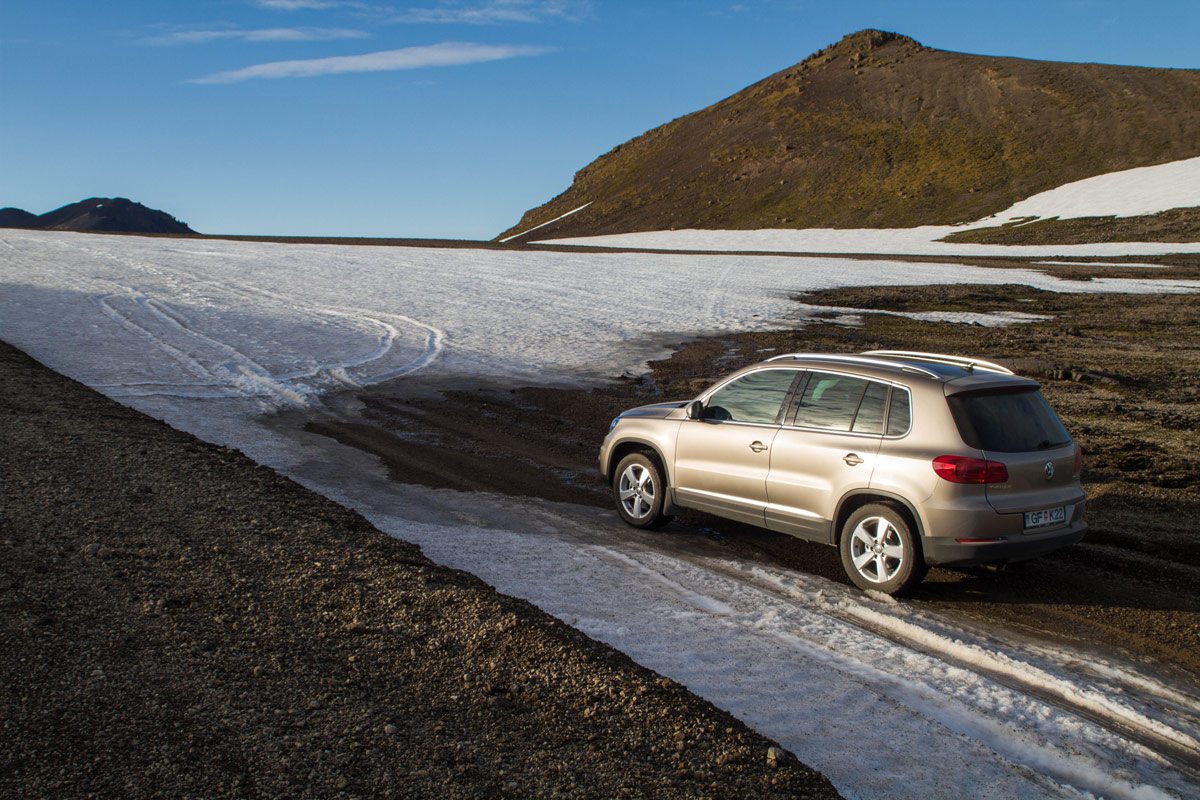 So, we swung back and stopped to enjoy some views along the way before heading on to Hellisandur to call it a day.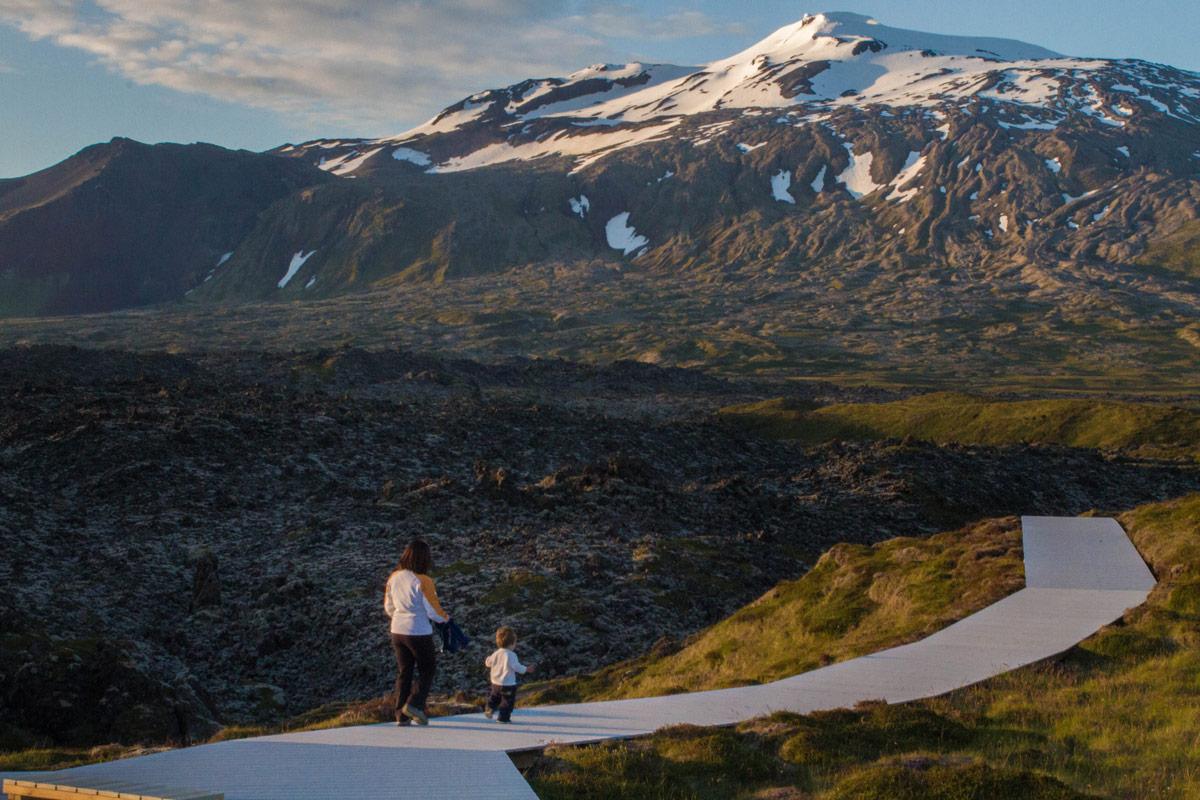 14 Day Iceland Itinerary Day 3: Iceland's Westfjords and Latrajbarg Bird Cliffs
Our next day brought us to the spectacular Westfjords. We woke and headed to Stykkisholmur (Stykkishólmur) to catch a ferry to Brjanslaekur (Brjánslækur) where we saw some puffins and other seabirds. This is where we had our first hiccup of the trip. My DSLR suffered a major issue and, with no major cities nearby, we were left with only our backup point and shoot for the next few days.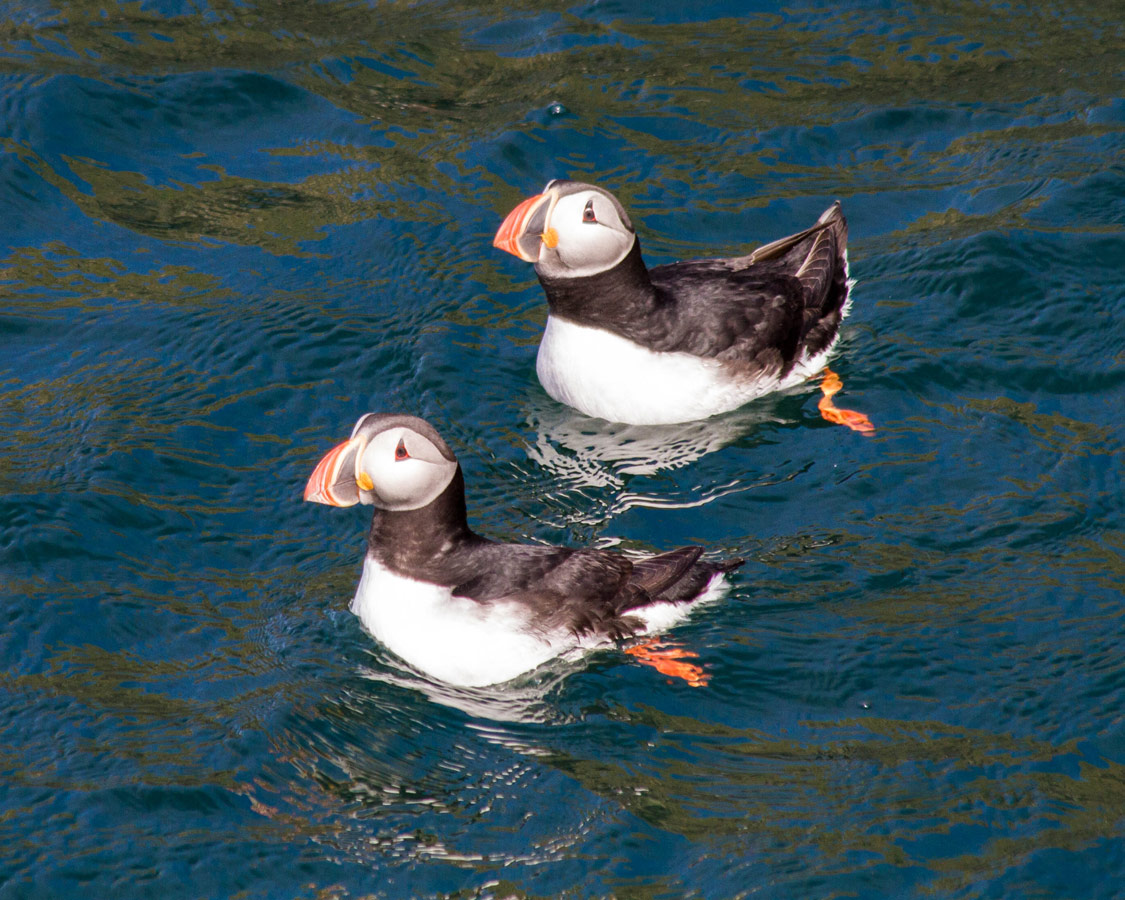 After docking, we headed into the coastal mountains. Along the way, we say statues and cairns from the long Viking history of the country. We also came across the remains of the Gardar, the oldest steel ship in Iceland which was rammed ashore in 1981 after nearly 70 years of duty.
We drove along the coast towards Latrabjarg (Látrabjarg) and it's incredible bird cliffs. It was well past midnight when we arrived, but thanks to Iceland's midnight sun, there was no lack of light.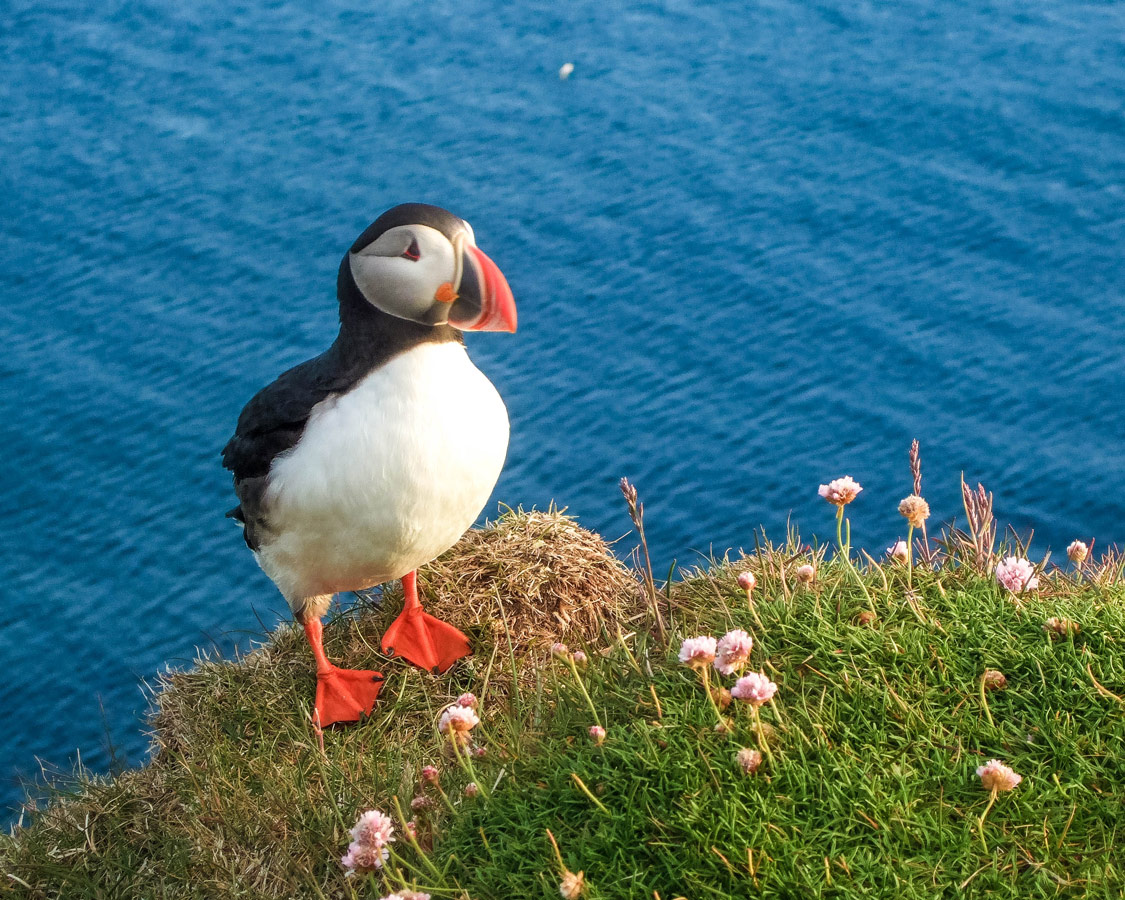 After a visit with the Puffins, we had a midnight snack and called it a night at the Hotel Latrabjarg, which is a wonderfully cozy spot just a short distance from the cliffs.
14 Day Iceland Itinerary Day 4: More Westfjord Adventures
We had an incredible night's sleep and woke hungry for adventure. We came down from the mountains and drove through Patreksfjordur (Patreksfjörður). We stopped at a nearby beach for some fun in the sand, mostly just to say that we went to Iceland and played on the beach.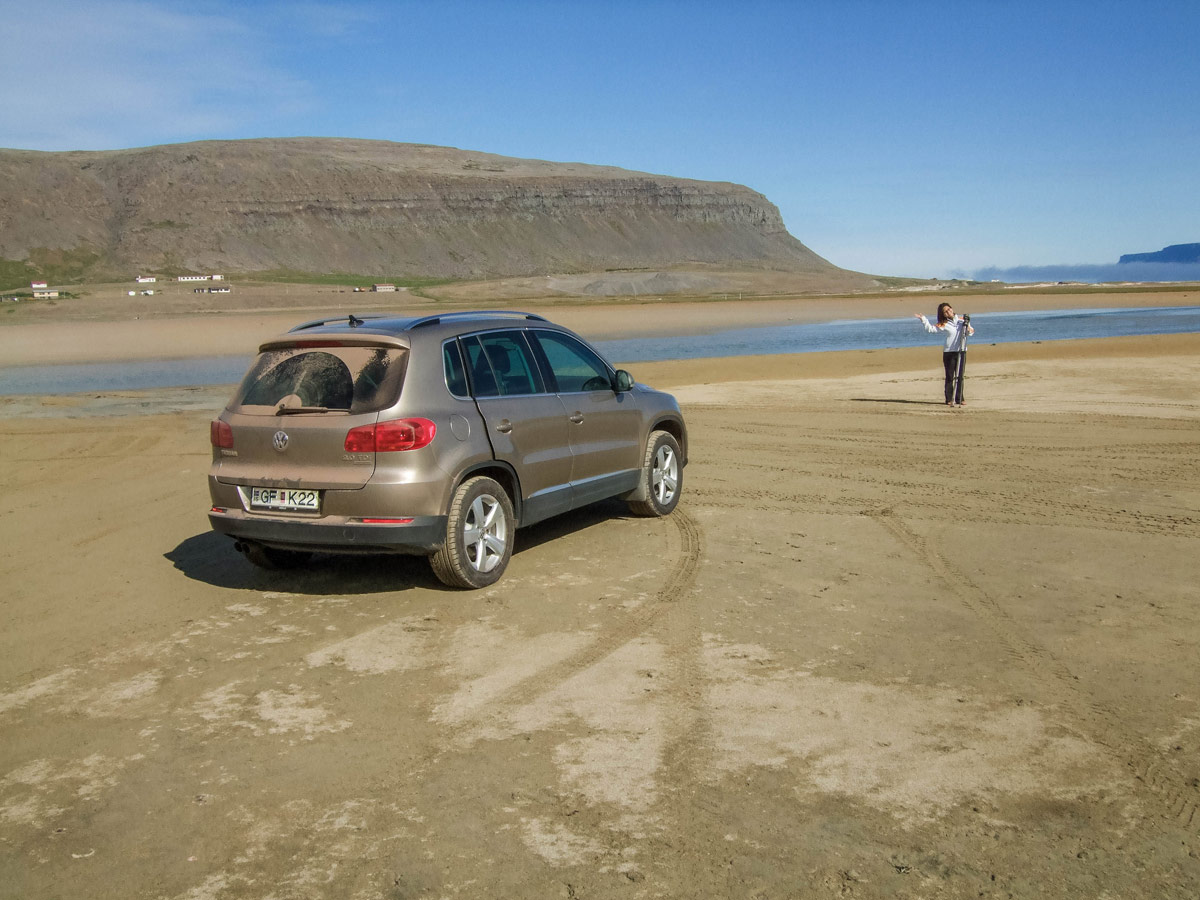 Then,we moved on to Dynjandisheidi Pass (Dynjandisheiði) to see the incredible Dynjandi waterfall.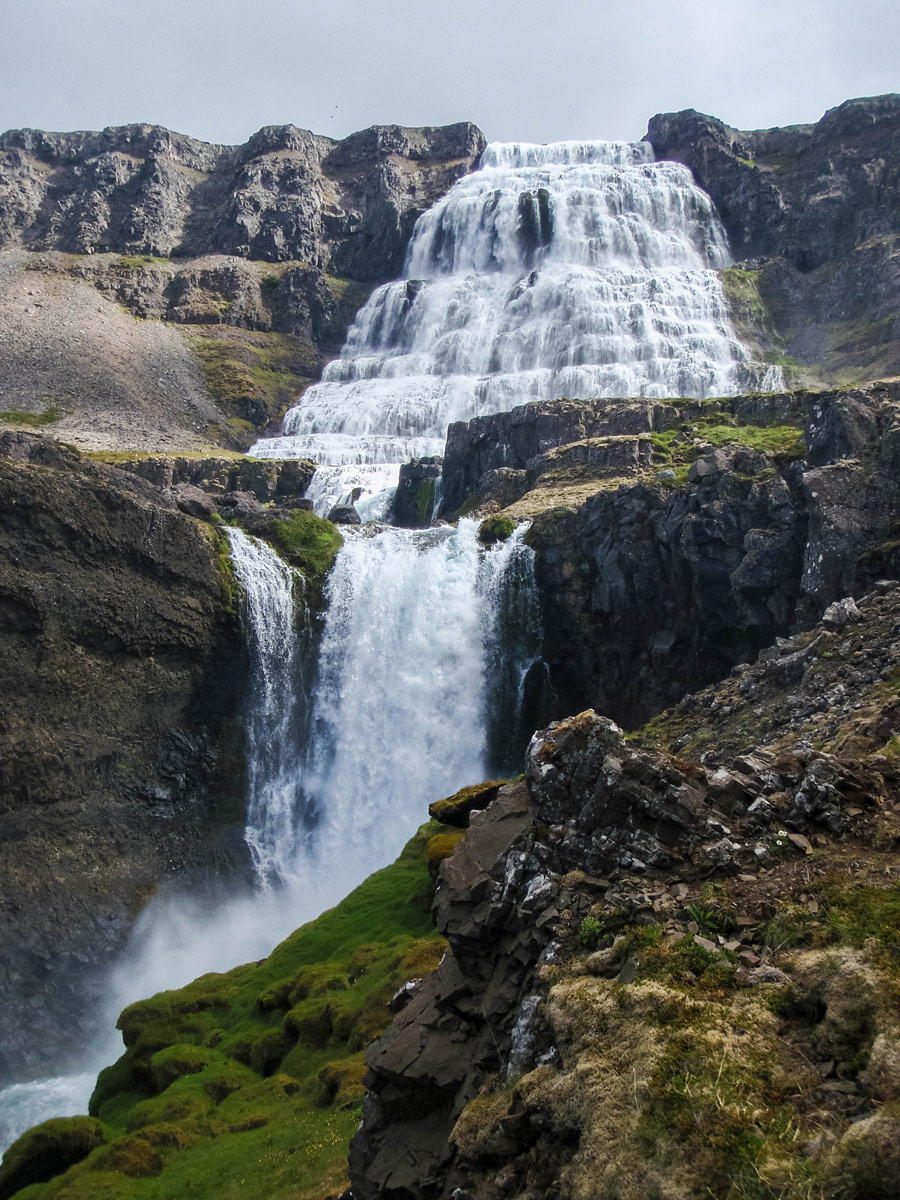 At this point, we did a detour from our previous plans and passed through a long tunnel to Bolungavik (Bolungavík), where we discovered the Osvor Maritime Museum (Ósvör) and the quaint Viking settlement they recreated on the coast.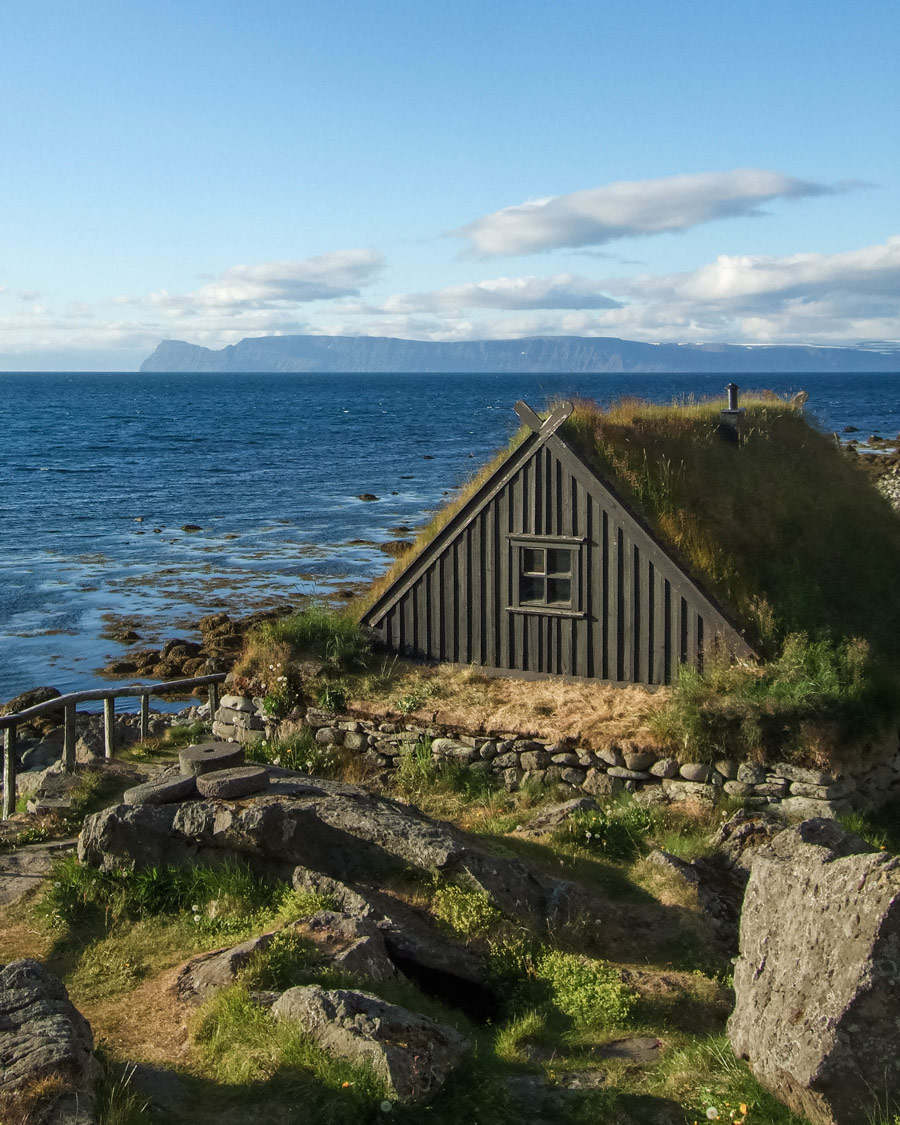 14 Day Iceland Itinerary Day 5: Northwest Iceland
The following morning we jumped out of bed, anxious to see what adventures we would have on this day. As we took to the road, we quickly came across this dilapidated castle near Isafjordardjup (Ísafjarðardjúp) that started debates as to what its history could be.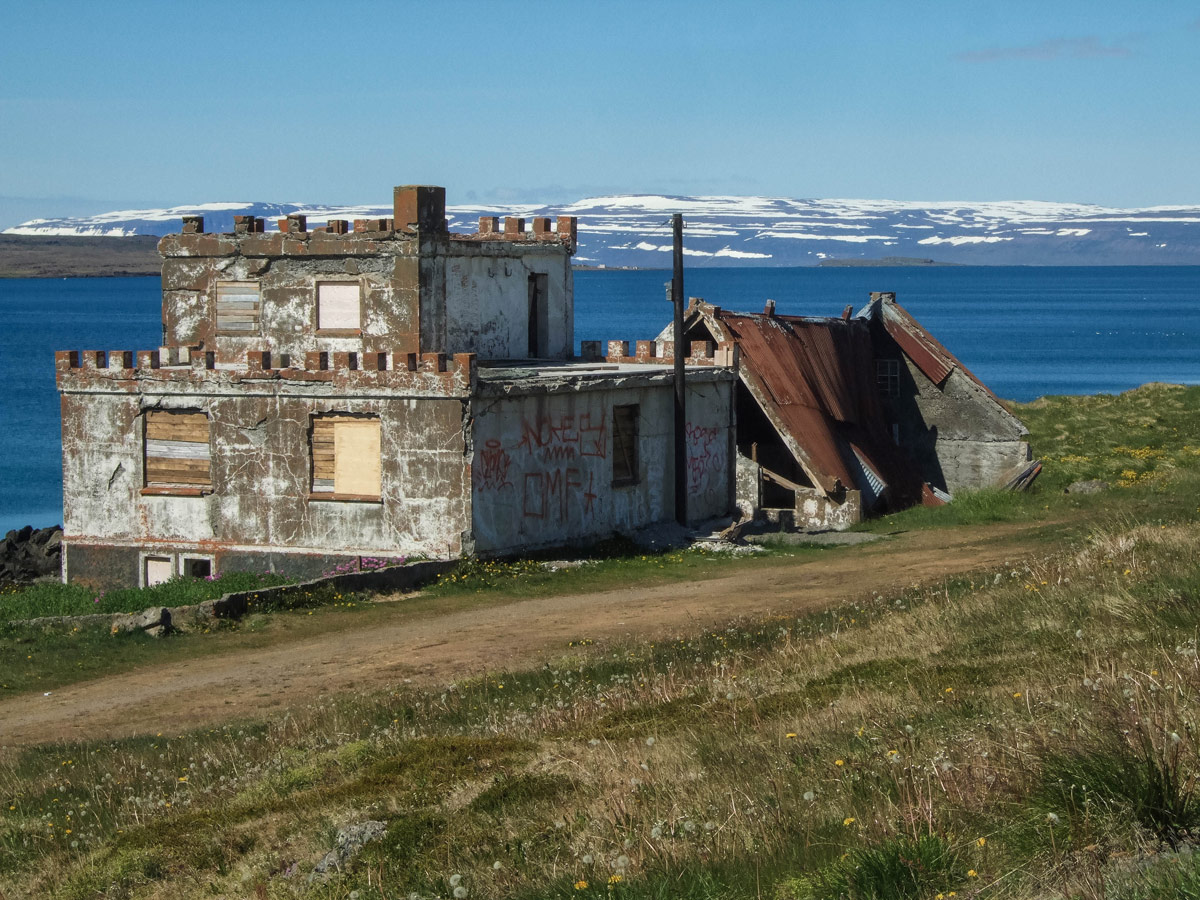 Our next stop brought us to Vatnsnes peninsula to see Hvítserkur, the Troll of Northwest Iceland.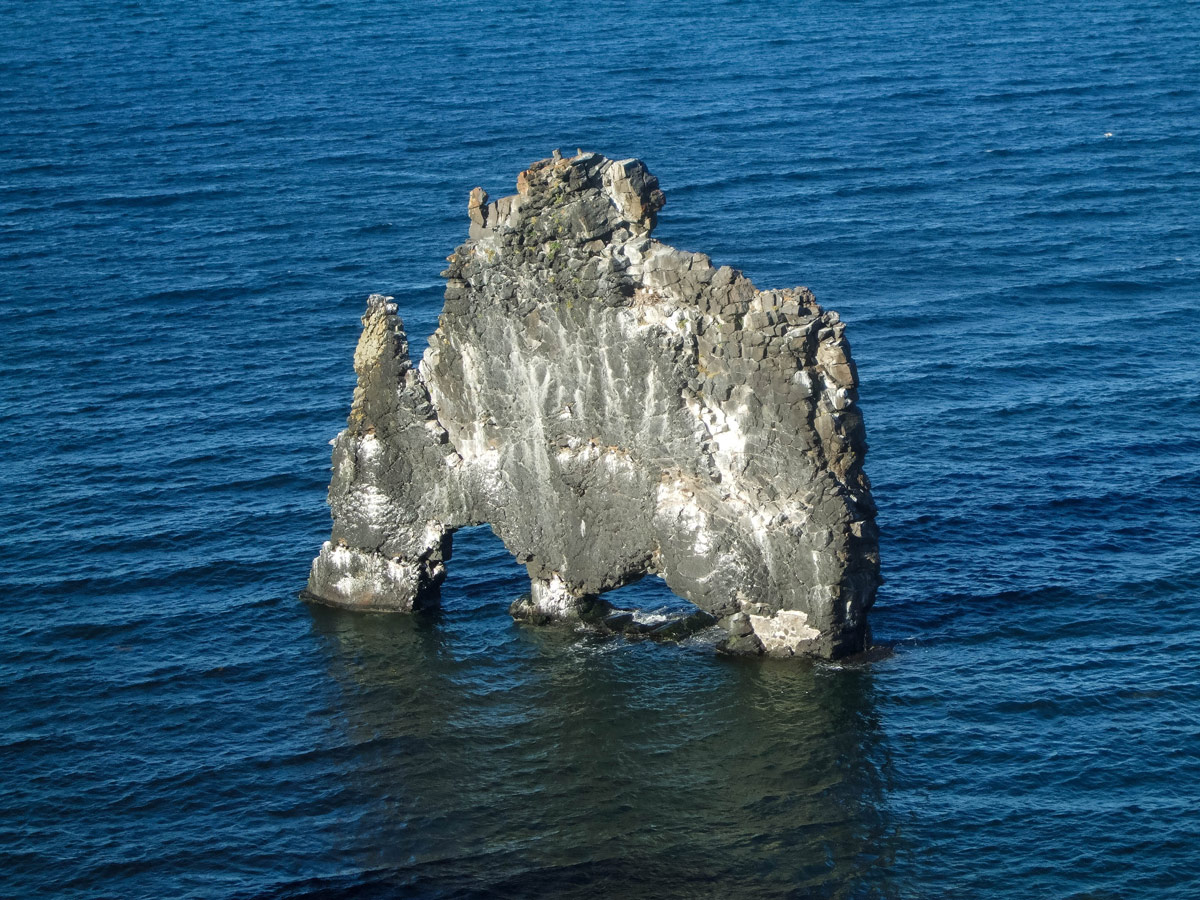 Next, we were off to nearby Holmavik (Hólmavík), where a local festival was in full force.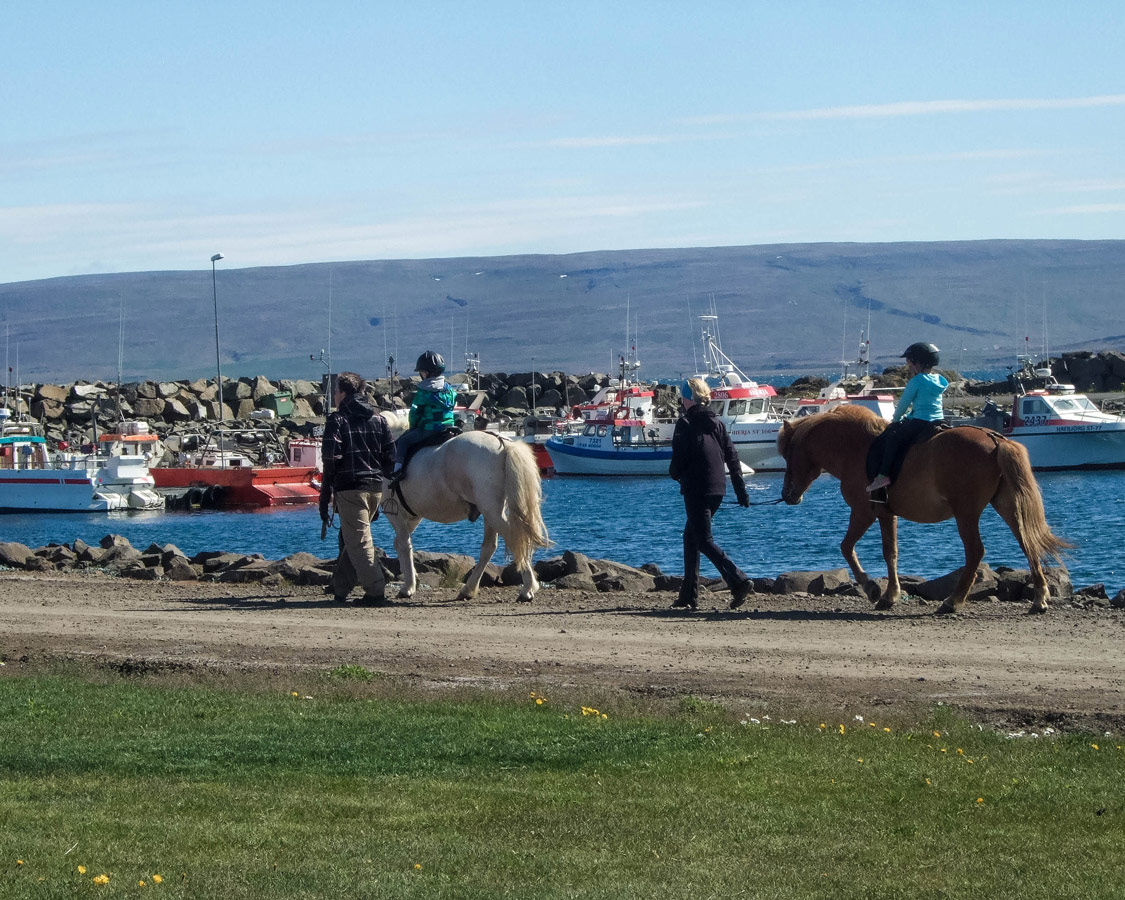 Holmavik is also home to the Witchcraft and Sorcery museum, which explores the mystical history of the Icelandic people and features some very … unique displays. Yup, that's exactly what you think it is, click on the photo to find out the details … if you dare.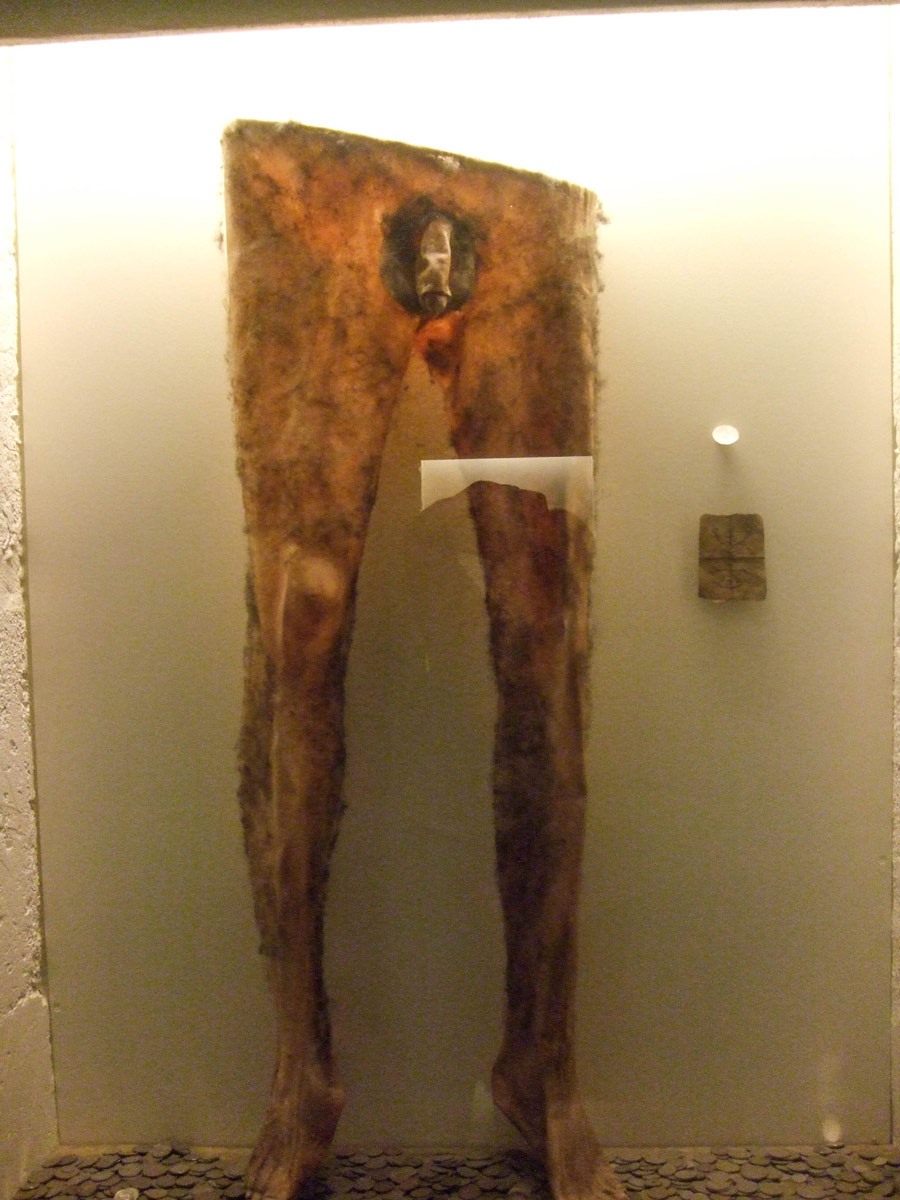 We stopped in the village of Hofsos (Hofsós) to see the seals basking in the summer sun.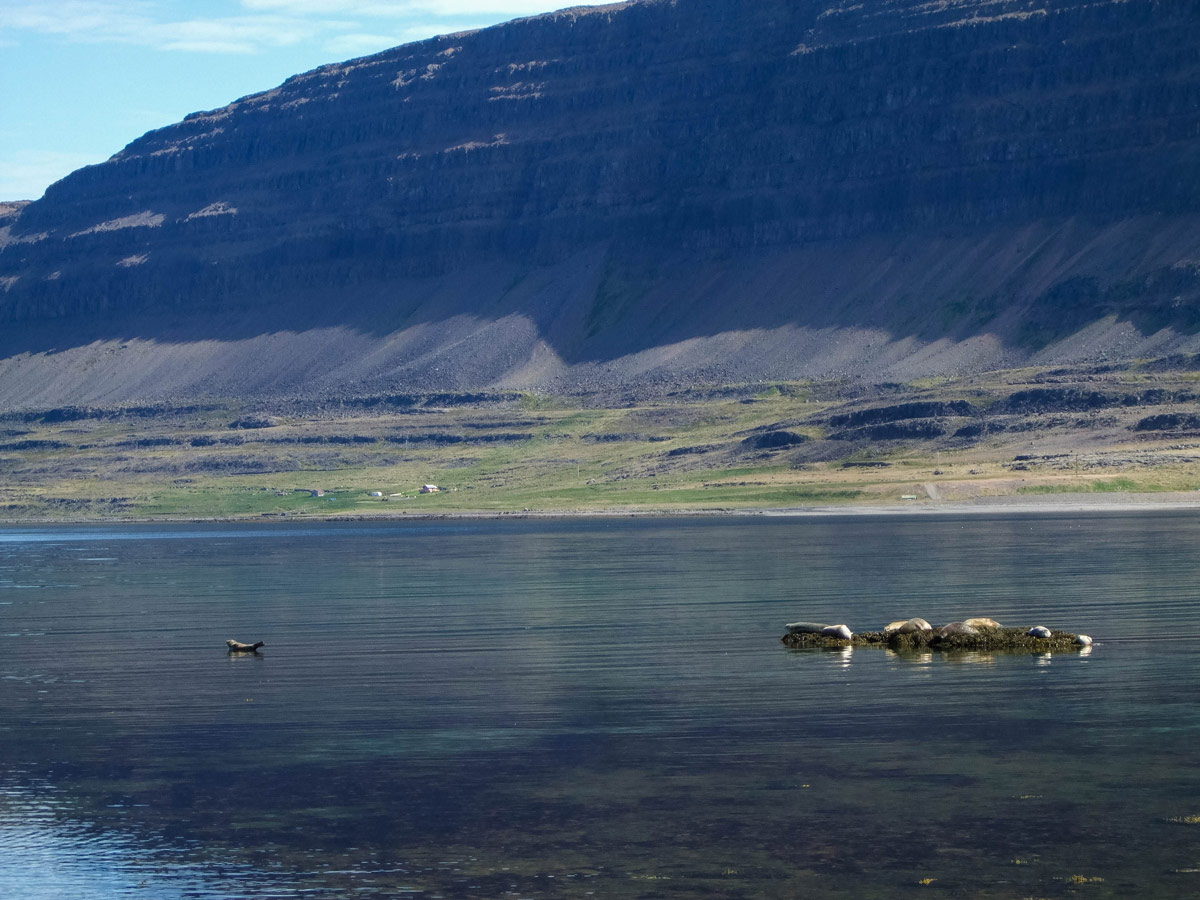 By this point, we needed a break, and C was anxious for some time outside the car, so we stopped in Varmahlid (Varmahlíð) and took in one of the countless Icelandic natural pools. It was great getting a chance to bathe in the naturally heated water.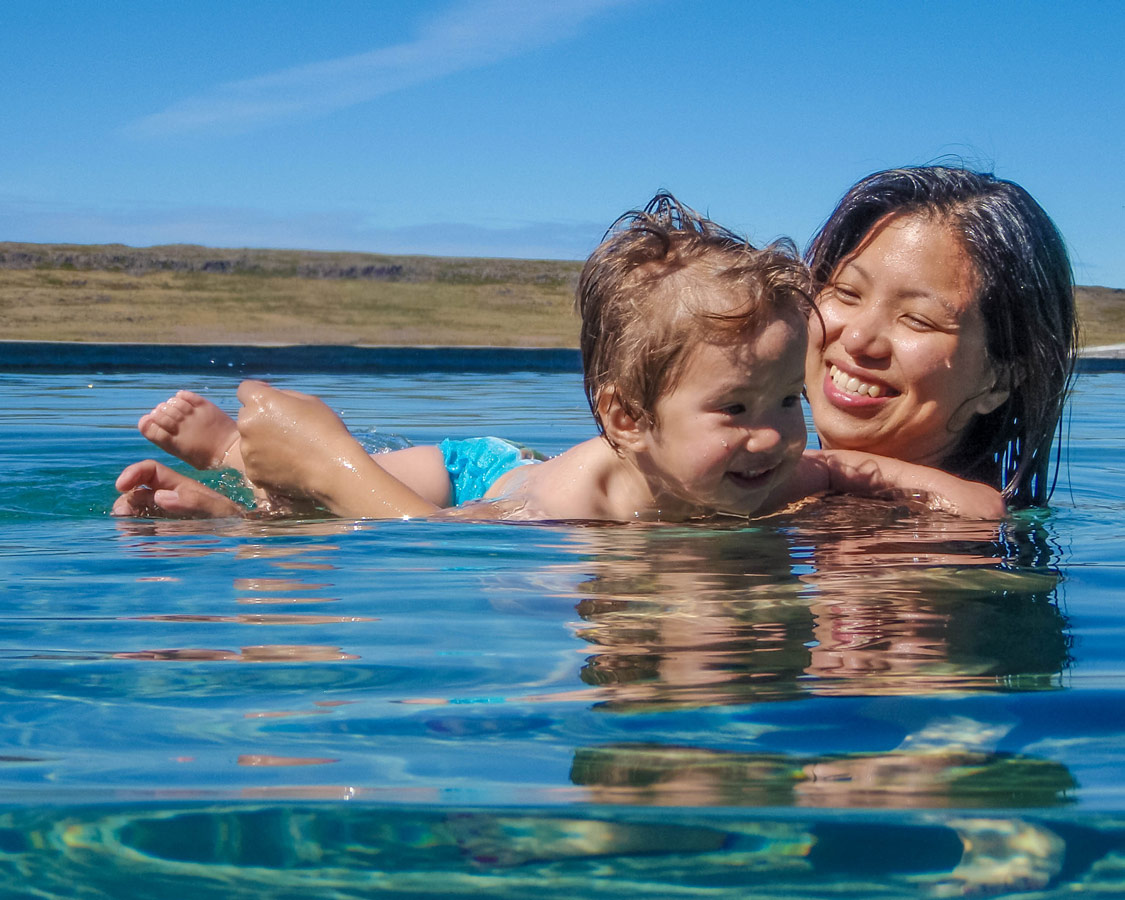 Our day ended in the village of Saudarkrokur (Sauðárkrókur). While devouring the most delicious pizza we've ever had, we chatted with the staff at the Olafshus restaurant as we watched the Icelandic presidential election.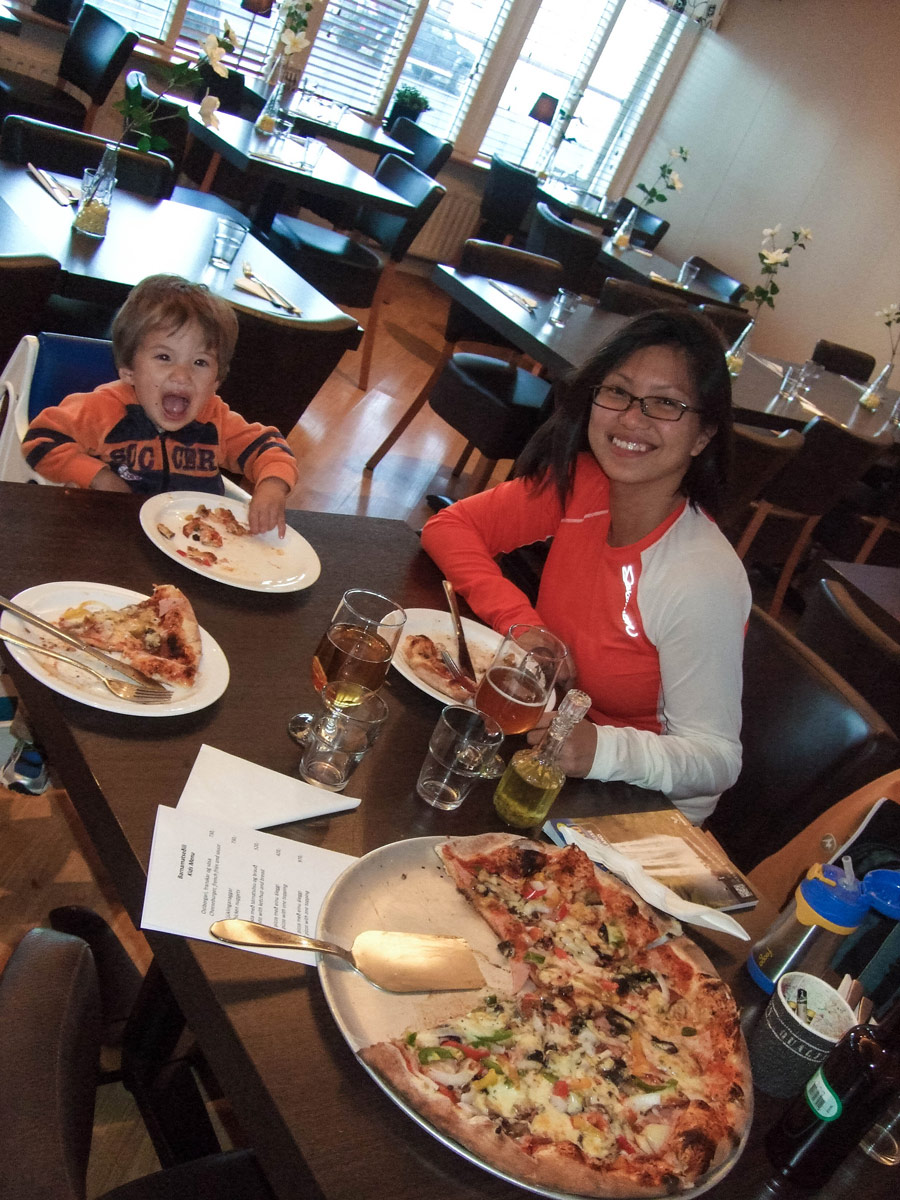 14 Day Iceland Itinerary Day 6: Akureyri and Lake Myvatn
The next morning we stopped in the town of Hofsós to witness the incredible basalt cliffs.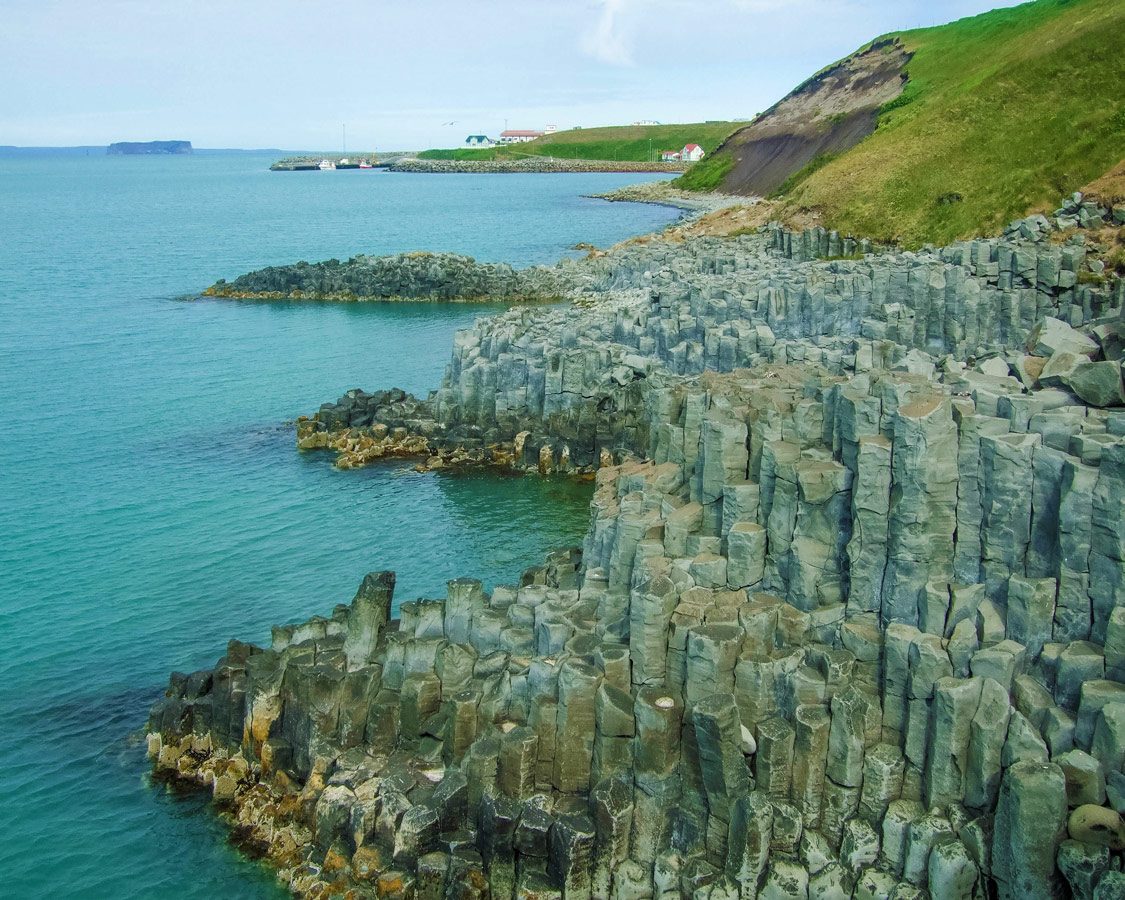 We finally reached Akureyri, the second largest city in Iceland, and also the northernmost major city, lying just 60 kms from the Arctic Circle. We hoped to either repair, or purchase a new camera for the rest of our trip, but soon realised that there were no retail stores open on Sundays in this city. Well, at least we could get ice cream!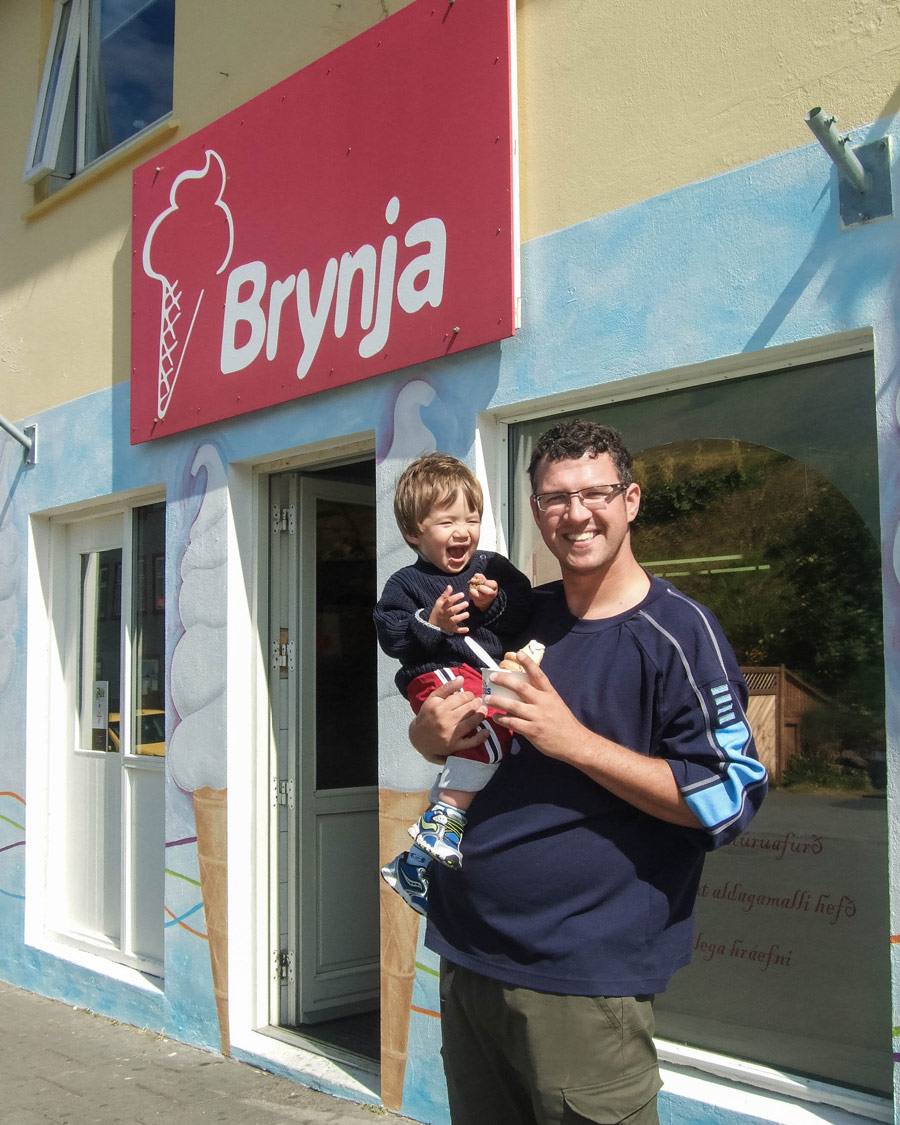 Nearby Godafoss was incredible to behold. The earth shook from the power of the falls.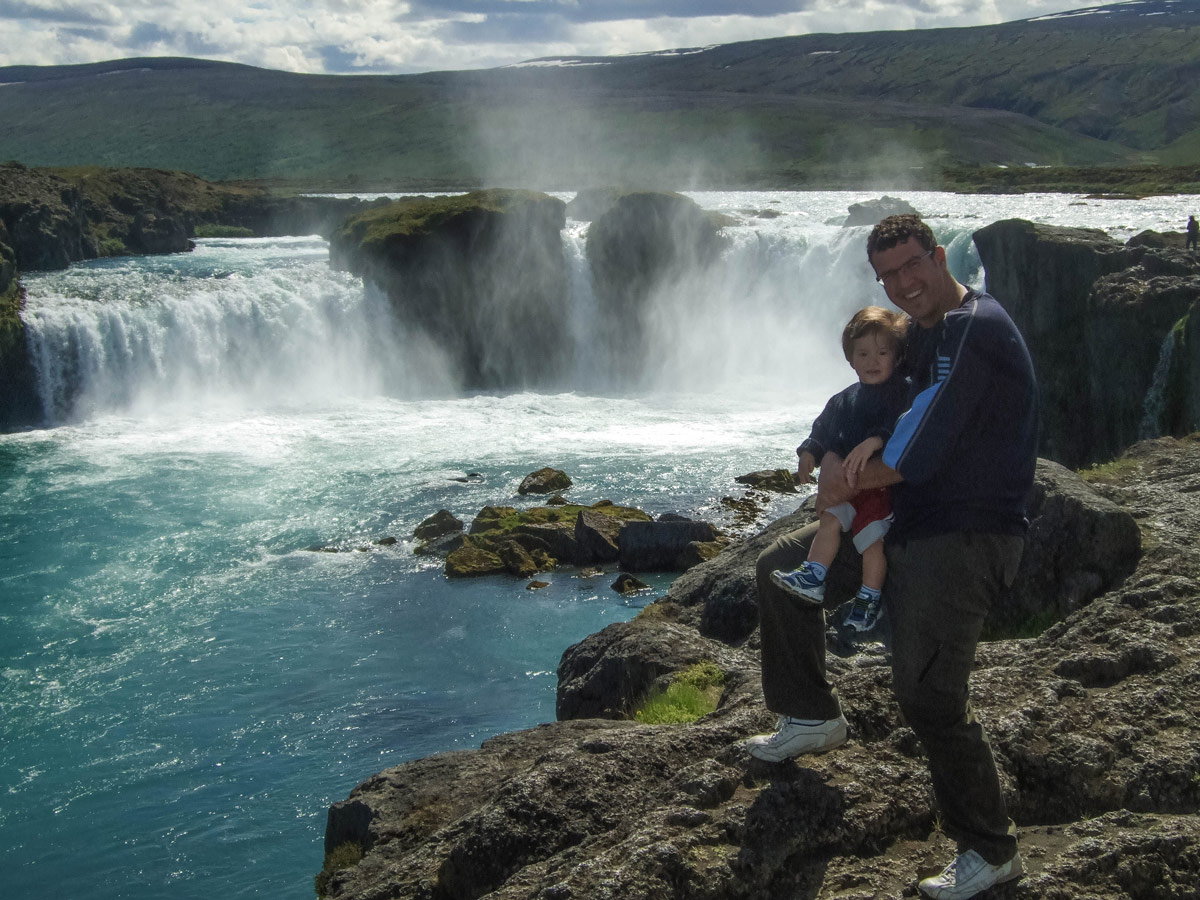 A short drive away, we came across the paradise of Lake Myvatn. Much of Iceland is drenched in harsh tones, Lake Myvatn is bathed in greens and blues. There is something about the mix of lakes, volcanic craters, and fields that just feels so special.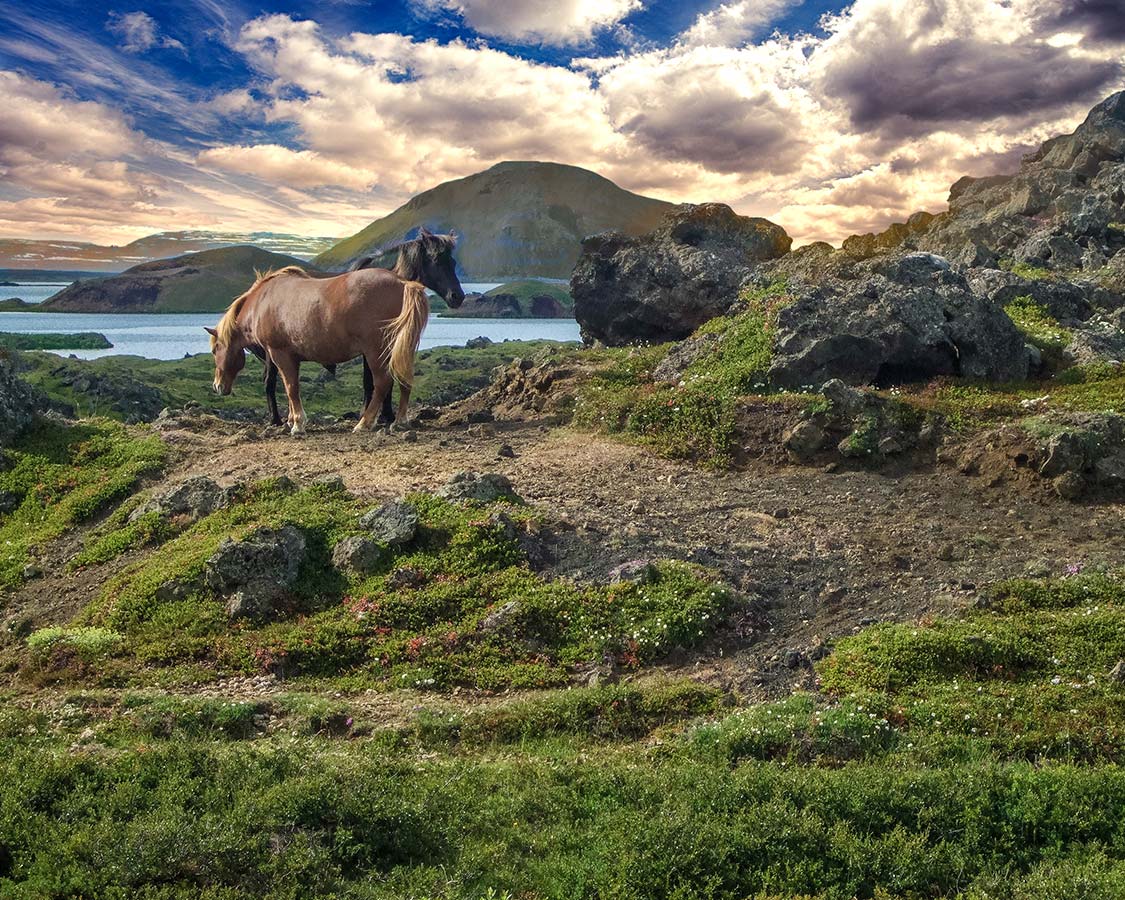 Namaskard Pass stood in stark contrast. Boiling mud pits, steam vents and harsh, sulfur filled the air.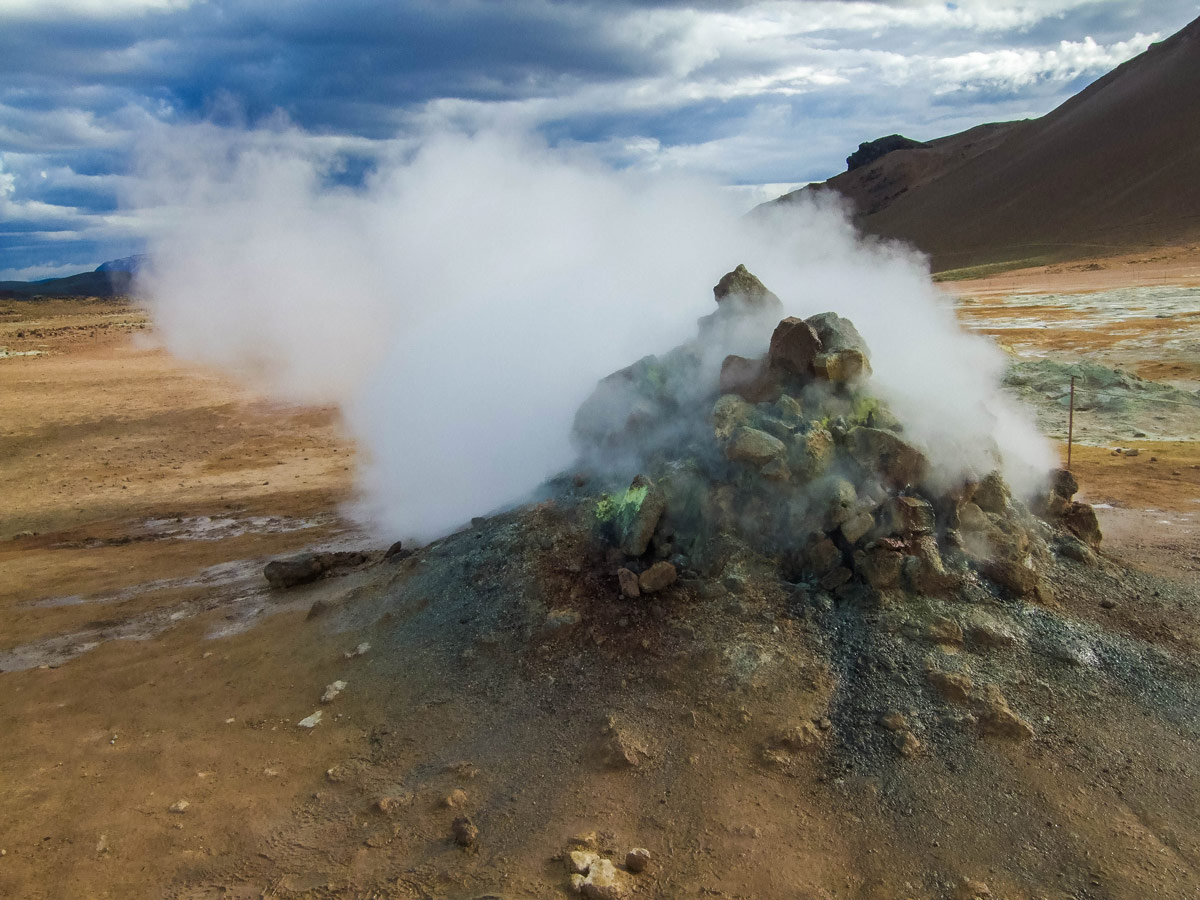 Nearby is the incredible Dimmuborgir land formations, also known as Dark Castles, where volcanic stacks stood harshly against green shrubs.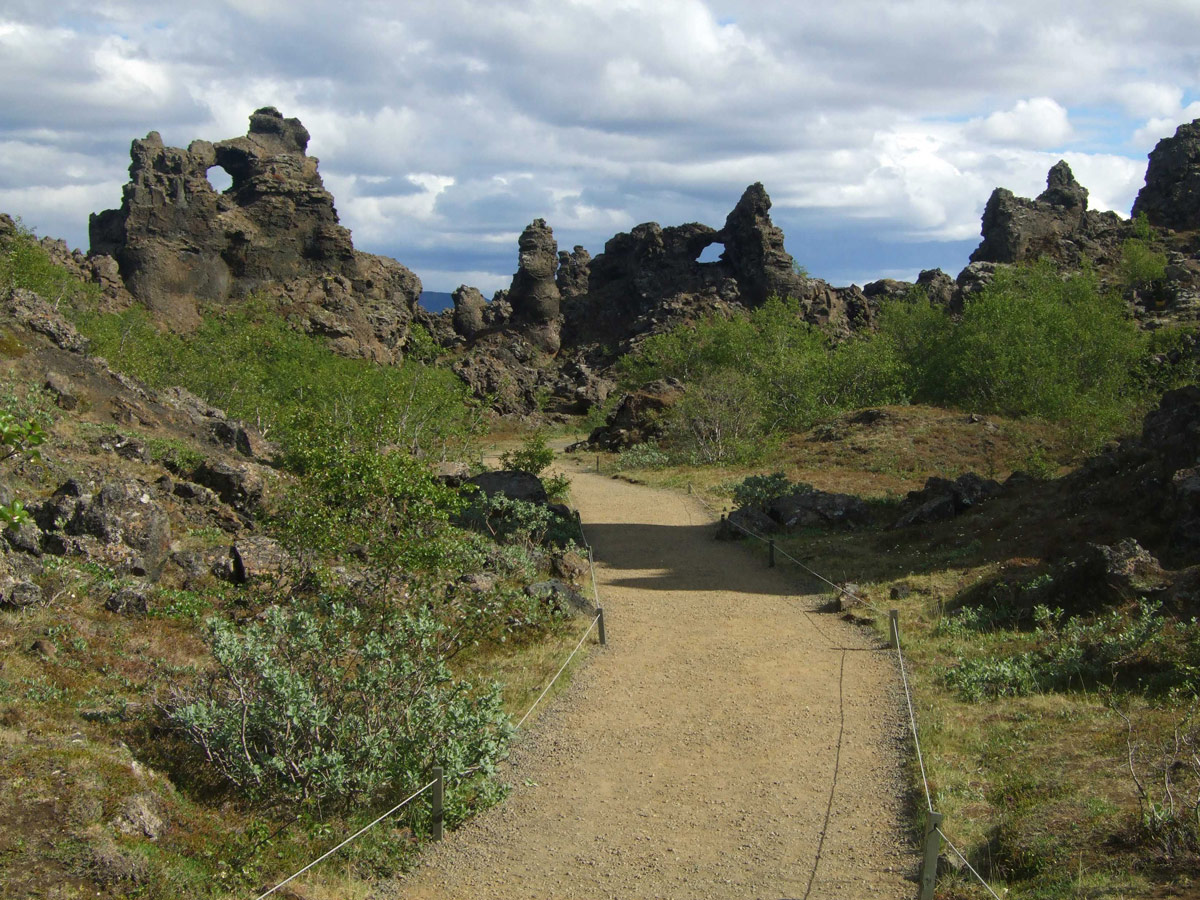 A short drive from there lies the remains of Volcano Krafla. It sits close to a geothermal plant and now houses a picturesque crater lake.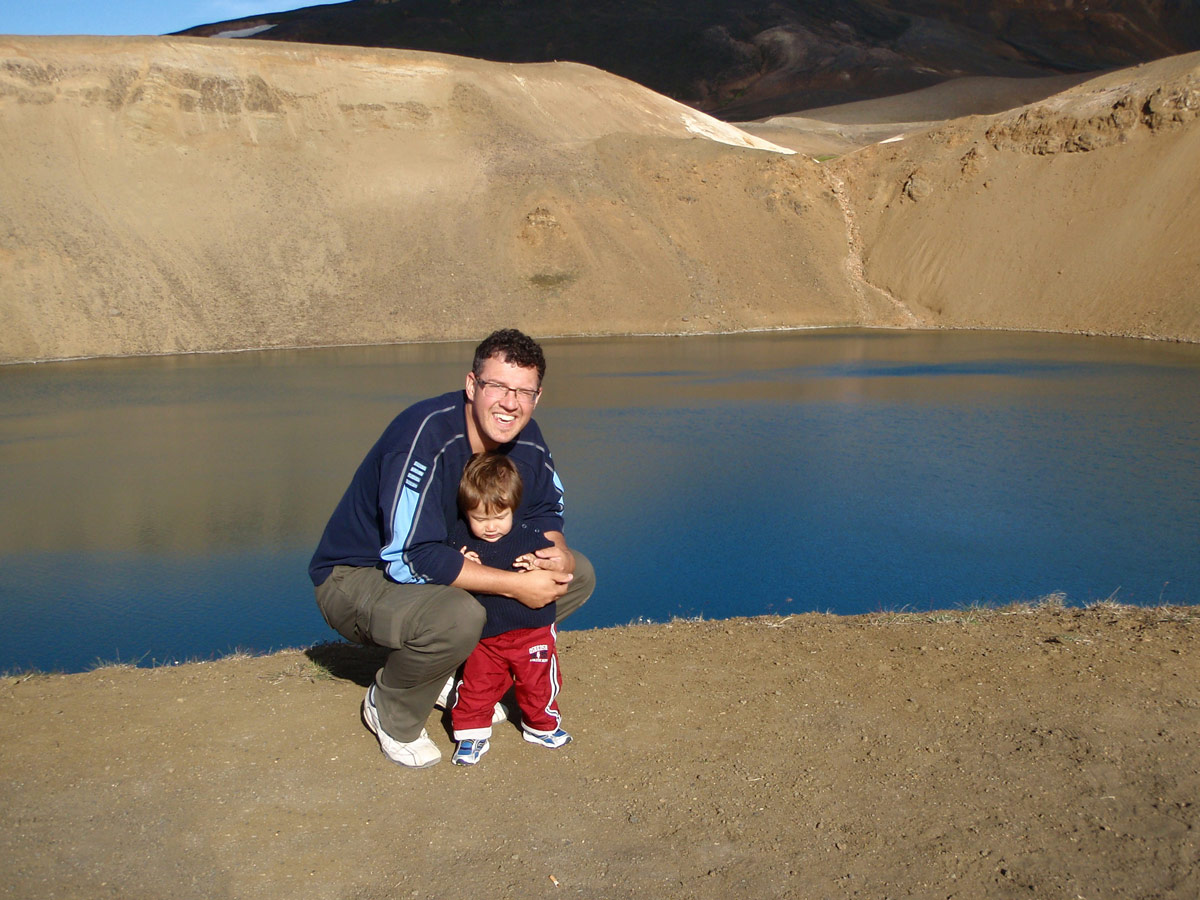 After all the sulphur, climbing and hiking of the day, we felt we deserved a break and finished off our day at the Myvatn Nature Baths to soak up some healing minerals from the hot springs.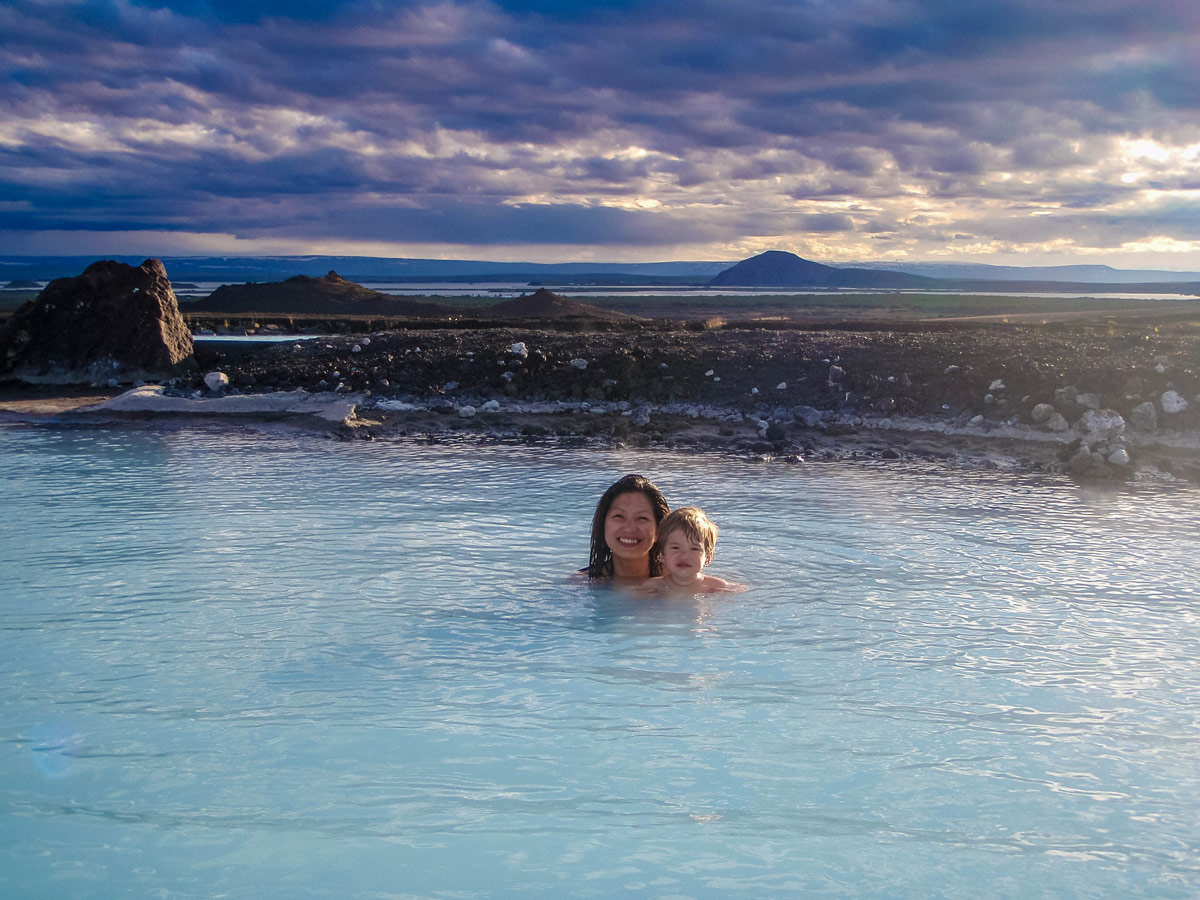 14 Day Iceland Itinerary Day 7: Husavik and Jokulsargljufur NP
I woke up early the next morning at our guest house near Laugar and raced back to Akureyri so I could get another camera as soon as it opened. Once I got myself equipped, I made my way back to pick up Christina and C so we could make our way to Husavik for the day's adventure, a whale-watching expedition on a Schooner!
We arrived in Husavik with some time to spare, so we visited the Husavik whale museum. As with many places in Iceland, they know how to make things kid-friendly. They had this cool area for C to explore.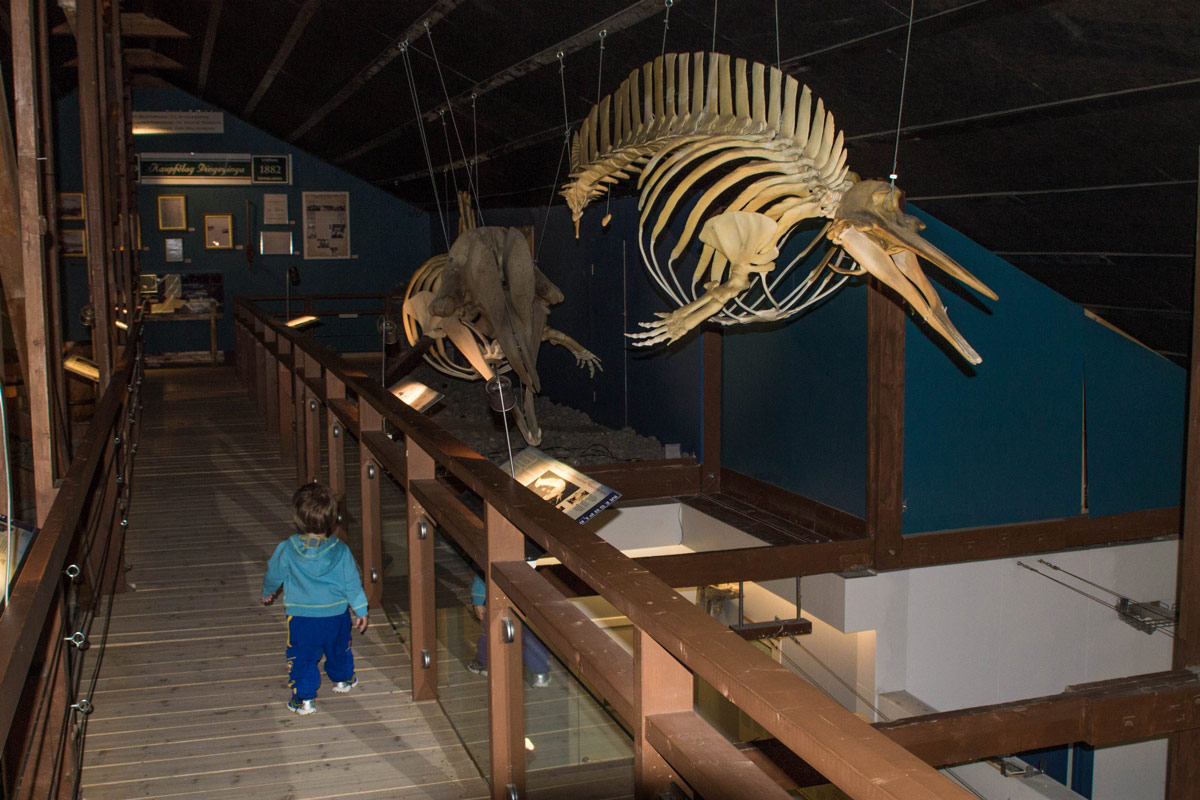 Shortly afterwards, we met up with the folks at North Sailing and boarded our Schooner. It didn't take C long to start taking control.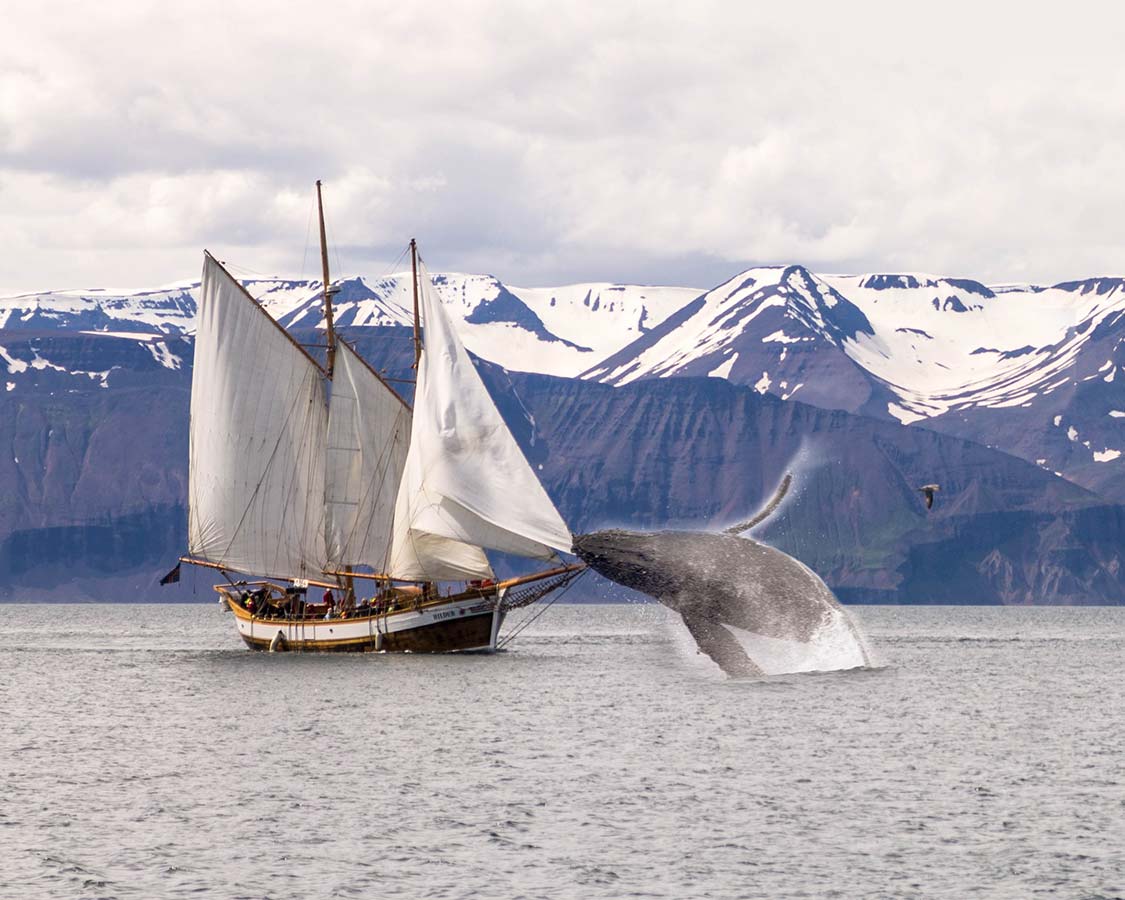 We passed by the amazing gannet cliffs, where we could see locals farming the eggs from the steep cliff walls.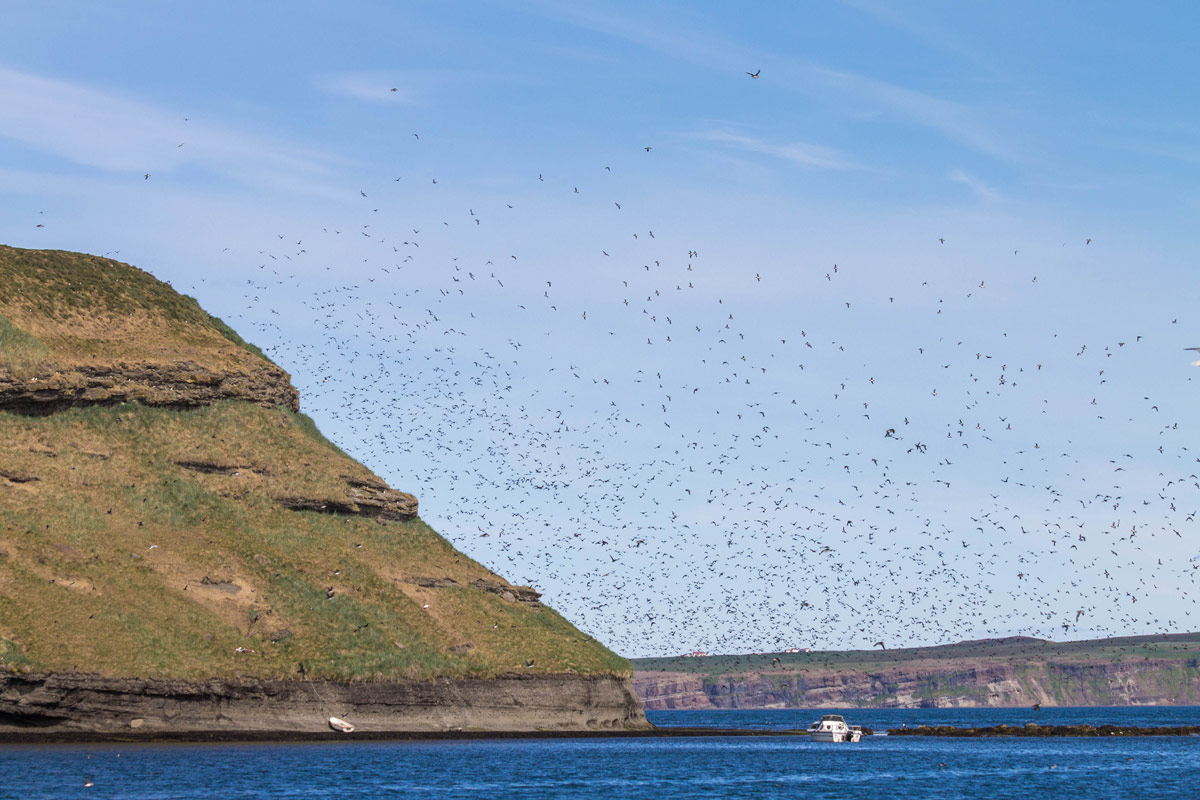 After the cliffs, we went to the bay for some whale watching. We got to see Humpbacks, Pilots, and even a glimpse of a Blue whale!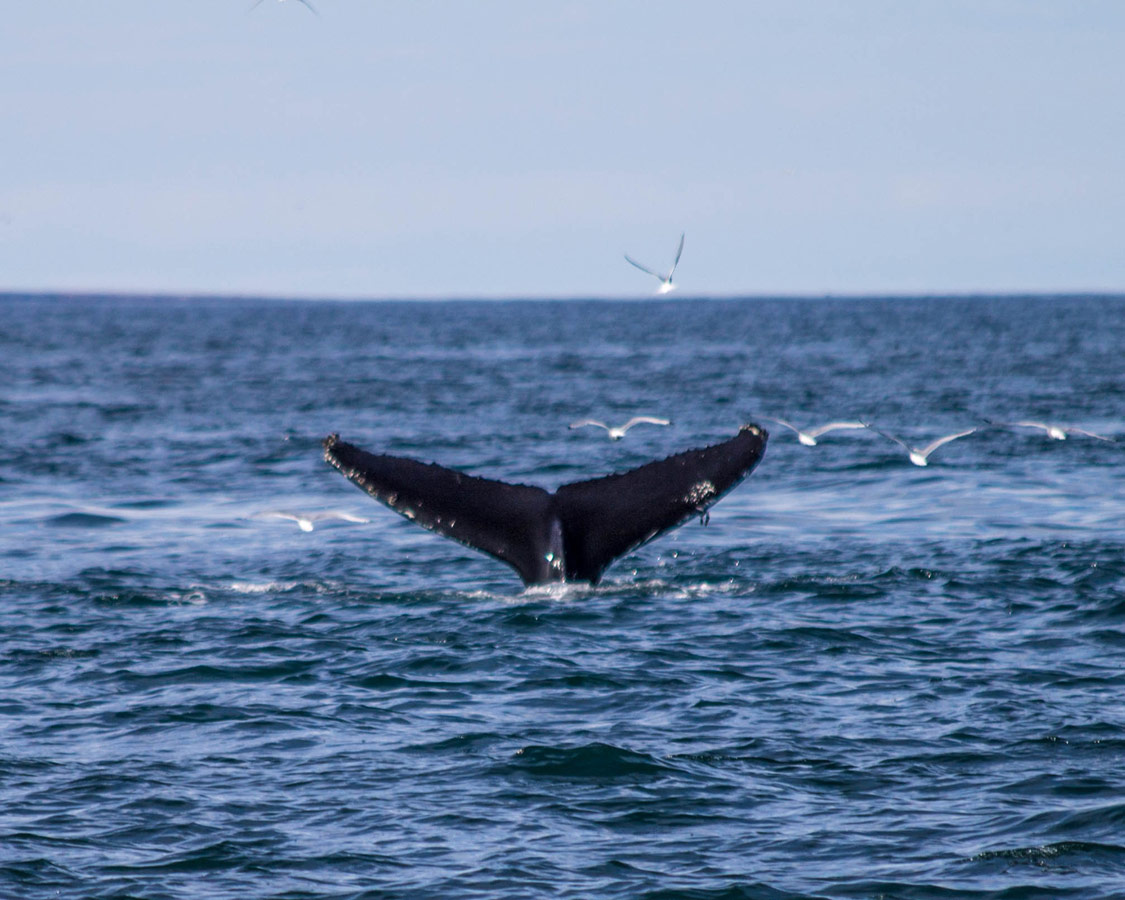 After saying goodbye to the incredible sailing crew, we made our way towards Vesturdalur and Jljodaklettar and it's impressive rock formations.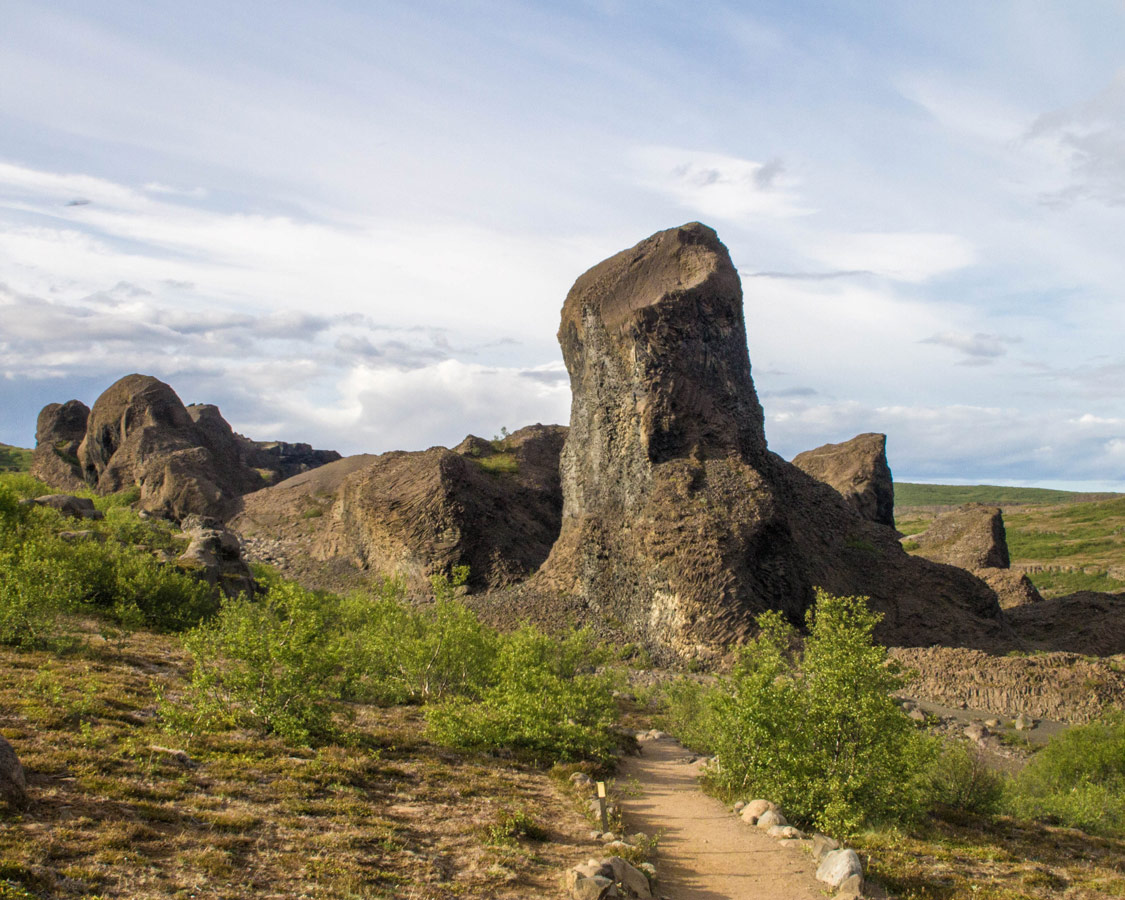 It seemed at points that the Earth had completely folded upon itself.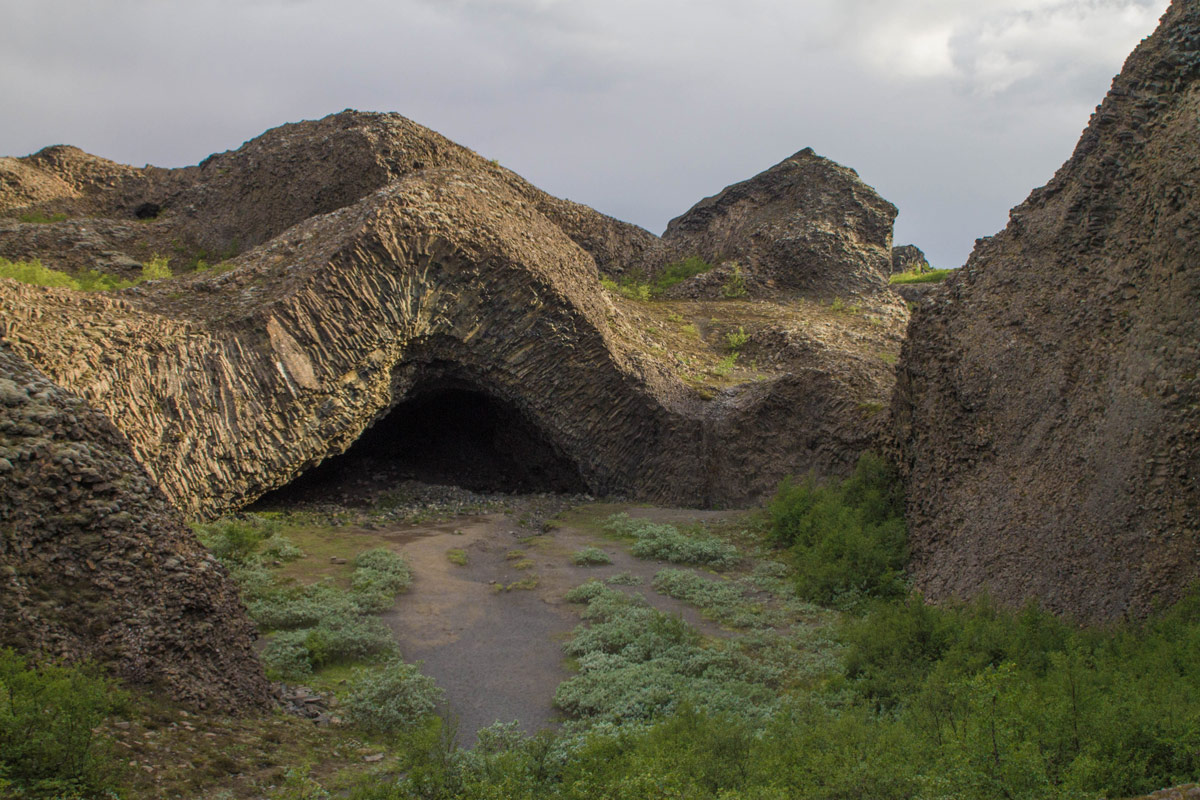 14 Day Iceland Itinerary Day 8: Asbyrgi Canyon and the Icelandic Highlands
First thing the next morning, we woke and headed to nearby Asbyrgi.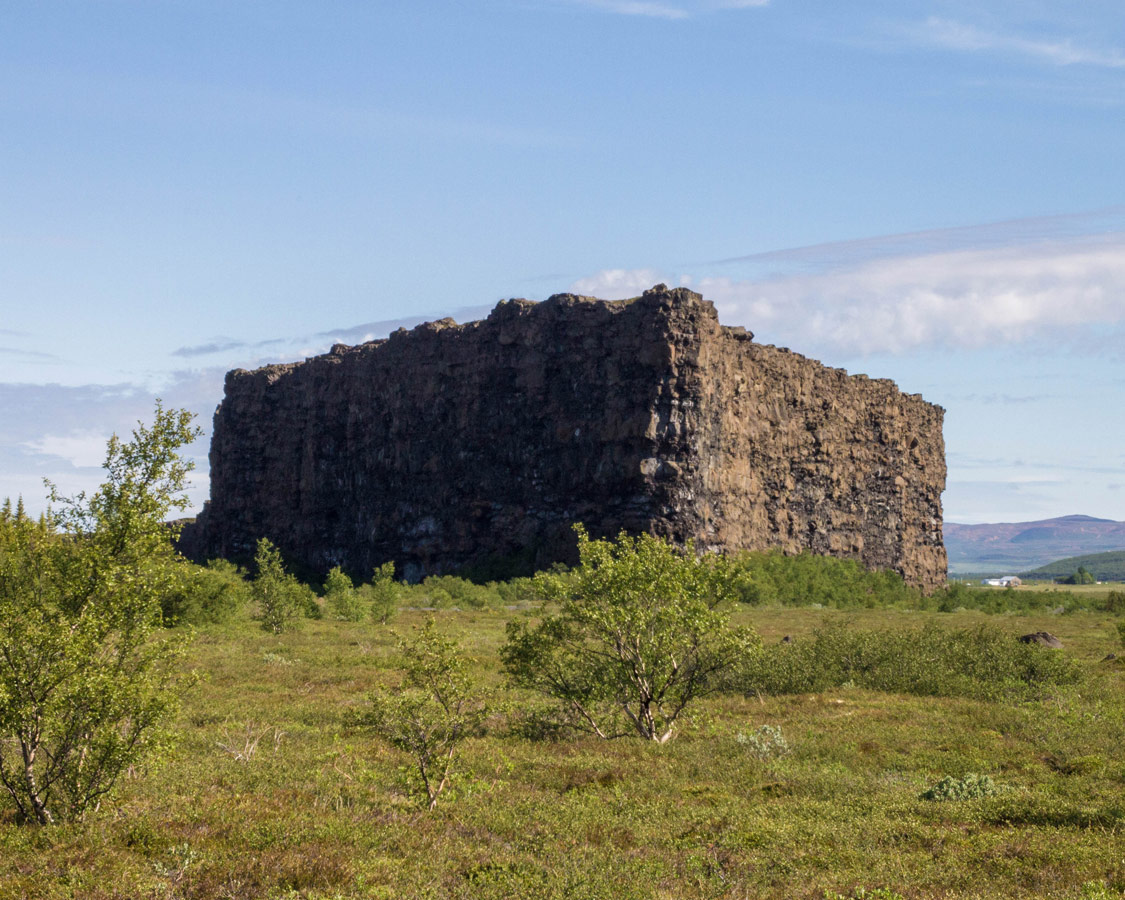 We hiked towards Dettifoss, the largest waterfall in Iceland.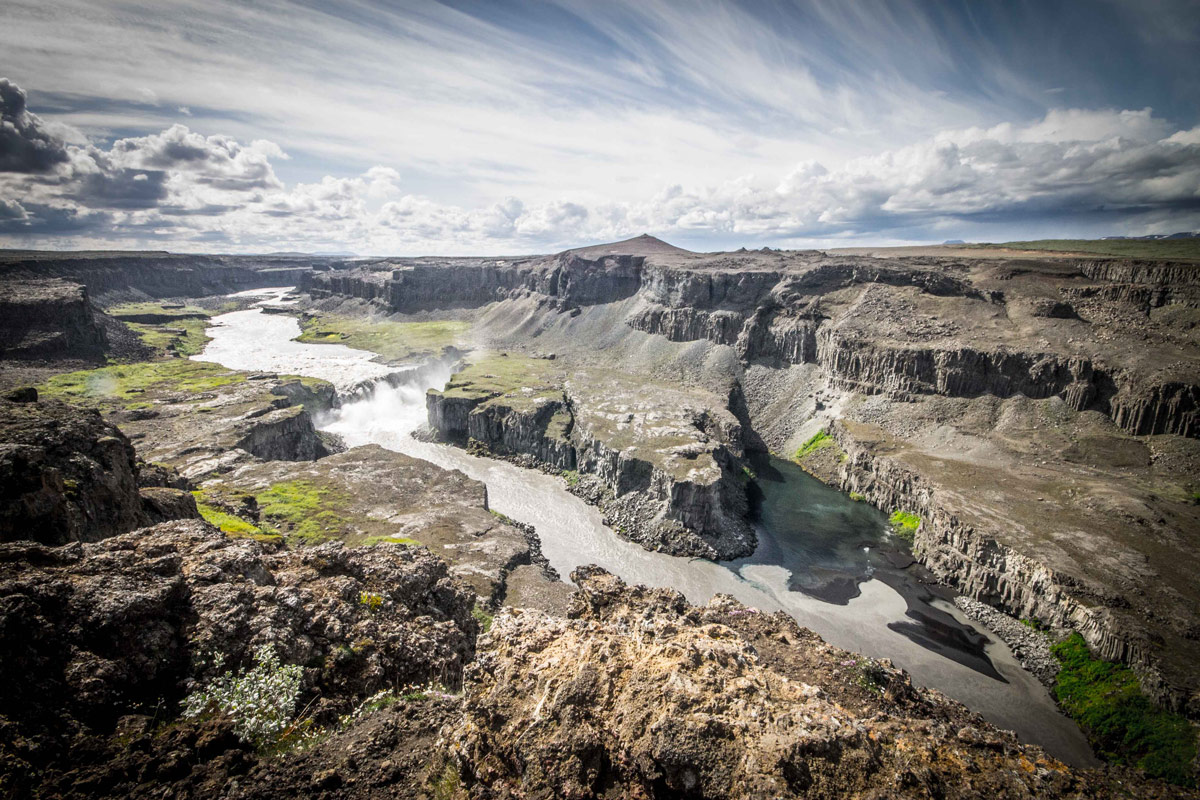 A few hundred meters downstream from Dettifoss is Selfoss, while smaller, it has a far more dramatic appearance than it's big brother.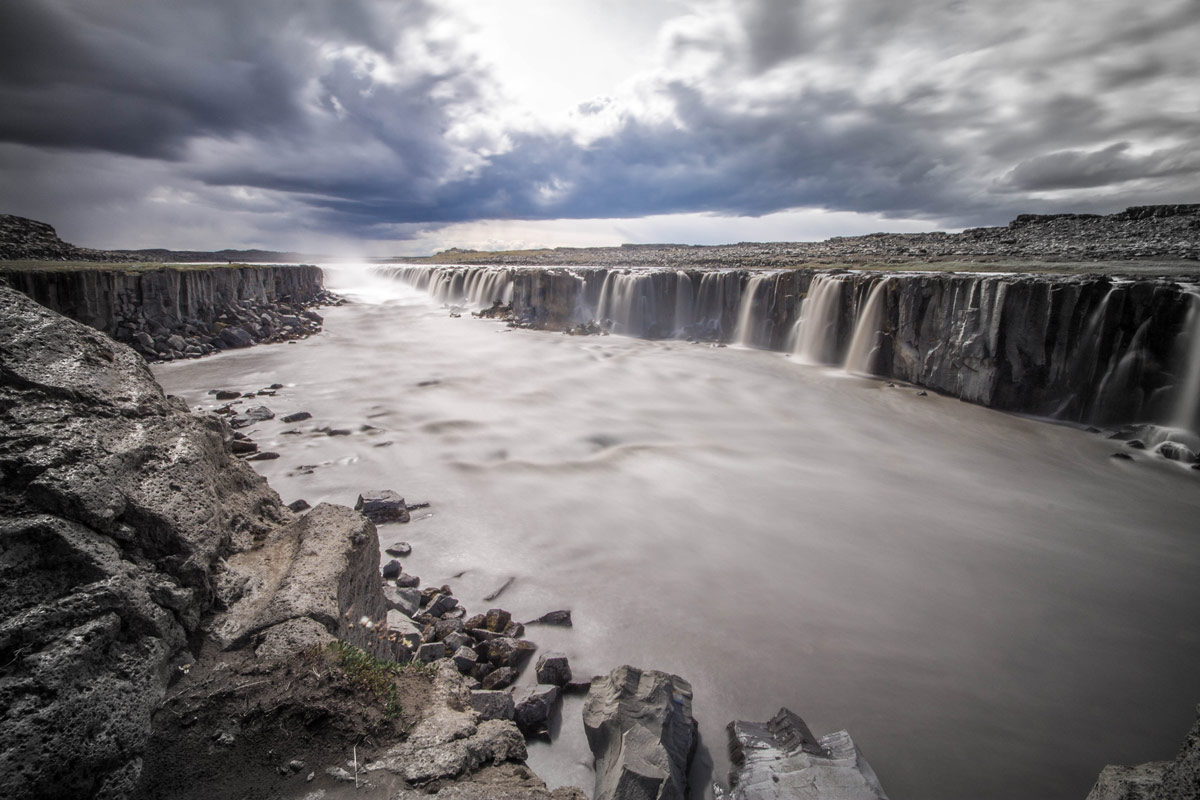 After taking in these amazing views, we rolled past the impressive and monolithic Herdubredalindir (Herðubreið).
After a short hike, and reliving the life of some Icelandic bandits, we made our way towards one of our toughest hikes to the Askja Caldera and Viti Crater.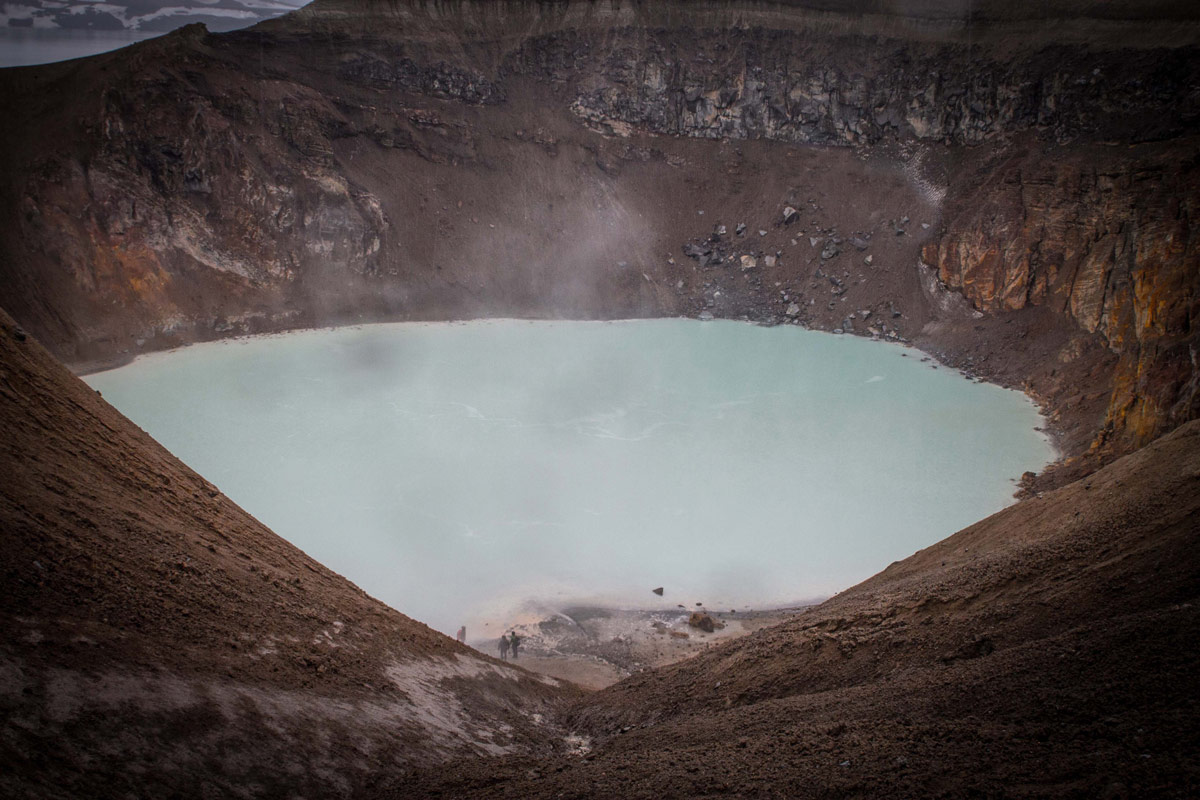 Although we were exhausted from our hike, we weren't ready to call it a day yet, so we headed to Hafrahvammagljufur canyon to hike the canyon rim.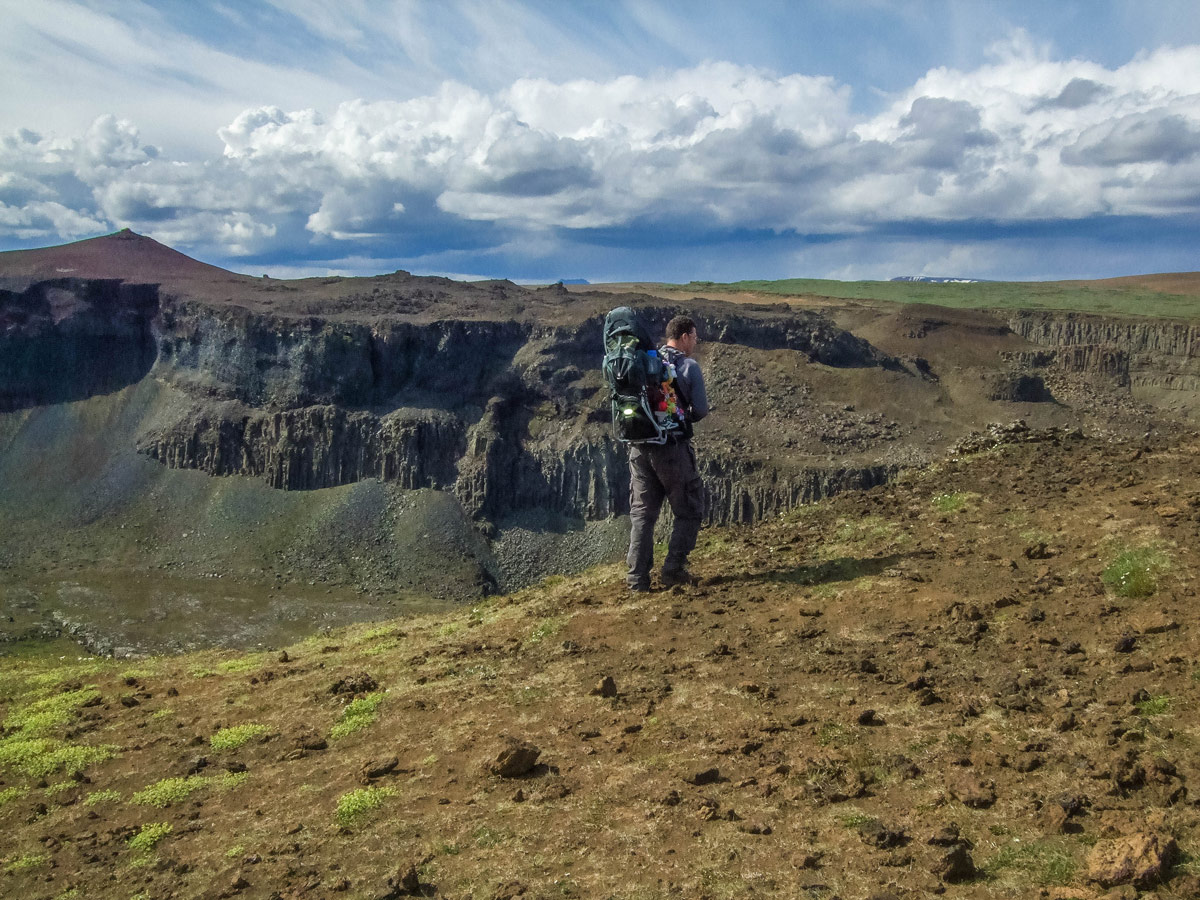 14 Day Iceland Itinerary Day 9: Iceland's East Fjords
We woke up in our cabin on day 9 and visited the Icelandic horses at a nearby farm.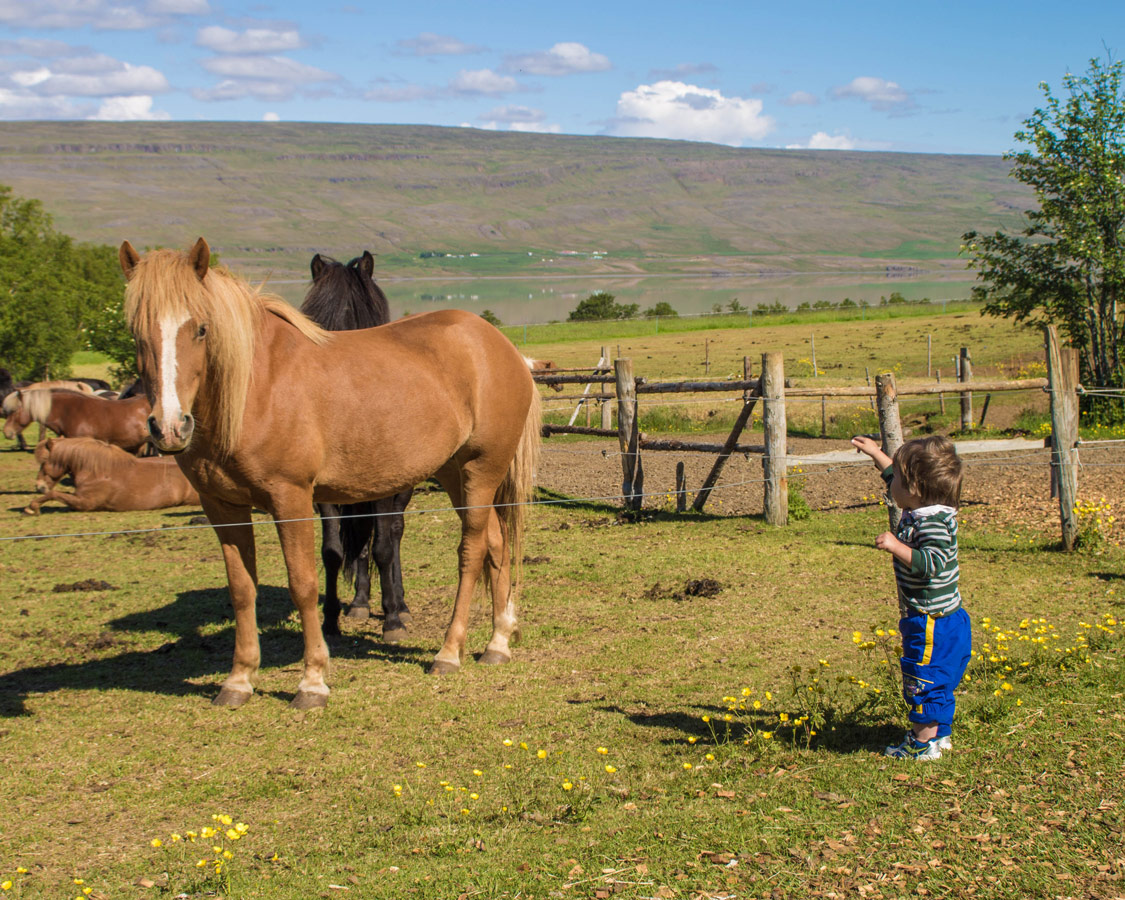 After a short drive, we checked our map and found that Iceland's third-tallest waterfall, Hengifoss, was nearby. Thinking it would be a short hike, we pulled over and geared up. Turns out, it was not a short hike, and it was up the whole way.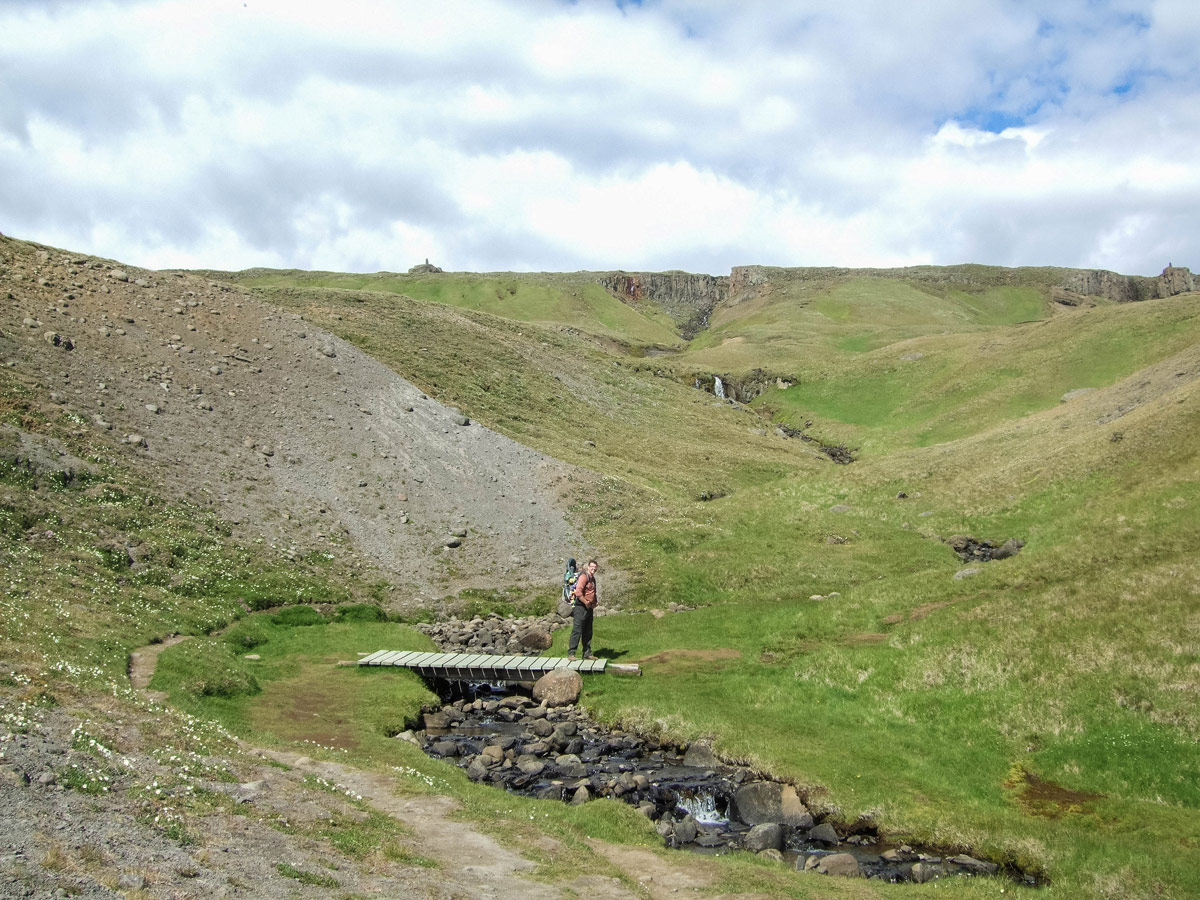 Our next stop was at an Icelandic icon, Petra's Stone Collection in Stodvarfirdi (Stöðvarfirði). Petra's Stone Collection is a strange assortment of rocks and artwork, both collected and created, from around Iceland. It is quirky, fun and definitely worth a visit if you're in the area.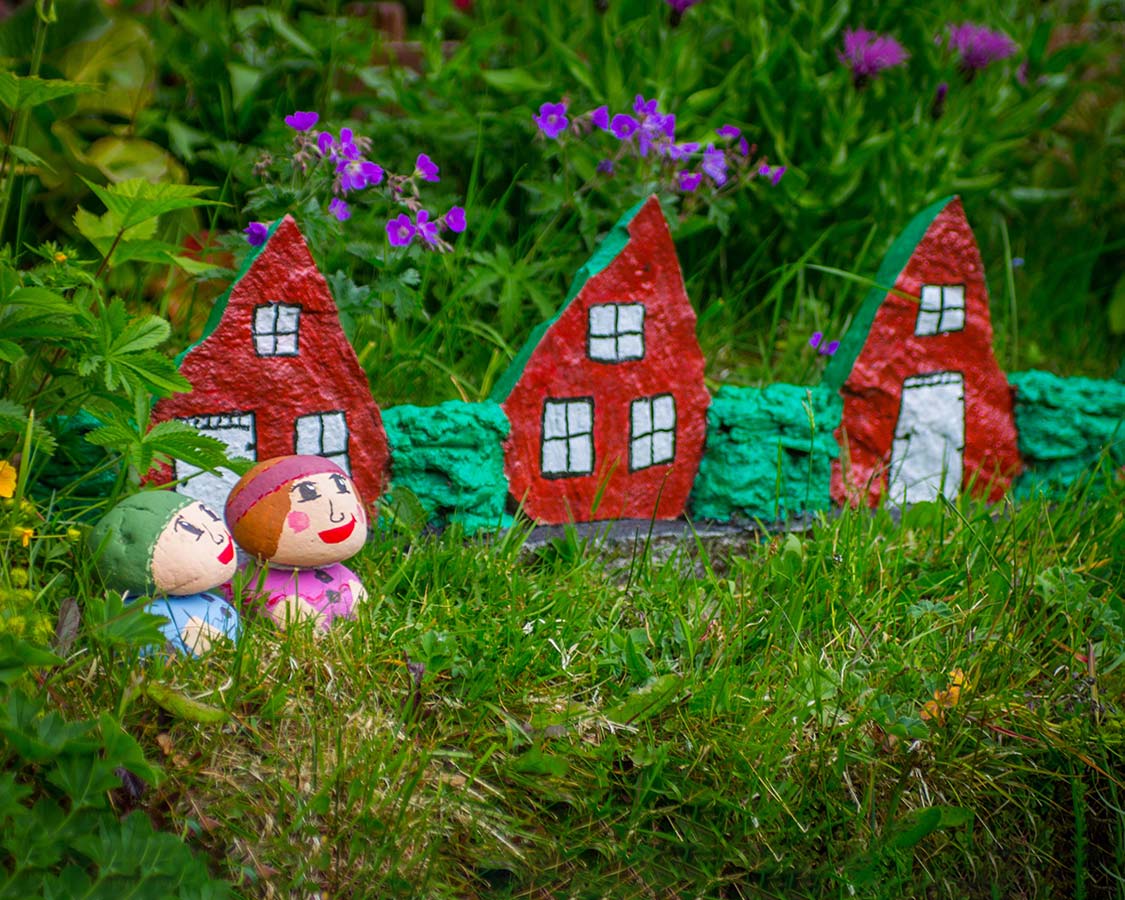 Inspired by all the rocks, we read about a nearby Icelandic Spar mine and pulled off the road to explore.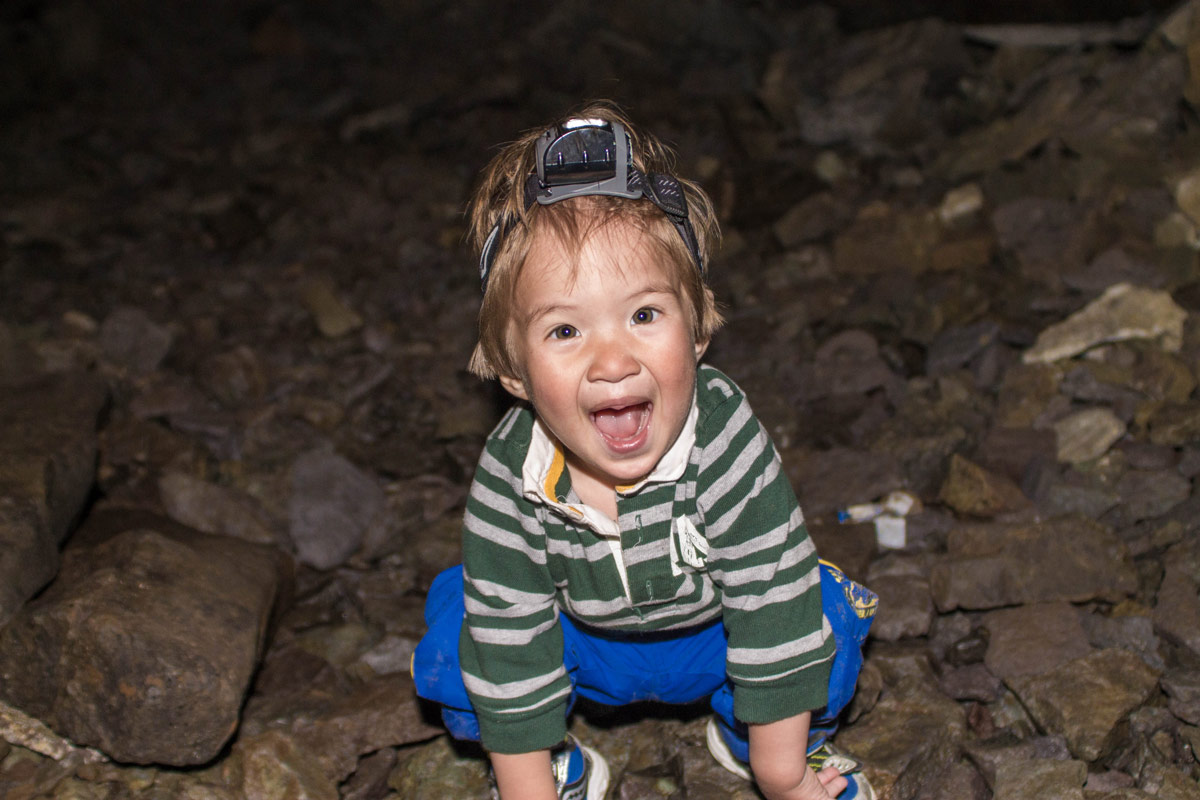 Continuing on the beautiful East Fjords, our last stop was at a place where a local had mentioned that swans are often seen. We weren't disappointed!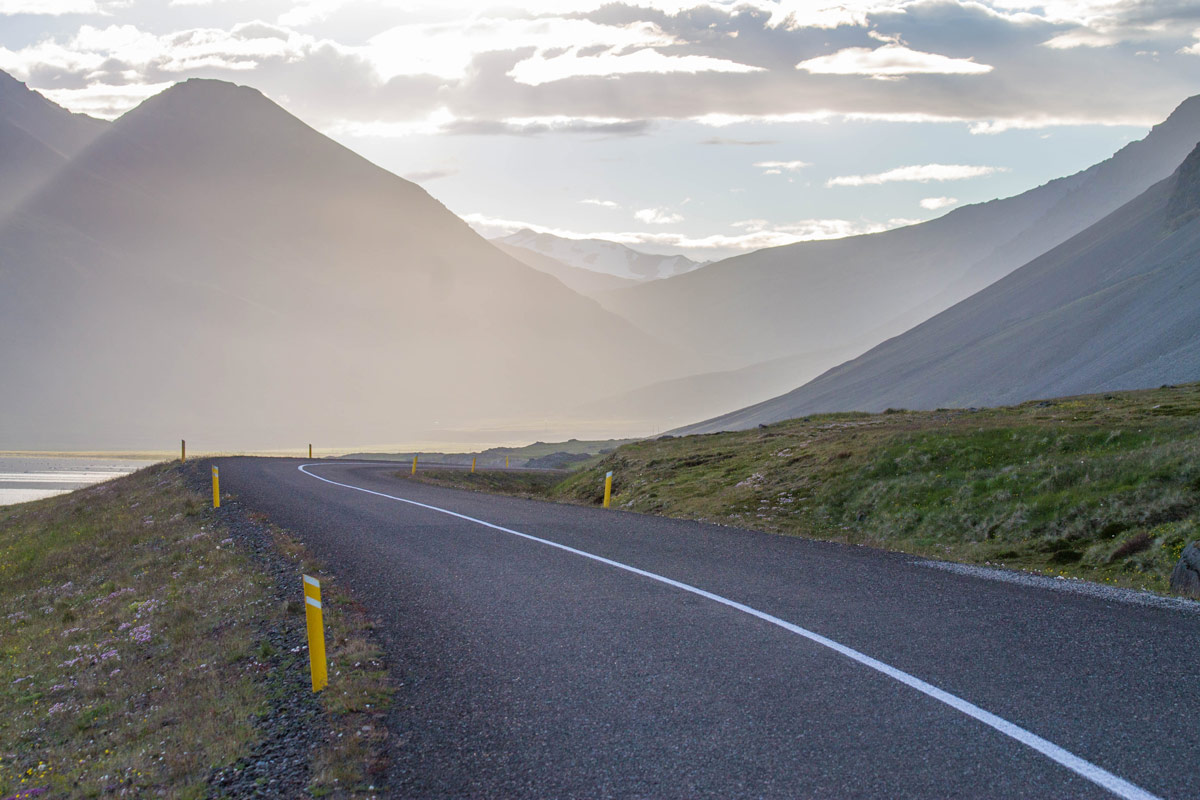 14 Day Iceland Itinerary Day 10: Jokulsarlon Glacial Lagoon and Skaftafell NP
The next morning brought us to Jokulsarlon Glacial Lagoon where we took a boat tour and had a chance to taste some 10,000-year-old glacier ice.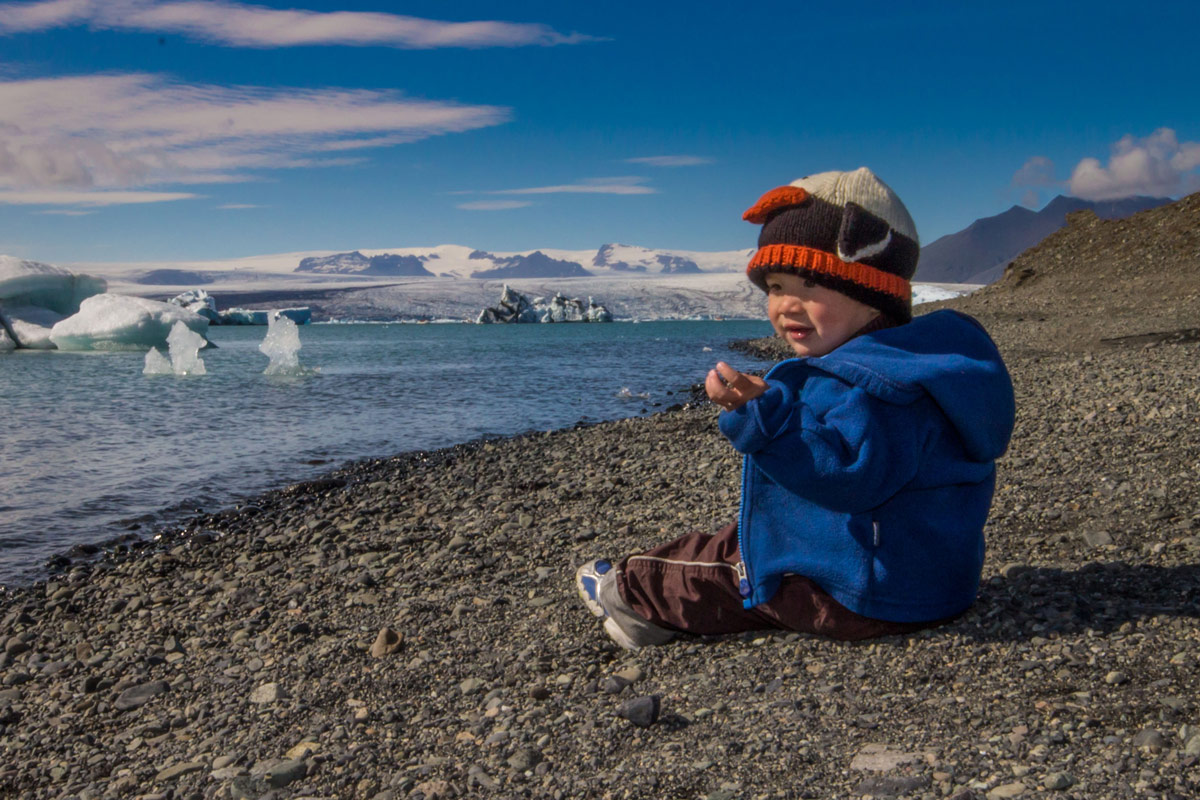 After our boat tour and picking up a Puffin stuffie for C, we made our way to Skaftafell National Park where we hiked to the beautiful Svartifoss, a basalt backed waterfall.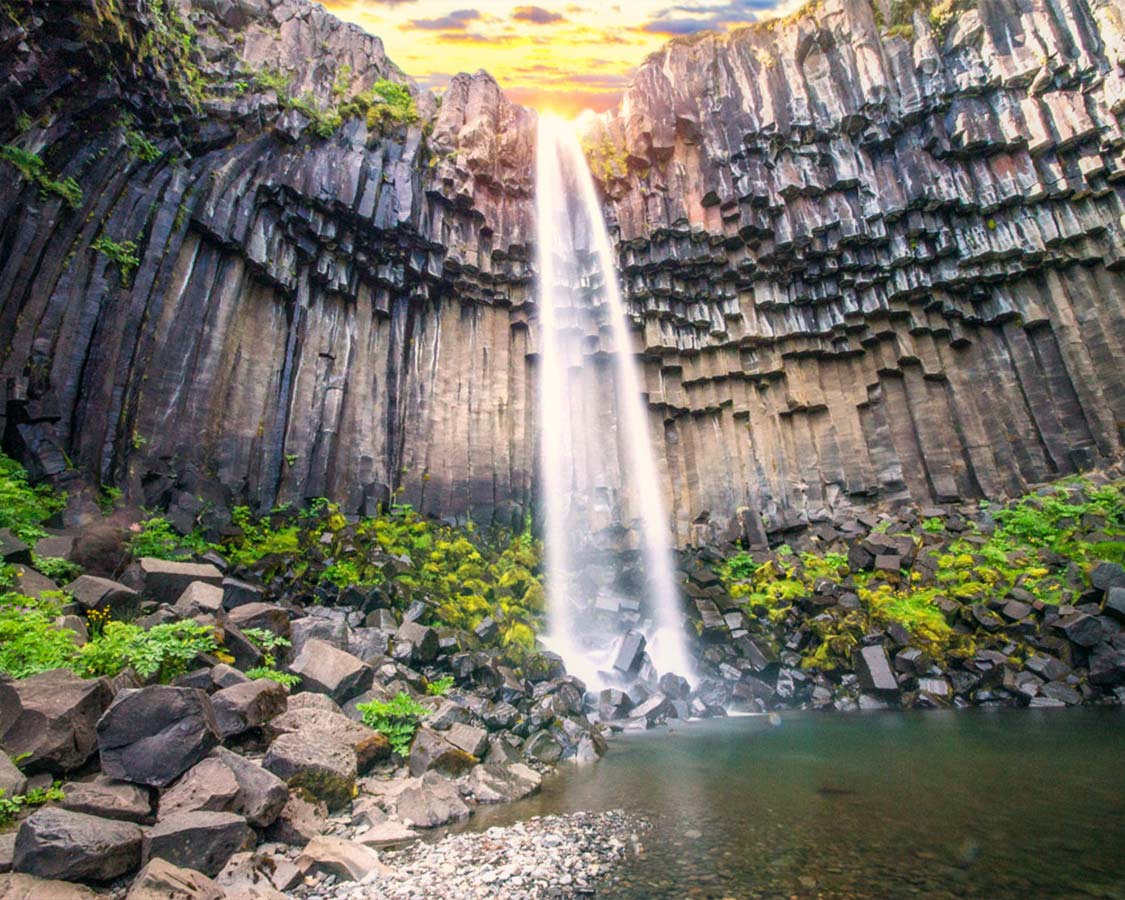 With some extra time on our hands for the day, we looked up things to see close by and noticed we were near a glacier. We steered off the Ring Road and began a climb up into the mountains. Off to the side of the road, we saw a herd of Reindeer.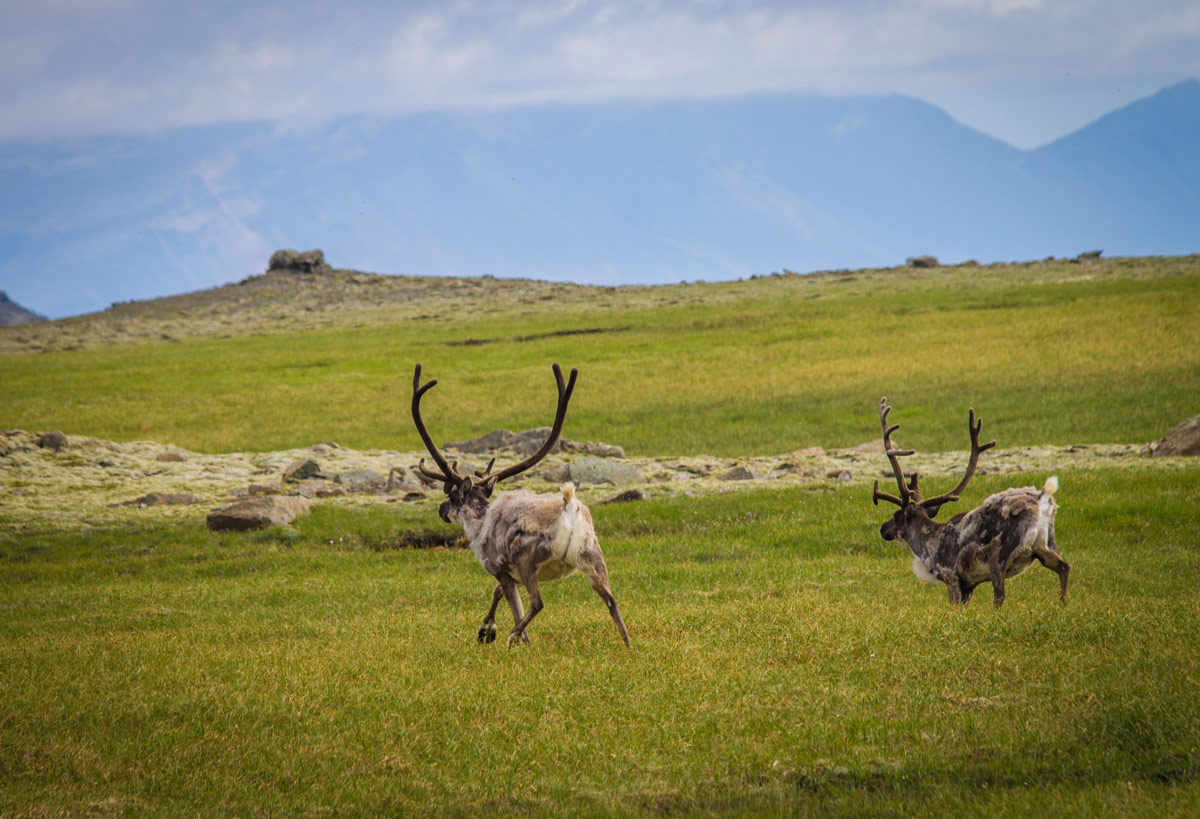 When we arrived at the end of the road (it literally just ended into a glacier) we saw a tour operation offering snowmobile tours of the glacier and thought … "why not!" C had other ideas, though, and decided to nap through the outing.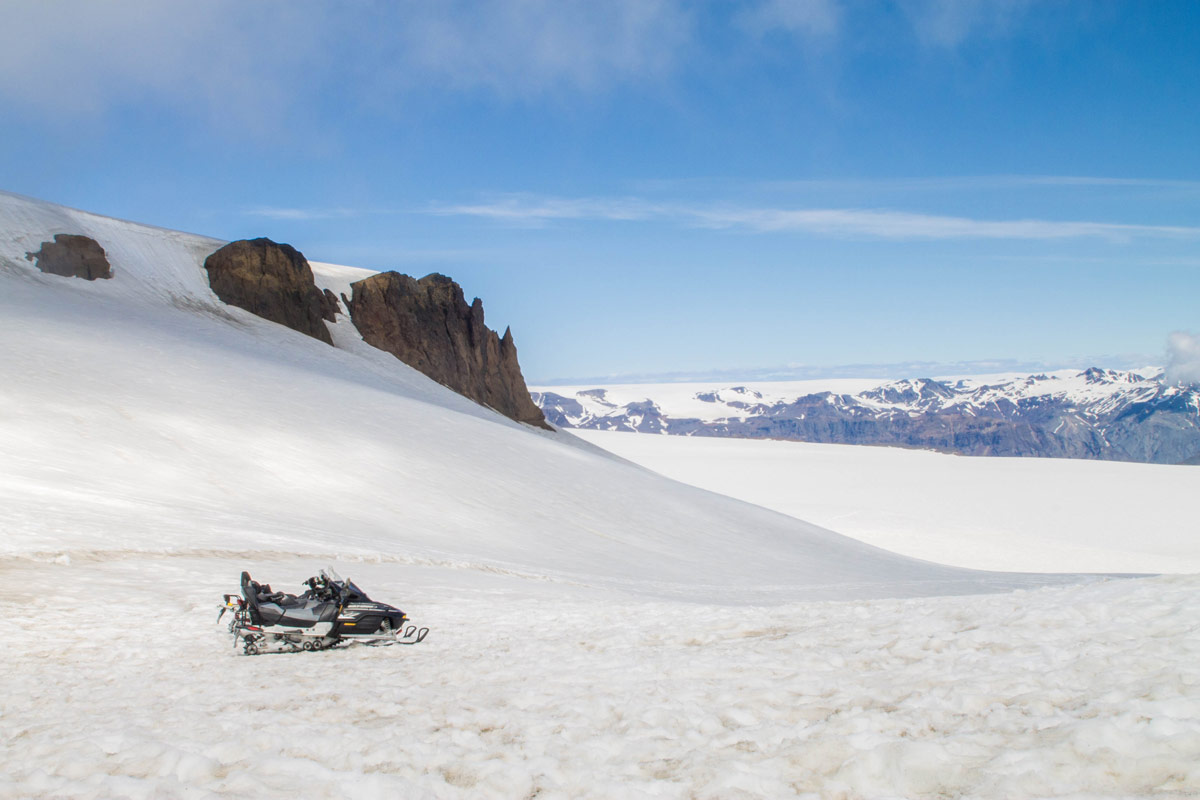 We headed down the mountain and through the lowlands near the coast where the ground took a dramatic turn. We saw a pile of twisted metal nearby and stopped to investigate. The mess was the remains of a bridge destroyed by an avalanche that occurred a few years prior.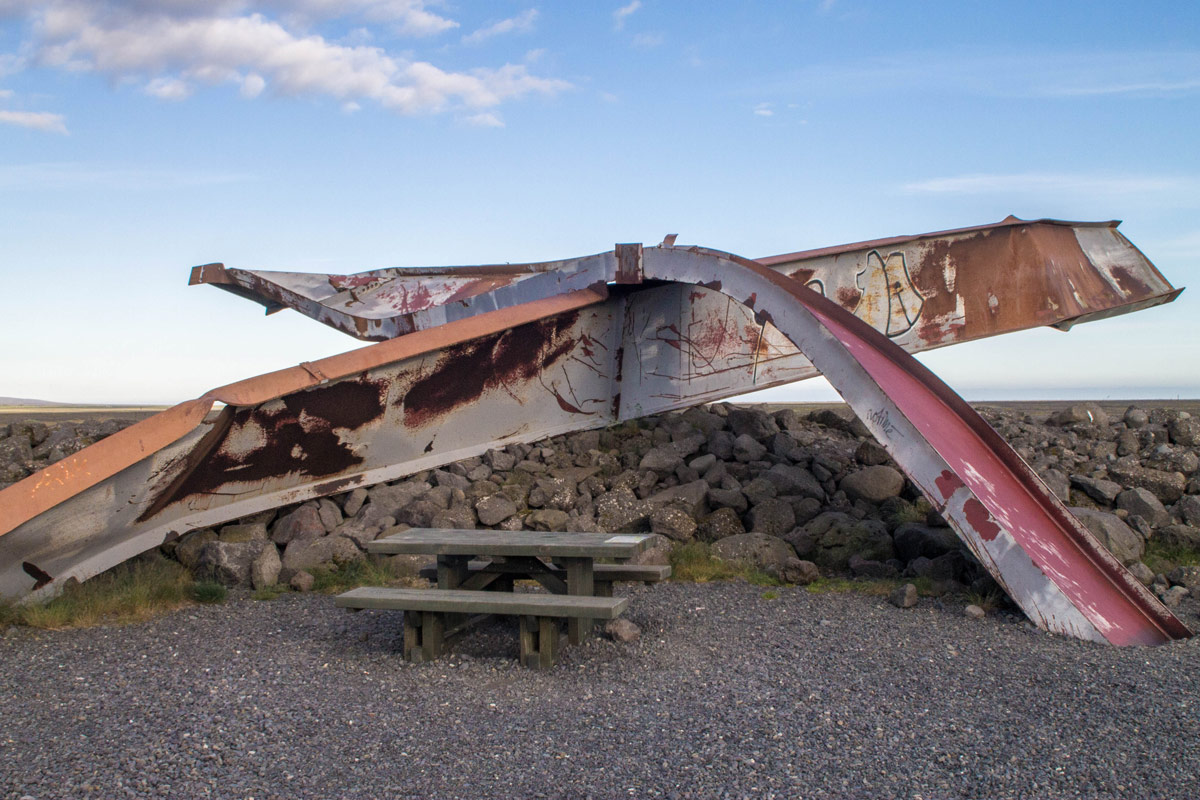 We ended our day with a visit to a nearby Viking village recreation. It was filled with authentic antiques and we all absolutely loved exploring the different rooms.
14 Day Iceland Itinerary Day 11: Lakagigar and Crater Row
After a hefty breakfast, we stopped at a nearby feature called the "Church Floor". A basalt formation in the middle of a field.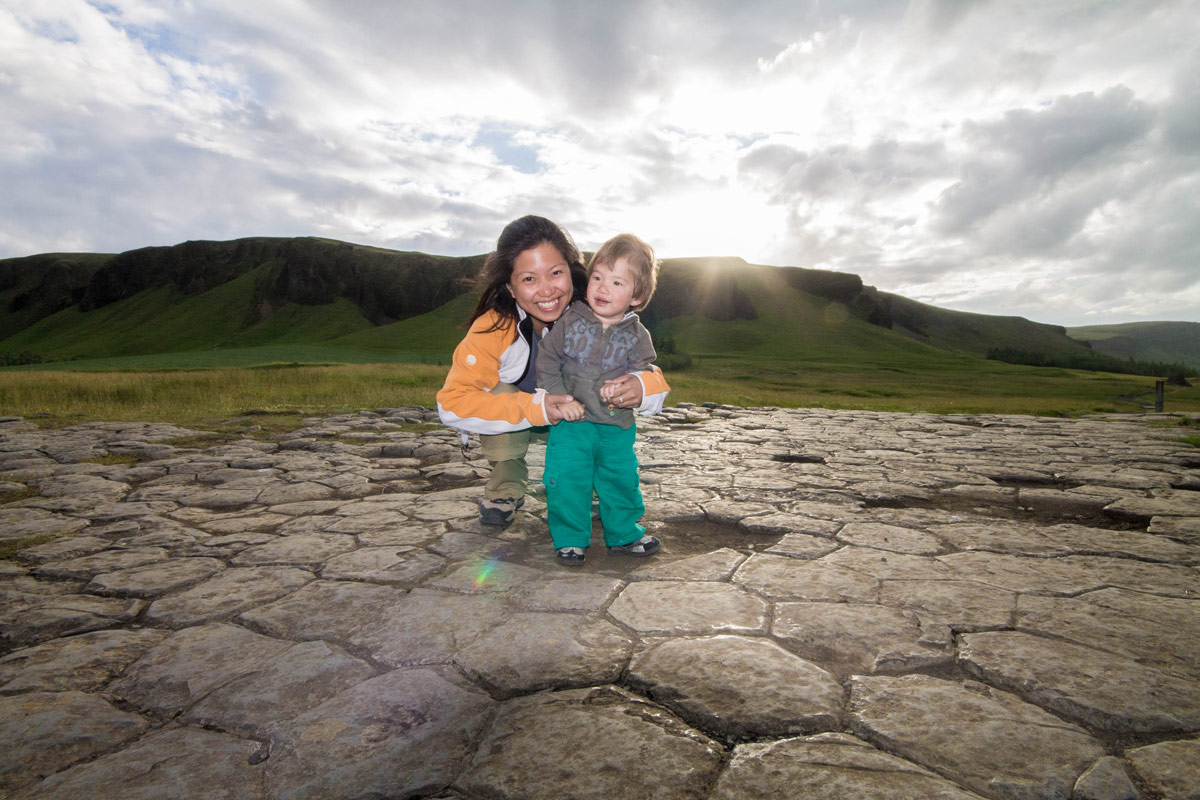 From there we made our way to Fjadrargljufu, a narrow and beautiful canyon that is just off the side of the highway.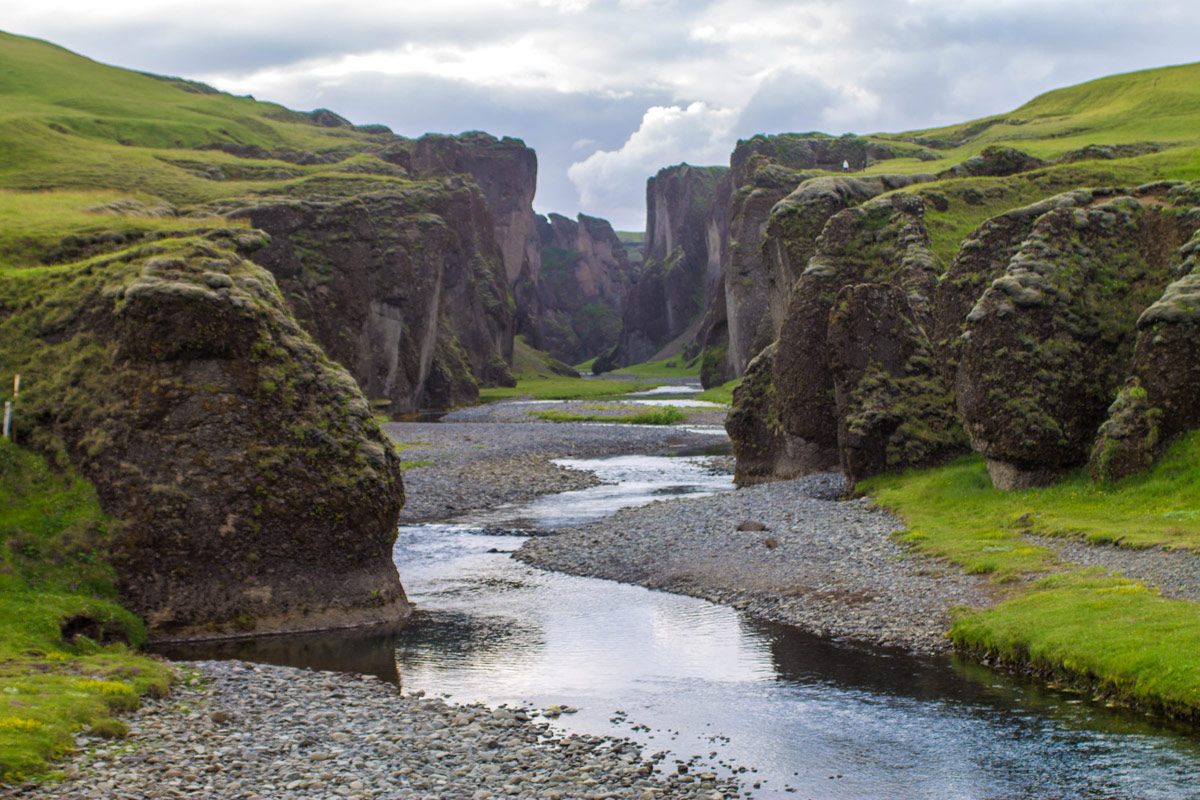 After a short hike, we began making our way inland over some rough terrain.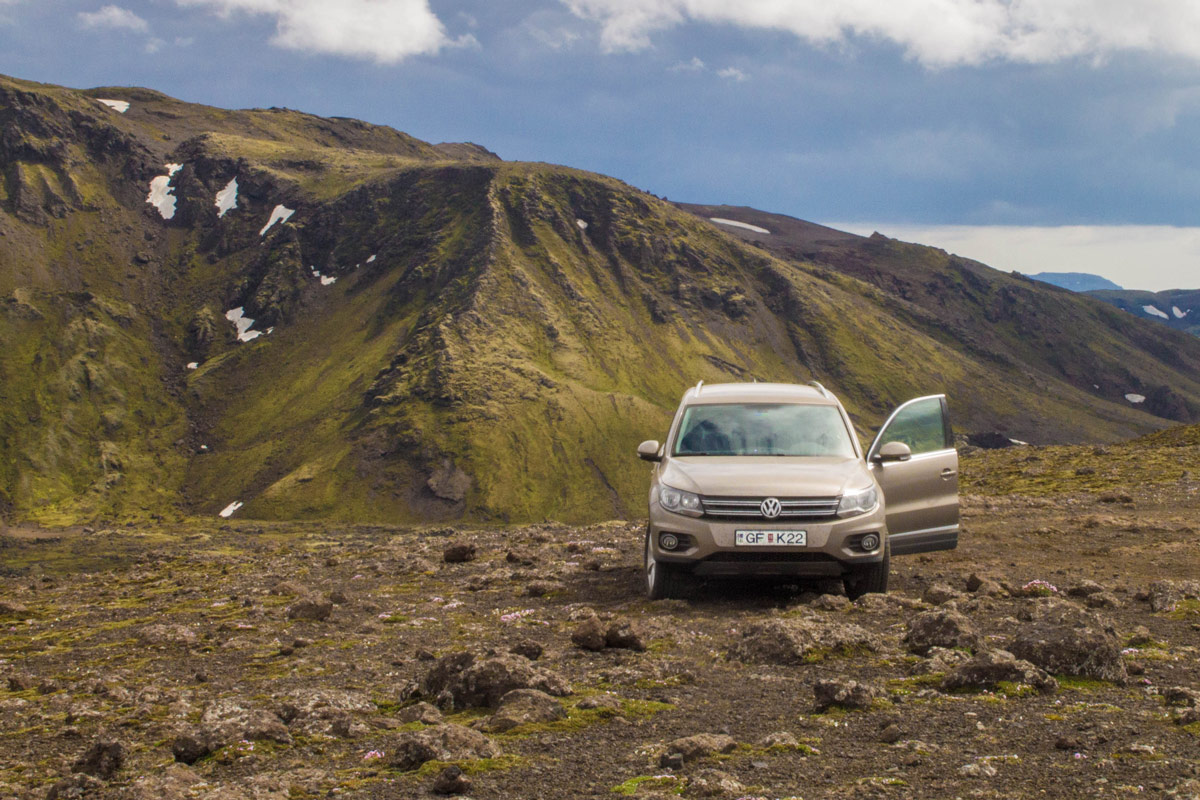 And towards the famous Lakagigar crater row, where the world seemed to be pulled apart like a zipper.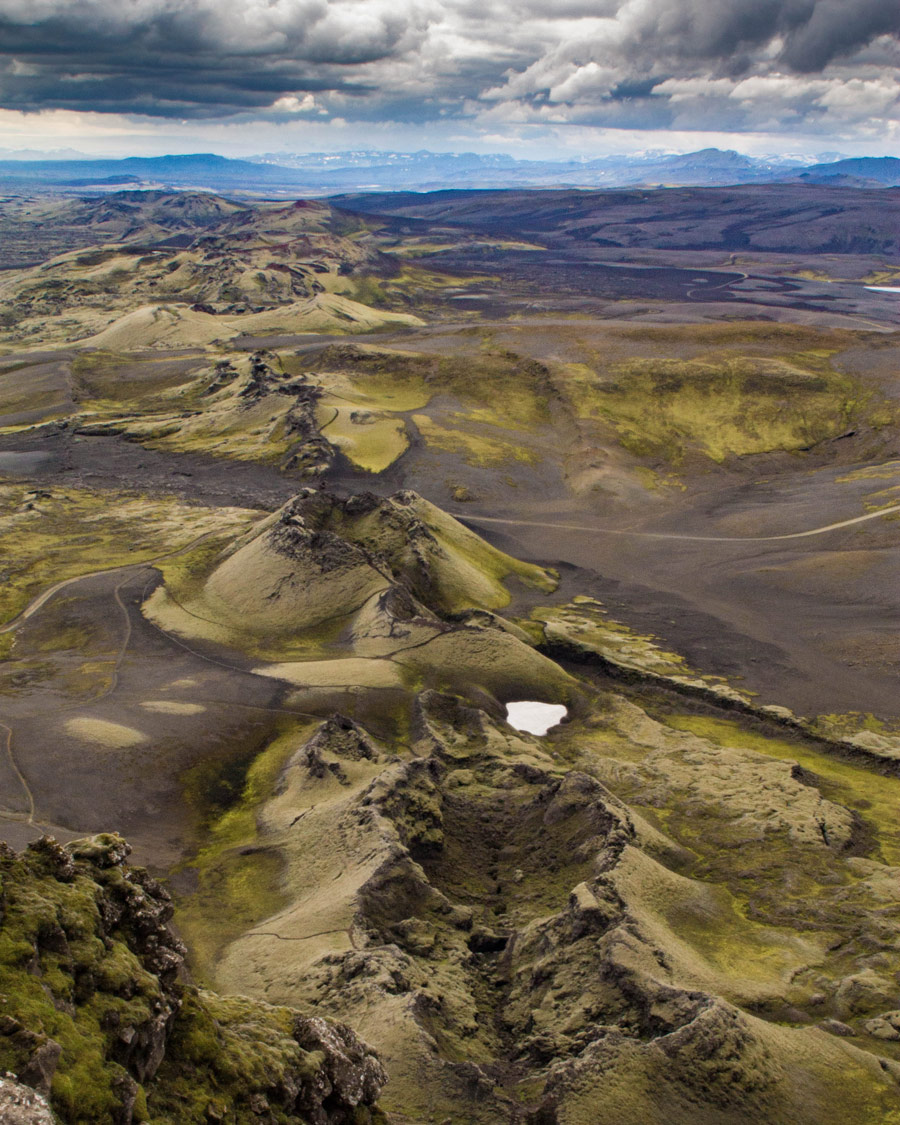 C was so proud of making it to the top of the hill! He even walked some of the way himself 🙂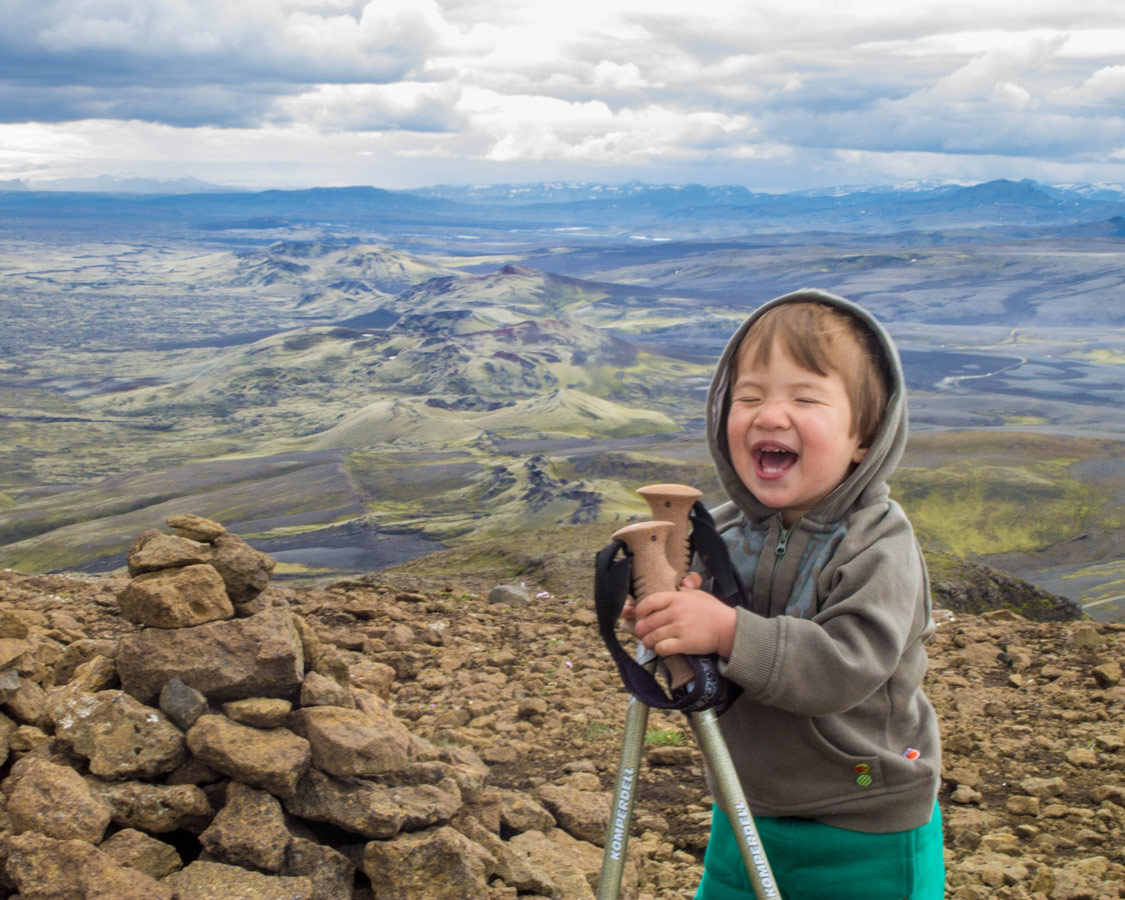 The area also had some pretty incredible caves, and we are suckers for caves.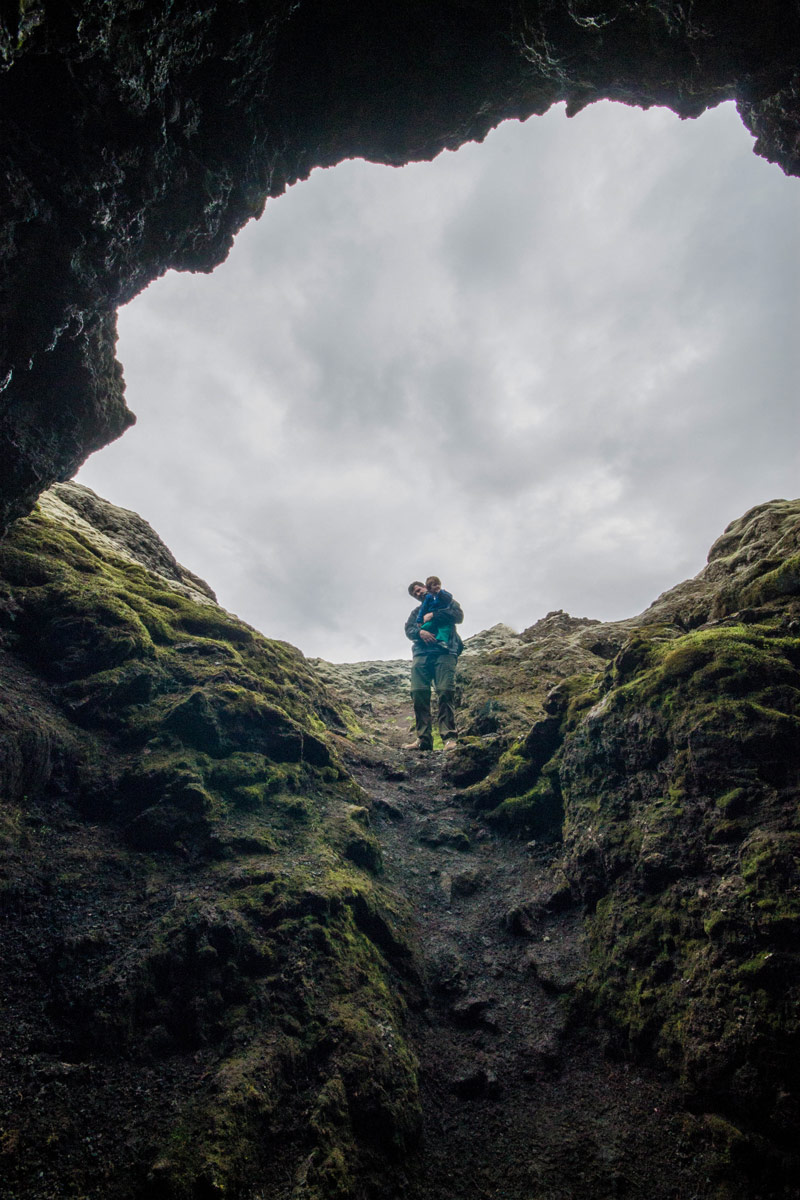 As we headed back towards the coast, we came across one of the most beautiful river fords in the country. Our photos don't do it any justice, but the lush greenery and clear waters contrasting with the inland harsh rocky terrain was dramatic.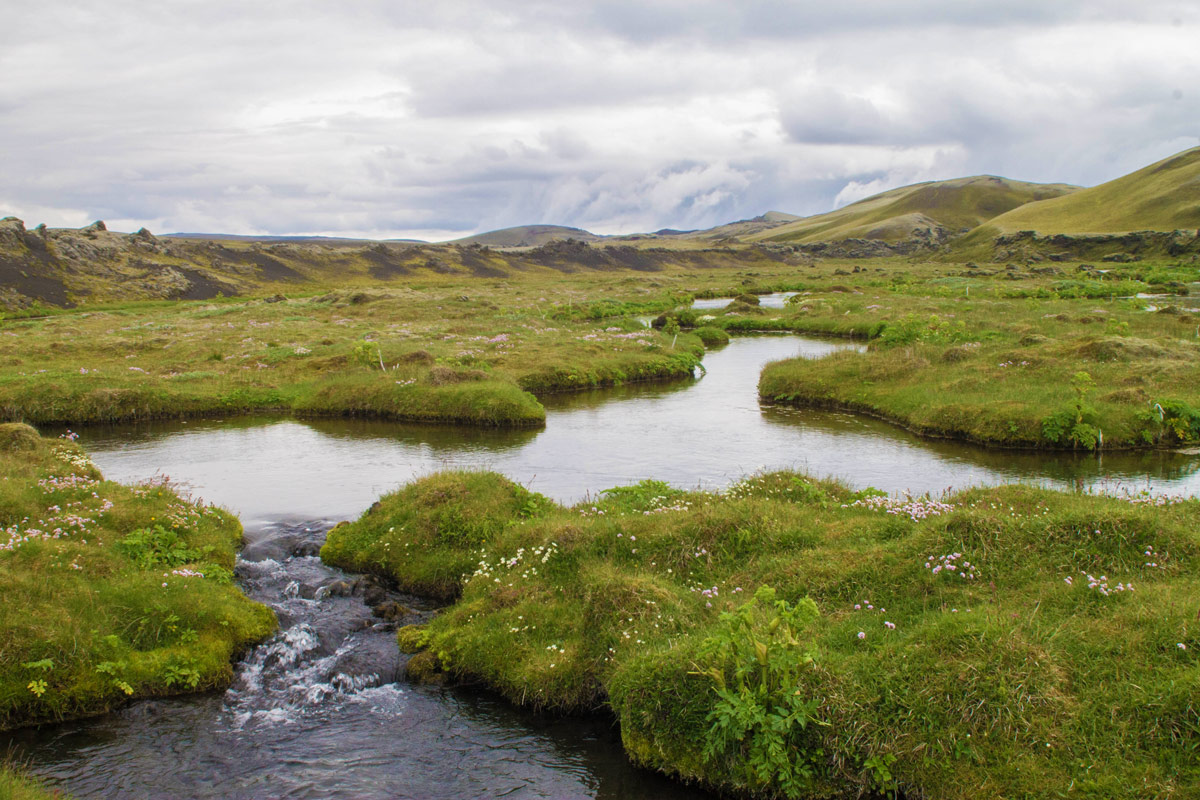 14 Day Iceland Itinerary Day 12: Highlands Fjallabak route: F210
Our first stop on day 12 was Eldgja canyon, where an easy hike took us to beautiful Ofaerufoss (Ófærufoss) where the water was perfect for splashing.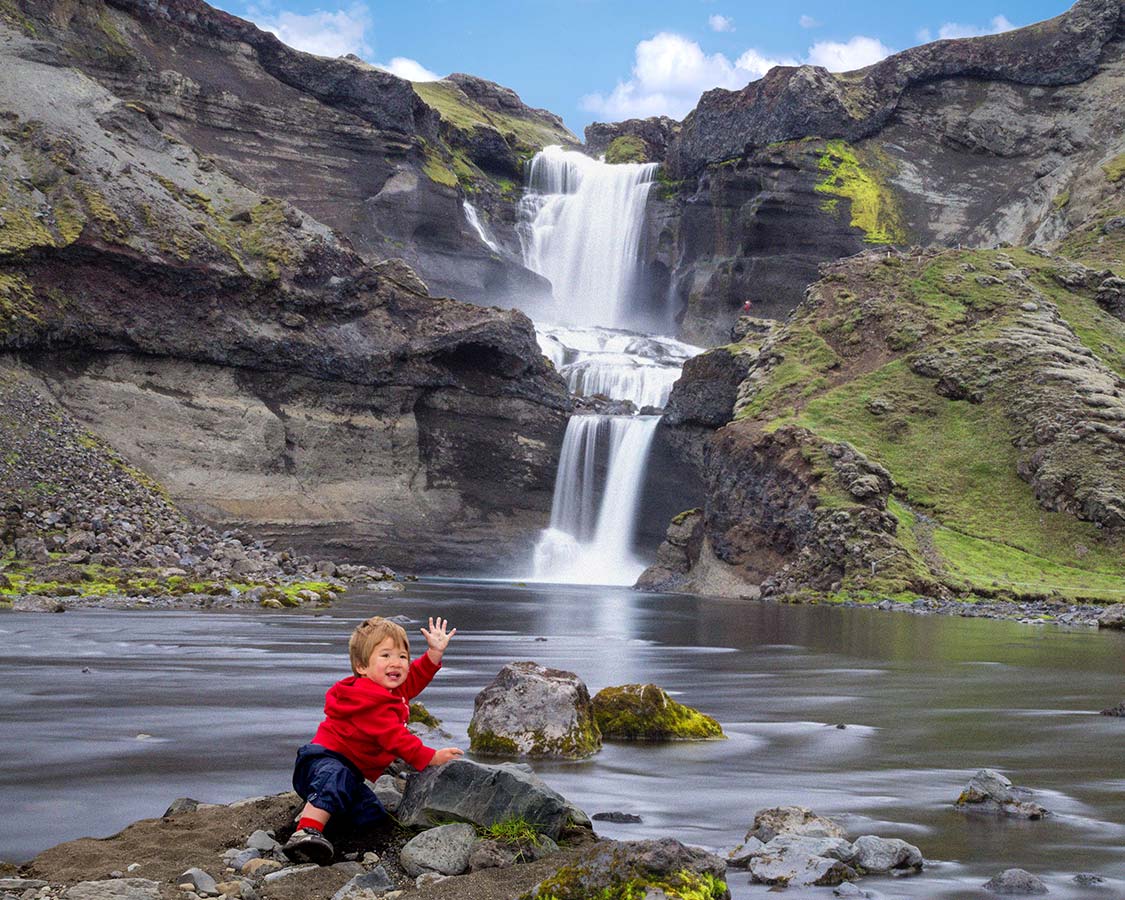 Then, we began the long and rough drive through the highlands. Our car might have been small, but it got us where we needed to be.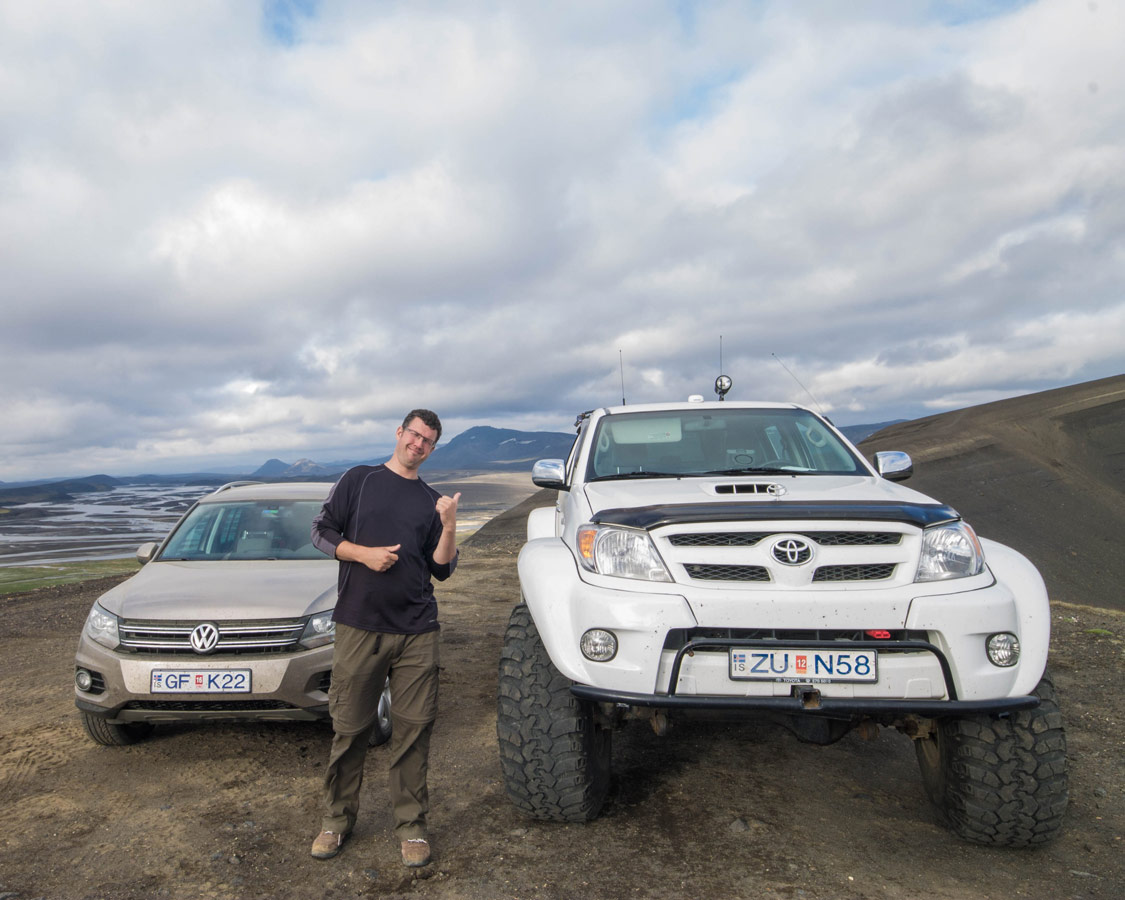 We arrived at Landmannalaugar and attempted a loop hike.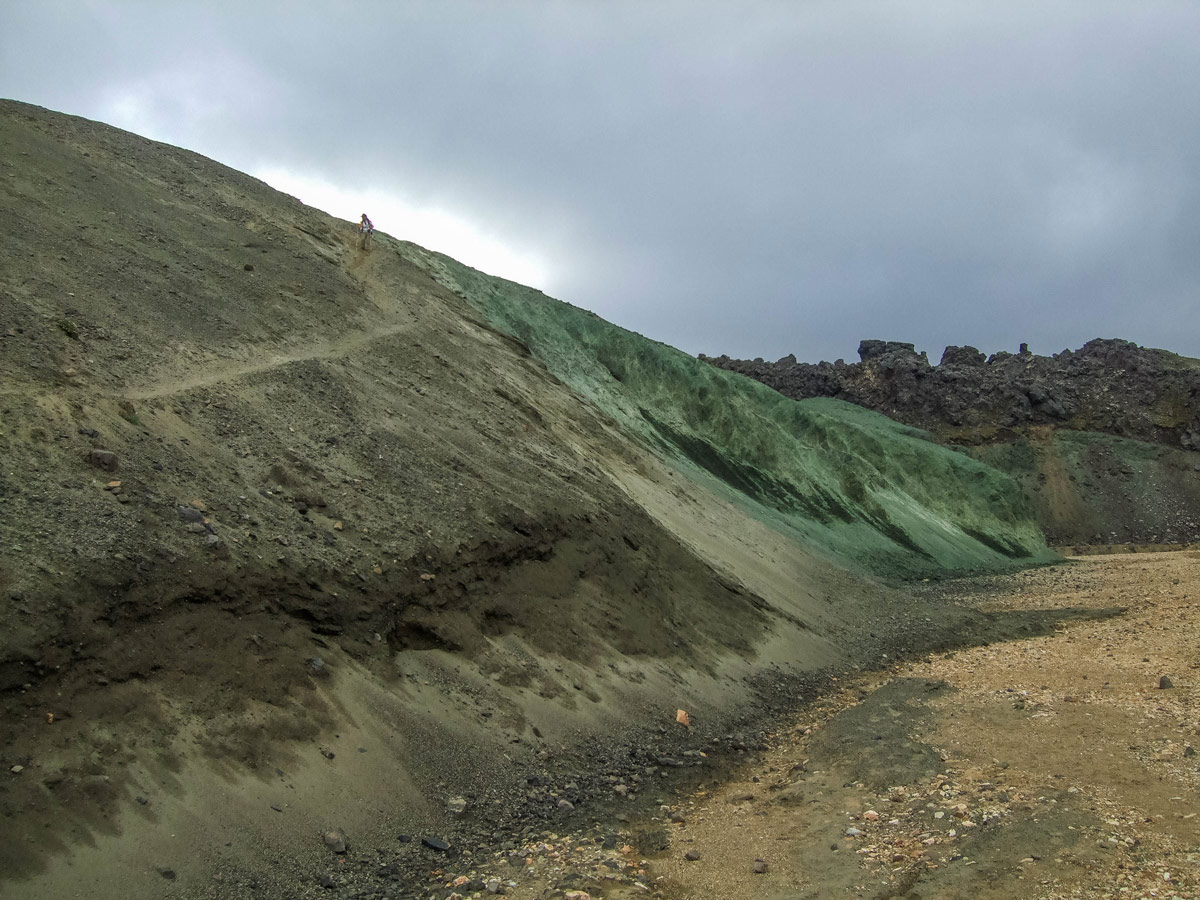 Unfortunately, a cranky C wasn't in the mood for the wind, so we swung back and checked out the lowlands.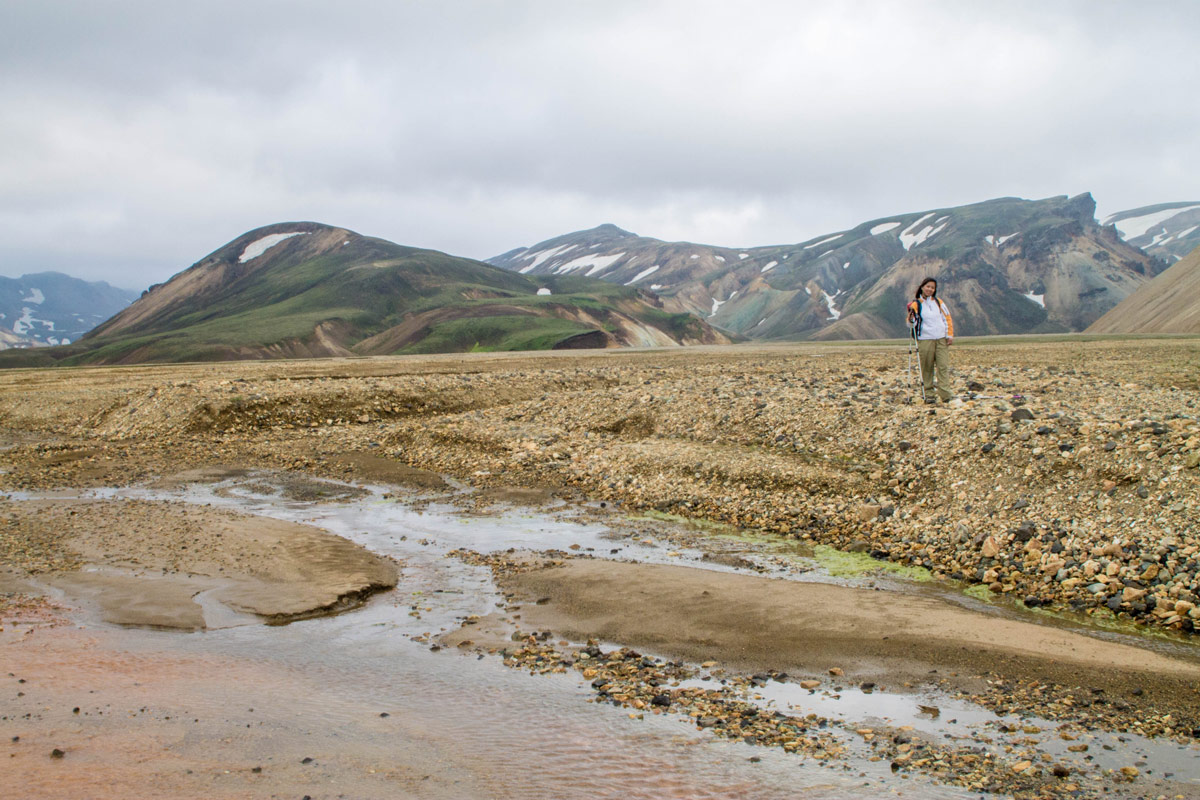 Because of our shortened hike, we had time to explore some more basalt cliffs.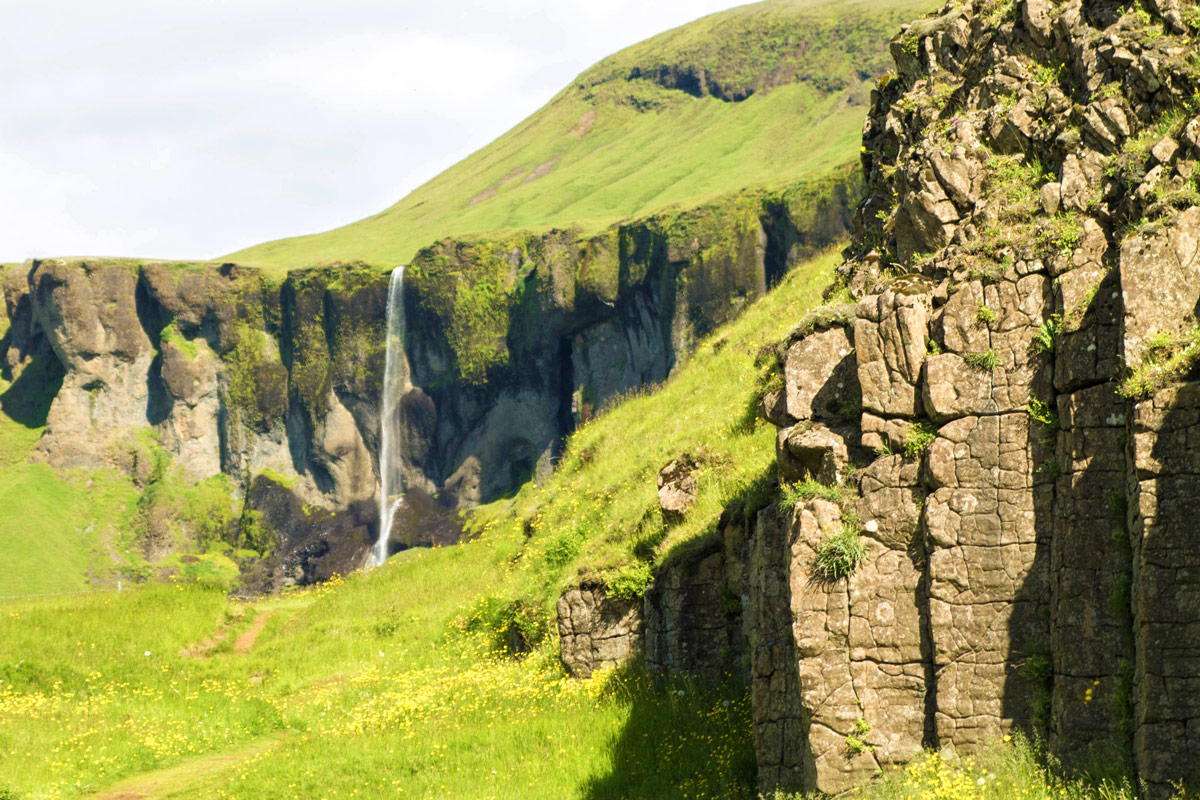 14 Day Iceland Itinerar Day 13: Diving the Silfra Crack and back to the Golden Circle
Christina and I stayed up late in the night cramming for our drysuit certification and, leaving C with a Nanny, we headed to Thingvellir National Park to dive the famous Silfra Crack.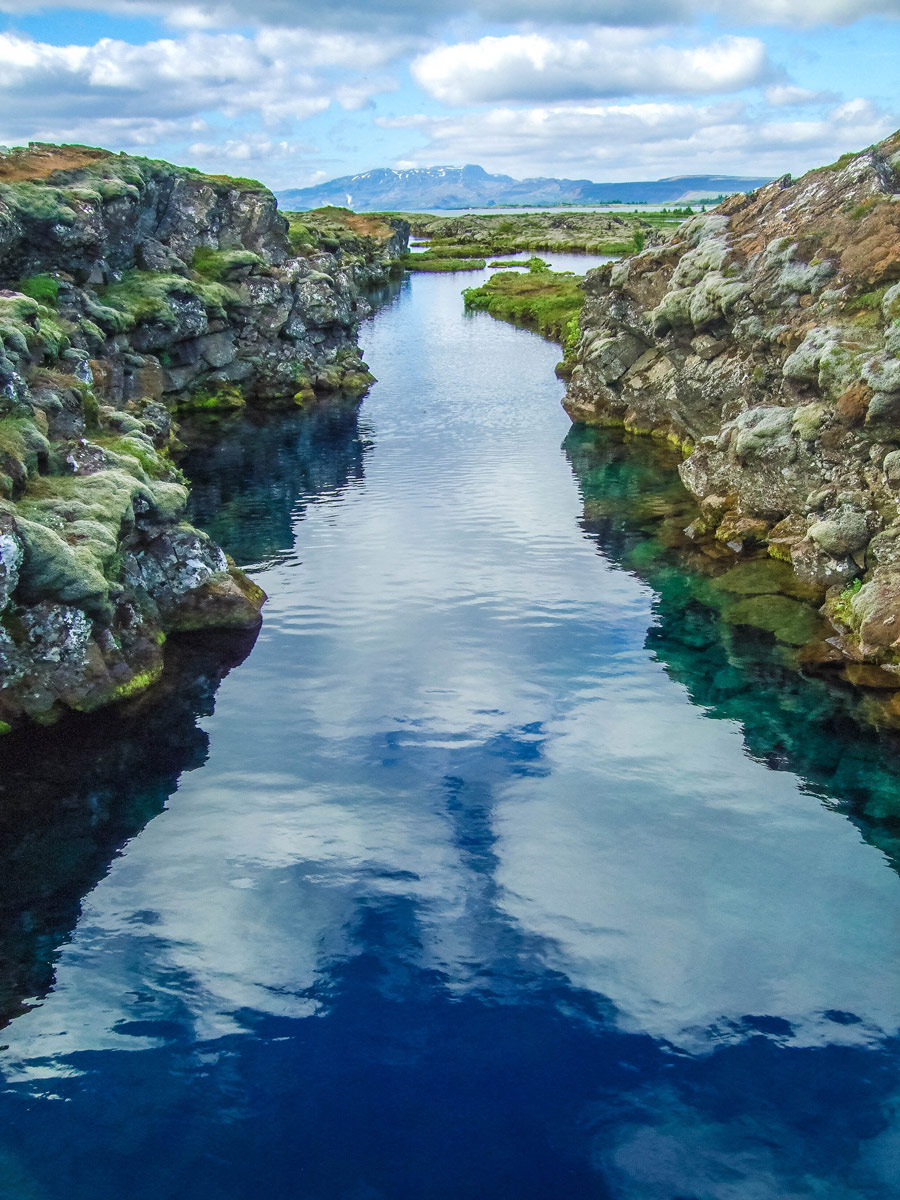 We suited up and jumped into the 2° C water. It was crystal clear and one of the coolest dives we have ever done (literally!).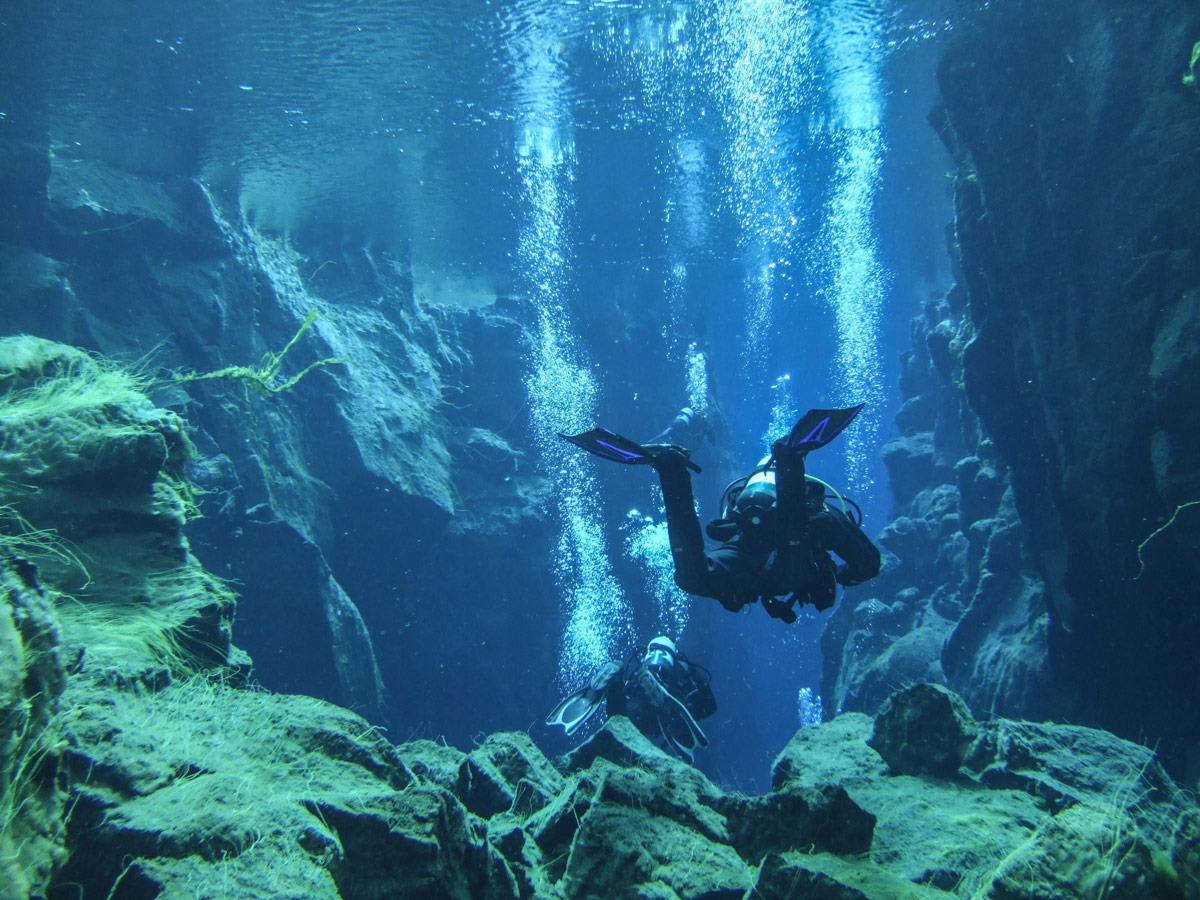 After drying off and warming up, we headed back to the hotel to pick up C and do a proper tour of the Golden Circle without being handcuffed by jetlag and a tour group. Our first stop, the aptly named Geysir and it's friend Strokkur.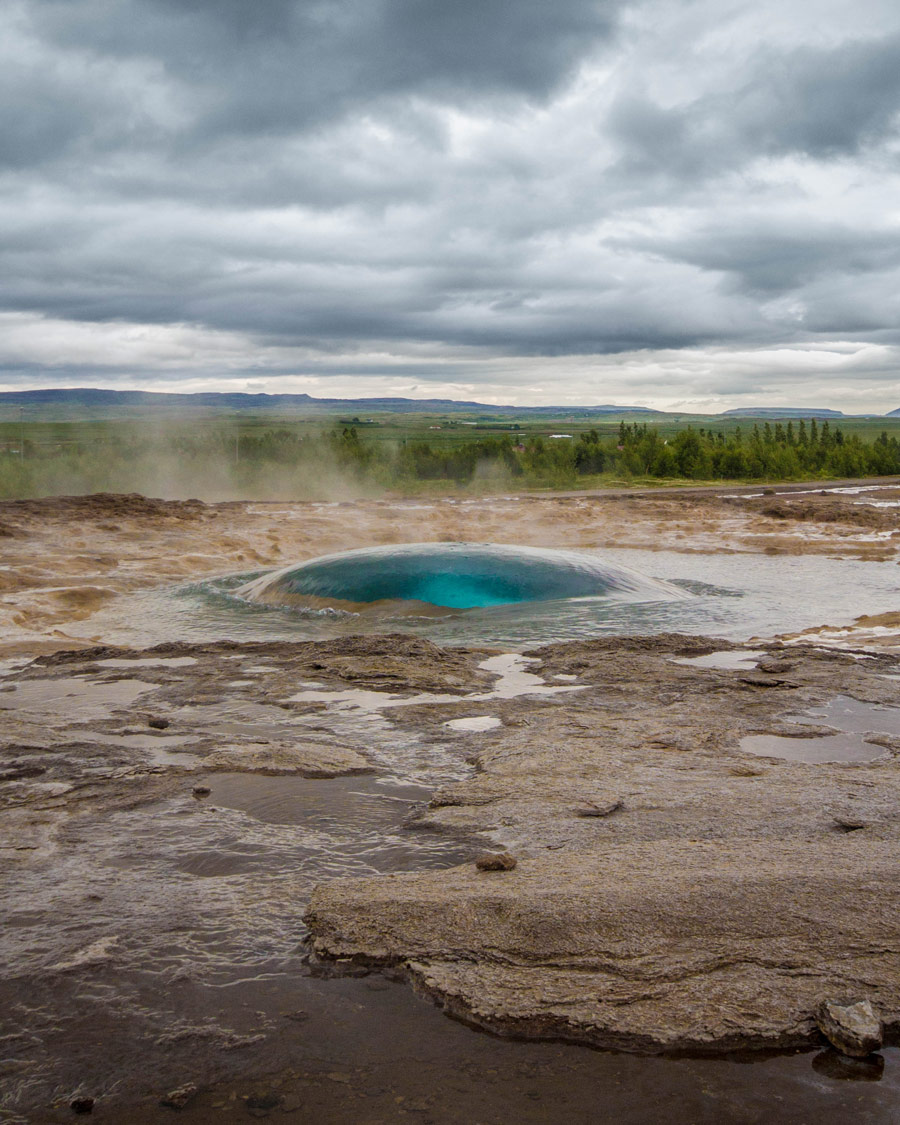 Next, we visited the Waterfall Faxi.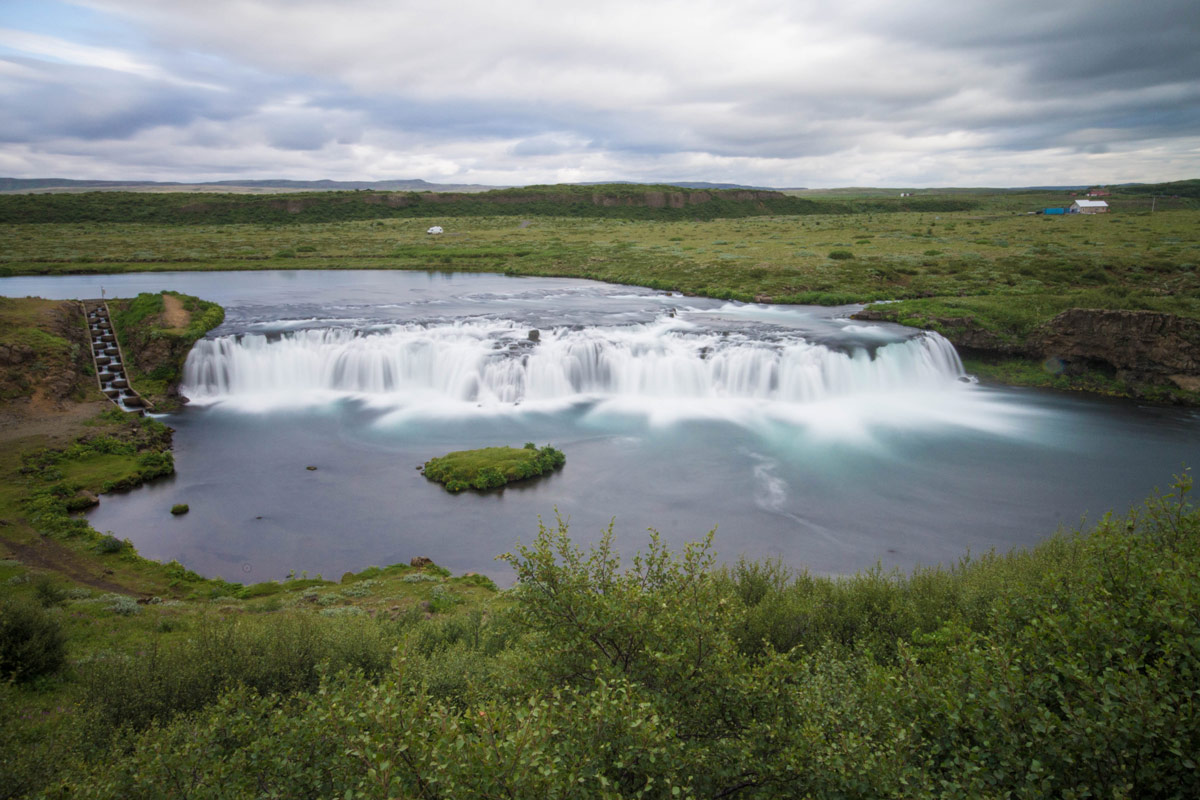 After Faxi, we visited the famous Gullfoss.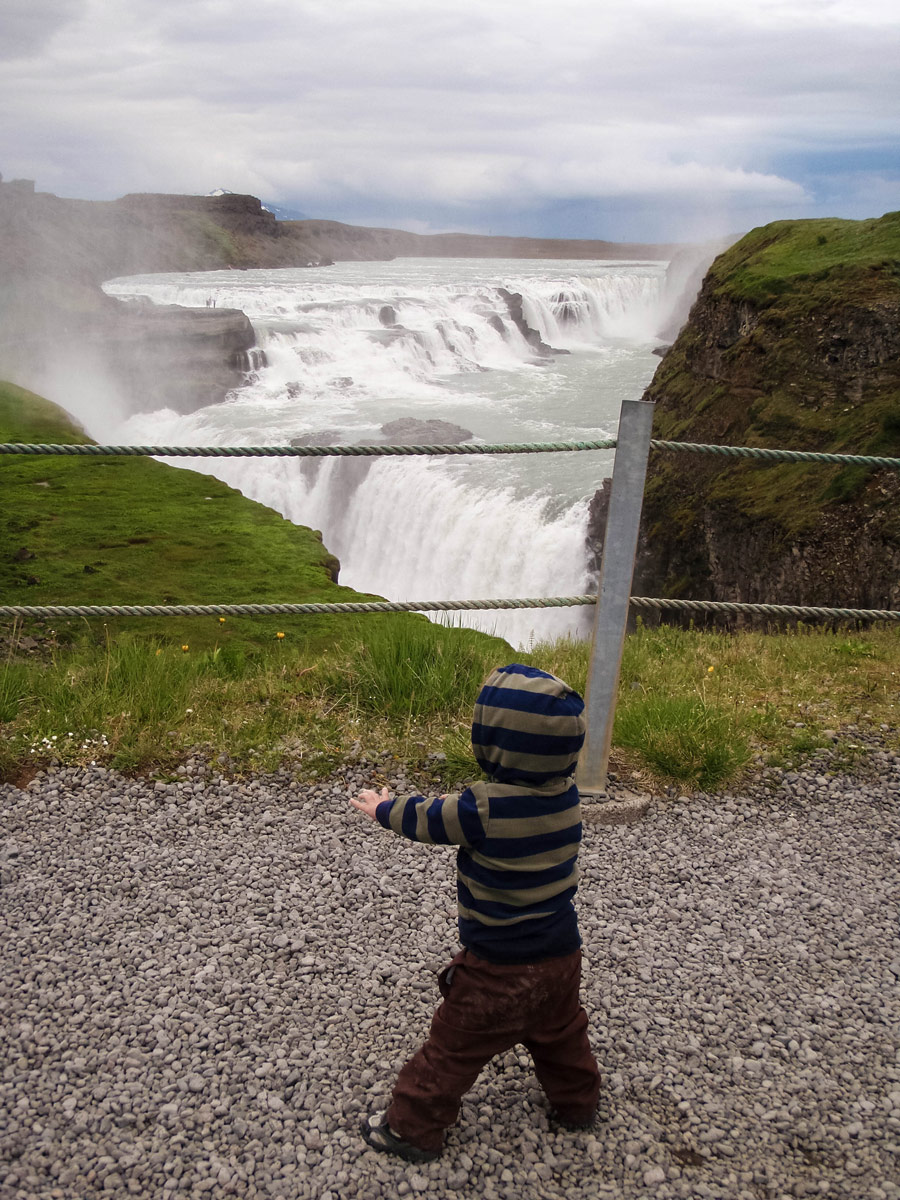 On our way back, we stopped to watch the fishermen in the Volcanic crater Kerid. I thought C might need a swimming lesson.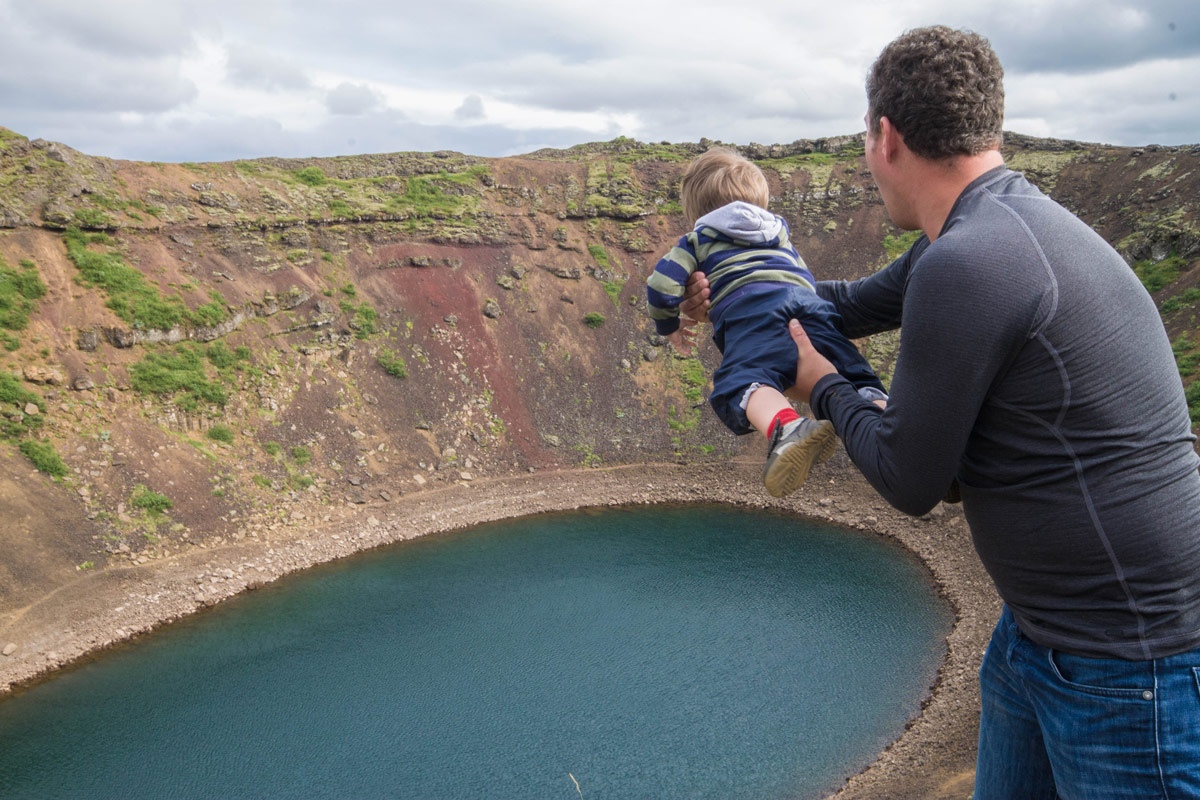 14 Day Iceland Itinerary Day 14: The Blue Lagoon
Sadly, we woke up on day 14 knowing this would be our last day in Iceland for now. With a flight in a few hours, we felt we deserved some pampering and headed to the famous Blue Lagoon to soak our aching bodies.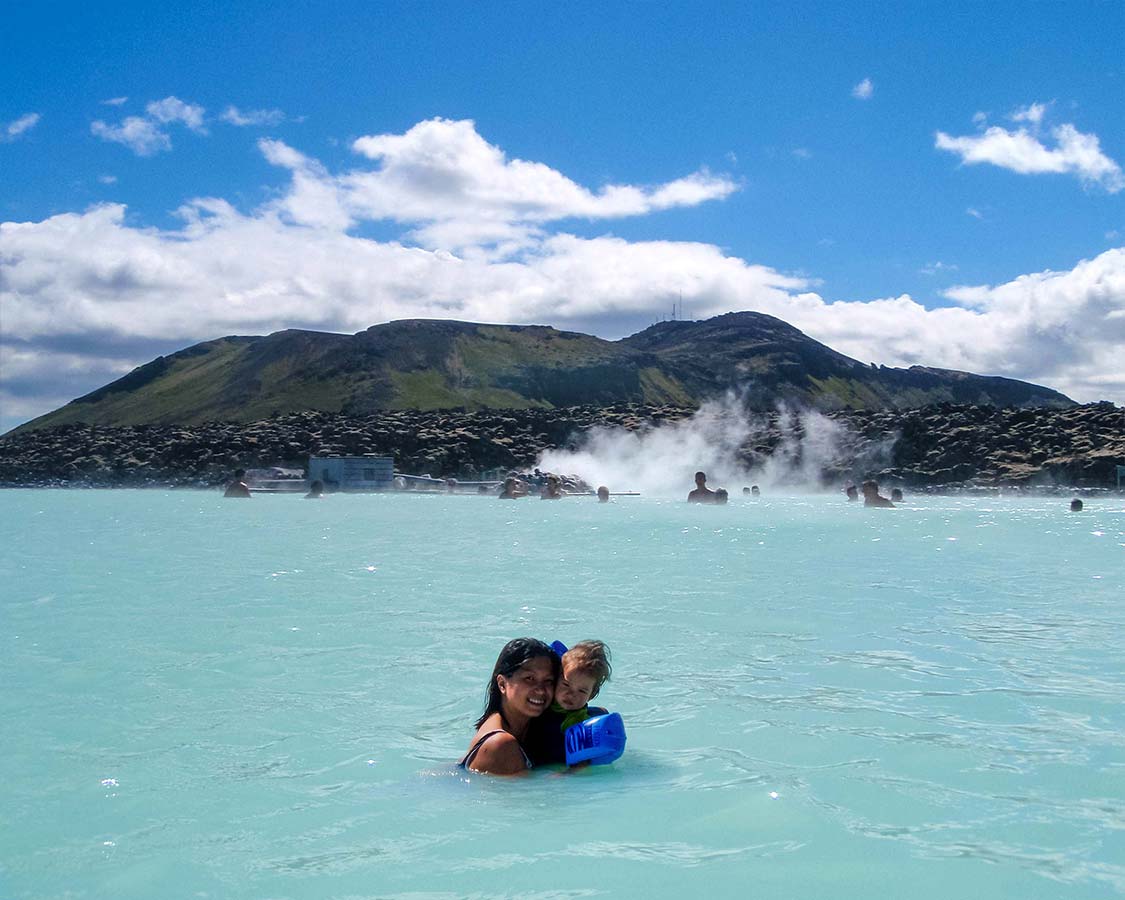 Tip: If you're interested in more information on travel in Iceland. The Broke Backpacker has a very comprehensive guide.
Thank you for sticking with us through our epic tour around Iceland on a 14-day photo journey! I hope you've found some inspiration from our travels. Do you have a favorite place in Iceland that we need to visit the next time we are there? Tell us about it!
Wandering Wagars is a participant in the Amazon Services LLC Associates Program, an affiliate advertising program designed to provide a means for sites to earn advertising fees by advertising and linking to amazon.com, amazon.co.uk, amazon.ca. Amazon and the Amazon logo are trademarks of Amazon.com, Inc. or its affiliates.