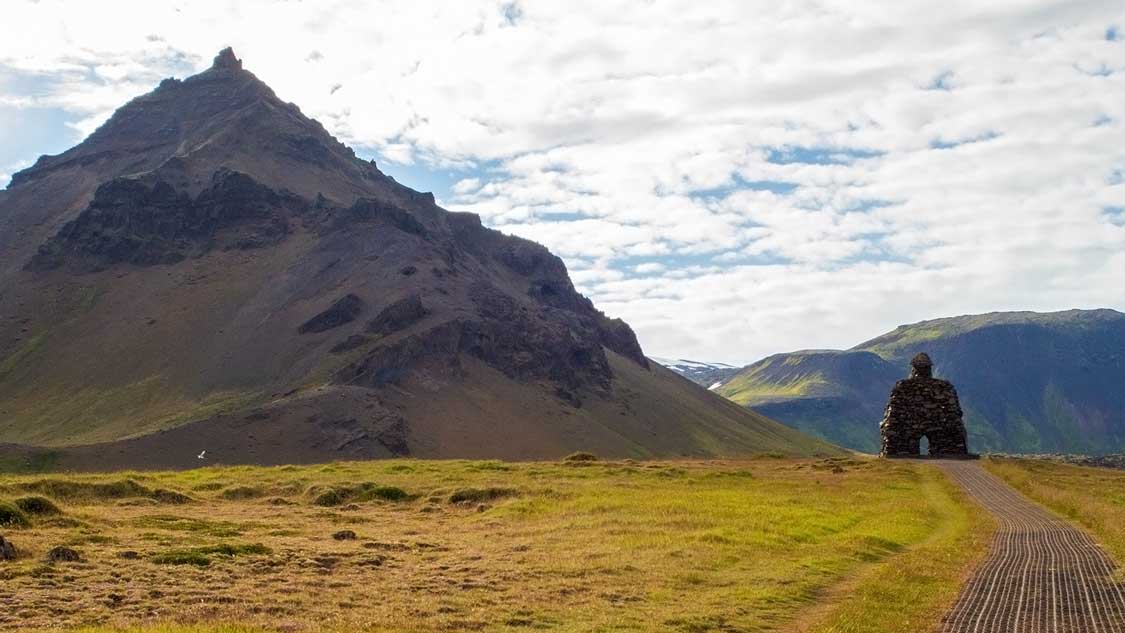 Iceland is a land like no other. And while a short visit will give you a taste, a 14-Day Iceland itinerary gives you the chance to truly explore just how majestic this north-Atlantic country truly is.
---
Travel in Iceland is epic. From the landscape to the wildlife, everything here seems larger than life. And when we were preparing our 14-day Iceland itinerary, we knew that there would be some tough choices on what to see and what we would have to put off until our next visit.
Planning an incredible two weeks in Iceland was not easy. There was the added item of having our 1-year-old toddler joining us. But, after traveling with him through Portugal, Mexico, and Grenada, we knew that visiting Iceland with kids would be an unforgettable experience.
A road trip around Iceland in 14-days isn't for everyone. This trip involves a lot of driving. But, intrepid travelers will find that two-weeks in Iceland will give you the chance to truly experience just how majestic this north-Atlantic country is.
How Many Days Do You Need In Iceland?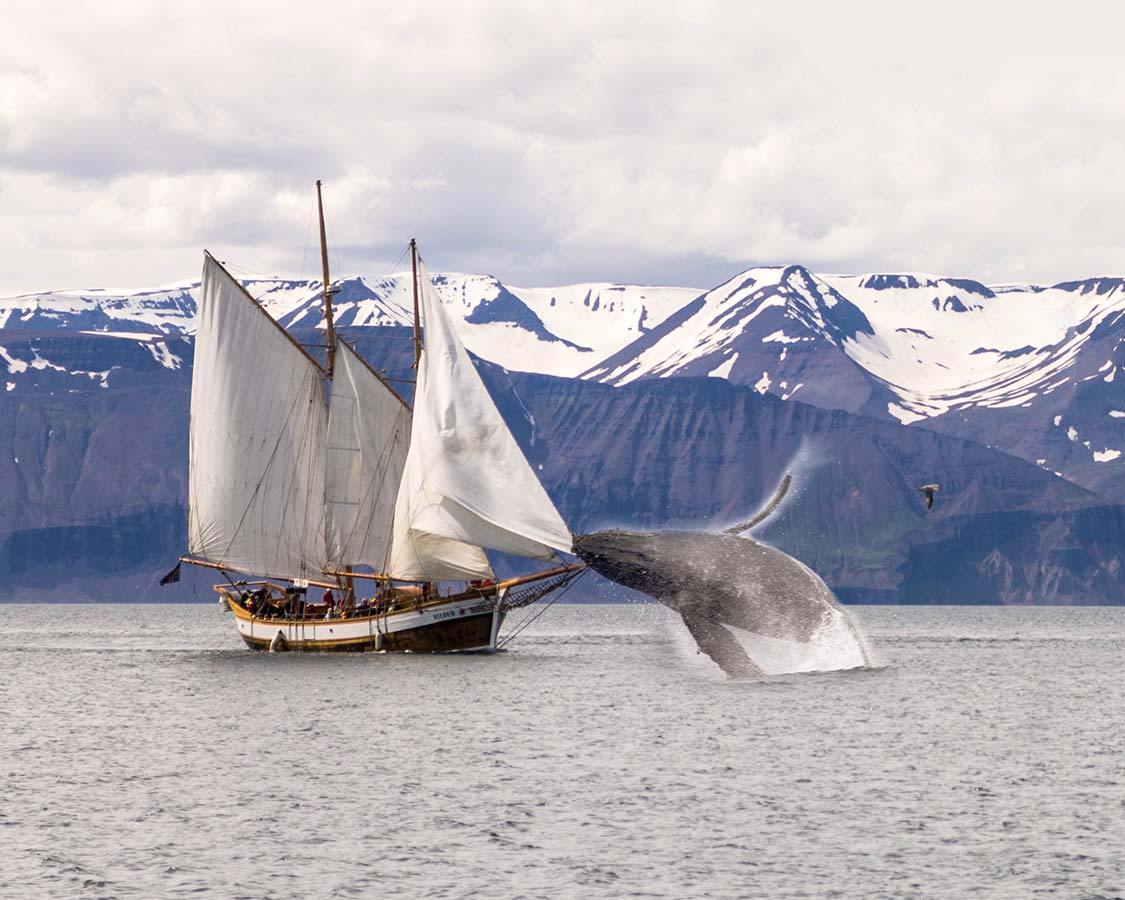 Many visitors to Iceland spend just 3-4 days, often as a stopover from either North America or continental Europe. While this is enough to give you the briefest taste of Iceland, spending one-week, or up to two-weeks in Iceland will allow you to truly experience the raw beauty of the country.
If you plan to road trip through Iceland, spending less than a week would really be a disservice. You will spend more time driving than you will actually experience the sites along the way.
If you're looking to spend more than 14-days in Iceland, you'll have even more opportunities to explore. This will give you more time in the major cities such as Reykjavik and Akureyri and a chance to explore some of the more off-the-beaten-path waterfalls in Iceland.
How To Plan An Iceland Itinerary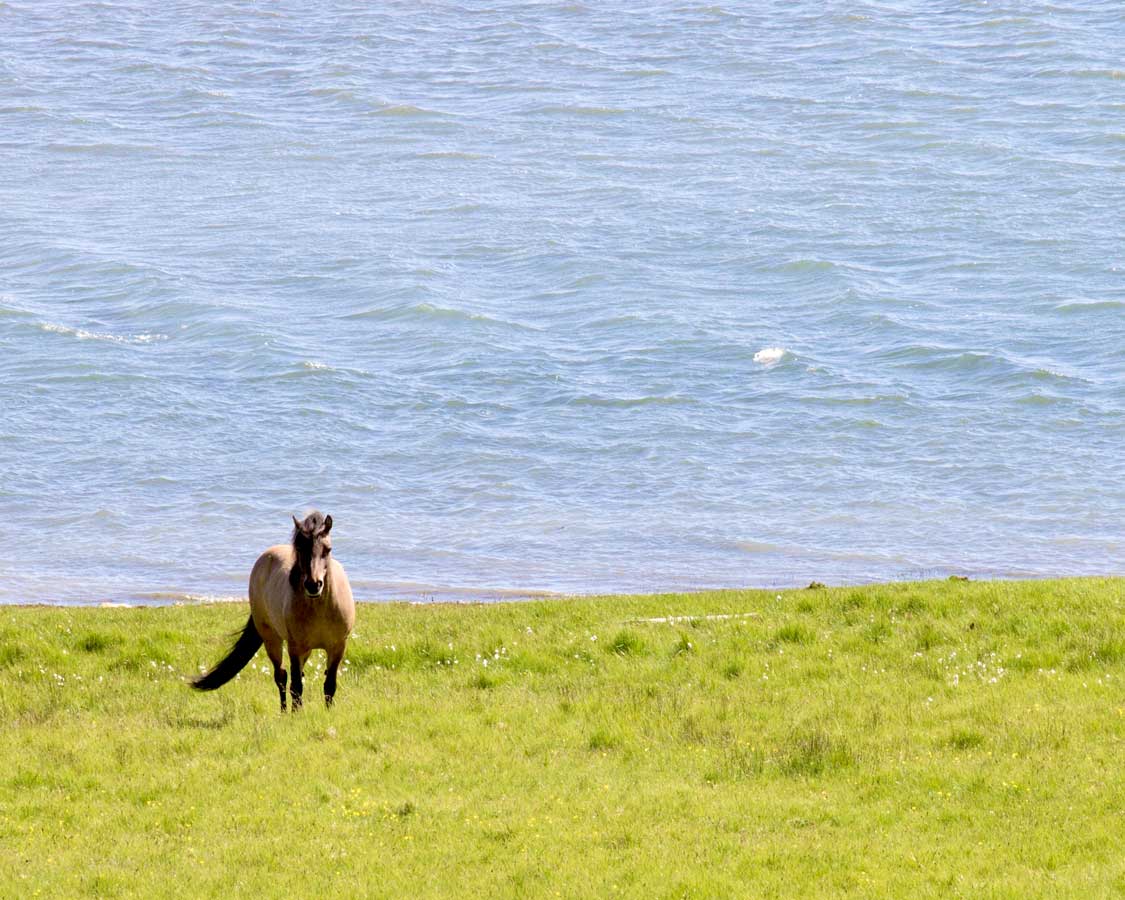 Planning a two-week Iceland road trip can be so much fun. But, it can also be incredibly stressful. There is just so much to see and do in the country that making the tough decisions on what to miss is almost like performing surgery on your soul.
But, once you have your feet on the ground, the sites, smells, and sounds of Iceland will whisk that pain away. And you'll end up seeing far more than you expected. Because Iceland is really easy to self-dive.
Here's how to get started planning your Iceland road trip.
Our Iceland Itinerary Road Map
To break down our two weeks in Iceland, this map shows you our general route. Obviously, it doesn't account for the little stops here and there to see little villages, beautiful farms, scenic waterfalls, and all of the other countless places to see in Iceland that fall outside of the absolutely majestic. But, it should give a good idea as to the route we took to see as much of Iceland in 14 days as possible.
On our drive through Iceland, we didn't specifically stick to the Ring Road. We made a few trips into the Icelandic Highlands, the scenic Westfjords, and a few other places that offered some epic hikes and beautiful views.
Our Two Week Iceland Itinerary
Day 1: Reykjavik and the Golden Circle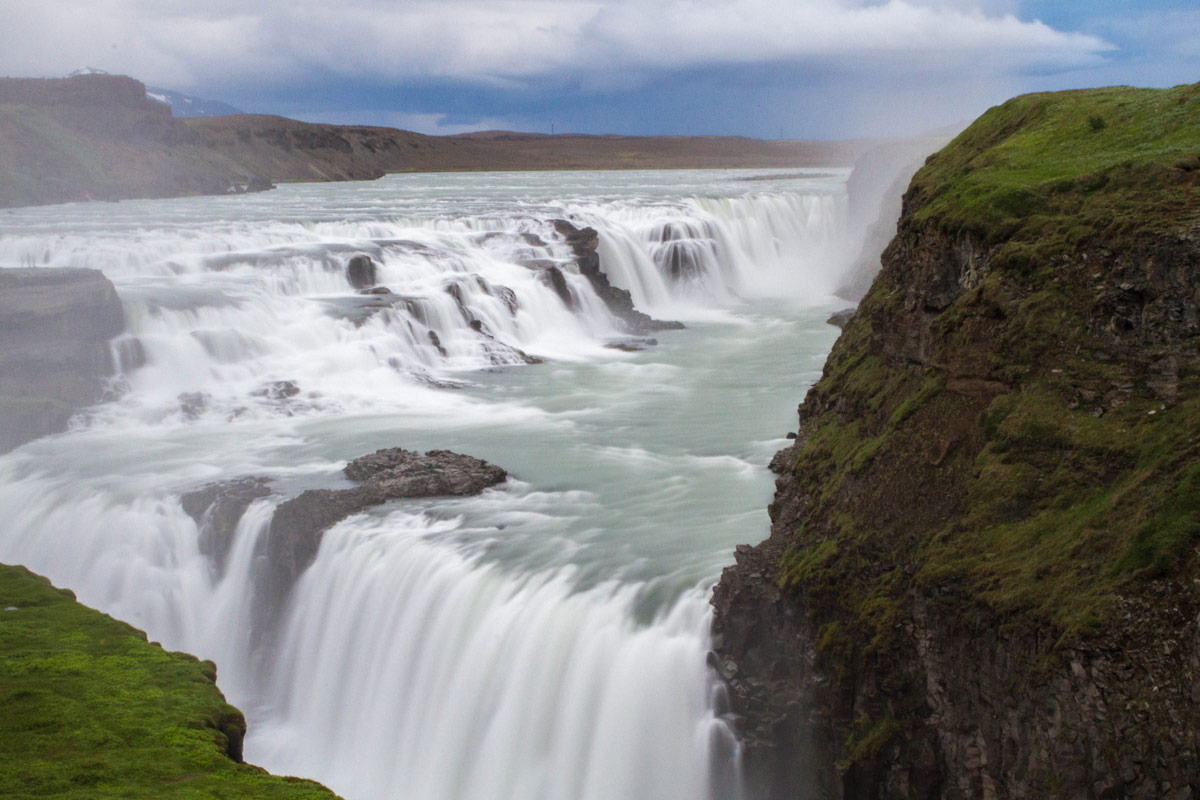 Pro-Tip: Iceland can be expensive in comparison to many other countries. Before you go check out this Iceland budget post by Flight of the Educator to prepare yourself.
Touring around beautiful Reykjavik is a great way to orient yourself to the people and culture of Iceland. Iceland's capital is packed with incredible restaurants, funky bars, a quaint downtown, and a marina with amazing artwork. It was the mouthwatering food of Reykjavik that inspired me to put together this list of easy Icelandic recipes.
With 130,000 residents, Reykjavik is fairly small for a capital city. But this beautiful city is home to nearly half of the entire Icelandic population.
We picked up our rental car at the airport and made a stop at our homestay for a quick nap. Feeling refreshed, we spent the first day of our Iceland itinerary wandering the shops, taking in the famous Hallgrimskirkja Church, dining in local restaurants, and finally ending our day with a tour of Iceland's iconic Golden Circle.
Where To Stay In Reykjavik
Reykjavik is packed with amazing places to stay. Our first night was spent at a small guest house that we rented on VRBO. It's not available anymore, but there are lots of great options including this funky Viking-style house and this central penthouse.
For hotels, we stayed at the Hilton Reykjavik Nordica at the end of our 14-day Iceland itinerary. It was great because we had a car. If I was walking, I'd probably stay at Hotel Borg for a more central experience.
You can find our complete list of the best places to stay in Reykjavik here.
Day 2: Reykjavik To The Snaefellsness Peninsula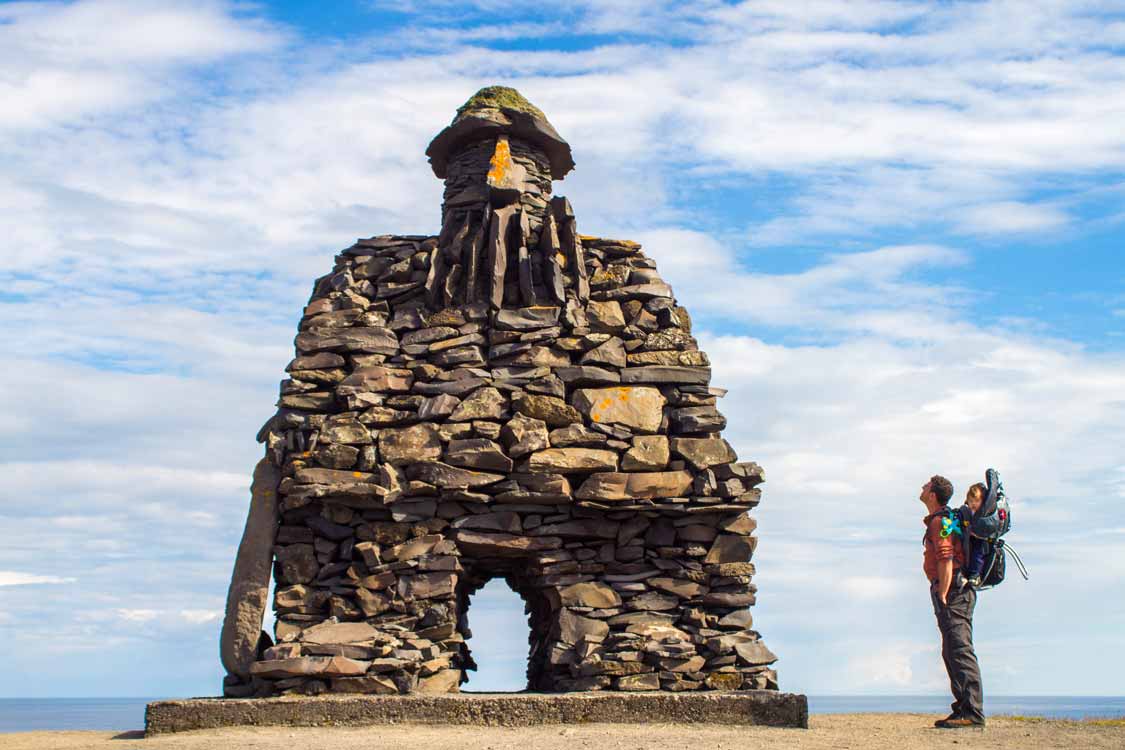 On our first full day in Iceland, we wandered up the road to a cafe and had a breakfast of some Icelandic Skyr and fruit. Then we loaded up the car and began our road trip. We wouldn't see Reykjavik for another 12 days.
It was 172 km (107 miles) from Reykjavik to reach the (Snæfellsnes) Snaefellsness Peninsula. We took the scenic route along Hvalfjordur towards Borganes. This is because we wanted to explore some of Iceland's history at the Icelandic Settlement Centre. This is an awesome museum and very interactive. Whether you're visiting Iceland with kids or on your own, I highly recommend visiting and taking the audio tour.
After learning all about the Icelandic sagas, we continued our drive. The next stop was in the town of Arnarpstapi to see the sculpture of the Bardur of Snaefellsness and take a hike along the bird cliffs towards Hellnar and back. This was an absolutely unforgettable stop. And I made sure to add it to my list of the best easy hikes in Iceland.
We couldn't visit Iceland without searching for fairies and elves, so we made our first detour off of the Ring Road (HWY 1) and followed F570 to Songhellir Cave (Sönghellir), also known as the Singing Cave. This small cave contains a lot of history. And when we wandered inside we found graffiti dating back hundreds of years. It seems that many travelers have sought refuge there over the centuries.
Then, while attempting to take the short route back to Iceland's Ring Road, we found a bit of an obstacle. The thick winter snow had extended a glacier over the roadway and our route was completely blocked. So, we swung back and retraced our route before heading on to Hellisandur to call it a day.
Where To Stay In Hellisandur
Hotel Hellisandur is where we stayed on our first night outside of Reykjavik. It's a great little hotel that is very close to the National Park. If I were to go back, I'd probably try the quaint and quirky Bookstore Family Apartment.
Day 3: The Westfjords and Latrajbarg Bird Cliffs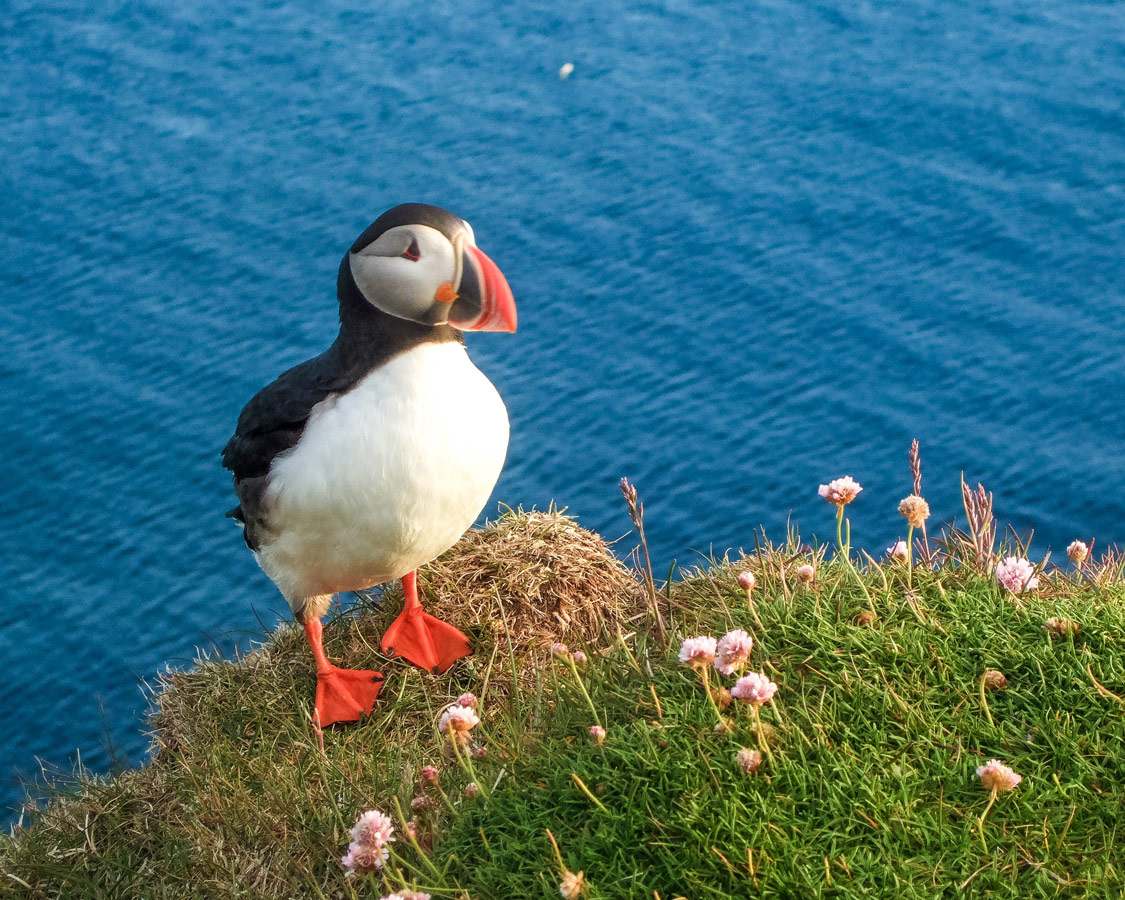 The third day of our two-week Iceland itinerary saw us drive to the rarely visited Westfjords. This was a region that we were so stoked about visiting. And it didn't disappoint.
We woke and headed to the town of Stykkisholmur (Stykkishólmur) to catch a ferry to Brjanslaekur (Brjánslækur). There are two ferries available. We specifically chose the slow ferry because it makes a scenic route that includes a stop to see a local puffin colony.
This is where we had our first hiccup of the trip. My DSLR suffered a major malfunction. With no major cities nearby, we were left with only our backup point and shoot for the next few days. The closest town where we could get it repaired was Akureyri in the far north of the country.
After we drove off the ferry into the Westfjords along HWY 62 we headed into the coastal mountains. The route here was much more raw than along the Ring Road. Along the way, we say statues and cairns that marked ancient travel routes. It was as though the long Viking history of Iceland was on display just for us.
As we neared the coastal area we swung left along HWY 612. On a small beach we came across the remains of the Steel Ship Gardar, the oldest steel ship in Iceland. It was rammed ashore back in 1981 after nearly 70 years of duty.
From here the drive along 612 swung inland and began to rise as we drove towards Latrabjarg (Látrabjarg). This is a region made famous for its towering cliffs. It was well past midnight when we arrived, but thanks to Iceland's midnight sun, there was no lack of light.
We drove to the Latrabjarg cliffs and spent some time wandering among millions of dancing birds. There were puffins aplenty. It's no surprise that this is one of the best places to see puffins in Iceland.
The cliffs are epic, reaching thousands of feet in height above the crashing Atlantic waves. Even without the birds and the midnight sun, Latrabjarg would still be worth a visit.
Where To Stay In Latrabjarg
After a visit with the Puffins, we had a midnight snack and called it a night at the Hotel Latrabjarg, which is a wonderfully cozy spot just a short distance from the cliffs.
Day 4: Viking Villages And Waterfalls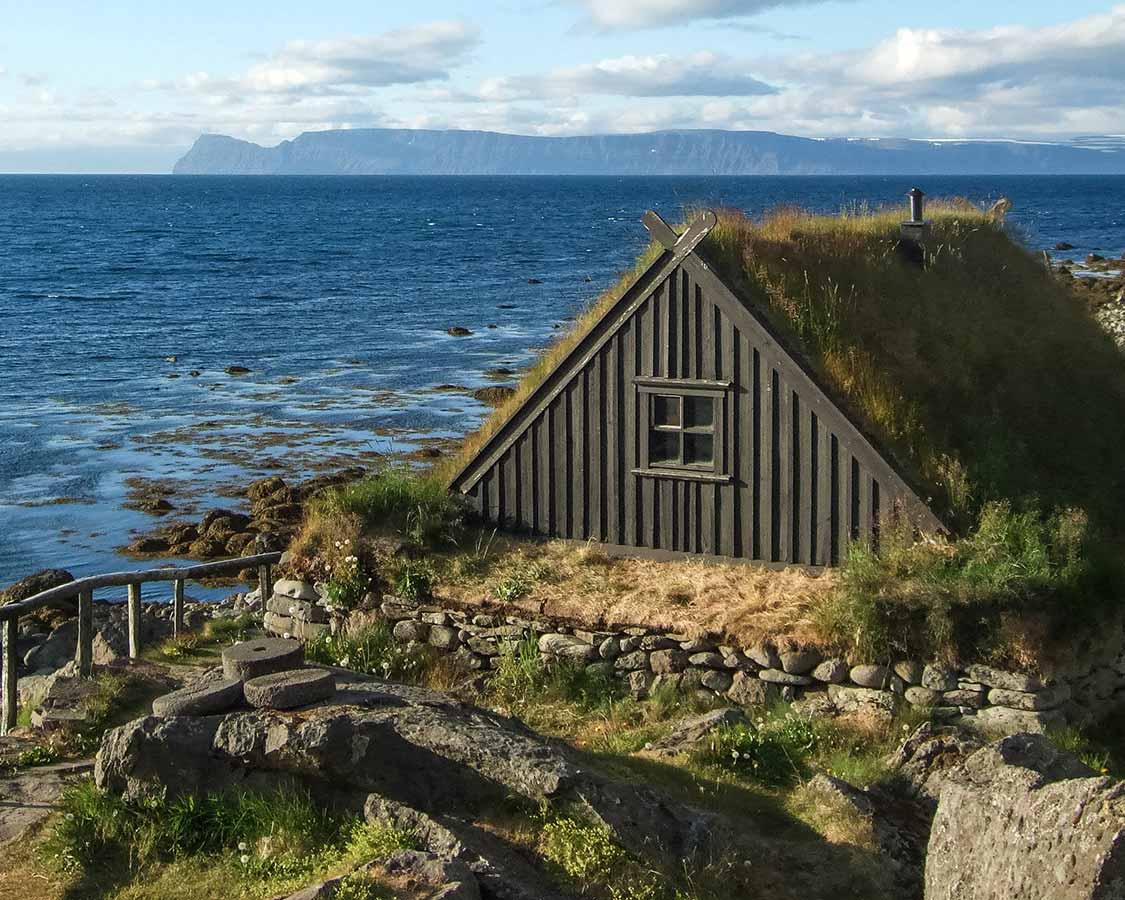 It was nearly two in the morning before we finally got to sleep at Hotel Latrabjarg. We slept like bears and woke hungry for adventure. As we packed up the car and prepared for more of our 14-day Iceland itinerary, we took one last look at the magical Latrabjarg cliffs before making the drive down from the mountains turning left on HWY 62. We followed 62 to Patreksfjordur (Patreksfjörður) before hanging a right on HWY 63. This route took us along the scenic coast. We stopped at an unknown (at least to us) beach for some fun in the sand. The water was frigid, and the sand was chilly. This was mostly just to say that we went to Iceland and played on the beach.
We continued on HWY 63 to HWY 60 so that we could make our way to Dynjandisheidi Pass (Dynjandisheiði). This is the location of the towering Dynjandi waterfall.
At this point, we did a detour from our previous plans and followed HWY 60 to Vestfjardarvegur along past Isafjordur before turning on Hnifsdalsvegur, transiting through a long tunnel to Bolungavik (Bolungavík), where we discovered the Osvor Maritime Museum (Ósvör) and the quaint recreation Viking settlement that is on display among the coastal rocks.
From there it was a short jaunt back down to Isjafjordur for a good night's sleep.
Where To Stay In Isjafjordur
When we stayed in Isjafjordur, about the only option for accommodations was Hotel Isjafjordur. It's a nice, clean, and inexpensive hotel, although it doesn't have a lot of character. On my next visit, I plan to stay at the very highly rated Tangs.
Day 5: Northwest Iceland, Hvítserkur, And A Weird Pair Of Pants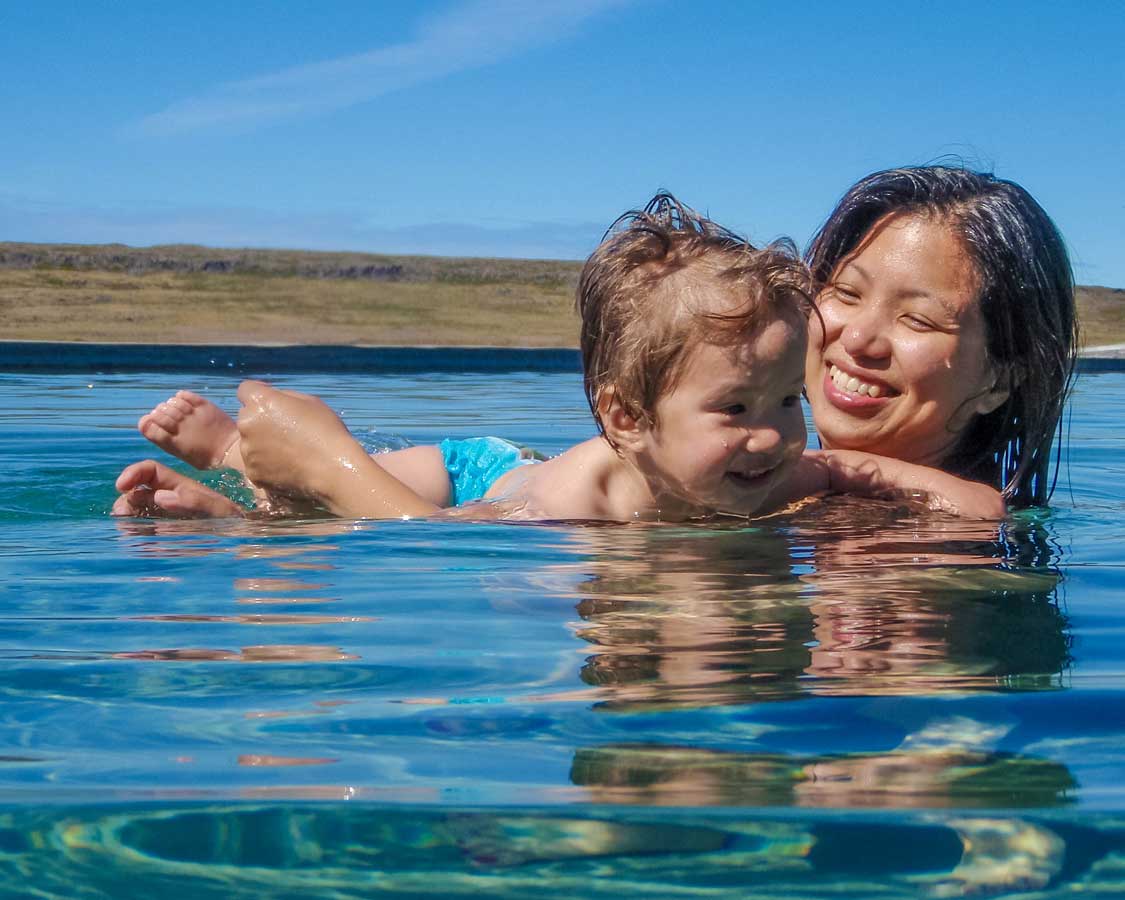 Day 5 of our road trip around Iceland started pretty normally. But, it would end up bringing us to one of the most iconic spots in Iceland, and give us a taste of the country that we were definitely not expecting.
We followed HWY 61 down to the base of the Westjfords. Here we rejoined HWY 1 and would follow that towards the Vatnsnes Peninsula and the iconic rock Hvitserkur, known as the Troll of Northwest Iceland.
Along that route we came across this castle-looking building near Isafjorardjup (Ísafjarðardjúp). I have no idea what the story is behind this building. But I bet it's fascinating.
Getting to the Hvitserkur overlook involved an easy stroll over some grassy fields. I would have loved to have spent more time photographing here, but with our little guy in a kid-carrier, I didn't feel like we had time to make the trek down to the beach to get a closer look.
That is because our next stop was nearby Holmavik (Hólmavík), where a local summer festival was in full force. There was singing, dancing, games, and more. Events like this are a big draw for visitors during summer in Iceland
Holmavik is also home to the Witchcraft and Sorcery museum, which explores the mystical history of the Icelandic people. The museum features some very … unique displays. Including a pair of anatomically correct pants made from human skin.
We continued along the Ring Road to HWY 744 where we broke away and followed HWY 74 to the village of Hofsos (Hofsós). This is a popular spot to see the seals basking in the summer sun. There were dozens of them warming themselves on the large rocks in the fjord.
Nearby are also some fascinating basalt cliffs that were definitely worth the stop. The unworldly symmetry and stair-like stature of the cliffs make it almost impossible for adventure-lovers not to try and climb them.
By this point, we had done a lot of driving and we needed a break. C was anxious for some time outside the car too. We headed down HWY 76 to meet back up with the Ring Road and the town of Varmahlid (Varmahlíð) and took in one of the countless Icelandic pools. There is one in nearly every town in Iceland. It was great getting a chance to bathe in the naturally heated water.
Our day ended with us backtracking up HWY 75 to the village of Saudarkrokur (Sauðárkrókur). Here we spent our evening at the Olafshus restaurant devouring the most delicious pizza we've ever had. It was a fascinating time to be there as the Icelandic national elections were taking place. We spent the evening chatting with the staff and other customers about the Icelandic democratic system and learned so much. Did I also mention that the pizza was unreal? Because it was SO GOOD.
Where To Stay In Saudarkrokur
On our last visit to Saudarkrokur we stayed at Mikligardur Guesthouse. It was a beautiful spot with wide-open views and I highly recommend it. Another fabulous place in Saudarkrokur is the Steinn Private Apartment. It offers some of the best views of the fjord.
Day 6: Akureyri and Magical Lake Myvatn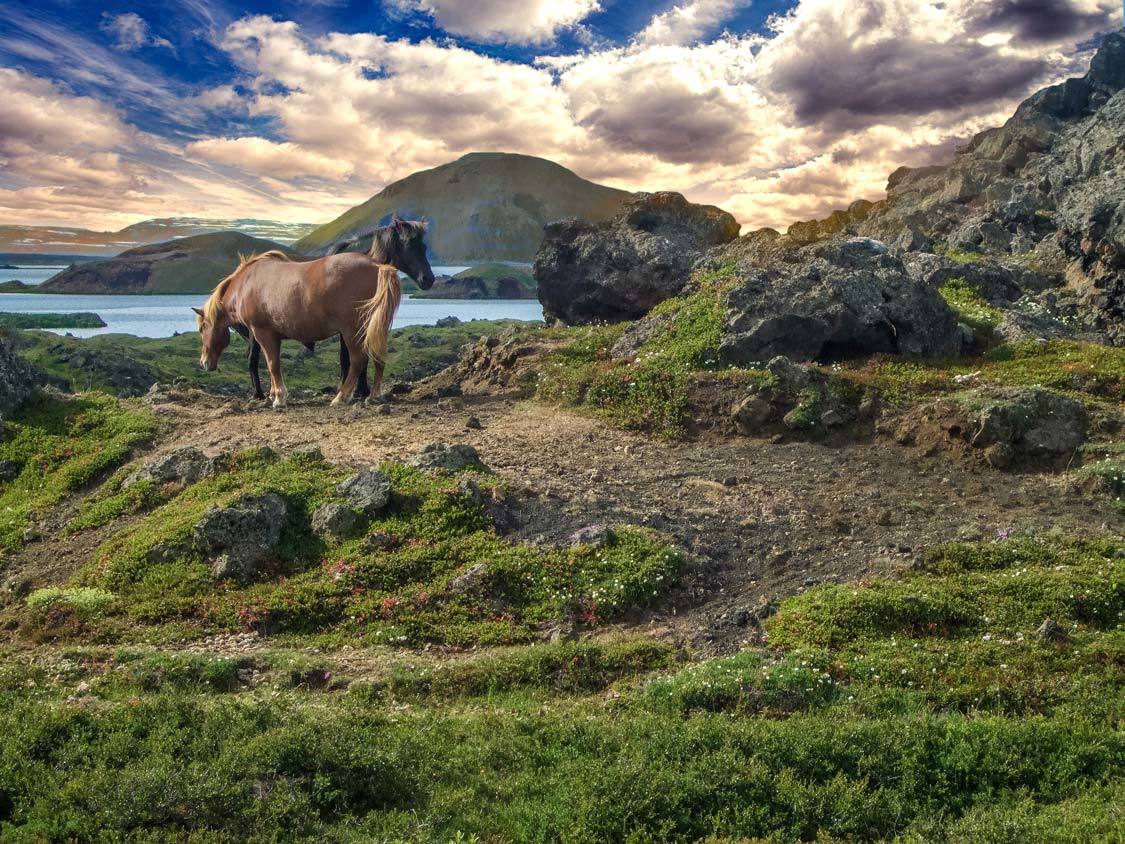 Our first stop on day 6 of our two-week Iceland road trip was the town of Akureyri. The second most populous city in the country. Akureyri is just 60km (37 miles) south o the Arctic Circle. I would finally have a solution to my damaged DSLR.
We hoped to either repair, or purchase a new camera for the rest of our trip, but soon realized that there were no retail stores open on Sundays in this city. Well, at least the classic Icelandic soft-serve ice cream stores and the very cool parliament building were open. So we explored those instead.
We continued on HWY 1 until we could feel the thundering waters of Godafoss rumbling the ground beneath us. Visiting Iceland's most powerful waterfall involved an easy stroll along the cliffs.
Following HWY 1 we came across the paradise of Lake Myvatn. Much of Iceland is drenched in harsh tones, Lake Myvatn is bathed in greens, reds, blacks, and blues. There is something about the mix of lakes, volcanic craters, and fields that is just so unbelievably beautiful. We took the scenic route along HWY 848 to take as much of this area in as we could.
It was off of this route that we came across one of our biggest surprises, the raw and wild Dimmuborgir land formations known as the Dark Castles. The hiking trails here wind around surreal volcanic stacks that gave us the feeling that we were walking through the gates of Mordor.
We met back up with the Ring Road and turned right towards Namaskard Pass. This heavily tectonic region stands in stark contrast to the welcoming colors of Myvatn. Surrounding Namaskard Pass are boiling mud pits, steam vents, and the air is filled with the harsh smell of harsh, sulfur. It's beautiful in a completely different way than Myvatn.
Just down the road from Namaskard Pass is a rough road that leads to a geothermal plant that is next to a picturesque crater lake. These are all powered by the Volcano Krafla that still simmers beneath the surface. Visiting here just took a few minutes and offered a nice contrast to some of the other sites of the day.
After all the sulfur, climbing, and hiking of the day, we felt we deserved a break. We headed back down the mountain to one of our favorite spas in Iceland, Myvatn Nature Baths.
Here we took some time to soak up some healing minerals from the hot springs. All with one of the best views around.
Where To Stay Near Myvatn Iceland
Myvatn has some absolutely rock-solid accommodations. The Icelandair Hotel Myvatn is a really popular one that has a great onsite restaurant. For something a little less formal, consider the Skútustadir Guesthouse, it has a shared kitchen and views of Lake Myvatn.
Day 7: Husavik Whale Watching and Jokulsargljufur NP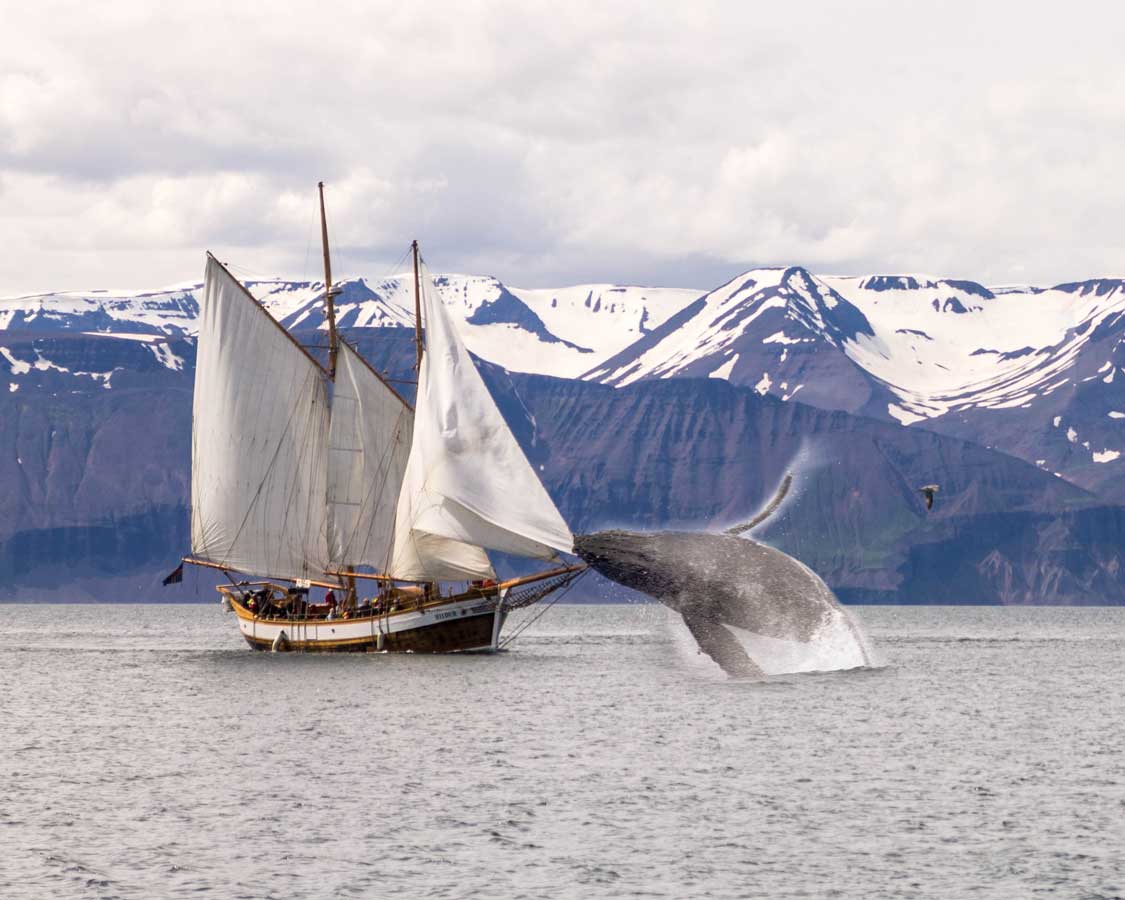 I woke up early the next morning at our guest house near Laugar and raced back to Akureyri so I could get another camera as soon as it opened. Once I got myself equipped, I made my way back to pick up Christina and C so we could make our way up HWY 87 to the coastal town of Husavik for the day's adventure, a whale-watching expedition on a Schooner!
We arrived in Husavik with some time to spare so we made a stop at the Husavik whale museum. As with many places in Iceland, they know how to make things kid-friendly. Not only were there amazing displays and whale skeletons on display, but they had this cool area for C to explore as well.
Shortly afterward, we met up with the folks at North Sailing and boarded the boat for our Schooner whale watching tour. The North Sailing crew was amazing. They even invited C to take the helm and steer us out towards the whales.
On the tour passed by the amazing gannet cliffs, where we could see locals farming the bird eggs while hanging from the steep cliff walls. From there it was on to some whale watching. And what a show we got!
We saw Humpbacks performing jumps and bubble-net feeding, Pilot Whales waving their fins, and even caught a glimpse of the largest animal ever to grace the planet, the majestic Blue Whale.
After saying goodbye to the incredible sailing crew, we made our way along HWY 85 to HWY 862 where we discovered Vesturdalur and Jljodaklettar. The walking paths here traced through alien landscapes. At times it seemed at points that the Earth had completely folded upon itself. It was, without a doubt, one of the most unique places in all of Iceland.
Where To Stay In Varmahlid
We spent this night in the tiny town of Varmahlid. There isn't a plethora of accommodations here, but what little they have are fantastic. Hlin Guesthouse was our pick. The tiny cabins were fantastic. Another great place is The Garage (no, you won't be sleeping in a garage) This is one of the most beautiful properties at the base of a cliff with flowing waterfalls. Both offer loads of privacy and super friendly staff.
Day 8: Asbyrgi Canyon and Glacier Hiking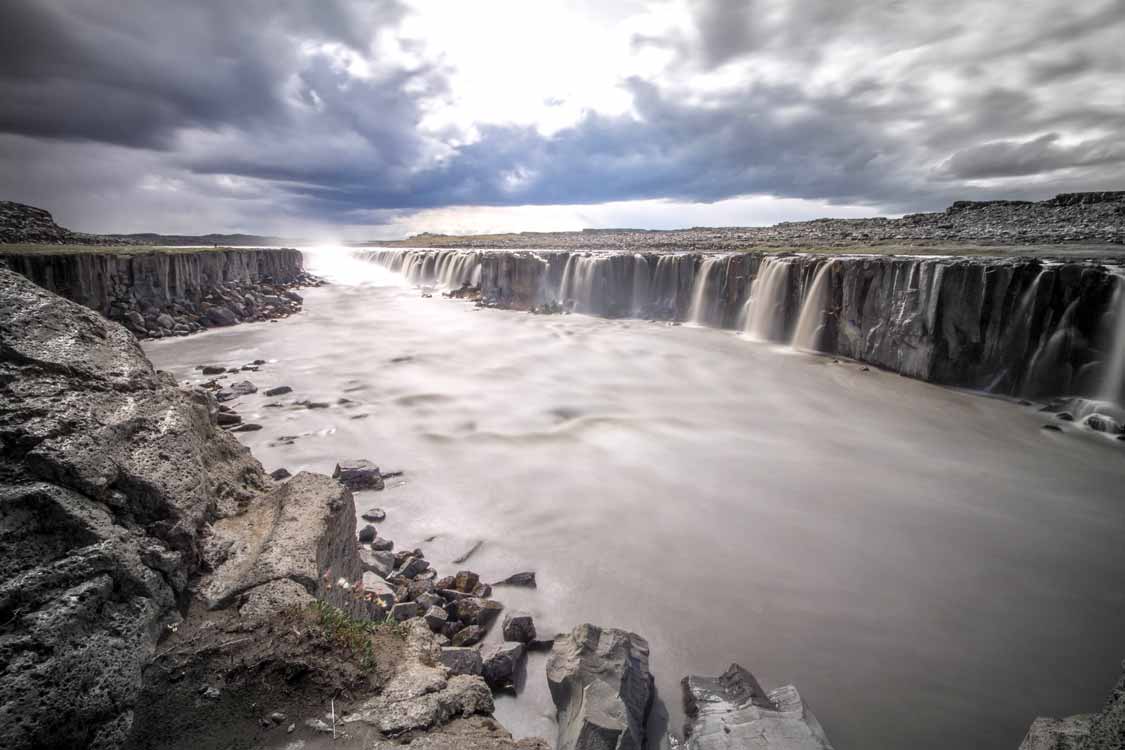 We woke up early the next day. Day 8 of our 14 day Iceland Itinerary was going to be a very big one. We had a big breakfast and drove back up HWY 862 to HWY 85 on our way to Asbyrgi Canyon.
Asbyrgi is an incredible scenic drive. From one angle, one of the rocks appears monolithic. There are a few hiking trails here to explore and it's definitely worth a visit.
We drove back to HWY 864 to Dettifoss Rd. Here we parked and hiked towards Dettifoss, the largest of all the waterfalls in Iceland. A few hundred meters downstream from Dettifoss is Selfoss, while smaller, it has a far more dramatic appearance than it's big brother since it wraps around the surrounding landscape almost completely. It's worth the easy hike to get there.
After taking in these amazing views, we rolled down HWY 864 to HWY 1 and up to F88. This began our drive into the Icelandic interior past the impressive and monolithic Herdubredalindir (Herðubreið) mountain. We made a short hike where we learned that this was a hiding place for some infamous Icelandic bandits.
We continued on F88 and on to F910 and the rough roads that would lead to one of our toughest hikes in Iceland, the Askja Caldera and Viti Crater.
The hike involved a long slog through some thick, wet snow. But we were blessed with the wildly blue waters for the Viti Crater. I was very tempted to climb down and take a bath in the naturally heated waters.
Unfortunately the route back up looked incredibly challenging and slippery to climb. So, with Christina and C at the front of my mind, I decided to skip the treacherous walk and stay on the rim.
Although we were exhausted from our hike, we weren't ready to call it a day yet. We took F910 to F905, crossed Austurleid to take HWY 910 down to Hafrahvammagljufur canyon to hike the canyon rim. It was well worth the drive. The canyon views are phenomenal, and the blue skies seemed to go on forever.
We finally followed HWY 910 around to Eglisstadir where we had rented a cabin on a horse farm.
Where To Stay In Eglisstadir
We spent the night at Stóravík Cottages. This gorgeous waterfront spot has small and cozy cabins and has stables of Icelandic horses nearby. I would completely stay here again when I go back.
Day 9: Iceland's East Fjords, That Was Longer Than We Expected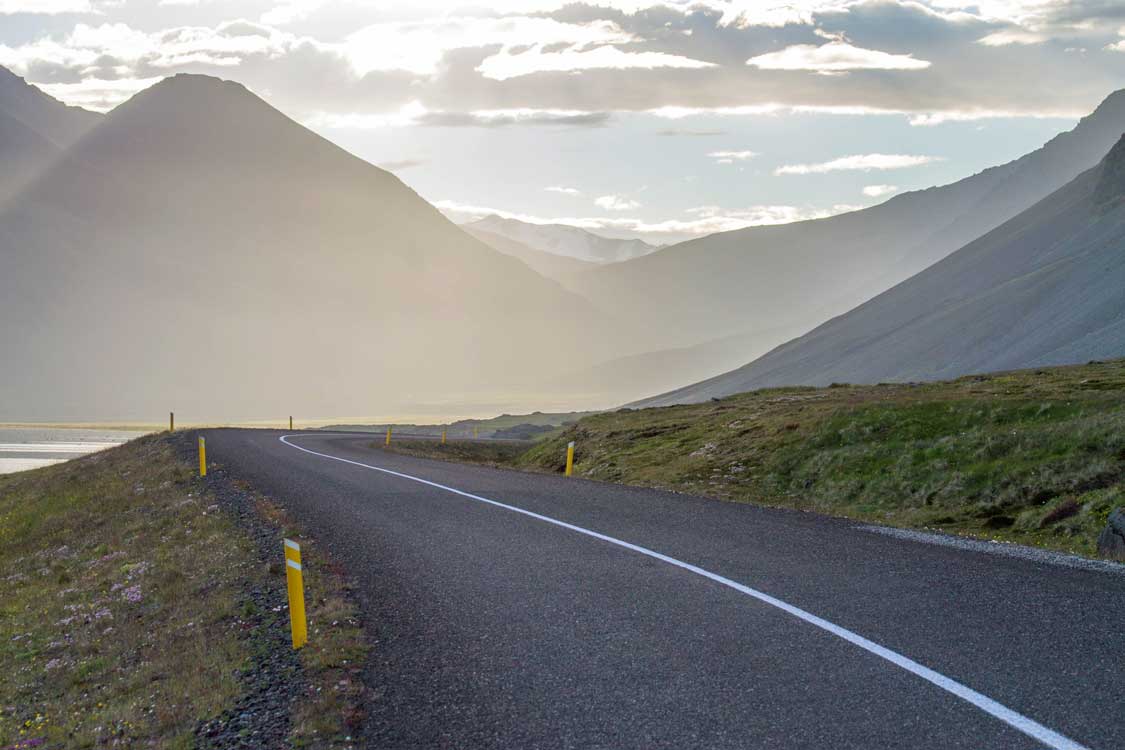 We woke up in our cabin on day 9. Our accommodations for the night were even more beautiful than we had expected. We ended up taking our time by the fields visiting the Icelandic horses that called it home.
After a short drive, we checked our map and found that Iceland's third-tallest waterfall, Hengifoss, was nearby. Our guidebook showed that this would be a pretty short hike so we pulled over and geared up. It was not a short hike. It was very long. And it went up the entire way.
But the views of Hengifoss were worth it. The crystal clear water pouring down in a curtain made for a great place to stop for a drink of that cool, clean Icelandic glacier water.
As we drove on HWY 910 to meet with HWY 1 in Eglisstadir, we were craving a change of pace. So we followed the Ring Road along the Eastfjords to the town of Stodvarfirdi (Stöðvarfirði). We had been told about this quirky attraction there that was a must-visit. Petra's Stone Collection is a wild assortment of rocks and artwork both collected and created, from around Iceland. It is quirky, fun, and definitely worth a visit if you're in the area.
We were inspired by all the geological creativity. We had read about a nearby Icelandic Spar mine and pulled off the road to explore. The mine was pretty cool to check out offered a fun look into another side of life in Iceland.
We followed HWY 1 along the raw beauty of the Eastfjords. Along the way, there was a small bay that was absolutely packed with swans. It was quite a sight to see. Our final stop was in the small town of Hofn for the night.
Where To Stay In Hofn
Hofn is a super cute town and has some surprisingly great places to stay. We stayed at the Lambhus Guesthouse Cabins and loved it. It's a more rustic accommodation, but cozy and similar to what we stayed at in Eglisstadir. If you love this kind of accommodation, the Fossatun Camping Pods might be for you.
If you're looking for something a little more traditional, the VikingCafe is a beachfront hotel with awesome views.
Day 10: Icebergs, Glacier Snowmobiling, and One Of The World's Most Beautiful Waterfalls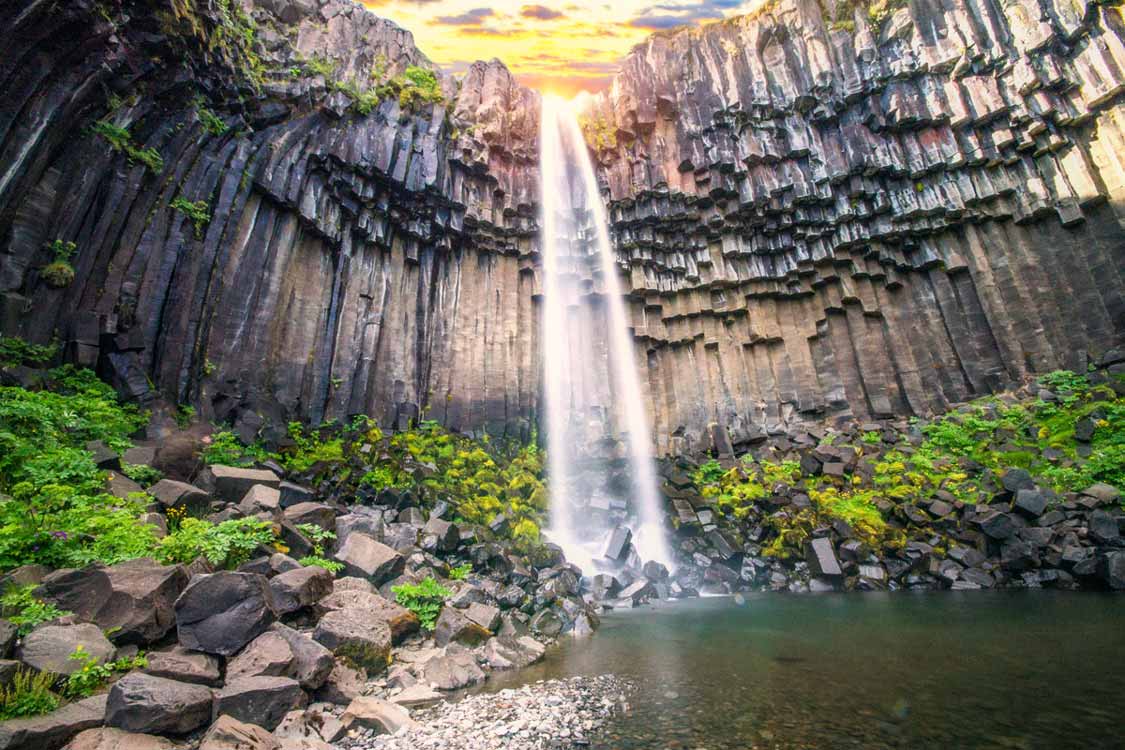 The next morning we made the drive along the Ring Road to Jokulsarlon Glacial Lagoon. This gorgeous lagoon is one of the most popular stops in Iceland. It's where the massive Hvannadalshnukur glacier calves into the lagoon. We took one of the popular glacier tours and even had a chance to taste some 10,000-year-old glacier ice.
After our boat tour, we stopped by the gift shop to pick up something that C had been begging for. A puffin stuffie. We continued along HWY 1 to HWY 998 to Skaftafell National Park. This park is home to one of the most beautiful waterfalls I've ever seen, the basalt-backed Svartifoss.
Our time exploring Svartifoss didn't take as long as we expected and we found ourselves with some extra time on our hands. We checked our GPS and found a road nearby that seemed to head up towards the Hvannadalshnukur glacier.
We began a climb up into the mountains. Then C called out from the back seat yelling "reindeer!" And he was right, off in the distance was a herd of reindeer grazing off of the land.
When we arrived at the end of the road (it literally just ended into a glacier) we saw a tour operation offering snowmobile tours of the glacier and thought … "why not!" We suited up and went on a wild tour that offered some of the best views in South Iceland. C had other ideas, though, and decided to nap on my lap as we rode the snowmobiles.
After our tour, we made our way back to HWY 1 headed down the mountain and through the lowlands near the coast where the ground took a dramatic turn. We saw a pile of twisted metal nearby and stopped to investigate. The mess was the remains of the Skeidara bridge destroyed by an avalanche that occurred a few years prior.
We ended our day with a visit to Núpsstaðakirkja, a nearby Viking village recreation. It was filled with authentic antiques and we all absolutely loved exploring the different rooms.
Where To Stay In Kirkjubaejarklaustur
Magma Hotel is an awesome accommodation in Kikjubaejarklaustur that offers wonderful little waterfront cabins. If you're looking for something right off of the Ring Road, the Adventure Hotel has a great location and pretty decent food.
Day 11: Lakagigar Where The Earth Was Torn Apart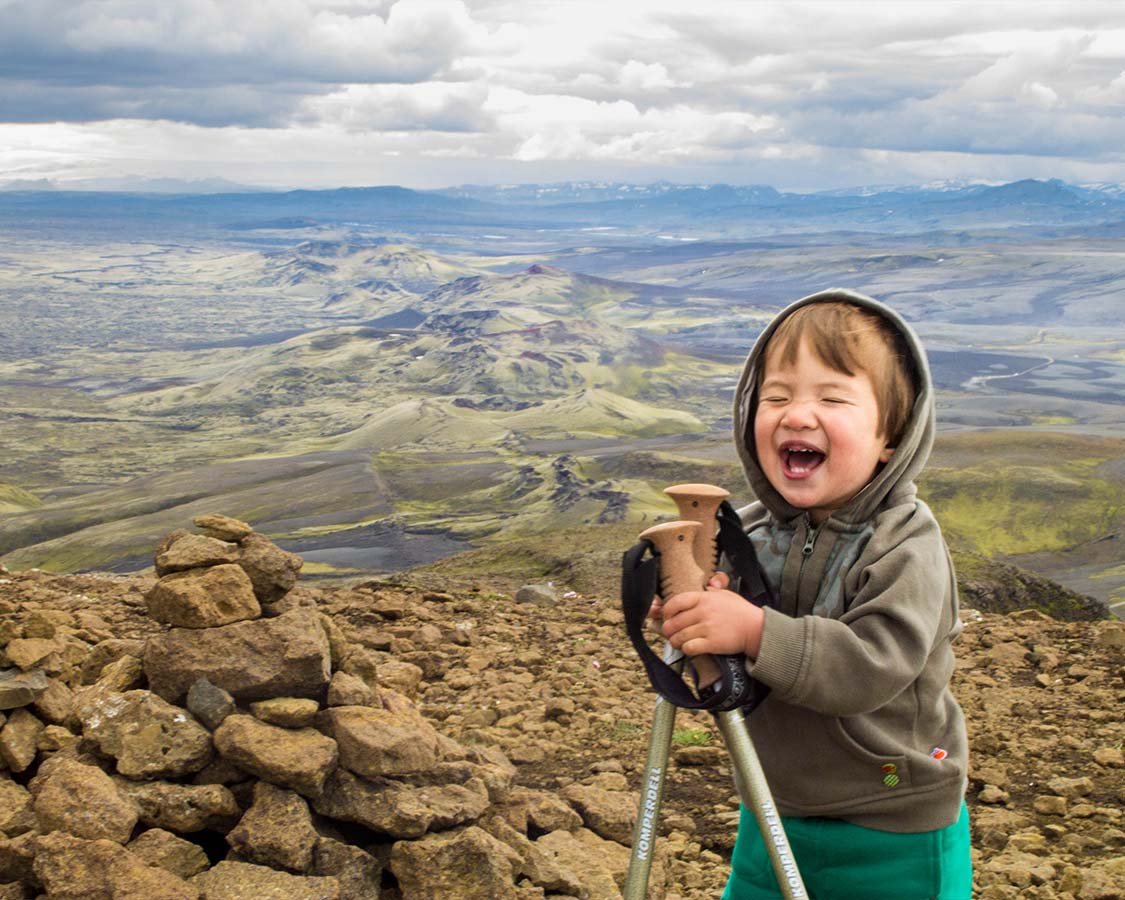 After a hefty breakfast, we stopped at a nearby feature called the "Church Floor". A basalt formation in the middle of a field. Day 11 of our 14-day Iceland itinerary was off to a good start. And it was just going to get better. In fact, this may have been our favorite day in Iceland.
Back on the ring road we noticed a small parking lot on the side of the road and decided to make a stop. It turns out that this was a stop for Fjadrargljufur, a narrow and canyon that may just be the most beautiful canyon in all of Iceland.
We then backtracked along some rough roads. Then, we took HWY 1 to HWY 208. As 208 turned into F208, the roads got worse until we turned onto F235 on the final stretch to Lakagigar. This is where we saw one of the rawest views on earth. Lakagigar crater row is where the 1774 eruptions took place that completely devastated the country. It's a place where the world seemed to be pulled apart like a zipper.
Laki is a tremendous area for hiking. We explored caves and climbed the mountains. C was so proud of making it to the top of the hill! He even walked some of the way himself.
We made our way backk to HWY 1 and spent the night in the awesome town of Vik.
Where to stay in Vik
In Vik we stayed at the beautiful Hotel Kria. It's a fantastic location and I highly recommend it.
Day 12: Rough Roads To Landmannalaugar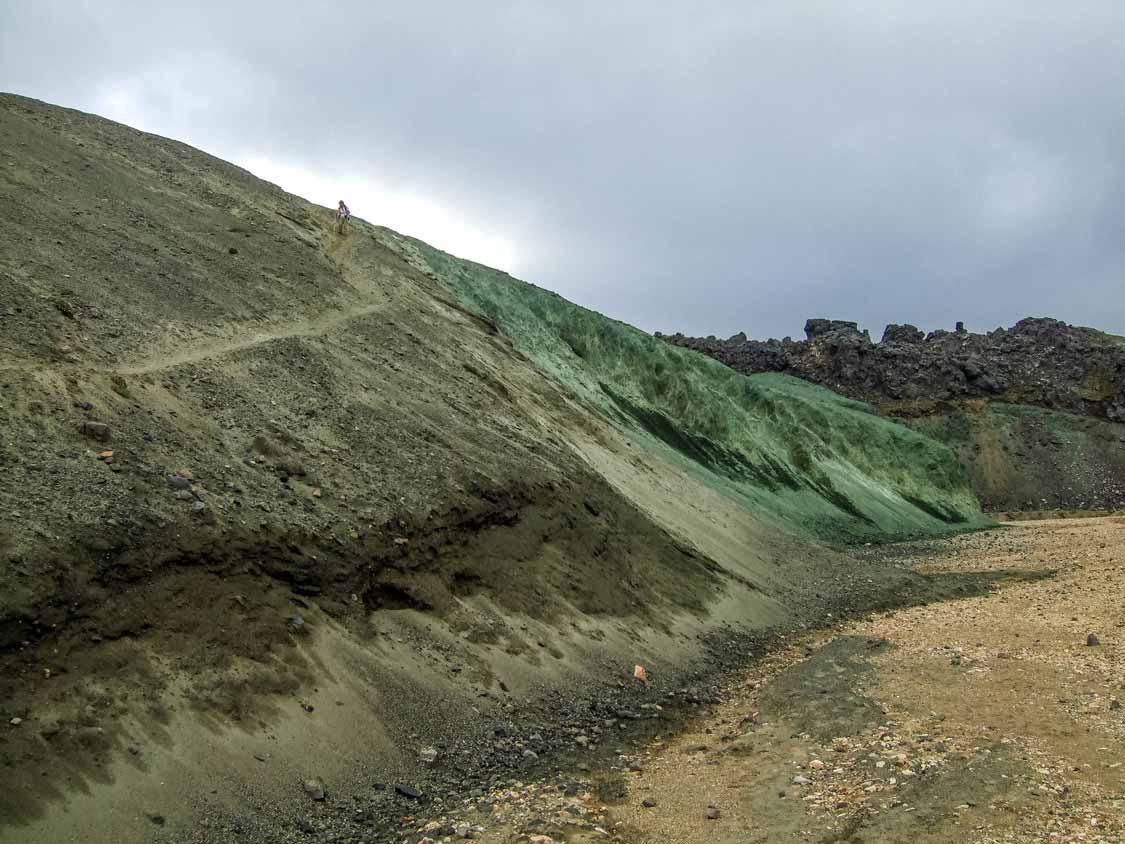 Our first stop on day 12 of our two-week Iceland itinerary was back up to F208 to Gjatindur. Eldgja canyon offered an easy hike that brought us to beautiful Ofaerufoss (Ófærufoss) where the water was perfect for splashing.
The next part of our Iceland road trip would offer some of the roughest driving we had seen in the country with the exception of the trip up to Laki. We followed F208 to F224 and began driving into the Icelandic Highlands. Our little Volkswagen Tiguan handled the rough roads and river crossings without any trouble.
We arrived at Landmannalaugar and began to explore. The wild colors of the landscape coupled with the beautiful skies made everything about the area pop. Landmannalaugar is known for its epic hikes, natural hot springs, and idyllic camping.
We returned via the F-roads to HWY 1 and began the drive to the Hilton Reykjavik Nordica. Along the route, I recommend stopping to see Hjorleifshofdi Cave, Reynisdrangar View, the Solheimasandur Plane Wreck, Skógafoss Waterfall, and Gljufrabui.
Day 13: Diving the Silfra Crack and Golden Circle Self-Drive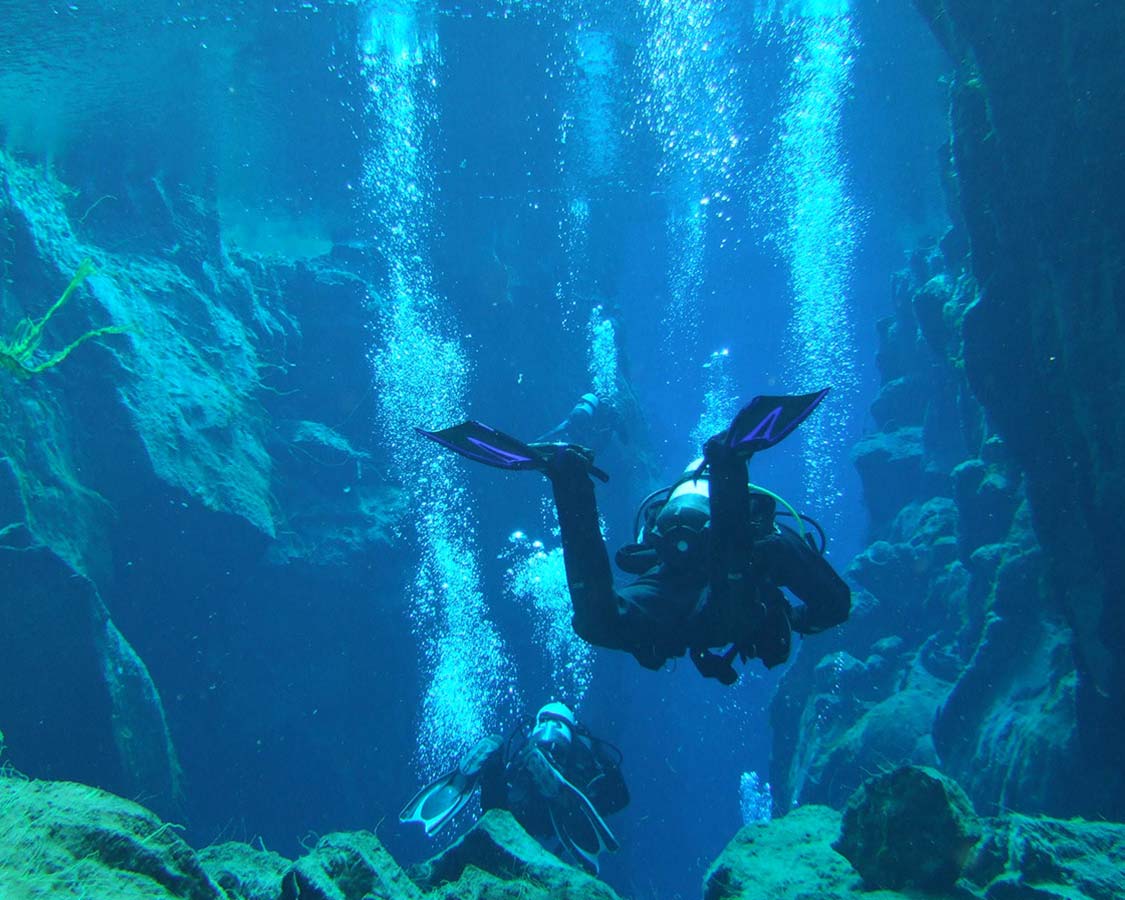 Christina and I stayed up late in the night cramming for our drysuit certification. The next morning we woke early. We had hired a nanny for C (arranged via the Hilton Reykjavik Nordica) because we were picked up for a day of SCUBA diving in Thingvellir National Park at the famous Silfra Crack.
When we arrived at the Silfra Fissure, we suited up and jumped into the 2° C water. It was crystal clear and one of the coolest dives we have ever done (literally!). The Silfra Fissure is the only known point on Earth where you can swim between two tectonic plates. It marks the point where the North American Plate and the European Plate are slowly separating.
After drying off and warming up, we headed back to the hotel to pick up C and do a proper tour of the Golden Circle without being handcuffed by jetlag and a tour group.
We drove out of town and followed HWY 36, HWY 365, HWY 37, and HWY 35 and up Biskupstungnabraut to the small but pretty Faxi Waterfall. From there, we continued up Biskupstungnabraut to the phenomenal Geysir and it's smaller sister Strokkur.
From there we followed Biskupstungnabraut up to the magnificent Gulfoss viewpoint. This is one of the most famous waterfalls in Iceland. And one which I definitely recommend that you bring your rain jacket for.
We looped back and followed HWY 35 down to the Volcanic Crater Kerid. This is a popular fishing spot and we spent some time chatting with the local fishermen.
That night we returned to Reykjavik and the Hilton Nordica for a nice dinner and relaxation to prepare for our flight the next day.
Day 14: The Blue Lagoon And Back To Canada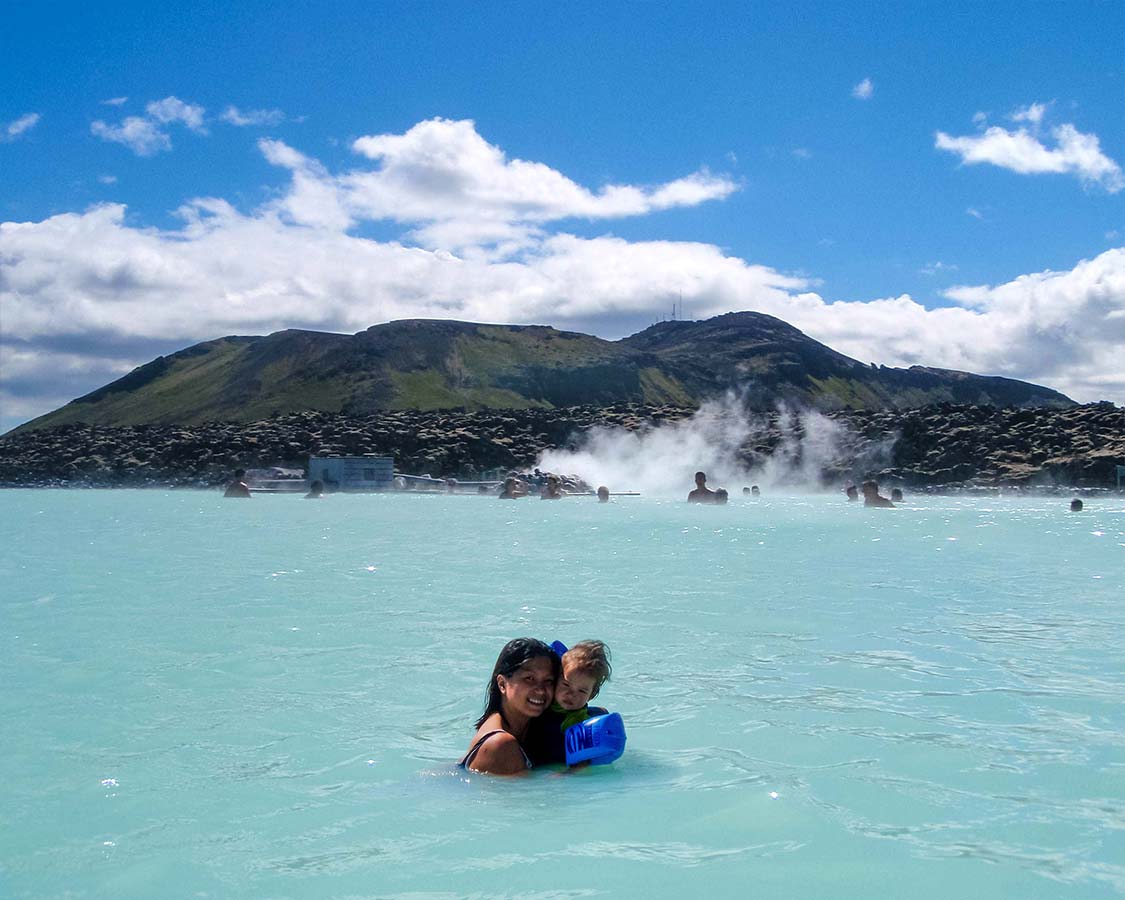 Tip: If you're interested in more information on travel in Iceland. The Broke Backpacker has a very comprehensive guide.
On Day 14 of our Iceland itinerary, we woke up somber knowing that this would be our last day in Iceland. Our flight to Toronto was in just a few short hours. After 14 long days of driving, hiking, and exploring, we felt that we deserved some pampering so we headed to the famous Blue Lagoon Spa and Resort to soak our aching bodies. This is perhaps the most famous natural bath spa in Iceland. And it's location just off the ring road between the airport in Keflavik and the capital city of Reykjavik made it a very convenient stop.
Thank you for sticking with us through our epic 14-Day tour around Iceland. This road trip guide was pretty high-level, so please click through to our other articles for more details. Or reach out via our comment section or our contact page for more details.
If you're passionate about family travel, head on over to our Family Travel Support Group on Facebook. It's a fantastic community of parents who love travel. We share experiences, knowledge, and the lessons learned along the way. You can also sign up for our newsletter to keep in the loop about new family travel adventures
Wandering Wagars is a participant in the Amazon Services LLC Associates Program, an affiliate advertising program designed to provide a means for sites to earn advertising fees by advertising and linking to amazon.com, amazon.co.uk, amazon.ca. Amazon and the Amazon logo are trademarks of Amazon.com, Inc., or its affiliates.
You May Also Like To Read: