Iceland's Westfjords are a magical place. With stunning vistas, incredible wildlife and family-friendly festivals, discover why you should visit!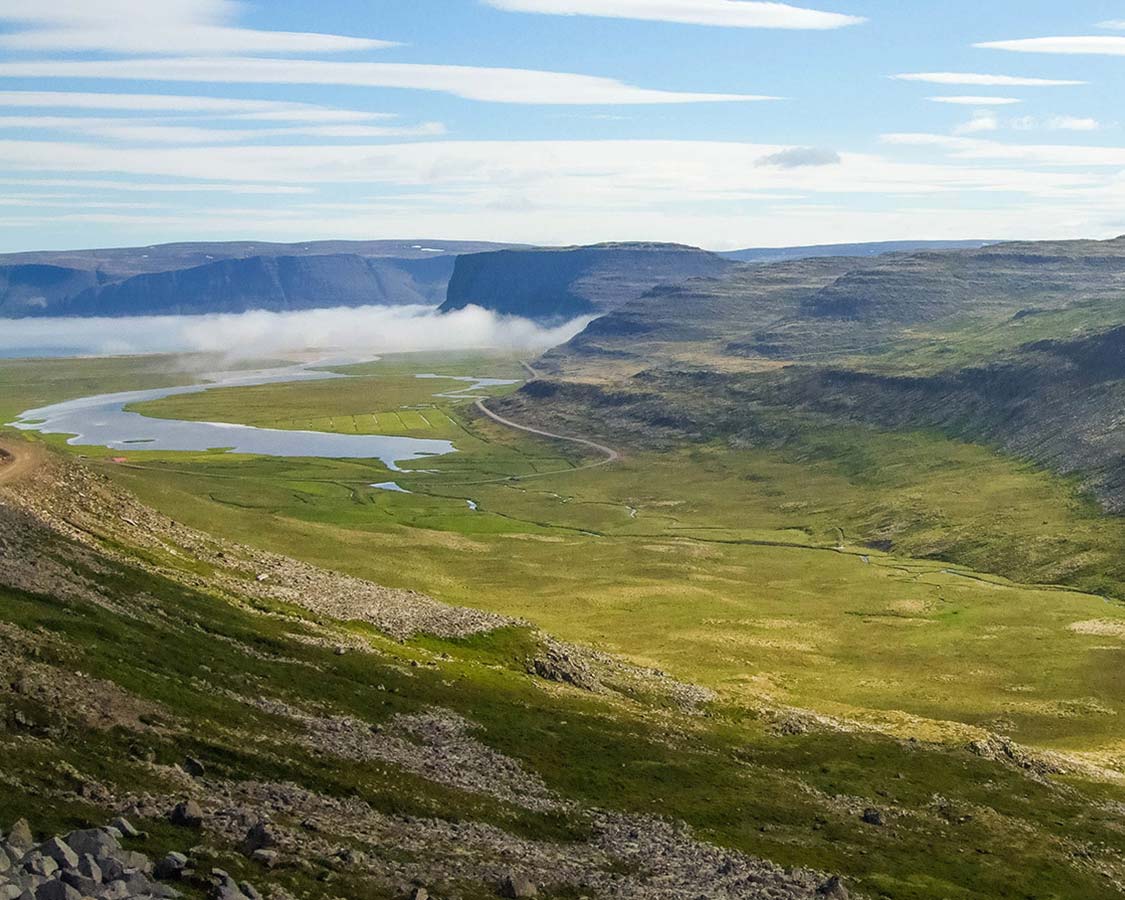 High atop the bucket list of those traveling in Iceland are the tourism royalty sites of the country. The Blue Lagoon, the Golden Circle and of course Reykjavik. Sites that make the lists of more intrepid explorers are the stunning waterfalls, hiking in Landmannalaugar and the geothermic fields in Myvatn.
But far on the west coast of Iceland sits a magical place that is often overlooked by those visiting this North Atlantic country. Iceland's Westfjords. The Westfjords holds a special place in the heart of many Icelanders.
It is central to many of the more exciting Icelandic sagas, offers a respite from the more touristy places, but it also offers some of the most stunning vistas that this country has to offer. Iceland offers unique views into the Icelandic saga's, incredible wildlife and some of the most stunning views that the country has to offer.
This post may contain compensated links. For more information please read our disclaimer.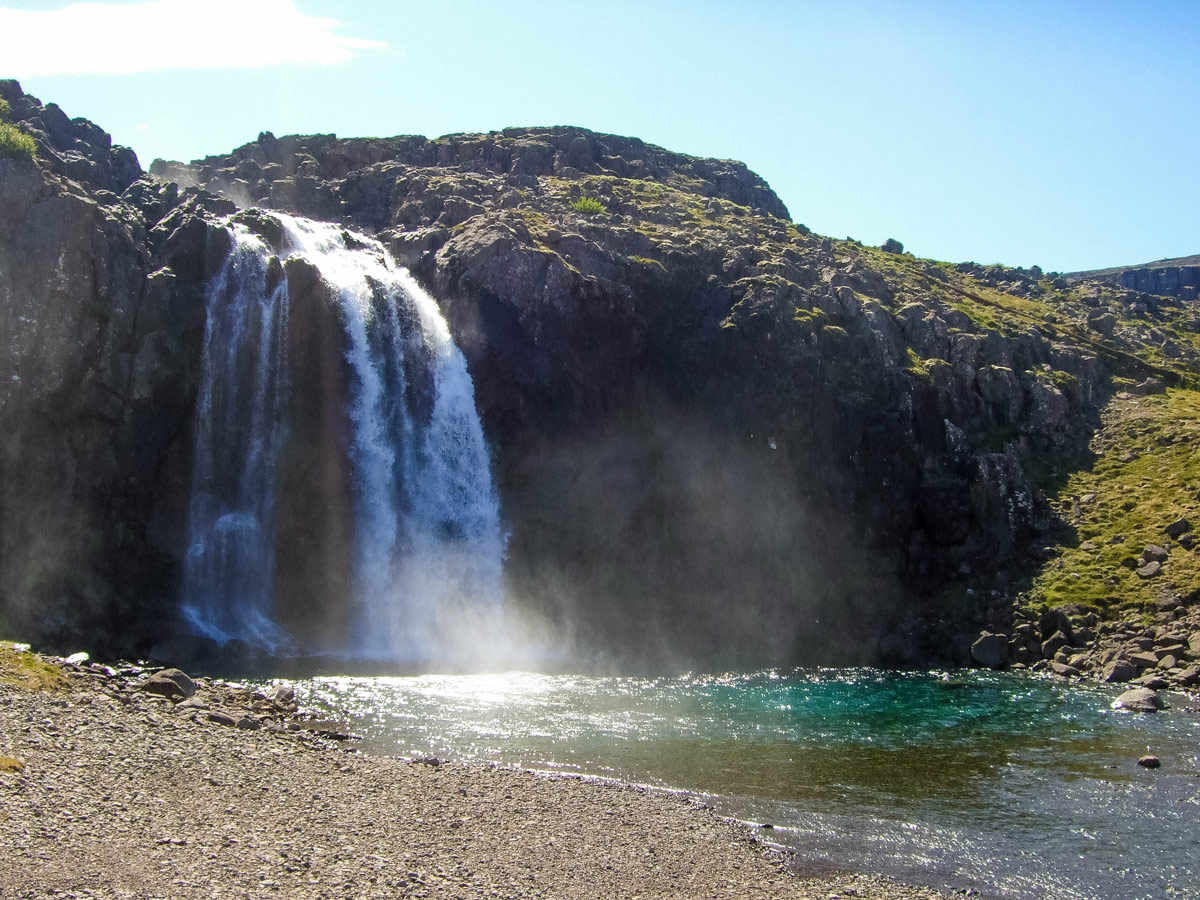 How to get to Iceland's Westfjords
The Westfjords are remote. But, as their popularity grows so does the ease of getting there. For those exploring Iceland, driving is the best way to experience this vast region. But for those looking for more direct routes, you can also reach the Westfjords by plane, ferry or bus.
Arriving in the Westfjords by car
If you are visiting the Westfjords by car, you can drive west from Reykjavik and cross from Stykkisholmur (165 km) to Brjanslaekur via the ferry Baldur. Or you can head north and cross into Iceland's Westfjords by following HWY 60 as it snakes along the coast past Budardalur (146 km).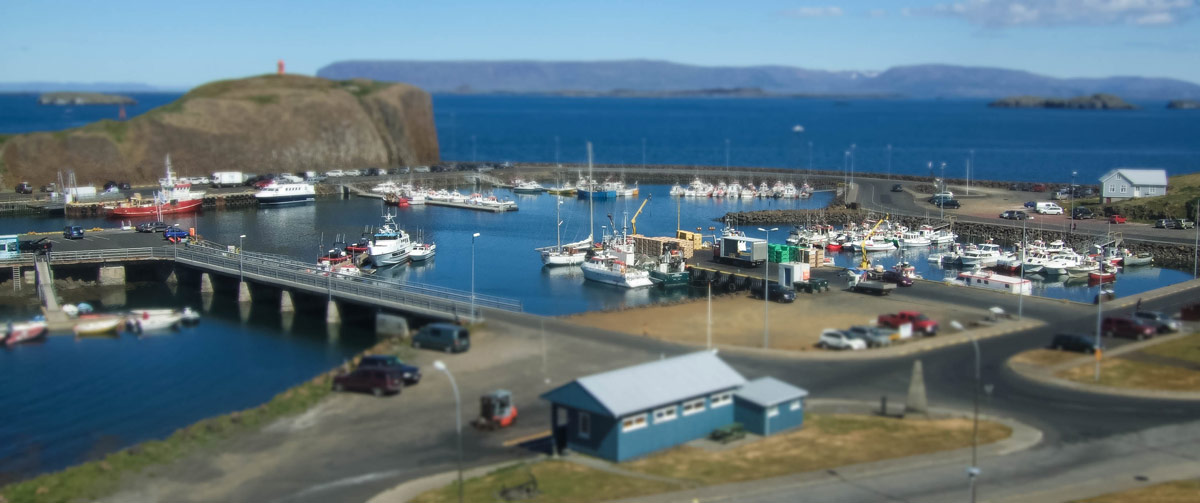 Make the journey by bus
There is limited bus service to the area depending on where you are looking to go. The bus service from the ferry Baldur is available year round. You can access the latest bus schedules here.
Getting to the Westfjords by plane
For those traveling in Iceland, but too excited to wait, you can make the journey by plane (40-60 min). There are two flights per week from Reykjavik to Gjögur and six flights per week to Bíldudalur. There are also fourteen flights per week to Isjafjordur via Air Iceland. (Keep in mind that everything here is very remote, so you'll either need to join tours or have another way of getting around).
Our journey took us through Olafsvik, so we made the journey on the ferry. The ferry offers a fun and relaxing way to see the fjords from the water and is a great way to get a different view.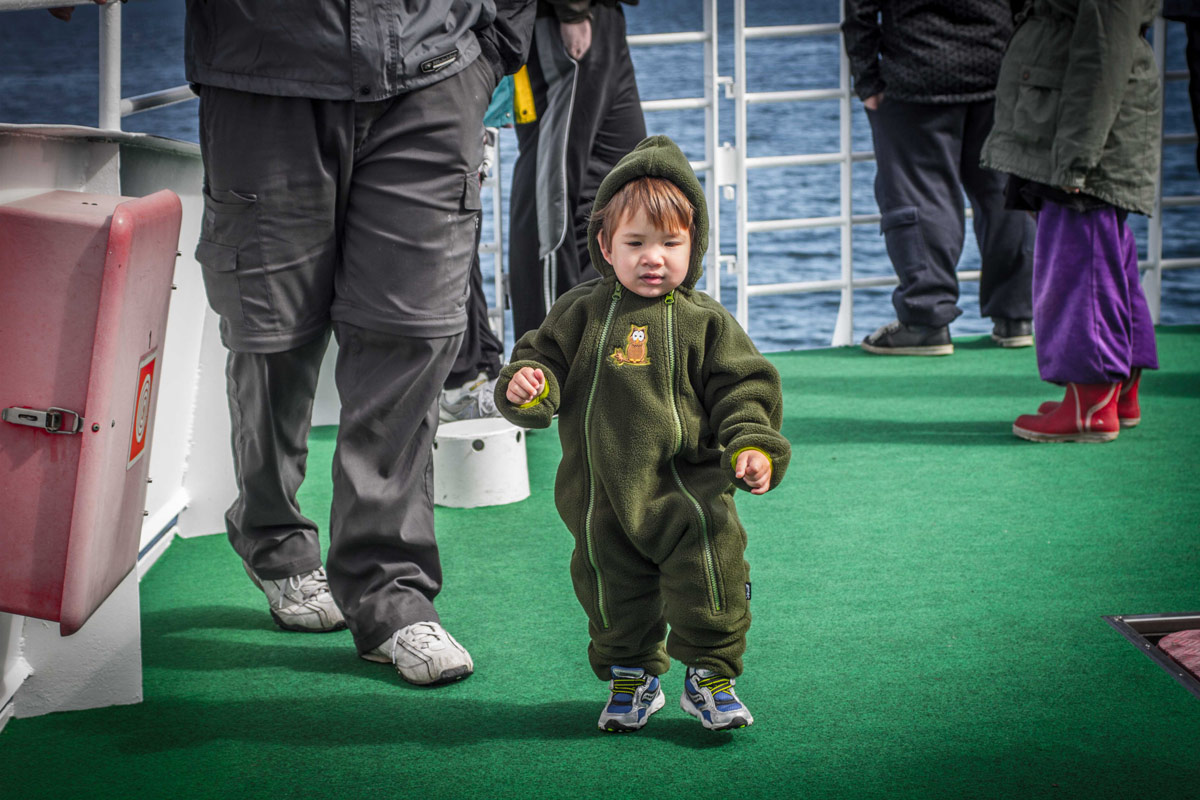 What makes Iceland's Westfjords so special?
Discovering Icelandic history
Kleifaheiði, (404 m) a mountain road from the Barðaströnd coast to the head of Patreksfjörður. On the top of the moors, at their western edge, is the Kleifabúi cairn in the shape of a man, raised by road workers. It is said the it resembles Hákon J. Kristófersson (1877–1967) a farmer and a congressman from the farm Hagi at Barðaströnd.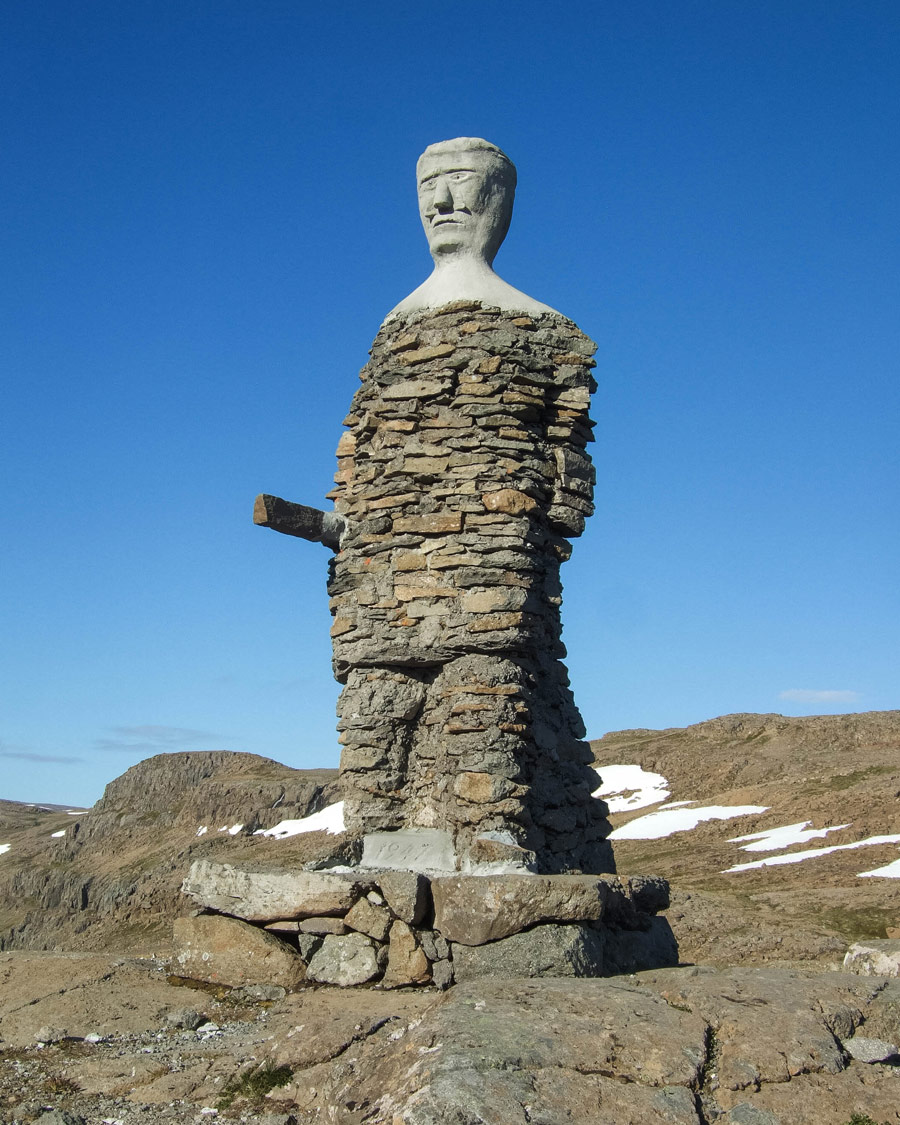 After we arrived in Brjanslaekur, we made our way south following the rough road Kleifaheidi, towards Patreksfjörður. The road itself is beautiful with rough rocky scenery and cairns marking the ancient trails that the roads were based on. We came across this statue of a man that had been raised by road workers. It is said to depict a sword-wielding Hakon J. Kristofersson, a farmer and congressman from Bardastrond.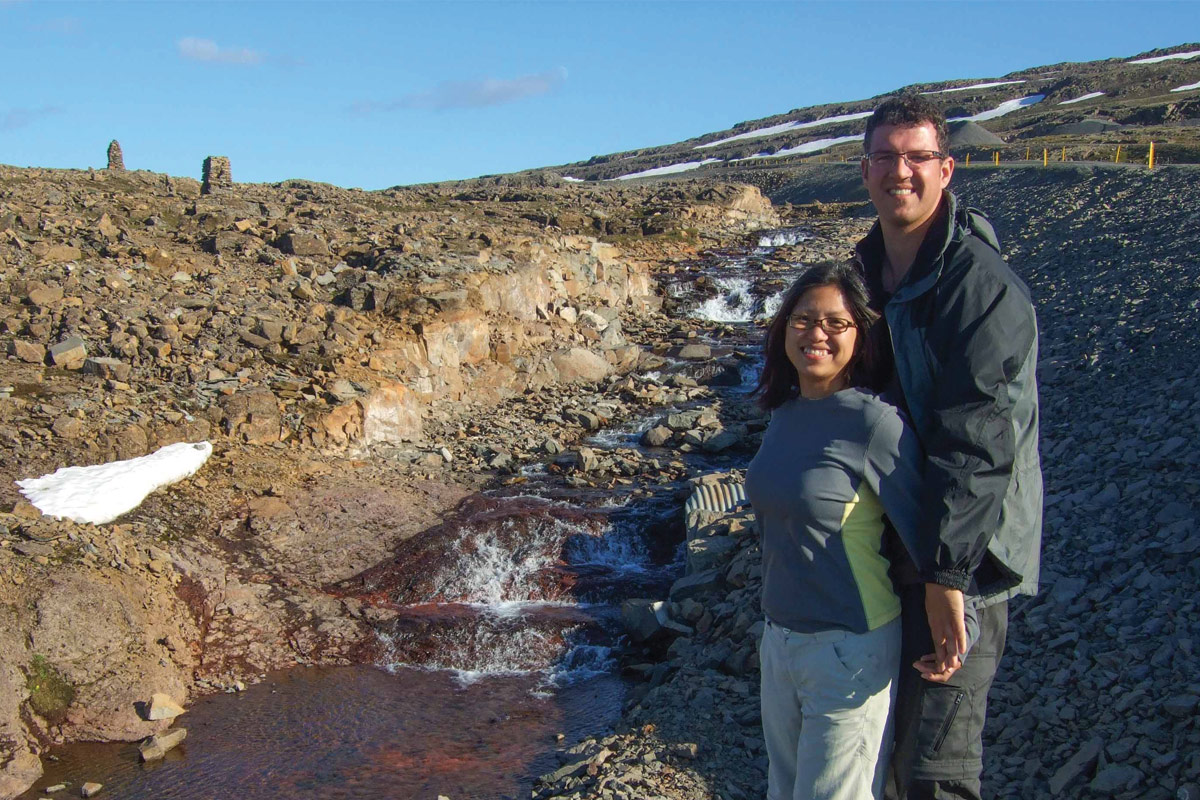 When we entered Skápadalur valley, we saw the remains of Iceland's oldest steel ship, the Gardar. This ship is over one hundred years old. Most of its career was spent as a whaling vessel.
It was rammed ashore as a tribute in 1981. It now rests on the shores of the Westfjords as a beautiful reminder of its incredible history and is a stunning photo opportunity for those who make the journey to visit it.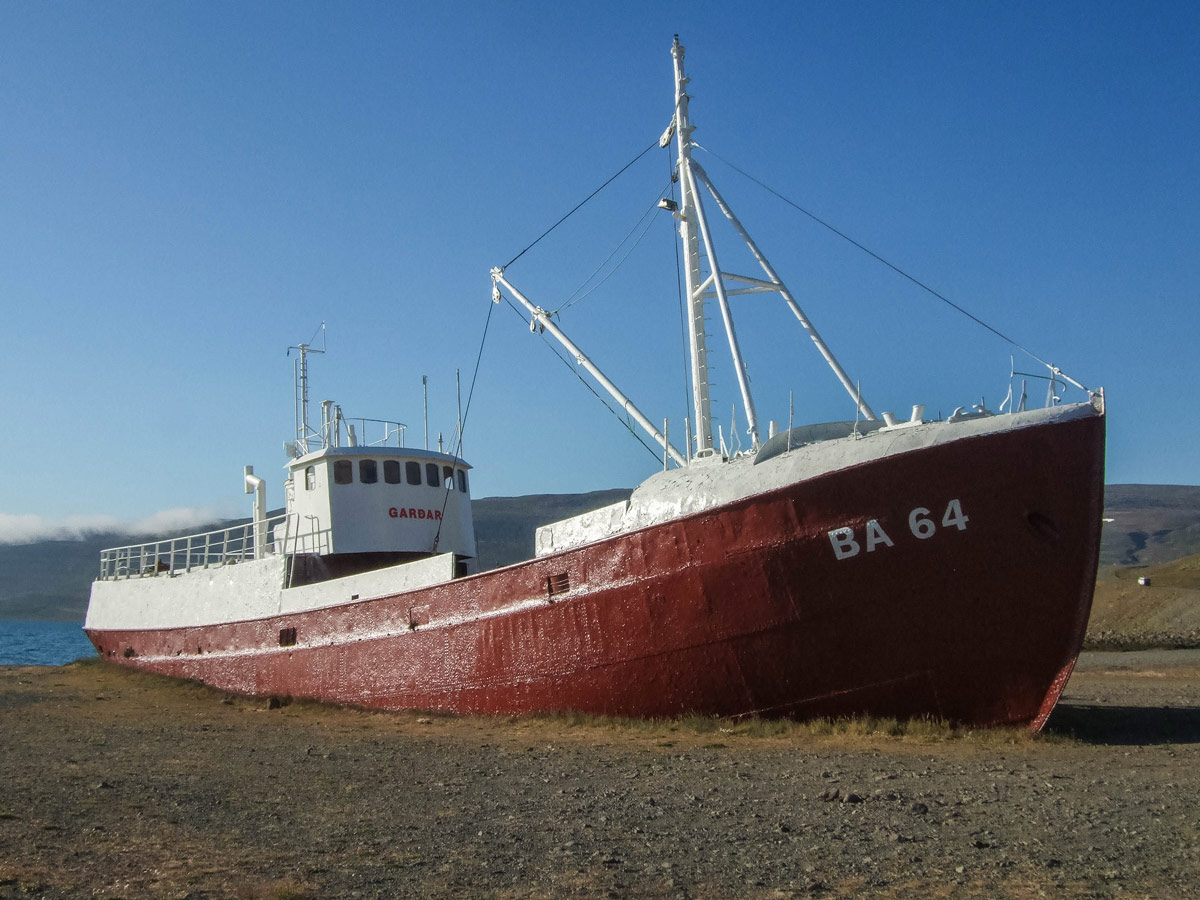 Stand nose to beak with millions of seabirds atop dizzyingly high cliffs
After leaving Patreksfjörður we began making our way up the hills towards Latrabjarg. When we were researching where to stay in Iceland, it was pretty clear that Latrabjarg didn't have a huge accommodation selection.
But when we pulled into Hotel Breidavik, we were welcomed with a warm smile and a bustling restaurant busily serving hot food, even at 10 PM. Also, Hotel Breidavik has camping and serviced areas for tents and camper vans, making it a popular stop for people visiting the stunning Latrabjarg Puffin Cliffs.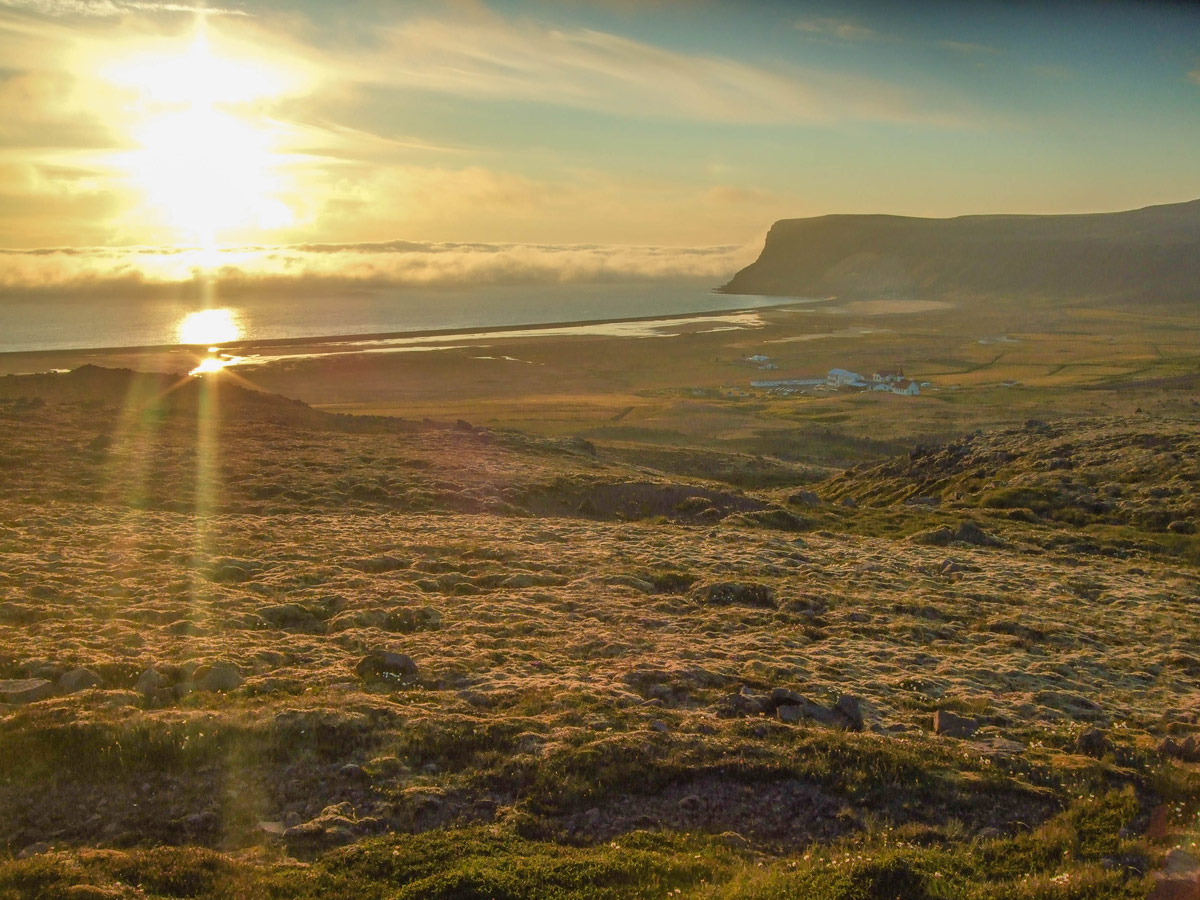 Pro-Tip: Make sure you have a full tank of gas before you head out to Latrabjarg. There are no gas stations in the region.
After treating ourselves to a hot meal, we found the light from the long summer days still shining, so we made our way to the Látrabjarg Bird Cliffs to take in the incredible views. Latrabjarg sits at the far south of Iceland's Westfjords and marks the westernmost point of Europe (if you don't count the Azores).
The cliffs here stretch for 14 km and rise a staggering 441m above the Atlantic. They are home to millions of seabirds including puffins, northern gannets, guillemots, and razorbills. Latrabjarg is a birders paradise and scores of visitors make the trip each year to get within breathing distance of these beautiful birds.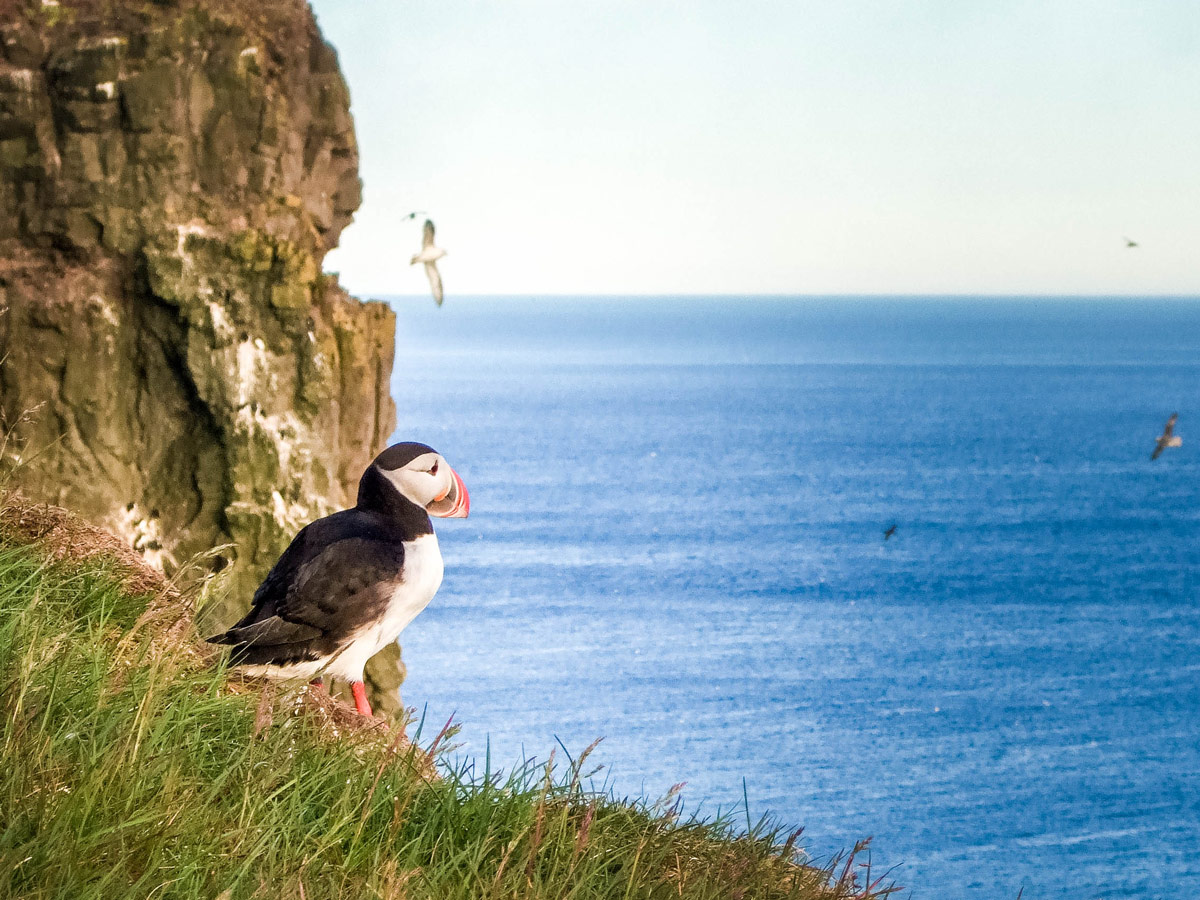 Pro-Tip: The bird cliffs of Latrabjarg have unstable cliff edges and there are no safety measures in place. Make sure to stay well back of the cliffs to avoid an unfortunate incident.
Get an entire golden sand beach to yourself
We rose in the morning and made our way out of Latrabjarg along the coast towards Dynjandi Falls. Along the way we came across Raudasandur beach, a gem of golden sand stretching into the distance.
We had a plan to go SCUBA diving in Silfra, but hadn't even considered visiting a beach in Iceland. This empty stretch of sand was too much to pass up, so we drove on down to dip our toes in … it was cold!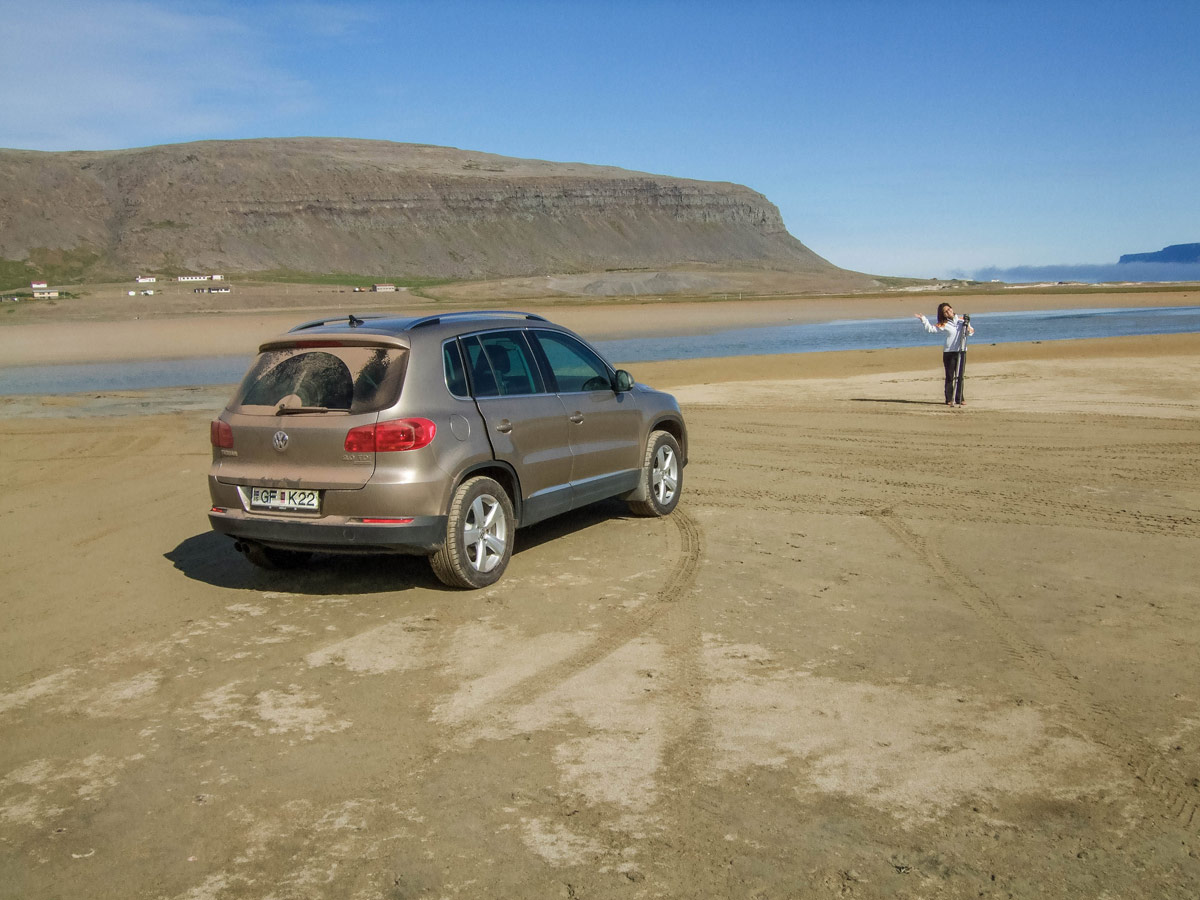 Take in the magical landscape of the fjords
We continued on through the fjords and along the dirt roads that make up most of the Westfjords. The views of the tablelands, staggering cliffs and mountain ranges were nothing short of breathtaking.
The landscape was similar to that of our visit to Gros Morne National Park in Canada. The remoteness of the region combined with the lack of visitors makes for incredible and uninterrupted views. We had to dodge the occasional herd of sheep along the way, but the drive wasn't so baaaaaad. (Sorry, I had to).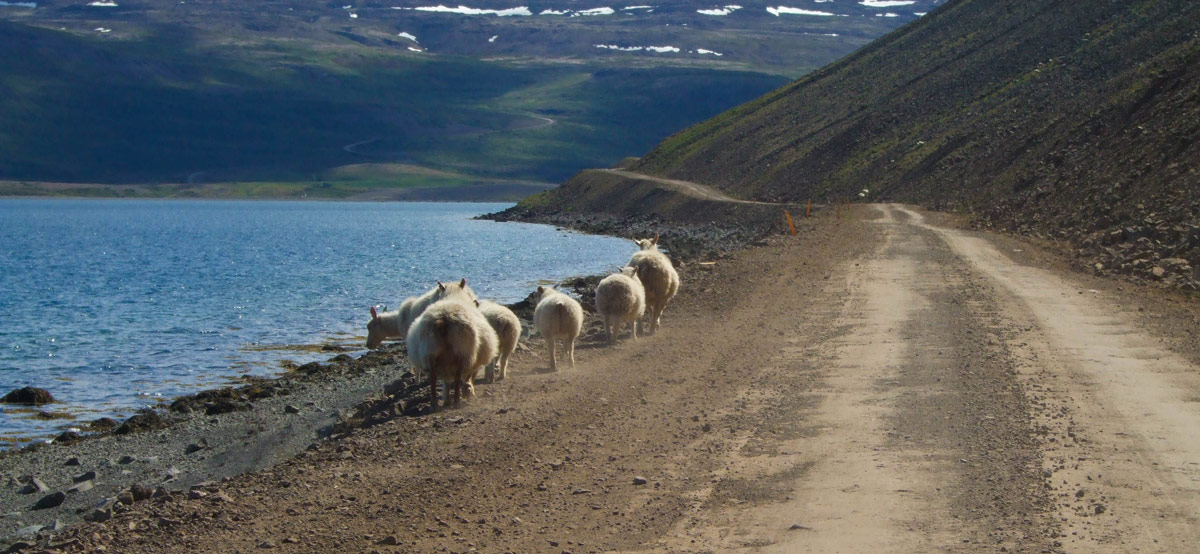 Myth: It has been reported that at the westernmost point of Iceland's westfjords it's even possible to catch a glimpse of Greenland We were informed by the helpful people at Visit Westfjords that this is a myth.
Take in the views of one of Iceland's most iconic waterfalls
We made our way west towards Þingeyri from the beach searching for the most iconic location in Iceland's Westfjords, Dynjandi Waterfall. The waterfall is located in a picturesque fjord and is accessed by a well-maintained parking area.
It was a short hike up to the base of the falls. But between the unique triangular shape of the cascading falls and the mind-blowing vistas in front of it, Dynjandi Falls makes for an unforgettable destination.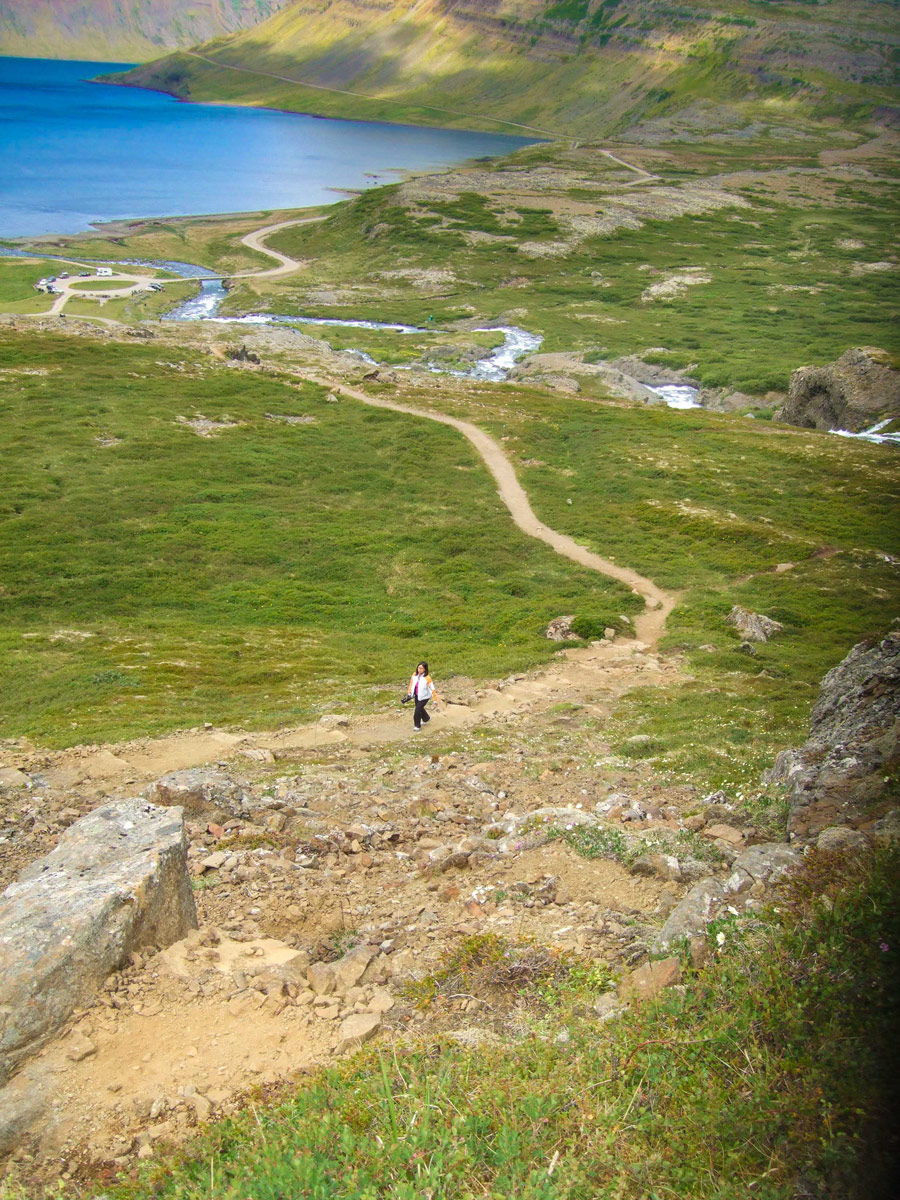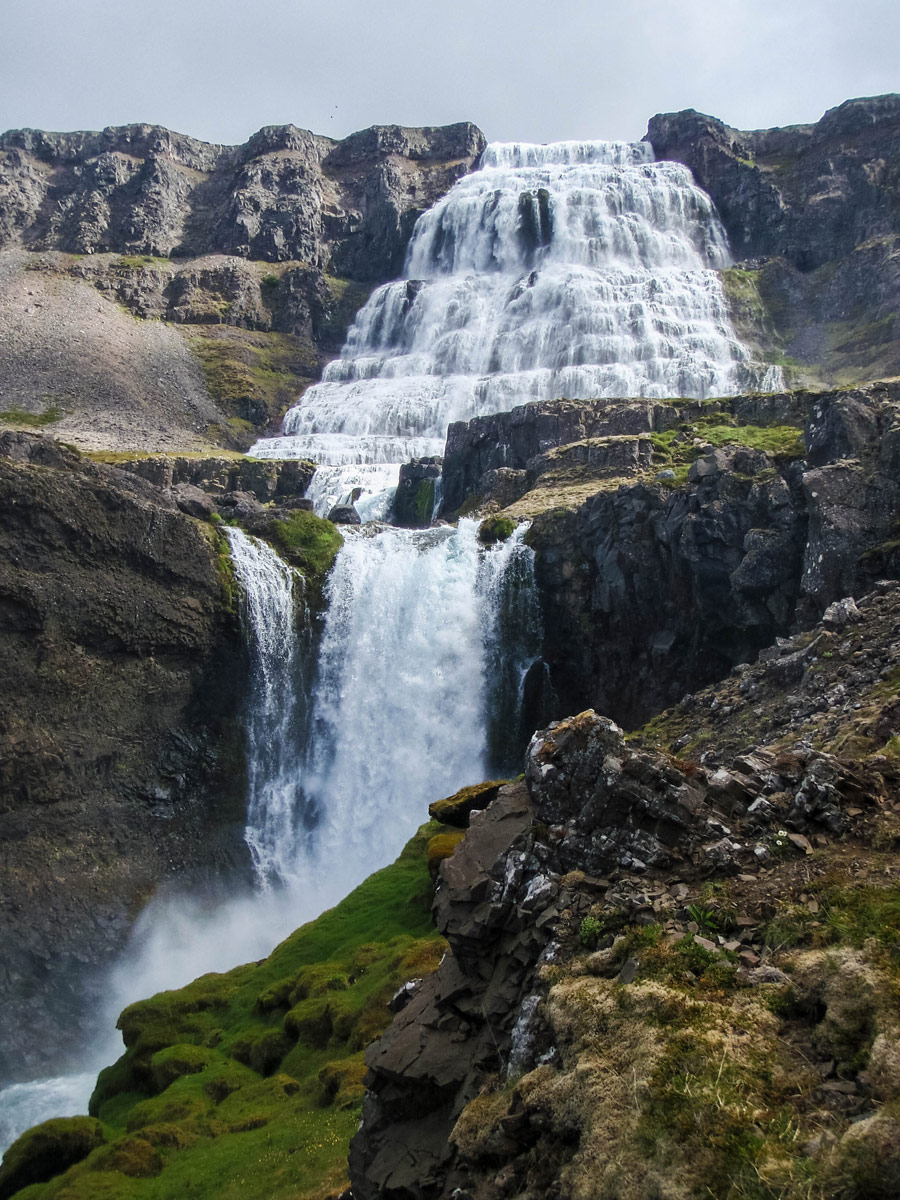 Learn all about Iceland's fishing history
Our next stop took us on a detour to the town of Bolungavík. Bolungavík is the northernmost village in the Westfjords and home to the Ósvör museum, a replica 19th-century fishing village. There is also a road that takes you up Bolafjall Mountain to take in the incredible views near a radar tower.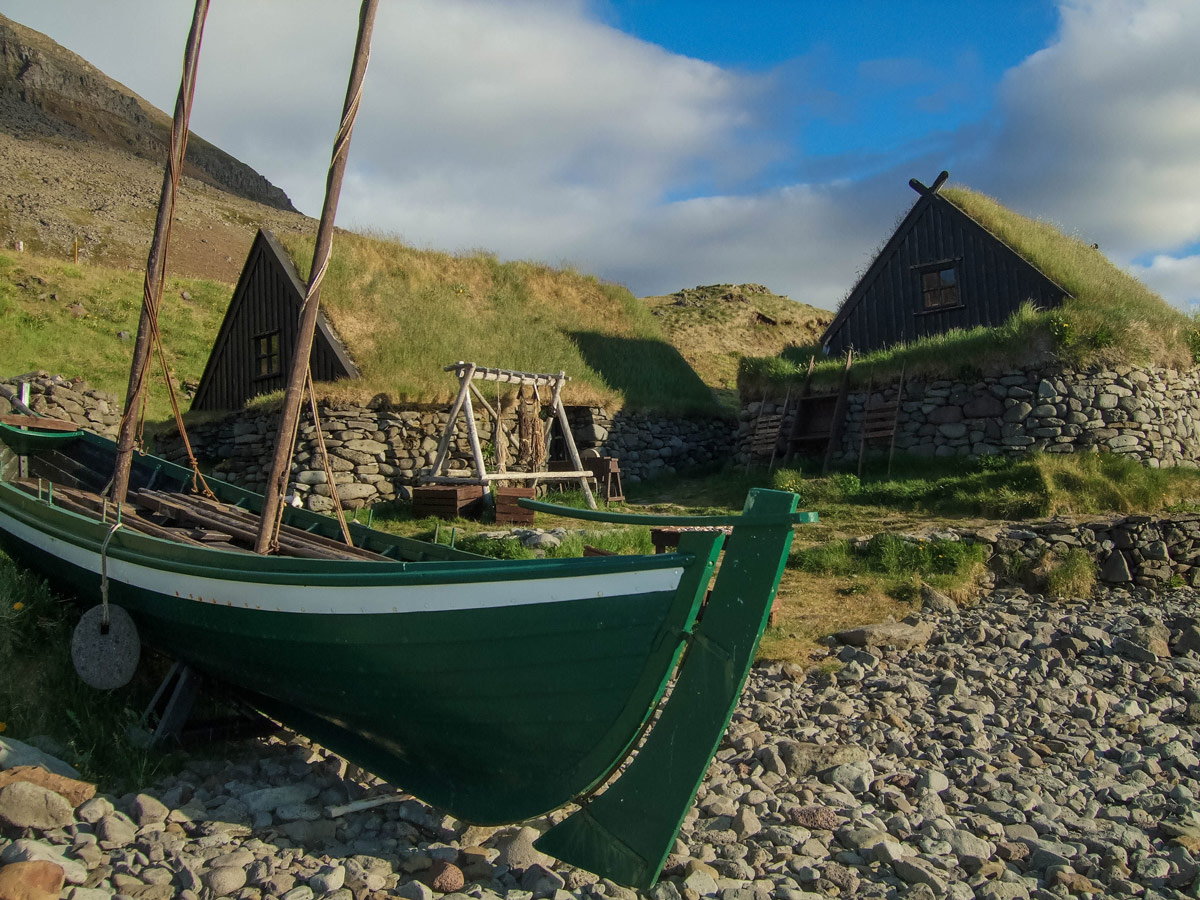 Wonder why anyone would leave this place
We made our way from Bolungavik to Holmavik. Along the way, near Isafjordardjup, we came across buildings such as this dilapidated castle house that must have been a heck of a site when it was in good shape. There were hillside sheds and shelters along the way as well that had us inventing stories as to their history.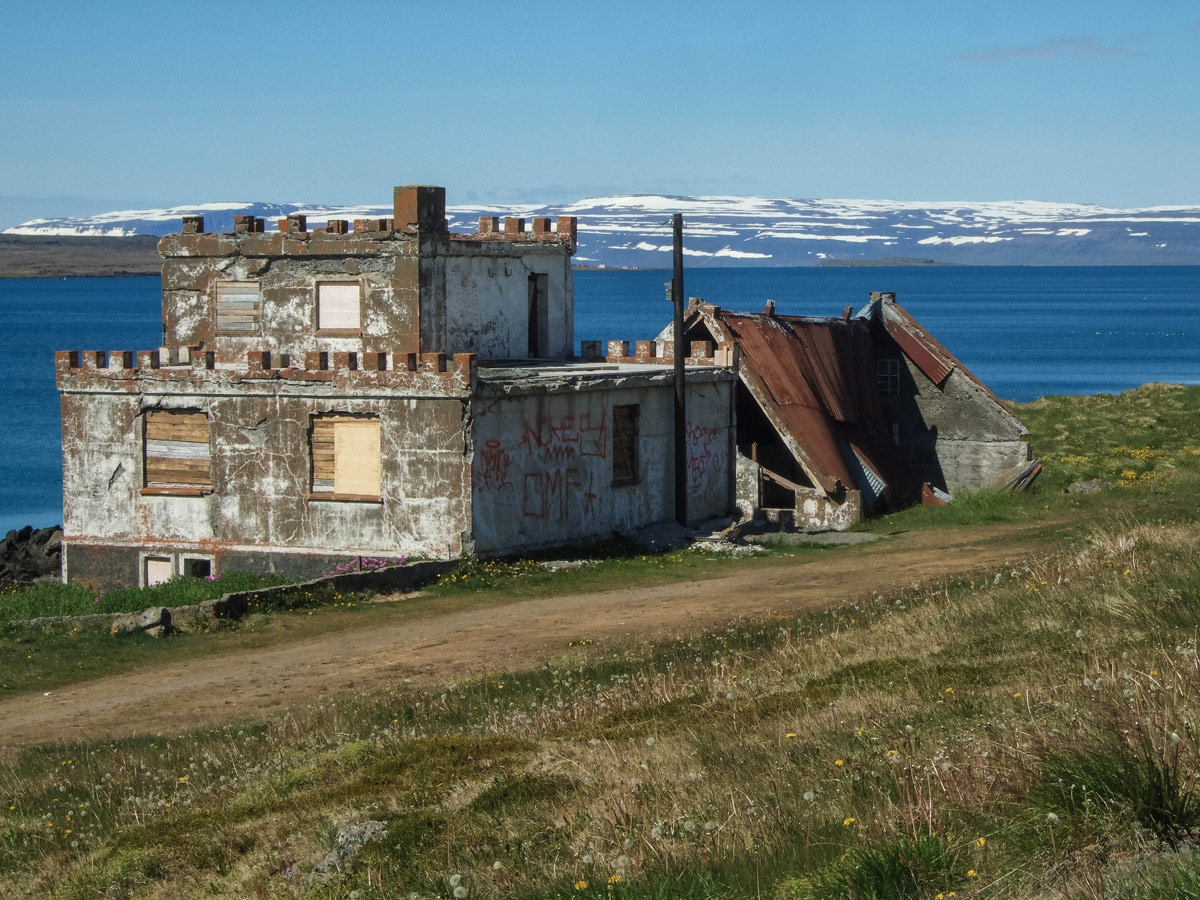 Feel like a local at one of the fun summer festivals
We arrived in Holmavik in the late morning. We were surprised to see our visit was perfectly timed to the July Hamingjudagar festival. The town was in full celebration with children riding horses and rides. Locals shared baked goods while music was playing everywhere, making it a perfect place to visit in Iceland with kids.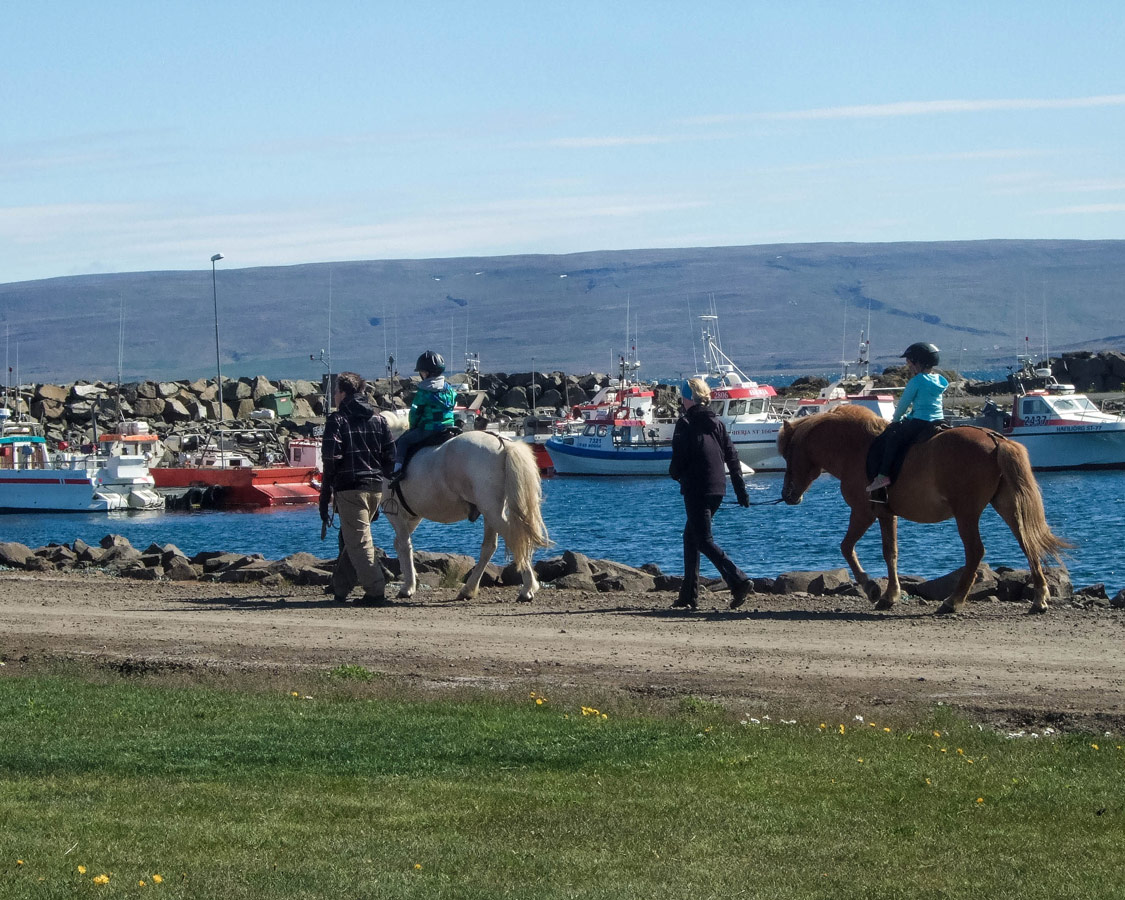 Bask in the occult lore of Vikings Witchcraft and Sorcery
While there we also made sure to check out the Museum of Witchcraft and Sorcery. The museum highlights many of the incredible beliefs and practices of historic Icelandic customs. If you visit, make sure you check out the pants.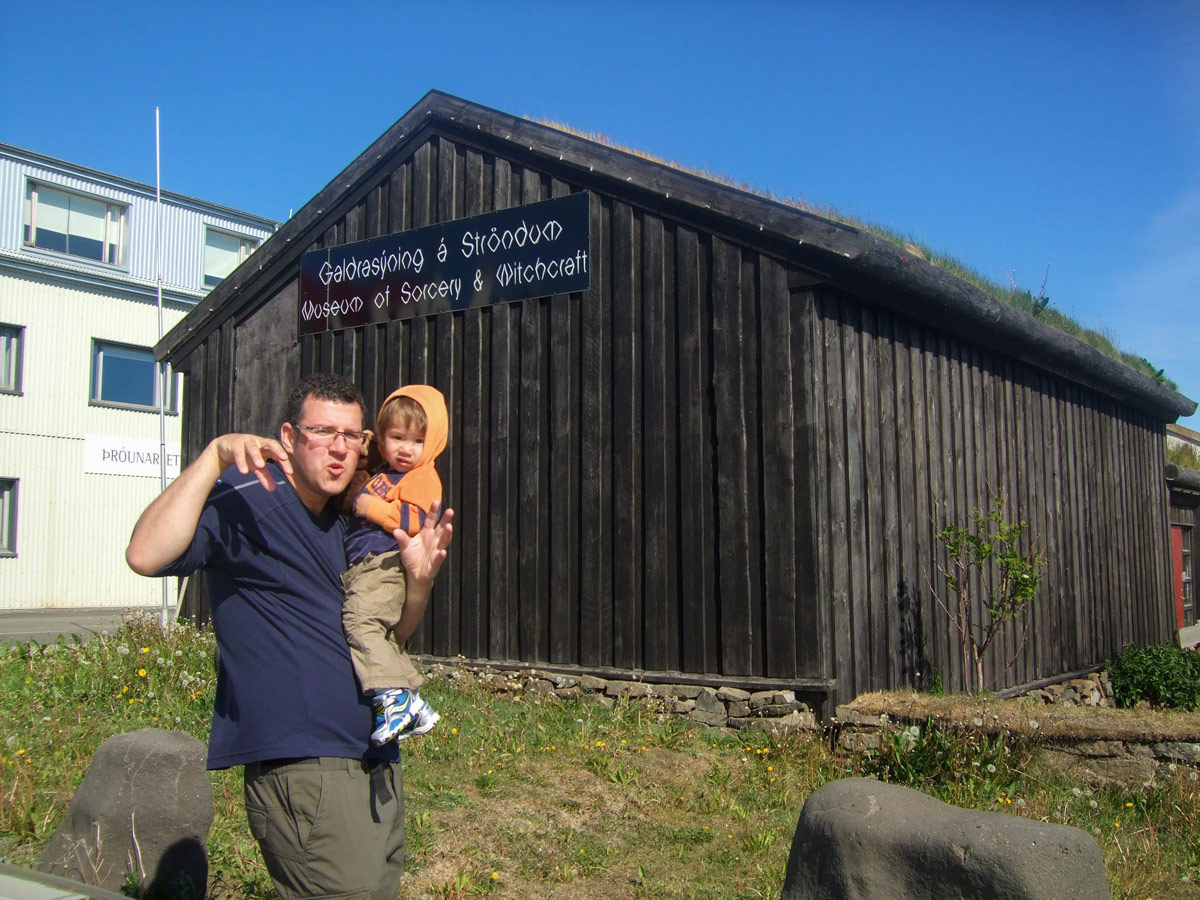 Holmavik was our final stop before continuing on to the Ring Road and our further adventures in Iceland. But there is much more to see in this beautiful region that we would have loved to discover.
Have you been to Iceland's Westfjords? If so, what are your favorite places?
Wandering Wagars is a participant in the Amazon Services LLC Associates Program, an affiliate advertising program designed to provide a means for sites to earn advertising fees by advertising and linking to amazon.com, amazon.co.uk, amazon.ca. Amazon and the Amazon logo are trademarks of Amazon.com, Inc. or its affiliates.
You May Also Like To Read: