Visiting Iceland? Check one of the most unique SCUBA diving sites in the world off of your bucket list in the waters of Silfra Iceland!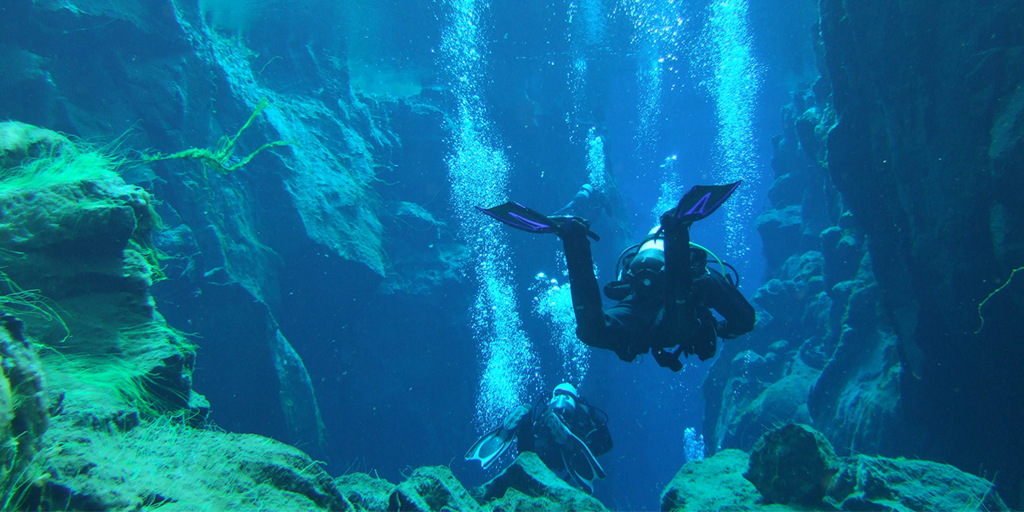 SCUBA Diving Iceland isn't usually at the top of people's minds when they visit the Land of Fire and Ice. But Iceland is actually home to one of the world's most sought after dive sites. Silfra diving Iceland won't bring you face-to-face with colorful fish, coral reefs, or mysterious shipwrecks, but it does offer one of the most unique SCUBA diving experiences in the world.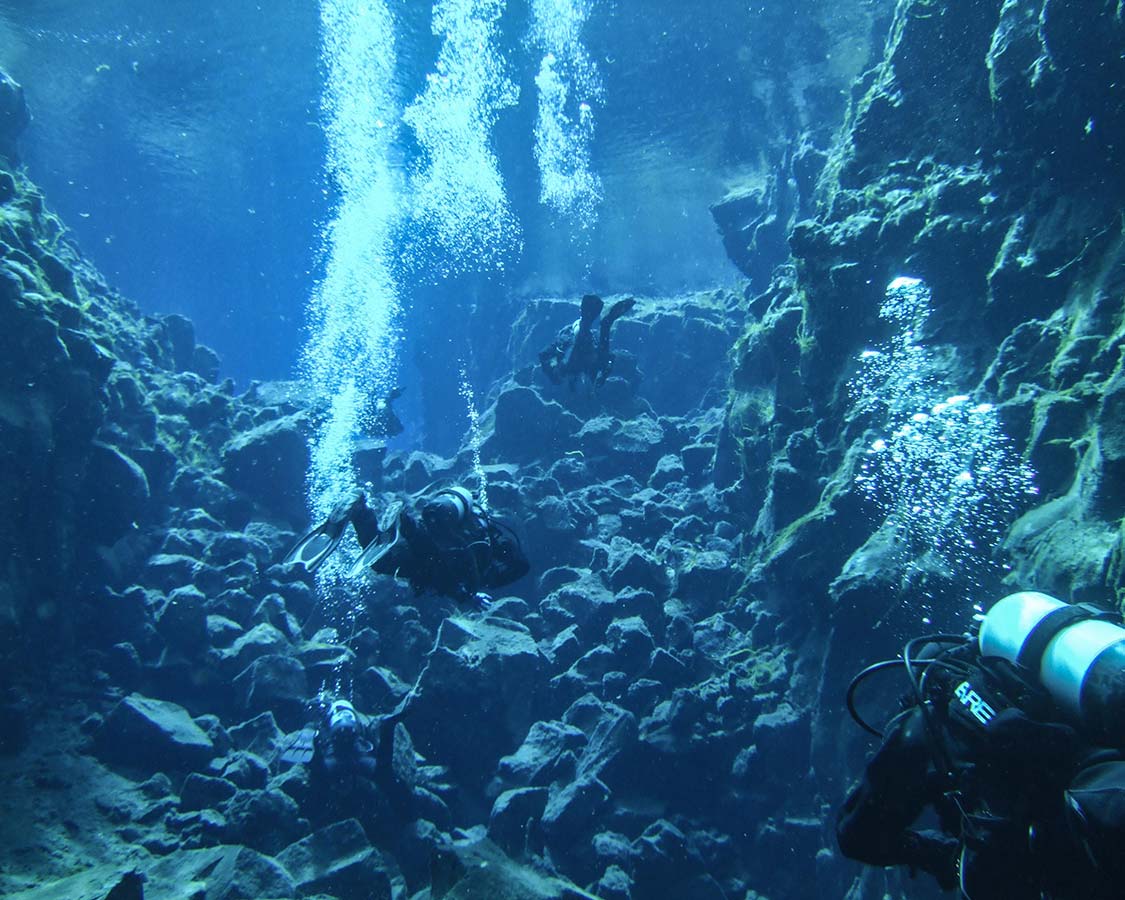 What is the Silfra Fissure Iceland?
The Silfra Fissure Iceland is a monument to geology. The popularity of this unique site has made it one of the coolest places to visit in Iceland. It's an ever-widening crack down the center of Iceland where the North American and European tectonic plates are slowly pulling apart. Although Iceland is generally considered to be European, it is actually divided neatly between both continents!
What makes Silfra even cooler is how the tectonic plates are pulling apart a little bit more each year. The tectonic plates of the Silfra Fissure pull apart at a rate of 2 cm each year, which in geological time is really fast. During our 14-day tour of Iceland with kids, SCUBA diving Iceland was not something we were going to miss.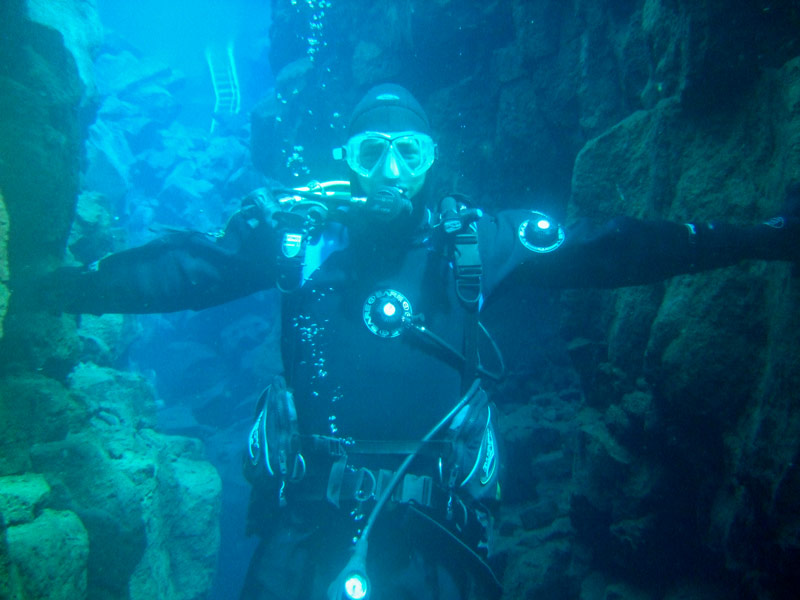 Where Is the Silfra Fissure in Iceland?
The Silfra Fissure is located in Thingvellir National Park, about 60 km (37 miles) from Reykjavik. In fact, The Silfra Fissure is located just 3.5 km (2.2 miles) from the Thingvellir Park visitor center. Visiting Thingvellir National Park is often part of the famous Golden Circle tour, but Silfra is usually an excursion all of its own.
Why is Thingvellir National Park so Important to the Icelandic People?
Often referred to as Pingvellir National Park due to the Icelandic alphabet, Thingvellir National Park is often considered the heart and soul of Iceland. The name means Parliament Meadows. And it was where the tribes of the country met from 930A D till 1798. This is where meetings were held, laws were passed, and celebrations took place for citizens across the country. Thingvellir National park was made a protected property in 1928, and it was decreed that it would hold that status for all time.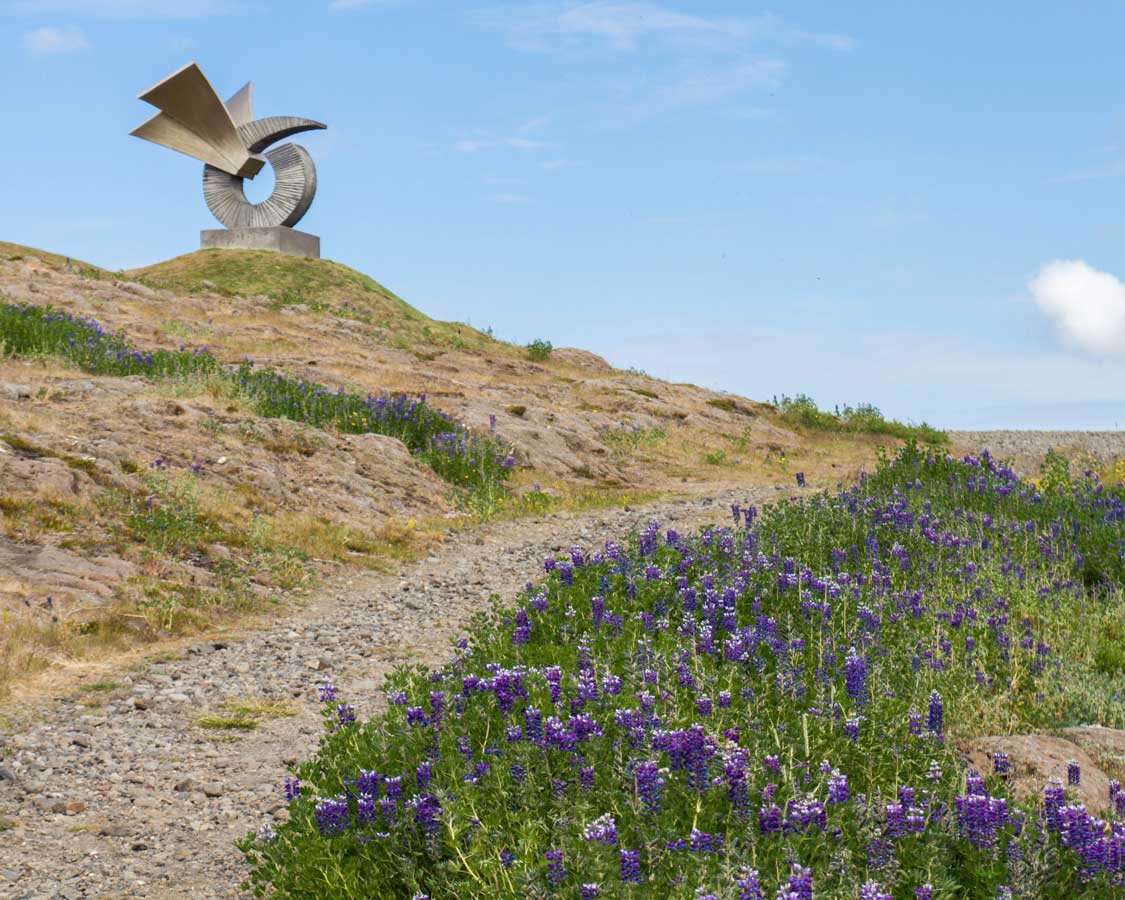 What Do you Need to Know Before Silfra Diving Iceland?
Getting Our Dry Suit Certification
Christina and I stayed up late on our stop in Reykjavik. We were excited about our experiences SCUBA diving Iceland at the Silfra Fissure the next day. Before being able to do our Silfra Iceland dive, we needed to have our dry suit certification. The course is available online, so we were cramming our brains while C slept peacefully. Finally, after a few hours of studying and testing, we had our certifications ready and fell asleep.
Getting to Thingvellir National Park
After waking up early in the morning, we left in the safe hands of the Hilton Nordic Reykjavik nanny service and were picked up by the dive shop we had hired for the Silfra experience. We would be taking part in a two-dive session at the Silfra fissure. The drive took us along back roads and through the gorgeous scenery of Thingvellir National Park. After an hour and a half drive, we arrived and began gearing up into our dry suits and tanks. Soon we were prepared to dip into the icy glacier water in Iceland.
What is the Water Like in the Silfra Fissure?
The water of the Silfra Fissure is cold. It remains at a fairly steady between 2-4 degrees Celsius (35.6 -39.2 degrees Fahrenheit) year-round. The Silfra Fissure water is fed by glacier meltwater that is filtered through the region's volcanic stone. This long filtering process has led to some of the cleanest and clearest water in the world. Because of these unique conditions, Silfra Iceland offers some of the best SCUBA diving in the world.
Whether you are taking part in Silfra Iceland snorkeling or SCUBA diving, you need to be prepared for the cold. Drysuits do a good job of keeping your core warm, but the feeling on your face, fingers, and toes can still be a bit jarring after some time in the water.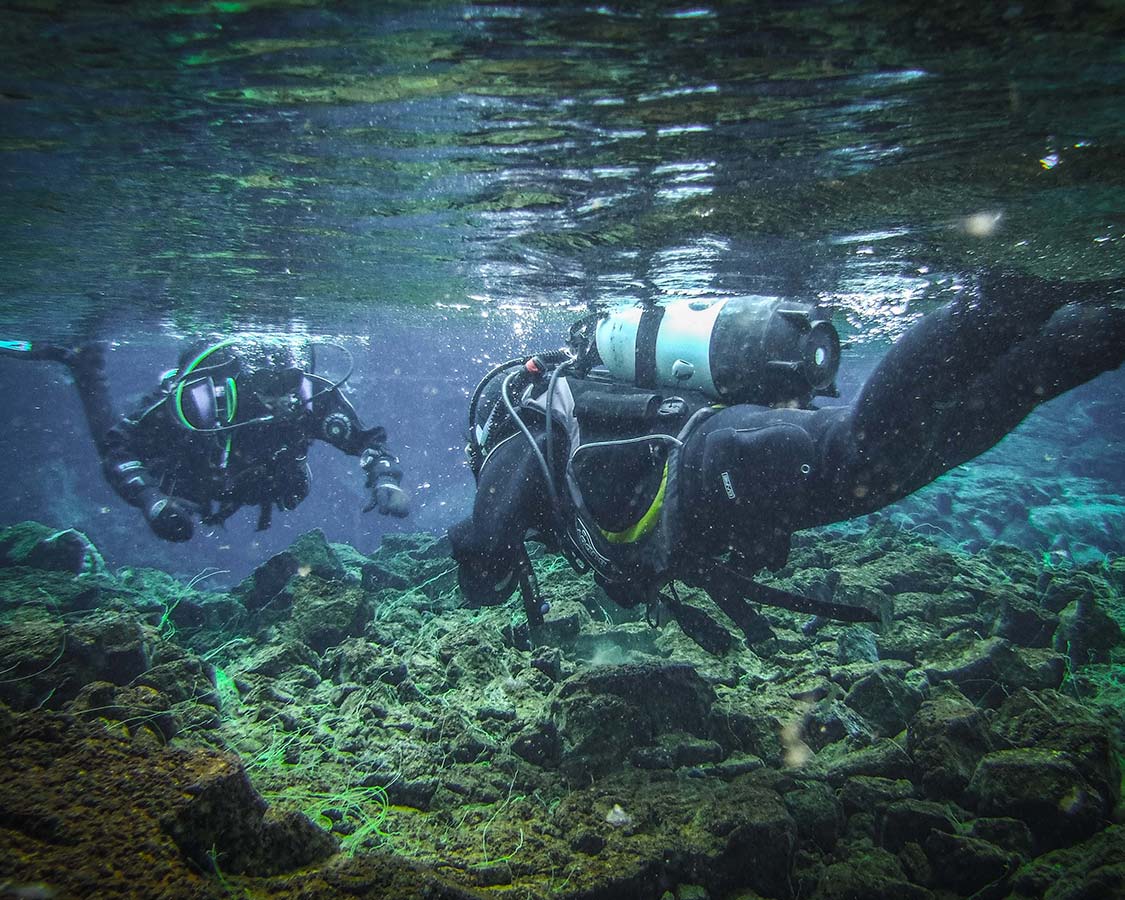 What Is It Like Silfra Diving Iceland
As we prepared for SCUBA diving Iceland in the crystal clear glacier water, we were reminded of the power of our ever-changing Earth. The Silfra fissure is considered to be one of the best and most unique dive sites in the world. This is due to having some of the clearest water in the world. In fact, the water is so clear, that the visibility is only limited by the length of the actual fissure!Powered by GetYourGuide.Become a partner.
Thingvellir National Park is the only known place in the world where you can dive between continental plates. Along with its spectacular geology, the glacial water, which trickles down from the Langjokull glacier is so clean you can remove your regulator and sip at the Icelandic water for refreshment whenever you need. Just make sure you don't drink so much that you have to go to the bathroom. When you're in a dry suit, it's unforgiving.
The walk to the Silfra Fissure
The hike to the water from the van isn't long, but it isn't easy. We had spent a good part of our trip hiking Iceland with kids, so we were at least a little prepared. But lugging our dive tanks and gear while wearing the hot and cumbersome dry suit for a quarter kilometer (820 feet) had our blood pumping in time for our dip into the ice-cold water. Luckily at the entrance to the fissure, there is a conveniently placed ladder and stair to help divers slip into the water.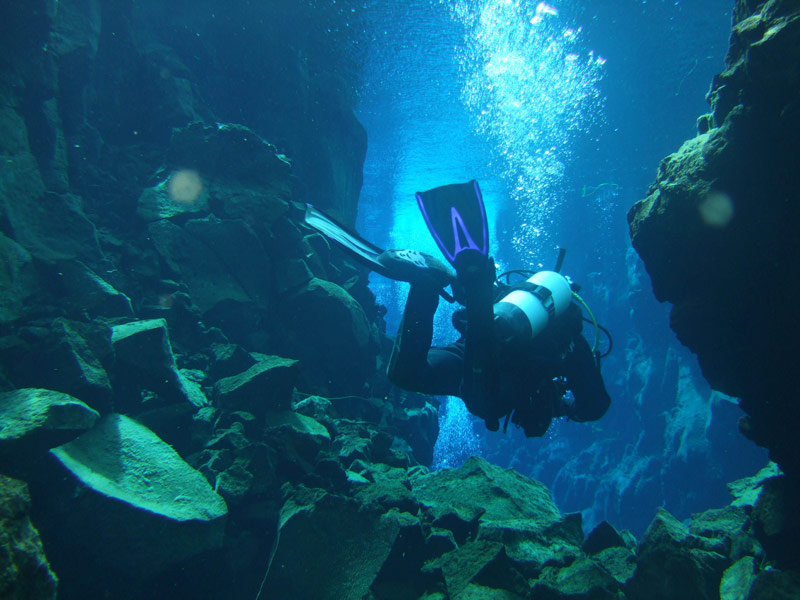 Diving spots in Silfra Iceland
Silfra has four SCUBA diving areas, the Silfra Big Crack, Silfra Hall, Silfra Cathedral and Silfra Lagoon. And over the course of two dives, most divers get the opportunity to experience the site in its entirety. Each section offers a very unique experience from shallow ponds to deep, boulder-filled craters. While there are no fish in the Silfra Fissure, you will experience the neon-green algae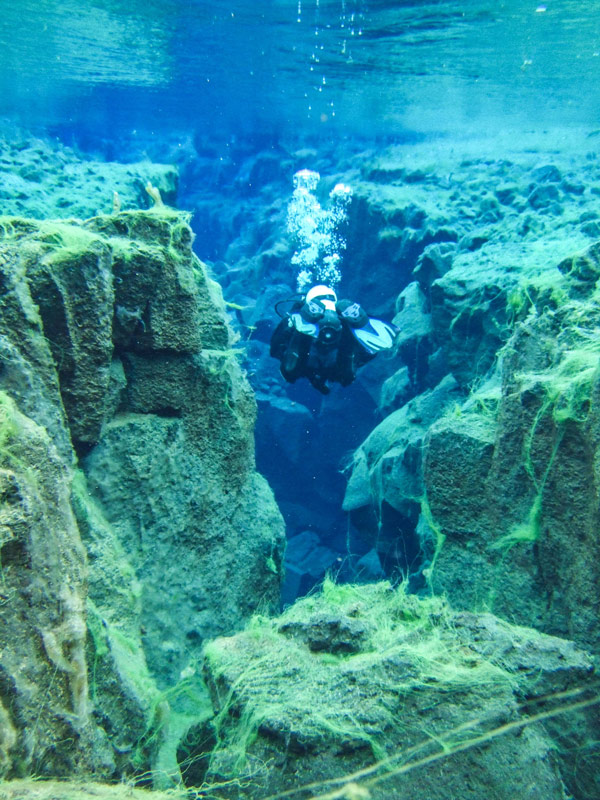 Silfra Iceland Snorkeling
The Silfra Fissure in Thingvellir National Park isn't solely for SCUBA divers. Visitors can try their hand at snorkeling in Silfra or simply exploring the beautiful surroundings of the region through hikes. Or just dip your toes into the water to check the temperature! Silfra Iceland snorkeling also requires a dry suit, although certification is not necessary.
Other Locations For SCUBA Diving Iceland
There are a number of sites throughout Iceland where SCUBA diving is becoming popular. And as more and more adventure travelers hit the water in this small country, more exciting dives are being discovered.
Strýtan in Northern Iceland's Eyjafjörður. With depths of between 25 and 70 meters, divers can explore geothermal chimneys and unique marine life. The Silfra crack isn't the only place to SCUBA dive in Iceland. In fact, with the boom in tourism, SCUBA diving is becoming a more popular activity. And new sites are being discovered all the time.
Gardur, located just an hour from Reykjavik contains over 42 types of algae. The dive also features kelp forests and marine life such as wolf fish, scorpionfish, and monkfish.
Kleifarvatn is a large lake not far from Reykjavik. Surrounded by the incredible landscape, getting there is half the fun. But inside the lake are thermal hot springs that vibrate from the tectonic activity.
Seydisfjordur is the perfect spot for wreck divers in Iceland. Located near a fishing village on far east Iceland, the El Grillo is a 150 meter, 7,000-ton oil tanker that was sunk by German fighters in WWII.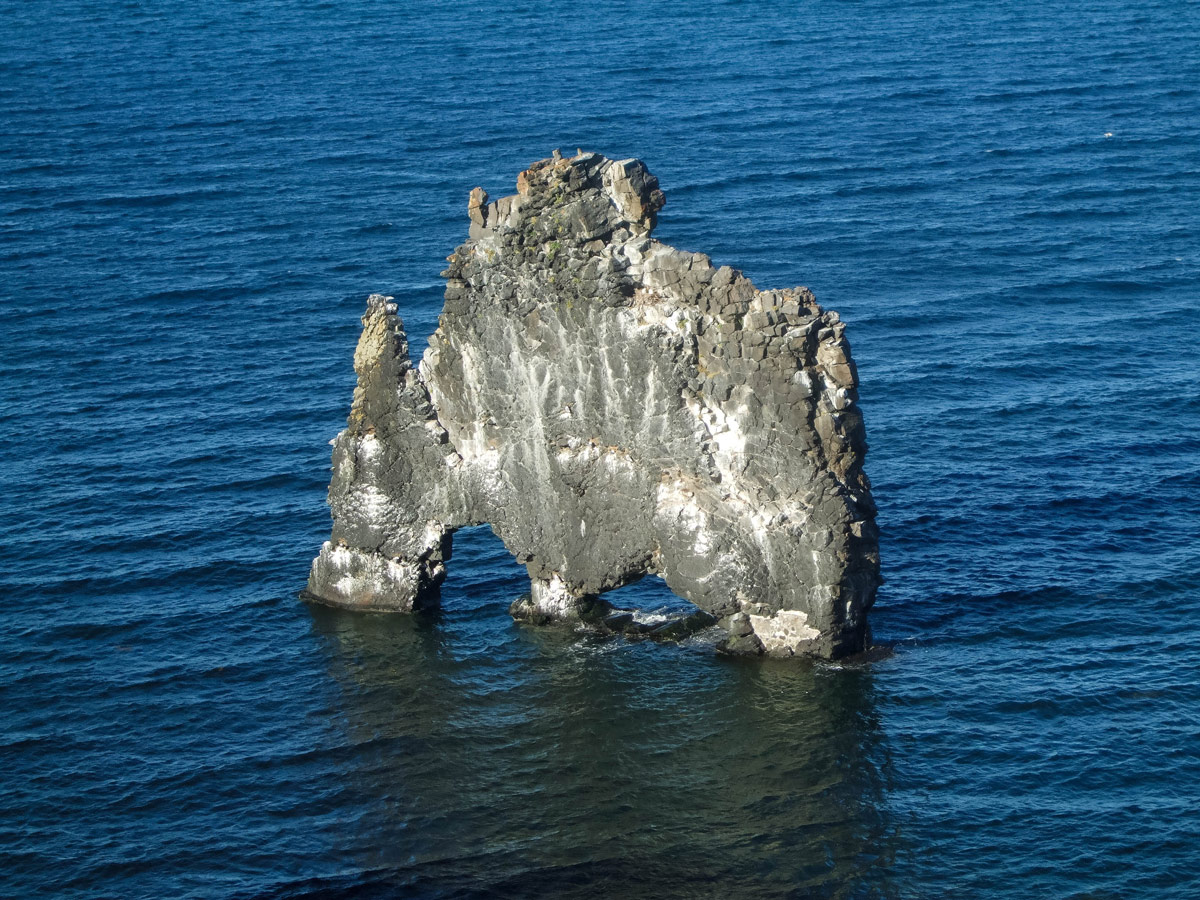 Do We Recommend SCUBA Diving in Silfra Iceland?
After two dives through the incredible waters, we carried our equipment back to the van and were dropped off back in Reykjavik for a relaxing dinner and a great sleep. The day was incredible, and we enthusiastically recommend this as a unique and incredible experience for SCUBA divers or those interested in snorkeling in Iceland.
Disclosure: This post may contain compensated links. Find more info on our disclaimer. Wandering Wagars is a participant in the Amazon Services LLC Associates Program, an affiliate advertising program designed to provide a means for sites to earn advertising fees by advertising and linking to amazon.com, amazon.co.uk, amazon.ca. Amazon and the Amazon logo are trademarks of Amazon.com, Inc. or its affiliates.
You May Also Like To Read:
Pin This Post For Later: