The 1st Class Kid Travel Pillow is an inflatable footrest for airplanes that fits in the space between seats in order to create a seamless reclining area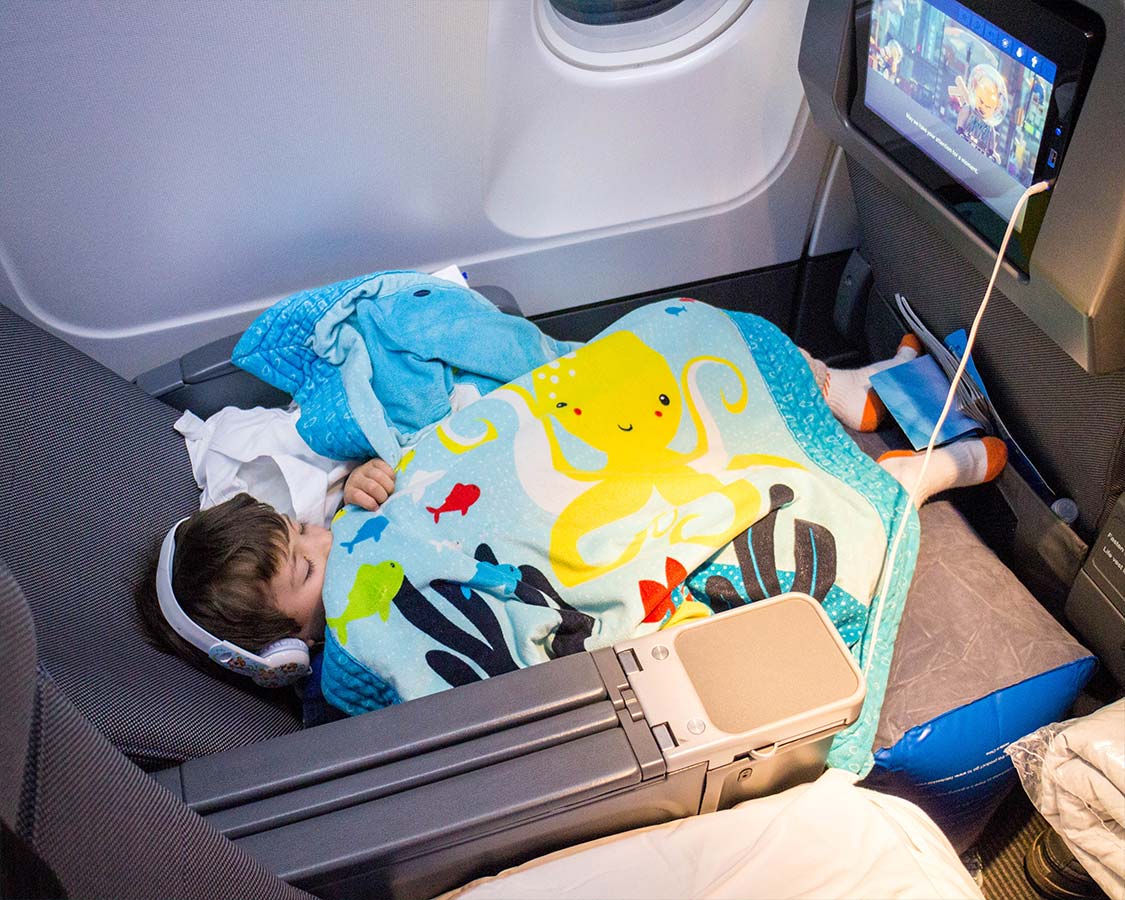 Long-haul flights with children can be a daunting expedition. The thought of red-eye, or 5+ hour journeys through the air can invoke thoughts of bleary-eyed children fighting to stay awake through all hours of the night, much to the dismay of their travel companions and those around them. To help make these overnight plane journeys more bearable, enter the 1st Class Kid Travel Pillow. The 1st Class Kid Travel Pillow is a way for children to fly legs up. It's essentially an inflatable airplane footrest for children.
This post may contain compensated links. Find more info in our disclaimer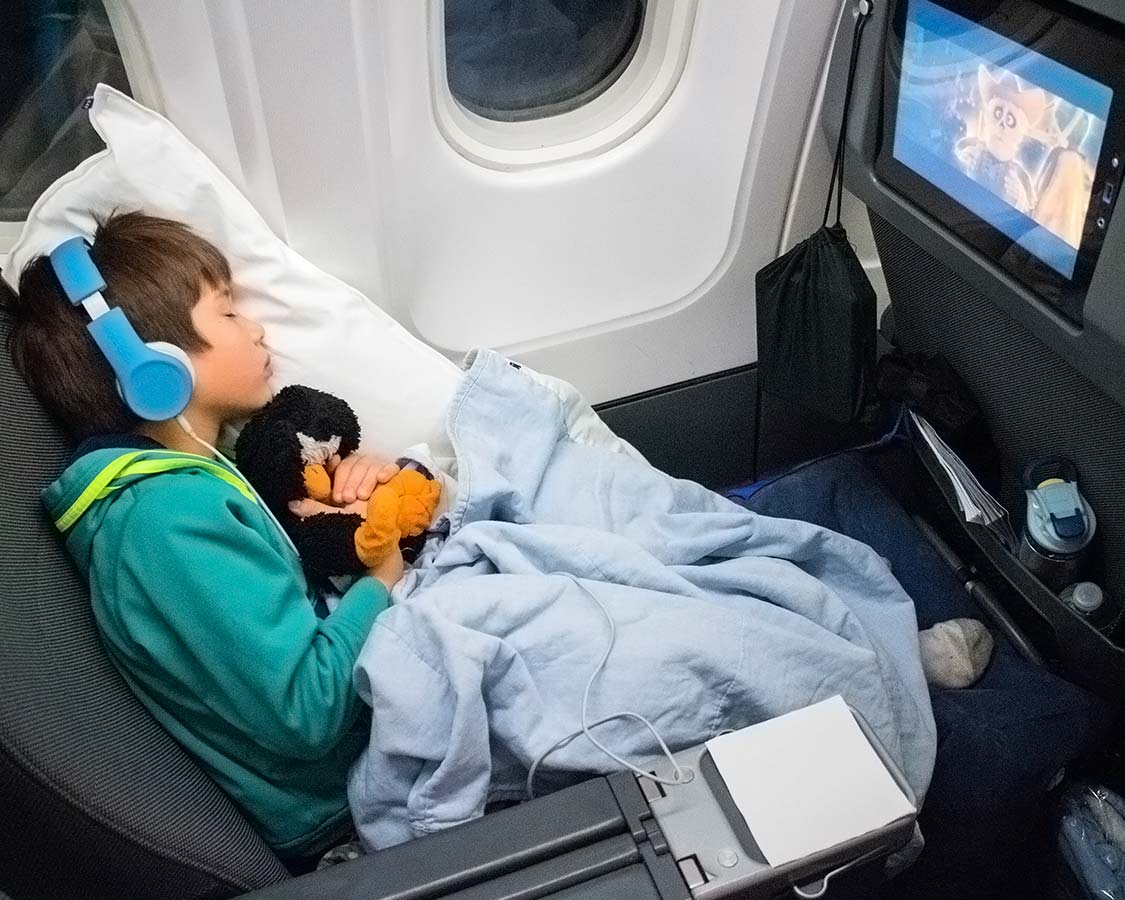 How Do You Fly Legs Up with the 1st Class Kid Travel Pillow?
The First Class Kids Travel Pillow is a large, rectangular inflatable footrest with a quick-release valve. This travel footrest is designed to fit between an airplane seat and the seat in front to create a nearly seamless flat space. This allows children to more easily sleep on a plane. We are big proponents of helping kids find nap time on the road, so we were very anxious to try out this children's travel product. The 1st Class Travel Pillow measures up to 45.5cm x 45.5cm x 30.5cm, however, it is designed to fit into nearly every seat space by simply varying the level of inflation.
The leg rest travel pillow is designed to match the width and height of airplane seats to create a comfortable, lay-flat bed for children. The main advantage of this inflatable footrest for kids is that it enables children on flights to stretch out within their own seating area rather than across multiple seats. And for anyone who has flown with children, especially on long flights, this concept seems heavenly!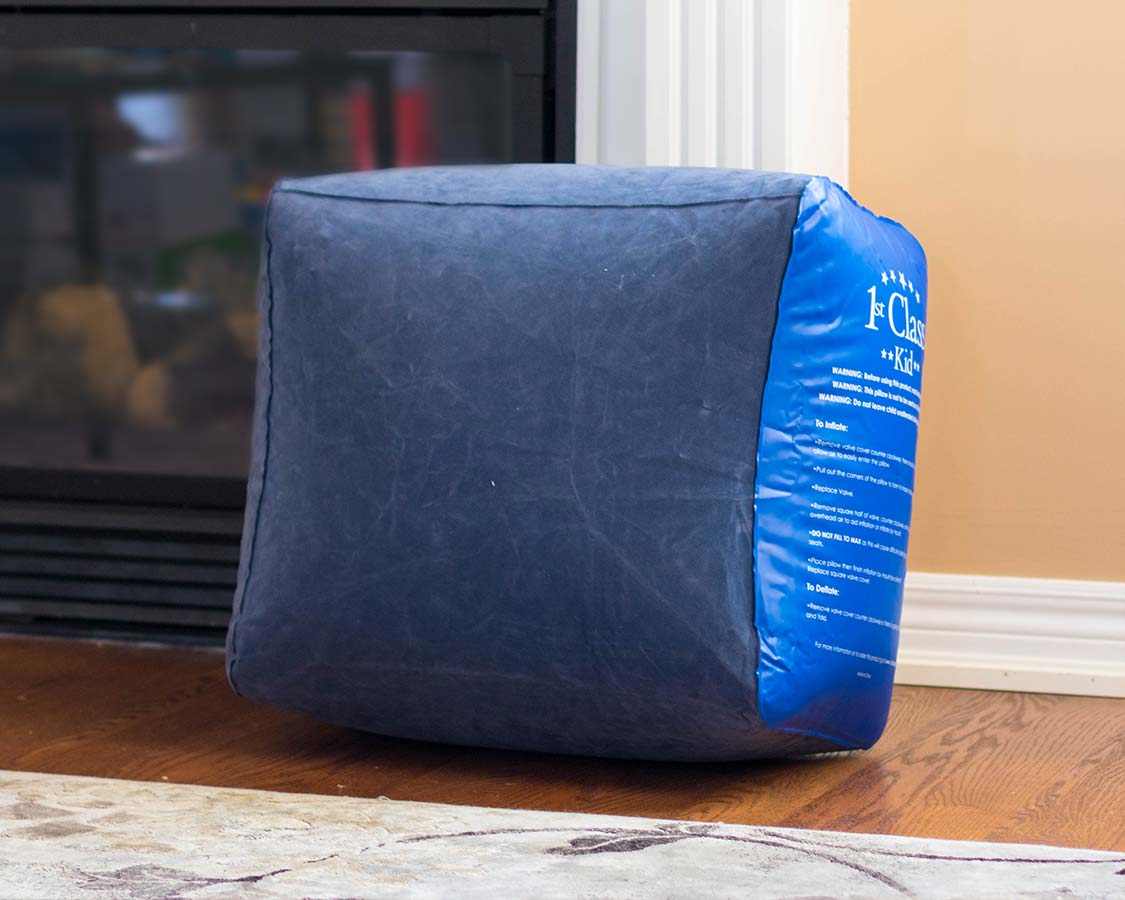 Our Experience Using The First Class Kid Travel Pillow
The product was sent to us by local distributor Travel Tots. They provided us with two 1st Class Kid Travel Pillows for our upcoming trip to the Philippines. The products came in very compact packaging that was encouraging to see. I first unwrapped the packaging and tested the pillows out using a small camping air pump. The leg rest travel pillow inflated quickly and was very easy to adjust this way. Upon deflating the product, it, unfortunately, did not shrink to the same dimensions as the original packaging. This though was not unexpected, as what products ever collapse to factory size.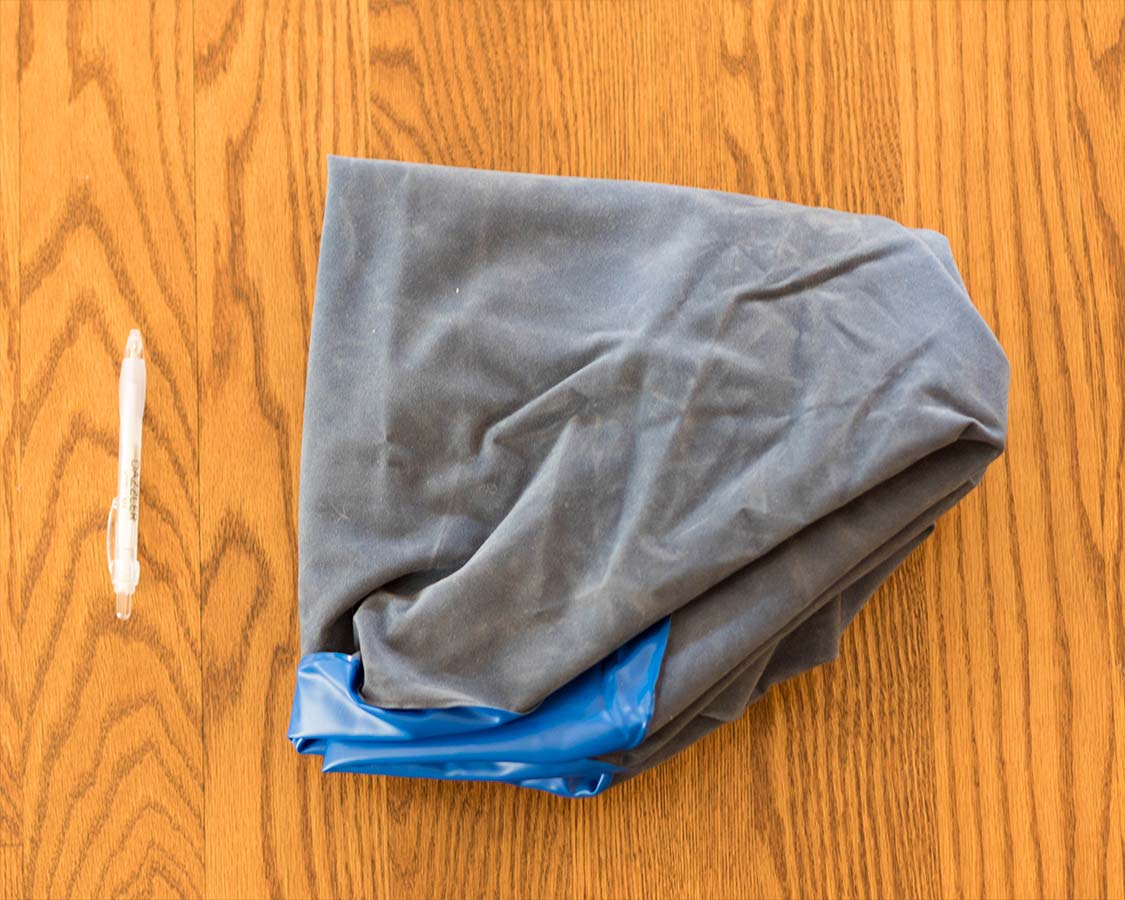 1st Flight with a Leg Rest Travel Pillow
For our flight to the Philippines, we flew Air Canada to Shanghai and then Philippine Airlines from Shanghai to Manila. This is where we learned about some of the politics of fly legs up type of products. When I approached the flight attendants on the 10-hour leg from Toronto to Shanghai about using the airplane footrest, I was told that Air Canada does not allow plane footrest products on their flights. This came as a surprise. It seems that there are quite a few airlines on both sides of the leg rest travel pillow debate.
After spending a day in Shanghai, we boarded our flight to Manila. We got lucky and were bumped up to first class, so for our flight to the Philippines, we did not have a chance to use the inflatable leg rest for flights.
2nd Flight with a Plane Footrest
Our next flight, however, was to Norway on Scandinavian Airlines, and, after contacting them in advance, we learned that they do allow the use of the First Class Kids pillow. In fact, when I was on the flight and preparing to set the children's travel pillow up, the flight attendant was fascinated by the product and kept coming by to see how it was working.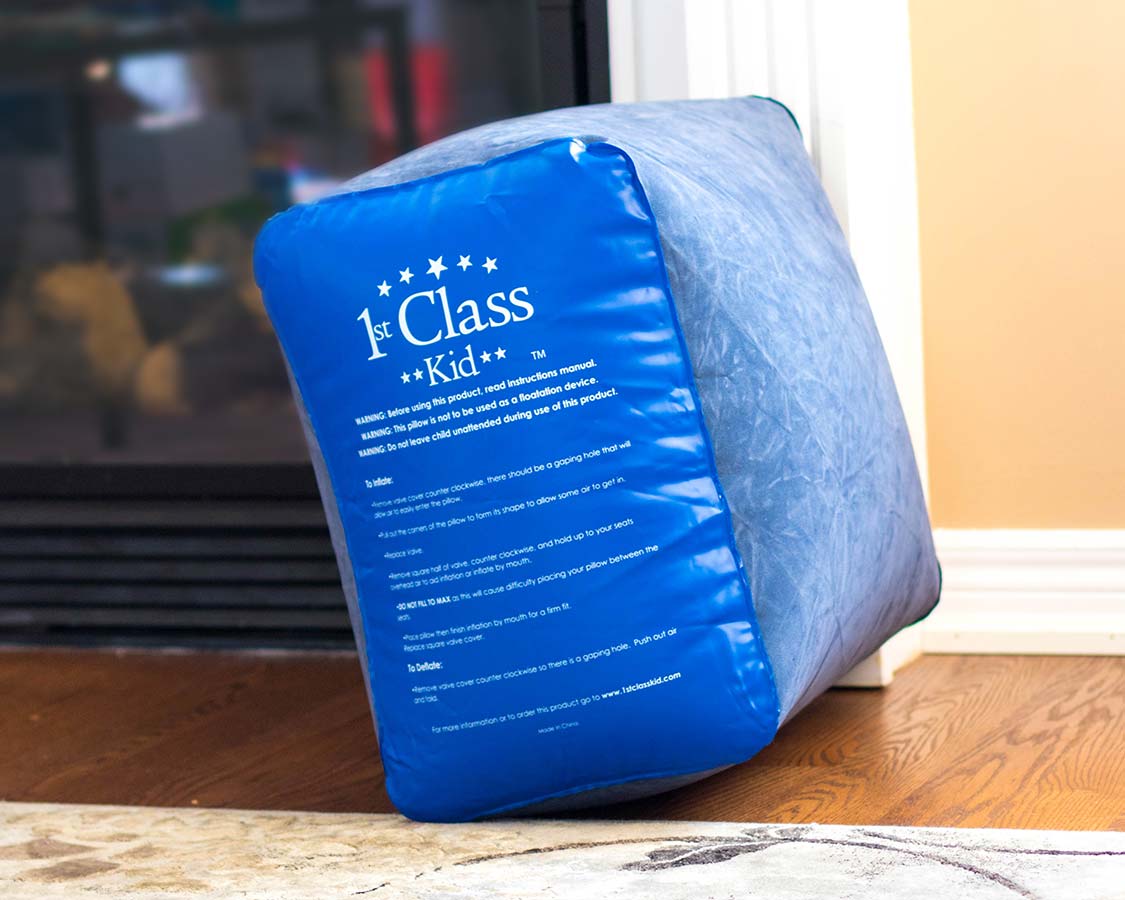 Inflating the 1st Class Kid Travel Pillow
When I began setting up the airplane footrest, I quickly learned that not all airplanes are built the same. Travel Tots and the 1st Class Kids FAQ claims that the leg rest travel pillow can be inflated in minutes using the overhead ventilation system on planes. Our plane, however, did not have an overhead ventilation system. This meant that I would need to inflate each travel seat cushion by mouth.
This is when I learned that our travel pillows created a loud whistle when being blown up by mouth. I did my best to remain discreet on the plane, however with each mouthful of air, loud, whistling squeaks were emanating from our row of seats. Our neighbors were starting to notice. Luckily I started early, and not many people were sleeping yet. But if I were inflating the 1st Class Travel Pillow when others were sleeping, I probably would have stopped due to all the noise it created. (1st Class Kid Travel Pillow has addressed these issues and offered solutions in the comments section below)
The second issue I came across was that by the time I had inflated both pillows, I was light-headed and could have used a travel footrest of my own. And as far as I can tell, planes aren't built for an adult-sized footrest for air travel.
Deflating the First Class Kids Travel Pillow
Where inflating this airplane footrest was a chore, deflating the travel leg rest was a breeze. This process involved a simple turn of a dial and most of the air escaped almost immediately. From there I only needed to tightly fold the travel footrest to force the rest of the air out before folding it up and placing it back in our carry on luggage. I was able to deflate both units and put them away in less time than it took me to inflate one of them.
The double airflow system of the First Class Kids Travel Pillow works very well. There is a large opening for deflation and a smaller, vent-controlled opening on top of it for inflating. The vent did a good job of allowing me to inflate the travel pillow by mouth without all of the air rushing back out each time I took a breath. The only issue I had with it was that when turning the smaller vent valve, the larger dial often turns as well-meaning that sometimes two hands or nimble fingers are necessary.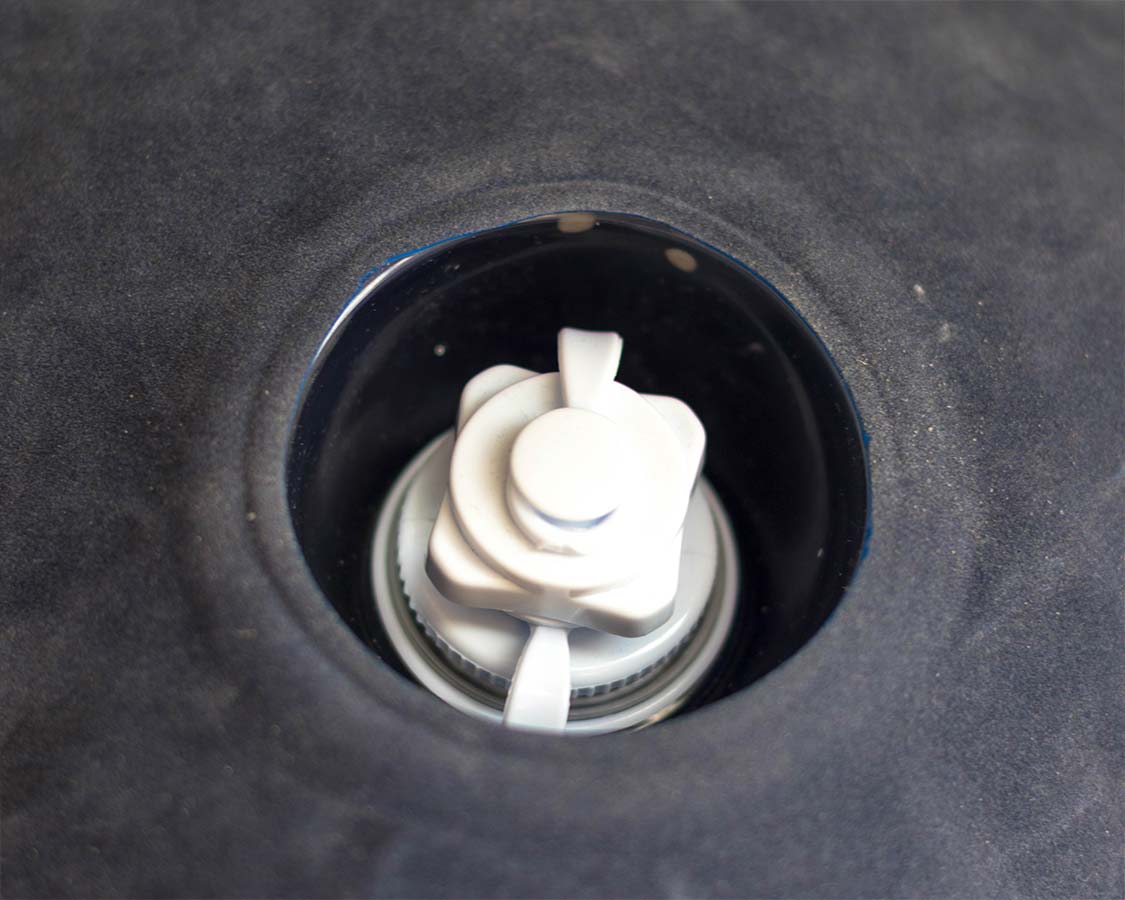 What We Love about the 1st Class Kid Travel Pillow
Very easy to fit the Leg Rest Travel Pillow to fill the space between seats.
It makes for a very comfortable travel experience for children.
Very easy to deflate and put away at the end of a flight.
Well designed inflation valve doesn't require Olympic sized lungs.
Where We Think the 1st Class Kid Travel Pillow Can Improve
It can cause an annoying loud whistle when inflating.
A bit bulky to travel with once out of the original packaging.
Only practical when the child is in a window seat or the middle seat of a middle row.
The First Class Kid Travel Pillow is available on Amazon. You can check the prices and availability here.
Tips For When You Fly Legs Up Using the 1st Class Kid Travel Pillow
Not all airlines allow an inflatable footrest. Make sure you contact the airlines ahead of time to ensure that the product is allowed. Refunds are not available for open products.
Bring a small manual hand pump in case there are no overhead vents on the aircraft.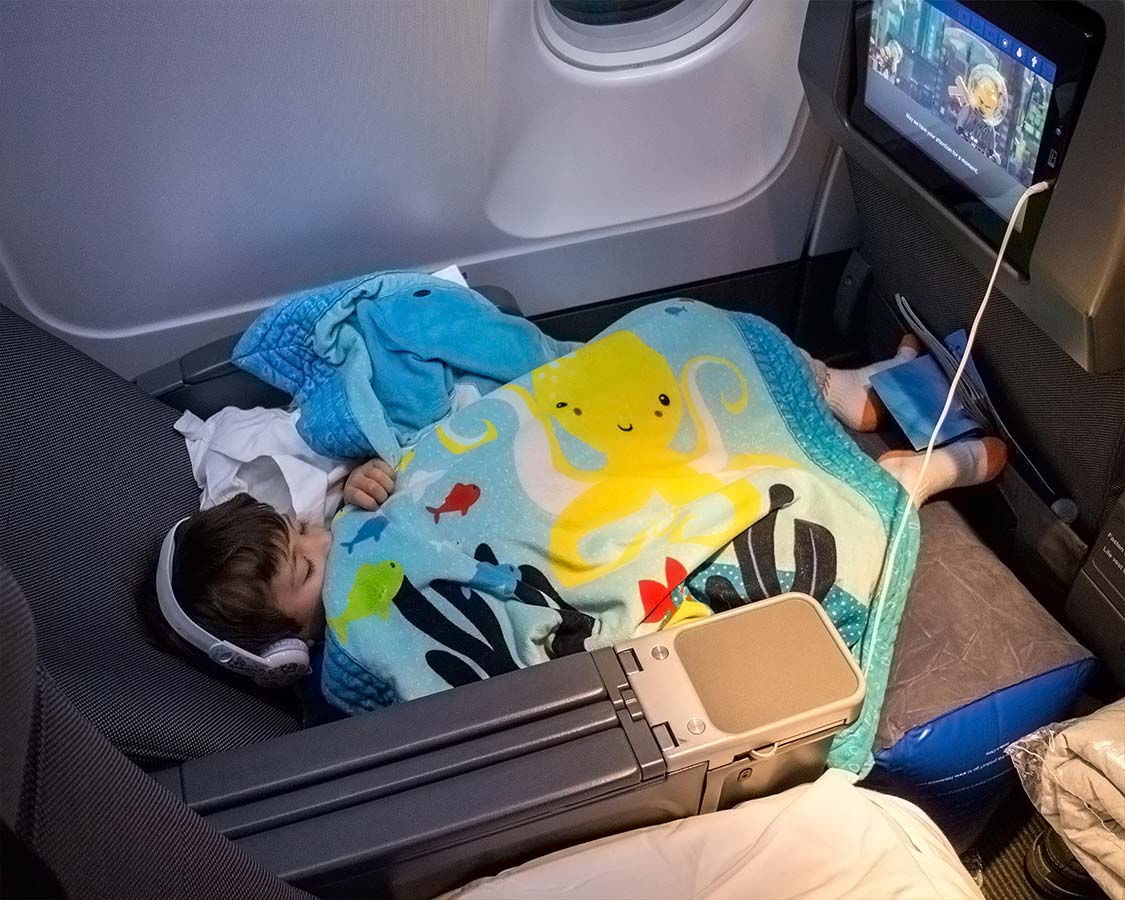 Do We Recommend Using an Airplane Leg Rest Like the First Class Travel Pillow?
There is a big market for a portable footrest. With more and more families choosing adventure travel destinations, the use of a leg rest travel pillow for children is an often-appreciated luxury for long flights. There is no doubt that it helped our boys have an excellent sleep on their flight to Norway. There are definitely some design issues that we think could be improved with this product, however, if sleep is as valuable to you as it is for us, the benefits of a plane footrest is worth considering.
Disclosure: Travel Tots sent us two complimentary 1st Class Kid Travel Pillows for our review. As always, our views remain our own. Wandering Wagars is a participant in the Amazon Services LLC Associates Program, an affiliate advertising program designed to provide a means for sites to earn advertising fees by advertising and linking to amazon.com, amazon.co.uk, amazon.ca. Amazon and the Amazon logo are trademarks of Amazon.com, Inc. or its affiliates.