Iceland is magical. From dramatic landscapes to gorgeous cities. But it's the waterfalls in Iceland that keep drawing people back. Here are the top ten Iceland Waterfalls.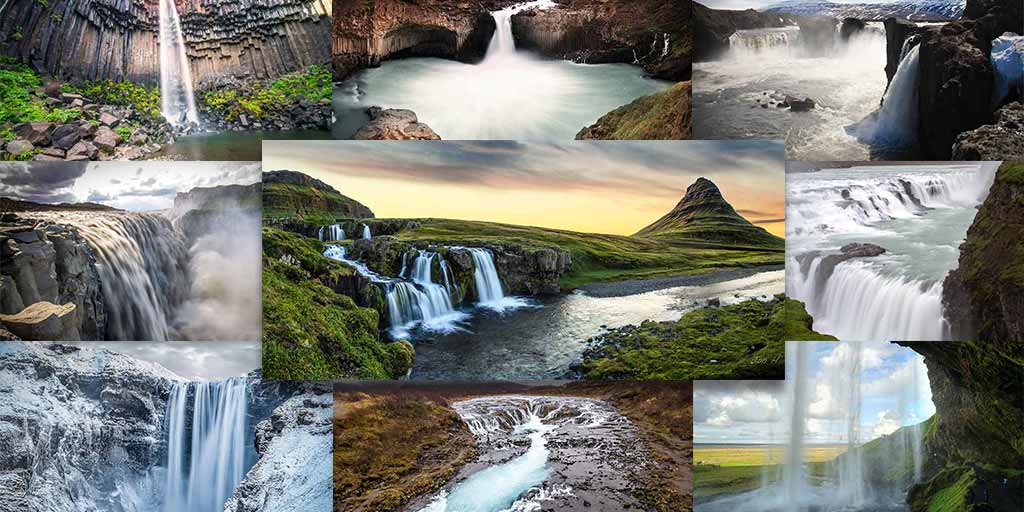 The landscapes of Iceland are a marvel that must be witnessed to be understood. From towering mountains and vast glaciers to epic coastlines and gorgeous cities, Iceland is magical. But one of the things that always seems to keep drawing visitors back year-after-year are the countless, breathtaking Iceland waterfalls. Exploring the most beautiful waterfalls in Iceland has become a mission for many visitors to Iceland. And with more than 10,000 Iceland waterfalls to explore, you could literally spend a lifetime trying to find them all. Some of the most beautiful waterfalls are easily accessible from major cities like Reykjavik. Others sit far off-the-beaten-path and require planning and time to access.
The climate and landscape of Iceland make it a perfect place for waterfalls to form. Long winters help maintain a vast collection of glaciers high up in the mountains. During the warmer months, the glacier meltwater feeds crystal clear streams and rivers that flow through the dramatic landscape and cascade through canyons and over cliffs. There are waterfalls in Iceland that seem to flow backward, waterfalls you can walk behind and even waterfalls heated with geothermal energy. One of the Icelandic waterfalls is even the most powerful waterfall in Europe. Every waterfall in Iceland is beautiful, but there are a few that stand out among the rest.
During a two-week road trip through Iceland, we saw countless waterfalls. We experienced some of the tallest, most powerful, and most beautiful of Iceland's waterfalls. And while I didn't get to see them all as I explored some of the most amazing places to visit in the country, I wanted to share as many of the best waterfalls in Iceland with you, and let you know how to get there, so here they are.
The Best Waterfalls In Iceland
Seljalandsfoss
There are, perhaps, no waterfalls in Iceland that are more iconic of the freedom and beauty of the country than Seljalandsfoss on the south coast. Not only is Seljalandsfoss considered to be one of the most beautiful waterfalls in Iceland, but its popularity has been largely driven by its accessibility and the unique views afforded by the cave that has been carved out behind the curtain of the waterfall.
Seljalandsfoss is located just off of the HWY 1 Ring Road less than two hours east of Reykjavik. The towering 200 ft (61 m) waterfall tumbles down into a dramatic pool. The waterfalls is fed by the Seljalandsa River which flows from meltwater fed by the Eyjafjallajokull Glacier. Selhalandsfoss is towering, but if you plan to explore, you'll want to bring some rain gear. Walking behind this Icelandic Waterfall offers one of the most spectacular views in Iceland, especially at sunset. You'll also need shoes with a good grip. The trail leading behind this waterfall can get quite slippery, especially when it's cold.
Svartifoss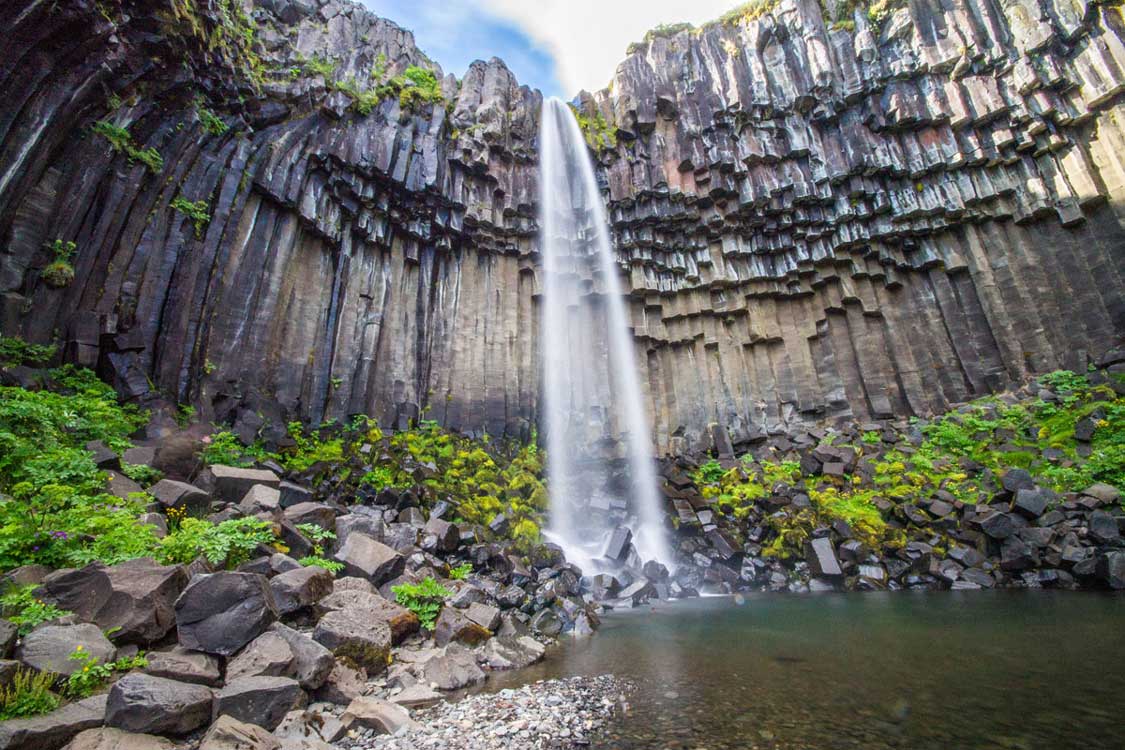 Svartifoss is one of my all-time favorite waterfalls in Iceland. Located in beautiful Skaftafell National Reserve in Southeast Iceland, the basalt columned wall behind Svartifoss gives it a dramatic look that is completely unique. This Icelandic waterfall is accessed by a short, but steep 1-mile hike through low-growing trees. Svartifoss, which means 'Black Waterfall' gains its name from the deep contrast between the white curtain of water and the deep dark tones of the surrounding basalt cliffs. The unique look of Svartifoss actually inspired the architecture for the famous Hallgrimskirkja Church in Reykjavik. Skaftafell is located about four and a half hours east of Reykjavik near the town of Hoff.
If you're looking for great places to stay near Svartifoss, consider the quaint and quirky Skaftafell accommodation "The Potato Storage." This renovated produce warehouse has been beautifully renovated with modern fittings and it's just a short distance from the falls. You can check out their prices and availability here.
Gullfoss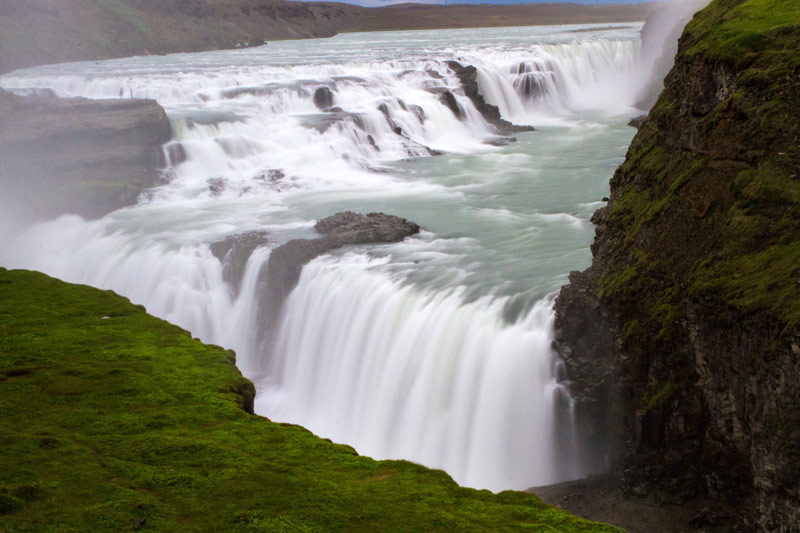 Where Seljalandsfoss is often the visual ideal of waterfalls in Iceland, most visitors don't make it outside of Reykjavik and the Golden Circle. This is one of the reasons that I highly suggest spending more than just a few days in Iceland. But those who stick to Iceland's most popular tours can still see some of the country's most impressive waterfalls. One of the best waterfalls on the Golden Circle tour is the aptly named 'Golden Water,' Gullfoss. The waterfall falls 105 ft (32 m) into the river below.
Gulfoss is one of the popular stops on Iceland's most widely visited tour. The powerful water knifes through the rocky landscape at an impressive angle as it flows from the Hvita Glacier River in South Iceland. The mighty Gullfoss is combined with incredible attractions such as the Geysir thermal vents, Kerid Crater, and the beautiful Thingvellir National Park on this tour from Reykjavik. Bring a rainjacket though. The mist coming off the falls is strong, and if you want the side-view you will get wet.
Skogafoss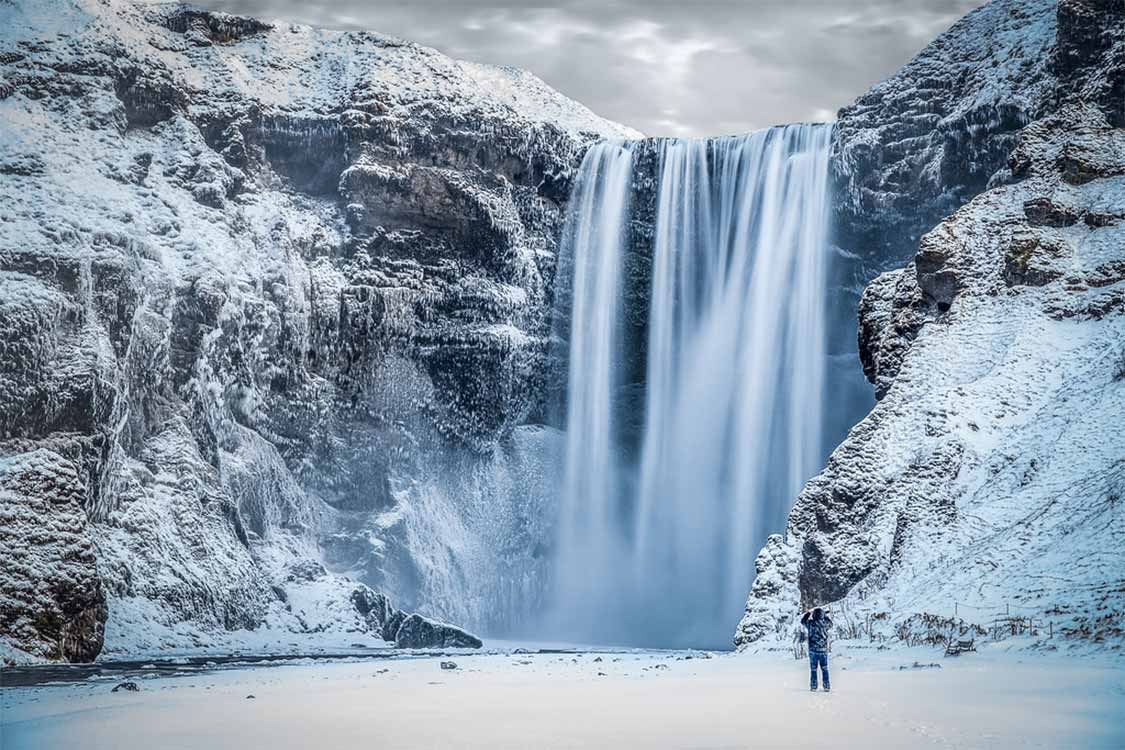 If you're looking for that dramatic Iceland Instagram shot where the whole background seems to be taken up by a flowing waterfall, you'll want to visit Skogafoss just east of the town of Skogar in Southeast Iceland. At 82 ft wide (25 m) and nearly 200 ft in height (60 m), Skogoafoss commands an impressive presence. And because of its accessibility right off of the Ring Road, more and more visitors are making the trip to Skogafoss. There is a parking lot nearby that usually has a few spots still available, even in high season.
If you get the chance to visit Skogafoss on a bright and sunny day, you'll truly appreciate why it's been called one of Iceland's best waterfalls. When the sun catches the strong mist it often produces dramatic rainbow effects. If you look closely, you might even see a double rainbow.
Photographers should particularly note that on sunny days it may produce a single or even a double rainbow, due to the interplay between the spray and the sunlight. Skogafoss and Seljalandsfoss are often included in the impressive full-day South Iceland tour from Reykjavik.
Godafoss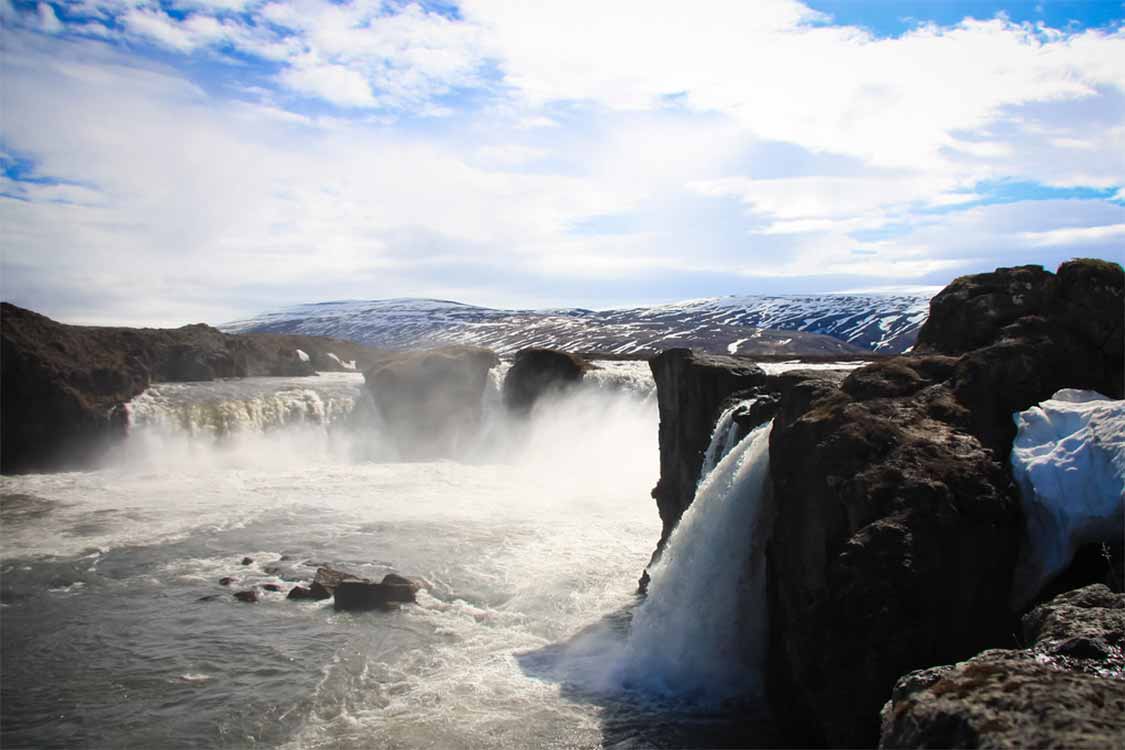 'The Waterfall of the Gods,' Godafoss got its name when idols of the ancient Norse Gods were thrown into the water below the falls to symbolize Iceland's conversion to Christianity. In modern times, Godafoss serves as one of the most powerful and impressive stops on the northern Diamond Circle tour. Combined with amazing stops such as Lake Myvatn, Asbyrgi Canyon, and many more of norther Iceland's treasures.
Godafoss is an impressive 40 ft (12 m) high and 98 ft (30 m) wide. But combined with a collection of smaller falls coursing around massive monoliths, the collection of falls makes an impressive statement. And they are easy to visit, lying just off the Ring Road. There is a convenient parking lot within easy walking distance of the overlook as well.
Aldeyjarfoss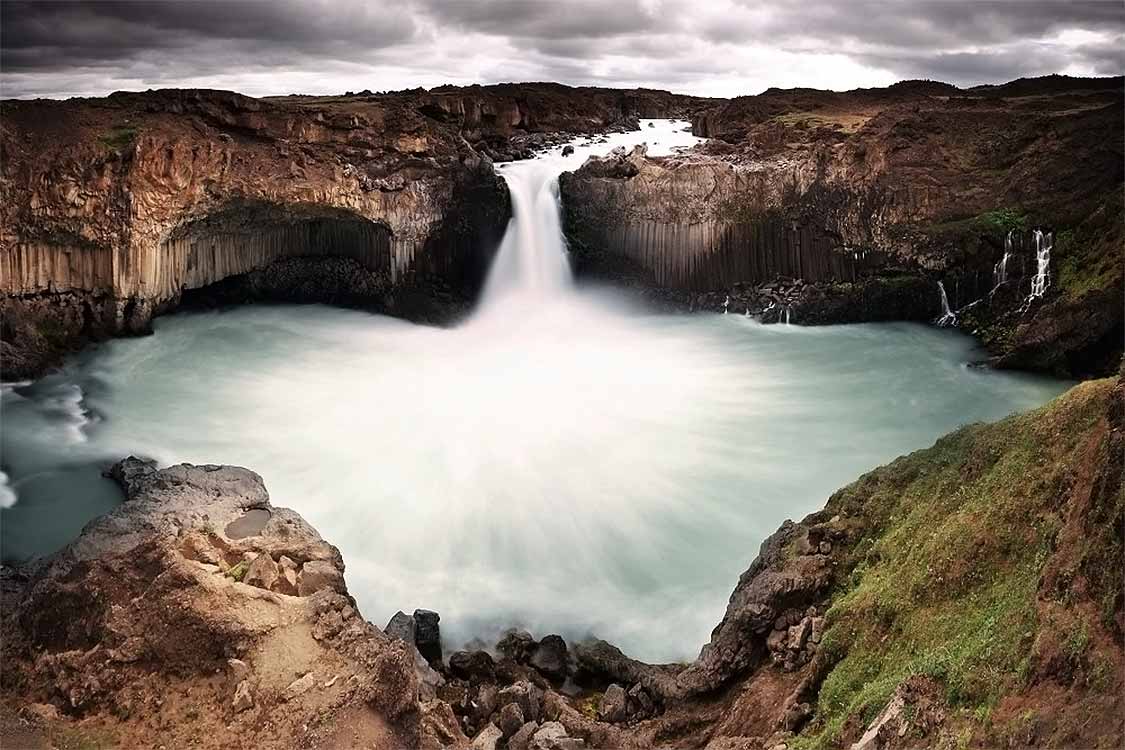 Aldeyjarfoss is a dramatic waterfall in Northern Iceland just north of the tip of Vatnajokull National Park. This 66 ft. (20 m) cascade pours out of the Skjlfandafljot River into a large pool. Aldeyjarfoss has a dramatic backdrop of black basalt columns similar to Svartifoss. The columns are topped with incredible rock formations that make it appear as if the rock liquified and reformed. The scenery that surrounds Aldeyjarfoss is dramatic and beautiful. And because it lies off of one of Iceland's rugged F-roads, you'll likely be one of the few people visiting it. To access Aldeyjarfoss you'll need to follow 844 south from HWY 1. The road follows the Skjalfandafljot River that also feeds Godafoss.
Dettifoss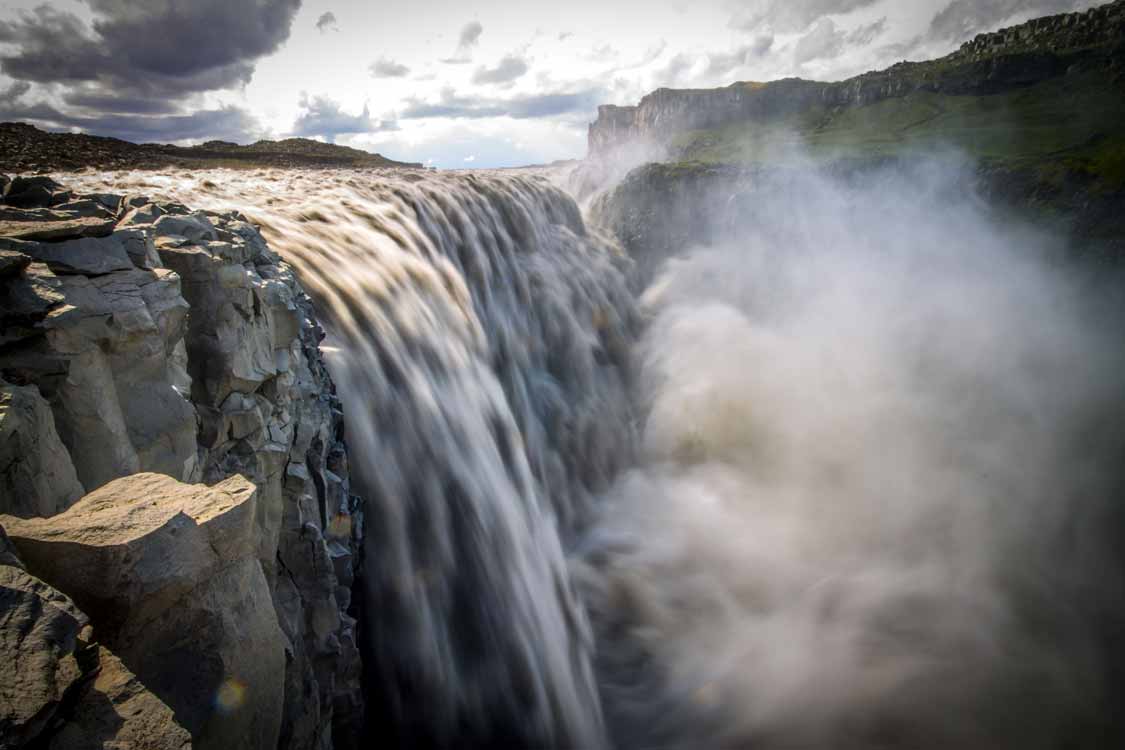 Dettifoss, which is sometimes referred to as 'The Beast,' isn't just the largest waterfall in Iceland, but it's the most powerful waterfall in Europe. This monster spans a spectacular 150 ft (46 m) and spans a width of over 300 ft (91 m). The sheer volume of water that funnels over Dettifoss is enough to make the ground nearby feel like its trembling under the power.
Dettifoss is fed by the massive Vatnajokull Glacier and is easily accessed by taking 864 north from HWY 1. It's a short walk from Selfoss, which is another one of the most overlooked waterfalls in Iceland. If you are visiting Iceland in winter, 864 closes during the winter months.
Selfoss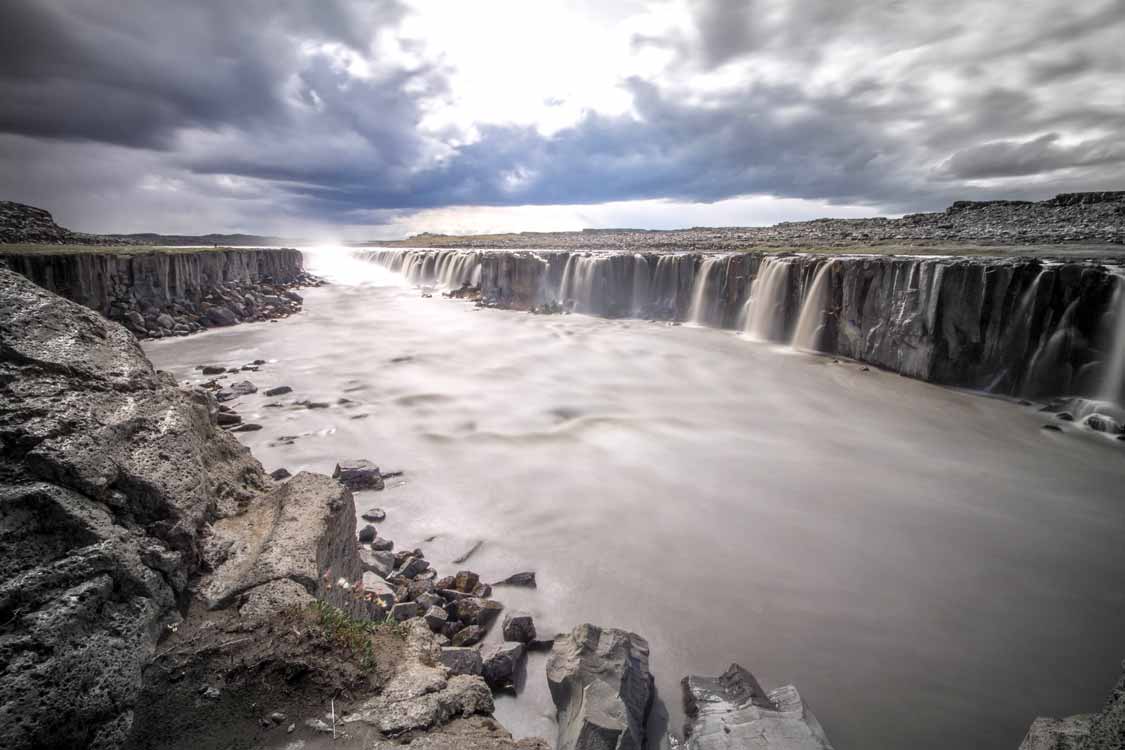 Dettifoss and Selfoss are two waterfalls in Iceland that are within an easy family-friendly hike from each other. Selfoss, which is often overlooked by those visiting Dettifoss, is actually my favorite of the two. The quiet environment and more dramatic shape of Selfoss make for a nice, easy way to escape the Iceland crowds. Like Dettifoss, Selfoss is fed by the Fjollum Glacial River.
Visiting Selfoss and Dettifoss can be combined with the Myvatn Area, if you want to explore a little deeper, consider staying at the highly-rated Nordic Natura on the edge of Asbyrgi National Park. This wonderful destination offers bicycle rentals and horseback riding experiences. You can check out their prices and availability here. If you can't make it out to see Dettifoss and Selfoss, you can still see some of the greatest waterfalls in Iceland on this tour from Reykjavik.
Bruarfoss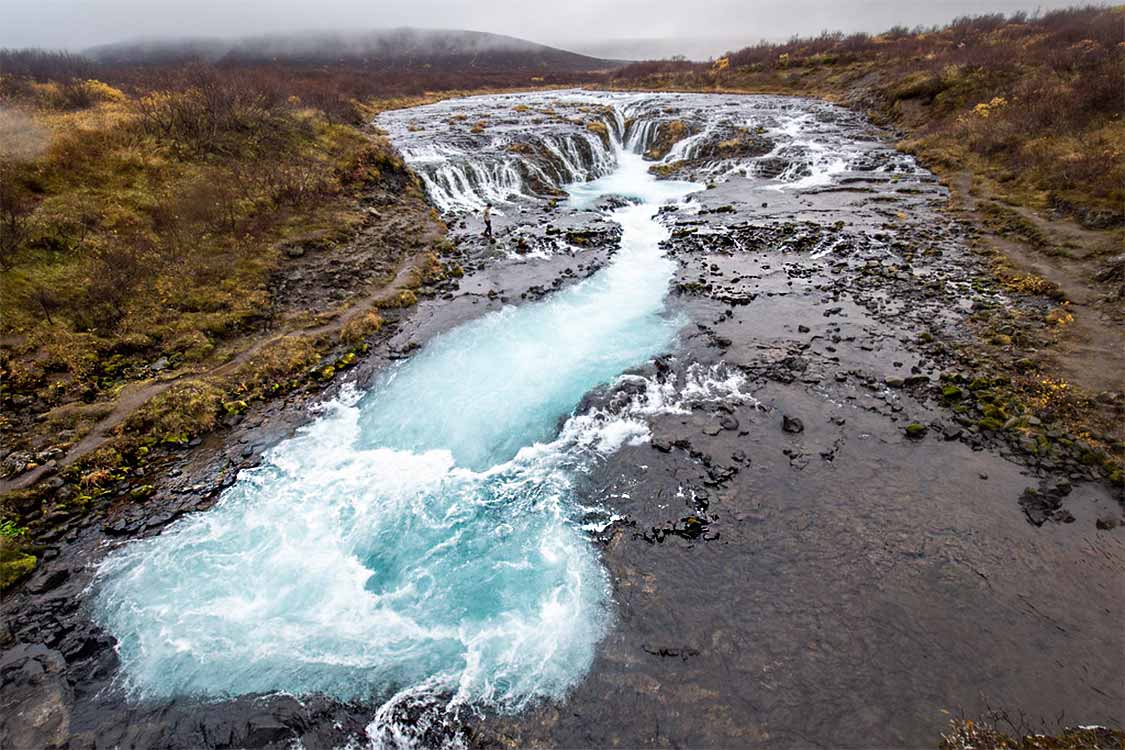 Another beautiful series of waterfalls in South Iceland is Bruarfoss not too far from the Strokkur Geysir. Although Bruarfoss sits very close to the popular Golden Circle route near Reykjavik, it's a rarely visited gem. Fed by the Bruara River, Bruarfoss is a series of tiny waterfalls that culminate into a gorgeous horseshoe. The milky blue water that is stirred up by the rapids and makes for a beautiful contrast with the shallow rocky river at its base. It's this dramatic coloring that has given Bruarfoss the nickname of 'Iceland's Bluest Waterfall'.
There is a small bridge that crosses the river, the original is what was used to name the falls 'Bridge Falls'. If you are hoping to visit Bruarfoss head north from HWY 1 on 35. You can follow the 35 to 37 either when 37 first branches off, or when it loops around to meet back up with 37. There is a parking lot located where the highway meets the Bruara River. Bruarfoss requires a 4.4 mile (7 km) round trip hike to access it. There used to be a shorter route that cut through private property, but due to too many tourists trampling the vegetation and leaving their trash, that route has been closed. Please make sure to leave Iceland better than you found it. Take care of nature and hike out all of your trash.
Kirkjufellsfoss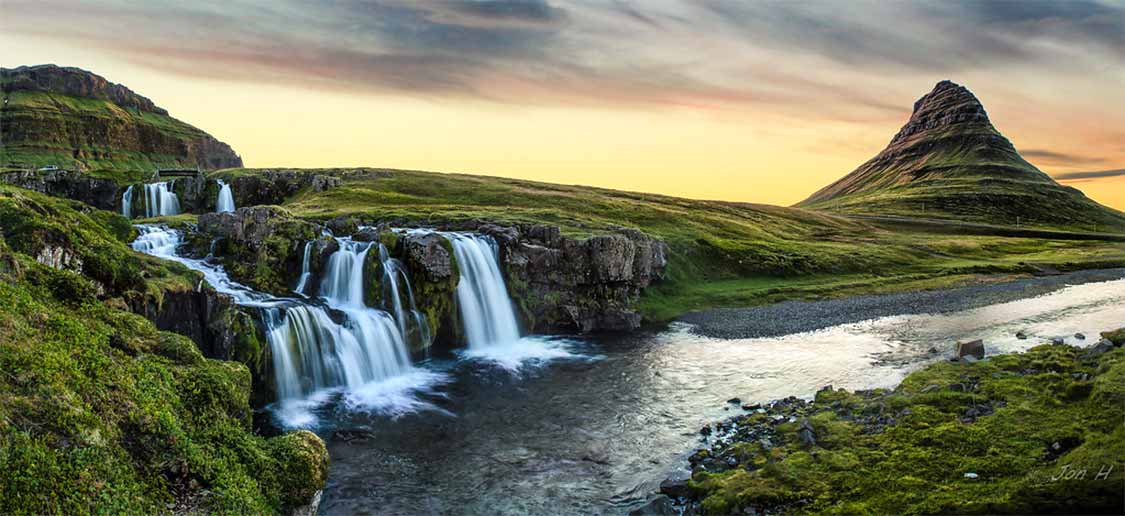 In the last few years, the small Kirkjufellsfoss waterfall on the Snaefellsness Peninsula has become one of the most popular waterfalls in Iceland. The three separate flows that make up this Icelandic waterfall are actually part of a chain of small falls making their way down a ridge on Helgrindur Mountain. The falls themselves may not be that large or dramatic, but the real excitement comes with the landscape that surrounds Kirkjufellsfoss.
Although the falls are less than 20 ft (6 m) in height, the pretty Kirkjufellsfoss waterfall pouring into a calm river is backed by the iconic Mount Kirkjufell perfectly sum up the dramatic scenery that draws hundreds of thousands of visitors to Iceland every year. Because of the drop-dead gorgeous scenery, Kirkjufellsfoss has become one of the most popular places in Iceland to photograph the Northern Lights. If you're interested in doing a northern lights tour in Iceland, you can check out this tour from Reykjavik.
Tips For Exploring The Most Beautiful Waterfalls In Iceland
If you plan on exploring the most beautiful waterfalls in Iceland it's important to be prepared. Many of Iceland's waterfalls along popular routes like the Ring Road and the Golden Circle are easily accessible. Others require a good amount of planning before you set out. If you are traveling with family, consider checking out our guide to visiting Iceland with kids as well.
Keep in mind that things can get windy in Iceland. And when you're visiting waterfalls, expect to get wet. If you're visiting in the winter, your cold-weather gear should keep you comfortable and warm. However, if you're visiting Iceland in summer, make sure to pack a light rain jacket like this one to keep you dry. If you'll be spending time photographing the waterfalls in Iceland, you may want to bring a pair of splash pants as well. Also, be sure to bring quality shoes with a good grip. This is especially important if you plan on exploring closer to the falls or on the rocks within the rivers and streams.
Do you have a favorite Iceland waterfall? Drop a comment below to tell us what it is. Or, head over to our Facebook page and share a photo. We would love to share in your adventure.
Disclosure: Wandering Wagars is a participant in the Amazon Services LLC Associates Program, an affiliate advertising program designed to provide a means for sites to earn advertising fees by advertising and linking to amazon.com, amazon.co.uk, amazon.ca. Amazon and the Amazon logo are trademarks of Amazon.com, Inc. or its affiliates.
You May Also Like To Read:
Pin This For Later: