MacGregor Point Provincial Park is an exciting winter destination in Ontario. Check out all of the amazing things to do at MacGregor Point in winter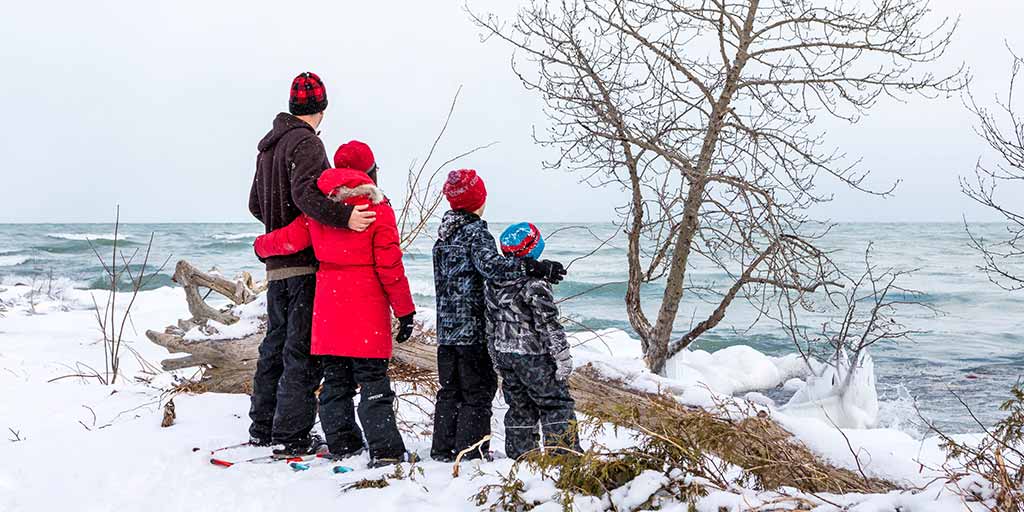 Ontario winter camping is still catching on in popularity. But with more and more people realizing just how majestic and accessible the outdoors are in the province, it's just a matter of time before things explode. One of the parks that is completely embracing winter fun is MacGregor Provincial Park near the town of Port Elgin Ontario. In fact, there are so many things to do at MacGregor Point in winter that I found myself returning again and again.
Two winters ago, we spent a weekend yurt camping at MacGregor Point Provincial Park. We had awesome weather. It was sunny with blue skies. But the weather had a downside. Almost all the snow had melted. This gave us the chance to wander freely down the MacGregor Point trails. But the lack of snow put a damper on some of the MacGregor Point activities that we were really looking forward to. So when we booked our MacGregor Point camping trip for this year, we were nervous. A January warm spell melted the snow. But low and behold, two days before our camping trip the clouds rolled in and the snow fell and kept falling for a whole day!
Things To Do At MacGregor Point In Winter
Each year there are more and more winter things to do at MacGregor Point Park. Even since our previous visit, a new skating rink was added to this list of activities. While MacGregor Point might not be a huge park, it seems that they've thought of everything when it comes to things to do during the winter. Here are a few of my favorites.
Snowshoeing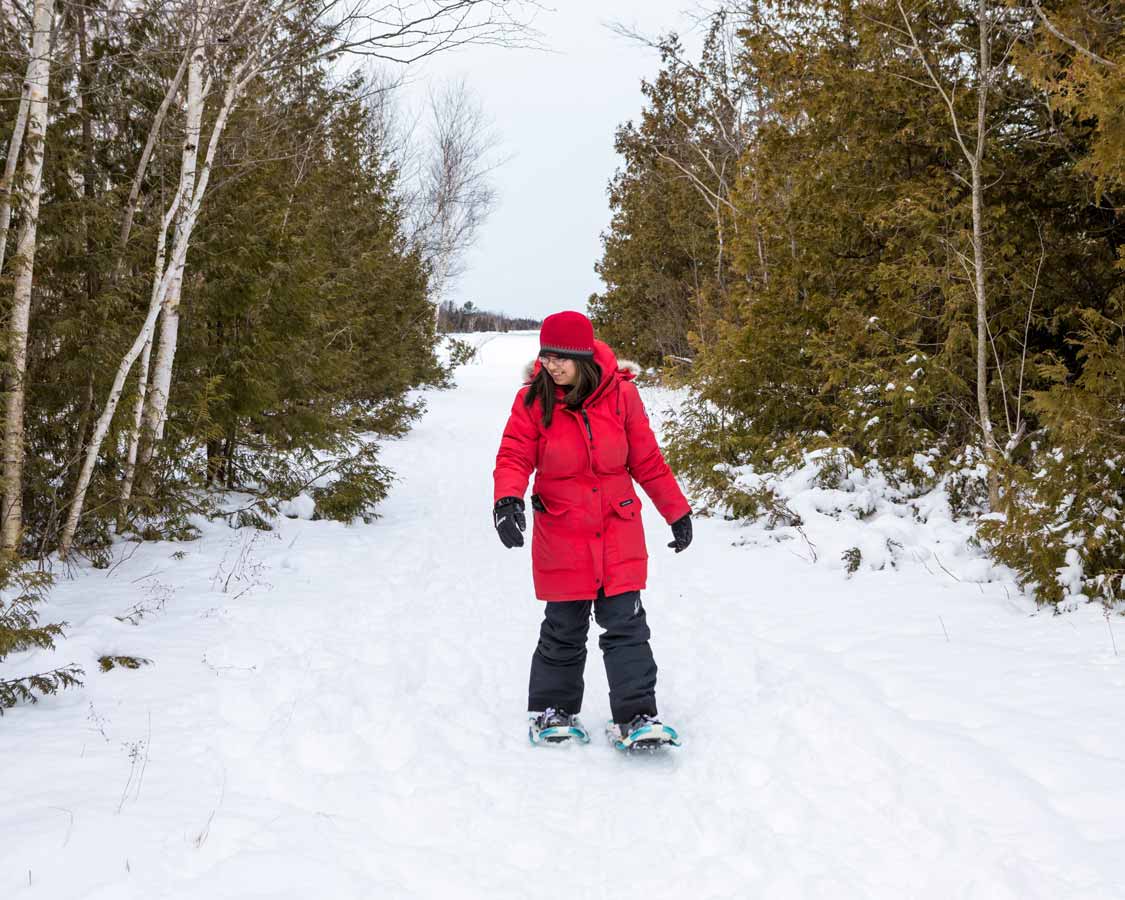 There are two great snowshoe trails in MacGregor Point Provincial Park. The park is super flat and the trails are extremely well marked. If you're searching for things to do in MacGregor Point in winter, snowshoeing is one of my all-time favorite activities here. We've recently gone on some snowshoeing adventures on our Adirondacks winter vacation and couldn't wait to dust them off for a walk around MacGregor Point.
The two best MacGregor Point snowshoe trails, in my opinion, are the Old Huron Road trail that runs along the shores of Lake Huron from Baie du Dore up to Sunset Point and the Wetlands loop that takes you around the Ducks Unlimited Wetland. This route can include a visit to the wetlands observation tower as well.
If you time your visit to hit Sunset Point as the sun sets, you won't be disappointed. Sunset Point, which is a short trail north from the MacGregor Point Visitors Centre lives up to its name. It offers some of the best sunsets in the province. And a glimpse of the sun setting over the icy waves will make you never want to miss another winter sunset again.
Skating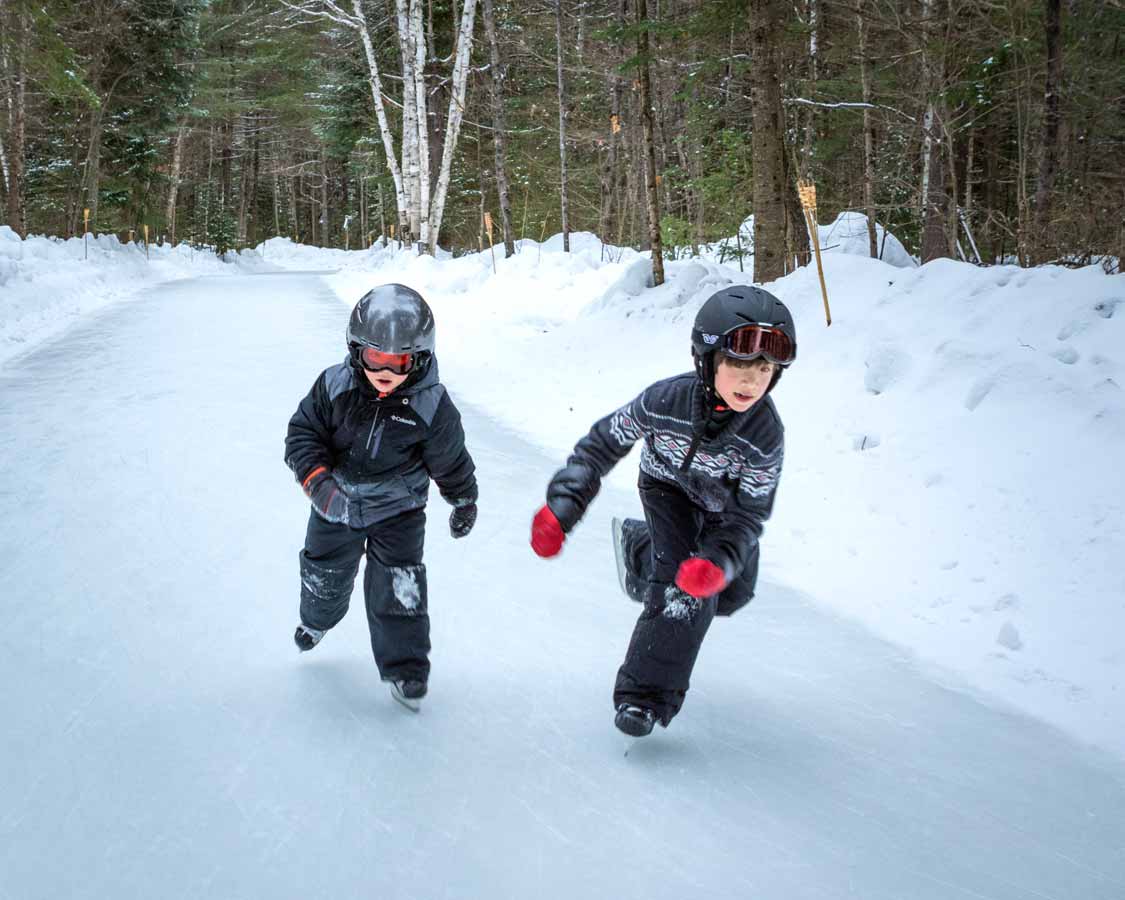 It's a well-kept secret, but MacGregor Point has an amazing forest skating trail. In fact, MacGregor Point skating has become one of the biggest draws for those looking for Winter activities at MacGregor Point. The skating trail at MacGregor Point is often considered to be even cooler than the Arrowhead skating trail in Muskoka that we visited the year before. The MacGregor Point winter skating trail is shorter and narrower than the one at Arrowhead. But it also gets lit up from sundown until 10 pm every night.
Because of the up and down weather, the MacGregor Point skating trail was still a work-in-progress during our visit. But if it lives up to the hype of our time skating at Arrowhead, it has got to be an adventure. MacGregor Point has also added a skating rink at the Visitor Centre parking lot. This means that when you're done skating the MacGregor Point trail, you can play some hockey too!
Cross Country Skiing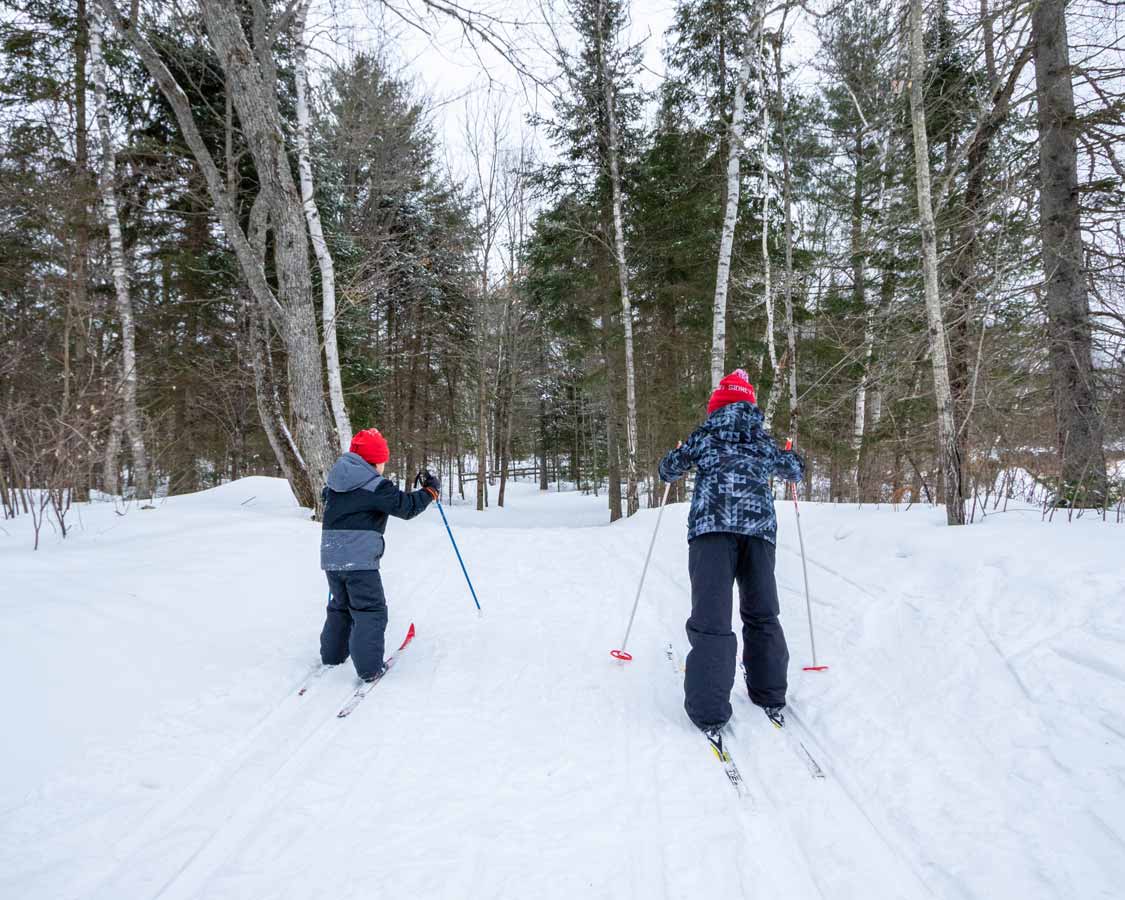 There is over 10 km of ski trails at MacGregor Point Provincial Park. The two main loops are the Deer Run ski trail and the Tomsett Ski Trail. Deer Run, which is about 4.6 km, starts at the Ash Swamp near the Visitors Centre. The trail circles through the Nipissing and the Huron campgrounds before cycling back. The Tomsett Ski Trail, which is about 5.9 km, crosses the main road and winds through the forest. It's one of the best trails for seeing deer. Both trails can be connected into one long route via the 700 m Ski Trail link. The flat ground and beautiful surroundings make winter at MacGregor Point an ideal cross-country ski getaway.
Winter Hiking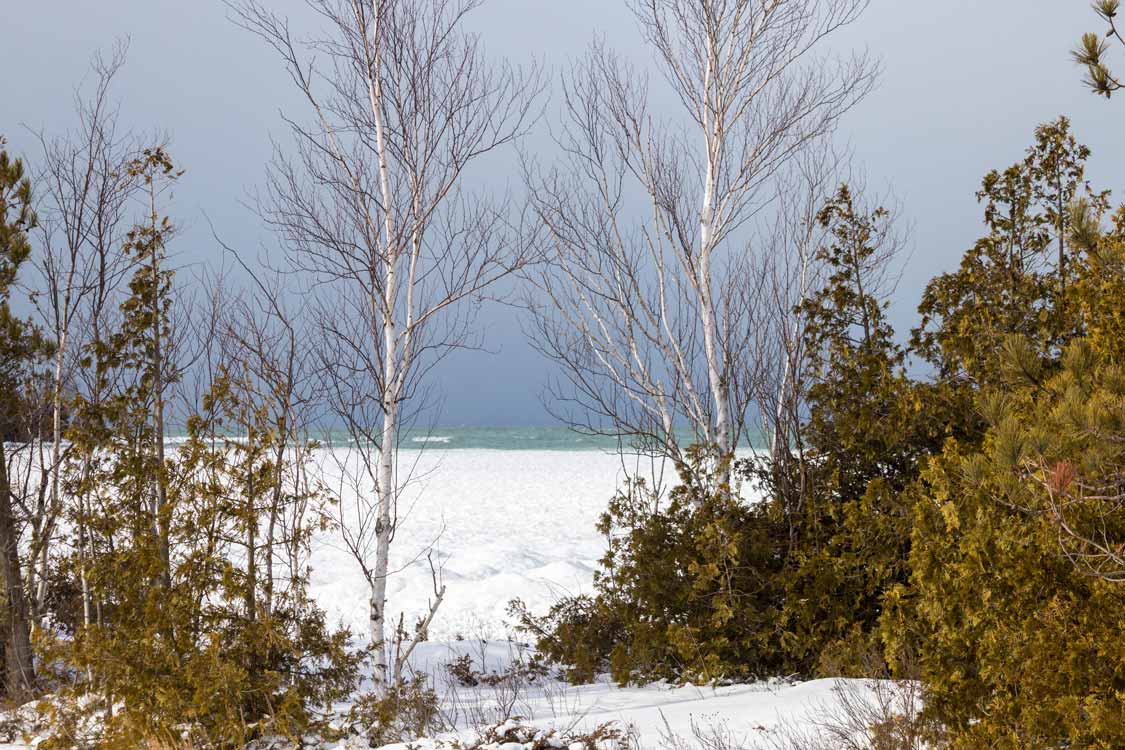 Many of the snowshoe trails can also be used as winter hiking trails. Personally, I'd prefer to strap on some snowshoes, especially when there's a lot of powder. But, if the weather isn't snowy, or the trails aren't too deep, hiking can be just as great. There are about 15 km of trails through the park to be explored. Watch out for black bears, deer, porcupines, and more. Winter at MacGregor is a magical time for animal lovers.
Bird Watching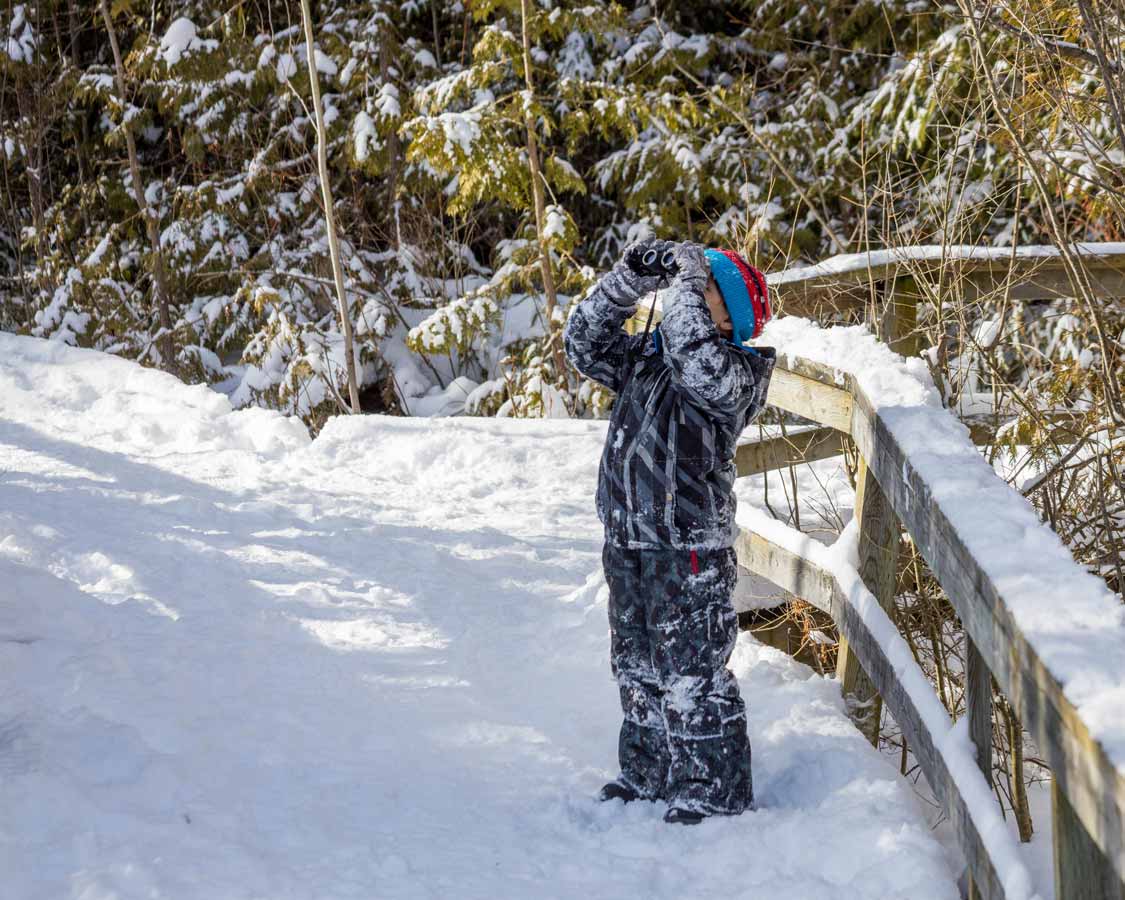 One of the best things to do at MacGregor Point in Winter is birdwatching. It's absolutely incredible to see the variety of birdlife that populates the park during the winter months. The Turtle Pond and Ash Swamp area are absolutely incredible for bird watching. And they are right by the Visitor Centre as well, so it's very easy to access.
We almost always start our winter visit to MacGregor off with a walk to Turtle Pond and then end with it as well. The area near the parking lot is probably the best spot in the whole park for birds. During our last visit, we saw bald eagles, chickadees, blue jays, and cardinals all flitting between the trees.
Keep Warm In A MacGregor Point Yurt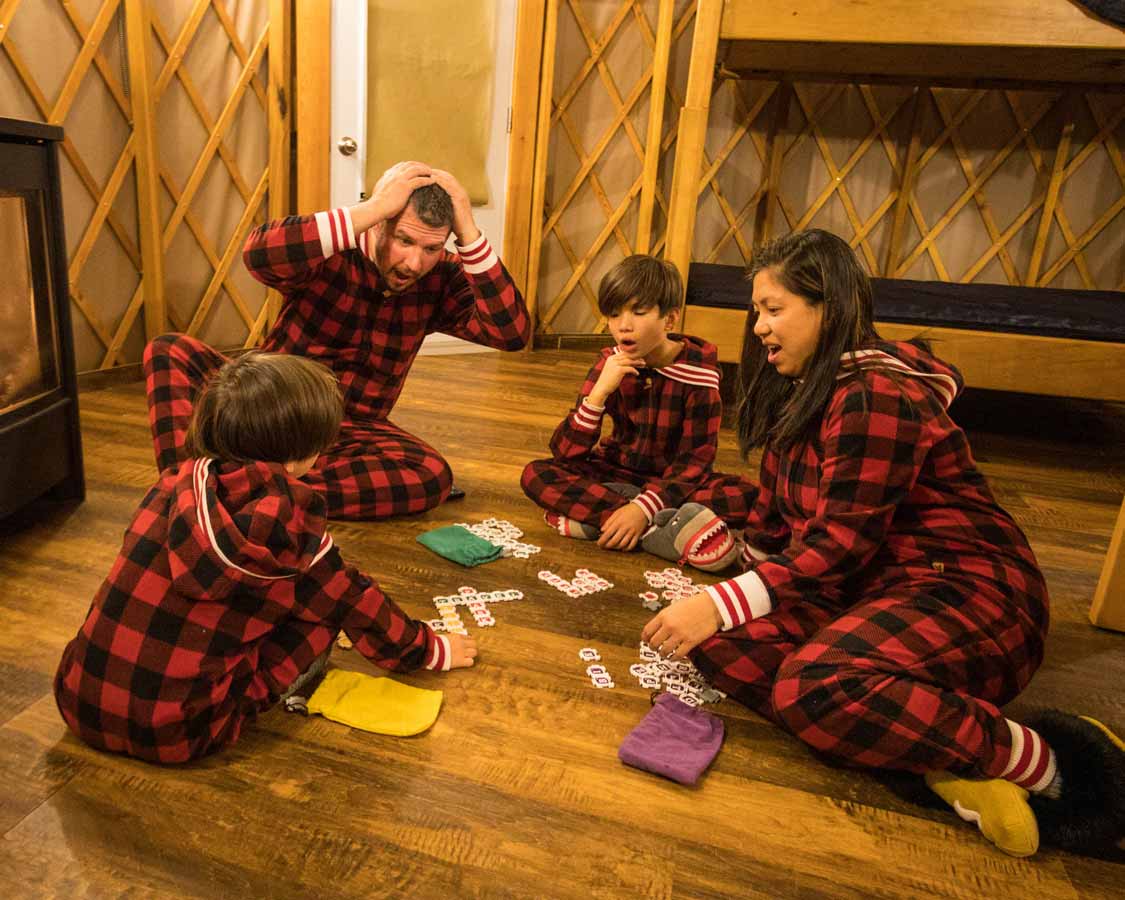 If you are planning on spending more than one day at MacGregor Point in winter, consider staying in one of the cozy yurts. These soft-sided permanent shelters offer two sets of bunk beds that include two double beds and two singles. You'll get access to a bbq, picnic table, indoor table, gas fireplace and more. There is no more comfortable way to experience the park than in one of the yurts. We like to spend our nights playing board games by the fire. You can read more about winter yurt camping at MacGregor Point here. If you're interested in spending a cozy few nights at MacGregor Point in winter you can reserve campsites online using their new online booking system here.
Tips For Visiting MacGregor Point in Winter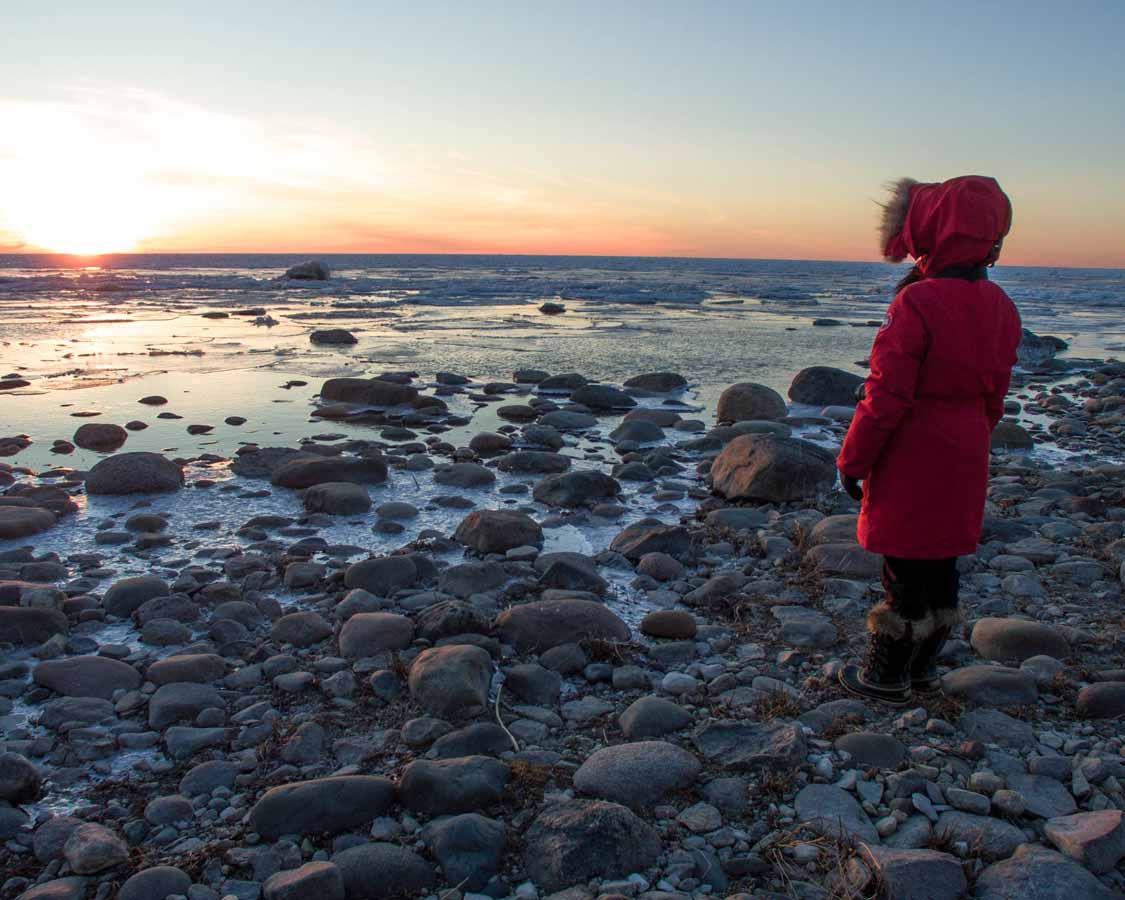 MacGregor Point Provincial Park is just a 10-minute drive from the town of Port Elgin, Ontario. The park stretches for 7 km along the Lake Huron shoreline. It offers one of the most ecologically diverse natural landscapes on the Lake Huron waters. Winter in MacGregor sees the marshes and ponds freeze over and the southern Ontario treescape loses its canopy. This makes wildlife and bird watching in the park a much more exciting experience.
A walk along the snow-covered marshes will reveal countless animal footprints pointing in every direction. There are black bears that live around the park. During our last visit, one was spotted a short distance from our MacGregor Point yurt. This isn't something to be concerned about so long as you practice proper camp care. You can check out our tips for family camping to learn more about that.
Check Out Our Winter In MacGregor Point Video
Can You Rent Skates And Snowshoes At MacGregor Point Provincial Park?
At current, there are no rental facilities available at MacGregor Provincial Park. If you want to skate, ski, or snowshoe through MacGregor Point in winter, you'll need to bring your own gear. I recommend these snowshoes for adults and these ones are similar to the ones that we got for our kids.
MacGregor Point Provincial Park Fees
There are no fees beyond the daily park entrance fee for day use. Winter camping at MacGregor Point requires rental of a campsite or Yurt. These fees include access to all of the MacGregor Provincial Park winter activities: the skating pad, the skating trail, the cross-country ski trails, and the snowshoe trails.
DISCLOSURE: Our visit to MacGregor Provincial Park was in partnership with Ontario Parks. All opinions remain our own. This post may contain compensated links. Any purchases made may earn us a small commission at no extra cost to you. For more information please read our disclaimer. Wandering Wagars is a participant in the Amazon Services LLC Associates Program, an affiliate advertising program designed to provide a means for sites to earn advertising fees by advertising and linking to amazon.com, amazon.co.uk, amazon.ca. Amazon and the Amazon logo are trademarks of Amazon.com, Inc. or its affiliates.
You May Also Like To Read: