Discover the best things to do at Busch Gardens with Toddlers. These rides and activities for small kids make Busch Gardens fun for the whole family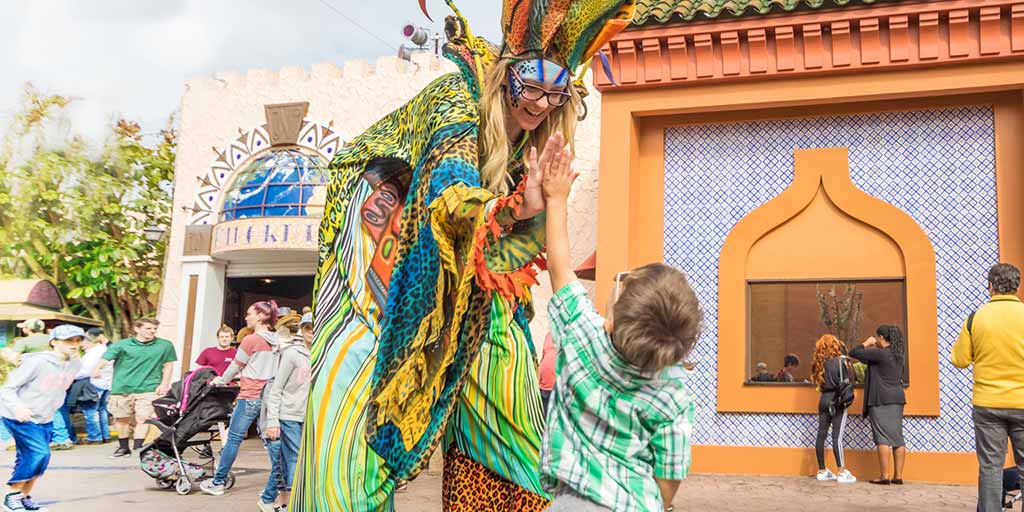 A visit to Busch Gardens is one of the highlights of a visit to Tampa, Florida. We made the trip on our second day exploring the city. It was a blast. We spent almost the entire day at Busch Gardens with our two small boys. But after our visit, we've had loads of questions from parents wondering what there is to do at Busch Gardens for toddlers and young children. Many of the attractions and rides at Busch Gardens Tampa seem catered towards older children. Even having visited Busch Gardens a lot as a teenager, I never realized they even had an area dedicated to younger children. But those looking at what to do at Busch Gardens for toddlers will be happy to know that there are areas of the park that cater to small children.
Our visit to Busch Gardens was just one of the many incredible things to do in Tampa, Florida, but it is one of the biggest draws for both locals and those coming from outside the city. Our boys were 5, and 7-years old when we visited. Visiting theme parks with toddlers and young children offers a unique set of challenges. Many of the rides aren't built for those at Busch Gardens with young kids. And they are the big, flashy ones that everyone wants to experience. But this guide to visiting Busch Gardens with toddlers should help you make the most of your visit. This article is focused on attractions for kids smaller than 42″ in height.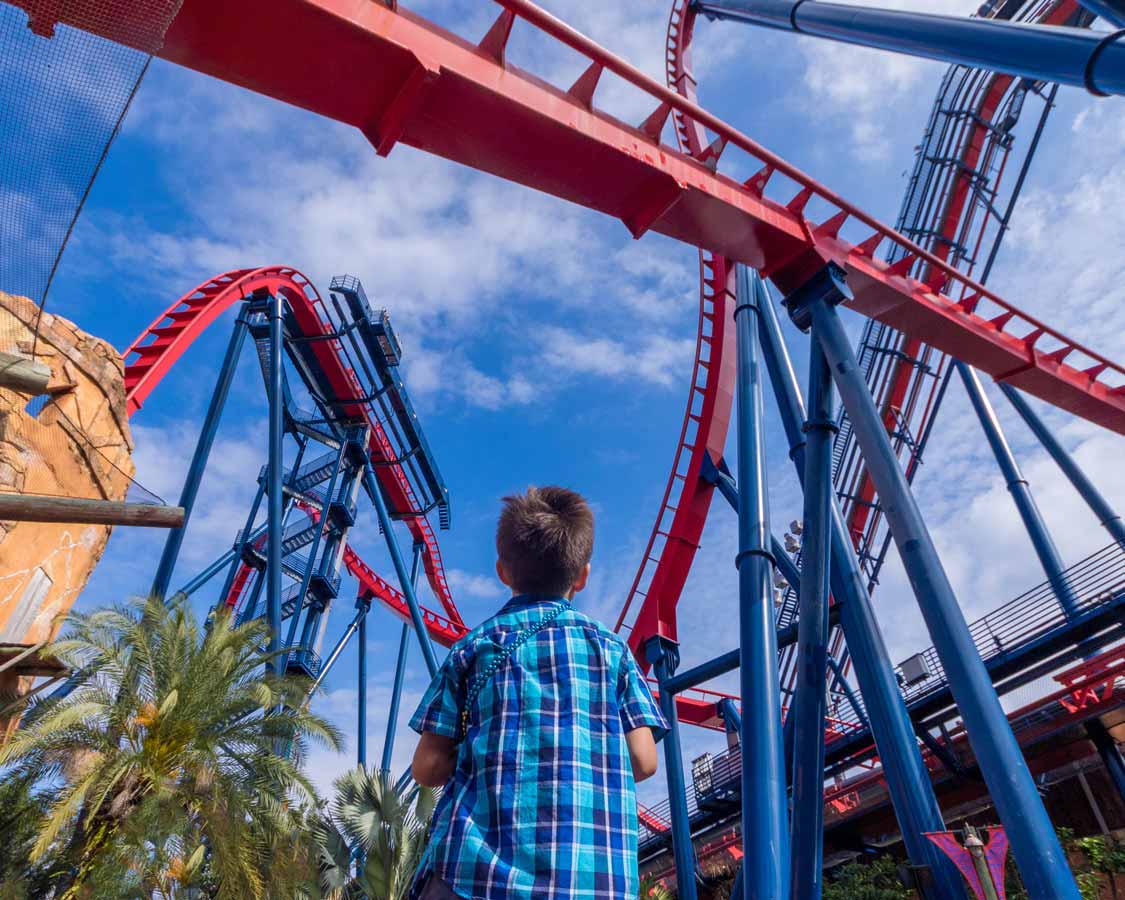 Things To Do At Busch Gardens With Toddlers
The second we entered Busch Gardens Tampa with our kids we were greeted by a scene that sparked their excitement. We've been to several theme parks with kids, including Disney's Magic Kingdom, Universal Studios Volcano Bay, and Universal Studio. And this was probably the most exciting entrance of all of these parks. We were greeted, not with huge crowds and an overwhelming number of stores, but with artists and characters enthusiastically welcoming young visitors. And although you need to walk past some of the big, loud, older-kid rides to get there, a little walking will get you to some of the toddler-friendly attractions in Busch Gardens.
Sesame Street Safari of Fun
The Sesame Street Safari of Fun is one of the best things to do at Busch Gardens with young kids. As far as toddler experiences at Busch Gardens go, we probably spent the majority of our time here. Busch Gardens Tampa understands that this area is focused on youngsters. Because of this, it's one of the areas of the park where no alcoholic beverages are allowed. The Sesame Street Safari of Fun is built for families, and little ones will love it here.
The Sesame Street Safari of Fun combines rides, playgrounds, and live shows to make a complete experience for young kids and toddlers at Busch Gardens Tampa. Dominated by a large treetop climb structure, there are also rides, bouncy castles, an outdoor theatre for shows, and several areas had a variety of craft activities set up.
For those who love getting wet, check out Bert and Ernie's Watering Hole. This toddler splash pad at Busch Gardens offers a nice break from the heat. If your little-one is pre-toilet training, don't forget to pack some swim diapers.
The live stage event is designed for small children. The characters are easily accessible and run through the crowd in a way that will get even the parents excited about the Sesame Street show. I was really surprised at how much the boys connected with the characters as they had never seen Sesame Street before. But the whole thing seemed like old-friends coming together.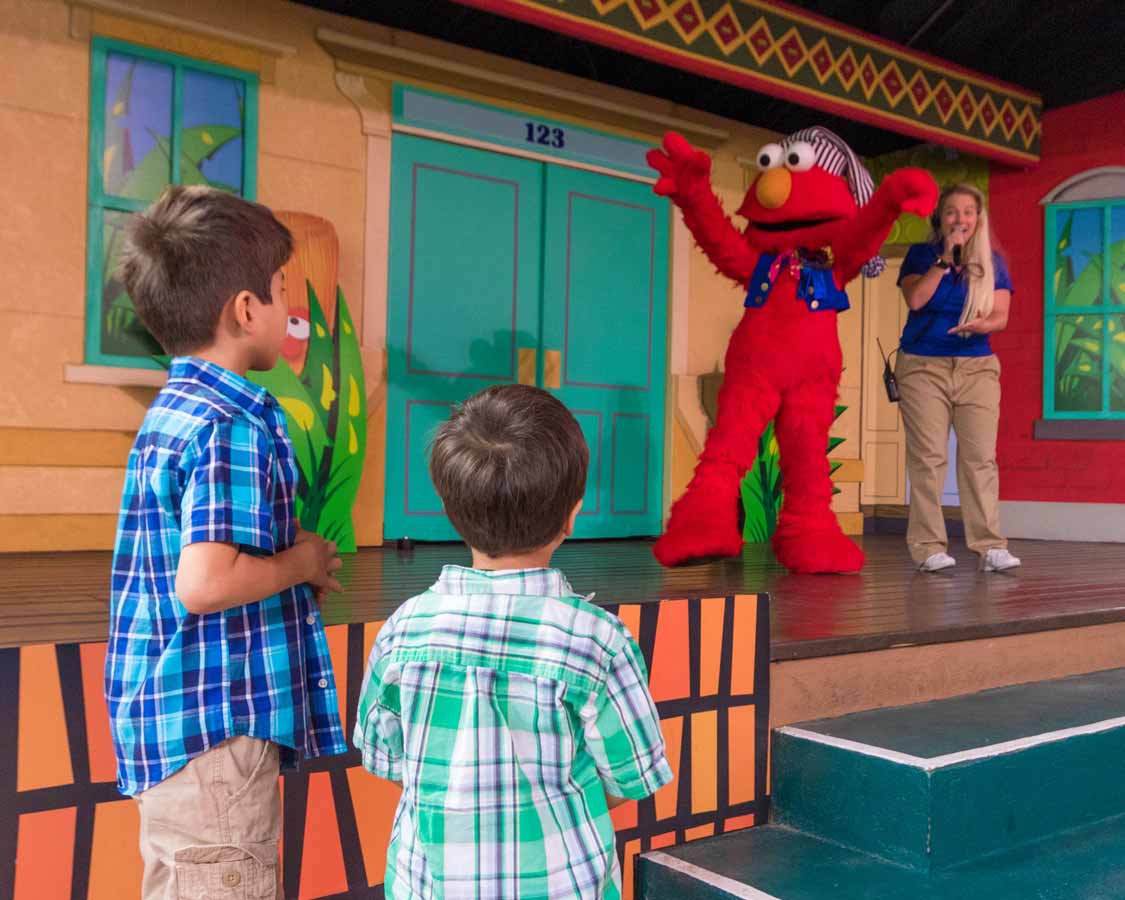 Skyride Cable Car
If you're looking or a fun way to see the park from above, the Skyride Cable Car offers a fun way to see the attraction and animals of Busch Gardens Tampa, Florida from above. This Busch Gardens gondola glides over areas of the park such as Serengeti Plain. Kids will love the calm, aerial experience and magnificent views of the park. Each ride on the Skyride Cable Car is a one-way trip. So, if you plan on making the trip back, you'll need to line up for each direction of travel. Strollers are not permitted on the cable car. So if you leave yours behind you'll need to either walk back through the park to get it, or take the cable ride back.
Serengeti Express
If the view from above got you excited about the Serengeti Plains, The Serengeti Express is the way to experience the Busch Gardens animals up close. I'll admit that I'm not a fan of theme park animal attractions. Busch Gardens is the same company that owns Sea World, which has an absolutely atrocious history of animal care. While Busch Gardens has received top accreditation for its animal care, I still believe that experiencing animals in the wild is the best way to see them.
That being said, experiences like Busch Gardens are often the only opportunity for some families to experience animals such as giraffe, zebra, and ostriches in a free-roaming 65-acre natural habitat environment. The Busch Gardens Serengeti Express is a train that winds through the parks' massive animal exhibits.
Lori Landing
One of our boys' favorite experience at Busch Gardens Tampa was Lori Landing. The fun bird exhibit here is an adventure all of its own. There are countless species of birds wandering around. It's an experience almost as great as the Bird Kingdom in Niagara Falls, Ontario. The highlight of Lori Landing is the Lorikeets. These adorable and friendly birds flock to the hands of visitors who pay a small fee for a feeding cup.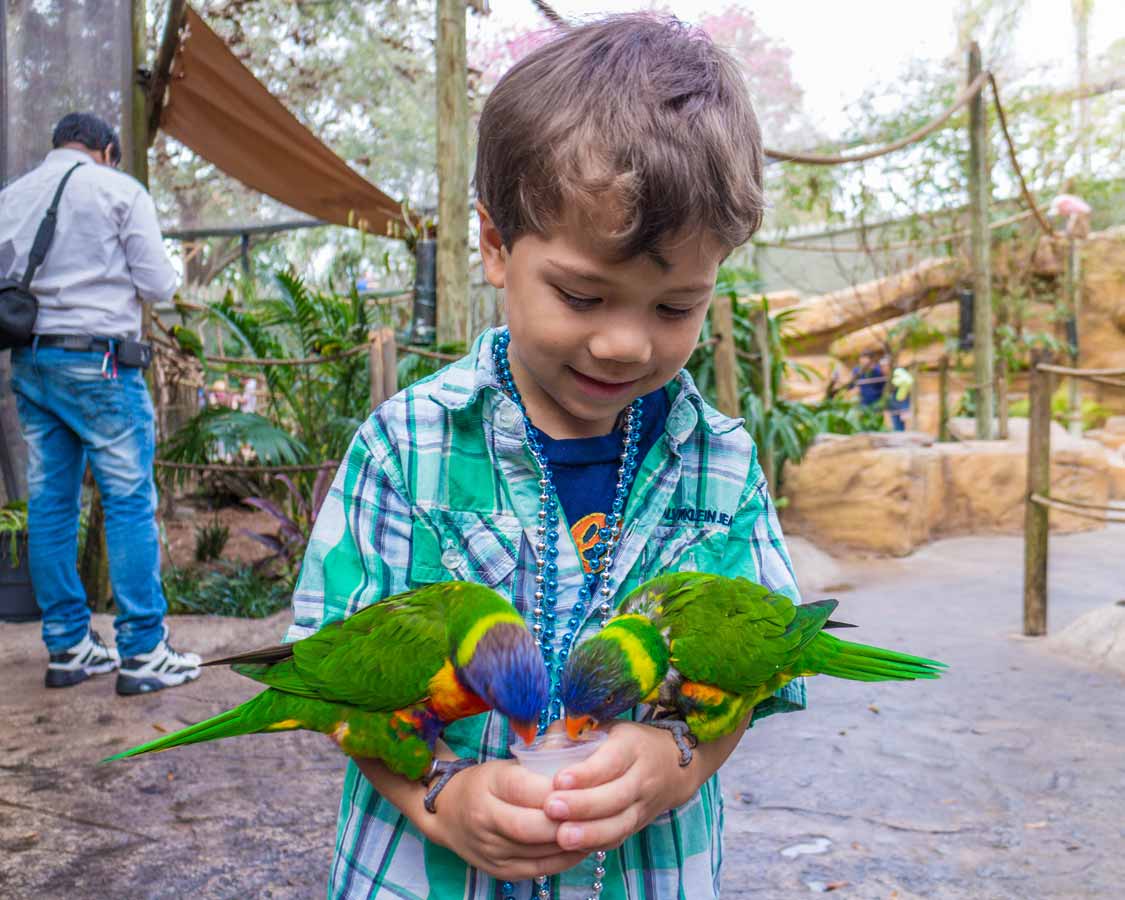 Wild Surge Drop Tower
Just because your at Busch Garden with young kids doesn't mean that you can't experience a few thrills. D, our 5-year-old just squeaked above the 38″ cut-off for the Wild Surge Drop Tower. This thrilling ride in Jungala's Village launches you out of a crater and over a waterfall. It's exciting, and if you keep your eyes open, you'll get great views of the surrounding park.
Treetop Trails
Another fun place for kids at Busch Gardens to explore is the Treetop Trails in Jungala Village. This three-story playland of nets, pits, and climbing structures is a blast for those little ones looking to burn some energy. It tends to be catered more towards bigger kids (over 6 yrs of age) compared to the Sesame Stree area, but even smaller children will find plenty to do. If you don't mind getting wet, there's a splash pad at the bottom that is wonderful on a hot day.
Other Busch Gardens Rides For Toddlers
Dotted around the park parents will find plenty of toddler-friendly rides at Busch Gardens. Most of these are located in places like Sesame Street Safari of Fun and Jungala Village. But those venturing around the park will find lots to do as well. Here are a few other Busch Gardens rides for small kids under 38″ to fill your time.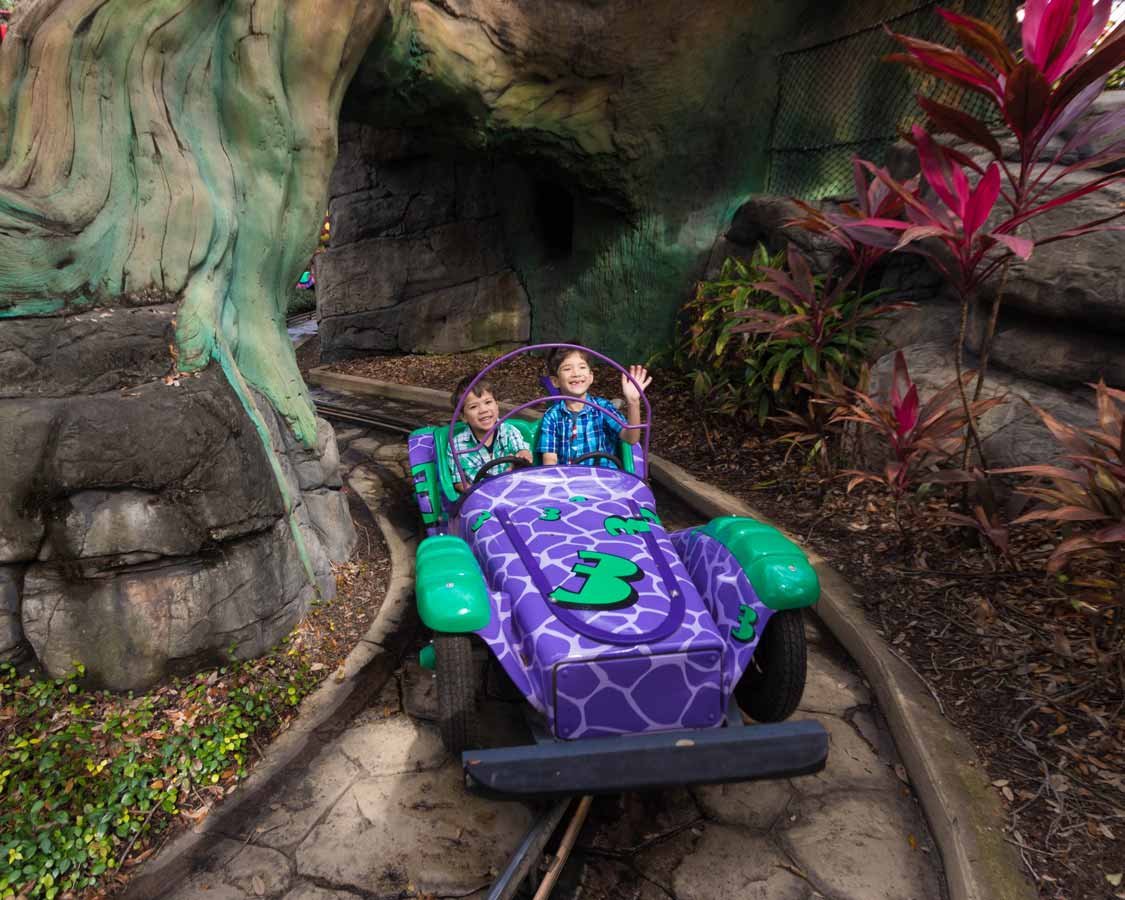 Sesame Street Safari Of Fun
Soar with Grover
Elmo's Safari
Rosita's Djembe Fly Away
Counts Zambezi Rally
Big Bird's Whirly Birdie
Zoe-Patra and the Hippos of the Nile
Other Busch Gardens Tampa Rides For Toddlers
The Wild Surge
Ubenga-Banga Bumper cars
Congo River Rapids
Tips For Visiting Busch Gardens With Toddlers And Small Kids
Just like any theme park or major attraction, making the most of your visit to Busch Gardens with toddlers requires a little research. To help parents out, I've laid out a few tips to help your visit to Busch Gardens Tampa run as smoothly as possible.
Parking – There is a cost for parking at Busch Gardens. When we visited, it was around $18 per vehicle. If you are bringing in a stroller, make sure to let the attendant know. If there is space, they will direct you to the front-row parking. This should save you some walking.
Sunscreen – Make sure to bring and apply sunscreen frequently. The Florida sun can be intense and there is not much shade within Busch Gardens Tampa. We recommend always using a reef-safe sunscreen, as the chemicals in the sunscreen will inevitably make their way out into the ocean.
Drinks And Snacks – Insulated bags and coolers are not permitted within Busch Gardens Tampa. There are a number of food and drink stations located throughout the park. If you bring a small backpack or bag with you, you can pack snacks, water bottles, and pre-packaged food for your time in the park. There are all-day food passes available at an extra cost if you would like. The cost for children aged 3-9 years-old was only $19.99 when we visited.
Strollers or Kid-Carriers – If you plan on bringing a stroller or a travel kid-carrier into Busch Gardens, you probably won't regret it. The park is huge, and for every step that Mom or Dad takes, your toddlers will take three or four. Busch Gardens Tampa is massive, so you can expect your step counter to be very proud of you.
Dress Appropriately – Your day at Busch Gardens with toddlers could be a long one. Rest for the weather and wear comfortable shoes. Remember that costumes are not permitted in the park. Wear light, breathable clothing. Pack a swimsuit and a light, quick-dry towel.
Relax And Have Fun – Remember that toddlers often don't care as much about the big experiences as you might. Our boys would have happily spent the whole day bustling around the Sesame Street Safari of Fun.
Have you ever visited Busch Gardens with small kids? Tell us about your experience in the comments. Or drop by our Facebook page and share your story with us. We would love to hear about it.
DISCLOSURE: Our Busch Gardens Tampa experience was hosted by Visit Tampa. All opinions remain our own. This post may contain compensated links. Any purchases made may earn us a small commission at no extra cost to you. For more information please read our disclaimer. Wandering Wagars is a participant in the Amazon Services LLC Associates Program, an affiliate advertising program designed to provide a means for sites to earn advertising fees by advertising and linking to amazon.com, amazon.co.uk, amazon.ca. Amazon and the Amazon logo are trademarks of Amazon.com, Inc. or its affiliates.
You May Also Like To Read: