The best of the Sunshine State is on display at these amazing family-friendly Florida State Parks to experience on your next road trip.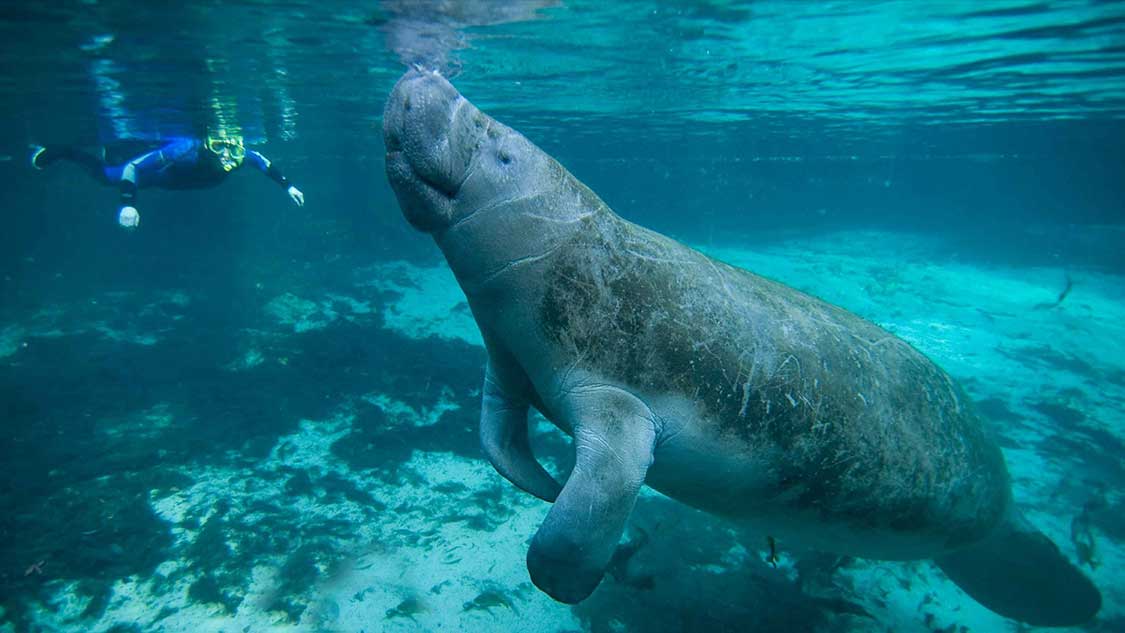 Florida is a destination that seems to call families from all over the world.
And while many visitors are drawn the theme parks such as Volcano Bay and Disney, my family is drawn to the gorgeous Florida nature experiences such as the Everglades, where we ripped around in airboats, and the Florida State Parks where we came face to face with ferocious alligators and crocodiles (ok, maybe not ferocious. Mostly, they just lazed around suntanning).
Whether you're planning on renting RVs to explore Orlando and the rest of Florida or just driving from the Space Coast to Orlando in your own vehicle, these State Parks in Florida should be on your list for stops along the way.
Florida State Parks have consistently been touted as some of the best state parks in the United States. And with over 175 Florida State Parks to choose from, it's not easy narrowing your search down to the ones that deserve your attention the most.
And while my family hasn't been to every State Park in Florida, during our tours of the state we've hiked, paddled, and explored enough to narrow our search down to the best Florida State Parks for families who love the outdoors.
In fact, if your family loves the outdoors, consider checking out my guide on how to hike with kids to help your little ones fall in love with the trails.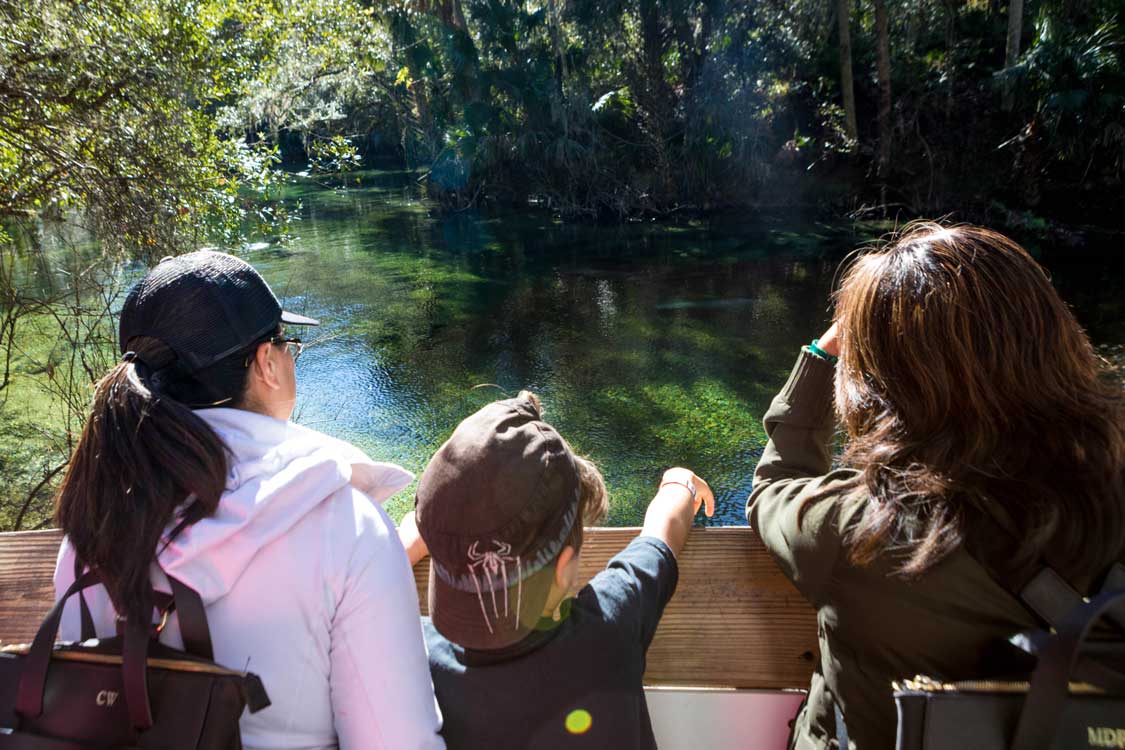 The Best State Parks in Florida For Families
With SO many incredible nature experiences for families in Florida, how do we choose which ones are the best?
Well, we look for things that stand out and set certain Florida parks apart from the crowd.
Anastasia State Park in St. Augustine
Situated just five miles from St. Augustine and just a little further south of Jacksonville, Anastasia State Park is one of the best State Parks in Florida for families.
Located on northeast corner of Anastasia Island, Anastasia State Park offers four miles of uninterrupted, pristine Atlantic beach. And the park is teeming with family-friendly wildlife experiences, including the chance to see bald eagles, dolphins, manatees and sea turtles.
Enjoy a hike along the sand dunes on the well-kept boardwalk or cycle along the beach. You can even rent kayaks to paddle through the inshore pond.
Anastasia State Park also has some gorgeous camping opportunities that include 139 campsites split between large RV sites and tent and hammock camping in a forest setting away from the wind.
This protects you from salt spray and blowing sand without leaving you too far away from the attractions. Each campsite has electrical and water hookups.
Florida Caverns State Park in Marianna
We've made no secret about our love of caves and caverns. In fact, our piece on the coolest caves you can visit with kids is always getting new additions.
Florida Caverns State Park is an incredibly unique Florida State Park. In fact, it's the only state park in Florida that offers guided tours of dry caverns.
These 45-minute adventures let families get up-close and personal with stalactites, stalagmites, and other fascinating cave formations.
The tours aren't as easy as a stroll along the boardwalk, which is part of the reason that we love them. You'll be doing a bit of climbing and scrambling through some tight areas. So make sure to wear clothes that you don't mind getting a little dirty.
The cave tours last about 45-minutes. You'll have plenty of time to experience other things to do at Florida Caverns State Park such as enjoy the six miles of hiking trails, sinkholes, fishing, and even horseback riding.
There are 35 campsites, all with electrical and water hookups. And it's a popular spot for RV camping in Florida. You'll also find a pretty fantastic kids' playground at the park.
Weeki Wachee Springs State Park in Weeki Wachee
We couldn't feature the best Florida State Parks for families without adding a little kitsch in the mix. And the mermaid show at Weeki Wachee Springs State Park definitely fits that bill.
This popular underwater display has been a family favorite for almost 75 years. And families and couples alike regularly pack the 400-seat amphitheater to take in the mermaid spectacle and animal encounter show.
But it's not all live theater at Weeki Wachee Springs State Park, this park is also home to the deepest known freshwater cave system in the United States.
Families can kayak or canoe along the Weeki Wachee River, take guided riverboat tours, and even enjoy the gorgeous white sand beach lining clear turquoise water.
The park is also popular for its Buccaneer Bay waterpark which features a nice swimming area, lazy river, and four waterslides.
Silver Springs State Park in Silver Springs
If we had to declare one park as the best State Park in Florida, my vote would swing towards Silver Springs State Park.
Florida is riddled with springs, and I'll be honest, I wouldn't say that there's a bad one in the bunch. But Silver Springs stands out above the rest, not just for the scenery and activities, but for its history as well.
In fact, 140-years ago, Silver Springs was one of Florida's original tourist attractions. Long before the mouse arrived and visitors flocked to the Florida Keys, it was the magical clear waters of Silver Springs that they came for. And it was here that the glass-bottom boat tours originated.
Featuring ultra-quiet electric glass-bottom boat boats that glide effortlessly across the calm waters, families will be introduced the underwater world of Florida's freshwater springs in a way that offers unparalleled views of the underwater marine life.
Bring or rent a kayak and explore the Silver Springs waterways and you'll be treated to wild monkeys, manatees, alligators, and otters. Not to mention countless colorful birds.
The one experience that Silver Springs lacks for family fun is swimming. So make sure that you don't pack your swim trunks for this one.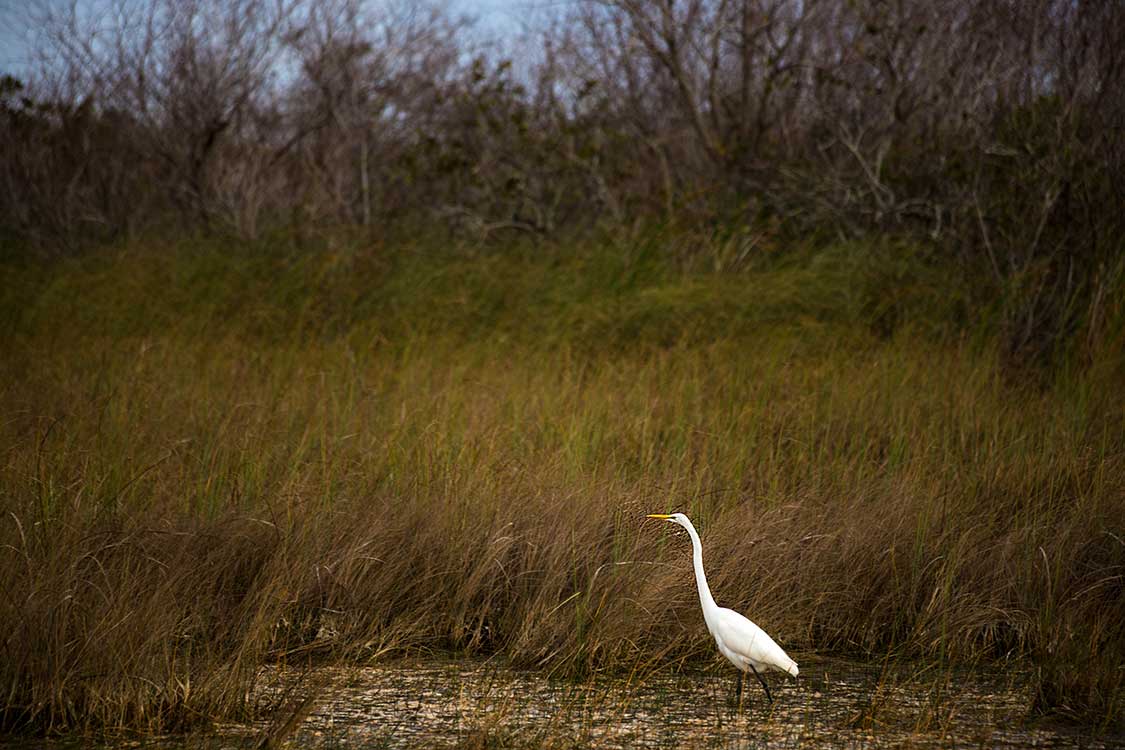 Myakka River State Park in Sarasota
Myakka River State Park is a beautiful and family-friendly Florida State Park where you could easily spend a few days to a week exploring.
Situated just an hour south of Tampa Bay, Myakka River is home to some of the largest alligators in southern Florida.
Kids will get a kick out of the thousands of birds roosting in the trees and along the shores including Roseate Spoonbills, Falcons, Cranes, Ibises, Storks, Pelicans, Owls, Gulls, and Terns.
Throughout the 58 square miles of wetlands, forests, and prairies you'll find excellent wildlife attractions, some of the best kayaking in Florida, and one of the first canopy walks in the United States, which stretches for 100 ft and reaches up to 25 feet in height. There are also lake tours offered where guests can explore the waters on the world's largest airboats.
Myakka River State Park has 90 campsites and cabins with electrical hookups and water available for RVs. Make sure you stop at the on-site cafe, which serves up great food for lunch.
Caladesi Island State Park in Clearwater
You'll have to leave the car behind for this family-friendly Florida State Park. But Caladesi Island State Park is worth the extra effort of getting there.
Located on Caladesi Island, just off the shores of Clearwater and a short drive from Tampa Bay, this barrier island offers unspoiled beauty. The fact that you either need to walk across a narrow causeway from Clearwater Beach or take a 20-minute ferry ride from Honeymoon Island State Park (or a private boat if you have access to one) to get here is a big factor in just how pristine this island paradise is.
Once you arrive, you'll find a white sand beach that is teeming with shells and sand dollars, which my kids could spend hours collecting. You'll also find a three-mile-long nature trail that wanders through the forests and 1880s Scharrer Homestead (there's not much remaining of the buildings themselves).
Beware though, the island is home to Eastern Diamondback Rattlesnakes. They're shy and cautious, so you're unlikely to see them. But don't go stomping through the rocks, just in case.
You can rent kayaks, beach chairs, and umbrella's to enjoy a long day on the sand and sea. Beware, though, that the area is known for heavy boat traffic (A big thank you to reader Chuck Briske for this tip). And you can either bring your own food for a picnic or visit the on-site restaurant, Cafe Caladesi, at the marina. There's also a popular playground for young kids.
John Pennekamp Coral Reef State Park in Key Largo
My family has a deep passion for SCUBA diving, snorkeling, and life beneath the waves. And while it's not quite family snorkeling and SCUBA diving in the Caribbean, John Pennekamp Coral Reef State Park still packs a punch when it comes to the best State Parks in Florida for families.
Offering some of the best snorkeling in the Florida Keys, this is an incredible stop for those doing a road trip through the Florida keys.
Visitors can rent kayaks or canoes and paddle the mangrove-lined shores or even book a snorkel tour that will give you the chance to explore the first undersea park in the United States.
Under the waves, you'll find a treasure trove of fish, coral reefs, and sunken statues that make up an underwater sculpture museum. One of the most popular is a bronze replica of Christ the Redeemer (the original of which towers above Rio de Janeiro in Brazil). The statue is slowly being reclaimed by the sea and is covered with gorgeous and colorful corals.
Families won't want to miss the John Pennekamp Visitor Center either. It features a massive 30,000-gallon salt water aquarium. This is worth the visit alone, and is especially nice for those who might not feel comfortable snorkeling in the open waters themselves.
This Florida State Park features great swimming on Canon Beach, which hosts the remnants of an ancient Spanish shipwreck just 100 feet offshore.
There is also 47 campsites on-site including ones with space for RVs.
Blue Spring State Park in Orange City
Blue Springs State Park is one of the best places in Florida to see Manatees. The crystal clear waters draw visitors from nearby Orlando. During high season, don't be surprised by long lineups of visitors waiting for their turn to park.
The park is home to some beautiful and rather lazy hiking trails including the 4.5 mile Pine Island Trail. All of them are relatively flat, and many include boardwalks that skirt through the vine-strewn forests and hot water springs.
From mid-November to March, manatees flock here in droves from the cold ocean water to enjoy the cozy 72-degree crystal-clear springs.
Families can also explore the historic Thursby House, which harkens back to Central Florida's frontier days.
During manatee season, the rivers are closed to water activities to protect the animals. But during the rest of the year, the waters open up to swimmers, kayakers, canoeists, and snorkelers who want to enjoy some of the clearest water in Florida.
Families can also sign up for two-hour narrated tours that take place twice daily. These river tours explore the waters and feature expert information on the water, landscape, history, and wildlife.
Blue Springs State Park has 51 fully-service campsites and is popular with RVers and tent campers.
Crystal River Preserve State Park
If swimming with manatees in Florida is on your bucket list, the state's other manatee hotspot is Crystal River, just 80-miles north of Tampa.
Like Blue Water Springs, the adorable sea cows tend to visit during the colder months, but you can connect with local outfitters like this one to enjoy small-group swims with these gentle giants.
Crystal River is the only place in Florida where you're allowed to swim with manatees. And it's an experience that most visitors will never forget. Just make sure to follow the rules, both for your safety and for the safety of the animals. There are observers on-site making sure that everyone is behaving in a proper manner.
Crystal River Preserve State Park also has some beautiful hiking trails and birding opportunities as well as boat tours that will take you straight out to the Gulf of Mexico.
Unfortunately, there's no camping at Crystal River Preserve State Park.
Bill Baggs Cape Florida State Park
At the base of Florida's Space Coast, on Key Biscayne just south of Miami is one of the best Florida State Parks for urban explorers.
Offering a far more relaxed atmosphere than crowded spots such as South Beach, Key Biscayne is a world away from Miami, even though it sits just 8-miles from downtown.
Bill Baggs Cape is fronted by a beautiful one-mile stretch of white sand beach. And on Thursdays through Mondays you can even tour the Cape Florida Lighthouse which dates back to 1825.
There are some excellent biking trails at the park. You can even rent bikes at the Bill Baggs Visitor Center. And it's a popular spot for anglers as well along the Biscayne Bay seawall.
Although this Florida State Park is close to Miami, it never reaches capacity, so it's a popular alternative for those who don't mind driving an extra couple of miles.
There's no on-shore camping at Bill Baggs State Park, but if you're a boating enthusiast, you can dock your boat overnight for just $20.
It's Time To Explore These Florida State Parks with Kids!
Florida State Parks are all incredible to explore with kids. And while we love visiting destinations such as Busch Gardens in Tampa, nothing beats getting out into nature to experience the naturally beautiful side of this state.
If you're new to family travel, head over to our tips for international family travel post, or to our family travel gear guide to make sure that you have everything that you need to explore Florida comfortably. For most of these experiences, you'll be better off traveling with a child carrier rather than a travel stroller due to the nature of the ground. This will make your experience much easier.
And feel free to drop any questions, or comments below. I always answer them.
If you're passionate about family travel, head on over to our Family Travel Support Group on Facebook. It's a fantastic community of parents who love travel. We share experiences, knowledge, and the lessons learned along the way. You can also sign up for our newsletter to keep in the loop about new family travel adventures
Wandering Wagars is a participant in the Amazon Services LLC Associates Program, an affiliate advertising program designed to provide a means for sites to earn advertising fees by advertising and linking to amazon.com, amazon.co.uk, amazon.ca. Amazon and the Amazon logo are trademarks of Amazon.com, Inc., or its affiliates.
You May Also Like To Read:
Pin This Post For Later