This Twelve Parsecs Star Wars-themed Airbnb in Orlando Florida is the perfect accommodation for those visiting Hollywood Studios Galaxy Edge.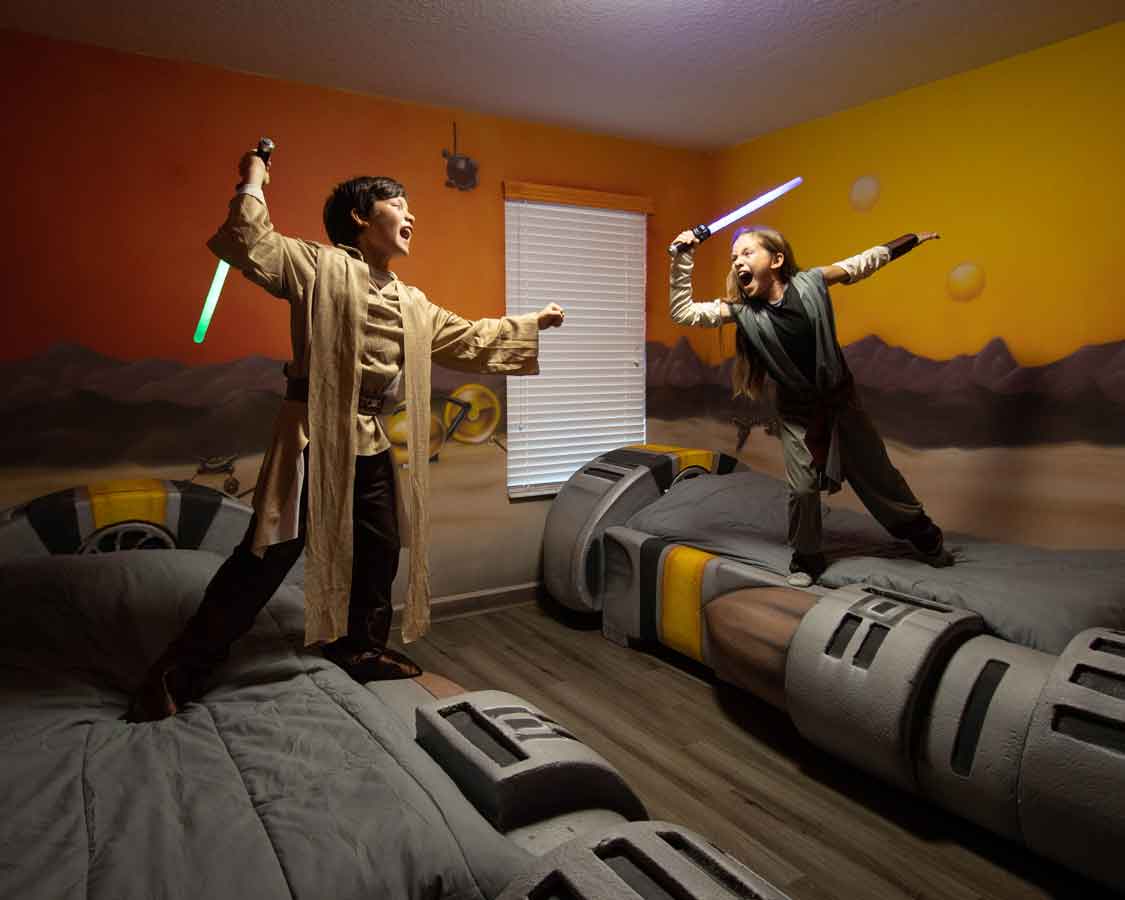 I'll let you in on a little secret. My family is made up of Star Wars geeks. So when we heard about the Twelve Parsecs Star Wars-themed Airbnb in Orlando Florida, we were falling over ourselves for the chance to experience it for ourselves. It looked like the perfect way to complete our family vacation in Orlando. I love unique accommodations. A great place to stay can make the difference between a regular vacation, and an unforgettable one. Considering the sheer number of vacation homes in Orlando, it's shocking that no one had considered making a Star Wars Airbnb in Florida before this.
You no longer need to head to a galaxy far-far away in order to experience the thrills of the rebellion. Now families visiting Florida can race through Tattooine, soar through cloud city, or even take a walk on the dark side. The boys and I spent the week before our trip to Florida brushing up with a Star Wars movie marathon. And when we arrived at the Star Wars-themed Airbnb in Florida, we were ready for action. Whether you're looking to experience Galaxy Edge at Hollywood Studios or relax at the Volcano Bay waterpark, the Twelve Parsecs Airbnb is sure to excite.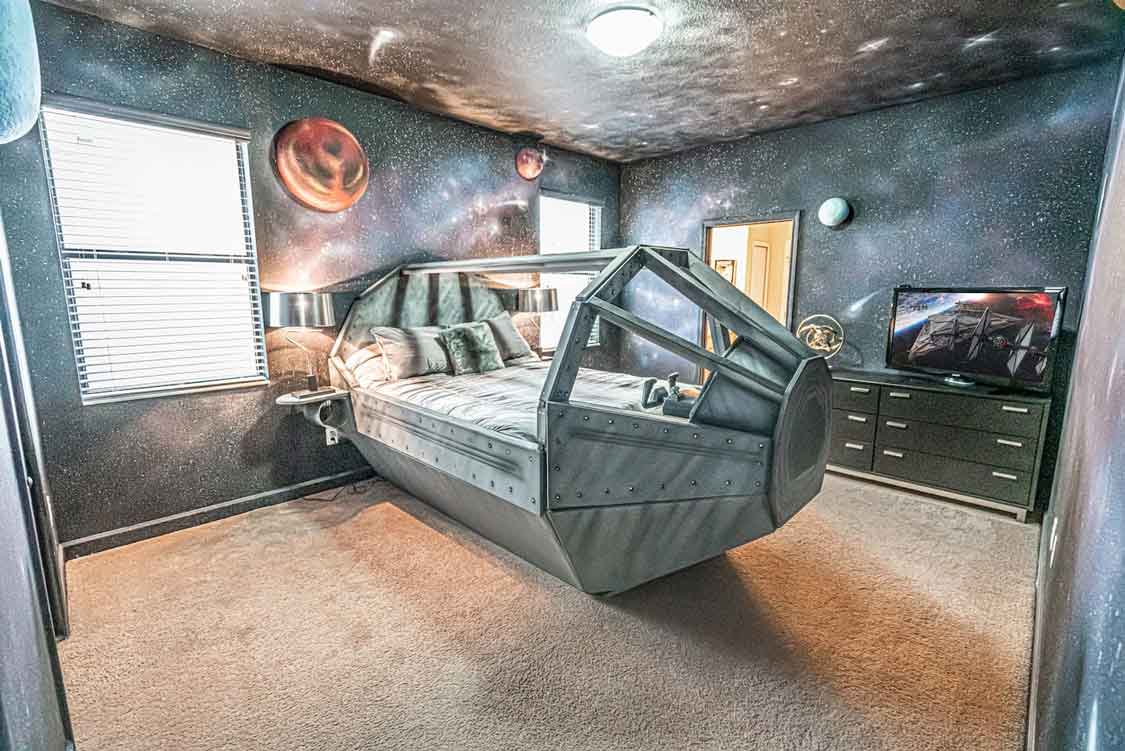 Twelve Parsecs Airbnb
Even if you're not a Star Wars fan, the twelve parsecs Airbnb is an impressive home. This Star Wars-themed paradise may not be glaring on the outside, but once you walk past the Yoda welcome mat, this Orlando Star Wars Airbnb experience comes alive. This Star Wars Airbnb in Florida sports an impressive 9-bedrooms. And each bedroom is themed after a different famous location from the Star Wars franchise. There's even an R2D2 droid on hand in case your actuator goes on the fritz. Even the hallways of this unique Orlando Airbnb are decorated in Star Wars style, some even fashioned after the famed Millenium Falcon.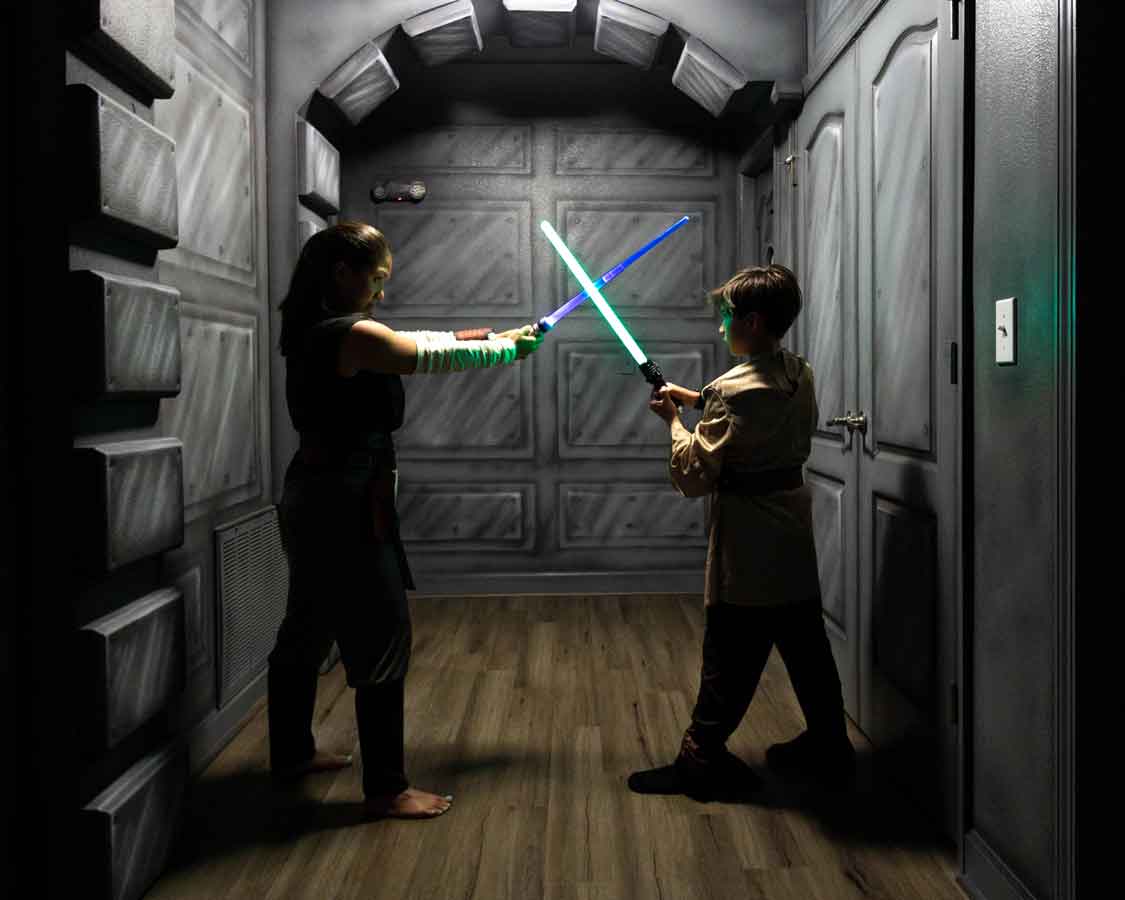 Orlando Star Wars Airbnb Amenities
But it's not just Star Wars bedrooms that make this Orlando vacation home a special place to visit. This themed house also sports a number of amenities to make for the perfect family getaway. The 9-bedrooms are paired with 5 huge bathrooms, 4 of which are ensuite connecting to 6 of the bedrooms. The kitchen even has Star Wars-themed waffle makers for that perfect pre-Disney breakfast. The garage has been converted to a game room as well. Your family can enjoy playing pool or ping pong when you're not exploring the Orlando parks
The Twelve Parsecs Airbnb also has a backyard pool, complete with water toys and floaties. You'll also have access to the Orlando vacation community's 18-hole golf course. And the kids will love the communities on-site waterpark, complete with lazy river, water slides, and beach volleyball courts. There is a wealth of amenities nearby as well. These include grocery stores, pharmacies. restaurants, and much more. The nearby clubhouse even has a restaurant/bar of its own available to residents and guests. And even with all of this, the Airbnb is just 15-minutes from Disney.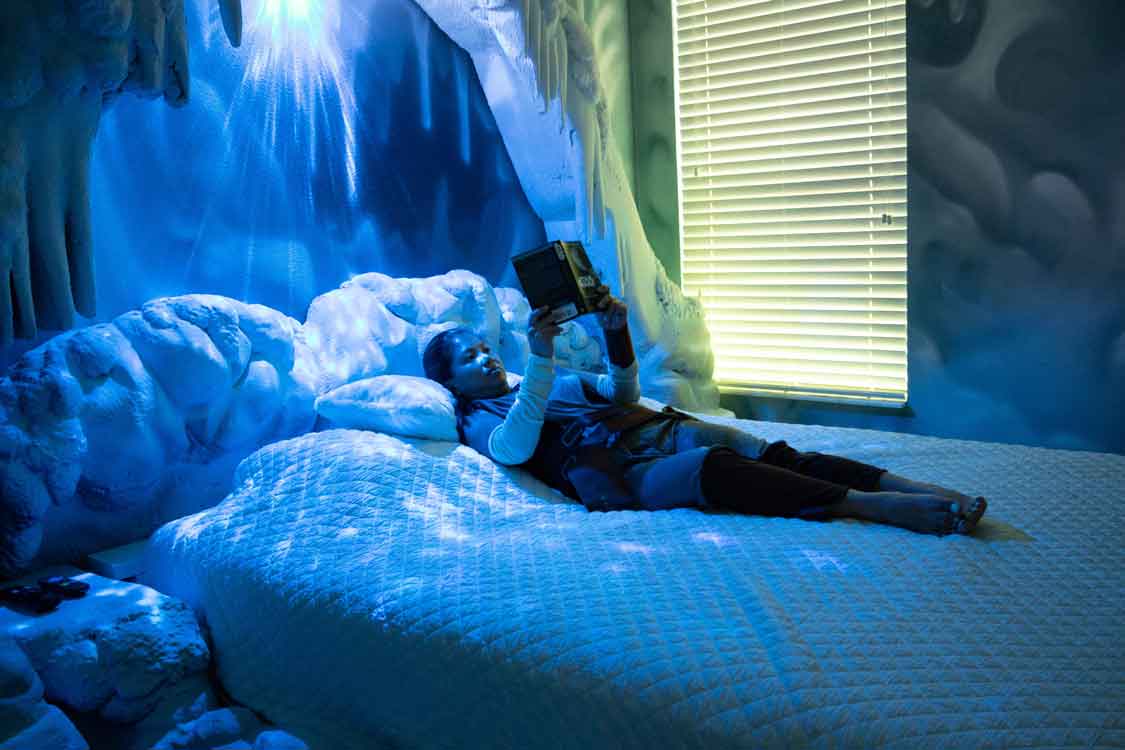 Florida Star Wars Themed Airbnb Rooms
Each bedroom in the Twelve Parsecs Airbnb centers around a different Star Wars location. One bedroom is themed as the cockpit of the Millenium Falcon. Another features two land-speeder beds on Tattooine. You can sleep in a tree fort on Endor or even bunk on the lava planet of the Sith lords. For those who might have some Disney Princes or Princesses along, you can call the Ice Planet Hoth room Elsa's Frozen Room. And you could even offer up the cloud city room as a magical carpet ride from Alladin. Queen Amidalah's castle features a luxurious four-poster perfect for the lords and ladies.
Two rooms have two sets of single bunk beds. The land speeder room has two twin beds. And Queen Amidalah's castle has a queen bed. The rest of the rooms are decked out with double beds. All of these are custom built by the incredible craftspeople who came up with the idea of the Twelve Parsecs Star Wars Airbnb. And it's maintained by the team at Loma Homes. You can even check out their Instagram account to see all of the creativity that went into developing this property. Or you can follow them by checking out their #12parsecshouse hashtag.
But, it's not just the beds of this vacation rental that has been designed to perfection. The walls of each room have been carefully painted to reflect the worlds that they represent. The murals combined with the custom-built beds transport you into the Star Wars universe in a way that no other Airbnb has managed to capture. And each room is complete with easter eggs for visitors to discover. This makes exploring the Twelve Parsecs house as much fun as staying in it.
Have we piqued your interest? You can book the Twelve Parsecs Airbnb right here. If you don't have an Airbnb account yet, you can register using our link and save $55 USD on your first booking. Contact us and we'll e-mail you the coupon code to save on your first Airbnb. You can also book directly on their website.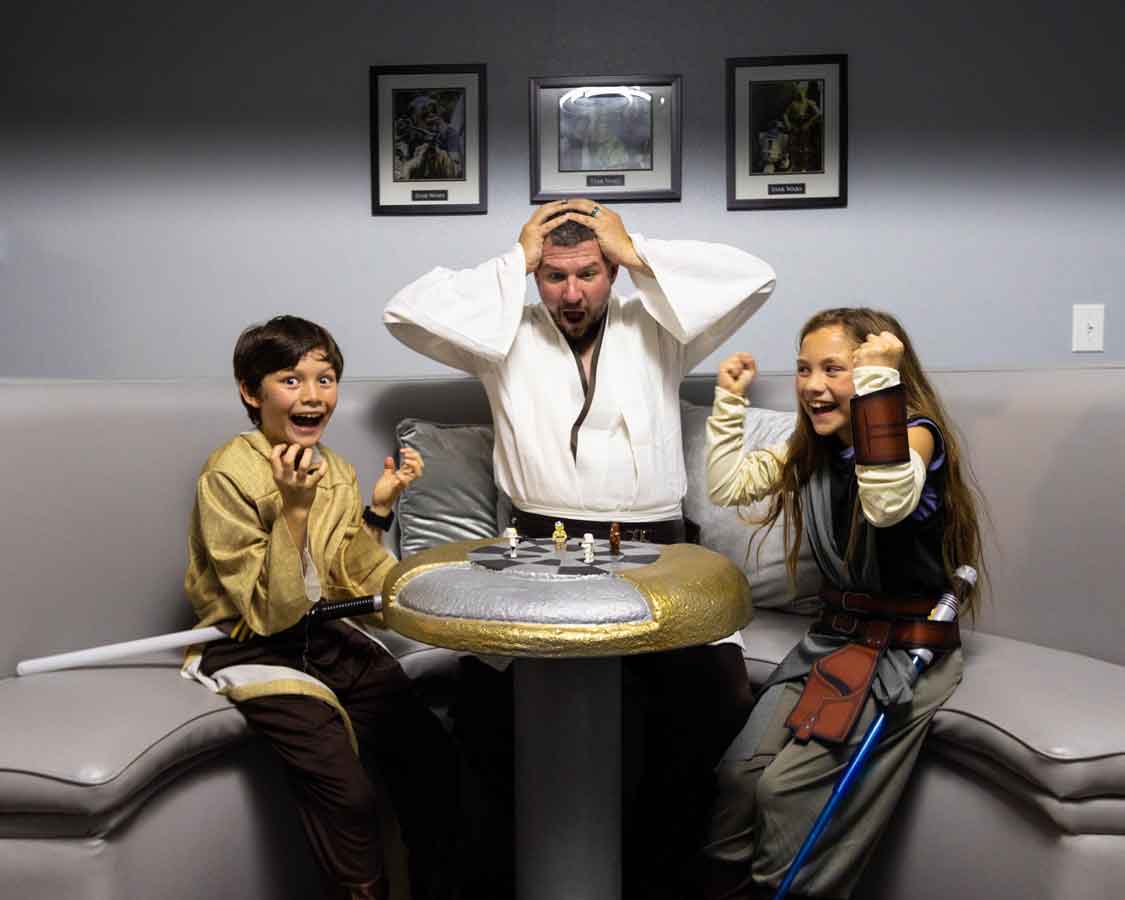 Tips For Having The Best Star Wars Experience In Orlando
With the launch of Disney's Galaxy Edge at Hollywood Studios, it seems that Star Wars has absolutely taken over the Orlando experience. Star Wars Galaxy Edge is one of the most ambitious projects across any of the Disney Parks around the world. And with the new Star Wars: Rise of the Resistance Ride, the Orlando Star Wars experience has never been better. Here are a few tips for making the most of your Orlando Star Wars vacation.
Dress The Part
There is a great selection of lightsabers on hand at the Twelve Parsecs Airbnb. They are conveniently located in the umbrella holder as you walk in the door (a nice touch if I do say so myself). To complete the experience, pack up some Star Wars costumes. We picked up these Jedi costumes for the kids and an awesome Rey costume for Christina. I got a hold of this two-part costume as well. It made taking photos around the house a blast.

Bring Waffle Mix
The Star Wars waffle makers at Twelve Parsecs Airbnb in Orlando help make the entire Star Wars experience complete. Bring some waffle mix for a quick and easy breakfast before you head to the parks. You can even buy your own Star Wars waffle makers for home.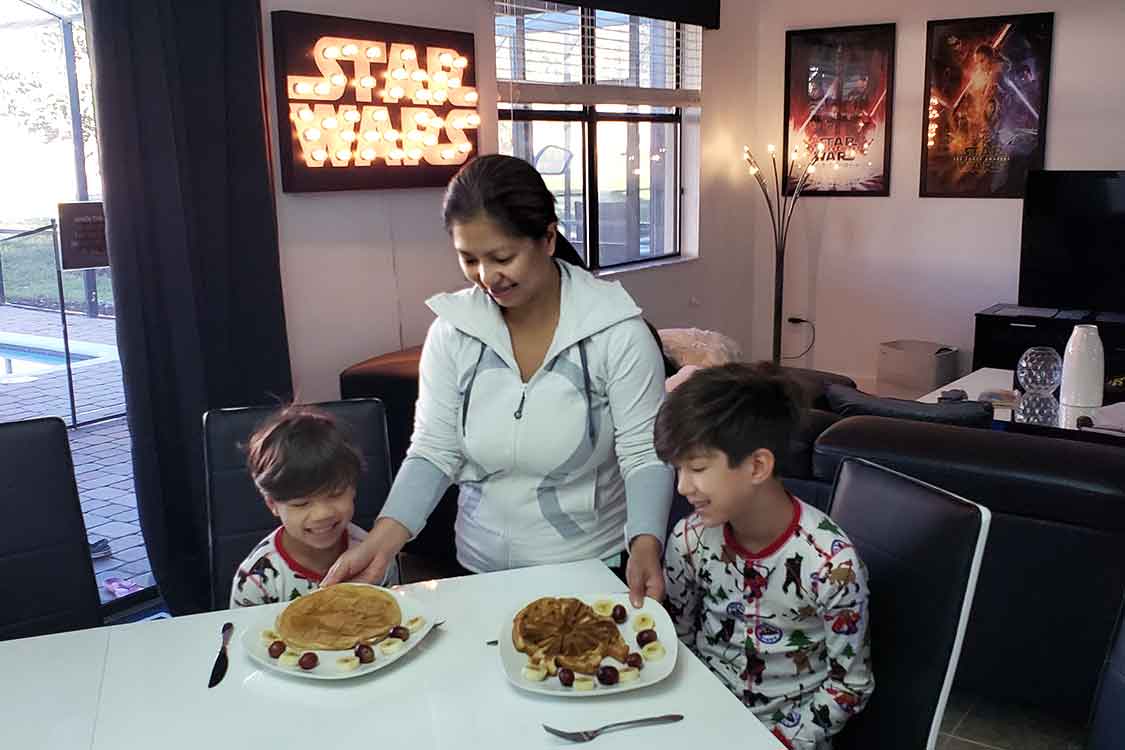 Plan Your Food
There is a Publix grocery store just a few minutes from your front door. So it's easy to stop and grab groceries before your Star Wars Airbnb experience. The community also has access to catered meals. The details for this awesome service are in the detailed binder waiting for you in the Airbnb.
What To Do During Your Florida Star Wars-Themed Airbnb Stay
Your Orlando Star Wars experience will be made complete with a visit to Galaxy Edge and a stay at the Orlando Star Wars Airbnb. But you can fill in the rest of your time with some of these incredible things to do.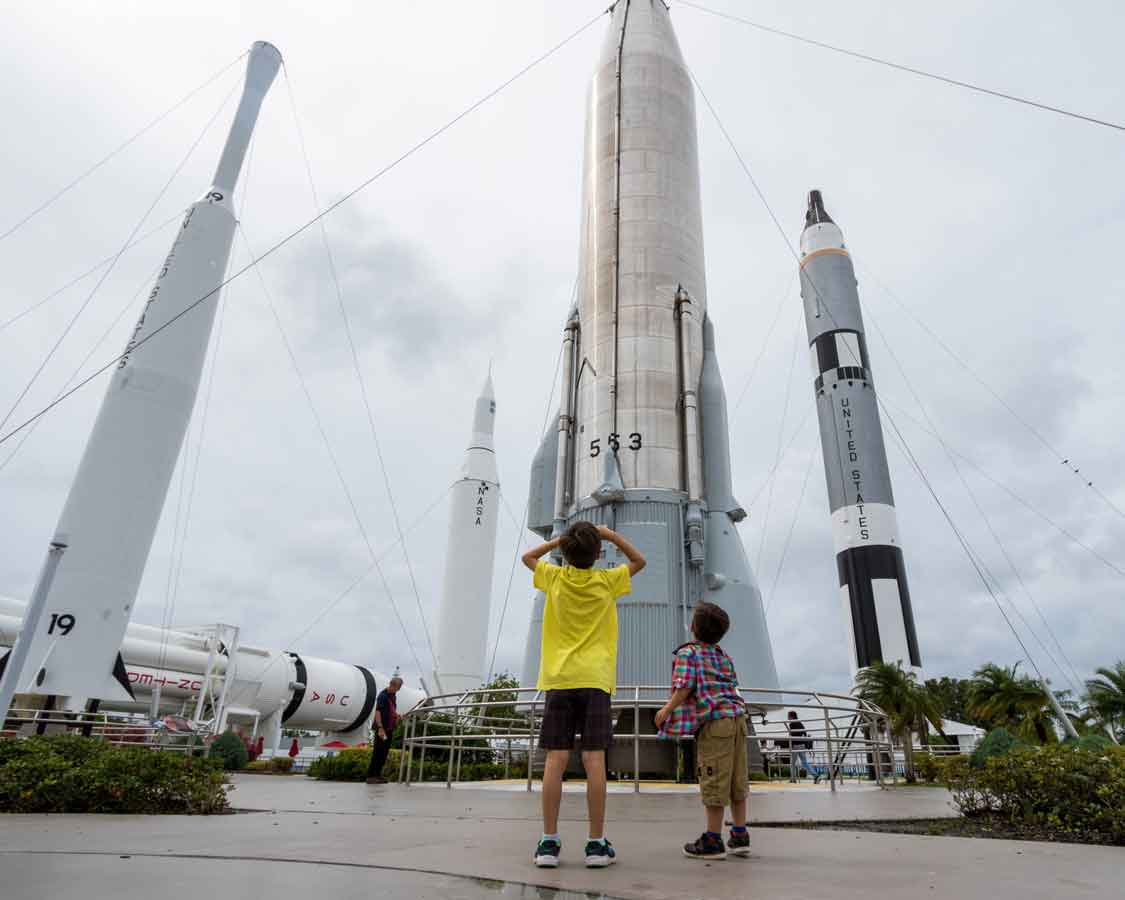 Visit Hollywood Studios Galaxy Edge
Let's face it, if you want the best Star Wars experience in Orlando, you must visit Hollywood Studios Galaxy Edge. Galaxy Edge is the newest attraction in the Disney Parks, and it may be their most incredible experience ever. You can pick up Hollywood Studios tickets here.
Explore Nearby Space At Nasa Kennedy Space Center
Just an hour from Orlando is our own Galaxy's center for space experiences. The Nasa Kennedy Space Center is a perfect place to explore for science and Star Wars lovers visiting Orlando. You can explore real space ships, race through the International Space Station, and even try out a real space toilet! You can check out our tips for visiting the Kennedy Space Center here.
Get Mechanical With Lego Star Wars at LEGOLAND Florida
You can see the Star Wars Universe come together brick by brick. LEGOLAND Florida's Miniland USA has life-sized replica's of Darth Vader, Darth Maul, and R2-D2. You can even explore some of the most famous scenes from the Star Wars movies, all built with Lego bricks. You can get tickets for LEGOLAND Florida here
DISCLOSURE: Our Star Wars-themed Airbnb stay was hosted by the owners of Twelve Parsecs Airbnb. All opinions remain our own. This post may contain compensated links. Any purchases made may earn us a small commission at no extra cost to you. For more information please read our disclaimer. Wandering Wagars is a participant in the Amazon Services LLC Associates Program, an affiliate advertising program designed to provide a means for sites to earn advertising fees by advertising and linking to amazon.com, amazon.co.uk, amazon.ca. Amazon and the Amazon logo are trademarks of Amazon.com, Inc. or its affiliates.