Everglades Airboat rides are one of the best ways to experience the wild side of Florida. But if you're looking for an Everglades experience in Orlando, Boggy Creek Airboat Rides operates right out of nearby Kissimmee Florida.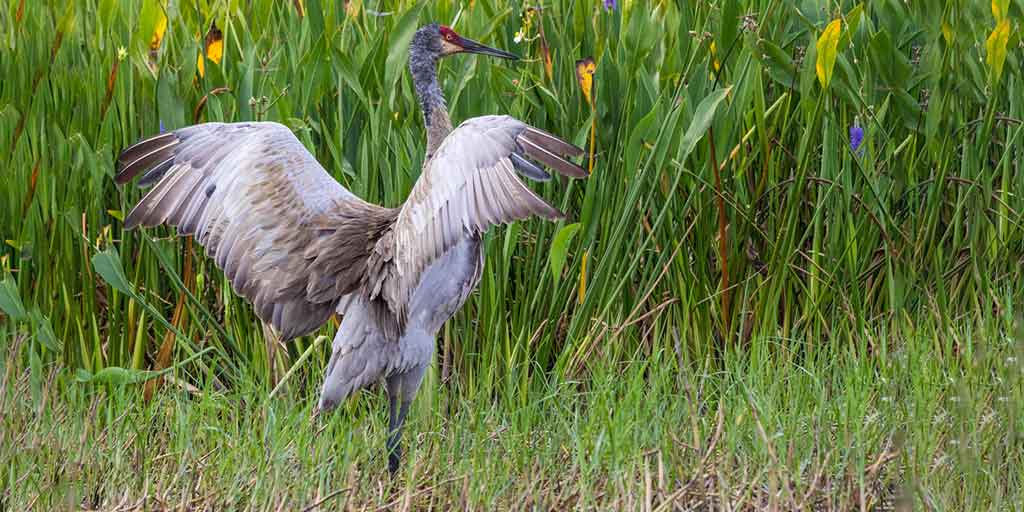 One of the most amazing experiences for those on a family vacation in Florida is getting the chance to fly over the water on one of the many airboat rides in the Everglades. While we were exploring Kissimmee Florida, we made the trip out to Boggy Creek Airboat Rides on the edge of town. We were excited about the idea of an everglades airboat ride, but we weren't prepared for just how thrilling it was going to be.
As we glided effortlessly across the sparkling water, the boys were screaming in excitement. It was partially the thrill of the speed and wild, arcing turns of the everglades airboat. And it was partially the anticipation for the incredible everglades wildlife that we were about to witness. With countless alligators, crocodiles, birdlife, including the largest population of Bald Eagles in the world, and much more, the Florida Everglades is an outdoor lovers paradise. And one of the best ways to experience the everglades near Orlando is on a Boggy Creek Airboat ride.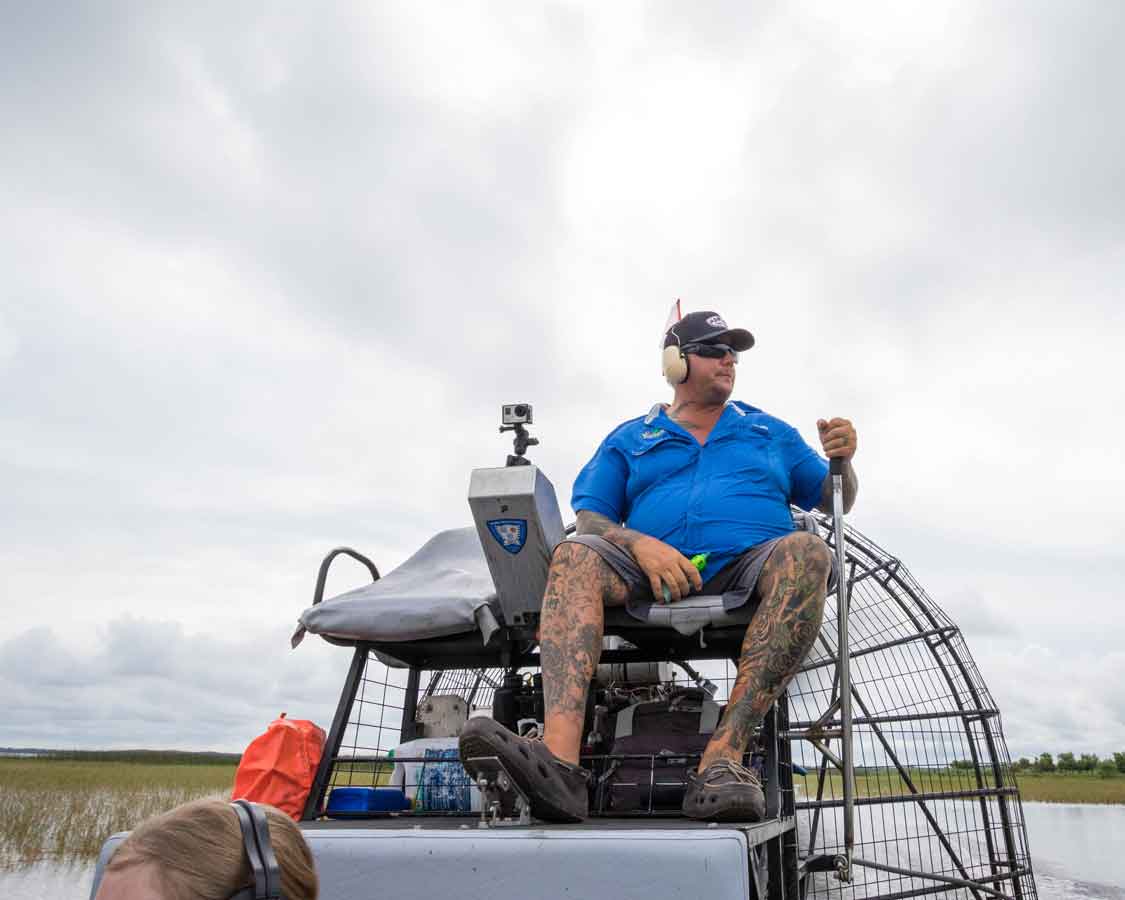 About Boggy Creek Airboat Rides
Boggy Creek Airboat Rides, located in sunny Kissimmee, Florida, has been in business for 24 years. What began as a fishing camp quickly expanded into an Everglades airboat tour company. And over time it expanded to include a series of attractions on its own to cater to families traveling to Orlando. They pioneered Everglades tourism in Orlando and take pride in showing visitors "the real Florida."
In 2016, the company expanded and included a number of attractions including gem and fossil panning, covered pavilions, a tiki bar, and the Boggy Bottom BBQ restaurant. They also added another attraction dubbed the "Native American Village, which I'll talk about later. There are now 12 airboats at Boggy Creek Airboat Rides that have taken thousands of visitors on airboat rides in the Everglades.
Attractions At Boggy Creek Airboat Rides
Boggy Creek tours are a blast. I'll admit that our time on the water was one of the biggest thrills in Kissimmee. The ride is exciting, action-packed, and educational. Exactly what we look for in family adventure experiences. The land-based attractions at Boggy Creek Airboat Rides are kitschy and generally pretty fun. There are displays made up of mannequins dressed in backwood-style outfits, fun fossil and gemstone panning experiences that young kids will love. There is a pen with up to 30 juvenile alligators on display as well. Visitors are able to feed them for about $5/bag.
There is also a recreation "Native American village" on display. The display is aimed at showcasing one of Florida's lost indigenous cultures, the Jororo, a Mayaca people who made their home in the Everglades region. The information for the display is based on archaeological finds documenting the life of the Jororo. The presentation is run by a local, Little Big Mountain, and his wife. I spoke to Little Big Mountain, and he admitted to not being of Jororo descent. I learned later from the team at Boggy Creek that he was of Comanche and Mohawk descent. He had a passion for the culture and local history and that is what inspired him to present the history of the Jororo people.
Airboat Rides In The Everglades With Boggy Creek
Our trip to the Florida Everglades in Kissimmee only took about 20-minutes from our Kissimmee vacation rental. We pulled down the beautiful tree-lined lane and pulled up into the parking area. Getting ourselves registered for our Everglades airboat ride timeslot. We had about an hour before our Boggy Creek airboat ride departure. It was the perfect chance to explore the Boggy Creek park.
We took the time to wander the small series of displays. The alligator enclosure was exciting for the kids to see. We caught a glimpse of an American Crocodile on our way to Kennedy Space Station, but we hadn't seen a gator yet. It got us excited for seeing them in the wild once we got out on our airboat ride in the Everglades.
The boys really loved the swamp shack where they could climb through an airboat and pose with the hilariously outfitted mannequins that call the swamp shack home. The fossil and gem mining was a great kitschy display as well. Young guests can pan for semi-precious gems. It was similar to the panning fun that we had at Cave of the Winds during our visit to Colorado Springs recently.
Our Boggy Creek Airboat Rides In The Everglades
When it was time for us to board our airboat, we made our way down to the water. There we were met by our captain. He gave us a quick and fun safety brief. We were given ear protection, the airboats are CRAZY loud. And we were advised to keep any loose items in sealed pockets to keep them from flying out in the wind. We got ourselves seated four-across in our row. And when the captain fired up the engine the kids almost jumped out of their seats. The roar was impressive. And before long we were flying out of the Boggy Creek marina and out into the Florida Everglades on an airboat.
As we spun in-and-out of the marshy patches of the everglades the wind was roaring through our hair. The mist on the turns sprayed up from the water. We were getting a big splash of Florida water before heading over to Volcano Bay the next day. It was easy to see how popular the Everglades are for locals. There were loads of fishing boats reeling in catches and small pleasure boats in the deeper water just taking in the scenery. The ride was as thrilling as it was beautiful. And it wasn't long before we started seeing some of the Everglades wildlife.
The marshy shallows were teeming with cranes of every color and more birds than we could count. Surprisingly, the birds seemed not to be bothered by the noise of the Boggy Creek airboat fan. Even when we came in close for a view, they would stay in place to let us photograph them. The ability of the Everglades airboat to slide right over the marshy shallows of the water was amazing. The flat bottom barely registered against the surface. Even though we were flying across the water, we barely felt a bump.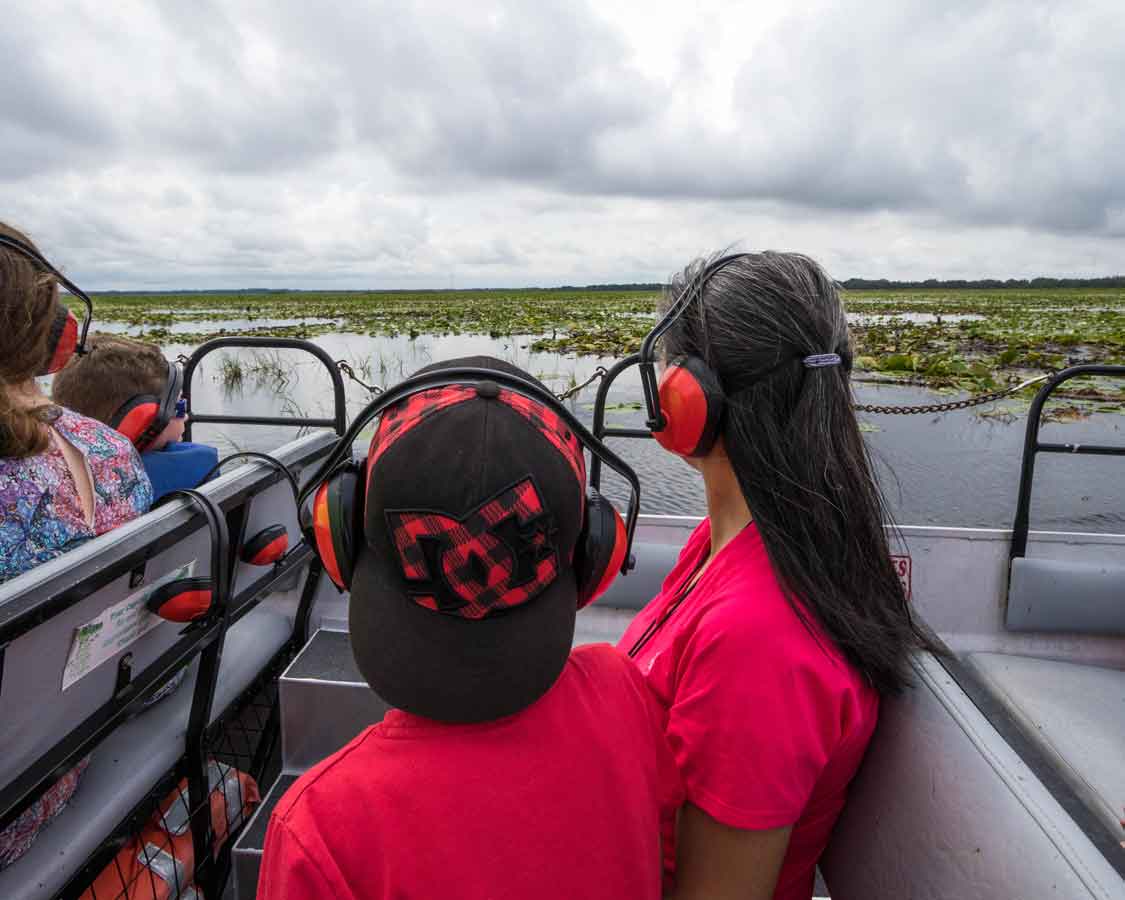 Can You See Alligators On An Airboat Ride In Kissimmee?
It wasn't long before we came across another one of the Kissimmee Everglades wildlife. The Everglade airboat ride captain expertly spotted an American Alligator hidden among the plants in a marshy area. As we pulled alongside it, it was impossible not to be impressed by the size and obvious power of this creature.
This wasn't the last Everglades alligator that we saw on our Kissimmee airboat ride either. Before our Boggy Creek adventure ended we had spotted at least 4 other American Alligators in the Florida Everglades. Each one was quite calm, conserving energy and barely giving our boat of curious explorers a second look. Even as we came within just a short distance of them.
Our one-hour Boggy Creek airboat ride came to an end all too quickly. As we made our way back towards the Boggy Creek Airboat rides marina, we sat back and enjoyed the wind and the mist. Our last glimpses of the Florida Everglades in Kissimmee were spectacular. Even as we were landing we were talking about how to see more of the Florida Everglades. So expect more posts to come, because the Everglades captured our heart.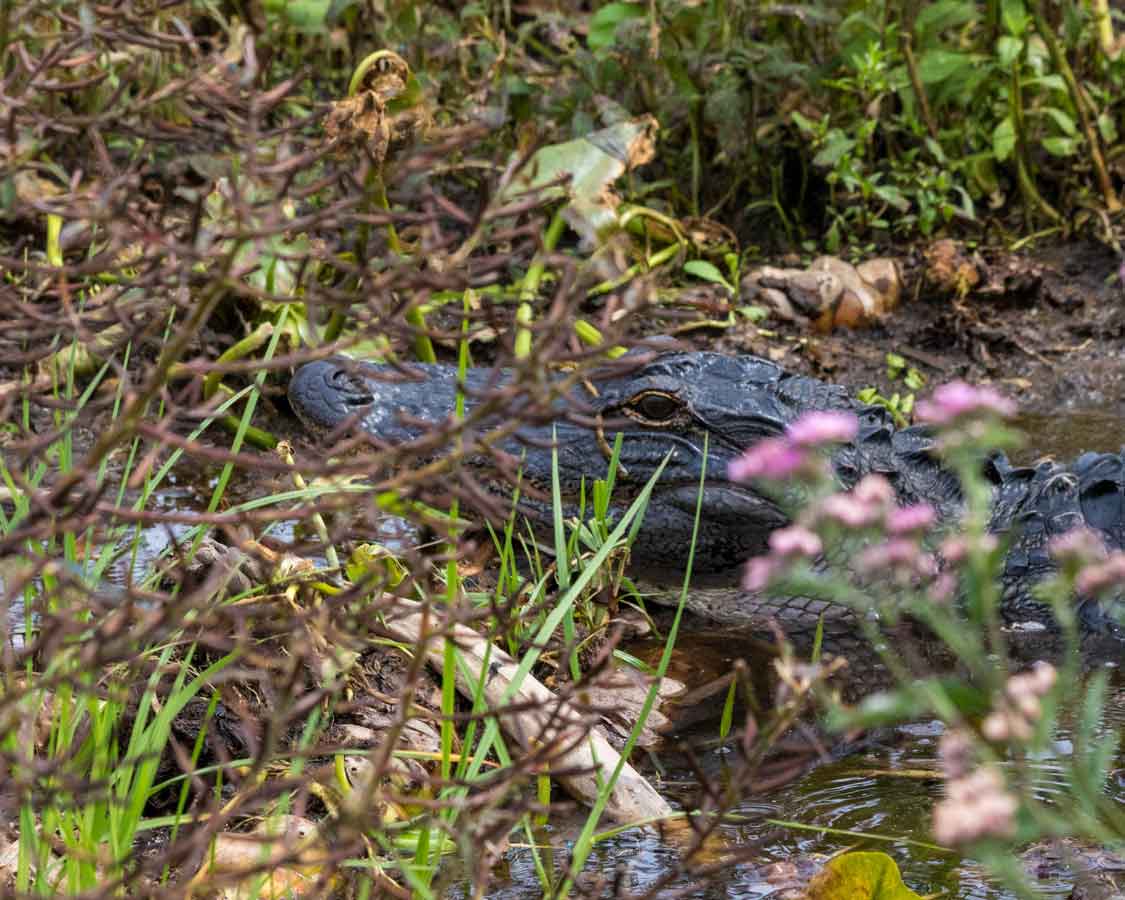 Are Airboat Rides In Kissimmee For Kids
Yes, airboat tours in Orlando are family-friendly. D was 5-years old when we went, and although he did find the noise and wind to be a bit overwhelming at first, he was all smiles by the end. If you have a child that is used to being on boats, Kissimmee airboat rides may be good at a younger age such as 3 or 4. However, if your child is uncomfortable with noise, wind, or being on the water, you may want to wait until they are closer to 6-7 for this experience. It is loud, windy, and wild.
What Are The Airboat Tour Options at Boggy Creek Airboat Rides?
No matter how much time you have available for an Everglades tour in Orlando, there is a package that should fit your needs. No matter what package you choose, you'll have access to the Boggy Creek Park and can choose the optional activities there. The packages are set up as follows. You can check out their website to see the latest prices on the tours.
1/2 Hour Everglades Airboat Tour
1 Hour Everglades Airboat Tour
Private 1 Hour Everglades Airboat Tour
Guided Self-Drive Everglades Airboat Tour (For two people, minimum age 18, must have a valid drivers license)
Sunset Everglades Airboat Tour
Nighttime Everglades Airboat Tour
Tips For Florida Everglades Airboat Tours In Orlando
Just like any great Florida attraction, it helps to plan your Boggy Creek Airboat rides ahead of time. These Boggy Creek tips will help you make the most of your Florida Everglades experience.
Time your visit carefully. Sunset rides offer the best light for photos. During nighttime tours, the Everglades nocturnal wildlife tends to be at its most active. Early in the morning tends to be one of the best times to spot American Alligators.
If you haven't eaten, plan for lunch at the Boggy Bottom BBQ. They serve excellent food and many visitors make the trip just for that.
Refunds are offered within 24 hours of departure and for weather-related cancellations.
During the winter, midday tends to be when the animals are most active.
Dress in comfortable clothing. Something warmer and wind-resistant will keep you the most comfortable.
Be sure to wear sunscreen. You will be out in the sun with no shade. To help maintain the health of marine life, we recommend using reef-safe sunscreen all the time.
DISCLOSURE: Our Everglades airboat ride was done in partnership with Boggy Creek and Experience Kissimmee. All opinions remain our own. This post may contain compensated links. Any purchases made may earn us a small commission at no extra cost to you. For more information please read our disclaimer. Wandering Wagars is a participant in the Amazon Services LLC Associates Program, an affiliate advertising program designed to provide a means for sites to earn advertising fees by advertising and linking to amazon.com, amazon.co.uk, amazon.ca. Amazon and the Amazon logo are trademarks of Amazon.com, Inc. or its affiliates.
You May Also Like To Read: