There is no better way to experience a family vacation than with Kissimmee vacation rentals. Imagine having all the comforts but with resort-style luxury!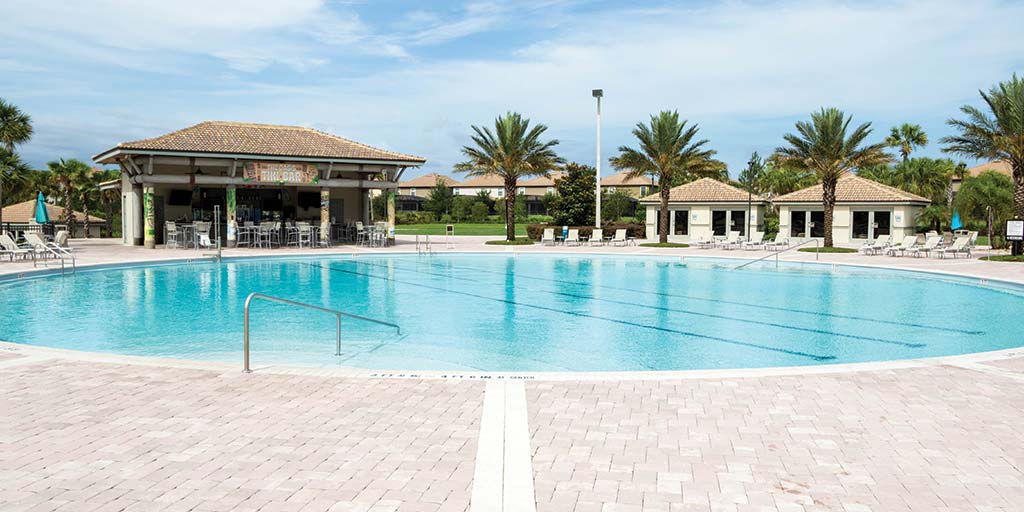 Our travels have brought us to some incredible destinations. And along the way we've stayed in some very unique places. But we had never rented a home during our travels. So when Experience Kissimmee suggested that we try out Kissimmee vacation rentals while in Florida, we jumped at the chance. We loved the idea of being on vacation while still having all the amenities of home.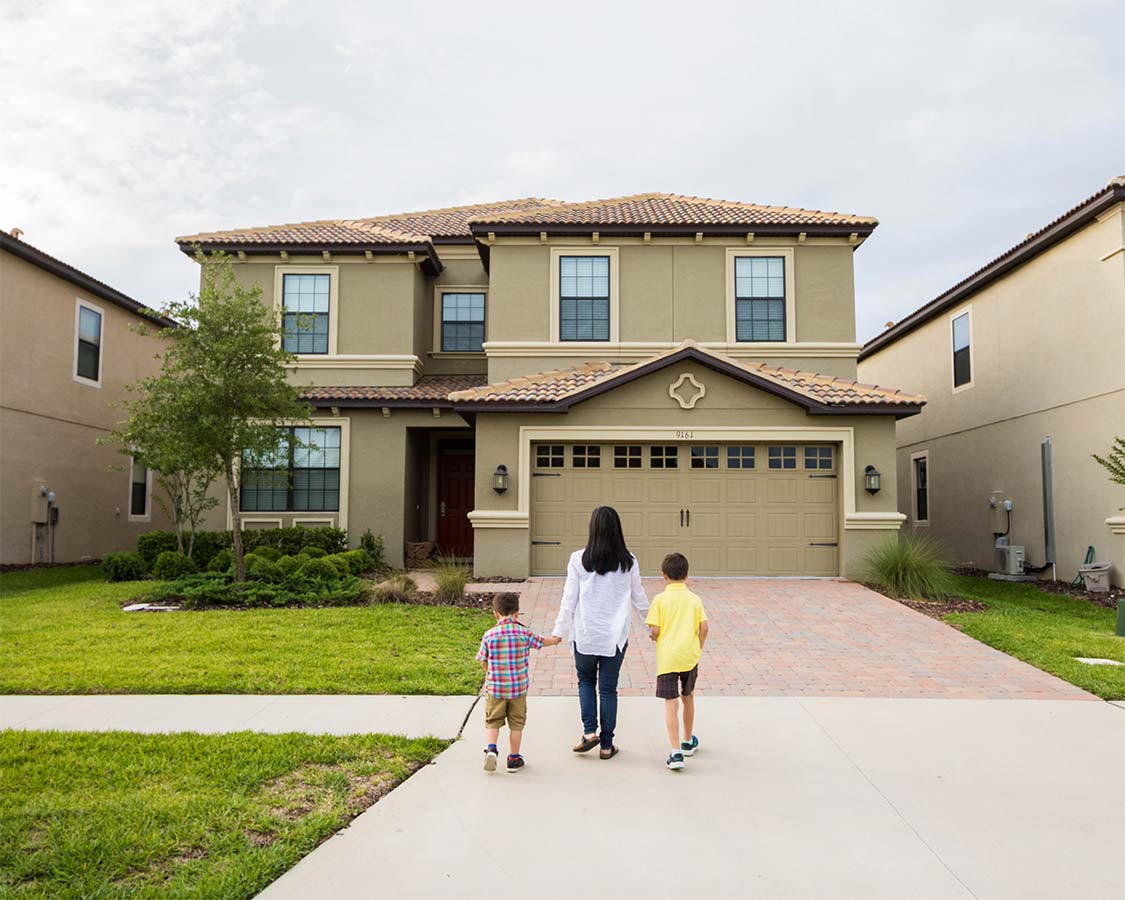 Why Is Kissimmee The Best Place for Vacation Rentals in Florida?
As any good real estate agent will tell you, it's all about location, location, location! And the Kissimmee vacation rentals have that in spades. Kissimmee is located at the halfway point between Tampa Bay and Daytona Beach. And in the heart of all of this action lies a series of vacation communities that seem to be designed with family travel in mind.
In fact, our vacation home in Kissimmee, Florida was so much more than a home. The luxury rental is located within the resort community of Champions Gate. Having our Florida vacation rental here gave us all the amenities of home, plus the added bonus of having access to resort features.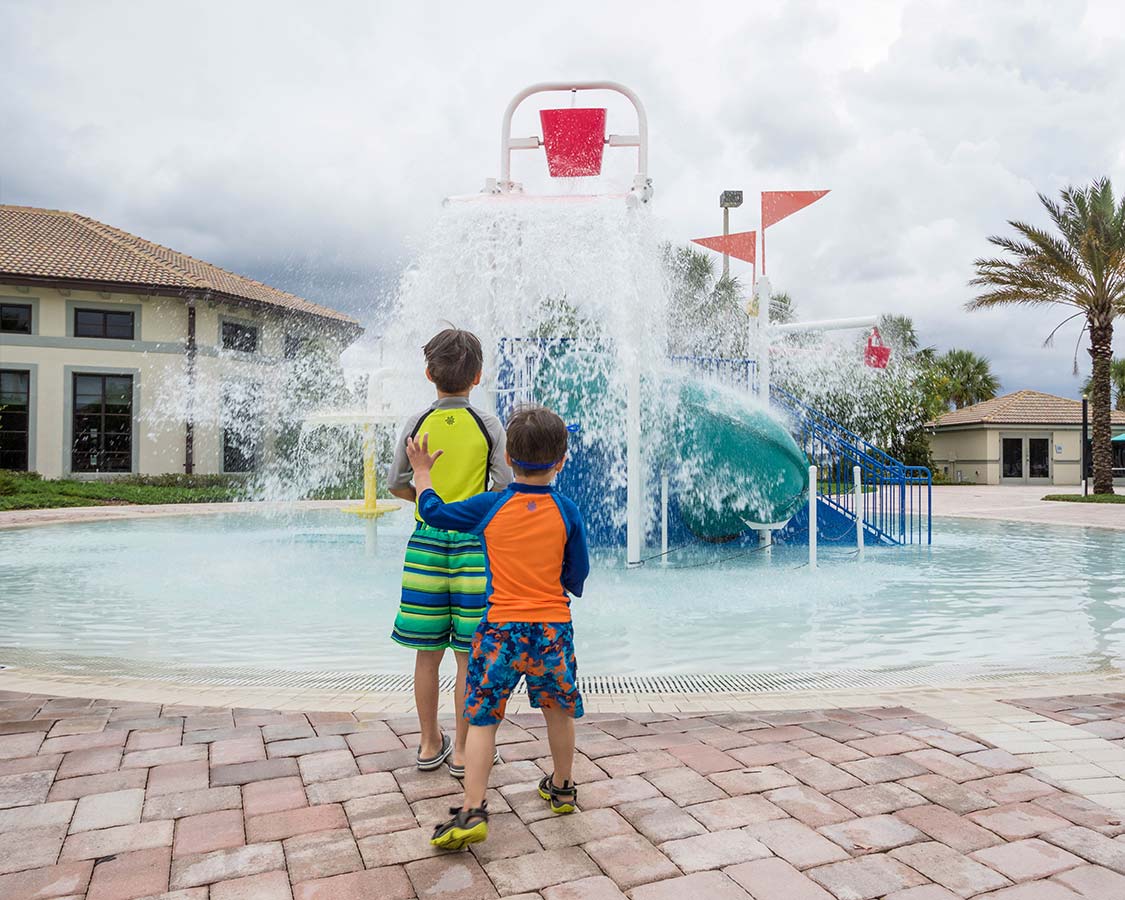 Pro-Tip: Florida has a lot of toll roads. Make sure to calculate the cost of taking the toll roads from the airport to your vacation home, and from your vacation home to any of the sites, you will be visiting. It might make the most sense to avail of the car company's pre-paid toll program.
Checking-in to our Kissimmee Vacation Home Rental
After a short flight made long by delays and our car seats getting lost in transit on a direct flight, we were scrambling on arrival. Our planned backyard cookout for dinner in the vacation home turned instead into take-out from a nearby Chinese food restaurant. But all the stress of the travel washed off of us when we pulled up to our vacation home for the weekend.
We were given our orientation package by Global Resort Homes prior to our arrival. The package provided us with information about the home including how we would gain access. So, when we pulled up to the driveway, all we had to do was follow the directions and presto! We were rushing to the dining table to enjoy our Chinese take-out.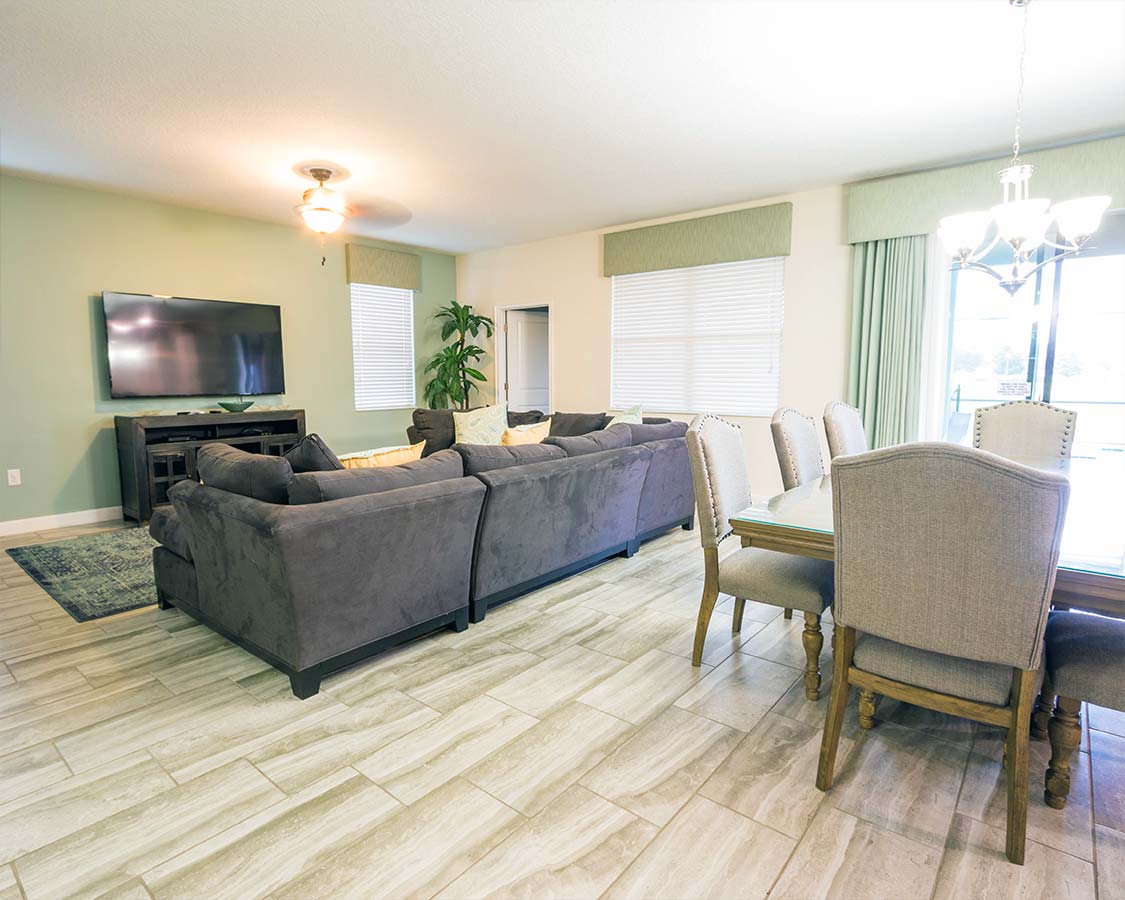 Accommodations at Champions Gate
Resort homes in Kissimmee come in all shapes and sizes depending on your needs. Homes can be as small or as large as you require. This means couples, generational travelers, or multiple family groups on a trip can all be accommodated. Just choose the appropriate vacation home for your party size.
Bedrooms in our family vacation home
Our Florida vacation home was much larger than what we needed. But boy, did we ever enjoy the space it gave us! We were in a 6-bedroom home. Two of the four bedrooms had a set of twin beds. The other 3 -bedrooms had queen sized beds. And last, the master bedroom had a king-sized bed.
As soon as we got into the home, C declared that he was going to sleep in the master bedroom! We politely told him that room was not an option and that there were 5 other rooms in the house to choose from.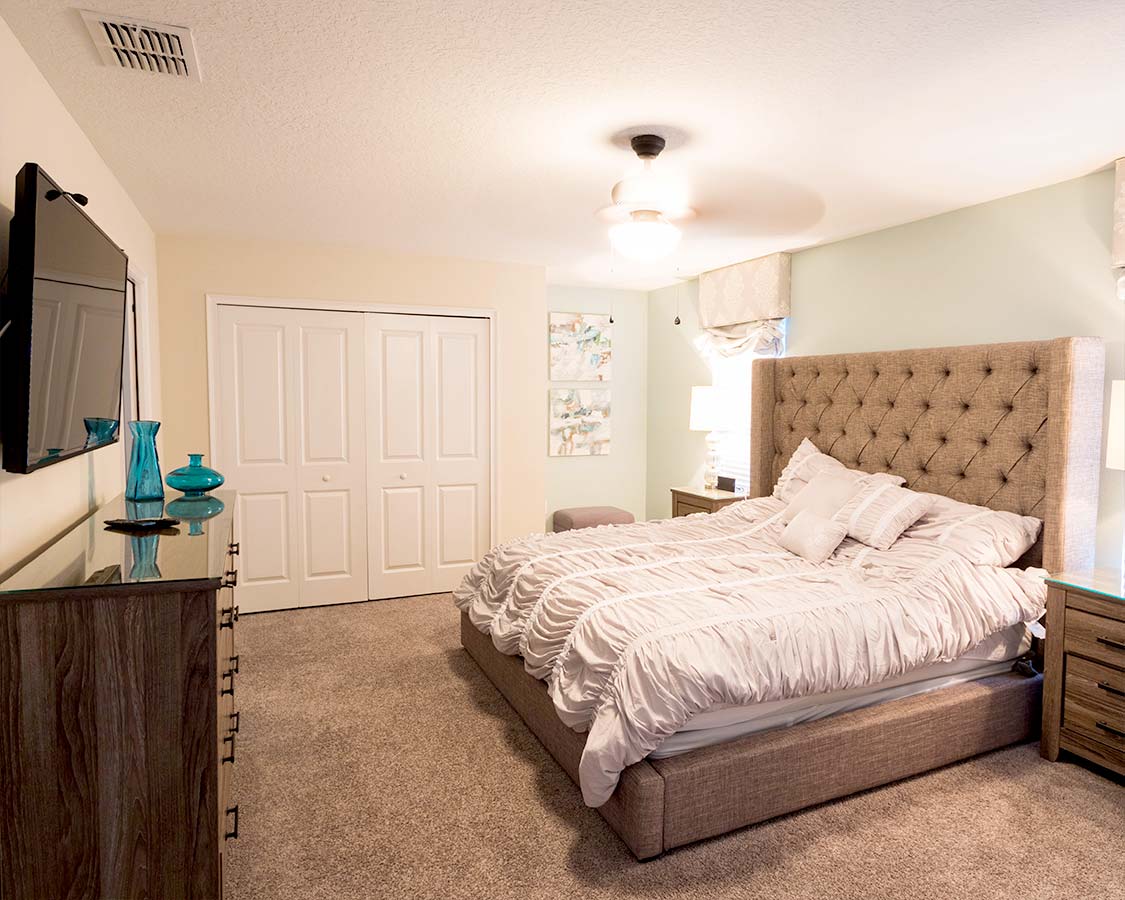 Much to our surprise, the boys decided to sleep in one of the bedrooms that had the twin size beds. They did mention that they would switch to a different room each night we were staying in the vacation home. But, they were so comfortable in their room, they never actually ended up wanting to switch.
I also liked how there was a bedroom on the first floor with an en suite bathroom. For anyone traveling with mobility issues or with the elderly that may have issues with stairs, the first-floor bedroom is definitely a plus. It is good to know that these are options that you can have when choosing your Kissimmee vacation home.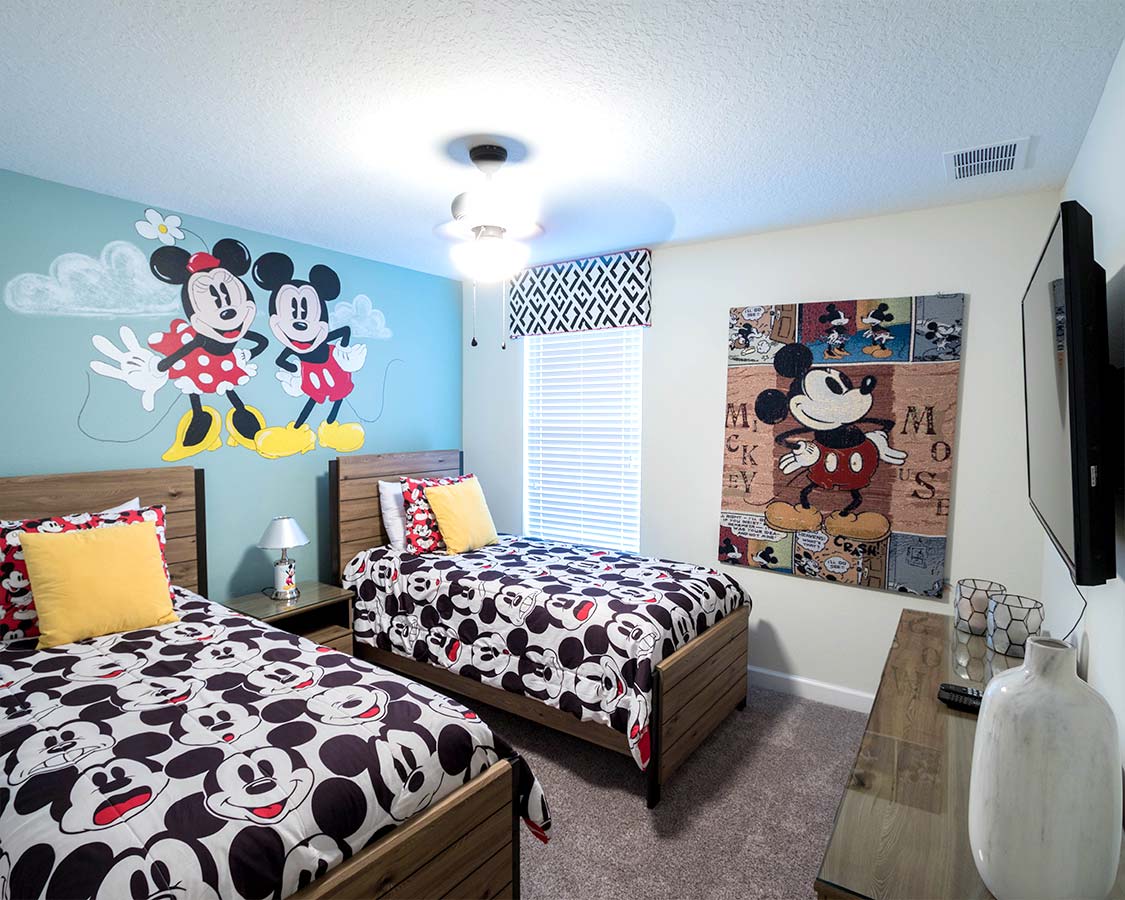 Bathrooms in our family vacation home
Another great thing about our accommodation was that the number of bathrooms was equal to the number of bedrooms. All bedrooms, with the exception of one of the twin rooms, had an en suite bathroom and there was another bathroom conveniently located on the first floor. This washroom could also be accessed from the backyard which made showering after a dip in the pool much less of a circus.
Kids could easily get in and out to access the facilities. And when it was time to shower, they were not tracking water all through the house. Instead, they popped right into the shower. Also, the sheer number of bathrooms in the house meant that there were never any fights when we were getting ready in the morning or when the kids were getting into bed.
Florida Vacation Home Amenities
Great vacation rentals need a few amenities in order to lift them up from okay to exceptional. And our Florida vacation home had features to spare.
At the Vacation Home
Our Kissimmee vacation home was fully equipped with everything that we needed. The kitchen was stocked with dishes, cutlery, and cookware. This meant that I was able to make dinners at home saving us money on our vacation. Also, having a dishwasher made clean up a breeze.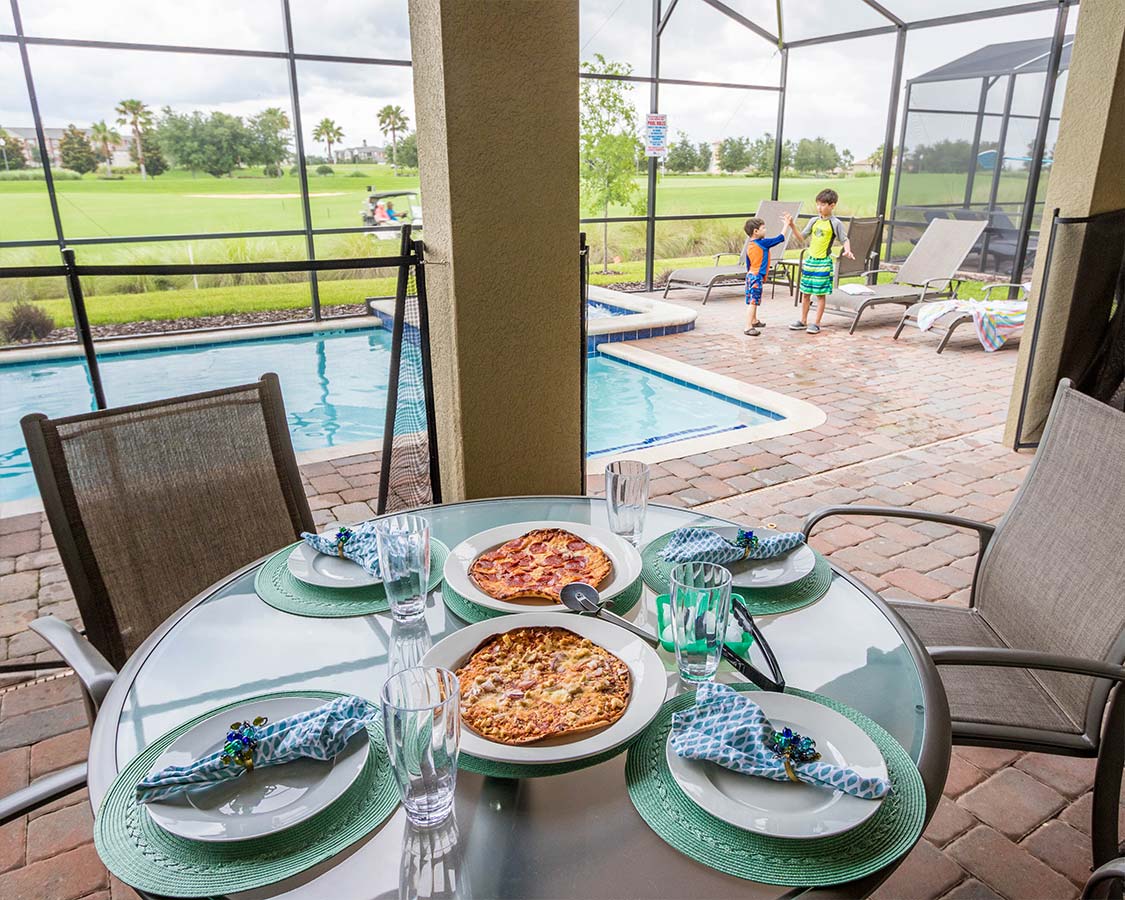 Pro-tip: It is also possible to order pre-made meals to be brought to your vacation. Enjoy home-cooked meals in the comfort of your home without doing any of the work!
When booking your Kissimmee vacation home, we strongly recommend that you choose to book one with a pool. If we were staying in a hotel, it is definitely one of the amenities that we look for when picking our accommodations. So, it only made sense to also have it in our vacation home.
The pool was just the perfect size for families with small children. C really enjoyed how many laps he could do. There was also an attached hot tub which made for a relaxing way for Kevin and me to end the day after exploring the amazing Florida attractions in and around Kissimmee.
Pro-tip: The home did not come equipped with life jackets or any pool toys. Be sure to check these out before you get to your vacation home so there are no surprises.
Although Florida is known for having fantastic weather year-round, they do have the occasional rain shower. During our spring visit, it rained almost every day. But only one day had more than an hour of rain. Vacation ruined you say? Definitely not when you are in a vacation home with a garage that has been converted to a movie theater and game room!
This was definitely the boys' favorite room in the entire house. Besides having a large screen and projector for watching their cartoons, the built-in cup holders on their lazy boys made it almost impossible to convince the boys to eat at the dining table instead of having family movie night…during breakfast!
There were other amenities that we didn't get to enjoy as the nice weather meant we were out and about enjoying Kissimmee's area attractions. These included a pool table, X-Box, and PlayStation. And for those that need to be connected even while on vacation, the vacation home had wifi that was accessible throughout the home including while lounging by the pool.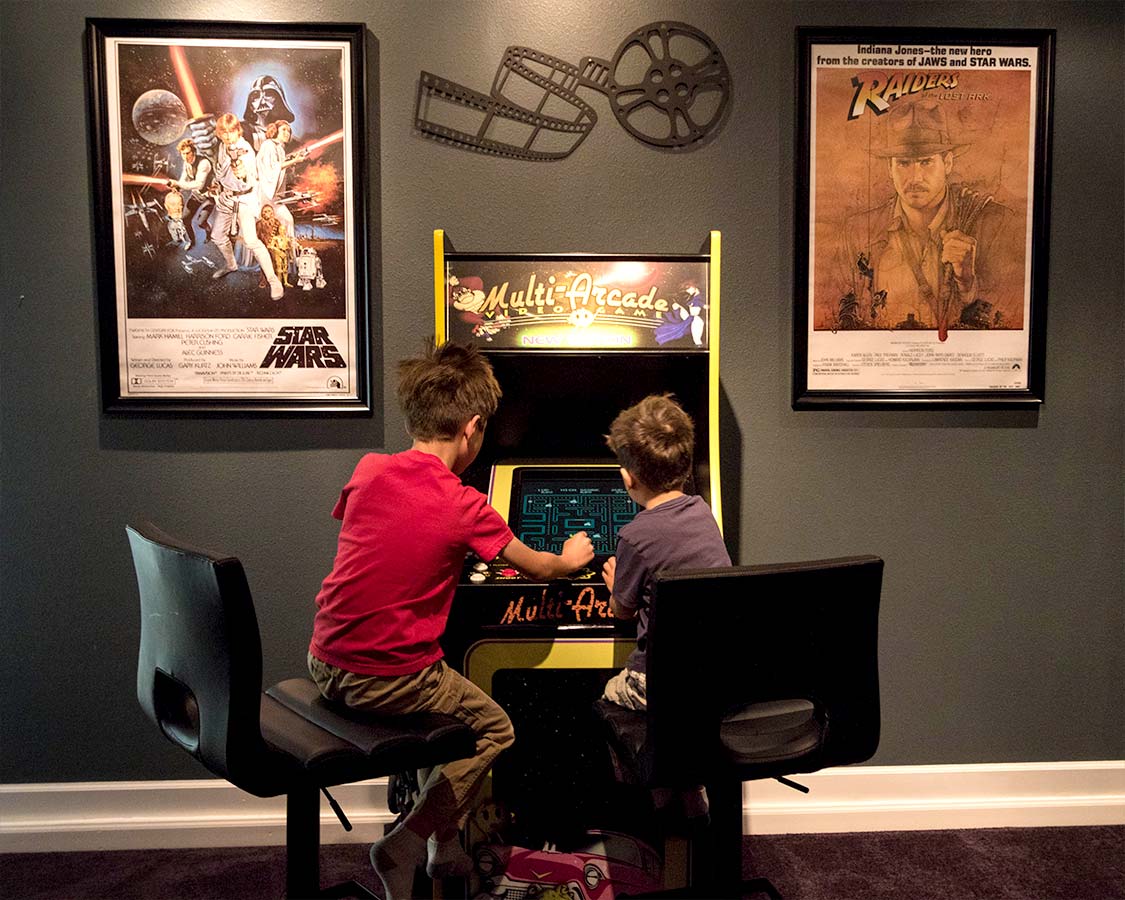 Pro-tip: When staying in a vacation home, check to make sure you know how much of the necessities will be provided (e.g., paper towels, dish soap/dishwashing detergent, toilet paper, and laundry detergent), if any. This way, you aren't buying something that might already be provided.
At the Resort Community
Our Kissimmee vacation home was located within a resort community. This meant that we had a access to amazing amenities that were just a short walk or drive away. The Champions Gate community had a golf course, a community gym, restaurant, and an arcade.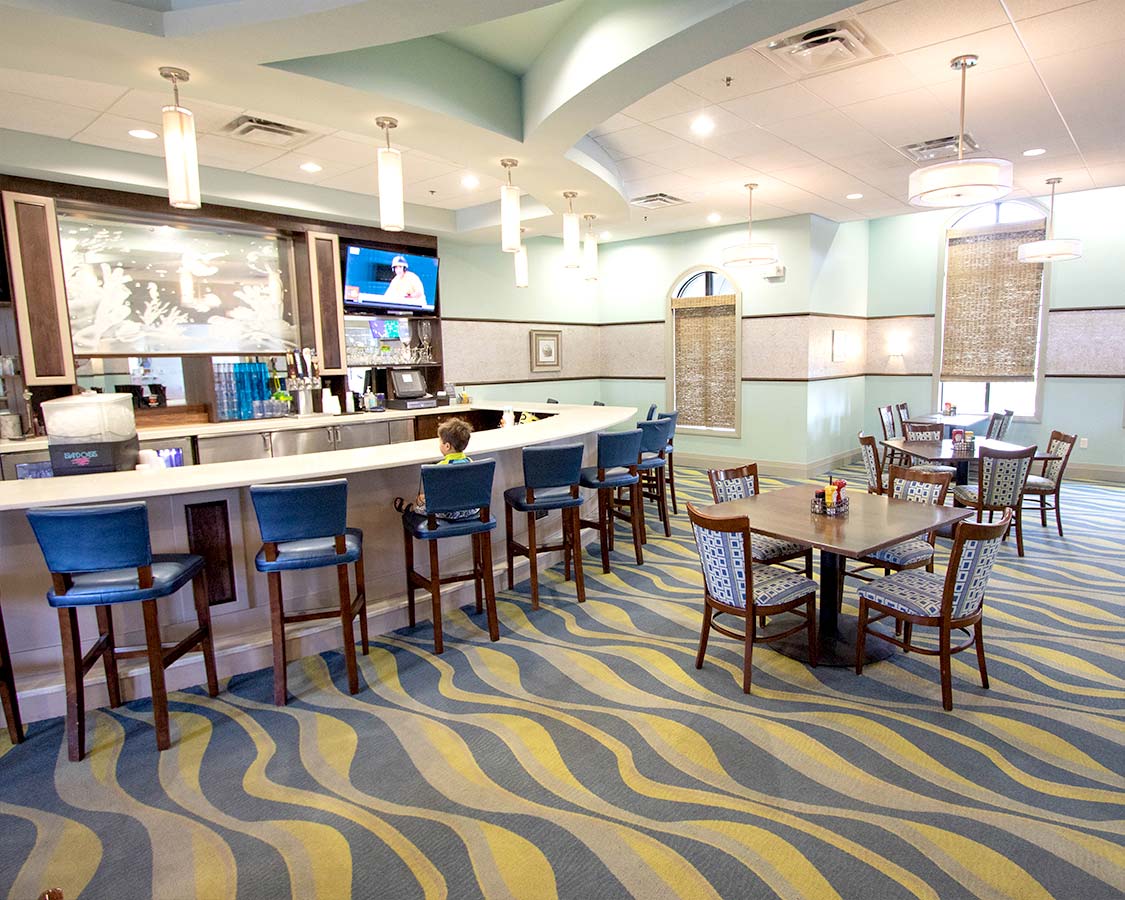 The resort community center also had a much larger and deeper swimming pool than the one at our vacation home. The pool was accompanied by a tiki bar. This is perfect for parents looking for a nightcap after a long day of fun in the sun!
But the resort amenities weren't just for adults. The kids also loved the splash pad, beach volleyball courts, and water slides. But that's not all. Want to experience a lazy river? No problem! Our Kissimmee resort community had one of those too for no extra fee.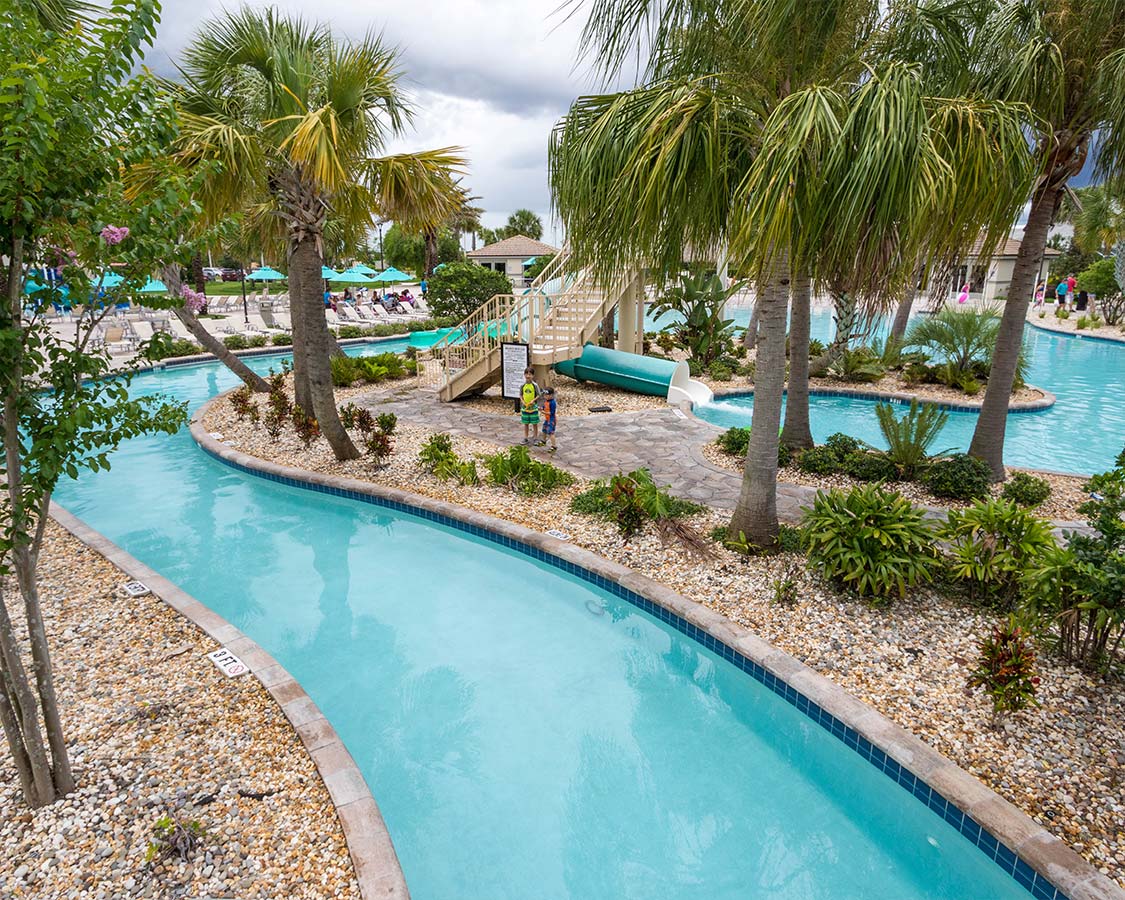 Day trips from your Kissimmee Vacation Home
Our Kissimmee vacation home was definitely a destination in of itself. For those looking to relax in a beautiful destination while enjoying the comforts of home, staying in a vacation home is a perfect choice. However, for those that also want to explore all the amazing things to do near Kissimmee, you can do that as well! Here's what we did on our weekend in Kissimmee.
Hit The Water with Boggy Creek Airboat Rides
There are some incredible nature and wildlife attractions in Kissimmee. One of the best ways to experience Florida wildlife is with Boggy Creek Airboat Rides. This fun and quirky attractions has been a popular staple in the region for nearly a quarter-century. Located at the southern tip of Lake Tohopekaliga, Boggy Creek Airboats isn't just a great way to see nature up-close, but it's also a fun and interactive way to learn about the nature and indigenous history of Kissimmee.
Boggy Creek Airboat Rides has a fossil and gem panhandle where visitors can sift for treasure. But the real adventure starts when you hit the marshy waters of Lake Tohopekaliga. The wind whips through your hair as you fly across the water in a powerful airboat. There's no better way to search for Florida wildlife. And you'll likely see some incredible birds and alligators along the way! You can check out our write up on our Boggy Creek Airboat experience here.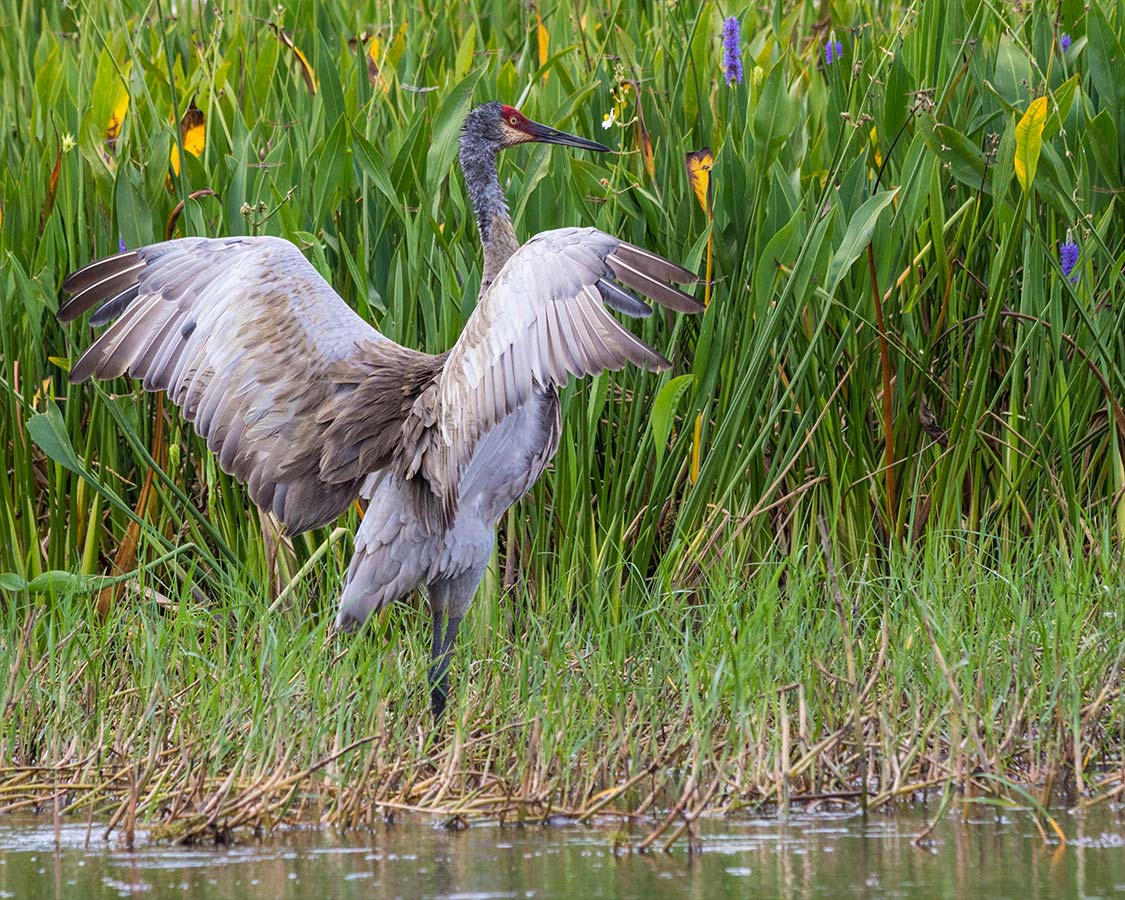 Hit the Splash Zone at Universal's Volcano Bay
Get a break from the Florida heat at one of Florida's best water parks. Lying in the shadow of the Krakatau Volcano, Volcano Bay is a thrill-a-minute liquid paradise that has something for kids of all ages.
Whether you look forward to relaxing in the lazy river or experiencing the towering mile-a-minute water slides, Universal's Volcano Bay at Universal Orlando Resort is sure to leave you smiling. You can check out our Universal Studios Volcano Bay tips here.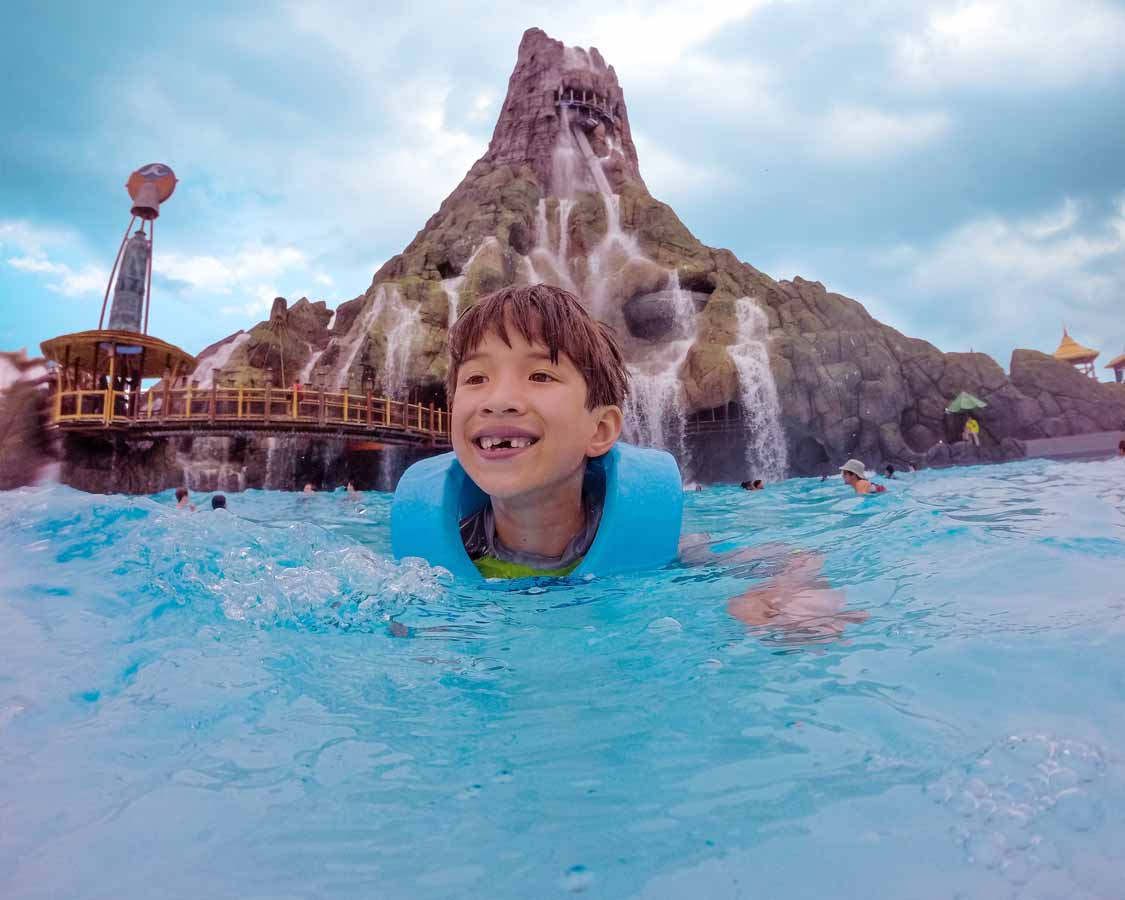 Get Spaced Out at the Kennedy Space Center
We're all about exploration, but we always dream of going further. And is there anything further than outer space?! And while we are still working on finding our way outside the atmosphere, we can at least bask in the glory of those who have made it a reality.
Kennedy Space Center is a sprawling campus that is home to the most world's most exciting projects from companies like Boeing, SpaceX, Virgin Galactic, and, let's not forget, NASA. You could easily spend more than a day wandering around the retired Space Shuttles and rockets, taking part in a simulated liftoff, and just learning about America's incredible foray into space travel. Want to know what it's like to visit Kennedy Space Center with kids? Check out our tips here.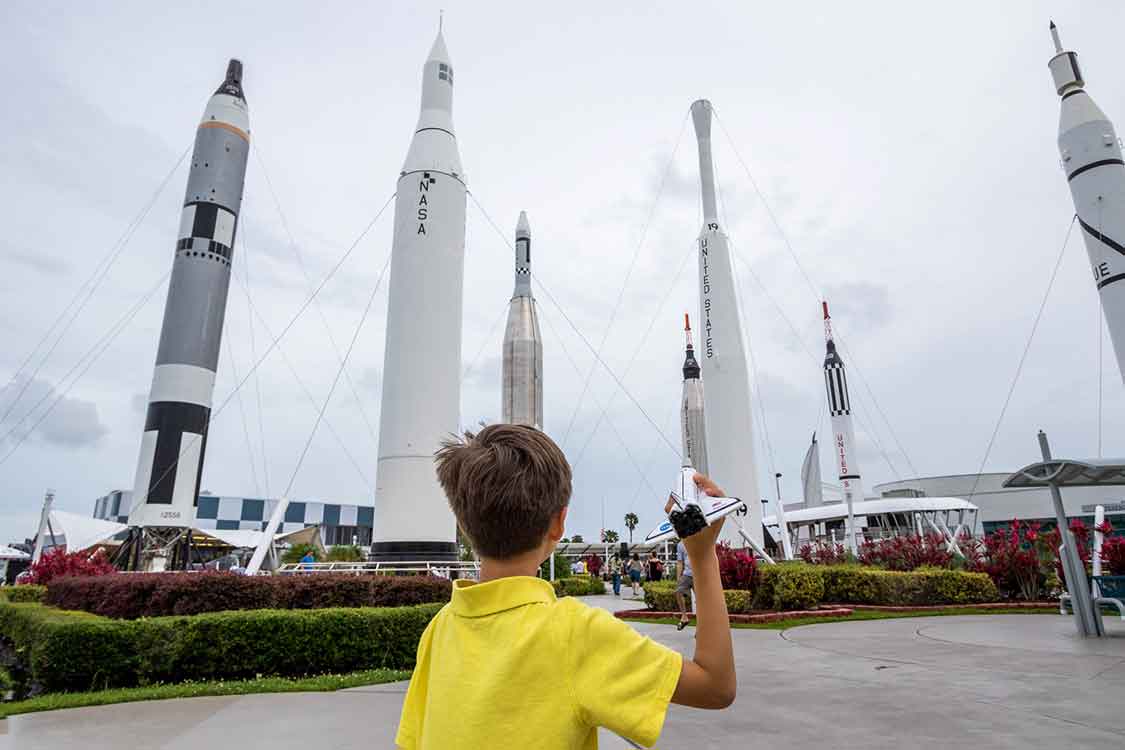 Do We Recommend a Kissimmee Family Vacation Home for Your Florida Visit?
If you love the idea of having all the comforts of home in a destination full of some of the world's best family attractions, then a Kissimmee vacation home is definitely for you. Vacation resort homes are budget-friendly, luxurious, and offer something for absolutely everyone.
Disclosure: This post was made in a working partnership with Experience Kissimmee. As always, our views remain our own. Wandering Wagars is a participant in the Amazon Services LLC Associates Program, an affiliate advertising program designed to provide a means for sites to earn advertising fees by advertising and linking to amazon.com, amazon.co.uk, amazon.ca. Amazon and the Amazon logo are trademarks of Amazon.com, Inc. or its affiliates.
You May Also Like To Read:
Pin This Post For Later: